After long days of walking through the streets of Rome, enjoying museums and monuments, throwing coins into fountains and eating gelato, I was ready to sit down, relax and have a glass of wine. Whenever I visit a new city, I always gravitate toward the rooftop scene. Visiting a rooftop bar can give you an entirely new perspective on a city. It elevates your vantage and provides a new dimension to appreciate. Rooftop views can also enhance the scale of a place, thus showing you the vast expanses, patterns and flow of a city. We had the opportunity to visit a couple of the best rooftop bars in Rome, and I am very excited to share they with you. I recommend that you visit these rooftop bars to have an aperitivo.
Aperitivo
When in Rome, you must do as the Romans do! One of my favorite Italian customs was their pre-dinner happy hour also known as the aperitivo. The aperitivo is a drink and small snack that is traditionally enjoyed prior to dinner. This is meant to stimulate your appetite and prepare you for the meal ahead. Italians enjoy their aperitivo between 7 and 9 PM. Yes, that means a late dinner! Typical aperitivo drinks include the Negroni, the Spritz, the Americano and, of course, wine! The accompanied snacks could be anything, but I've seen a lot of chips, nuts and popcorn. The aperitivo started off as a northern Italian tradition, but you can now experience this cultural trend in other popular cities like Milan, Rome, Florence and Napels.
This list of Rome's best rooftop bars will allow you to have the absolute best setting to enjoy your aperitivo. Some of these Roman rooftop bars listed are quite intimate and popular. So, make sure to call ahead on your first day in Rome to ensure your spot at a table. We make the mistake of trying to walk into a few of these places, and we were turned away. We scrambled to make reservations that night for the rest of our stay.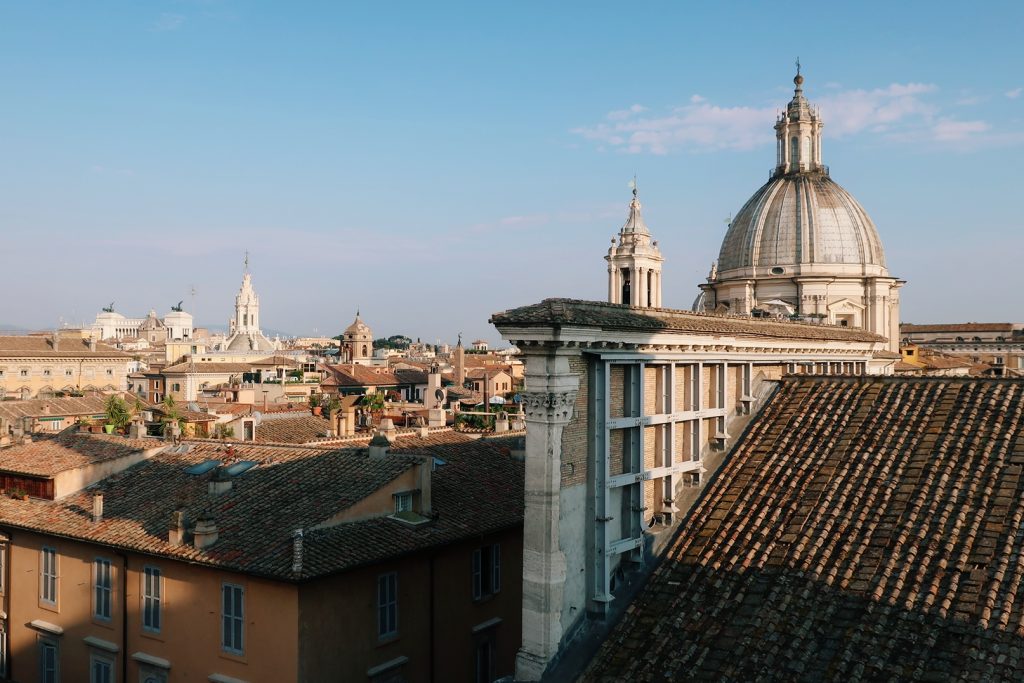 Without further ado, here is your list of essential rooftop bars in Rome.
Hotel Raphael
This 5 star hotel is located in the heart of Rome a few steps away from the Piazza Novona. The façade of the hotel is breathtaking—completely covered in flowers and vines. The terrace restaurant at the Hotel Raphael provides first class service, expansive views and impressive cuisine.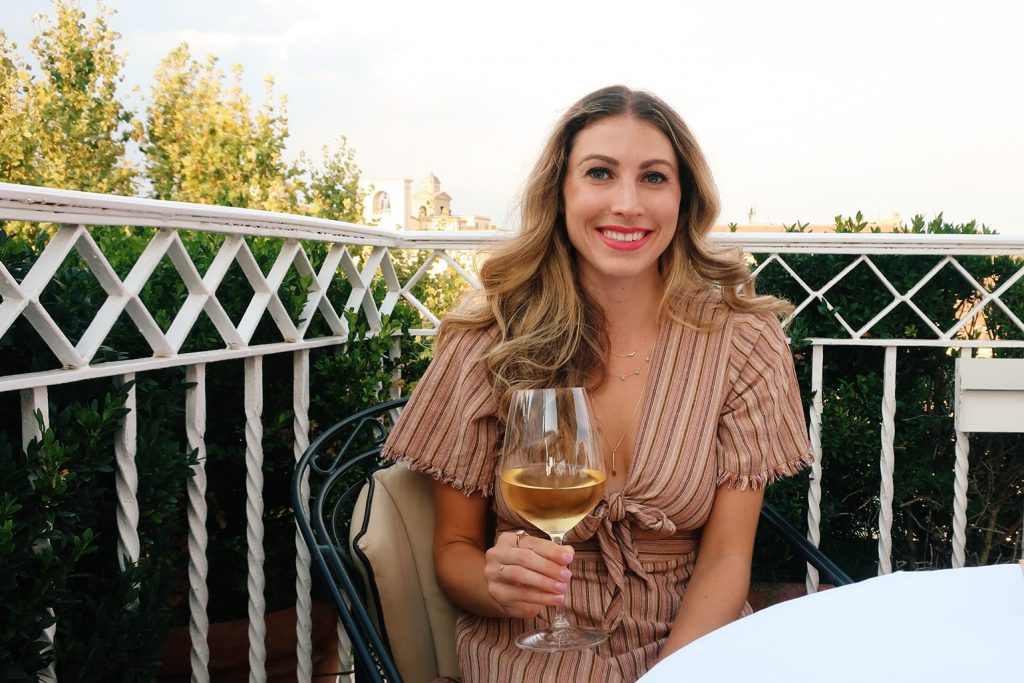 This is one of the most romantic places in Rome!
Minerva Roof Gardan
This rooftop garden is located at another 5 star hotel, the Grand Hotel De La Minerve. While the prices are just as high as at the Hotel Raphael, the Minerva Roof Garden is quite spacious. I believe we went here out first night and didn't need a reservation. During our aperitivo, we listened to live music here. Just lovely during sunset!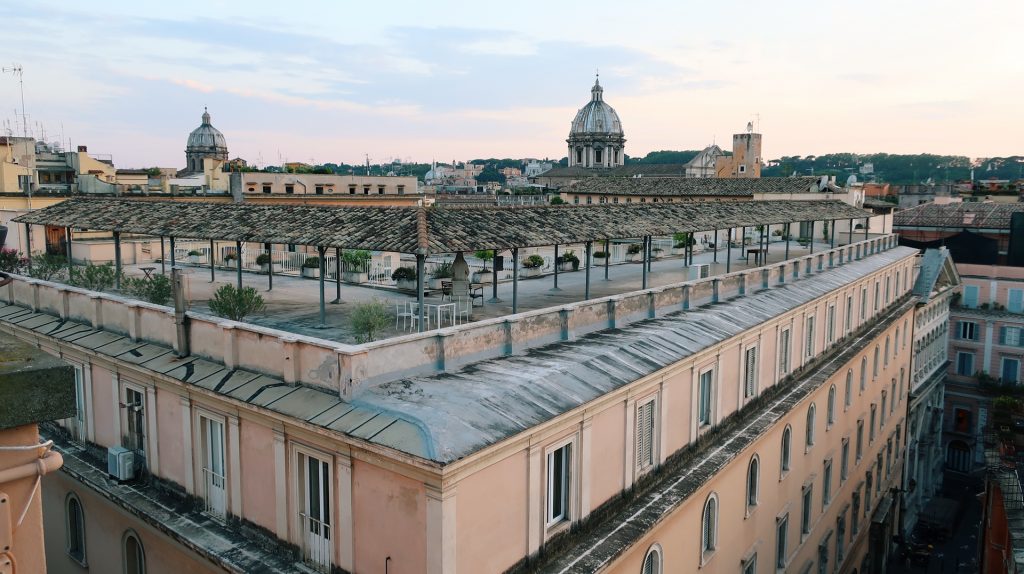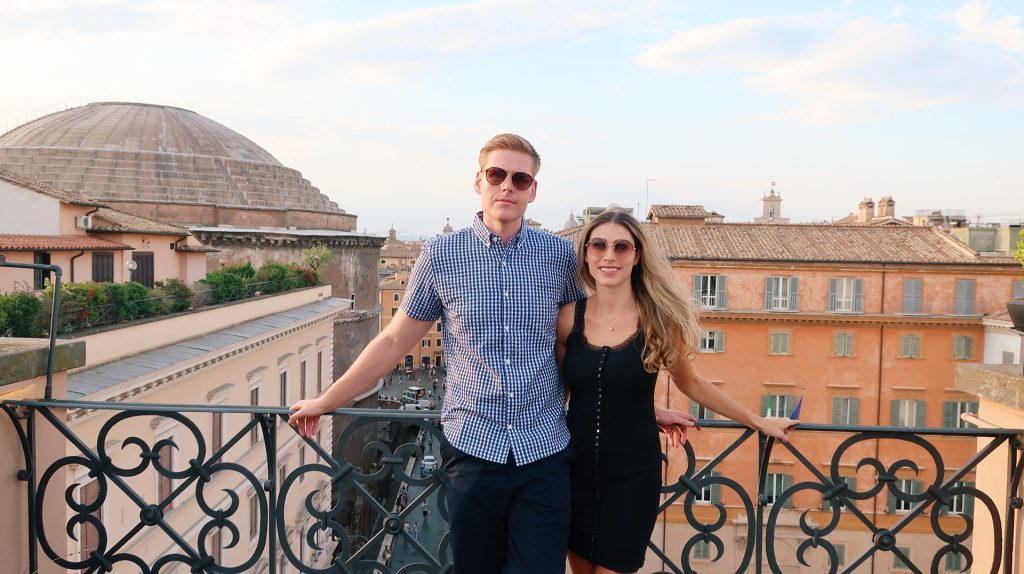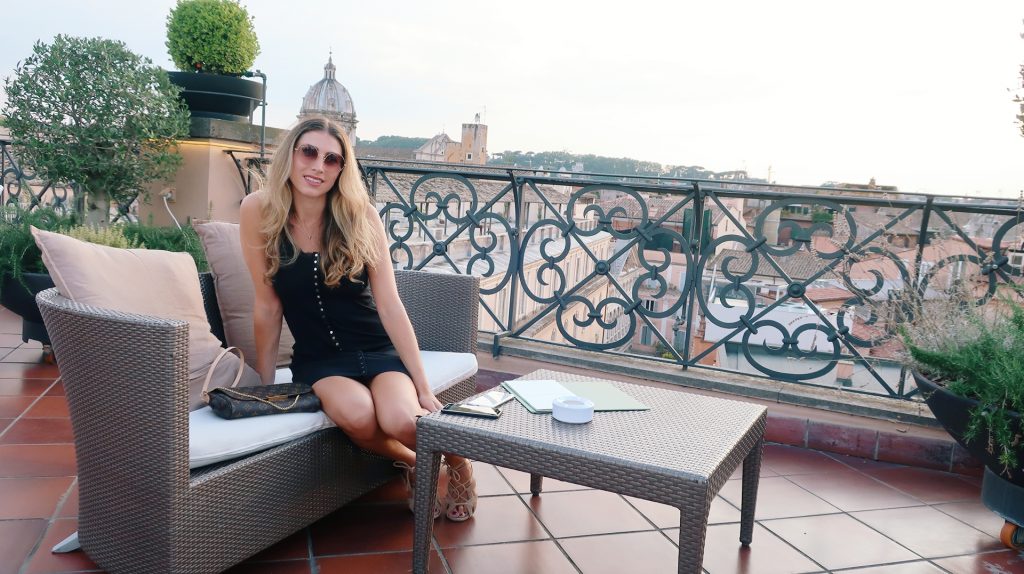 Hotel Forum
The Hotel Forum offers one of Rome's most famous restaurants –the Roof Garden Restaurant. Additionally, their provide a smaller scenic outdoor space in their American Bar. We didn't get to enjoy an aperitivo outside at the American Bar due to rain. However, we did eat at the Roof Garden Restaurant which was partially closed and did offer protection from the elements. This 4 star vintage hotel in Rome offers much charm and sophistication.
Other Notable Rome Rooftops:
Les Etoiles Rooftop at Hotel Atlante Star
La Terrasse Cuisine & Lounge
Aroma Restaurant at Palazzo Manfredi
Residenza Paolo V1 Hotel
Hotel Bernini Bristol
Forty Seven Hotel
Marcella Royal Hotel
Should You Book a Tour in Italy? The Answer May not Surprise You.