Looking for romantic date ideas in Chicago? We've put together these Chicago date ideas as your guide. These date ideas are creative and unique. They'll be sure to impress your significant other. We have ideas for every price range and for every season. Yes, even date ideas to suit Chicago's brutal winters! We've also included some romantic spots in Chicago.
Romantic Chicago Date Ideas
AIRE Ancient Baths
Drinks at Trulck's
Dinner at Alinea
Cooking Class
Show at Untitled
Scrabble at the Darling
Robot Date Night
Chicago Salsa Nights
Magic Show
Picnic in the Park
1. AIRE Ancient Baths
This is number one on my list, because it is one of my favorite Chicago date ideas! AIRE has only 6 locationsworld-wide! So, yes, it is kind of a big deal. This luxurious modern bath house in the River West neighborhood hosts all kinds of splendors. With the era of ancient Roman traditions, in the setting of a rustic factory, AIRE Ancient Baths provides a unique, intimate and sensual aquatic experience. The facility offers several pools at various temperatures and salinities. The temperature of the baths ranges from 50 to 102°F. This is the ultimate Chicago date for winter! You and your date can swim outside and watch the snow fall while you stay submerged in the comfortable heated pool. You'll get so much more than a traditional spa experience here.
Looking to upgrade this date? Besides basic admission to the bathhouse, you can also reserve massages, rituals and experiences. All of these additional packages include access to the bathhouse. We did the Holistic Ritual here last year. It included full body exfoliation, massage and a hydrating mask. Surprise your significant other with the total spa date experience! This would be perfect for an anniversary or special occasion. For more information about the various other therapies offered here, visit the AIRE Ancient Baths website.
2. Drinks at Truluck's
Truluck's Seafood, Steak and Crab House is located in the Gold Coast neighborhood of Chicago. They also have a suburban location in Rosemont, IL. Truluck's offers nightly entertainment after 5:30 PM on most weekday and weekend nights. From the main dining space, you won't be in good position to enjoy this. So, I don't recommend reserving a table. Well, you could, the steak here is phenomenal! But, if you want to impress your date with a spontaneous show in Chicago, skip the reservation.
The best views of their performers are in the bar area and in front of the high-top tables. These seats are for walk ins only! So, be a little spontaneous on this date. You can expect beautiful piano music with lovely vocals. They play tasteful pop and timeless classics. One of my favorite things about this venue, is that the music isn't blasted at an irritating level. The volume is soft enough that you can chit-chat. It makes for a tasteful romantic ambiance. For more information about the restaurant and their entertainment, check out their website.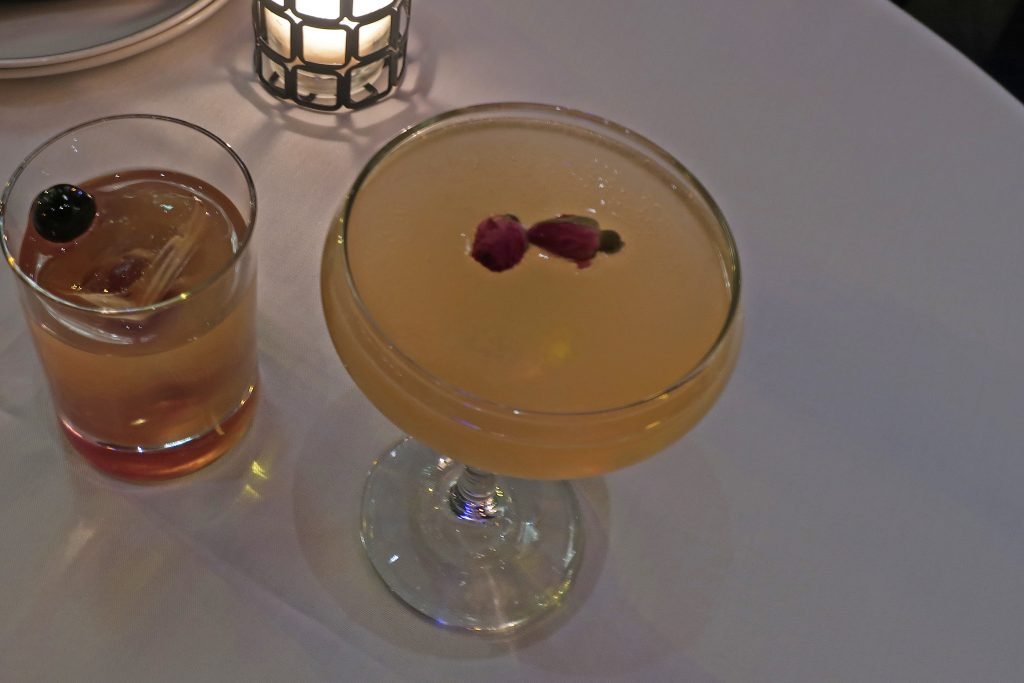 3. Dinner at Alinea
Alinea is less a restaurant and more a creative experience. The chef & owner responsible for Alinea is world famous for his contributions to progressive cuisine and molecular gastronomy. In 2016, Alinea was rated Outstanding Restaurant in the United States by the James Beard Foundation. That same year, it was also named one of the World's 50 Best Restaurants. Alinea currently holds 3 Michelin Stars. Which is super freaking impressive. You can hear more about Grant Achatz, the owner, in Season 2 Episode 1 of Chef's Table. The episode discusses his incredible progressive journey with Alinea during which he battled a ferocious mouth cancer with a poor prognosis. His story is also captured in the documentary Spinning Plates.
Alinea offers a couple different dining options. You can reserve a table in the Kitchen Table, the Salon or the Gallery. The Kitchen Table is the most sought after, most expensive and most involved option. Seats at these tables during the weekend fill up almost instantly. Alinea calls this experience, "intimate, immersive and cutting edge." If you are more flexible, it is a lot easier to get a reservation in the Salon or the Gallery. The Salon is Alinea's first floor dining room, and their middle teir option, where you'll enjoy a 16-18 course menu that, "combines fine dining and experimental moments." The Gallery dining options are the most affordable, and offer a 10-14 course menu that is described by Alinea as being, "innovative & satiating for the mind and body." Since this can be a pricey Chicago date idea, it may be better for an anniversary or special occasion! For reservations and more information, visit their website here.
Click here for more Chicago date night restaurant ideas.
4. Cooking Class
Taking a cooking class with your partner can be an exciting opportunity to collaborate and engage together in a way that is fruitful and delicious. There are many places in the city that offer diverse culinary experiences. Eataly Chicago offers many wholesome options. Some of my favorite Chicago dates have been at Eataly. You'll often find pasta, bread and pizza making classes. Eataly also offers unique date options outside of cooking classes. These Eataly events vary in price range, so this date idea can fit any budget. Eataly offers wine tasting events, mixology classes, trivia nights and chef showdowns! Every few months, they even host an all-you-can-eat and all-you-can-drink type celebration. During these big parties, there is music, activities and endless food. See the Eataly Chicago events schedule here to book your next date.
If you're not into Italian food, there's plenty of other cooking class options in Chicago for your date. Sur La Table is located at the 900 North Michigan shopping center, and they offer various seasonal cooking experiences. Other popular places to take cooking classes in Chicago are listed below:
5. Show at Untitled
Untitled Supper Club boasts a Michelin star rated restaurant as well as an assortment of raunchy events. I've seen their Unbridled show, which features burlesque, circus, contortion and fantasy performances. I recommend this with caution, as it is definitely not a great date option for everyone. It would, in fact, probably prove to be a quite awkward date experience for some. Consider it more sexy then romantic, and know that it may push you out of your comfort zone. It is something along the lines of a high class striptease.
If Unbridled is not for you, consider some of their other musical events. At Untitled, you'll find different Jazz, R&B, Soul and Hip Hop artists. These may be more conventionally romantic. You don't need to get tickets to their recurring jazz nights. Either reserve a table at their restaurant or stop in for a drink during the specified time. These jazz nights can be pretty low key. Although, Untitled does host some ticketed music performances so be sure to check out the calendar of events. For a complete list of upcoming shows, visit their website here.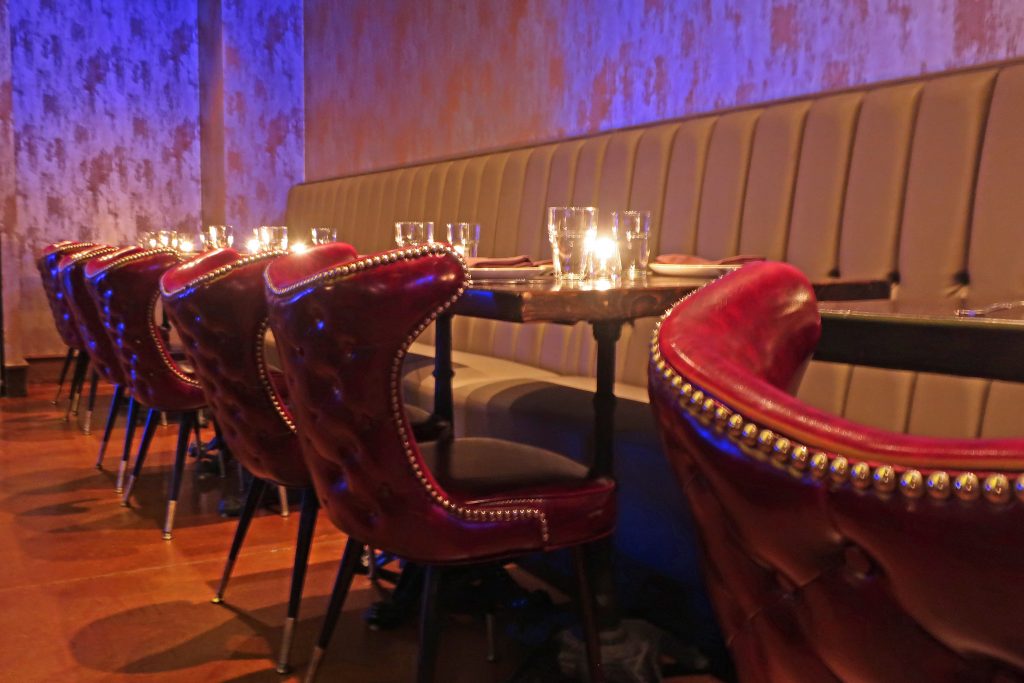 6. Scrabble at The Darling
The Darling is an exclusive lounge in Fulton Market. Furnished in leather and velvet with sparkling chandeliers, and floor to ceiling books, it gives off the classy posh man cave vibe. They occasionally have singers drop in and always have a huge scrabble board on the wall. The drinks here are fantastic and the service is exceptional. You'll be certain to impress with this date idea.
Here, you'll need a reservation…even on a week night. I've seen the hosts turn people without reservations away, even when the place was half empty. If you are looking to play scrabble, make sure to note it on your reservation. Drinks here are moderately priced, at about $14 per cocktail. Pictured below, is the Botanical Bees Knees and it totally was the Bee's knees! Click here to reserve a table for your hot date in Chicago.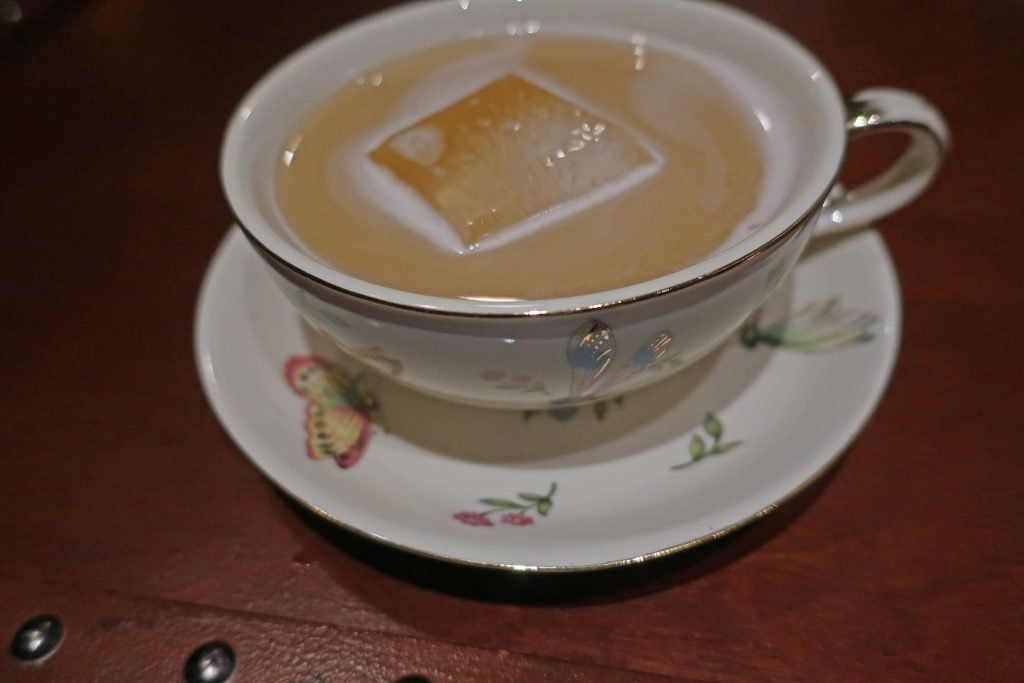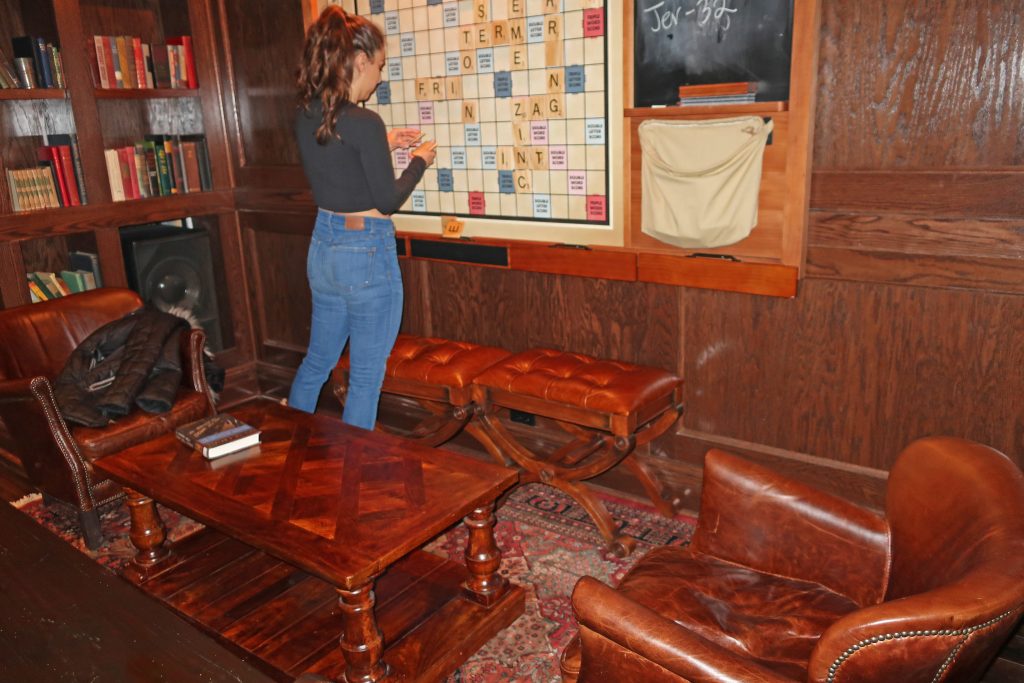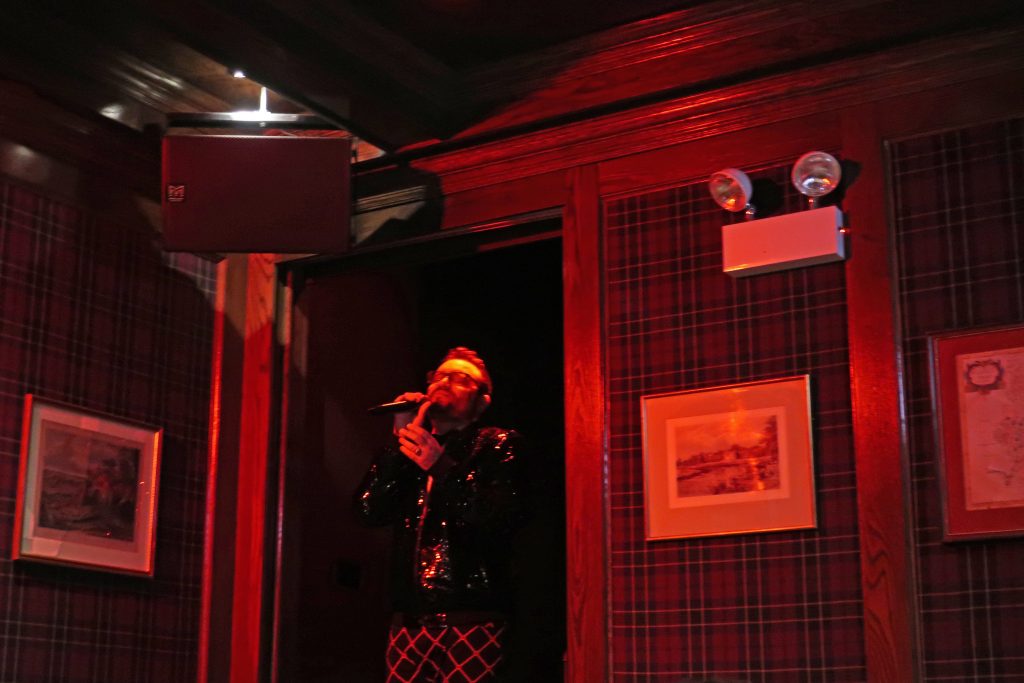 7. Robot Date Night
Robot Date Night is held in Lakeview and organized by the Robot City Workshop. This is a great sentimental and affordable date idea! During Robot Date Nights, you and your date will get the opportunity to build your own robots, watch a robot themed Disney movie and eat popcorn. The Robot Date Nights are also BYOB! There are a few robot kits to choose from, and robot experts are standing by to assist. Although, most of the kits are beginner level and designed to be easy for children to complete. To sign up for this cute Chicago date, visit the Robot City Workshop website here.
8. Salsa Nights
Chicago offers a vivacious Latin dance scene. Hotels and bars downtown and in the suburbs host weekly or monthly "Salsa nights." Salsa nights start off with an hour long introductory lesson. Then, free dance. Admission, or drink tickets, are reasonably affordable depending on the venue. In general, you can spend less than $50 total at a salsa date night in Chicago.
At salsa nights, you'll see dancers at all skill levels, including complete beginners. You can also expect to see a handful of expert couples take over the dance floor. They are an absolute delight to watch. Who knows, you and your partner may end up loving this. It could spur a new activity interest for the two of you. In Chicago, you can find plenty of studios that offer deals and discounts for group salsa dance classes. Groupon is a great place to find them. Below, you'll find a list of some of the most well known and popular salsa nights in Chicago.
Palm Court, at the Drake Hotel
9. Magic Show
The most famous magic show in Chicago is the Palmer House Hotel's Magic Parlour show. This is a moderately priced date option, tickets are about $90 per person. The show is spectacular, the setting is intimate and your date's socks will surely be knocked off. Cocktail attire is strongly encouraged, so get into the mood and get dressed up for this special date. For tickets, click here.
10. Picnic in the Park
A picnic in the park can be the ultimate summer date in Chicago. Know, that the picnic will only be as good as your planning is. So, make sure to bring a blanket of some kind, creatively disguised alcohol and well packaged snacks. I recommend picking a low key park that is free from tourists. Millennium Park would be my worst nightmare for a picnic. My favorite Chicago picnic location is in Oz Park. Although, the grassy knoll near the Lincoln Park South Volleyball Courts can be an excellent spot, offering romantic skyline views.
For more date ideas like this, see Unique Experiences in Chicago & Date Night Restaurants in Chicago.
For seasonal date ideas, check out Chicago Winter Activities.
If you think I missed a romantic date option in Chicago, comment below!