Looking for the best things to do in Vienna, look no further! We'll help you find what to do in Vienna and we'll show you all of the best places to visit in Vienna. This list includes tourist attractions in Vienna, rooftop bars, cafes and shopping! Also, we discuss essential Vienna experiences that you'll want to check off the bucket list!
About Vienna
Vienna is, for many reasons, a wonderful European city to visit. Vienna is the capital and largest city in Austria. In Vienna, almost everyone you encounter speaks German and English, so it's easy to get around and communicate. Also, the city boasts wide sprawling pedestrian walkways. You can enjoy a leisurely stroll without feeling crammed like sardines with other tourists. Despite being a large bustling city, the streets are clean and very well maintained. The cleanest public toilet I've ever seen was in Vienna. In fact, Vienna is very much a city for the people. That is why, year after year, surveys and studies have ranked Vienna as one of the top cities in regard to quality of life and livability. Aside from the cleanliness, ease of navigation and prospects for English communication, Vienna provides an abundance of history, culture and flavors to discover.
I visited Vienna with my cousin in summer of 2018. We spent the warm days walking many kilometers through the charming city streets. We shopped were we could, ate as much as we liked, and visited every rooftop bar we could find. It was absolutely delightful. I've put together this list of essential experiences and things to do in Vienna, so you'll be able to have just as much fun as we did.
Essential Experiences
Drink Local Wines
Eat Sahertorte
Eat Wienerschnitzel
Buy Mozartkugel for your Friends & Family
Visit & Eat at Nashmarket
Stroll Through Beautiful Gardens
Check Out Amazing Architecture
View Vienna from a Rooftop Bar
Visit a Chocolate Museum
Go Shopping
The 10 Essential Experiences & Things to do in Vienna
1. Drink Local Wines
You won't want to miss out on the local wines Austria has to offer, especially if you like dry whites. These dry whites are commonly made from the Grüner Veltliner grape (which is the most planted varietal grown in Austria). Just to the west of Vienna, Grüner Veltliner and Riesling grapes are grown on steep drop-offs where soil is so scarce that the grapes are able to attain a uniquely rich minerality. If red is more your taste, the Blaufränkisch, Zweigelt and Pinot Noir varietals are grown locally in Austria. Blaufränkisch grapes are known to produce wines high in tannins and to exert a spicy quality. The Zweigelt grape was developed by crossing the Blaufränkisch and the St. Laurent. It is currently the most commonly grown red grape in Austria, and certainly deserves a taste.
There is archeological evidence suggesting that wine was grown in Austria as long as 4000 years ago. When wine becomes intertwined in the history of a region, you can bet that they have something beautiful and unique to offer. I always advocate for drinking local wines. The experience of drinking the same bottle in your home country won't ever be the same. When wines are shipped long distances, it is necessary to add more preservatives and chemicals to them. Drinking local will ensure that the wine is as clean as possible.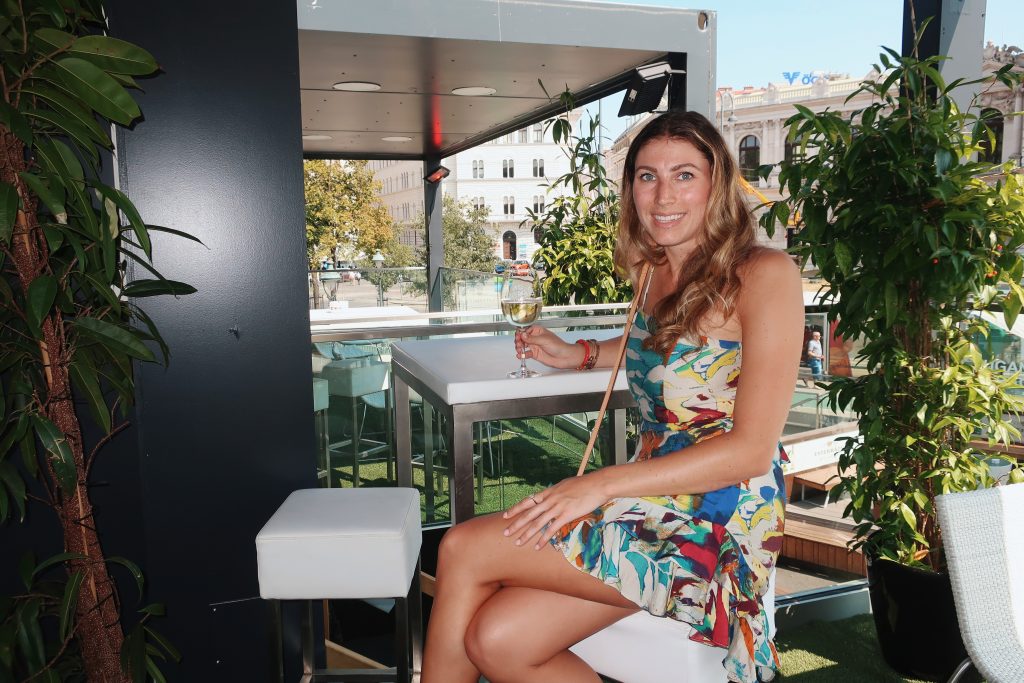 2. Eat Sahertorte
The Sahertorte is a decedent chocolate cake invented by Franz Scher for Austrian Prince Wenzel von Matternich in the early nineteenth century. Legend has it, that this prince ordered his personal chef to come up with an impressive new dessert to serve his visiting guests. Due to illness, the head chef passed his duties on to his 16 year old apprentice Franz Scher. The resulting dessert impressed the prince, his guests, and millions of other humans thereafter. The chocolate cake traditionally features apricot jam and dark chocolate frosting, and it can be served with unsweetened whipped cream. Cakes are traditionally served in cafes throughout the city. So, take your time and enjoy a cup of delicious coffee with your slice of cake.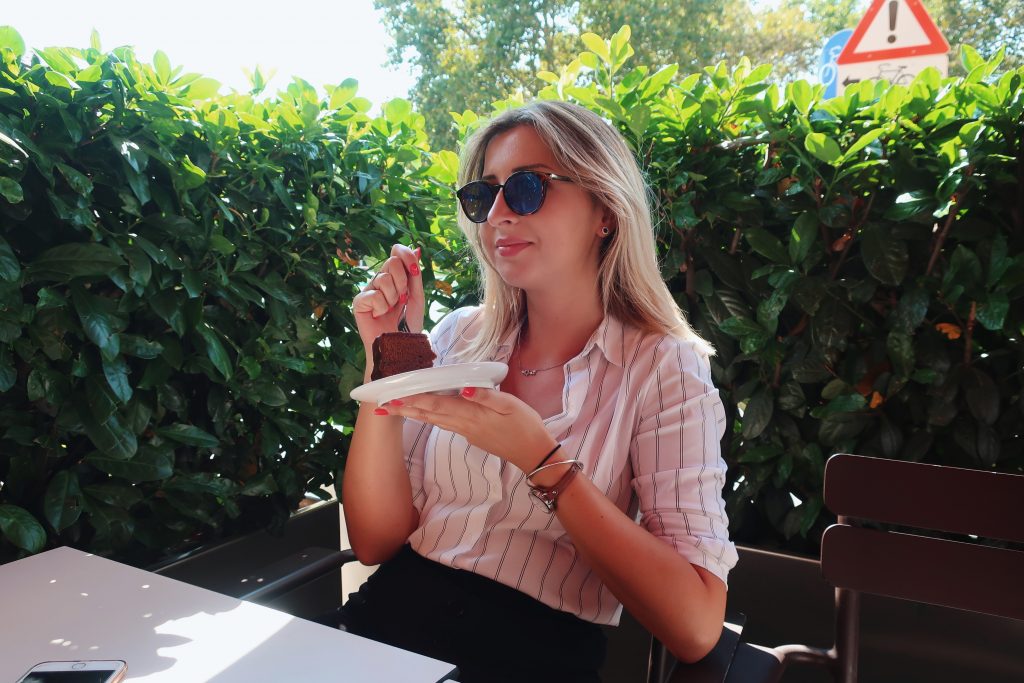 3. Eat Wienerschnitzel
Schnitzel is a meat dish in which the meat is tenderized into a thin cutlet, breaded, then fried. The dish originated in Austria but is now popular in many countries. Wiener Schnitzel is the most popular and typical Schnitzel to Vienna. It is made with veal specifically and served with potatoes.
4. Buy Mozartkugel for your Friends & Family
Mozartkugel, or Mozart balls in English, are candies made with chocolate, pistachio and nougat. Their creator named them for the renowned composer Wolfgang Amadeus Mozart, also known simply as "Mozart." These delicious treats have become a world-famous specialty that represents Austrian culture. You'll find the Mirabell brand almost anywhere in Vienna. However, you'll get the best prices on them if you can find a local grocery store further away from the main touristy areas.
5. Visit & Eat at Nashmarket
Nashmarket is Vienna's largest and most popular street market. Nashmarket combines old Austrian traditions with new ideas from immigrants. Thus, you'll find flavors from a variety of ethnic groups as well as a wondrous assortment of local foods including fresh pastries, cheeses and sausage. My cousin and I would get small portions from different vendors & sample as much as possible. I love going into cheese shops and asking to sample the most typical cheese for that particular region. Needless to say, I am an avid cheese enthusiast. Nashmarket also offers more than food, you'll find interesting trinkets, some clothing and souvenirs.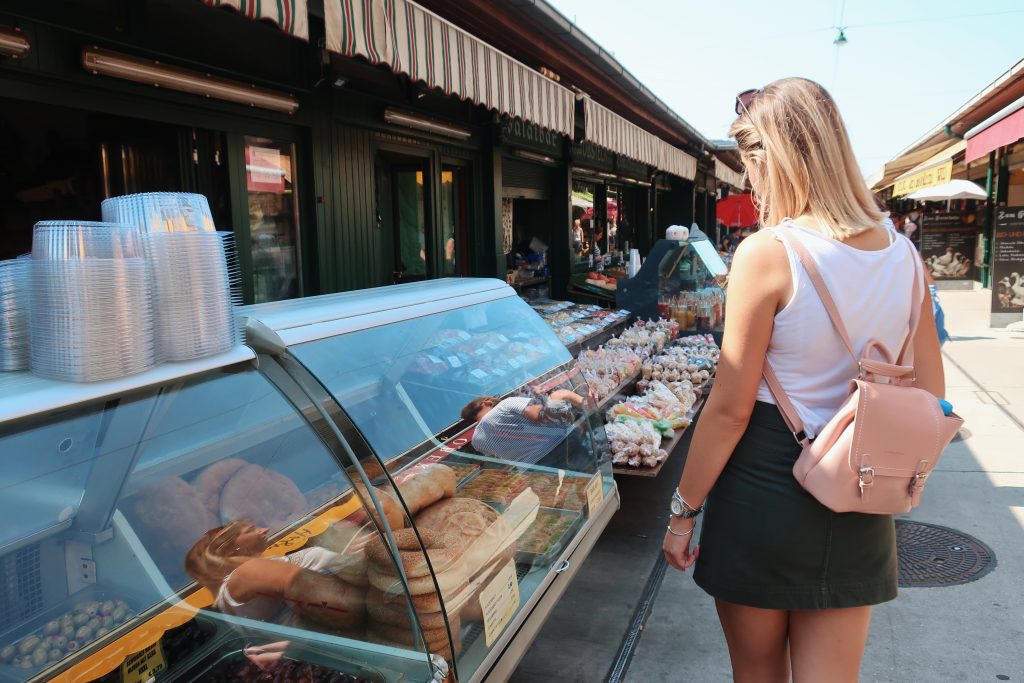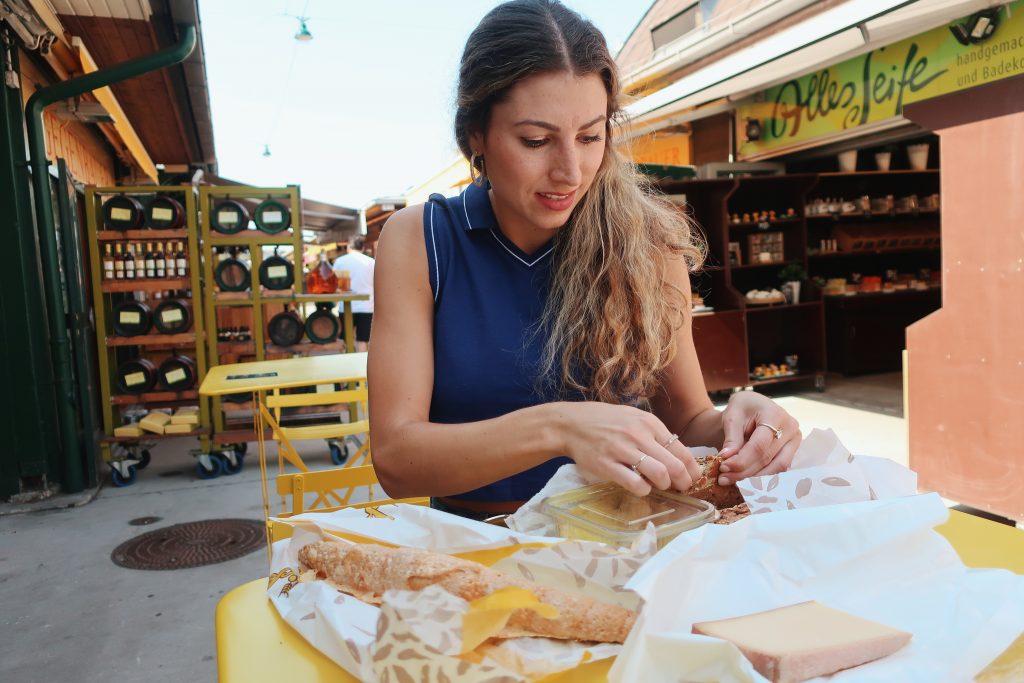 6. Stroll Through Beautiful Gardens
If spending the whole day on your feet isn't for you, at least take a stroll through the Belvedere Palace grounds, Volksgarten or the Schonbrunn Gardens. The Belvedere Palace is considered one of the most important pieces of baroque architecture. The entire palace includes the Upper and Lower Belvedere buildings that are separated by an enchanting garden. As you stroll through the garden, you'll see the city of Vienna stretched out in front of you. The Upper Belvedere palace today is home to an impressive art museum that displays many masterpieces from the Middle Ages until today.
The Schönbrunn Gardens also sit on the lands of a grand mansion, the Schönbrunn Palace. The Schönbrunn Palace is considered a UNESCO World Heritage Site. The gardens on site are gorgeous and vast. Similarly, Volksgarten is a public park made in part from the gardens that originally belonged to the Hofburg Palace. It contains a few monuments and an especially romantic rose garden. There are many benches for leisure here, and you can often find couples having their wedding photos done in the park.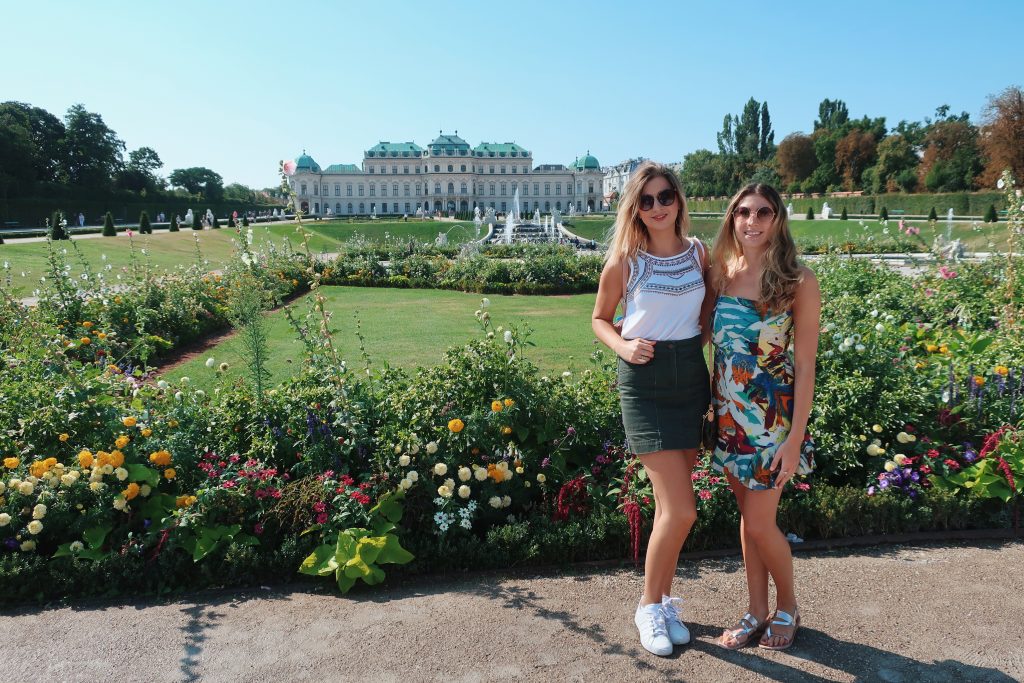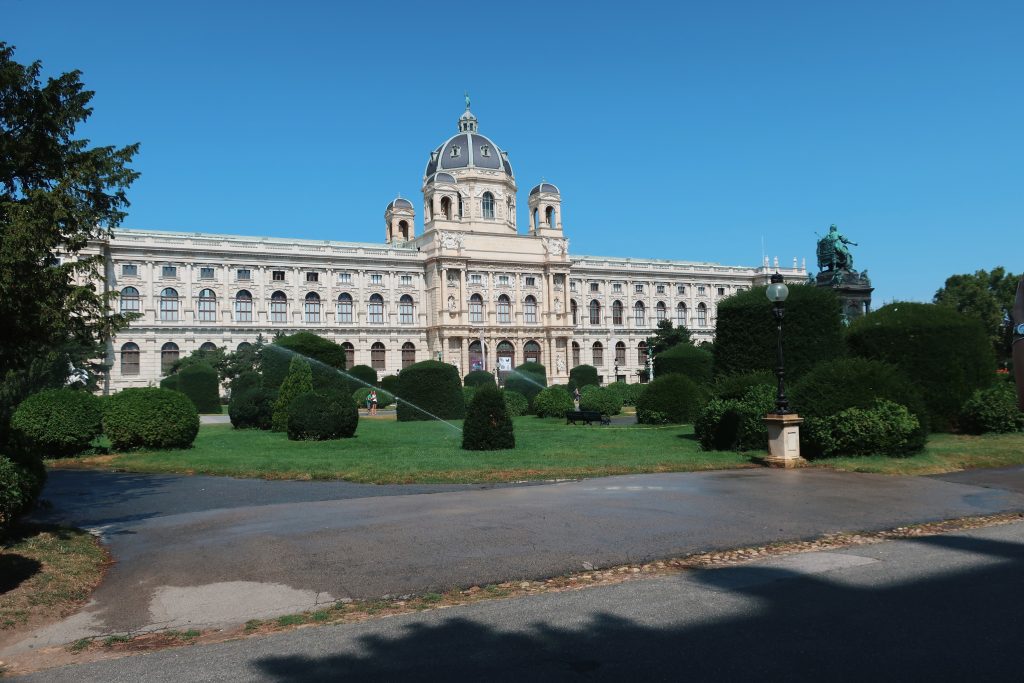 7. Check out Amazing Architecture
Schonbrunn Palace, Hofburg Palace and Belvedere Palace are excellent examples of baroque architecture. Baroque style is known for the expression of grandeur and drama, as many buildings include grand open spaces, columns and intensity drawn from lighting. St Stephen's Cathedral and the Vienna City Hall are examples of Gothic Architecture. St. Stephen's Cathedral's colorful and elaborate roof has become a symbol for Vienna. Gothic architecture in general is characterized by pointed arches, tall sharp spires and ribbed vaults. Make time to visit these landmarks and appreciate their integrity.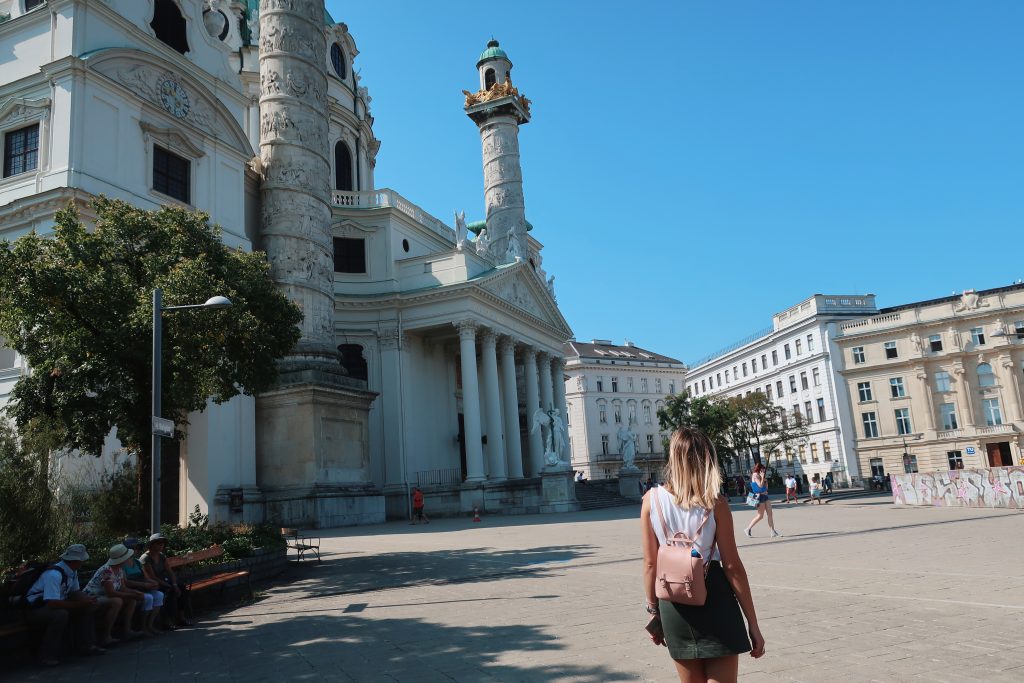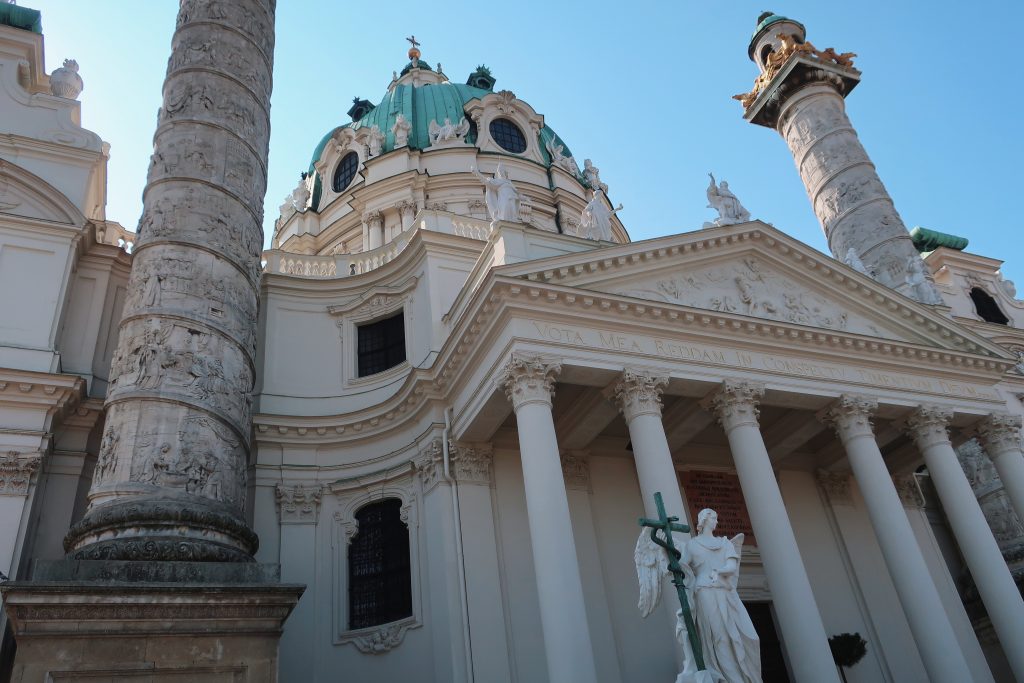 8. View Vienna from a Rooftop Bar
As you may know already, I'm obsessed with rooftop bars. Rooftop bars can provide unique perspectives and incredible views. They also allow you another opportunity to taste local flavors and try local drinks. So, fill your days with long walks around town and finish your evening with a reservation at a local rooftop bar. I make a point to look up what exact time the sun will be setting, and then I try to make a reservation for 1 hour before sunset. This ensures that you'll have soft glowing lighting as the backdrop to your evening.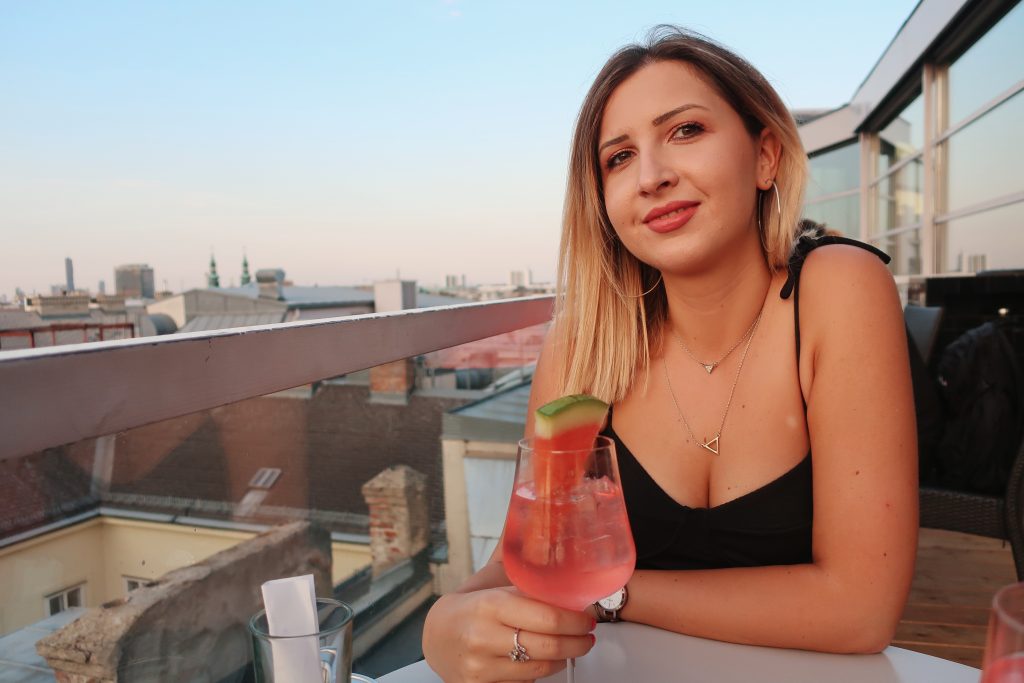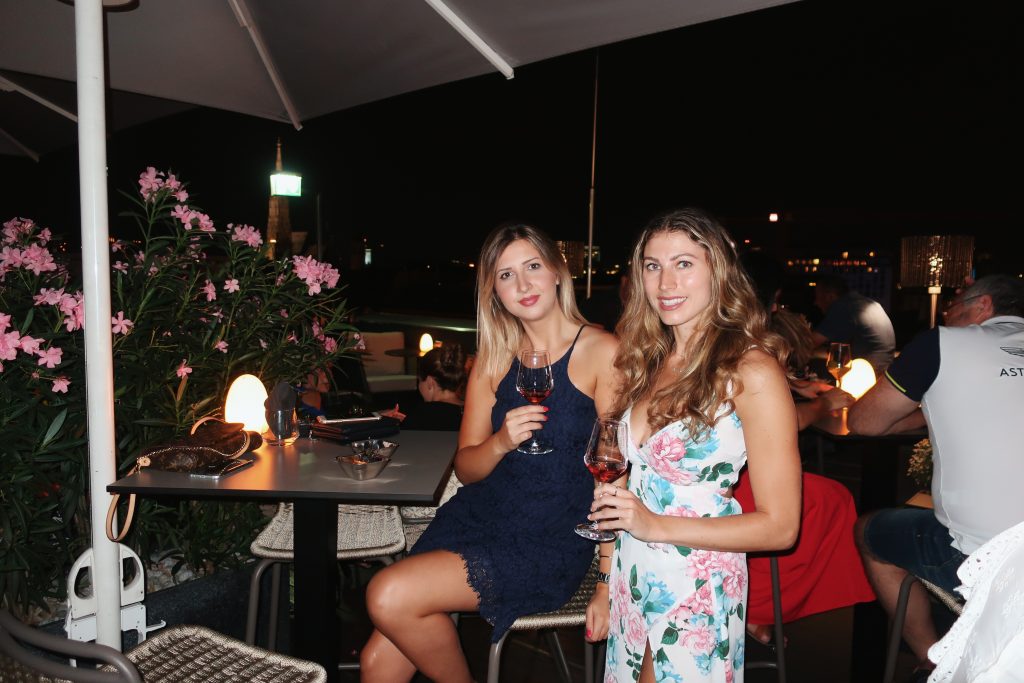 9. Visit a Chocolate Museum
The Chocolate Museum in Vienna offers tours, tastings and chocolate making workshops. The museum is a journey for the senses and provides ample fun photo opportunities. At the end of the tour, they give you chocolate! We didn't have time to visit this, but you can be sure that I will on my next trip to Vienna. For more information, visit their website here.
10. Go Shopping
I love shopping in Europe! I love it so much that I've even written an entire article on it. You'll want to read Where to Shop in Europe. Almost all the stores listed in my article have branches in Vienna. Be sure to check them out.
Travel Resources for Austria
Easily get around Austria with Car Hire.