In the Vienna attractions map, the blue pins represent tourist spots. Green pins represent cafés and restaurants —cafés with a coffee cup icon and restaurants with a knife and fork. You may notice the rooftop bars are marked with purple pins. Go shopping at some cool stores are identified with orange pins.
If this map seems overwhelming…. First, learn how to use google maps when traveling.
Walking Tour Map of Vienna
In the Vienna attractions map, the blue pins represent tourist spots. Green pins represent cafés and restaurants —cafés with a coffee cup icon and restaurants with a knife and fork. Visit the rooftop bars marked with purple pins. Finally, some of my favorite places to go shopping in Vienna can be identified with orange pins.
Walking Tour Map of Vienna: The Walks
Walk 1: City Center
Walk 2: Belvedere Palace to Chocolate Museum
You can complete each walk in 1 hour and 10 minutes. This does NOT include any time you may spend inside any of the Vienna attractions. The walks are each relatively short in order to allow you more flexibility with your time. You decide which museums, churches and palaces you wish to enter along the way.
If you plan to visit Vienna with a special someone, check out this fun couples activities in Vienna. 
Within the map, you'll find walking directions from one point to the next. You could do both walks in one day if you'd like, or spread them out between two days. The routes do not include public transportation. You can walk the entire time! We'll highlight some great places to eat along the way.
Here are some tips for visiting Vienna with kids. 
Walk 1: City Center Walk
The City Center Walk covers a lot of Vienna sightseeing in one dynamic hour. Including:
Naschmarkt
Museum Quarter
Maria Theresien Platz
Austrian Parliament Building
Vienna City Hall
People's Garden
Hofburg Palace
St. Michael's Church
Albertina Museum
Capuchin Church of Vienna
St. Stephen's Cathedral
This walk starts off at Naschmarket, Vienna's famous international outdoor market. This is a great place to try local meats and cheeses. Because Vienna has a booming immigrant population, you'll see a lot of fresh, authentic, global cuisine. I recommend coming hungry and sampling small portions from a few vendors.
Naschmarket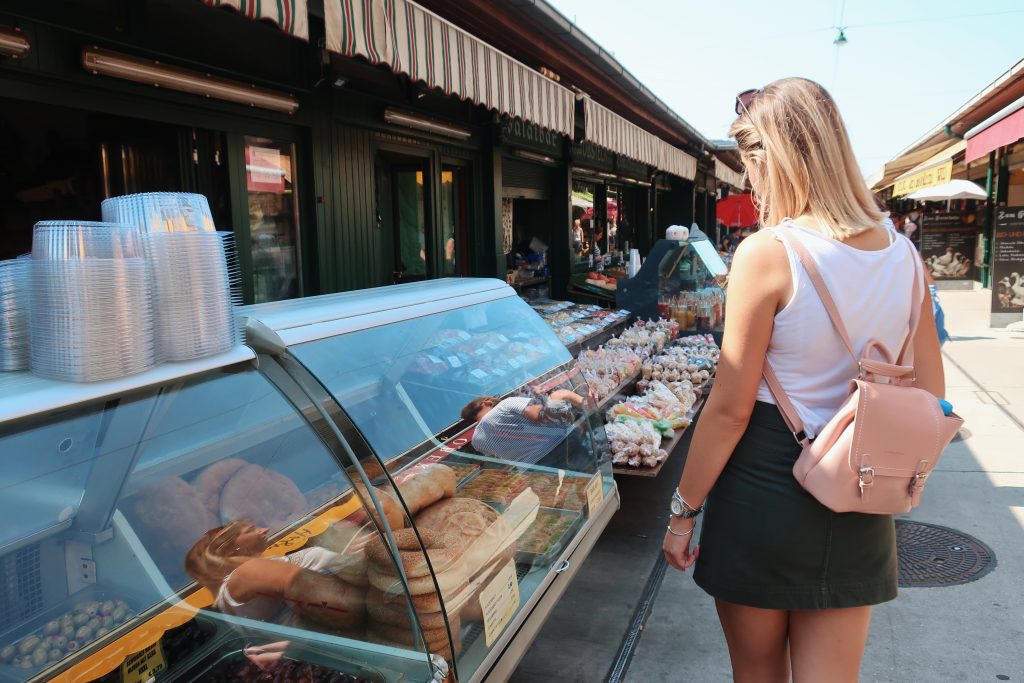 Continue to the Museum Quarter, but stop at Café Sperl. Café Sperl is considered as a traditional Viennese café. It was first established in the late 19th Century and has since catered to famous individuals, winning a few awards along the way.
The Museum Quarter is where you'll find many Vienna tourist spots. The two art museums in Museum Quarter are the Leopold and MUMOK. MUMOK stands for Museum of Modern Art Living. The Leopold Museum also holds an extensive collection of modern Austrian art. There are a few other art exhibitions spaces and studios in Museum Quarter.
The Natural History Museum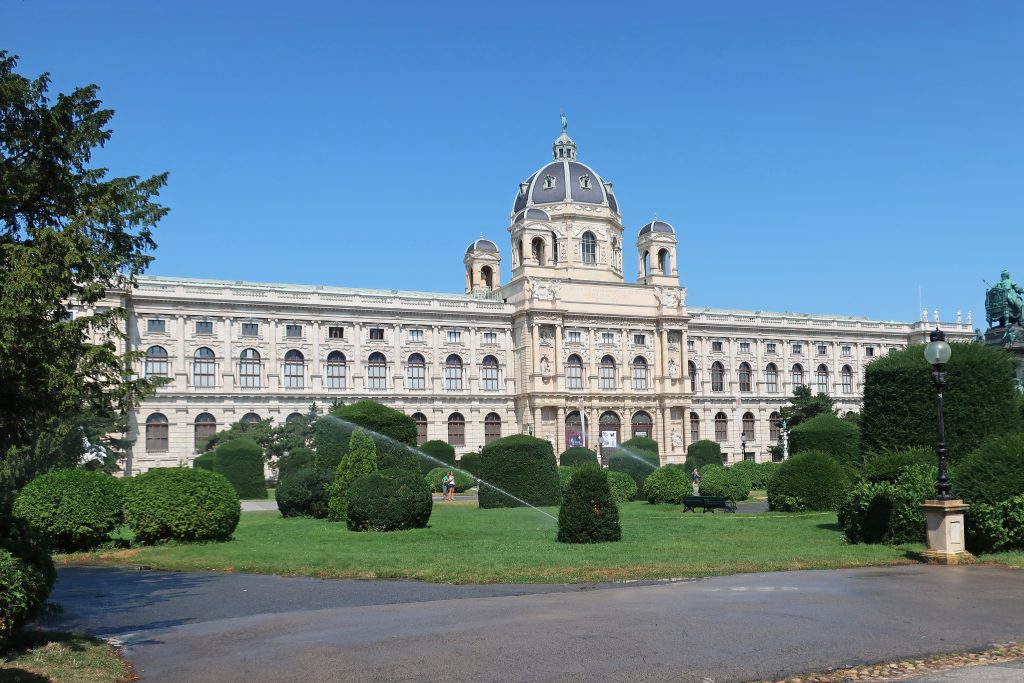 Just across the street, are Vienna's Natural History and Fine Arts Museums. The two institutions are separated by the popular space of Maria Theresien Platz. The Fine Arts Museum, or Kunsthistorisches, is the largest art museum in Austria. It holds collections from the Habsburgs Royal dynasty, including paintings that date back to the 15th Century.
The Natural History Museum displays a vast collection of objects. These specimens were primarily recovered from imperial exhibitions as long as 200+ years ago. Both museums are housed in stunning, palace-like buildings. They were constructed in the late 19th Century, and designed in the Historicism architectural style.
The Historicism approach involved taking inspiration from many periods, particularly Renaissance in this example. Even if you don't plan on visiting these museums, make time to visit Maria Theresien Platz and marvel at these grand, elaborately designed, museums. These are some of the best sights in Vienna.
Austrian Parliament Building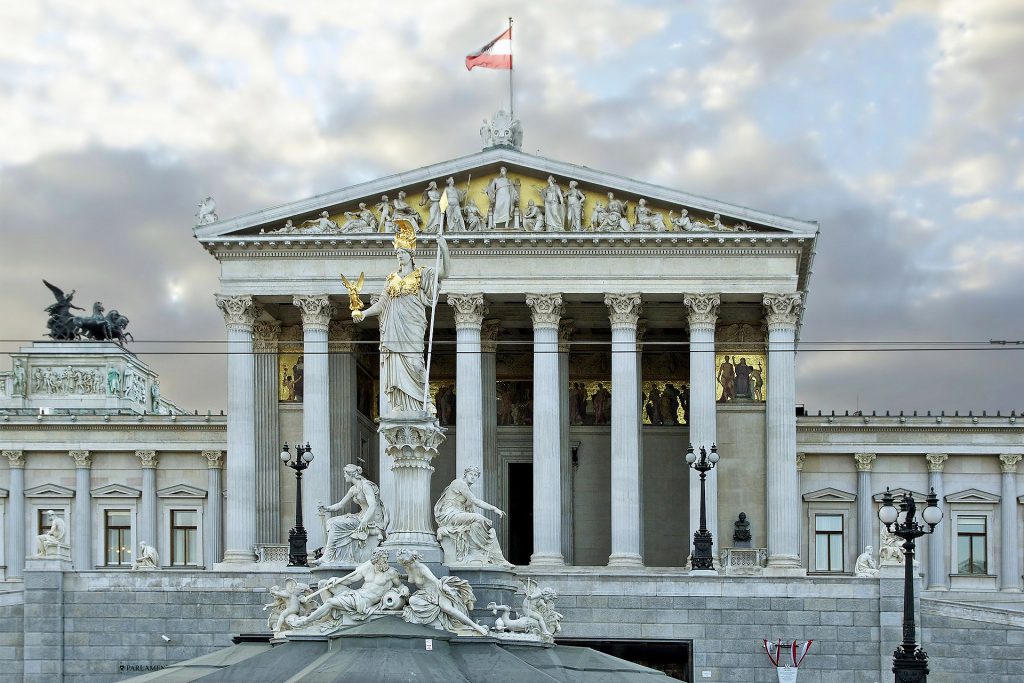 Next, head toward the Austrian Parliament Building. Note the Greek Revival style here. You can see the statue and fountain dedicated to the Godess Athena.
This building is one of the most visited places in Vienna. Continue to the Vienna City Hall or Rathaus. This elaborate building was designed in the Gothic style with pointed arches and tall tower. The City Hall and Parliament Building are more examples of Historicism spirit in Vienna during the late 19th Century.
Continue your Vienna walking tour through Volksgarten on your way to the Hofburg Palace. People's Garden, or Volksgarten, is a large public green space blossoming with roses during the early summer months.
It's one of the popular places of interest in Vienna. There's plenty of flowers, park benches, sculptures and fountains. The Hofburg Palace is nearby. It is one of the most famous places to see in Vienna.
Hofburg Palace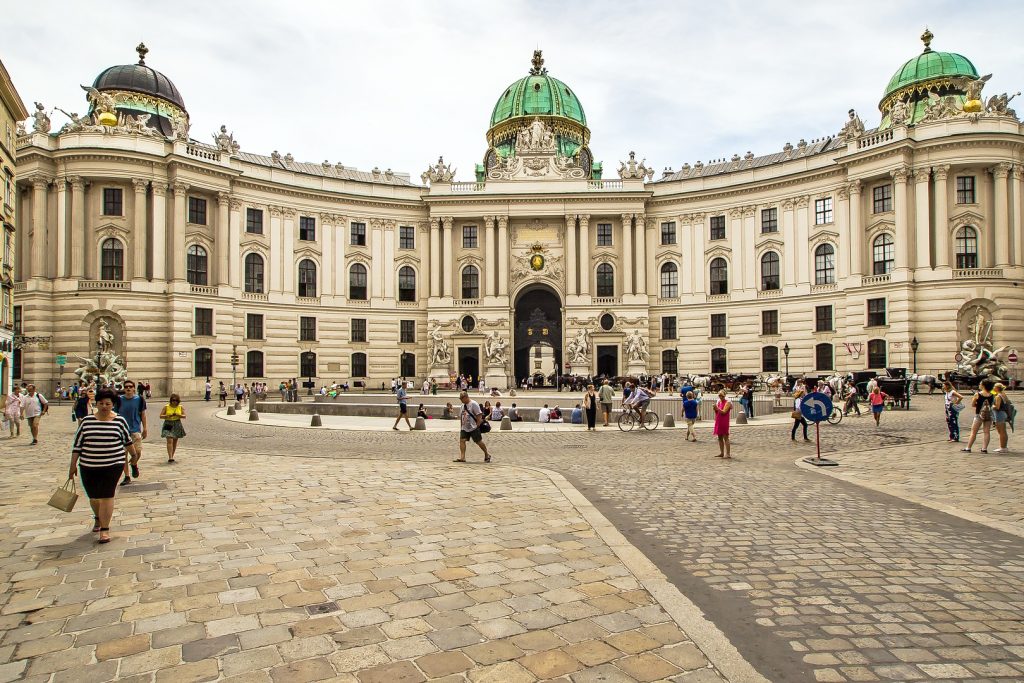 The Hofburg Palace was the previous residence for the rulers of the Hubsburg dynasty. It was originally built in the 13th Century but expanded few times since then. Today, you can visit the palace's Sisi Museum, Imperial Apartments and Silver Collection. The Sisi Museum holds the personal belongings of Empress Elisabeth, and tells the story of a beautiful young monarch who was mysteriously murdered.
In the Imperial Apartments, you'll get a glimpse into what life was like for these famous rulers. The Hofburg is known as their winter residence. Finally, the silver collection reveals unique dining culture of these lavish and proper monarchs.
The walk takes you from Hofburg Palace to St. Micheal's Church —one of the best attractions in Vienna. It is among the oldest churches in Vienna dating back to the early 13th Century. It has features from both Romanesque and Gothic styles. The church offers guided tours by appointment.
The final sights on this walk are the Albertina Museum, the Capuchin Church and St. Stephen's Cathedral. The Albertina is famous for its enormous print room that displays over 60,000 drawings. This museum has also acquired some impressionist paintings and early 20th Century art.
St. Stephen's Cathedral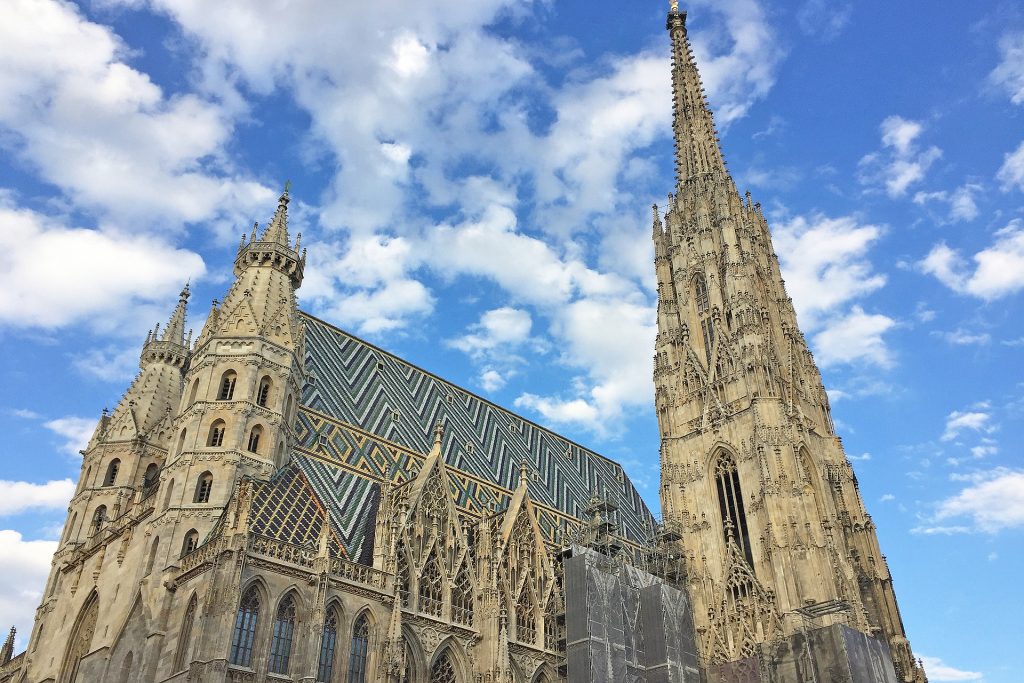 St. Stephen's Cathedral is one of the most impressive sights of Vienna. It is a Romanesque and Gothic masterpiece of the 14th Century. Its multicolored tiled roofs is an iconic symbol for Vienna.
Over 6 million people visit this cathedral every year! You can visit the cathedral and see many of its alters for free. Also, the Cathedral offers daily tours. They cost between 6-14 euros per person. (14 euros is the all inclusive ticket). This concludes the city center walk.
You may notice on the Vienna tourist map, that there are a lot of other pins in this area. We recommend dinner at Figlmüller Bäckerstraße for traditional Austrian fare. Try the wiener schnitzel. Have Saher cake at Café Central. Get drinks at SKY and watch the sun set.
Walk 2: Belvedere Palace to Chocolate Museum
Walk 2 can be completed in an hour and 15 minutes if you don't go inside Belvedere Palace. However, it could take a few hours as you take your time in the palace, visit the Belvedere 21 Museum and enjoy yourself in the beer garden. This walk includes:
Belvedere Palace
St. Charles Church
Stadpark
Hundertwasser House
Beer Garden
Chocolate Museum Vienna
You could start your morning at the 15 sweet minutes Cafe.
The Belvedere Palace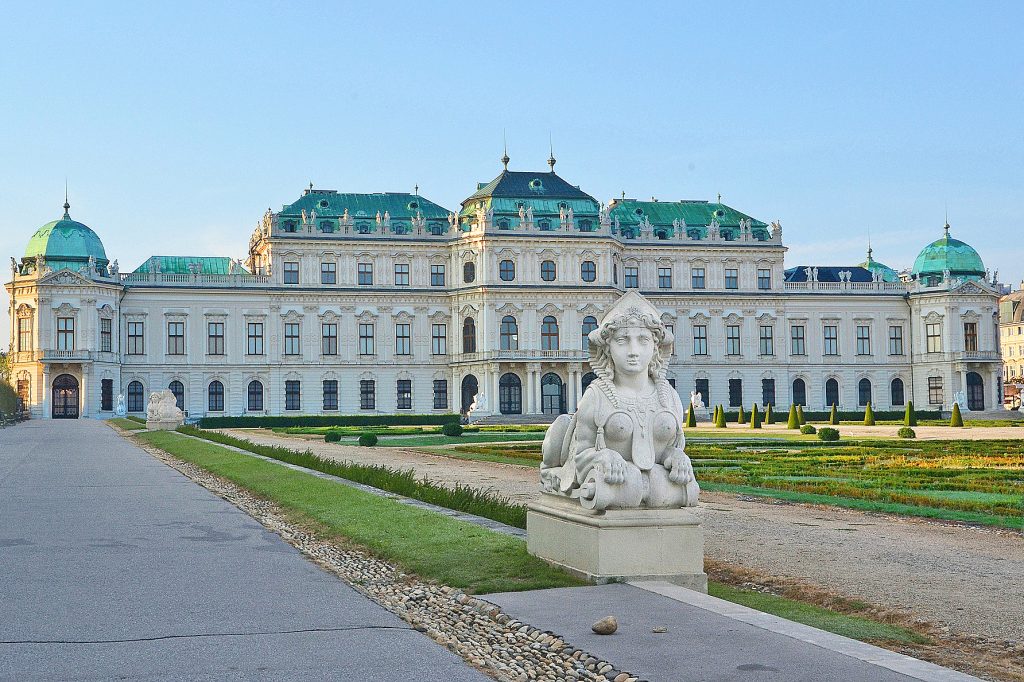 One of the most well-known places to visit in Vienna is the Belvedere Palace. The Belvedere complex is designated as a UNESCO world heritage site. It include both the upper and lower palaces, the Belvedere 21 Museum, the grounds gardens and a separate botanical garden.
You could spend all day here! The Belvedere Palace Museums (upper and lower palaces) are separated by the beautiful grounds gardens in the Baroque style.
The Upper Belvedere museum is famous for having the world's most complete collection of Gustav Klimt paintings. Lower Belvedere houses the temporary exhibitions, particularly Austrian art. Belvedere 21 is a modern art space displaying performances, films, lectures and concerts. The Botanical Gardens are located east of Upper Belvedere, and they are free to enter.
St. Charles Church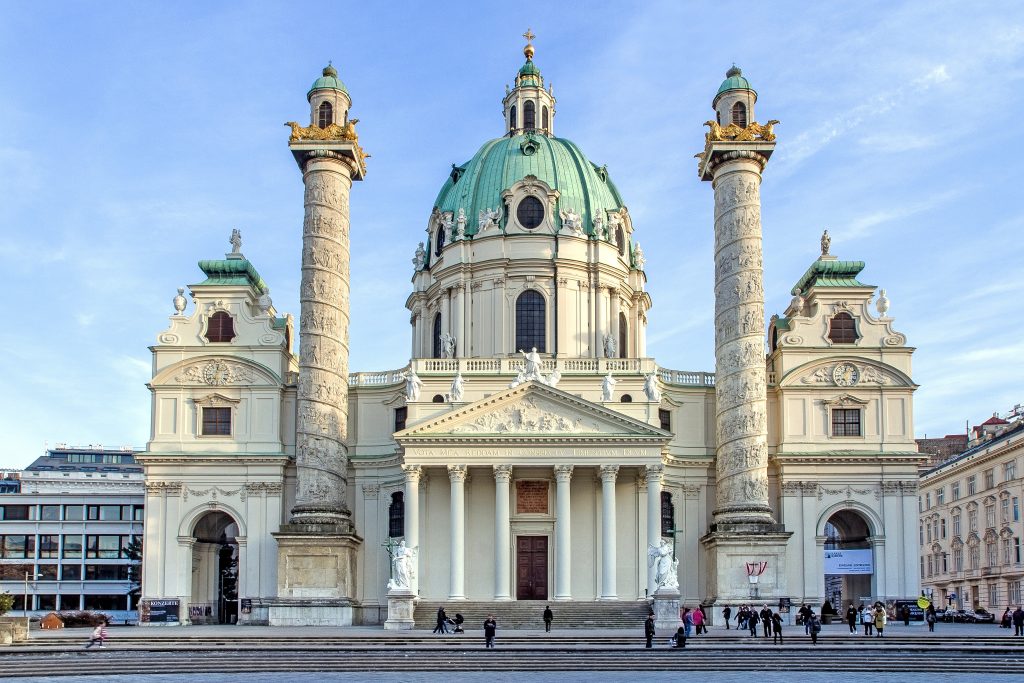 Once you've wrapped up your visit to Belvedere, head to St. Charles Church. In german, translated as Karlskirche.  The St. Charles Church is considered to be the most beautiful Baroque church in Vienna.
You can't miss this when you visit Vienna. It costs 8 euros to enter the church. Inside, you'll have access to the alters, galleries and relics. You can never have enough green space in Vienna! Walk through Stadtpark on your way to the Hundertwasser House.
Hundertwasser House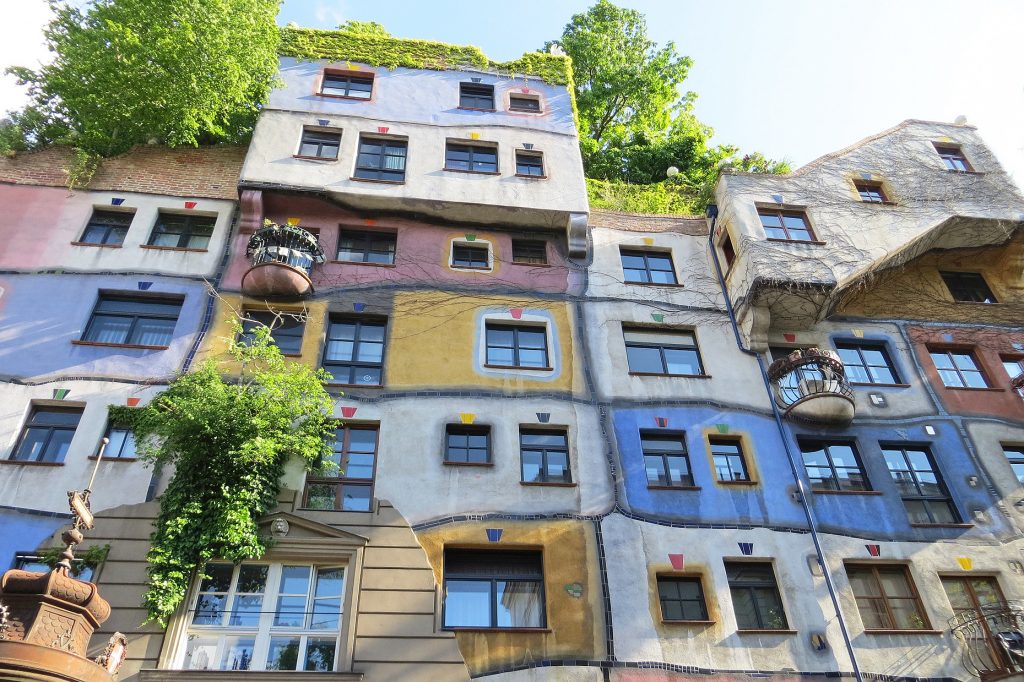 The Hundertwasser House is one the most unique of Vienna tourist places. Friedensreich Hundertwasser was the Austrian artist who created this work. Hundertwasser's vision was to integrate residence with nature in a harmonious way.  In the 1980s, the apartments were constructed in line with his vision. This included roofs covered with grass and trees growing from the inside out. There is a museum dedicated to Hundertwasser's work just down the street.
Otherwise, continue to Prater Park. Prater is the biggest park in Vienna, complete with walking trails, a Ferris wheel and charming beer gardens. It's that huge green space, east of city center, on your Vienna sightseeing map. Stop at Schweizerhaus for delicious eats and cold brews.
Finish your walk at the Chocolate Museum of Vienna. It's open until 6PM on weekdays, and 7PM on weekends. You can tour the museum or sign up for chocolate making workshops.
Shopping in Vienna
In this world-class city, you'll also find great shopping opportunities. Start at the northernmost end of Mariahilfer street (at Museum Quarter), and follow it down (southwest). You'll hit all the best stores. You can find Mango, Pull & Bear and Bershka on Mariahilfer street. These are some of my favorite European brands. For more information about the labels, price ranges and styles offered, check out Where to Shop in Europe.