This interactive Costa Rica attractions map is downloadable for offline use! You'll need it when you visit Costa Rica.
Costa Rica is an adventure paradise. Many of the famous attractions in Costa Rica are natural wonders like volcanos, animal sanctuaries, and national parks. The best tourist attractions in Costa Rica are included in this map. 
Costa Rica Attractions Map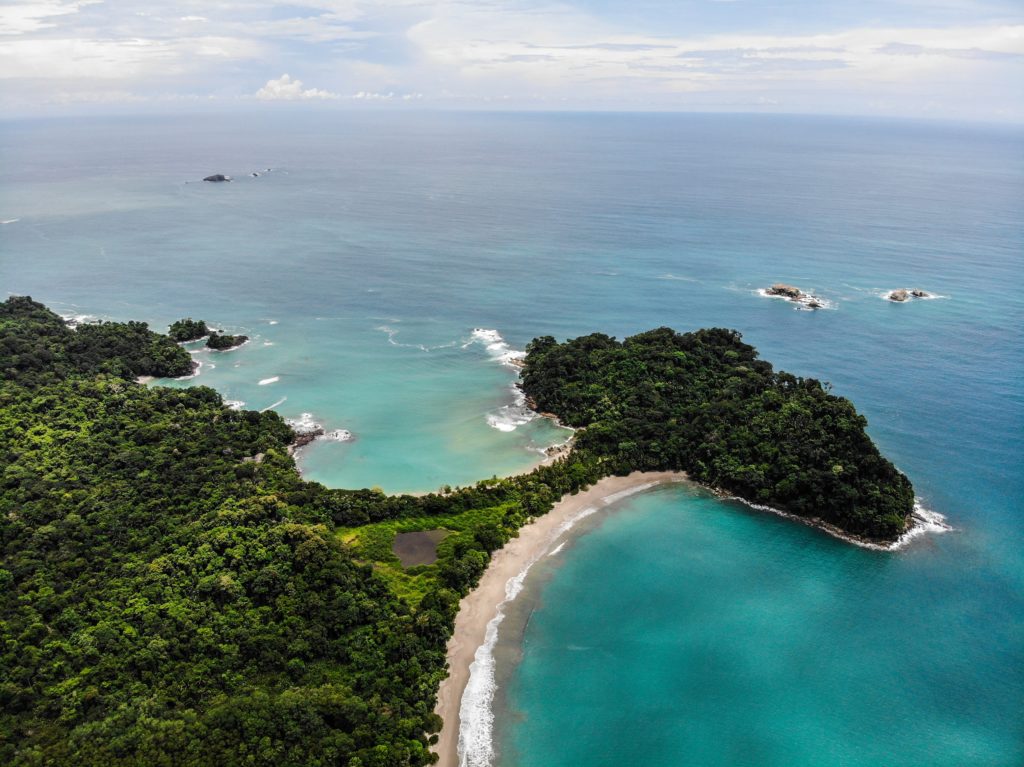 Costa Rica is a famous eco-tourism destination in Central America. The easiest way to get to Costa Rica is to fly into one of the country's international airports. There's one in San Jose and one in Liberia. Both airports offer daily flights to many US and Canadian destinations. 
The best time to visit Costa Rica is December through April. This is the dry season. If you are looking to avoid crowds, consider visiting June through August. Rain can be an important factor when planning your trip, as you won't be able to fully appreciate the top sights in Costa Rica when the skies are completely overcast.  Find out what to wear in Costa Rica.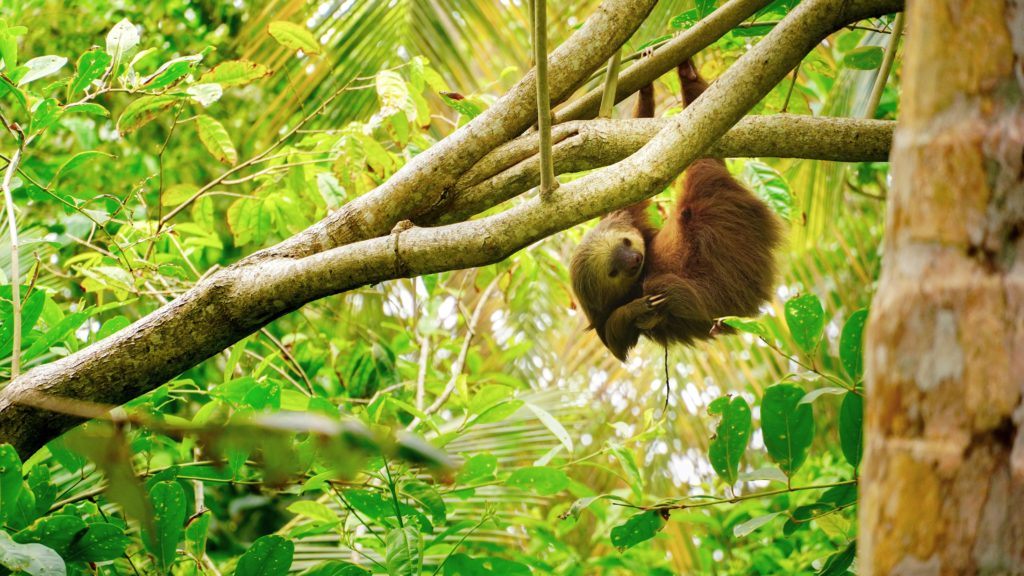 Costa Rica Attractions Map
This map of Costa Rica will help you plan the perfect itinerary. Discover the Costa Rica main attractions everyone is raving about! Also, find out more about the memorable things to do in Costa Rica! 
Some of the best places to visit in Costa Rica include the coastlines, La Fortuna and Monteverde. La Fortuna is known for the Hanging Bridges Park, Tabacon Hot Springs, and the Arenal volcano. Monteverde is home to the famous Cloud Forest! 
How to Use This Map: If you click the tab at the top left corner, you'll be able to select specific layers. Click the checkmark to select or hide specific categories.
Save This Map: Click the brackets in the top right corner to expand the map in full view. It will open in a new tab. Under the map title, right of the map description, there is a star. Click this star and the map will be saved to your Google account  in Google Maps. You can access it later from your computer or device. On desktop, go to Google Maps and click 'Your Places,' and 'Maps.' On app view, select 'Saved, scroll down and click 'Maps.'
Costa Rica is a relatively small country convenient for road-tripping. Although, the roads are quite primitive and sometimes poorly lit. It's best to plan driving during daylight hours
This is the best of Costa Rica as experienced by travel bloggers! You'll find out more about the top attractions in Costa Rica. Also, learn more about the exciting outdoor activities in Costa Rica like whitewater rafting, canyoning, snorkeling, and much more. 
Pacific Coast
You'll find a few important attractions along the Pacific coastline on this Costa Rica tourist map. The most iconic spots along the Pacific coast are Manuel Antonio, Marino Ballena, and Corcovado National Parks. Visiting the Catalinas Islands off of the Pacific coast is one of the unique things to do in Costa Rica. 
Manuel Antonio National Park
By Lena from Salut from Paris
One of the best activities in Costa Rica is visiting one of the many National Parks. Manuel Antonio is one of the Costa Rica top attractions. It's the most accessible and easy to visit park, and it's located in the Puntarenas region. You can get there by 4-hour bus ride from San Jose.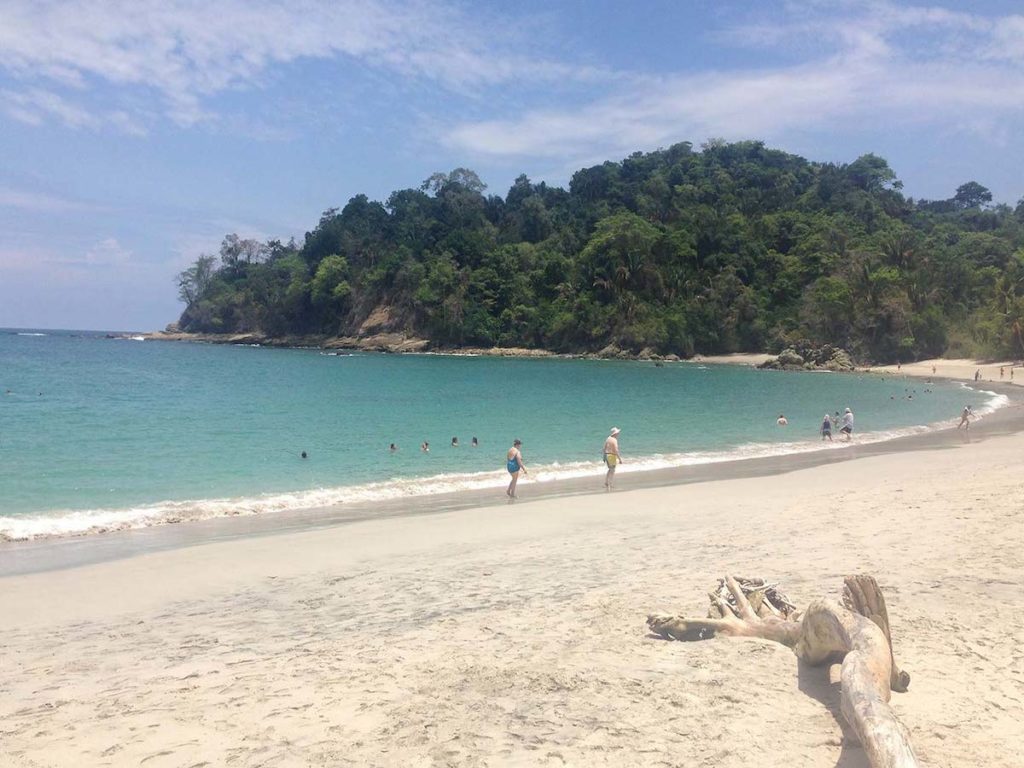 Manuel Antonio is the smallest National Park in Costa Rica, but don't get fooled by its size. The biodiversity is unbelievably high. More than 300 species are living in this little paradise. You'll have the chance to see sloths, monkeys, coatis, toucans, snakes, and all kinds of iguanas. 
The park has a wonderful lush tropical vibe but also several coves with white sand beaches. It's one of the fun places in Costa Rica to snorkel! So, you get to enjoy the maritime wildlife as well. If you are lucky, you might even spot a migrating whale.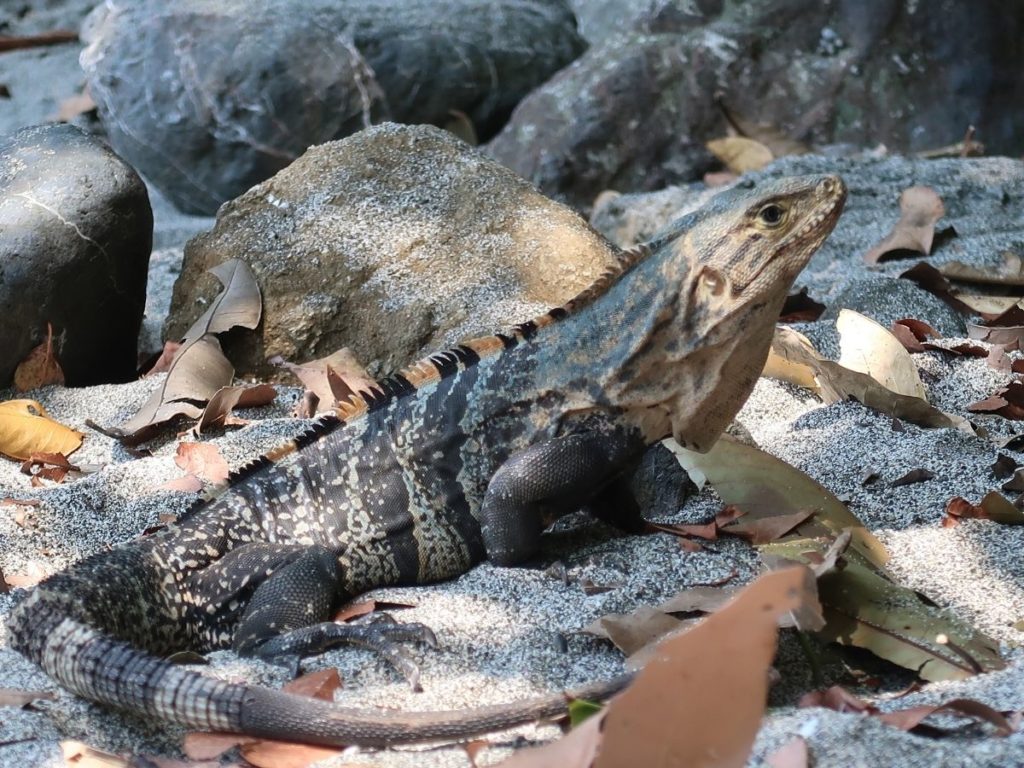 Book a guided tour through Manuel Antonio National Park. 
Given its beauty, it is not surprising that the Manuel Antonio National Park was even listed by Forbes as being one of the world's 12 most beautiful national parks. That's why it's one of the important spots on this Costa Rica points of interest map. Due to the very well-maintained loop trail, it is easy to visit the park, no matter your fitness level.
Marino Ballena National Park AKA 'Whale's Tail'
By Sarah from Costa Rica Vibes
The Marino Ballena National Park is located in the South Pacific town of Uvita. This park is home to a unique geographical phenomenon. That's why it's considered to have some of the best beaches in Costa Rica.
During low tide, it is possible to walk on a wide jutted-out piece of land with the ocean on either side. From above, this piece of land resembles a whale's tail.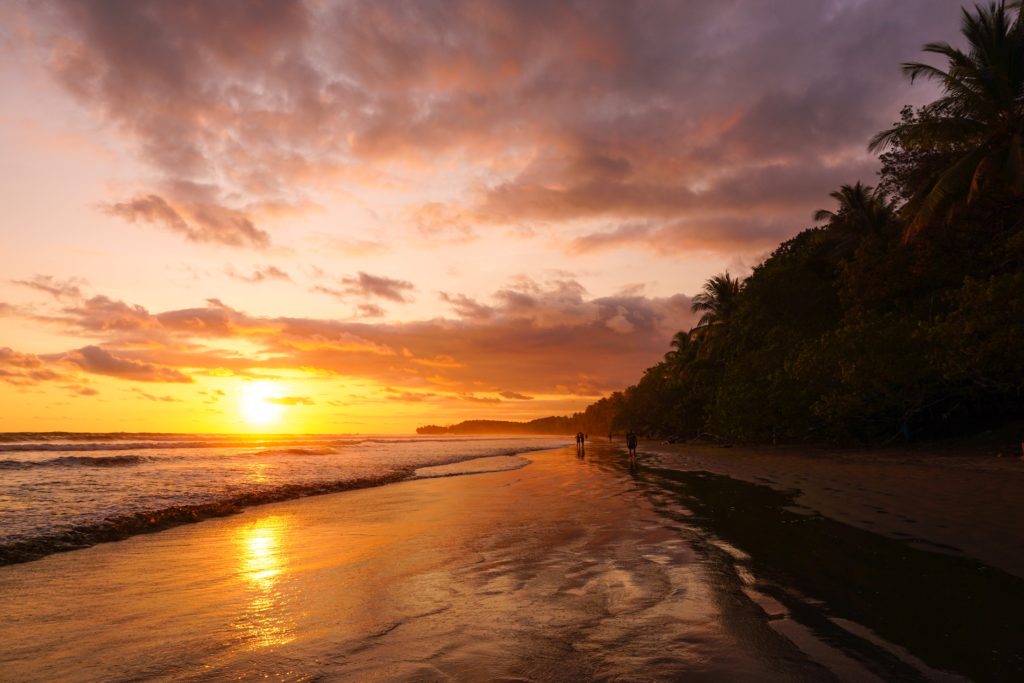 To visit this spot, access Playa Uvita in Marino Ballena National Park during low tide. There is a small entry fee for adults, but the beach is a beautiful place to spend a day. 
Just make sure to wear shoes or sandals because the walk to the tip of the whale's tail is rocky. Also, put on plenty of high SPF sunscreen, and don't forget to head back before the tide comes in!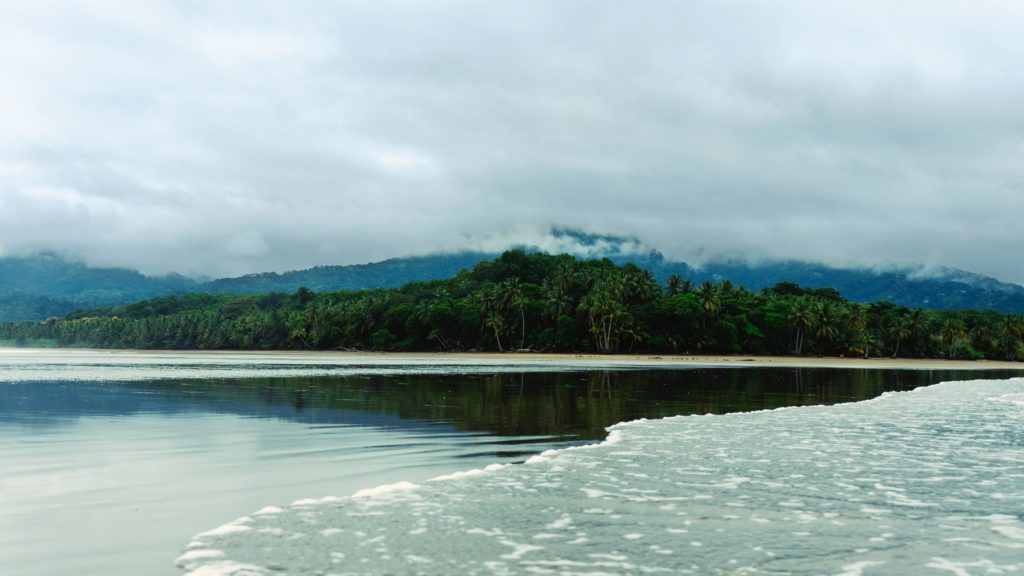 Book a whale watching tour from Uvita. 
Whale's Tail is one of the most popular Costa Rica attractions. The best way to view the whale's tail in all its glory is from one of the many resorts located in the mountains above Uvita. These are some of the best places to go in Costa Rica for panoramic Pacific coast views. 
Oh, and if you visit during August through October, definitely go on a whale watching tour! Besides resembling a whale's tail this is also one of the best spots in the country to experience whale migration. 
Corcovado National Park
By Margarita from The Wildlife Diaries 
It's referred to by National Geographic as "the most biologically intense place on earth in terms of biodiversity." Corcovado National Park is epic in every sense of the word. It is the largest National Park in Costa Rica and one of its wildest. 
You'll find it towards the southern end of the country on this map of things to do in Costa Rica. It protects almost a third of the remote Osa Peninsula that juts out into the Pacific Ocean in the Puntarenas Province.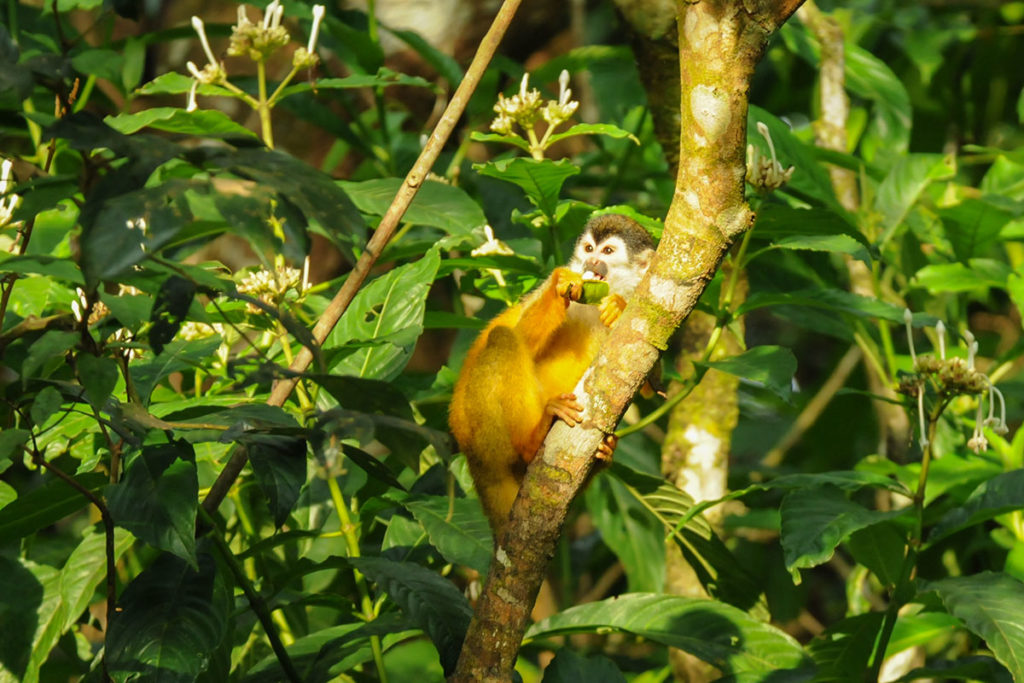 Visit the Corcovado wilderness from Sierpe. 
There are no roads, no settlements within Corcovado wilderness, only a few ranger stations. The best of these is Sirena Ranger Station that you can visit for a few days on an organized tour with a certified nature guide. It's one of the best places to see in Costa Rica for expert trekkers. 
Getting to Sirena is part of the adventure – it can be reached either by a 2-hr bumpy boat ride from the sleepy coastal town of Drake Bake or by a 26-kilometer hike from Puerto Jiménez. This isn't your average Costa Rica sightseeing!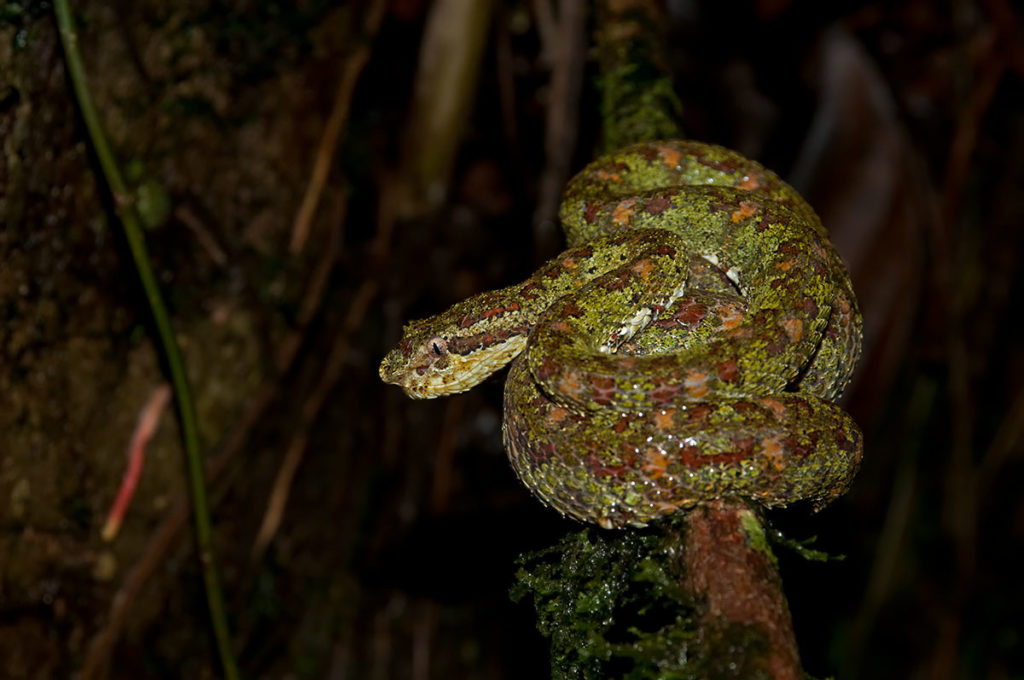 Facilities at Sirena beg for an upgrade. Although, the jungle can be explored via an extensive network of trails. It is superb! Because Corcovado has been protected since 1975, animals in the park have no memory of being hunted and have a lot of tolerance for people. So if you enjoy close encounters with wild animals, Corcovado is your kind of place. 
It is the only place in Costa Rica where you can see all four species of Costa Rica's monkeys, as well as the endangered Baird's tapirs, Northern tamanduas, peccaries, and coatis.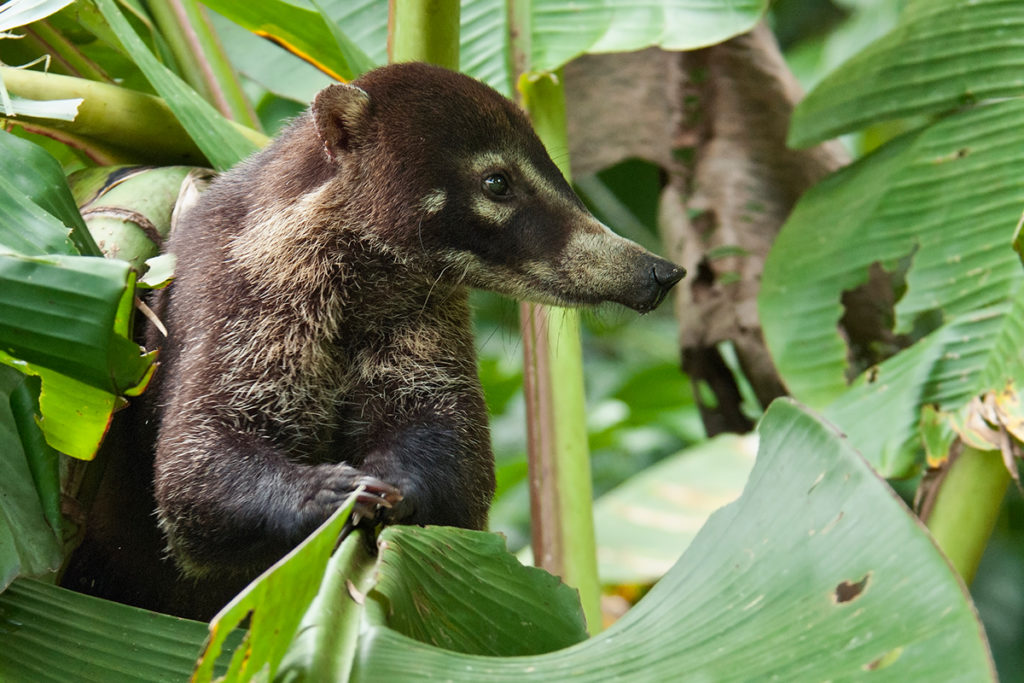 Experiencing wildlife firsthand at Corcovado is one of the cool things to do in Costa Rica. If you are lucky, you may even spot a puma! Not to mention, there are over 360 species of birds and a plethora of reptiles. This includes Latin America's most infamous venomous snake the Fer de Lance. 
Nauyaca Waterfalls
By Samantha from Seeing Sam
If you are a nature lover and adventure seeker, you must visit the Nauyaca Waterfalls in the Puntarenas Province! They're an important spot on this tourist map of Costa Rica attractions.
The Nauyaca waterfall system is located on private property. It is beloved by tourists and locals alike. Many of the top activities in Costa Rica can be enjoyed here. Nauyaca Falls offers more than just beautiful views and refreshing pools. You can enjoy horseback riding, birdwatching, hiking, and daring cliff jumping.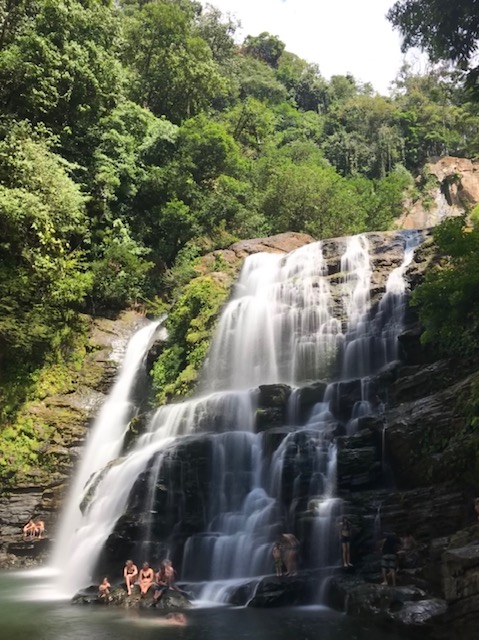 The falls are snuggled in a canyon over 260 ft wide surrounded by tropical rainforest. The waterfall plunges down over slick rocks in two sections that combine and reach over 200 ft. It's one of the most impressive sites to see in Costa Rica!
The lower section flows into a pool just under 20 feet deep. This spot is perfect for swimming. If you are feeling ambitious, you can consider jumping off one of the various rock formations. 
This spot is conveniently located near popular beach towns. It's accessible from Dominical in 20 mins or 6 miles. You can get there from Manuel Antonio in 50 mins or 34 miles. Alternatively, from Uvita, it will take 30 mins or 18 miles.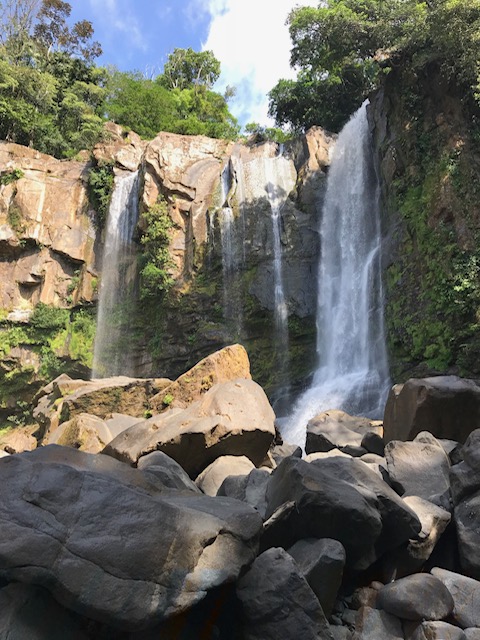 Tour the Nauyaca waterfalls from Manuel Antonio. 
This is one of the interesting places to visit in Costa Rica and getting here is an adventure. You can choose to hike 2.5 miles to the waterfalls if you have a 4×4. In this case, you can park at the trailhead parking lot. Otherwise, you can park on the street and either hitch a ride or walk another 1.5 miles to the trailhead down a rough and rugged dirt road. 
Depending on the time of year, you can also visit the waterfalls via horseback or 4×4 tours. There is a small entrance fee, but it is well worth the memories you will make while visiting this exciting and unique destination in Costa Rica!
Las Catalinas Islands
By Pamela from The Directionally Challenged Traveler
One of the best-hidden gems on this Costa Rica map is the Catalina Islands. You'll find them in the Guanacaste region. Nestled comfortably a few miles off the Pacific Coast, these islands are a beautiful natural landmark and one of the cool places to visit in Costa Rica!
The islands are archipelago ranging from 2-15 miles off the coast. It's easy to visit from the beach town, Tamarindo. Above water, the islands are not much to look at, but underneath the waves, Mother Nature is showing off. Scuba diving or snorkeling in the Catalina Islands is one of the best things to do in Tamarindo. The islands are home to the Pacific Giant Mantas, white-tip reef sharks, and literally hundreds of species of fish – so be sure to bring an underwater camera with you.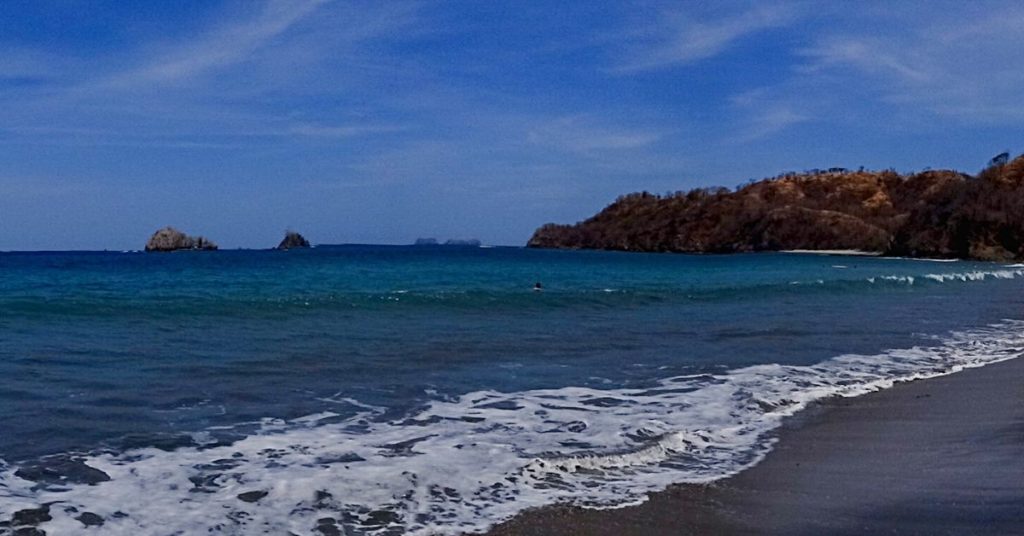 Dive at the Las Catalinas Islands. 
Scuba and snorkeling tours leave Tamarindo daily. On your way out to the archipelago, keep an eye out for devil rays playing in the waves. They can be seen launching and flipping several feet out of the water. It's one of the unforgettable things to see in Costa Rica!
Whether you see the islands from under the water, or on top, you won't be disappointed! 
Ostional Beach
By Pubali and Indranil from Paradise Catchers
If you are looking for memorable entertainment in Costa Rica, consider a trip to Ostional beach. Located on the Pacific coast, this little town in Guanacaste province draws visitors from around the world for a magical natural phenomenon.
Ostional Beach is one of the must-see places in Costa Rica. Thousands of olive ridley sea turtles come to Ostional beach for nesting. This event of the arrival of the turtles is called "arribada" (Spanish for "arrival"). Mostly following the moon cycle, arribadas occur all year round but peak between June and December.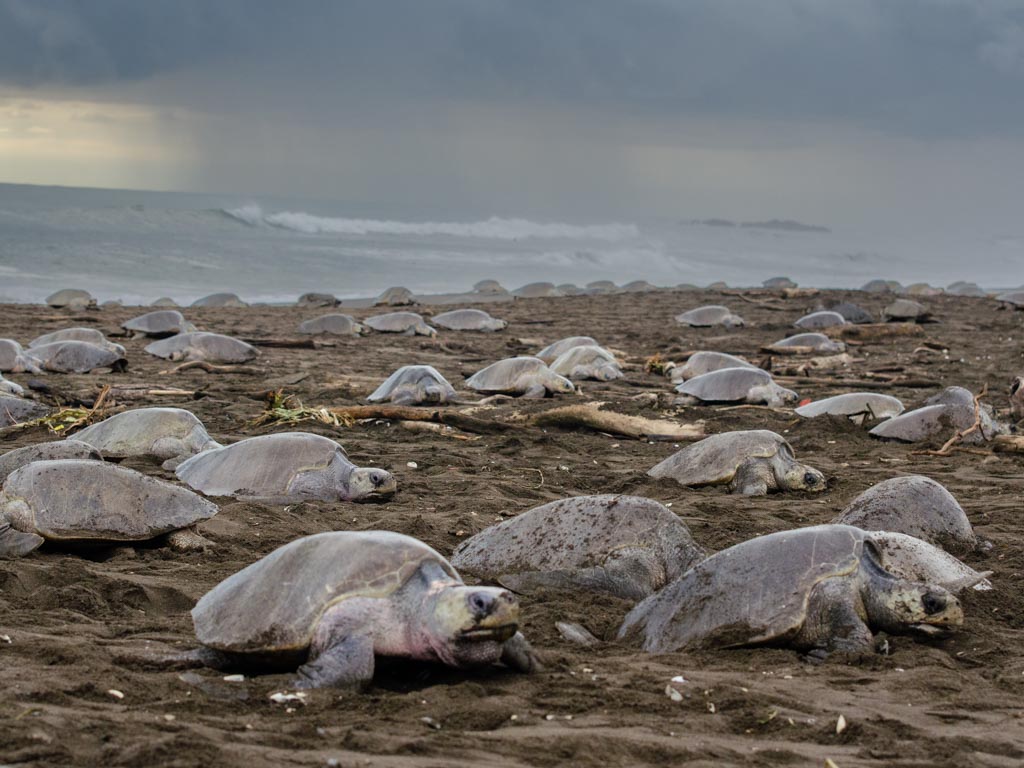 Part of the Ostional Wildlife Refuge, Ostional beach is a great spot for turtle nesting tours. It is a spectacular sight to observe an outstanding number of turtles crawling on the beach while learning about the process of turtle nesting from the guide.
 If your tour of arribada coincides with the hatching of eggs from one of the previous arribadas, you may be lucky to see some baby turtles make their first walk to the ocean. Learning about turtles is one of the best things to do in Costa Rica.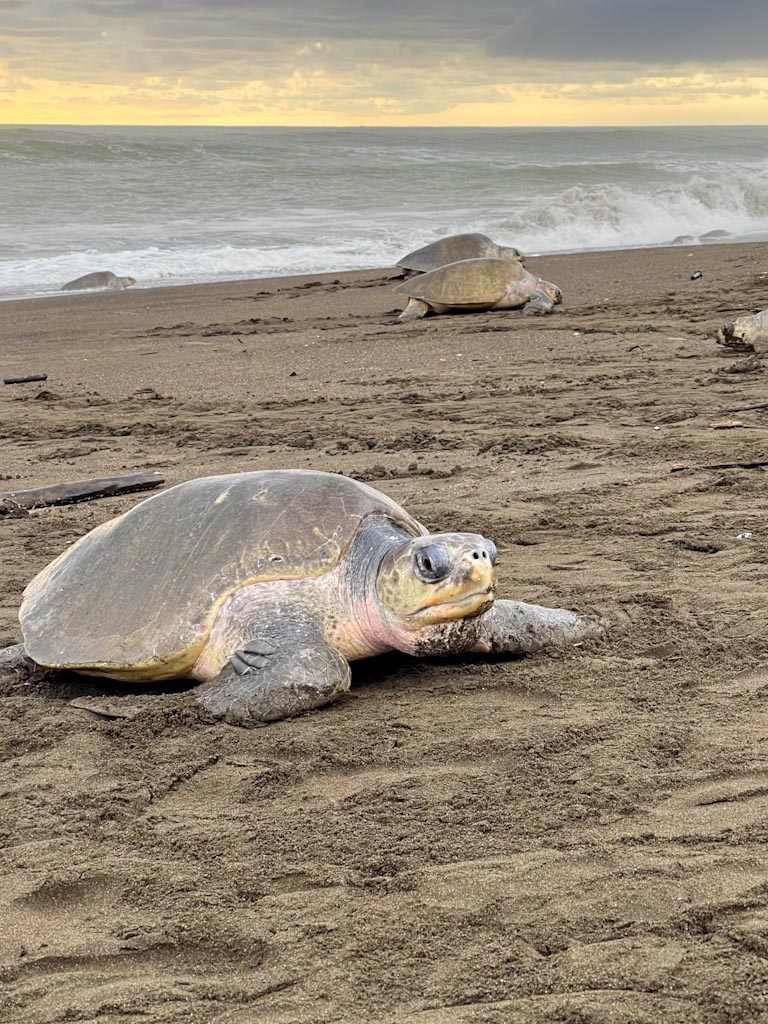 Asociacion de Guias Locales de Ostional (AGLO) runs guided turtle nesting tours in Ostional. You can follow their Facebook page for announcements on when arribadas begin and the timings of their tours so that you can time your trip accordingly.
Caribbean Coast
You'll notice a bunch of pins along the Caribbean Coast on this Costa Rica sightseeing map. One of the things to do in Costa Rica for ecologically-minded tourists is visit Tortuguero and Cahuita National Parks
Tortuguero National Park 
By Greta from Greta's Travels
Tortuguero National Park is one of the best attractions on this Costa Rica destinations map. It's located on the Caribbean coast of the country, in Limon Province. It's a rainforest-covered sandbar, and it's one of the most unique places to visit in Costa Rica. 
Tortuguero is a lush green rainforest, dotted with canals and wetlands, which are home to jaguars, crocodiles, and manatees. The beaches of Tortuguero are also a major nesting site for green turtles.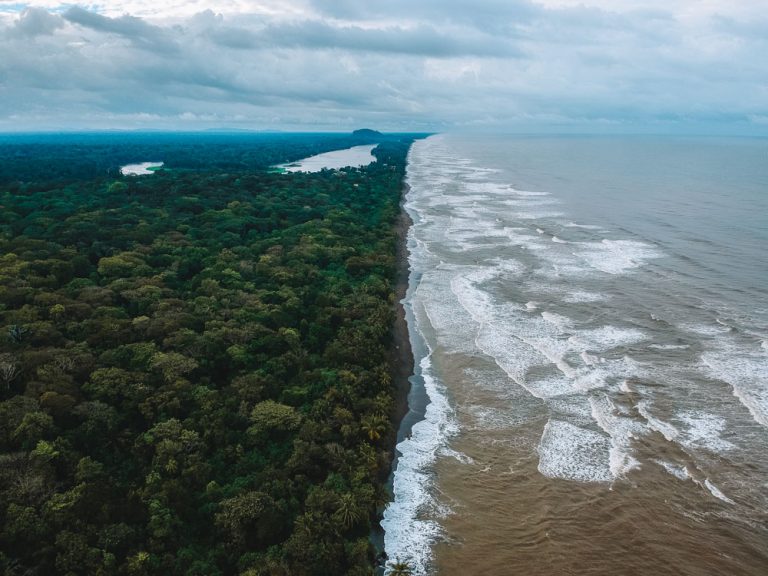 The abundance of wildlife makes it one of the top-rated Costa Rica tourist attractions. If you want to make the most of this rainforest, you should join one of the many great tours in Tortuguero.  
You can go on a night walking tour to see all the curious animals that don't come out during the day. Or if you're a bit of a thrill-seeker, you can join a canopy and zipline tour, which will allow you to explore the rainforest peaks in an adventurous way. There are also many rainforest kayak or canoe tours, which will allow you to see this natural beauty from a different perspective.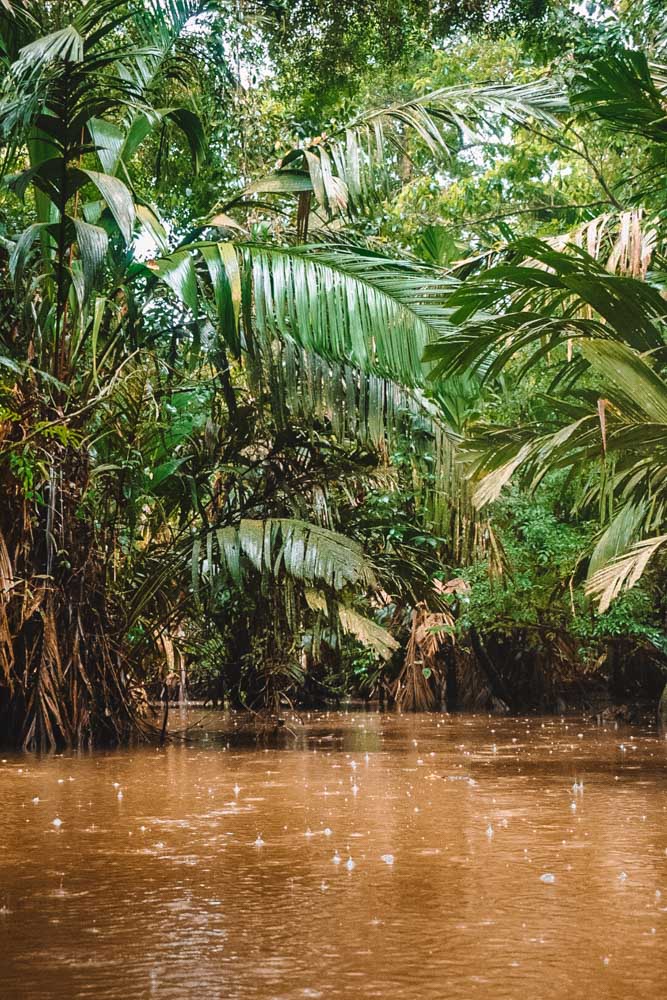 Tortuguero National Park is a place of stunning natural beauty and incredibly rich wildlife. No Costa Rica trip would be complete without a visit to this unique rainforest.
Cahuita National Park
By Veronika from Travel Geekery
Cahuita belongs to one of the beautiful national parks on this tourist map of Costa Rica. It serves as a natural habitat for the country's rich wildlife. Located on the Caribbean coast in the Limón province, Cahuita NP follows the coast in a noodle-like shape. The actual national park encompasses not just the land, but also the marine area with abundant coral reefs.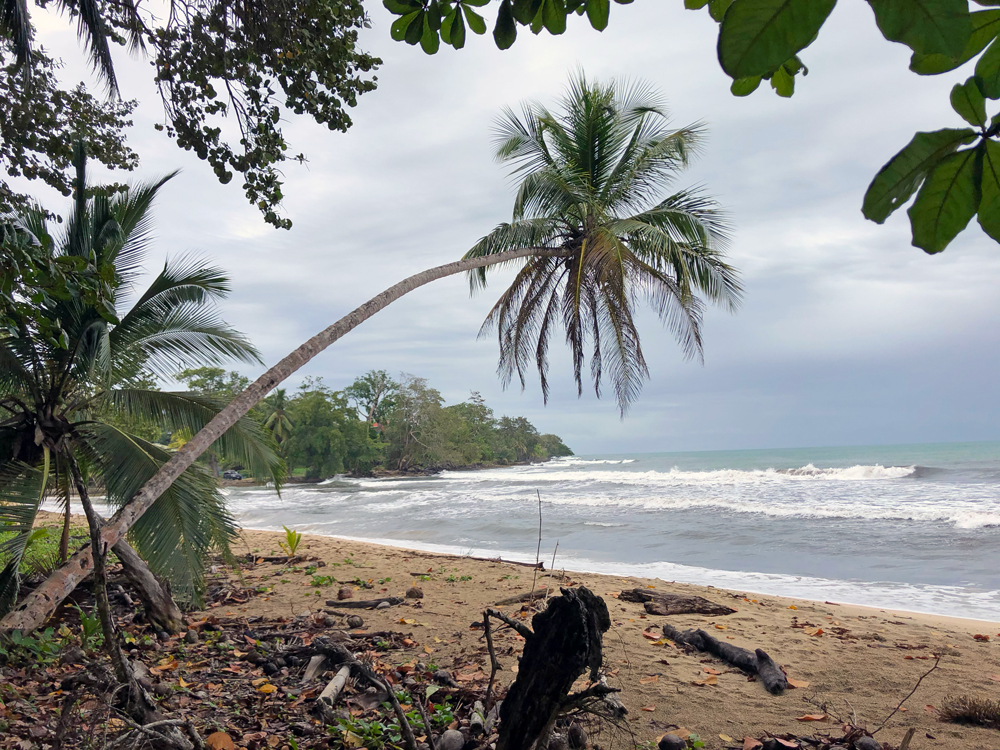 Experience the undeniable beauty of Cahuita National Park. 
If you follow the main trail, you can walk as long as 8.3 km (5 miles) and then the same distance back. The trail leads through the tropical rainforest following the beach. Choose between beach and forest paths. The empty beaches are lovely and invite for a swim. Swimming at an undiscovered beach is one of the top things to do in Costa Rica.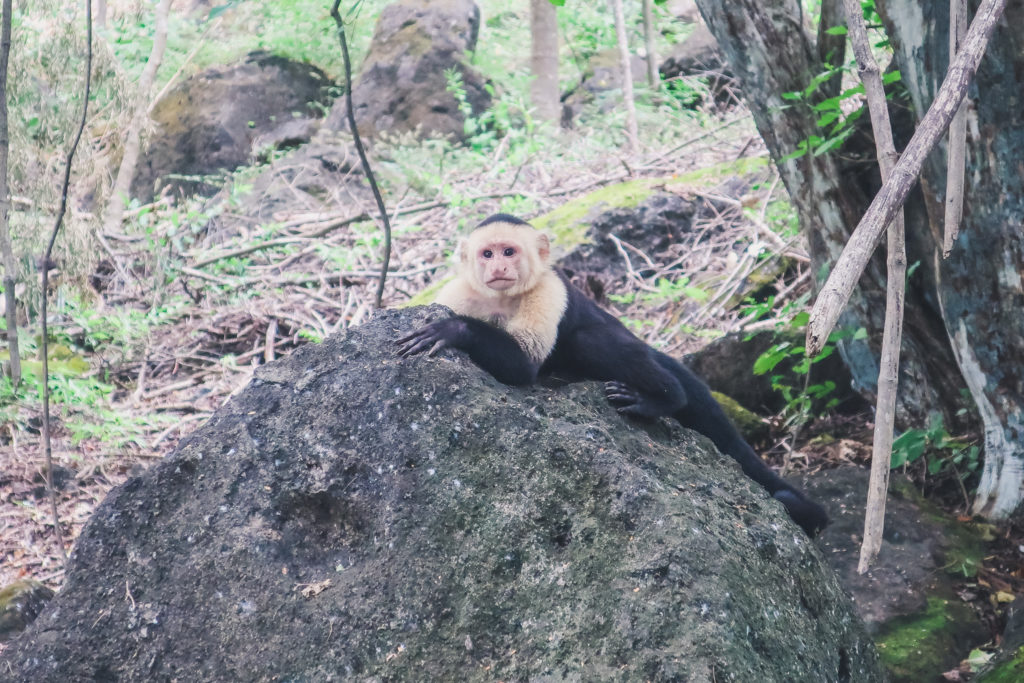 You're sure to come across the cheekiest inhabitants of Cahuita National Park – the raccoon and the capuchin monkeys. Both will try to steal your food. Other than that, you'll come across iguanas, pelicans and other birds, and possibly even sloths. The marshes in the forest come equipped with crocodile signs, but you're unlikely to meet one.
Apart from the national park itself, Cahuita is also a pleasant little town with pretty beaches – especially the Black Beach (Playa Negra) which is one of the recommended places to go in Costa Rica. 
Pacuare River
By Kerry Hanson from VeggTravel
One of the must-visit attractions on this Costa Rica interactive map is the River Pacuare. It is a vast river 125km east of San Jose. This river is beautifully picturesque and framed with tall jungle trees, green mountainsides, and natural waterfalls. Also, it has some of the best white water rafting in Costa Rica.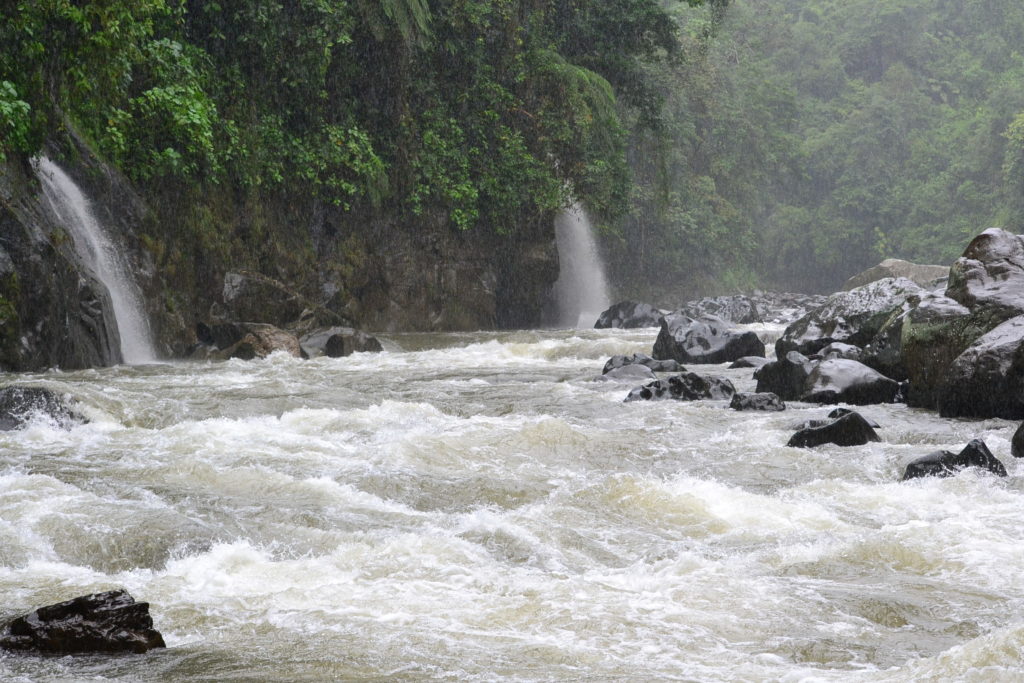 Whitewater rafting is one of the best activities in Costa Rica for thrill-seekers. However, this location isn't all about adrenaline activities. It is also the perfect environment to observe wildlife. The dense rainforest and natural water source mean that you will see tropical birds and potentially even sloths, howler monkeys, and capuchin monkeys.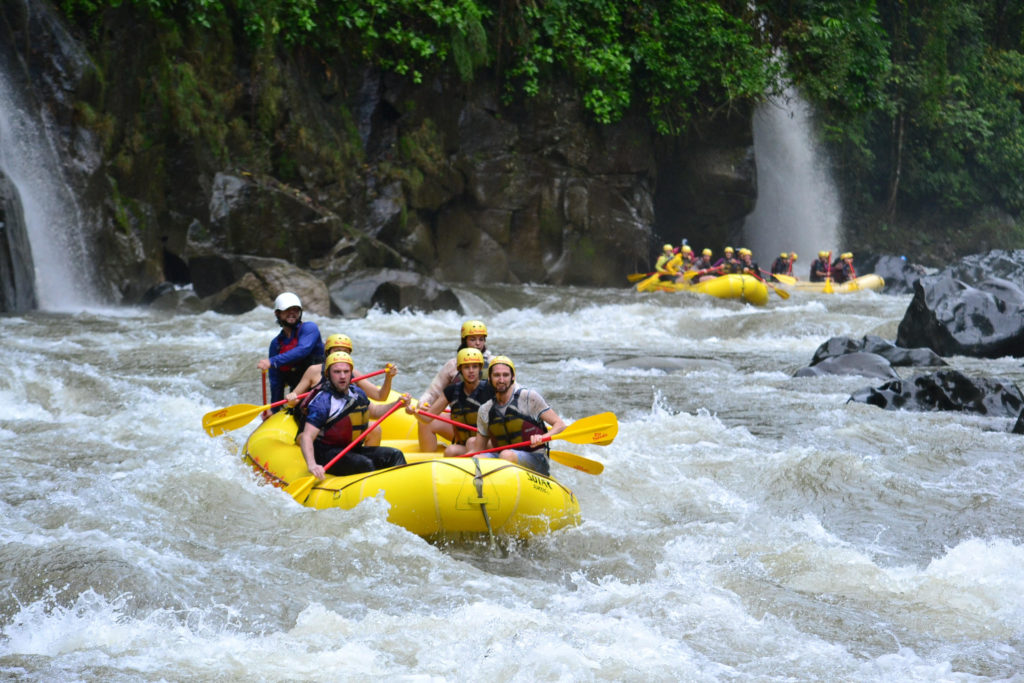 Sign up for whitewater rafting on the Pacuare River. 
The best time to visit is during the rainy season as the water levels will be higher which makes for a much more thrilling ride. Tackle the class II to IV rapids as you race down the fast-flowing river. The White-water rafting experience will take approximately 4 hours in total so it's certainly a workout, but there are plenty of more relaxing moments to enjoy. Rafting the river Pacuare is one of the top adventurous things to do in Costa Rica. The Pacuare River is one of the fun places to visit in Costa Rica. 
Near La Fortuna
La Fortuna is one of the best cities to visit in Costa Rica. You'll find many of the blue pins concentrated here on the map of Costa Rica tourist attractions. This is where you'll find the Arenal Volcano, Tabacon Hot Springs, and the Hanging Bridges Park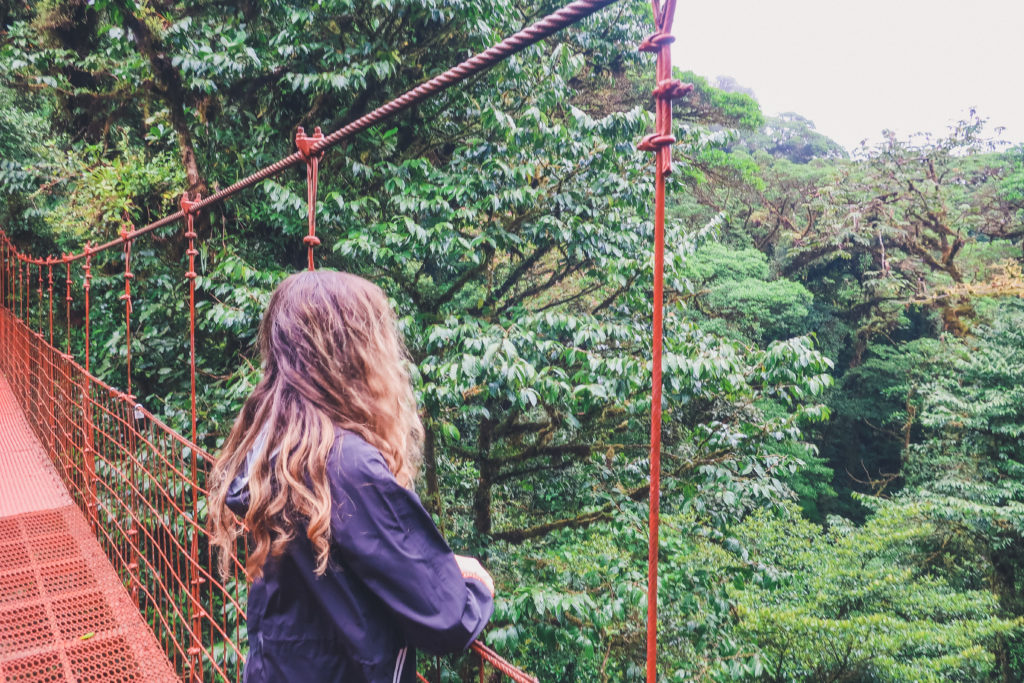 Tabacon Hot Springs 
By Paige from For the Love of Wanderlust 
Tabacon Hot Springs Resort and Spa is one of the most beautiful places in Costa Rica. It's located in the Northern Region of Costa Rica, near the base of Arenal Volcano. Tabacon is a luxury experience, and one of the most romantic activities in Arenal.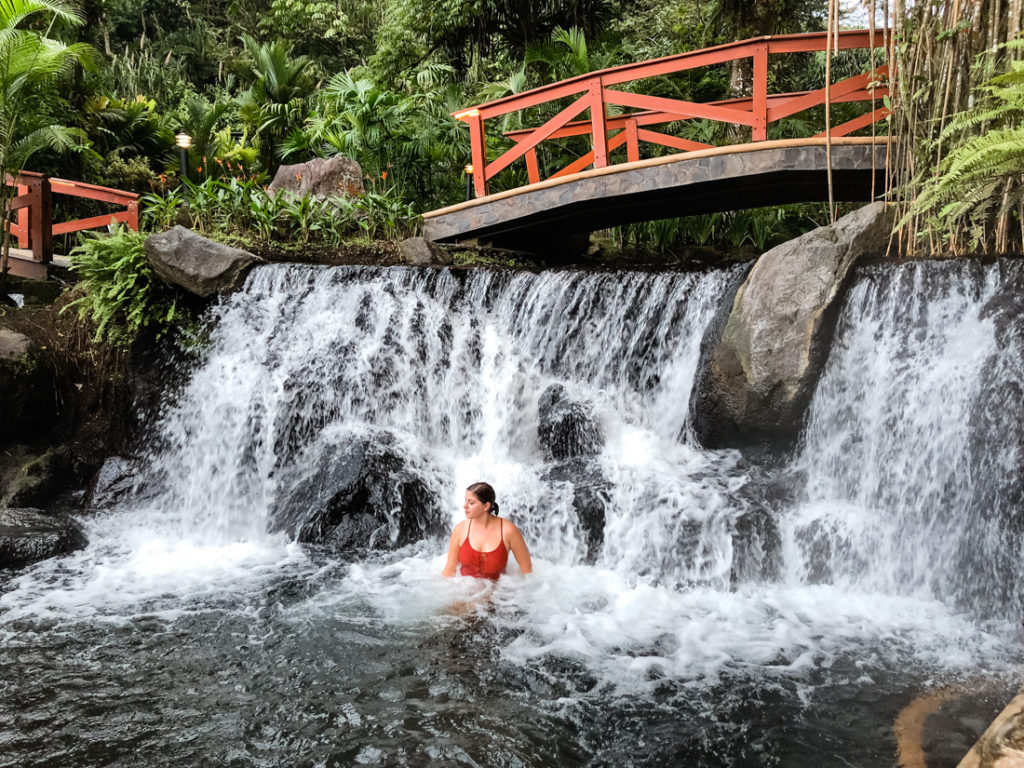 Tabacon boasts the only spa experience in the area that isn't pumped in or reheated. A geothermal river simply runs across this property. The spa area has been landscaped and built up around it to create a safe, lush backdrop for your soaks.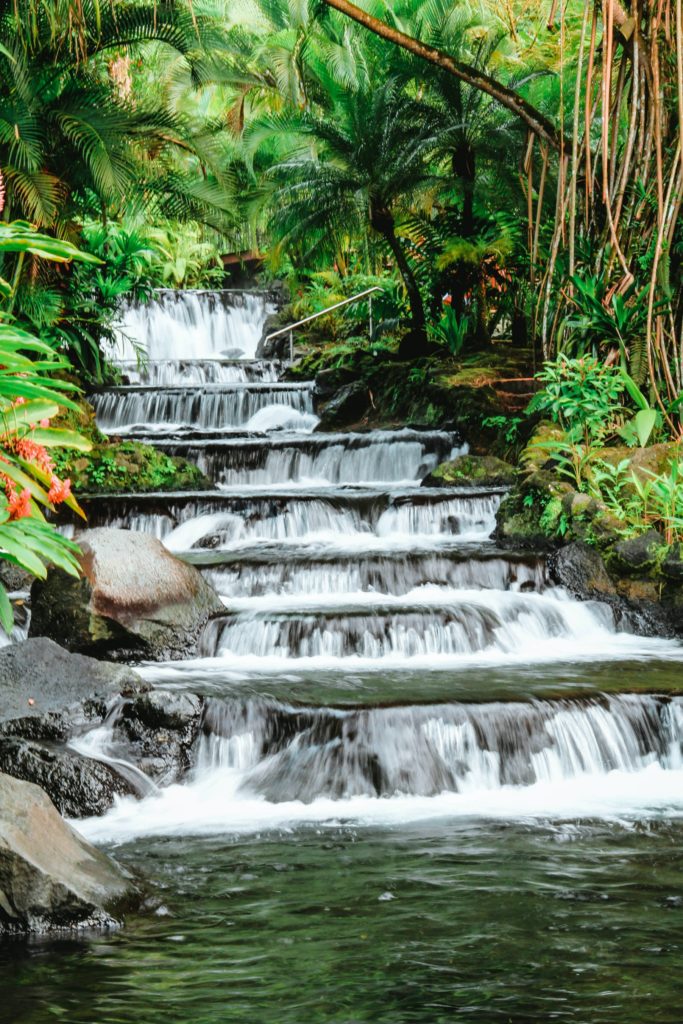 There are different series of cascades that vary in temperature the further downstream you get. In addition to these beautiful, natural hot spring experiences, there is a large pool with a slide and a swim-up bar that has been filled with geothermal waters.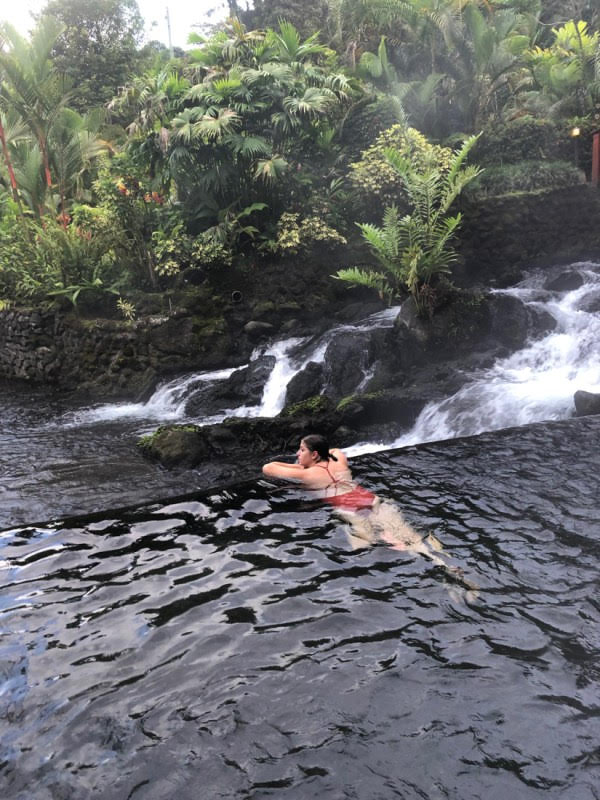 Visit the Arenal Volcano and Tabacon Hot Springs from San José. 
Their restaurant is also very tasty and don't forget the spa! Day passes are available, but if it's in your budget, consider staying here. It's wonderful to soak your muscles after a grueling day exploring the Costa Rica points of interest. Tabacon is a paradise that you'll not regret splurging on. It'll be a high point of luxury on any trip to Costa Rica.
Canyoning
By Kristine from Wanderlust Designers
Going down 200ft waterfalls and tall cliffs… why not? That's canyoning and waterfall rappelling – one of the most adventurous activities to do in Costa Rica!
Although there are many places on this Costa Rica activities map where you can go canyoning, the La Fortuna area is quite a special one since you can go through the canyons near the Arenal Volcano.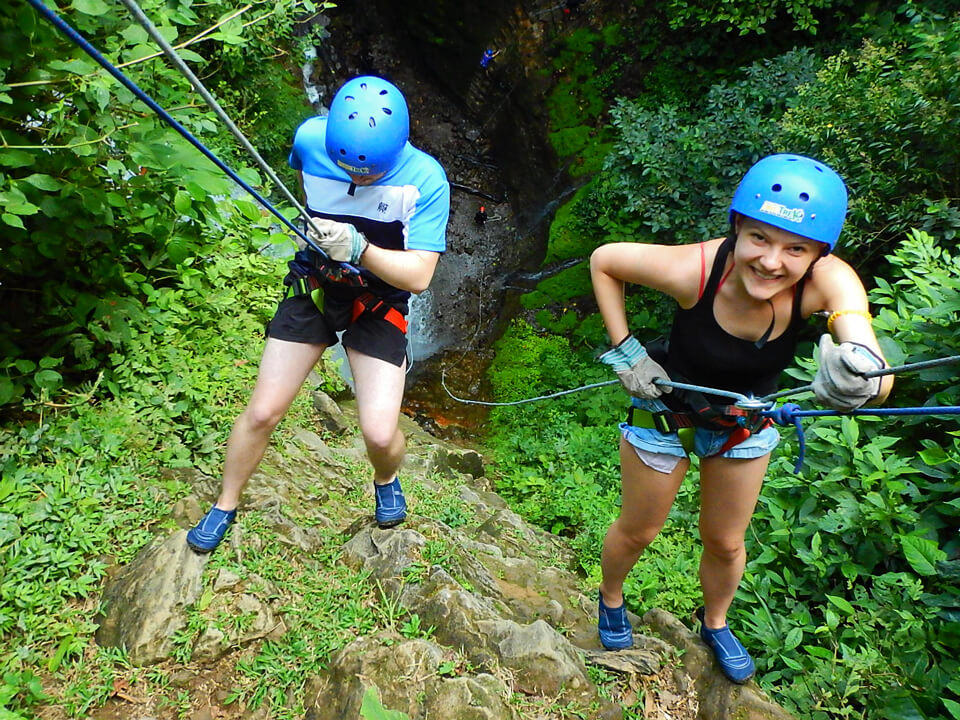 Book a top-rated canyoning tour. 
Of course, you'll get wet doing it (because of the waterfalls) and most probably dirty as well. It's part of this unique way to experience the jungle. While rappelling down waterfalls and climbing up huge rocks, keep your eyes wide open. You may find toucans, sloths, monkeys, and other exotic wildlife!
Most of the tours last for half a day, that is, 4 hours, and include transfers and lunch afterward. It's one of the fun things to do in Costa Rica. The experience includes a safety briefing. You'll be taught rappelling techniques and how to properly use the equipment. Although you do need to pack water-friendly clothes and shoes. Jeans are not a good choice, as those take too long to dry.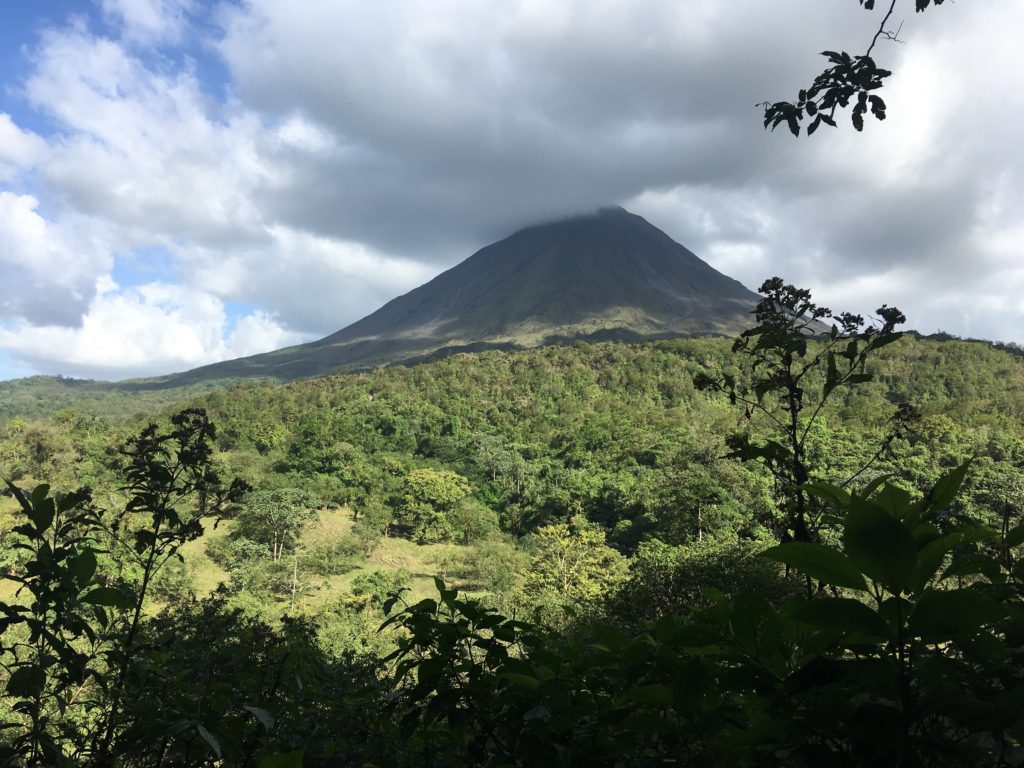 There are tours where different levels of experience and physical strength are needed, starting from tours fit for beginners and ending with extreme canyoning. Depending on the company that you choose, even children as young as 5 years old can go.
Arenal Volcano
By Ella from Many More Maps 
On the Costa Rica travel map, near La Fortuna, you'll find the Arenal Volcano. It's one of the top places to go in Costa Rica. It's over 1633 meters above sea level, and last erupted in 2010. 
Thousands of visitors to Costa Rica make the journey to hike up the Arenal Volcano and around the Arenal Volcano National Park. There are hikes for all abilities – simply pick up a trail map at the ranger station!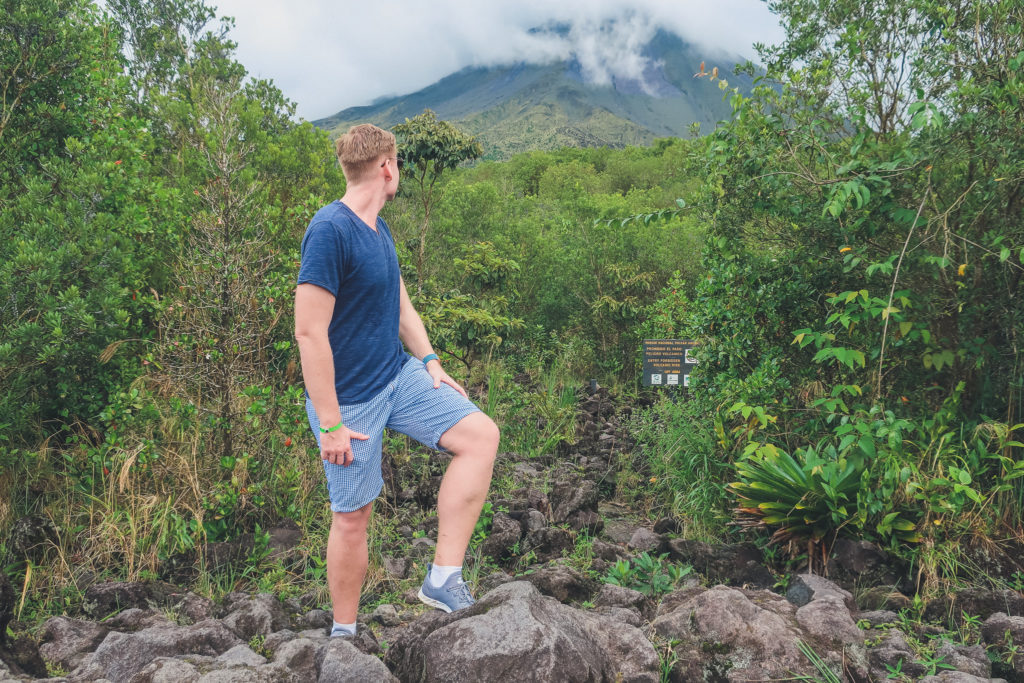 Visit the Arenal Volcano and La Fortuna Waterfall. 
Visiting the Arenal Volcano is one of the best things to do in La Fortuna. You can get there in just a 12-minute drive from town. You'll have to pay a small entry fee to the national park if you're visiting independently, or you can join a guided hike in La Fortuna which will include the entry fee.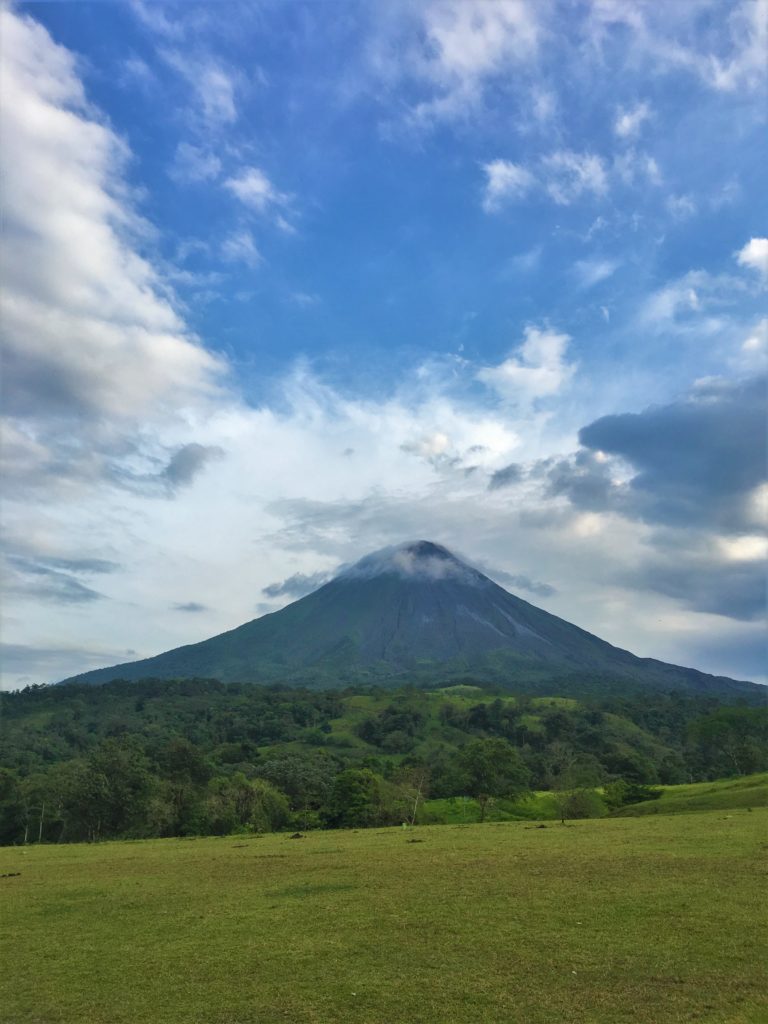 If you don't fancy hiking, there's a far more relaxing way to enjoy the Arenal Volcano – from one of the many hot springs in the area! These pools, streams, and waterfalls are naturally warmed by volcanic activity. Visiting them is one of the most popular things to do in La Fortuna and Arenal.
Celeste River Waterfall
By Stephanie from The Unknown Enthusiast 
The Rio Celeste Waterfall is found in the Tenorio National Park, about 1.5 hours outside of La Fortuna. It's one of the Costa Rica top attractions.  
This waterfall is an absoluetly stunning spot. One of the popular activities in Costa Rica is hiking. You will hike an easy-moderate 30-minute trail through the rainforest to reach the top of a staircase. After descending 500 stairs, you will reach the base of the waterfall and be rewarded with one of the most picturesque falls!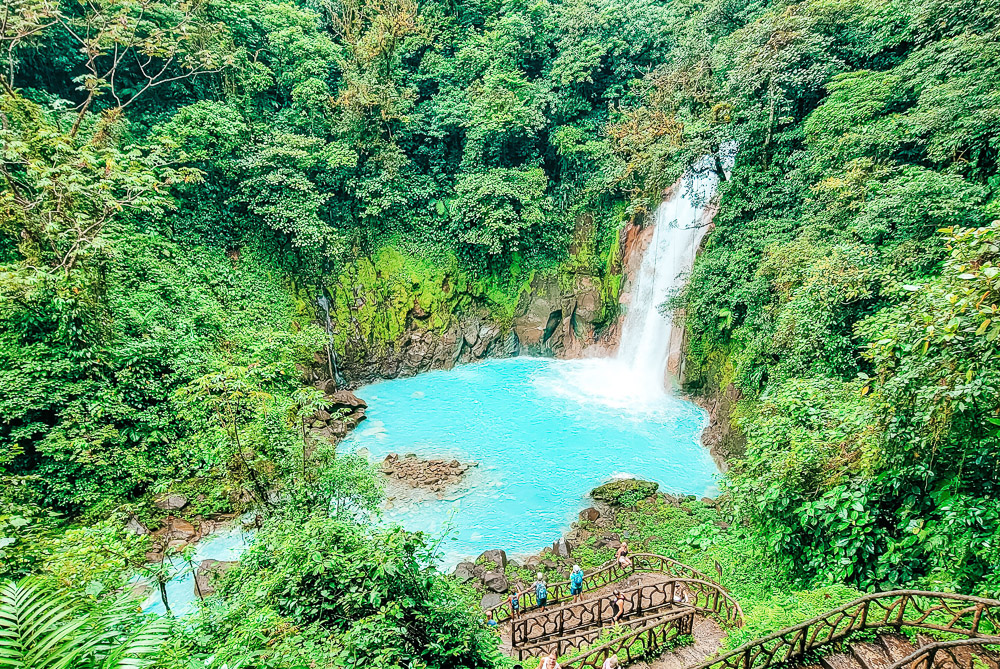 Visit the Rio Celeste waterfall and nearby sloth sanctuary. 
The water is a stunning milky blue color, and it's surrounded by lush, green foliage. You can access it via a cute, winding staircase. The whole effect is stunning.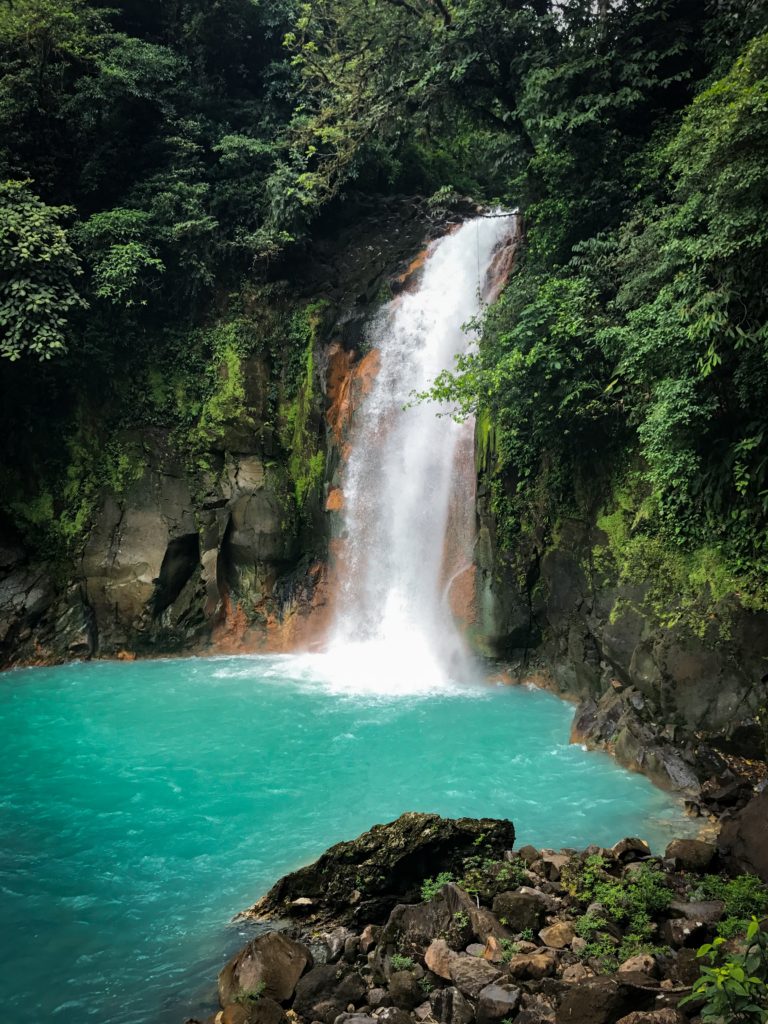 After getting your fill of the waterfall, you can continue hiking along the same trail to a few more points of interest – including a blue lagoon, a bubbling hot pot, a really cute bridge, and up to the spot where two sources of water meet and mix, creating the chemical reaction that makes the milky blue water. It's super cool to see the water mix and change color! It's one of the most memorable things you can do in Costa Rica. 
While you can't swim in the water inside the national park, outside the park there is an access point down to the river where you can take a dip! If you have flexibility, avoid visiting right after large rainstorms for the best water color.
Arenal Rainforest
Submitted by Melissa from Parenthood and Passports
The Arenal Rainforest is an immense ecosystem that is home to some of the world's most incredible floral and fauna. The 504-thousand acre rainforest and national park in north-central Costa Rica near the town of La Fortuna.
It's home to some of the best attractions in Costa Rica. From waterfall hikes to hanging bridge tours and some of the best zip lining in Costa Rica, the Arenal Rainforest is one of the top places to visit in Costa Rica.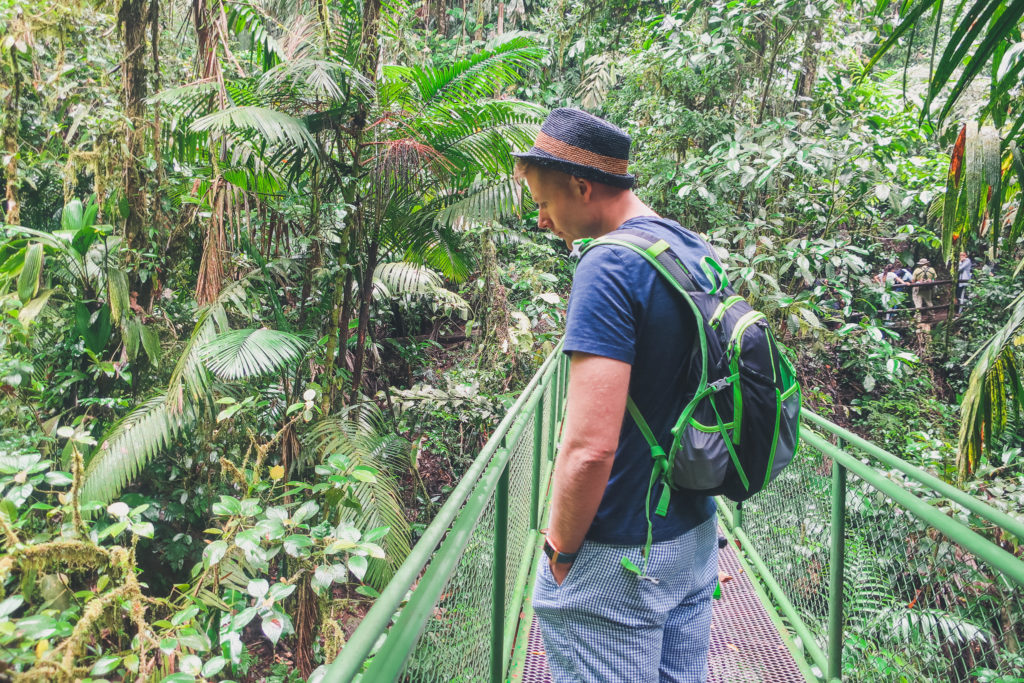 With at least half of the animals native to Costa Rica living in the canopies of the country's rainforests, a zip-lining or hanging bridge tour gives you a close-up look at the fascinating wildlife that inhabit the rainforest. Taking an evening nature tour is one of the best things to do in Costa Rica at night.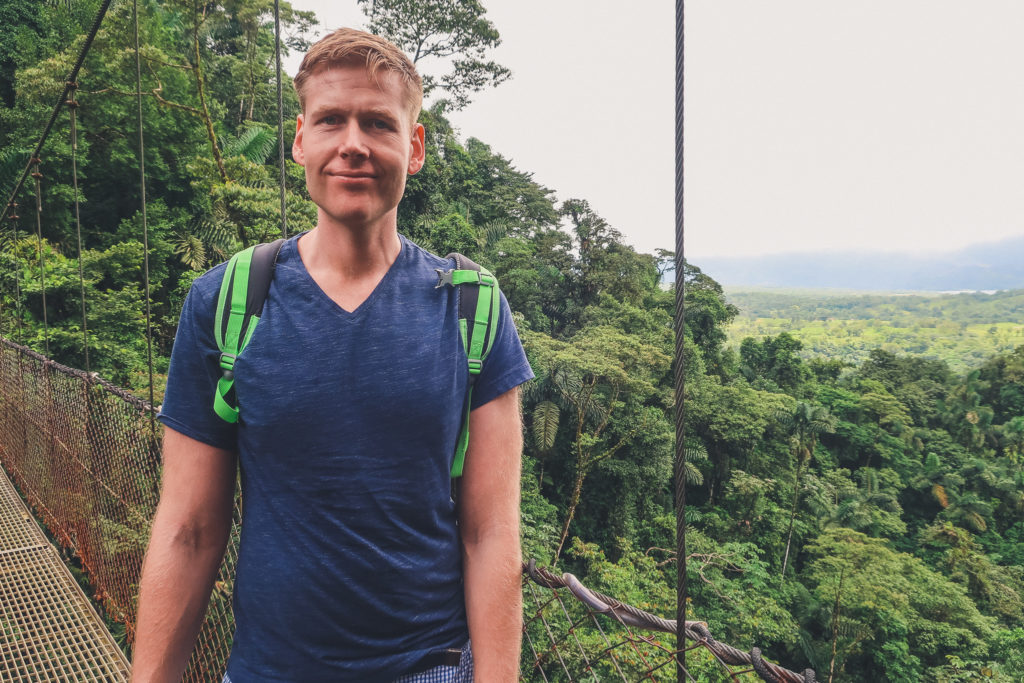 From a zip line or hanging bridge, you can spot native birds like toucans. There are also howler monkeys and sloths. Spotting wildlife is one of the things to do in Costa Rica with family. Whether you choose to soar through the air attached to a steel cable or stroll across a series of suspension bridges, the Arenal Rainforest offers a unique Costa Rican experience that you can't find anywhere else in the world.
Near San Jose
There are many blue pins on this map of tourist attractions in Costa Rica near San Jose. This is the capital of Costa Rica, and it's home to one of the country's international airports. Some of the things to do in San Jose Costa Rica include the Irazu Volcano and Poas Volcano. 
Irazu Volcano 
By Daria from The Discovery Nut
The Irazu Volcano is located about one hour away from the capital San Jose. This National Park is one of the best places to visit on this Costa Rica tourist attractions map.
The most convenient way to visit is by driving by car. Public transportation options are somewhat limited but you can still catch a bus to Cartago, a former capital of Costa Rica located near the park.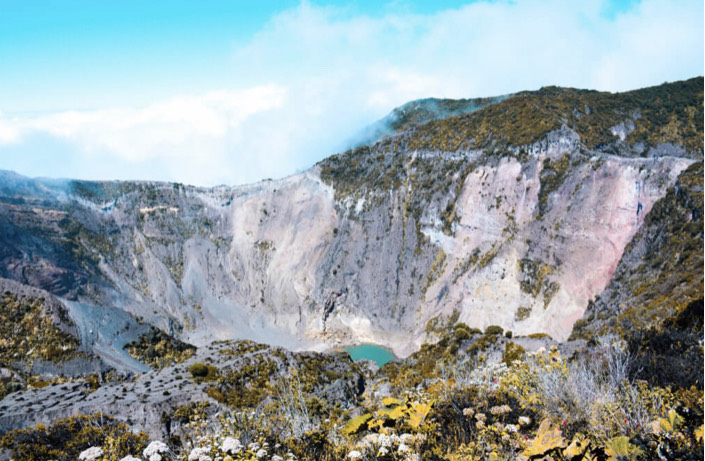 Irazu is the highest and the largest active volcano in Costa Rica at 11,260 feet tall and 500 square kilometers at its base. Visiting here is one of the unique things to do in Costa Rica. 
One of the most popular activities in this national park is hiking to the Diego de la Haya crater – a challenging but exciting hike that culminates with incredible views of a bright green lake inside the volcano.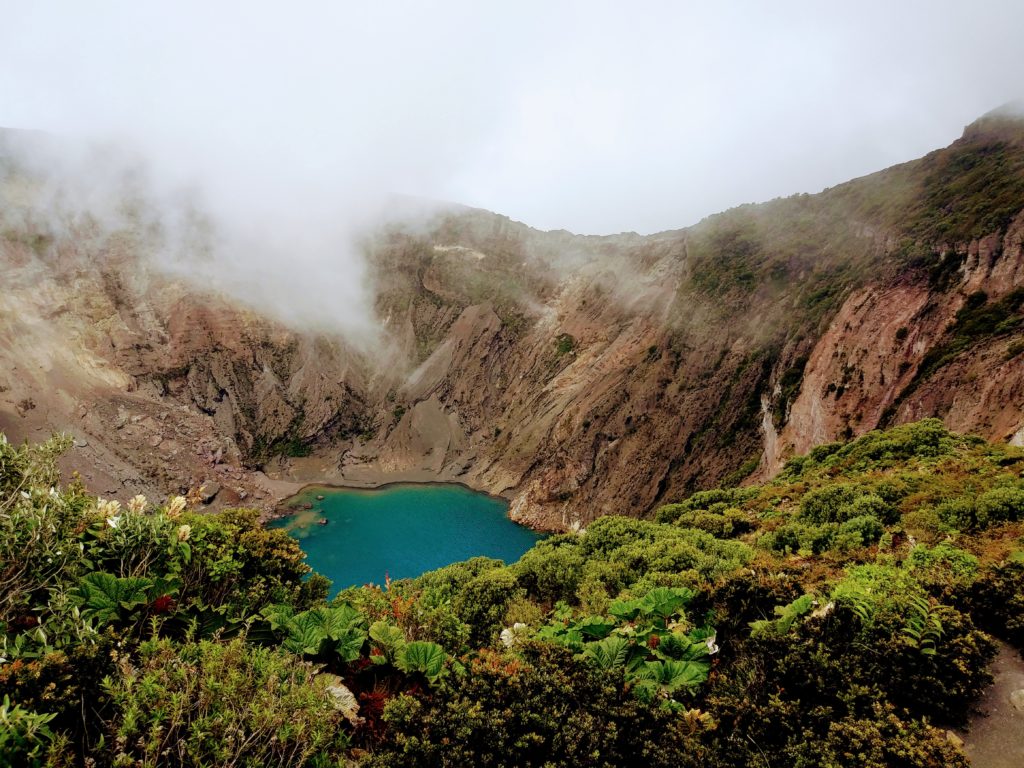 If you make your way here, don't forget to put on some layers, as temperatures here are lower than in San Jose due to the high elevation. The last time Irazu erupted was in 1994, and the volcano has been dormant ever since. However, it could become active again at any time.
Irazu makes for a perfect day trip from San Jose. Especially if you want to see one of the less touristy places in Costa Rica. You can combine a trip to Irazu with a visit to Cartago to learn about Costa Rica's history.
Poas Volcano 
By Elena from Passion for Hospitality 
The Poas Volcano is the heart of the Poas Volcano National Park at the height of 2,697 meters. It is one of the most visited national parks on this map of Costa Rica attractions. 
Located in the province of Alajuela, it makes for a wonderful day trip from the capital, San Jose. The Póas Volcano National Park was first established in 1955 and is home to one of the world's largest craters in the world. Poas is an active volcano, its last major activity was recorded in 1910. However, in April of 2017, there was an eruption of gas, ash, and rocks. This caused damage to some buildings and trails in the park.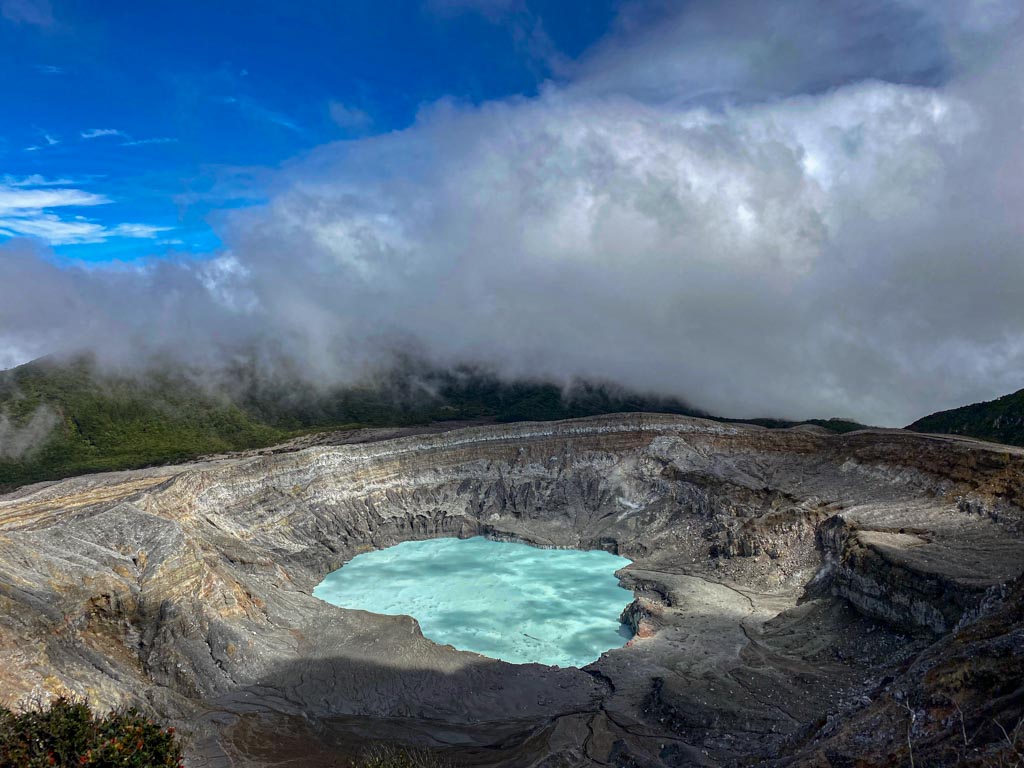 The park partially opened to the public in August 2018. Today, visitors are allocated a 20-minute time slot to admire the volcano from a dedicated viewing platform. It's one of the most thrilling and adventurous things to do in Costa Rica.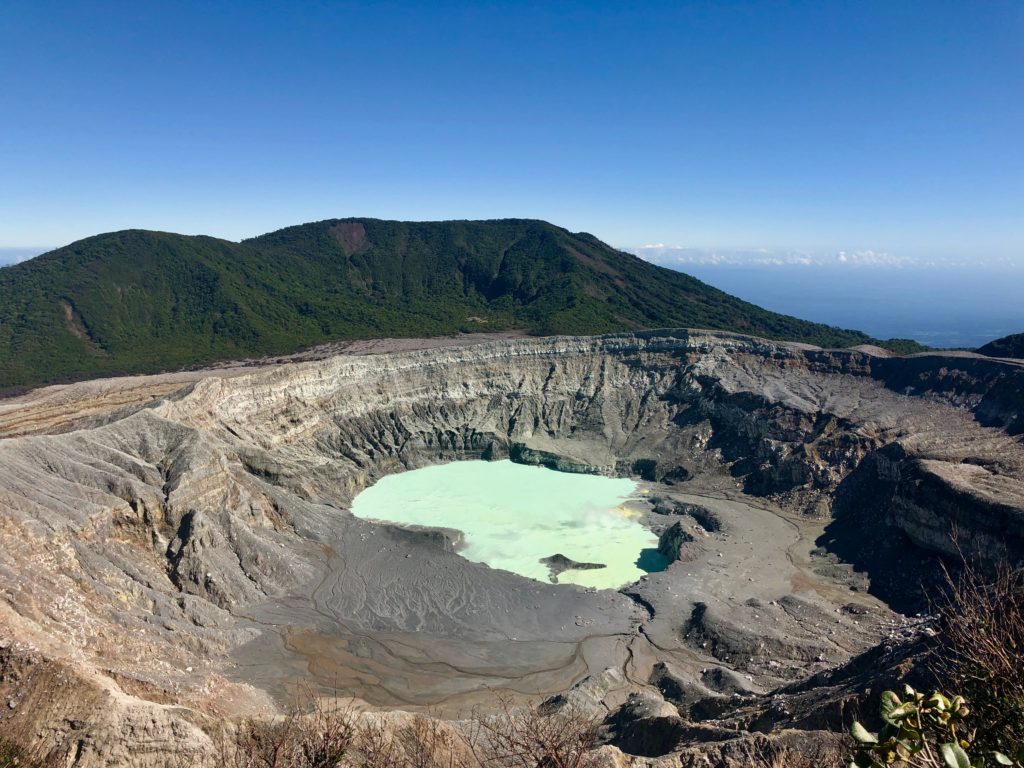 The visit first starts with a short video presentation about the Poas Volcano National Park. Then, visitors are allowed to proceed towards the viewpoint. Due to the mist and clouds, it is not always guaranteed that you will get a clear view of the main crater. If you do get to see it, you'll be able to appreciate the hot and acidic water lagoon with turquoise waters. 
Monteverde 
Monteverde attractions include the famous Cloud Forest and coffee tours. Learning about cacao and sugarcane harvesting is one of the fun activities in Costa Rica. During these tours, you'll also get to sample chocolate and coffee.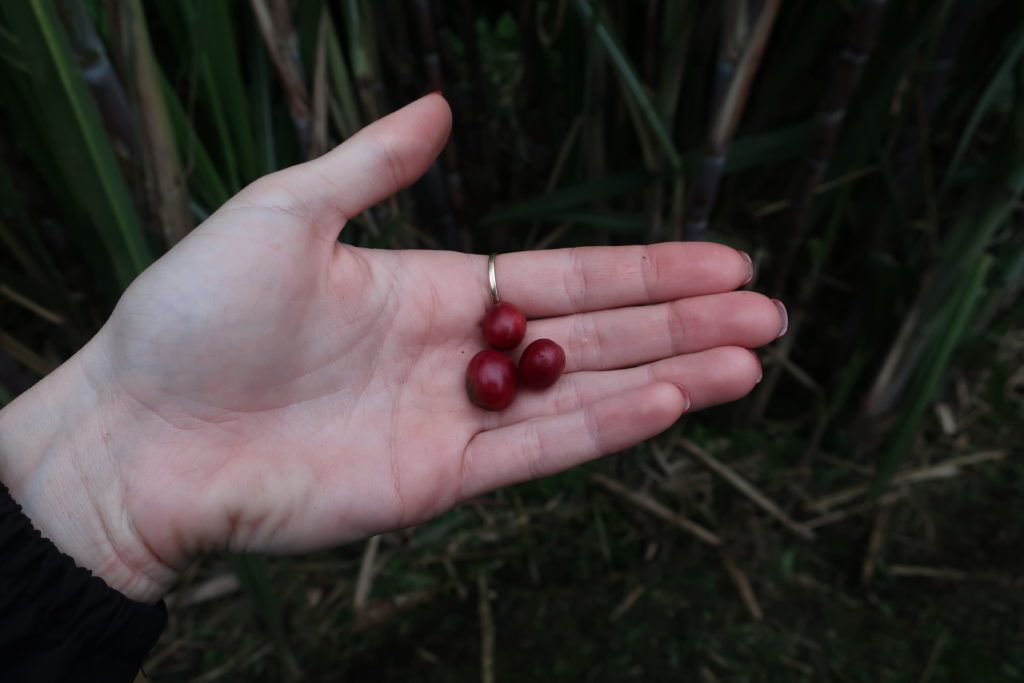 Book a coffee and chocolate tour in Monteverde. 
Monteverde Cloud Forest 
By Sinead from Map Made Memories
One of the best things to do in Monteverde is to visit the Cloud forests which are located in the northern Puntarenas province. You can get here in approximately a 3-hour drive from San Jose. The Monteverde Cloud Forest is one of the top attractions in Costa Rica.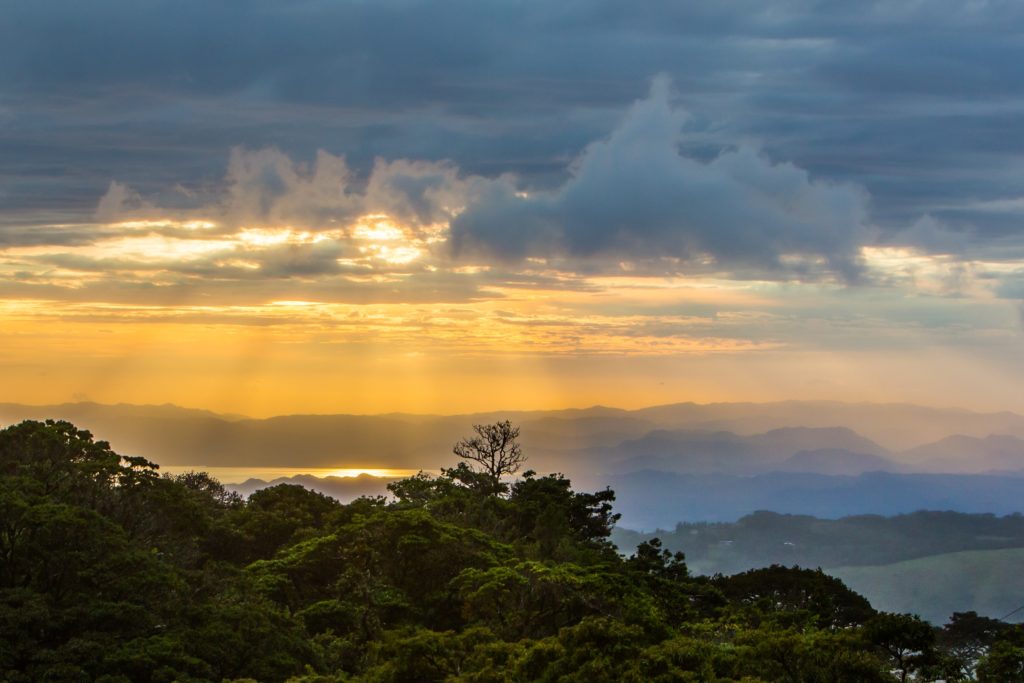 Cloud forests are classed as dense, tropical forests that have frequent cloud cover at their canopy level. To achieve this, the forests need to be located in elevated, tropical regions near the sea. Only 1% of the worlds' forests are cloud forests which makes the Monteverde cloud forests a rare and precious gem. The cloud forests are protected within a 35,000-acre reserve offering 8 miles of basic hiking trails.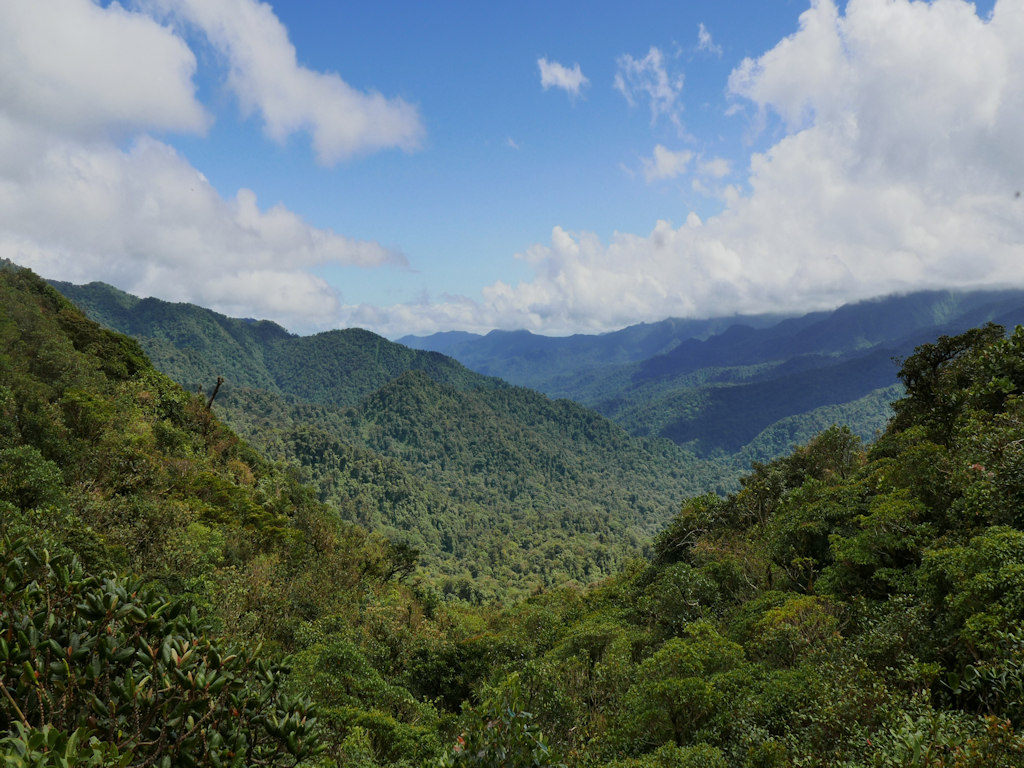 The reserve has a ranger's station and facilities at the entrance but there are no facilities within the pristine forest itself. Walking so close to the clouds is an unforgettable experience. Due to the high moisture level, there is a wide variety of plant and animal biodiversity including over 400 species of birds. Birdwatching is one of the best things to do in Monteverde.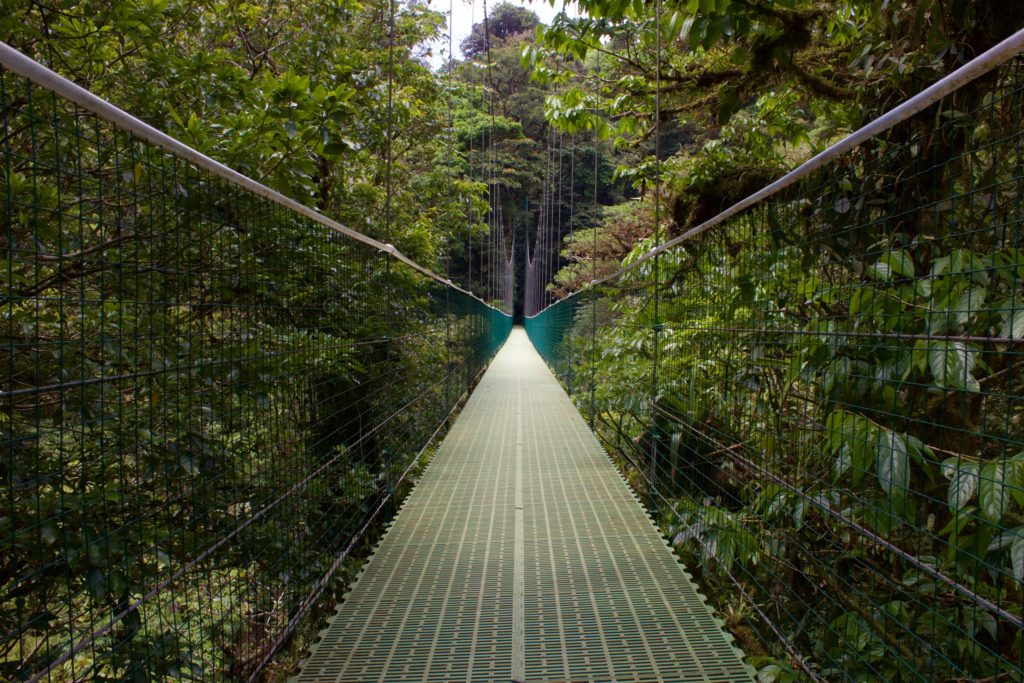 Hikers can also enjoy cloud forests in the Children's Eternal Rainforest (Bosque Eterno de Los Niños) and the Santa Elena Cloud Forest Reserve. Both of these are in the neighboring town of Santa Elena.