Having lived in Chicago for the last 6 years, I've had a lot of time to explore the great entertainment options that this city has to offer. Year after year, Chicago continues to offer new and exciting experiences. Over the years, a few of these experiences have stood out, so I've decided to share them. Below you'll find my list of unique experiences in Chicago and information on how you can have them to.
Full Moon Jam
If you aren't familiar with the EDM or the electronic dance music movement, this activity may surprise you. The full moon jam was designed as a way to bring like minded free spirits together to share their crafts while celebrating the full moon. At full moon jams, you'll find amazing fire performances.
Everything from fire hooping, fire poi, fire staff to fire fan dancing. The fire performers take turns on stage encircled by drummers and musicians. These events also draw in performers from other flow arts which often enhance their dance with glowing LEDs. The full moon jams are held in the park near Montrose beach. For more information, and to find the next scheduled full moon jam, visit their website here.
Robot Date Night
Robot Date Night is held by the Robot City Workshop. This organization was developed to bring together creative engineers, and later became a robotic educational hub for adults and children. The Robot Date Nights are BYOB after-hours experiences where couples can create their own robots.
Find out how to dress in Chicago.
There are a few robot kits to choose from, and each person gets to build their own. The event coordinators are standing by to provide assistance in the event of any confusion. However, most of the kits are beginner level and designed to be straight forward. During the date night, you'll also get to watch a movie and munch on popcorn. The Robot City Workshop is located in Chicago's Lakeview neighborhood. If you want to sign up for an upcoming date night, visit their website here.
Chicago Salsa Nights
Unbeknownst to most, Chicago hosts a vivacious Latin dance scene. There are many hotels and bars that have weekly or monthly "Salsa nights." During these nights, there is typically an introductory lesson in the first hour which is followed by free dance. Most places will have some type of drink plus entry combination fee.
There are usually dancers at all skill levels, including complete beginners. However, you can expect to see a few really impressive couples take over the dance floor. They are an absolute delight to watch. If you find that you enjoy this, it might spur a new interest to take lessens. In Chicago, you can find plenty of studios that offer deals and discounts for group salsa dance classes. Groupon is a great place to find them. Below, you'll find a list of some of the most well known and popular salsa nights in Chicago.
Alhambra
Palm Court, at the Drake Hotel
Glass Blowing Class
If you enjoy working with your hands and learning new skills, you just might enjoy glass blowing. This experience can also make a great gift for a relative or significant other who is a thrill seeker, or who has interests in mechanics or chemistry. My boyfriend and I did a two person class at Shatter Glass Group on Chicago's northwest side. We found this company through Groupon, but there is a bunch of studios in Chicago to choose from. We absolutely loved the experience because we got to learn so much about the glassmaking process and engage in the process ourselves.
When you're there in person, it can seem somewhat scary being surrounded by so many unbelievably hot surfaces, and hearing about how glass can explode if cooled too quickly…There is an edge of intensity and exhilaration involved in this class, but that's the fun of it! Our instructor was careful to ensure our safety during participation. In the end, we walked away with 2 colorful glass bowls. Only one is pictured below because the other was later broken in a cat toy accident *sigh*.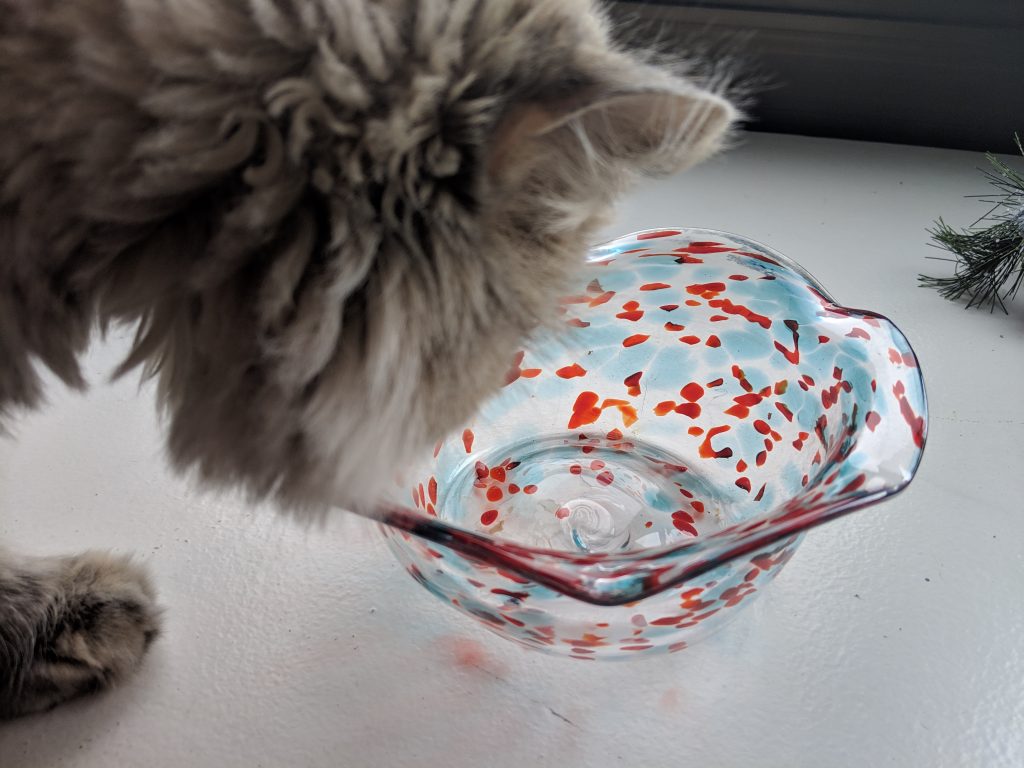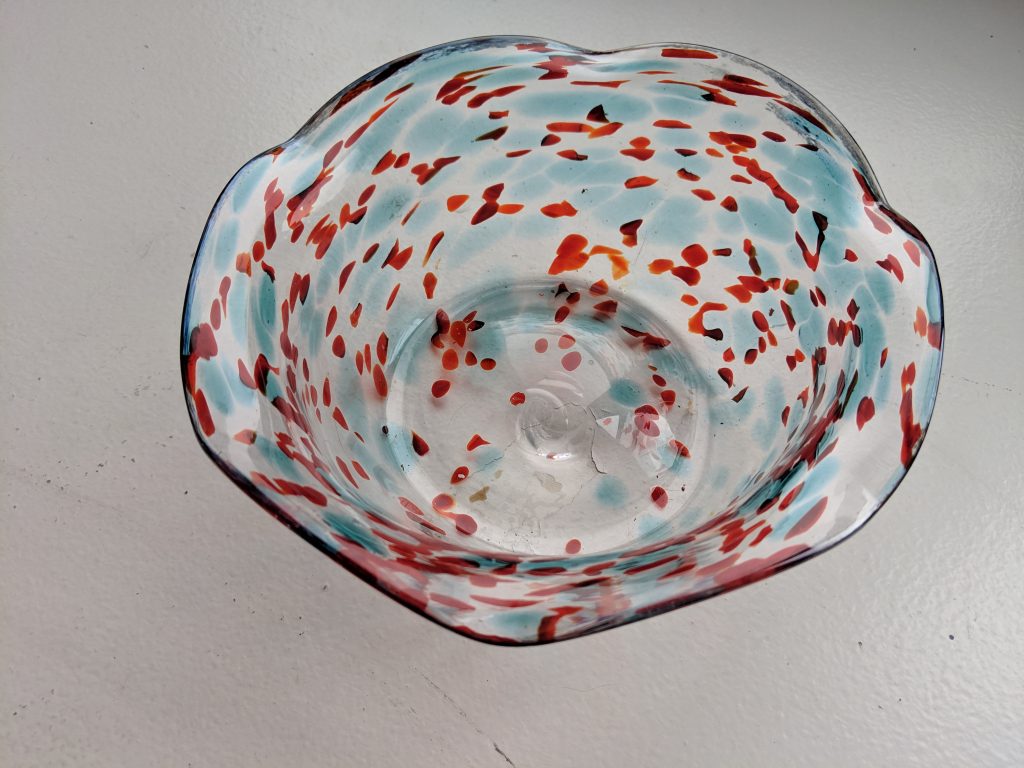 Unique Shopping Experiences
If you like thrifting, or hunting down odd items, Chicago offers a few shopping opportunities that may interest you. If you're looking for trendy clothing and accessories, or discounted designer items, you should check out Crossroads Trading. I've also had a ton of luck thrifting at the Salvation Army at 2270 N Clybourn Ave in Chicago. This Salvation Army is located Chicago's uppity Lincoln Park neighborhood, so it's not uncommon to find brand names and clothing still with tags. They also have an excellent selection of books! Brown Elephant stores are great for furniture thrifting. In Lakeview, the Hollywood Mirror and Beatnix offer cool costumes and accessories. Hollywood Mirror offers mainly vintage items, while Beatnix sells new and used items. These shops are the perfect places to go if you have a themed event coming up. I like to shop here when I'm looking for ideas for Halloween, ugly Christmas sweater parties or the pride parade.
Aside from clothes and furniture, Wolly Mammoth Antiques and Oddities offers strange and unique knick knacks and trinkets for the home. P.O.S.H. offers new and vintage tablewear, kitchen tools and dining accessories. Myopic Books, in Wicker Park, is known as Chicago's best used book store. Precious Possessions, near Millennium Park, offers jewelry featuring rocks, minerals, fossils and carvings from around the world. Merz Apothecary sells international lines of bath and body care, as well as a variety of natural and organic health products. They have one store downtown and one on Chicago's northside. Finally, I will also mention American Science and Surplus as well as the Wicker Park Secret Agent Supply Company. As you can see, Chicago offers unique shopping opportunities for scientists, fashionistas, moms, secret agent enthusiasts and hipsters alike.
Eataly Events
While most know of Eataly for its restaurants and market, many don't realize that Eataly has far more to offer. Eataly offers an array of unique foodie experiences at their Chicago location. These include walking tours, cooking classes, cocktail making classes, wine tastings, cheese tastings, chef competitions and more! Every once and a while Eataly even throws all you can eat, all you can drink, buffet style parties. You can usually find one of these around the holidays. At their Carnival party in 2018, they gave each guest a mask, and had caricaturists and photographers (all included in the price of your ticket). These big events usually sell out quickly, so don't wait to purchase your ticket. Events are changing month to month, and there is always something new and exciting offered. For more information about their current schedule, click here.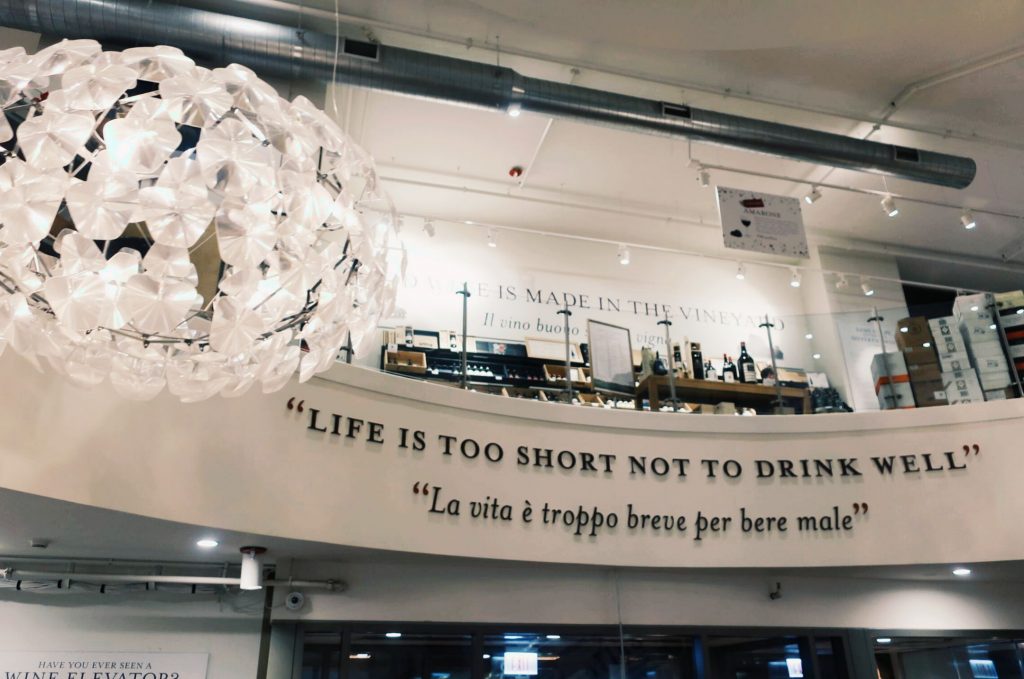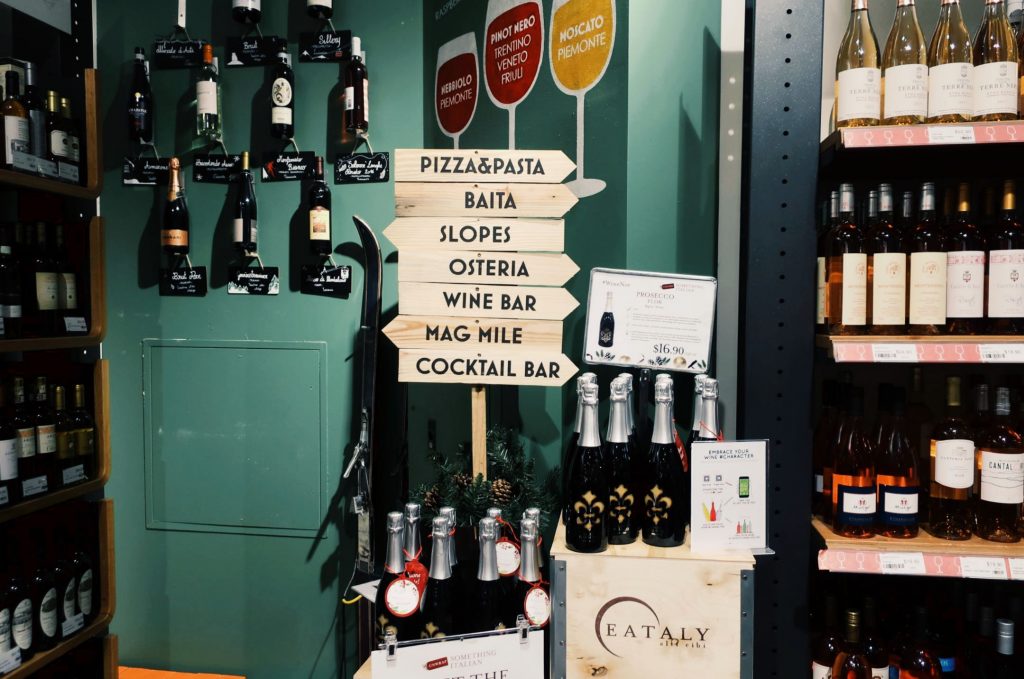 Adler After Dark Nights
The Adler Planetarium became America's first planetarium in the 1930s. During museum hours, they offer a multitude of space themed shows and exhibits. After hours, they offer exclusive access to individuals aged 21+ who purchase tickets to participate in Adler After Dark Events. Events vary throughout the year, and include special themes, activities and lectures. We had the opportunity to visit during a murder mystery game night in which we got to perform science experiments throughout the museum and unveil clues in attempt to solve the case. At these events, you'll also find bars that serve smoking drinks. Overall, it's a great activity for any group of friends or scientific minded couples. To check for upcoming Adler After Dark events, visit there website here.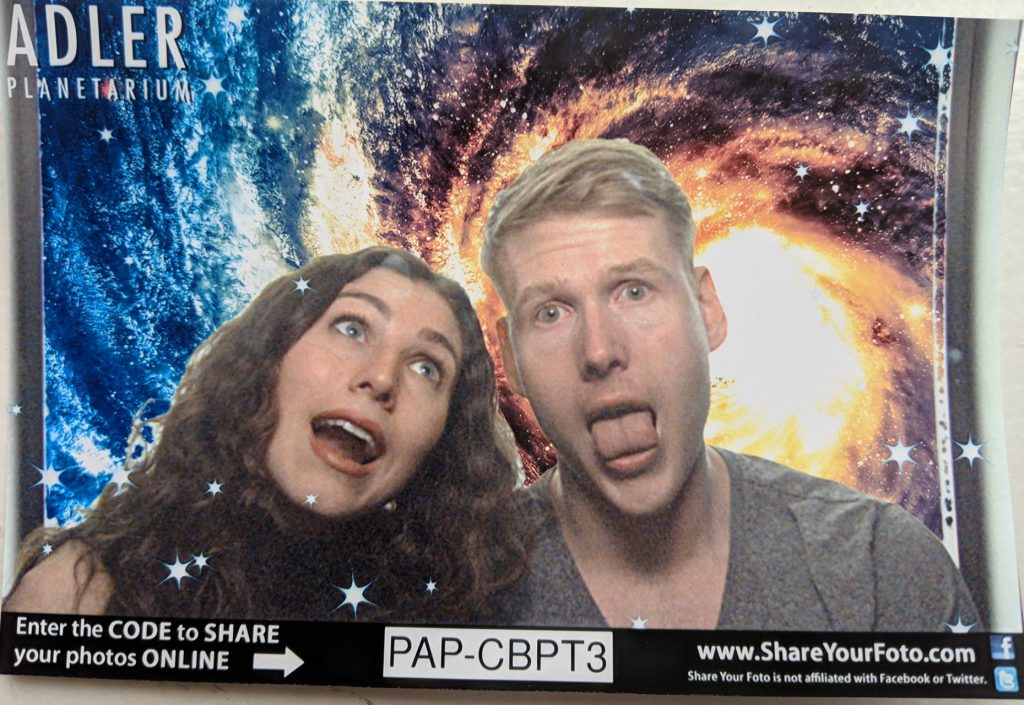 If you think that I've missed a unique experience in Chicago, please comment below! I love hearing feedback from other Chicago experience enthusiasts.
Looking for the best places to eat in Chicago on date night? Check out Chicago Date Night Restaurants.
Cold in Chicago got you down? You'll want to look at my list of Thing to do in Chicago: Winter Edition.