This tourist map of Portland includes top-rated attractions, restaurants, bars, and shops. You'll have everything you need to plan the perfect trip to Portland. 
Tourist Map of Portland Oregon
Portland is the capital city of Oregon. It's located in America's Pacific Northwest, and it's easily accessed by plane or car. Portland is home to a large international airport, but many travelers stop in Portland during a road trip.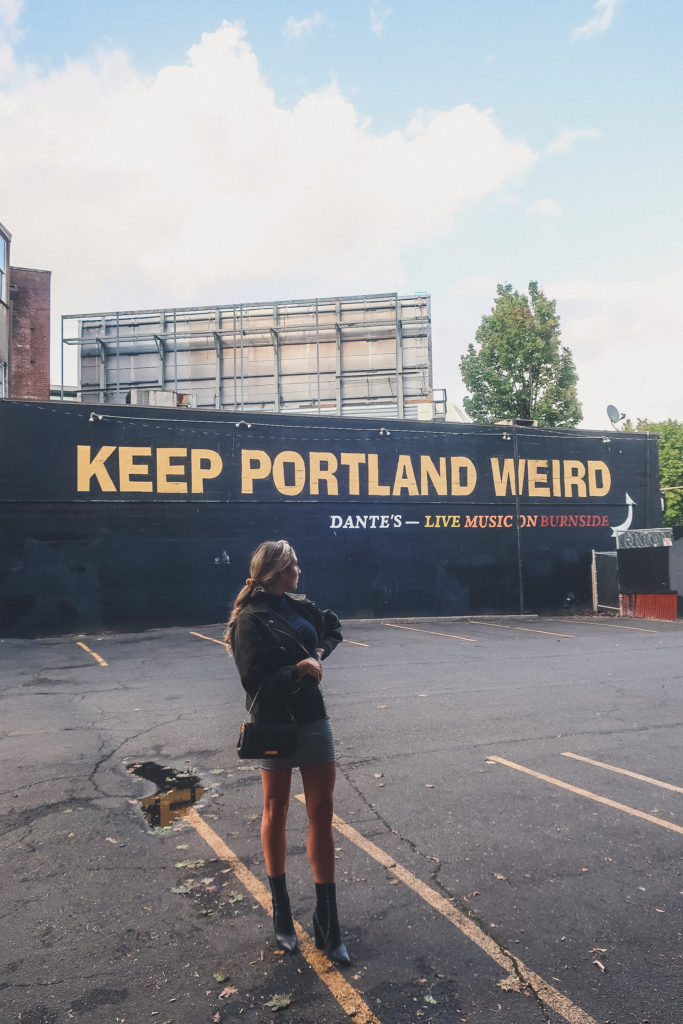 Tourist Map of Portland Oregon
Some of the most popular things to do in Portland include hiking, biking, or adventuring. On this Portland sightseeing map, you'll find many places to enjoy nature. Hike at Forest Park or drive out to the Columbia River Gorge to kayak or discover waterfalls. 
The best outdoor things to do in Portland include visiting the International Rose Test Garden, exploring the Japanese Garden, or soaking in the views at the Pittock Mansion.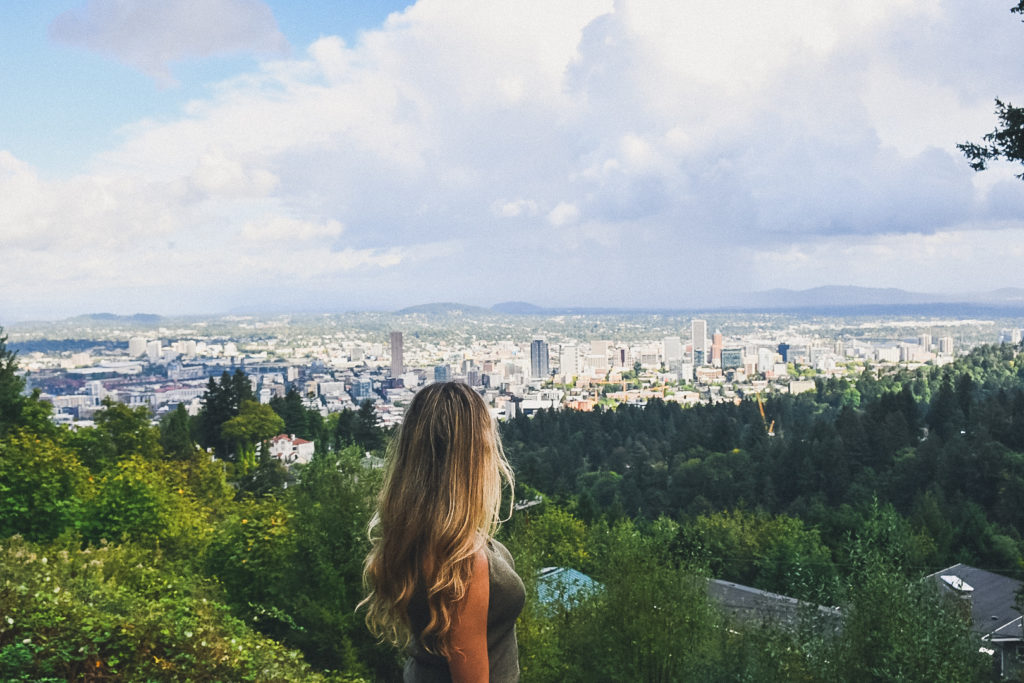 Portland has a unique and interesting history, and the Pittock Mansion is a great place to learn about it. It's one of the best things to see in Portland. 
You can also find many adventures in Portland's surroundings. Mount Hood is only 90 minutes outside of Portland, and Mount St. Helens is only an hour and 40 minutes away from the city. The Willamette Valley Wine region is another noteworthy area just under an hour away.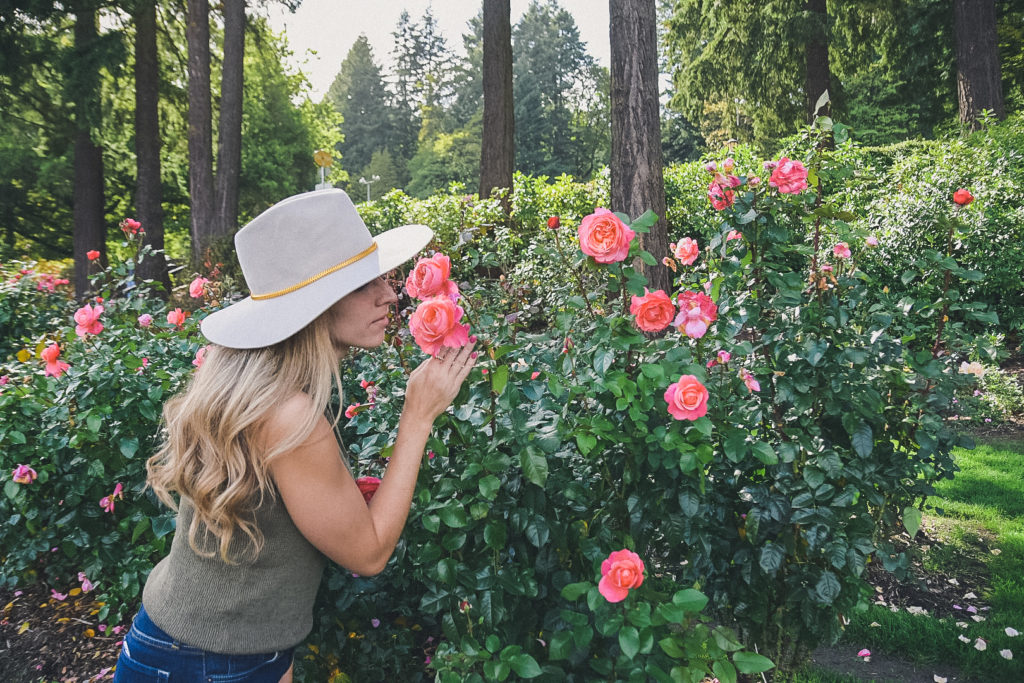 Discover the best places to stay in Portland. 
The best indoor things to do in Portland include getting lost at Powell's City of Books or visiting the Portland Art Museum. These are some of the cool places to go in Portland when it rains. 
Breweries, doughnuts, food trucks, and roses are things Portland is known for. Visiting a brewery or a food cart pod is one of the best cheap things to do in Portland. Trying a Pacific Northwestern-style sour ale is a must-have Portland Bucket List experience. Also, be sure to eat at Voodoo Doughnuts during your Portland sightseeing. 
Pittock Mansion
By Sophie and Adam from We Dream of Travel
A visit to Pittock Mansion is one of the fun things to do in Oregon. The Pittock Mansion is perched high up on the West Hills of Portland. Once you arrive, you will be awarded spectacular views of Mt Hood rising over the city. While the views alone are worth the visit, there's so much more to Pittock Mansion!   
It was built in 1914 by Henry and Georgiana Pittock. This historical house was originally a private home, and now it is one of the top attractions in Portland. The Pittock family was instrumental in the development of the city.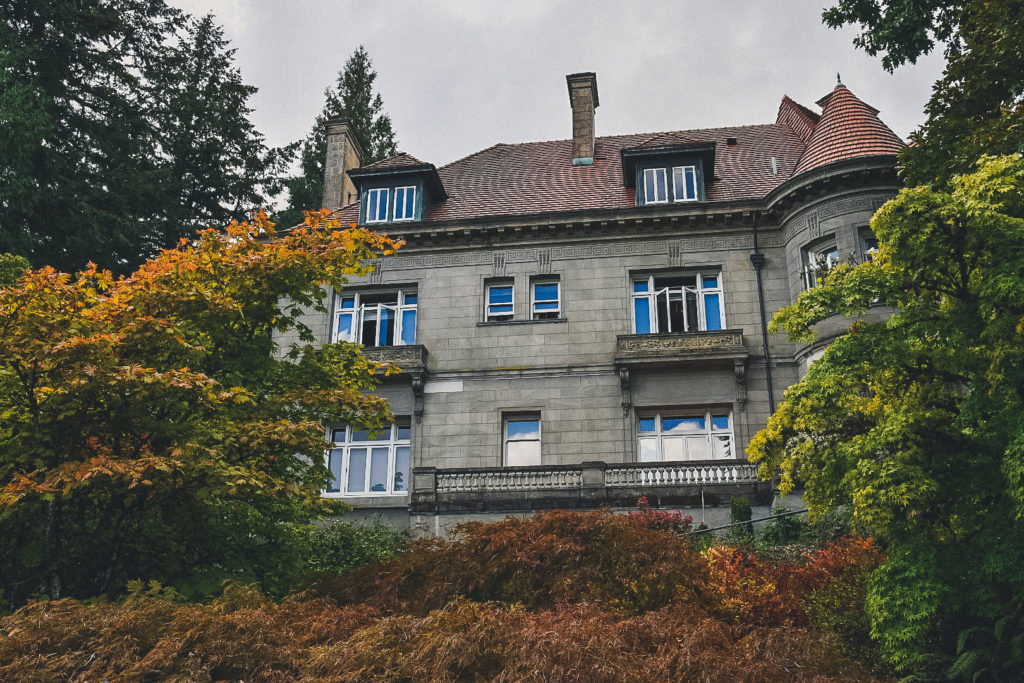 The mansion continued to be occupied by the Pittock family until 1958 and was later bought by the City of Portland in 1964 with money raised by the Portland community. At this point, the mansion had remained unoccupied for several years and had extensive damage caused by the Columbus Day Storm in 1962.
The mansion was added to the National Register of Historic Places in 1974. Today, the 46-room estate is a museum run by a nonprofit organization and has rotating exhibits showcasing the history of Portland, Oregon.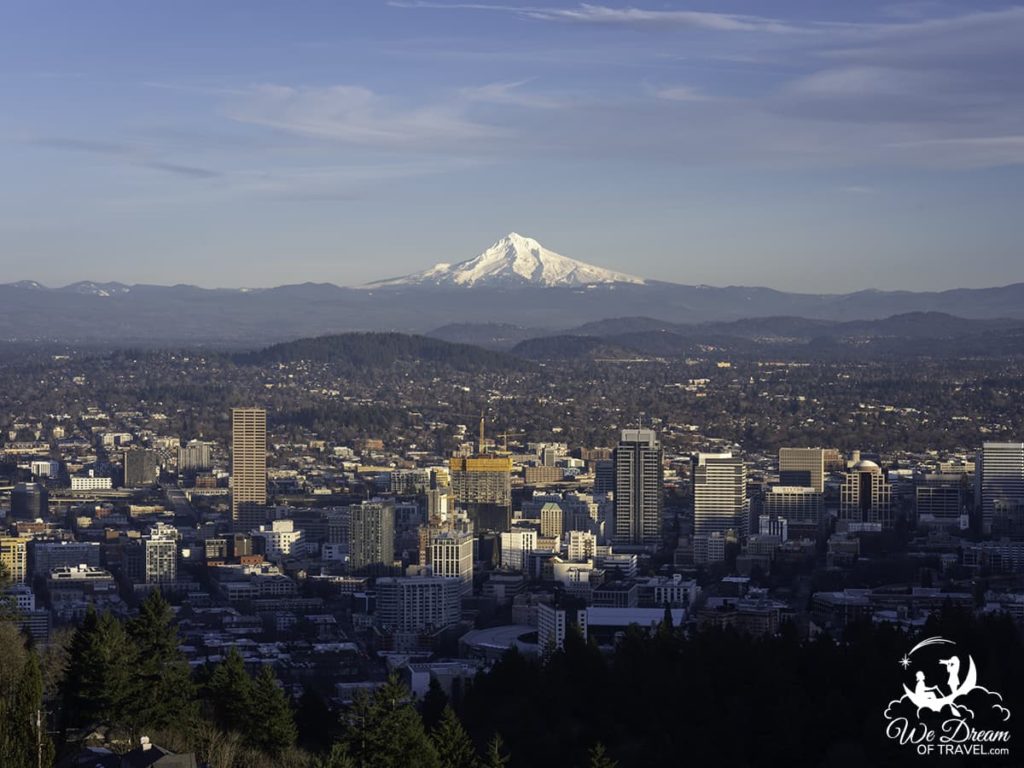 Pittock Mansion is located at 3229 NW Pittock Drive and is easy to reach by car. There is a parking lot at the mansion which provides paid parking, as well as several pull-outs on the drive up that are free. Although, these are more limited.
It is also possible to hike to Pittock Mansion via the Wildwood Trail through Forest Park. This is one of the lovely Portland activities during autumn. 
Mount Hood
By Nina and Garrett from Oregon is for Adventure
No list of places to visit in Portland is complete without a mention of Mount Hood. If you look at this map of Portland Oregon area, you'll find Mount Hood just outside the city. It will take around 90 minutes to get to Mount Hood from Portland. 
Mount Hood offers some of the most stunning panoramic views in Oregon. It's one of the memorable things to see near Portland.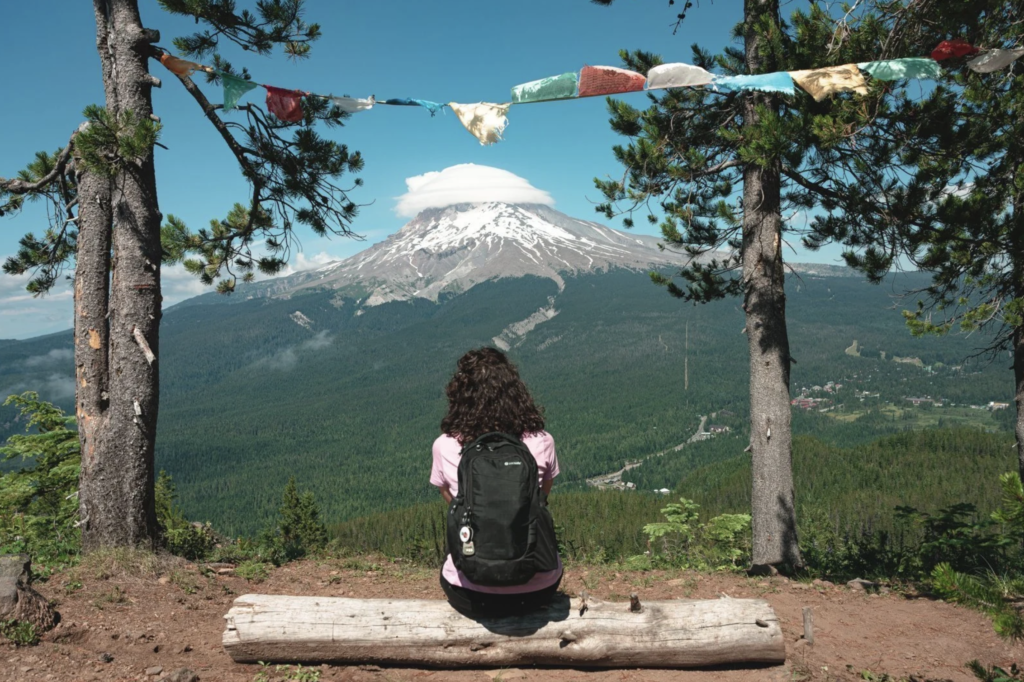 Mount Hood is the perfect mountain escape from the hustle and bustle of city life. Enjoy a hike in Mount Hood, swim in the lake, or chase waterfalls during summertime. In the winter, you can take to the slopes. Mt Hood is one of the best places to go near Portland for skiing and snowboarding. 
It is possible to visit Mount Hood on a day trip. Although, a long weekend getaway is ideal for getting the best experience. One of the most popular things to see in Portland are waterfalls.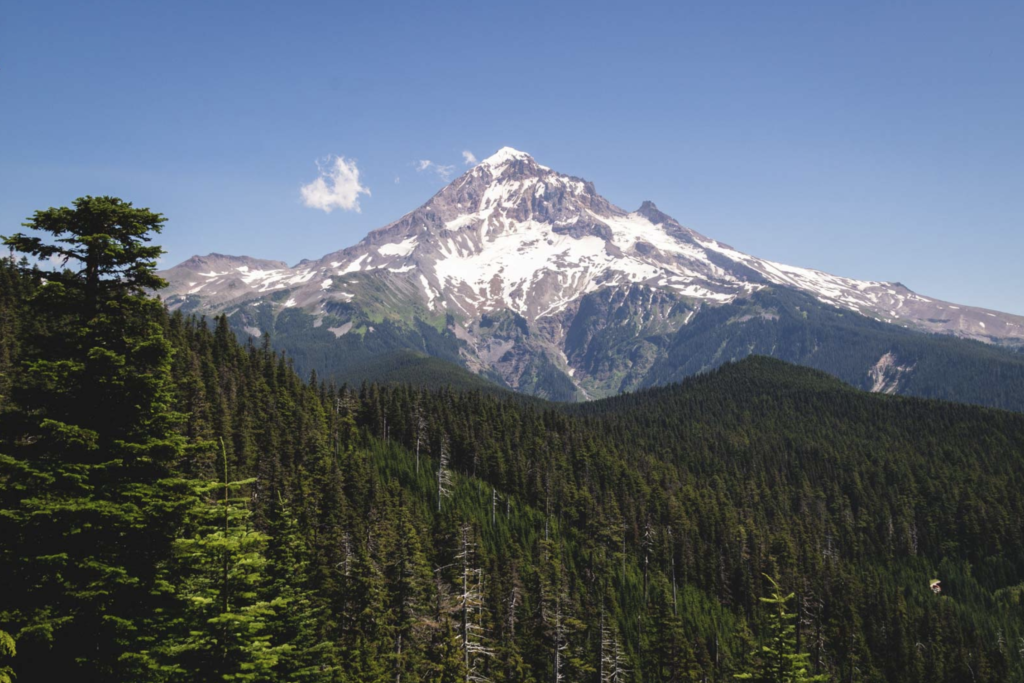 At Mount Hood, you can visit Tamanawas Falls. The hike to the falls is a moderate 3.5-mile trail. If you are looking for something more challenging, consider Bald Mountain. This hike is 6.7-miles and awards you stunning views of Mount Hood.
Trillium Lake is a gorgeous alpine lake. Camp, swim, kayak, or fish. Mount Hood will be in full view. 
Columbia River Gorge
By Kassidy from Kassidy's Journey
The Columbia River Gorge National Scenic Area is found just 30 minutes outside of the city on this Portland attractions map. It is one of the most stunning places to go in Portland's surroundings, home to beautiful waterfalls, great views, and fantastic hiking.
The Columbia River connects to the Pacific Ocean and cuts right through the Cascade Mountain range. It forms the border between Washington and Oregon. Outdoor lovers will especially love the Columbia River Gorge. There are over 90 waterfalls on the Oregon side of the river alone.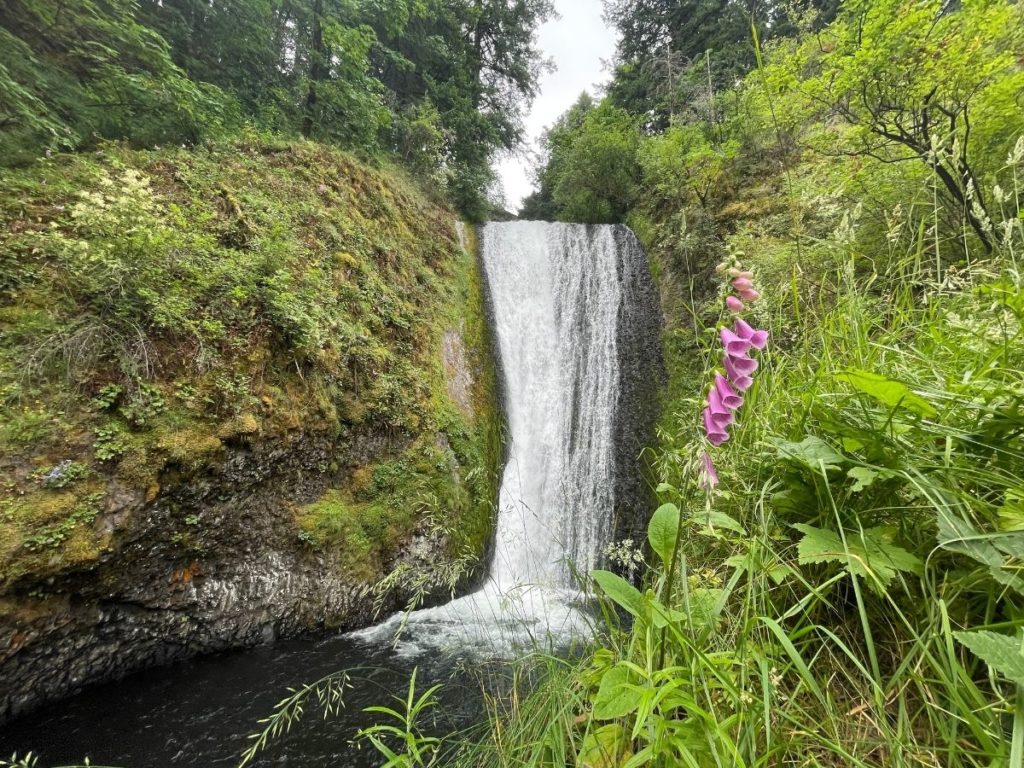 Discovering waterfalls is one of the must-do things in Portland. Just a few minutes from the road, you'll find the tallest waterfall in Oregon, Multnomah Falls. This natural wonder drops 620-feet and has two tiers. It's one of the top-rated things to see around Portland. 
Even those who don't love long hikes will enjoy visiting, as many of the waterfalls are just within minutes of the parking lot. Among the most popular are Bridal Veil Falls, Horsetail Falls, and Latourell Falls.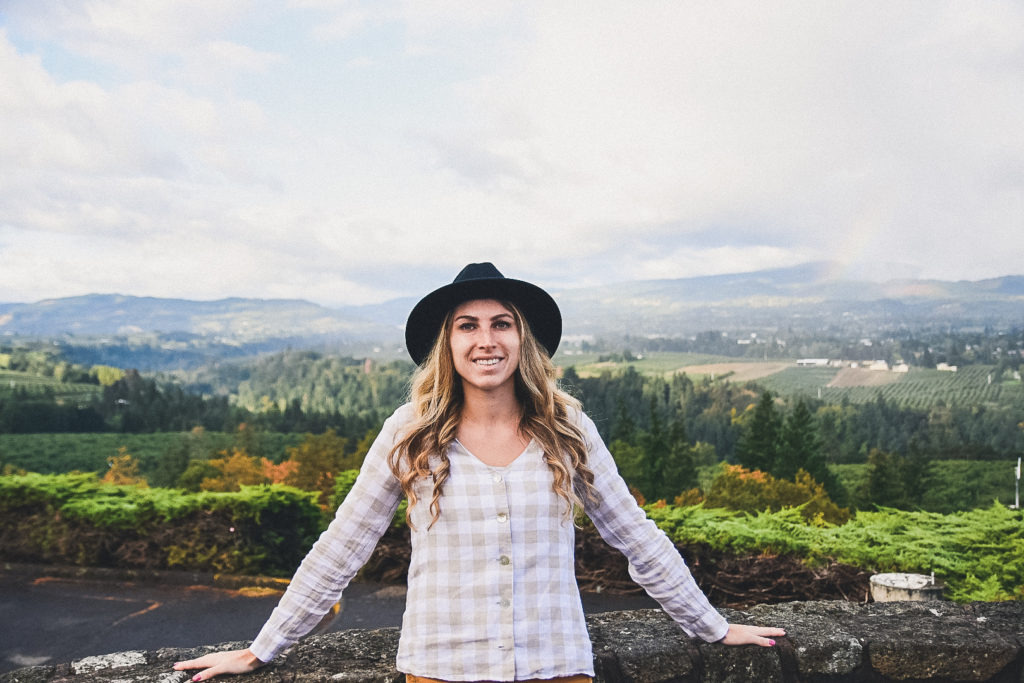 Visitors can get some of the best views of the Gorge from the Vista House. This observatory sits almost 700-feet above the river. Taking in the views at Vista House is one of the cool things to do in Portland's outskirts. 
The best time to visit the Columbia River Gorge is in spring and summer. In spring, the waterfalls are flowing at their strongest. In the summer, temperatures are warm, and the trails are clear of snow.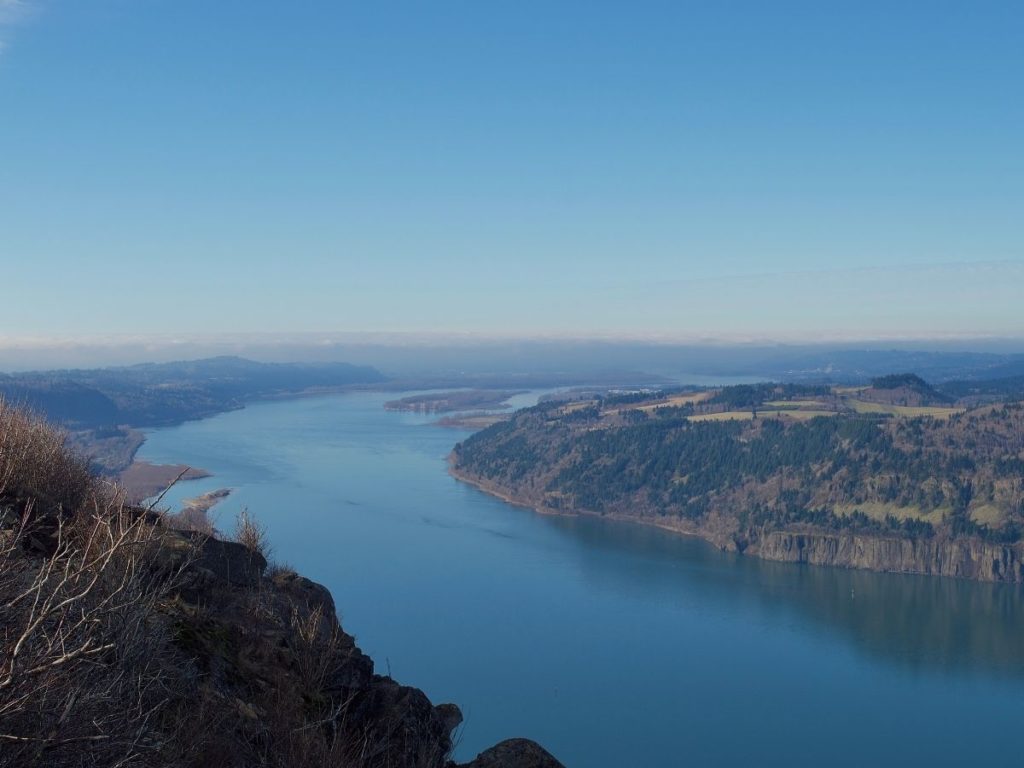 It's best to visit by car, as many of the places are spread out along the river. There is a shuttle that runs through the Gorge, but it only makes stops at select places. The Columbia River Gorge is one of the must-see places in Portland. 
Cannon Beach
By Candice from CS Ginger
One of the top things to do in Portland is taking a day trip out to Cannon Beach. Cannon Beach is West on this city map of Portland Oregon. It's a 90-minute drive outside Portland along the Oregon Coast. It is a beautiful coastal city with lots of opportunities for hiking, exploring the downtown area, and tide pooling at Haystack Rock.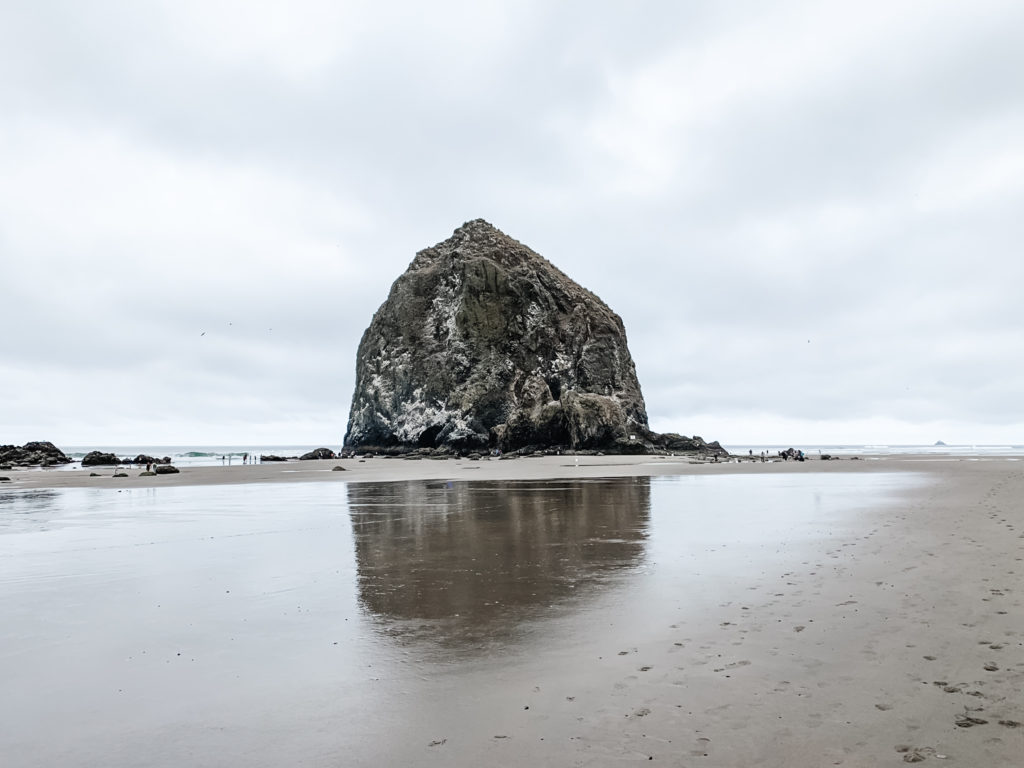 Cannon Beach is one of the recommended places to visit around Portland for tide pooling.  Haystack Rock is one of two haystack rocks along the Oregon Coast. 
At low tide, you can explore the tide pools at the base of Haystack Rock. It is a lot of fun to wander along the beach and observe the vibrant ocean life in the dynamic tide pools.
Hiking is another one of the best things to do around Portland. You can enjoy hiking near Cannon Beach in Ecola State Park. There are beautiful coastal views along the trail and a nice day-use area for picnicking.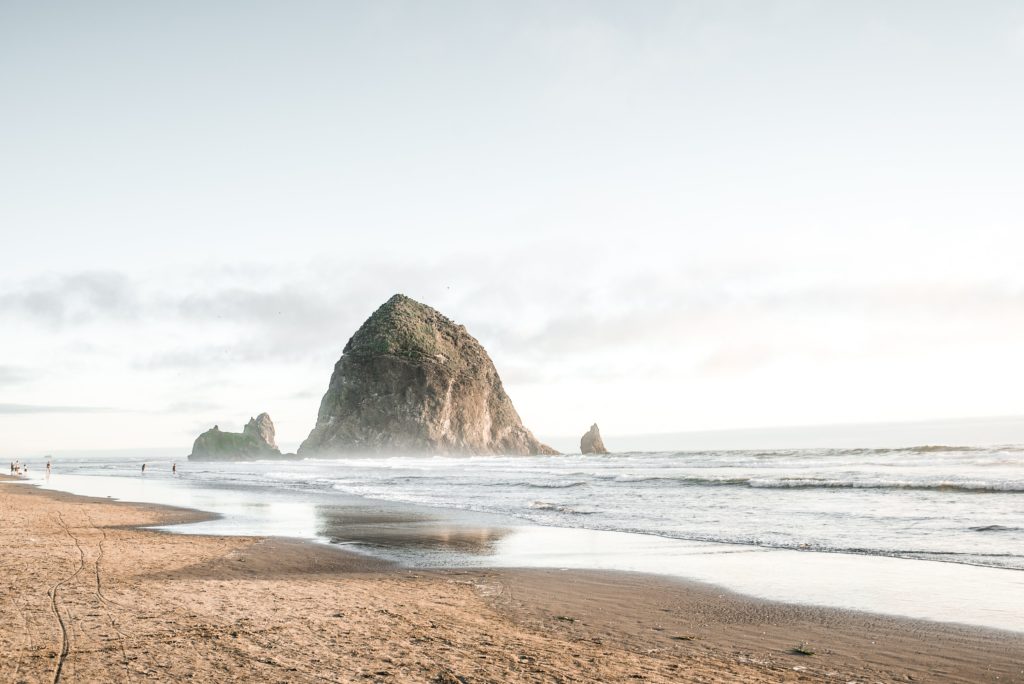 One of the best trails in the park is hiking down to Crescent Beach. There is a nice 1.25-mile walk down to the beach where you can see a cave and a waterfall. 
The majority of the downtown shopping is off of Hemlock Street. There are quite a few specialty boutiques, tourist shops, art galleries, and restaurants. It is a really cute downtown area. It's one of the cool things to see in Portland's surroundings. 
Powell's City of Books
By Mary from Bucket List Places 
Powell's City of Books is one of the must-see places in Portland. This iconic bookstore occupies a full city block in Portland's Pearl District. It is the largest independent bookstore of new and used books. Some of Powell's 3,500 sections include graphic novels, children's books, fine arts, gardening, romance, politics, religion, and more. 
It's an important spot on this downtown Portland Oregon map. Don't miss the Rare Book Room on the top floor, home to autographed first-editions and many historic leather-bound tomes.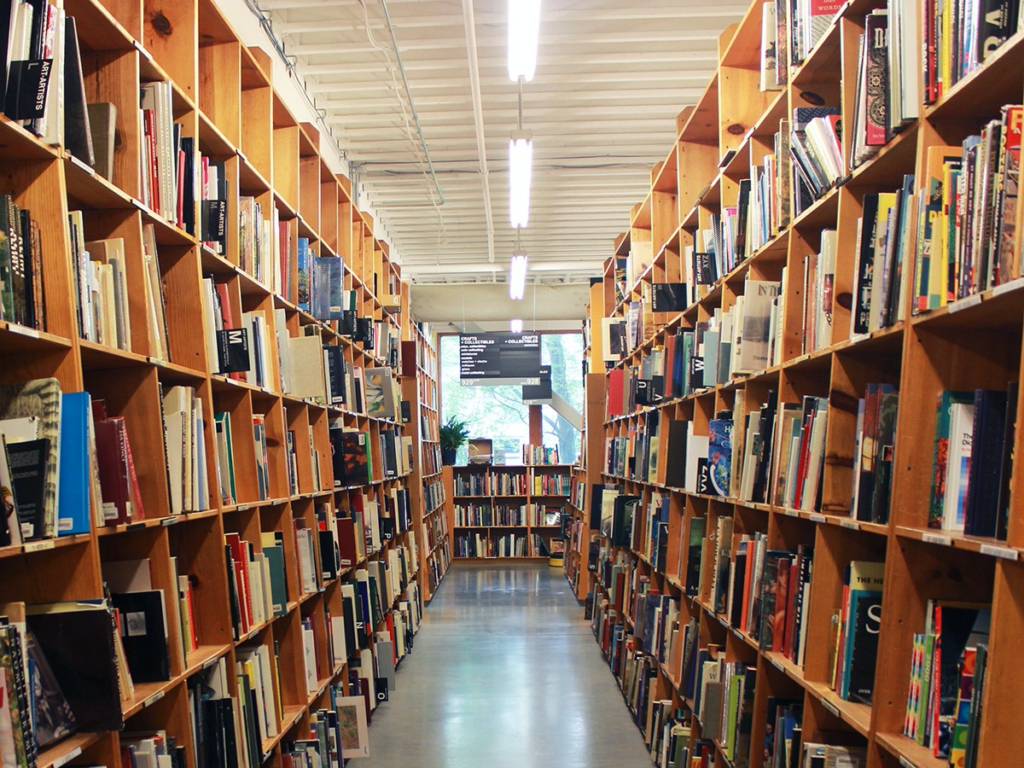 Powell's was founded in 1971 by Walter Powell, and the business remains family-run now. The unique approach of offering both used and new books, shelved and sold together, made Powell's a creative and successful destination. 
Getting lost in the four stories of books is one of the most fun activities in Portland for booklovers. You'll enjoy finding hidden gems on the seemingly endless shelves. Even the less-literary inclined should stop in to see what kind of books are available related to niche interests. There are also board games and Portland souvenirs available.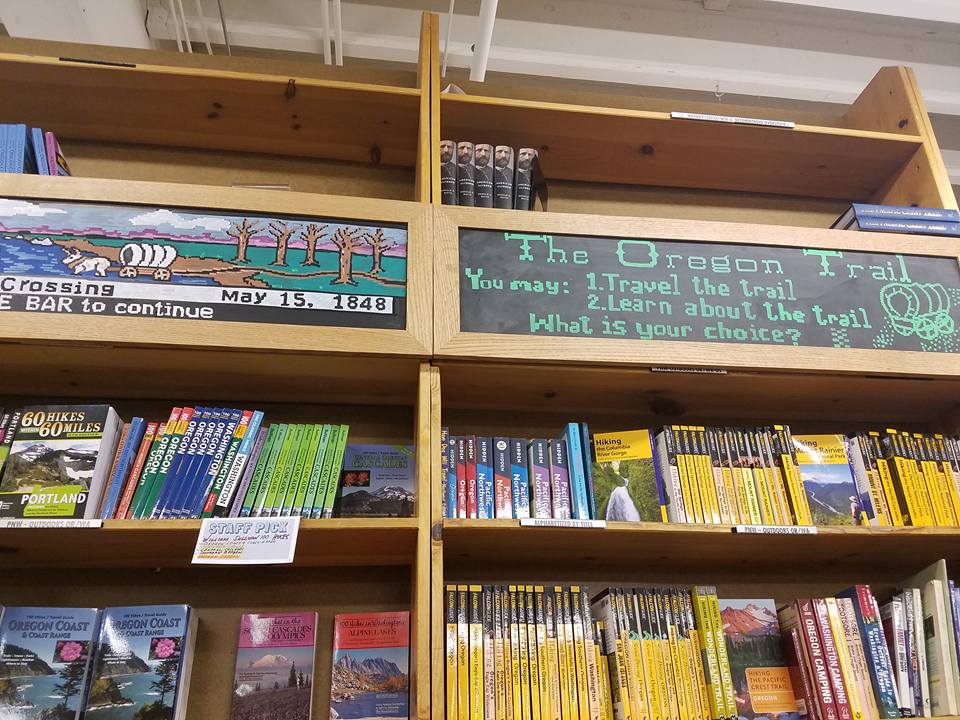 Powell's Books is one of the cool places to visit in Portland's downtown. It's located between NW 10th and 11th Avenues and has entrances on Burnside and Couch Streets. Several garages and street lots have paid parking available. Visiting this place is one of the recommended things to do in downtown Portland. 
Forest Park
By Val from Voyages with Val
Forest Park is one of the top spots on this Portland neighborhood map. With over 5200 acres of forest and 80 miles of trails, Forest Park is truly unique. It is also one of the largest urban forests in America!
The city is known for its downtown Portland attractions as well as its lush green forests. Forest Park is the perfect place to experience that nature without even having to make a day trip out of it.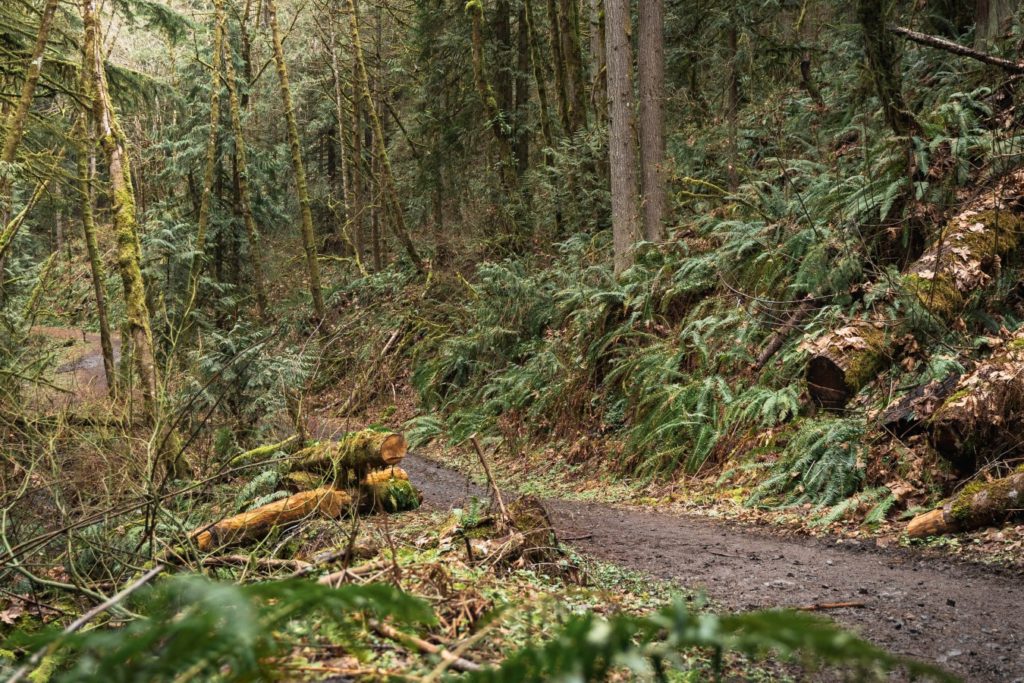 The park is open every day and has multiple trailheads to choose from. Hiking is one of the best free things to do in Portland. If you need help choosing a spot to go, head to Hoyt Arboretum. This is in the Southernmost part of the park, close to the Oregon Zoo and Portland Japanese Garden. There are several acres here of well-maintained trails, including a spectacular redwood grove.
Other notable trails include hiking to the "Witch's Castle", an abandoned stone building in the park. Hiking to Witch's Castle is one of the popular activities to do in Portland. You can also hike to Pittock Mansion, a century-old home-turned museum. The views near the mansion can't be beaten.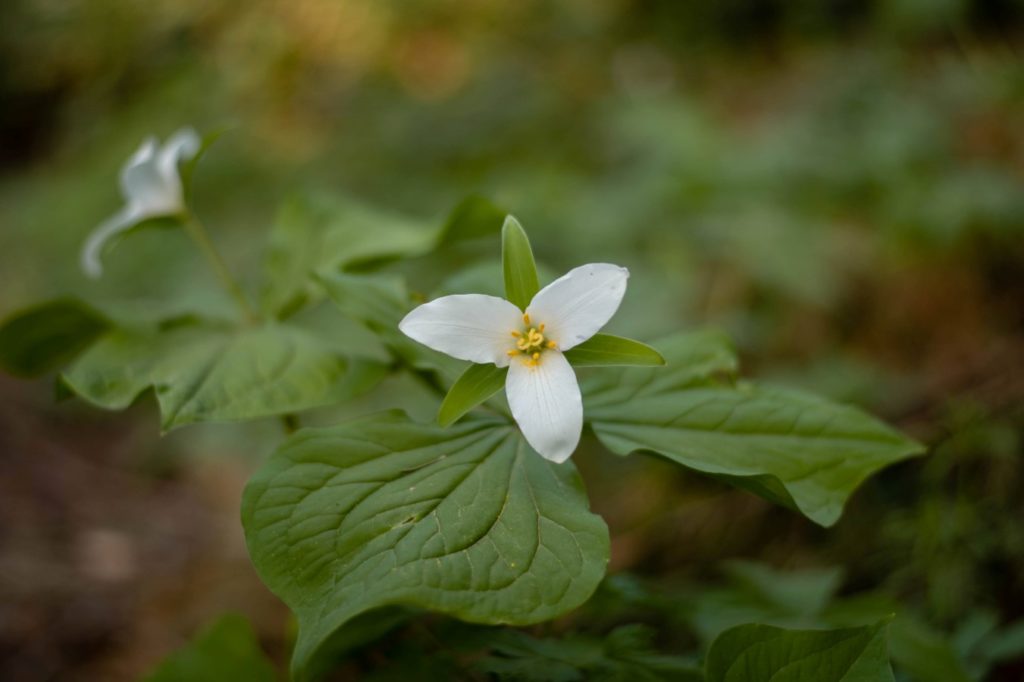 From there, you can spot Mount Hood, Mount Saint Helens, Mount Adams, Mount Rainier, and Mount Jefferson. The Wildwood Trail is another standout trail in Forest Park. At 30 miles long it is the longest trail in the park. 
Forest Park's trails more closely resemble a National Forest trail than a typical paved city park path. Be prepared with the right clothes and hiking shoes if you plan on spending a lot of time on the trails. This is one of the top Portland tourist attractions. 
International Rose Test Garden
By Jessica from Uprooted Traveler 
Have you ever wondered why Portland is known as the "City of Roses"? While the rest of the Pacific Northwest may not be celebrated for its bountiful botanicals, Portland very much is. The International Rose Test Garden is one of the epic places to see in Portland. It's located in Washington Park. 
This little slice of heaven is the oldest continuously operated test rose garden in the entire United States It's one of the most important historical Portland sites to see. It opened in 1918 as a safe place to preserve hybrid roses from Europe during World War I.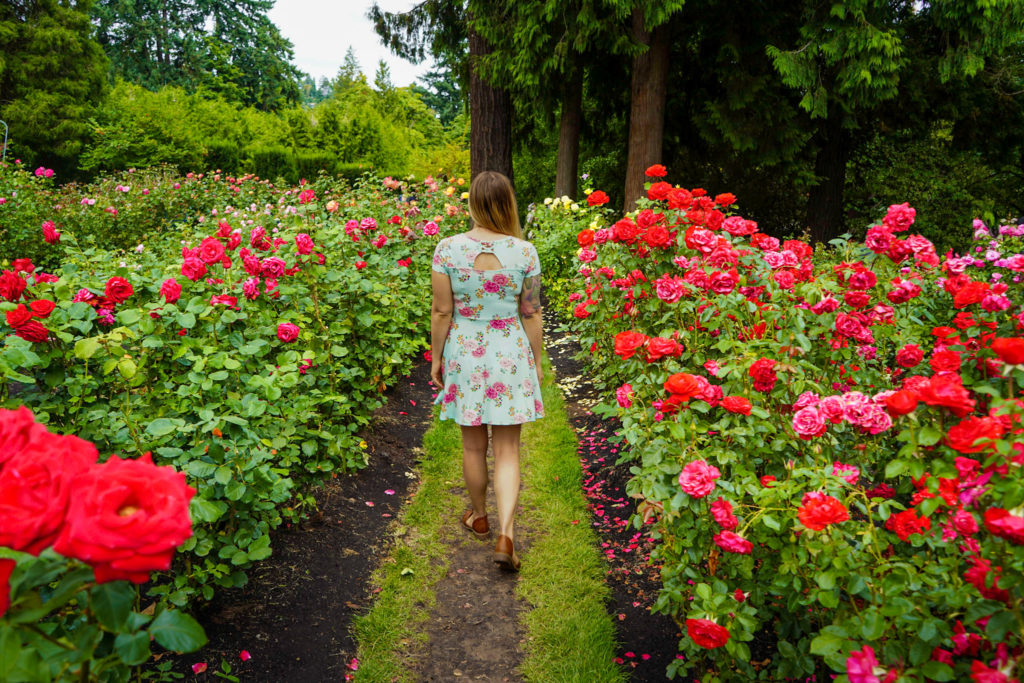 Nowadays, the park boasts over 10,000 bushes of approximately 650 different species of roses. Visiting here with your significant other is one of the most romantic things to do in Portland. 
Between the incredibly diverse array of roses and the free admission, the Rose Test Garden is one of the cheap and fun places to go in Portland. The garden is conveniently located just 10 minutes west of the downtown. Parking is extremely limited, especially on busy summer weekends.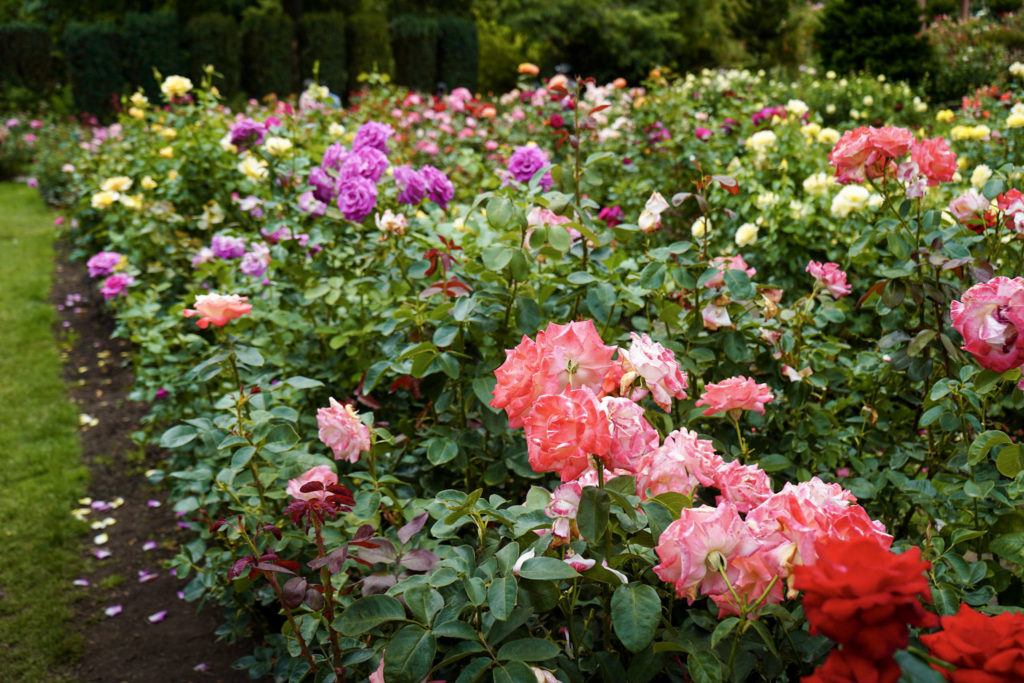 Your best bet will be showing up to the garden early to enjoy the blooms in peace or taking the bus or rail here. The garden is beautiful year-round. To see the blooms in all their glory you'll need to visit between May and September. Stopping to smell the roses is one of the unique things to do in Portland's International Rose Test Garden. 
Portland Japanese Garden
By Agnes from The Van Escape 
The Portland Japanese Garden is one of the top things to see in Portland. It is no surprise that the Japanese ambassador praised this place as the most beautiful and authentic Japanese Garden outside Japan. It's worth including the Japanese Garden in your Portland itinerary.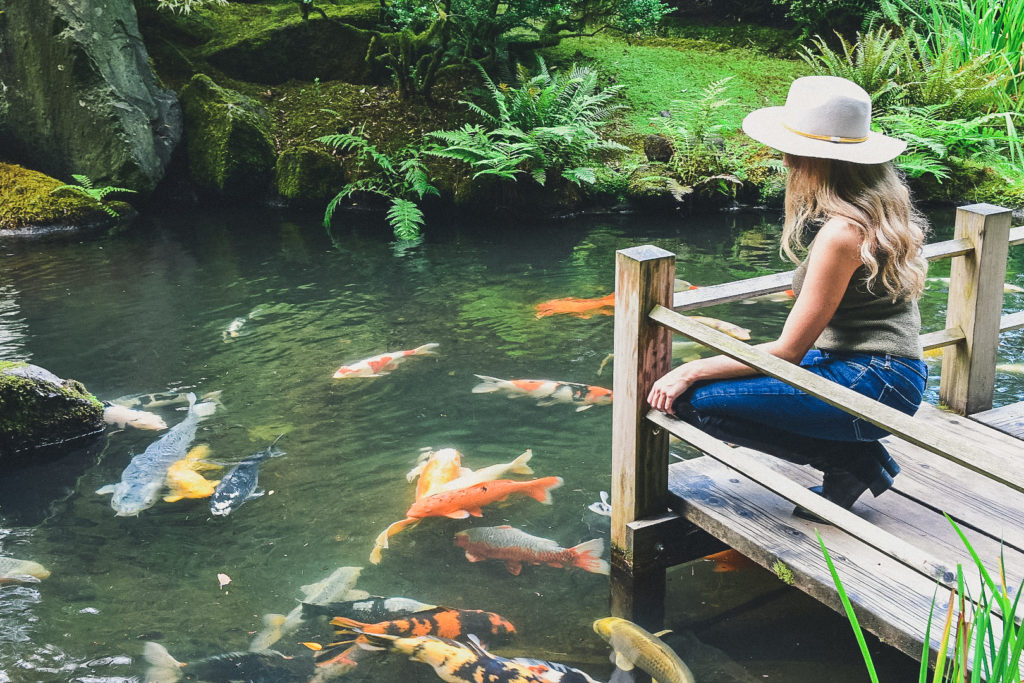 A traditional Japanese garden spans 12 acres. It's located on a hill in Portland's iconic Washington Park. It is a true oasis where residents and tourists alike love to escape the intensity of city life. The park is divided into several separate gardens, each unique and has something different to offer. 
It's one of the most tranquil places to see. Portland's Japanese Garden has a tea house, stylish bridges and pavilions, picturesque waterfalls and streams, beautiful shrubs, and cherries. Plus, you'll discover spectacular views of Mount Hood.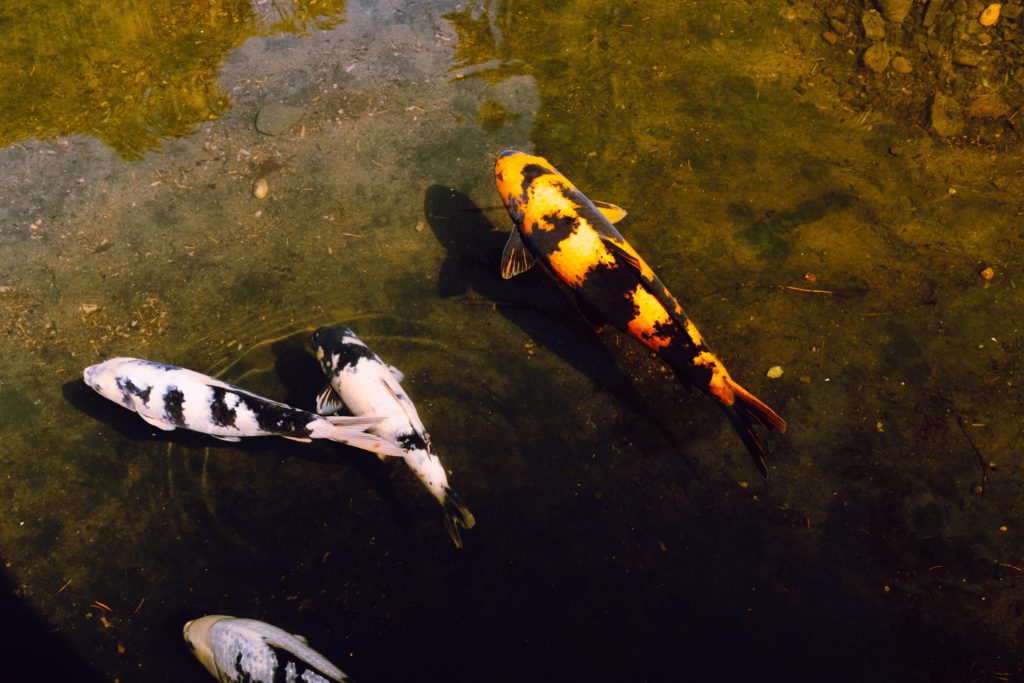 Admission includes access to the Garden, Garden Gift Shop, Umami Café, and fabulous art exhibits. It's one of the best places to go in Portland for relaxation. 
The Natural Garden is unidirectional because it has narrower paths. In all other garden areas, you are free to wander and choose your direction. There are benches to sit, reflect, and restore your spirit in the beauty of nature.
Astoria 
By Theresa L. Goodrich from the Local Tourist 
Less than two hours outside of Portland, Astoria is one of the best secret day trips from Portland. It's a great stop on any Oregon coast road trip. Located on the Columbia River, it's a small town with great food and several museums. It's a cultural destination and one of the best Portland day trips. 
Known for fishing and logging in the late 1800s, the landscape drew thousands of Scandinavian settlers. Because of that influx of immigrants, one of the most popular things to do in Astoria is the annual Scandinavian Midsummer Festival at the Clatsop County Fairgrounds.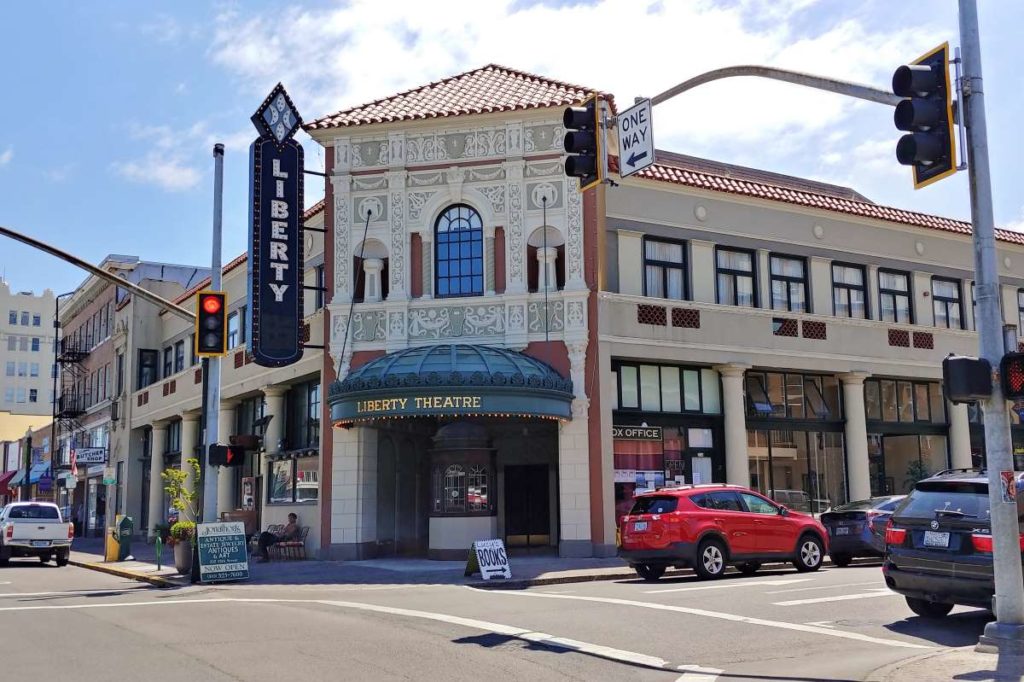 It takes place in June and has been celebrated since 1968. It's a unique experience, and it's one of the interesting things to do near Portland. 
The museums of Astoria showcase what makes it unique. A good place to start is the Heritage Museum. To learn the importance of the river and the Pacific Ocean to this town, visit the Columbia River Maritime Museum. If you want to be out on the water,  a riverfront tour will give you great views of the town's Victorian mansions. There's also an Oregon Film Museum. 
Astoria might look familiar because of its appearance in The Goonies. The Liberty Theater is a historic vaudeville and cinema venue that was restored in 2006. 
If you're a history buff, drive a little past Astoria to visit Fort Clatsop. It is part of Lewis & Clark National Historic Park. It is a fort where the explorers stayed before turning back for their return east. Experiencing this part of Oregon's history is one of the iconic things to do outside Portland. 
PSU Farmers Market 
By Michelle C. of Intentional Travelers
Once named the best farmer's market in the United States, the Portland Farmers Market at P.S.U. is an icon of downtown Portland. It's been going strong for over 30 years. It takes place every Saturday, and it is the only Oregon outdoor market running year-round.
This market is a great way for you to experience the products and produce of the region. It has the ultimate Portland vibe and is ideal for people-watching. It's one of the best places to visit in Portland for locals and tourists alike.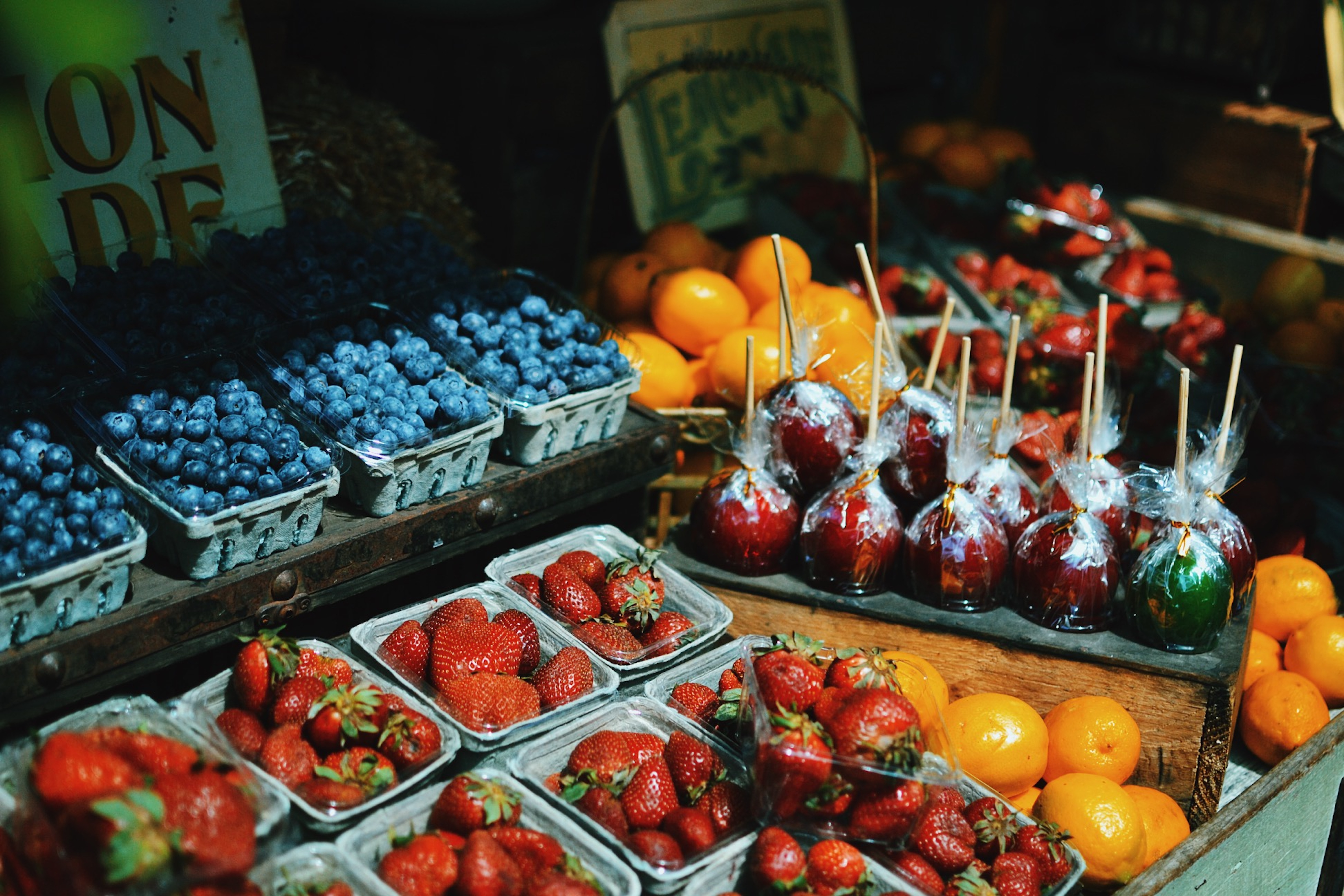 The market typically hosts cooking demonstrations, kid's activities, live music, and other entertainment. It's one of the fun places in Portland to experience culture. 
The Farmer's Market is accessible via public transit, including the MAX light rail. It spans several blocks of the Portland State University campus, right in the heart of downtown.
Market vendors accept cash, credit cards, and several social service currencies or vouchers like SNAP and WIC. It's always important to bring reusable shopping bags when packing for Portland and you'll be sure to make good use of them at this market!
In addition to fresh produce and locally-made products, the Portland Farmers Market is also a great place to grab a meal. From baked goods and coffee to vegan treats and smoked meats, there is something for everyone.
Willamette Valley
A visit to the Willamette Valley is one of the fun things to do in Portland for adults who love wine. The Willamette Valley is America's fastest-growing wine region. You can get there in 45minutes to an hour drive from Portland. 
Over 500 wineries are operating in the Willamette Valley, and many of these are small family-owned operations. One of the best Portland day trips includes a drive to the Willamette Valley to experience food and wine culture.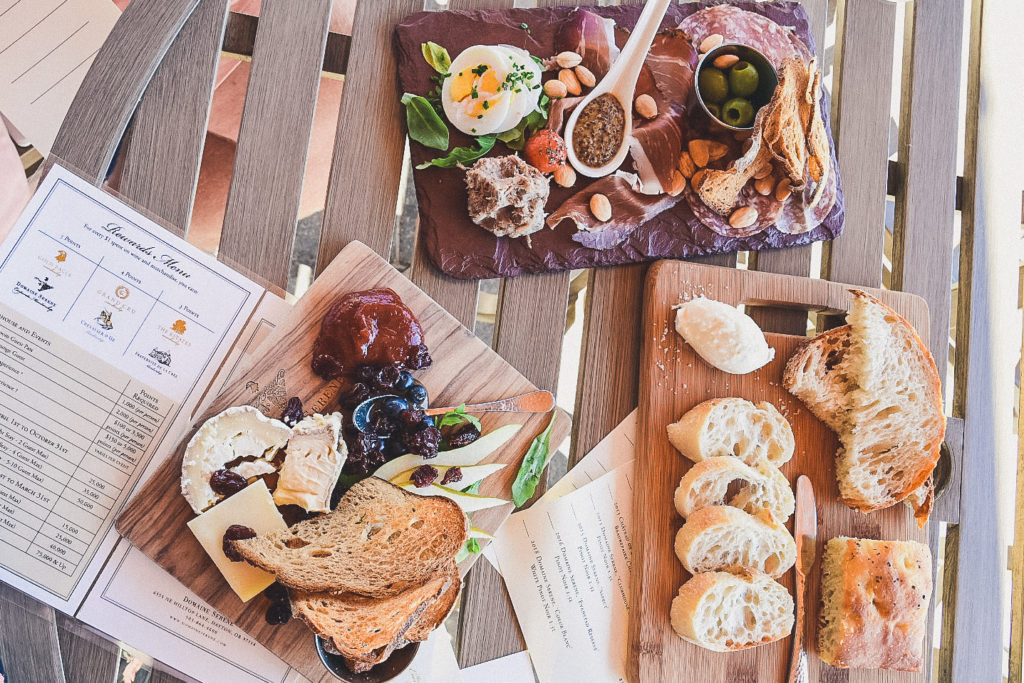 Pinot Noir is the iconic grape that this region is best known for. Consider visiting the Domaine Serene Winery or Penner-Ash Wine Cellars. 
The soils of this region are ripe for grape growing, as well as farming and livestock. There are hazelnut trees and alpaca farms. You'll find many outstanding farm-to-table restaurants, Jory is one of the top picks.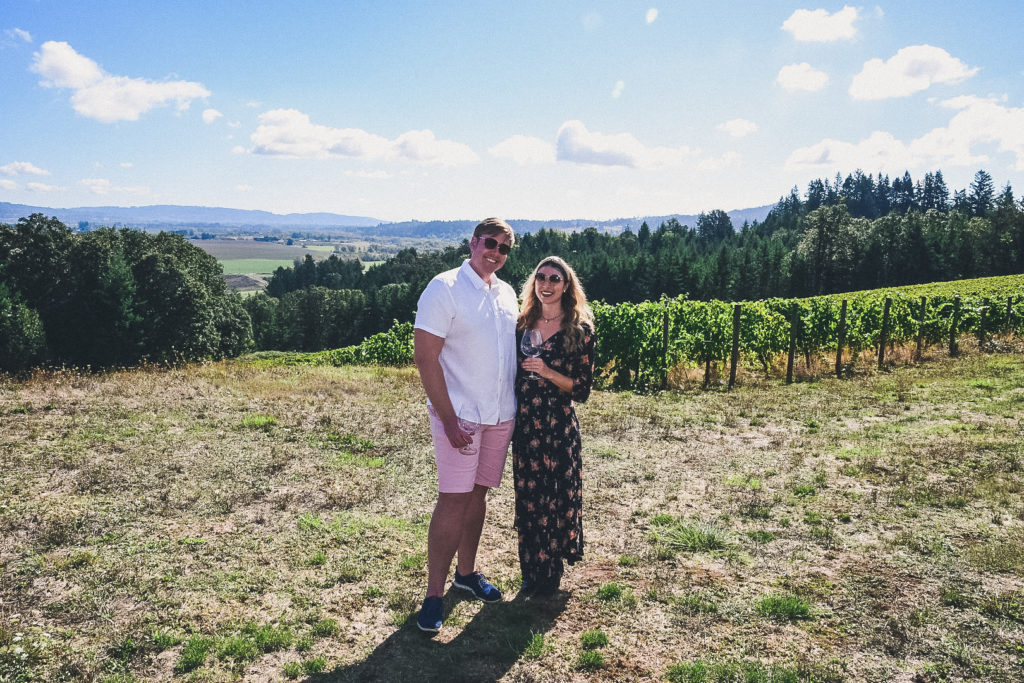 One of the other fun things to do around Portland is whitewater rafting. The Willamette Valley is an excellent place to go whitewater rafting, especially for beginners. It's one of the top places to visit near Portland.