There are so many romantic things to do in Sedona! Dreamy Red Rocks by day, and the twinkling stars at night, Sedona offers incredible opportunities for adventure and romance. Some of the most exciting things to do in Sedona for couples include hiking through rugged landscapes, visiting mystic sites and experiencing unique spa treatments.
We've taken the guesswork out of planning your couple's trip to Sedona.
For additional help in planning your trip to Sedona, check out this helpful tourist map. 
20 Romantic Things to do in Sedona for couples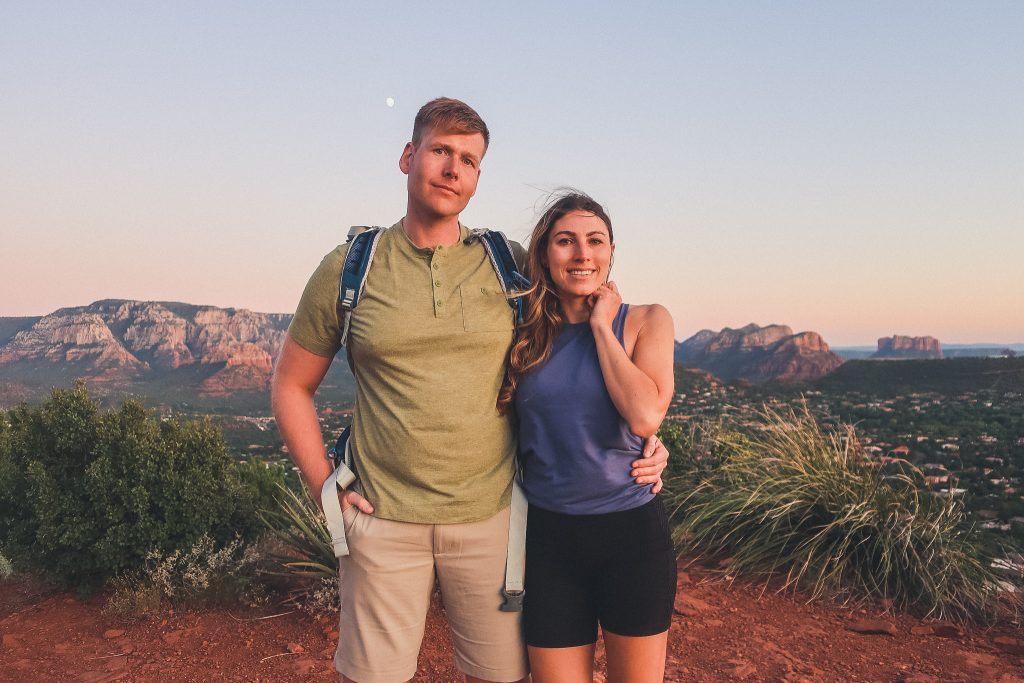 Find the best places to stay in Sedona for couples. 
1. Go Winery hopping
Winery hopping is one of the top things to do near Sedona. The place to do this is the Valley Verde Wine Trail which includes over 20 wineries.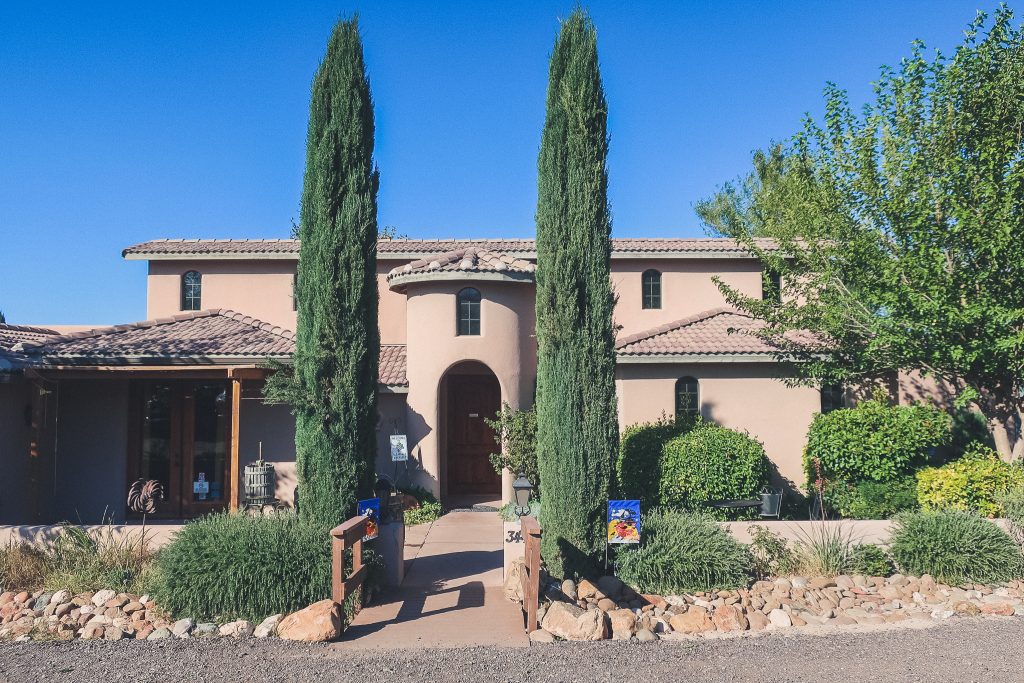 Sedona might be a newcomer to America's winery scene, but it's quickly gaining a reputation for high quality and incredible ingenuity. Sedona's Verde Valley is known for its extreme desert temperatures. Hot and bone dry days paired with frigid nights, and this combined with an extremely versatile topography. Sedona is a winemaker's dream!
The Valley Verde area is about 20 minutes south of downtown, and this makes winery hopping one of the relaxing things to do in Sedona area.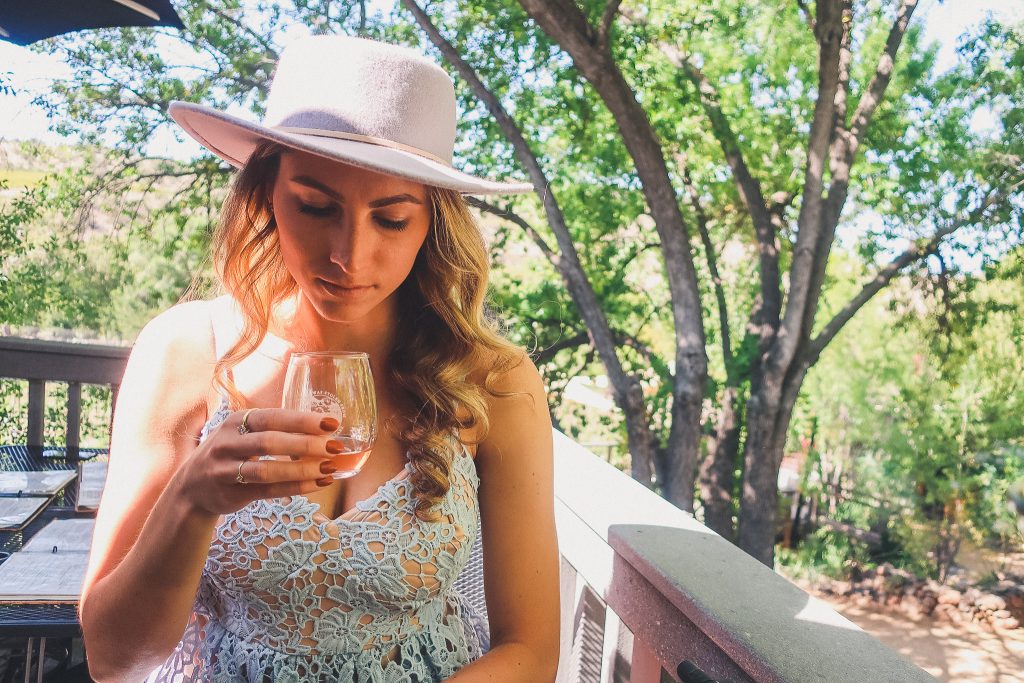 When you are touring wineries, don't make the mistake of driving yourself. Book this top-rated wine tour, so you can enjoy yourself without worrying about the road ahead.
2. Indulge in world-class spa services
Sedona is regarded as a place for relaxation, rejuvenation, and healing. It's a spiritual refuge for some, and a place to unwind and unplug for others. Whatever your reason for visiting Sedona, you must not leave before indulging in an unforgettable spa treatment.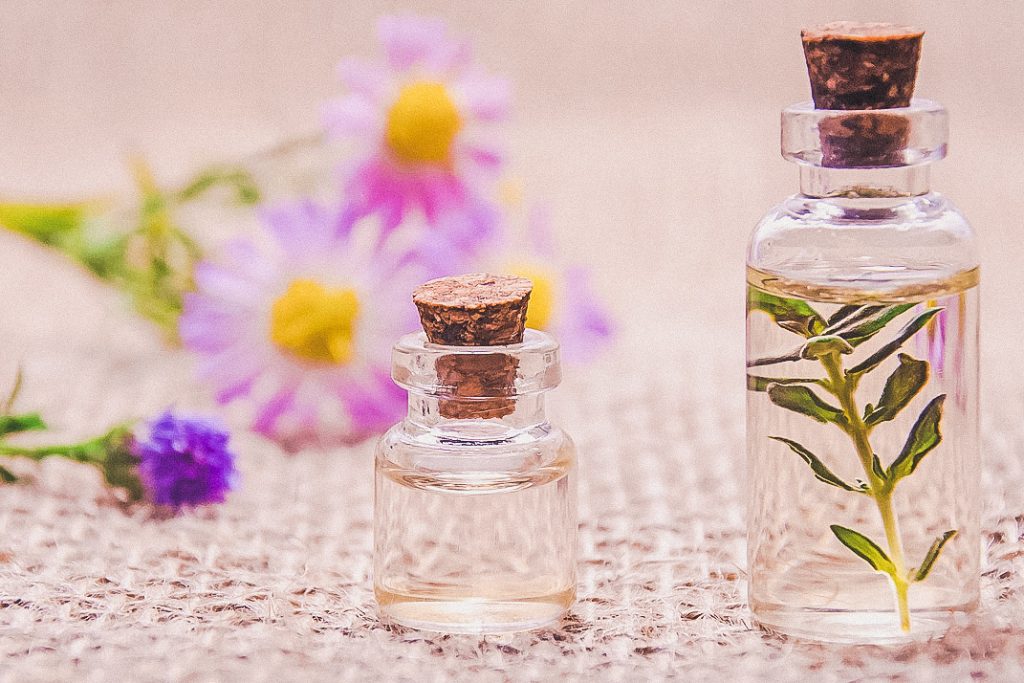 The best hotels in Sedona for couples include the Enchantment Resort, the Amara Resort, and L'Auberge de Sedona. These resorts include highly celebrated spas with unique treatments inspired by the desert ecosystem and ancient Navajo traditions.
Without a doubt, the Enchantment Resort is the best hotel in Sedona for couples. Their spa —Mii Amo — was named #1 spa in America by Travel + Leisure for 2 years in a row! Access to Mii Amo is reserved exclusively for guests of Mii Amo & the Enchantment Resort.
Mii Amo is located in the gorgeous Boynton Canyon, surrounded by jaw-dropping landscapes. Unique offerings at Mii Amo include Native American inspired ceremonies, aura consultations, reiki healing, hypnosis, past life regression work, various meditations and SO MUCH MORE!
Amara and L'Auberge de Sedona are also some of the best resorts in Sedona for couples. You can visit either of these spas without being a guest at the hotel. The Amara Resort's spa features signature services like Rain Dance, Desert Sugar Scrub & a Serenity Gemstone Facial.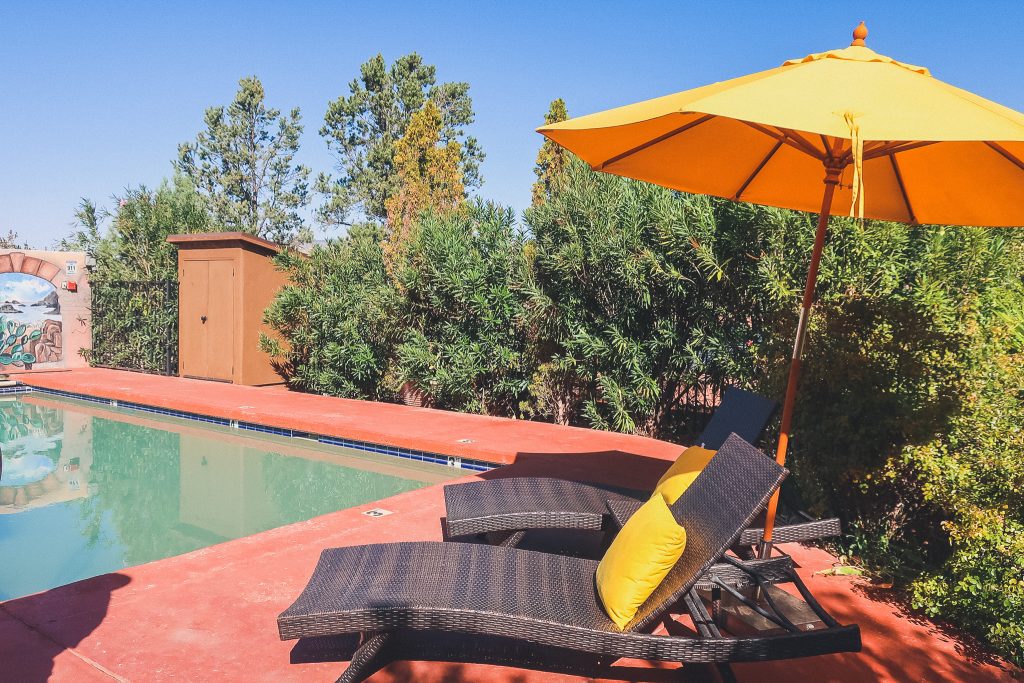 L'Auberge de Sedona is unique because of it's creek-side real estate. You can enjoy dining by the creek, having a massage by the creek or foot reflexology inside the creek! L'Auberge also offers integrative therapies, sound healing and a unique opportunity to blend your own aromatherapy concoction.
No need to stay at a fancy resort to get pampered in Sedona! If you're feeling the dryness of the unforgiving desert climate, you need to book this Hydrating Chaparral Body Wrap at the Sacred Arts Sanctuary in Sedona.
3. Ride the Verde Canyon Railroad
Riding the Verde Canyon Railroad is one of the best things to do in Sedona in the summer. It's the perfect daytime activity that provides essential refuge from the 100+ degree heat (while allowing you to appreciate the unbelievable natural beauty).
The Verde Valley Railroad is also one of the best things to do in Sedona in October when autumn colors are at their best. You'll be riding through the Coconino National Forest and the Prescott National Forest. This is the type of scenery that can only be found in less than 2% of Arizona.
The Verde Canyon Railroad is an important part of Arizona's history. It was first opened in 1912 to connect important Copper Mines. Since then it's been meticulously restored. It now features climate-controlled cabins equipped with full bars and gaping panoramic windows that provide nearly 360° views of the surrounding canyons.
Reserve your spot on a Verde Canyon Railroad Adventure today.
PRO TIP: Many of the copper jewelry you find in Sedona is locally sourced. Look for Arizona copper (especially in Tlaquepaque), and you'll have the perfect Sedona souvenir.
4. Shop for gifts at Tlaquepaque
Tlaquepaque Arts and Crafts Village is one of the memorable places in Sedona. It provides one of the most iconic shopping experiences in the American Southwest. Tlaquepaque is home to over 50 shops, restaurants, and art galleries. Many of the shops belong to local artists and native craftsmen. They highlight Southwestern-inspired designs and materials.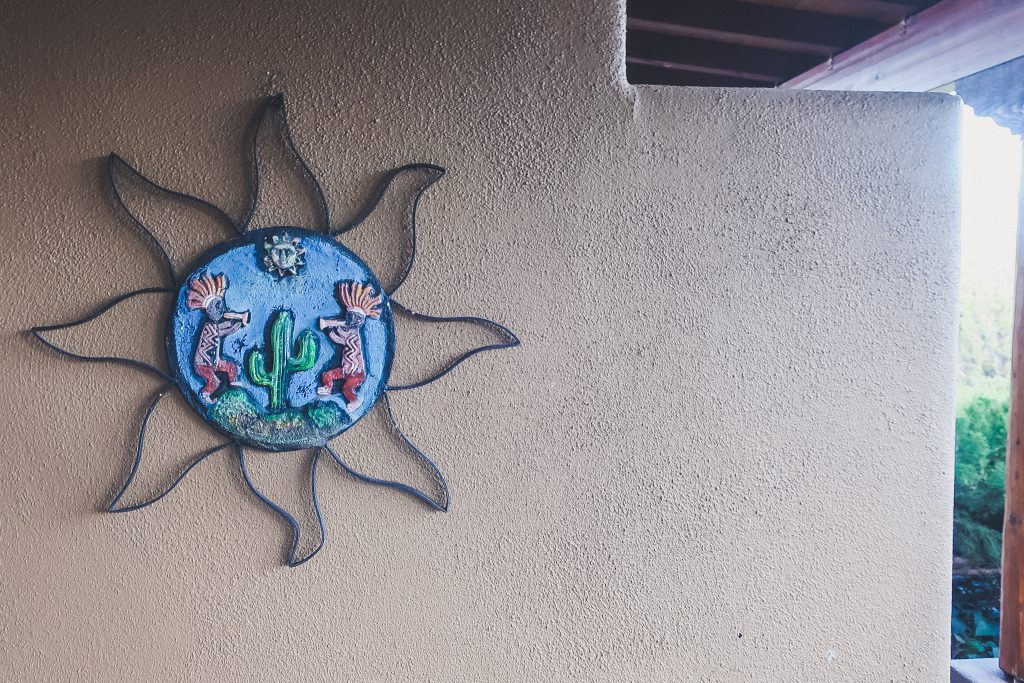 Tlaquepaque is reminiscent of an authentic Mexican village with cobblestone paths and stucco facades, it's simply beautiful. Inside you'll find everything from paintings to jewelry, glass blown pieces, and silks.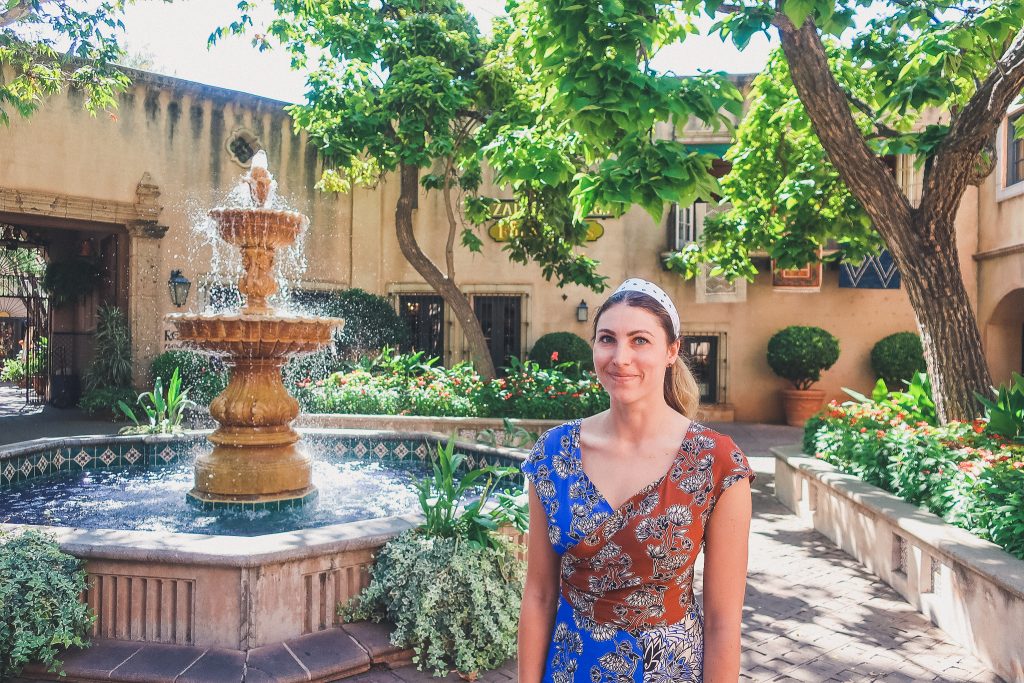 There are often live musicians playing, and occasionally other performances. Shopping at Tlaquepaque is one of the legendary things to do in Sedona. Find that perfect, completely unique, piece for your home or apartment. It will be a story you'll never forget and something your guests won't stop talking about!
Shopping at Tlaquepaque is also one of the fun things to do in Sedona when it rains!
5. Take an Adventurous Jeep Tour
Jeep Tours make the list of top 10 things to do in Sedona. It's a bucket list must! Sedona is the perfect place to have an off-road experience. The rugged landscapes and rocky terrain are best explored by 4×4.
The most iconic off-roading experiences are the Pink Jeep Tours. Sedona offers so many perfect opportunities for off-roading, but I recommend the Broken Arrow jeep experience.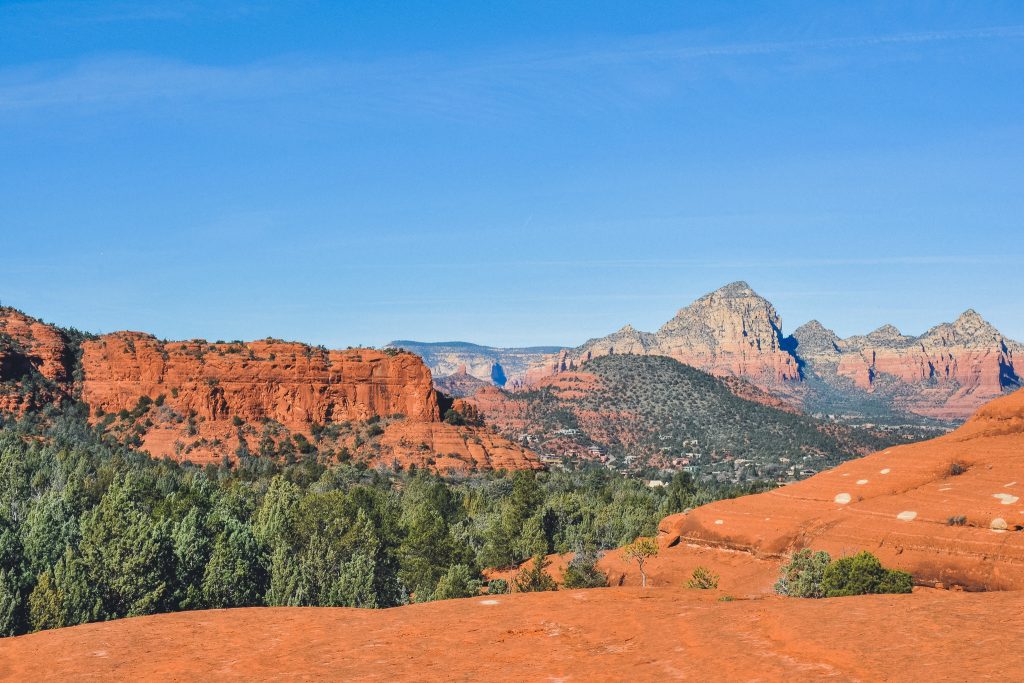 The Broken Arrow trail is an almost 4-mile, grueling trail that gains over 400 ft in elevation. Along your tour, you'll appreciate panoramic views of the surrounding Munds Mountain area. You'll stop to appreciate remarkable views of the Chapel Butte and Bell Rock formations.
Check the latest reviews for the Broken Arrow Jeep Tour.
If you are looking for a jeep tour that includes some unique history, you must check out the Ancient Ruins tour. This jeep tour takes you to the Honanki Heritage Site (a 700-year-old monument). You'll get to appreciate some native American art, learn about history and local wildlife. All this, in addition to a thrilling 4×4 off-road adventure.
Find out more about the Ancient Ruins Jeep tour here. It's one of the most amazing things to do at Sedona!
6. Splurge on a helicopter tour
You might start to appreciate the dramatic and colorful landscape of Sedona as you drive up SR 179, or the Red Rock Scenic Byway. This is only a mere glimpse!
The best way to soak in all of Sedona's mesmerizing views is from up above. A helicopter tour is one of the most unforgettable things to do in Sedona—Arizona's most beautiful city.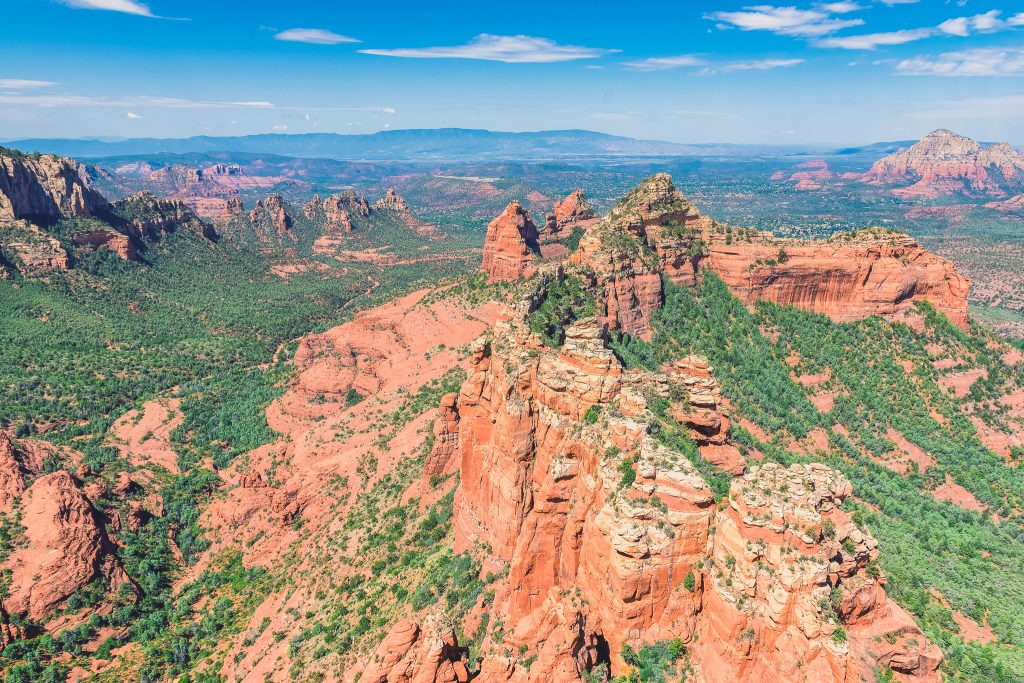 A helicopter tour in Sedona is much less expensive than you would imagine! Click here to check the latest prices on a top-rated helicopter tour in Sedona.
All of the top things to see in Sedona can be found on this tour. You'll fly over the famous Chapel of the Holy Cross, Snoopy Rock, and Three Nuns Rock. You'll also catch rare glimpses of Arizona's Sonoran Desert.
7. Watch the sunset from Cathedral Rock
Hiking is one of the best things to do in Sedona for free (well, almost free… you'll still have to purchase a Red Rock Pass to be able to park in the lots). Cathedral Rock is one of the most incredible places to visit in Sedona. It's arguably the best sunset viewing spot!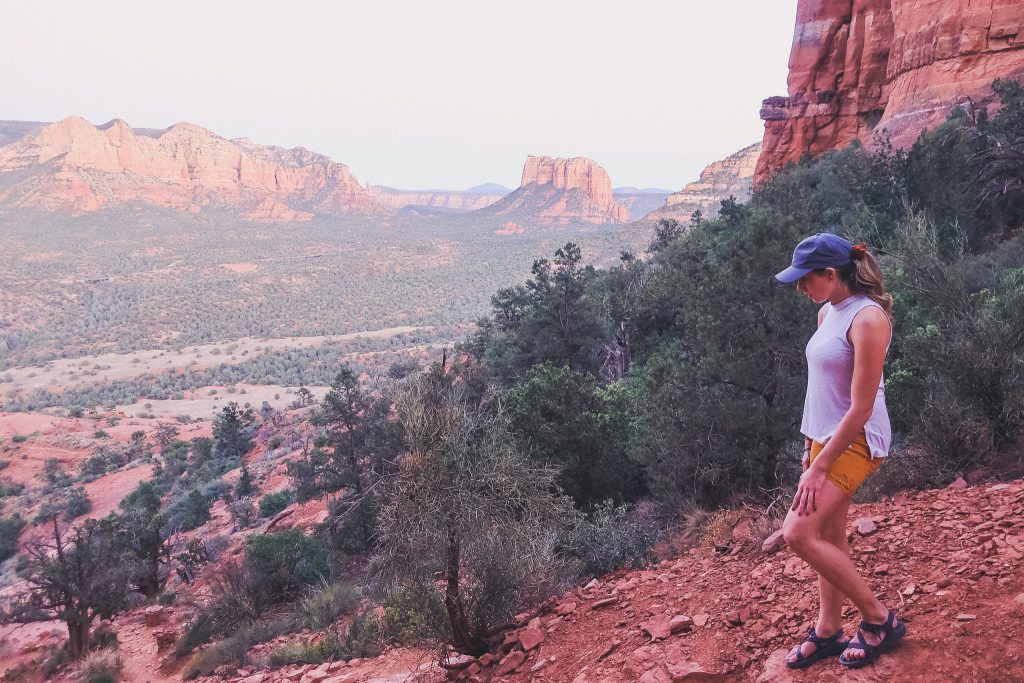 Cathedral Rock is a steep, sandstone, butte that you can climb. It is one of the most photographed rock formations in Arizona. The out and back trail leading to the top of Cathedral Rock is less than 2 miles round trip. Although, it gains over 700 feet in elevation!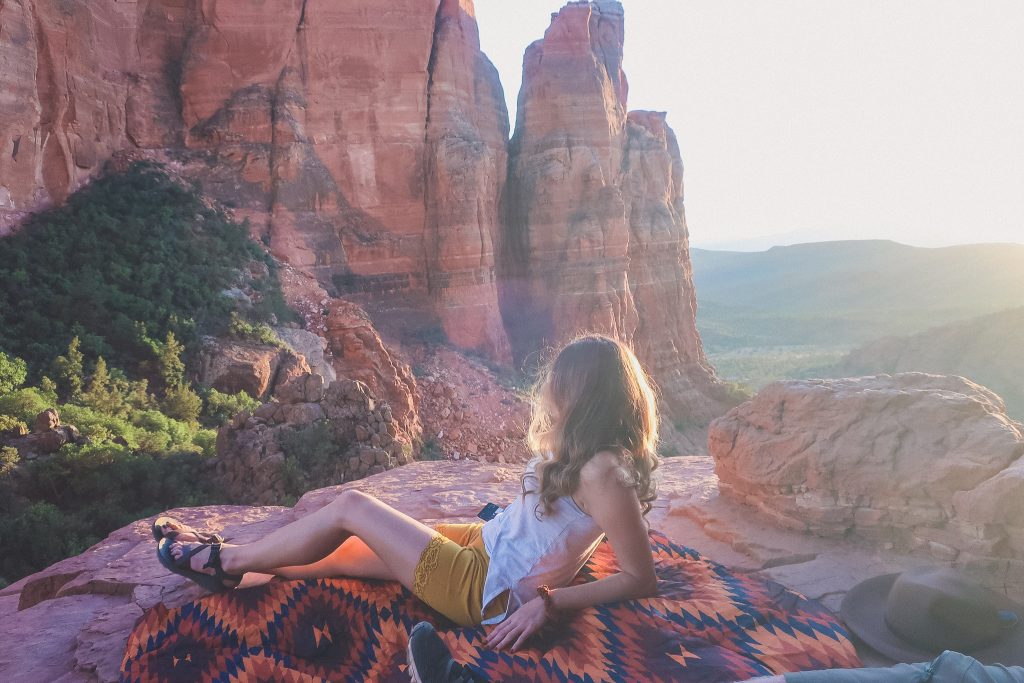 Cathedral Rock is also special because it is the site of an energetic Vortex. So, it's the perfect place to meditate and feel inspired. The Native Americans which once inhabited these lands believed that Cathedral Rock was home to the Gods and that it was the birthplace of the first man and women. Cathedral Rock is one of the best things to see and do in Sedona.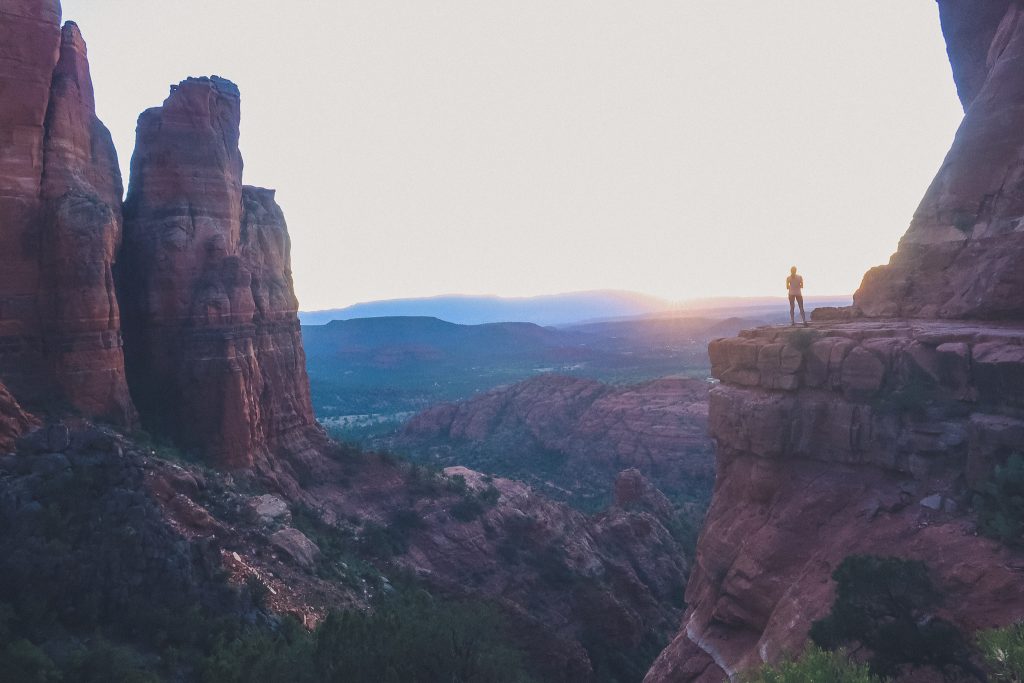 The Cathedral Rock hike is as rewarding as it is challenging. It is the top-rated trail in Red Rock State Park. Arrive an hour before sunset, so that you have plenty of time to hike and get cozy before sunset. The parking lot at the Cathedral Rock trailhead is quite small and fills up quickly.
8. Hunt down UFOs
If you've ever been interested in UFOs, ancient aliens, or whatever… Sedona is the place to explore all that! You might already know that Sedona has flourished as a hub for New Age thinkers. You'll find no shortage of psychics, mystics, astrologists and many others.
UFO hunting is one of the unique things to do in Sedona that you can't experience many other places. Forbes Magazine has called Sedona one of the best places in the world to hunt for extraterrestrials! The History Channel also names Sedona as #1 hotspot for UFOs in the US.
In Sedona, there have been reported sightings of things like orbs, portals and, even, aliens! These sightings have been occurring since the time of the Native Americans. They continue to share legends of visits by mysterious 'Sky People.'
Your UFO tour will get you all set up with military-grade night vision goggles and take you to a top-secret UFO viewing location. Find out more about this top-rates UFO Tour in Sedona. This is one of the most remarkable things to do in Sedona!
9. Explore the famous Vortexes
Exploring vortices is one of the fun things to do in Sedona —Arizona's energetic center. Vortices are thought to be sites where energy flow is directed into a spiral and the power of energy is enhanced. These are ideal places for prayer, meditation, healing, thinking, and reflection.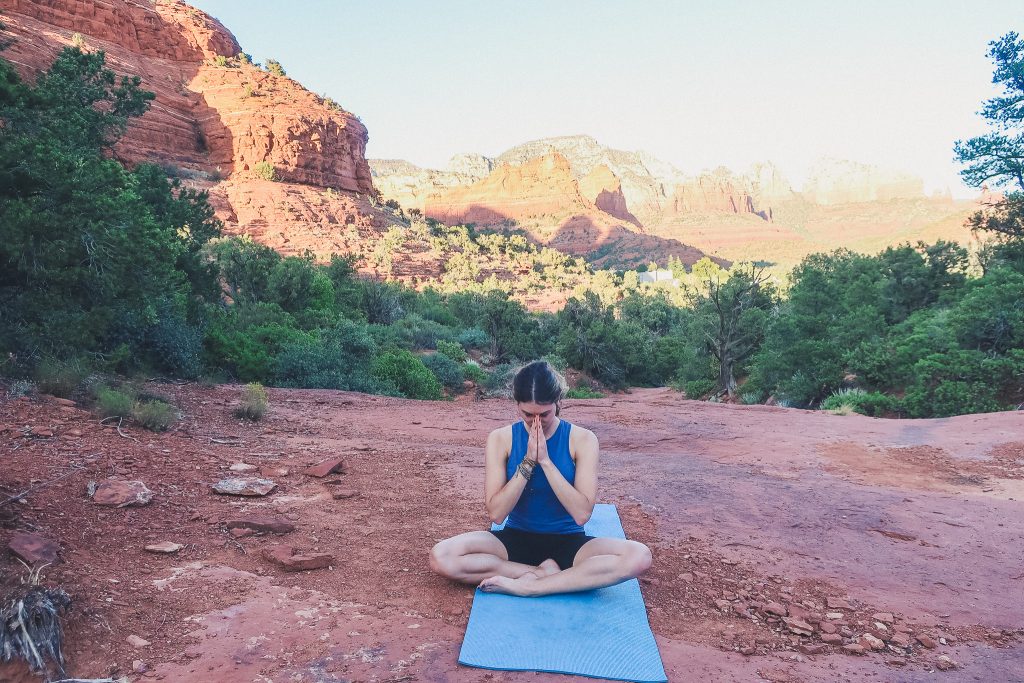 During your time in Sedona, try to find one of the impressive twisted juniper trees. They are one of the most impressive things to see in Sedona! The axial twist of these trees is thought to be caused by a nearby vortex. Scientist struggle to offer alternative explanations for this interesting phenomenon.
All of Sedona is thought to be a vortex, but there are specific locations within Sedona that are known to express supercharged energy. Some of these well-know Vortex sites in Sedona include the Chapel of the Holy Cross, Bell Rock, and Cathedral Rock.
There are a few explanations for the Sedona vortex site. Firstly, it is thought that the iron oxide in Sedona's beautiful Red Rocks might have something to do with it. Others speculate that it is actually the crystals buried deep inside the limestone and sandstone that have strong reflective powers. As you hike around Sedona, keep an eye on the ground and you'll be able to spot these crystals in the rocks.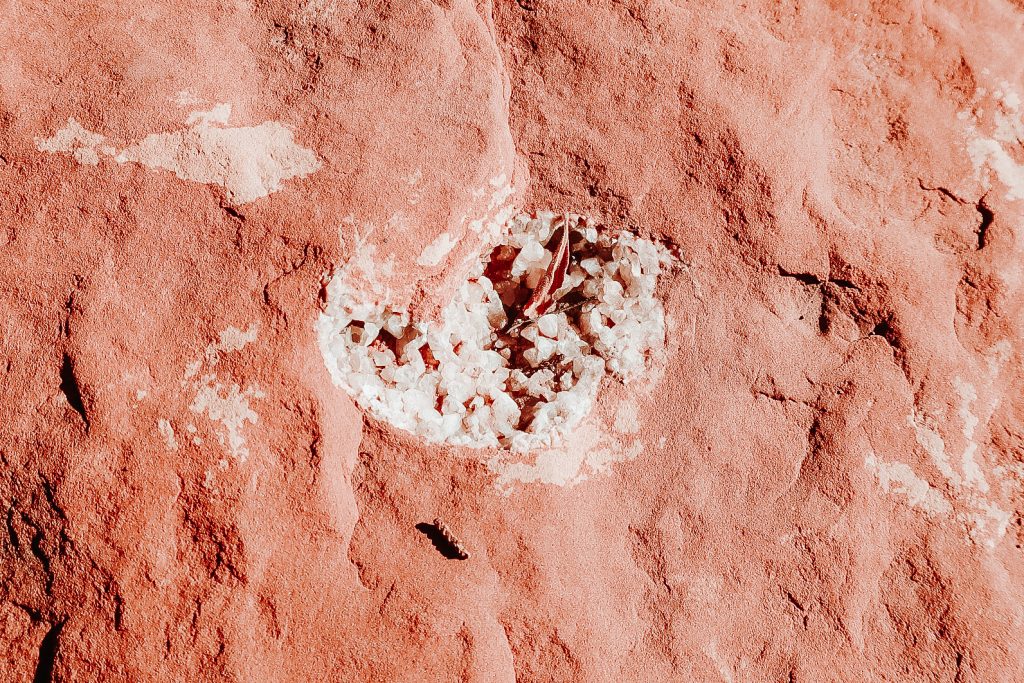 Another theory suggests that Sedona's vortex energy comes from its position along ley-lines. Ley lines are a set of latitudinal and longitudinal lines that run across the planet and intersect at the sites of Monoliths like Stonehenge, the Pyramids of Giza and Machu Picchu. Ley-lines also converge at Sedona.
Whatever the source of the these incredible vortices, it's impossible to doubt their magnificence. Experiencing the energy of a vortex is one of the unusual things to do in Sedona, that you can't do most anywhere else.
If you have already honed in on your meditative practice, you could easily find a Sedona vortex to enjoy on your own. But if this is all new to you, we strongly recommend a vortex tour.
During a small group Vortex tour, you'll get to visit Sedona's most powerful vortices on an exciting Jeep adventure. You'll also learn a lot more about the history and science behind Sedona's vortex sites.
Find out more about this once-in-a-lifetime vortex tour.
10. Go Glamping in a Wildlife Park
You might not expect to giraffes and lions in the Arizona desert. The Out of Africa Wildlife Park is a wildlife preserve located in the Mingus Mountains of Camp Verde near Sedona.
You'll find everything from sloths to bears, rhinoceros, and leopards. Many of the animals in this park have been rescued from dire circumstances. They were abandoned or abused, some were illegally obtained. Out of Africa is committed to conservation and animal protection, so you can feel good about visiting and supporting them.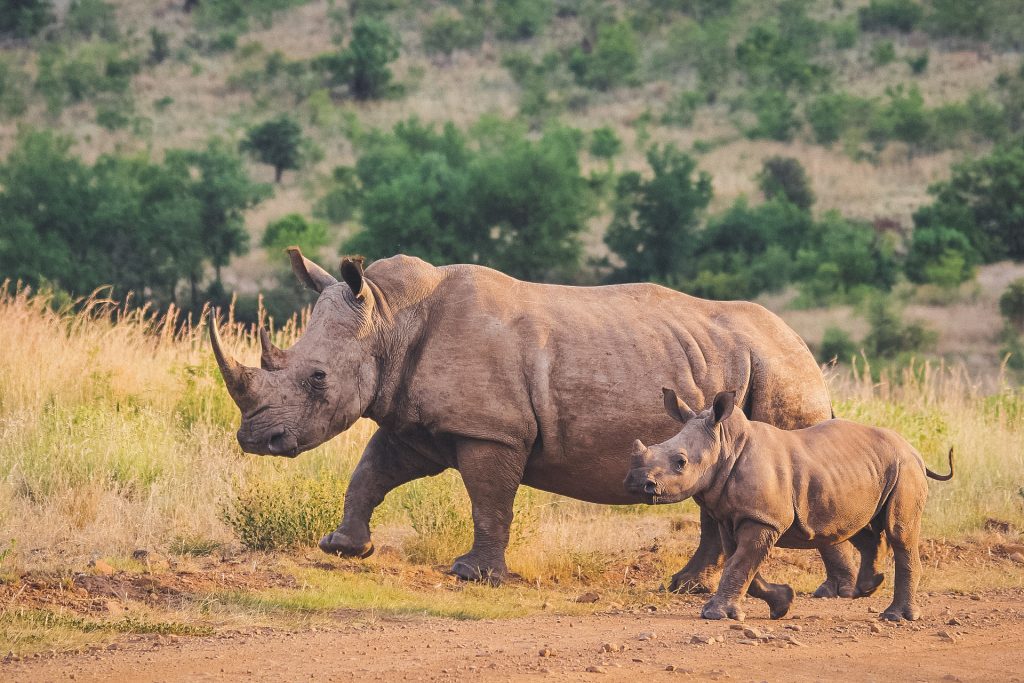 There are many different activities to choose from at the Out of Africa Wildlife Park. Including feeding tigers, safari adventures and zip-lining.
Check out the best deal on a zip-lining tour at Out of Africa.
Although, the most memorable experience offered is the opportunity for glamping! This isn't one of the typical hotels in Sedona, but it's definitely one of the best places to stay in Sedona for couples!
Glamping at Out of Africa includes a secluded, state-of-the-art, canvas tent with a comfortable bed complete with luxury linens. You'll have an exclusive camp surrounded by wildlife with plenty of opportunities for animal encounters. Your campground will also include a fire-pit and access to a communal bathroom.
11. Watch the sunrise at Airport Mesa
You can't leave Sedona until you've seen the sunrise from Airport Mesa. It's one of the most beautiful spots in Sedona, and one of the most easily accessible!
The Airport Mesa Overlook is right off of Airport Road and offers plenty of parking. No need to wake up ridiculously early and hike somewhere. All you have to do is wake up just before sunset and get over there. 😊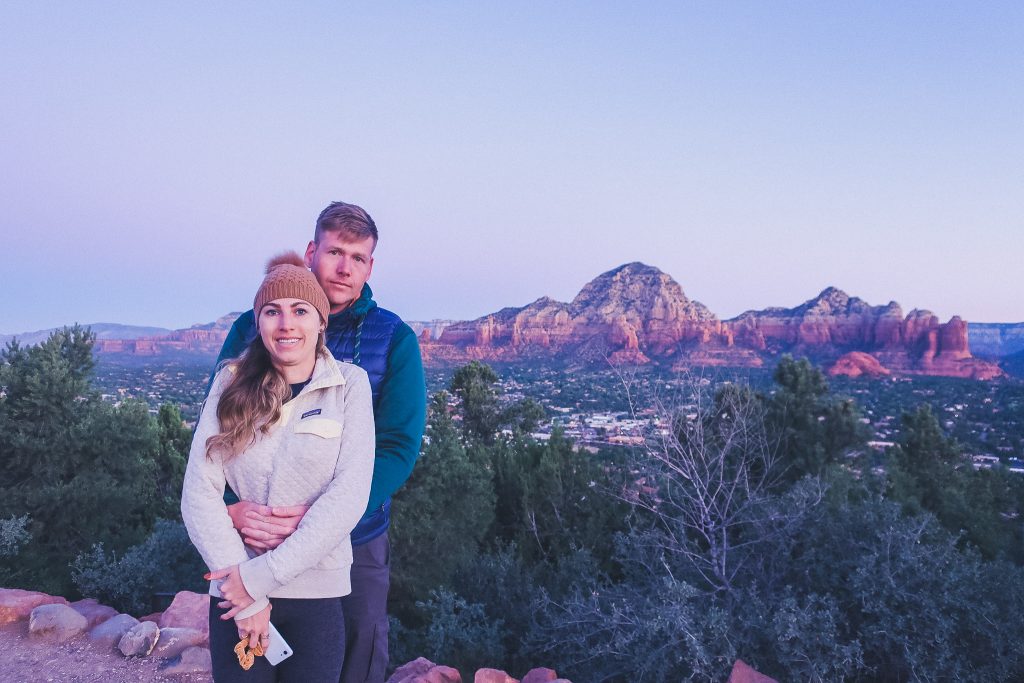 Watching the sunrise at Airport Mesa is one of the best things to do in Sedona. Airport Mesa offers incredible panoramic views. You'll get to spot iconic Red Rocks like Thunder Mountain, Coffee Pot Rock, and Chimney Rock.
After the sun has risen, you can enjoy hiking the Airport Loop trail. This is a 3.2 mile, moderate, loop. This is one of the fun things to do in Sedona with dogs, but make sure they are on a leash.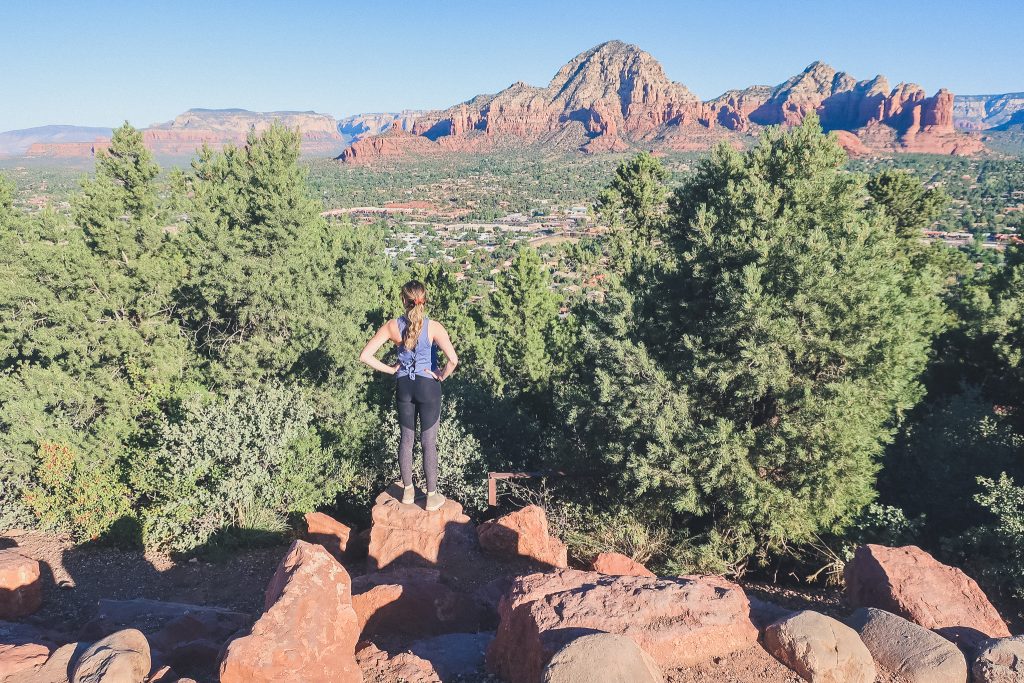 Airport Mesa is also the site of another impressive vortex site! It is one of Sedona's most visited vortex sites since it is so close to downtown. Although, you can avoid much of the crowds by visiting at sunrise. This is one of the most popular things to do in West Sedona.
12. Visit The Amitabha Stupa
Visiting the Amitabha Stupa is one of the best free things to do in Sedona. The Amitabha Stupa opened in 2004, and since then it has become a must-see destination for spiritual seekers.
The Amitabha Stupa is a form of sacred Buddhist architecture, a shrine dedicated to the Buddha of Limitless Light. Visiting the Stupa is one of the most important spiritual things to do in Sedona. The Stupa is a living embodiment of Buddha's presence and it is meant to represent enlightenment.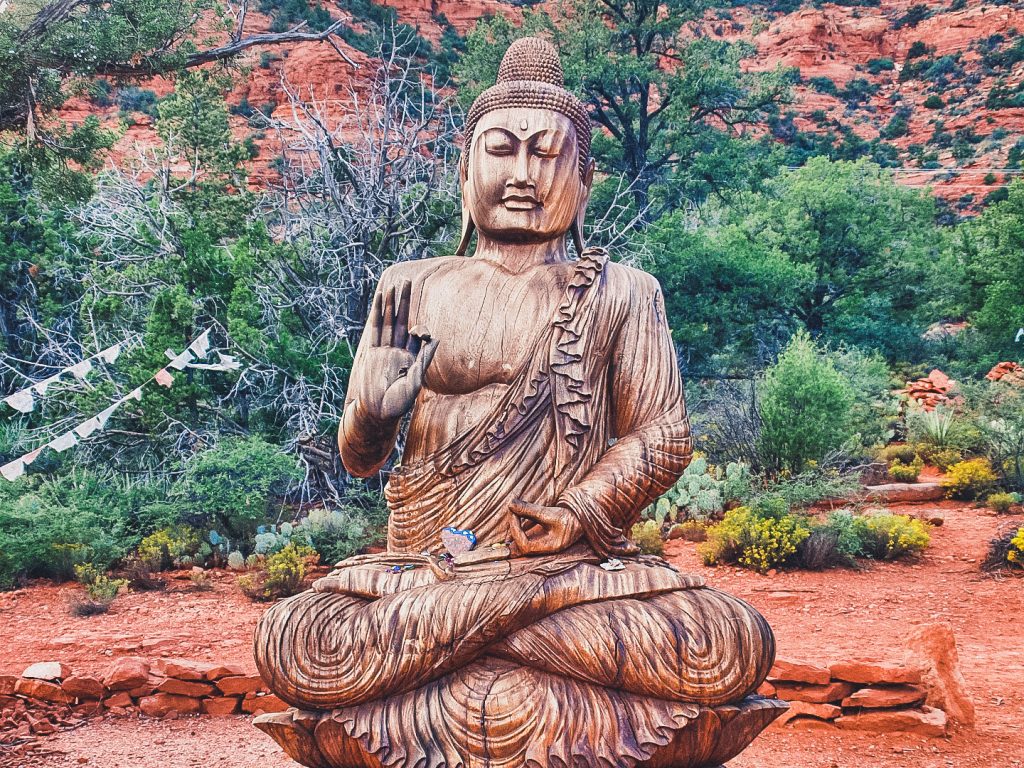 The Amitabha Stupa is located at the base of Sedona's Thunder Mountain. The scenery is utterly spectacular, surrounded by majestic Red Rocks and juniper pines. It's the perfect place to enjoy meditation, prayer, and yoga. This is one of the coolest things to do in Sedona!
13. Have a Creekside dinner
As previously mentioned, L'Auberge de Sedona is one best resorts in Sedona for couples. Although, you don't have to stay at L'Auberge, or visit the spa, to enjoy the peace and serenity of their exclusive creek.
Having dinner at the Cress on Oak Creek is one of the best things to do at night in Sedona. Condé Nast Traveler rated Cress on Oak Creek as one of the "Top Ten Restaurants in the Southwest." Cress on Oak Creek features a seasonally driven, prix fixe dinner menu crafted from unique, locally sourced, ingredients of the highest quality.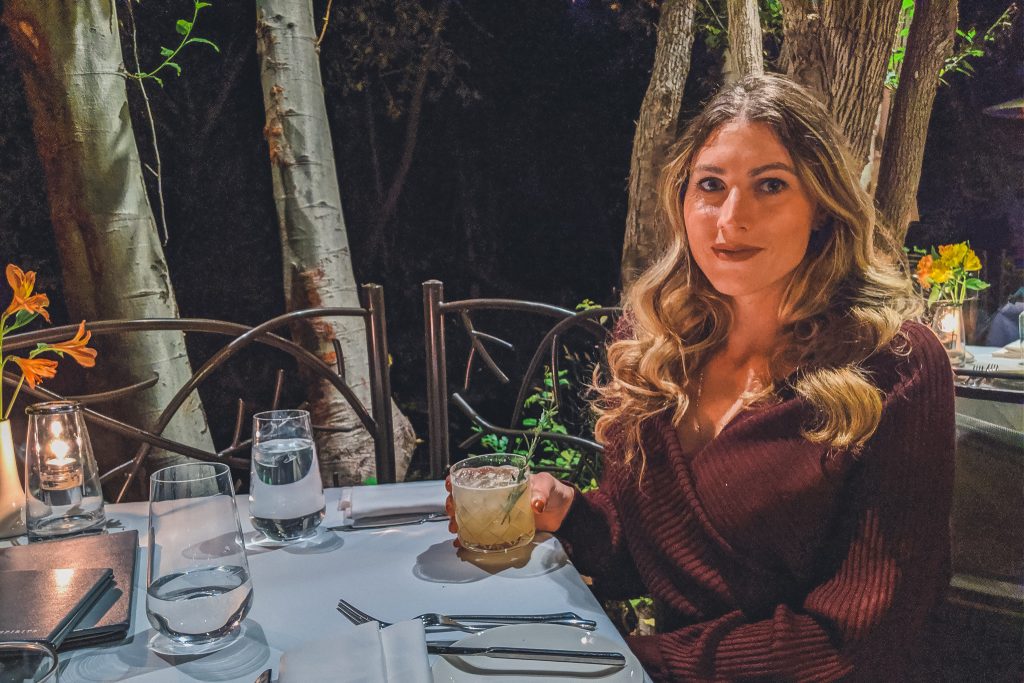 While warming lamps makes it possible to enjoy this activity nearly year-round, this is one of my favorite things to do in Sedona in August.
Click here to make your reservation at the Cress on Oak Creek. Be sure to reserve in advance and request a Creekside table.
14. Take a trip to the Grand Canyon
If you've never been to the Grand Canyon, you've got to check it out while you're in Sedona. The Grand Canyon is considered one of the 7 wonders of the natural world. It's 227 miles long, 10 miles wide and up to 1 mile deep! Words can't even begin to express the scale.
Plan the most instagrammable Grand Canyon Outfits.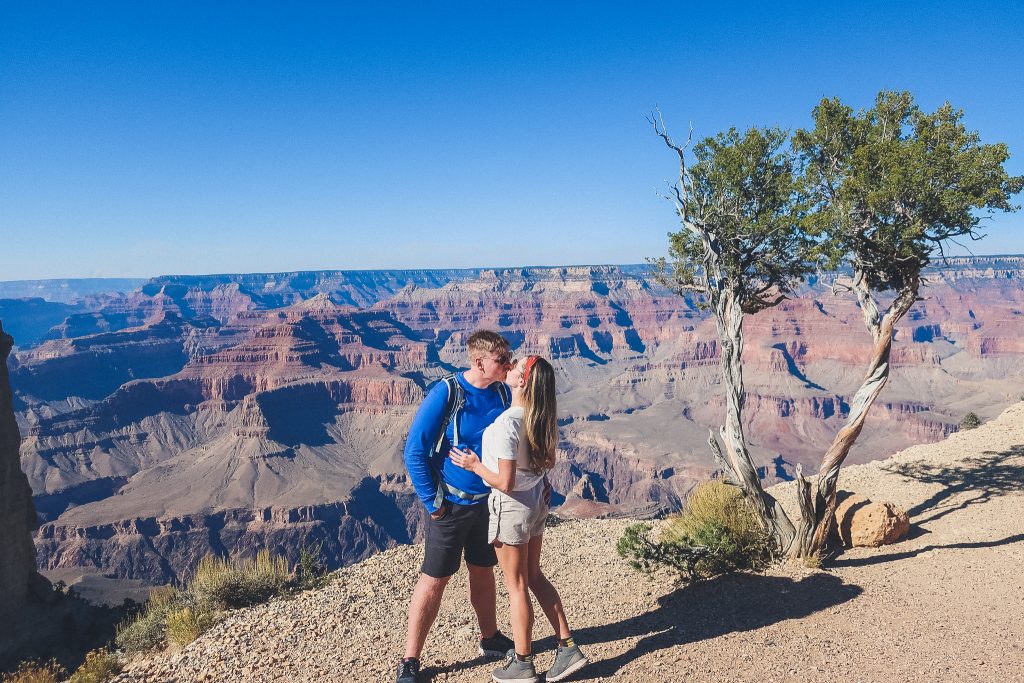 The Grand Canyon was created over millions of years by the erosion of the Colorado Riverbed. Some of the exposed rocks in the canyon date back over 200 million years! It's a geological and historical treasure. That's why visiting the Grand Canyon is one of the best things to do around Sedona!
Grand Canyon National Park is divided into 2 main areas, the South Rim and the North Rim. The South Rim can be reached in just under 2.5 hours from Sedona. The North Rim is quite a bit further, and it will take you 4.5 hours driving to get there from Sedona.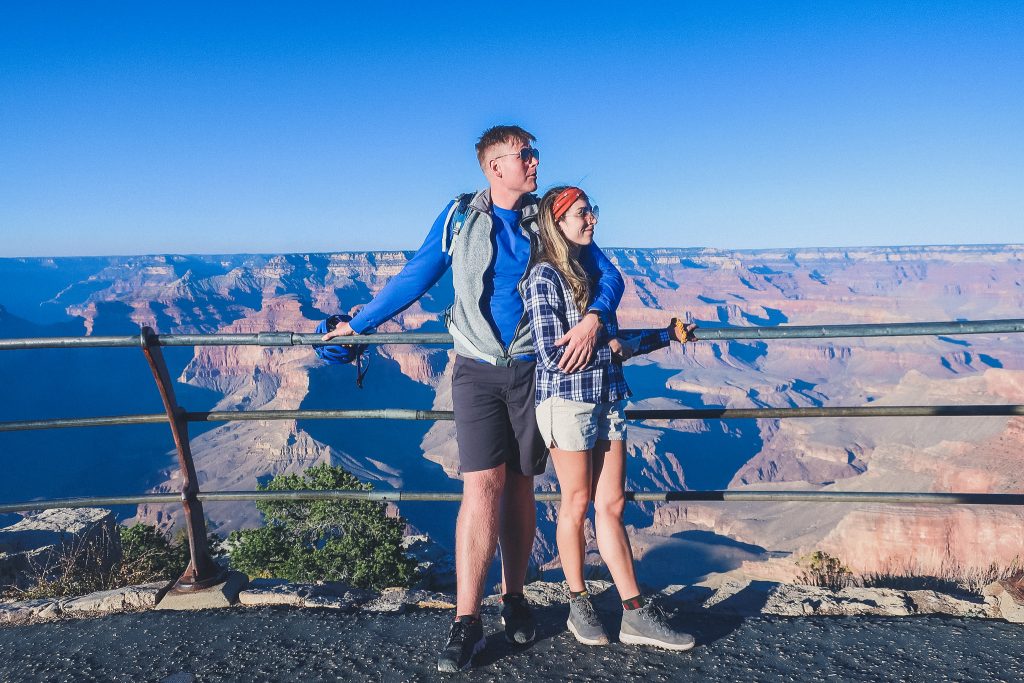 The South Rim is the most often visited. It's where you'll find the majority of hiking trails, the famous Desert View Drive and over a dozen scenic lookouts.
Click here to view the best Grand Canyon Day Trip from Sedona.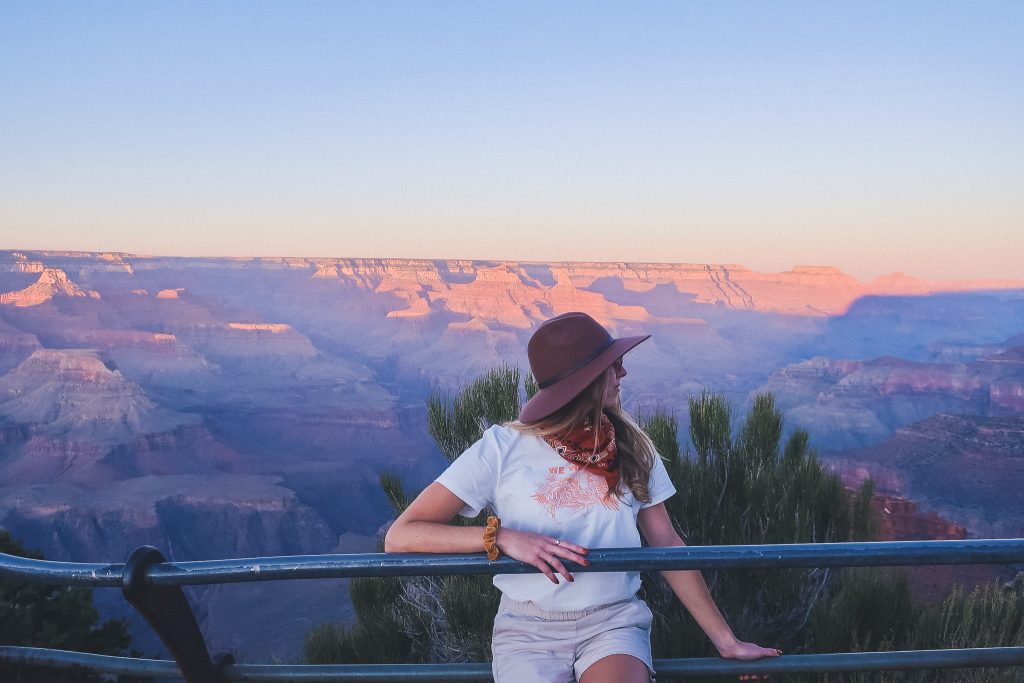 The North Rim is higher in altitude than the South Rim, and it can offer much cooler temperatures. There are also fewer viewing points and activities at the North Rim. Although, it can offer a quiet refuge for the low-key traveler.
The West Rim is notable for the famous "Grand Canyon Skywalk." This is most easily reached from Las Vegas. If you're dying to visit this impressive glass walkway from Sedona, check out this incredible helicopter tour.
The West Rim is also home to the elusive Havasu Falls which require a highly-sought-after permit or organized tour.
15. Have a Wild West Experience
One of the cool things to do in Sedona is visiting Blazin' M Ranch. Then you can check that truly "Wild Western Experience" off your bucket list! The Blazin' M Ranch is a frontier town and restaurant.
Guests will explore the Ranch on a classic John Deere tractor. You'll get to view vintage equipment and antiques, as well as engage in old western activities like roping, pitching horses and target shooting! There's also boutique shopping opportunities for unique gifts and souvenirs. You'll even have the opportunity to take "Old Tyme" photos in custom, period-appropriate apparel.
Although, the most iconic offering is the Chuck Wagon Supper & Western Stage Show. Guests will enjoy a classic Western-style dinner inside the rustic barn. Complete with baby back ribs, baked potato, cowboy beans, and signature biscuits.
After dinner, you'll enjoy as talented musicians perform their mixed show of music, cowboy poetry and dark comedy. Click here to book your Chuck Wagon Dinner. This is one of the top ten things to do in Sedona!
16. Bathe in a local creek
Visiting Slide Rock State Park is one of the best things to do in Sedona in June. Slide Rock State Park has been listed under Travel Channel's "10 Top Swimming Holes in the United States" many years in a row. It's also been considered one of the best "Top Secret Swimming Holes."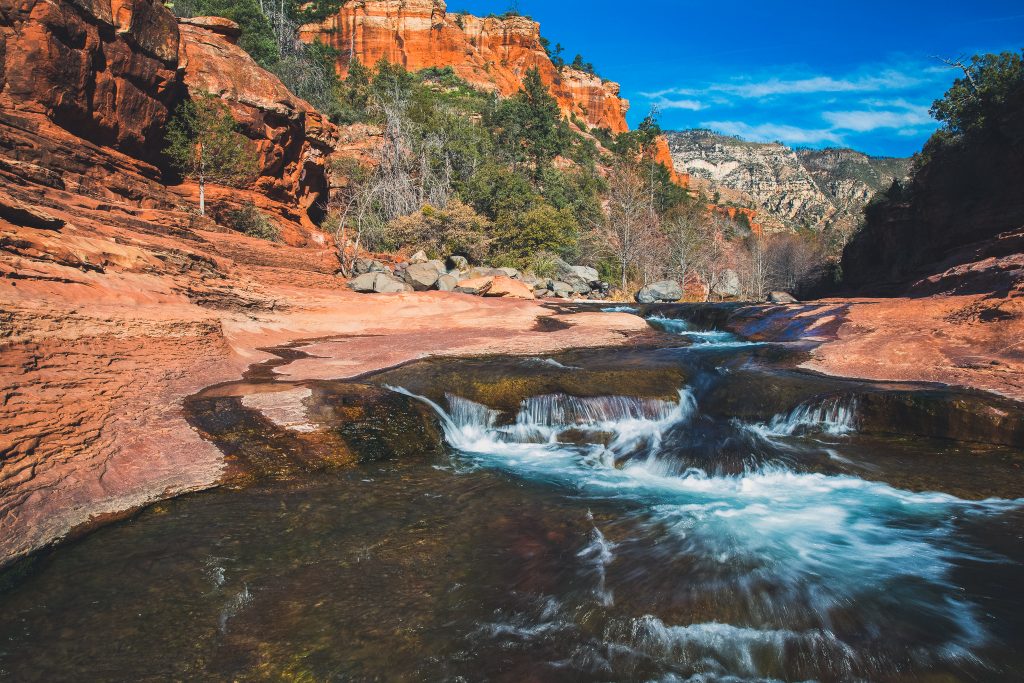 The gem of Slide Rock State Park is, well, Slide Rock —an 80 ft long sandstone feature with a gentle decline from top to bottom. Algae on Slide Rock's surface create a perfectly slippery and incredibly fun attraction.
Slide Rock State Park also includes part of Oak Creek that's open for swimming. There are also several miles of hiking trails.
Frolicking in a creek is one of the fun things to do in Sedona! Other great swimming holes in Sedona include Bull Pen, The Crack (at Wet Beaver Creek) and Grasshopper Point.
17. Try Prickly Pear Gelato
You've got to try Prickly Pear while in Sedona! The Prickly Pear is a beautiful cactus with yellow blooming flowers and purple hues. It's one of the most iconic symbols of the Sonoran desert, and it thrives in Sedona's Red Rock ecosystem.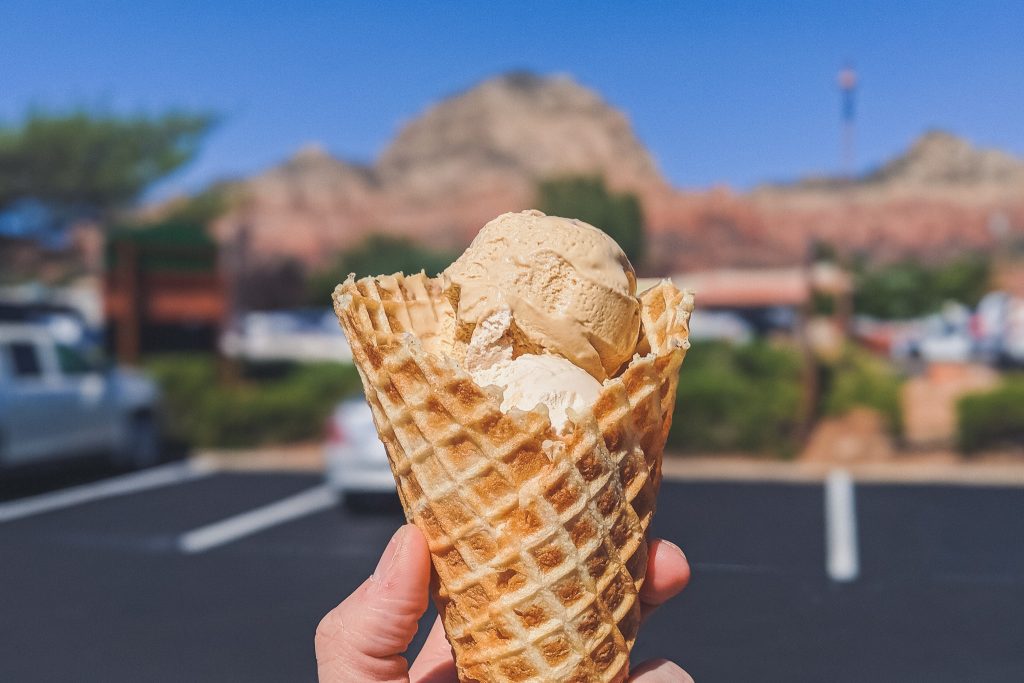 The fruit of the prickly pear has been used for generations. The sticky juice inside its pads was used by native peoples to dress burns and wounds like we would use aloe. The fruit can be eaten raw, but it is often boiled to create a rich syrup.
Don't leave Sedona before you have a taste of prickly pear fruit. It's one of the top things to do in Sedona! I love prickly pear ice cream and gelato.
18, Shop for crystals in downtown Sedona
The metaphysical is having its moment, and shopping for crystals is one of the best indoor things to do in Sedona. If you walk down the charming streets of Sedona's downtown, you'll find no shortage of crystal shops.
I especially love the Sedona Crystal Vortex store that has 2 downtown locations. The staff is so friendly and helpful, and you can touch anything you see! The Awakening is another option near Tlaquepaque. This is a good place to go if you are looking to connect with aura readers, psychics or other mystics. However, it's not a great place to shop because you can't touch any of the merch.
This is one of my favorite things to do in Sedona in July on an intolerably hot afternoon. You'll bring home some amazing treasures that compliment any decor. Crystals also make perfect gifts for friends and family!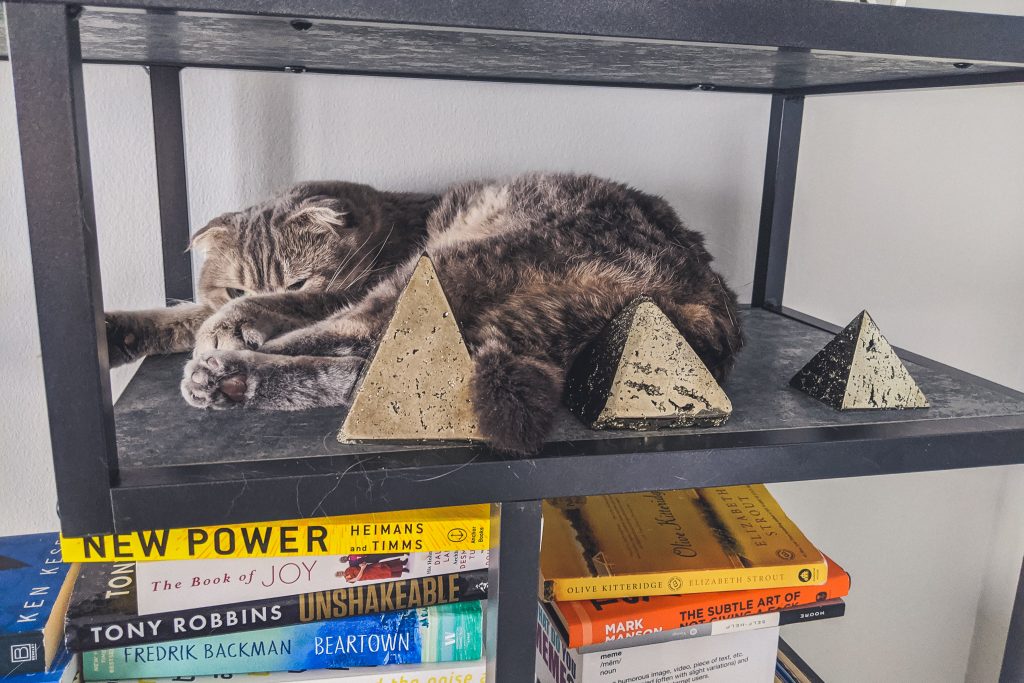 On our last visit, crystal shopping was one of our favorite things to do in downtown Sedona. We found these incredibly pretty pyrite pyramids. They found a home on our bookcase, and our cat has been enjoying their energy ever since. 😊
19. Yoga or Mediation
We've already talked about the magic of Sedona, the New Age Spirit, the vortex energy, crystals and so much more. If you're only hiking in Sedona, you're missing out! Even if you don't have a ton of experience, you've got to explore meditation while you're here.
Meditation, and yoga, are some of the cheap things to do in Sedona (or free). You could take the simple route and download a meditation app, find a cozy spot outside & enjoy! Alternatively, it might be fun to have a guided meditation experience.
Consider a guided meditation tour in Sedona.
Yoga is another form of meditative practice. You can drop into a yoga class at the Sat Nam Spirit Center. This is one of the best things you can do in Sedona in winter when weather prohibits hiking.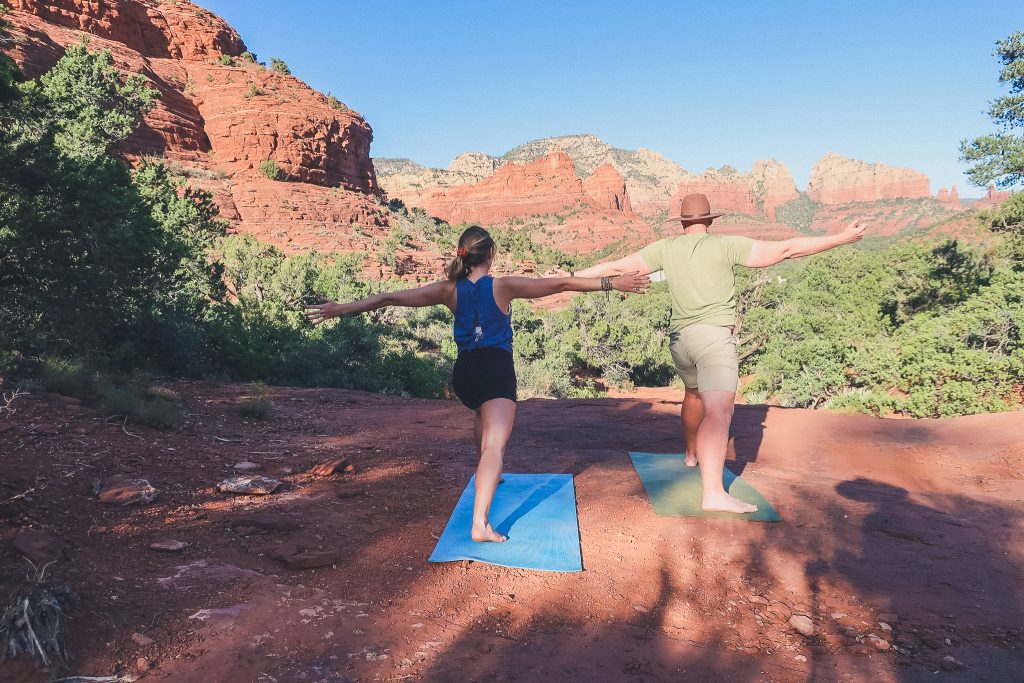 During the summer, you can book a guided yoga vortex tour. This tour includes a guided hike and guided yoga practice at a special vortex location. Knowledgeable guides discuss vortex theories as well.
20. Enjoy stargazing
Sedona joined the prestigious ranks as an International Dark Sky Community in 2014, named by the International Dark-Sky Association (IDA). There are less than 30 of these communities worldwide! Communities with this designation undergo a rigorous process to demonstrate continued commitment to dark sky protection.
This means that the City of Sedona actively works to minimize light pollution, ensuring incredible stargazing opportunities. You can go stargazing in Sedona year-round (the only exception being July-August when cloud cover does tend to be obstructive).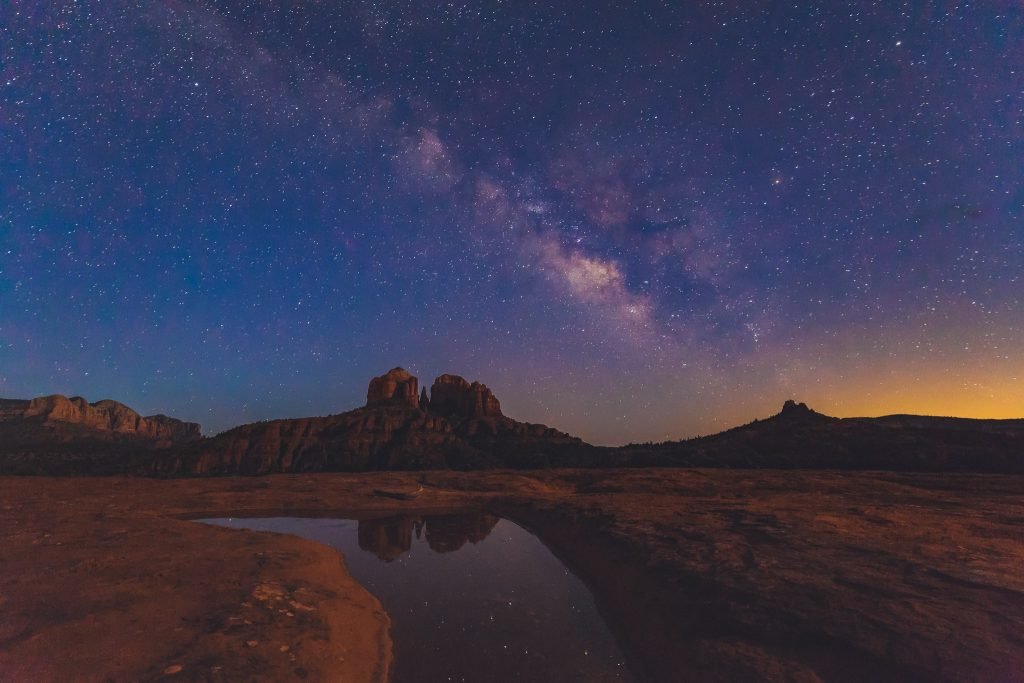 Aside from the dark skies, dramatic Red Rocks add to the beauty and intrigue of Sedona star gazing. Stargazing is one of the best things to do in Sedona in June & almost always one of the best things to do in Sedona at night.
My favorite stargazing locations in Sedona are the Jordan Road Trailhead and the Crescent Moon Picnic Site. Both of these are accessible by vehicle and don't require nighttime hiking.
Although, if you're anything like me, you probably can't identify much up there. Click here to book your Sedona Stargazing tour. This is one of the most unforgettable Sedona tours!