If you're wondering what to wear in Patagonia, you're in the right place. This article explores the few, key, fashion must-haves that will serve you best on your trip to Patagonia. We'll discuss some basics, but we'll focus on nontraditional, yet high-impact pieces that will elevate your look.
DISCLAIMER: This isn't another "packing list" piece or a list of generic items. So, if you are looking for a comparison chart about compressible jackets, you're in the wrong place!
This article features my carefully selected, highly thought out, collection of key fashion pieces that will keep you warm & (best of all) looking amazing in Patagonia!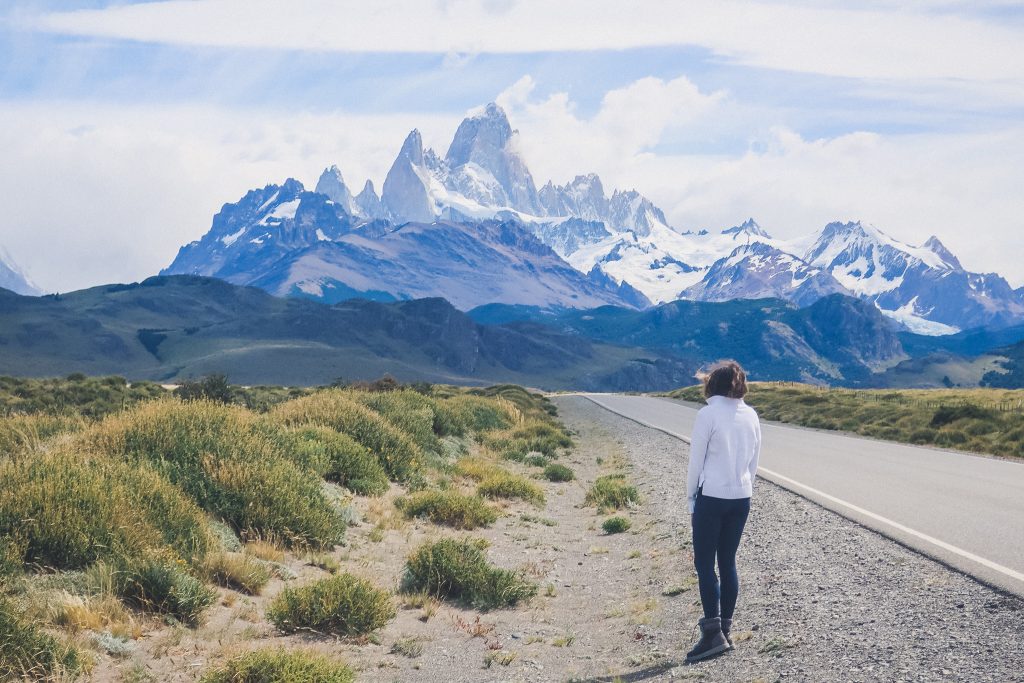 The pieces I've selected are meant to be "high impact," meaning these items are versatile and meant to be worn again, and again! **Ensuring, that you'll get good use out of them and they won't waste space in your luggage.
High-impact also means fashion-forward.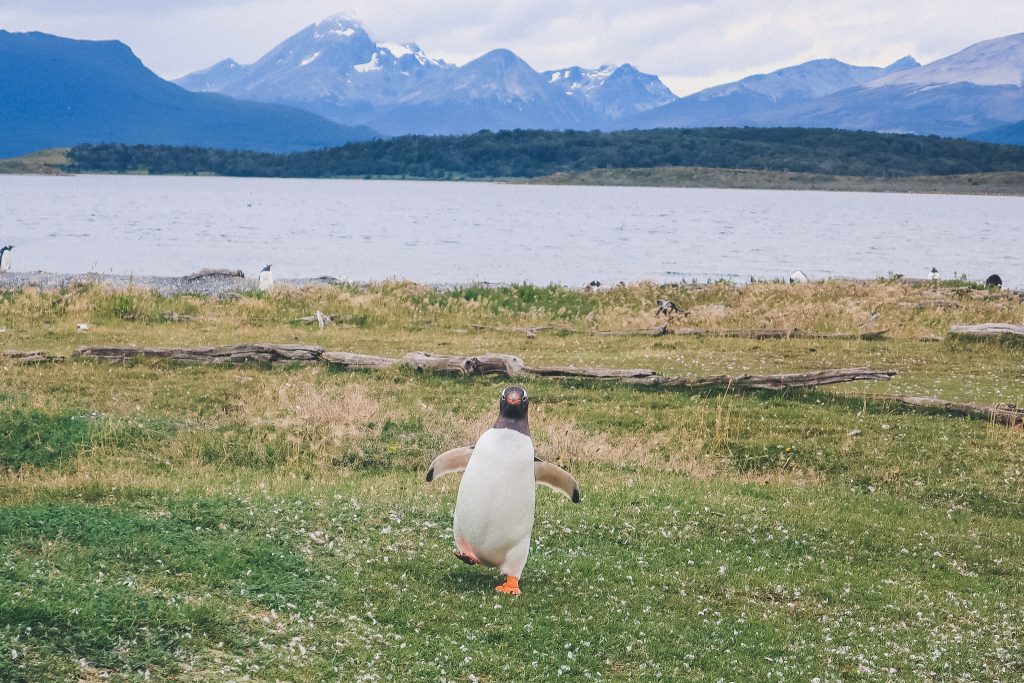 If you're anything like me…you care about how you look (even when you're hiking). I understand that some people find this ridiculous. Although, I'd argue. If I look good, I feel good. I am confident. I know I can do anything! Like, for example, hiking 26 kilometers in one day. 😉
What to Wear in Patagonia: 11 Must Have Fashion Items
Find out what to wear in El Calafate Argentina, or El Chalten. These items are also perfect for Torres del Paine in Chile. If you are staying in El Calafate, you'll have the perfect outfits for your glacier hike, rugged kayak or petrified forest excursions.
1. Wool Blanket Scarf
WHY YOU NEED THIS ITEM:
Whether you are traveling to Patagonia or not, you should have a blanket scarf!
Blanket scarfs aren't only trendy, but they're also practical, fashionable and so, so warm.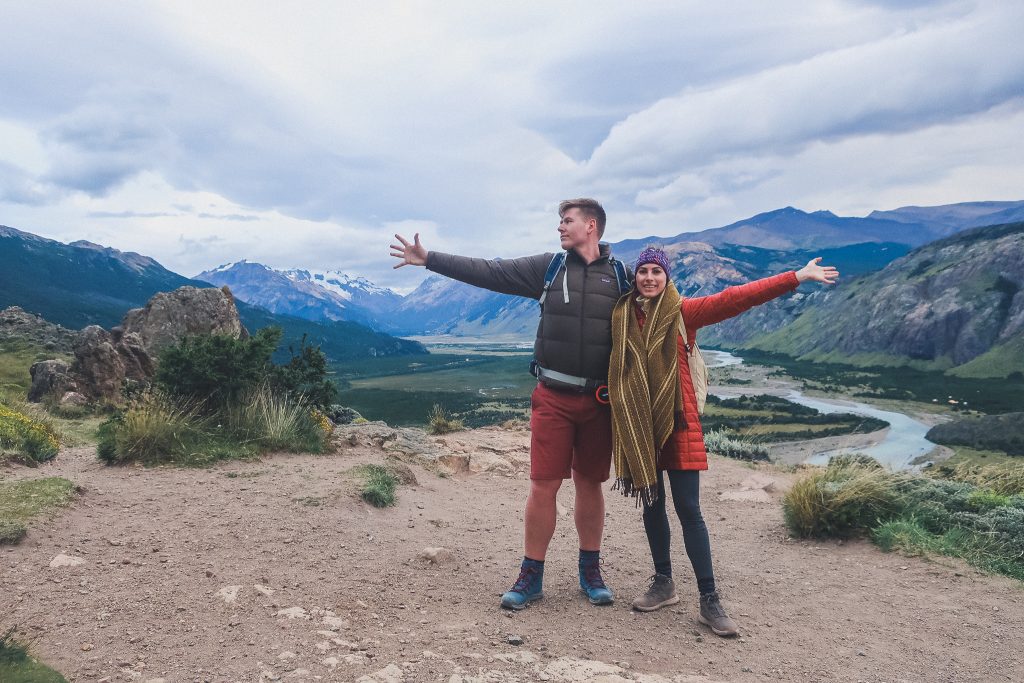 They're incredibly versatile, meaning they look good on the glaciers of Patagonia and draped over your shoulders at a fancy restaurant in Patagonia.
Click here to shop the wool blanket scarf I'm wearing. I love this scarf so much that I bought another one for my mom.
Mine was the 79″ x 29″ size. It's so big!
Why Wool?
I'm a huge proponent of natural fibers in general. Natural fibers, like cotton and wool, are good for the environment. They're renewable, biodegradable and carbon neutral. YAY!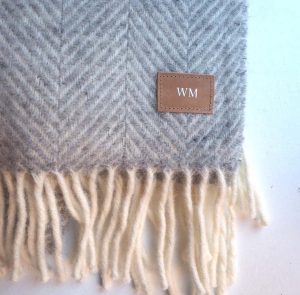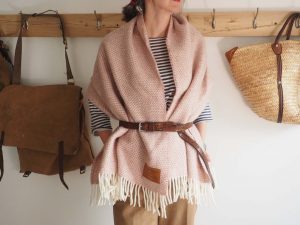 These wonderful items are brought to you by stabo on Etsy.
Natural fibers are also more comfortable, as they tend to 'breathe' better. Also, natural fibers are better for sensitive skin because they are less likely to be treated with irritating chemicals and allergens.
For activities in Patagonia, I prefer wool over cotton. Wool, in particular, is an excellent insulator. Also, wool is the perfect fabric to accompany your adventure travel in Patagonia because it is dirt resistant, wrinkle resistant and repels moisture!
Check out this wool blanket scarf in mustard yellow.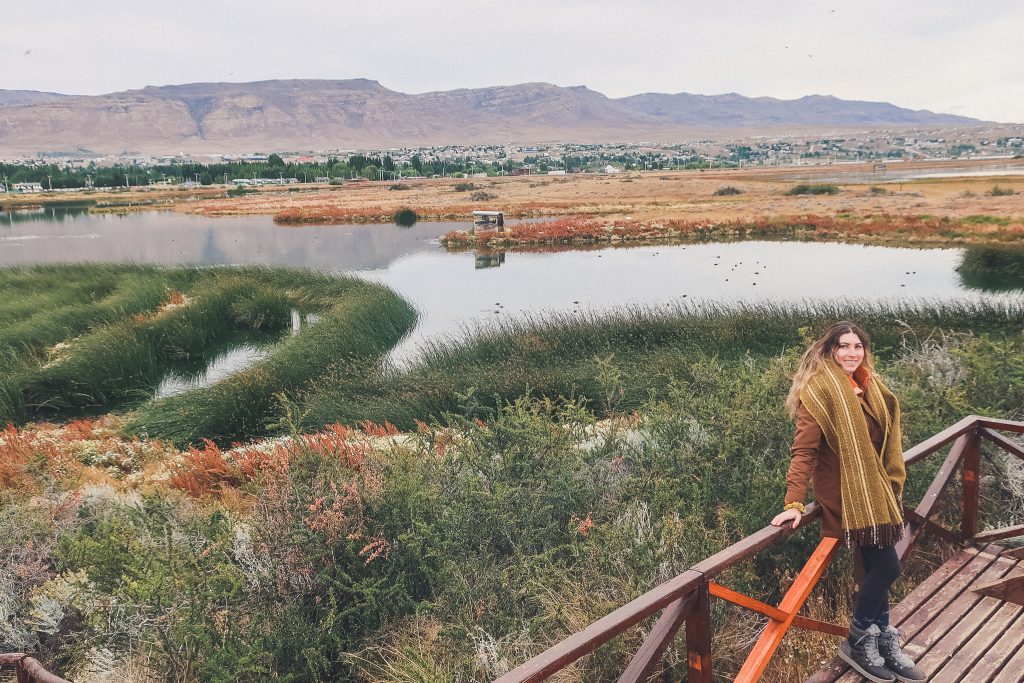 Wool fibers have microscopic scales that prevent dirt from embedding. The fiber will shed water droplets as you hike. Best of all, you can stuff it in your backpack (in a tight and messy ball), and it won't come out looking all crumpled.
Check out this AMAZING 100% lambswool blanket scarf that comes with free monogram. 
HOW TO WEAR IT:
I wore my wool blanket scarf literally everywhere. From the airport to the glaciers in Patagonia, on many of our hikes, and out to dinner.
Late in the evening and early in the morning, this scarf provided crucial, additional, heat that my compressible jacket (while useful in its own regard) was not able to provide.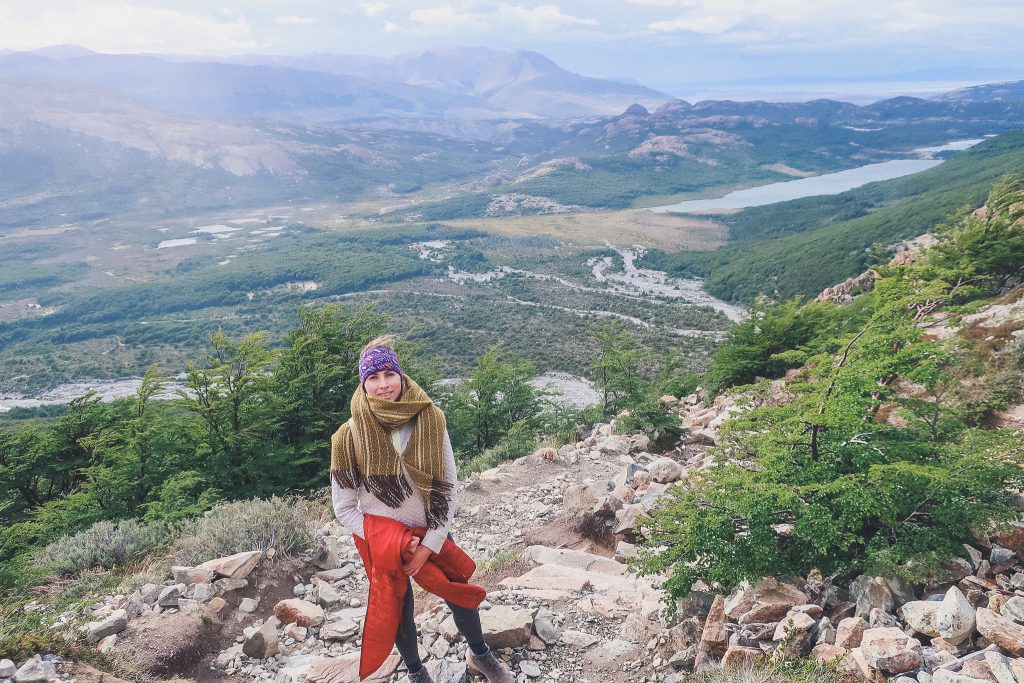 I would wrap it around my neck twice and fasten the two ends with a safety pin creating a cocoon of warmth and a refuge from the frigid winds. If I got warmer, I would simply loosen it and wear it on my shoulders (or tie it around my backpack). Easy.
At dinner, I'd pair it with a simple turtleneck sweater (more on this later), leggings and some statement jewelry. Drape it over your shoulders for a sophisticated, yet crafty and artisan look.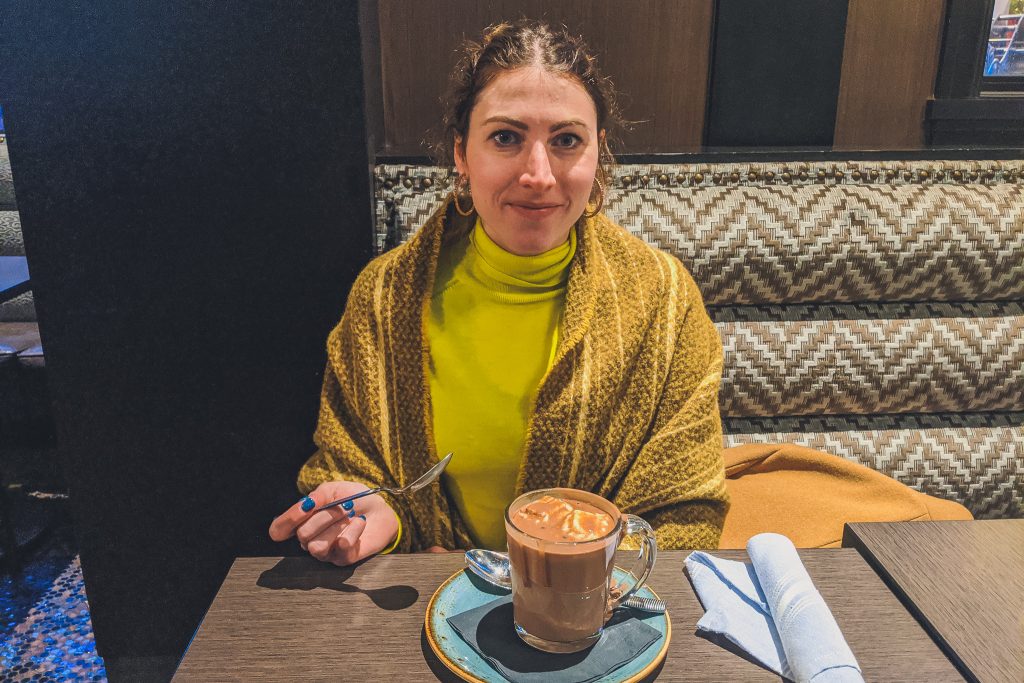 You'll have a full suitcase in preparation for the climate of Patagonia, that's why simple, versatile pieces and high impact accessories will give you the maximum effect for your minimal real estate.
P.S.
This item also looks great with a leather jacket. Below, you can see me wearing my wool blanket scarf with a suede moto jacket. This was taken in Page, AZ, another hiking destination with chilly, rapidly changing temperatures.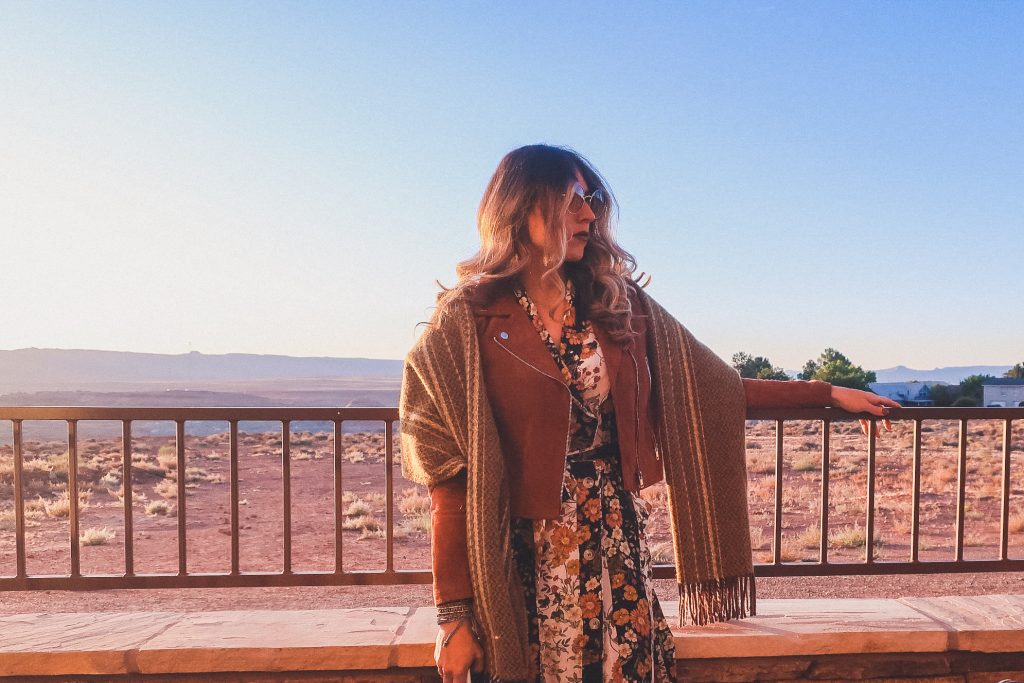 P.P.S.
This scarf isn't something you'll buy on vacation and never wear again. At home, in Chicago, I often pair it with this classy J Crew coat for my commute to work. See below.
2. Furry Snow/Hike Boots
WHY YOU NEED THIS ITEM:
Furry snow boots are the best hiking boots for Patagonia because you can dress them up, or down. I'm talking boots that feel good and look amazing!
I'll admit, when planning for our Patagonia trip, this was the hardest piece to find. It's just so damn hard to find cute hiking boots.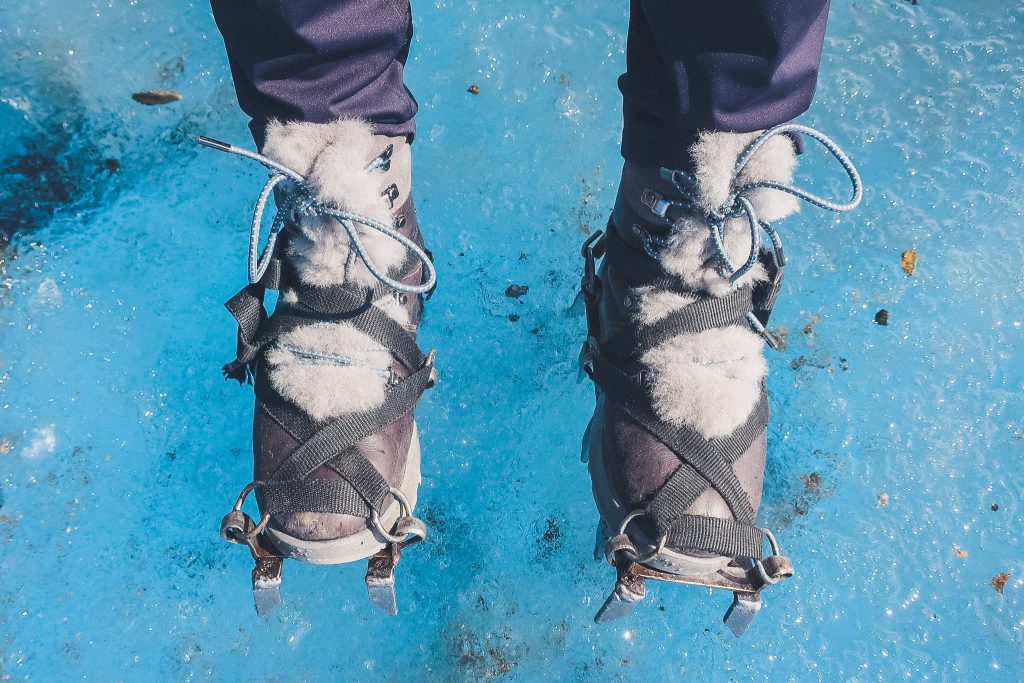 Don't get me wrong — I care about all the important things… They should be waterproof. They should be supportive. They should be stabilizing your ankle. You must also consider cushioning, breathability, comfort, durability, yadda, yadda yadda.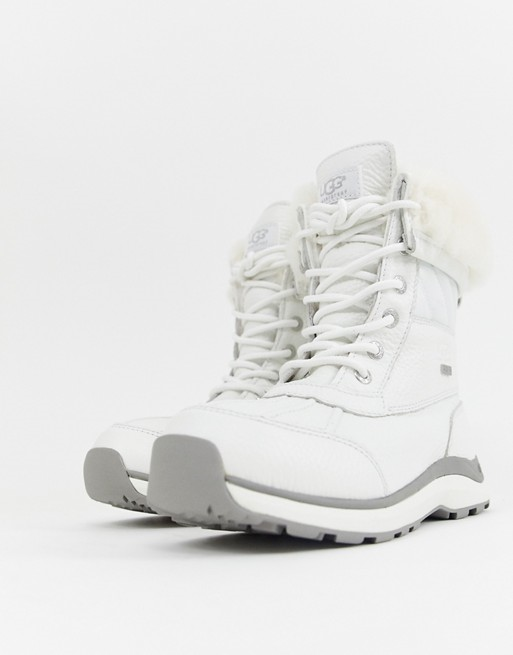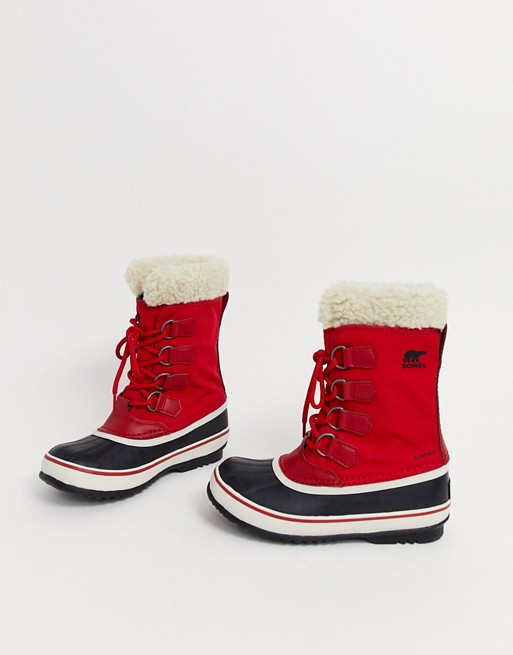 In my opinion, none of that matters if the boot is just plain ugly!You'll need snow-boots, or at least waterproof hiking boots, even if you are visiting Patagonia in the summer. We visited Patagonia in January and it rained every single day that we were there! I'm sure you already know this, but I'll say it anyway: The weather in Patagonia can be unpredictable.
I ended up going with 2 pairs of boots. The first was a more conventional-looking, suede, waterproof boot (that wasn't ugly). The second pair were these beloved fuzzy snow boots.
HOW TO WEAR IT:
You can wear these fuzzy boots in the morning while you knock out some of the best hikes in Patagonia. Mine was especially warm and cozy during our Big Ice Trek.
When you get home, dust them off and get them ready for your evening outfit. They look great when you're walking around town.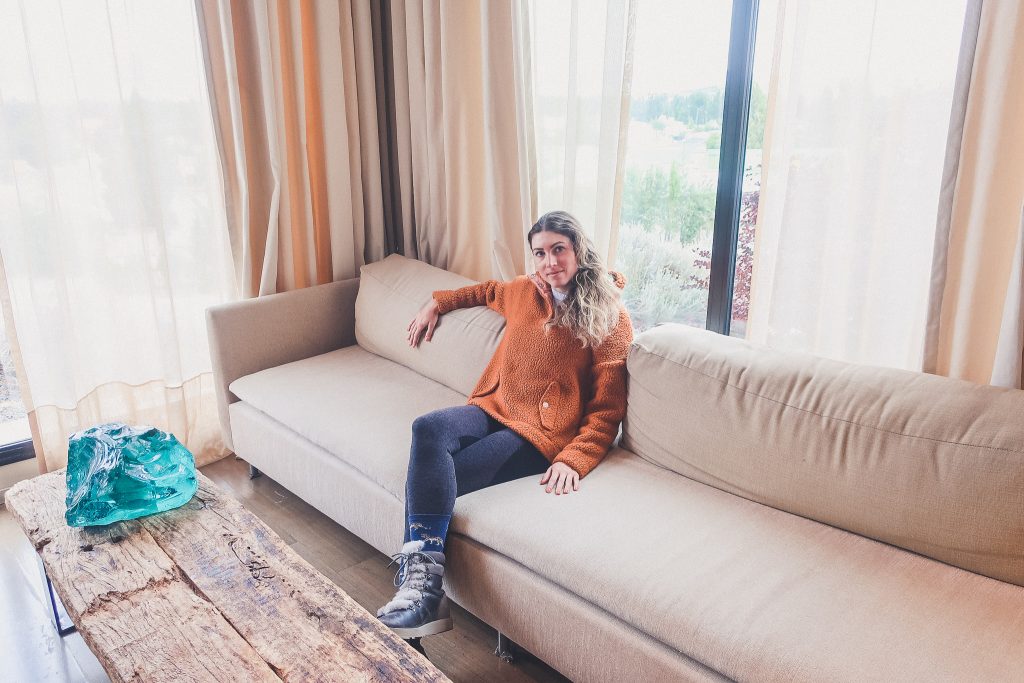 Here, I've paired them with a colorful poncho. But they also add a lot of flair to simple outfits with leggings, sweaters.
These furry snow boots are Patagonia essentials.
3. Pom Hat
WHY YOU NEED THIS ITEM:
The pom hat is another one of my Patagonia must-haves. It's a high impact accessory that can provide warmth & elevate your look.
The best pom hats are made with wool or cashmere, NOT acrylic.
Shop the hat I'm wearing below.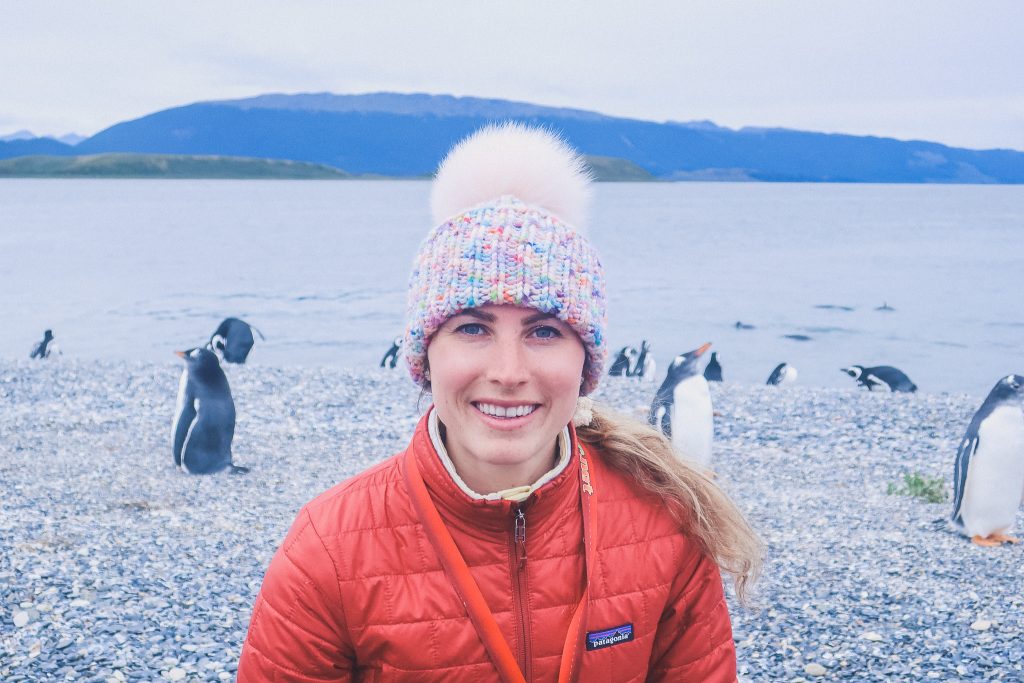 Allow me to explain why I'm an acrylic hater.
NOTE: Acrylic is a cheap fabric to produce because it's synthetic, it's essentially plastic. Unfortunately, it's used everywhere! From sweaters to hats, dresses, and socks, you'll be hard-pressed to find items not made with acrylic.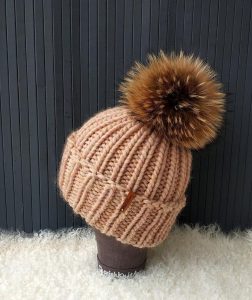 These gorgeous hats are brought to you by CherishKnitArt on Etsy. Click to purchase!
Acrylic fibers produce garments of poorer quality. These fabrics fuzz, pill and degrade more easily. You may think you're getting a deal ("This acrylic hat is SO much cheaper than this cashmere one!") but you're not! You're not getting a deal because your acrylic hat won't last very long, and it won't stand up to multiple washes.
Shop this ultra soft cashmere and wool blend hat.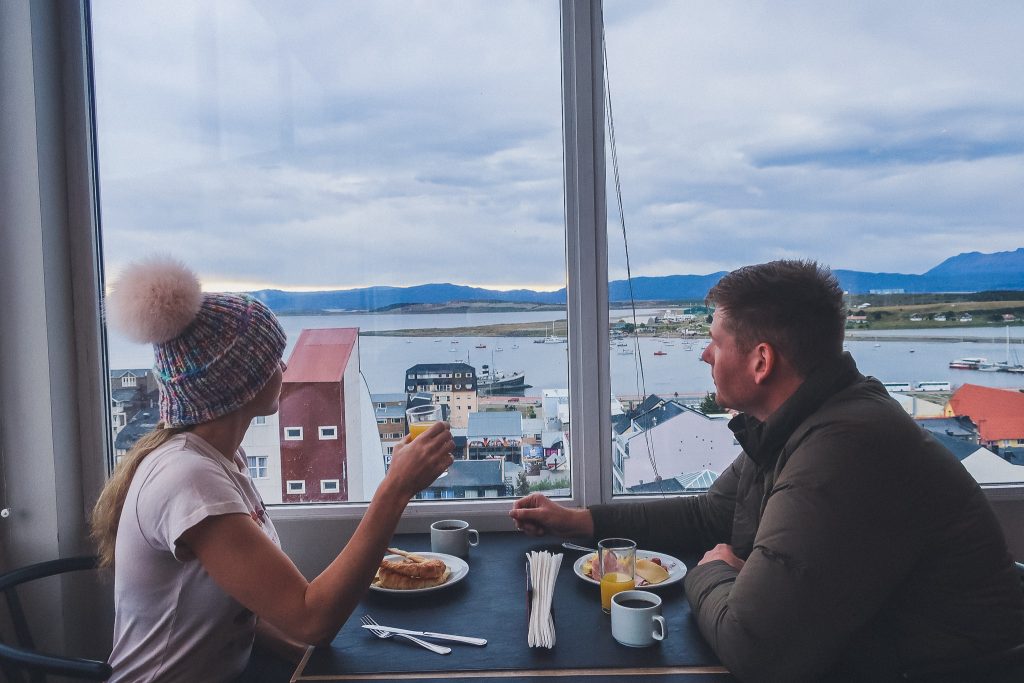 Acrylic can also irritate the skin. It doesn't breathe, and stains are very difficult to remove from its fibers.
Acrylic is also made with polyacrylonitrile, which has been declared by the EPA as human carcinogens. Let me be clear, I am NOT saying that acrylic fabrics will give you cancer. I'm just saying that the fabric is made with shady plastic.
LOVE these by CherishKnitArt on Etsy.
On a further note, Acrylic's shady plastic has also become an environmental catastrophe. It contributes to global synthetic materials waste. This is because it sheds microfibers at a higher rate than other synthetic fibers. This happens every time you wash it. Basically, these plastic micro-particles end up in the ocean.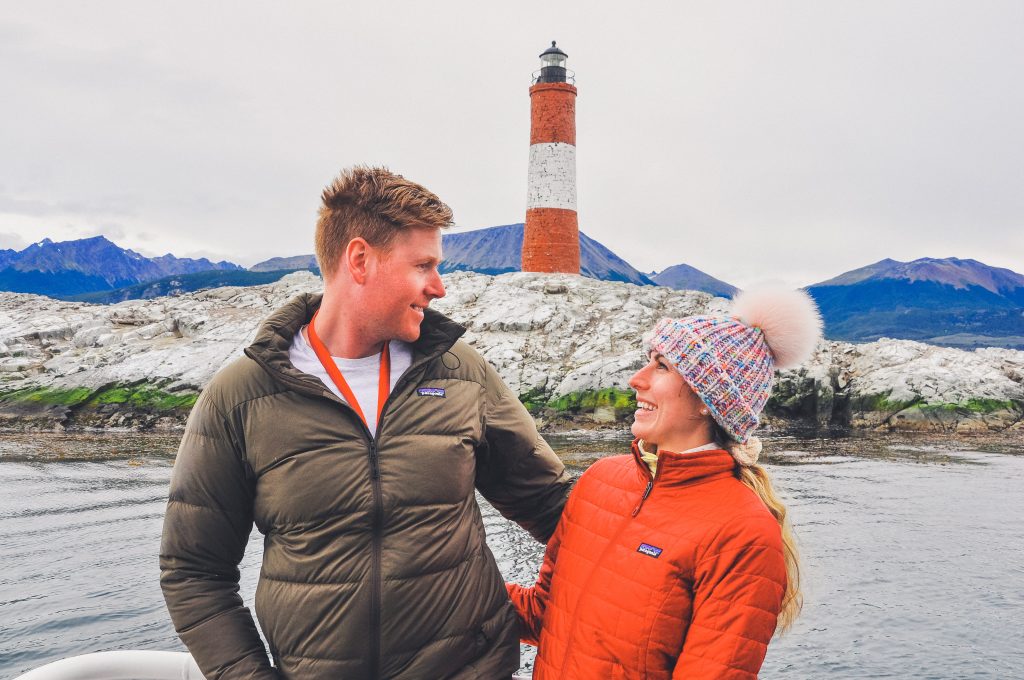 So, that's why I'm an acrylic hater. I'll always take polyester over acrylic.
"But, I can't afford to buy wool or cashmere!"
Instead of buying 5 cheap acrylic sweaters, buy one nice cashmere sweater you can wear again and again!
Have I convinced you yet?
HOW TO WEAR IT: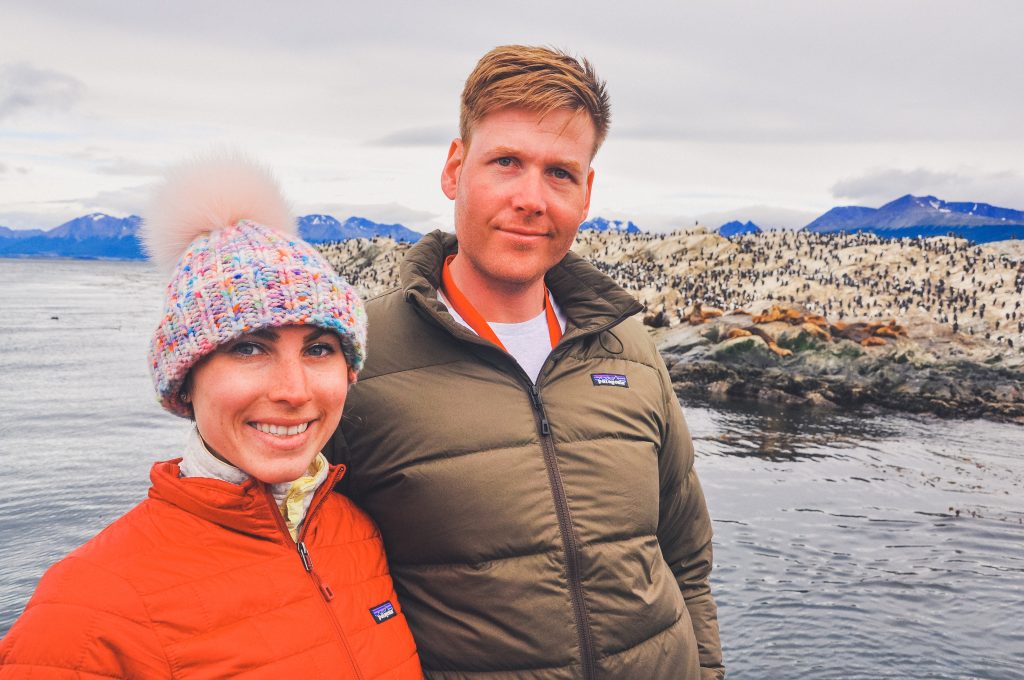 On your head. Just kidding. 🙂
Pair your fur pom hat with your compressible jacket. I especially love this one I found on Etsy. It has a detachable poof, so you can take it off and put a helmet on top if needed.
You can also pair your pom hat with a trendy logo tee. My sister and I did this our our recent ski trip to Vail, but you can apply the same idea to your Patagonia trip.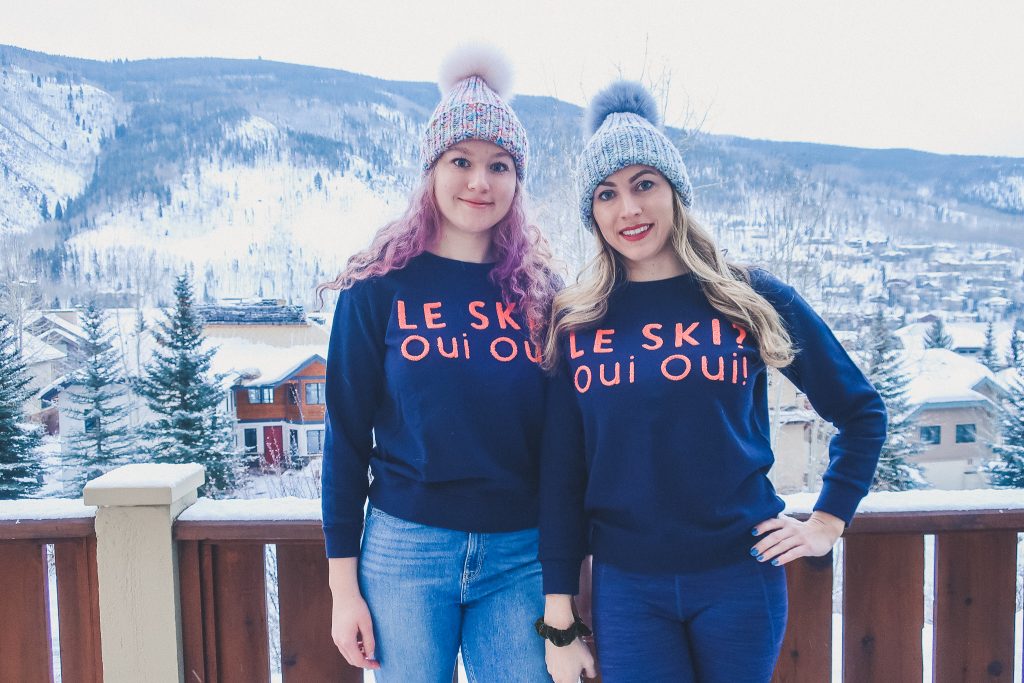 This is another item that you won't only wear while backpacking Patagonia, you'll also use it every day back home.
4. Fashion Turtleneck
WHY YOU NEED THIS ITEM:
Turtlenecks are simple, warm and classic. My turtlenecks were some of my favorite Patagonia travel clothes.
You'll need a thin turtleneck. It should be made from merino wool, cashmere or cotton.
You DON'T need a think, heavy, chunky turtleneck sweater. That might look amazing back home when you're not concerned about packing… but it's not necessary when you're getting around Patagonia.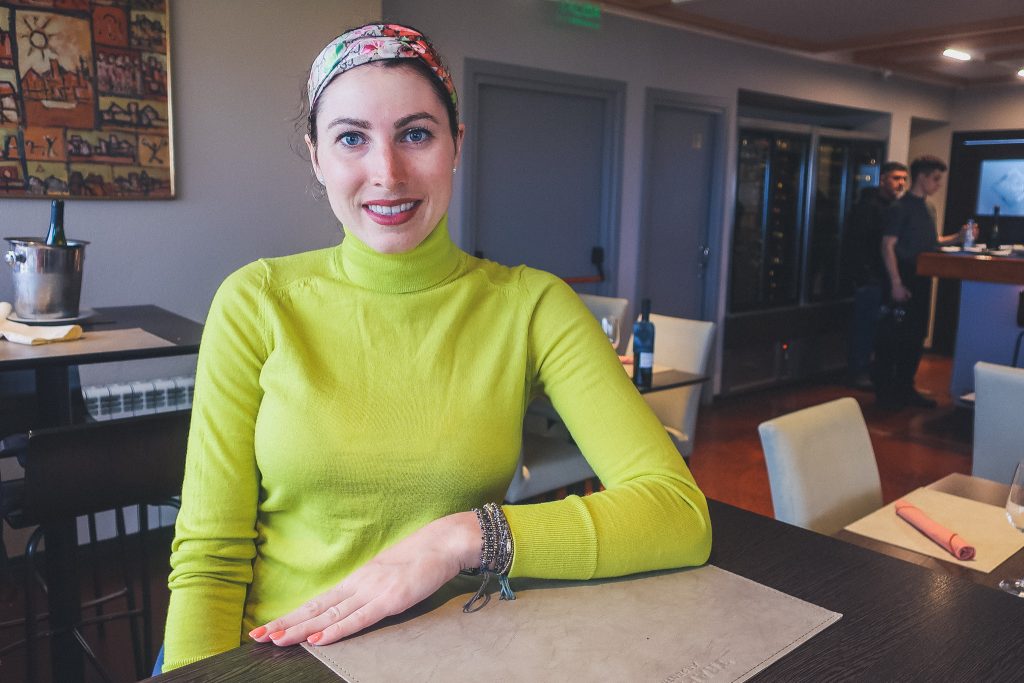 HOW TO WEAR IT:
Pair your turtleneck with neutral (solid colored) leggings and your fuzzy boots.
You can dress up this look with chunky jewelry, like big hoop earrings or a statement necklace.
Chunky jewelry won't take up a lot of space in your luggage, and neither will a handful of thin turtlenecks.
I recommend getting one in a bold, bright color. Neon is in right now. I wore this neon yellow turtleneck so many times on our trip!
My second most worn turtleneck was this multicolored one with horizontal stripes.
5. Compressible Jacket
WHY YOU NEED THIS ITEM:
The compressible jacket, AKA king of every Patagonia packing list. Compressible jackets are, apparently, the secret to ultralight packing.
They provide desired warmth with minimal weight. They're easily packable. They're water-resistant. You can choose from down fill or polyester fill. My boyfriend's jacket was feather down, and I opted for polyester. Both worked great in all conditions. We never got wet, despite heavy rainfall.
HOW TO WEAR IT:
I must admit… I did bring along 2 jackets. The first, a conventional compressible jacket which lived in my suitcase. The second was a thicker, fleece-lined, canvas parka. I didn't pack this other jacket. Instead, I wore it during travel to save space.
During hikes, I stuck with my compressible jacket. In the evenings, I switched over to the canvas jacket for a different look. Both of these jackets paired well with my wool blanket scarf.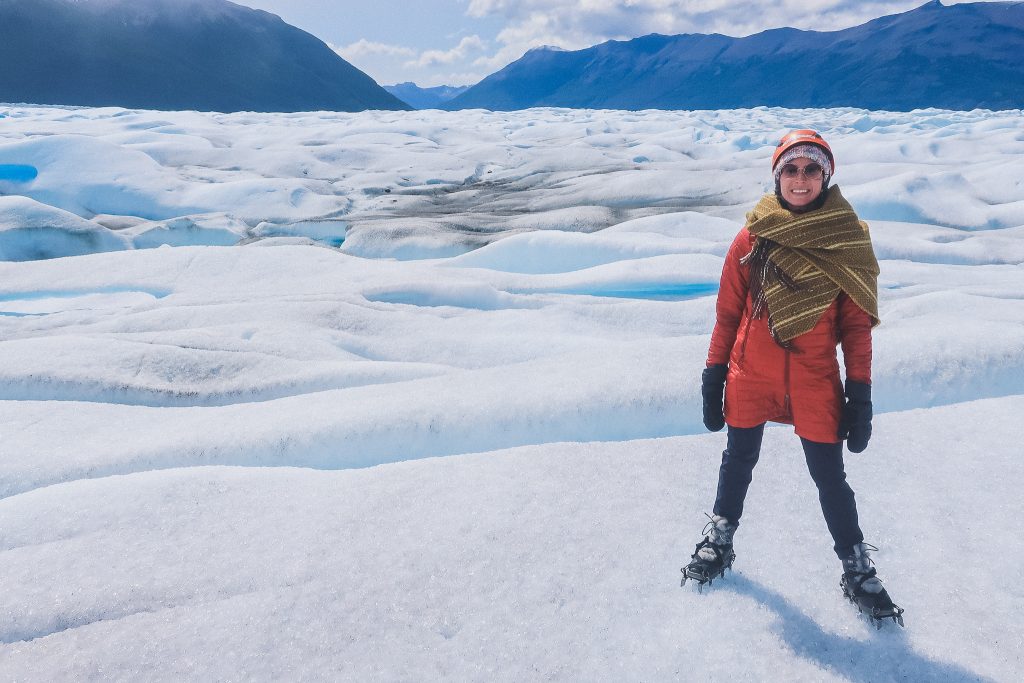 Here, I'll make a color suggestion. While I'm usually a "black all day, everyday" type of person… I'm glad I went with a bold red for my compressible jacket. The scenery in Patagonia is all greens, blues, and browns. You don't want to blend in!
Get a bright, bold, red jacket and stand out! You may also consider yellow or orange. The goal is warm and bright, create contrast.
6. Thermal Headband
WHY YOU NEED THIS ITEM:
A chunky knit hat is great for ultra-cold weather or when you're not moving around a ton. I made great use out of mine during our Big Ice Trek and throughout our visit to Ushuaia. However, it might not be the best accessory for long hikes.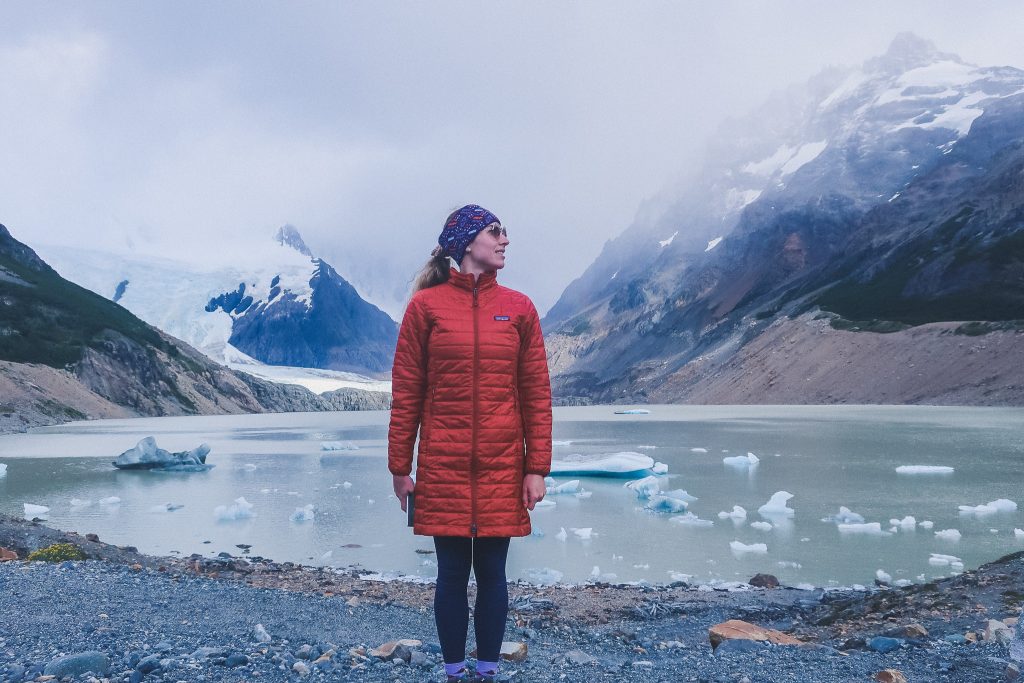 That's why you'll also need a thermal headband. A thermal headband will keep your head and ears warm while you hike in Patagonia. It will also keep you fresh and cool as you work up a sweat.
HOW TO WEAR IT:
Wear it during your long hikes with your compressible jacket.
Check out this beautiful wool chunky knit headband. 
7. Icon Fleece
WHY YOU NEED THIS ITEM:
Fleece is very in right now. It's comfy, cozy and fashionable. It's extra warm. It does take up a lot of luggage space (at least mine did), but it's worth it.
If you're wondering what to wear in Patagonia in December, your fleece is your best friend. It might even suffice as your jacket, or outer layer on a warm, sunny day.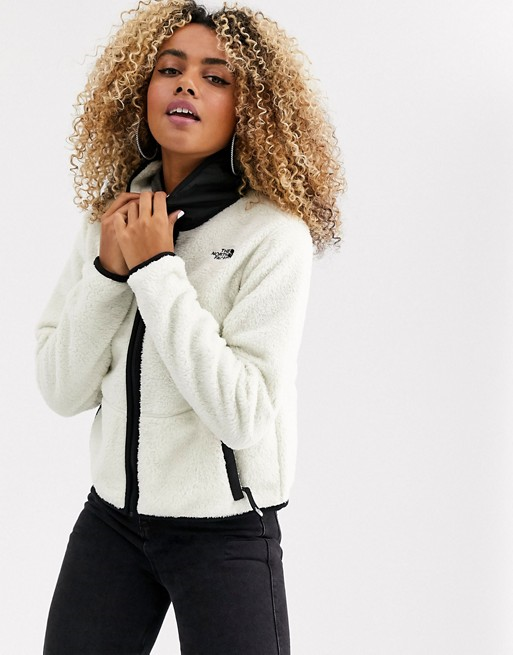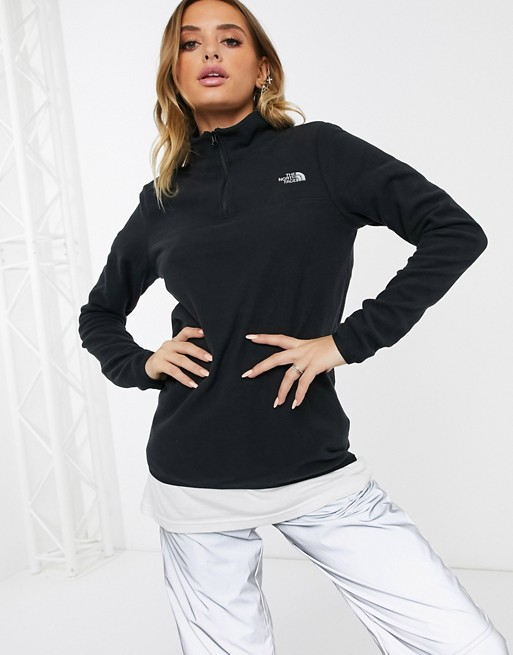 So, let's talk about the fleece.
We often refer to our "fleece" sweaters, those soft, fuzzy, chunky sweaters. But "fleece" actually means sheep wool. Fleece is a misnomer because most of the "fleece" sweaters you can find aren't made of sheep's wool… they're made of polyester fibers.
You'll be hard-pressed to find a fleece sweater that's not made from polyester.
P.S.
Please correct me if I'm wrong and you've found an amazing fleece sweater made from sheep's wool. I'll be the first to buy it.
Even quality brands, like Patagonia, make their fleece sweaters with polyester. Sigh. What can you do?
I'm okay with polyester in this case. Polyester fleece is warm, durable and moisture resistant. Thus, it's ideal for extreme weather conditions. It's technically warmer than wool and can often be lighter as well
HOW TO WEAR IT:
Pair this item with leggings and your fuzzy snow boots. I wouldn't choose this for a fancy dinner, but I'd certainly wear it while exploring downtown.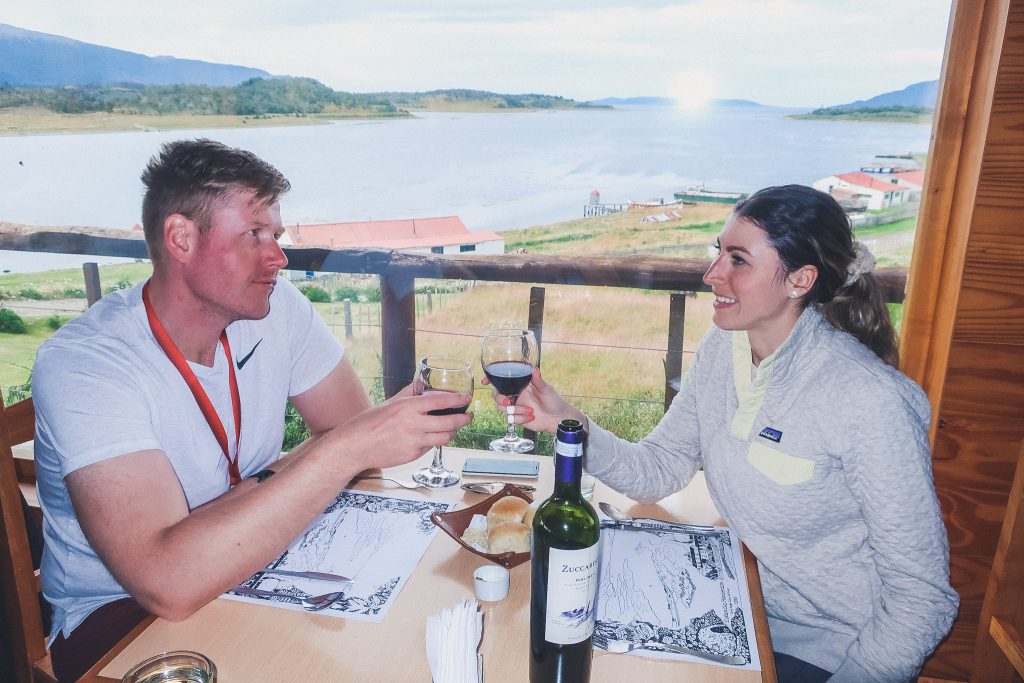 It's perfect for medium temperatures, skip your coat.
You can also wear this hiking and adventuring in Patagonia.
8. The Quarter-Zip
WHY YOU NEED THIS ITEM:
The quarter-zip sweater, cousin to the fleece. It deserves it's own category because
you need multiple sweaters on your trip to Patagonia
switch up fibers with your sweaters (I went with 1 polyester, 1 cotton, and 1 wool sweater).
My quarter zips were much more sporty than my fleece. Use different styles to help you vary your look.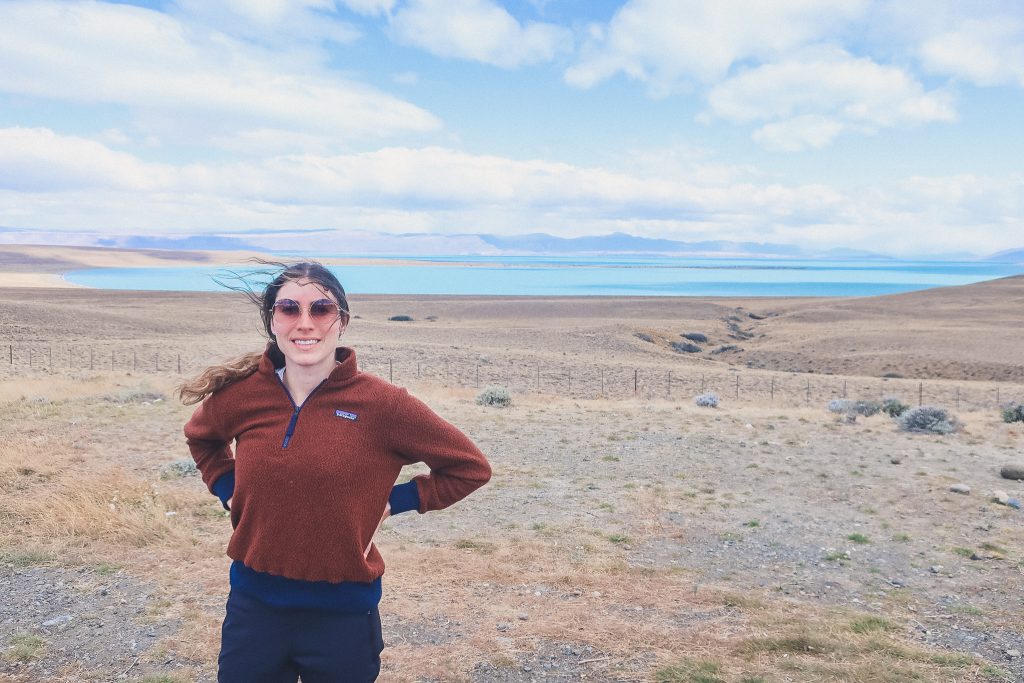 HOW TO WEAR IT:
Wear it with leggings, ankle-high knit socks and your fuzzy snow boots!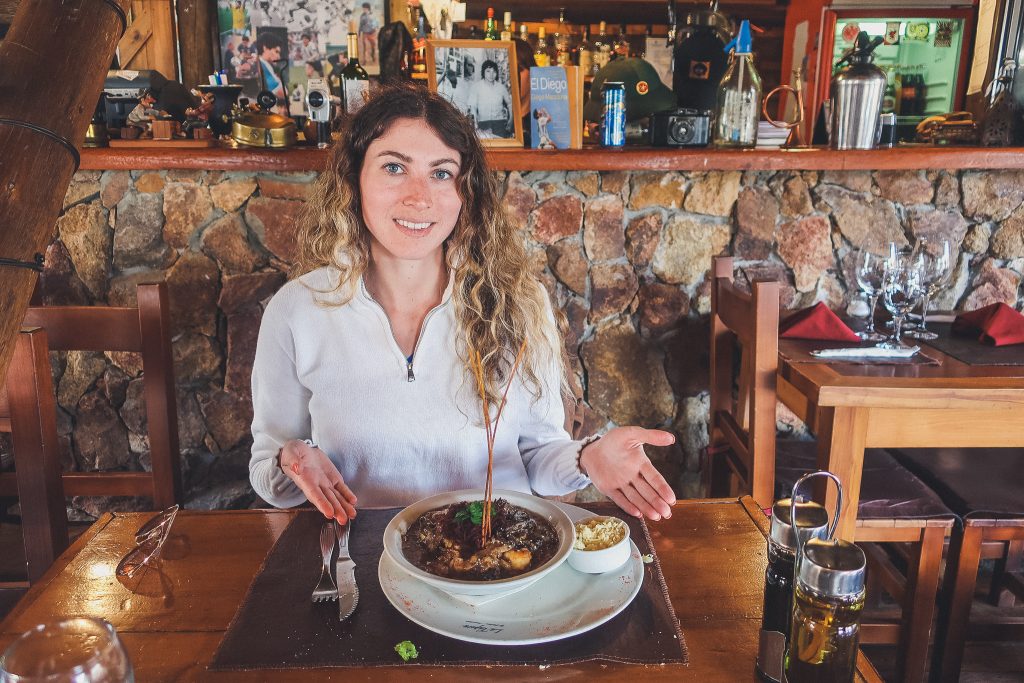 9. Poncho
WHY YOU NEED THIS ITEM:
Every trip needs a statement piece. The poncho is an excellent fit here because it's warm, versatile and culturally relevant.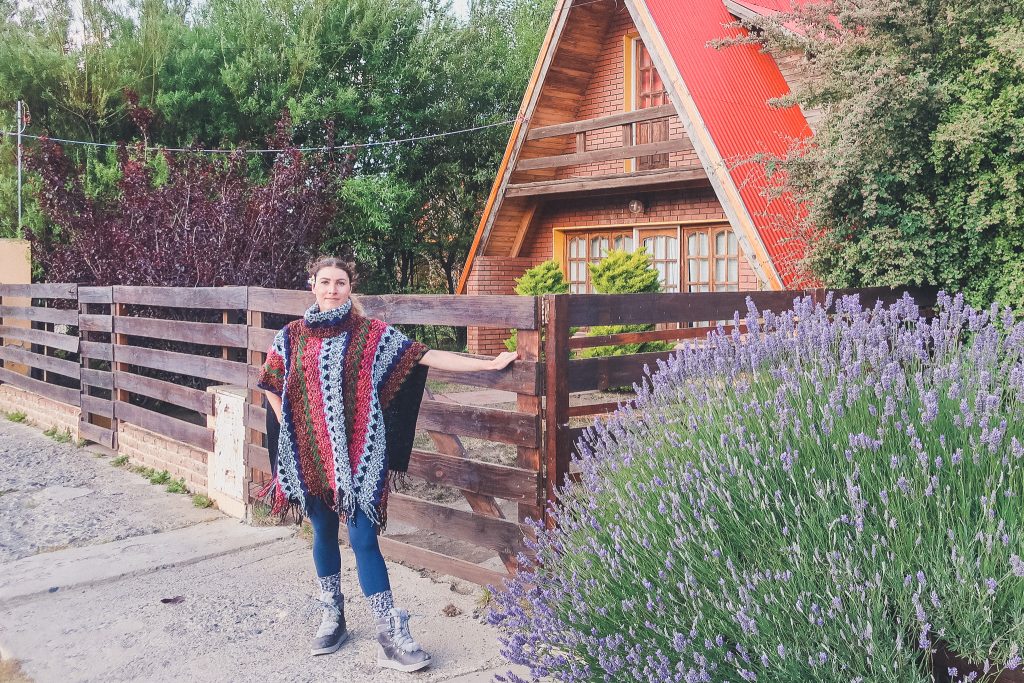 HOW TO WEAR IT:
You can wear your poncho with leggings and a plain tee and still feel dressy. Incorporate some jewelry, and you're good to go!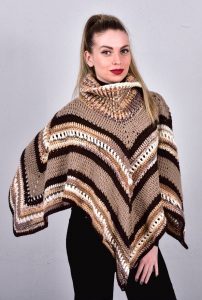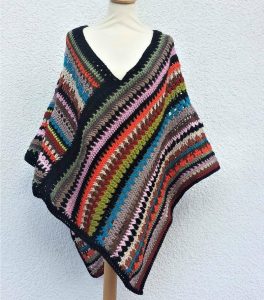 Adorable ponchos from Anna Handmade Knitwear on Etsy.
An alternative option, pair your poncho with your pom hat for a casual stroll or hike. You can see how I did this at the Grand Canyon (pictured below).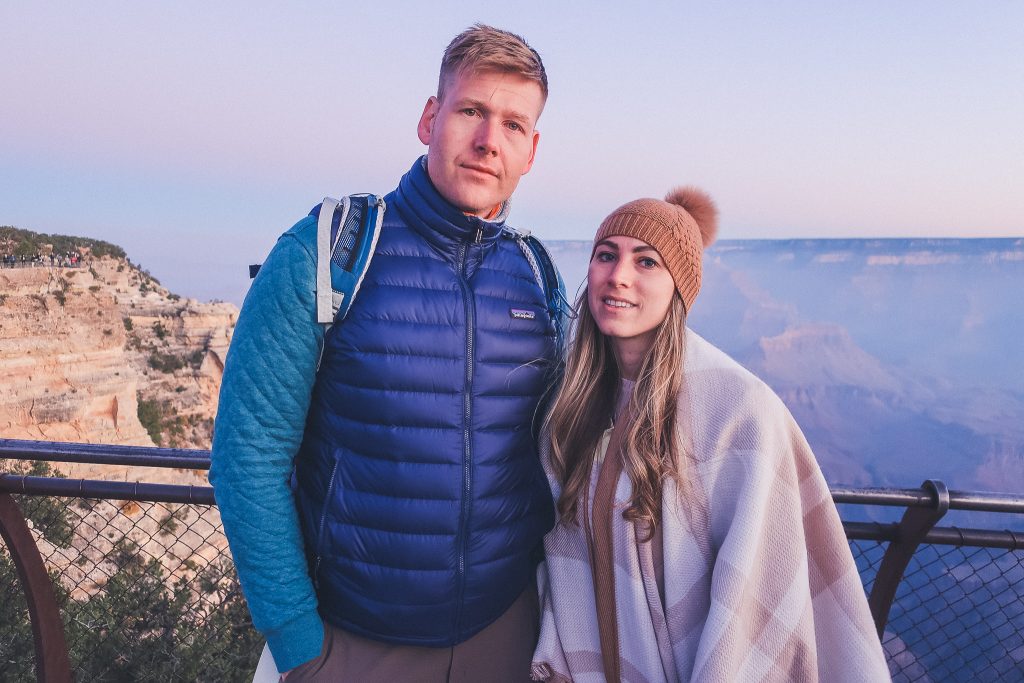 Check out these beautiful handmade ponchos. 
10. Statement Socks
WHY YOU NEED THIS ITEM:
The right sock can add a lot of flair and personality to an outfit. You'll want socks that contrast your boot & leggings. I'd go with bold colors, flashy prints or chunky knit.
Smart Wool is essentially Merino Wool. It's an excellent fabric for socks (and in general) because it's softer and less scratchy than "regular" wool.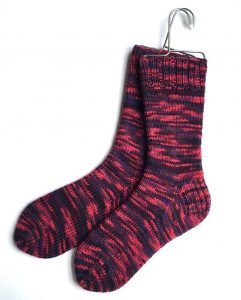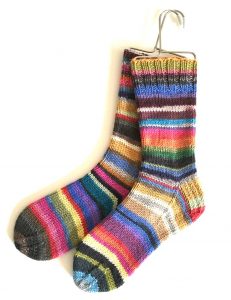 These amazing socks are brought to you by BellaBlueKnits on Etsy.
Merino wool is perfect for outdoor activities because it's lightweight, yet provides great warmth. This fabric is can also be odor-neutralizing. Also, it's a better environmental choice.
Merino wool is also easier to take care of. Although it's important to note, you should NEVER put your wool clothing items in the dryer (especially when using heat). They will shrink!
Check out these other amazing hand-knit socks. 
HOW TO WEAR IT:
The best way to explore Patagonia is in your SmartWool socks.
Wear your flashier, brighter, longer socks out on the town. These will compliment your furry boots with leggings and a long-sleeve turtleneck. It's perfect for a romantic dinner!
11. Beaded Bracelets
WHY YOU NEED THIS ITEM:
Argentina is a safe country to visit. Especially, Patagonia. During our travels, we only felt slightly on edge while visiting downtown Buenos Aires. We felt completely comfortable and at ease everywhere in Patagonia.
That being said, I don't recommend bringing any flashy items. Especially, jewelry. This can make you a target. It's not worth it. Currently, there is rapid inflation in Argentina. It's not as poor as many other South American countries, but I wouldn't risk it.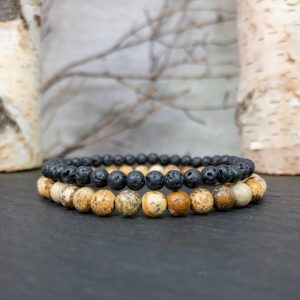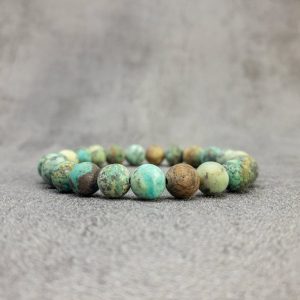 Incredible stone bracelets by Birdtree Jewelry.
I left all my expensive jewelry, and anything with Swarovski Crystals, at home. Flashy jewelry can make you a target. Thieves don't know if that's a crystal or a diamond.
Plus, you don't want to be that girl who brought her Louis Vuitton backpack to the Perito Moreno Glacier and got completely soaked in the surprise rain shower. (True Story, guys). She also had a Burberry scarf. 😲
Newsflash, Patagonia isn't Hollywood. Nobody there cares about your high-end labels. People will stare because they're thinking "What is she doing?" Not because they're jealous.
Leave your bling at home, ladies!
Incredible stone bracelets by Birdtree Jewelry
Instead of expensive fine jewelry, bring some cute, boho items. I brought a set of beaded bracelets, and I wore them from Mendoza in the North, all the way to Ushuaia in the South.
Alex & Ani bracelets work perfectly here!
Visiting Patagonia has always been on my bucket list. Check out these other Bucket List Ideas.
HOW TO WEAR IT:
Wear them while you explore the town, or when you're heading out for a nice meal. You can pair beaded bracelets with dressy items we've just discussed. Including turtleneck sweater, poncho, fuzzy snow boots, and leggings.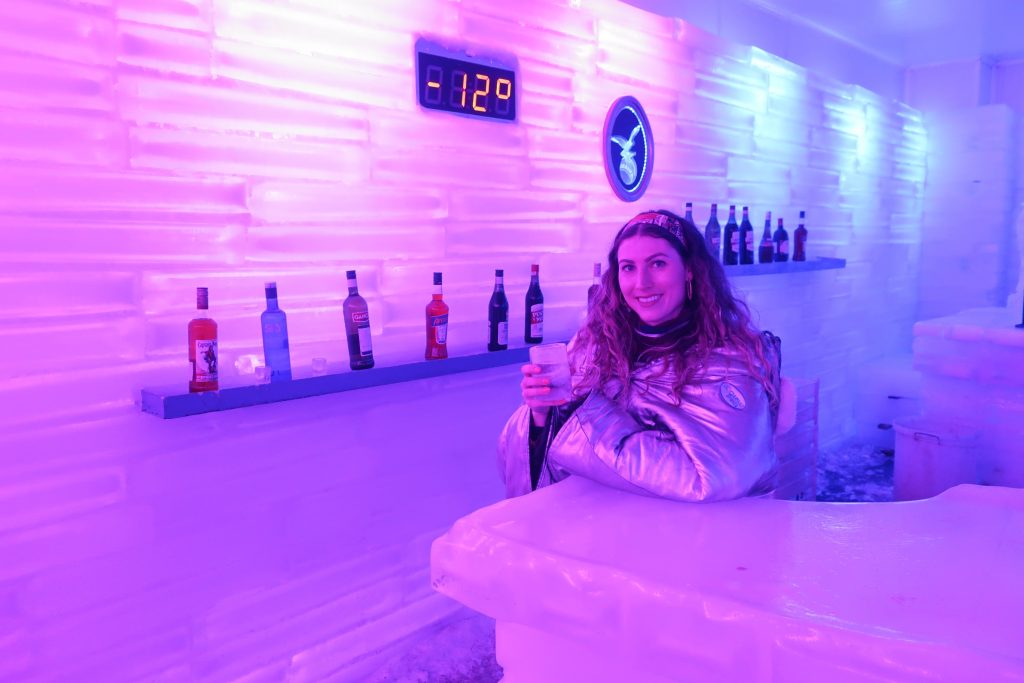 OTHER HIGH IMPACT ACCESSORIES:
(That don't take up much space in your luggage)
Headband
Chunky necklace
Chunky earnings
As an Amazon Associate I earn from qualifying purchases.