If you're wondering where to stay in El Chalten, this is your ultimate guide! This article includes the top hostels, ranches, and hotels in El Chalten. 
El Chalten is the trekking capital of Argentina. It's one of the most popular tourist places in Patagonia. Visitors can opt for an El Chalten tour from El Calafate, or they can spend a few nights in this quaint mountain village.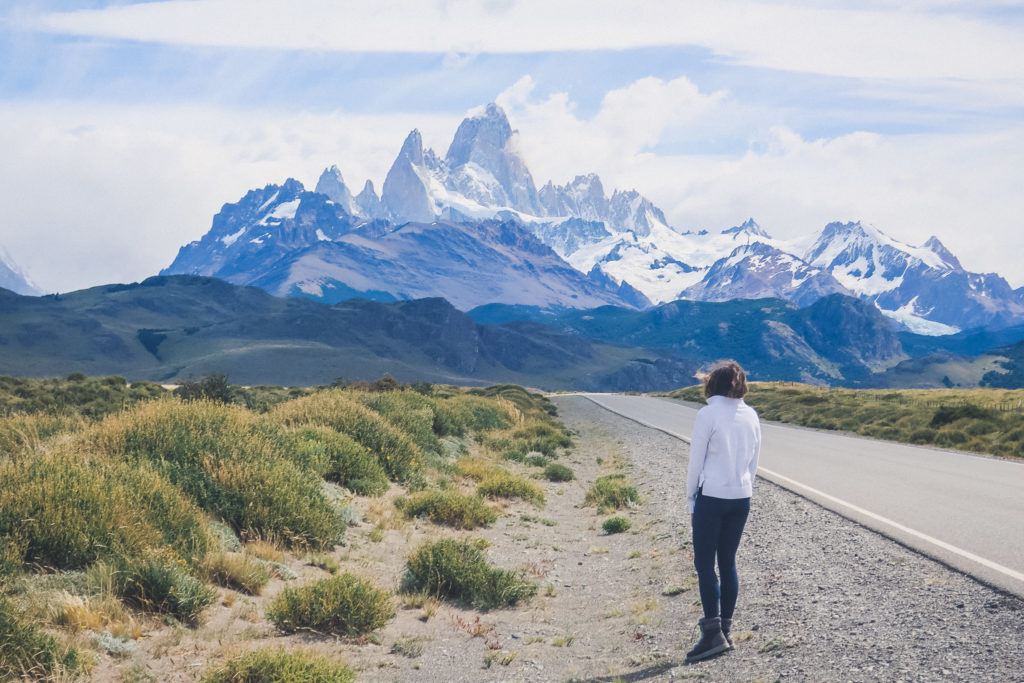 The best things to do in El Chalten including hiking. El Chalten is world-famous for Fitz Roy Mountain. Some of the most popular El Chalten hikes include Laguna Torre and Laguna de Los Tres. 
Where to Stay in El Chalten: the best hostels, estancias and hotels in El Chalten 
Getting to El Chalten from El Calafate is pretty easy. So, if you're wondering how to get to El Chalten –read on! You can rent a car and drive yourself, or hop on the bus. Although, some backpackers will try to hitchhike. 
The roads are well maintained and the drive is quite scenic. It will take about 3 hours driving to travel from El Calafate to El Chalten. Most travelers start in El Calafate as this is where the nearest airport is located. 
It's important to note that the weather in El Chalten can be unpredictable. Many tourists choose to visit in the summer months (December – February), but there are no guarantees! Some suggest that spring and fall may be the best time to visit El Chalten because you'll miss the crowds.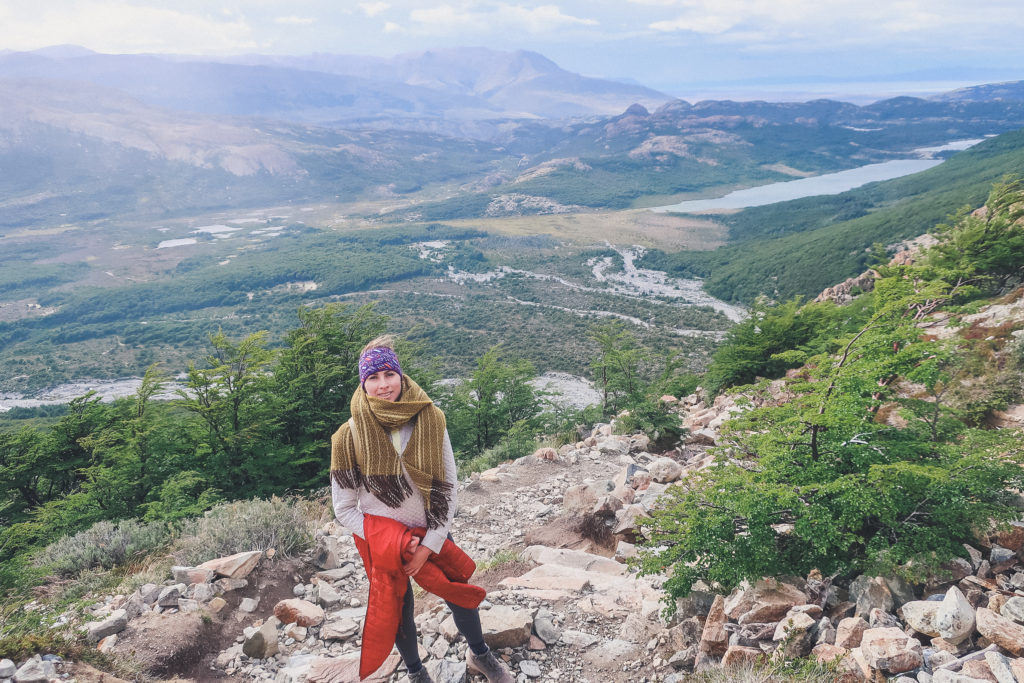 Even during warmer months, the weather in El Chalten Argentina can change quickly – hitting you with rain, snow, and (especially) rough winds. For this reason, it's very important to have a comfortable accommodation in El Chalten. Where to stay, then? Read on.
Where to Stay in El Chalten: the best hostels, estancias and hotels in El Chalten 
You're here because you're wondering where to stay in El Chalten Argentina, and you're in the right place.
We've compiled some of the top-rated hostels, guesthouses, hotels, and lodges in El Chalten that won't disappoint. There's something for every type of traveler, and there's something for every budget! 
These hotels in El Chalten Argentina have been broken down by budget. We've compared amenities, and given you all the important details you need to decide. 
Budget
These are some of the best hostels in El Chalten. They're perfect for backpackers, students, and thrifty travelers. You can expect to pay close to $50 per night. 
All of these accommodations are located in the heart of downtown El Chalten, so you'll be within walking distance of the best trailheads, restaurants, and shops. 
You can easily hop on some of the popular tours in El Chalten from here. Read on to discover your best hostel – El Chalten's most popular way to stay!
Hostel Wenüy
One of the best hostels in El Chalten is Hostel Wenüy, you can't beat these prices! Hostel Wenuy is a primitive accommodation for students or solo travelers that thrive in social environments. 
Reserve your spot at Hostel Wenuy. 
At Hostel Wenuy, all rooms and bathrooms are shared. There are no private spaces available. Guests can choose from 3 sleepers or 6 sleeper rooms. There is also a communal kitchen space available to all guests. It's one of the economic hostels. El Chalten Argentina will be at your fingertips if you stay here. This hostel is conveniently located in town, a few minutes' walk from all the top trailheads.
Rancho Grande 
Rancho Grande is a traditional hotel in El Chalten. This accommodation offers private or shared rooms with private or shared bathrooms. Rooms feature breathtaking mountain views. There is also a communal kitchen available for guests.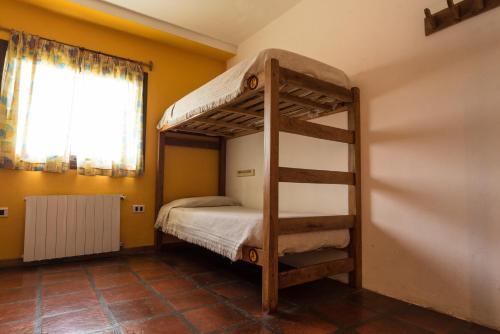 Read reviews of Rancho Grande. 
Many rave about the atmosphere at Rancho Grande. It's the perfect place to stay for travelers looking to meet new people and make friends. The staff is also very friendly and accommodating. Don't be afraid to ask questions or get help!
Rancho Grande also has a 24-hour restaurant on site. It serves a complimentary breakfast to guests daily. You can also buy a boxed lunch for your day of trekking there. 
El Alamo
El Alamo is another one of the excellent hostels in El Chalten. Guests will enjoy private rooms with private bathrooms at this hostel. It's perfect for couples or anyone traveling with another companion since rooms are designed for double occupancy. 
Book your perfect room at El Alamo. 
The vibe of this accommodation is classic Patagonia: wooden beams, earthy tones, and rustic accessories. The front desk staff is welcoming and helpful. 
Also, you'll be within walking distance of the best things to do in El Chalten. The tourist desk at the hotel can provide helpful information for trekking & highlights about town. 
Mid-Range
If you're a bit more high maintenance and you're wondering where to stay, El Chalten has plenty more comfortable options! Skip the hostel in El Chalten, and stay somewhere more luxurious.
This next set of places to stay in El Chalten will cost you about $100 per night. For this price tag, you can expect more privacy and improved amenities. 
Hotel Poincenot 
Hotel Poincenot is a 3-star hotel in El Chalten. This hotel is located in town, so you'll be close to all the top things to do in El Chalten.
The style of this hotel features traditional elements with modern upgrades. Giant windows allow for exceptional natural light and panoramic views. Rooms also feature flat-screen TVs with satellite hookup. You won't want to leave your room!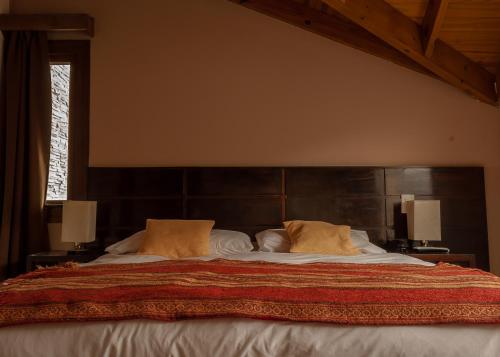 See more photos of Hotel Poincenot.
This hotel has a wine bar on-site and serves fresh breakfast every morning. Breakfast is complimentary to all guests. Complimentary coffee is provided 24 hours a day as well.
You can also expect services like packed lunches and laundry for an additional cost.
Los Cerros del Chalten Boutique Hotel
Los Cerros, or the Hills, is a 4-star boutique hotel in El Chalten. The name of this hotel comes from its location on one of the esteemed hills of El Chalten. From there, guests will enjoy privileged views of the Río de las Vueltas and surrounding mountains. 
You can enjoy these views from outside the hotel, or from one of the premium guestrooms. Each room has a jacuzzi tub -perfect for relaxing after a long day of hiking! They also have well-stocked minibars. 
Find your perfect room at Los Cerros.
At this awesome hotel, you'll also find a wonderful on-site restaurant. They serve regional favorites like Patagonian lamb and locally sourced beef dishes. Of course, this is paired with excellent Patagonian wines. 
If you decide to venture out of the hotel for a meal, not to worry! You'll be steps away from some of the best restaurants in El Chalten. Los Cerros is beautifully furnished, with excellent common spaces that will serve as your meeting grounds when traveling with a group. 
Senderos Aparts & Suites 
The Senderos Apartments and Suites are perfect for families or travelers in a group. This isn't a typical hotel. It's a much more private and more homey experience.
Guests at Senderos Suites will enjoy fully equipped living spaces. Rooms include kitchen, dining spaces, and living room furniture. The kitchens are truly outstanding — you'll be set up with a dishwasher, microwave, fridge, and oven. This is much more than a basic stovetop and mini-fridge situation. 
Read reviews of the Senderos Suites.
Senderos Suites have the best features of an apartment, but they also have everything you'd expect in a hotel. Bathrooms are stocked with toiletries and a hairdryer. Also, continental breakfast is included if you don't feel like making it in your own kitchen!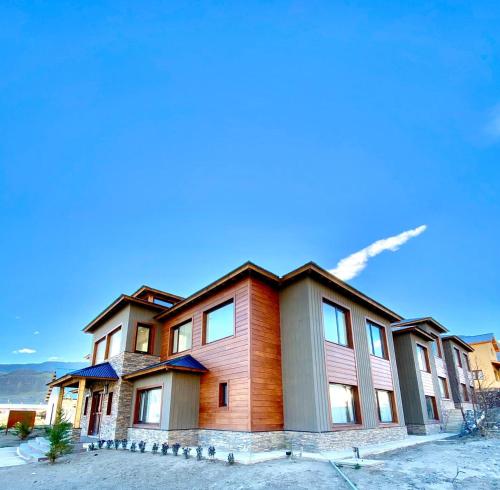 The comfort of home with the convenience of a hotel converges at Senderos Apartments and Suites in El Chalten. 
Luxury
You won't find big fancy resorts in Patagonien El Chalten, but there are some pretty awesome hotels and estancias. An estancia is a traditional cattle ranch style bed & breakfast. Staying at an estancia is a truly Argentinean experience. 
The cowboy lifestyle on an estancia is typical for Patagonia. It's an important part of the culture and history of this great nation. So, consider staying at an estancia. El Chalten is best experienced this way! 
The following are some of the best estancias and hotels El Chalten has to offer, and you can expect to pay more than $150 per night. If you pick one of these options, you won't be disappointed with your booking. El Chalten awaits! 
Destino Sur Hotel & Spa de Montaña
Destino Sur Hotel El Chalten is a top pick! They're well regarded for their spa facilities. What's better than a dip in the pool after a long day of hiking? At Destino Sur Spa you'll get to enjoy the pool, jacuzzi, dry sauna, wet sauna, gym, and massage amenities. 
The rooms at Destino Sur Hotel & Spa are very spacious. Guests will rest in king size beds with cotton sheets adorned with handmade loom-spun blankets.  This hotel is located steps away from the main street in El Chalten, and trails are also very accessible. 
Find out more about the Destino Sur Hotel.
If you aren't staying at Destino Sur Hotel, you might consider stopping by their on-site restaurant. Destino Resto serves Patagonian signature cuisine in a refined setting. Their dishes are absolutely exquisite! This is a great place to try regional wines and beers. 
Chalten Suites Hotel
Chalten Suites is an exclusive Patagonian hotel with limited guestrooms to maximize privacy and create a relaxed atmosphere. 
Chalten Suites is located in a spectacular corner of El Chalten. Guestrooms offer unparalleled views of Fitz Roy. Rooms are well equipped with everything you'd expect. This hotel also offers shuttle services, laundry, and packed lunches. They will also help you to book excursions if needed.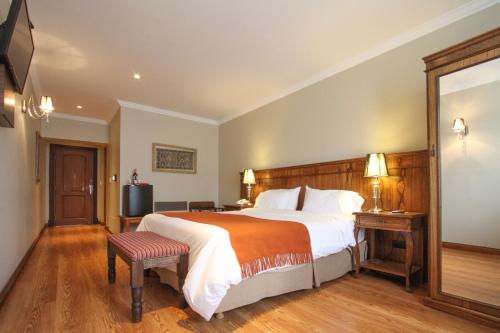 Chose a luxurious room at Chalten Suites.
Guests rave that Chalten Suites is perfectly positioned in town. They also vouch for quality WiFi connection (which can often be spotty at other accommodations). This is one of the most positively reviewed accommodations in El Chalten. 
Estancia Bonanza 
Estancia Bonanza is one of the most unique accommodations in El Chalten. It's located only 10 minutes outside of town. Although, this exclusive location is completely off-the-beaten-path. You won't find untouched surroundings like these anywhere else!
This ranch style bed & breakfast is situated at the foot of the Cordon del Bosque mountain range. It's a picturesque setting with forests, rivers, and valleys. The ranch is family-owned, and the owners have occupied it for over 30 years. 
This is an all-inclusive accommodation. All meals, some activities, and transfers are all part of your stay. Guests are free to use bicycles on site. There are also plenty of self-guided trekking trails around. Ski equipment is also available for rent. 
The property has a full-service restaurant on site. There are also garden spaces and barbeque facilities. The rooms are private. Each one has a wooden stove, so you'll be extra cozy. Guests rave about this place!