Uco Valley wineries are world-famous! These are the best Uco Valley wineries, and they are some of the best wineries in Mendoza Argentina. The Uco Valley also offers stunning views of the Andes Mountains.
The Best Uco Valley Wineries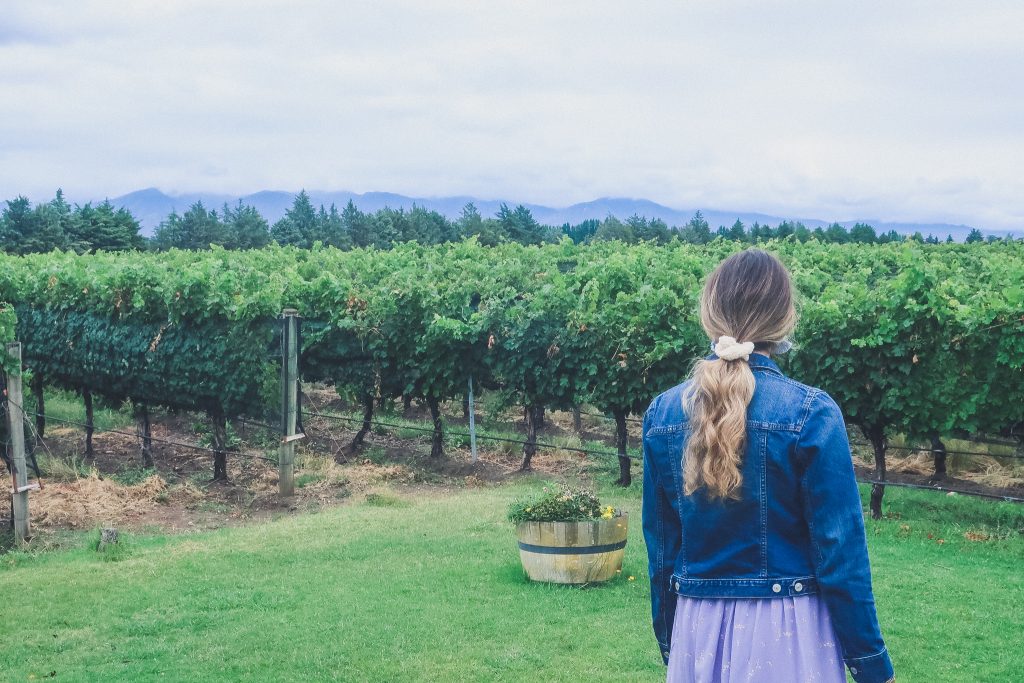 Introduction to Uco Valley
Uco Valley is known to produce high-quality wines and the world's best Malbec wine. It's most well known for high elevations, some of the Uco Valley estates are among the highest vineyards in the world!
The Uco Valley is among the highest of elevations within the Mendoza region. It's these high elevations that make for the best Argentinian wine!
Check out this top-rated private tour of the Uco Valley.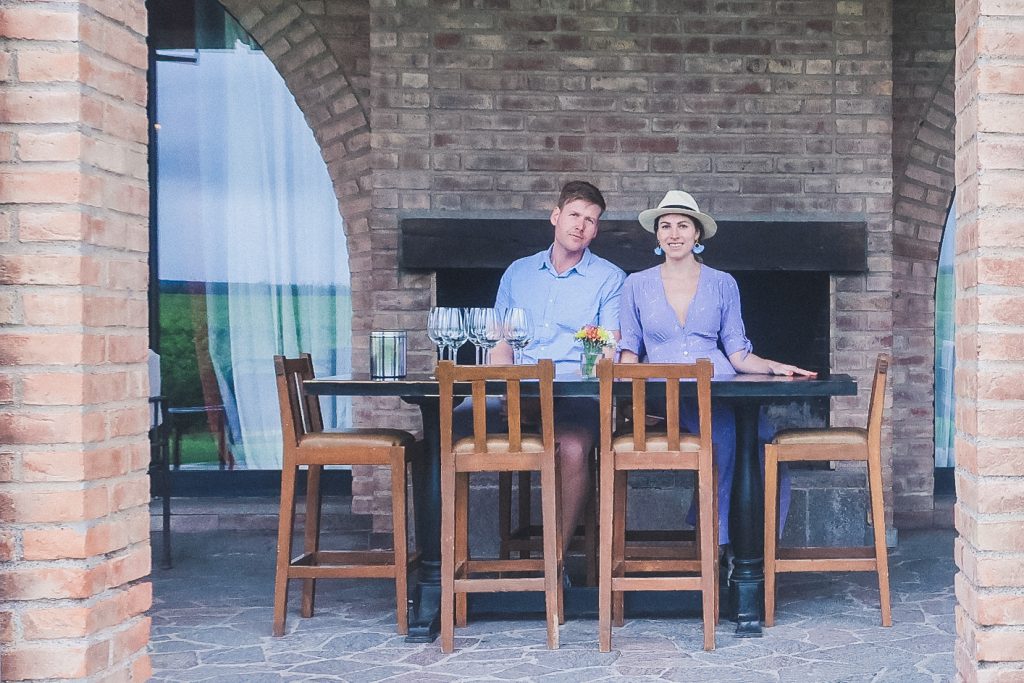 The Uco Valley climate is very dry with bright, sunny, days. On average, there are over 300 days of sunshine per year. Sounds like the perfect travel destination, am I right? These sunny days pair with frigid nightly temperatures. These temperature disparities help grapes ripen more fully, and it allows for an ideal balance between acid and sugar.
The water that nourishes these high altitude vines comes directly from the thawing Andes Mountains. The meltwater is crisp, clear and pure. It helps to maintain a low pH grape and adds minerality at the same time. Minerals also come from the sandy, gravelly and clay-rich soil underneath the vineyards.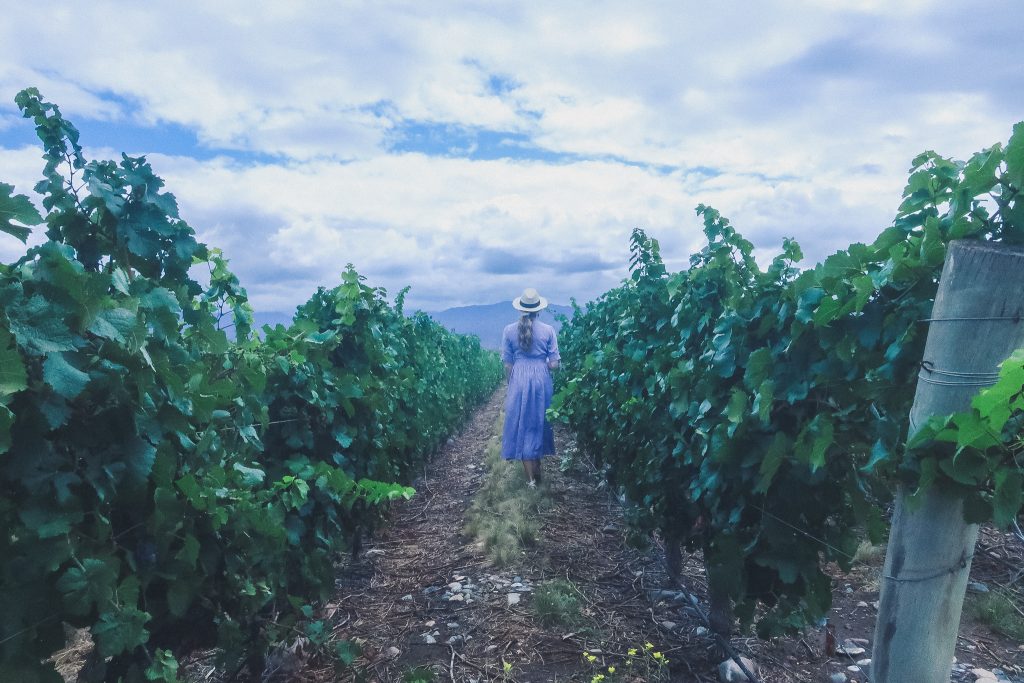 Book a horseback riding tour in Mendoza's Uco Valley! 
These soils make for the best vineyards in Mendoza!
The varietals that grow here include Malbec, Merlot, Syrah, and Cabernet Franc of the red varietals. Also, Torrontes, Chardonnay and Sauvignon Blac are common white varietals. The wines of Mendoza come from these main varietals.
Malbec is the undisputed king in Uco Valley Argentina. Malbec wine characteristics include full-bodied, dry, red wines with high tannin and moderately high alcohol. You'll taste notes of plum, blackberry or cherry. It's jammy & delicious.
You may also consider visiting Lujan de Cuyo Wineries & Maipu Wineries. 
Uco Valley Winery Hotels
When you visit Mendoza, you must stay at a winery! It's the ultimate experience.
Many of the beautiful Valle de Uco wineries have boutique hotels or cozy B&Bs. Some of the best Mendoza winery hotels can be found in the Uco Valley.
There are accommodations in Uco Valley to fit every budget.
Budget
Stay at the La Morada Guesthouse. It's a charming property with modern amenities and breathtaking views of the Andes mountains.
Check out Postales Hotel Boutique Valley De Uco. You'll stay in a traditional Adobe style farmhouse with high ceilings and a cozy fireplace. Postales Hotel's restaurant serves organic vegetables that were grown fresh on the property's garden.
Mid-Range
Book at Giiminez Riili's Casa de Huespedes. Enjoy wine activities from the comfort of your accommodation. Gimenez Riili offers wine tours, horseback riding, and bicycle rentals.
Find out more about Auberge De Vin, a Tribute Portfolio Hotel. Auberge De Vin offers legendary amenities and exceptional service.
Affordable Luxury
See why we love Casa Petrini. This is one of the best Uco Valley hotels. Their onsite boutique winery makes Casa Petrini one of the most visited wine resorts in Mendoza.
Get excited about Estancia Mendoza Wine Hotel. The property is absolutely stunning. Luxurious details lie around every corner.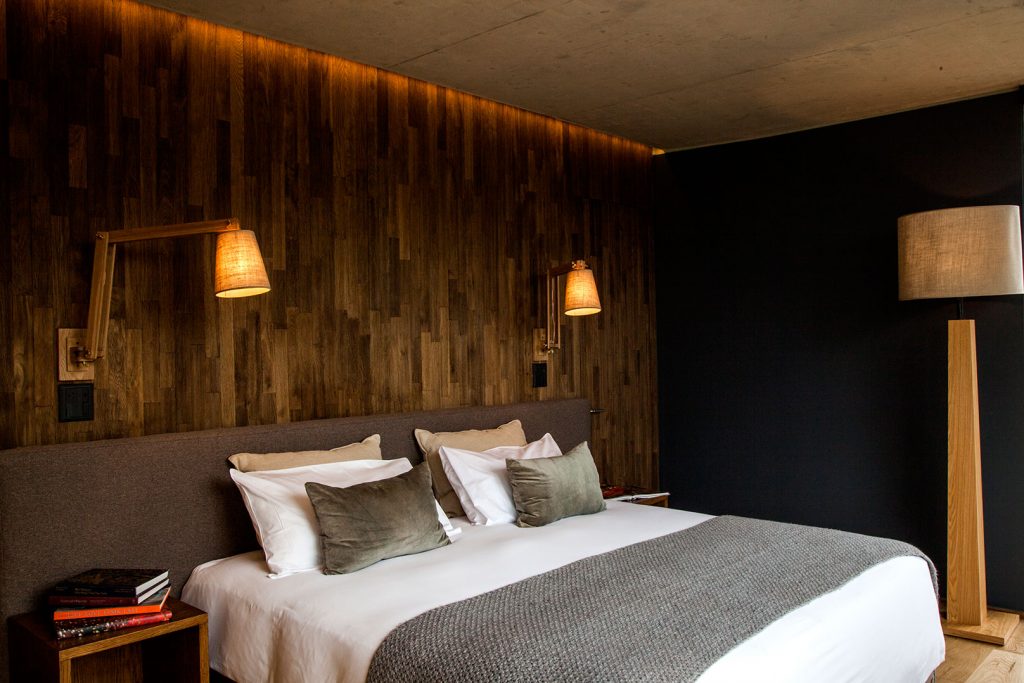 Photo Credit: Casa de Uco Vineyards and Wine Resort
Ultimate Luxury
Check out The Vines Resort. This is one of the most famous hotels in Mendoza!
Visit Casa de Uco Vineyards and Wine Resort. You won't be disappointed!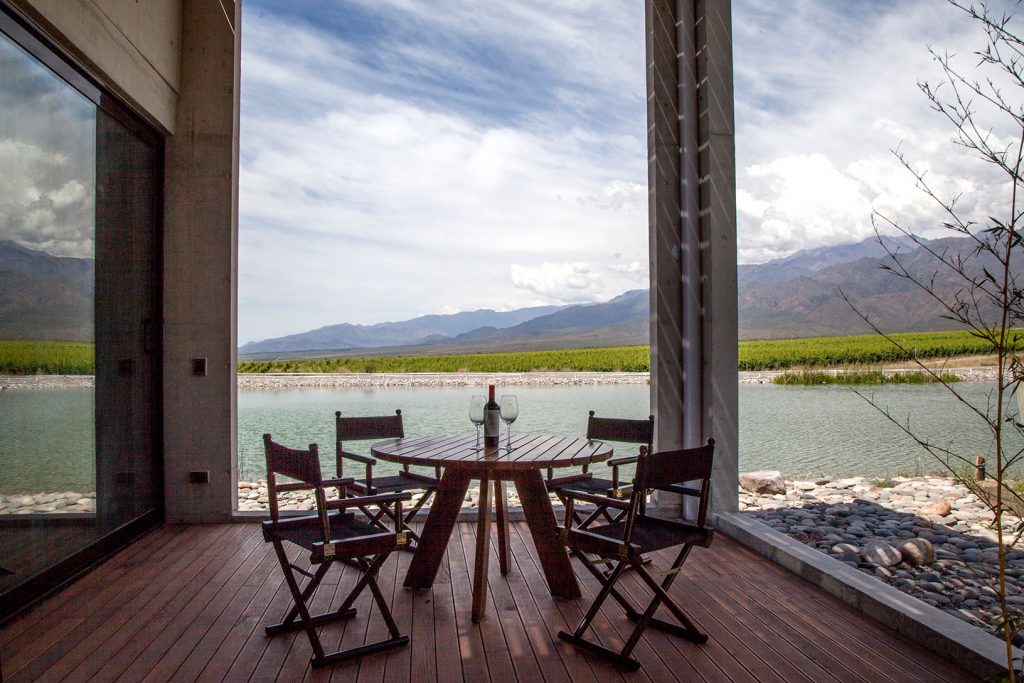 Photo Credit: Casa de Uco Vineyards and Wine Resort
Check out this comprehensive guide to Mendoza's Winery Hotels. 
Uco Valley Wineries
Andeluna
ACTIVITIES OFFERED:
Wine Tasting
Sunset Tasting
Winery Tour
Cooking classes
Lunch at Winery Restaurant
Blending Game for families
CONTACT INFORMATION:
Phone; Winery phone +54 2622 423 226 int. 13, Mobile phone (internationally): +54 9261 508 9525, Mobile phone (in Argentina) 0261 155 08 95 25
Email: visitas@andeluna.com.ar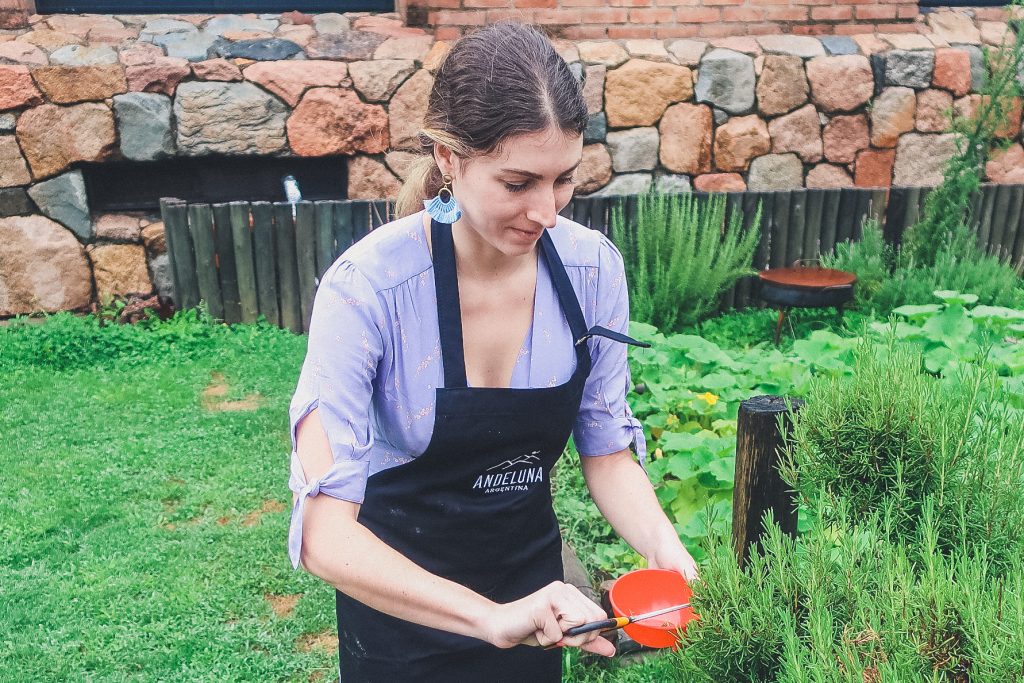 Don't Drink and Drive! Book your private driver today. 
Andeluna's cooking class is an unforgettable Uco Valley Wine Tour. The cooking class also includes a winery tour, wine tasting and lunch at the winery restaurant (where you'll get to taste some of the food that you prepared).
Our cooking class was private, it included a local chef and an interpreter. The chef we worked with was incredibly passionate, knowledgeable and animated. We got the opportunity to cook outside on Andeluna's beautiful terrace overlooking the Andes mountains.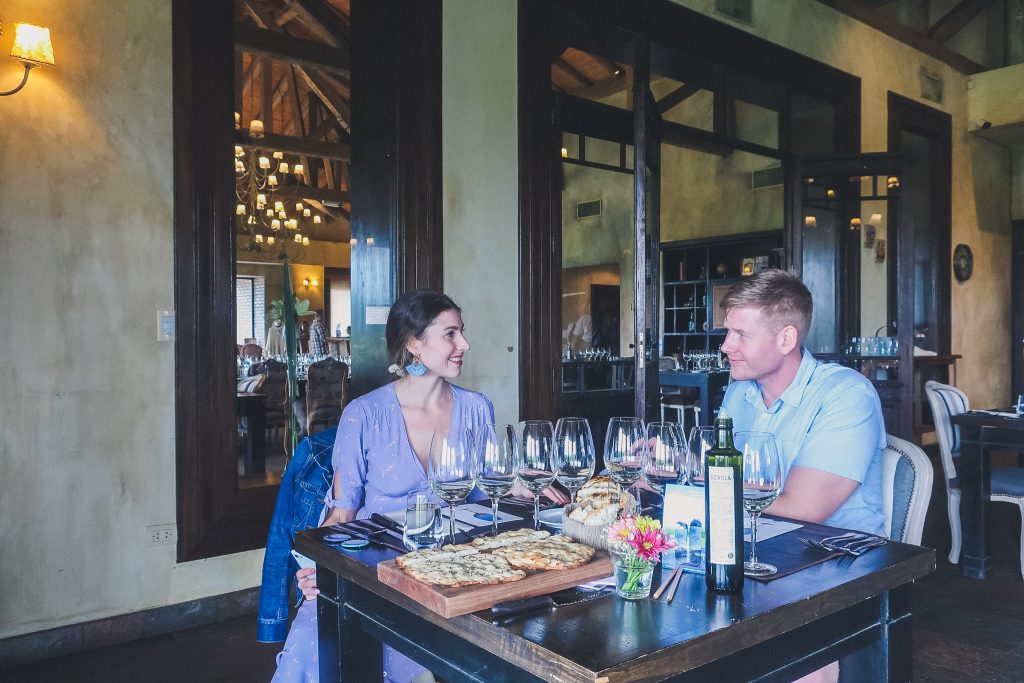 During the class, we drank Malbec and asked a billion questions. We picked fresh herbs from the winery's garden. It was one of our favorite Mendoza wine tours! After the tour, we were emailed detailed instructions on how to make these recipes at home.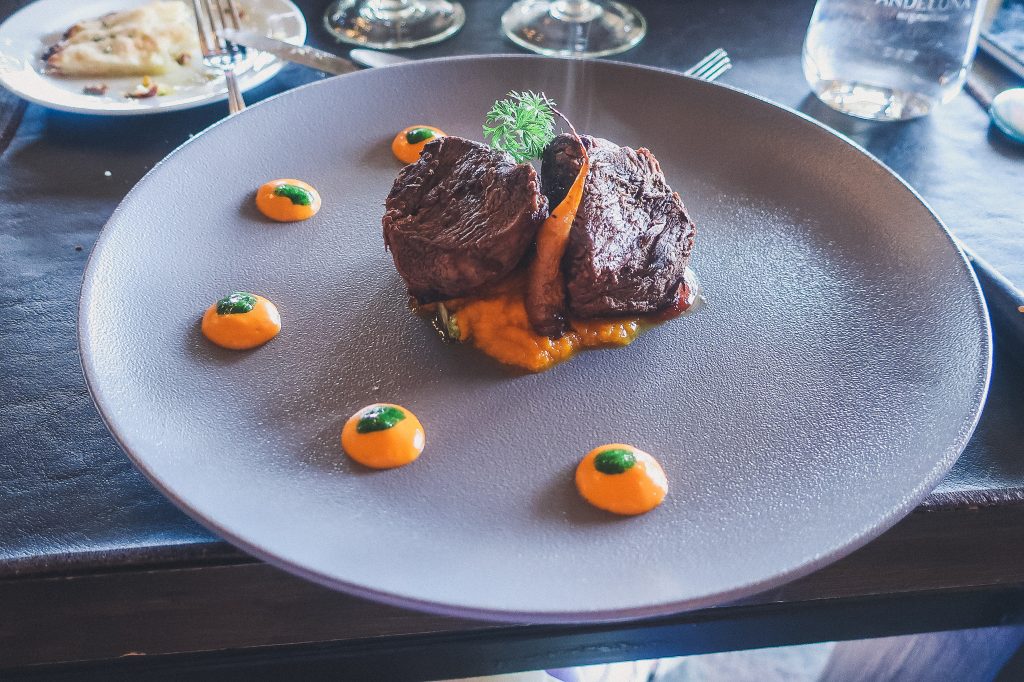 Everything was simple, not impossible to replicate. During the class, we were challenged to an empanada competition. At lunch, the winner was awarded a special gift.
Andeluna is known for having one of the best restaurants in Mendoza Argentina. They also offer other incredible experiences like sunset tastings and a wine blending game for the family.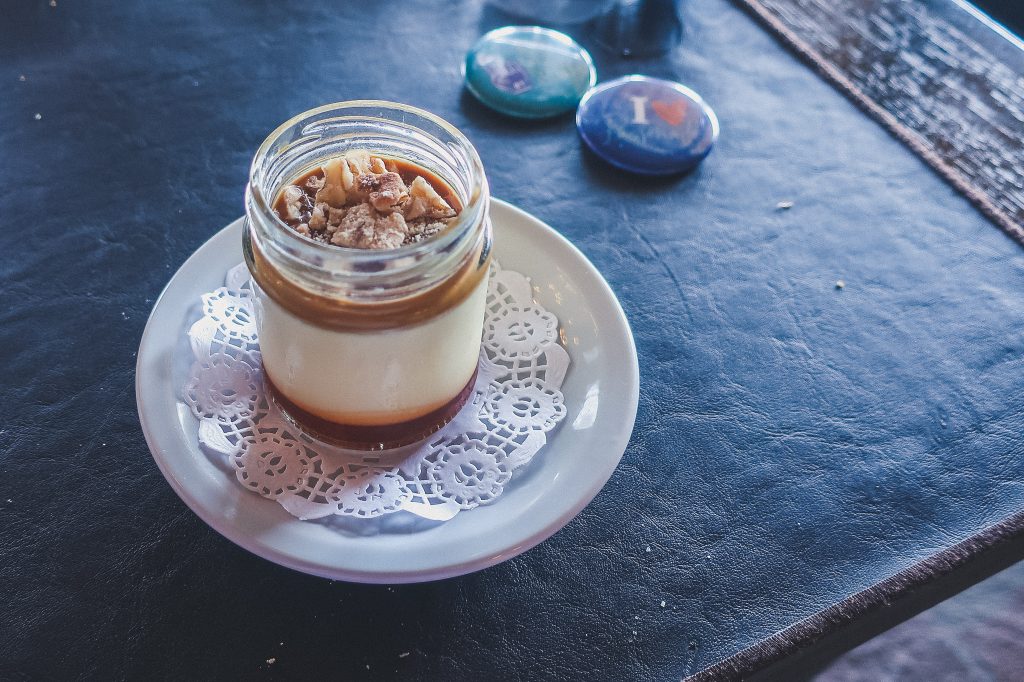 Salentein
ACTIVITIES OFFERED:
Wine Tasting
Winery Tour
Lunch at Winery Restaurant
Accommodation
Blending Game for groups
Art Tour & Wine Cathedral Excursion
CONTACT INFORMATION:
Email: reservas.killka@mp-wines.com
Salentein is an important producer of great Malbec wine. It is one of Argentina's largest wine producers, selling millions of bottles locally and around the world. You'll probably be able to find a bottle of Salentein's Malbec at your local neighborhood Binny's (we did).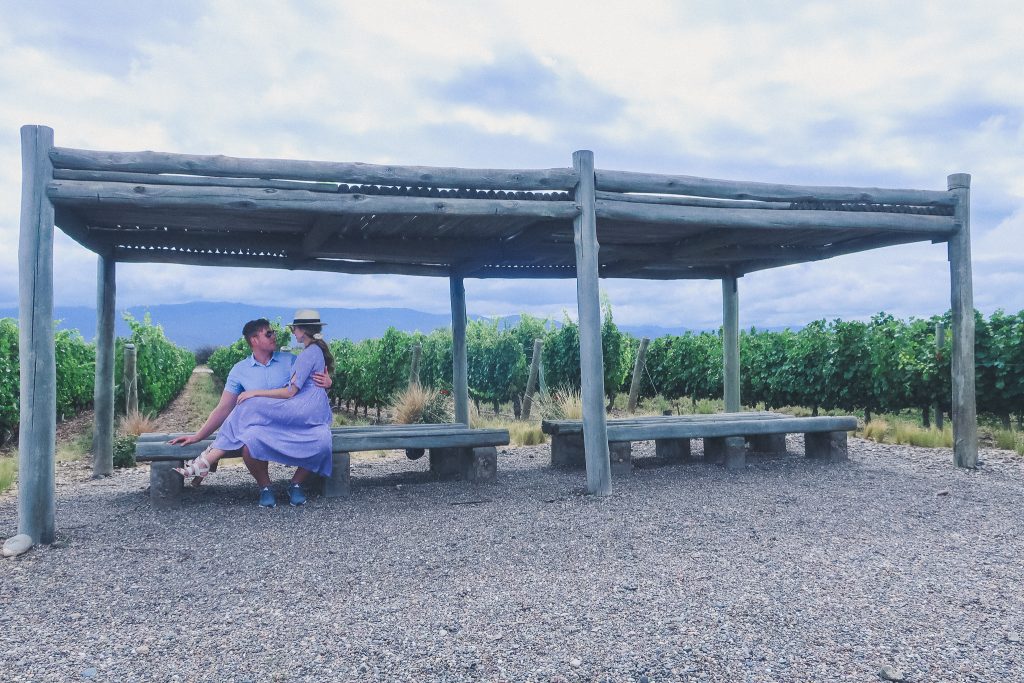 Tour the Uco Valley in this one-of-a-kind Vintage automobile. 
Salentein's underground cellars accommodate over 5,000 French oak barrels! These barrels sit on top of a stone floor —made from local stones from the Cuyo region. The barrels sit 9 meters underground in a space that regularly maintains the precise temperature of 53°F and an ambient humidity of 80%.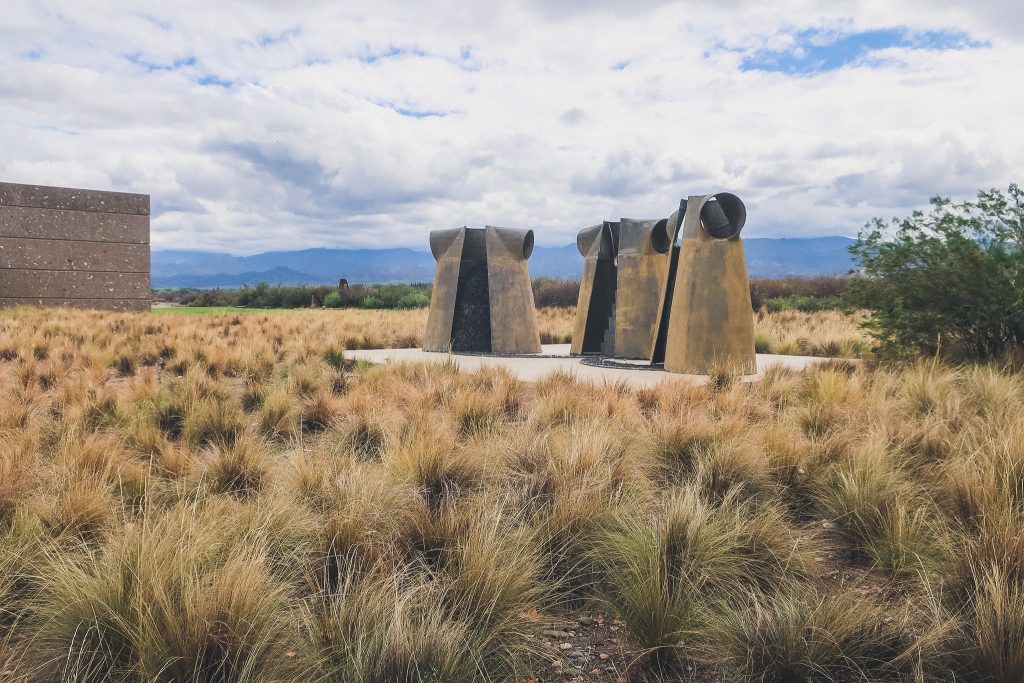 This Winery is also unique because it has it's very own chapel. You'll find many impressive religious sculptures and an atrium that holds open-air masses. Not only is it an impressive cultural space, but it holds an invaluable collection of Argentinian and Dutch contemporary art.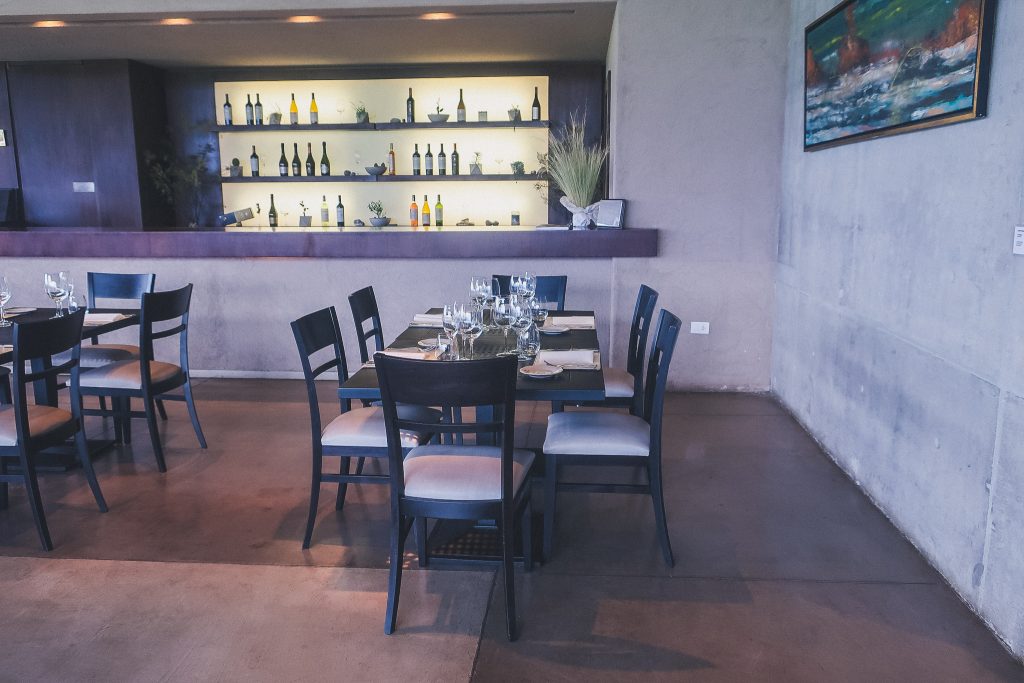 Salentein Winery offers some of the best Mendoza vineyard tours. It's a stunning, modern property with many art installations to appreciate. The winery is located on pristine lands within Mendoza's Uco Valley.
You must try Primus Pinot Noir while at Salentein Winery. Mendoza's Uco Valley does not disappoint. 😉
Giiminez Riili
ACTIVITIES OFFERED:
Wine Tour
Wine Tasting
Horseback riding
Lunch at Winery Restaurant
Dinner at Winery Restaurant
Accommodation
Bicycle rentals
CONTACT INFORMATION:
Phone: International +54 926 134 70392
Email: experiencia@gimenezriili.com
Gimenez Riili is one of the top Mendoza wineries. There's so much to do at Gimenez Riili! Besides the traditional Mendoza wine experience, Gimenez Riili Winery offers bicycle rentals and horseback riding.
You can have lunch or dinner at their winery restaurant, or stay at their Mendoza Wine Lodge. Casa de Huéspedes at Bodega Gimenez Riili offers relaxed, but modern accommodations.
The Gimenez Riili family has a long history in Mendoza. One of their ancestors immigrated to Argentina, from Italy, in the late 19th Century. It was their dream to grow vineyards outside of Europe, and they started one of the first family wineries in the region.
Gimenez Riili is a small production winery that's focused on quality. The Gimenez Riil Winery also shares an adjacent property with the Vines of Mendoza —one of the most legendary, luxury, wine resorts in Mendoza. So, at Casa de Huéspedes, you'll get top-tier views for a mere fraction of the cost!
SuperUco
ACTIVITIES OFFERED:
Wine Tasting
Winery Tour
Lunch at Winery Restaurant
CONTACT INFORMATION:
Email: info@superucowines.com
SuperUco is legendary in the Valle de Uco. The SuperUco brand is a subsidiary of Brazos Wine Imports, a company dedicated to artisan, small-production, eco-friendly wines. Brazos Wine is focused in South America with partners in Argentina, Chile, and Uruguay.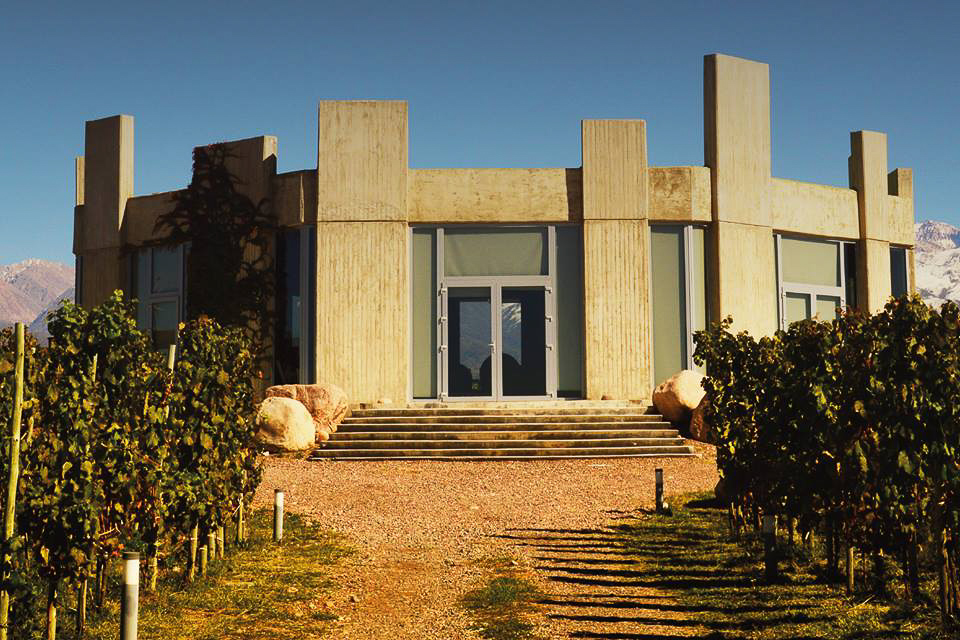 Photo Credit: SuperUco
SuperUco is one of the best wineries in Uco Valley. Above all, SuperUco is known for biodynamic wine. What is biodynamic wine? Biodynamic wines are made from a specific set of farming practices that focus on sustainability. In Biodynamic farming, chemicals and pesticides are not used. Instead, animals help to fertilize the soil. This form of agriculture ensures that land is left in better shape for future generations.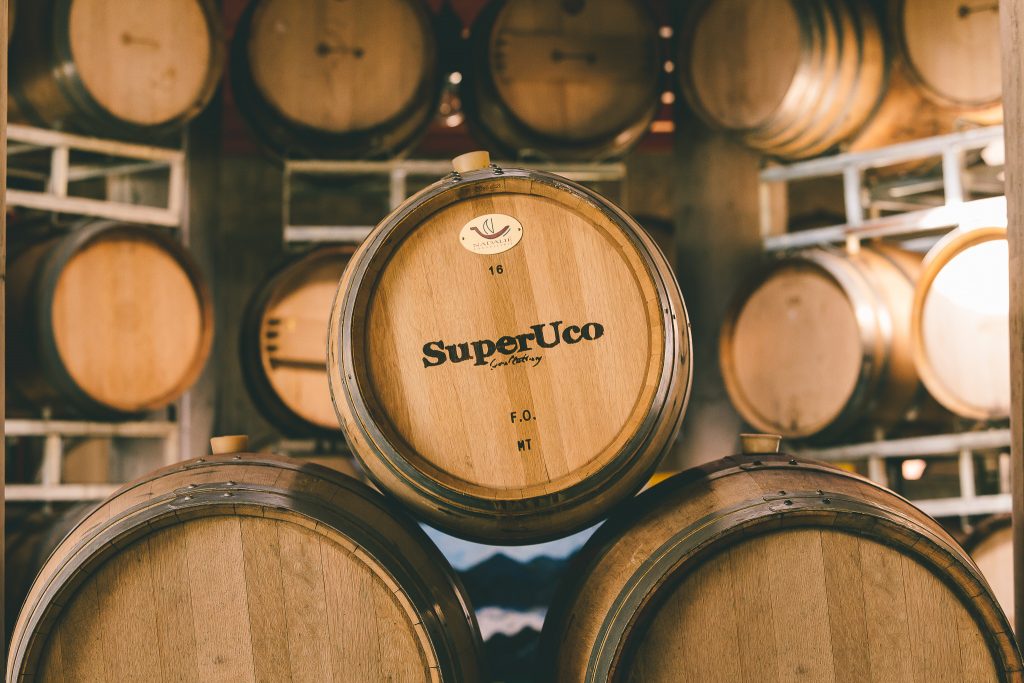 Photo Credit: SuperUco
The Michelini Brothers are behind SuperUco Winery. They're famous in Mendoza and they're known throughout the wine world. If you visit SuperUco, you might even be lucky enough to meet one of them!
Tours at SuperUco are offered Monday through Saturday at 10 AM, 12 PM and 3:30 PM. Make sure to secure a reservation in advance. During the tour, you'll learn more about biodynamic farming & why SuperUco is so passionate about it. That's why SuperUco offers one of the best Mendoza wine tasting tours.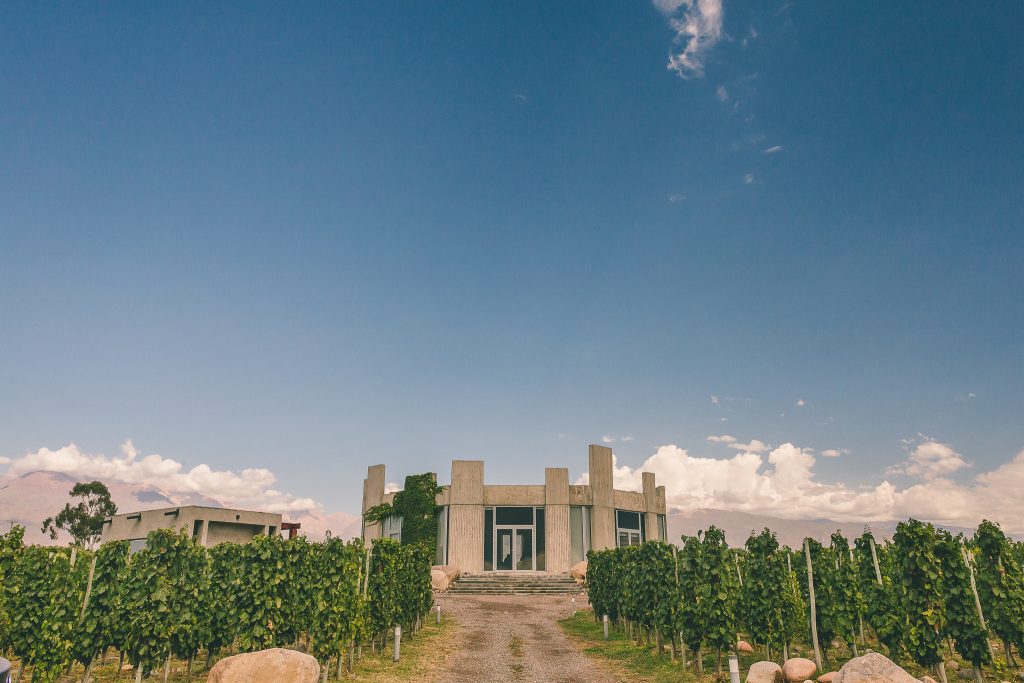 Photo Credit: SuperUco
You can also dine at SuperUco's winery restaurant. It's a homey & cozy dining experience during which you'll enjoy breathtaking views of the surrounding landscape.
Solo Contigo
ACTIVITIES OFFERED:
CONTACT INFORMATION:
Phone: International + 54 9 261 469 1909
Email: hospitality@solocontigowine.com mariela@solocontigowine.com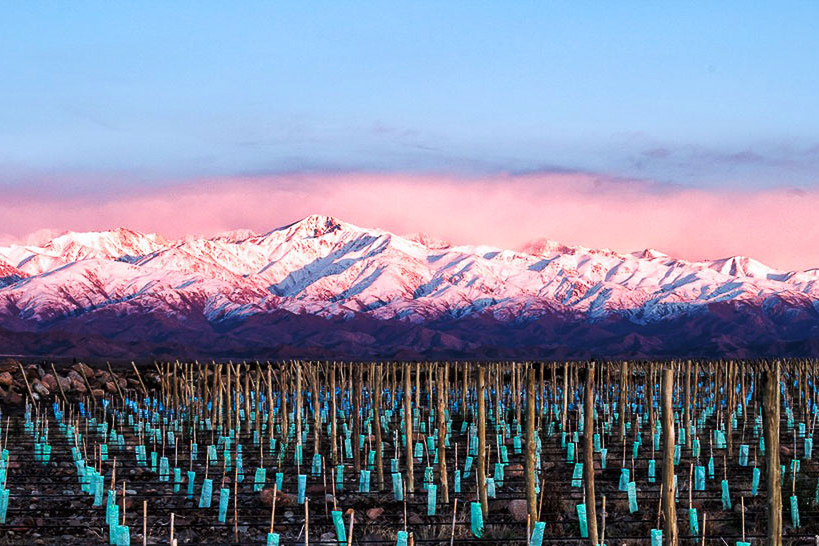 Photo Credit: SoloContigo
SoloContigo is one of the best wineries to visit in Mendoza. The winery has won many prestigious awards for their wine. Recently, two Platinum medals at the Decanter Wine Awards of 2017. The SoloContigo Coleccion Malbec was named 'Argentina's Best Balbec.'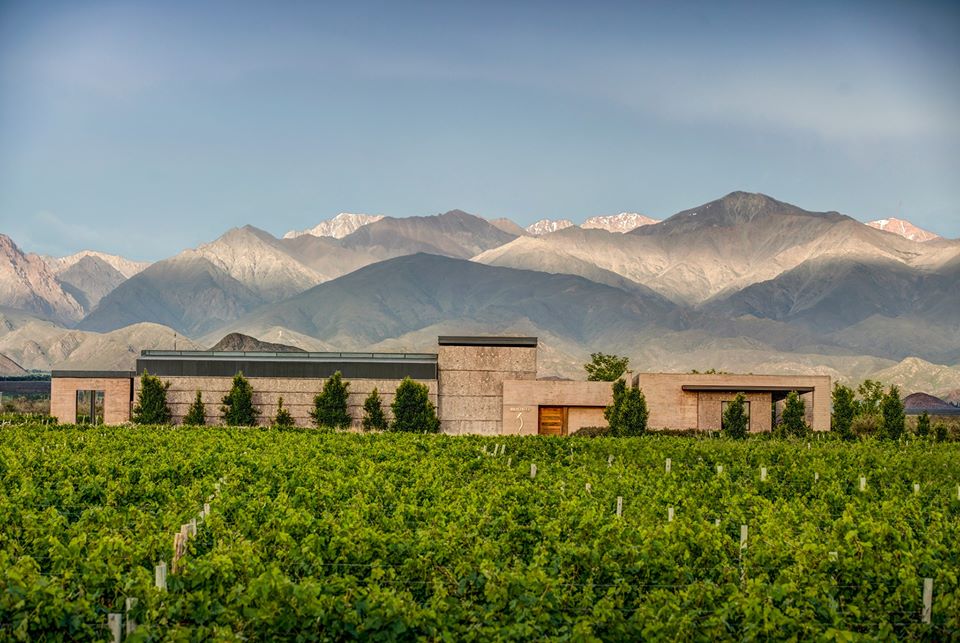 Photo Credit: SoloContigo
Over the years, SoloContigo has also been recognized by Wine Enthusiast and at other Decanter contests. This is pretty impressive considering that SoloContigo is such a young winery! The first grapes were harvested in 2015.
Visit SoloContigo for yourself and find out why it's one of the top wineries in Mendoza!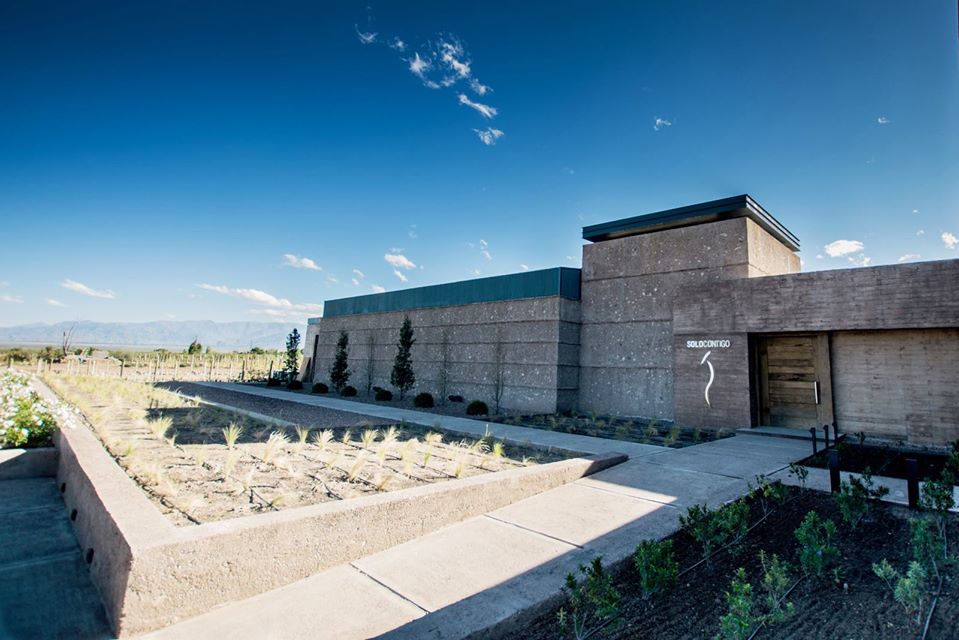 Photo Credit: SoloContigo
Monteviejo
ACTIVITIES OFFERED:
Wine Tasting
Winery Tour
Lunch at Espacio Monteviejo
CONTACT INFORMATION:
Phone: International + 54 262 242 2209
Email: reservas@monteviejo.com.ar
Monteviejo's winery has one of the top restaurants in Mendoza —Espacio Monteviejo. From the stunning dining space, you'll see miles of Malbec vineyards and gorgeous snow-capped mountains.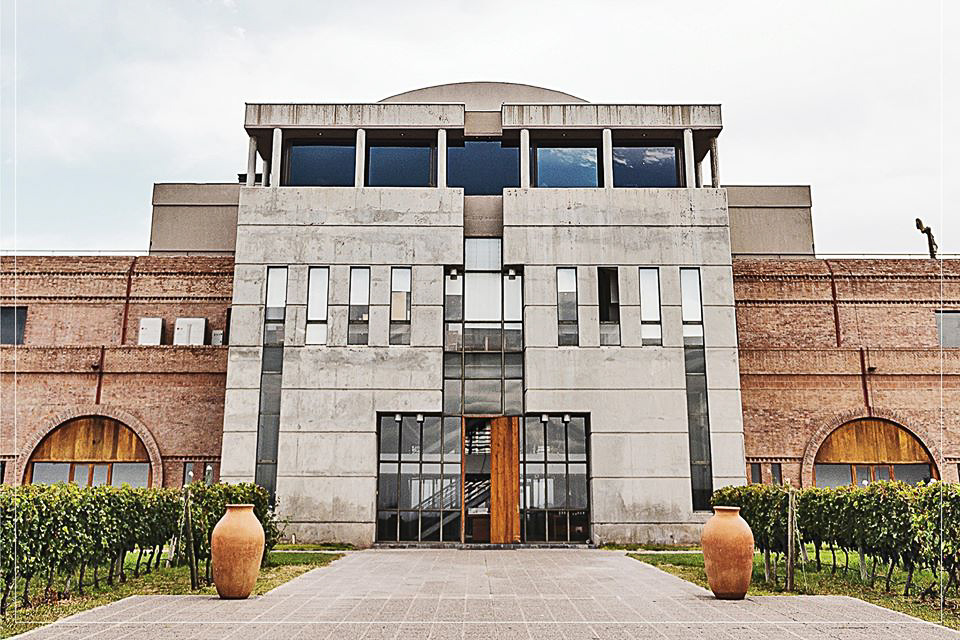 Photo Credit: Bodega Monteviejo
The menu at Espacio Monteviejo highlights traditional Argentinean favorites like empanadas, pasta, and specialty meats. Although, vegetarian alternatives are also made available. Lunch at Espacio Monteviejo includes a special tasting menu with wine pairing.
It's one of the best tours in Mendoza!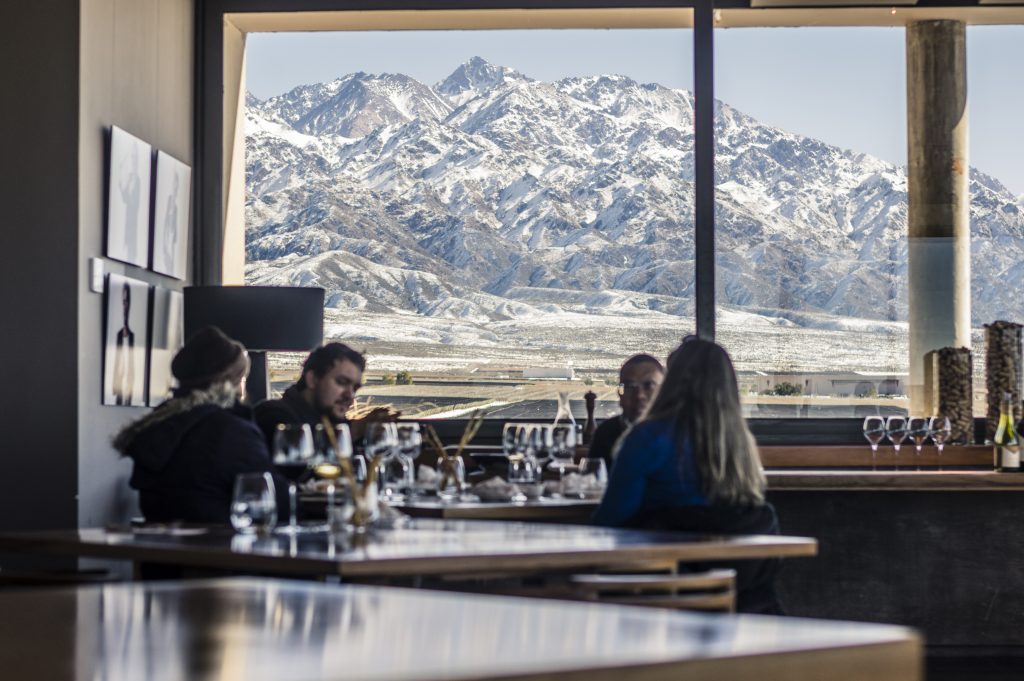 Photo Credit: Bodega Monteviejo
Monteviejo is a relatively young winery, first established in 2001. The grapes are harvested by advances systems to ensure their integrity and flavor. The Mendoza vineyards at Monteviejo face north and east, allowing for the best sun exposure.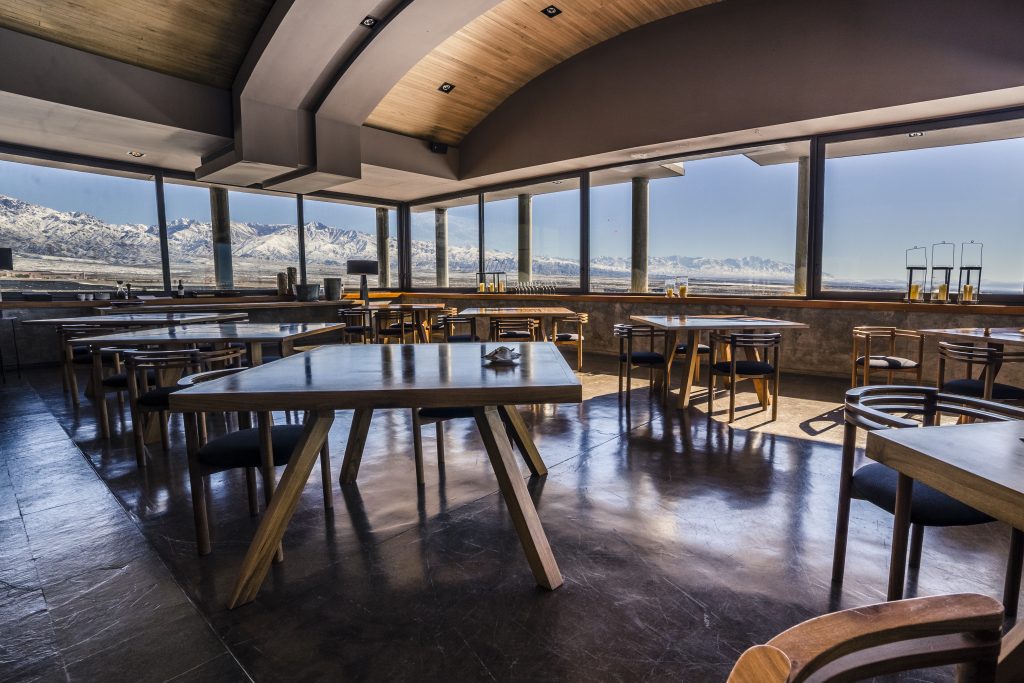 Photo Credit: Bodega Monteviejo
Monteviejo vineyards are owned by the Pere Verge family, specifically Marcelo Pelleriti. Marcelo Pelleriti is famous in the wine industry, and his wines are recognized world-wide.
DiamAndes
ACTIVITIES OFFERED:
Wine Tasting
Winery Tour
Lunch at Winery Restaurant
Cooking Class
'Gaucho Day' Experience
CONTACT INFORMATION:
Phone: +54 9 261 657 5472
Email: visitas@diamandes.com
Bodega DiamAndes is one of the best wineries in Mendoza. DiamAndes prides itself on treating grapes, "like fruit," with gentle, loving, care.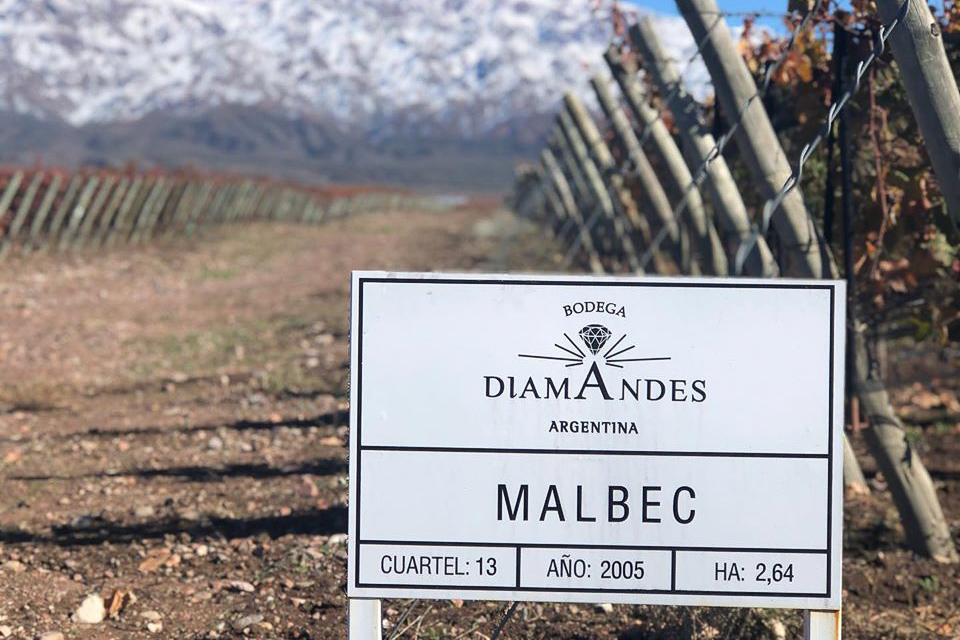 Photo Credit: Bodega DiamAndes
At DiamAndes grapes are hand-harvested to ensure the very best quality, The state-of-the-art cellar at DiamAndes stores about 1,500 French Oak Barrels.
You must try the DiamAndes de Uco Grande Reserve Malbec-Cabernet. The Cabernet Sauvignon complements the Malbec, it adds complexity and richer texture to this bottle. This wine is aged in French Oak for at least 18 months. After that, it matures at the winery for 3 more years before it hits the market!
DiamAndes blends different types of French oak to achieve target complexity and enhance the elegance of the local  harvest. Think of French-inspired wines highlighting their Uco Valley roots.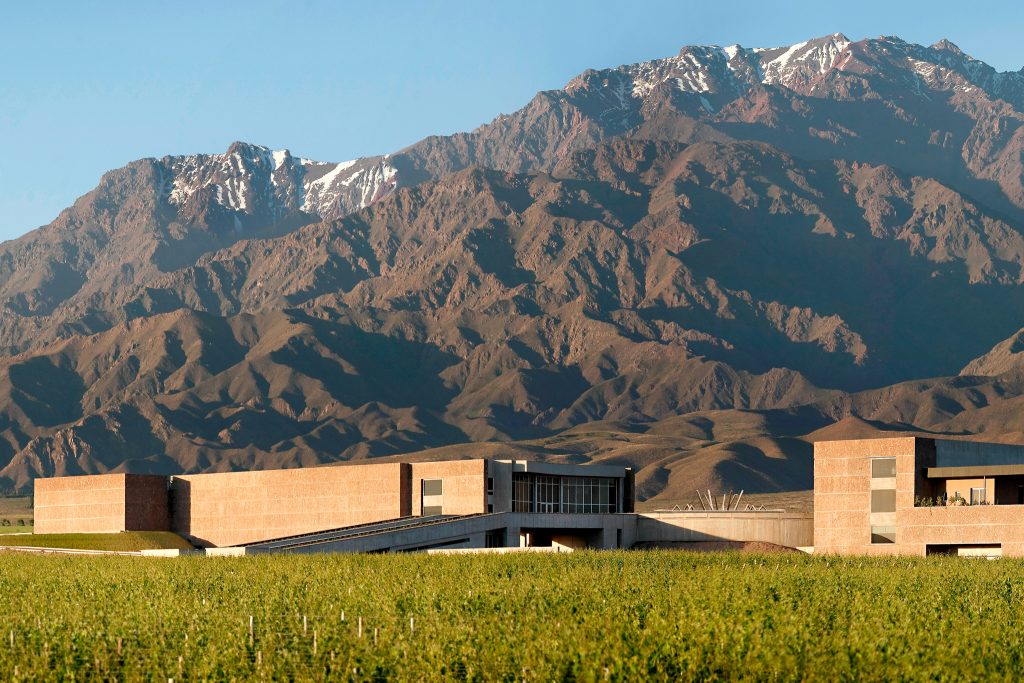 Photo Credit: Bodega DiamAndes
Enjoy this bottle at the DIAM´S  (one of the best restaurants in Mendoza). Order the grilled rib-eye. It will blow your mind!
You can visit DiamAndes for a tour, tasting, and lunch. Their wine lounge offers amazing views of the Andes Mountains. The talented chefs at DiamAndes serve up regional favorites.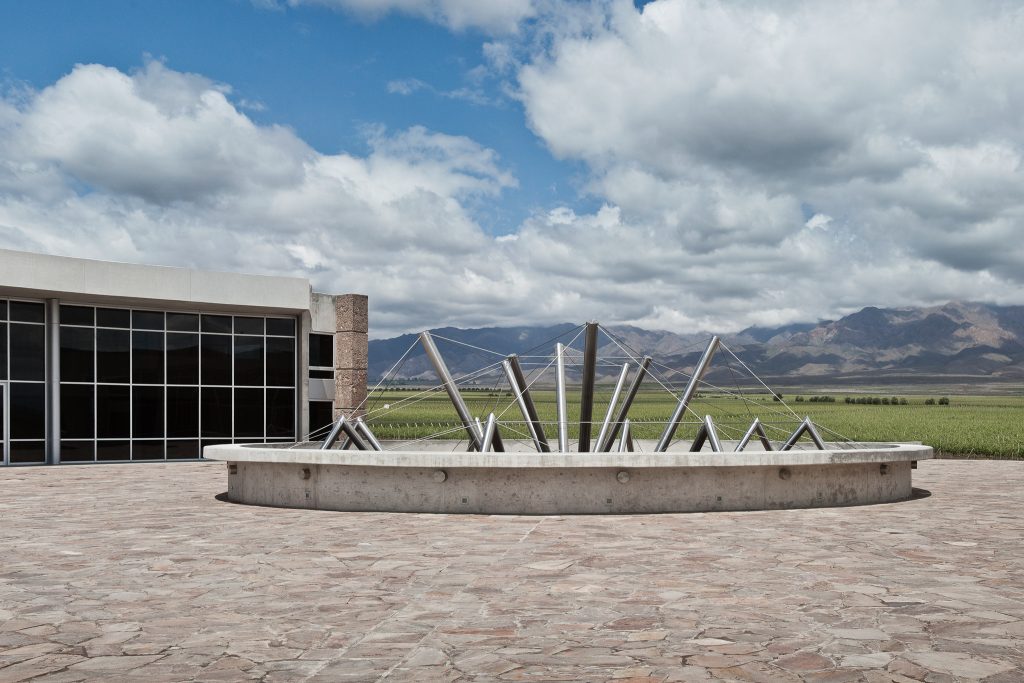 Photo Credit: Bodega DiamAndes
For a truly authentic experience, you should book the 'Gaucho Day' activity. You'll get to tour the winery and vineyards. Then, you'll be served a traditional Argentinean Asado at the winery owner's home.
Casa de Uco
ACTIVITIES OFFERED:
Wine Tasting
Winery Tour
Accommodation
Lunch at Winery Restaurant
Blending Game
CONTACT INFORMATION:
Phone: +54 11 32207116
Email: foodandwine@casadeuco.com info@casadeuco.com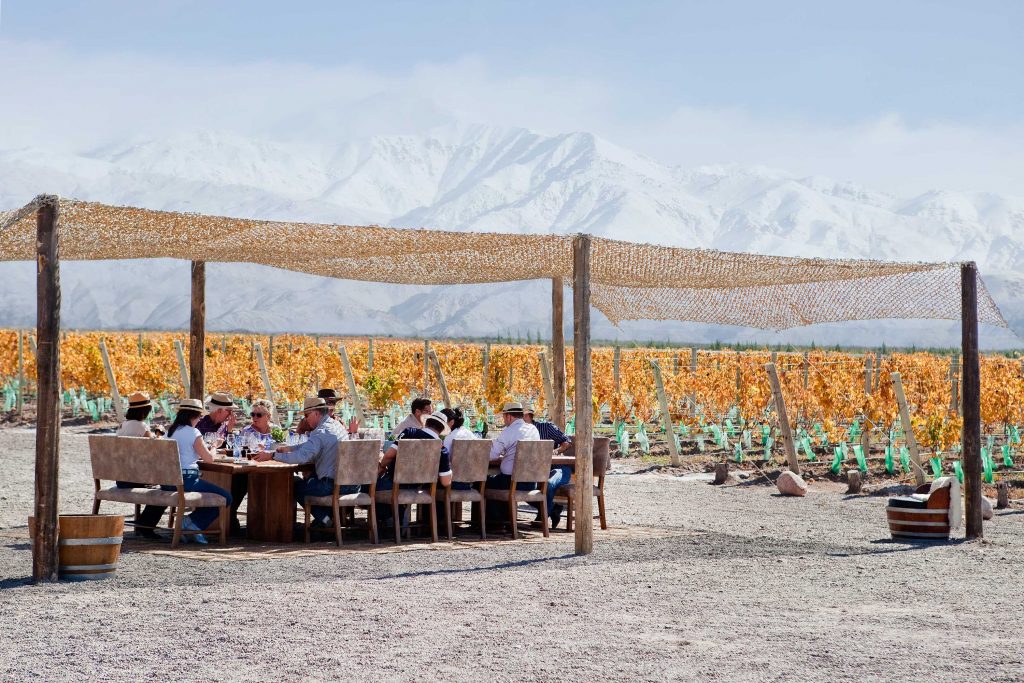 Photo Credit: Casa de Uco Vineyards and Wine Resort
Casa de Uco offers more than just Mendoza wine, they provide some of the most beautiful hotel rooms in the Uco Valley.
Casa de Uco Vineyard & Wine Resort provides the most luxurious touches at the base of the Andes Mountains.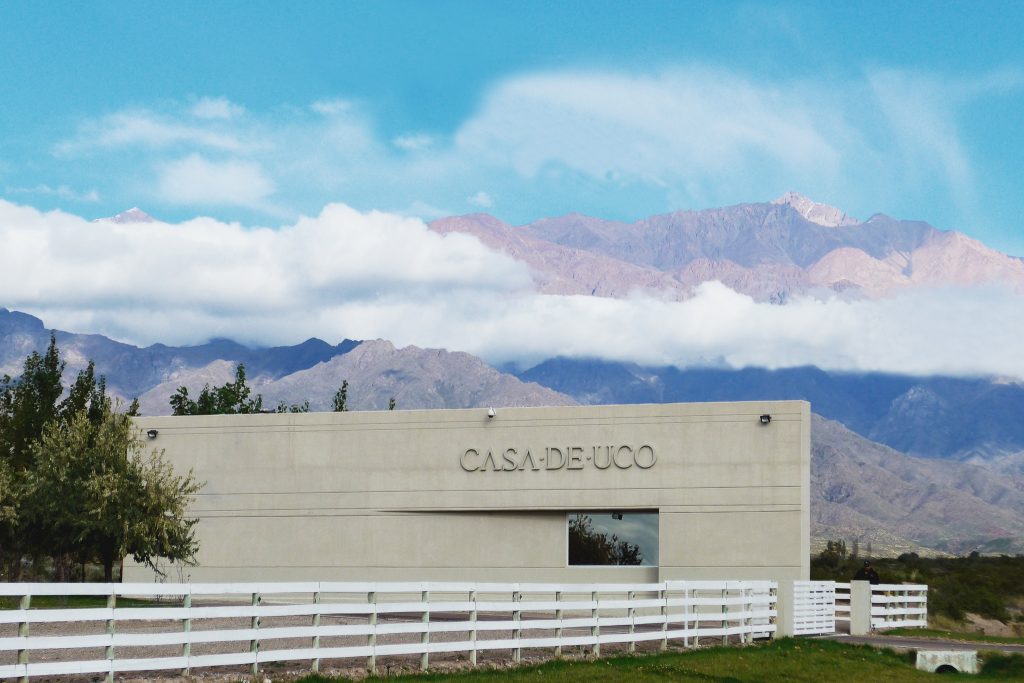 Photo Credit: Casa de Uco Vineyards and Wine Resort
At Casa de Uco, you can invest in your own wine dream and experience what it's like to be a winemaker. Buy a plot of land and harvest your own vintage. With the guidance of a professional wine-making team, you'll craft a unique and tasty blend.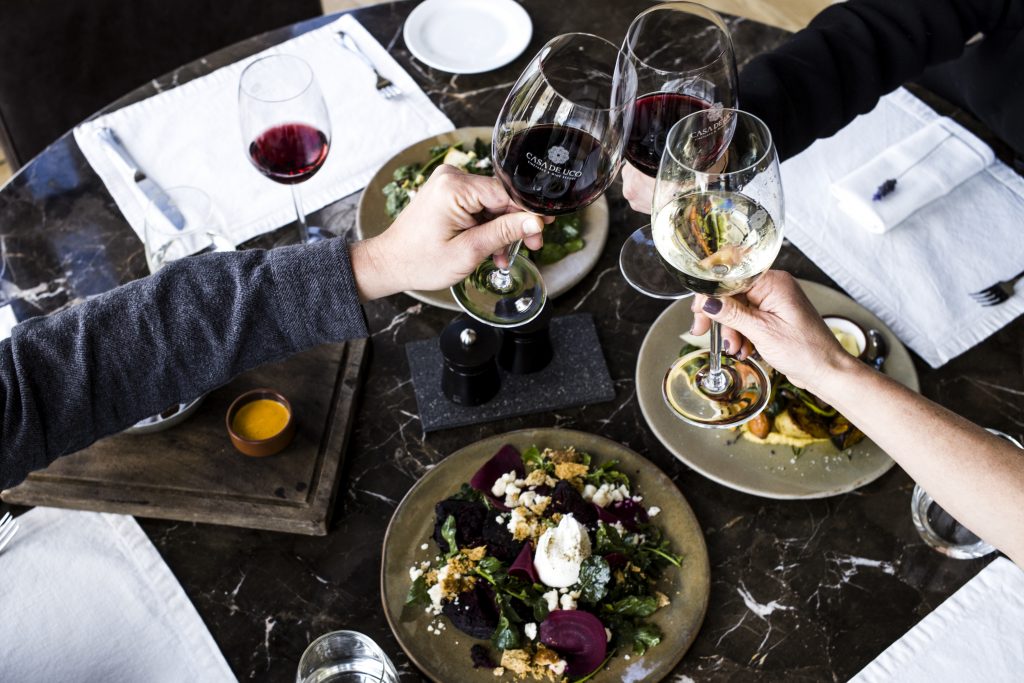 Photo Credit: Casa de Uco Vineyards and Wine Resort
Casa de Uco offers a world-class spa offering unique vinotherapy treatments that nourish the body and soul. The restaurant at Casa de Uco is always farm-to-table, sourcing every ingredient locally.
Book your stay at Casa de Uco today.
La Azul
ACTIVITIES OFFERED:
Wine Tasting
Winery Tour
Accommodation
Lunch at Winery Resto
Cooking classes
CONTACT INFORMATION:
Phone: Cell phone: +54-2622-662292 / Landline: +54-2622-423593 / +54-2622-422108
Email: administracion@bodegalaazul.com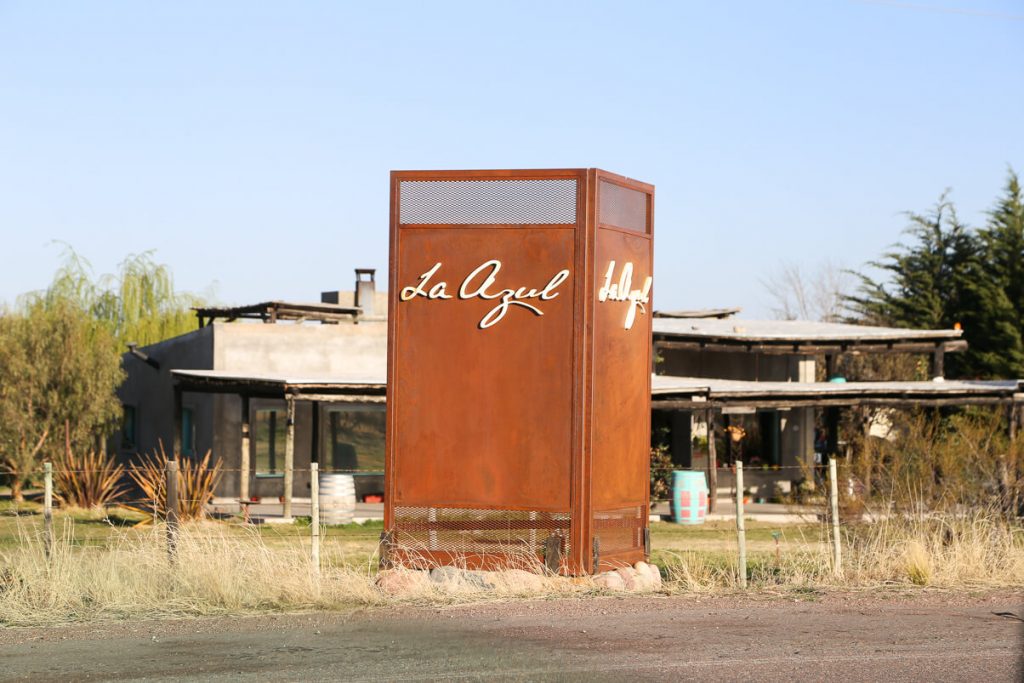 Erin from Sol Salute has visited Mendoza wine country multiple times, and she comes back to Bodega La Azul. This small, family-owned, winery in the Uco Valley is one of the best wineries in the region.
The top reason to visit Bodega La Azul is their restaurant. Not only do they offer some of the most memorable wines of Mendoza, but their winery lunch is unforgettable.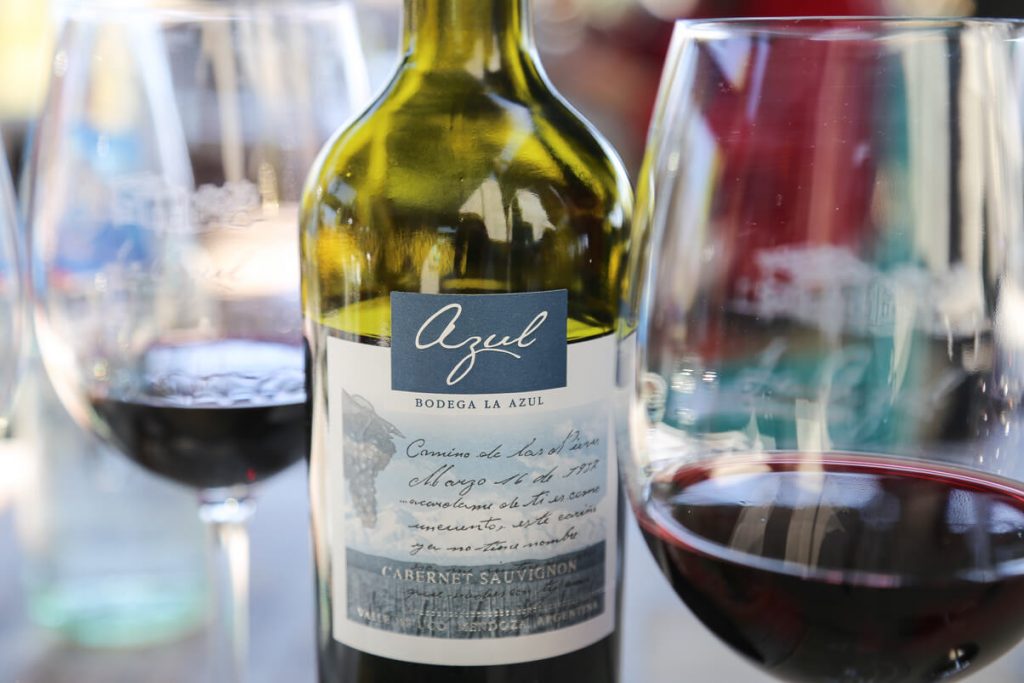 Bodega La Azul's restaurant features an outdoor dining room at the foot of the Andes Mountains. They serve a five-course meal with wine pairings. You'll find traditional Argentine food like empanadas and tender steak, but the quality is superior to anything you've tried before.
Take your time during the meal because they're in no rush. You can take short breaks between courses to relax on the property and enjoy the views.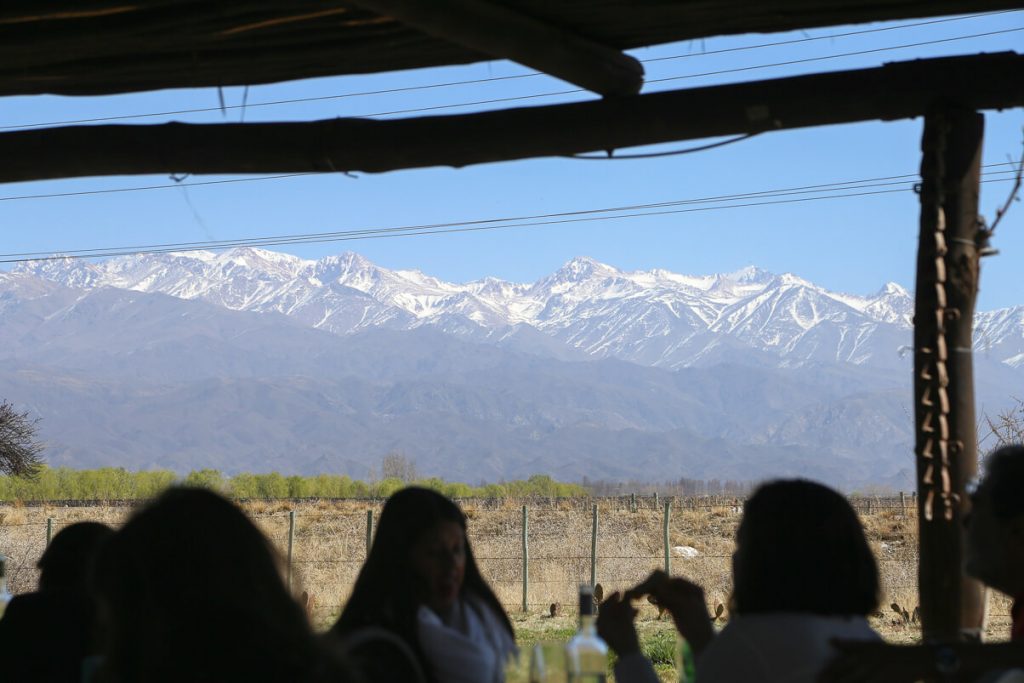 After lunch, you're offered a private tour and tasting of reserve wine (straight from the barrel). That's something you won't see on many Mendoza wine country tours. It truly caps off the experience of an already amazing lunch.
Traveling with small children? Bodega La Azul is family-friendly. Little ones can run and play on the grass while you enjoy your meal.
If you're looking for a hotel, they have a boutique hotel on the same property. There are 6 rooms built deeper onto the property among the vines. Reservations are required.
Tips for Booking at Uco Valley Wineries
There were several wineries that I had to contact many times before I got a response. Try email, message their Facebook page, text them on WhatsApp. Call if you have to. Expect responses to be delayed or inconsistent.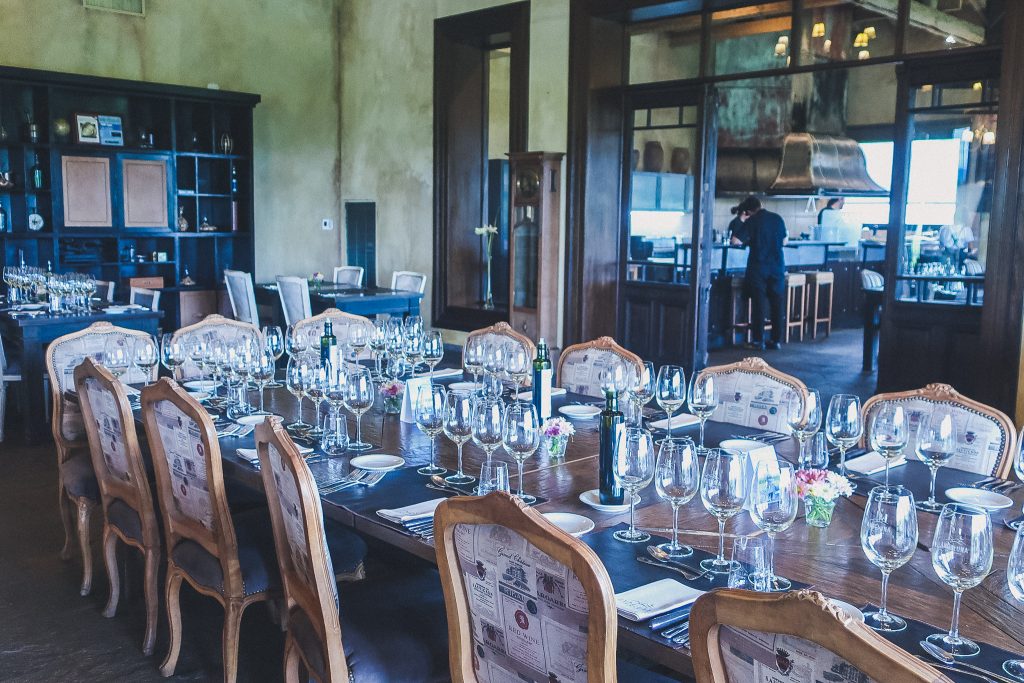 Your hotel will likely have relationships with the wineries you plan to visit. Recruit their help in planning and organizing. This was especially helpful for last-minute bookings on the ground. However, your hotel can also help you make bookings in advance if you ask.
Try to find out start times before booking.
I was told it was only possible to see 2-3 wineries in a day. We were able to fit in 4 or 5 when we planned well. Get information about start times for tours.
Don't forget about the distance.
Even if you limit your wineries to Lujan de Cuyo Mendoza, you still might have a lot of driving to do. It could take as much as 30 minutes to drive from one winery to another. Don't make the mistake of booking you won't be able to make it to.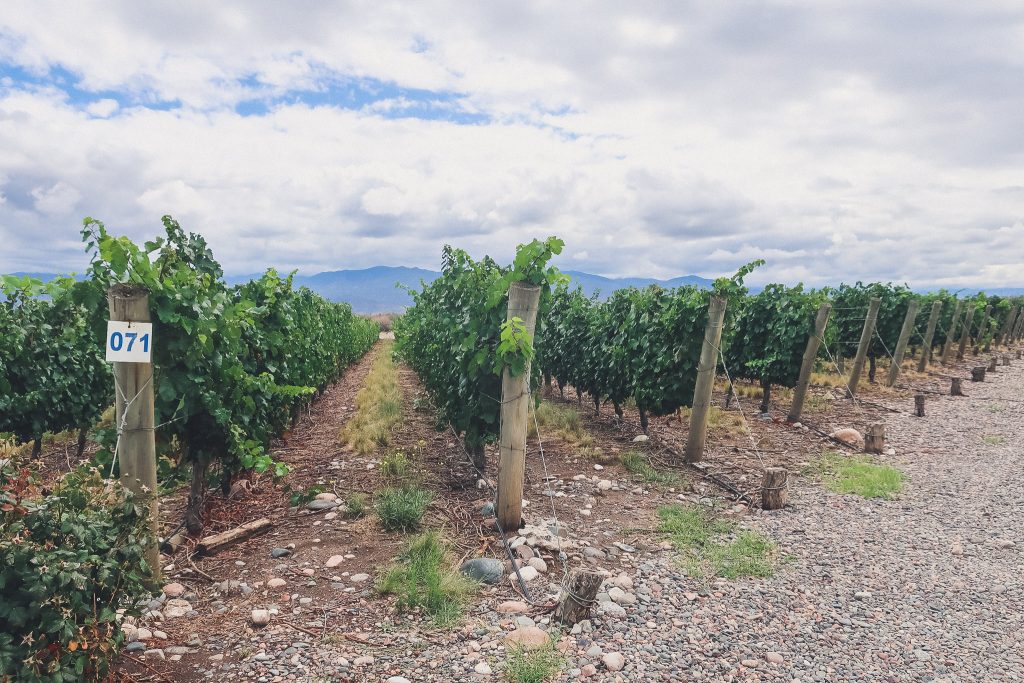 Try not to schedule a winery tour after a winery tour, it will get repetitive. Mix in a cooking class, go horseback riding or visit for winery during mealtime. Make special use of the wineries that offer dinner at their restaurant.
Don't overdo it with buying bottles.
We were able to find bottles from many of the wineries we visited back home at our neighborhood Binny's. Some of the brands that are easier to find include Bodega Norton and Nieto Senetiner. We also found Melipal and a few others.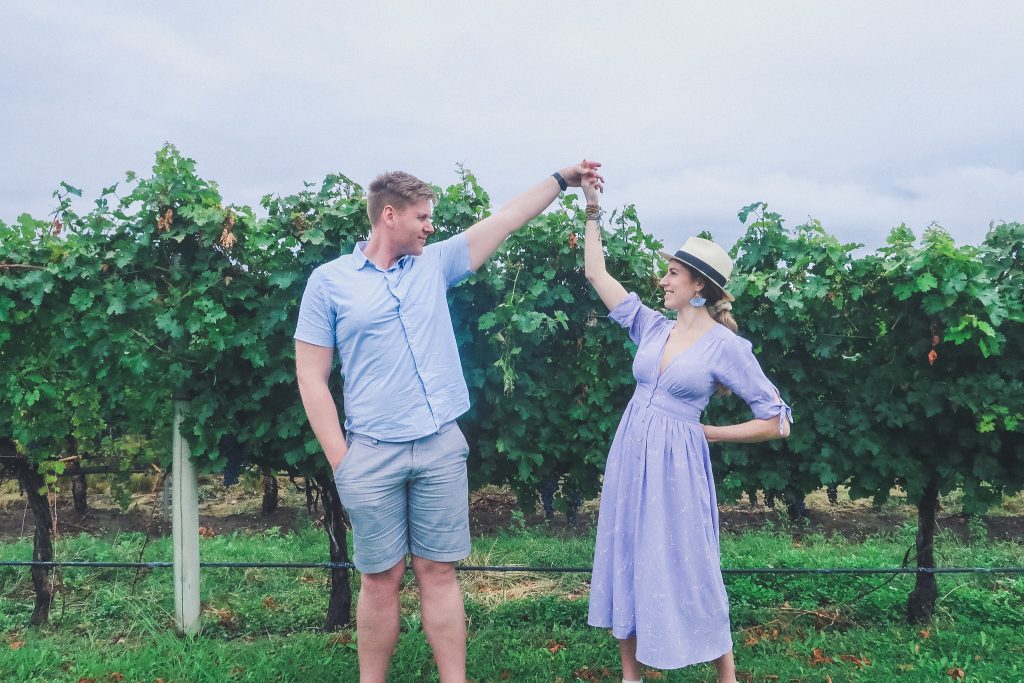 Use WhatsApp to text the "Mobile" numbers for each winery. The numbers that begin with +54 are usually mobile, WhatsApp friendly. Try texting the winery.