These are some of the best Maipu Wineries to visit during your tour of Mendoza's wine country. Argentina is Malbec country & this is where you want to be!
Maipu Wineries
Fun Fact: World Malbec Day is April 17th.
Introduction to the Maipu Region
Maipu is a popular destination for Mendoza wine experiences. It's conveniently located. The Maipu region is only a 20-minute drive from downtown & 30 minutes from the international airport. Other wine regions (including Uco Valley Wineries & Lujan de Cuyo Wineries) can be a 45 – 90 minute drive away from downtown.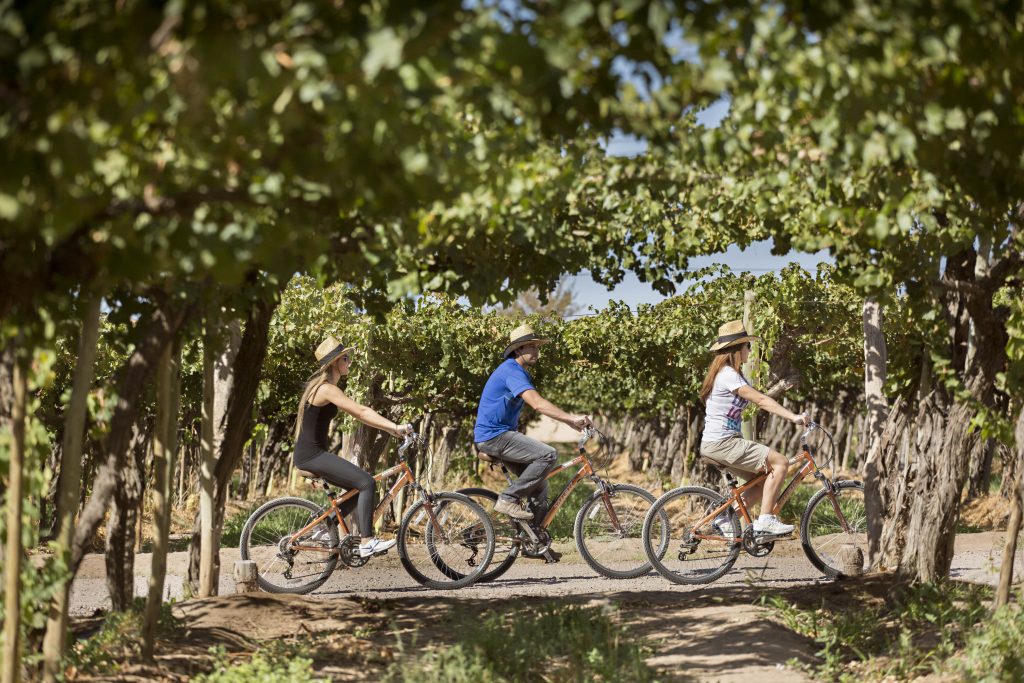 Photo Credit: Agostino Winery 
Maipu is also appealing because it is more compact than other wine regions. Therefore, you can easily bike to many wineries in one day. In Maipu, bikes are the most popular way to get around. However, Maipu doesn't offer the same spectacular mountain views that you might expect to find in the Uco Valley.
Check out this top-rated Maipu Winery day tour.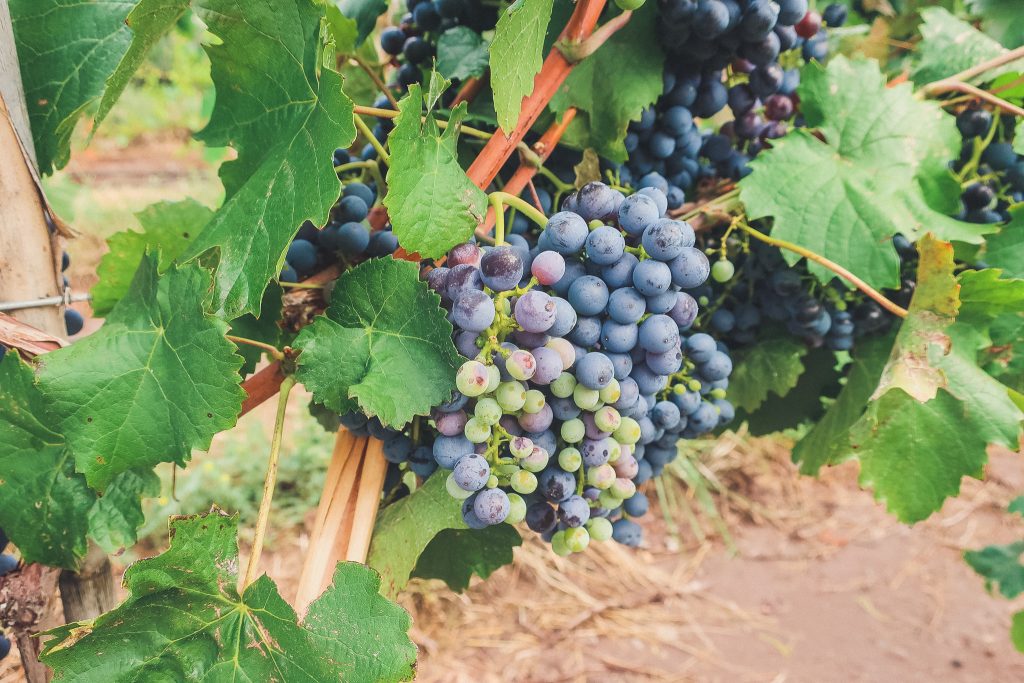 Despite its lack of in-your-face mountain scenery, Maipu vineyards are still considered "high altitude." They can be found at over 800 meters, or 2,600 ft, above sea-level. The soils in Maipu are of quite low fertility, with very minimal organic matter. This is good for wines!
Grapes obtain more mineral flavors from rocky, sandy, clay-rich soil. These soils create grapes rich in tannins. It's Malbec country, of course!
Maipu Winery Hotels
In Maipu, you'll be able to find a reasonably priced and perfectly comfortable vineyard accommodation. It's a great place to stay in Mendoza for couples and families alike.
That being said, there aren't many ritzy, glamorous, 5-star hotels in Maipu. For ultimate luxury experiences, you'll have to stay in Lujan de Cuyo or the Uco Valley.
Check out this comprehensive guide of Mendoza hotels.
Budget
Check out Terranea Casa Rural.
It's is one of the best hostel wineries in Maipu. It's located in a rustic 70-year old farmhouse. It's warm, charming and cozy. A bicycle rental service is available. Your stay includes breakfast & kitchen amenities.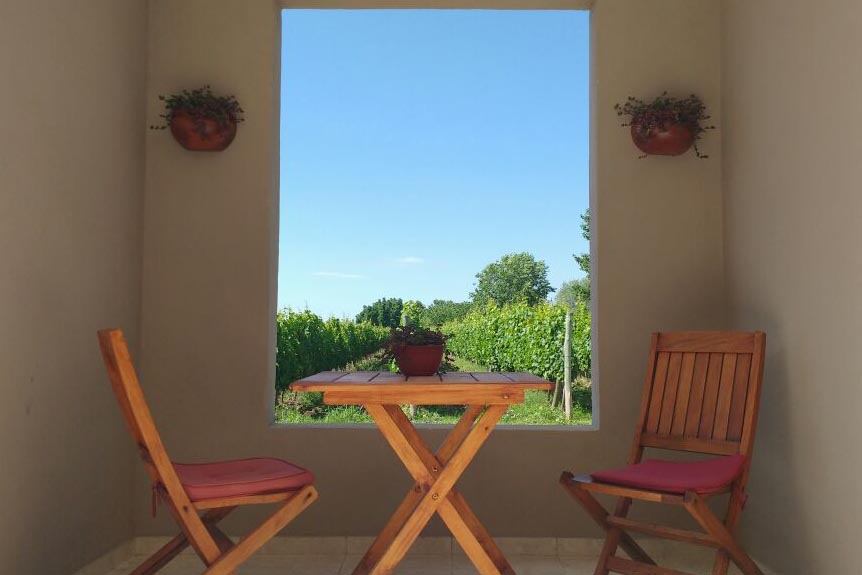 Photo Credit Posada Cavieres Wine Farm
Visit Posada Cavieres Wine Farm.
This is another charming accommodation in Maipu. Posada Cavieres Wine Farm offers guests free breakfast, wine tastings on-site, free airport shuttle & bike rentals.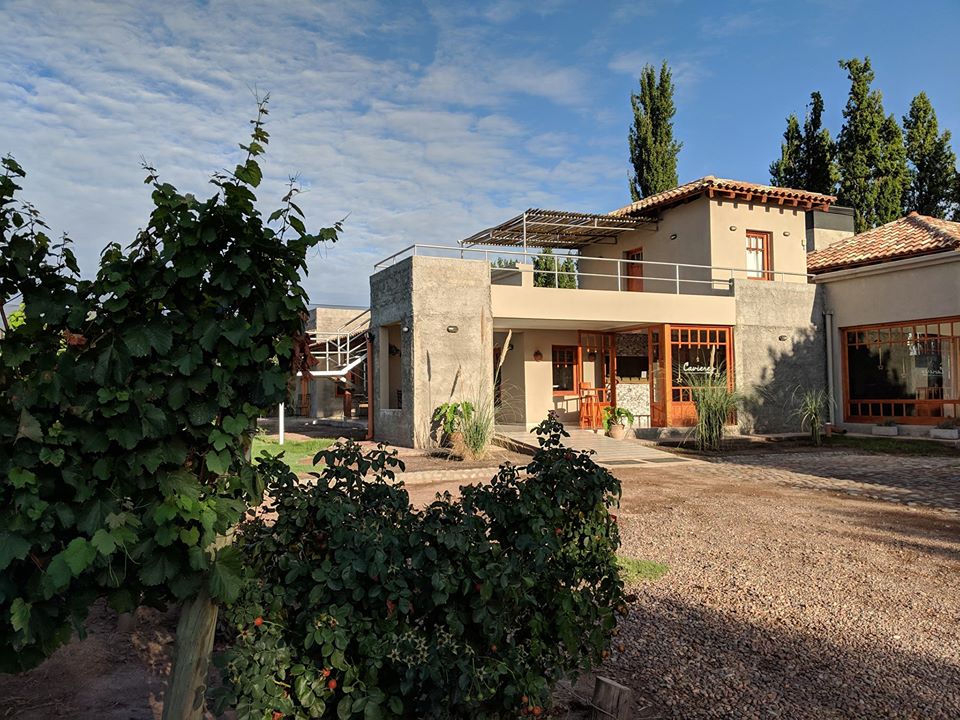 Photo Credit Posada Cavieres Wine Farm
Mid-Range
Find out more about Finca Terrada.
This Maipu hotel has an outdoor pool and quaint garden space. You can enjoy mountain views from the terrace, and rent bikes to explore nearby vineyards.
See more photos of Club Tapiz Hotel & Restó.
Tapiz Winery produces high-quality wines at a low volume. If you stay at Club Tapiz, you'll be able to enjoy the fruits of their harvest. At Club Tapiz, you'll also have access to the winery's incredible restaurant. Be prepared for the ultimate gastronomic experience!
Maipu Wineries
These are the best Maipu Mendoza wineries & some of the best Maipu restaurants!
Tempus Alba
ACTIVITIES OFFERED:
Self-guided Winery Your

Private Winery Tour

Wine Tasting

Lunch at Restaurant Patio Tempus
CONTACT INFORMATION:
Email:bodega@tempusalba.com
Phone: +54 261 4813 501 WhatsApp +54 9 261 5275 118
Tempus Alba is one of the best wineries in Maipu. It's easily accessible by bike, and visitors can explore the winery on their own.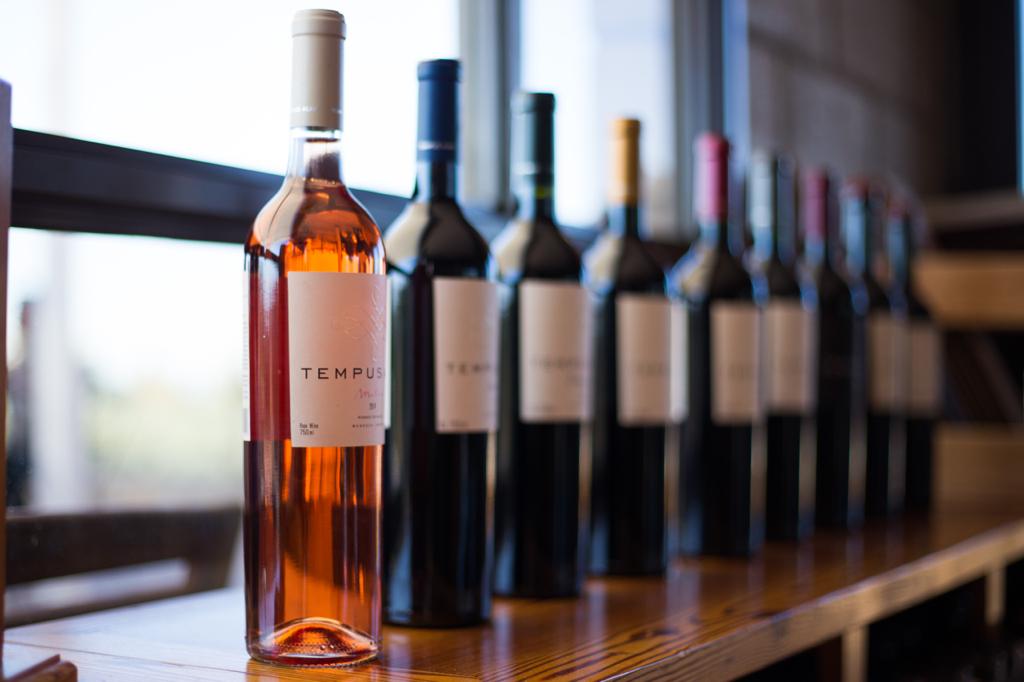 Photo Credit: Tempus Alba Winery
Don't drink and drive! Hire a private driver to help you explore Maipu. 
Tempus Alba is one of the historic Maipu Wineries. It was started in the early 20th Century. Some of the vines at Tempus Alba are over 50 years old!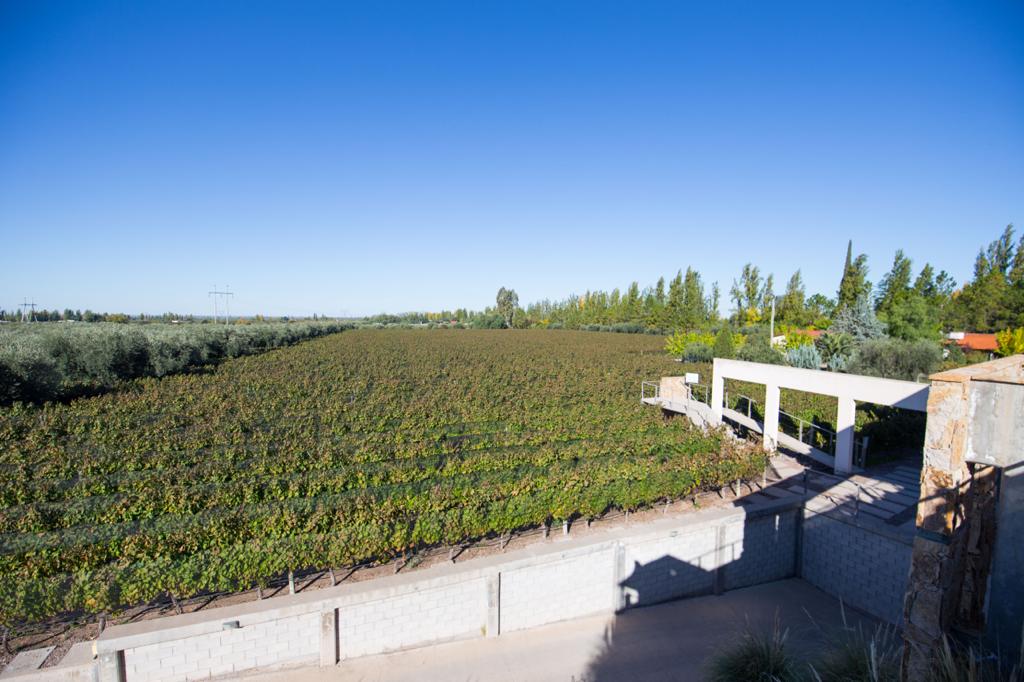 Photo Credit: Tempus Alba Winery
Tempus Alba means "Time of Dawn," it references daily growth at the vineyard but also symbolizes the family's new beginning in Argentina. Tempus Alba is still a family-run operation —the current owners are the 5th generation. Their story is a familiar one of hard-working immigrants, exceptional passion and love for wine-making.
The vineyards at Tempus Alba grow in shallow, stony soils. They're located 2,000- 3,000 feet above sea level, and they're irritated by water runoff from the nearby Andes Mountains.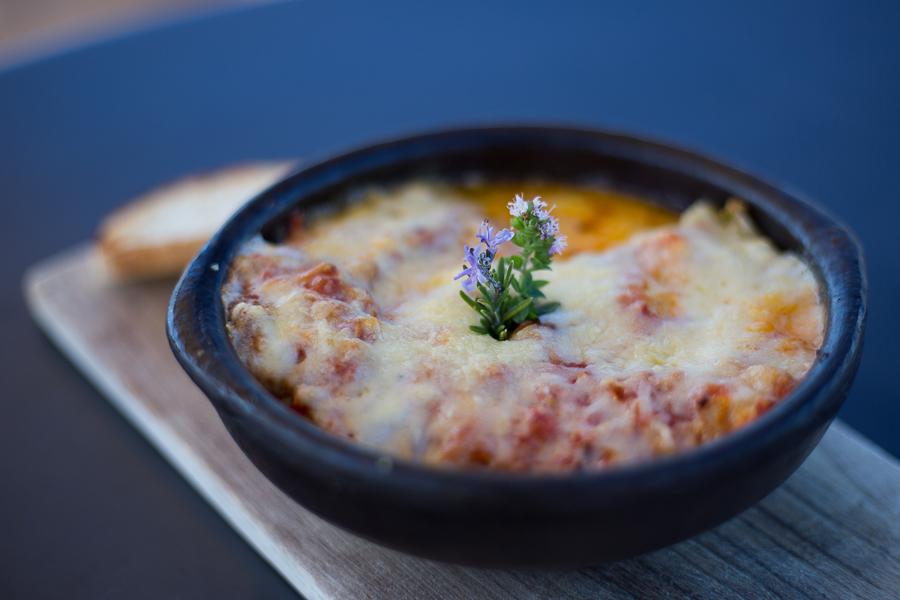 Photo Credit: Tempus Alba Winery
While there is much use of tradition, the winemakers at Tempus Alba are extremely passionate about modern innovation. They use genetic technology to select the very best Malbec seeds for future generations.
Agostino
ACTIVITIES OFFERED:
Wine Tasting

Winery Tour

Lunch at Winery Restaurant

Art Gallery

Cooking Class
CONTACT INFORMATION:
Email: turismo@fincaagostino.com info@fincaagostino.com
Phone: +54 261 5249358/9 – 524 9858/9
Agostino is one of the top Maipu Wineries. They pride themselves on creating one of the most personalized Maipu wine tours. You'll need to make a reservation in advance of your visit.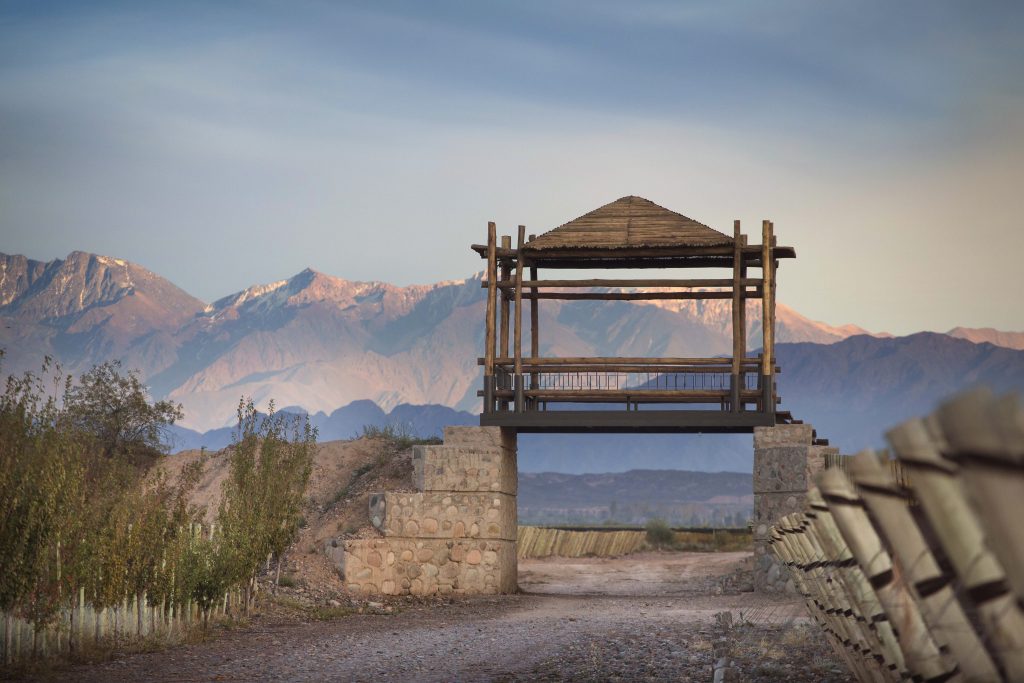 Photo Credit: Agostino Winery 
The Agostino Winery estate is picturesque. It's surrounded by gardens, fountains and lush vineyards. At Agostino, you can enjoy the traditional wine tasting, vineyard tour, and restaurant lunch. You'll also get to experience Agostino Winery's Art Gallery. The gallery displays a rotating selection of diverse artworks. Including paintings, engravings, sculptures and much more.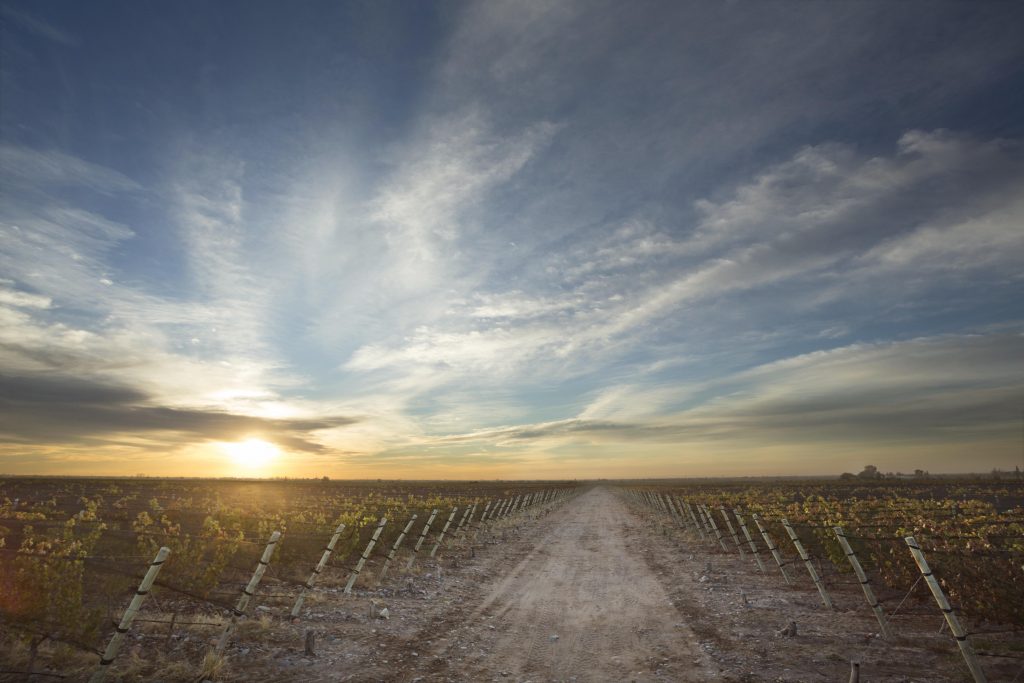 Photo Credit: Agostino Winery 
Agostino Winery is dedicated to maintaining environmentally sustainable farming practices. They utilize no-till farming to prevent soil erosion and maintain the local ecology.
Agostino Winery also prides themselves on their reuse of natural waste, and their water preservation practices. Water runoff can be stored in the winery's massive reservoir. Drip irrigation is also used to minimize water waste.
Guests love this half-day wine tour of Maipu.
Mevi
ACTIVITIES OFFERED:
CONTACT INFORMATION:
Email: info@fincamevi.com.ar
Phone: +54 261 497 2600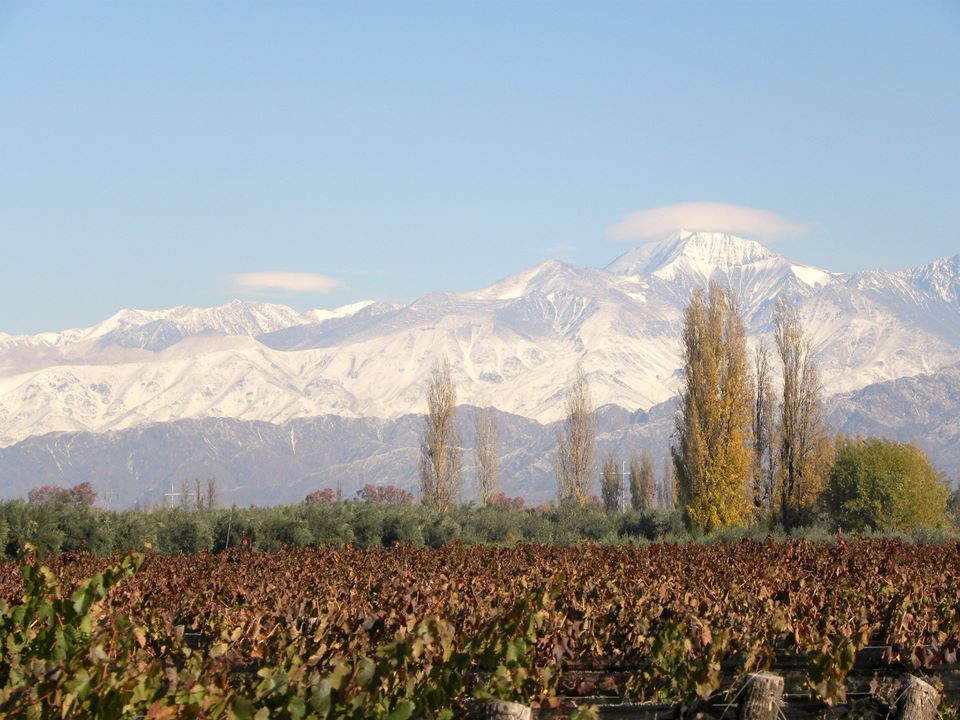 Photo Credit: Mevi Winery
Mevi is one of the best wineries in Maipu Argentina. It's a modern boutique winery focused on small production, fine wines. Many tourists who are staying in Maipu, choose to bike to Mevi Winery.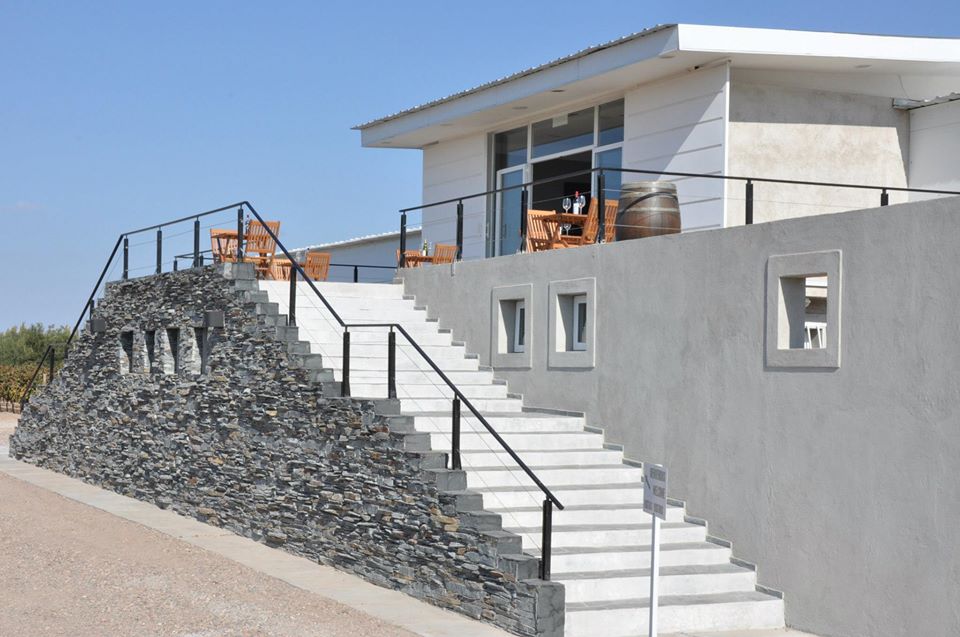 Photo Credit: Mevi Winery
Mevi Winery has won many awards and gained recognition in the wine world. They were named Argentina's Winery of the Year at the 2018 New York International Wine Competition. In 2015, they were named Malbec Producer of the Year.
There are two outdoor terrace spaces at Mevi where you can appreciate breathtaking views of Maipu Valley and the surrounding mountains.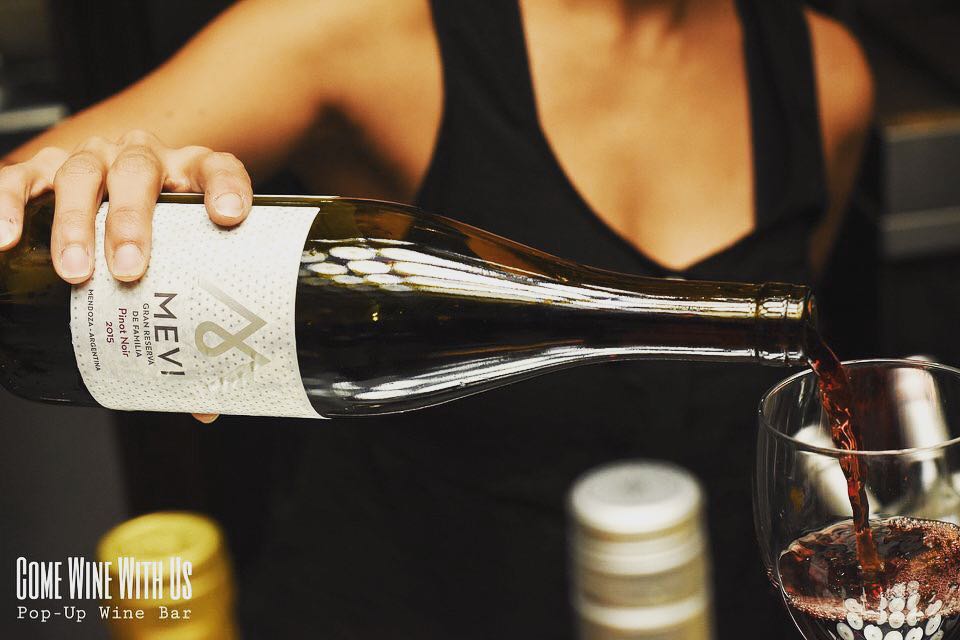 Photo Credit: Mevi Winery
Mevi's vineyards in Maipu yield Malbec and Cabernet Sauvignon grapes with rich biodiversity. The vineyards are irrigated by thawed ice at the Andes Mountains. There's a special micro-climate in these Maipu vineyards. Grapes here are handpicked. French and American Oak Barrels are used for aging.
Trapiche
ACTIVITIES OFFERED:
CONTACT INFORMATION:
Email: turismo@trapiche.com.ar
Phone: +54 261 520 7666
Trapiche is one of the oldest properties on your Maipu wineries map. In fact, it's one of the oldest wine brands in all of Argentina. The winery was first established in 1883.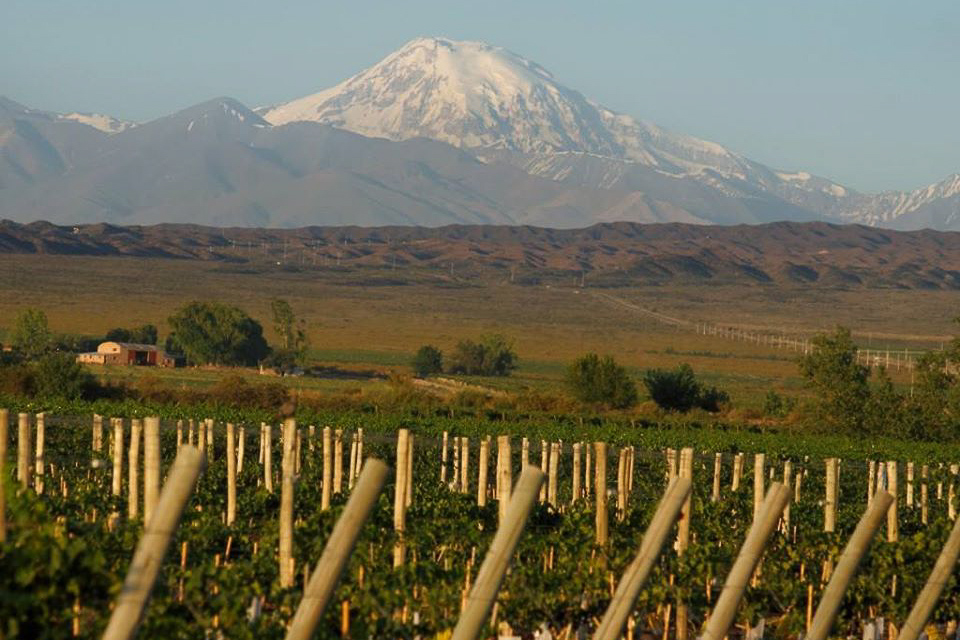 Photo Credit: Trapiche Winery
Spanish conquistadors first brought grape varietal seeds to South America in the 18th Century. In the 19th Century, there was a massive migration of Europeans to Argentina, many of these families grew vineyards. The 20th Century saw a fall in Argentina's wine economy, as the focus changed from quantity to quality.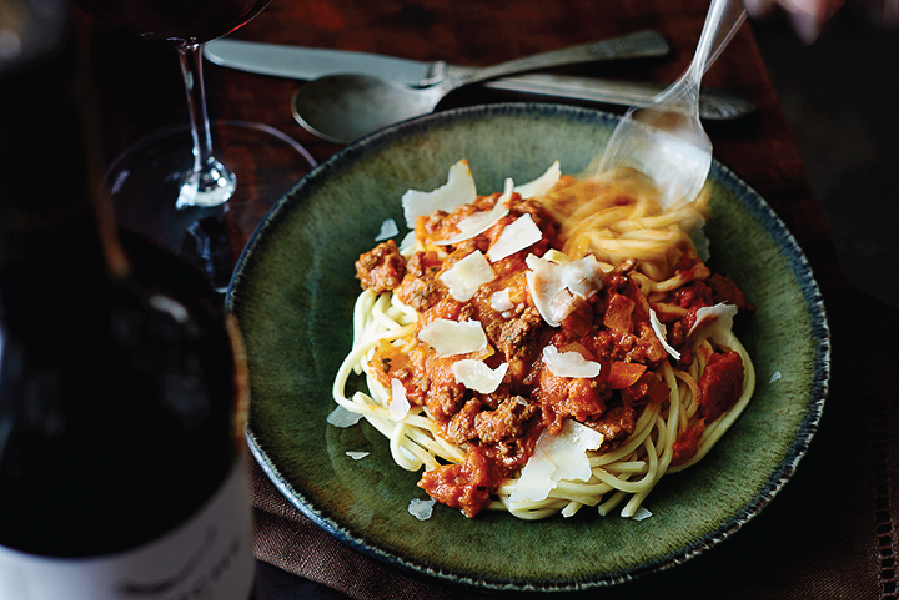 Photo Credit: Trapiche Winery
Trapiche is a large scale wine producer. They sell more than 3.5 million bottles of wine each year to more than 80 countries! Within Maipu Mendoza, Trapiche works with over 200 independent wine producers.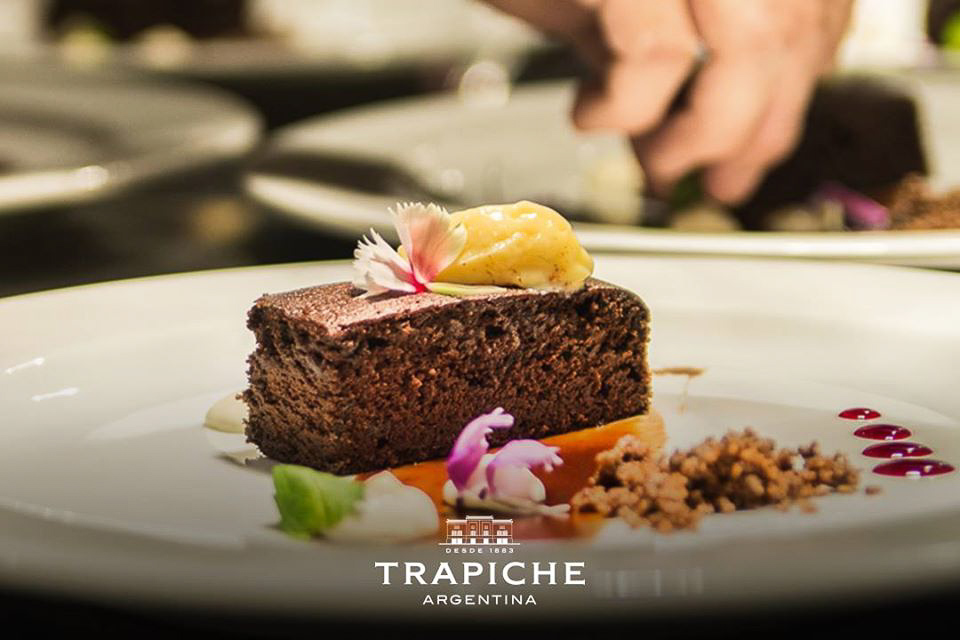 Photo Credit: Trapiche Winery
Trapiche Winery proudly uses Bio-dynamic farming processes that forbid chemicals and pesticides. Only natural fertilizers from plant and animal waste are used in the vineyards.
Trapiche Winery also uses lunar models, and planetary positions, to optimize vine growth. On the Trapiche Winery website, you can find some great recipes for sangria, guacamole & more! Of course, you'll want to pair with the best Maipu wine.
Familia Zuccardi, Bodega Santa Julia
ACTIVITIES OFFERED:
Wine Tasting

Winery Tour

Cooking Class

Bike Tour

Lunch at Winery Restaurant
CONTACT INFORMATION:
Email: turismo@familiazuccardi.com info@familiazuccardi.com
Phone: +54 261 441-0000 ext. 131/132
Familia Zuccardi is one of the nicest wineries in Maipu, and visiting is one of the coolest things to do in Mendoza.
This is one of the largest and best-known wineries in the region. The wines are so well blended that it's also been recognized as one of the top winemakers in Argentina.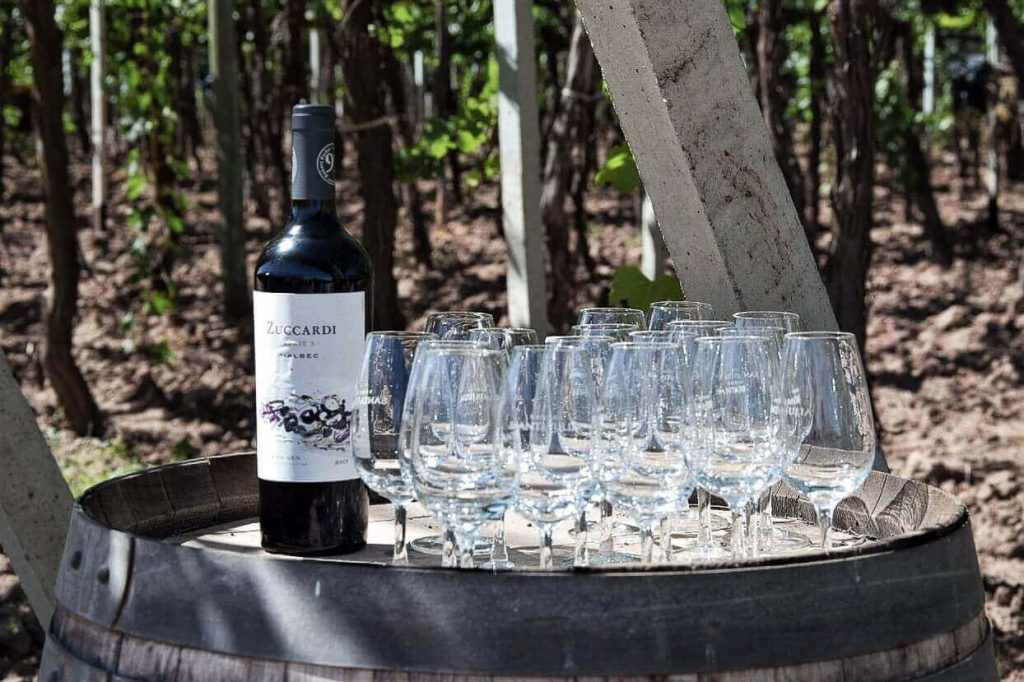 Bodega Zuccardi is the kind of place where you go to learn about the process of winemaking, but end up having an experience that goes well beyond that. The visit can be an all-day affair or a short one, depending on your interests, tastes, and budget.
The best way to enjoy this "bodega" is on a guided bike tour that goes around the vineyard and ends with a series of tastings. You'll want to ride on these Maipu bikes.
Familia Zuccardi also makes excellent olive oil, so you can have a tasting of that too. There are also cooking classes offered. Cooking classes are one of the best things to do in Maipu!
Attached to the winery there is a shop where you can buy wines and other products and a fantastic restaurant where you can have "Asado" – the typical Argentine barbecue. This consists of a whopping 7 courses of empanadas, salads, vegetables, and a proper meat feast. Needless to say, it's accompanied by the best wines.
Viña el Cerno
ACTIVITIES OFFERED:
CONTACT INFORMATION:
Email: elcerno@elcerno.com.ar
Phone: Whatsapp number: +54 261558 2185
The Blue Marble Vagabonds visited Viña el Cerno. It's a charming family-run winery a few kilometers south of Mendoza, in the Maipú region. The winery is opened for tourists since 1998 and the family is extremely proud of their roots and heritage. Their production is organic and artisanal. They produce seven different sorts of wine and three types of sparkling wine.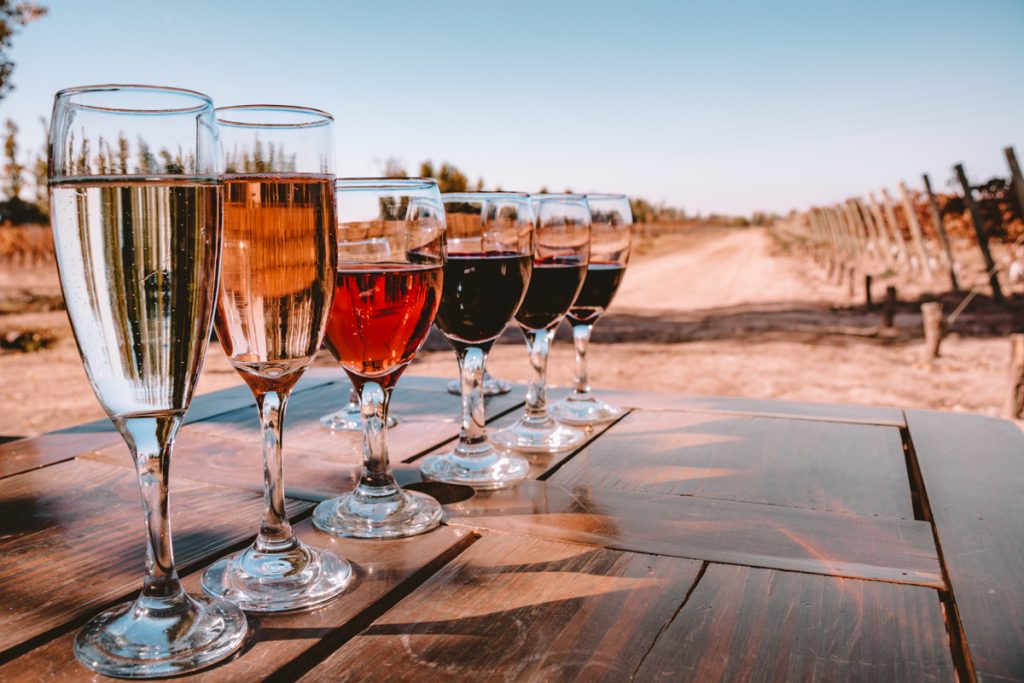 Free wine tours (in Spanish or English) take a personal approach and encourage interaction with visitors. Although their wine cellar is a smaller one, taking a stroll along more than a century old cellar walls is a wonderful experience. The interior space for wine tastings and the shop is a mixture of modern style and rustic charm.
The main building, around which the wine-making equipment is displayed, is surrounded by vast picturesque vineyards among which you can walk. In fine weather, wine tastings take place in the courtyard under the vines with a lovely view over the vineyards.
You can choose by yourself which wines you would like to taste (including the premium line) and the price for tasting 3 different wines is more than affordable – a few dollars for an extremely generous amount of wine. Also, a bottle of delicious Argentinian Malbec costs about as much.
The winery is open to visitors between Monday and Saturday (11 am to 6 pm) and on holidays (12 pm to 6 pm) and during this time guided tours are available.
Cecchin Family Winery
ACTIVITIES OFFERED:
Wine Tasting

Winery Tour

Accomodation
CONTACT INFORMATION:
Email: turismo.cecchin@gmail.com
Phone: +54 261 497 6707
The Cecchin Family Winery is well worth a visit. Their tour will help you understand how organic wineries operate. You'll see that nothing is wasted here, and you'll learn all about the winemaking process.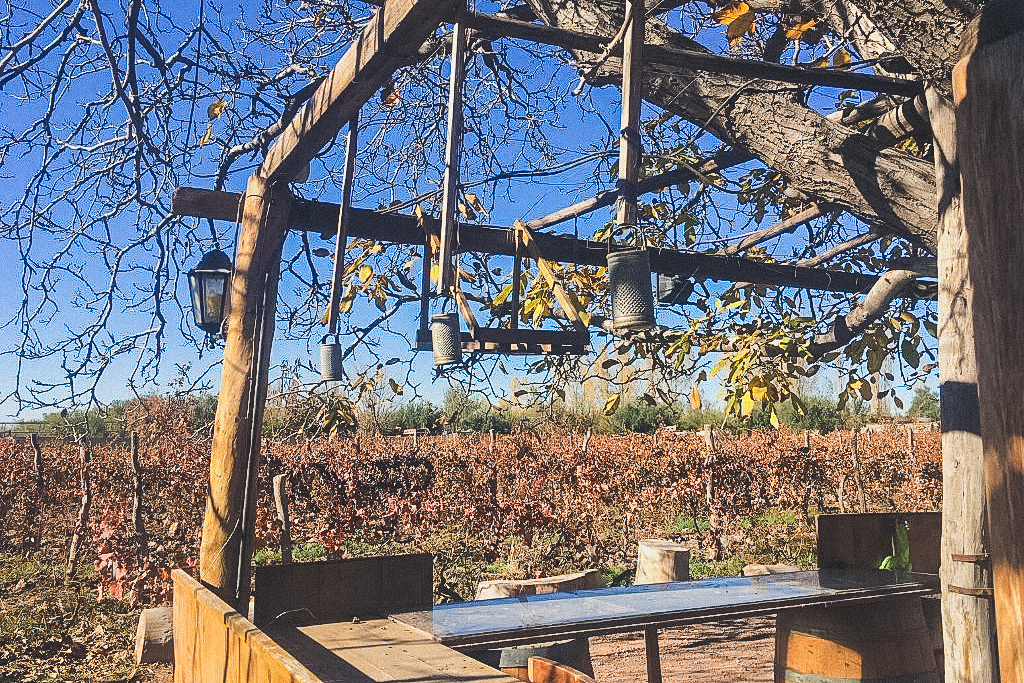 At the end of your tour, you'll enjoy a delicious wine tasting in a glorious old barn. This is a very unique winery to visit because of their organic farming practices. A Social Nomad has visited wineries in Peru, Chile, Bolivia, Uruguay and Argentina and this organic winery in South America stood out to them.
The Cecchin Family Winery has been organic since 1959. The Cecchin family arrived in Argentina in 1910 from Treviso, Italy. Today, the winery is run by Alberto Cecchin. The family still uses the same processes and philosophies that their ancestors did on their arrival in Argentina in 1910.
There are guided visits available at Cecchin Family Winery, and also cottages to rent on the property. There are occasionally WWOOF (Willing Workers on Organic Farms) opportunities here too – check with the winery. At Cecchin you'll find organic wines, grape juices, and olive oils. All produced in low quantities to ensure the highest quality!
Tips for Booking at Maipu Wineries
There were several wineries that I had to contact many times before I got a response. Try email, message their Facebook page, text them on WhatsApp. Call if you have to. Expect responses to be delayed or inconsistent.
Your hotel will likely have relationships with the wineries you plan to visit. Recruit their help in planning and organizing. This was especially helpful for last-minute bookings on the ground. However, your hotel can also help you make bookings in advance if you ask.
Try to find out start times before booking.
I was told it was only possible to see 2-3 wineries in a day. We were able to fit in 4 or 5 when we planned well. Get information about start times for tours.
Don't forget about the distance.
Even if you limit your wineries to Lujan de Cuyo Mendoza, you still might have a lot of driving to do. It could take as much as 30 minutes to drive from one winery to another. Don't make the mistake of booking you won't be able to make it to.
Try not to schedule a winery tour after a winery tour, it will get repetitive. Mix in a cooking class, go horseback riding or visit for winery during mealtime. Make special use of the wineries that offer dinner at their restaurant.
Don't overdo it with buying bottles.
We were able to find bottles from many of the wineries we visited back home at our neighborhood Binny's. Some of the brands that are easier to find include Bodega Norton and Nieto Senetiner. We also found Melipal and a few others.