There are so many incredible things to do in El Calafate, and this is your ultimate guide! El Calafate is one of the most beautiful places in Argentinian Patagonia. 
El Calafate is popular among hikers and backpackers. It's known for breathtaking landscapes that have been shaped through millennia by migrating glaciers. Many El Calafate activities include active adventures like hiking, kayaking, and exploring nature. Although, we've included some relaxing and unique El Calafate attractions that you won't find anywhere else!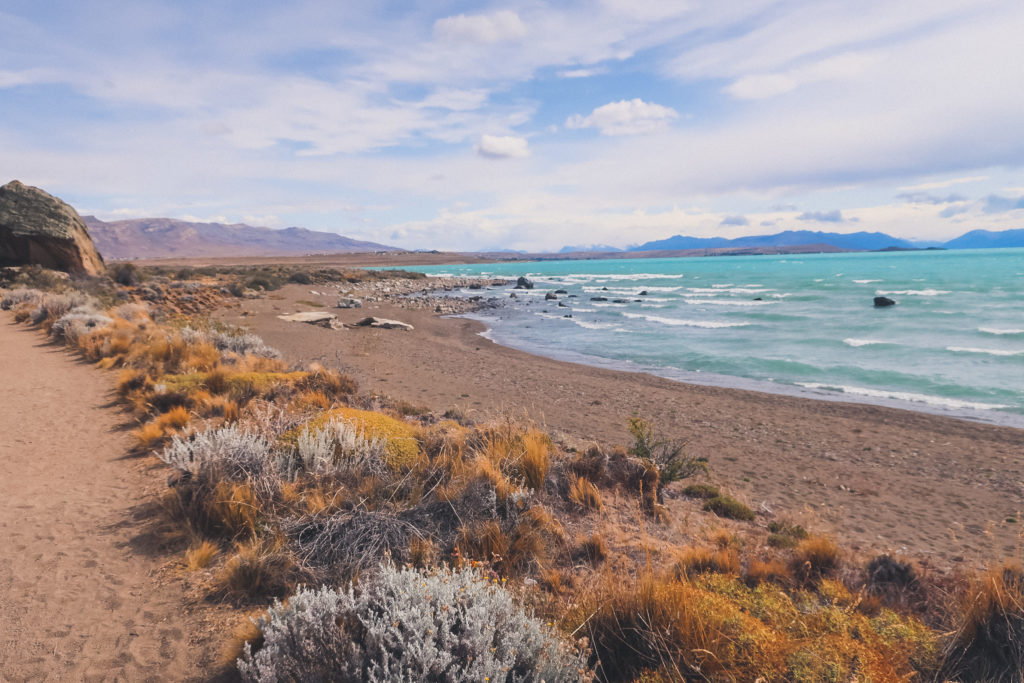 22 Things to do in El Calafate + Tourist Map of El Calafate
El Calafate is a small town in southern Argentina, it's part of the infamous 'Patagonia' region. El Calafate is a popular tourist spot because it's close to many Patagonian must-see attractions. Hikers who end up in El Chalten (an even smaller hiking town) usually stop at El Calafate. 
The town of El Calafate is very clean and charming. It's walkable. You can find great restaurants, grocery stores, and shopping. You'll easily be able to find an ATM in El Calafate. This isn't the same in El Chalten where you'll find much fewer businesses. 
The best time to visit El Calafate is the summer – December, and February. Although, anytime between October and April is preferred. You'll see fewer crowds if you avoid the peak summer months. No matter when you go, the weather will be unpredictable! Find out what to wear in Patagonia. 
The altitude El Calafate sits at is only 600 ft above sea level, so you won't have to worry about altitude sickness!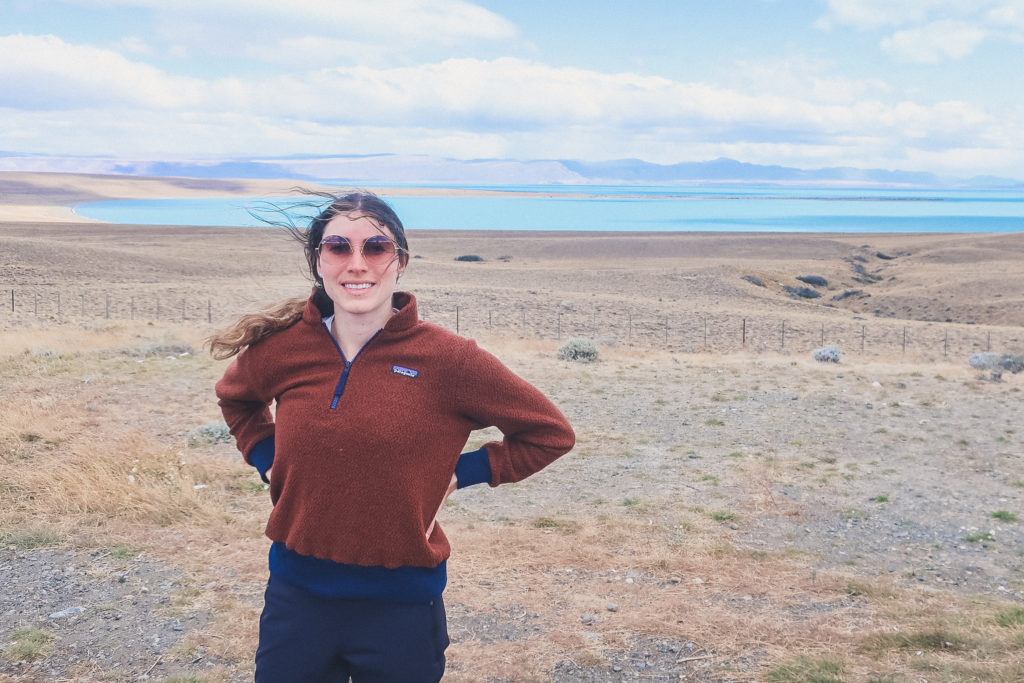 How long to spend in El Calafate? You should plan at least 3 full days in El Calafate, or more! Spend longer if you don't expect to stay in El Chalten. 
Many of the top tourist attractions in El Calafate are 1-3 hours driving from town, so many excursions take all day. If you want to have several different experiences in El Calafate, plan to budget a day per activity (for the most part, but we'll discuss which activities are quicker).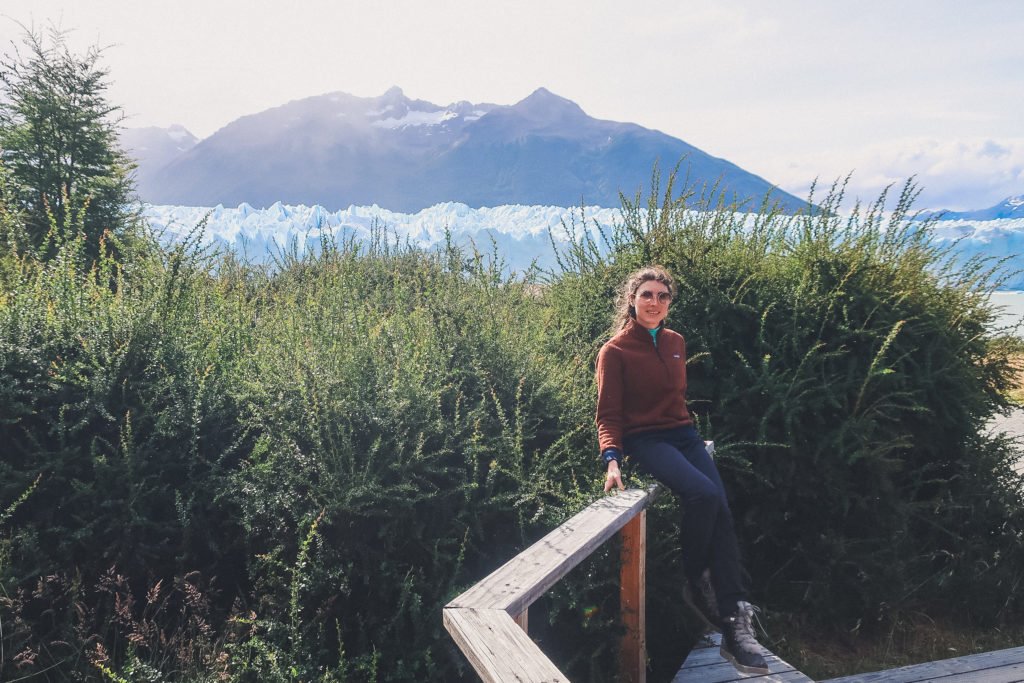 Getting to El Calafate
El Calafate has an airport. The flying to El Calafate is the easiest way to get there. One of the most popular routes in Buenos Aires to El Calafate. 
You can also get to El Calafate by bus. This option is much cheaper, but will take much, much, longer! 
Tourist Map of El Calafate
This tourist map of El Calafate includes top attractions in El Calafate and recommended restaurants in El Calafate. You can download the map for offline use for easy navigation when you arrive. 
How to Use This Map: If you click the tab at the top left corner, you'll be able to select specific layers. Click the checkmark to select or hide specific categories.
Save This Map: Click the brackets in the top right corner to expand the map in full view. It will open in a new tab. Under the map title, right of the map description, there is a star. Click this star and the map will be saved to your Google account  in Google Maps. You can access it later from your computer or device. On desktop, go to Google Maps and click 'Your Places,' and 'Maps.' On app view, select 'Saved, scroll down and click 'Maps.'
22 Things to do in El Calafate
These are the best of the El Calafate things to do! In no particular order, we've included all the exciting adventures you should know about before you plan your trip to El Calafate.  Also, check out our hotel guide for El Calafate. 
1. Wildlife Safari
Patagonian wildlife is a unique beauty that you have to see for yourself! There are over 100 native birds that inhabit this region. They include giants like the Andean Condor and the Black-chested Buzzard Eagle. 
The Andean Condor is the largest bird in the Americas! It has a wingspan of 3 meters and incredibly sharp vision. Also, it's not uncommon to spot them in the skies around El Calafate.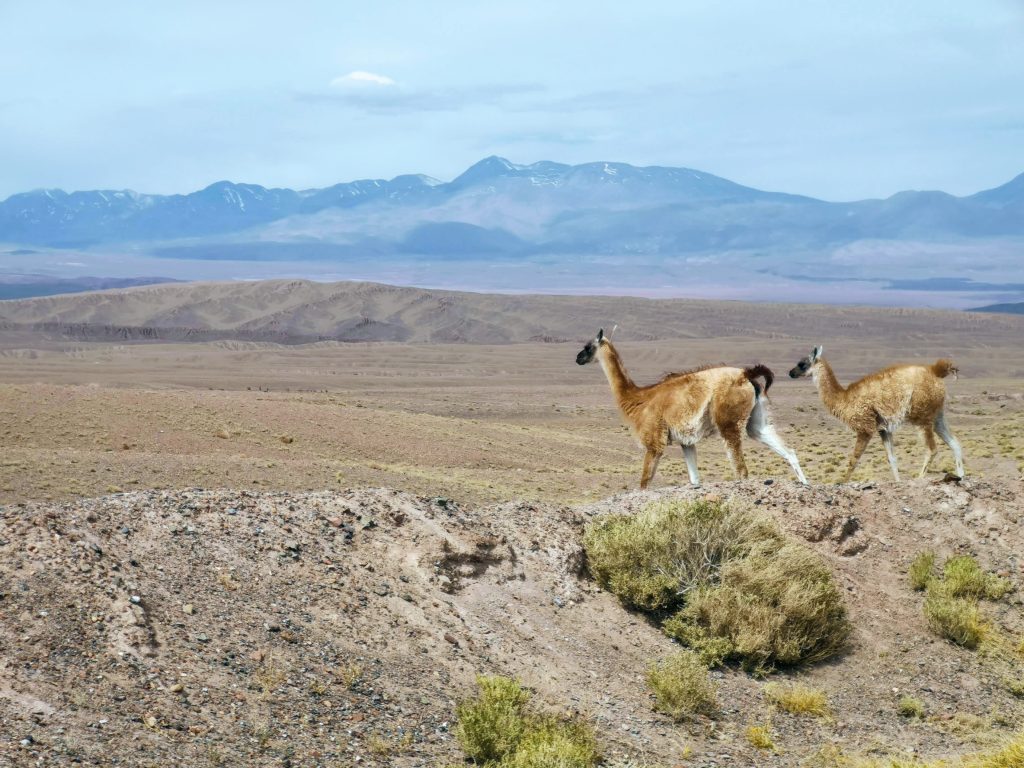 Another one of the popular animals you'll spot around El Calafate is the Guanaco. Guanaco are herbivores that travel in herds. They're similar to Llamas. The natural predators in this region are Pumas. They are the natural predator of the Guanaco, and they are much more difficult to spot! 
SIDE NOTE: If you haven't watched Seven Worlds One Plant, stop what you're doing right now and go watch episode 3! There's a phenomenal portion that captures a Puma mother in Patagonia as she hunts tirelessly to provide for her young cubs.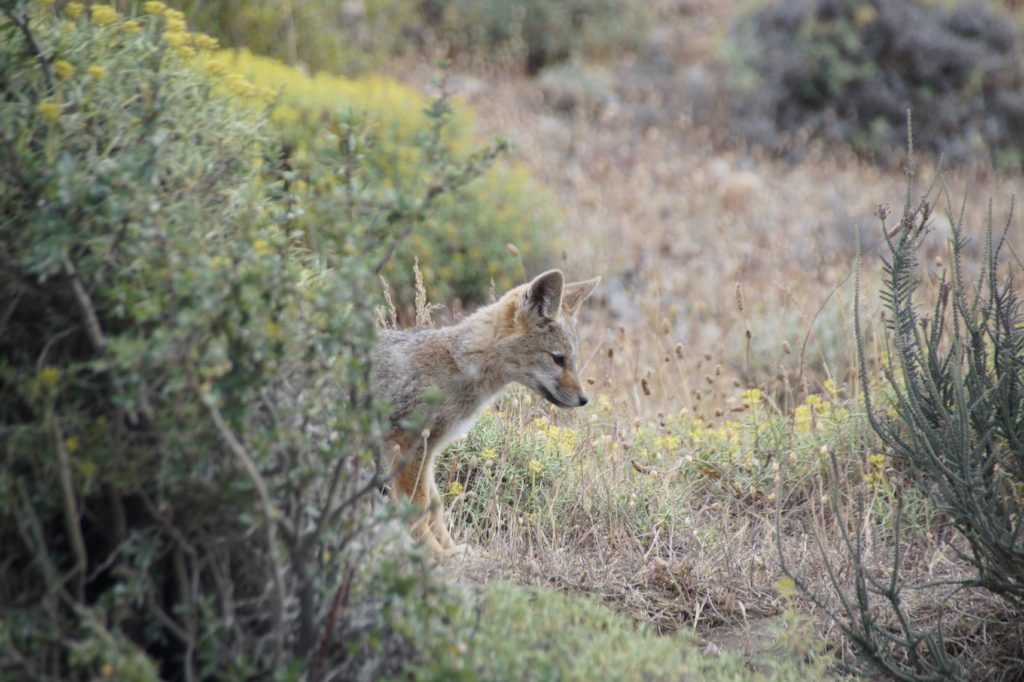 Book your wildlife safari from El Calafate. 
Anyone interested in learning more about Patagonian wildlife must go on a wildlife safari! It's one of the legendary things to do in El Calafate Argentina. 
During this tour, you'll explore some rugged Patagonian landscapes in a 4×4. You'll stop at Panoramic viewpoints. You'll learn about the history and ecology of the region along the way. This is one of the best tours in El Calafate for nature lovers and photographers. 
2. Visit the Upsala Glacier
The Upsala Glacier is El Calafate's lesser-known glacier – second only to the Perito Moreno glacier. The Upsala Glacier is part of the Los Glaciares National Park – a UNESCO World Heritage site. 
While Upsala and Perito Moreno are most popular, there are over 40 glaciers in the Los Glaciares National Park. They make up the Southern Patagonian Ice Field.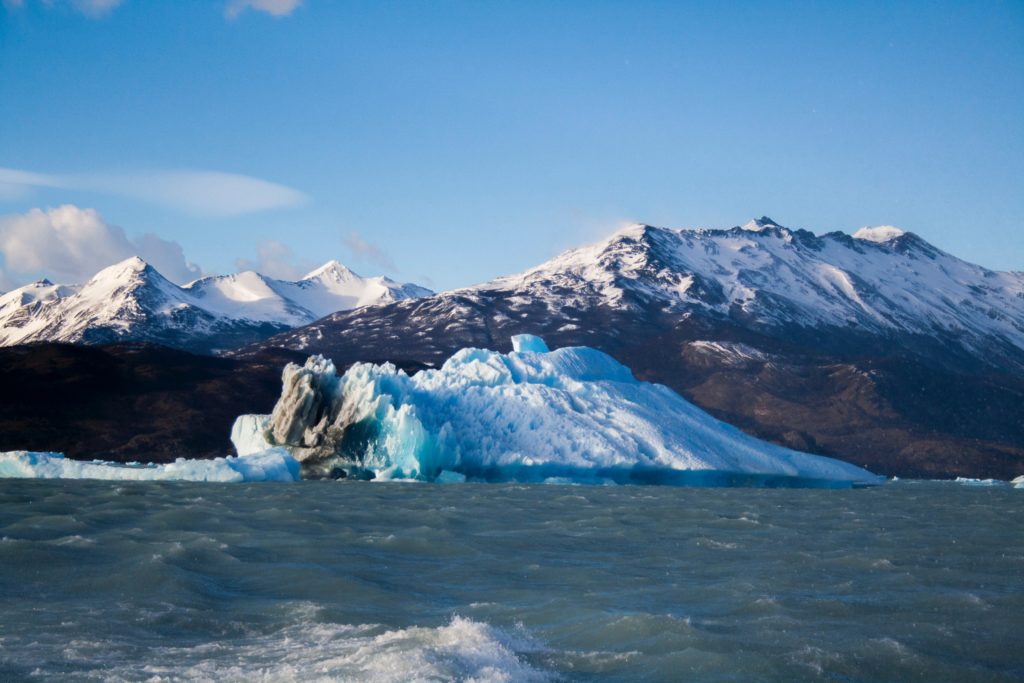 Upsala is famous because it's the largest glacier in South America. This glacier is 37 miles long, and over 200 ft high! Upsala feeds into Lake Argentino. It's technically responsible for the 'milky green' hue of Lake Argentino. 
Unfortunately, due to global warming, Upsala is known to be retreating at an unprecedented rate. In the last 20 years alone, Upsala has shrunk by a length of over 2 miles! 😔
Because of the rapid changes at Upsala, it's becoming harder and harder to access. Boats must doge icebergs as they approach.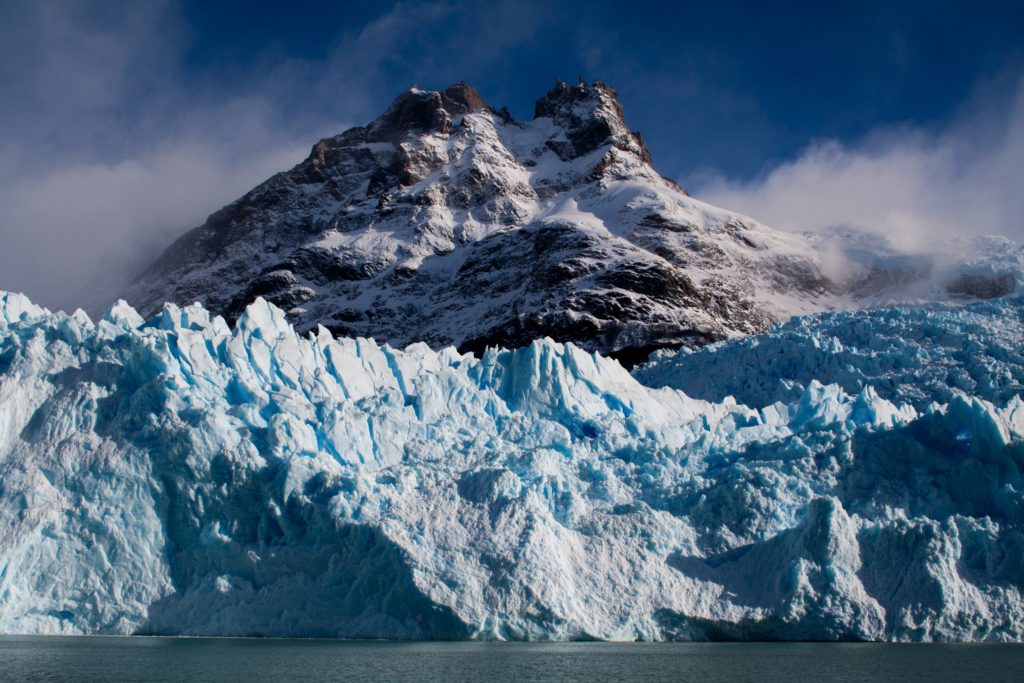 The Upsala Glacier is a treasure, and it's one of the top El Calafate tourist attractions. Visiting this glacier is one of the most popular day trips from El Calafate.
Sailing past icebergs and finally reaching the Upsala Glacier is thrilling and unforgettable! It's also less touristy, so it's a great way to ditch the crowds.
Visit the Upsala Glacier and Estancia Cristina. 
3. Horseback riding at an Estancia 
One of the popular El Calafate tours you'll encounter is the estancia experience. An estancia is a large, privately owned ranch used for cattle farming. There are several awesome estancias in El Calafate's surroundings. 
Cattle farming has been an important part of Argentina's history and agriculture since the 16th Century when cattle were first introduced by the Spanish conquistadors. 
To support the farming of cattle, Argentinians became skilled horseman – called 'gaucho.' The spirit of the gaucho is believed to be brave and unruly. Gaucho is also the national symbol for Argentina. The American parallel here is the traditional cowboy.
Gauchos, and estancias, are therefore an important part of Argentinian, and Patagonian culture. Visiting an estancia is one of the exciting things to do. El Calafate is the perfect place to do it!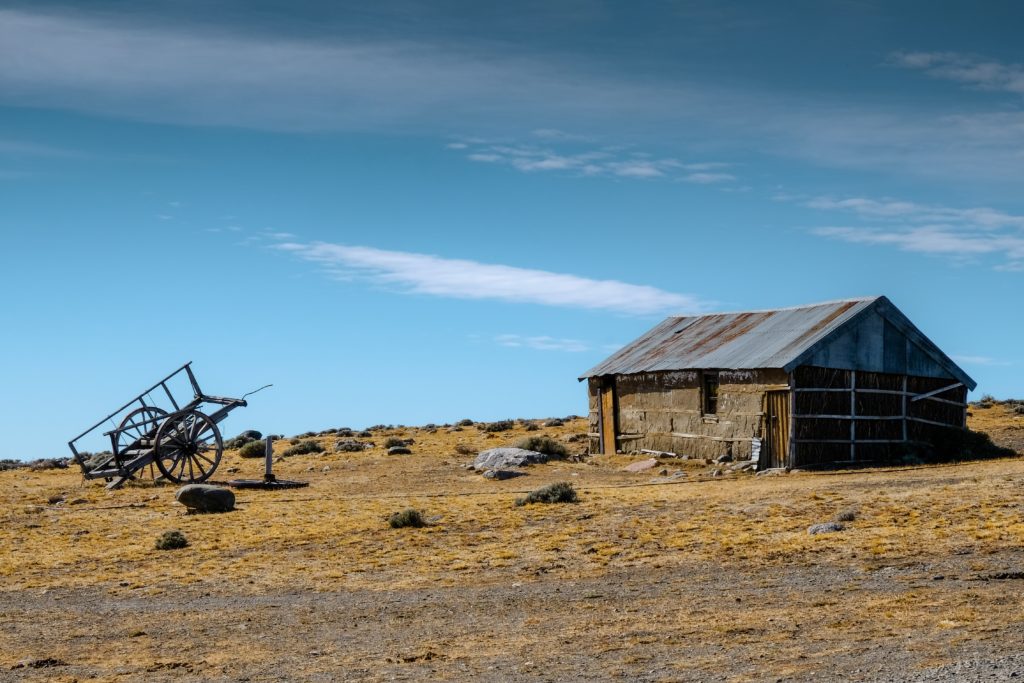 Estancias are the best places to go horseback riding. El Calafate is where many of these horseback riding and estancia tours depart. 
Estancia Nibepo Aike is one of the best places to visit near El Calafate. It's a small family-owned farm with a 100-year history in the region. The ranch is located in a pristine setting near Lake Argentino. It's surrounded by glaciers, mountains, and valleys.
Book your horseback riding adventure at Estancia Nibepo Aike. 
Visiting an estancia is the perfect way to spend a relaxing day in Patagonia. You can't hike every single day! At some point, your legs are dying and you want to continue exploring Patagonia in a more low-key way. That's the perfect time to visit an estancia. 
4. Ice Trek
Perito Moreno is the most popular El Calafate glacier. One of the legendary things to do in El Calafate Patagonia is to trek across the Perito Moreno Glacier. 
You can visit the Perito Moreno glacier in several different ways. You can visit the walkways that provide stunning views of the glacier at a distance. You can book a boat tour that gets you up close and personal with the glacier.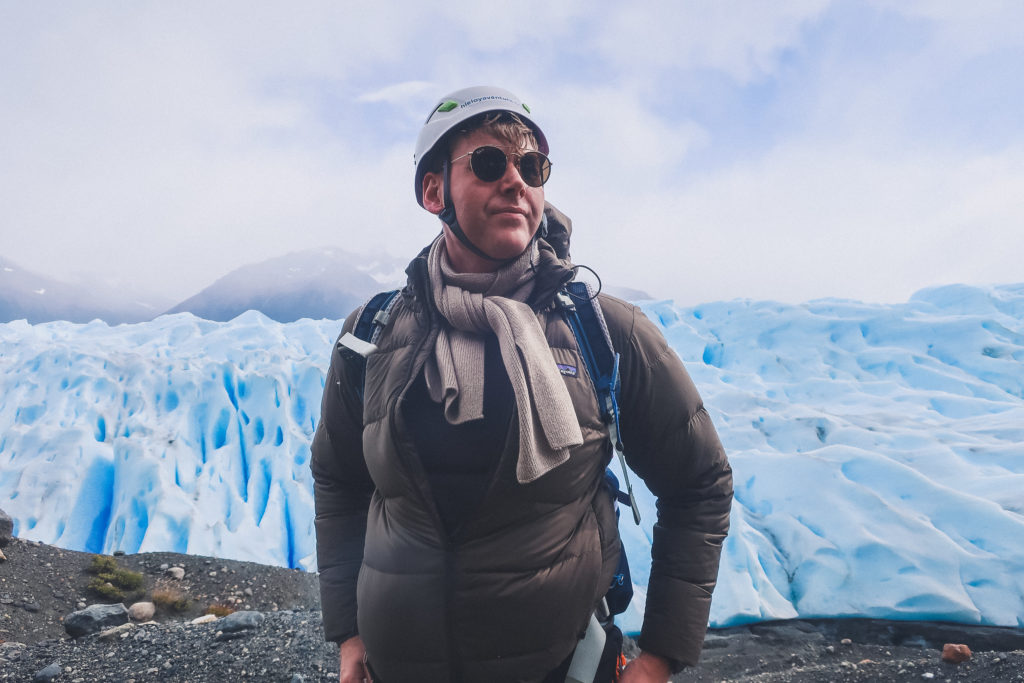 Visit Perito Moreno by Boat. 
How far is Perito Moreno Glacier from El Calafate? It's about an hour's drive. So, if you've rented a car, you can visit the walkways on your own. 
However, the best way to experience Perito Moreno is by trekking across it or kayaking to it (more on kayaking later).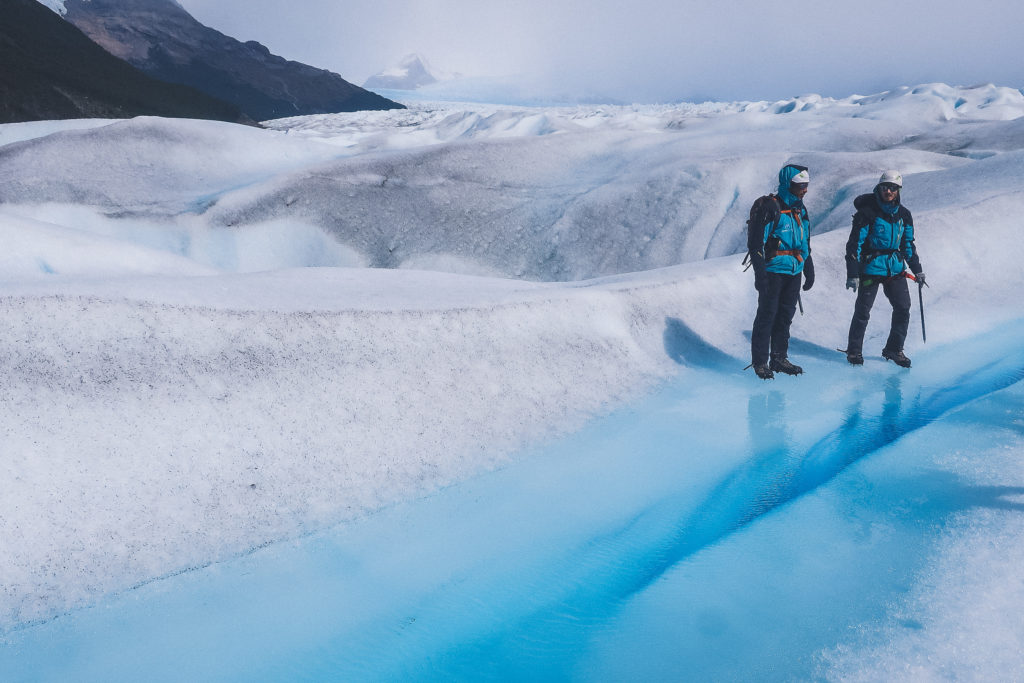 Perito Moreno is a large and healthy glacier. Yay! It's about 19 miles long, over 200 ft tall, and 3 miles wide. Unlike many other glaciers, it's growing not receding. Perito Moreno is made of freshwater which you can drink during your trek. 
In fact, the Perito Moreno glacier is one of the largest reserves of fresh water in the whole world! 
There are two main options for trekking across Perito Moreno: the Big Ice Trek and the Mini Ice Trek. Both tours are fairly similar, except for the time that you spend on the glacier.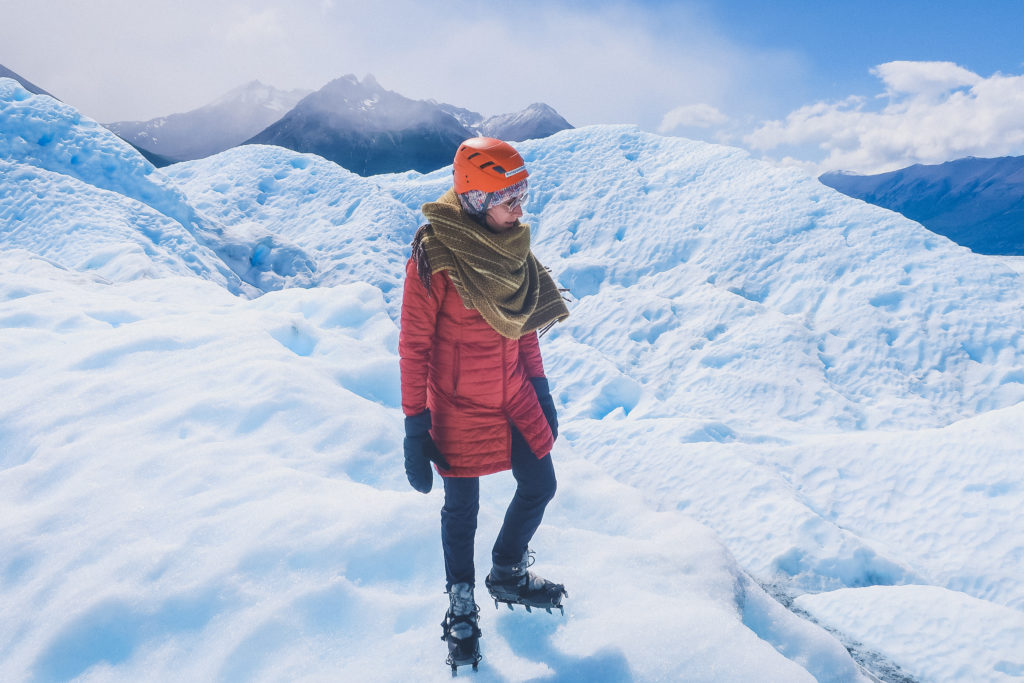 You'll be picked up at your hotel, and you'll drive to the Perito Moreno National Park. Then, you'll have some time to get coffee & explore the walkways and bridges with excellent views of the glaciers. 
You'll meet back up with your group and get on a boat. The boat ride is short, and it will take you up close to the glacier by a small camp. There are restrooms here. Now, the tours diverge.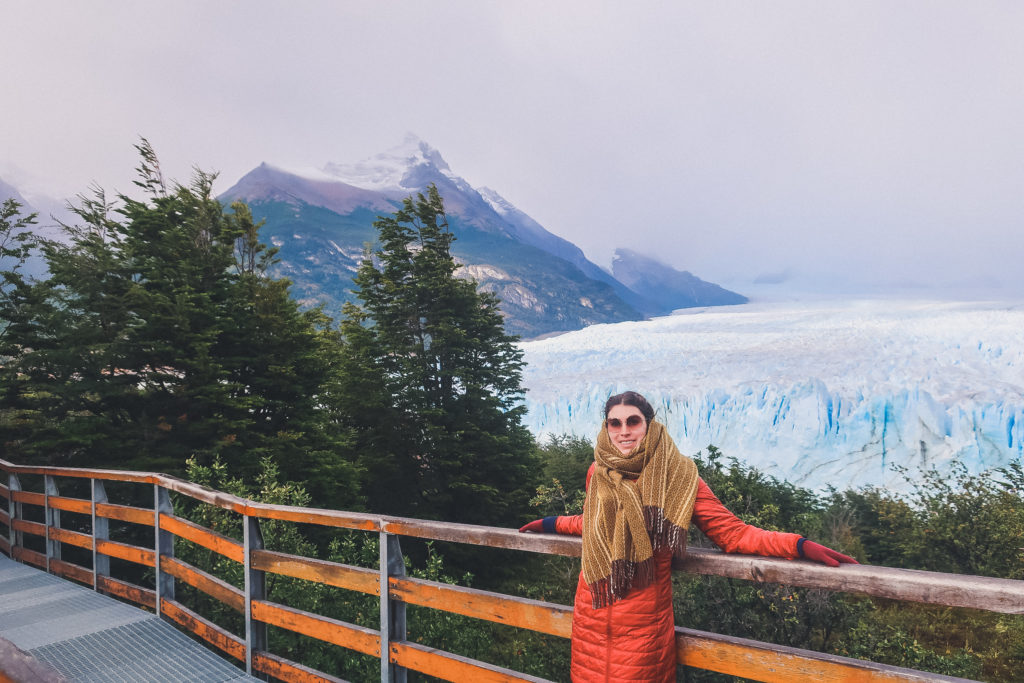 The Mini Ice Trek is only about 45 minutes of trekking on the glacier. You'll follow a specific, predetermined path. It's a basic loop. The Big Ice Trek goes out into uncharted territory, and you'll have 3 full hours on the glacier to explore. During the Big Ice Trek, you'll stop for lunch on the glacier at the mid-way point. 
Click here to book the Mini Trek El Calafate. 
Personally, I did the Big Ice Trek and had an absolutely incredible experience. I recommend the Big Ice Trek for anyone that's reasonably fit and looking for a challenge/adventure. One of the most famous activities in the region is Big Ice Trekking El Calafate. 
Click here to book the Big Ice Trek El Calafate. 
5. Kayak to a glacier 
For anyone looking for an alternative to ice trekking El Calafate's glaciers, kayaking to the Perito Moreno glacier is one of the incredible things to do around El Calafate. 
Kayaking is perfect if you're all hiked out. Give your lower body muscles a break! Kayaking is also one of the less touristy ways to explore the Perito Moreno glacier. It's off the beaten path.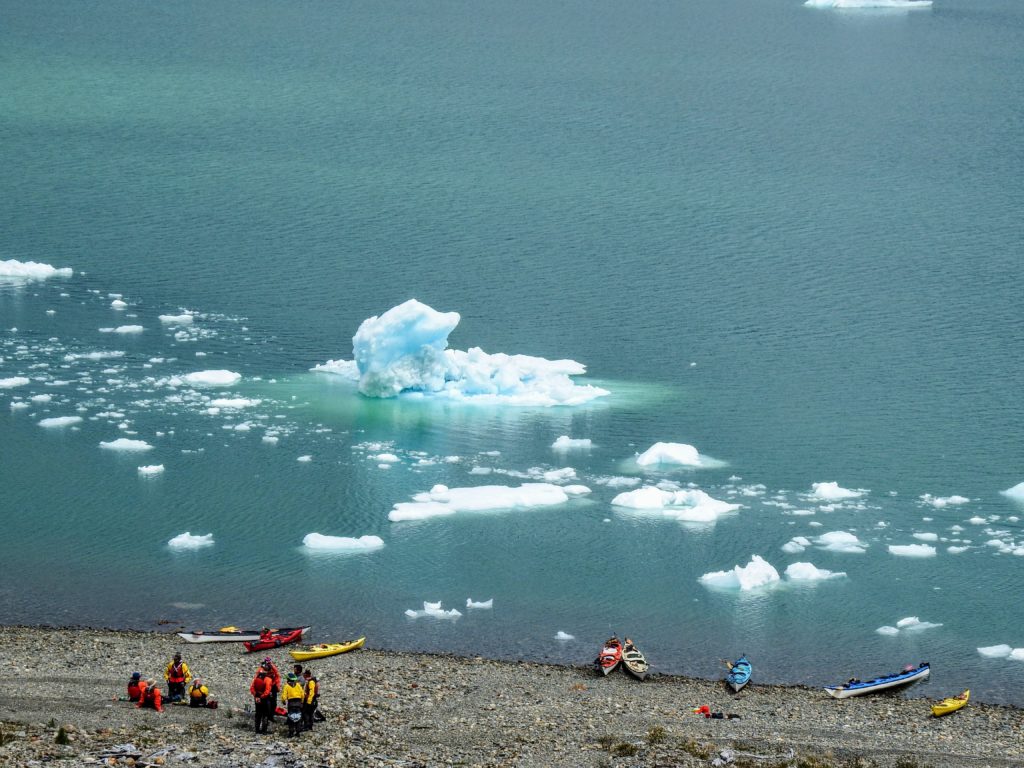 Kayaking is also suitable for all skill levels. It's not as rigorous as trekking 3 hours on solid ice would be. 
Find out more about kayaking to Perito Moreno. 
6. Hike in El Chalten
Hiking in El Calafate isn't as famous as hiking in El Chalten. El Chalten is regarded as the heart of Paranoia. It's a tiny backpacker town north of El Chalten.
How to get to El Calafate? You can choose to drive from El Chalten to El Calafate. It will take about 3 hours one way. The other option is to visit El Chalten with a guided tour.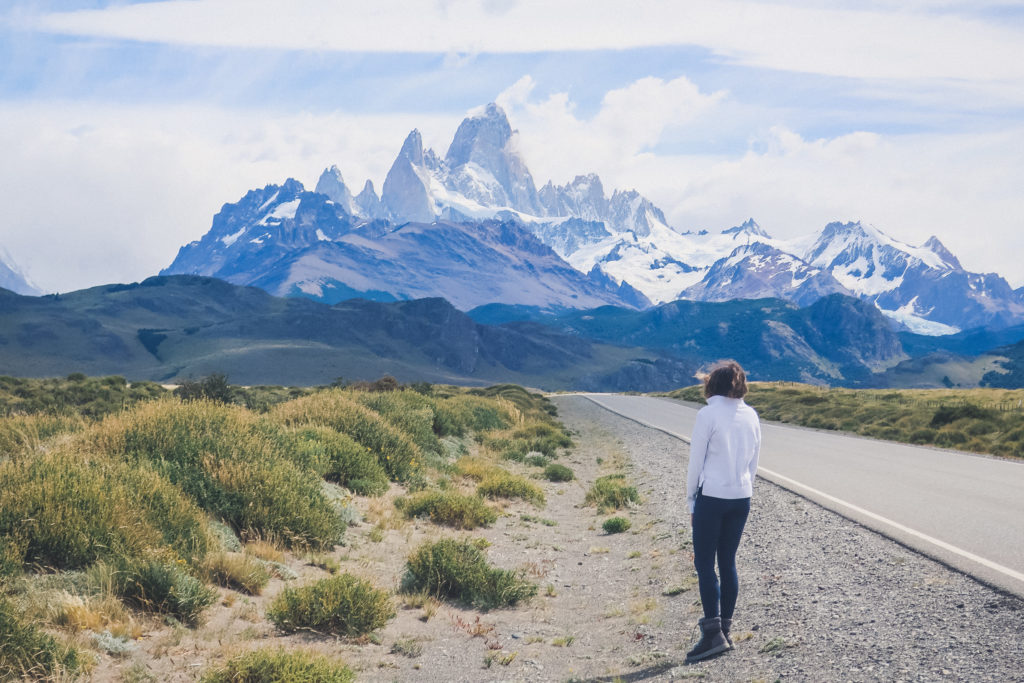 Visiting El Chalten with a tour is ideal for less skilled hikers. It's perfect for travelers who aren't planning on camping, backpacking, or trekking long distances. 
El Chalten is gorgeous, and it's certainly worth a visit if you are in El Calafate. El Chalten is the capital of trekking in Argentina. It's most famous for Monte Fitz Roy. You can enjoy spectacular views of this (and surrounding mountains) from the town of El Chalten.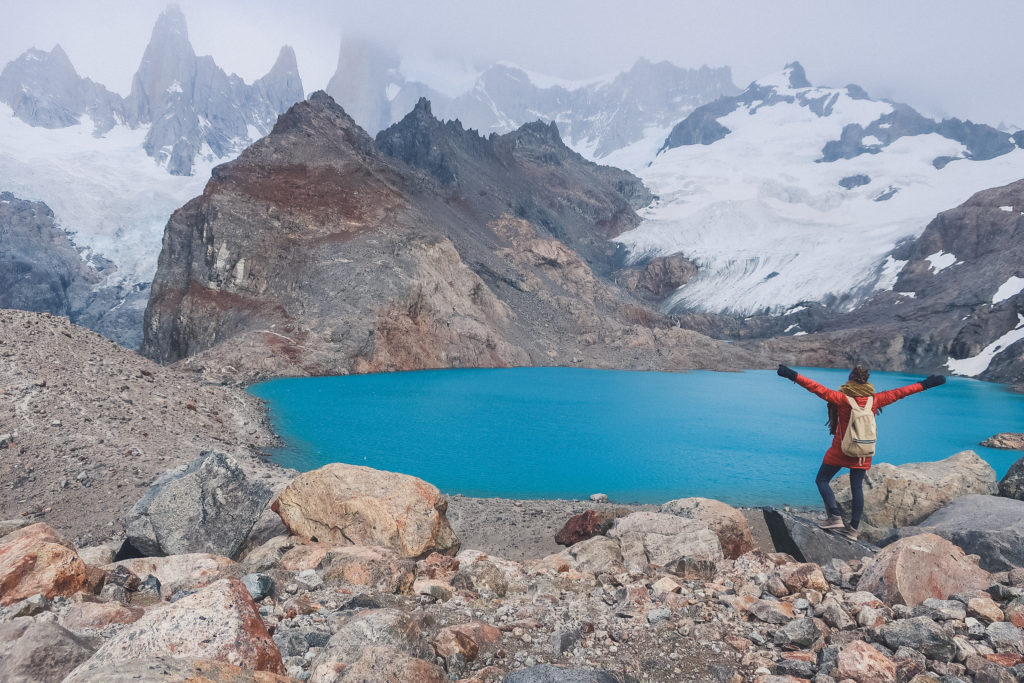 The town is located within the Southern Patagonian Ice Field, and it has a year-round population of about 300 people. 
Day trips to El Chalten usually include transportation, guided hiking, and lunch. 
Find out more about hiking in El Chalten. 
7. Hunt for dinosaur bones
Plenty visit Patagonia hoping to have hiking, adventure, and wildlife experiences. Although, not many realize that Patagonia is a treasure trove for paleontology and natural history.
Patagonia has been called the "Mecca for paleontology" because so many fossils have been discovered here in recent years.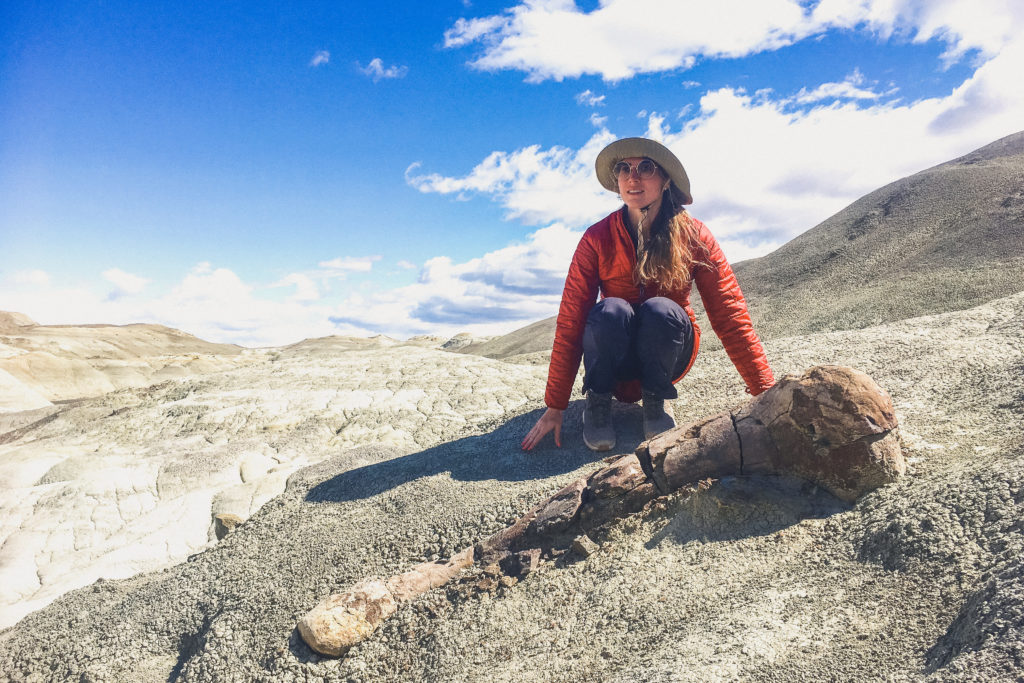 95 million years ago, the region of Patagonia was a lush lagoon with forests and plains. It was the perfect environment for evolution to cook up some of the largest and most bizarre creatures to ever walk the face of the earth. 
Dinosaur fossils are some of the coolest things to see in El Calafate (and you don't have to see them from a dark, dusty museum).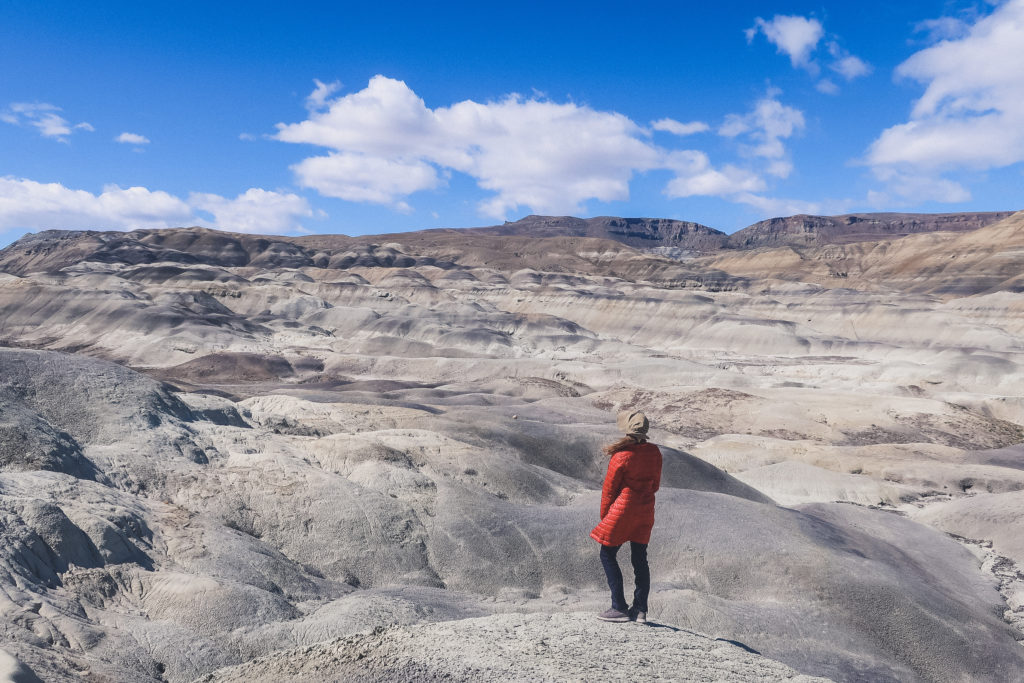 Argentinosaurus (named for Argentina where it was found) is recorded to be one of the largest land animals of all time. Although, some scientists argue that Argentinosaurus was the largest land animal of all time! The fossil remains of this beast were discovered by a farmer in Patagonia.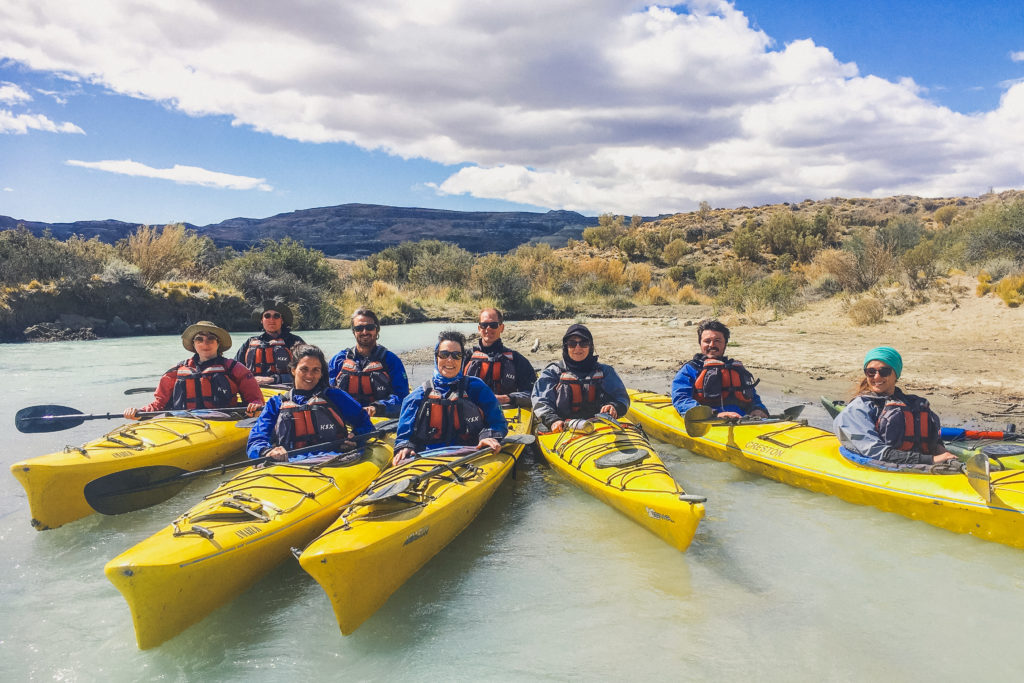 One of the best things to do in El Calafate is to discover dinosaur fossils in the Le Leona Petrified Forest. La Leona lies on a stretch of private land, so you can only visit this place with a guided tour. 
Discover dinosaur fossils in La Leona during a guided hike.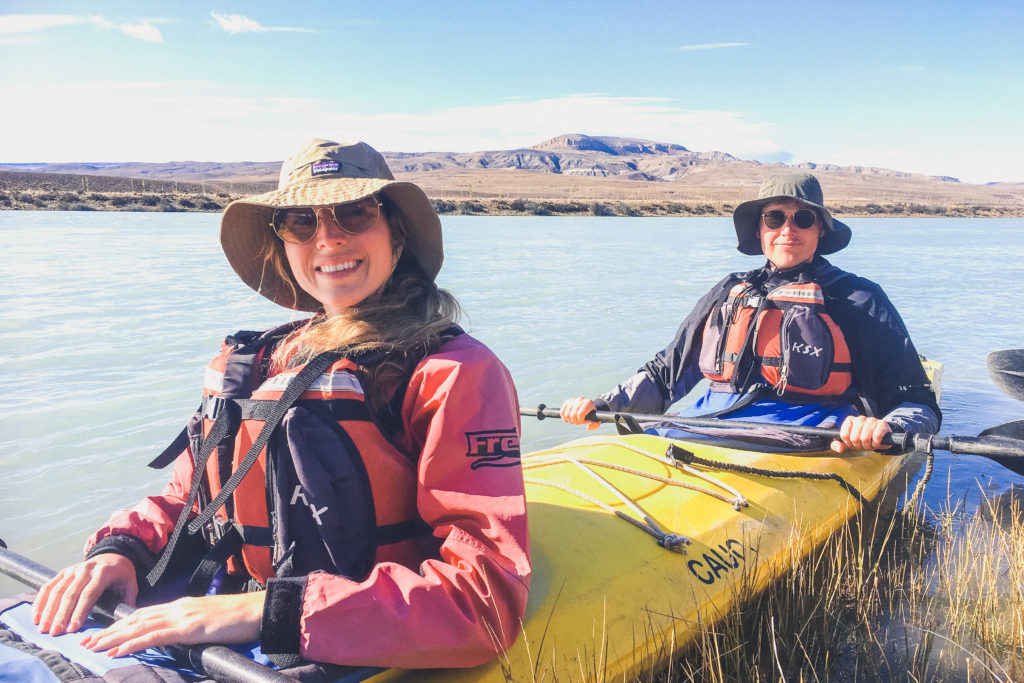 For the most exciting way to experience La Leona while El Calafate sightseeing, book a kayaking and hiking tour. During the tour, you'll get to kayak through mild rapids along the La Leona River. You'll stop for a short guided hike through the petrified forest, and you'll discover many treasures along the way. Have lunch in the forest, then kayak a little more. 
Book the ultimate La Leona fossil + kayak day.
8. Taste Patagonian Wine
Argentina's famous Mendoza gets a lot of attention in the wine world. It's famous for growing the fruity, easy-to-drink Malbec grapes. However, most don't realize that Patagonia is also an important wine region in Argentina. 
Patagonia is Argentina's southernmost wine region. Patagonian wines have excellent quality. They're much more expensive than many Malbecs grown in Mendoza.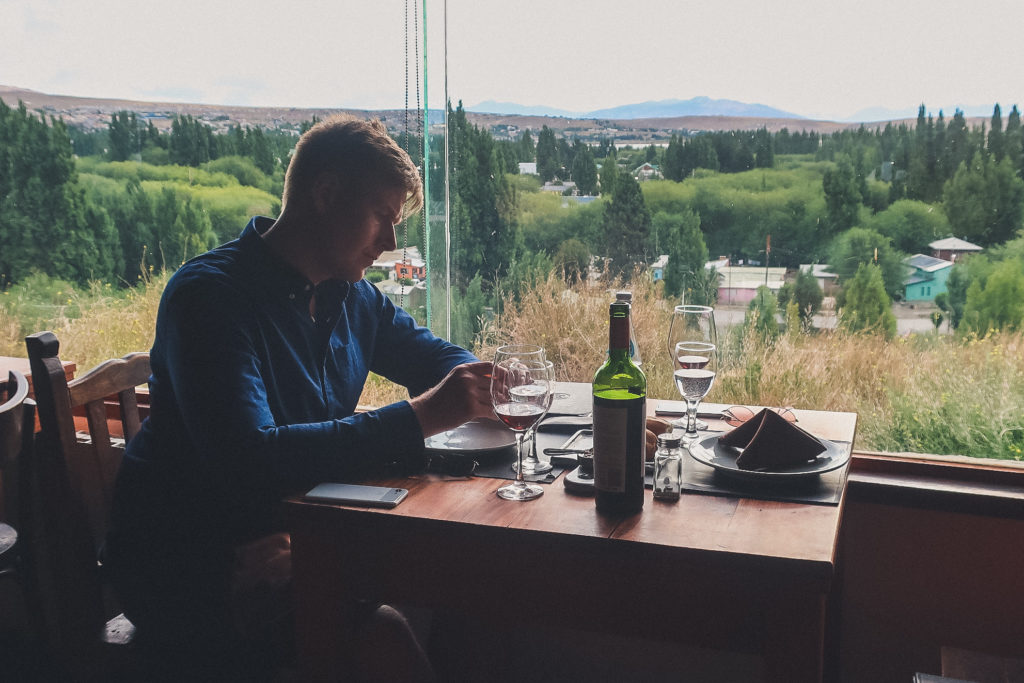 Patagonian wines are known for their intensity, with bold colors and aromas. They're characteristically fruity, but with impeccable acidity and striking flavor. They age quite well.
Many tourists don't think of Patagonia as a wine region. They come for the landscapes and adventures, and they overlook this cultural highlight. So, wine experiences are one of the less popular day tours from El Calafate, but they're one of the best things you can do.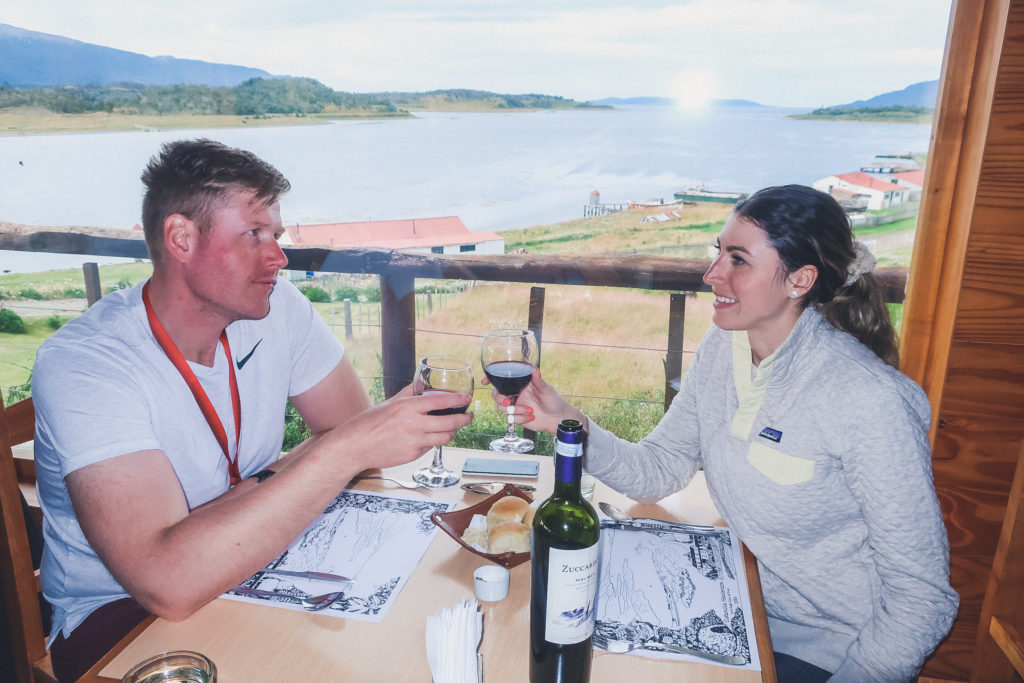 Book your wine experience today.
El Calafate Argentina tours to wineries are the perfect way to relax and unwind after days of grueling hiking. 
Also, wine tours are some of the best cheap things to do in El Calafate.
9. Bird watching
Laguna Nimez is a bird sanctuary in El Calafate Argentina. It's located in downtown, so it's very easily accessible. There's a short self-guided walking trail, and binoculars are available for rent.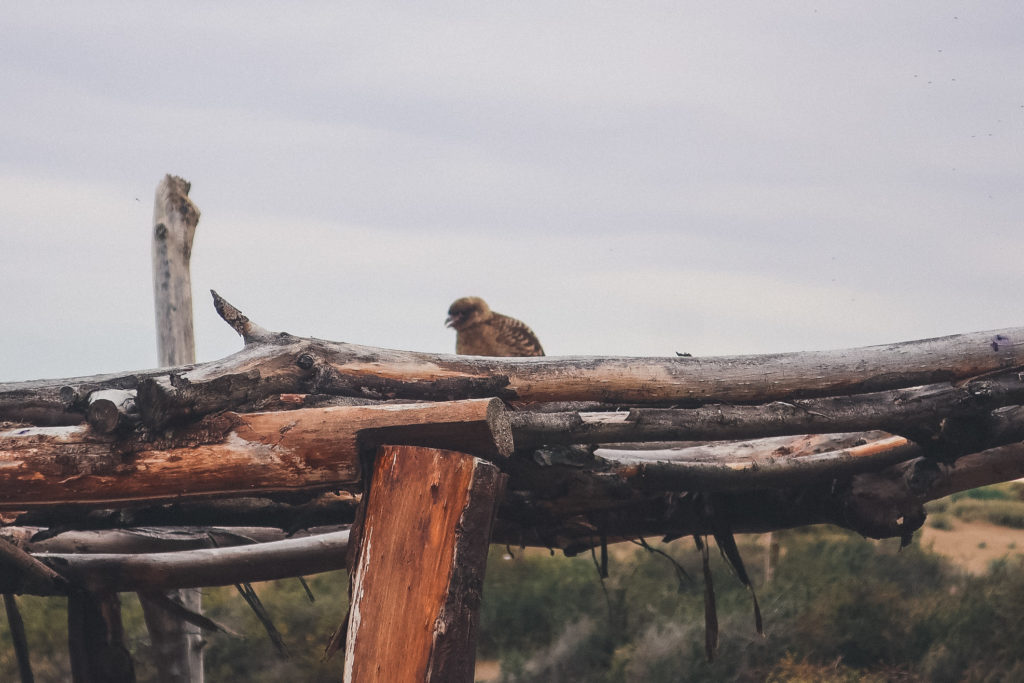 Visiting Laguna Nimez is one of the best things to do in El Calafate Argentina. Even if you only have 2 days in El Calafate, you have to stop here!
Laguna Nimez is most well known for its flamingos. They are the Chilean Flamingo, and they're easy to identify by their grey legs and black beaks. They look dainty & beautiful, but they're built to withstand the harsh Patagonian climate.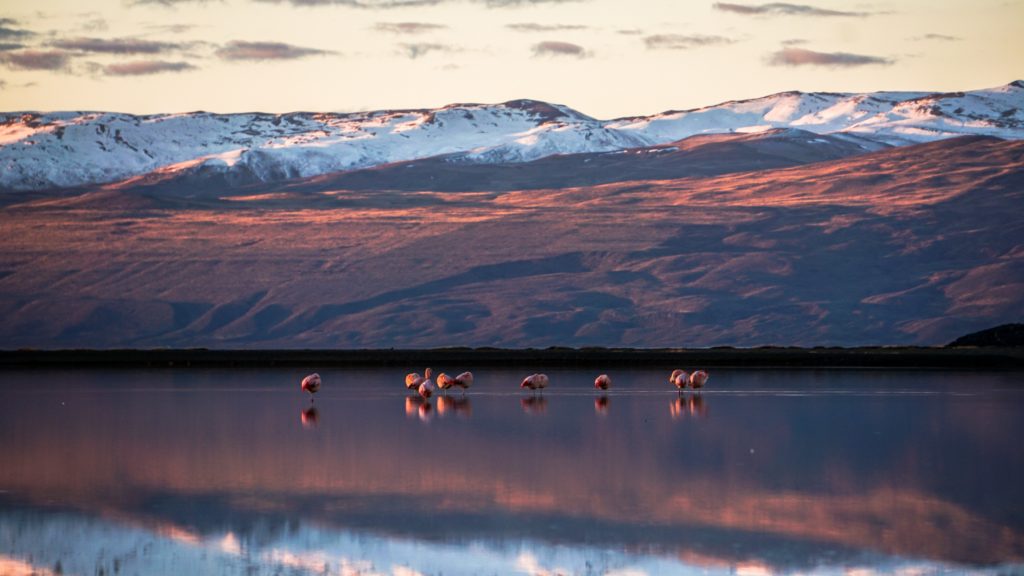 Upland Geese are also easy to spot at Laguna Nimez. Sometimes, you can even find swans! Overall, it's a quick place to visit and one of the best places for bird watching in Patagonia. It may be a little bit smelly, but it's worth your time. 😊
10. Eat Patagonian Lamb
(Vegetarians please skip!)
The most traditional dish for El Calafate Patagonia is lamb. The classic preparation involves roasting the meat over an open fire. This region is known for its high-quality lamb with delicious flavors.
Usually, it's cooked outdoors over several hours. It's only seasoned with salt. Often, it is served with a type of chimichurri sauce.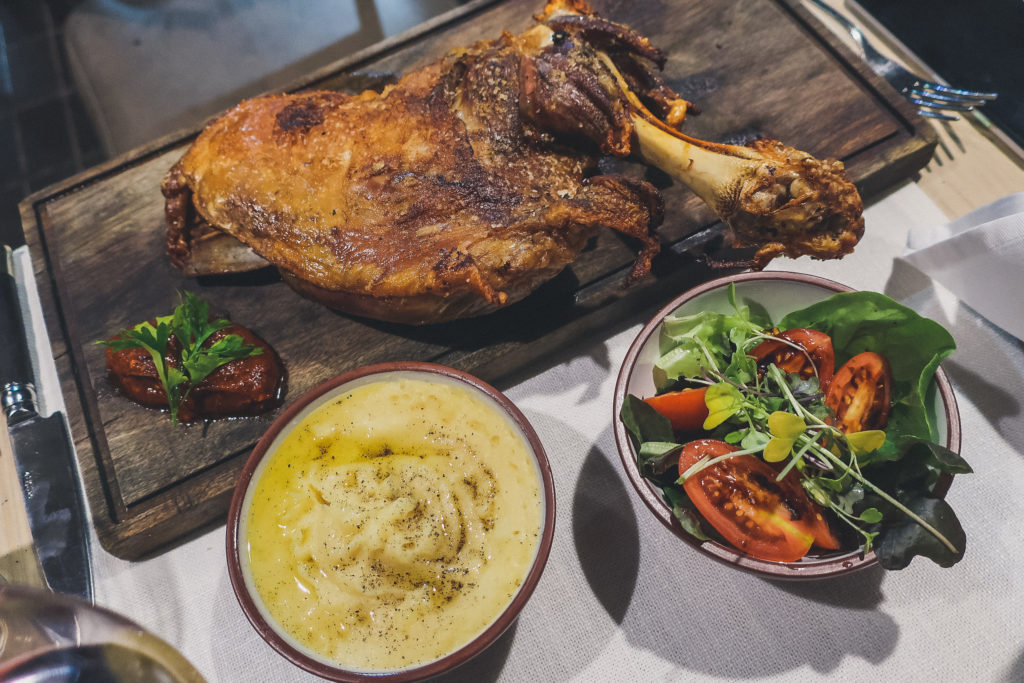 While the meat is prepared, friends and family enjoy spending time together. It's a dietary staple and an important cultural tradition. This is a must-try dish on any Patagonia itinerary. It's a delight for foodies and carnivores. 
Some of the best restaurants to try Patagonian lamb in El Calafate include Don Pichon Grill and Mi Rancho. These are both located in downtown El Calafate. 
11. Visit an Ice Bar
Visiting an ice bar is one of the touristy things to do in El Calafate town. Ice bars are themed cocktail bars that are typical for cold-weather destinations. Ice bars are typically kept quite chilly, but guests are often given ponchos & mittens (or the like).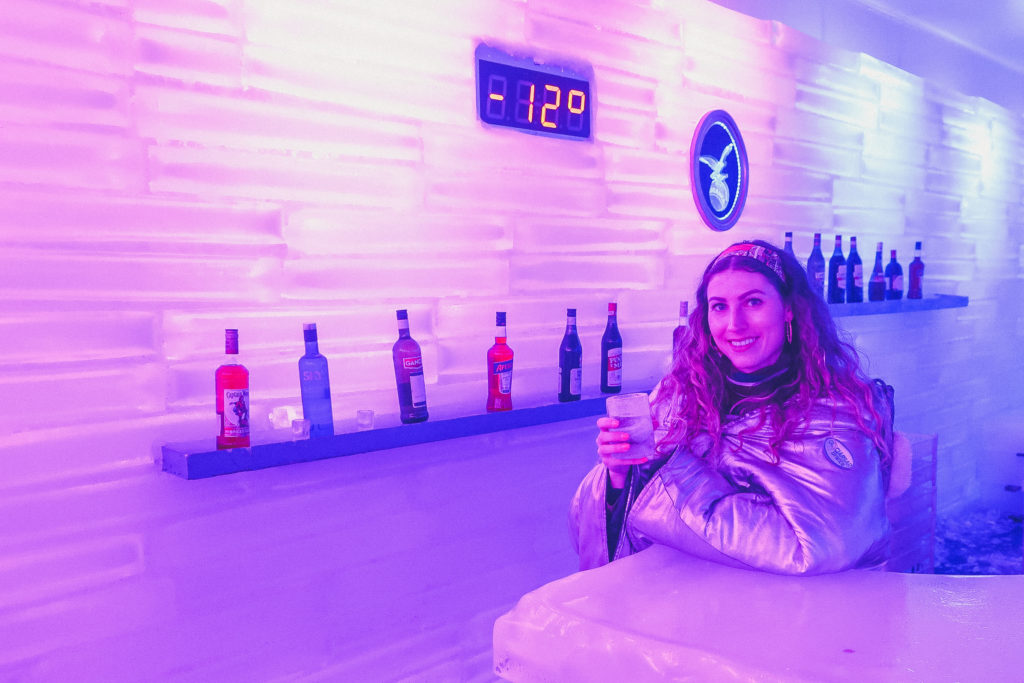 When you step into an ice bar, you'll feel like you've been transported into the North Pole. Everything is made of ice! From the bar itself to the walls, the floor, and the furniture. It's all ice, and there are also usually some pretty cool decorations and ice sculptures. 
Visiting an ice bar is one of the ways you can enjoy El Calafate. Visit after a long day of hiking and a satisfying dinner of Patagonian lamb.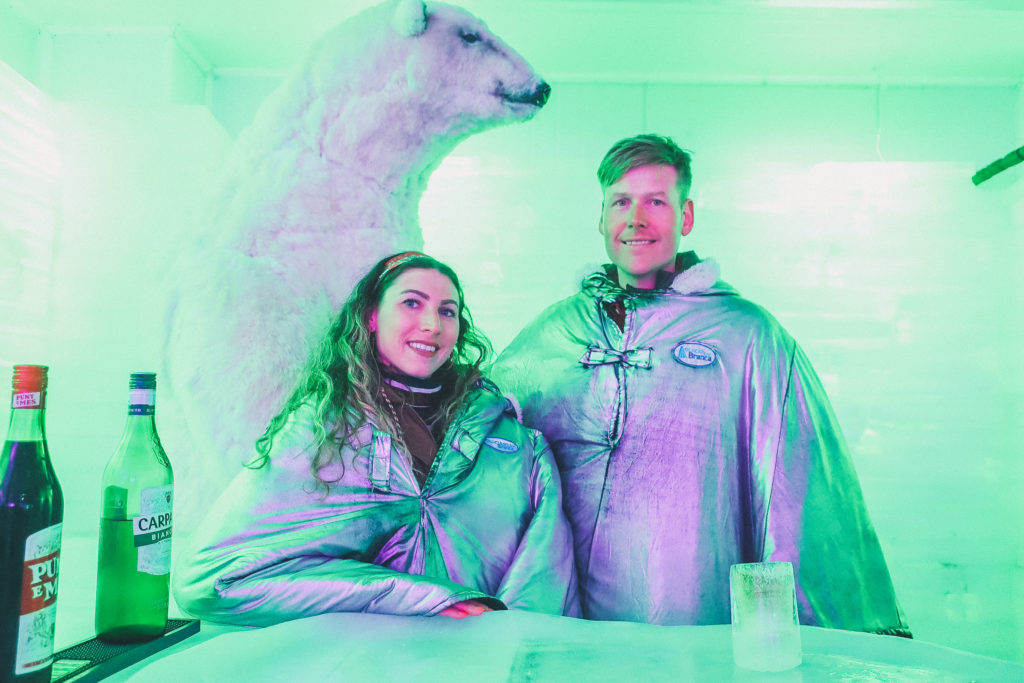 Ice bars can be considered 'instagrammable,' as they are cute but super commercialized. Although, they are some of the best places to visit in El Calafate at night. So, check them out if you have time. 
You can consider visiting Branca Polarbar or Yeti Ice Bar in El Calafate downtown. Branca is considered a bit nicer than Yeti (my pictures are from Banca). 
12. Cruise Lake Argentino
Lake Argentino is pretty impressive! It's the largest freshwater lake in Argentina.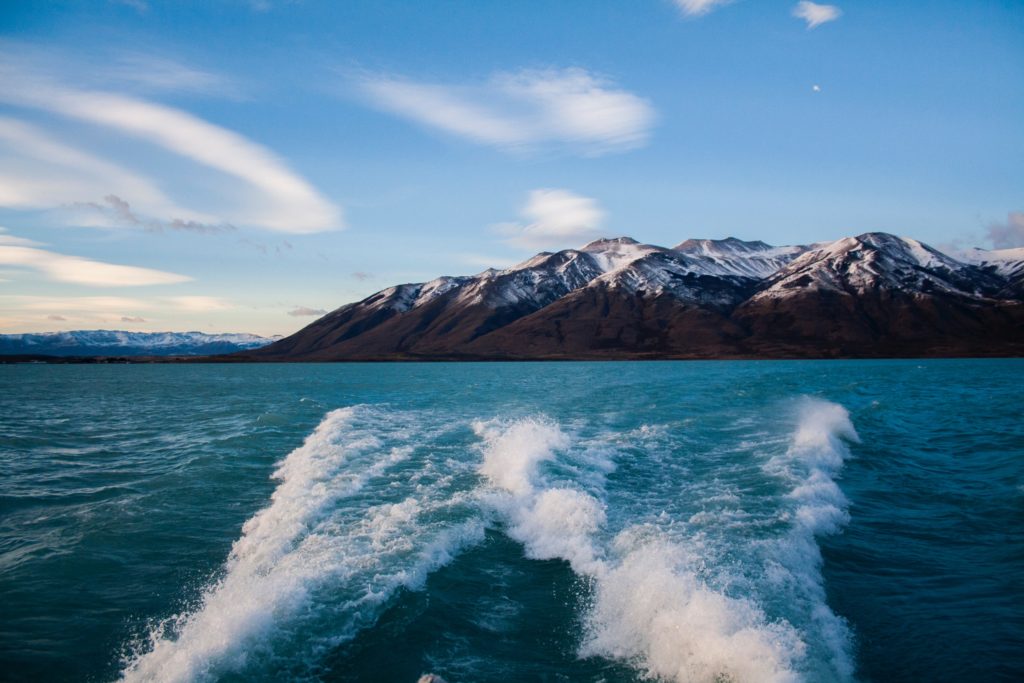 Find out more about how you can cruise Lake Argentino.
Lake Argentino ties together many of the incredible glaciers in Los Glaciares National Park. If you want to see as many glaciers as possible, the best way to do this is by boat on Lake Argentino. Many of these glaciers feed meltwater into Lake Argentino. The glacial water is what's responsible for the greenish hue of the water. It's called 'glacial milk.' 
Cruising along Lake Argentino is the best way to view the Upsala Glacier, Spegazzini glaciers, and Onelli Bay. 
13. Visit an Antique Toy Museum
If you're looking for a low key activity in El Calafate downtown, you've got to check out the Antique Toy Museum. 
The Toy Museum has a collection of over 15,000 pieces. They range from toys to vintage posters, historic school supplies, and other memorabilia. It's a fun time capsule experience. The collectibles range as far back as the 1870s, up until the 1970s. 
The museum is pretty small, so it won't take all day to visit. In fact, you won't need to spend more than 30 minutes to 1 hour here. 
It's cool to see the American and Argentinian movie posters, as well as some of the very early children's toys. 
14. Travel to Torres del Paine in Chile 
Torres del Paine is one of the most noteworthy national parks in Patagonia, and it's located in Chile (near the Chilean Argentinian border). It's a can't-miss stop on any Patagonian adventure.
Torres del Paine is known for breathtaking scenery with snow-capped mountain peaks, rivers, and waterfalls. It's also home to a diverse array of wildlife. It's undoubtedly one of the most beautiful places in the whole world!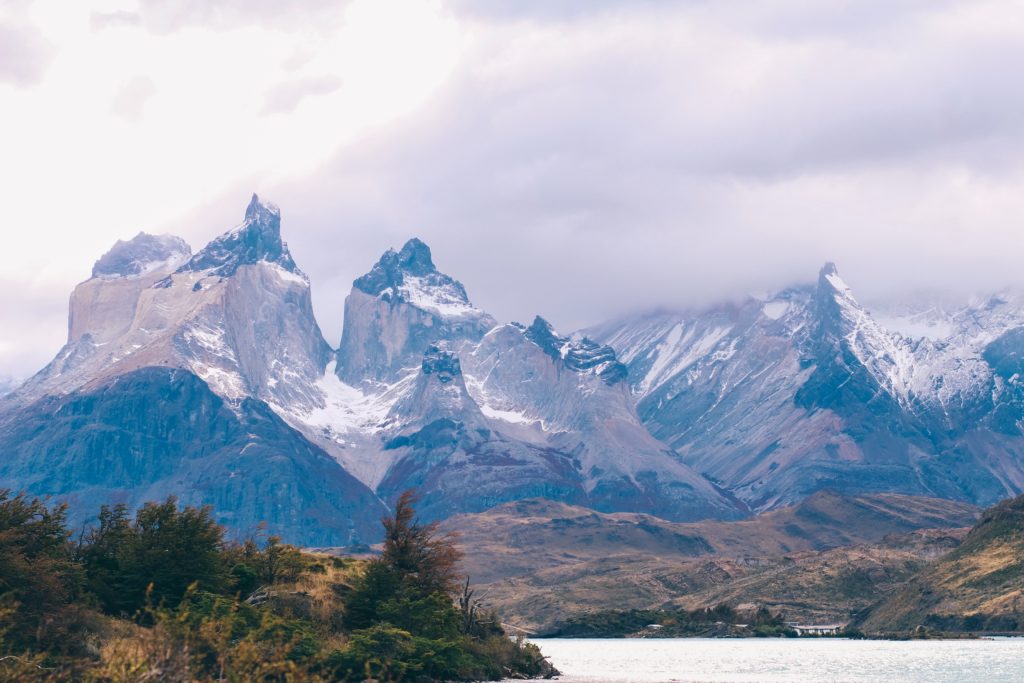 Also, it's a UNESCO World Heritage site and a Biosphere Reserve. A Biosphere Reserve is an important research site where scientists study ecological changes to preserve biodiversity and sustainability of natural habitats. 
It is possible to visit Torres del Paine from El Calafate during a day trip.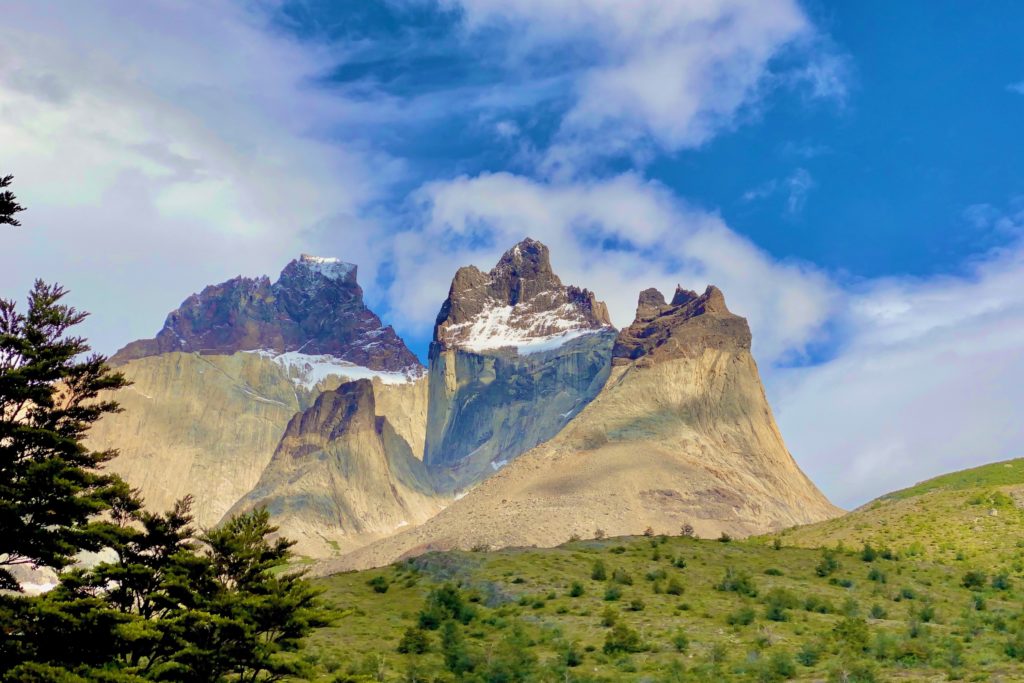 The most exciting adventure includes a 4×4 journey on an unmarked, unpaved short-cut to the park. Once you arrive at the park, you'll enjoy the gorgeous panoramas and spend a few hours hiking. This is one of the unforgettable things to do near El Calafate.
Check out this top-rated Torres del Paine adventure.
15. Learn about Glaciers at the Glaciarium 
One of the most popular sites is the Glacier Museum. El Calafate visitors shouldn't miss this! 
At the Glacier Museum, you'll get a chance to learn more about the surrounding glaciers that formed and continue to dominate the Patagonian landscape. There are some pretty cool interactive exhibits where you can play and explore.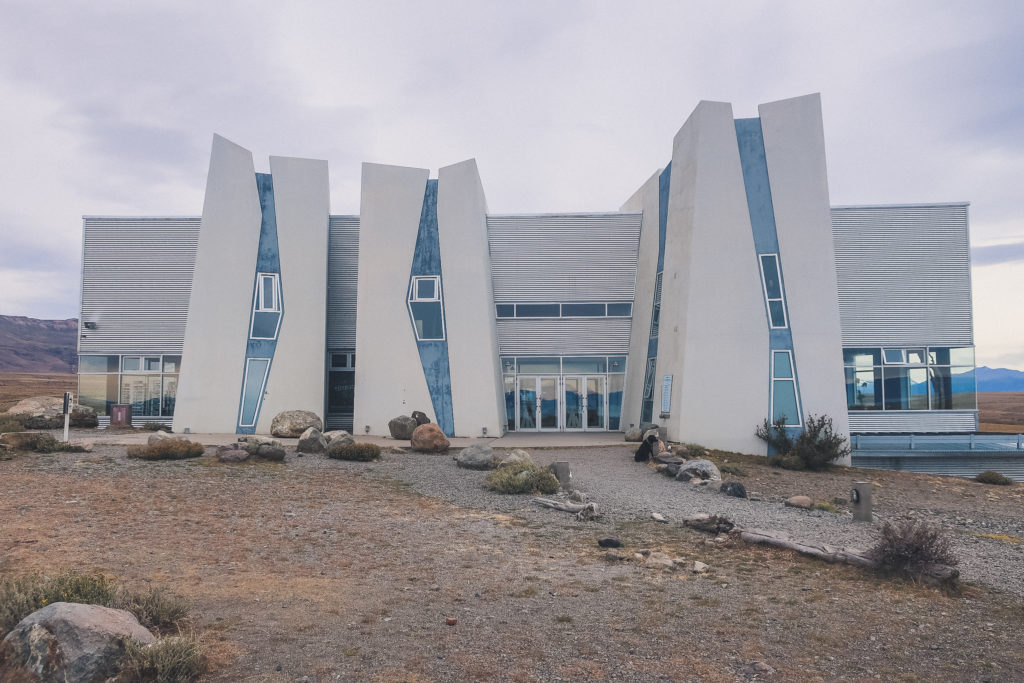 Also, you'll learn more about how climate change is affecting our planet and our glaciers. 
Inside the museum, there is also an ice bar.  Visiting the Glaciarium is one of the top things to do in El Calafate. The architecture of the building itself is noteworthy. It's a modern depiction of a glacier. 
Since the Glaciarium is outside of town, the easiest way to get there is by shuttle. 
16. Mountain Bike down Mt Huyliche
Calafate Mountain Park is one of the best places to visit in Patagonia. You'll arrive at the base of the park, and then you'll take a chairlift to the peak. Once you get up there, you'll be rewarded with panoramic views of Lake Argentino, the town of El Calafate, and the majestic Andes Mountains. 
During the winter, this becomes a snowy wonderland that's perfect for beginners learning how to ski. Although, in warmer months, it's the best place to go mountain biking!
Mountain Bike down Mt Huyliche. 
The Bike Park at Mt Huyliche is considered one of the best in the Southern Hemisphere. The path is about 13 kilometers downhill on relatively soft terrain. During the tour, you'll learn about the history and geology of the region.
17. Hike through the Canyon of Fossils
The famous Canyon of Fossils is located in Estancia Cristina. Estancia Cristina is one of Patagonia's most historic ranches. It's located in a very remote setting, virtually untouched by tourists. 
To reach Estancia Cristina, you must sail across Lake Argentino. Getting there is an adventure in itself! The ranch was founded over 100 years ago!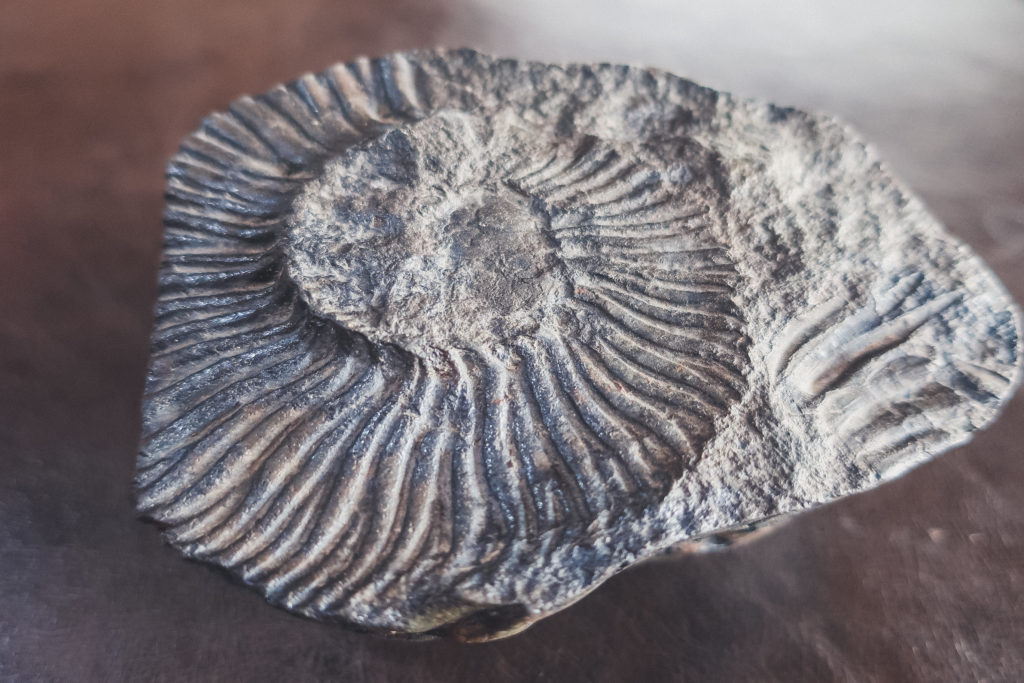 Learn more about the Fossil Canyon Trek. 
Estancia Cristina is located in a spectacular natural setting. It's surrounded by mountains, glaciers, lakes, and rivers. 
Estancia Cristina offers many recreational activities and lodging. You can enjoy hiking, horseback riding, and ATV tours.
However, the most unique place to visit on Estancia Cristina is Fossil Canyon. Fossil Canyon is famous for having high concentrations of marine fossils.
These are relics from 170 million years ago. You can find imprints of jellyfish and squid, as well as fish. The canyon is also very colorful and captivating to walk through.
18. Experience the Walichu Caves
One of the most interesting places to enjoy hiking in El Calafate Argentina is the Walichu Caves. This is one of the most important archeological sites in Patagonia!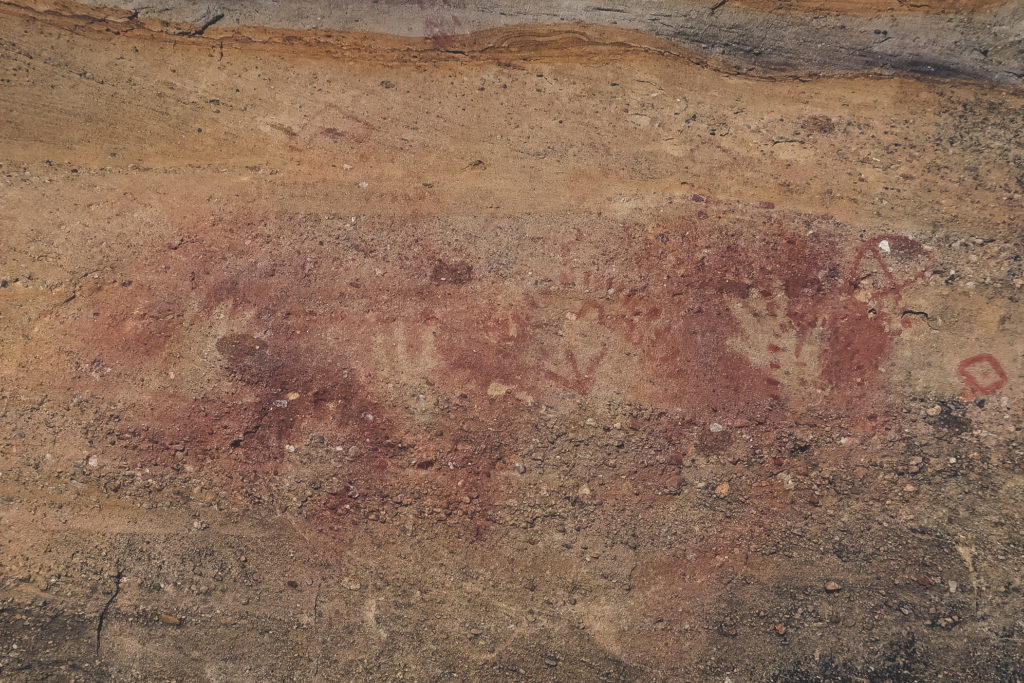 It's a primitive open-air museum where you can discover cave paintings from prehistoric times. 
The Tehuelche people were indigenous inhabitants of the Patagonia region. They lived in this region over 9,000 years ago! Natural caves, such as the Walichu Caves, were perfect dwellings for the Tehuelche.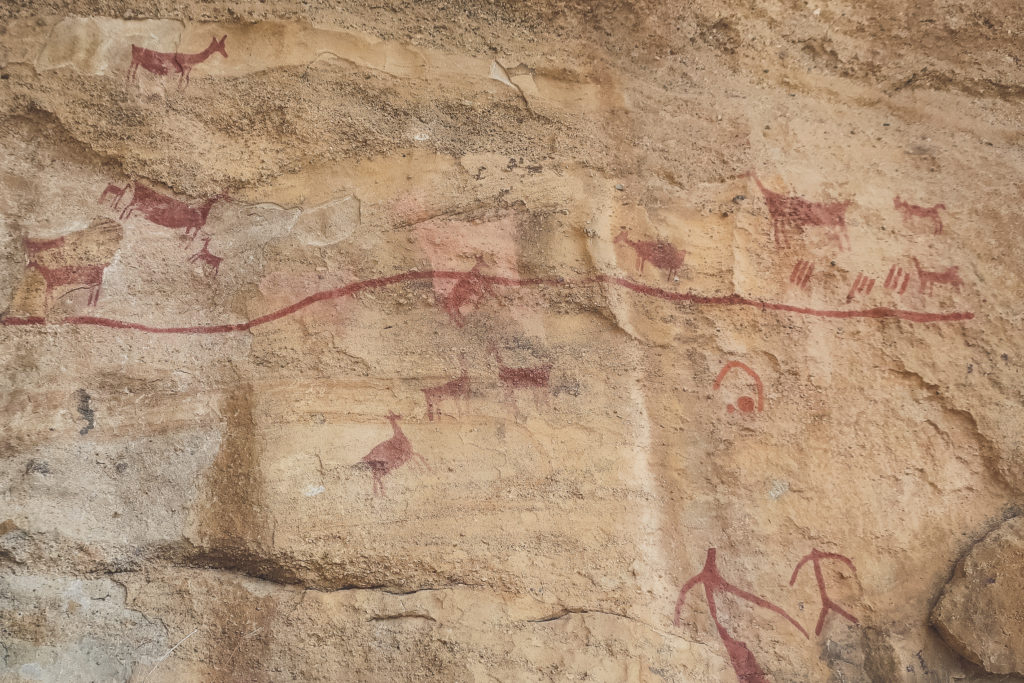 They used pictures on the walls of the caves to communicate their history for generations to come. The caves also show some evidence of the Paleolithic Era – this is when humans developed stone tools and began to hunt for food. Many of the cave depictions illustrate important hunting routes. 
This is an El Calafate must see!
19. Get your paleontology fix
El Calafate History Museum is a treasure trove for paleontology. It offers a window into a very different world and a glimpse at some very different mammals. 
The history museum is located in El Calafate town, so it's easy to get to.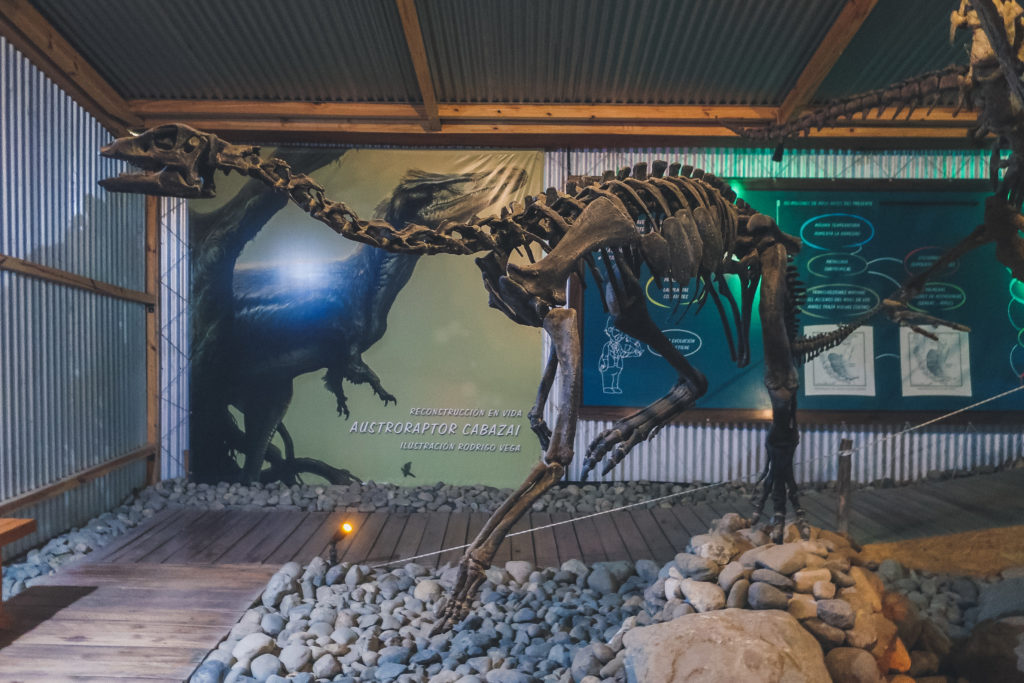 The first part of the museum reveals full skeletons of prehistoric dinosaurs and mammals. The second part of the museum shares the history of the humans who inhabited Patagonia. From the earliest primitive people to the tragic story of colonialism. It's an emotional display telling a tragic history. 
While the text on most exhibits is in Spanish, you'll be given a binder with English translations. It's really interesting to read through and experience history while you walk through the museum. 
20. Drink Mate
Mate is a traditional drink in South America, especially Argentina. It contains marine – similar to caffeine. It is made by infusing mate leaves.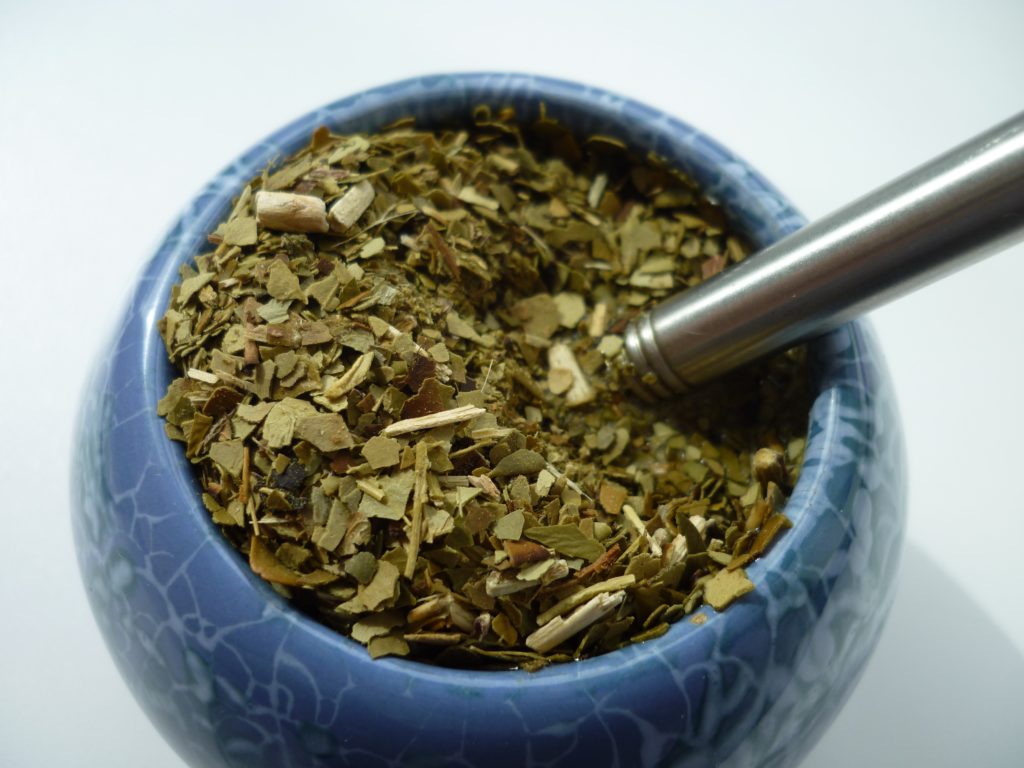 This classic beverage is served in a gourd, also called 'mate,' that has a metal drinking straw. The straw also serves as a sieve. So, you can place the dried, ground up, mate leaves directly into the cup. Although, modern mate often comes in a teabag. 
Drinking mate is customary in Argentina like drinking espresso is customary in Italy. It's a social activity, and it also helps to boost energy levels. 
21. Shop for artisan crafts at the Village of the Gnomes
The Village of the Gnomes is an often overlooked tourist attraction in El Calafate. It's a bustling craft market where local artisans sell many unique handmade goods. Visiting here is one of the best free things to do in El Calafate (you don't have to buy anything).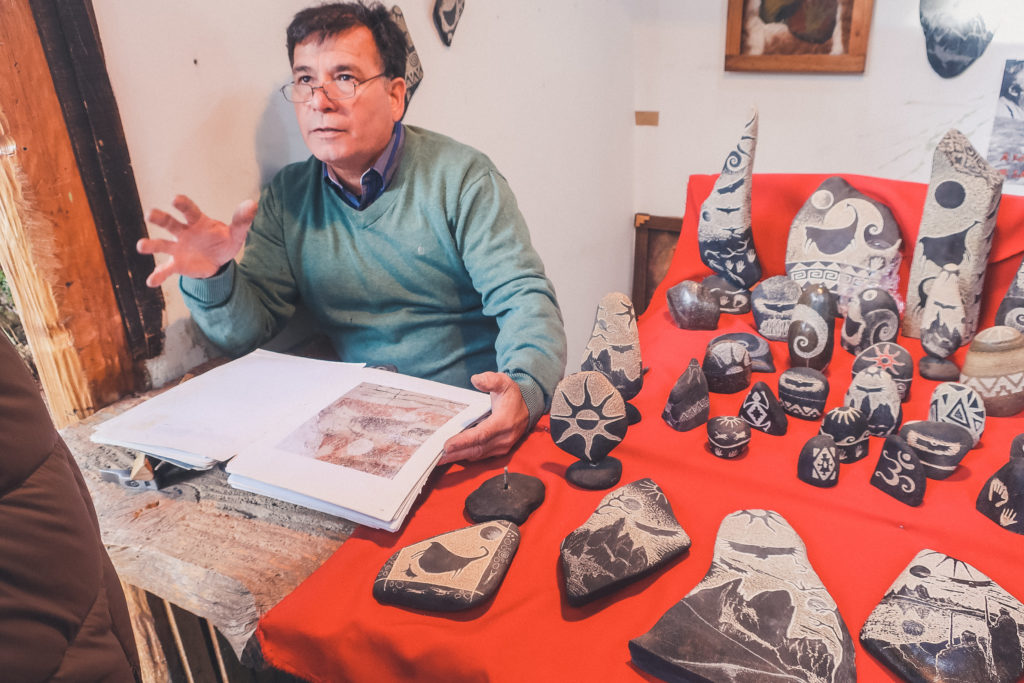 This was one of our favorite memories in El Calafate because we connected with a very passionate local artist. He finds local Patagonian stones and carves beautiful designs onto them. We got to see this in action! His designs are inspired by Tehuelche cave paintings but expressed with a unique flair. 
See what you can discover at the Village of the Gnomes!
22. Drink Craft Beer
You may not think that Patagonia is a big beer destination, but think again! There are two excellent craft breweries in town: Cerveceria Artesanal Chopen and La Zorra Taproom. There's nothing better than an ice-cold beer after a long day of hiking!