Santorini is well-known for being the most romantic island in Greece. If you are planning a honeymoon to Santorini, you're in the right place. This is the ultimate list of romantic things to do in Santorini for couples. 
21 Romantic Things to do in Santorini for couples
If you are planning to visit Santorini Greece, you've likely heard about Oia's magic sunsets and the turquoise blue waters. Santorini sightseeing can take many forms. History lovers will marvel at the Akrotiri and Thera sites (some of the best places in Santorini to discover archeological treasures).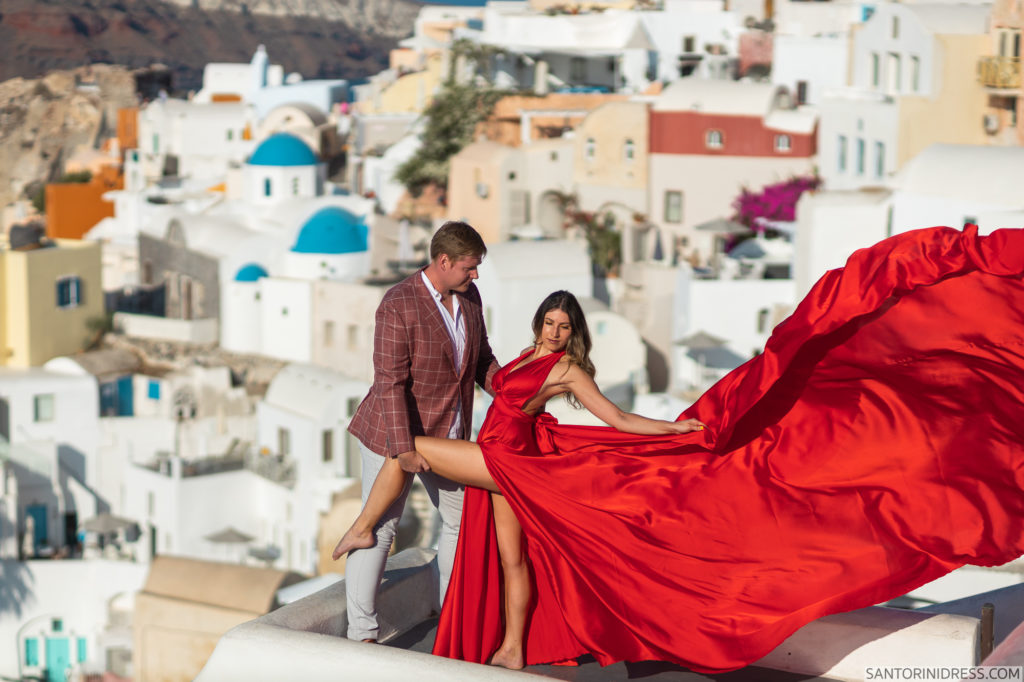 The best places in Santorini to enjoy lounging and relaxing are the infinity pools at Imerovigli, cave villas in Oia, or red sand beaches across the island. Some of the other Santorini tourist attractions include wineries. High-quality wines are produced from grapes grown locally on the island. 
For comprehensive details on the island's best attractions, check out our Santorini tourist map. This Santorini map includes scenic neighborhoods, natural wonders, ancient history, and cultural activities. You'll find much more than just the top ten things to do in Santorini.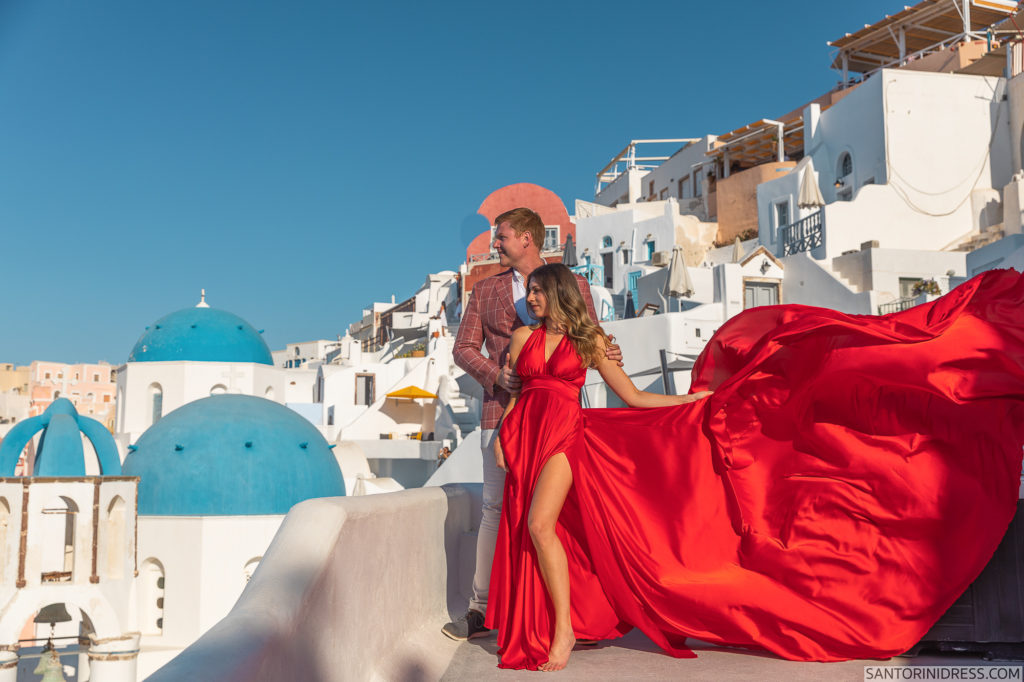 21 Romantic Things to do in Santorini for couples
Still not convinced? Why visit Santorini on your next romantic getaway? 
Santorini is one of the most famous places in Greece and a worldwide sensation. Between the constantly blooming flowers, volcanic sands, and whitewashed villages – it's one of the most beautiful places on earth.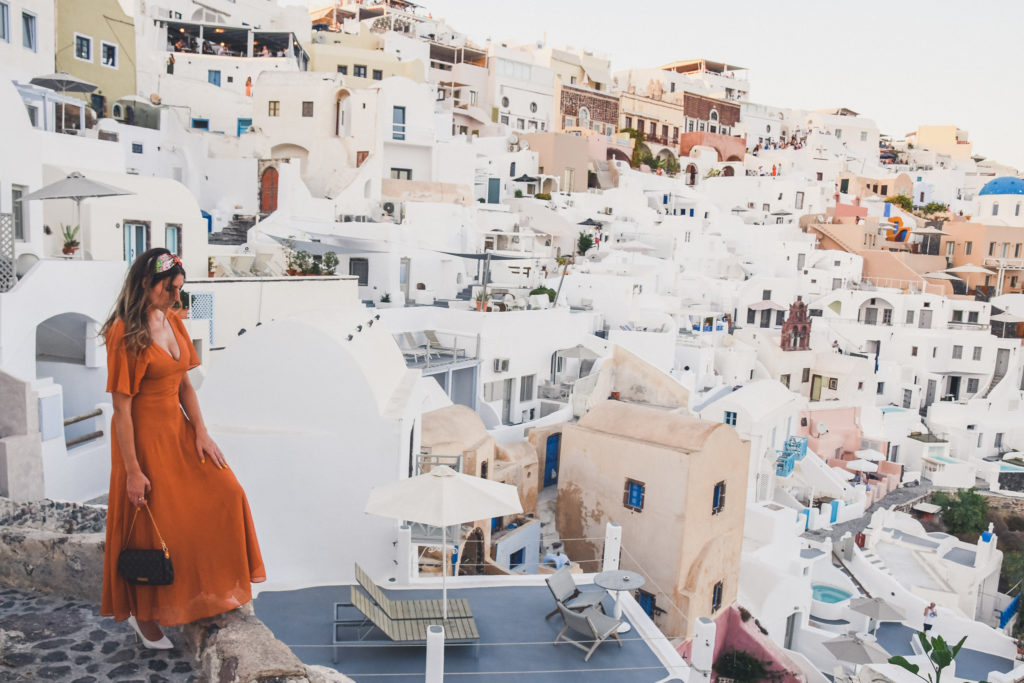 The more romantic things to do in Greece are in Santorini. 
1. Take a wine tour
Wineries are some of the most popular places to visit in Santorini. The island's geography and topography provide a unique opportunity for growing grapes. In fact, grapes have been grown and wine has been produced here since ancient times. Although, it wasn't until the Middle Ages that Santorini wines became world-famous.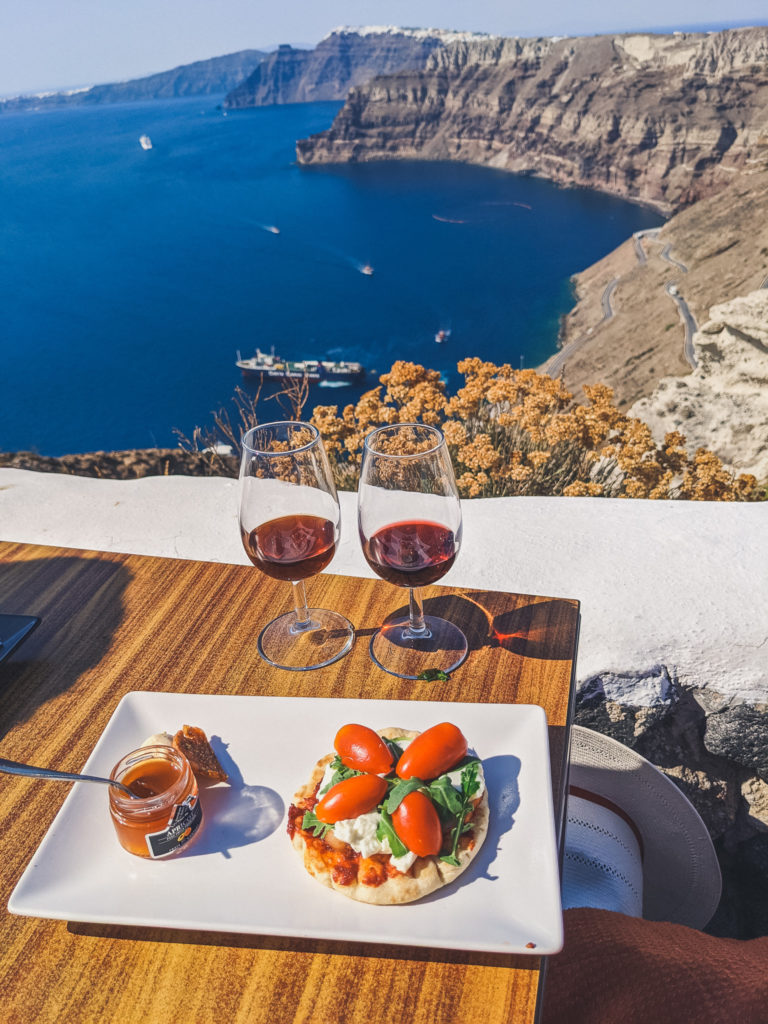 Book a vineyard tour and wine tasting experience.  
The island soil is rich in volcanic ash and rocks. This allows roots to grow deep in search of nutrients. Once you experience the scorching sun in Santorini, you may be surprised to hear that the vineyards are not irrigated. Irrigation is not necessary because the porous ground traps humidity in the air. 
The mild Mediterranean climate also bodes well for wine growing. Although, the coastal winds aren't as helpful. When you visit vineyards, you'll notice how the plants sit low to the ground formed in a basket shape. This protects the grapes from unrelenting winds.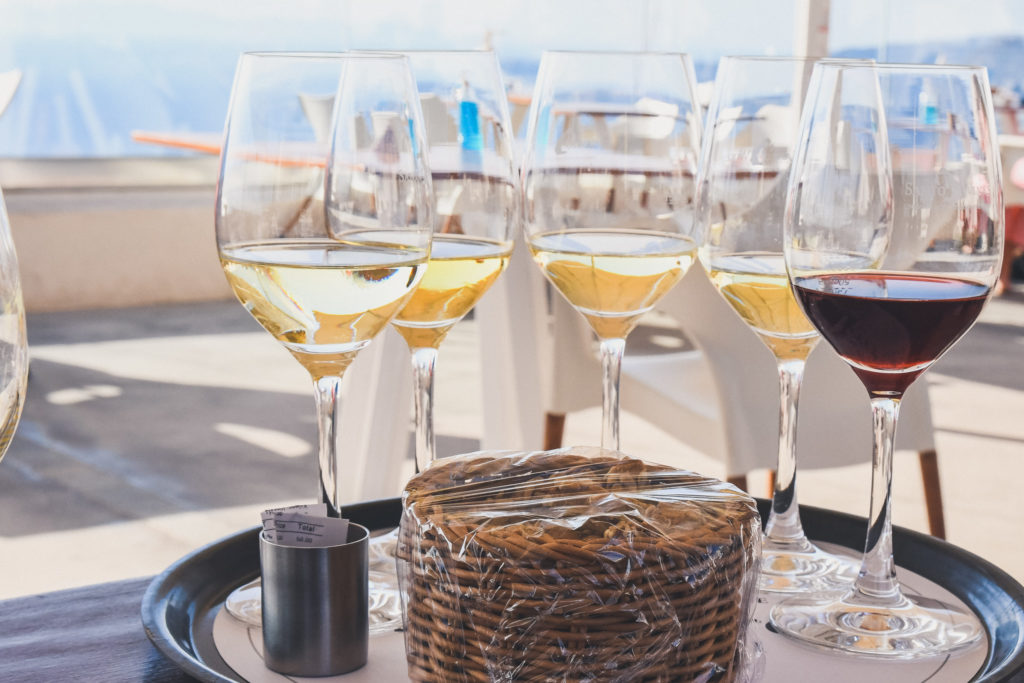 Learn more about Santorini's best wines. 
The most popular varieties grown are Assyrtiko, Athiri, and Aidani. Many Santorini attractions offer an opportunity to sample local wines. However, the most romantic Santorini wine experience is a private wine tour. 
2. Book a sunset sail
Watching the sunset in Santorini is a bucket-list must! The most popular place to watch the sunset is from the island's northern village, Oia. However, Oia around sunset can get extremely packed with tourists. It's one of the most romantic places in Greece, and everybody knows about it!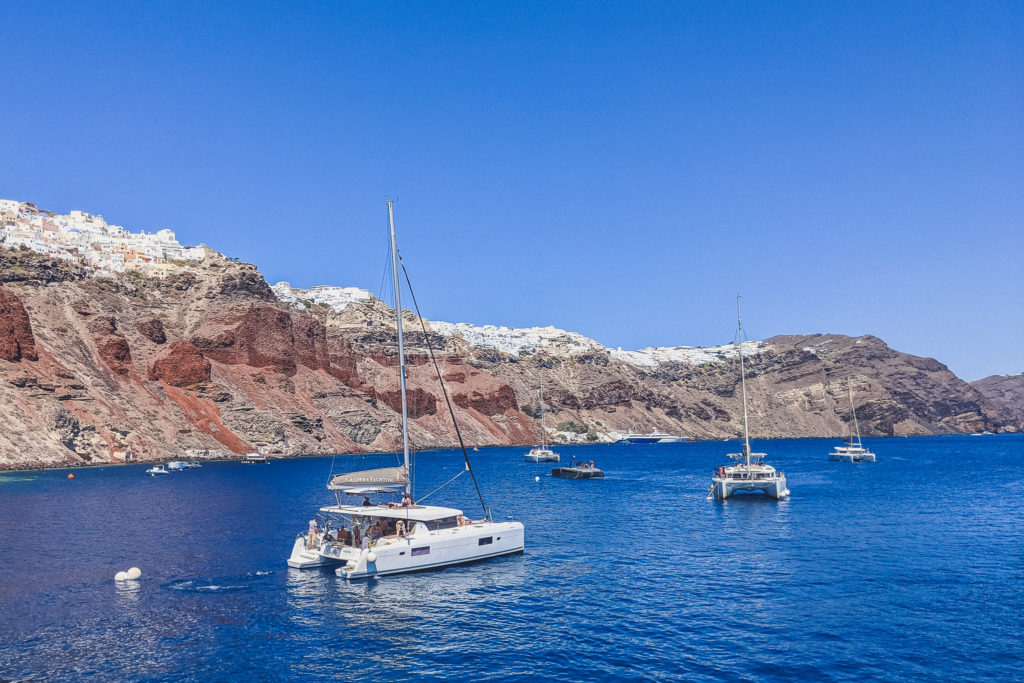 Soak up the best sunset views of Oia from a private charter
There's a way to experience Santorini sunsets without the hassle of crowds. That's why sunset sails are the most popular Santorini sightseeing tours. Watching the sunset from the comfort and privacy of a charter is something you won't forget on your romantic Santorini honeymoon.
Surprise your love with a luxurious sunset sail. 
Sailing experiences give you unique views of some of the top places to see in Santorini including the caldera, red beaches, and hot springs. Choose from an ultimate luxury private charter or a reasonably affordable small-group sail.
3. Visit the legendary hot springs
Santorini is a volcanic island formed by a massive eruption around 1600 BC. It was one of the most violent eruptions of the last 10,000 years. The volcano that formed the island remains active today. The most recently formed volcanic islands are Nea Kameni and Palea Kameni. 
Off the shores of the tiny uninhabited Palea Kameni, you can feel the effects of the continuous lava flow deep underwater. This is one of the best places to visit in Santorini Greece.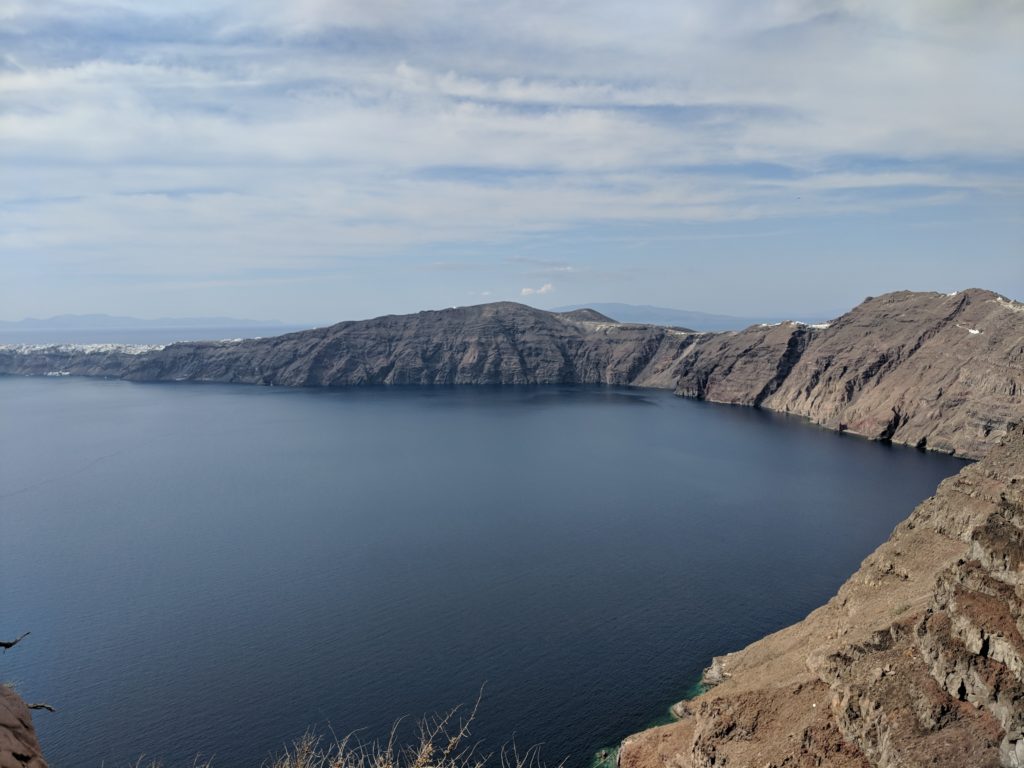 Cruise by catamaran to the hot springs at Nea Kameni. 
The hot springs near Palea Kameni maintain a constant temperature between 86ºF and 95ºF. Swimming in these waters is one of the unique things to do in Santorini.  How often do you get to physically experience the power of a nearby volcano? One of the popular activities in Santorini is to take a day trip to Nea Kameni and Palea Kameni and swim in the hot springs. 
Hike around the Nea Kameni crater and then soak in the rejuvenating springs. 
Swimming in the hot springs is particularly rejuvenating because the water is rich in iron and manganese. It has healing properties that can alleviate pain and tension in some musculoskeletal conditions. It's not every day you get to take a sulfur mud bath. Santorini, truly, has it all! 
4. Ride around the island on an ATV
Taxi fares are outrageous in Santorini! There are a limited number of taxis and Ubers on the island, so you may expect to pay 20-30€ per ride depending on where you want to go. Oftentimes, you will also share your taxi with other tourists. 
If you are looking for independence and thrill, renting ATVs is one of the most exciting Santorini activities for couples. Plus, it can be an economic alternative to taxis. 
Reserve your ATVs in Santorini. 
There are many places you can visit in under 20 minutes by ATV. You can ride from Fira to the Akrotiri archeological site, and from the Akrotiri site to the Akrotiri Lighthouse. You can also get to Perissa Beach from Fira in about 20 minutes. Exploring the island on a quad bike is one of the best things to do on Santorini for active travelers. 
If you are staying in Oia, you can get to Fira from Oia in under 20 minutes by ATV. You can also get to Vourvoulos Beach from Oia in the same amount of time.  Romantic Santorini holidays don't have to be boring. Add a little adrenaline to yours! 
Riding around the island on an ATV is one of the top things to do in Santorini. It's a fun and adventurous way to explore the island without having to worry about transportation. 
5. Obligatory photoshoot
There are seemingly endless romantic spots in Greece, especially Santorini. That's why taking a couples photoshoot is one of the fun things to do in Santorini. Taking a couple of hours to dress up and explore the island with a photographer is unforgettable. 
There's no better way to remember your Santorini couples holiday than with memorable, stunning photos. You'll be guaranteed to look good with access to professional retouching and editing.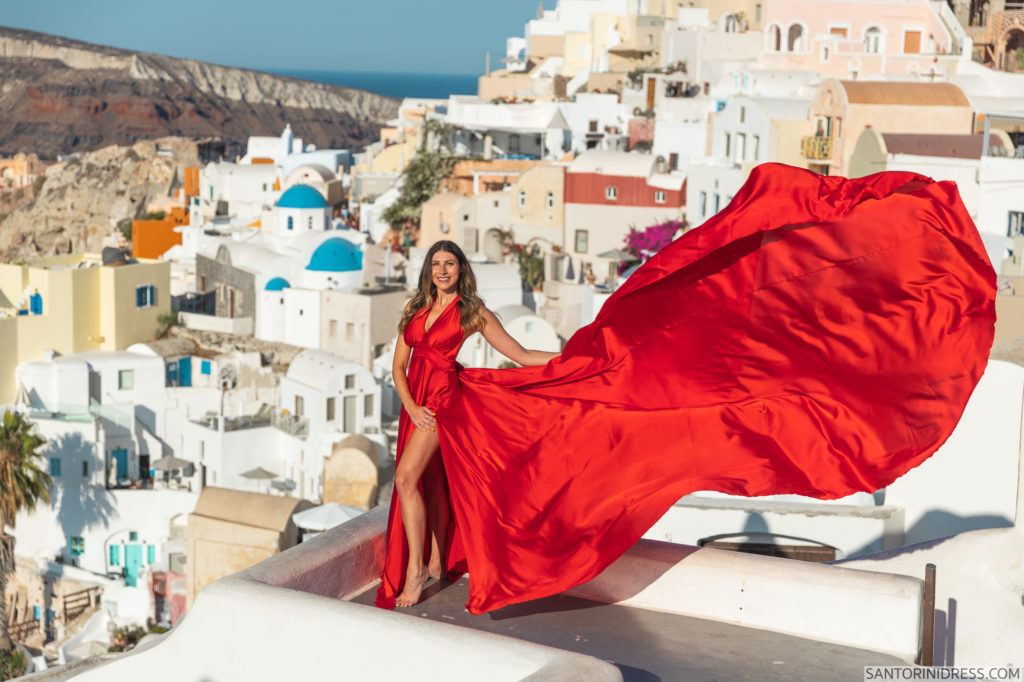 Book a flying dress photoshoot in Santorini. 
Taking photos is one of the most popular things to do in Oia Santorini since this is the most glamorous village. Oia's white-washed caves are surrounded by jagged cliffs and sparkling blue waters. 
Other popular locations for a Santorini couple photoshoot are Imerovigli, Megalorchai, and Ammoudi Bay. Imerovigli photos include blue domes and fuscia bougainvillea flowers.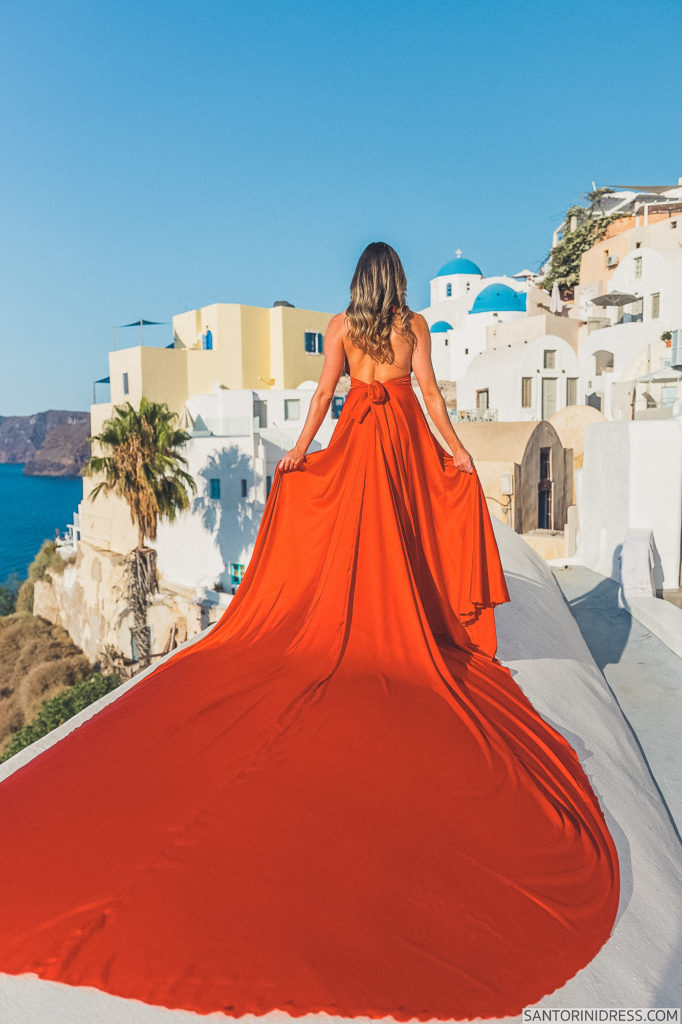 Hire a vacation photographer for your couple's trip. 
You'll want to make sure you have the perfect outfit for your photo shoot. The most instagrammable photography experience in Santorini comes with a flying dress rental. The flying dresses fit everyone well and come in a variety of sizes. They're completely adjustable to any body. 
6. Learn how to cook like the Greeks
If you love Greek food, taking a cooking class as a couple is one of the cool things to do in Santorini. The Mediterranean diet is very healthy, so learning how to cook like a Greek is an important life skill. 😋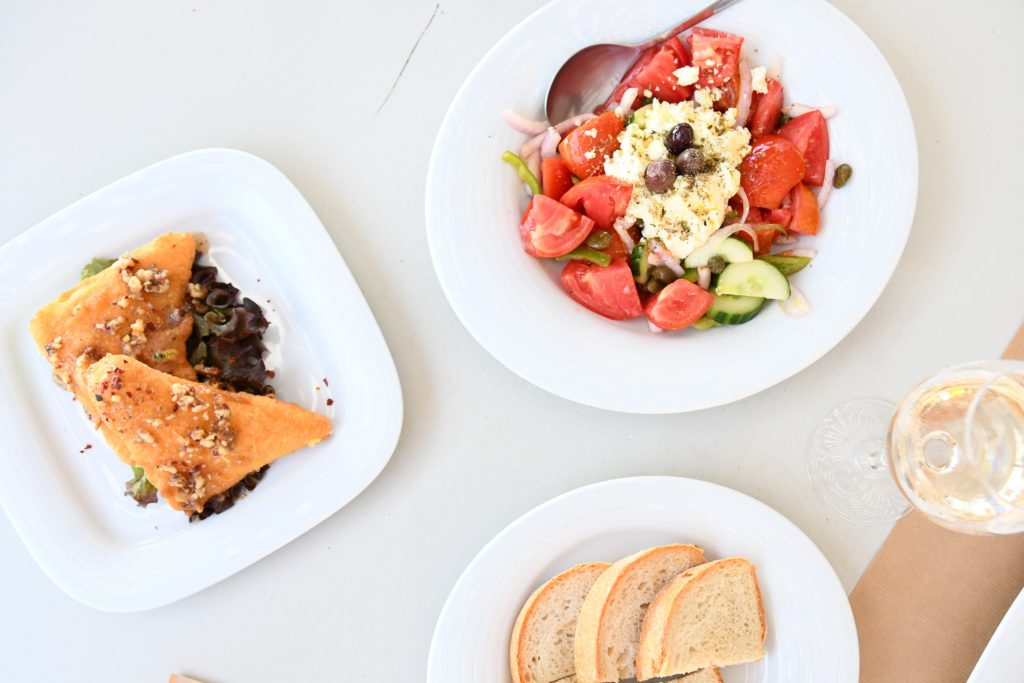 Discover a top-rated cooking class in Santorini. 
Greek cuisine is rich in fresh fruit and vegetables which are grown locally. Spinach is especially popular, particularly in pastries with phyllo dough. Lamb and pork are often roasted or grilled, served with pita or potatoes. Traditional seasonings include lemon, garlic, thyme, and oregano.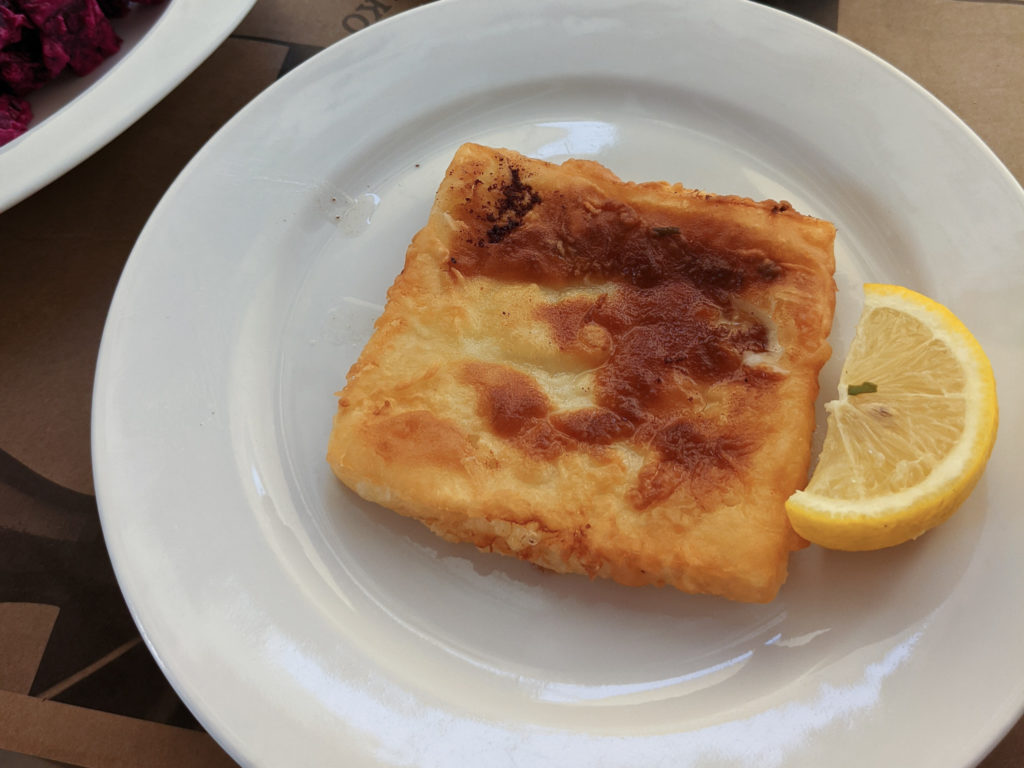 Learning to cook your favorite Greek dishes is something you'll never forget from your Santorini honeymoon. 
7. Stay at a cave villa
The most romantic hotels in Santorini offer private accommodations within cave villas. The most luxurious cave villas are in Oia Santorini. Oia features Venetian-style mansions and high-end restaurants. Oia's most privileged cave villas have private plunge pools and breathtaking sunset views.
Watching the sunset is one of the best things to do in Oia Santorini. Oia is the best place to stay in Santorini for couples. Oia is the most scenic village within walking distance to boutique shopping, limitless photo opportunities, and Ammoudi Bay.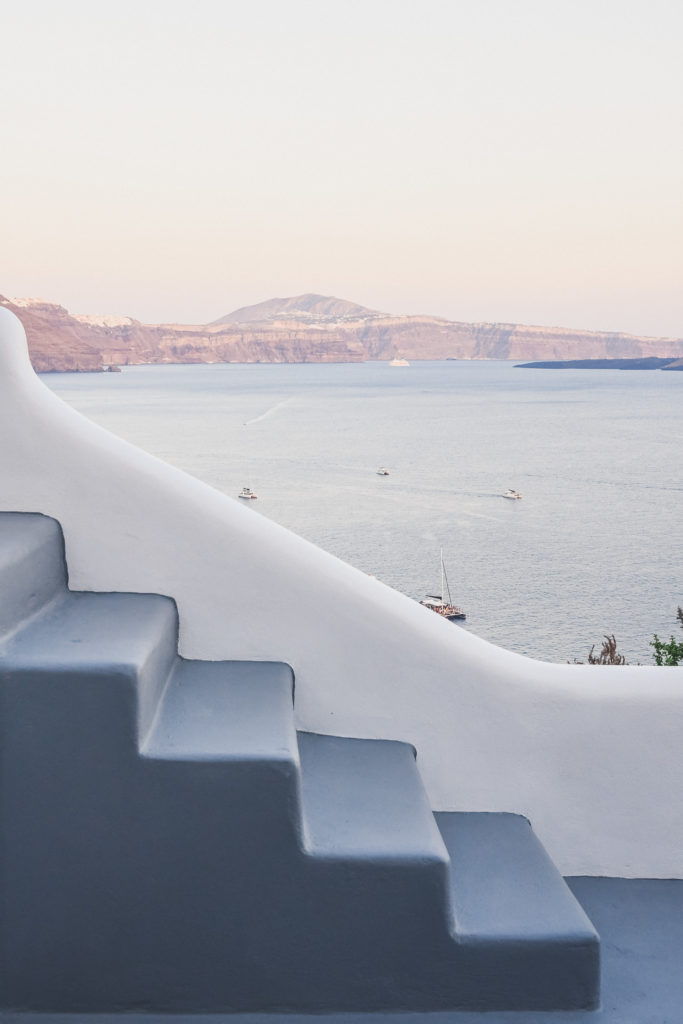 Stay at the Kasimatis by La Perla.
The best honeymoon suites in Santorini are found within the whitewashed cave villas of Oia. Stay at Ikies Santorini in Oia. These cave villas come with a living room, kitchenette, and private plunge pool. If you stay here, you will have an unforgettable backdrop to your Santorini romantic getaway. 
Check out list of the most epic cave villas in Santorini. 
There are also many romantic hotels in Santorini's Imerovigli neighborhood. Book a room at Kasimatis by La Perla. You'll enjoy privileged volcano views and a free breakfast. This is the best place to stay in Santorini for couples looking for an affordable luxury option. 
8. Horseback riding on the beach
Horseback riding on the beach is one of the recommended things to do in Santorini for couples. If you've never been horseback riding, it's a must-have experience!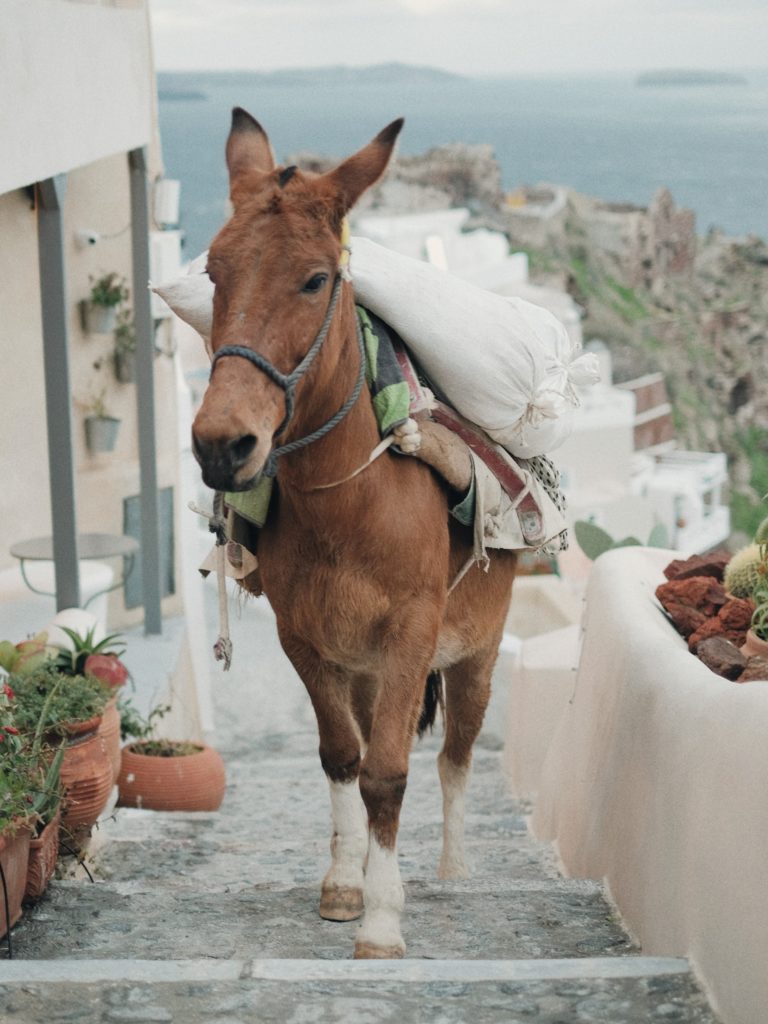 Experience horseback riding on the beach in Santorini. 
Santorini has world-famous beaches that are best known for volcanic sands. There are black sand and red sand beaches in Santorini. The red sand beaches are unique and stunning. They are some of the most photographed places in Santorini.  
If you're putting together a romantic Santorini Greece package for couples, horseback riding should be on your itinerary. 
9. Indulge in a spa day
You'll need a break from Santorini island sightseeing, and a spa experience is the perfect way to unwind. Enjoying a spa treatment as a couple is one of the most intimate things to do on Santorini. 
This isn't just your average couples massage. Your reservation includes a signature dead sea wrap as well as access to a jacuzzi, and sauna. Mud from the dead sea is rich in nutrients and minerals. It is known to have many therapeutic, rejuvenating, and detoxifying properties.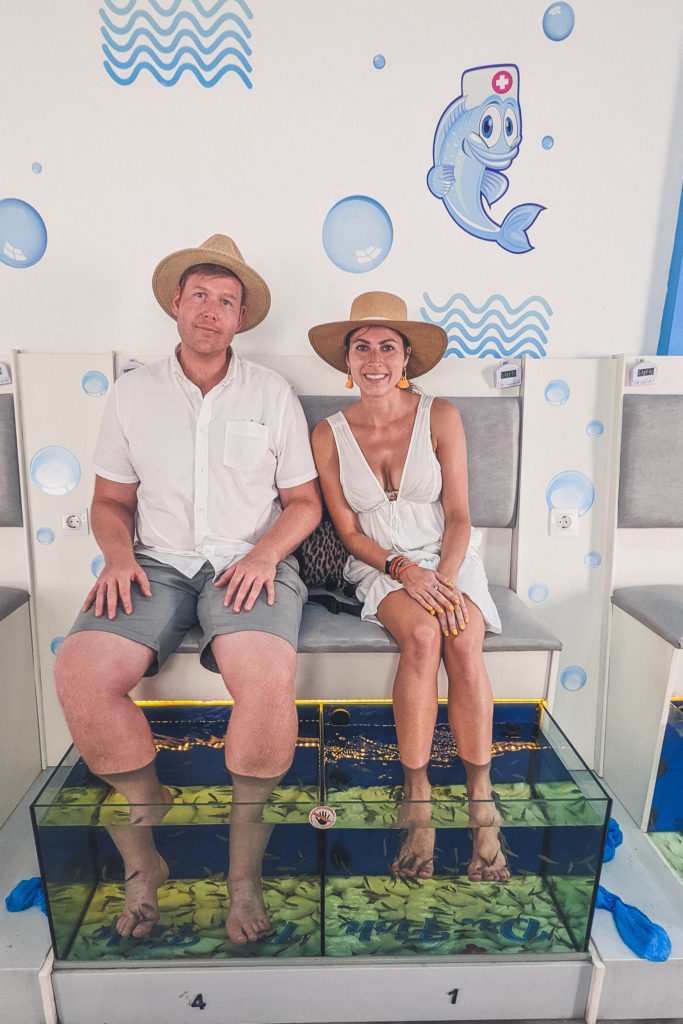 Book a Dead Sea wrap and signature aromatherapy ritual. 
Check out this unforgettable and romantic spa. Santorini spa experiences don't get much better than this! If you are looking for a budget-friendly spa experience, stop by the island's fish spa. Let these tiny fish nibble on your feet and remove dead skin. 
10. Dine with a view of the caldera
A romantic dinner in Santorini is a must-have experience. Many of the best restaurants in Santorini offer sunset views of Oia or panoramic views of the Santorini caldera. 
Sunset in Oia is one of the best things to see in Santorini. The problem with Oia at sunset is that it is overrun by tourists. Instead of being packed like sardines, reserve a table at Sunsets restaurant. Take advantage of the fabulous wine selection, and dine on delicious locally sourced food while you watch the sunset.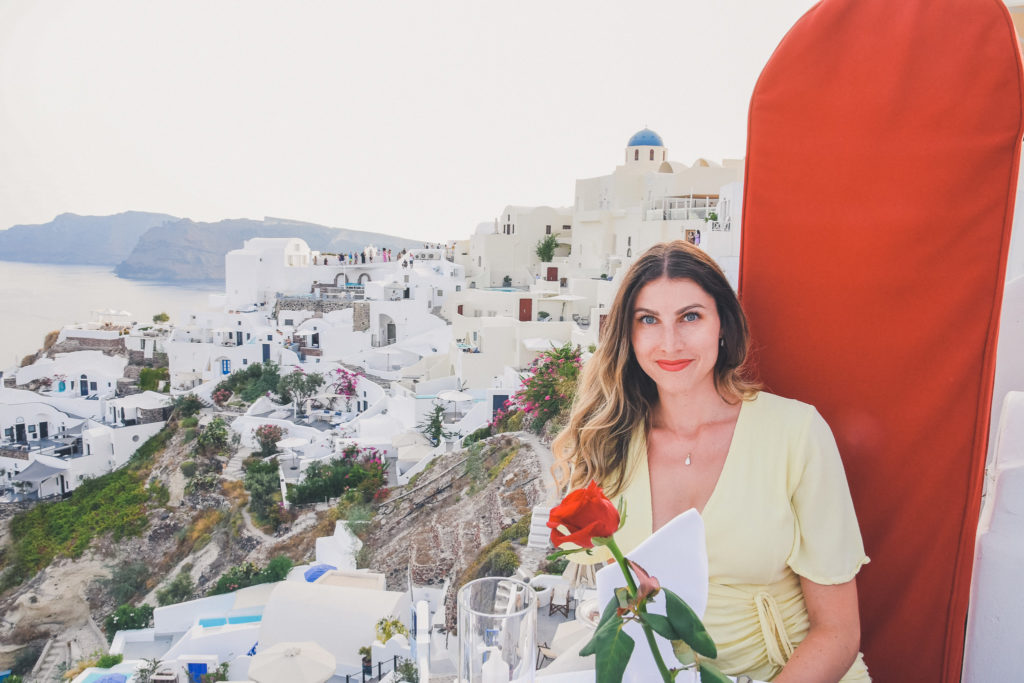 Some of the most romantic Santorini restaurants don't offer views of the setting sun but have phenomenal caldera views. Check out Ambrosia restaurant for the ultimate formal dining experience with an unbeatable ambiance. 
A caldera is essentially a depression in the earth's surface formed when a volcano erupts then collapses. The Santorini caldera is mostly submerged, but you can picture it within the negative space around the island chain. You can find expansive views of the Santorini caldera in Imerovigli and Oia.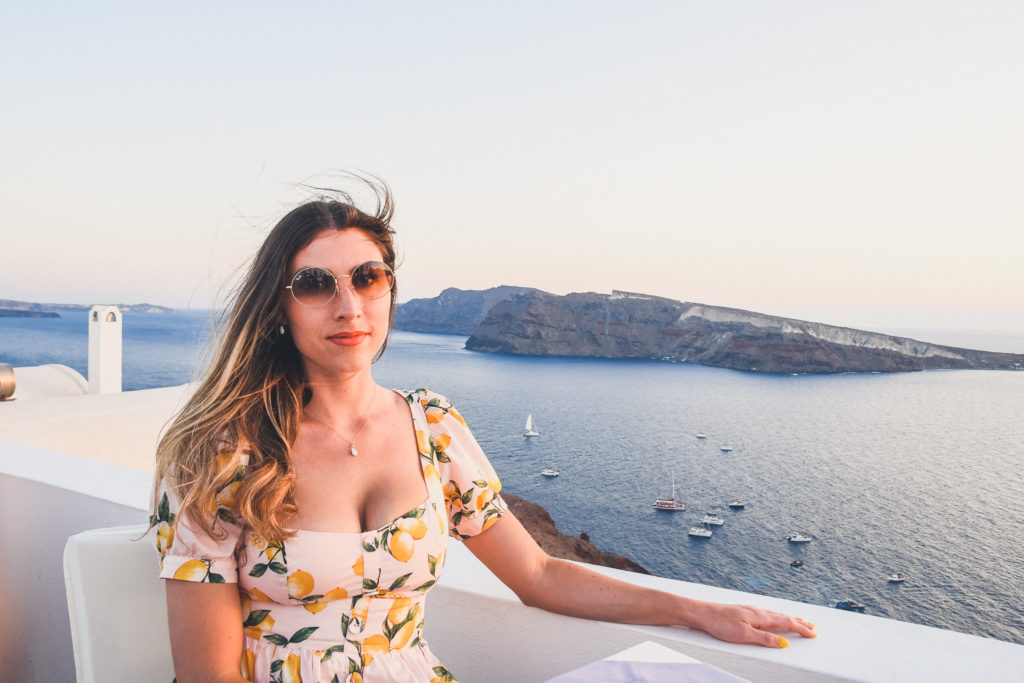 No matter which restaurant you choose, enjoying dinner with a view is one of the most memorable things to do in Santorini at night. 
PRO TIP: Be sure to look up sunset times. Make your dinner reservation 45 minutes to 1 hour before the sun sets. This way, you'll get to enjoy most of your meal with a golden glow. Also, be sure to ask for a 'scenic table.' You can give more details to let the restaurant know you are planning a romantic dinner. Santorini's best views are worth the extra effort! 
11. Jump off a cliff
There's a unique opportunity for thrill-seekers near Oia Santorini! Alright… it may not be the most 'romantic' thing to do. Although, it's something fun you can do as a couple. Jumping off a cliff in Amoudi Bay is one of the most exciting Santorini adventure activities. 
Amoudi Bay is one of the popular Santorini tourist places. You can get there in a 15-minute downhill walk from Oia. These are several unpretentious seafood restaurants serving up the day's catch as well as the jagged, black-rock, coastline.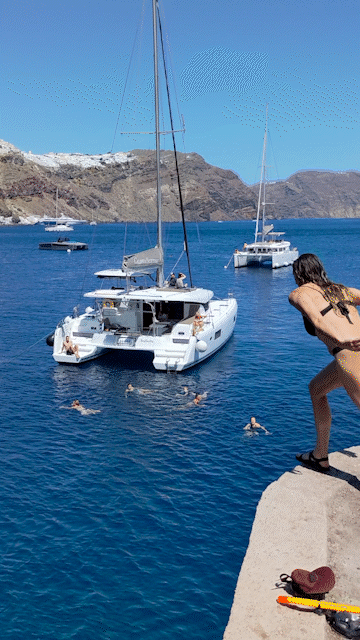 There is a pathway that loops along the coast. You can follow other travelers, as this is a popular place to go. You will head southward towards Saint Nicholas island. Bring water shoes if you can as the rocks are very sharp.
You'll plunge into the crystal clear water and swim towards the tiny island. Many decide to climb the cliff face to get to the jumping platform. However, you don't have to! If you swim around to the other side, there are stairs.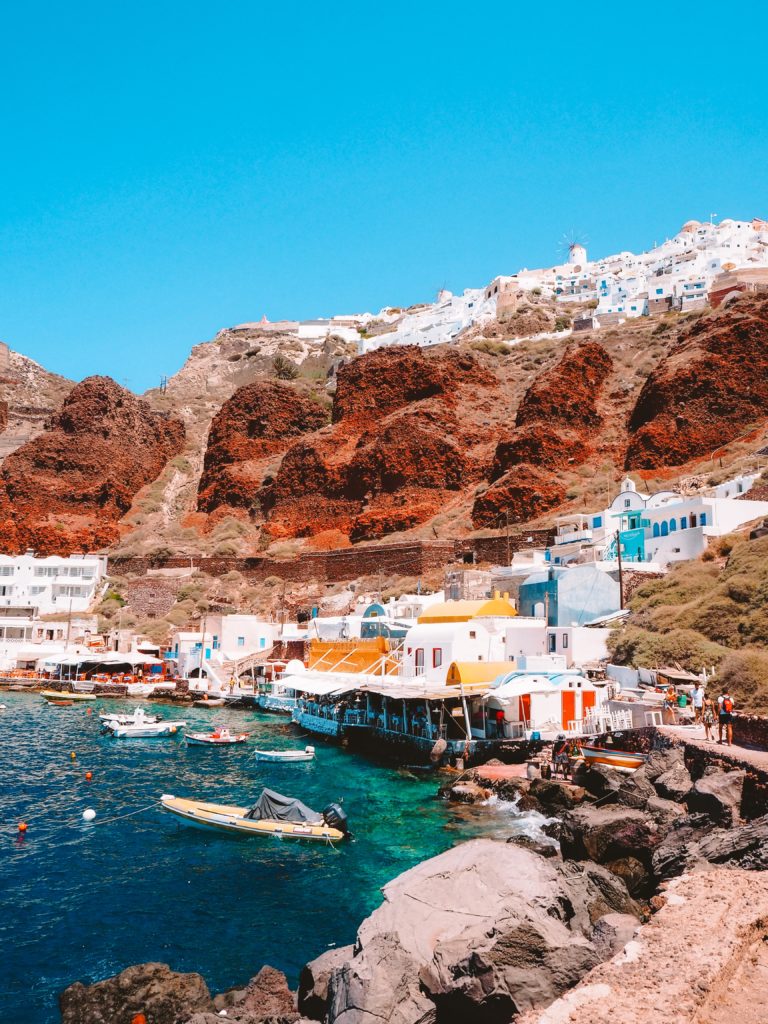 Once you get to the top, your stomach will do a backflip. Grab your lover's hand and jump off the cliff together! There's no debating that this is the best place in Santorini for young couples. 
12. Lounge at an infinity pool
Infinity pools look particularly spectacular along Santorini's coastline. Picture limitless blues from the pool, surrounding ocean, and skies. Soak in the caldera views and identify the regional islands. Spending an afternoon at an infinity pool is one of the best Santorini activities for couples. 
Renting a cabana is one of the best things to do in Fira Santorini. A few places in Fira and Imerovigli offer luxury cabana experiences fit for a legendary honeymoon.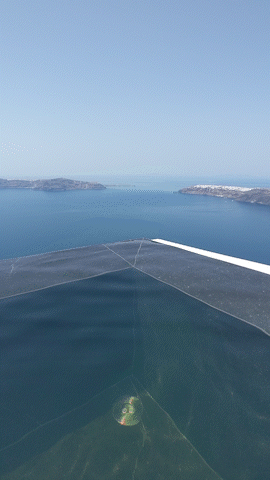 One option is the Le Moustache Pool Lounge. This lounge isn't affiliated with a hotel, but rather a restaurant. If you dine at the restaurant, you'll have access to the pool. 
At Le Moustache, you can also rent covered or uncovered cabanas (perfect if either of you are fair-skinned). Your reservation includes several hours of poolside relaxation as well as beverage options. Just picture yourself lounging by the pool enjoying a sparkling white wine with your lover.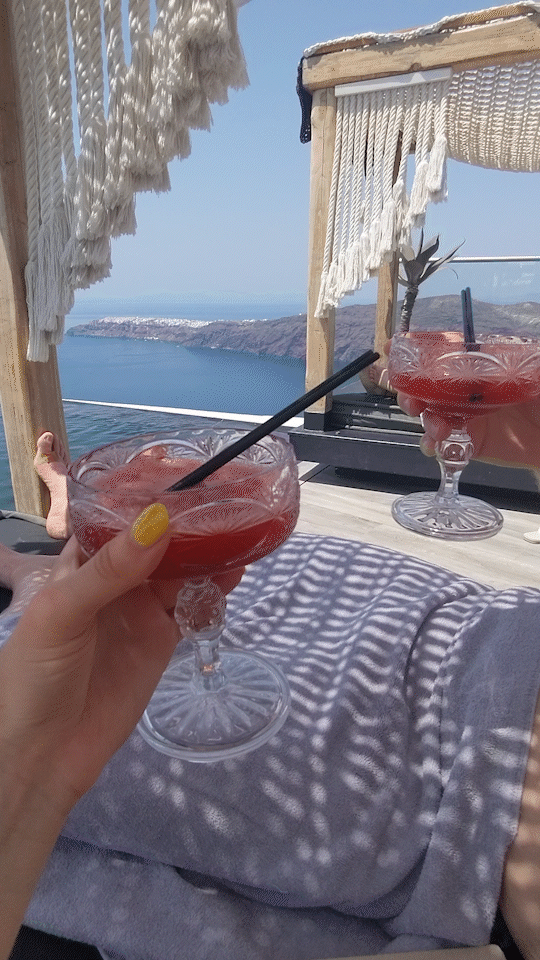 Infinity pools are some of the lesser-known Santorini island attractions. Another fantastic option is the Buddha-Bar Beach at the La Maltese Hotel in Imerovigli. You don't have to be a guest at the hotel to rent sunbeds and enjoy the gorgeous infinity pool. 
13. Shop for handmade ceramics
Shopping for art or home decor on vacation is an activity that you'll get addicted to. This is one of the special things to do in Santorini especially for honeymooners! 
Some of the best things to buy in Santorini include ceramics, handmade jewelry, and art. These items are often made from locally sourced materials.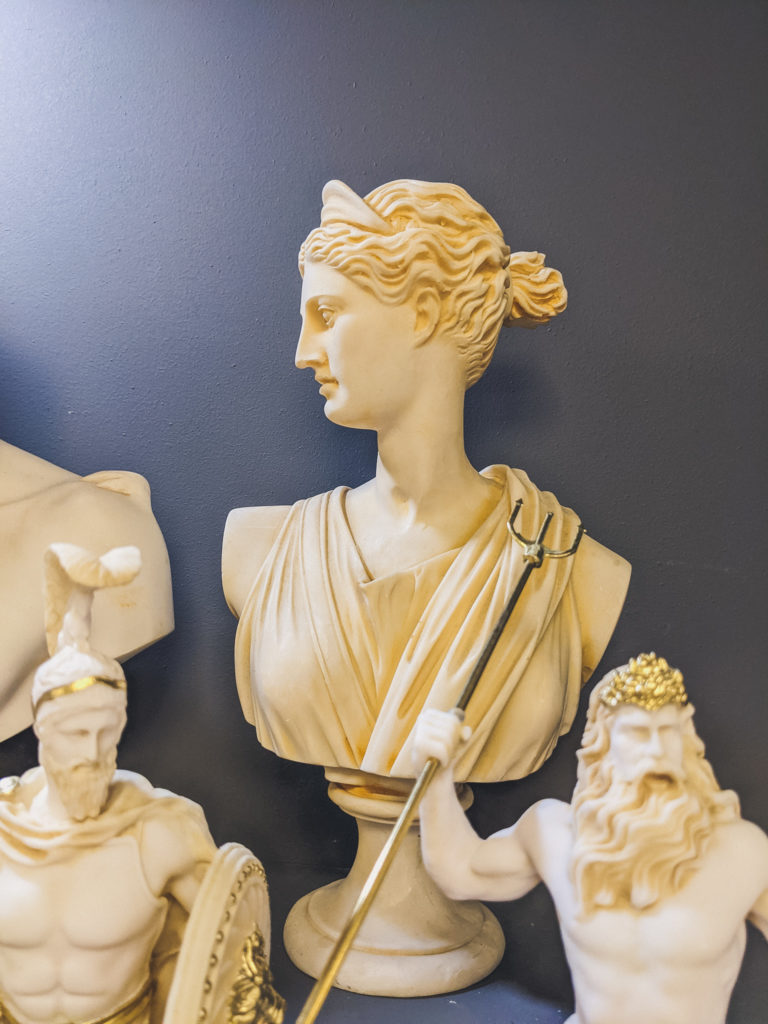 On Santorini, you can find awesome figurines or sculptures inspired by ancient Cycladic art. These make impressive elements of decor to display in your home. You'll have quite the story to tell your guests, especially if you make time to visit any of the island's archeological sites or museums.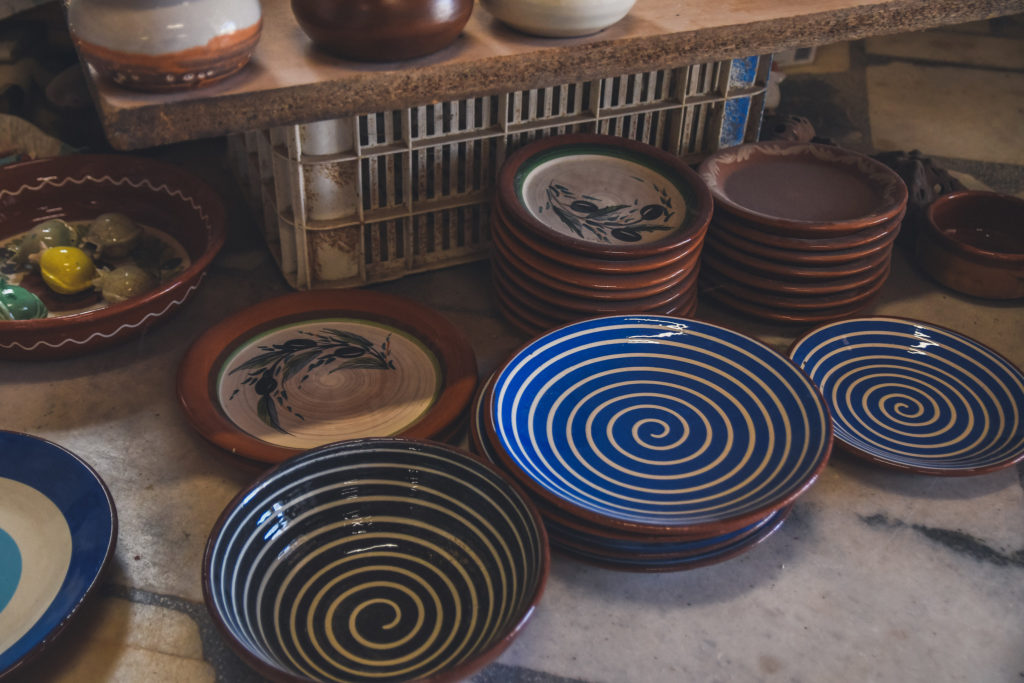 Another cool keepsake is a ceramic plate or dish. You can find these all over the island! Pottery has been practiced in Santorini for thousands of years. The first record of it can be found in the remains of the Minoan civilization. Some of the earliest ceramics were vases and cook pots designed with plant motifs. 
14. Watch the sunrise at Skaros Rock
Skaros Rock is certainly one of the popular things to see in Santorini. Although, arriving before sunset will ensure that you ditch the masses and experience the most magnificent views. 
Skaros Rock at sunrise is the best place in Santorini for couples seeking an intimate experience. The easiest way to get to Skaros Rock is from Imerovigli. It's a short 10-minute walk from town.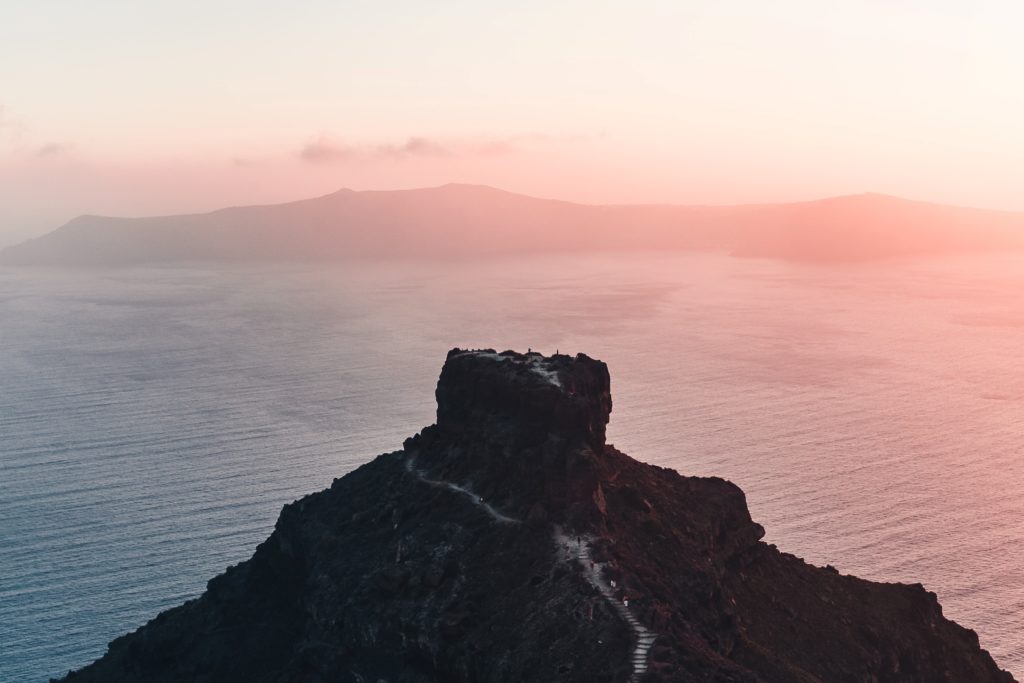 Many travelers choose to hike to Skaros Rock from Oia on their way to Imerovigli. This hike is best enjoyed during fall, winter, or spring when the island cools off a bit. The distance spans over 5 miles and takes about 2 hours to complete. 
If you are aiming to catch the sunset at Skaros Rock, you're better off starting at Imerovigli or Fira. It's an unforgettable experience in Santorini. Romantic things to do here beat almost anywhere else in the world!
15. Ride a cable car 
A cable car ride is a fun way to explore the old port of Santorini from Fira. You'll plunge 220-meters down a cliff while enjoying the rapidly shifting views of the caldera. The ride only lasts 3 minutes, so it's easy to fit this activity into your itinerary. 
Views from the cable car are awe-inspiring! Find out for yourself why this is one of the top things to see in Santorini.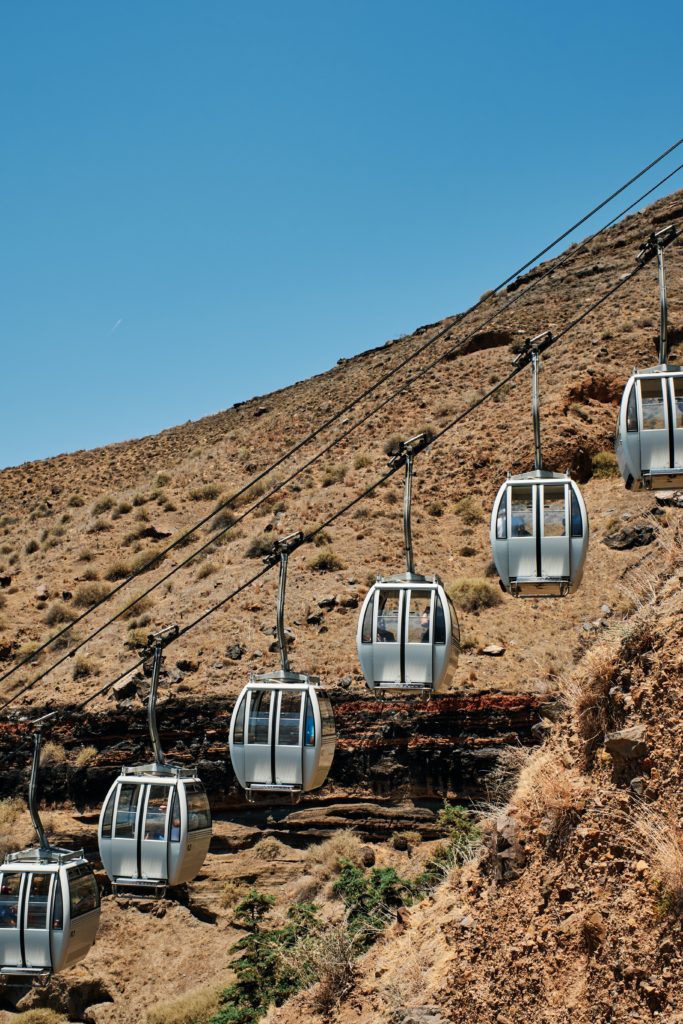 The old port is one of the lesser-known attractions in Santorini. There are many seaside cafes and trinket shops here. The old port is also called Skala, and it remains operational. Many passengers set out to other Santorini destinations from here. 
16. Explore the castles at Oia
Exploring the remains of a historic castle is one of the most romantic free things to do in Oia Santorini. Unfortunately, not much remains of the original Oia castle. Still, it is one of the most popular things to see in Oia.
The Castle of Agios Nikolaos dates back to the 15th Century. The castle was built as an observation area to guard against savage pirates. It was built in the Venetian style and had lavish quarters for its well-ranking residents.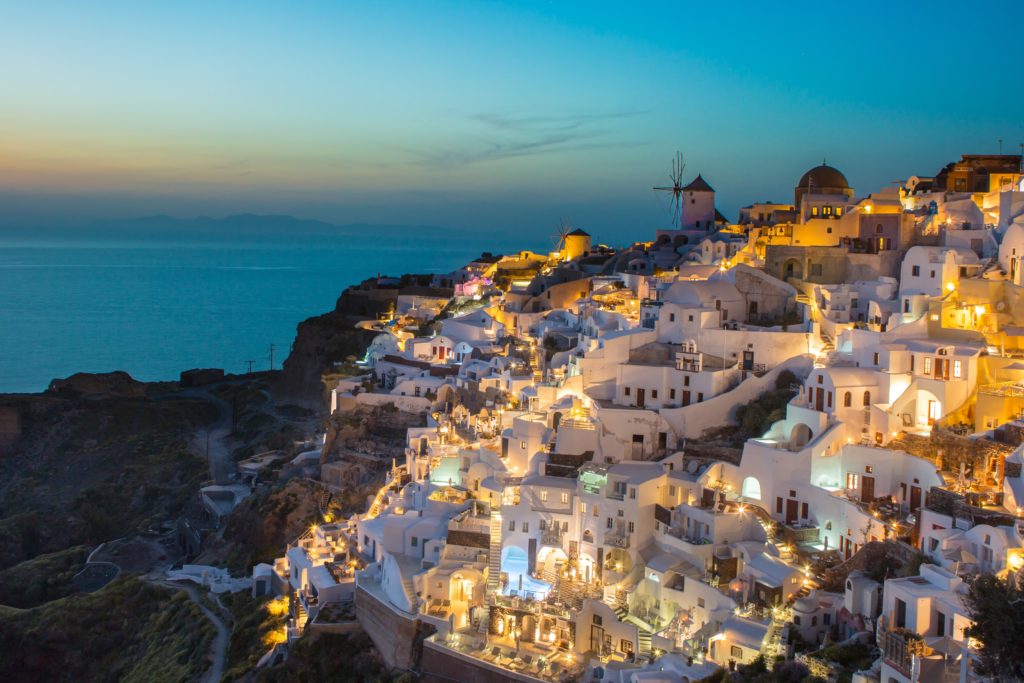 In 1956, a 7.7 magnitude earthquake struck and many of the castle's original fortifications collapsed into the sea. Only part of the castle's original watchtower remains. 
A visit to the castle is essential because this is one of the most picturesque places in Oia. It's an extremely popular sunset spot. Tourists get packed tight. If you want to ditch the crowds, wake up early and catch the sunrise here instead. 
17. Discover the heart of Santorini 
Visiting the heart of Santorini is one of the lesser-known romantic places in Greece. The heart of Santorini is located along the western coast of the island near Megalochori town. You can get there in about a 10-15 minutes walk from town. This is the best place to visit in Santorini for couples. 
Walk along a quaint path, and you will discover a naturally occurring carved hole in the rocks. Peer through to find some of the most lovely caldera views. Be sure to check out the Church of Agios Nikolaos during your visit. If you have more time, meander along the coastal trail. 
Visiting this place is one of the best things to do in Santorini since it is less touristy. So, you'll have a more quiet and private experience. 
18. Have a classic date at an open-air movie theatre 
If you want to have a romantic experience like a local couple in Santorini, take your significant other to an open-air movie theatre. Kamari Cinema screens popular movies in English with Greek subtitles. 
You can get there is a 30-minute drive from Oia or a 20-minute drive from Imerovigli or Fira. Admission tickets must be paid for in cash, and everyone in the group must be present at the time of purchase. You can not buy tickets in advance, so plan to arrive at least 30 minutes early.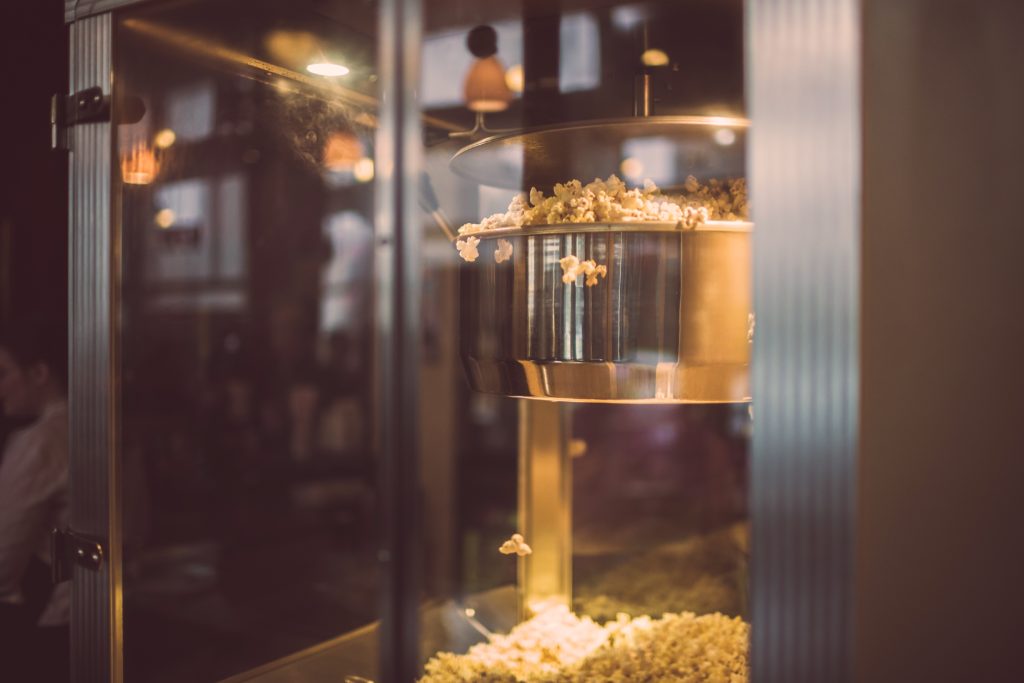 The theater serves concessions including beer, popcorn, and other snacks. While you are in the area, have dinner at Metaxi Mas. It's one of the most romantic places in Santorini serving up traditional Greek food that does not disappoint! 
19. Enjoy a picnic on a red sand beach
While on the island, you must visit Red Beach. Santorini's most beautiful Red Beach is less than a 10-minute drive from the Akrotiri site or a 30-minute drive from Imerovigli. Santorini couples will be smart to pack a picnic to enjoy here. 
Red Beach is the most romantic place in Santorini for a picnic. The red pigment is expressed in the pebbly rocks and sands. The red hues along the beach are especially dramatic next to the aquamarine waters.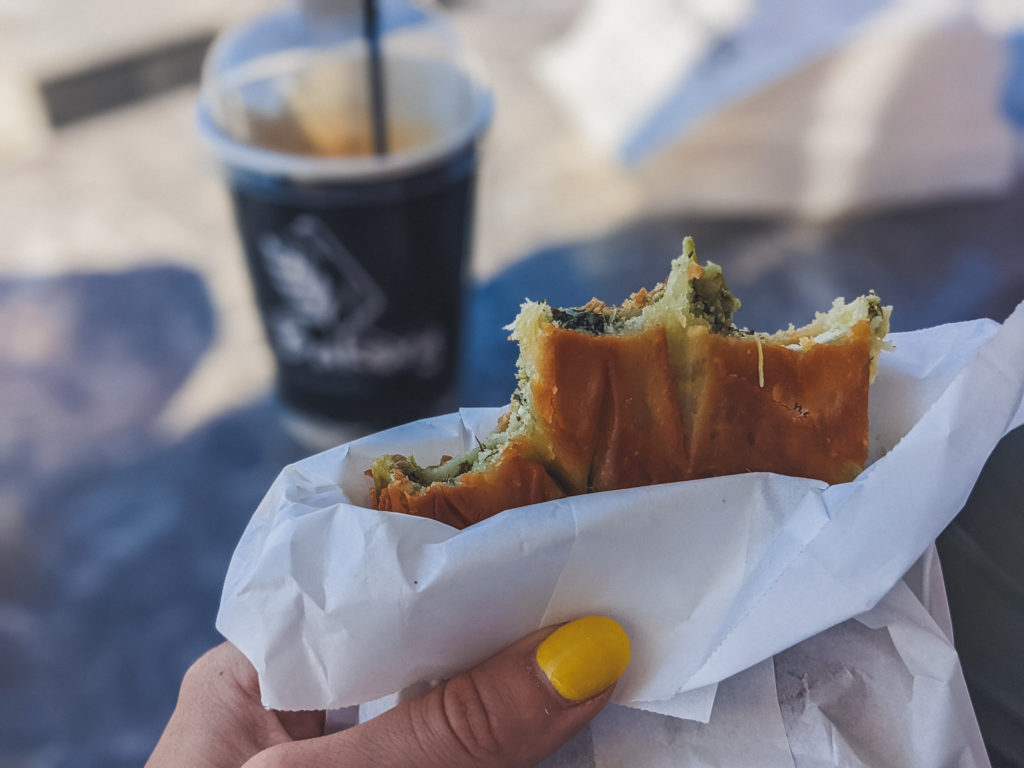 Stop by a local bakery to pick up two slices of spanakopita, a Greek pastry made with phyllo dough, spinach, and feta. Ask if they are serving Freddo espresso, the signature summertime beverage in Greece.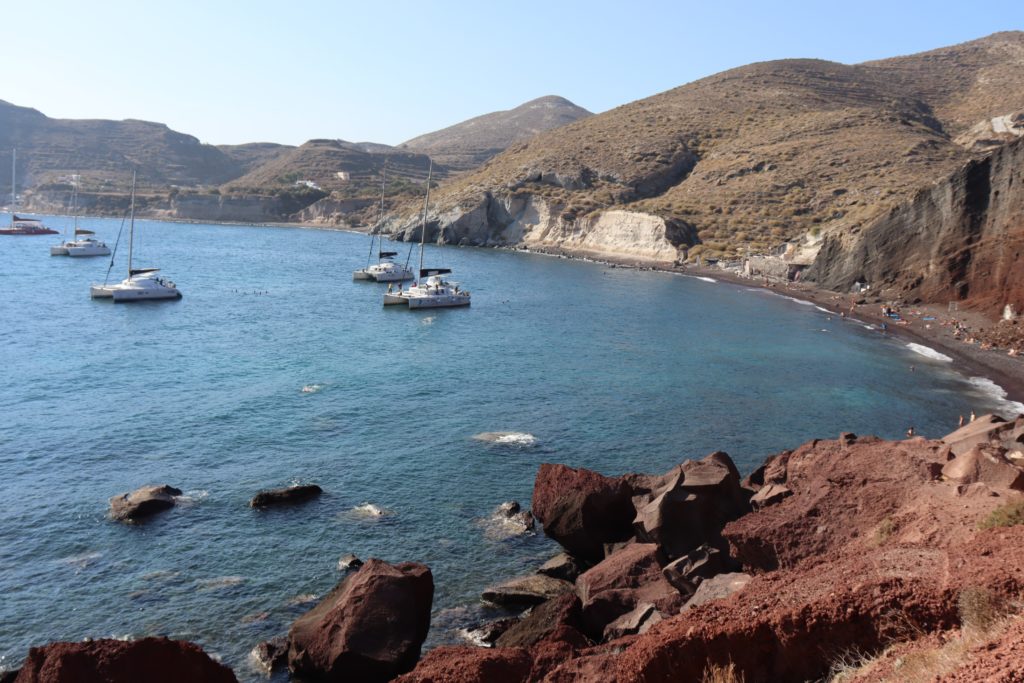 Bring your swimsuits & snorkels to the Red Beach. Unique rock formations and crystal clear waters make this the ideal spot for snorkeling. 
20. Watch the sunset at the Akrotiri Lighthouse
Another amazing sunset spot in Santorini is the Akrotiri Lighthouse. It's certainly one of the most visited Santorini Greece attractions during the day, but few recognize its romantic potential around dusk. 
Enjoying sunset views is also one of the free things to do in Santorini. The lighthouse was built in 1892 by a French trading company. It operated until WWII, and it's the oldest lighthouse on the island. This is the most romantic place in Santorini to enjoy golden hour.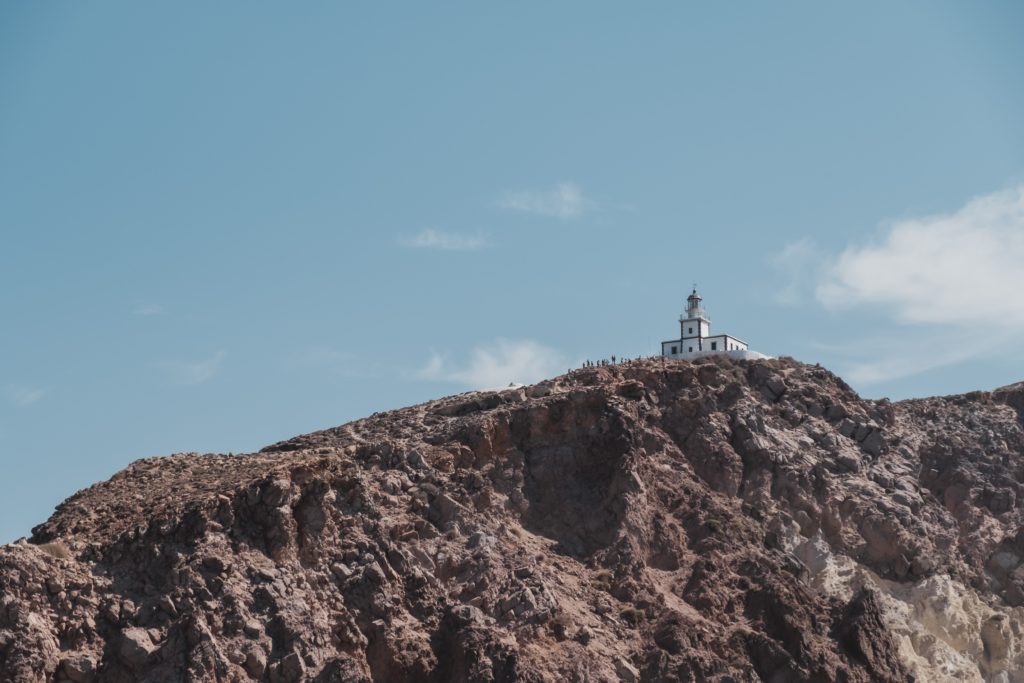 You'll enjoy panoramic views of the Southern coastline. The warm glowing tones reflected along the caldera and the whitewashed villas in the distance. 
Bring along a bottle of local white wine to enjoy with your loved one. This is one of the less touristy things to do in Santorini island, but it's an experience you won't ever forget! 
21, Travel back in time 
There's nothing more romantic than learning about a history that spans thousands of years. Travelers choose to visit Santorini, not just because of the cute scenery. Santorini is one of the most significant archeological and geological centers in the Cyclades. 
The story of a Bronze Age civilization is uncharacteristically well preserved due to one of the region's most massive volcanic eruptions. Experiencing this fascinating history first-hand is one of the experiences that makes Santorini holidays for couples quite special. 
The Akrotiri site is one of the top things to see in Santorini. Views surrounding the Akrotiri site are pretty remarkable.
If you don't have time to visit the Akrotiri site, try to check out one of the museums in Fira. Visiting the Archaeological Museum of Thera is one of the unmissable things to do in Fira.