If you're wondering where to stay in El Calafate Argentina, this is your ultimate guide! Including the best places to stay in El Calafate… everything from budget-friendly hostels, city center hotels, and remote estancias.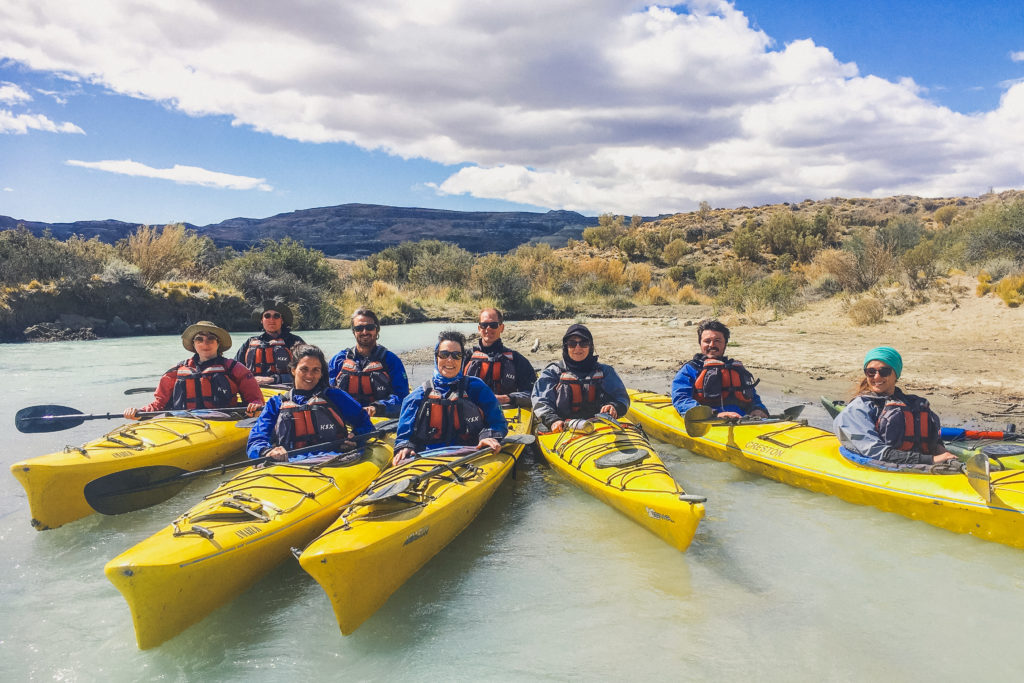 Where to stay in El Calafate: Ranches, Hostels and the top Hotels in El Calafate
El Calafate is a popular destination in Argentinian Patagonia. In El Calafate, you can visit glaciers, hike in a petrified forest, and discover unique wildlife. Check out our El Calafate map for more information on everything you can do here!
The El Calafate airport is only a short 20-minute drive from downtown. If you're wondering how to get to El Calafate, the easiest way is to fly in from Buenos Aires. From here, many seasoned hikers will travel from El Calafate to El Chalten (this is the hiking capital of Argentina).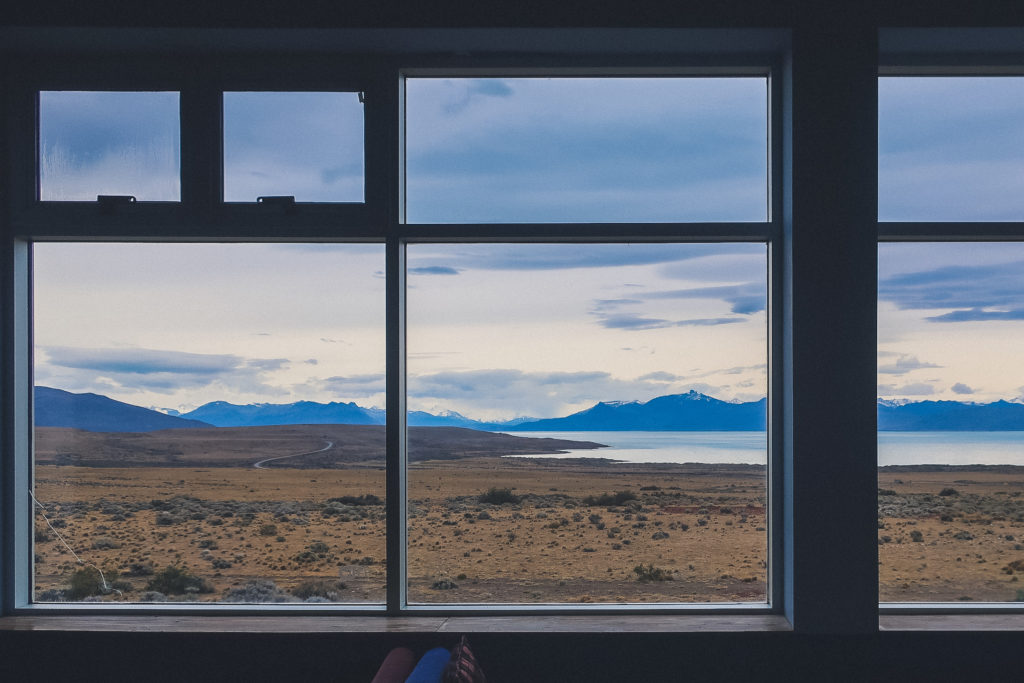 Where to stay in El Calafate
El Calafate is a rugged destination. Downtown El Calafate is relatively small with only a handful of shops and restaurants. Most of the activities in El Calafate are active –everything from hiking to kayaking, bird watching, and mountain biking. In El Calafate, weather can be unpredictable, even in the summer season (check out our Patagonia packing guide).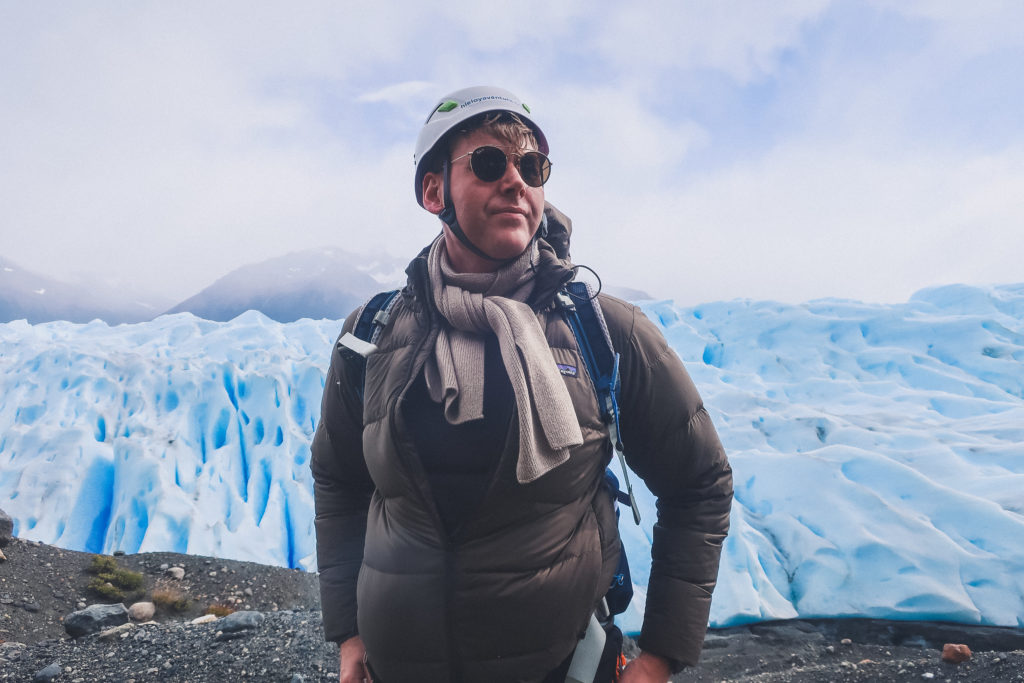 So, now you're wondering where to stay in El Calafate. If you're a young backpacker, looking to make friends and stay on a budget, we've included some top-rated hostels. There are also some cozy and luxurious hotels for travelers looking to rest comfortably. Finally, there are also some excellent estancias for tourists seeking an off-the-beaten-path experience. No matter what you're looking for in El Calafate, where to stay will soon become clear…
Budget, Hostels in El Calafate
These are the best hostels in El Calafate and the best budget-friendly hotels. These cheap hostels in El Calafate will cost you close to $50 per night. All of these accommodations are located downtown, so they're walking distance to the best restaurants in El Calafate. 
These are the best hostels in El Calafate Argentina. 
America del Sur Hostel
America del Sur is one of the most lively hostels El Calafate town has to offer! The style of this accommodation is very traditional for the region. Imagine wood beams, a cozy fireplace, and floor to ceiling windows.  
The America del Sur Hostel El Calafate offers some of the best sunset and sunrise views. You can catch glimpses of Lake Argentino, the Perito Moreno Glacier, and the Andes Mountains. 
This hostel is perfect for backpackers. It features fun common spaces with lively social activity. This is great for solo travelers, or anyone looking to meet new people. 
Stay at the America del Sur Hostel. 
This hostel is located a short walk from Main Street in El Calafate. It's close to shopping and restaurants. You can choose from a variety of rooms, including ones with mountain views. Choose from rooms that are private or shared. Also, some private rooms feature private bathrooms. 
Calafate Hostel 
Hostel Calafate is another excellent pick for backpackers, students, and budget travelers. Looking at a map of El Calafate, you'll see that the Calafate Hostel is perfectly positioned in the heart of downtown.  
The Calafate Hostel is loved by guests because it offers excellent amenities and services. You'll enjoy complimentary airport transfers, and a free breakfast every morning. The hotel staff is friendly and helpful. They provide guests with insider information, coupons, and savings tips around town.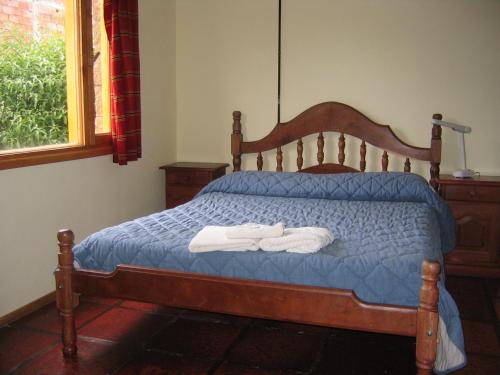 The Calafate Hostel also has a restaurant on site. It specializes in Patagonian favorites including beef dishes and burgers. 
Find out more about the Calafate Hostel.
Guests can choose from private or shared rooms. Certain rooms are equipped with private bathrooms, kitchens, and dining spaces. These are ideal for groups of 4 travelers. There are also less equipped private rooms as well as shared accommodations. Guests can also select room packages that include certain local excursions. 
It's the best hostel El Calafate town has to offer! 
Del Glaciar Libertador Hotel
If you're not necessarily set on staying at hostels in El Calafate, this budget hotel is worth checking out. Skip the Airbnb El Calafate, and stay at the Del Glaciar Libertador Hotel.
This accommodation is located downtown, and it's close to travel agencies, ATMs, and grocery stores.
See more photos of the Del Glaciar Libertador Hotel. 
At the Del Glaciar Libertador Hotel, breakfast is included for all guests. Each room is private and includes a private bathroom. Radiant heat throughout the floors helps to dry your boots and keep you warm and cozy. 
Hotel amenities include luggage storage, an on-site restaurant, and a bar, as well as complimentary coffee all day. Airport transfers are available with an additional charge. Also, the hotel can help you to set up local tours and excursions. 
Mid-Range Hotels in El Calafate
If you can spend around $100 per night on these El Calafate hotels, you should! These are some of the best places to stay in El Calafate downtown. They're walking distance to some of the top places to eat in El Calafate, as well as shopping, ATMs, and tour agencies.
They also offer some creature comforts like pool access, spa services, and modern amenities. Read on to discover why these are some of the best hotels El Calafate has to offer! 
Esplendor by Wyndham 
Esplendor El Calafate is a top pick among travelers. It's a modern hotel with exceptional attention to detail and unique design elements. The style blends elements of traditional Patagonia with contemporary flair and functionality.
If high maintenance travelers are wondering where to stay… El Calafate's best hotel for them is Esplendor by Wyndham (there's no shame in being high maintenance, you know who you are 😂). 
This hotel features a spa and an indoor pool. Visit the sauna, or book a massage after a long day of trekking across glaciers. There's also an on-site restaurant that serves daily continental breakfast. 
See more pictures of the Wyndham.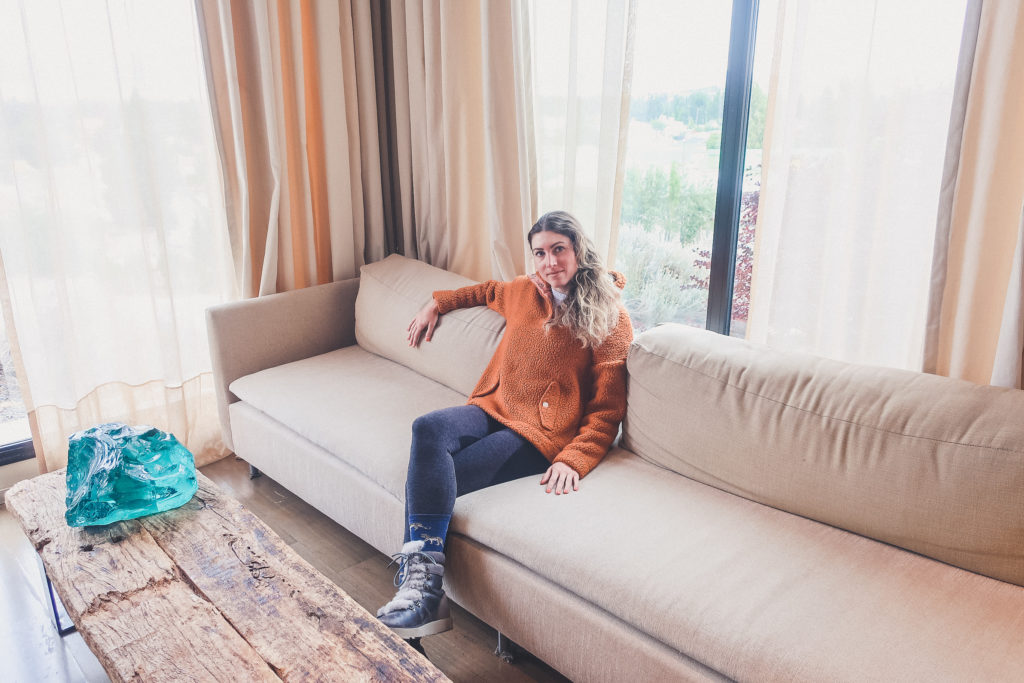 This hotel is a 10-minute walk from EL Calafate's main street. For an additional charge, you can arrange to have meals packed and prepared for your day tours from El Calafate. We definitely took advantage of their laundry services as well! 
Design Suites Calafate
Design Suites Calafate is another excellent choice for your Patagonia vacation. The views from this hotel are unlike any other! It's positioned on a pristine stretch of land that faces Lake Argentino. There's also a spectacular outdoor patio where guys can enjoy the views along with a meal. 
This hotel in Argentinien El Calafate has awesome amenities including a gym, spa, on-site restaurant, and an indoor pool! Rooms offer modern finishes with Patagonian style and design features. 
You won't be disappointed with this booking. El Calafate Argentina's best attractions will be at your fingertips. Did I mention that breakfast is also included?
Book your perfect room at Design Suites.
This hotel is located close to downtown, but also offers free shuttle services. In addition to shuttle services around town, airport transfers are also included! 
Mirador del Lago Hotel
If you choose Mirador del Lago for your booking, El Calafate Argentina will be at your fingertips! This is an awesome 4-star hotel located downtown. Guests will be steps away from the bustling city of El Calafate, and they'll be able to enjoy dining, shopping, and entertainment.
Find out more about the Mirador del Lago. 
Mirador del Lago has excellent amenities including an on-site restaurant and bar where guests are served free breakfast. Hotel transfers are also available for a small fee. 
Another excellent feature of Mirador del Lago is exceptional views. Guests enjoy privileged views of Lake Argentino and the surrounding Andes Mountains. 
Estancias and Luxury Hotels in El Calafate
Many of the best hotels in El Calafate aren't necessarily hotels –they're estancias. An estancia is a traditional Argentinean cattle ranch. Estancias are very typical for Patagonia. They are an important part of Argentinean history and culture.
 
Accommodation Type
Location
Included Meals
Pool & Spa
Xelena Suites
5-Star Hotel
downtown El Calafate
breakfast
✓
Estancia Cristina
Estancia
private and remote
>90 minutes from El Calafate
all
Estancia La Estela
Estancia
90 minutes from El Calafate
breakfast
If you've ever heard praise for Argentinian beef, there's no better place to try it than at an estancia. If you stay at an estancia, El Calafate will be a completely different experience. Estancias are typically more remote and offer a more exclusive experience. You'll be on a private stretch of land with unique views and unadulterated wilderness. It's a different take on hotel luxury. Patagonia (El Calafate) is known for this! 
At an Estancia, there is typically an on-site restaurant that serves locally grown and farm-raised ingredients that are made with traditional recipes. There are also often opportunities for hiking, horseback riding, and other unique excursions. 
This list of luxury hotels in El Calafate Argentina includes a few estancias.
Xelena Hotel & Suites
Xelena Suites is the most esteemed 5-star hotel El Calafate has to offer! This resort-style hotel offers unobstructed views of Lake Argentino, so guests can enjoy some stunning sunsets. 
Xelena Hotel is highly regarded for Mora Restaurant, known to offer a unique gastronomic experience and craft cocktails. Guests can also stop by the Bistro Pierrot bar for refreshments. 
Rooms at the Xelena Hotel have all the luxurious touches that you'd expect. These include plush robes, a jacuzzi tub, underfloor heating, a Nespresso machine, and more! 
Choose ultimate luxury at Xelena Suites.
The Zen Spa at Xelena is another exciting feature of this hotel. They have an indoor-outdoor heated pool, so you can swim outside to enjoy stunning panoramas no matter what season. There's also a hot tub, sauna, and fitness center. Guests can select from a wide range of therapeutic and aesthetic services. 
One of the unique features of this hotel is the quaint garden spaces. On a nice sunny day, the outdoor spaces are the perfect place to relax and unwind. This hotel also has some entertainment options. They offer on-site billiards and table tennis, and off-site golfing for an additional charge. 
Staying at Xelena Hotel will allow you to enjoy El Calafate luxuriously! 
Estancia Cristina Lodge
If you're looking for something beyond the traditional hotels El Calafate has to offer, you've got to check out Estancia Cristina. This is one of the most unique and highly-regarded properties in Patagonia. 
Estancia Cristina is the most remote and most exclusive Patagonian lodge. It's located in a private and serene glacial valley within the Cerro Norte Mountain range. To get to Estancia Cristina, guests will take a ferry from Port Punta Banderas and sail out across Lake Argentino.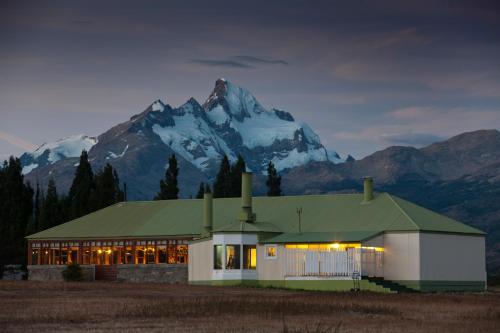 Your stay at Estancia Cristina includes round trip transportation to the property. During the adventure, you'll get a tour of the geography of the region and you'll be served alcoholic (and non-alcoholic) beverages. Along the way, you'll get to see the Upsala Glacier! 
Experience untouched wilderness at Estancia Cristina. 
At Estancia Cristina, there are many activities for guests to enjoy –there are hiking, mountain biking, horseback riding, fishing, and 4×4 tour opportunities. Plus, you'll get to enjoy all of this in an intimate and secluded setting. You'll be completely off the beaten path! 
Estancia Cristina is an all-inclusive resort. Meaning, all your meals, and drinks are included in the cost of your stay! If you're booking El Calafate, you won't be disappointed with this remote and romantic lodge experience. 
Estancia La Estela 
Estancia La Estela is another captivating lodge near El Calafate. This is a unique accommodation. El Calafate is only 90 minutes away, so it's much more accessible than Estancia Cristina. You don't need a boat to get here, you can drive!
Estancia La Estela is located in a beautiful Patagonian setting. Guests enjoy views of Lake Viedma and proximity to the La Leona River. On a clear day, you can see the Viedma Glacier and, even, Fitz Roy! 
Have the perfect estancia experience at La Estela. 
There are plenty of fun excursions to experience at Estancia La Estela. Choose from horseback riding, hiking, mountain biking, and whitewater rafting. 
Spacious rooms include traditional aesthetics and modern amenities. On-site, there is also a charming restaurant that serves daily free breakfast and home-style cooking.