This tourist map of Sedona includes all the top-rated Sedona sightseeing attractions like hiking trails, mystic sites, wineries, and stargazing locations. We've also included Sedona's best restaurants. This Sedona map is interactive, it can be saved to your google account, and it can be downloaded for offline use.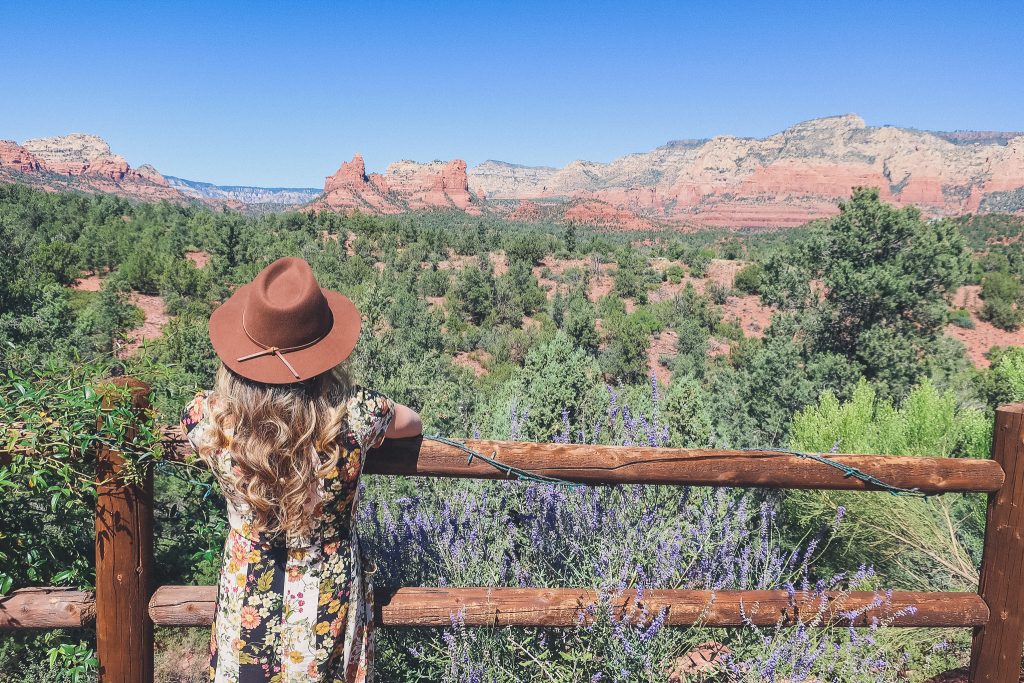 Tourist Map of Sedona: Ultimate Guide to Sedona Sightseeing
Sedona is the ultimate all-American vacation destination It has pristine natural beauty, unlimited opportunities for relaxation, and a thriving restaurant scene. The top things to do in Sedona include hiking, climbing, stargazing, and otherwise exploring red rock country.
Sedona's red rocks aren't only beautiful to explore, they are known for their energetic and mystical properties. Many visit Sedona to relax, rejuvenate and heal. Check out the best resorts in Sedona.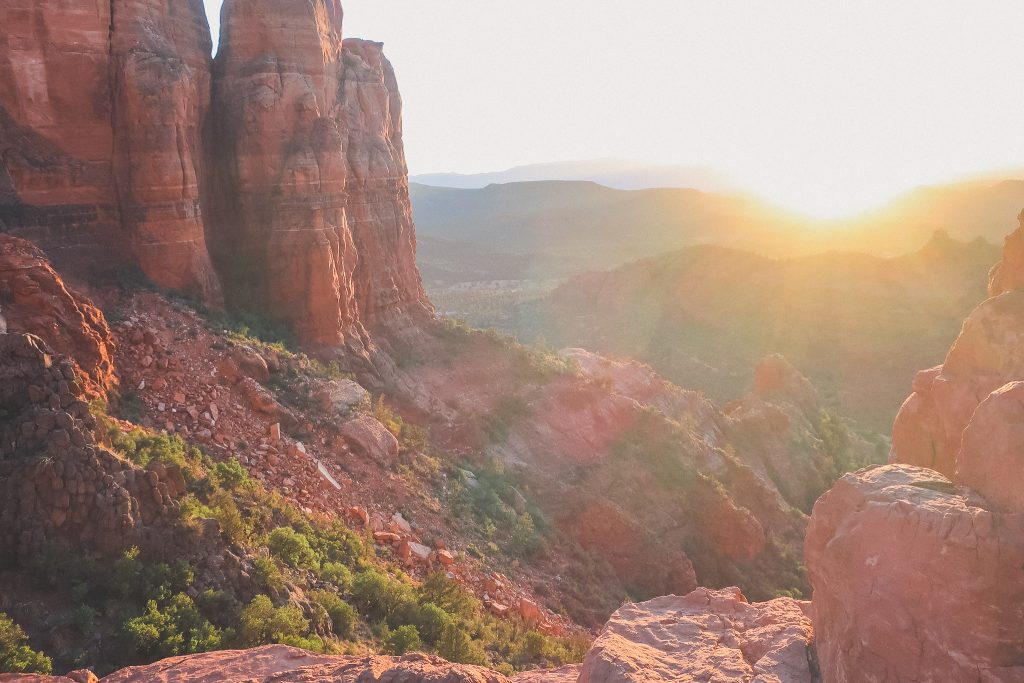 Sedona is home to some of the top spas in America, especially the Enchantment Resort. You can find anything from massage to yoga, Reiki healing, and Chakra balancing.
Sedona is also known to be an energetic vortex site —a sacred place at the intersection of Earth's Ley Lines. Because of this, a huge community of mystics, psychics and other healers have flourished in Sedona. Many come to Sedona for meditation and personal growth.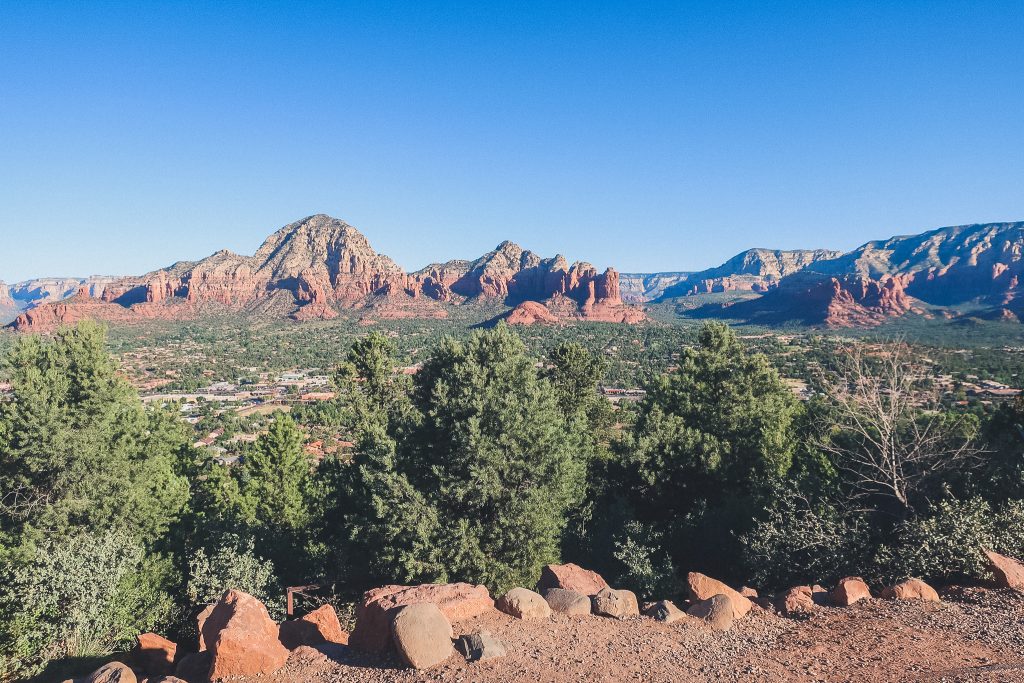 Sedona's incredible natural landscape provides for more than just recreation space and beautiful backdrops. The mineral-rich soil and dramatic climate make Sedona the perfect place to grow grapes for winemaking. That's why this map of Sedona tourist attractions include wineries and vineyards.
Tourist Map of Sedona
On this Sedona sights map, the blue pins identify hiking trails, scenic lookouts, and parks. Yellow star pins show you where you can find drive-up stargazing locations. Purple pins mark the top-rated spas and resorts. In orange, you'll find vortexes, as well as mystic and spiritual sites. Red pins will show you where to find the recommended wineries and vineyards. Finally, the green pins will show you where to find the most sought after restaurants.
How to Use This Map: If you click the tab at the top left corner, you'll be able to select specific layers. Click the checkmark to select or hide specific categories.
Save This Map: Click the brackets in the top right corner to expand the map in full view. It will open in a new tab. Under the map title, right of the map description, there is a star. Click this star and the map will be saved to your Google account  in Google Maps. You can access it later from your computer or device. On desktop, go to Google Maps and click 'Your Places,' and 'Maps.' On app view, select 'Saved, scroll down and click 'Maps.'
Sedona Sightseeing Attractions
There's so much to do and see in Sedona! Here's a breakdown of what you'll find in our map.
Visiting Sedona with a significant other? Check out these romantic things to do in Sedona. 
Hiking Trails
Sedona is most famous for the distinct red sandstone formations that dominate its rugged landscape. Some of the top Sedona attractions are hiking trails, scenic lookouts, and parks. While there are hundreds of different hiking trails through Sedona, this map includes the top trails that you won't want to miss.
Sedona sit's on top of the Coconino National Forest. Many of the trails are sprinkled throughout town with small parking lots that accommodate 10-20 cars at one time. To be able to park in the lots, you'll need to pick up a Red Rock Pass.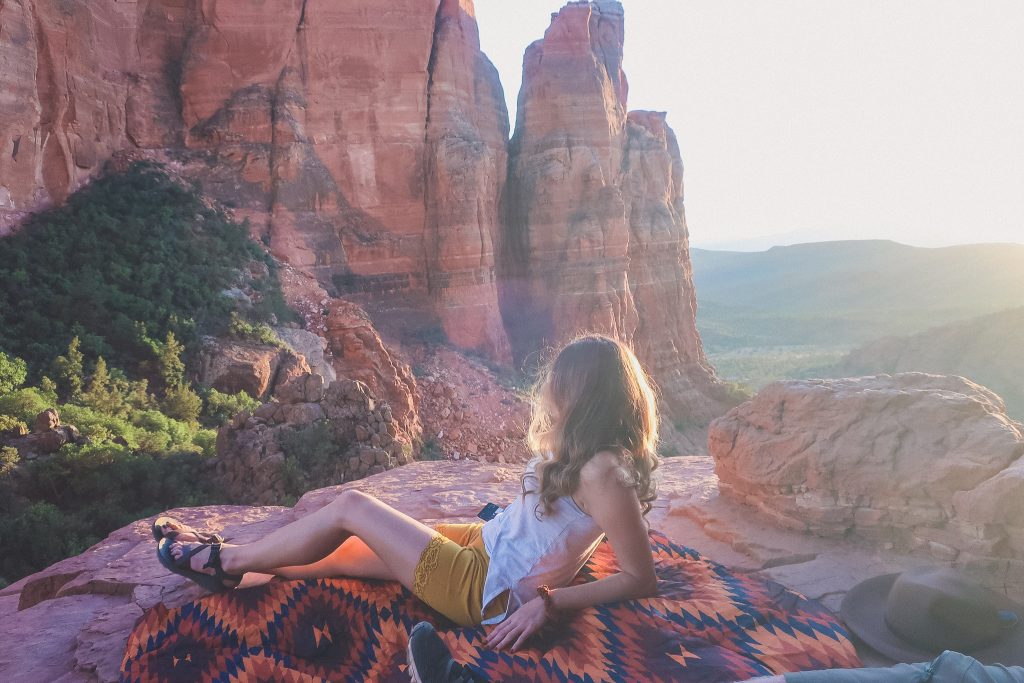 You can pick up a Red Rock Pass at Circle K gas stations and Giant convenience stores. Also, you can find them at some trailhead kiosks. During the busy season, it can be difficult to find parking at some of the popular trailheads. I recommend you plan on arriving early for any highly desired hike.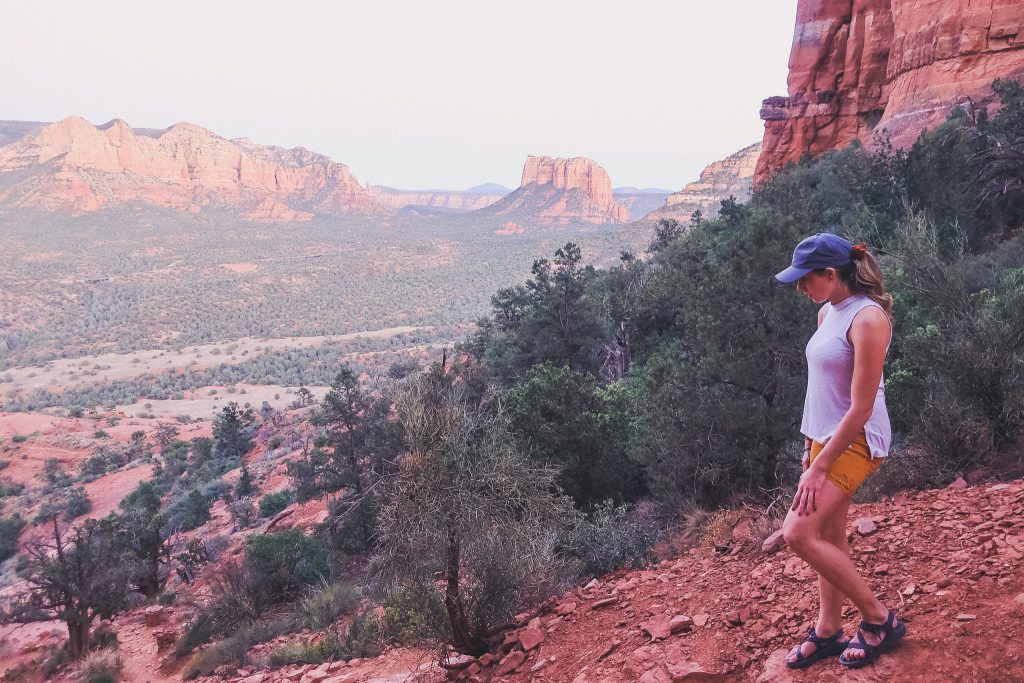 Most Sedona trails are within the Coconino National Forest. All of these hikes can be reached in less than 15 minutes driving from Sedona's downtown. In general, the best time to plan your hike is close to sunrise and sunset. This will ensure that you can find parking and enjoy milder temperatures.
Devil's Bridge
Devil's Bridge is a naturally occurring sandstone arch bridge that's large enough to walk across. It's one of the top-rated Arizona attractions and one of the most famously instagrammable spots.
It's also one of the most popular Sedona trails among tourists. Many tourist groups visit here, so it's especially important to arrive before sunrise (if you want to photograph the bridge and have it all to yourself).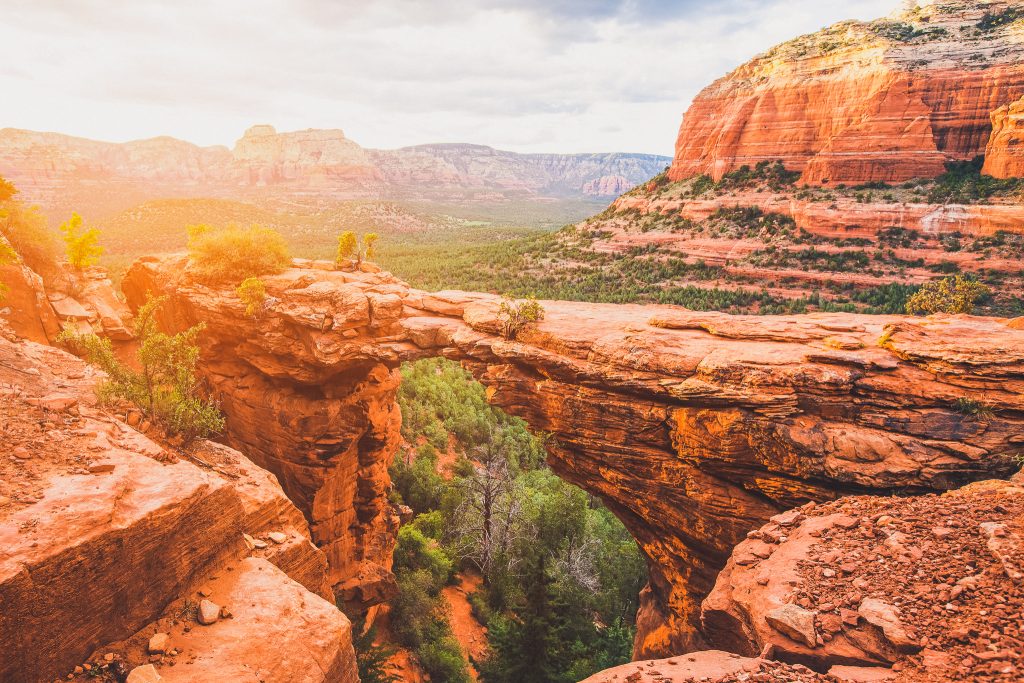 There are a few different ways to get to Devil's Bridge, and we'll discuss the 3 most popular ones.
OPTION 1: If you have a high clearance vehicle, you could drive up to the Devil's Bridge Trailhead. From the Trailhead, it's a 1.8 mile moderate hike that will have you climbing up 400 ft to get to the bridge. I DO NOT recommend this.
We tried to drive down the unpaved Vultee Arch Road to reach the trailhead and failed. We were driving a Ford Explorer which is technically a "high clearance vehicle." However, the road was so rocky and jagged that we progressed extremely slowly (people walking passed us in the car).
Eventually, we turned around for fear of getting the car stuck. Unless you have a car designed specifically for off-roading or an ATV, don't waste your time thinking you'll be able to drive up to the Trailhead.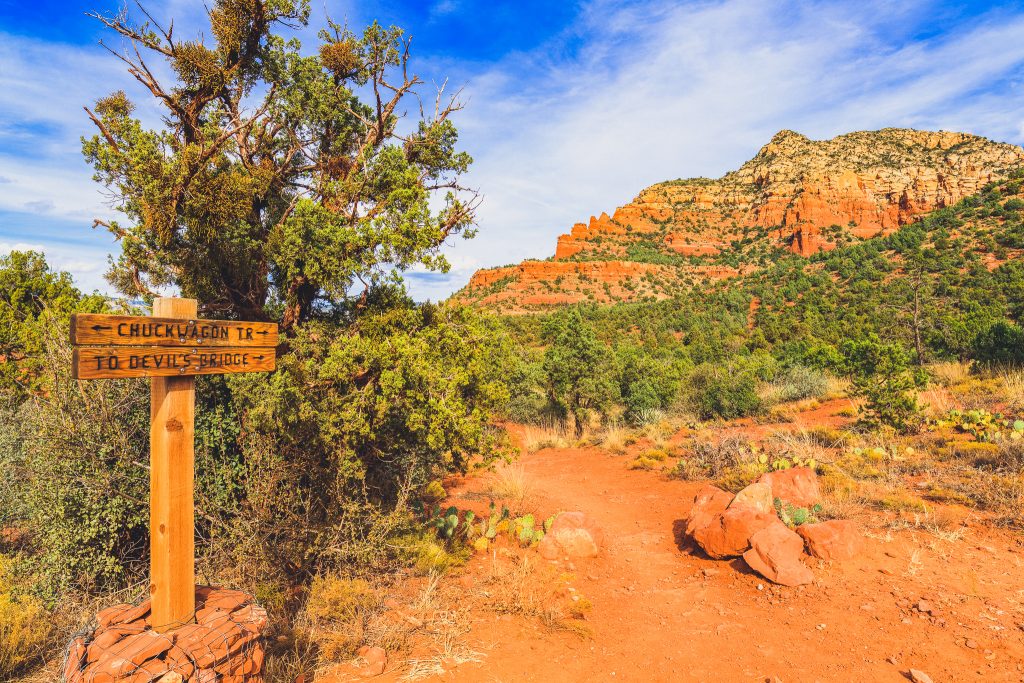 OPTION 2: If you don't have a high clearance vehicle, another option is to hike Vultee Arch Road. You would park at the Devil's Bridge Trail Parking Lot. Instead of driving, you would walk the 2.4 mile round trip segment of Vultee Arch road to the trailhead. This is the shortest hiking option to reach the bridge! However, it's also a boring dirt road without much scenery.
If you didn't bring along your own high-clearance vehicle, you might want to book a tour so that you can still have this experience in Sedona. Check out this top-rated Jeep Tour. 
OPTION 3: Another way to reach the Devil's Bridge Trailhead is via the Mescal-Chuckwagan Trails. You can park at the Mescal Trailhead. With this route, it's 4 miles round trip to reach the trailhead. This route will ensure plenty of pretty views along the way.
NOTE: Directions for the hiking routes to Devil's Bridge (Options 2 & 3) can be found in the Sedona Sightseeing Map.
Soldier's Pass
The Soldier's Pass Trail is one of the best Sedona hikes. It's 4.1 miles out and back and rated moderate in difficulty. During the hike, you'll gain 620 feet in elevation. So, be prepared to climb! It should take 2-3 hours to complete this trail, or 1-2 if you turn around after the Seven Sacred Pools.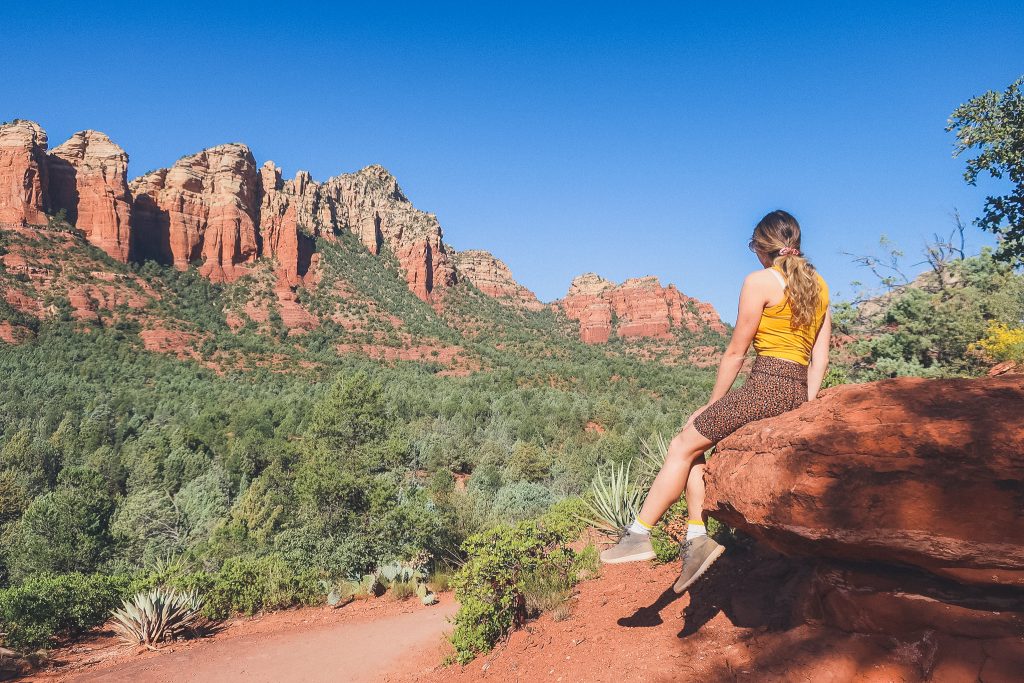 The Soldier's Pass parking lot fills up quickly, so we recommend arriving just before gates open at 8 AM. Otherwise, you'll have to park in a nearby ditch. Be careful not to park in the neighborhood.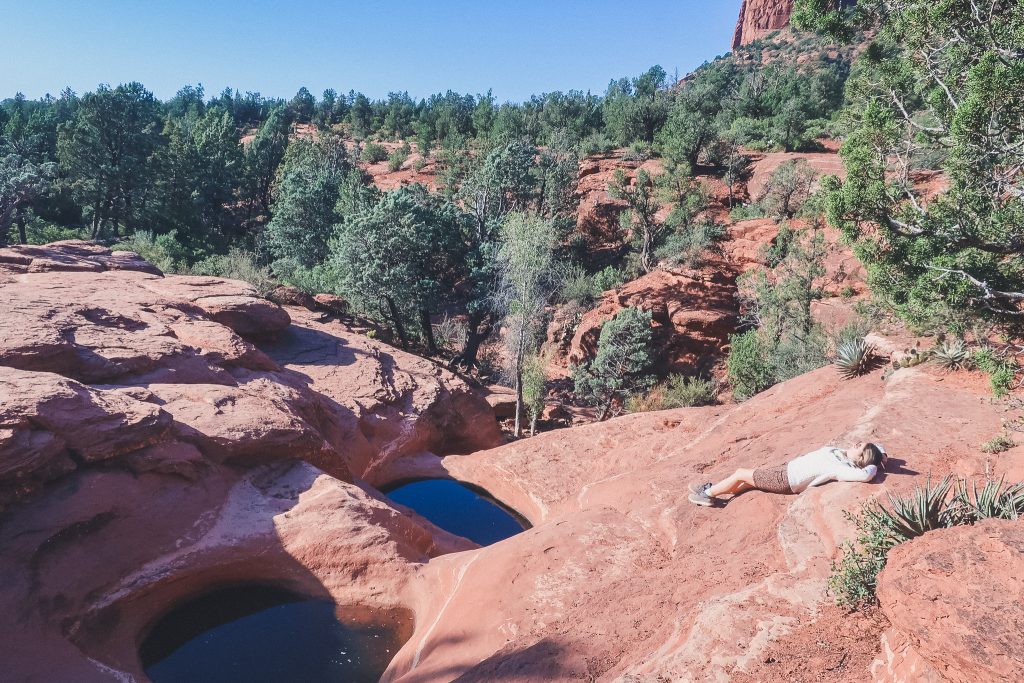 The Soldier's Pass trail is remarkable because it provides access to 2 incredible natural features. The first – Devil's Kitchen – is an enormous sinkhole that's eaten up a chunk of the forest. The second is the Seven Sacred Pools – a group of natural pools carved out from the sandstone. At times of high rain, a stream runs through the pools.
Bear Mountain
If you are looking for a rewarding challenge, I highly recommend you hike Bear Mountain. This is a 4.9 mile out and back trail that gains almost 2,000 feet in elevation! It's a steep climb, a total calf killer… Although, you'll get access to a few peaks along the way which are arguably some of the best Sedona viewpoints. This trail is rated Difficult.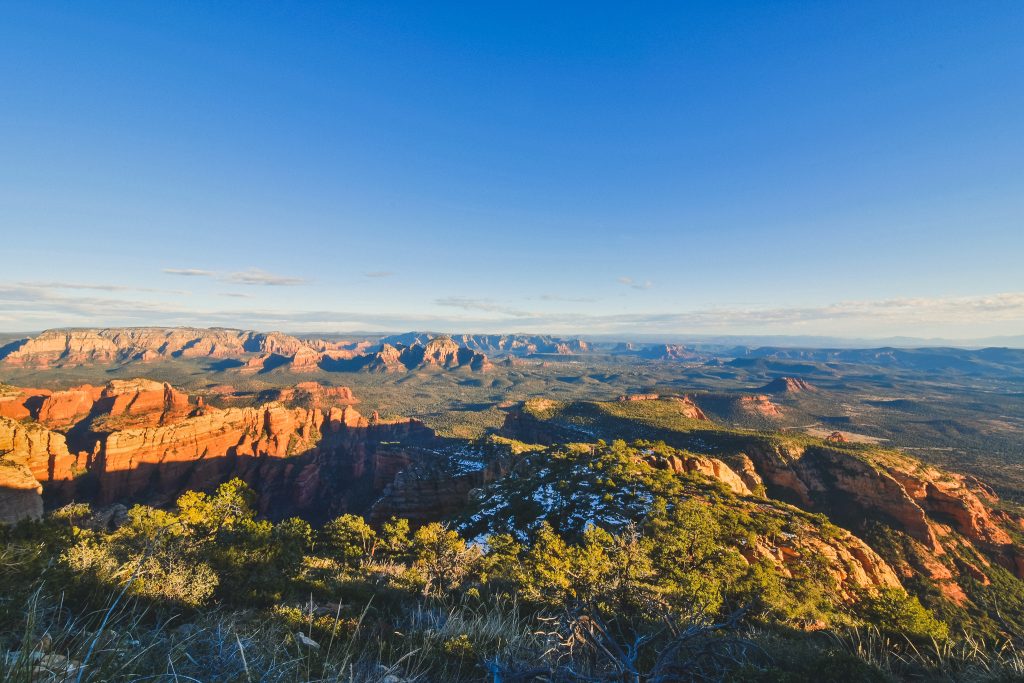 The parking lot in front of Bear Mountain usually has plenty of open spaces.
As you ascend, you'll pass three false summits. Each has its unique scenery and no shortage of spectacular views. From the summit, you should be able to see clear to Flagstaff. The hike should take 4 to 5 hours to complete.
Airport Mesa
The Airport Mesa Scenic Overlook is one of the best places to go in Sedona. It's one of the few viewpoints you can get to without hiking. In fact, it's right off the side of the road and adjacent to a small parking lot. It's a great place to pull up and watch the sunrise or sunset.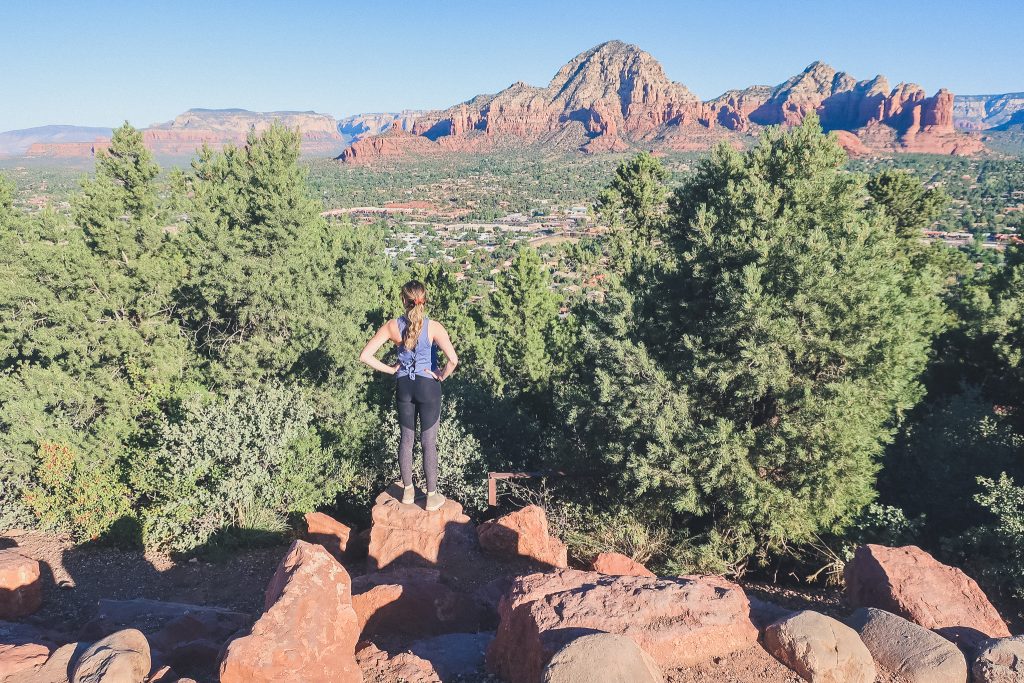 The Airport Mesa Scenic Overlook offers incredible views of Sedona's downtown framed in stunning Red Rock.
If you choose to hike, you can get to the Scenic Overlook via the Airport Mesa Loop Trail. The Scenic Overlook is 0.6 miles from the Airport Mesa Trailhead. The Airport Mesa Loop is 3.2 miles round trip. It's a moderate trail that gains 400 ft of elevation. As you make your way around the loop, you'll get 360-degree panoramic views of Sedona's incredible rock formations.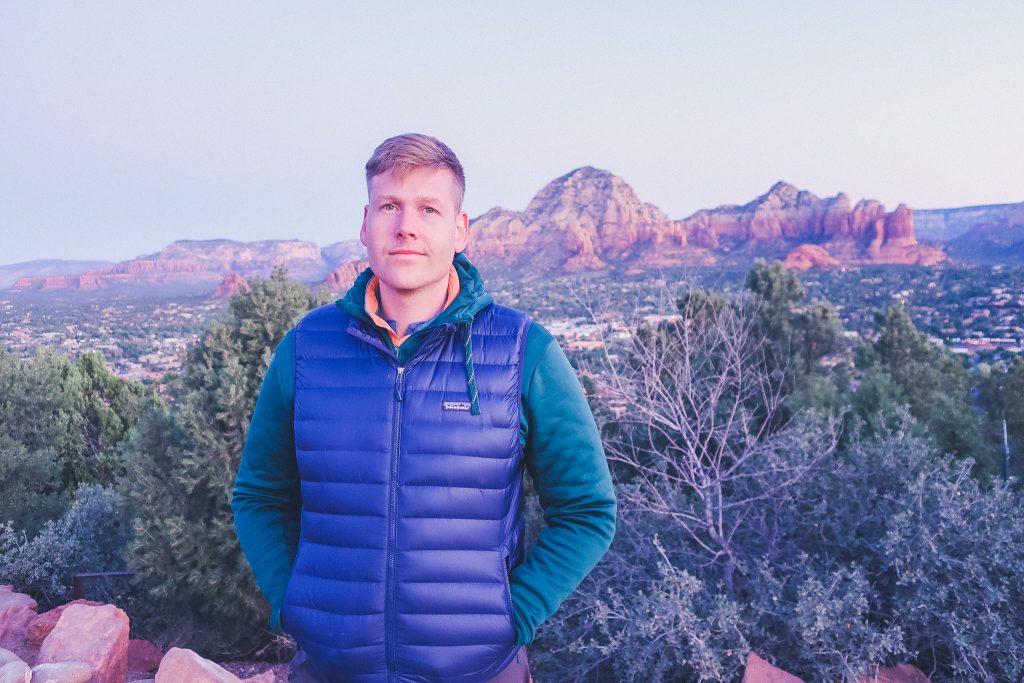 The Airport Mesa Trail may be one of the most scenic places in Sedona, but it's considered one of the top Sedona hiking trails because it's also the site of a vortex. (More on Vortexes later) This vortex is thought to strengthen masculine energy —meaning you should feel more energized.
Find out more about this exciting Vortex tour. 
Sugarloaf Loop
Looking for an easier way to explore Sedona? I've got the perfect trail for you. Sedona's Sugarloaf Loop is a 1.9 mile loop trail that's considered easy. Also, it ends at the beautiful Sugarloaf Summit.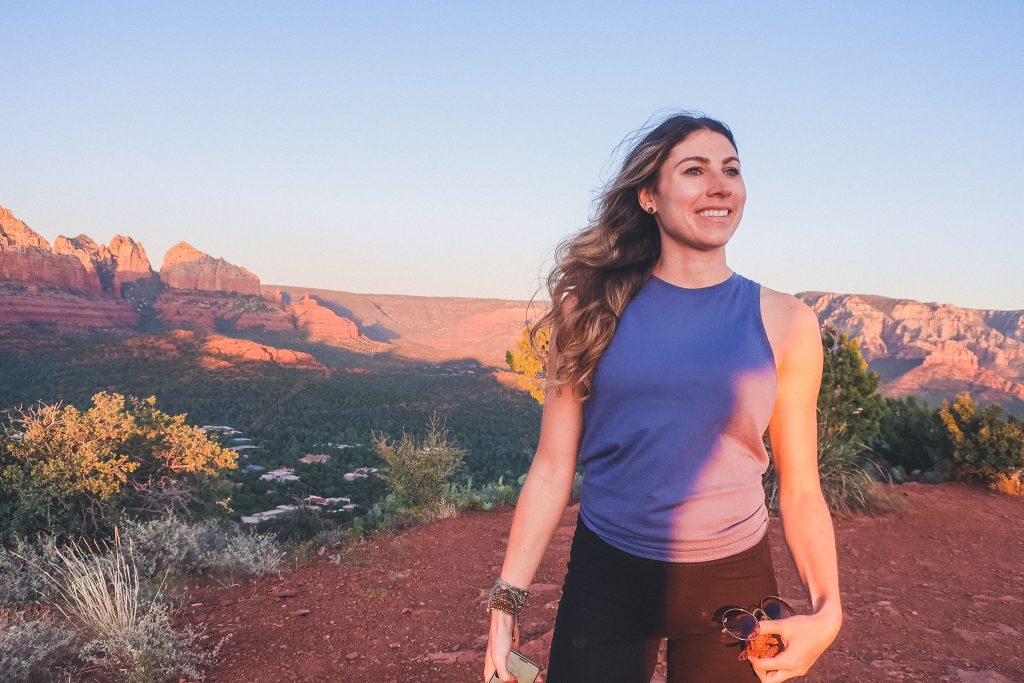 Along the Sugarloaf Trail, you'll be able to look for a few notable rock formations. Including Chimney Rock, Coffeepot Rock, and Thunder Mountain.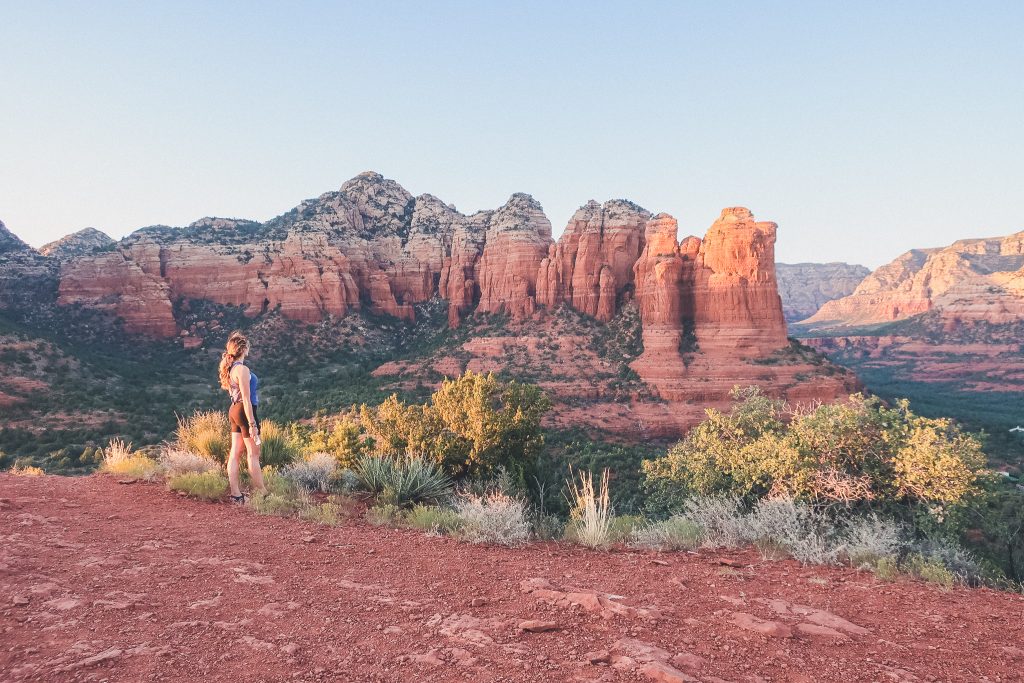 At the top of the Sugarloaf Summit, you'll get 360-degree views of the breathtaking vistas.
Bell Rock Loop
Another one of the fun things to do in Sedona is to visit Bell Rock. Bell Rock is one of the most prominent and easily identifiable rock formations in Sedona. If you're coming into Sedona along highway 179, you can't miss it! Bell Rock is also a popular vortex site!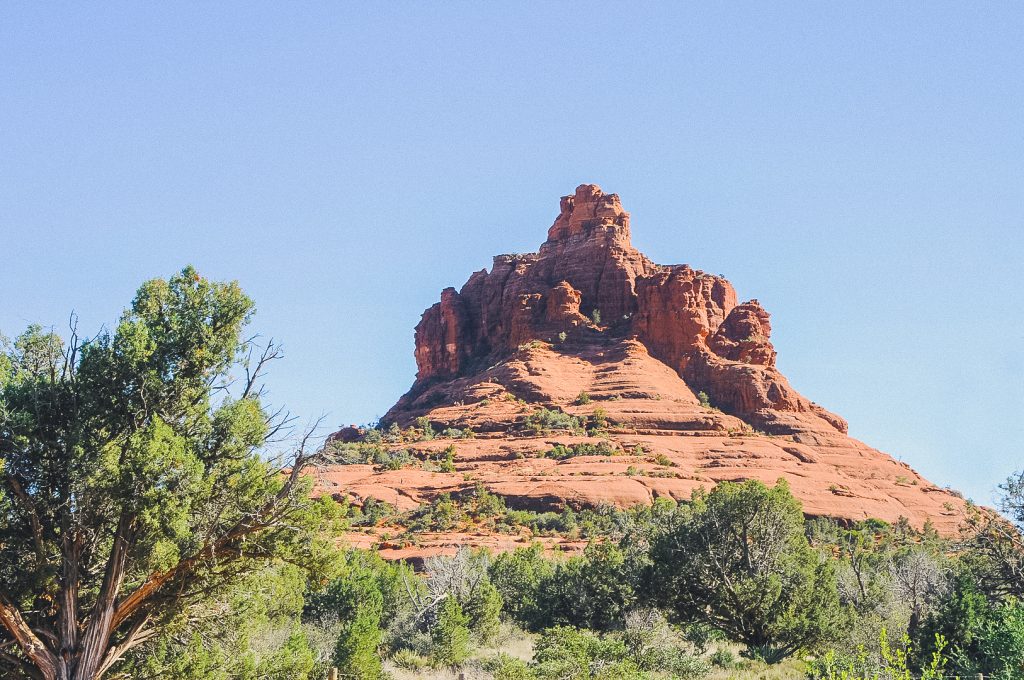 The Bell Rock Loop Trail is 1.8 miles. It's made up of the Bell Rock Pathway Trail, the Rector Connector and the Courthouse Butte Trail. This takes you around Bell Rock. It's an easy to moderate hike.
The Bell Rock Trail is the one that takes you up the northern face of Bell Rock. It branches off of the Bell Rock Pathway Trail. The northern slope is also the strongest site of the Bell Rock Vortex. Many Sedona activities take advantage of vortex energy. Stop here to meditate or do yoga.
Chapel Trail
The Chapel Trail is a 1.3 mile out and back trail that starts near the famous Chapel of the Holy Cross. You can do this short hike when you visit the Chapel.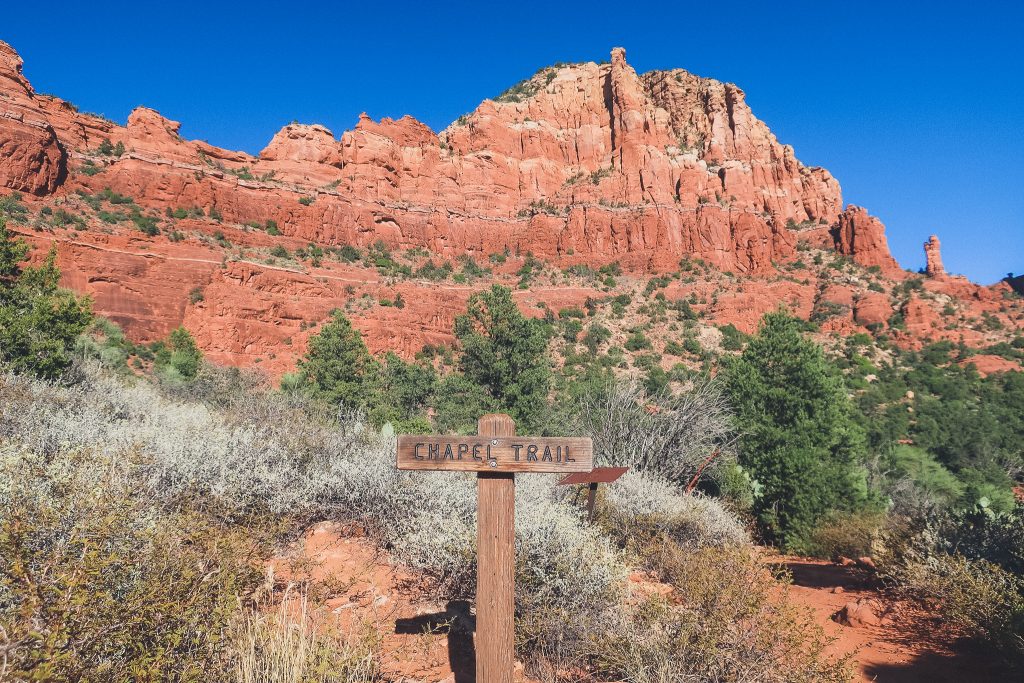 At the end of the Chapel Trail, you can choose to continue on the Little Horse Trail to get to Chicken Point Overlook. This is one of the quickest and easiest overlooks to get to, and it has beautiful views. The whole trip won't take more than 1-2 hours.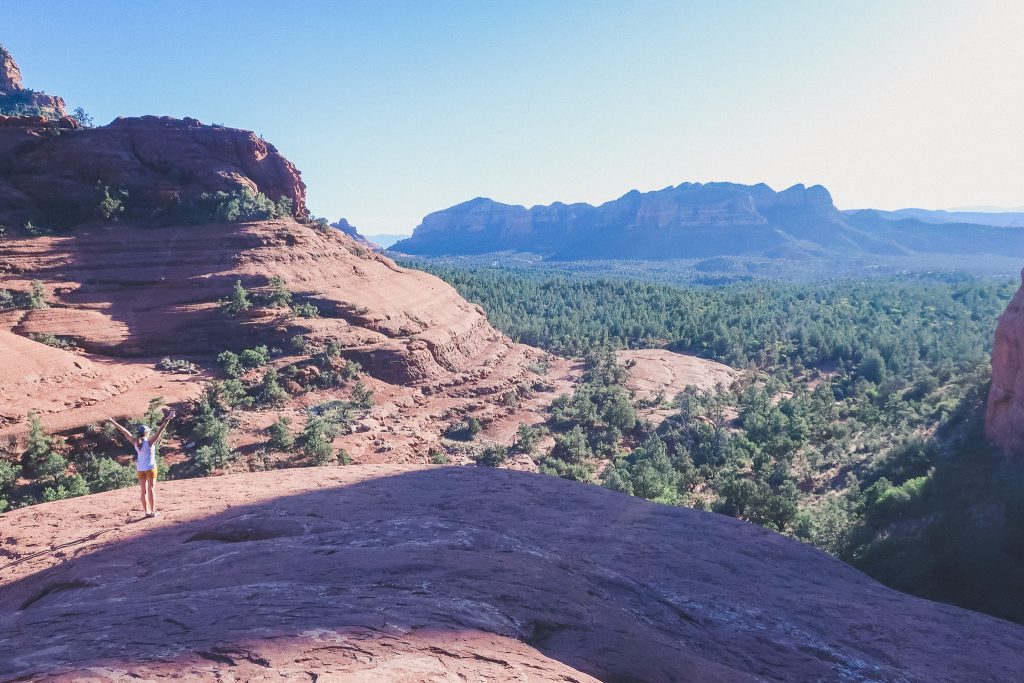 Cathedral Rock
The Cathedral Rock hike is one of the most challenging but highly rewarding. It's especially beautiful to watch the sunset from the top of Cathedral Rock. The Cathedral Rock Trail is 1.2 miles out and back and gains almost 800 ft along the way!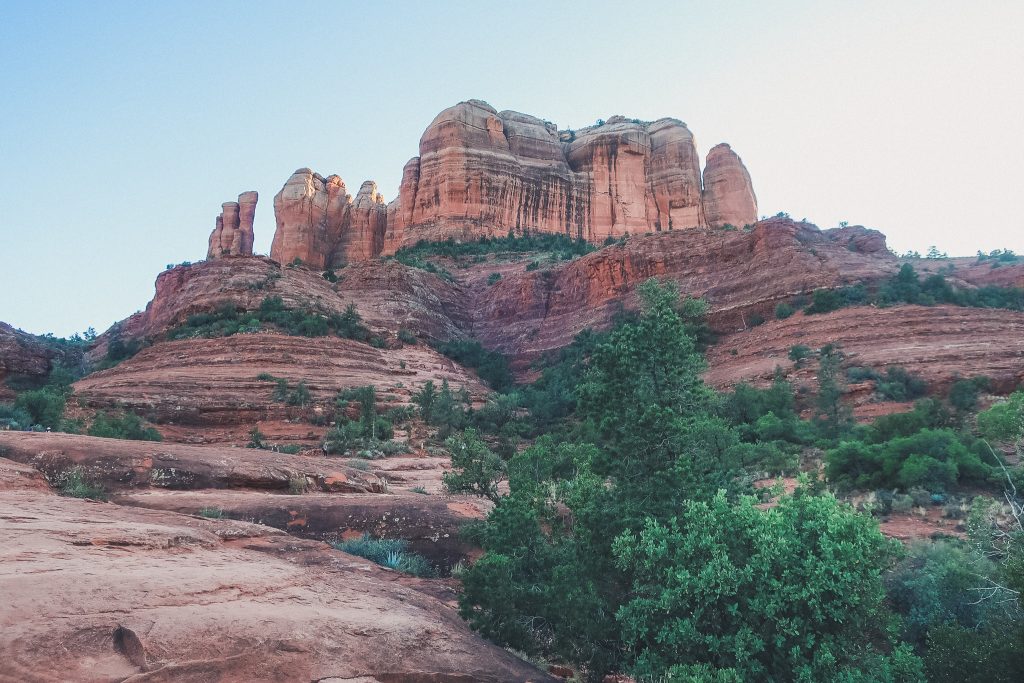 Most of the time, there's no "trail." You essentially climb up the top of a giant rock face. It's quite steep and certainly difficult.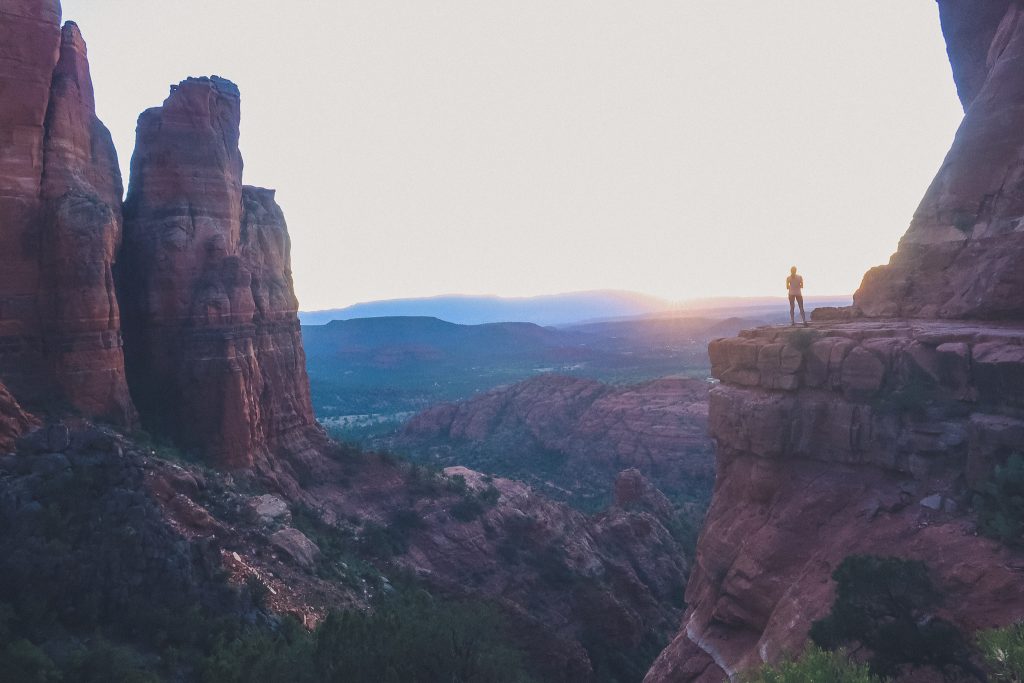 There is a small parking lot near the base of the Cathedral Rock Trailhead.
For more hiking near Sedona, consider a 3 hour drive north to visit the majestic Grand Canyon.
Spiritual & Mystic Sites
Sedona has gained a global reputation as a place of enlightenment and spiritual healing. Sedona's spiritual significance originates from a handful of invisible energetic centers called vortices. Although, some argue that all of Sedona is considered a vortex. These powerful vortices are said to give the Sedona area psychics and mystics enhanced powers.
Many of the top things to do in Sedona include seeking out vortices and exploring New Age spirituality. You can do this by signing up for a yoga class, visiting a Tibetan Monastery, shopping for crystals or setting up a session with a psychic.
Vortex
What is a vortex exactly? A vortex is a place where energy flows more powerfully. Someone with a regular meditation practice may notice an overwhelming feeling of joy, physical sensations of tingling or they may find insights into previous questions. You may often find people meditating, doing yoga or other rituals at vortex sites.
Check out this top-rated vortex tour in Sedona.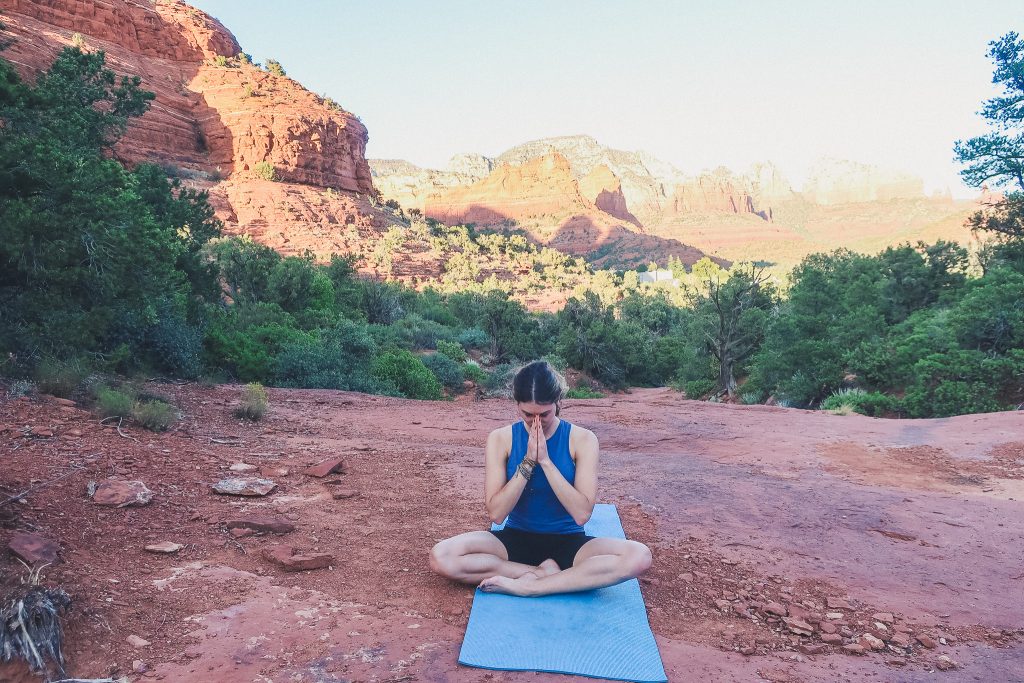 We did Vortex Yoga. Find out more about the tour we did (pictured above).
What created these Vortex Sites? There are three hypothesized reasons for the Sedona Vortex Site. The first, suggests that the iron oxide in the Red Rocks gives Sedona vortices their power. The other idea suggests that it is Sedona's positioning on global Ley Lines that gives the vortices their power. Ley Lines are horizontal and vertical grid lines across the globe that have aliments with many important historic sites (including the Great Pyramids, Stonehenge, Machu Picchu and more).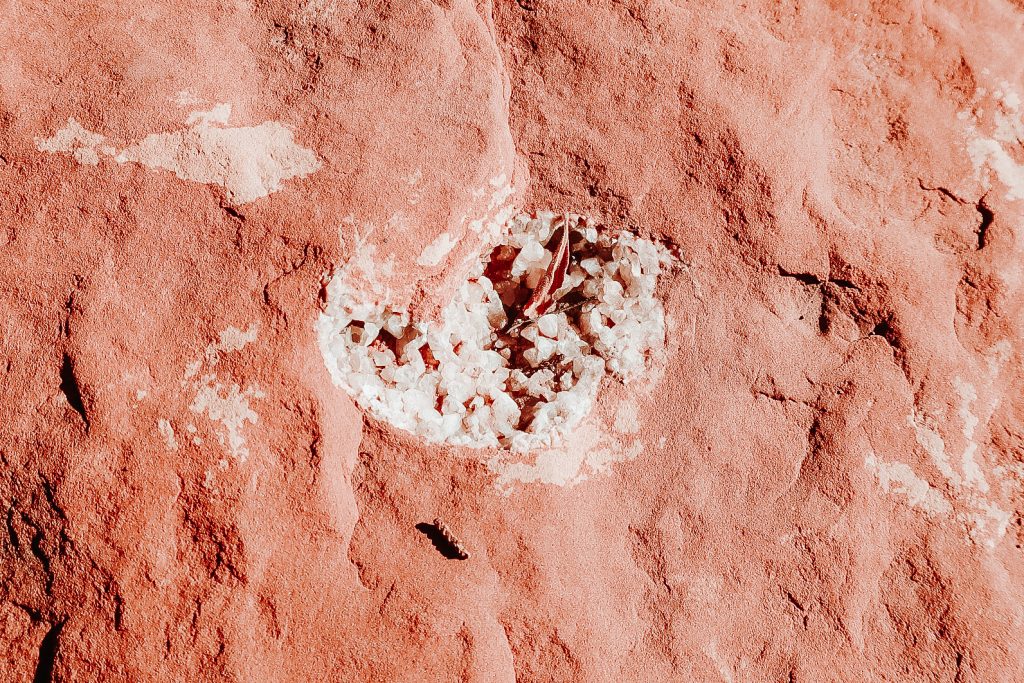 Finally, it is thought that the crystals in the ground also contribute to Sedona's powerful energy. When you are hiking on top of Sedona's big rocks… drop to the ground and see if you can spot the crystals within (pictured above).
Some of the best known Vortex sites in Sedona can be found along hiking trails. Notably the Bell Rock Vortex, the Boynton Pass Vortex and the Airport Mesa Vortex. These can all be found on the map of Sedona above.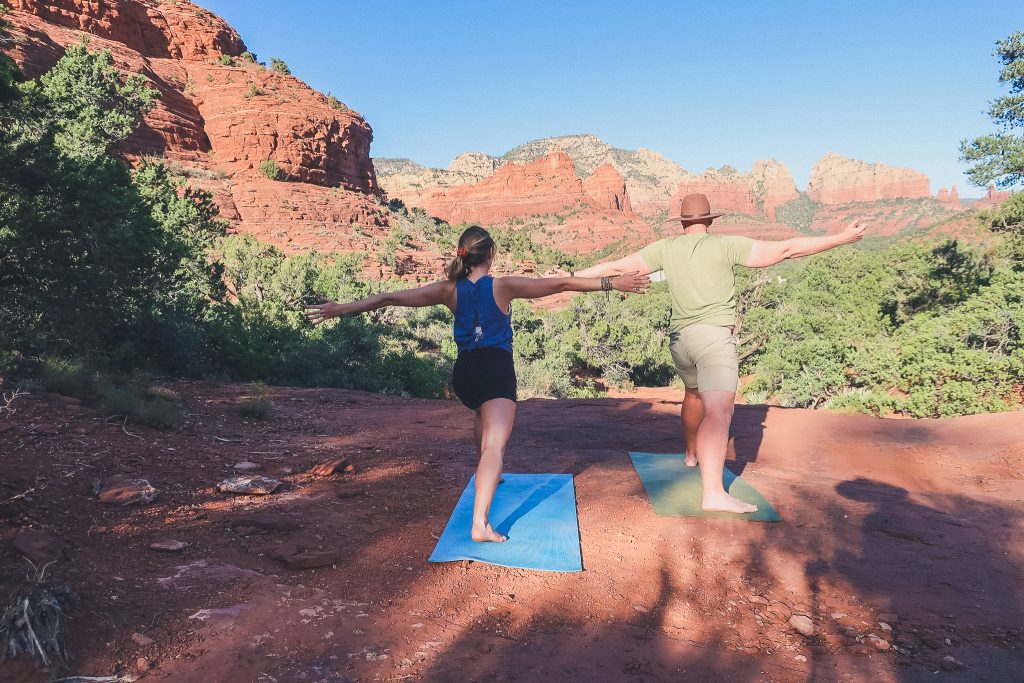 Visiting a vortex should be on any Sedona to do list. We decided to take a Vortex Yoga Hiking Tour which was incredibly personal and engaging. There are also many great vortex tours that take you from one vortex to the next.
Yoga
You can choose to sign up for a vortex yoga class like we did, or you can choose from many other excellent yoga opportunities.
Check out this incredible Vortex tour with Kundalini Yoga.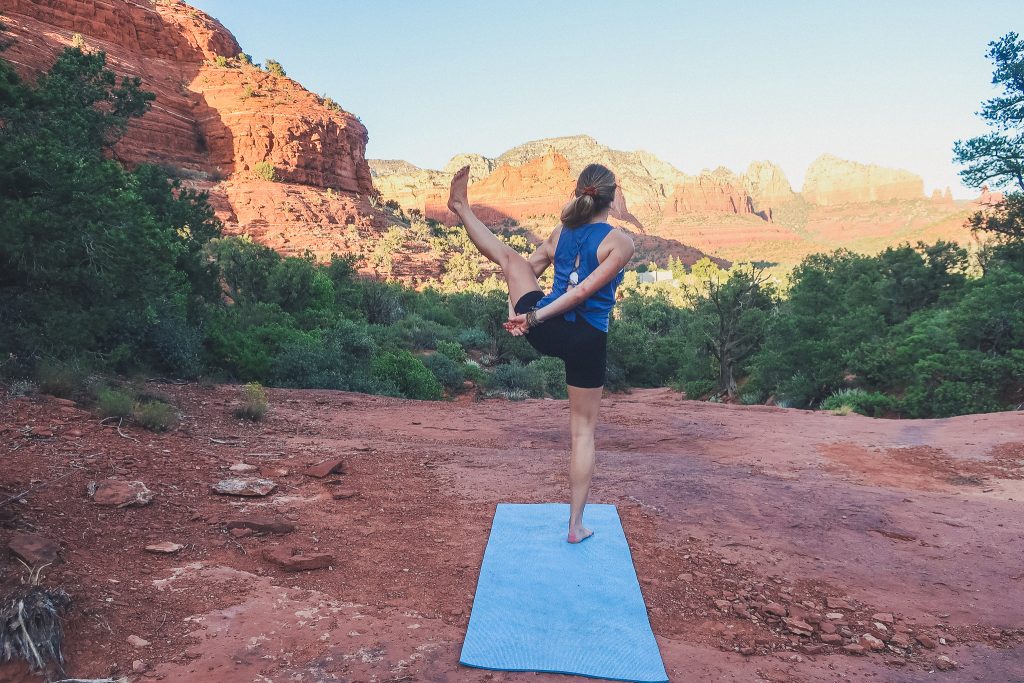 The Sedona Events Calendar is a great place to browse for different yoga classes. You can also look at the upcoming schedule at the Sat Nam Spirit Center of Sedona. This place has an excellent range of classes as well as very interesting workshops and events.
Another interesting place to do yoga is the Avalon Spiritual Nature Retreat. This is actually a campground. Besides yoga, they offer Bible study, Buddhist meditation classes, Tai Chi, Qigong and much more!
Amitabha Stupa and Peace Park
The Amitabha Stupa is named for Buddha Amitabha or Buddha of Limitless Light. In the Buddhist faith, a stupa is a type of commemorative monument that holds sacred relics. It's one of the oldest forms of sacred architecture originating in East Asia. Stupas are meant to promote prosperity and enhance well-being. Historically, stupas were built to avert war or end famine.
Experience meditation while you're in Sedona.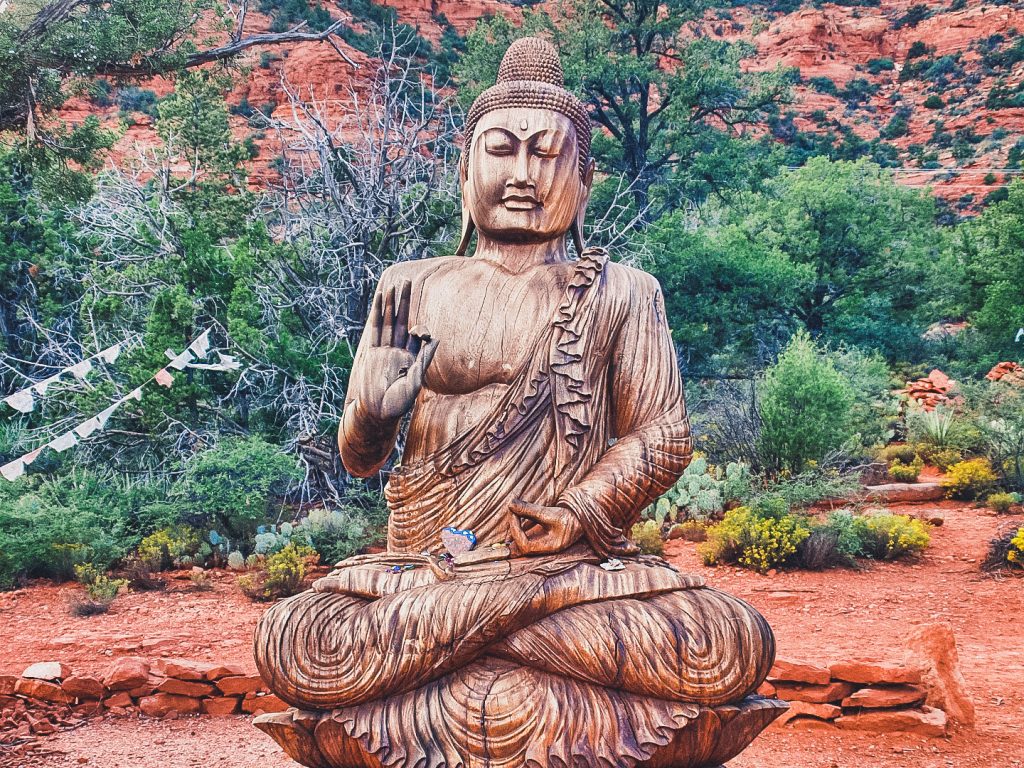 The Amitabha Stupa is open daily and free for everyone to visit. It's a place of healing, solace, good fortune, and spiritual awakening. It's one of the most incredible and unusual things to do in Sedona.
Chapel of the Holy Cross
The Chapel of the Holy Cross is one of the most popular places to visit in Sedona.
The architect and visionary behind this Chapel in the rocks was Marguerite Brunswig Staude. Her inspiration for this? The Empire State Building. Her partner in this endeavor? Lloyd Wright (son of Frank Lloyd Wright). The Chapel of the Holy Cross was finally completed in 1956 in Sedona after the initial project failed in Hungary.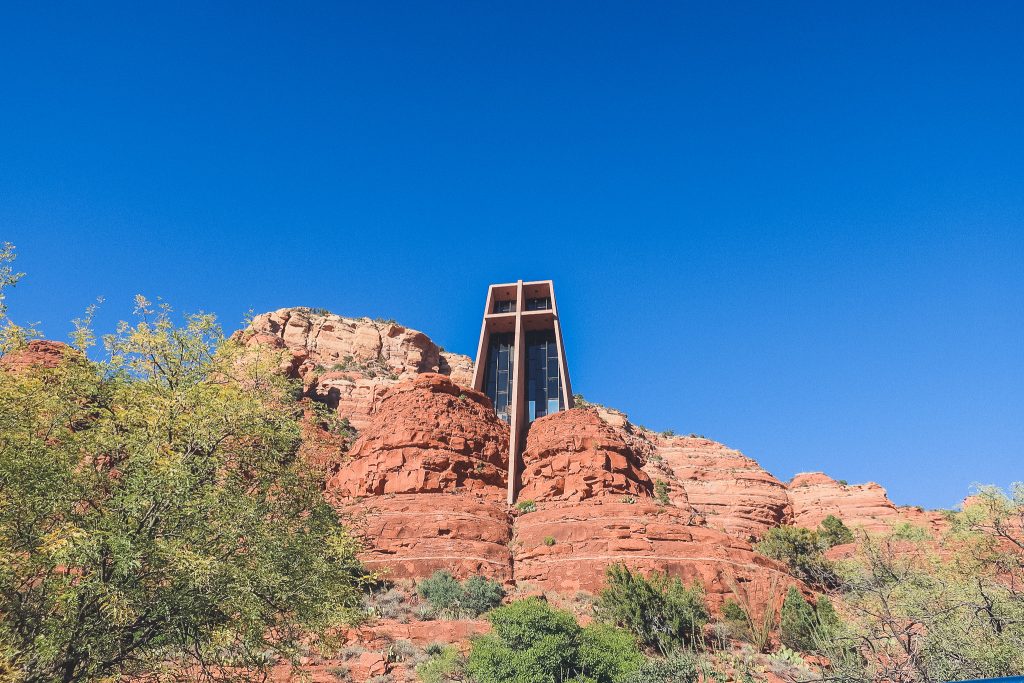 Admission is free, parking is available. The views all around are breathtaking. There is a Taize Prayer Service every Monday at 5 PM. The Chapel of the Holy Cross is also considered a Vortex site.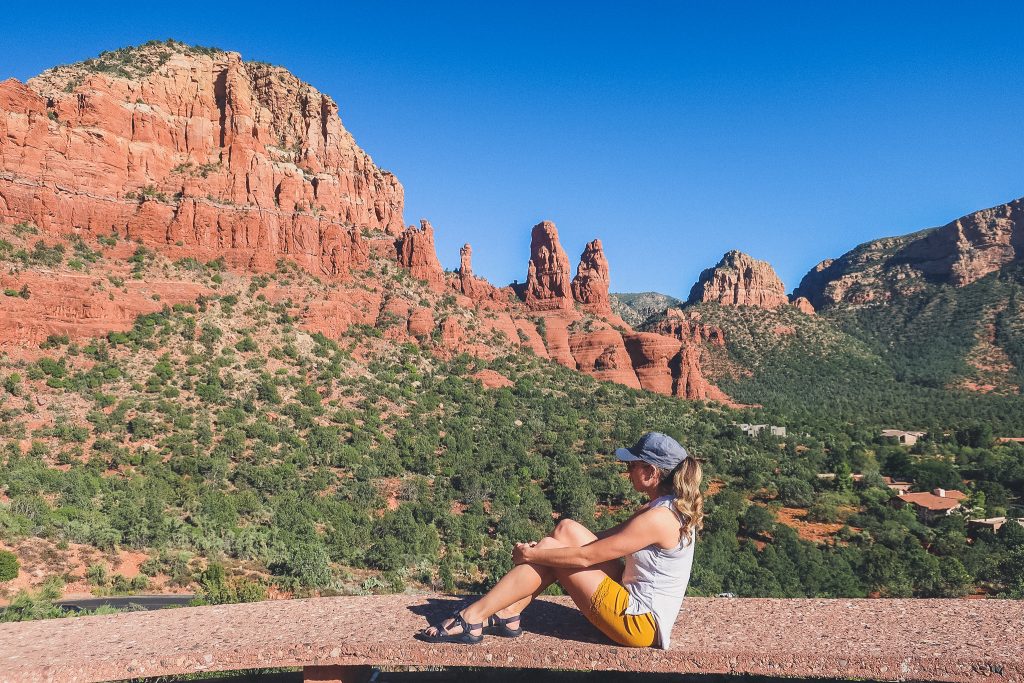 You'll be able to access the Chapel trail from the parking lot at the Chapel of the Holy Cross.
Crystals & Mystics
Crystal Shops are some of the top attractions in Sedona. Crystals are known to have healing and energetic properties. I've mapped a few of the top crystal shops on the Sedona attractions map above.
Crystal shops are also great places to get in touch with mystics and psychics.
We especially loved the Sedona Crystal Vortex store. You were allowed to touch the merchandise and the staff was very friendly. We ended up with these pyrite pyramids for our bookcase. They look super glamorous! Visit the Sedona Crystal Vortex Store website to preview their amazing merchandise or to get in touch with a Psychic Reader in the Sedona area.
Another excellent resource for mystics is the Awakening in Sedona. This crystal shop offers on site aura readings, no appointment necessary. However, I don't recommend shopping here for crystals because they tend to be a bit fussy and have very strict no touching rules.
Healing Arts
Sedona is an excellent place to explore New Age healing, transformation, and spirituality. There are a few specialty centers worth mentioning.
Book a rejuvenating massage in Sedona.
The Tachyon Wellness Center specializes in healing and pain relief. I'm not even going to pretend to understand how Tachyon works! It has something to do with spiritual light infiltrating physical matter in an intentional way. This place comes highly recommended. They also offer some neat guided meditations on their website.
Consider a session of therapeutic movement with Anima Flow. Your therapist will use a customized approach to remove blockages and relieve stains.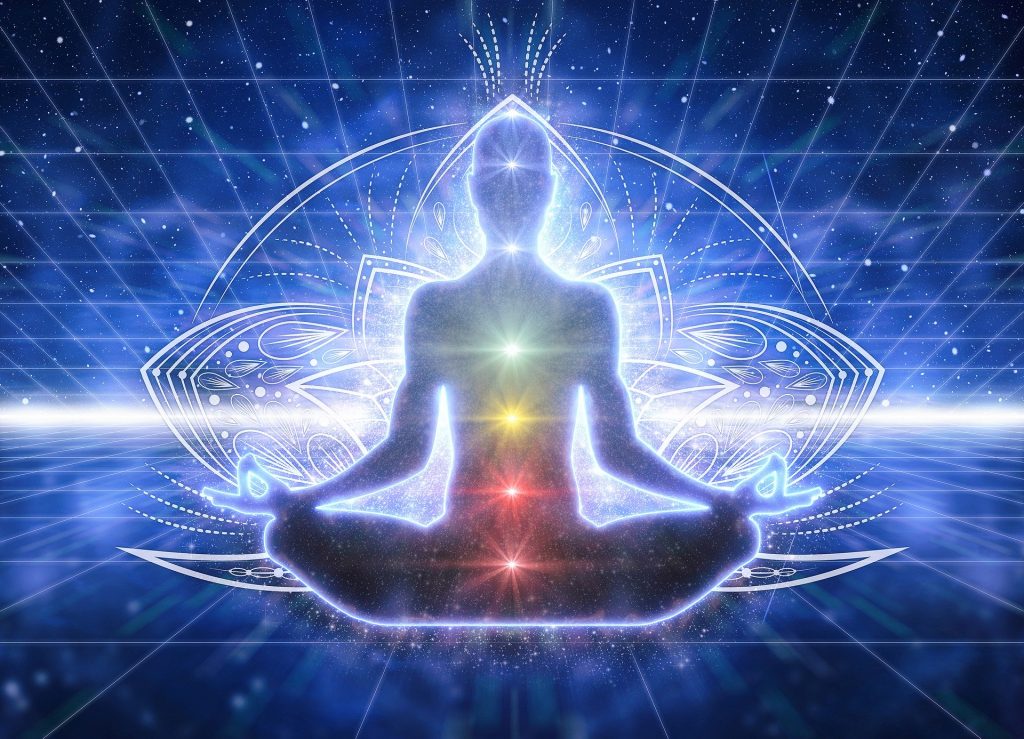 The Divine Grace Retreats and Healing Center offers chakra balancing. The technique is said to work by releasing blockages from the mind, body or spirit. There are also various meditation retreats offered.
You may also want to check out Equine Guidance. Horses are said to embody wisdom and help guide us to a more empowered life. Equine Guidance sets up unique journeys that promote self-discovery and inspire personal fulfillment.
Wineries
When you think of wine country, Arizona might not be the first thing to come to mind. Think again, Sedona is one of the up and coming wine destinations across the globe, gaining a reputation for quality.
Don't drink and drive. Book a top rated wine tour.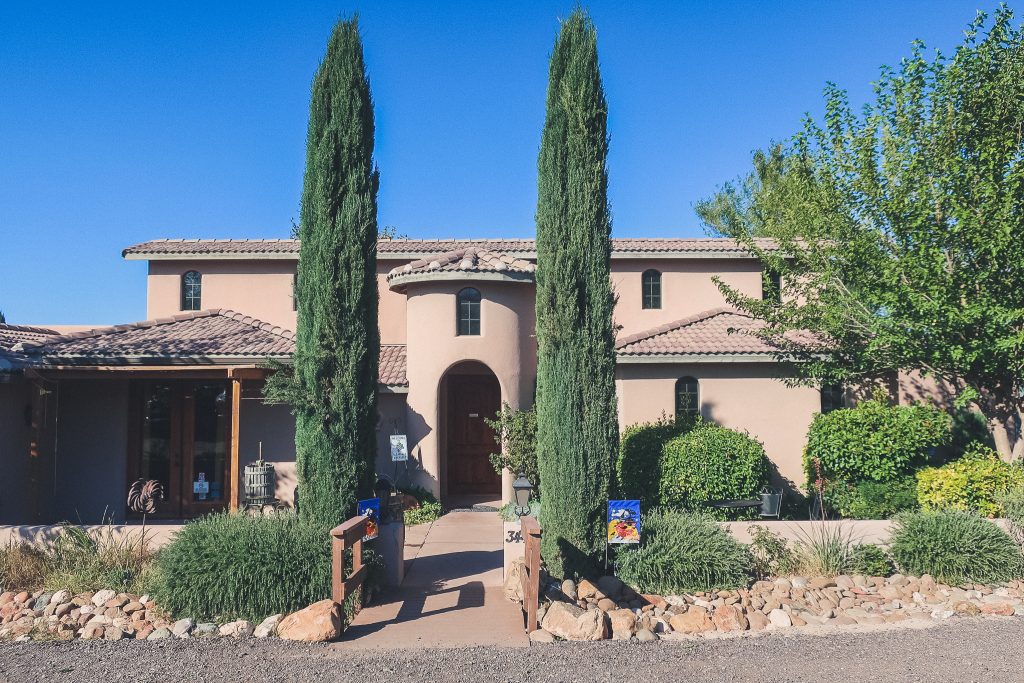 Sedona has ideal elevation, volcanic soils, high daytime temperatures and cold nights. It's also located between 34 and 45 degrees latitude north of the equator. It had this in common with the Bordeaux region in France as well as winemaking regions in Italy, Portugal, and Spain.
Check out this unique wine tour that includes kayaking.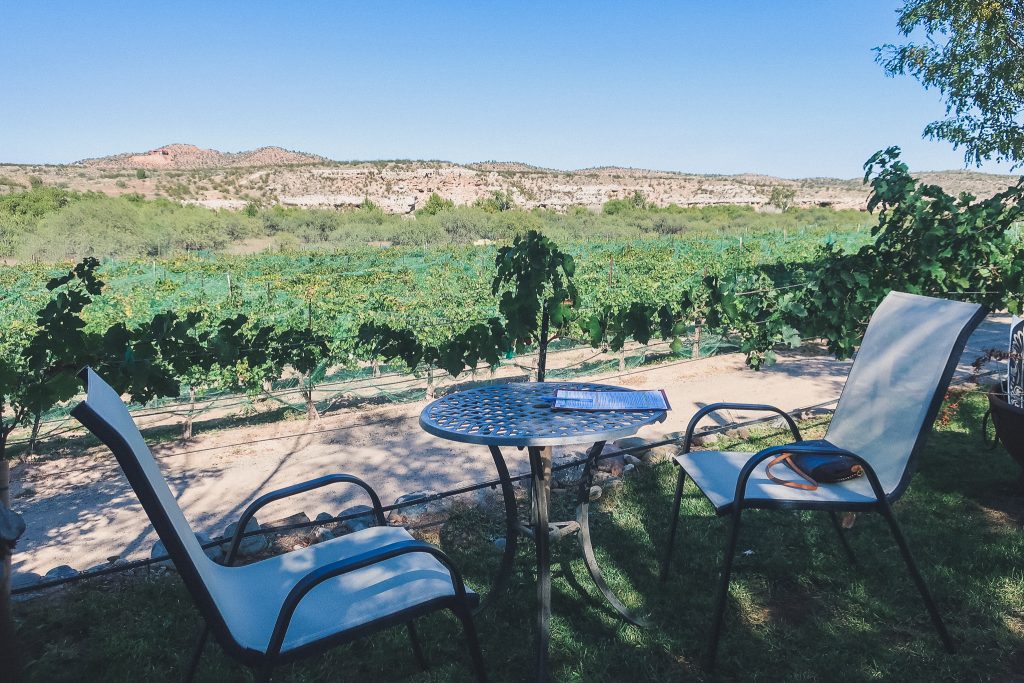 One of the top things to do around Sedona is to visit local vineyards! Sedona's wineries provide the perfect refuge when your legs are sore and you can't hike anymore! They're located in a few small towns just south of Sedona. You can get there in 20-30 minutes from Sedona's downtown.
In general, most Arizona wineries hold tours on weekend days. However, you can stop by any time for a tasting.
Cornville
The most highly recommended wineries can be found on our map of the Sedona area. In Cornville, there are two wineries that stand out —Javelina Leap Vineyards and Page Springs Cellars.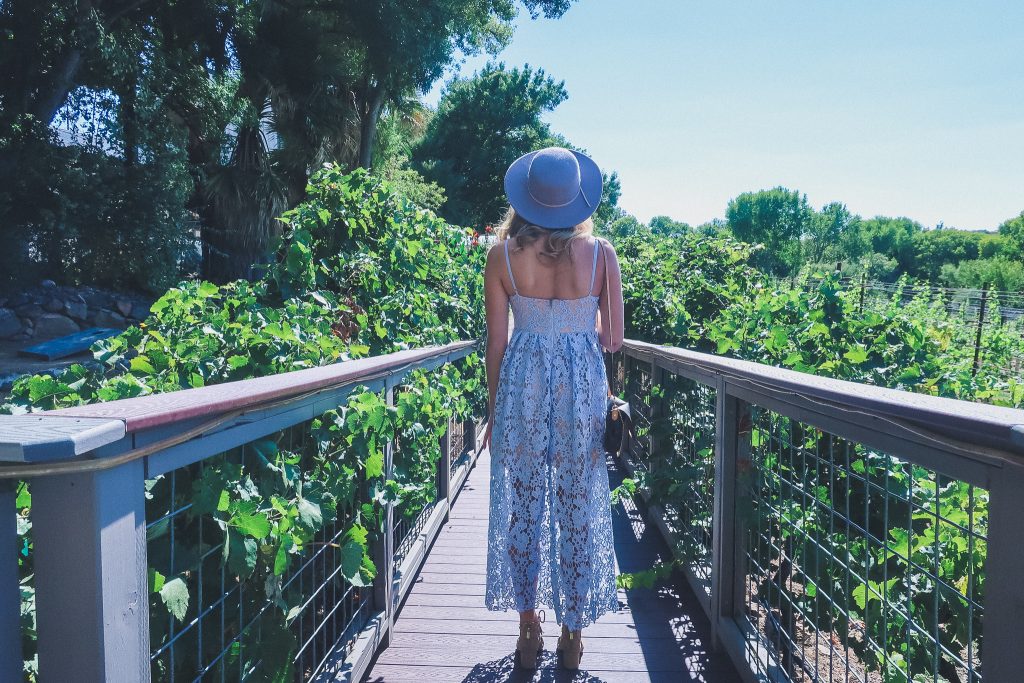 The Javelina Leap Winery is a family-run boutique business with award-winning wines to offer. They use only Arizona grown grapes to produce their wines. Stop by for a tasting flight and a snack at their Bistro.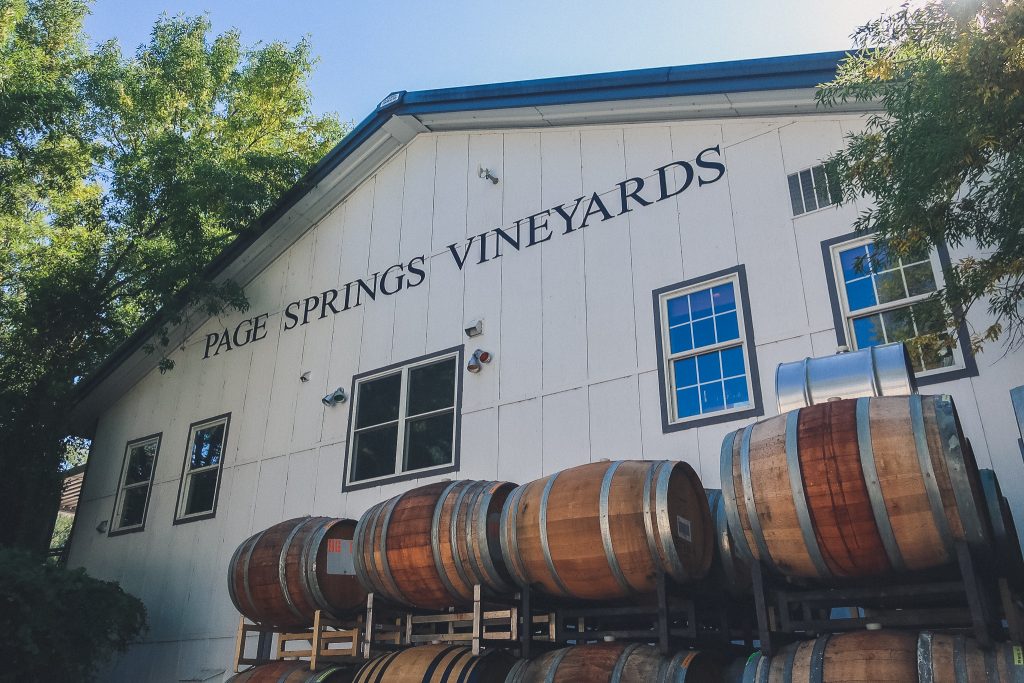 Page Springs Cellars is one of the best of Sedona. They offer tours on Fridays, Saturdays, and Sundays. Although, you can stop by any day for a tasting. There's also live music in the Tasting Room every Tuesday and Wednesday 3-6 PM as well as Thursday 5-8 PM.
Camp Verde
Just south of Cornville, you'll find another charming Sedona suburb that's all about wine. Camp Verde vineyards are set between rolling hills, endless skies, and pristine landscapes. If you are taking a Sedona day trip, I recommend you visit Stronghold Vineyards, Salt Mine Wine and Clear Creek Vineyards.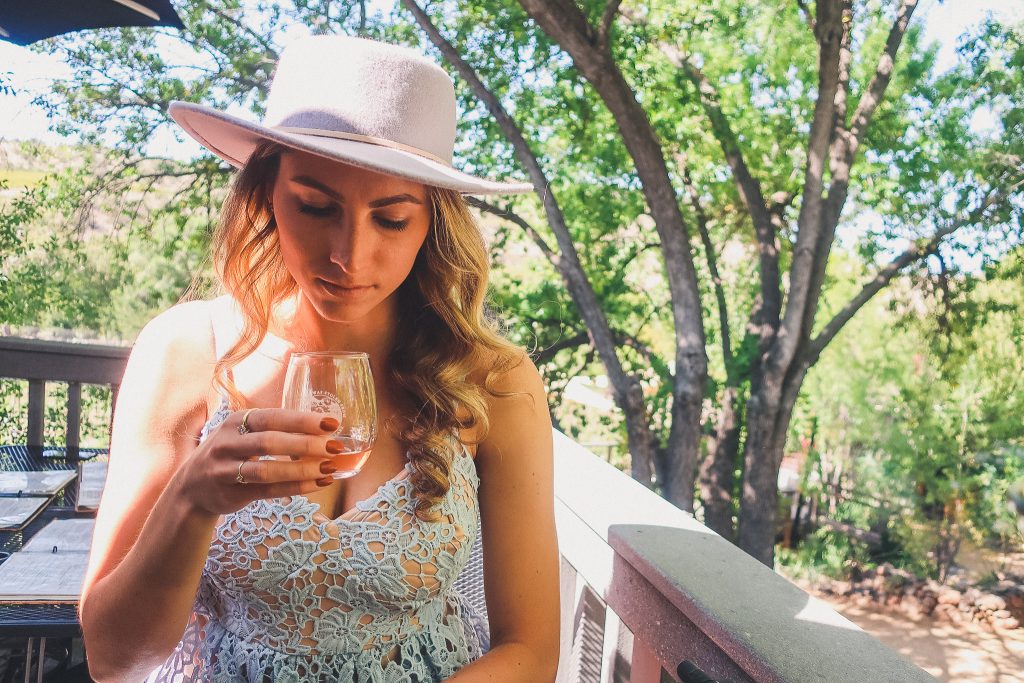 Stronghold Vineyards offers daily wine tasting flights as well as a full kitchen. They also host special events monthly, check their calendar for the most up to date information.
Salt Mine Wine is another, family-owned and operated, boutique winery. They also set themselves apart by their work in conservation, using their winery as a refuge for migrating Monarch butterflies. All of their wines are made and sold locally in Camp Verde.
Finally, I'll mention Clear Creek Vineyards. Clear Creek hosts a Saturday Vineyard tour at 10 AM.
Stargazing Sites
One of the best things to do near Sedona is stargazing. That's because Sedona is registered as an International Dark Sky Community. What does that mean? It means that Sedona has committed to going above and beyond to cut down on light pollution and preserve the crisp clarity of their night sky. Sedona is ensuring radiant views of sparking stars for years to come.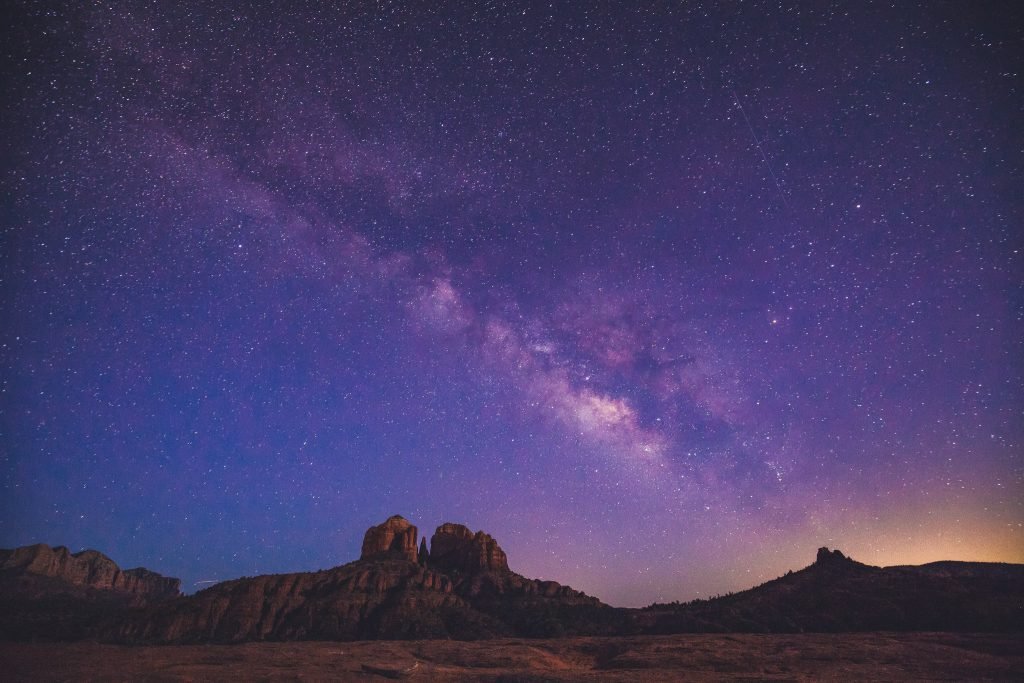 In Fact, there are only a handful of these Dark Sky Communities around the world!
Find out more about Sedona stargazing.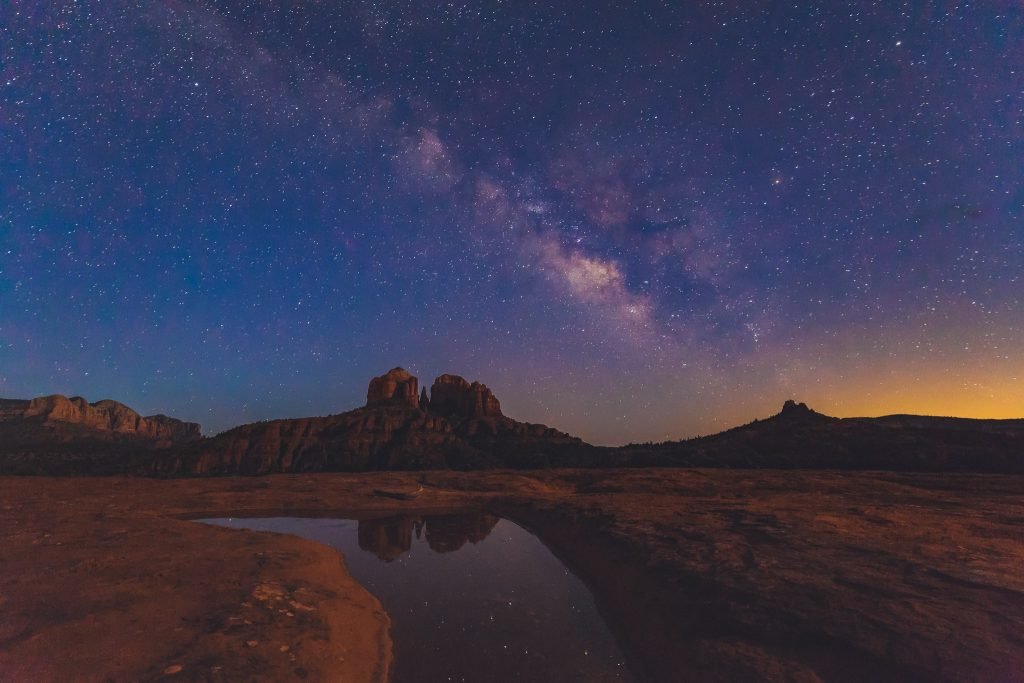 In our map above, we've included the best places in Sedona for stargazing. These spots were selected because you can drive up to them. No hiking in the dark necessarily. Just pull up, turn off your lights and enjoy the view! If you find this fascinating, consider a Sedona stargazing tour.
Others
Are you impressed yet? Well, what if I told you…there's even more to Sedona than hiking trails, mystics, healers, wineries and stargazing. Some of these other Sedona tourist spots are discussed below.
Tlaquepaque Arts and Crafts Village
The Tlaquepaque Arts Village is one of the best places in Sedona to go shopping. Tlaquepaque offers a refined and eclectic shopping experience. It's set in lush garden space with fountains and live folk music. The Southwestern art and artistry here is unparalleled.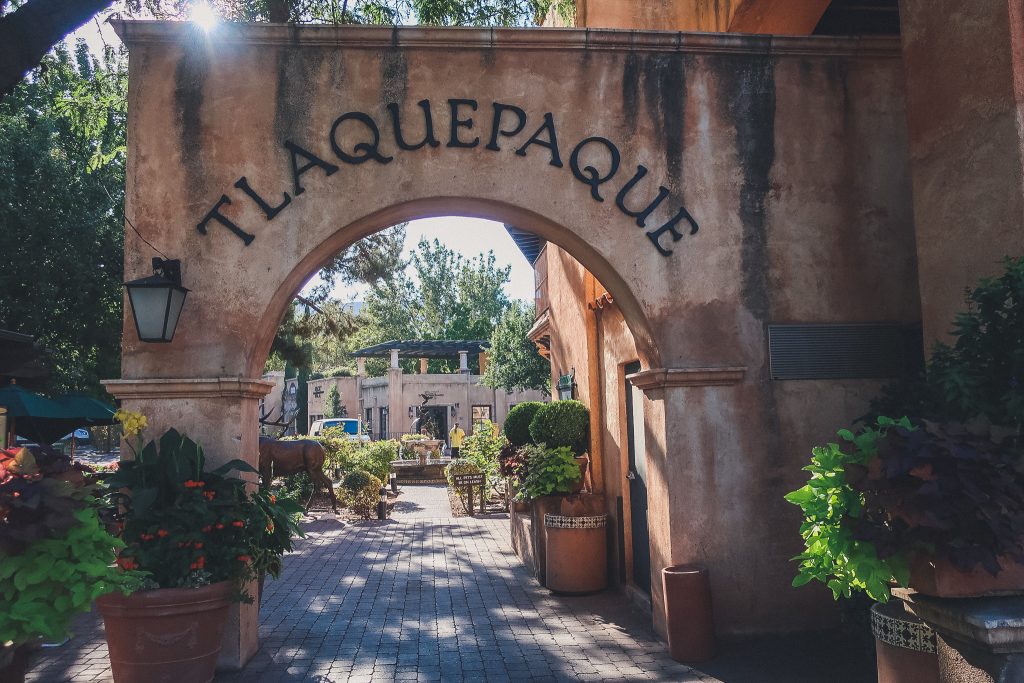 There are over 40 distinct shops and about 20 gallery spaces at Tlaquepaque. Many sell artisanal crafts, art, jewelry, and clothing. While the styles range from classical to modern, each store has a unique Arizona flare. Items are on the pricey side but often have been handmade or constructed with high-quality materials.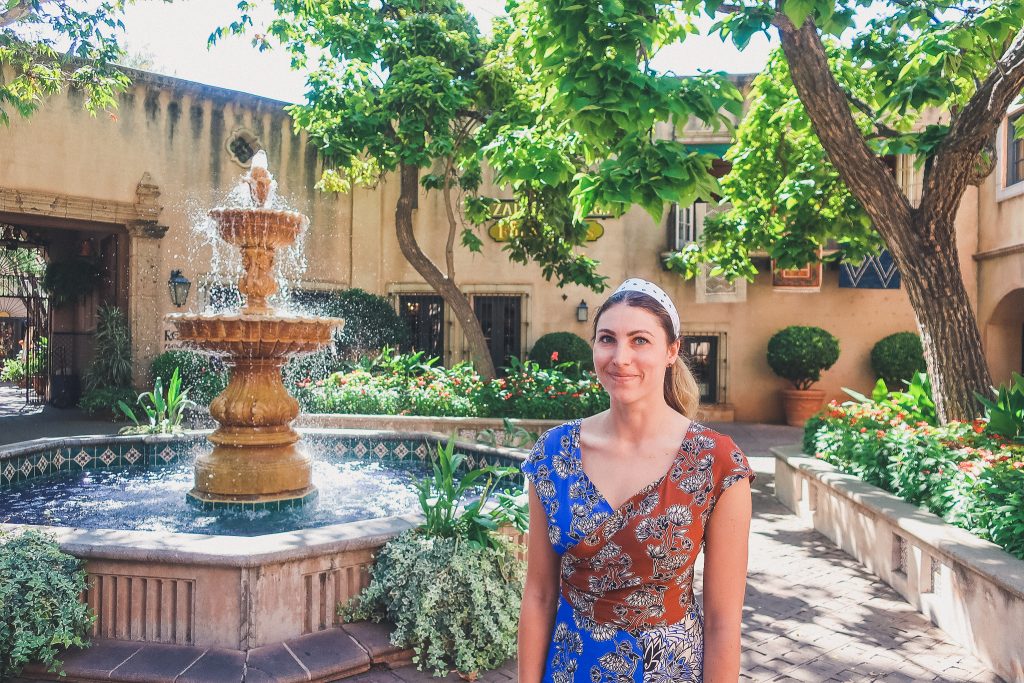 There are also restaurants at Tlaquepaque. Notably, the Secret Garden Cafe is an excellent healthy breakfast option. Visit the Tlaquepaque Arts and Crafts Village! It's one of the best things to see in Sedona.
Blazin' M Ranch
Another one of the interesting places to go in Sedona is the Blazin' M Ranch. The Blazin' M Rach provides an Old West experience with their famous dinner and show.
The ranch also includes Frontier Town —a Western-themed shopping street. There are also activities like a tractor pull, ropin' lessons, petting zoo, and shooting gallery. You can also dress up in period-appropriate attire and take some old Western photos!
Get your tickets to the famous Chuck Wagon Supper.
The Blazin' M Ranch is located in Cottonwood, about 20 minutes south of Sedona's downtown. This is one of the best things to do in Sedona with kids! Check out the Blazin' M Ranch website to make your reservation.
Out of Africa Wildlife Park
Sedona's very own Out of Africa Wildlife Park lets you get up close and personal with some incredible critters. Including the southern white rhinoceros, the black Leopard, zebra, giraffes and so much more! Many of the animals in this park were rescued from dire circumstances.
Click here for the best deal on an African Safari in Sedona.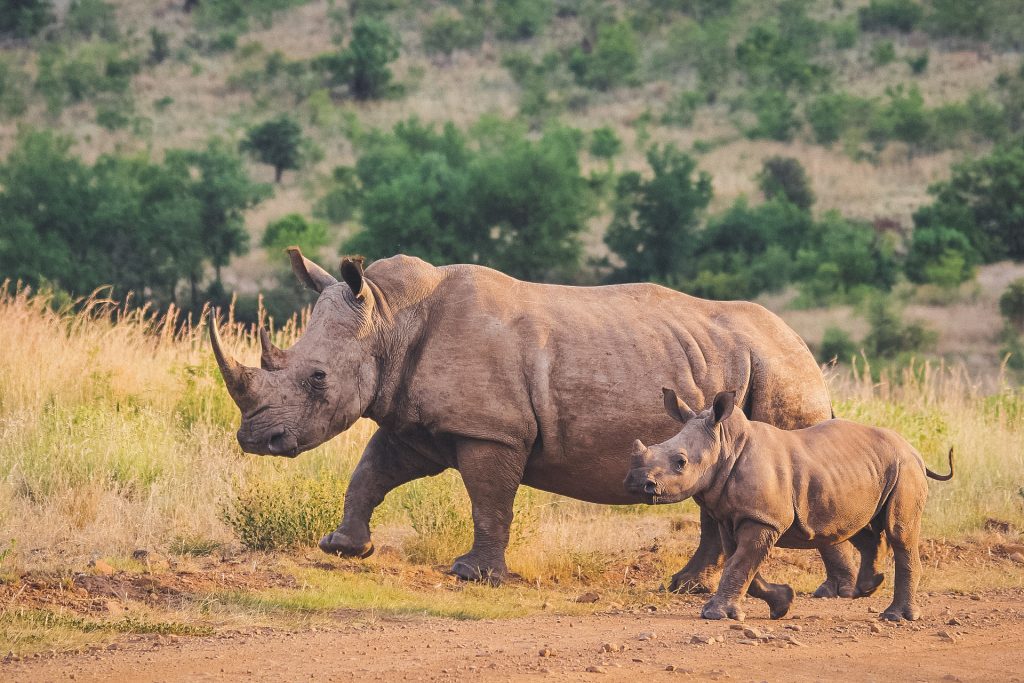 This Wildlife Park offers some thrilling experiences and tours. You can go on a safari, ride zip lines, and, even, feed a tiger! The Out of Africa Wildlife Park is also one of the best places in Sedona to go glamping!! Your tent is in a closed camp, it's huge and private. Expect a real bed and all the furnishings. You'll even get a private bathroom with a flushing toilet and shower equipped with hot water. The glamping tent fits 1-3 people.
Spas and Resorts
A discussion about Sedona wouldn't be complete if we didn't talk about spas and resorts. After All, Sedona is a place to relax, unwind, unplug and rejuvenate. No Sedona vacation is complete until you book that massage, facial or whatever it is that you're craving! Let's discuss some of the best spas in Sedona.
Check out this deal on a Spa Day in Sedona.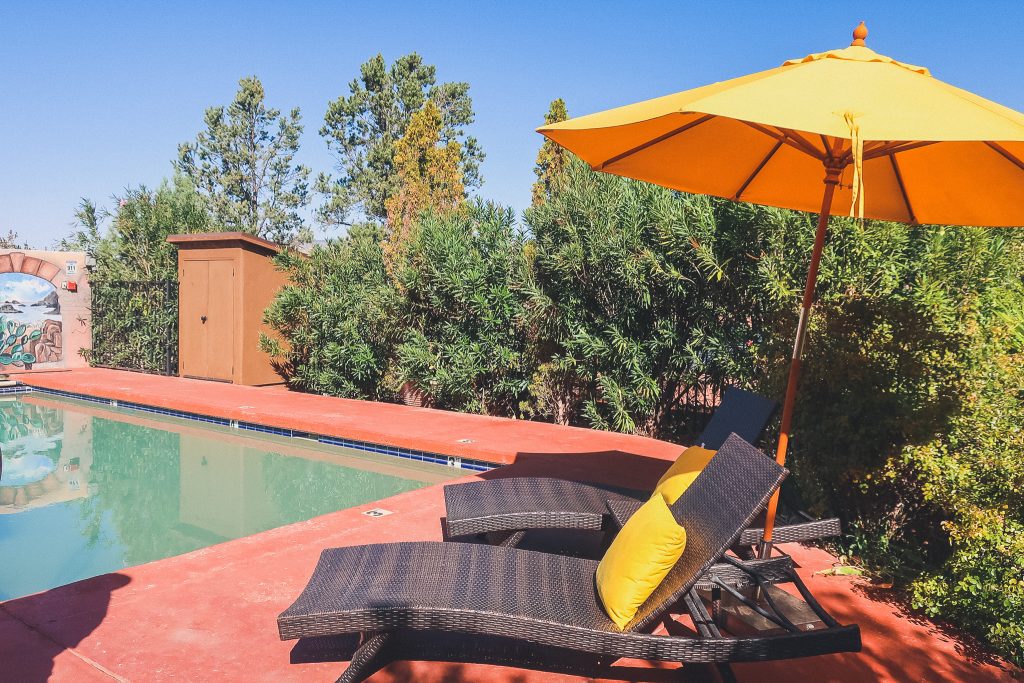 Enchantment Resort
The Enchantment Resort tops the list of resorts in Sedona, and there aren't even close seconds here! The Enchantment Resort is home to the highly regarded Mii Amo Spa. Mii Amo was rated #1 destination resort spa by Travel + Leisure.
NOTE: Only guests of Enchantment Resort or Mii Amo casitas are eligible to book services at Mii Amo.
Reservations to Mii Amo should be made well in advance. In addition to generic spa services, Mii amo has a featured selection of Native American inspired therapies, specialty treatments, and meditation oriented treatments. They offer services like hypnosis, interactive aura photography, and reiki healing. Check out the complete list of Mii Amo services.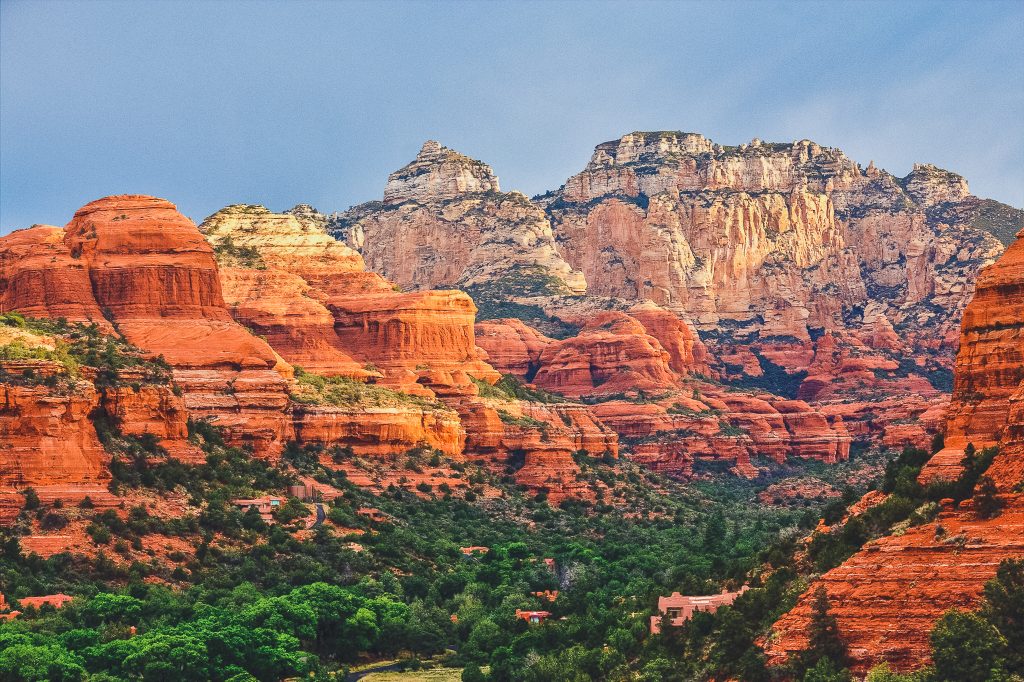 The Enchantment Resort also offers fitness classes, golf, tennis and area tours. It's everything you would ever need, but it doesn't come with a cheap price tag.
If you're not a guest of Enchantment Resort or Mii Amo, you can drop into one of their incredible restaurants. Many dining options at Enchantment resort offer sweeping tableside views of Boynton Canyon. I recommend Che Ah Chi for an elegant dining experience. Tii Gavo is perfect for brunch.
L'auberge de Sedona
Definitely one of the best spas in Sedona. Like Enchantment Resort, L'auberge delivers a sophisticated and luxurious experience. Unlike the Enchantment Resort, you don't need to be a hotel guest to book services at the L'auberge Spa.
I visited the L'auberge spa myself and had a wonderful experience. They have a blending station where you can sample and experiment with different healing botanical, herbs and flowers. Make your own tincture!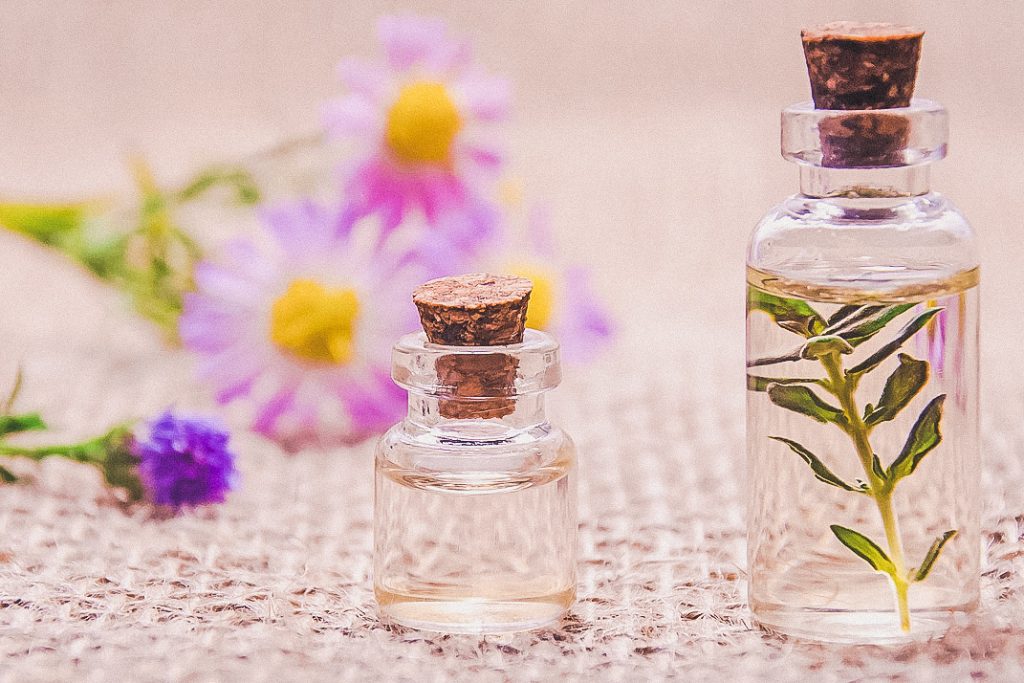 L'auberge sets itself apart from other Sedona resorts because of it's quaint location nestled along a creek. The resort makes the most out of this scenery and offers creekside massage services and creekside dining.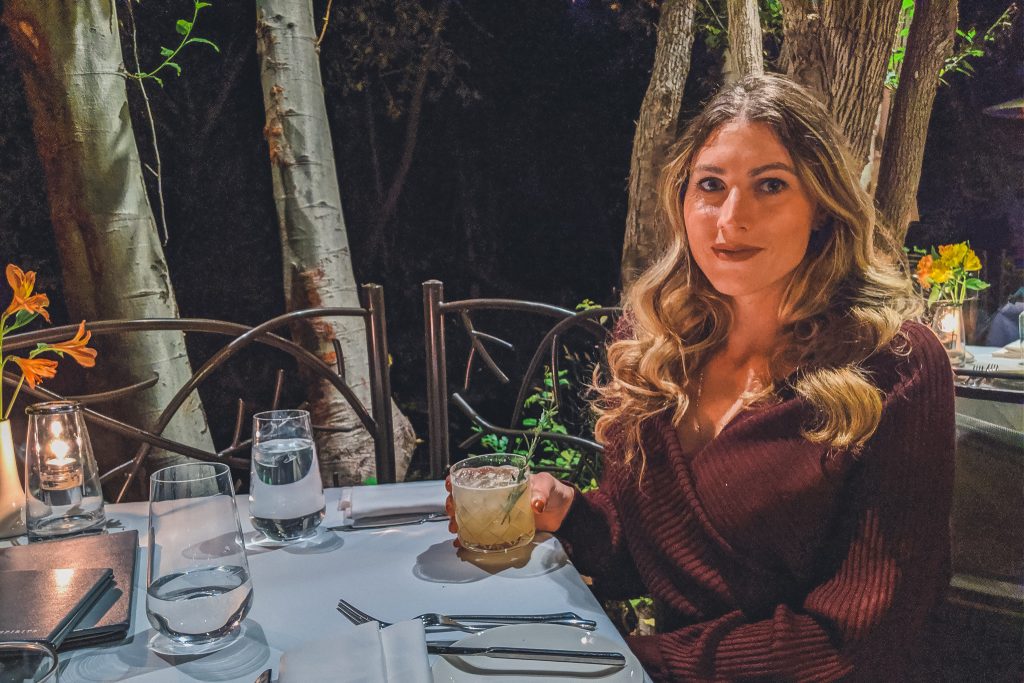 One of the most unique services at this resort is "Feet in the Creek," which combines food massage with guided meditation at a secluded creek location. L'auberge also offers sound healing treatments, reflexology, and cranial sacral work.
We also dined at Cress on Oak Creek — their premier restaurant that offers a seasonally inspired tasting menu. This is one of the most romantic things to do in Sedona!
Amara Resort
When trying to coordinate spa services, I was in between L'auberge and the Amara Resort. I went with L'auberge in the end because the time offered worked better for me. 
PRO TIP: Make your Sedona spa reservations well in advance!
 More than a month in advance. Honestly, as soon as you can. I waited until about a month before our trip, and I still struggled to secure a massage for myself and a facial for my boyfriend. It was somewhat stressful. We ended up not being able to find a time to go together.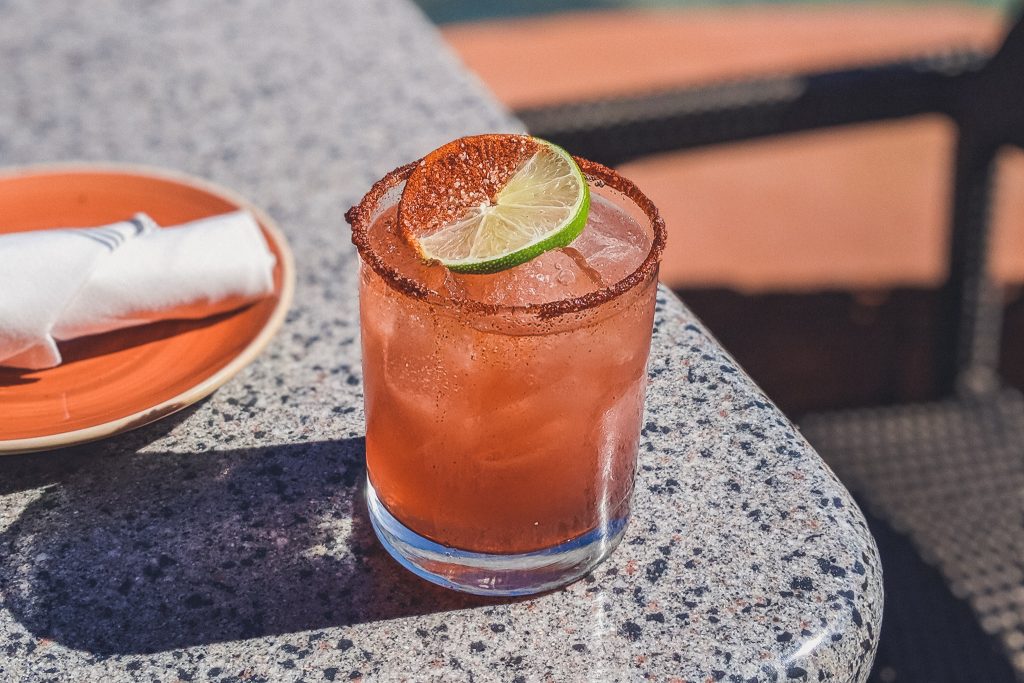 The Amara Spa is one of the best places to go to Sedona for dining and spa services. It's also walking distance from Sedona's busy downtown shopping district.
Their spa also offers interesting ethnic experiences like Rain Dance and a Dessert Sugar Scrub. We stopped by their restaurant Salt Rock Kitchen for lunch. The food and drinks were fabulous! The service was stellar. Highly recommend this place overall.