Bruges is one of the best preserved Medieval towns in Europe—it's utterly romantic. This Bruges Tourist Map includes all of Bruges top attractions like scenic places, churches, museums and more! Also, this Bruges map shows you were to find the best chocolate shops, pubs and restaurants. Use this interactive map of Bruges as your walking guide to help you discover this incredible city!
Bruges is a famously beautiful city. Sometimes referred to as the Venice of the North. Bruges, like Venice, is lined with tiny canals and littered with rustic stone bridges. Unlike Venice, Bruges is well known for it's lovely swans that glide through the canals.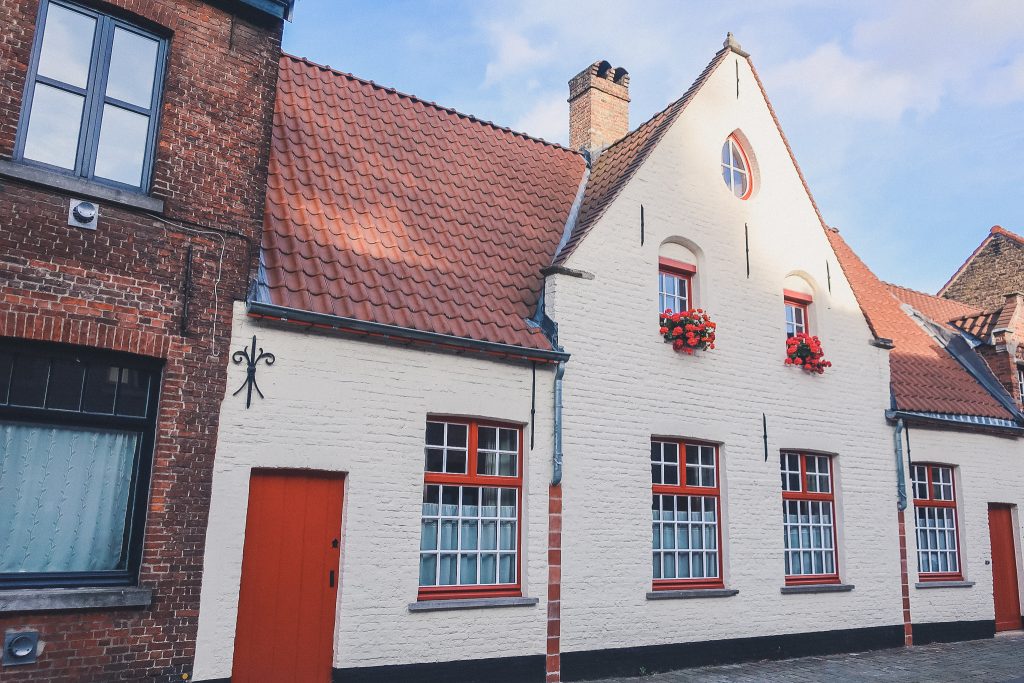 Bruges gained importance in Europe during the 12th Century. It was a port city and an mercantile district at the time. Today, the entire historic city center of Bruges is considered a UNESCO World Heritage site.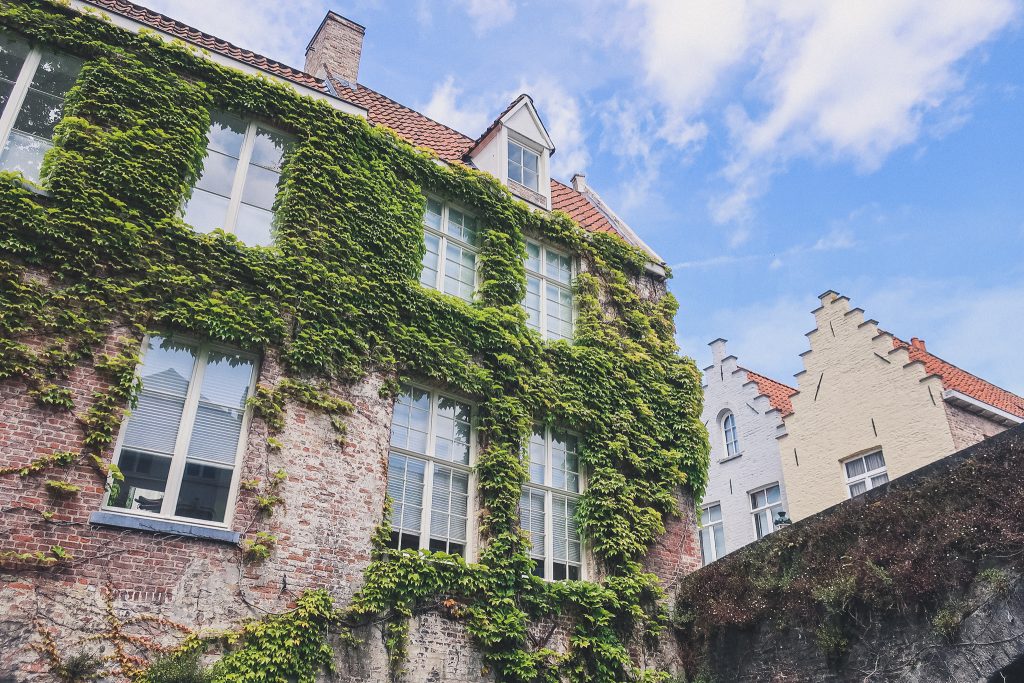 Bruges Tourist Map
Getting to Bruges
Many people visit Bruges because it is so easy to get to! I know I did. It's a quick hour train ride from Brussels, 2 hours from Rotterdam and 3 hours from London (by high speed train). The best way to get to Bruges is by train. There aren't any convenient airports nearby.
Since taking the train to Bruges is so convenient, it makes the perfect day trip destination. We took a day trip to Bruges from Brussels. Although, there's enough tourist attractions in Bruges to keep you busy for 2 or 3 days. Consider spending a night or two here.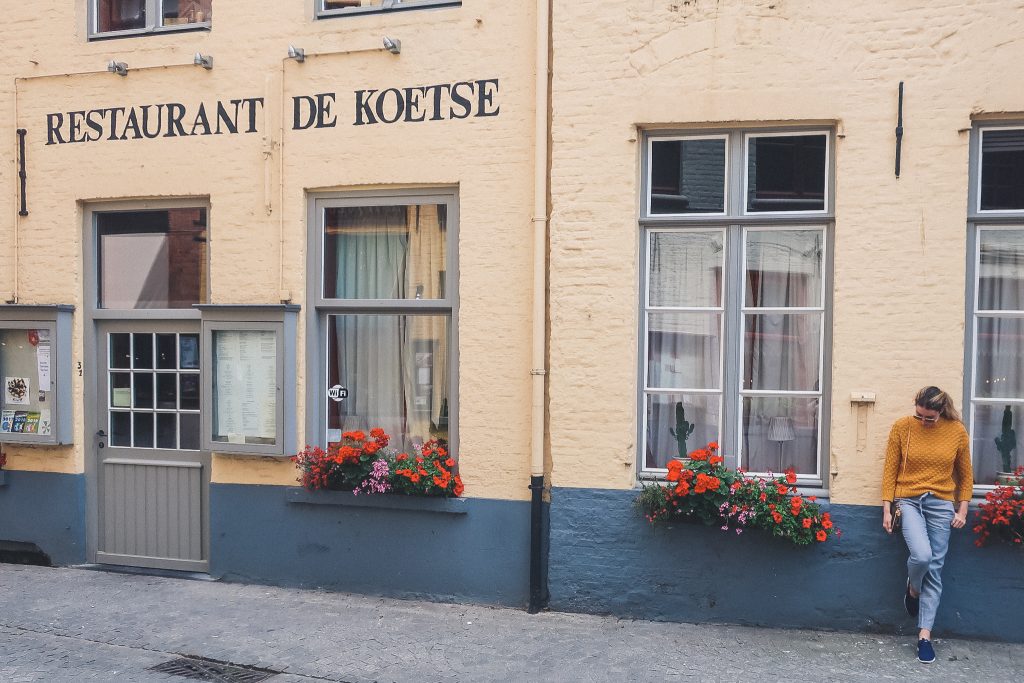 Getting Around Bruges
I highly recommend exploring Bruges on foot. It's a relatively small and compact city. All the Bruges sites you'll want to see are in an area the size of about one square mile.
It only takes 20 minutes to walk from the Bruges train station to the central square. Although, there is also a bus that goes between the station and city center every 5 minutes. This shuttle service was free when we visited, but we decided to walk.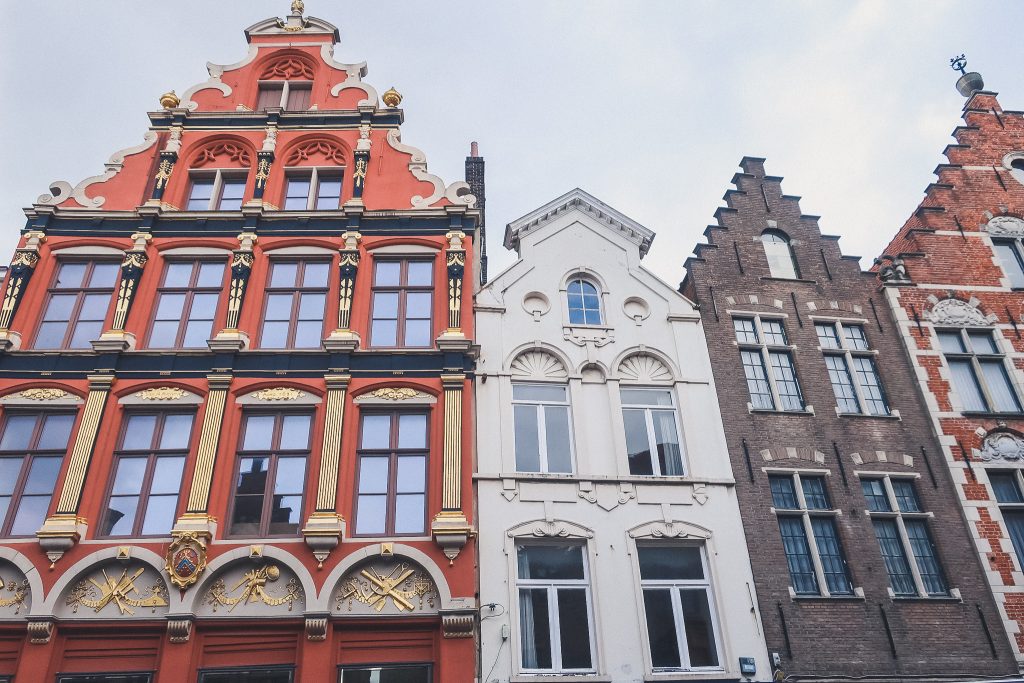 Bruges Tourist Map
This tourist map of Bruges includes all of the best places to visit in Bruges. The tourist attractions are marked by blue pins & discussed below. You can also find recommended restaurants at green pins, chocolate shops at pink pins & pubs/bars in purple. Click each pin to find a complete description.
How to Use This Map: If you click the tab at the top left corner, you'll be able to select specific layers. Click the checkmark to select or hide specific categories.
Save This Map: Click the brackets in the top right corner to expand the map in full view. It will open in a new tab. Under the map title, right of the map description, there is a star. Click this star and the map will be saved to your Google account  in Google Maps. You can access it later from your computer or device. On desktop, go to Google Maps and click 'Your Places,' and 'Maps.' On app view, select 'Saved, scroll down and click 'Maps.'
Where to Stay in Bruges
Budget: The top-pick for budget travelers is Hotel Academie. This charming spot is right by the famous Lake of Love. It features a quaint garden terrace that's popular among guests.
See more photos of Hotel Academie in Bruges.
Mid-Range: The best choice for mid-range travelers is the Crowne Plaza Hotel in Bruges. It's highly recommended among guests, always offering great service and accessible amenities.
Book your room at the Crowne Plaza. 
Luxury: Our top pick for luxury in Bruges is Hotel Van Cleef. This place is right on the canal, and it's the a winner of a Belgian Hospitality award.  With stunning design, modern amenities and scrumptious suites… it's all you could every dream of for your stay in Bruges.
Check prices at Hotel Van Cleef today. 
Bruges Tourist Attractions
Bruges has no shortage of scenic locations, impressive museums and historic churches. The must-have experiences include canal cruising, beer tasting and climbing the Belfry tower. Read on to learn more about the Bruges attractions and activities you'll find in our map.
Check out this top-rated Best of Bruges tour.
Scenic Places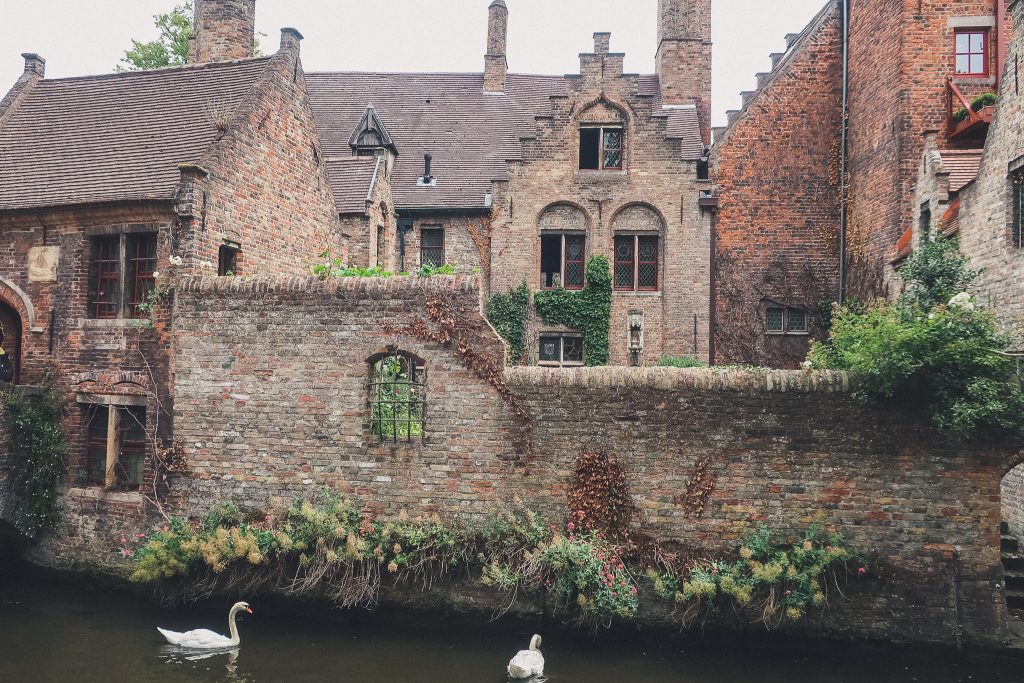 Market Square
The Market Squares sits at the heart of Bruges. It's lined with colorful Medieval homes with brick facades and step-gabled roofs. The most prominent feature of the Market Square is the dramatic Belfry Tower (more on this soon). Many Bruges walking tours start here.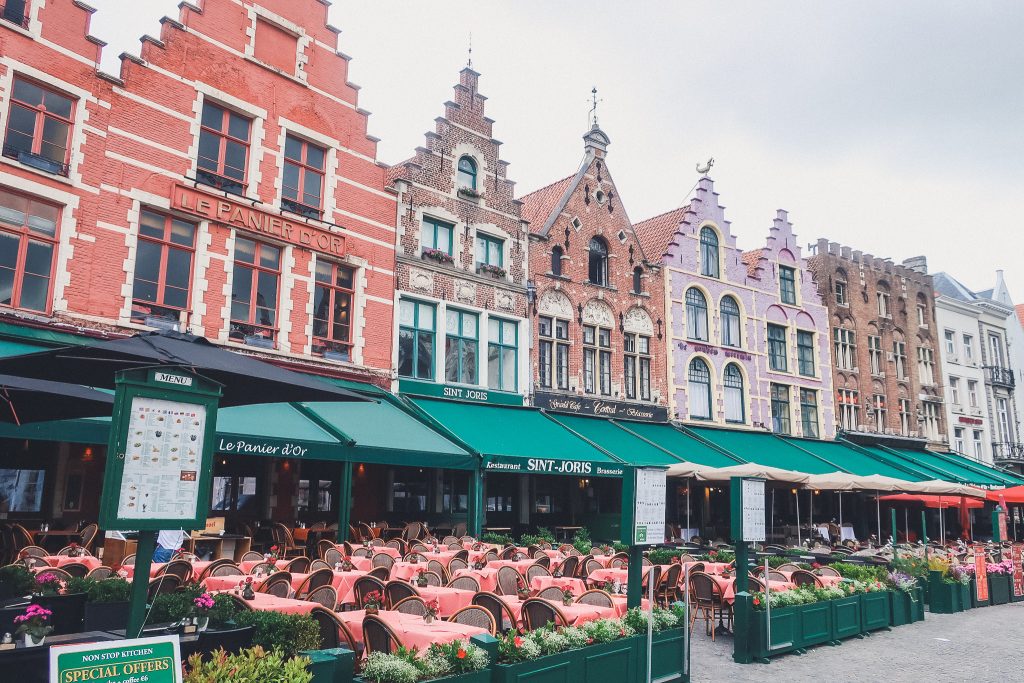 The Market Square is one of the top sights in Bruges. It's got an incredible history! A marketplace was held in this square since the year 958 —that's over 10,000 years ago 😲 It's no wonder that almost 4 million people visit this place each year! In the early days, the markets of Bruges were used mainly for commercial textiles and wool.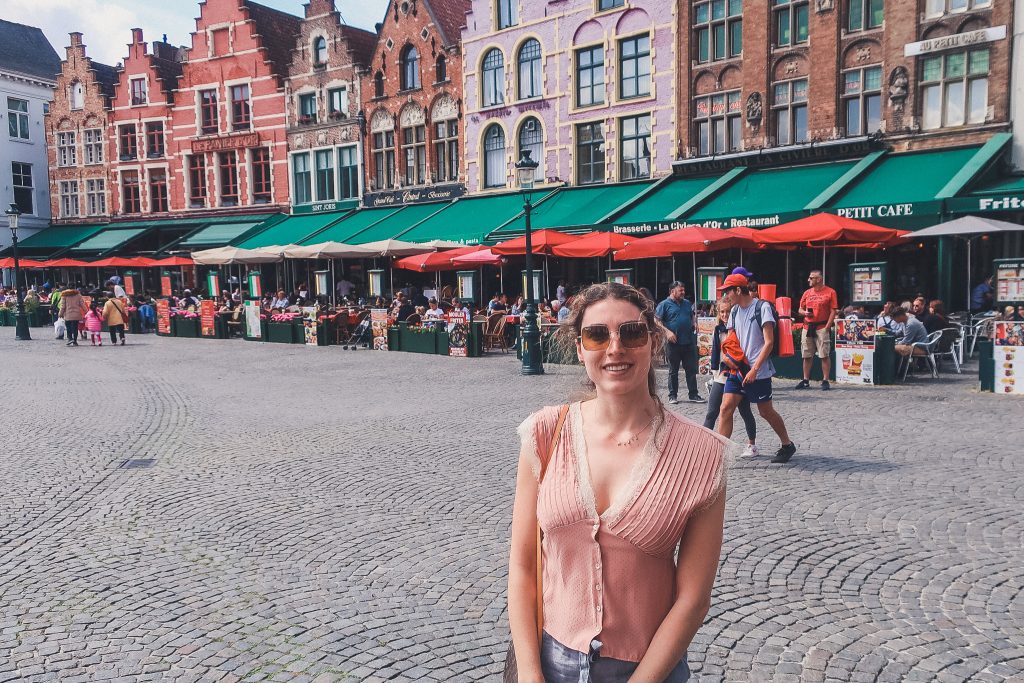 If you are lucky enough to visit on a Wednesday, you can catch the local fresh foods market that happens here today. Vendors sell fresh produce, flowers, meats and cheeses. It's also a great place to pick up traditional handmade goods like lace.
Belfry of Bruges
Climbing the Belfry Tower is one of the top things to do in Bruges. It's 83 meters tall and it will take 366 steps to reach the top. At the top, you'll be rewarded with sweeping panoramic views of the whole city.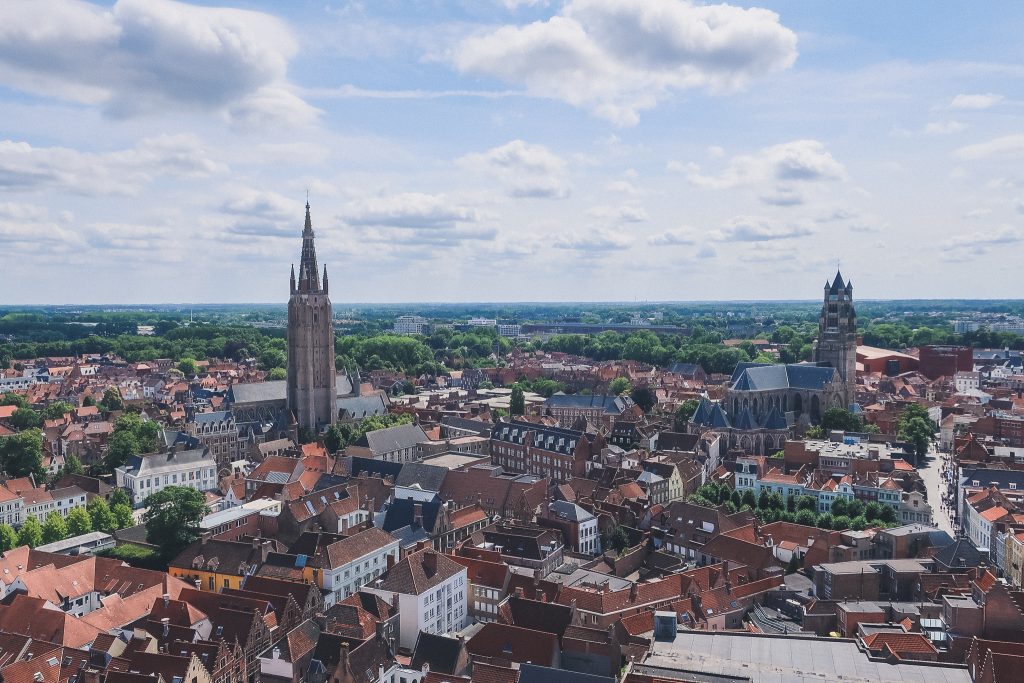 Because the Belfry Tower is one of the most popular places to go in Bruges, you can expect long lines to purchase tickets. We went around 4 PM and waited in line for over an hour. If you want to avoid a long queues, I strongly encourage you to arrive just before opening (at 9:30 AM). The sooner you can get there, the less you'll have to wait!
Discover the hidden gems of Bruges on this private tour.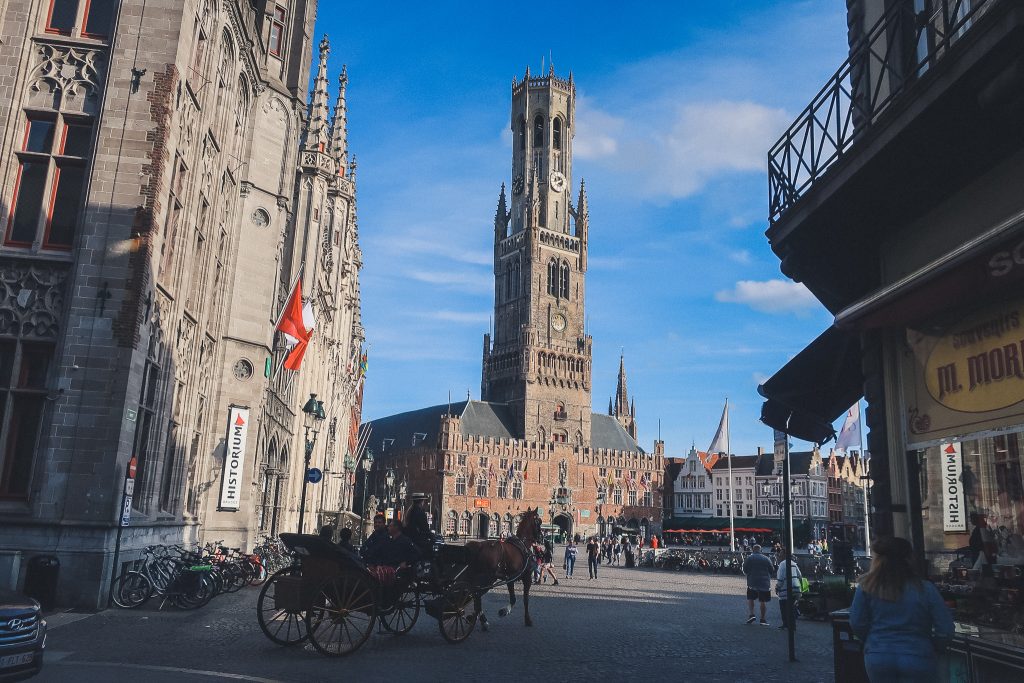 The Belfry of Bruges was originally built as a wooden tower atop a stone building in the 13th Century. Originally, it had administrative functions and served as treasury and municipal archives. Unfortunately, the original wood tower burned down only a few decades after it was built.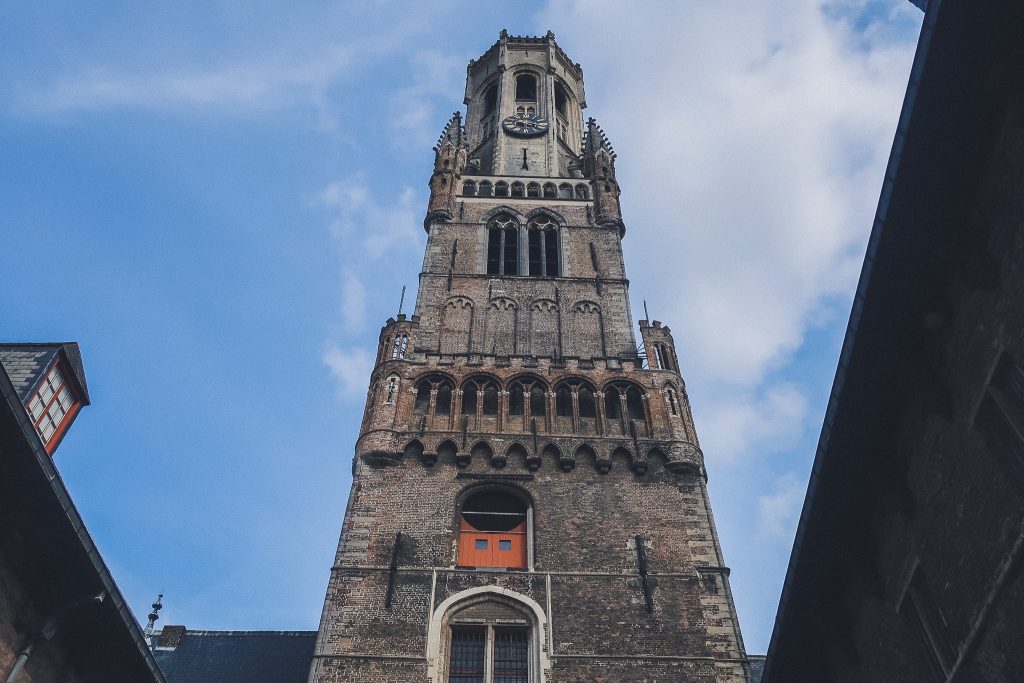 After the first fire, the Belfry was absolved of its political duties. In the years that followed, the Belfry would be destroyed and rebuilt several times over. Its torturous history is one of the critical components that gives Bruges its UNESCO World Heritage site designation.
Quay of the Rosary
Quay of the Rosary, or Rozenhoedkaai, is arguably one of the most beautiful places in Bruges and certainly one of the most photographed. This street hugs the nearby canals and provides enchanting views of stone castles and classic facades.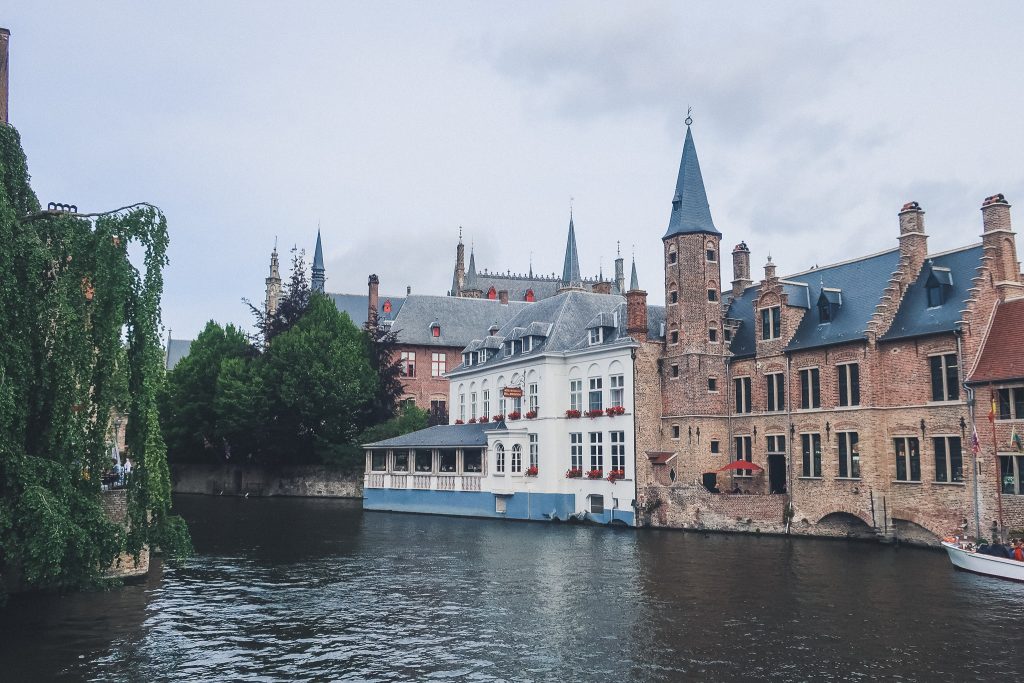 In the 18th Century, there were many stands in this place selling rosary beads — thus "Quay of the Rosary." Quay just means platform along the water for loading/unloading goods (Don't feel bad, I had to look this up also).
Book a chocolate workshop in Bruges.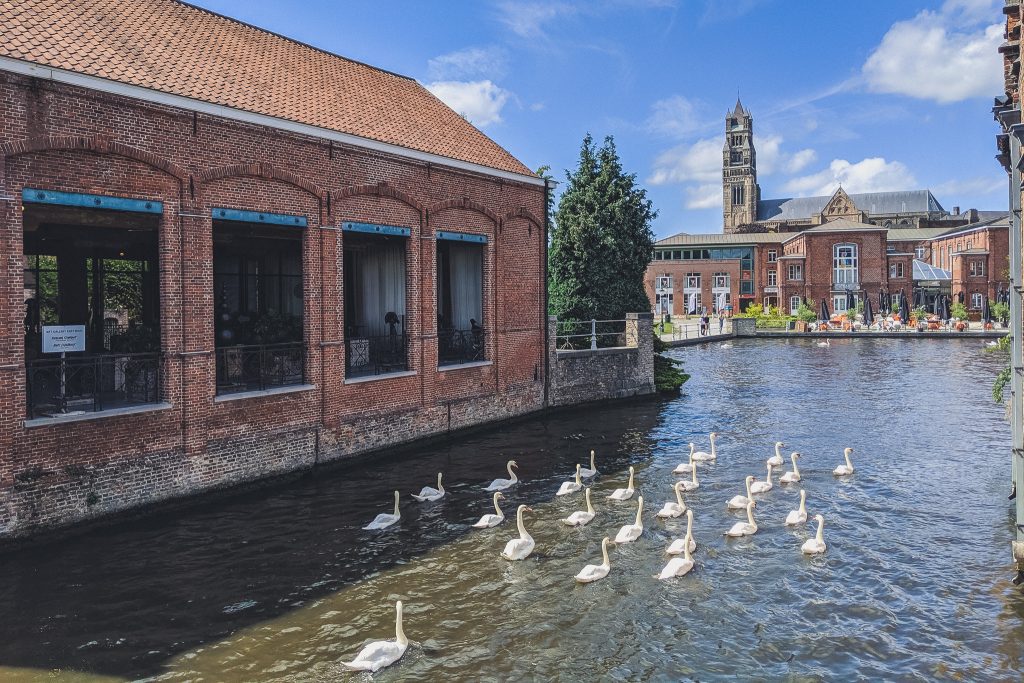 There are many cute canal bars and restaurants here. If the weather is nice, I highly recommend grabbing an outside table and enjoying the local the local brew "Bruges zot."
Beguinage
Beguinage, or Begijnhof, refers to an enclosed community for women, especially devout women. In the 12th and 13th Centuries, these communities of women started to become more popular as more and more women became widows from the Crusades. As you might imagine, the Middle Ages were not a safe place for single women.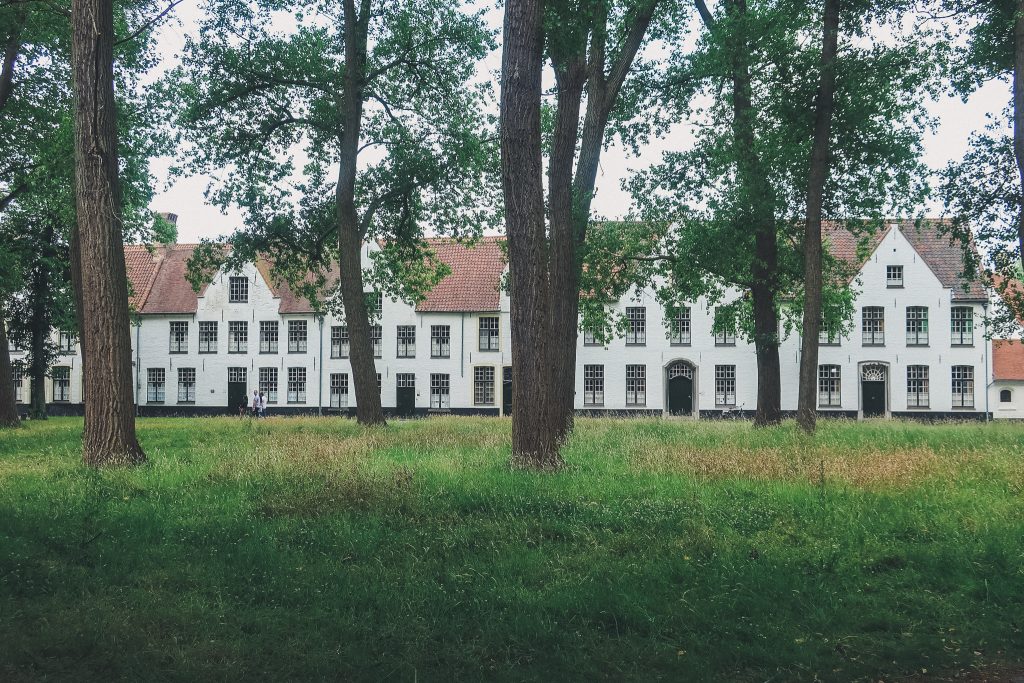 The Begijnhof was a safe, isolated micro community where women could life freely and invest their inheritance. The typical Begijnhof was built around a church and had it's own brewery, bakery, farms and medical facilities.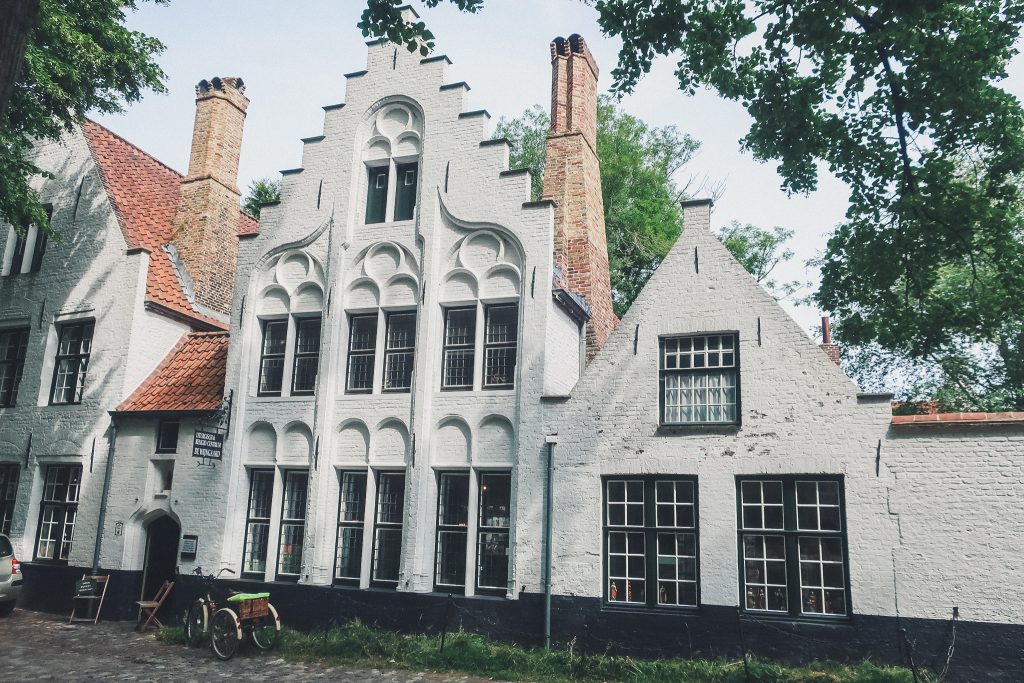 The Beguinage in Bruges was founded in 1245. As you will see, the walls of the original community still remain intact. You'll have to cross over a bridge and pass under an arched gateway to enter. You could easily miss the door if you aren't looking! Above the door, you'll find the date 1776 inscribed in gold letters.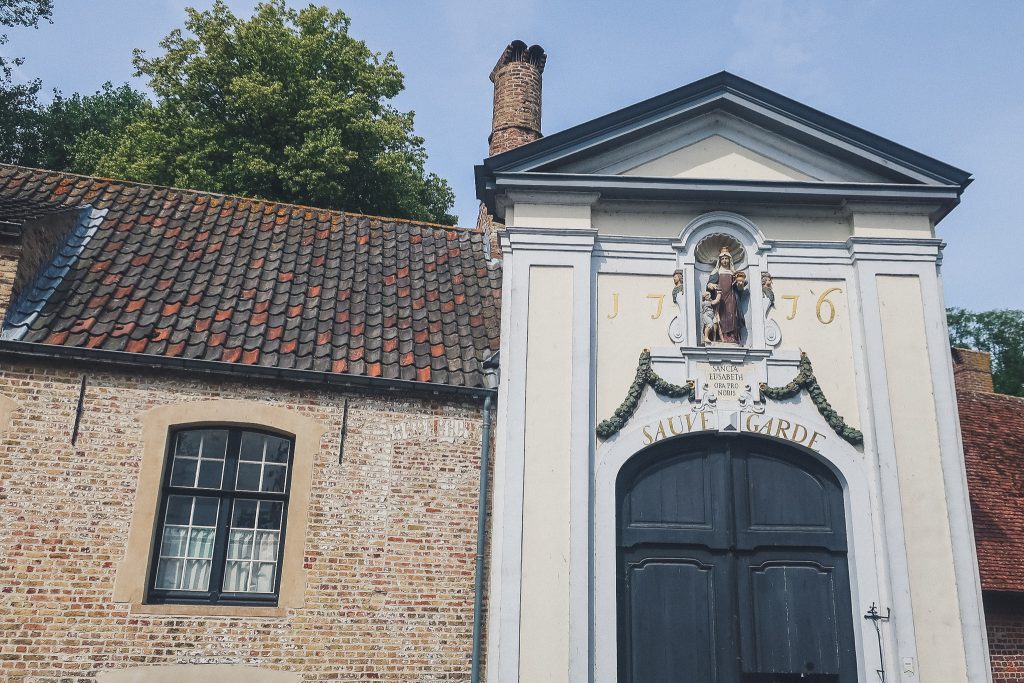 The Beguinage in Bruges and it's church are free to visit. There is a small fee to enter the Beguinage Museum. Today, this space serves as a convent for Benedictine nuns. Also, it houses underprivileged women who were born in Bruges.
The Beguinage in Bruges is a UNESCO World Heritage site and it's one of the top sights in Bruges.
Minnewater Park
Another one of the incredible places to go in Bruges is Minnewater Park. It's south of city center, and it's most convenient to visit on your way to or from the train station. The main features of Minnewater Park are the Lake of Love and Lover's Bridge. How romantic, right? Lover's Lake pictured below.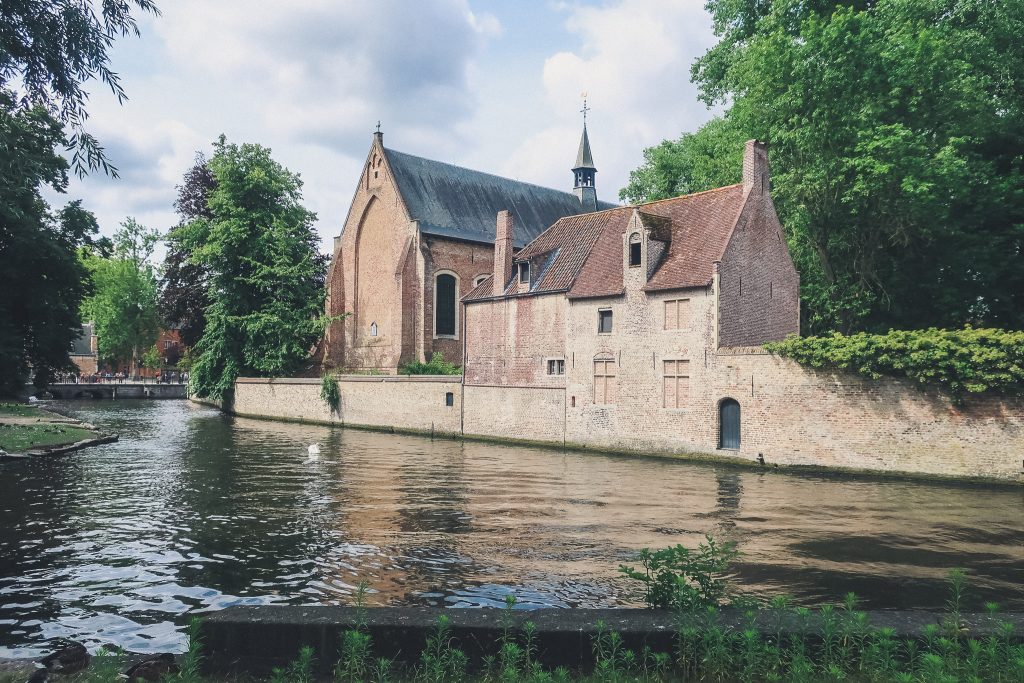 Minnewater is associated with love because of an old legend. The story goes that a young girl (named Minna) fell in love with a warrior of a neighboring tribe. Of course, her parents refused to accept this union and arranged her to marry someone else. The girl ran away and eventually died of exhaustion at this place. It was named Minnewater in her honor.
It is said that if you kiss your partner on the Lover's Bridge, you will have eternal love. We kissed there! How could we not? Please excuse the gross photo to follow… our tour guide insisted…and she zoomed 🙈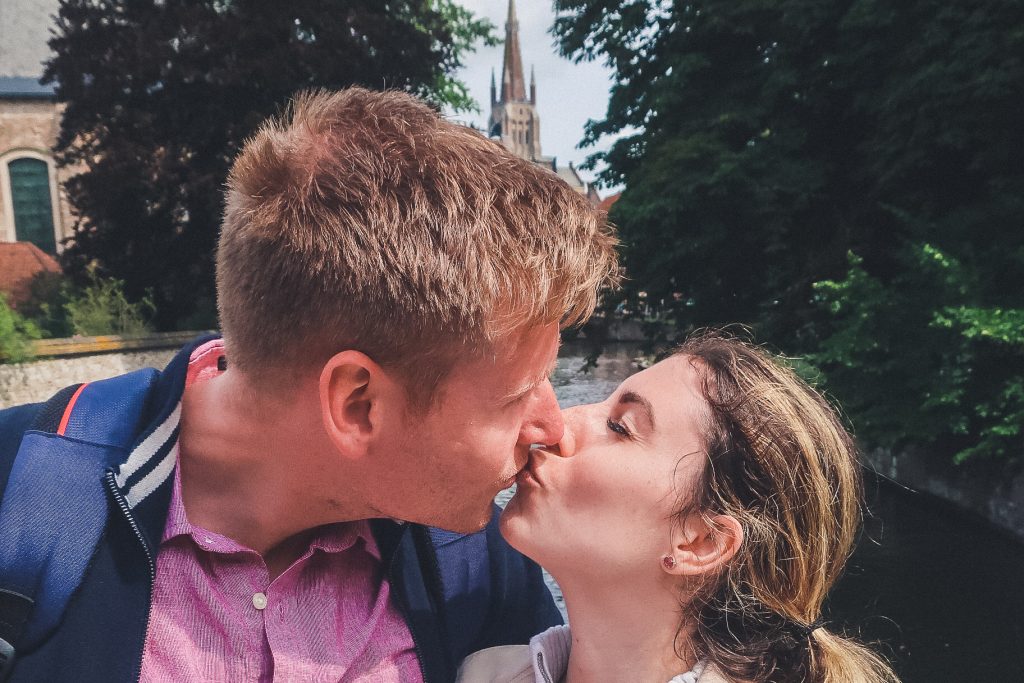 For these reasons, visiting Minnewater is one of the best things to do in Bruges.
Jan van Eyck Square
One of the important places to visit in Bruges in Jan van Eyck square. Jan van Eyck was a famous painter from the early 15th Century. His paintings became important examples of early Renaissance art in the Netherlands. Some have even called him one of the founders of the early Renaissance style. His method of oil painting was revolutionary at its time.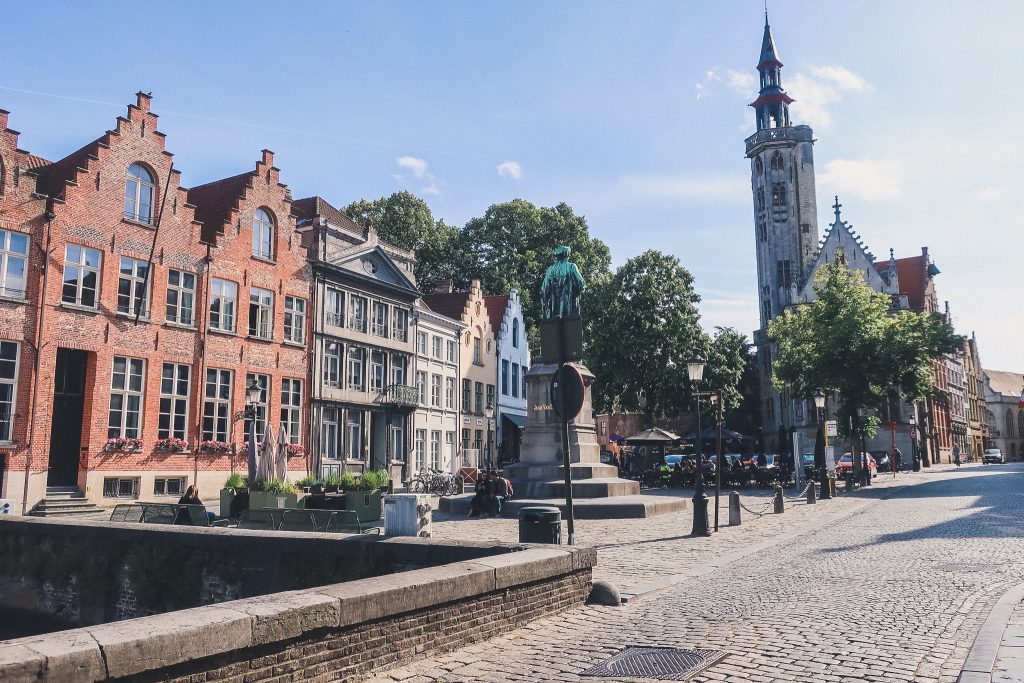 Jan van Eyck lived in Bruges for a significant portion of his adult life. In Jan van Eyck Square, there is a statue and memorial dedicated to Jan van Eyck. It's one of the important Bruges sights because of its historical significance and scenic beauty. The square is lined by charming facades of historic homes. The homes peek out from the canal that was once an important shipping port.
Learn more about the history of this beautiful city.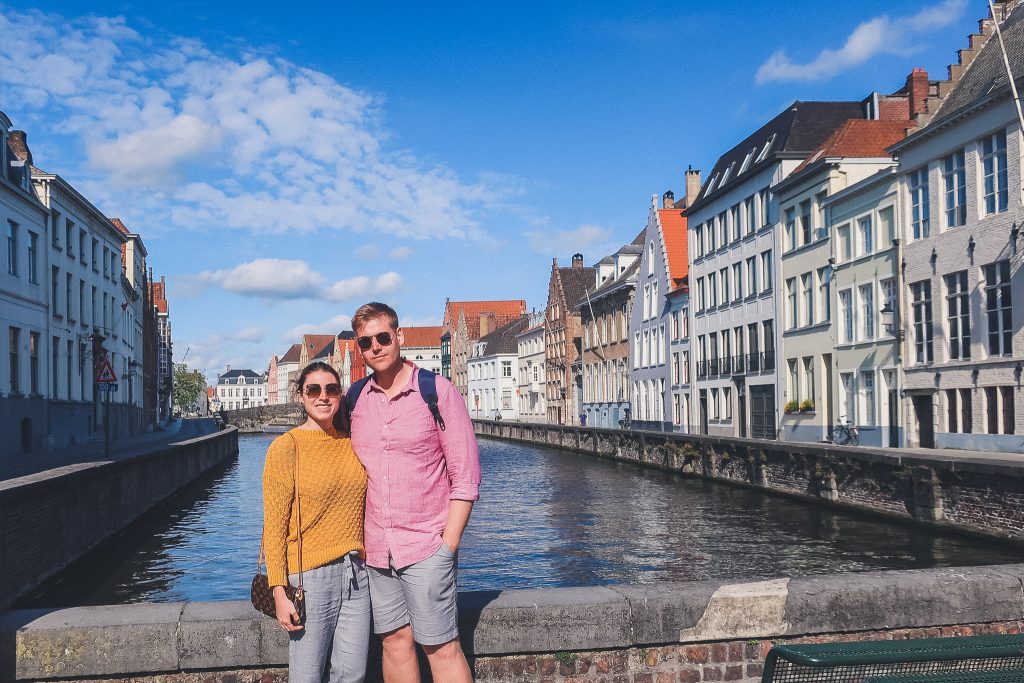 Fun Fact about Jan van Eyck: He was one of the first Flemish painters to sign their artworks.
Sint-Janshuis Mill
The Sint-Janshuis Mill takes your Bruges sightseeing outside of the busy city and into the charming countryside. Windmills have been an important part of Bruges since the 13th Century! The Sint-Janshuis Mill is one of the only surviving mills in Bruges. It is open to visitors and remains operational.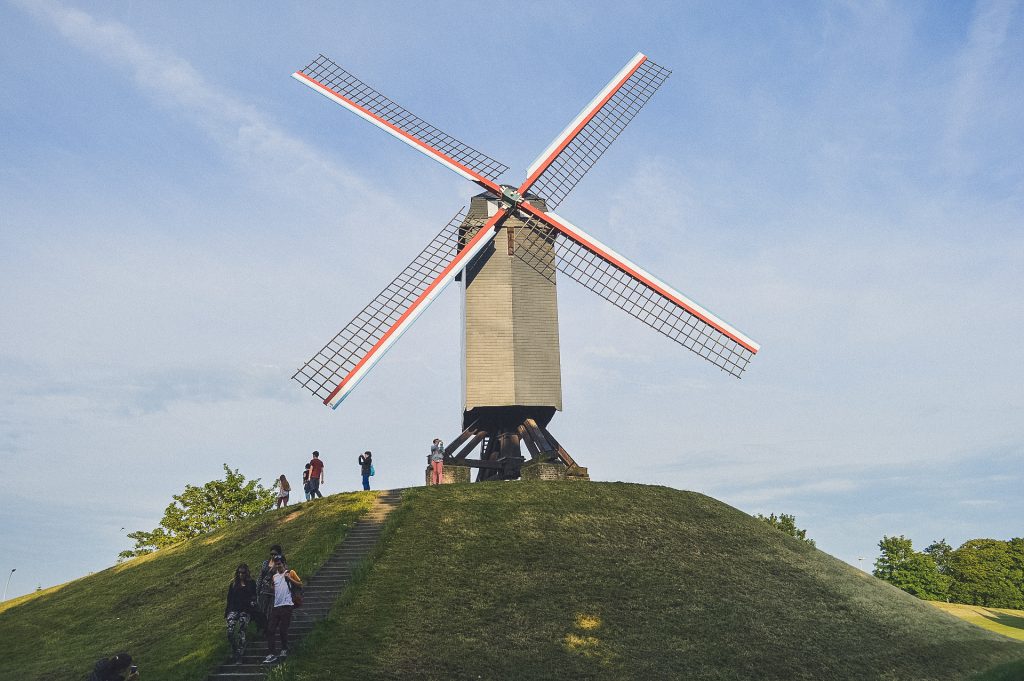 The Sint-Janshuis Mill was originally built in 1770! It was named after the St. John's Hospital for which it supplied grain. Despite the fact that it was restored a few times, it is still incredible that the Sint-Janshuis Mill continues to grinds grain to this day.
Book your bike ride through the Belgian countryside and see this mill.
Unfortunately, like the museums, this place is closed to visitors on Mondays. However, you can still walk by and appreciate it at a distance. It's definitely one of the Bruges highlights!
Bonifacius Bridge
The Bonifacius Bridge is one of the most romantic and enchanting sites to see in Bruges. It looks like something out of a fairy tale! It's also tucked away from the busy shopping streets.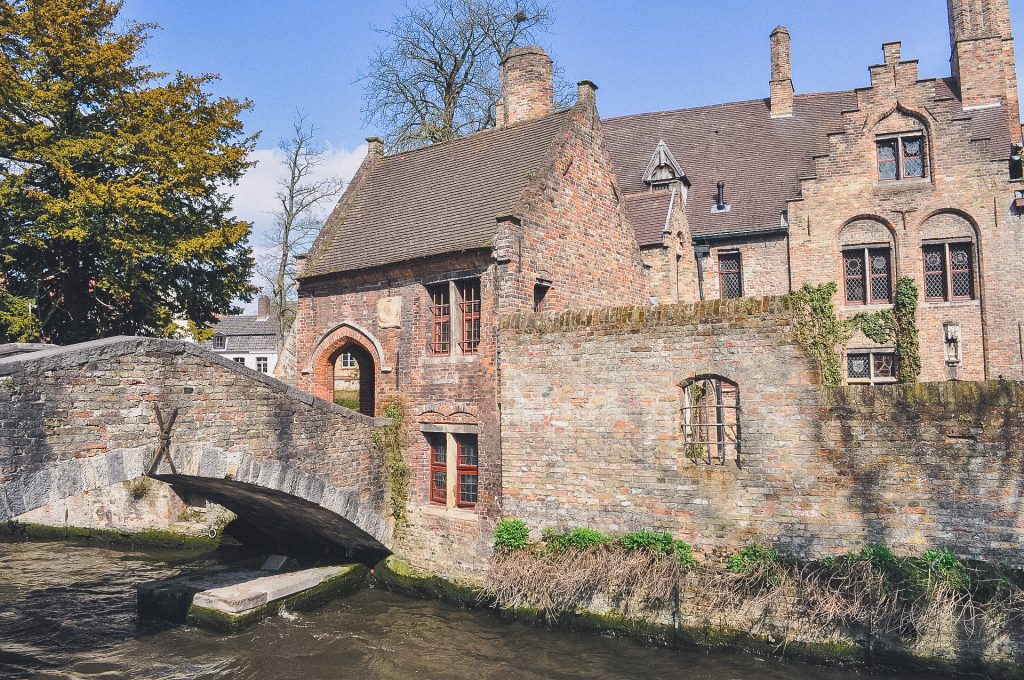 While it looks old, it's actually not… this bridge was built in the early 20th Century. That doesn't mean it's not special!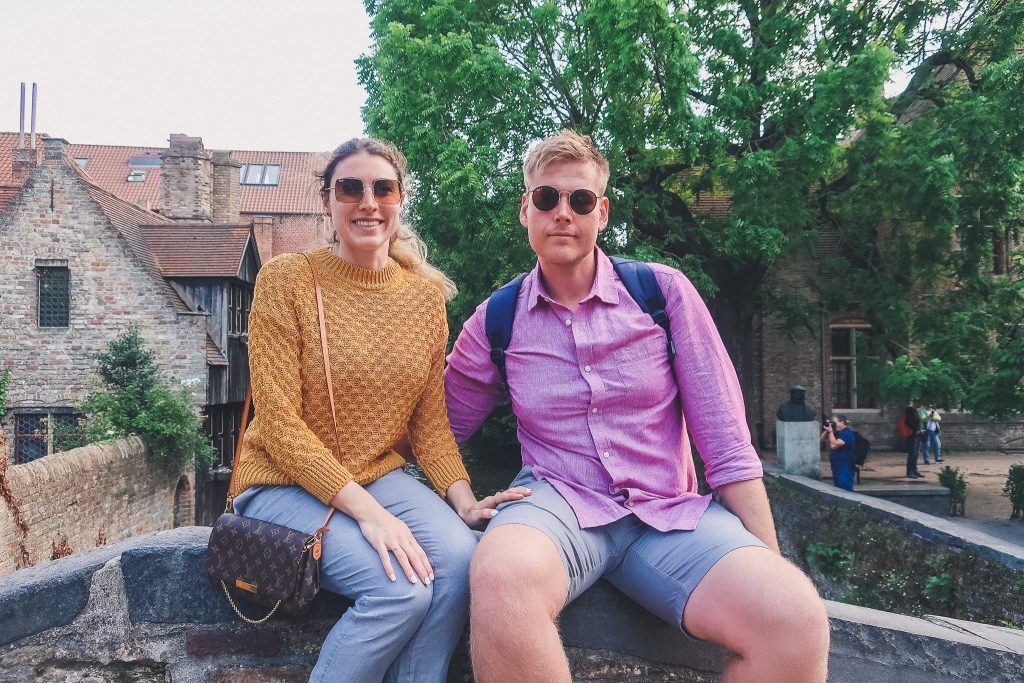 From the Bonifacius Bridge, you'll get amazing views of the Church of Our Lady Bruges. Wander a little further into the The Arents Courtyard and marvel at the classic Arents Manor. The Brangwyn Museum currently occupies the Arents Manor, and displays an important collection of works by Frank Brangwyn. Brangwyn was British, but he donated a huge portion of his works to the town of Bruges.
Churches
Church of Our Lady Bruges
The steeple of the Church of Our Lady Bruges dominates the city's skyline. It's the second tallest brick tower in the world. The church and its tower took over 200 years to complete.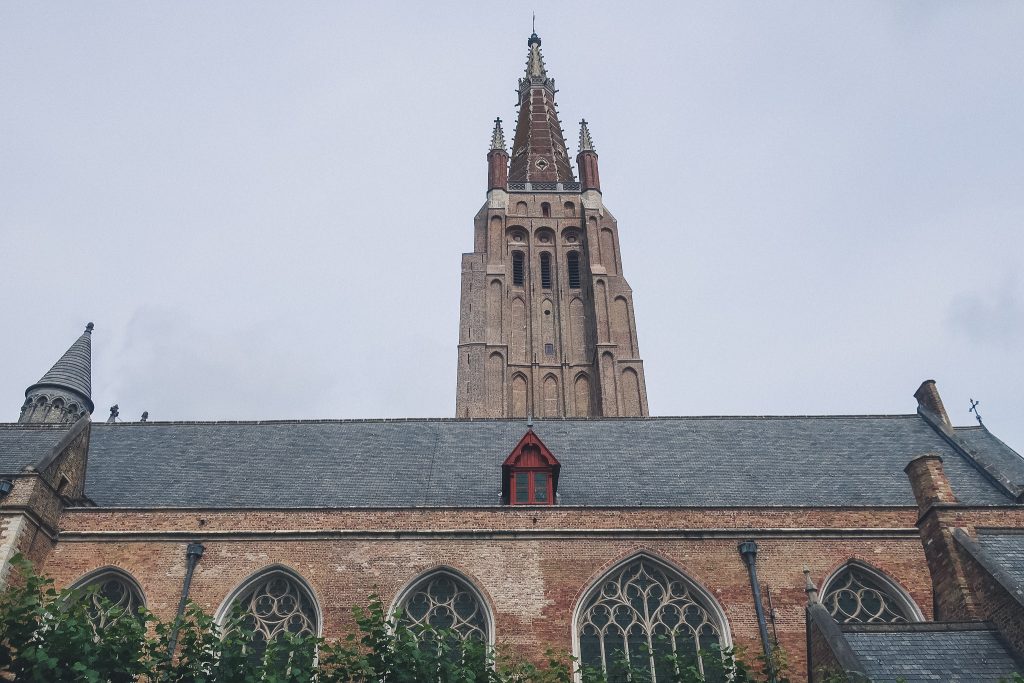 It's most famous for the sculpture that it contains…Michelangelo's Madonna and Child was created in Italy and brought to Belgium in 1504. Many people from all over the world travel here to view this work of art. It is the only sculpture of Michelangelo to have left Italy during his lifetime.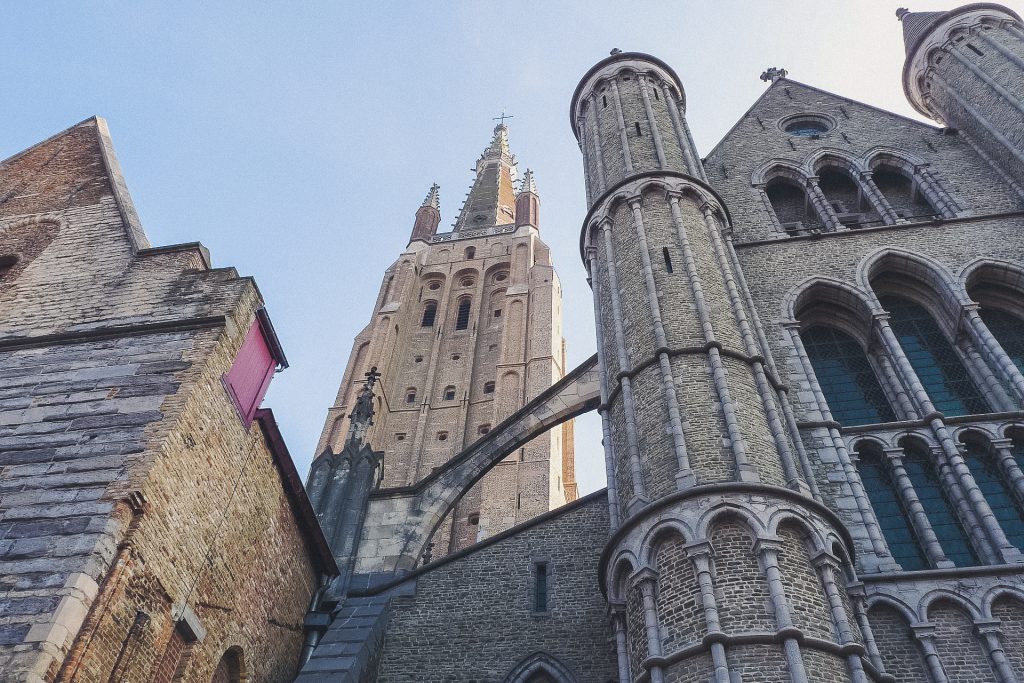 Other highlights of the Church of Our Lady Bruges include the ceremonial tombs of Mary of Burgundy and her father Charles the Bold. Also, there are some exceptional paintings and exquisite woodcarvings.
Basilica of the Holy Blood
The Basilica of the Holy Blood is made from two parts: a lower Romanesque chapel and an upper neo-Gothic chapel. The Romanesque chapel is plain with very little decorations while the upper levels are elaborate, richly detailed and expressively colorful. The two levels are joined by a brick staircase from the 1500s, built in the Renaissance style.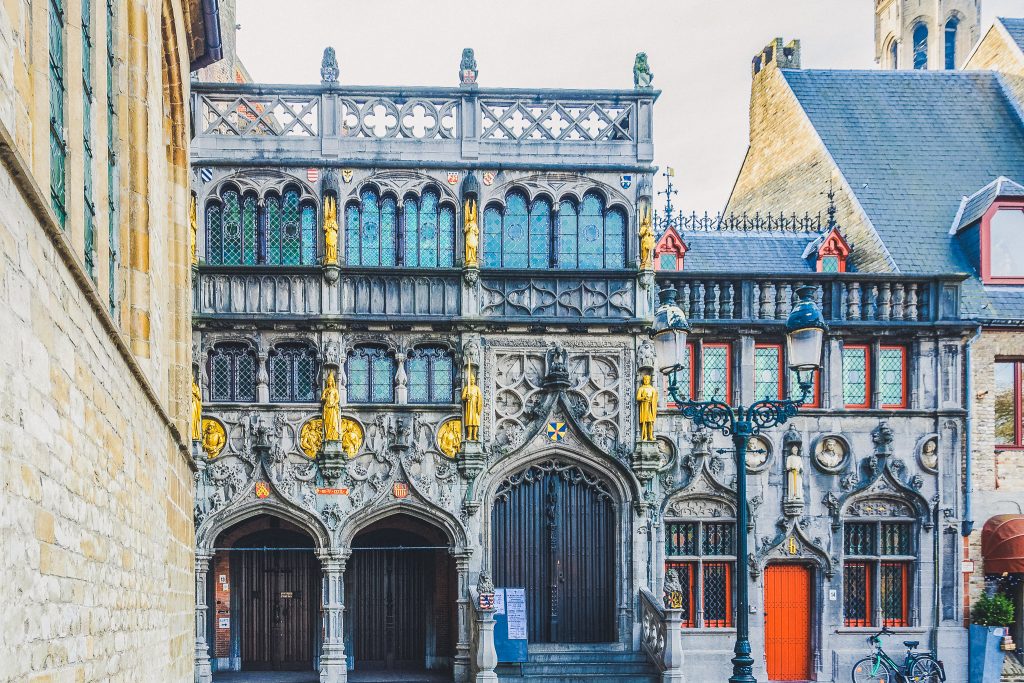 Saint Saviour's Cathedral
The cathedral of Bruges should be on every Bruges walking tour. It's the oldest parish church in the city, and it's been destroyed and rebuilt countless times.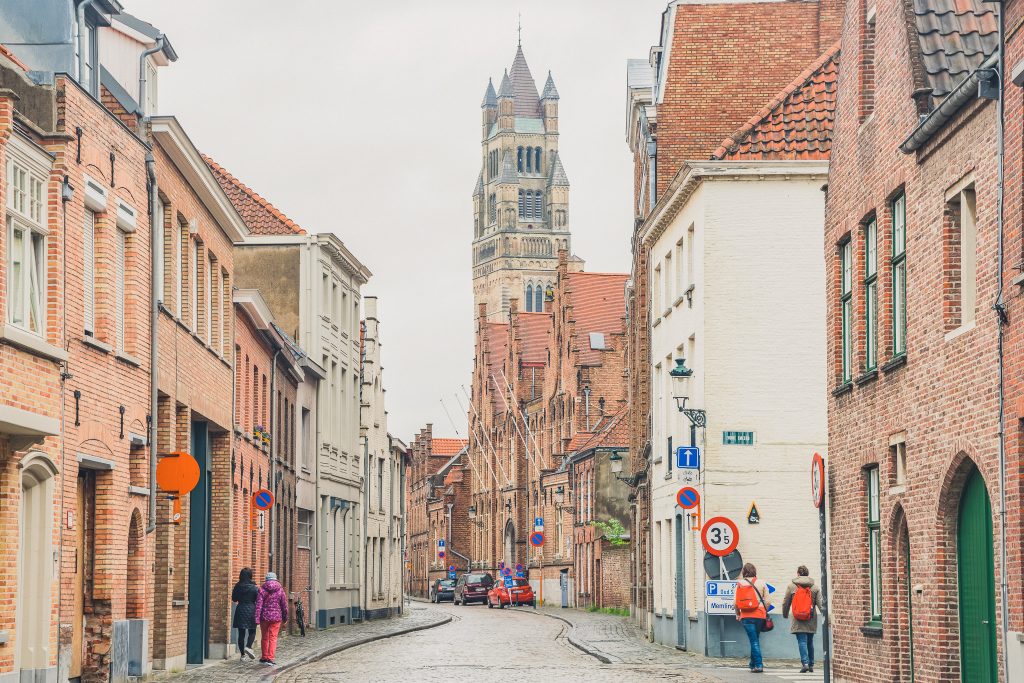 It's most remarkable for its woodcarvings, choir stalls and numerous fine paintings. There is also an impressive organ.
Museums
The reason we spontaneously decided to visit Bruges… was because all of the museums in Brussels are closed on Mondays. Guess what? The same is true for Bruges. 😑 Maybe this is just an American mindset…but why aren't museums open every day? 🤔
Old St. John's Hospital
The Hospital of St. John is one of Europe's oldest surviving hospitals! It was first established in the mid- 12th Century. During the Middle Ages, this hospital also expanded to include a monastery and convent. It was an essential stopping place for sick pilgrims and travelers, but it also took care of the sick and poor.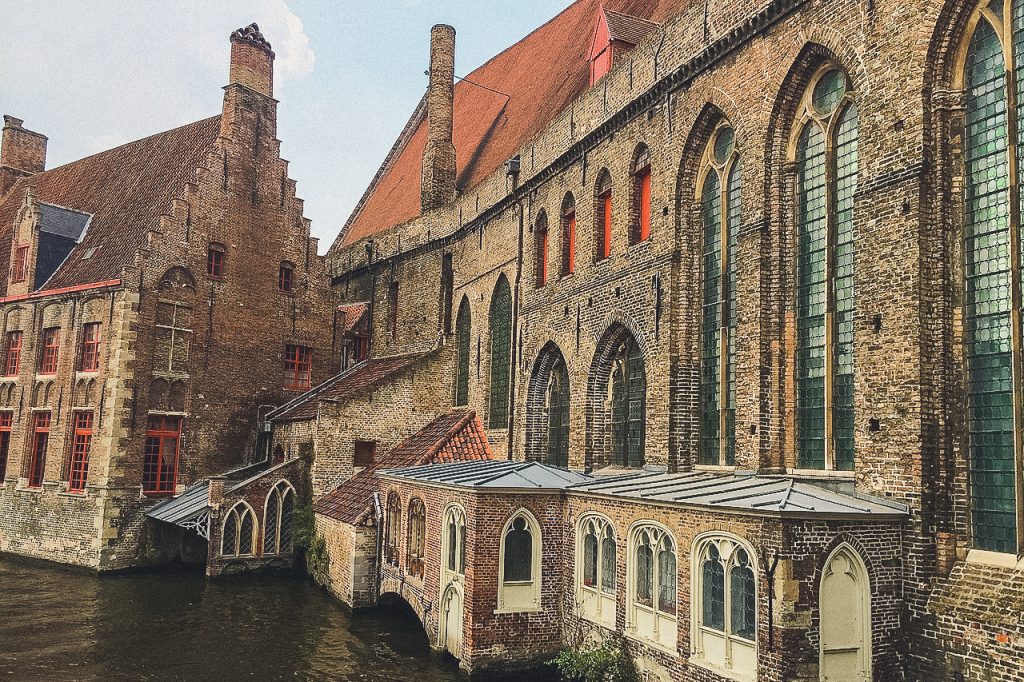 It's unbelievable that this hospital continued to operate until the late 1970s. Today, it's an incredible museum with quite unique collections of medical instruments, art and religious relics. You can walk through the Medieval wards and imagine how patients were cared for back then…Yikes!!
I have a medical background, so this was one of my favorite Bruges tourist attractions. Make sure to see the paintings by Hans Memling and check out the Medieval pharmacy!
Fine Arts Museum of Bruges
Without a doubt, this is one of the best places in Bruges for art lovers. The Groeningemuseum contains over 150 important Flemish Primitive paintings, as well as many 18th and 19th Century neoclassical pieces.
Most famously, this museum has a number of masterpieces by Jan van Eyck and Gerard David. The quality and range of this collection is impressive and has a unique history.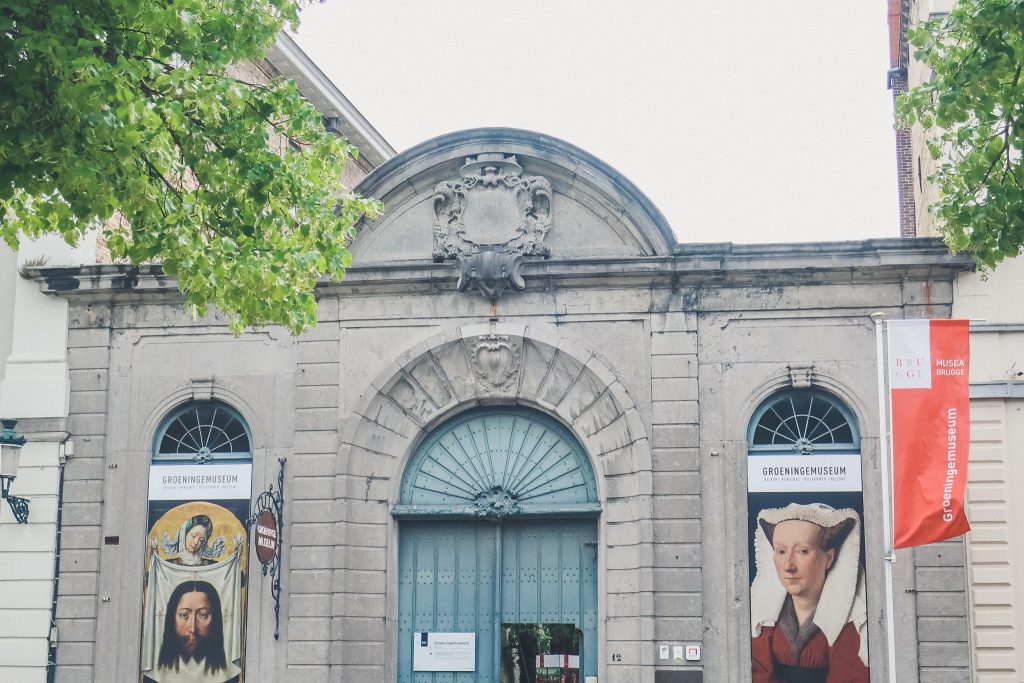 The Fine Arts Museum in Bruges is one of the oldest museums in Belgium. It's roots are intricately tied to the Bruges Academy for Fine Arts. During the 1700s, there was a law that required students to donate a sample of their work to the school. The Bruges Academy received many donations over the years and eventually gave their collections to the city of Bruges. Soon after, this incredible museum was born.
City Hall
The City Hall building is one of the important Bruges sightseeing attractions. Even if you don't visit the museum, you should check out the dramatic exterior of this building.
It's one of the oldest city hall buildings in the low countries. It was built after the original wooden tower of the Belfry burned down. A new building was needed for municipal archives and city council meetings, so this City Hall building was built in 1421.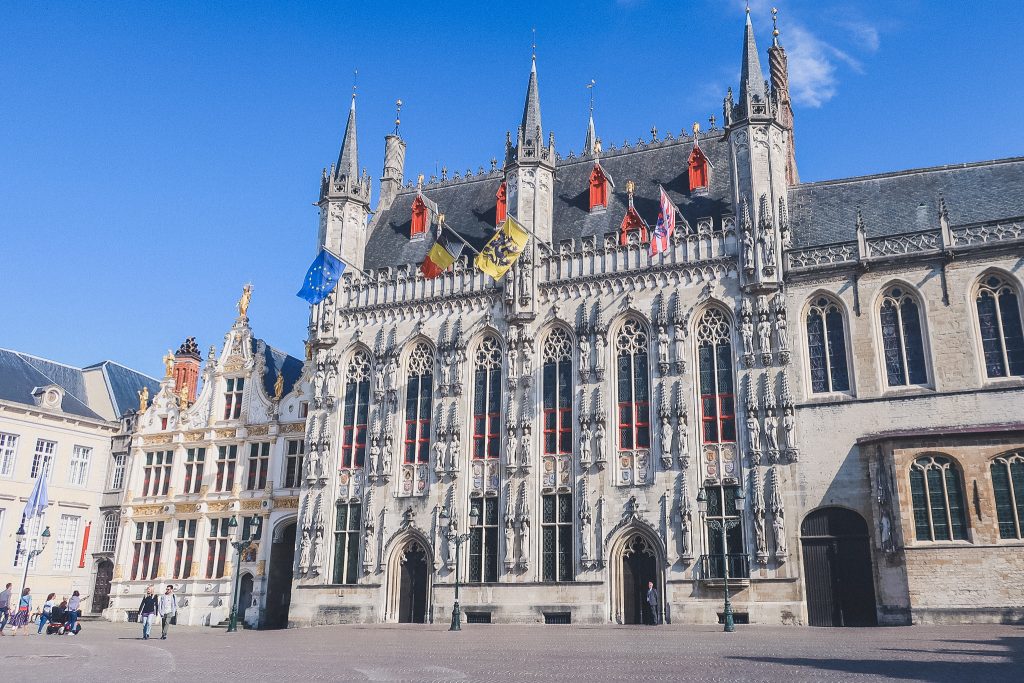 The style is Gothic Monumental. The opulence of it clearly demonstrates the economic and political power of Bruges at the time. Many town halls across Europe were modeled in its image afterwards.
There is a museum on the ground floor of the Town Hall. It has some interesting paintings, carved stonework and old maps. However, the real gem is the building itself. Inside and out. Make sure to check out the lavishly decorated Gothic Hall.
Historium Bruges
Another one of the important Bruges Museums, Historium Bruges documents the Golden Age of Bruges. During this time, Bruges was a thriving trading city with an important shipping port. This was the time of Jan van Eyck and the time during which many important buildings were built.
Check out this exciting history tour that includes beer & chocolate tastings.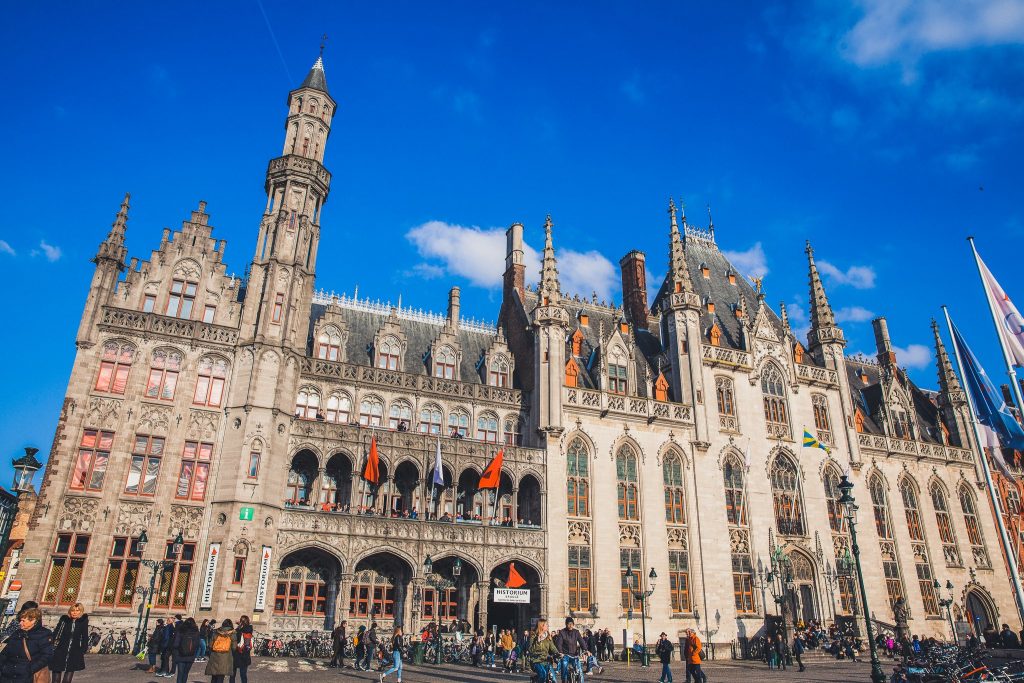 You'll explore history as you walk through 7 themed rooms. Experience what it would have been like to live during these Medieval times. The museum uses multimedia to keep you entertained. Make sure to climb the Historium Tower for 360° panoramic views of Bruges, especially Market Square.
Beer Museum
Belgian Beer Culture is part of UNESCO's Intangible Cultural Heritage and Humanity list. Brewing beer has been an important part of life in Belgium, and Bruges, since the Middle Ages. It was safer to drink than water and readily available.
Foodies must take this incredible food tour of Bruges.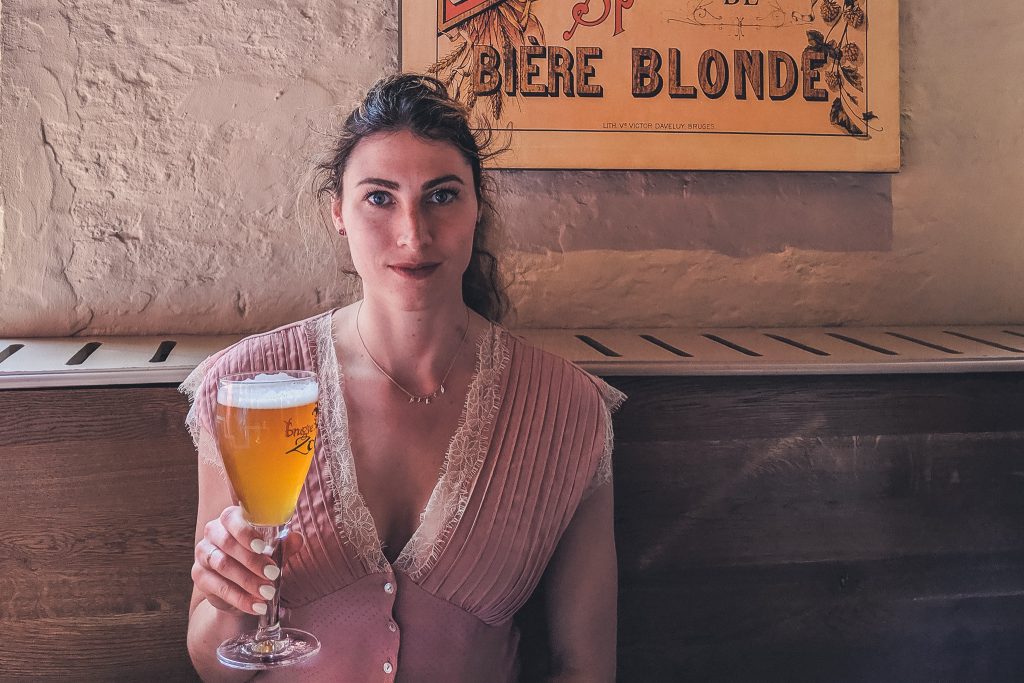 Even Old St. John's hospital brewed it's own beer! Learn more about how beer is made at the Bruges Beer Museum. If you're looking for something to do in Bruges on a Monday, it's perfect. The Beer Museum is open 7 days a week! Alternatively, you can take a tour of the Half Moon Brewery.
Lamp Museum
The Lamp Museum is one of the lesser known places of interest in Bruges. Although, it's truly a hidden gem. It has the world's largest collection of lamps and lights! That's over 6,000 lamps and antiques. Everything from torch to LED, and more.
The theme of the Lamp Museum is "man's journey from darkness into light." It takes you through a 40,000 years progression in the quest for illumination. Starting with prehistoric clay lamps and oil lamps. There is also a very cute lamp store & it's open on Mondays!
Fries Museum
The Fries Museum in Bruges was the first, and is currently the only, museum in the world dedicated to potato fries. The Bruges Fries Museum is housed in an absolutely stunning, historic, building that was previously a Wool Hall. The building dates back to 1399 and it's one of the oldest in Bruges historic city center.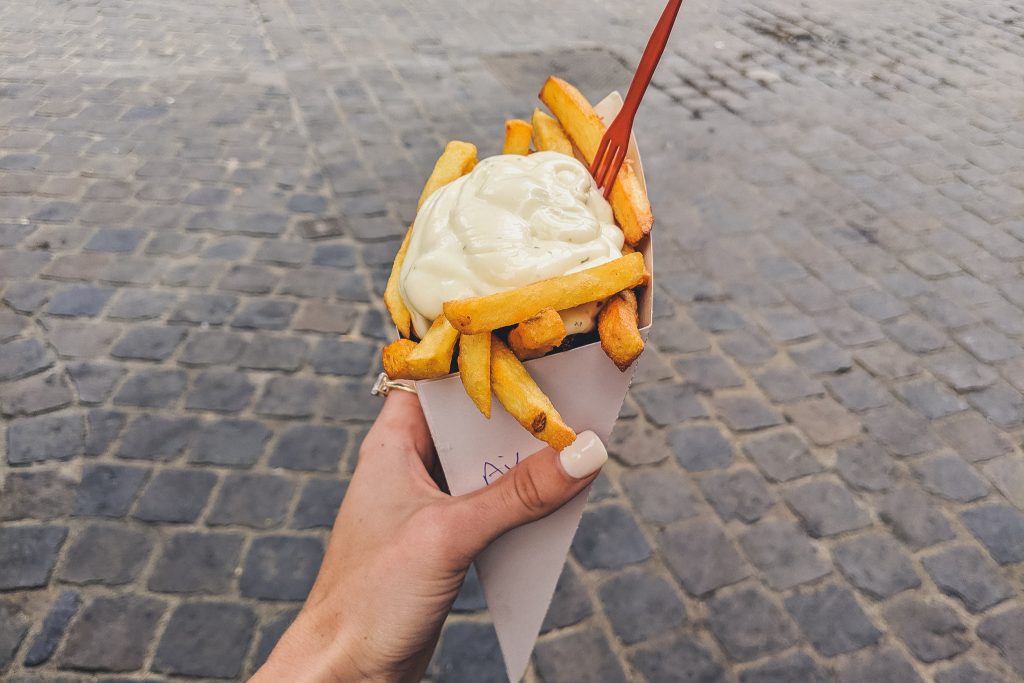 If you're looking for what to do in Bruges on Monday, it's another one of the few places open every day of the week. At the Fries Museum, you'll learn about the origin of potatoes. Also, how potatoes were first made into fries in Belgium. You'll even get to sample some!
Diamond Museum
Historians confirmed that diamonds were traded in Bruges long before they were traded in Amsterdam and Antwerp. In fact, there were active diamond polishers in Bruges even in the 14th Century. Bruges may be the first place where diamond cutting techniques were used!
Today, you can learn more about how diamonds are polished at the Bruges Diamond Museum. Catch one of the Diamond Polishing Shows at the museum every weekday. This museum is also open on Mondays!
Gruit Museum
Located in the stunning Gruit Manor, this museum of applied arts has impressive collections from the 15th – 19th Centuries. Including tapestries, stained glass, handcrafted lace and wooden sculptures.
Gruit is an herb mixture used in flavoring beer. The family who lived in the Gruit house earned their fortune by monopolizing the Gruit market and collecting heavy taxes in the 13th Century.
The interior of the Gruit Manor was artfully restored to demonstrate it's Medieval glory. The luxurious lifestyle that was experienced in this Manor is made evident by the gold objects, ceramics, weapons, musical instruments and upholstered furniture.
Miscellaneous
Half Moon Brewery
No travel to Bruges is complete without a trip to the Half Moon Brewery. It's the oldest brewery in Bruges still in operation today. They've been brewed beer for almost 500 years! Also, they're one of the only breweries in the world to have a beer pipeline… Yes, a 2 mile long pipeline brings beer from their downtown brewery out to their bottling plant.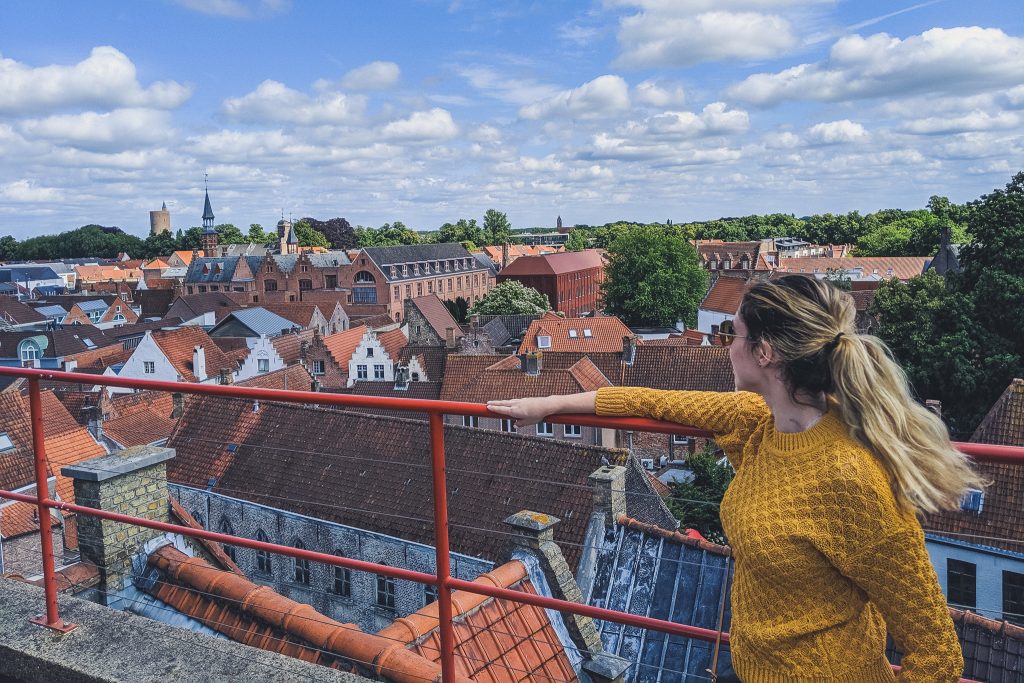 A guided tour of the Half Moon Brewery is one of the essential things to do in Bruges. The highlight of this tour is a visit to the Half Moon Brewery's exclusive rooftop terrace. From here, you'll appreciate unforgettable views of Bruges.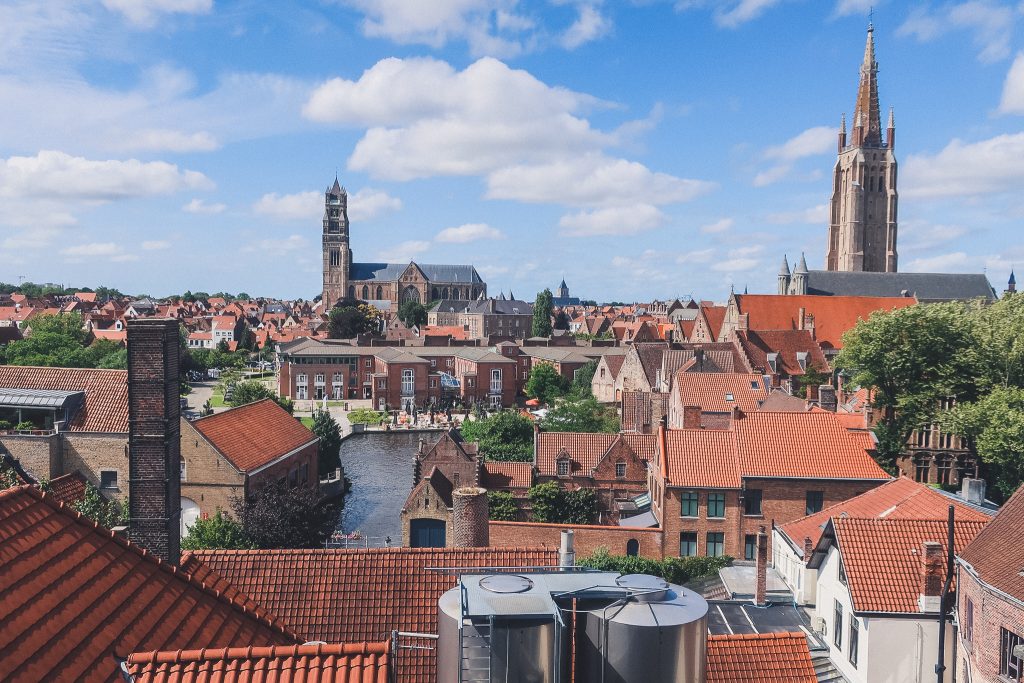 After the tour, you'll be rewarded with a glass of the signature Brugse Zot, "The Fool of Bruges." It's a blonde ale with a nice balance of malt and aromatic hops. The Brugse Zot is tasty & refreshing.
Bruges Boat Tours
Last but not least, don't forget one of the most iconic Bruges activities— the canal cruise. The canals of Bruges are quite narrow, so only one company is allowed to operate in the waterways. There are a 5 different landing stations throughout city center where you can hop on. Each tour is 30 minutes and loops you back to were you started. The canal cruise will give you a special view the secret gardens and picturesque bridges of Bruges.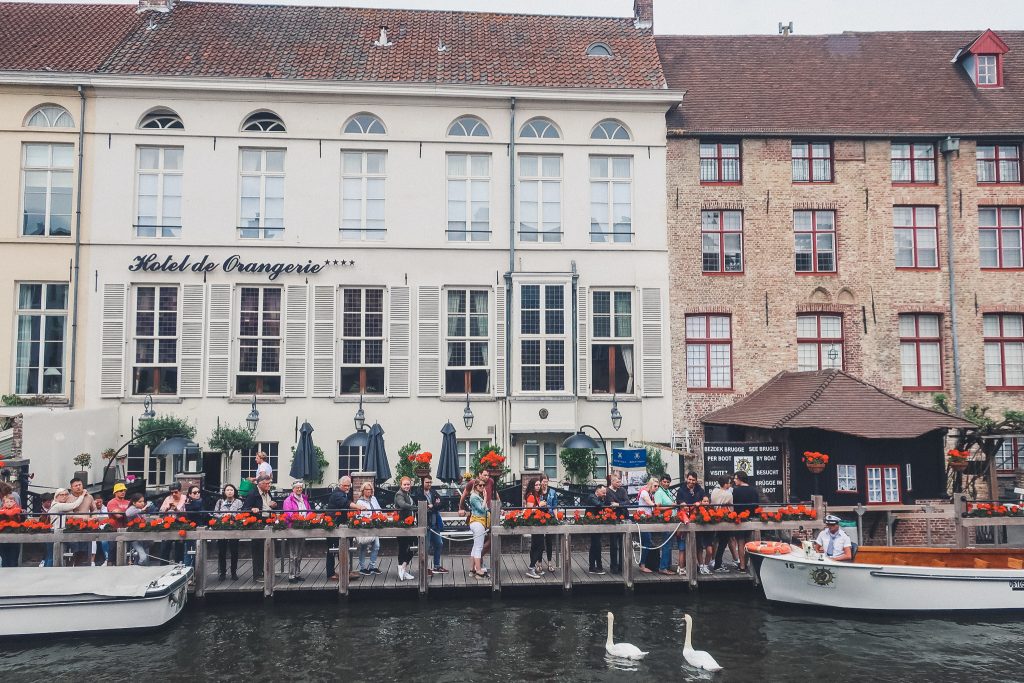 Bruges Travel Tips
We loved taking a Free Walking Tour of Bruges. We learned so much! Our guide was expressive, enthusiastic and very knowledgeable.
Check out what special events are going on during the time of your visit.
Chocolate shops in Bruges are the best in the world. Make sure that the place has the seal from the Guild of Bruges Chocolatiers. That's how you know the chocolate was made in Bruges!