Discover the most fun Chicago winter activities for adults. Including exciting options for nature lovers, booze crews, and couples looking to cozy up. There's also plenty of interesting options for tourists visiting Chicago in the winter (if you dare 😉). 
 15 Chicago Winter Activities for Adults 
Everyone loves 'summertime Chi,' but then the weather starts to cool and a wave of discouragement rushes through the city. For a while, we all seem to forget that there are still things we can do out there! Chicago's chilly weather is no joke, but this list of things to do in Chicago during winter will help you get past those wintertime blues.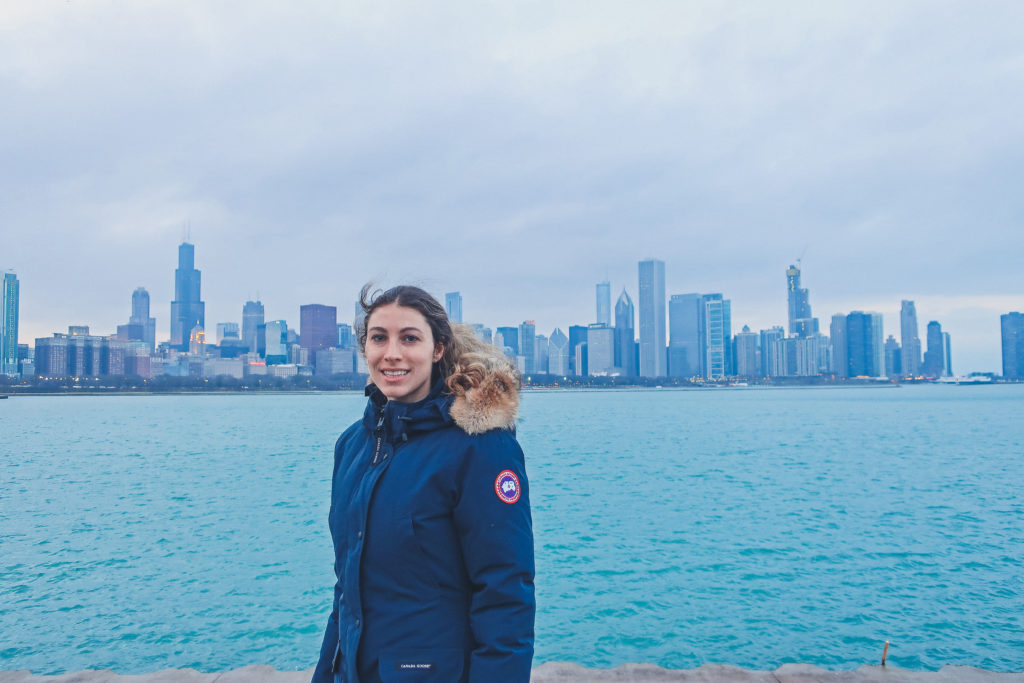 Chicago Winter Activities for Adults
If you're wondering what to do in Chicago during winter, then you're in the right place! This Chicago winter bucket list is geared towards adults, but we'll be sure to mention a few kid-friendly options along the way.
You'll find activities for outdoorsy types like snowshoeing near Chicago, and some of the best winter hikes near Chicago. Also, there's plenty of indoor fun for days you just can't bear the weight of your winter gear. Check out our Chicago winter outfit guide.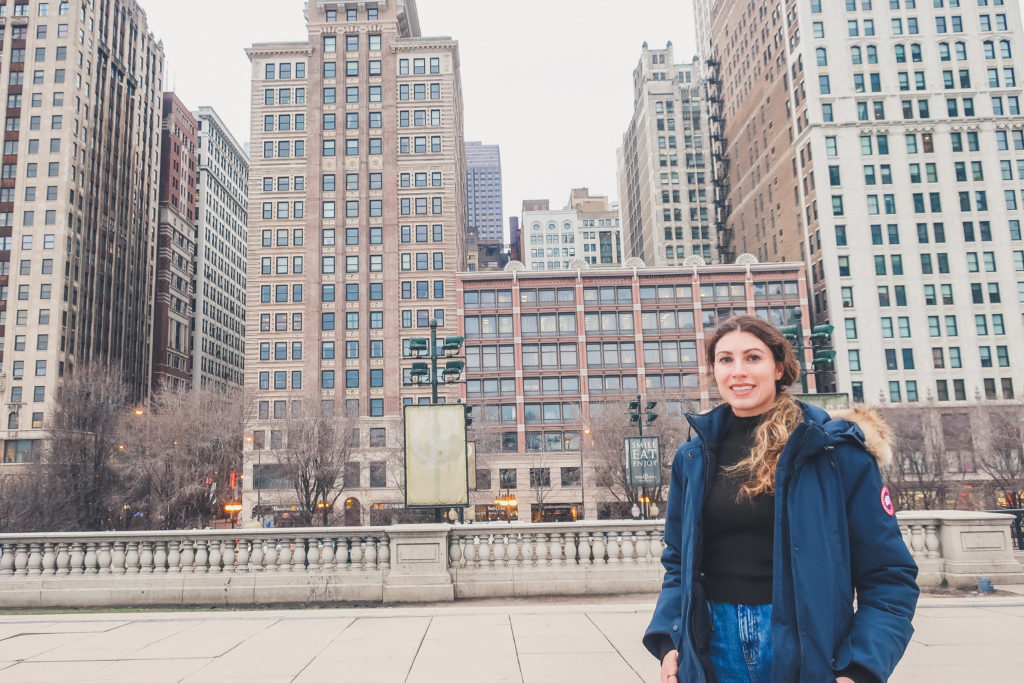 Go Ice Skating
Ice Skating is one of the most memorable things to do in the winter in Chicago. There are many fantastic locations to do this throughout the city. The best spots are Millennium Park and Maggie Daley Park. 
The Maggie Daley Ice Ribbon is an especially nice place to skate because it features a large loop through the park. For more information about their hours, you can check out their website here.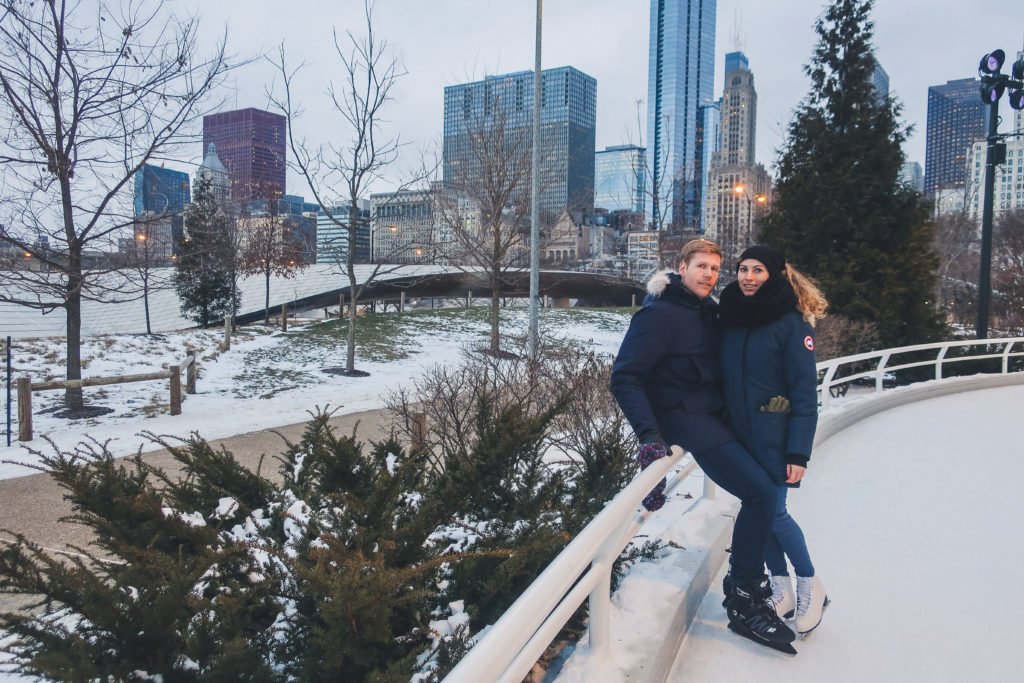 Ice Skating is one of the cheap things to do in Chicago winter since skating is free if you bring your own ice skates. If you are a local, get some cheap skates from Play it Again Sports — you'll enjoy free ice skating year after year!
Ice Skating is also one of the romantic things to do in Chicago in winter. Although, waiting in line for an hour or more in the frigid cold to rent skates kills the vibe. You can skip the line if you bring your own skates. Alternatively, try to visit on weekday evenings when the crowds have died down. 
If you're looking for more low-key skating, you could always try the ice rink at the Lincoln Park Zoo. If you have kiddos, you may want to try the ice rink at Navy Pier's Winter Wonderfest.
Visit Zoo Lights
Every holiday season, the Lincoln Park Zoo decks out its gardens with thousands of beautiful twinkling lights. Throughout the park, you'll find 3D light displays in festive styles. There's holiday music and magic in the air. Zoo Lights is one of the unforgettable places to visit in Chicago in winter.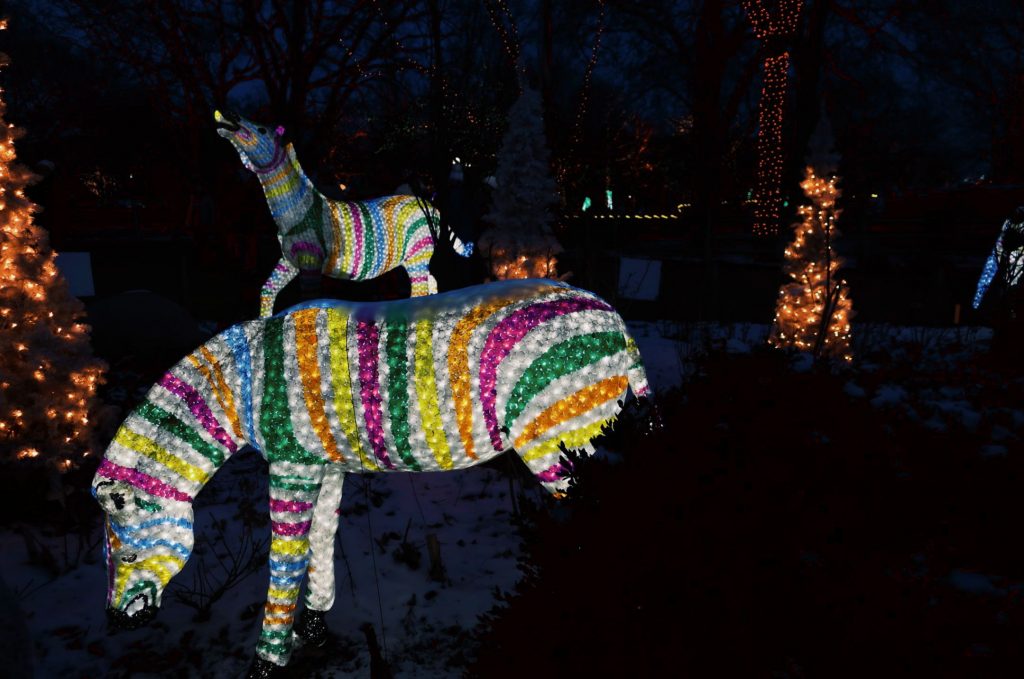 Lincoln Park Zoo is famously known as Chicago's free zoo, so a visit to Zoo Lights is one of the best free things to do in Chicago in winter. It's been a community tradition for over 20 years.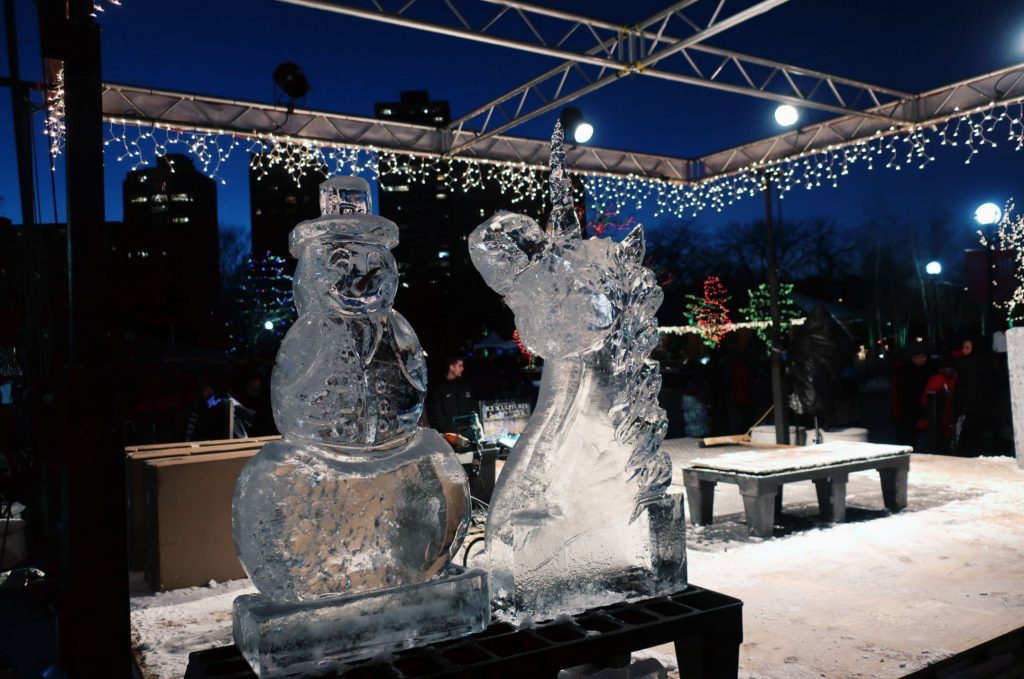 Zoo Lights is one of the fun outdoor winter activities Chicago has to offer. It's also the perfect activity for any group – couples, friends, and family of all ages will enjoy this spectacular display of holiday cheer and twinkling lights.  
Shop at Christkindlmarket
You can shop at Christkindlmarket from November through December. It's one of the best things to do in Chicago in the winter. Christkindlmarket is a German marketplace offering quirky handmade goods, delicious bratwurst, and famous spiced wine.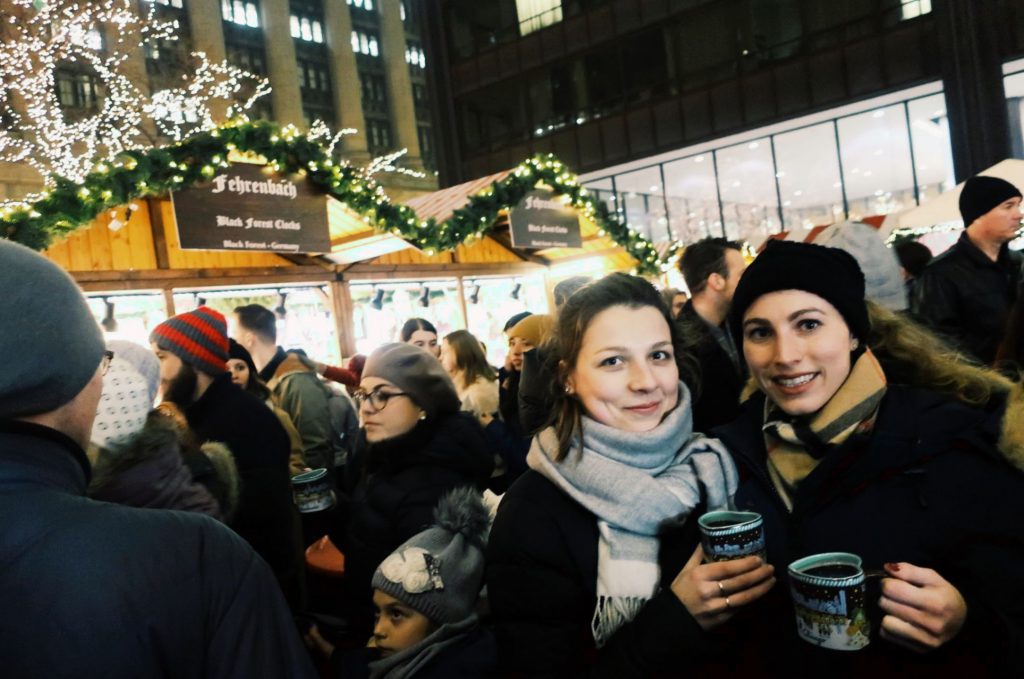 This market has become one of the most popular Chicago attractions in winter. So much so that they opened two locations in 2017! Christkindlmarket is an open-air market, so it's especially romantic to walk through this part of Chicago in the snow.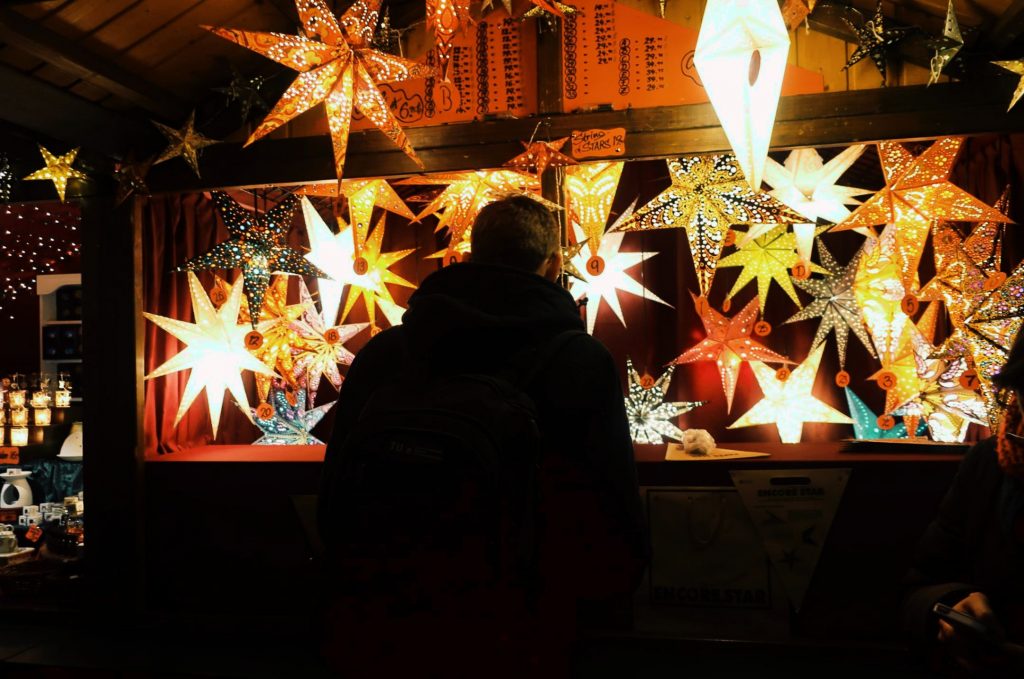 While entry is free (yay, more free winter activities in Chicago), you won't be able to resist picking up a special gift or souvenir. The ornament collections are exceptional. Our family picks out a new ornament here every year. It's become a fun tradition we look forward to😊.
Pro Tip: Visit on weekday evenings if you'd like to ditch the crowds.
Dine during Restaurant Week
The best part of Chicago in the winter is Restaurant Week! This city-wide celebration of food occurs annually from January through early February. Official dates and participating restaurants are announced around Christmastime. Rejoice if you are lucky enough to be visiting Chicago in winter during this time. 🤤
Dining in Chicago during Restaurant Week is one of the recommended things to do in Chicago in winter. During Restaurant Week,  Chicago restaurants provide special prix fixe menus. These abridged menus are designed to let you sample many top dishes at an affordable price.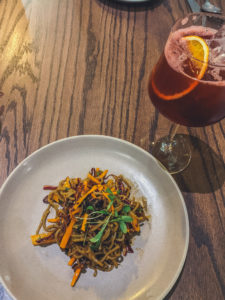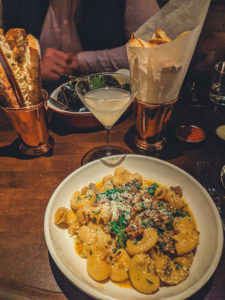 The typical restaurant week menu offers a combination of an appetizer, entrée, and dessert of your choice. Although, you can always order from the original menu if desired. Overall, this is Chicago's seasonal foodie heaven. Check out some of the top date night restaurants. 
Since this is one of the most fun activities in Chicago in the winter, the best restaurants get booked quickly. You'll want to look ahead at their list of participating restaurants and make a few reservations in the weeks beforehand. 
Cozy up with Afternoon Tea
Afternoon tea is one of the underrated winter activities Chicago has to offer. If you're wondering what to do in Chicago during the winter with your girlfriends… this is it! 
Get out of the cold and ditch your parka. Nestle into a cozy seat, sip tea, and nibble on cookies. It's one of the best social things to do in Chicago this winter that helps you limit your alcohol intake (dry January, anyone?).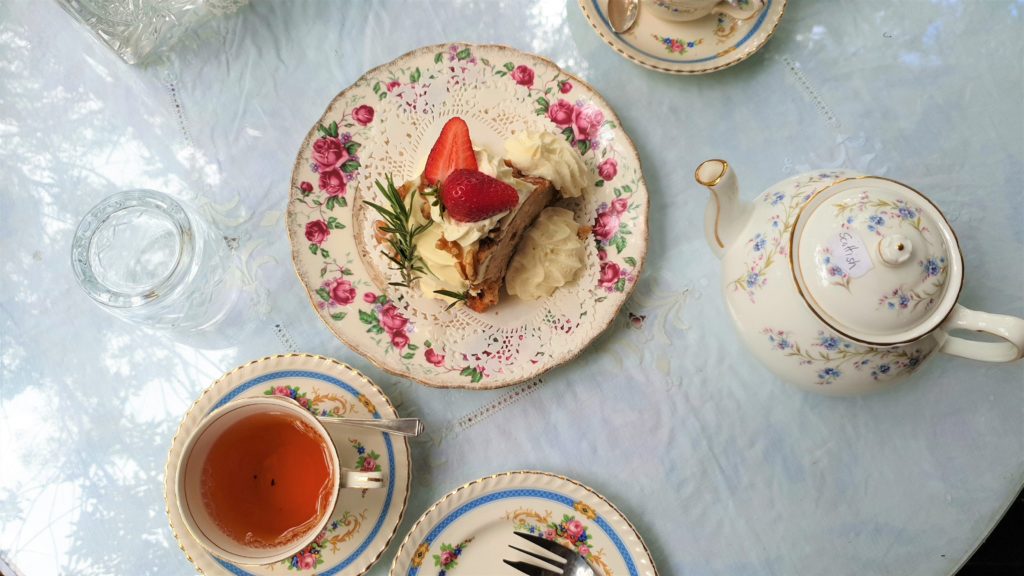 Generally, this isn't a super cheap activity. So, be prepared! The most famous afternoon tea is held at the Drake Hotel's  Palm Court. This special service features live harp performances and offer 17 unique tea blends to chose from. The Palm Court boasts that they've been visited by Princess Diana & the Queen. 
You generally won't find other fun winter activities in Chicago with so much sophistication! Another notable establishment that offers afternoon tea service is the Langham. 
Rediscover the Museums
Museums are the obvious places to go in Chicago in winter. If you're local, you've probably already visited the Art Institute, the Museum of Science and Industry, the Field Museum, and the Adler Planetarium. What museums haven't you heard about?
Consider a visit to the Driehaus Museum in Gold Coast. Discover 19th Century art, history, and culture within the exquisitely restored Nickerson Mansion. Visiting the Driehaus Museum is one of the lesser-known things to do in Chicago in the winter, just steps from the Magnificent Mile.

The Chicago History Museum is another one of the best places to visit in Chicago in winter. It's a fun place to walk to learn about the famous Chicago Fire of 1871 (how many other cities have ever burned to the ground??), the legendary Marshall Field's store, and much more! Be sure to check out their events page.
Another often overlooked museum is the International Museum of Surgical Science. If you're not squeamish, you may enjoy walking through the tortured history of medical science. This is North America's only museum dedicated to surgery! Featuring permanent collections related to pain management, Polio in America, and anatomy. 
Bowling is still a thing
Looking to ditch the downtown Chicago snow? Bowling is one of the Chicago indoor winter activities that are perfect for your friends and family. Yes, bowling is still a thing, in case you forgot about it.😅
Bowling is one of the fun things to do in Chicago in winter and there are several great places you can do it. Pinstripes has locations in Chicago and the Chicagoland suburbs. It's the best place to go if you're looking for a flashier experience with a bigger price tag.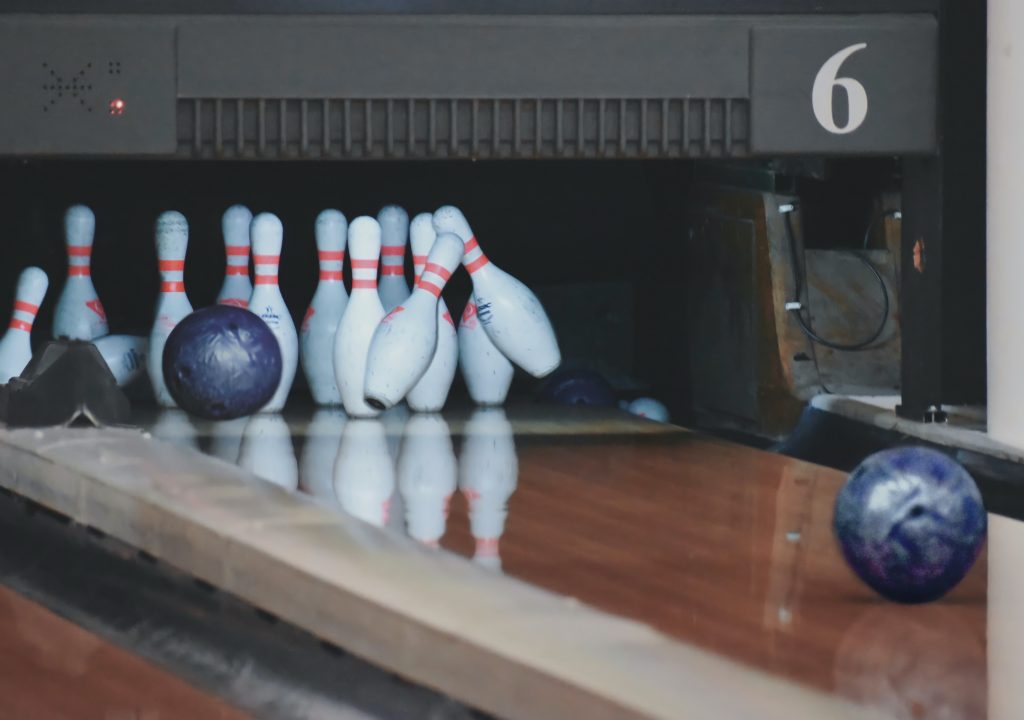 There's also Lucky Strike and the 10 Pin Bowling Lounge in River North. Punch Bowl Social is the most instagrammable bowling alley in the city, and it's located in Fulton Market. At Punch Bowl Social, you can also enjoy shuffleboard, bocce ball, karaoke, and ping pong. These are some of the best things to do in December in Chicago with a group!
Remember Arcade Games?
Arcade bars offer a multitude of fun indoor activities Chicagoans love! There are plenty of great places to choose from.
Headquarters Beercade is one of the popular spots in River North. It features an instagrammable neon sign that says, 'Don't grow up, it's a trap.' Headquarters has a huge selection of vintage arcade games and pinball machines. The games are free while you enjoy drinks at the bar, so it's also one of the cheap things to do in Chicago in the winter.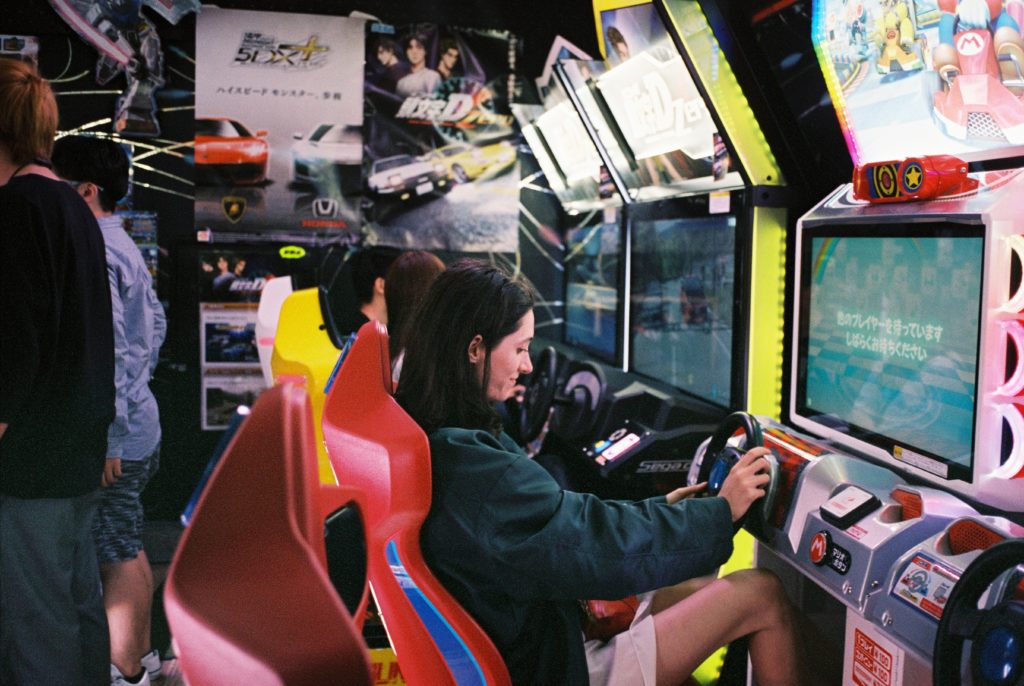 Another epic spot is the Emporium Arcade Bar with locations in Wicker Park, Logan Square, and Fulton Market. Emporium often features live music from local DJs, so be sure to check their events page! In addition to arcade games, they have table games, video games, and pinball. If you visit Emporium Arcade Bar, you're in for a good night in Chicago. Fun activities for adults are found here!
Another cool spot to enjoy arcade games is the Game Room at the Chicago Athletic Association. This is a more refined venue that offers billiards, bocce ball, shuffleboard, chess, and checkers. It's less low-key than some of the other downtown Chicago activities. Consider this venue for a private event or meeting. 
See a Show
Chicago in winter can be bitter and cold, snowy and windy, and otherwise unbearable at times. Yet, there are many Chicago winter attractions that can be enjoyed from the comfort of a warm theater. Seeing a live performance, a concert or a comedy show is one of the recommended things to do in Chicago during the winter. 
Second City is a great place to go for laughs. The Second City is a comedy school with many theatrical venues located in Chicago's Old Town neighborhood. Second City is known for having trained some famous comedians such as Steve Carell, Tina Fey, and Stephen Colbert. Their main stage performances draw the largest crowds.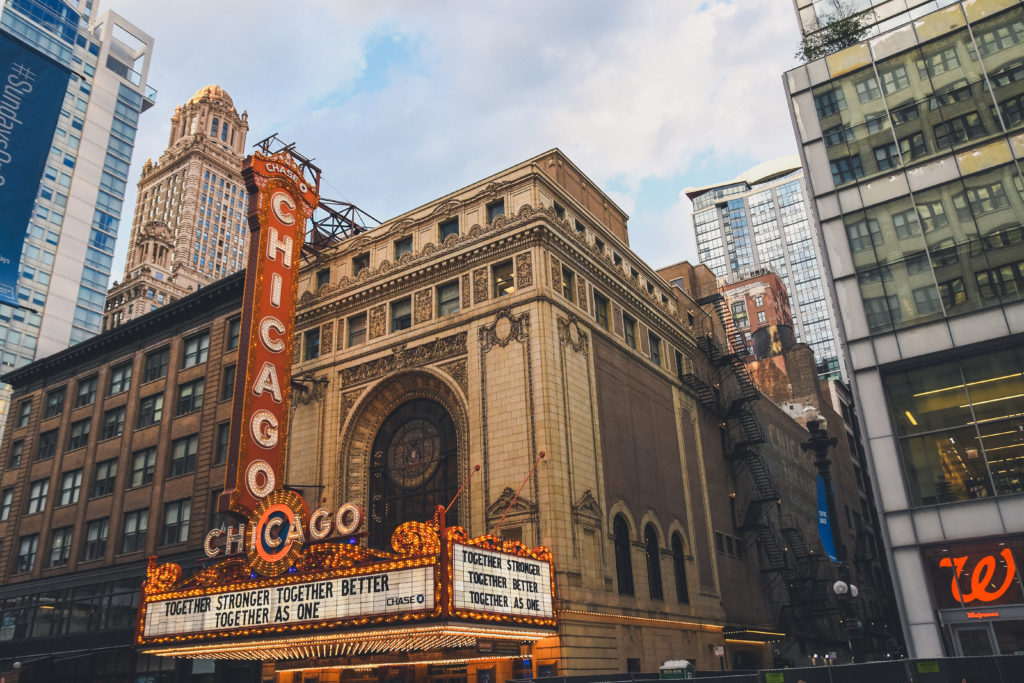 Other comedic venues include Laugh Factory or the Comedy Bar. You may also consider venues such as Steppenwolf and the Chicago Theater for theatrical performances. 
The best music venues in Chicago include the House of Blues, the Aragon Ballroom, and Concord Music Hall. See who's playing this winter. More sophisticated Chicago activities in winter also include a visit to the opera or the ballet. The Joffrey Ballet's Nutcracker takes place annually in December.  
Sledding
You're never too old to enjoy sledding! Sledding is one of the fun winter activities Chicagoans of all ages can enjoy. The best places to go sledding near Chicago include Soldier Field, the Dan Ryan Woods, and James Park.
Sledding is the perfect way to make good use out of the cold weather in Chicago. The Soldier Field Hill is located north of the South Parking Lot. It's a 35 feet tall, 220 feet long hill that's groomed by the Chicago Park District! So, it's a great place to go even if there isn't a ton of snow on the ground.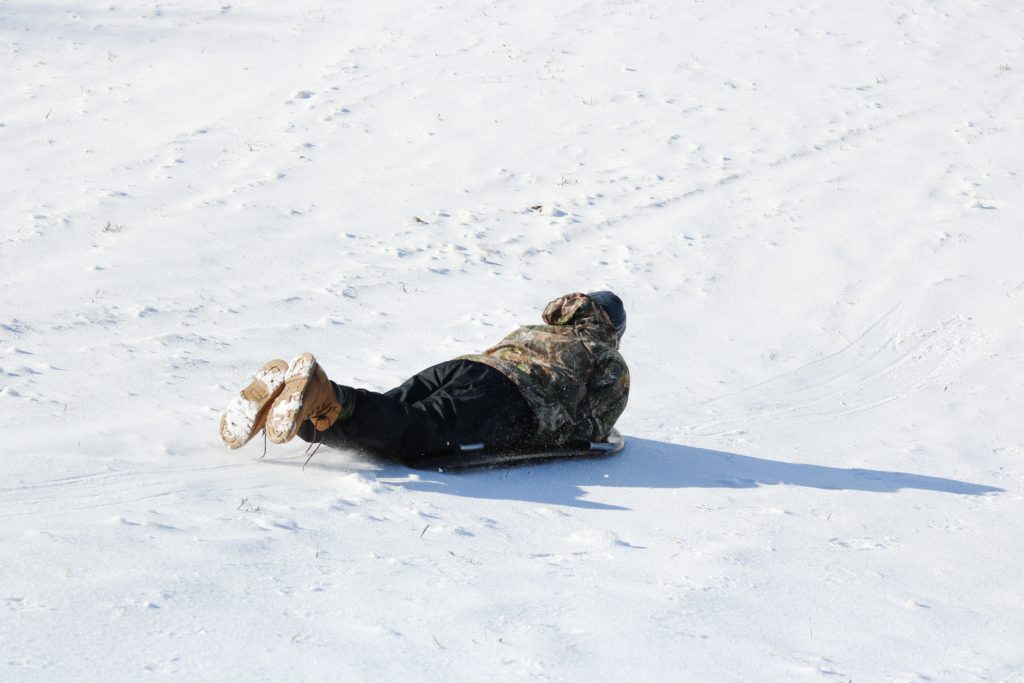 The Dan Ryan Woods hill and the James Park hill are among the largest and longest in the city. James Park is also known as Mt. Trashmore (since it is built on top of the site of a former landfill). Sledding is no doubt one of the most fun activities to do in Chicago when there's snow. 
Snap a pic at Jack Frost Winter Village
Visiting Jack Frost Winter Village is one of the fun things to do in Chicago in the winter. It's one of the most instagrammable places to visit near Chicago in winter. Jack Frost Winter Village is a seasonal installation that runs from November through December annually.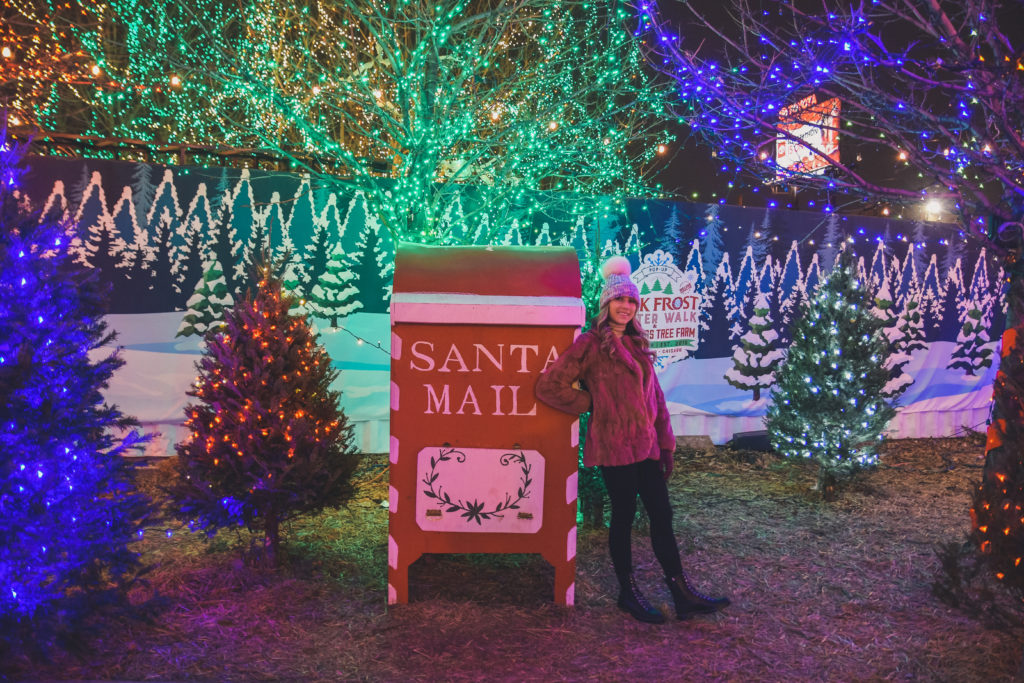 At Jack Frost Winter Village, you can take cute photos around thematic Christmas displays. Ride in Santa's Sleigh, or pose next to Frosty the Snowman. There are thousands of lights, an assortment of oversized nutcrackers, the Grinch, and more! As you peruse the enchanted wonderland, you'll enjoy holiday hit music.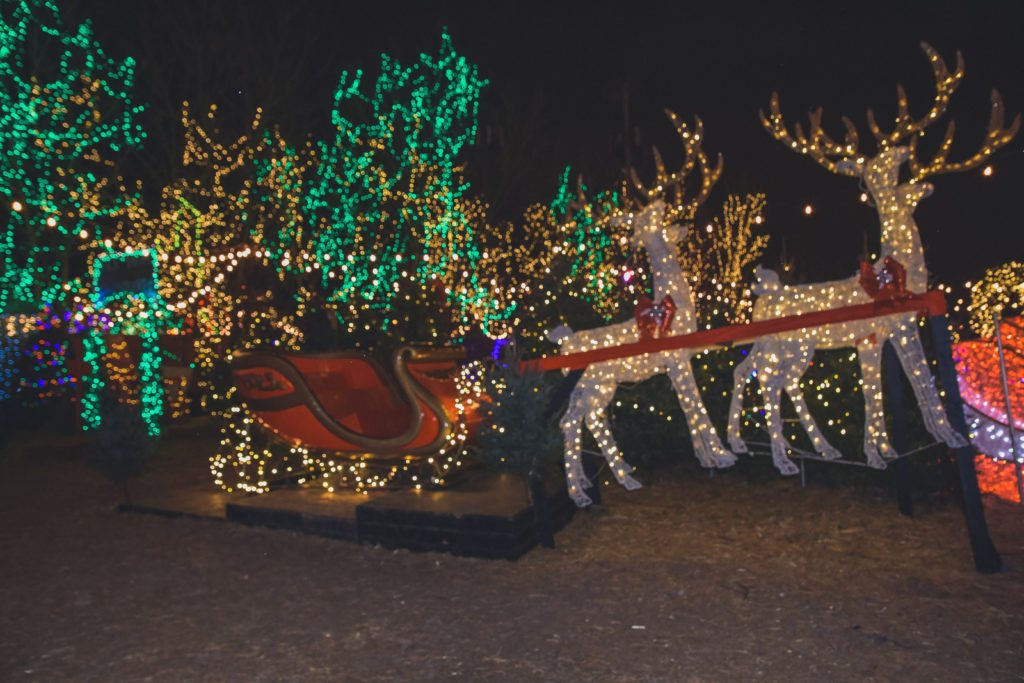 This is one of the best downtown Chicago winter attractions for families or large groups. There are often games, drinks, and especially festive vibes. It's the ultimate place to shoot your family Christmas card!
Try Curling
Curling is one of the lesser-known winter activities in Chicago. Although, it's one of the best things to do in Chicago in January! Curling is a winter sport in which two teams take turns sliding granite stones towards a target. Gameplay takes place on a sheet of ice and players use special brushes to sweep the ice in an attempt to guide their stones.
Curling is basically winter's take on Shuffleboard. It's one of the cool things Chicagoans can experience only during wintertime. One of the best places to experience curling in downtown Chicago winters is Kaiser Tiger. This beer garden has a massive outdoor patio and seasonal curling.
Kaiser Tiger has an awesome beer selection and German-style delights like Bavarian Pretzels and Bratwurst. If you didn't realize yet, enjoying German food is also one of the top things to do in Chicago in January. 
Enjoy Snowshoeing
Snowshoeing is another one of the epic things to do in winter in Chicago. You can snowshoe just about anywhere, all you need is snow! Enjoying winter hikes near Chicago with snowshoes on your feet is a must-have seasonal experience. 
Snowshoeing Chicagoans know that the best places to go include Northerly Island and the Morton Arboretum. Northerly Island is a peninsula that juts out from the Museum Campus. There are over 100 acres of urban nature sanctuary. If you choose to snowshoe here, you'll enjoy scenic skyline views. Find out more about Northerly Island's Polar Adventure Days.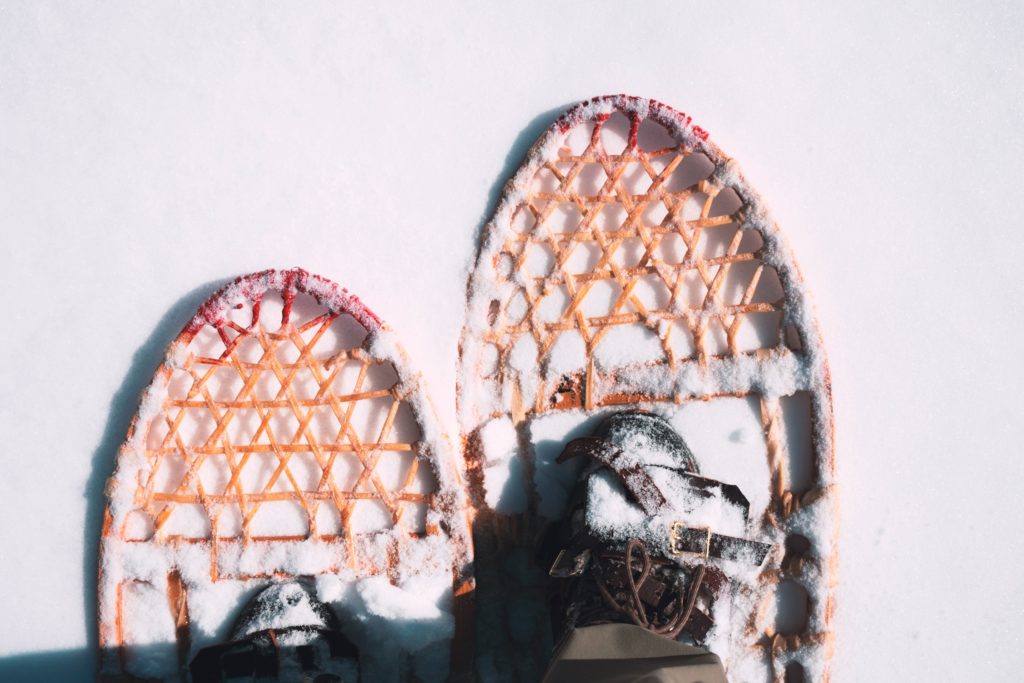 If you're interested in venturing out of the city, the Morton Arboretum is another fantastic spot to experience snowshoeing. About 45-minutes outside of Chicago, this massive forest preserve will let you reconnect with nature. 
Take Cooking Classes
Learning new recipes is another one of the memorable things to do in downtown Chicago in the winter. Take your best friend, or your significant other, and grab your apron!
There are many great places to take cooking classes in downtown Chicago in winter. You may consider The Social Table, the Chopping Block, or Sur La Table.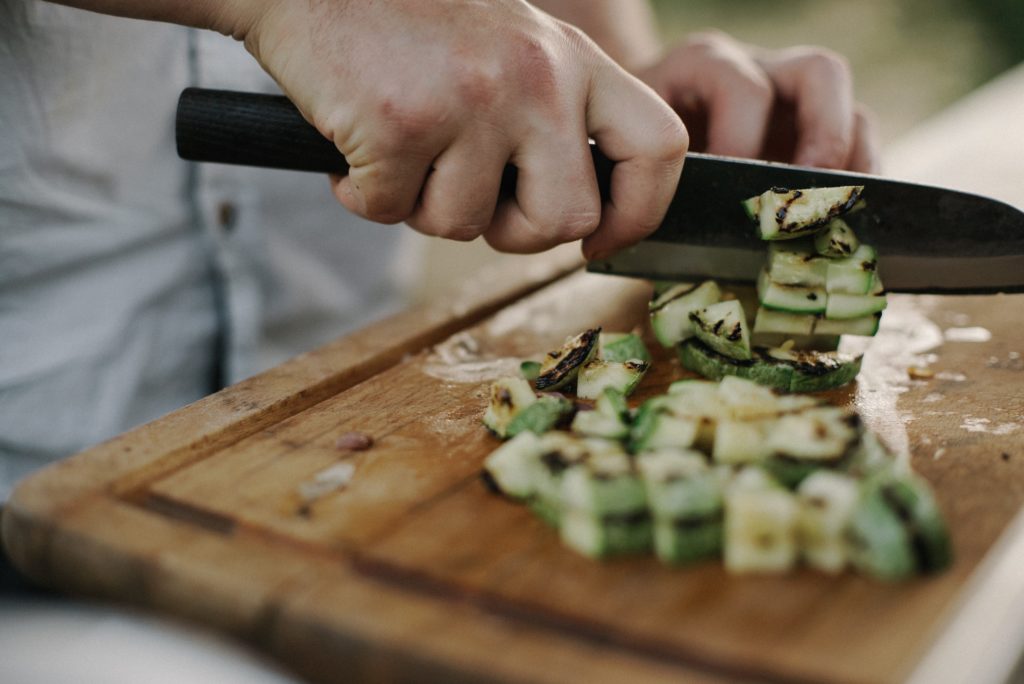 If you love Italian food, Eataly offers fun cooking classes, wine tasting events, and Italian culture events. Eataly is one of the top Chicago places to visit in winter. Eataly events are the perfect way to warm up and get out of the house! Cooking classes are certainly the best winter activities in Chicago! 
Skiing
Skiing is one of those activities that you must do in Chicago winters. There are several places near Chicago to visit in winter that offer skiing and snowboarding. 
Villa Oliva is the closest slope to downtown. This is a small mountain that's relatively flat. It's perfect for beginners in need of ski school. Villa Oliva also offers night skiing and equipment rentals. 
More experienced skiers may consider winter day trips from Chicago. Chestnut Mountain in Galena is 3 hours outside of Chicago. Although, the trip is worth it. You'll be able to explore an assortment of terrains all while enjoying views of the Mississippi River. There's also lodging, dining, and equipment rental on site. 
Arrowhead Golf Course and the Lakewood Forest Preserve are great places to go cross country skiing near Chicago. 
We hope you're feeling less confused about what to do in Chicago in the winter. If you have more great ideas for us, comment below!