Who doesn't love dining out in Chicago? You want to plan the perfect date night, but there's one problem…you have hundreds, maybe thousands, of restaurants to choose from. That can be overwhelming!
Luckily, we've made it easy for you. Read on to discover the best romantic restaurants in Chicago. Yep, these are the most fancy restaurants in Chicago and the most unique restaurants in Chicago. 
You'll be sure to impress your date with one of these picks!
23 Date Night Restaurants in Chicago
Plan ahead. Make a reservation in advance. You probably won't be able to waltz into any of these joints last minute on a weekend. Nobody wants to dine at 4PM. Securing a 7PM, prime time, table will earn you bonus schmooze points. 😉
Top 23 Date Night Restaurants in Chicago
If you're looking for activities and events to plan the perfect date (besides just dinner), check out our romantic date ideas in Chicago. 
1. Gilt Bar
Guilt Bar tops the list of best date restaurants in Chicago. This is not the place to go if you are on a diet. The food is very rich and decedent. The ambiance is pure velvety, vintage, romance.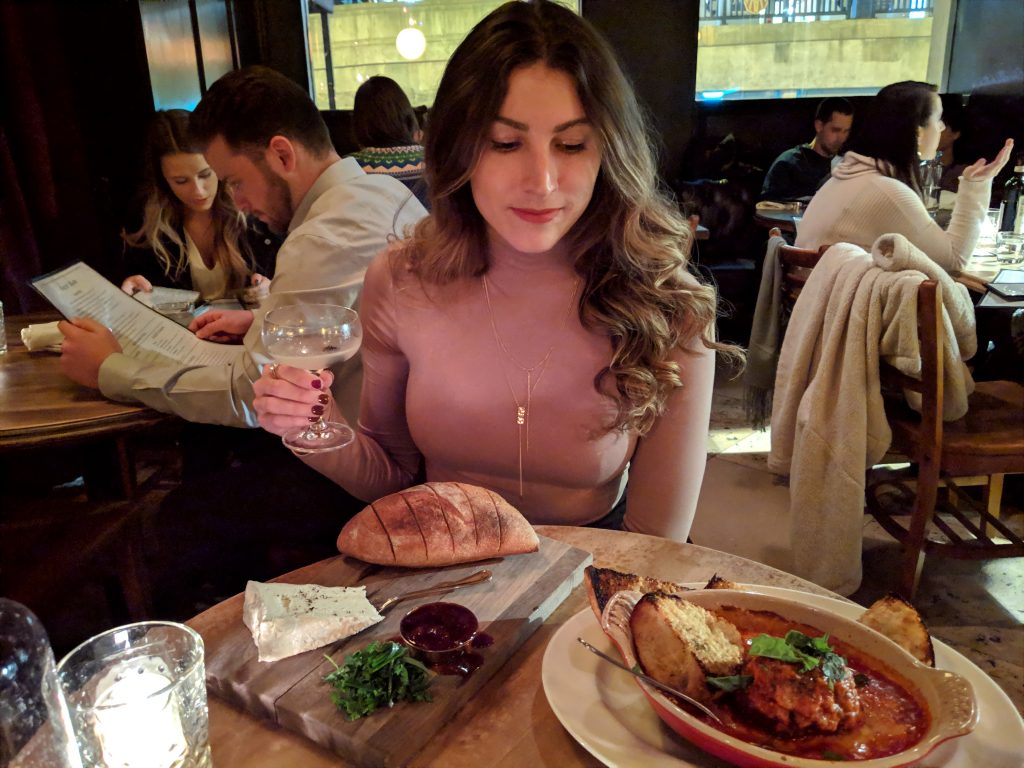 If your date is on the weekend, ask to be seated in the Library. The Library is Gilt's Bar and more exclusive downstairs section. The Library offers more quiet and intimate seating. While downstairs, take advantage of the photo booth.
With a photo, you'll be sure to remember your romantic night in Chicago.
2. Avec
Avec offers an intimate and modern formal dining space. They serve Mediterranean inspired shared plates. Avec is brought to us by the One Off Hospitality Group. One Off is also responsible for The Publican and  Violet Hour.
These are also good date restaurants in Chicago. Be sure to plan the perfect outfit for your date.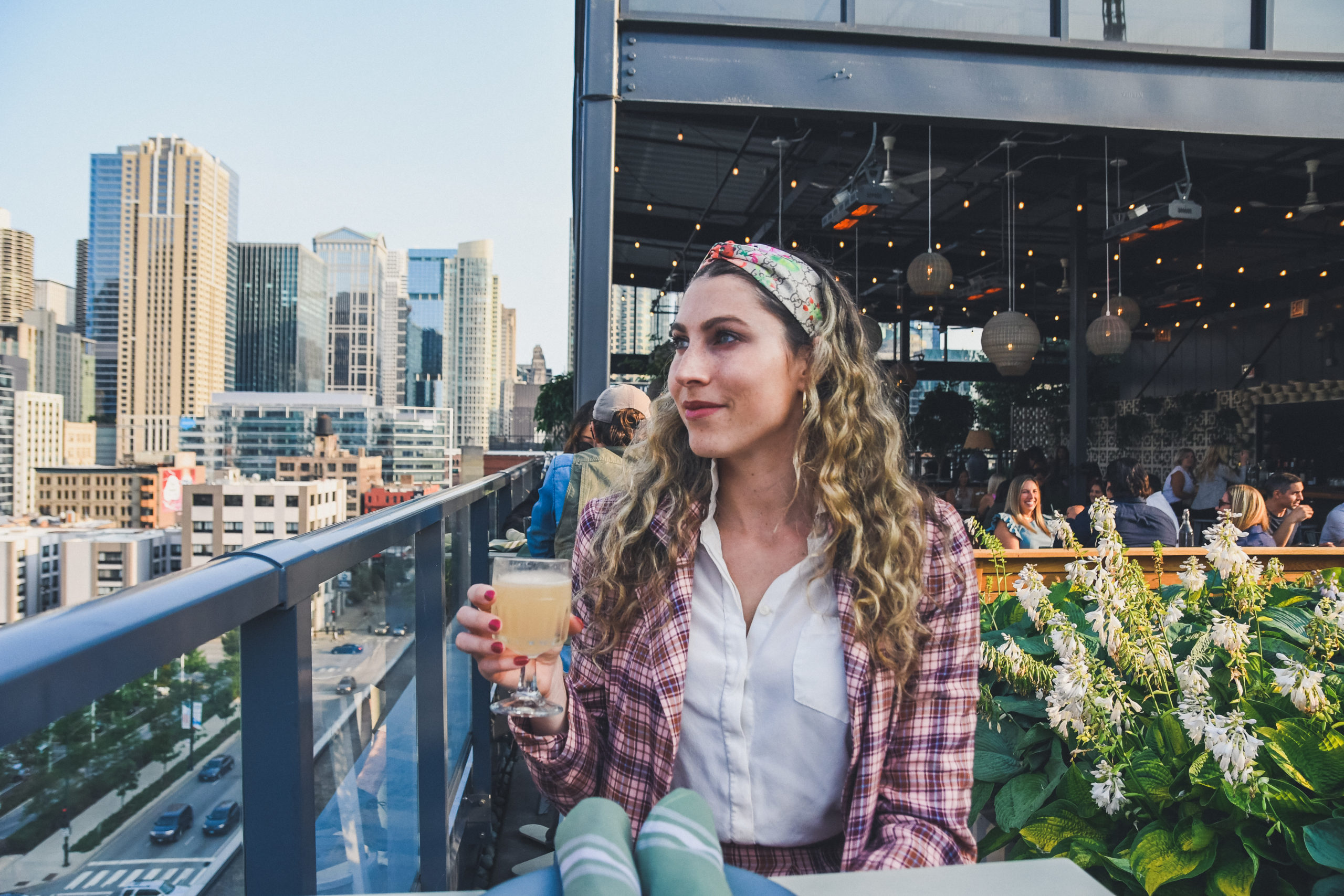 Photo taken at Bar Avec.
A unique stylistic feature of Avec is the seating. Seating at Avec is either provided at their grand communal table or by the bar. No individual tables here. This makes Avec one of the best upscale restaurants in Chicago to go on a 2nd or 3d date. The proximity to other people will take the pressure off!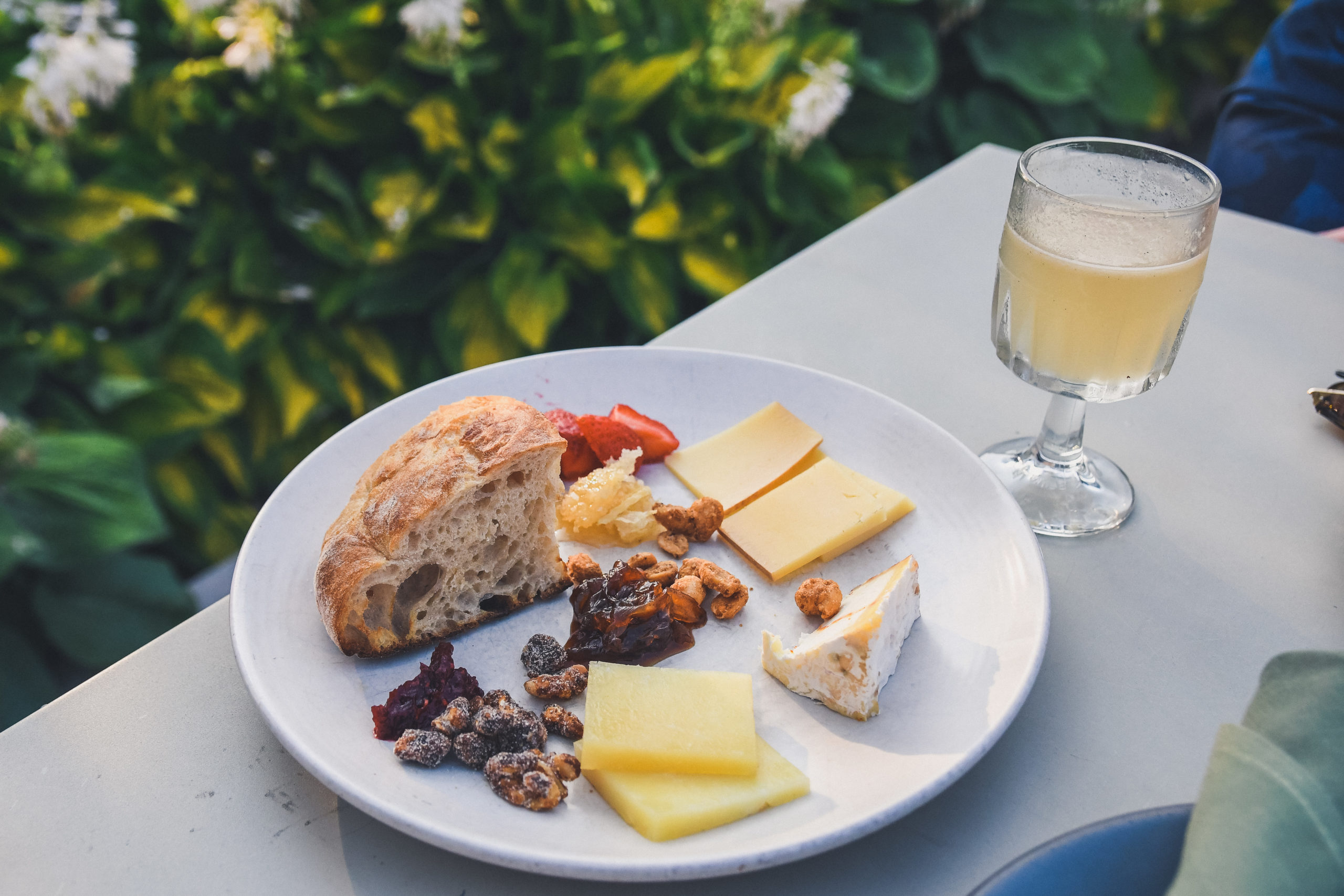 Photo taken at Bar Avec.
Be sure to try the "deluxe" focaccia. Other favorites from the menu include the slow roasted pork shoulder and the chorizo-stuffed medjool dates. You can expect to order 4-6 items to share between 2 people.
3. Monteverde
Monteverde is a stylish Italian restaurant in the West Loop. You won't leave here hungry. Monteverde strives to create recipes rooted in tradition with some modern advances. This restaurant prides themselves on sourcing local, in season, ingredients whenever possible.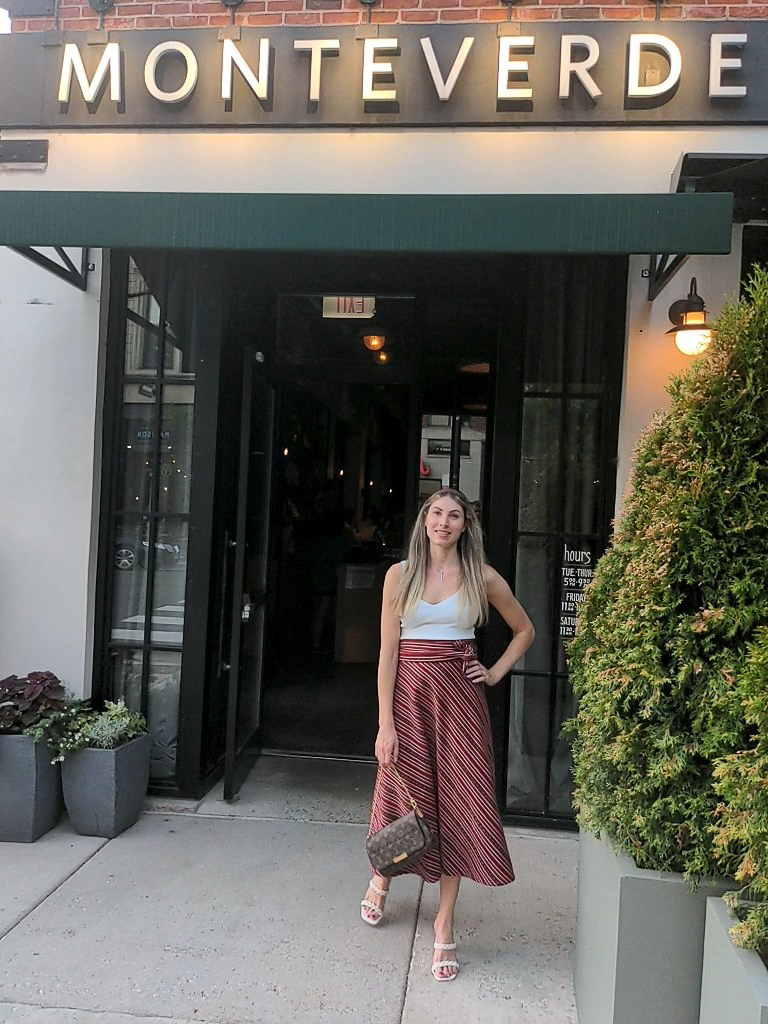 If you are lucky enough to secure a reservation, this is certainly one of the most romantic places in Chicago. With a healthy selection of wines, and homemade desserts, you'll be sure to leave happy.
4. Shanghai Terrace
Shanghai Terrace is located along the Magnificent Mile at Chicago's premier Peninsula Hotel.  This is a great Chicago restaurant for dates, especially during the summer, the outdoor patio features awesome views of the downtown skyline.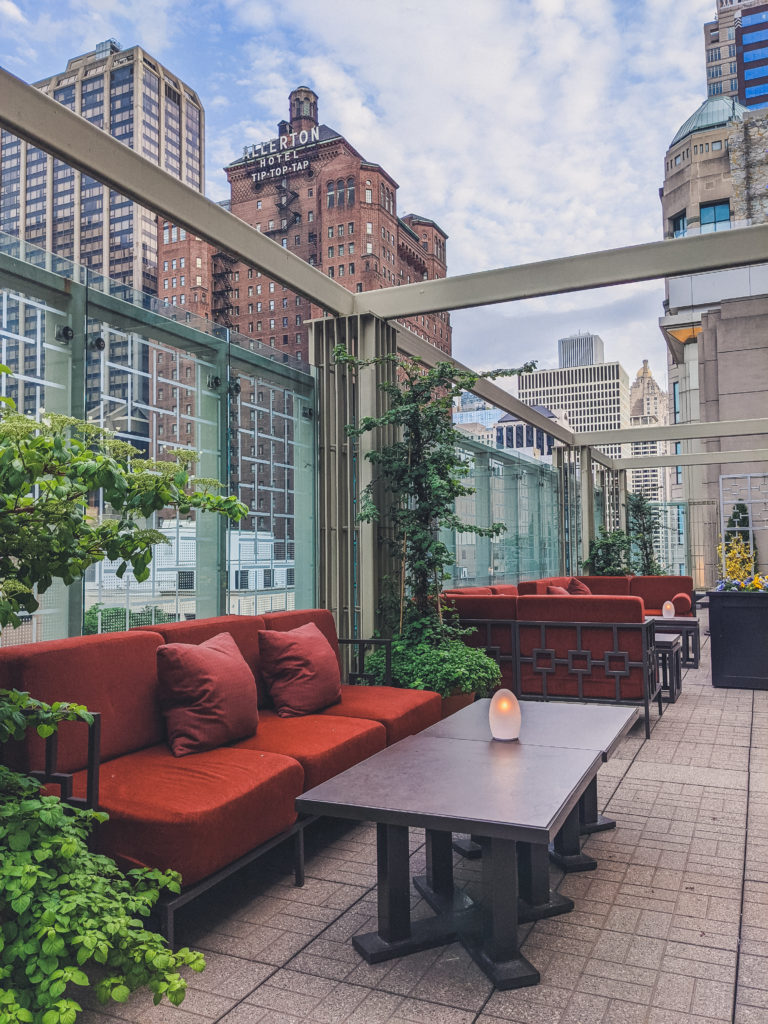 Discover the best skyline views of Chicago.
It's a pricey spot, but the food is fabulous. Craft cocktails include Asian inspired ingredients as well as American classics. Service at the Shanghai Terrace is top notch! Don't skip the dim sum — dumplings are fresh and authentic!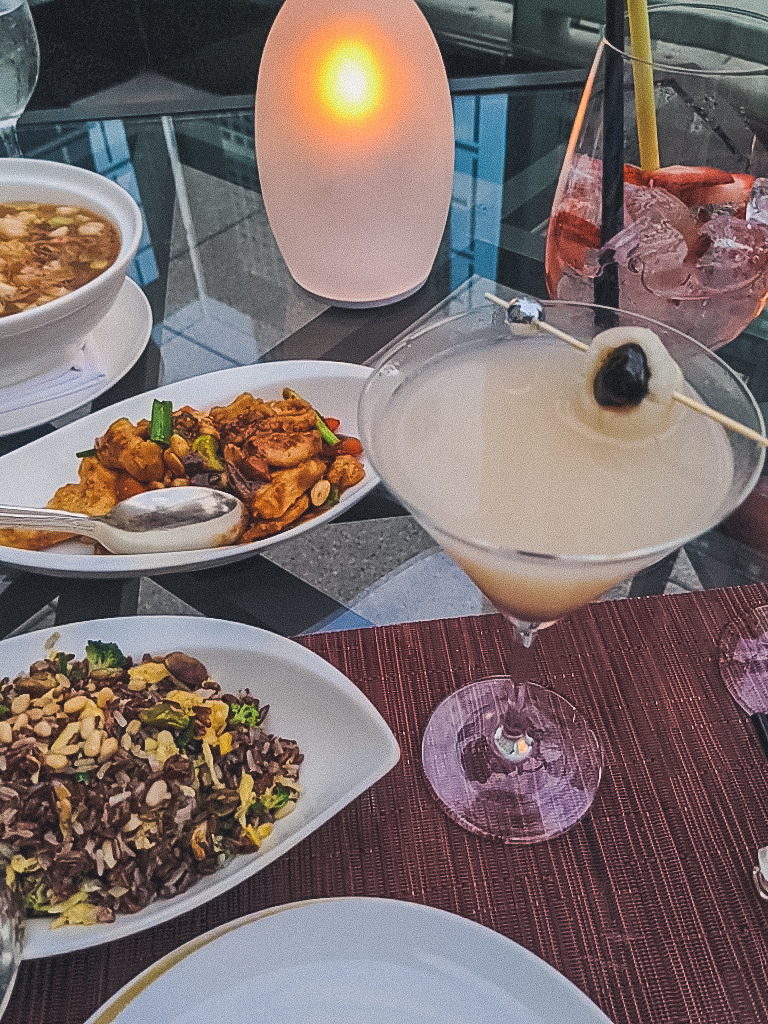 After dinner, walk your date over to the Peninsula's Z Bar. This rooftop bar has a refined vibe. Discover more unique Chicago experiences. 
5. Girl and the Goat
This restaurant always has been and will probably always remain hot.  It hasn't really gotten any easier to make a reservation here over the years.  That's because it is one of the top restaurants in Chicago, and the food is worth the wait.
This is one of Fulton Market's most iconic restaurants, and indisputably one of the best restaurants in Chicago. If you're having a hard time getting a table here, try one of its sister restaurants. Specifically, Duck Duck Goat and Little Goat. I'm not sure why the Boka Restaurant group decided to carry on this Goat theme…but I guess it works?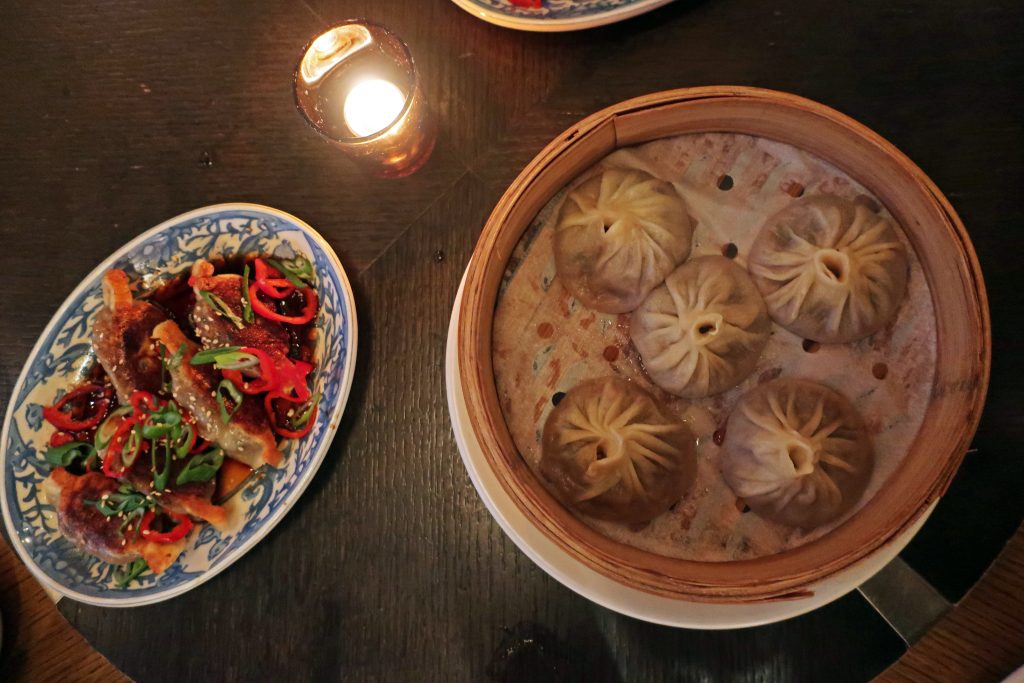 Food from Duck Duck Goat pictured.
Girl and the Goat serves internationally inspired eclectic small plates. They offer a range of seating options, and some get you up close views of Stephanie Izard's open kitchen. I've heard that you can be seated so close to the action that you may be asked to participate!
If that's something you're interested in, make sure to note it with your reservation. Girl and the Goat's sister restaurant, Duck Duck Goat, is also one of the top restaurants in Chicago.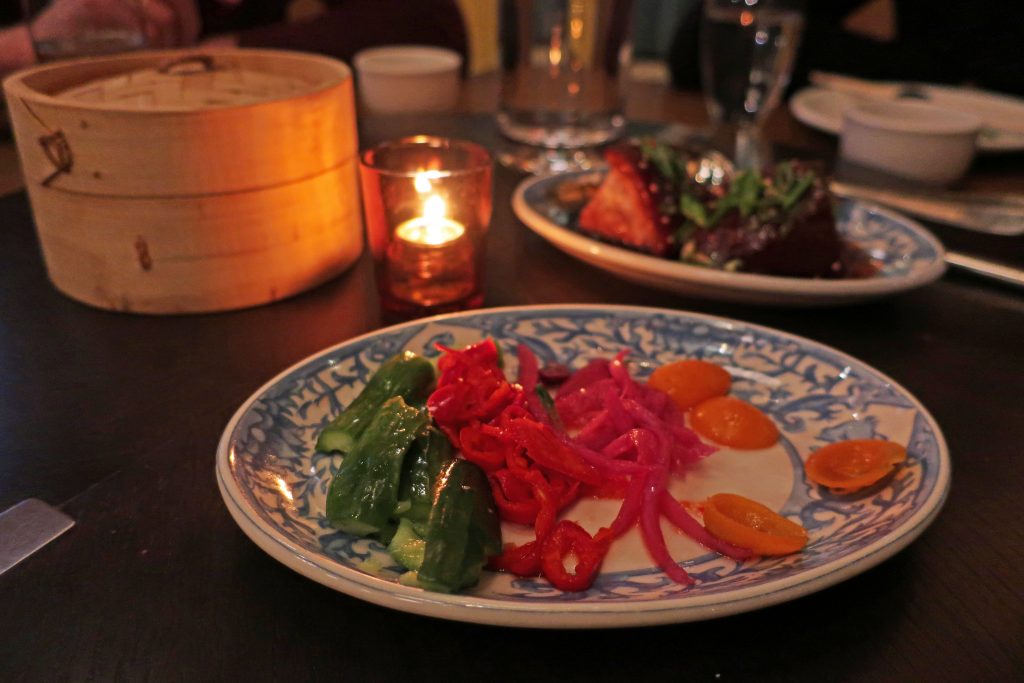 Duck Duck Goat serves up traditional Chinese fare, specifically dim sum. Their xiao long bao (soup dumplings) and jiaozi (beef short rib and bone marrow pot stickers) are popular items.
6. Bavette's Bar & Boeuf
Bavette's is another hot one! It's the perfect place for romantic dates in Chicago. Although, you'll want to book a reservation at least a few weeks in advance because it is one of the most popular restaurants in Chicago. Bavette's has two locations (one in Chicago and one in Las Vegas).
It's a French steakhouse. Bavette's is operated by the same company responsible for Gilt Bar, Maude's Liquor Bar and the 3 Arts Café. The vibe of Bavette's is very reminiscent of Gilt –in the best possible way.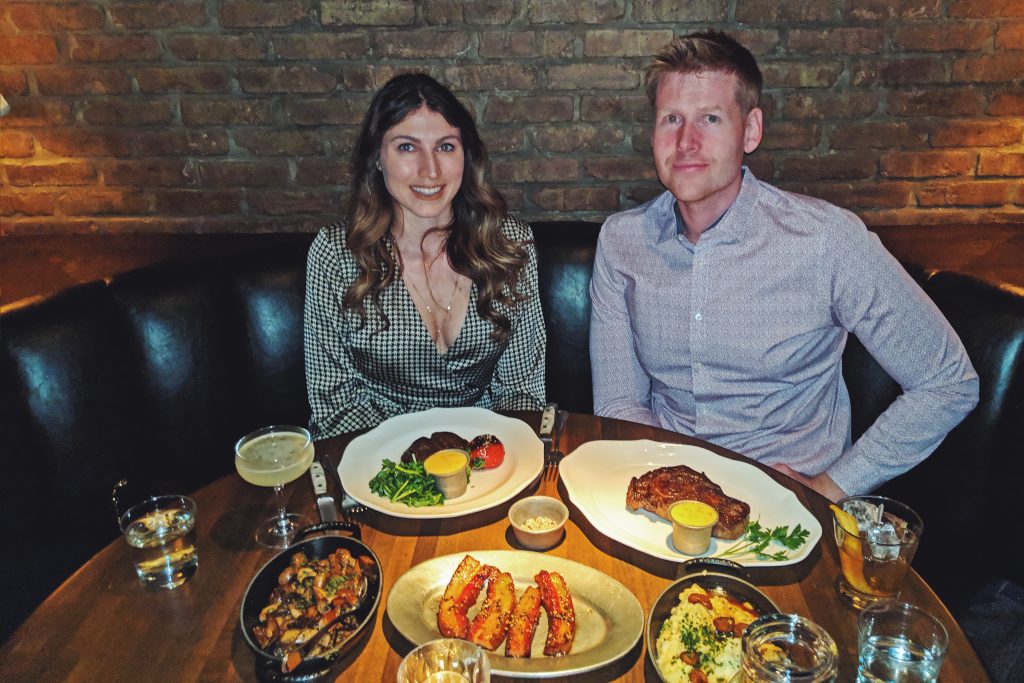 Bavette's offers dim lighting, leather upholstery and classic feels in a stylish setting. This is a great spot to celebrate an anniversary, birthday or other special event!
Another thing I love about this restaurant group  is their special BYOB rule. The house rule is that guests may bring a bottle of wine from home, but they must share a glass with another table. (Not sure if this tradition has survived since the COVID Pandemic, but it's worth a try!)
7. Proxi
Proxi's chef Andrew Zimmerman aims to provide refined options inspired by street food from around the globe. The result is some of the best food in Chicago!
I love this spot for date night because it offers a few seating options. For a more formal date idea, reserve a few weeks in advance to sit in their conventional dining room. If you are looking for something last minute, it's pretty easy to get a table at the bar or at one of their high tops–this is a great option for a new relationship.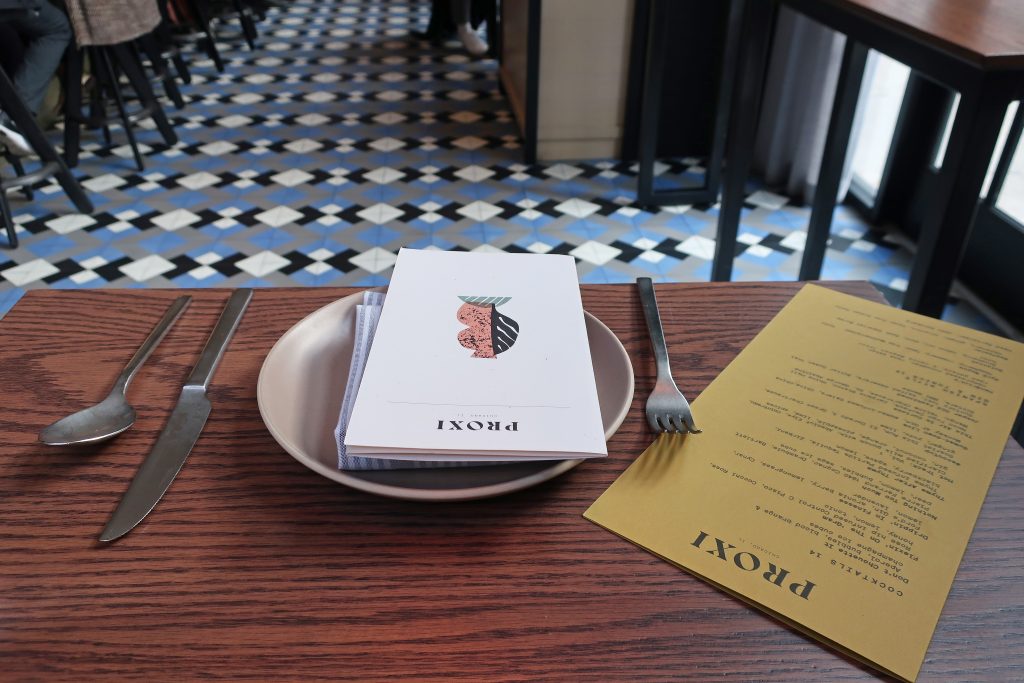 Favorites from their dinner menu include the mung bean dumplings, the grilled mushroom and yuba noodle salad and the black pepper pork. The bread was so soft, yet crispy….absolutely delectable. Their drink menu also features excellent gin & tonic options.

8. Porto
Porto is  an excellent spot for fine dining in Chicago. As the name suggests, Porto is a Portuguese restaurant with a seafood forward menu. They  offer a tasting menu as well as an al a carte menu.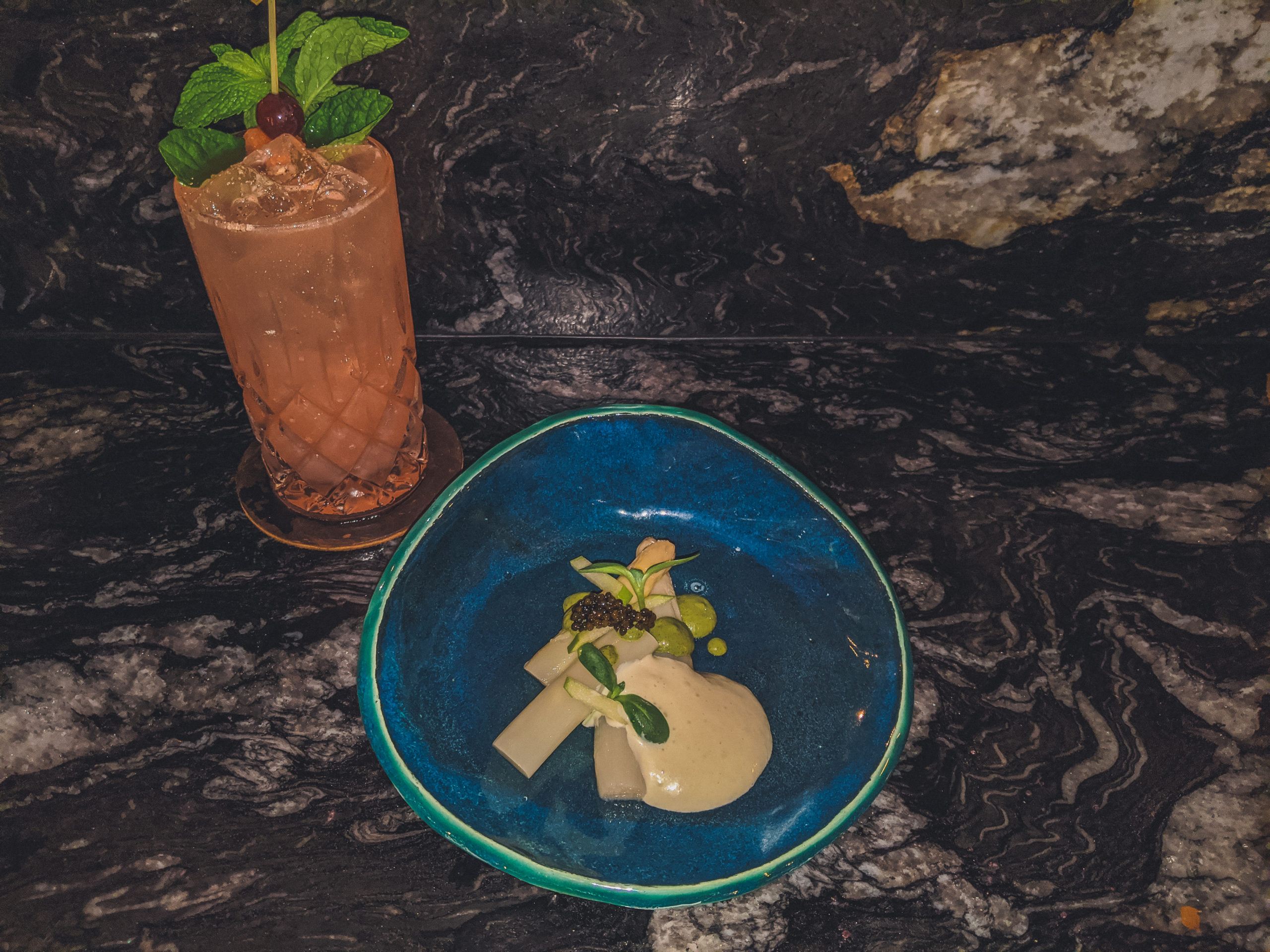 The restaurant's décor creates a sultry vibe.  Every detail of this restaurant's décor was planned to perfection — pay attention to the gorgeous tableware.
9. Aba
Aba is another restaurant that's recently won our hearts. Aba is one of the hottest Chicago restaurants that serves Mediterranean inspired shared plates. It's popular for the food it serves and for its fantastic rooftop patio seating it offers.
In the summer, you may have book a few weeks in advance to get a table here. But, you know the best date night restaurants in downtown Chicago are always worth the wait!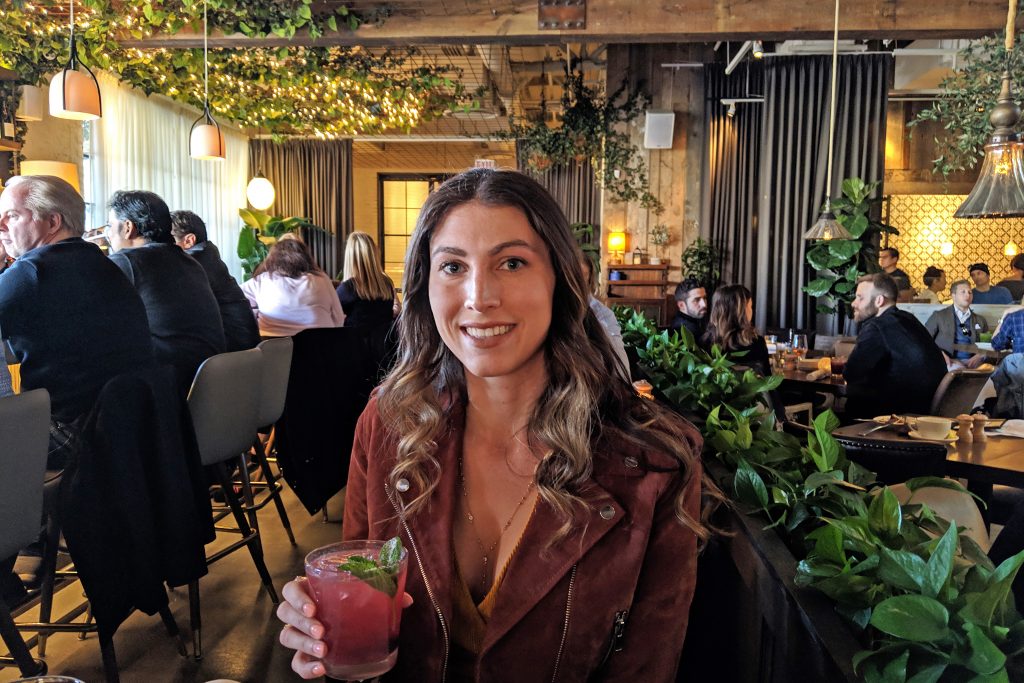 Aba is brought to us by the famous Lettuce Entertain You restaurant group. You may have heard of some of their other restaurants, including RPM Italian, RPM Steak or Café Ba Ba Reeba. If you're looking for good places to eat in Chicago in general, the Lettuce Entertain You group provides so many options!
I recommend downloading their app and joining their frequent diner club. This way, you can start to earn points every time you dine at one of their restaurants. You also get $15 worth of points on every birthday!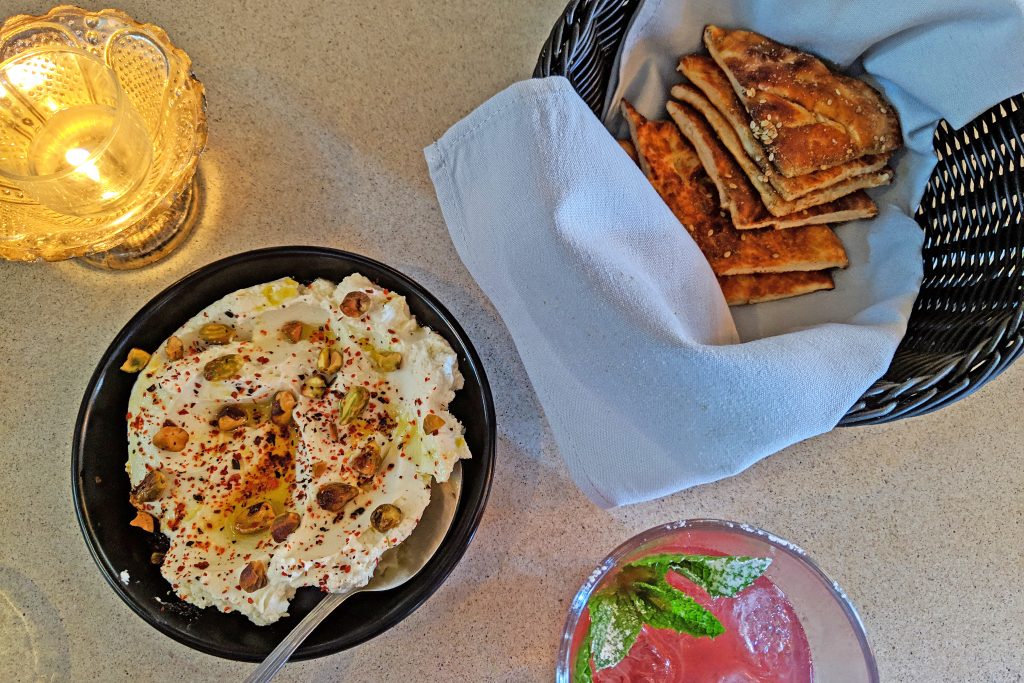 Pictured above is the Whipped Feta spread with the Winter G&T cocktail.
10. Gibson's
Gibson's Bar & Steakhouse is one of the best restaurants in downtown Chicago to celebrate an occasion! Why is Gibson's arguably one of the best steakhouses in Chicago? This restaurant has its own USDA Certification of beef! Gibson's was the first restaurant group in the country to have their own USDS Certified Angus Beef Program. Their Gibson's Prime Angus is carefully sourced from local farms.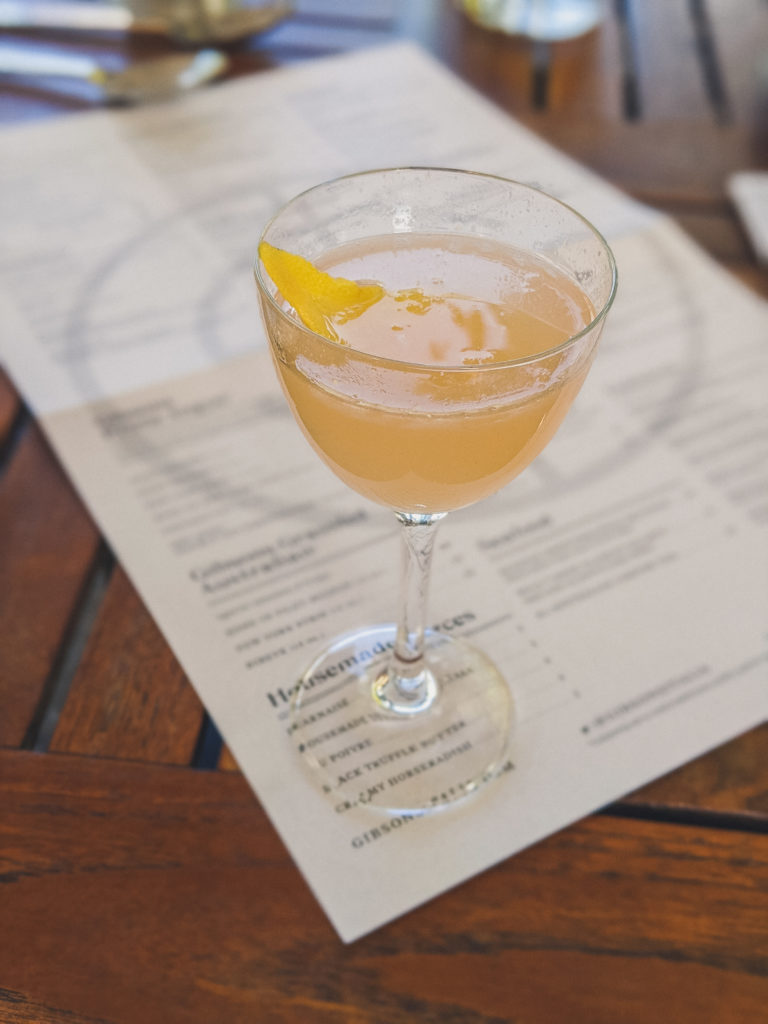 Gibson's steakhouse also has two suburban locations in Rosemont and Oak Brook. However, their Chicago Gold Coast location is by far the most popular. In recent years, Gibson's Restaurant Group has opened the new Gibson's Italia on the river.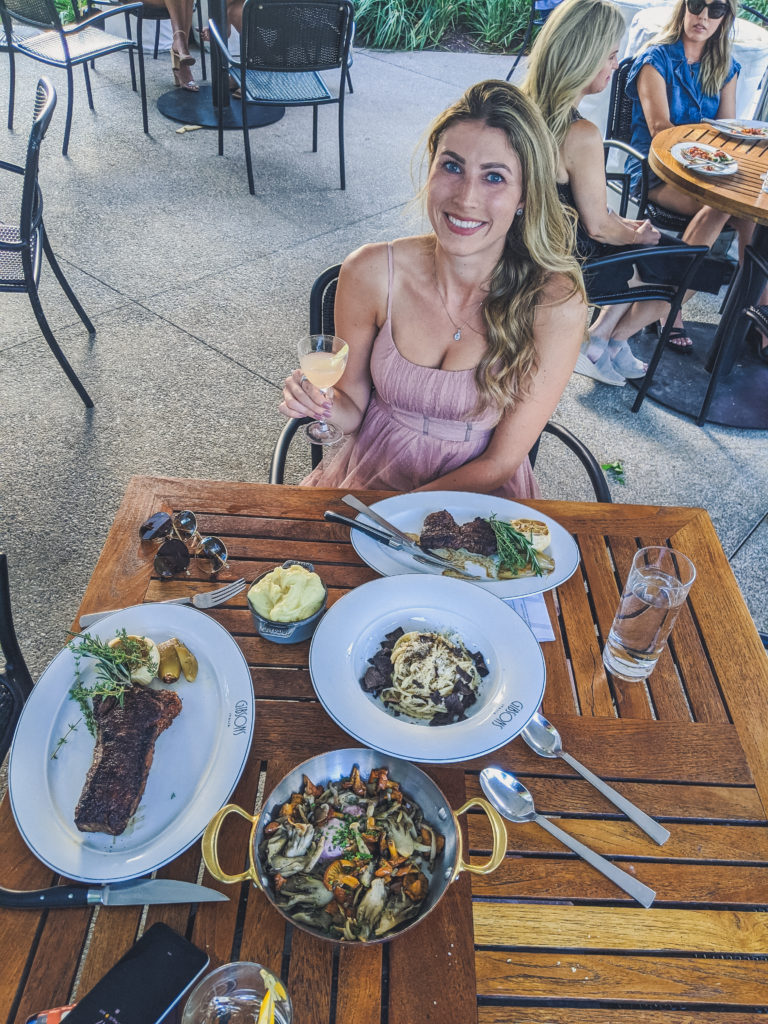 Gibson's Italia provides an ultra high end romantic dining experience on Chicago's riverfront. They have a beautiful outdoor patio, an impressive wine list and all the best beef sourced from Gibson's Prime.
11. Somerset
Somerset is one of the great date night restaurants in Chicago for a few reasons. We love that their menu changes seasonally. We've gone on a few dates here and the flavors are never quite the same. We love their outdoor seating during the summer months.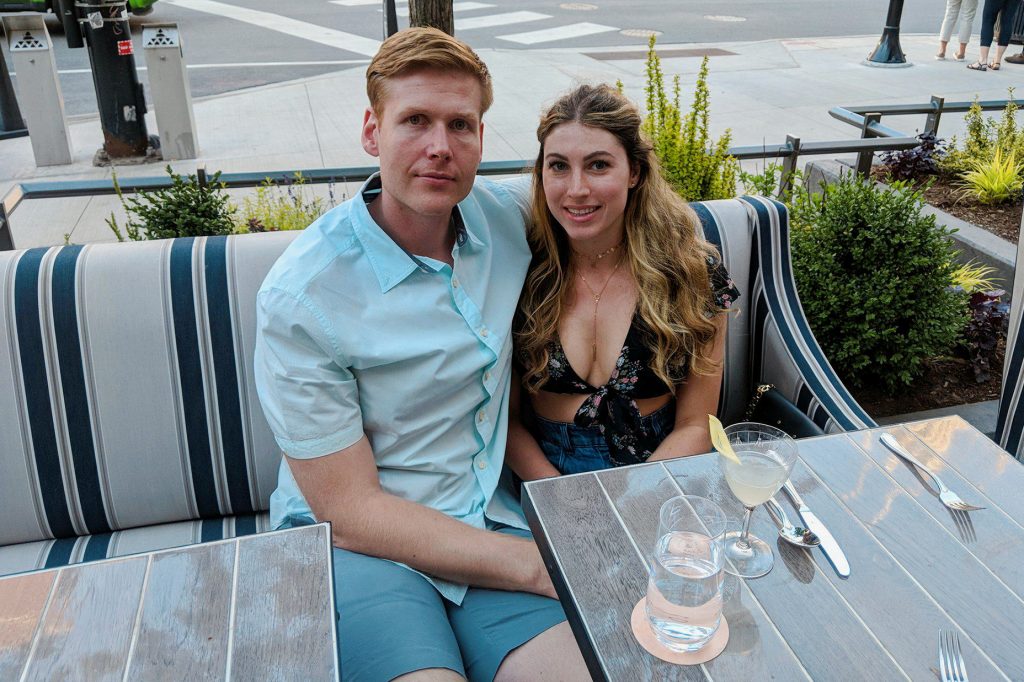 Also, it's not that impossible to get a table here. So, it's a great spontaneous date option. The best dinner dates in Chicago are sometimes spontaneous 😉
Somerset is located in the Viceroy hotel. This is where you'll also find the super cool rooftop Devereaux. If you are looking for the ultimate romantic date experience, consider booking a room at one of the most romantic Chicago hotels like the Viceroy.
13. Oriole
Oriole isn't somewhere you'd want to take a first date. Although, it's the perfect place to celebrate an anniversary or birthday with your SO. Oriole is a 2 Michelin star-rated restaurant in Chicago's Fulton Market neighborhood. 
Oriole is formal dining at its best. They offer an intimate dining room with a price-fix tasting menu and wine pairing option. With advance notice, chefs can modify the menu to accommodate dietary restrictions.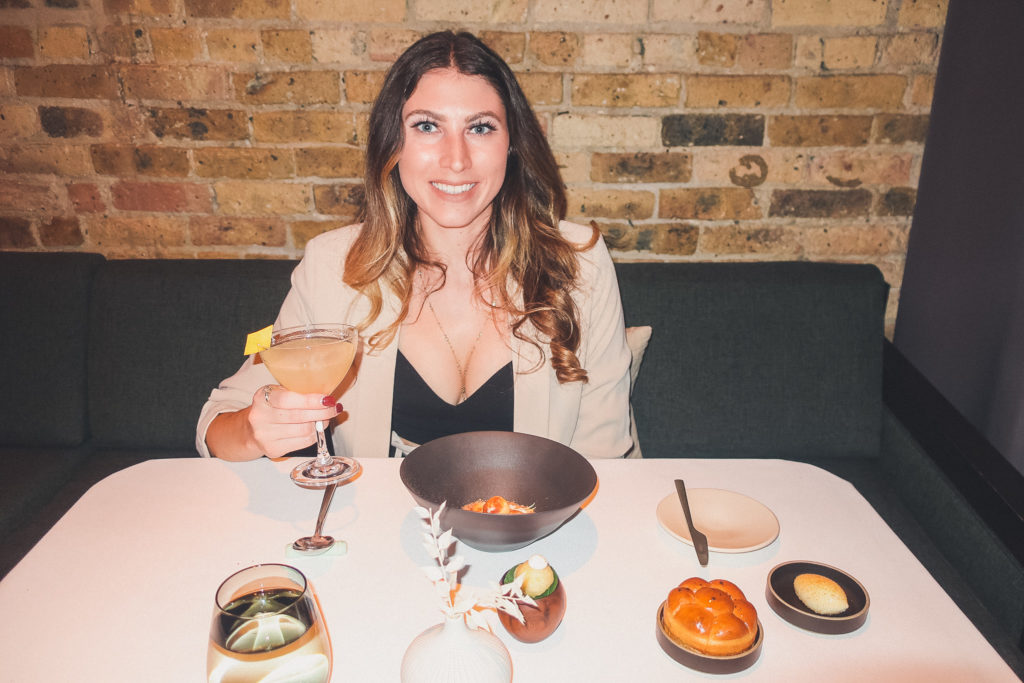 Oriole's went through an extensive rehab in 2020-2021, so now is an excellent time to check out their new dining room! This place offers an unforgettable dining experience that is sure to impress.
13. Alinea
Alinea is another excellent high-end dining spot. It's one of the most famous restaurants in Chicago – known for holding the unique rating of 3 Michelin Stars. This is the most innovative, unforgettable, and unique dining experience in Chicago.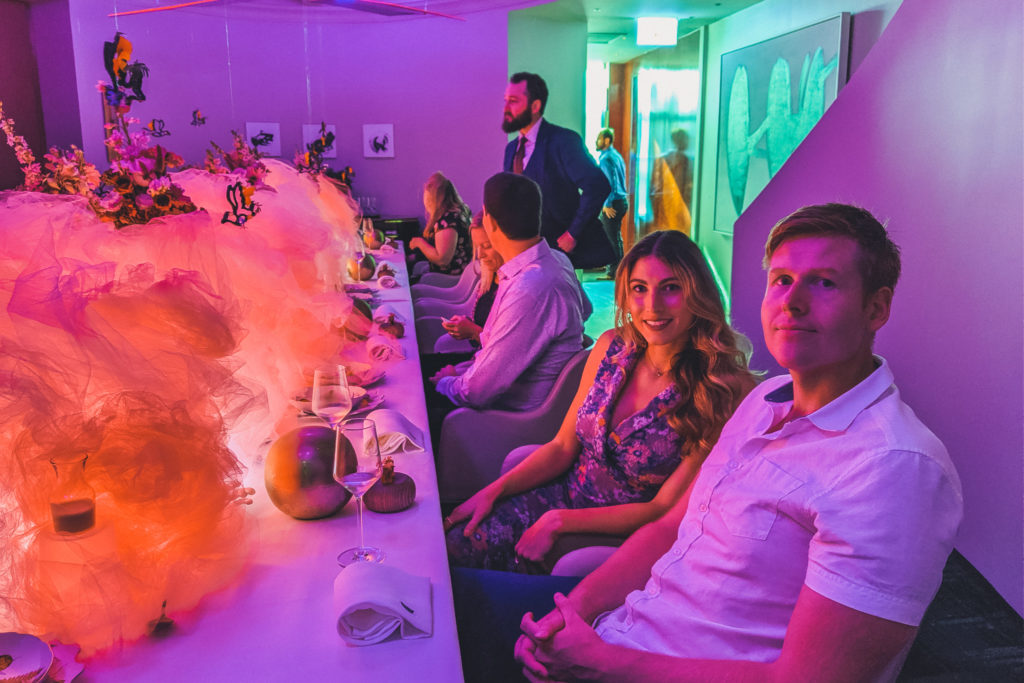 Tables at Alinea can be hard to come by, as they sell out quickly. Chase sapphire reserve cardmembers have special access to reservations for 2. Be sure to check this out if you are a cardholder.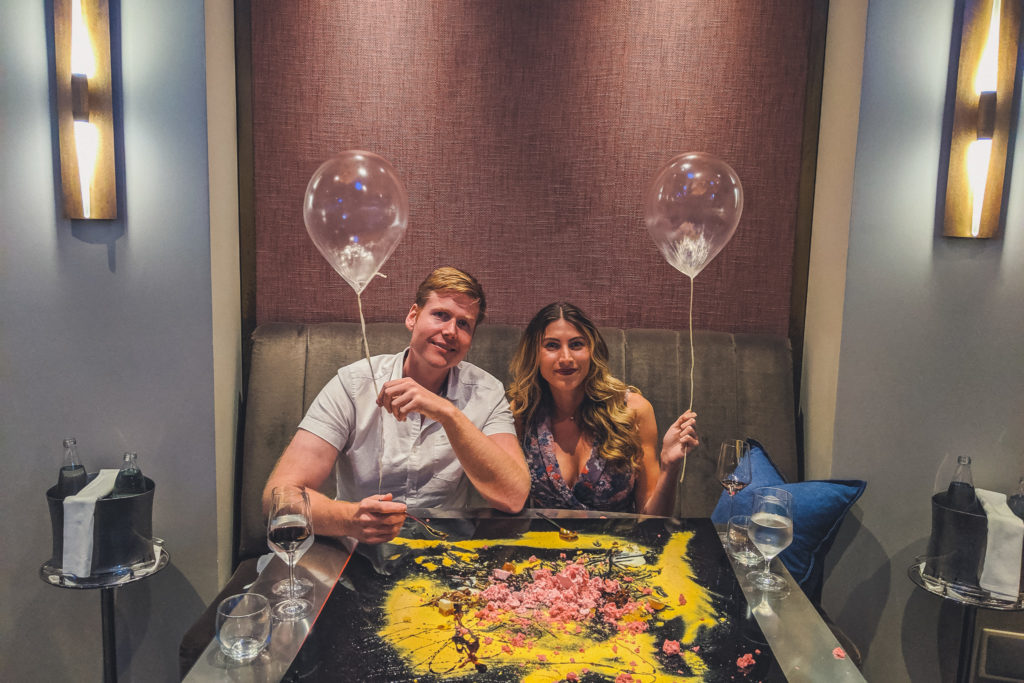 Alinea is located in Chicago's Lincoln Park neighborhood. It's considered one of the best restaurants in America, and across the world. Alinea's story has been featured in Chef's Table.
14. Smyth + Loyalist 
Smyth and the Loyalist are two distinct restaurants. Both are known for their 'farm on a plate' approach. Both restaurants occupy the same building in West Loop and serve New-American-style fare.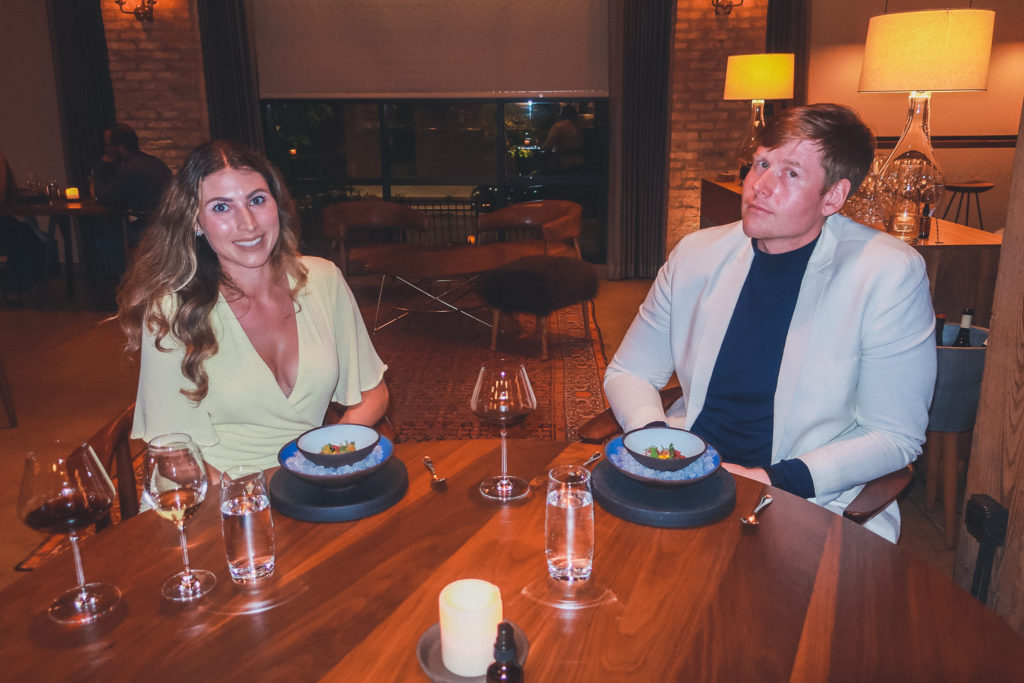 The Loyalist is more approachable, less expensive, and easier to secure a reservation at. Smyth has 2 Michelin stars, and it's a bit more extra. The Loyalist offers an al a carte menu while Smyth has a price-fix menu with wine pairings. An experience at Smyth can take 2.5 hours. 
15. Homestead on the Roof
Homestead on the Roof is an open-air, rooftop, restaurant. It boasts a 'secret rooftop,' and I confirm that it is a bit challenging to find – you have to walk inside of a pizza restaurant to get there. 
The patio features fresh flowers and an immersive garden experience. There is also indoor seating in a second-story alcove. Menus at Homestead on the Roof are always changing. Rotating pop-up chefs create globally inspired menus with dishes that have influenced their careers. You can visit many times and always taste something new!
16. Le Colonial
Le Colonial has moved in recent years! Don't worry, it is still in the Gold Coast. Le Colonial is a Vietnamese fine-dining restaurant. The theme is 1920s French Colonial Southeast Asian, and the décor is flawless.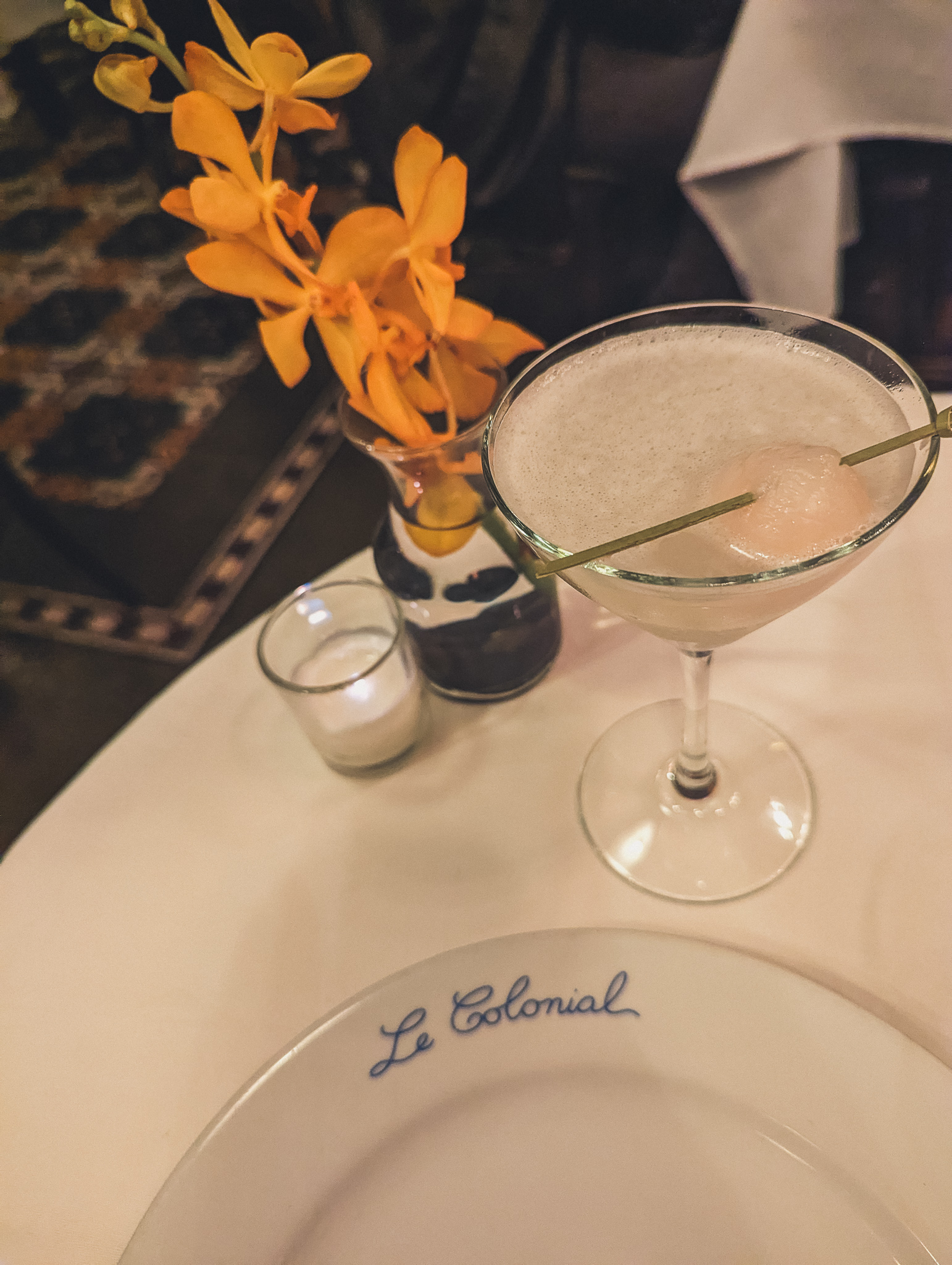 The menu features small to medium-sized plates meant for sharing. There is also a Prix-fixe lunch menu and special social hour snacks. The cocktails here are bomb! Or, choose from expert wine picks.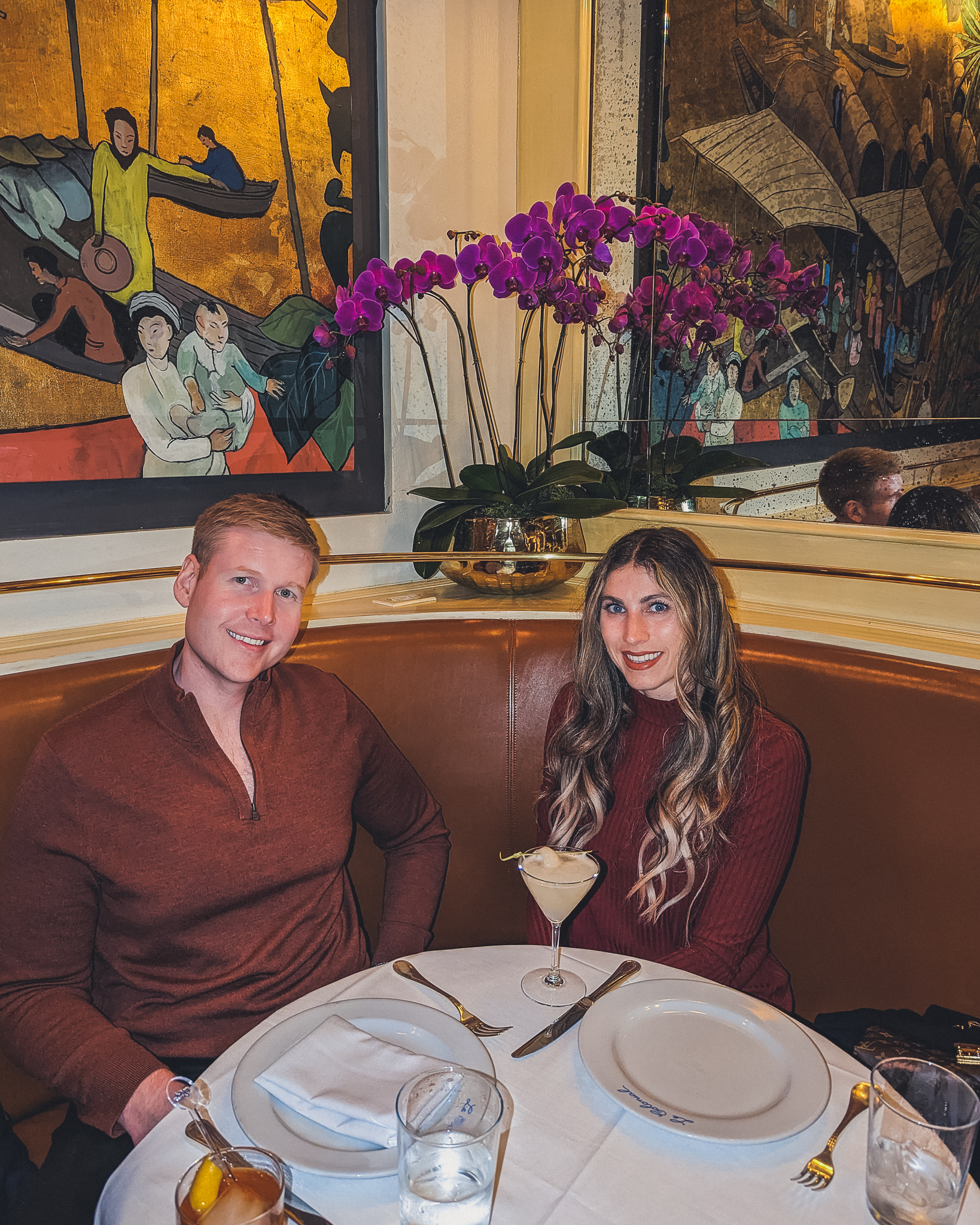 17. Nobu
Nobu Restaurant is Chicago's top sushi place. It's located at the Nobu Hotel in Fulton Market, and you can head to the Nobu rooftop afterward for cocktails and phenomenal city views.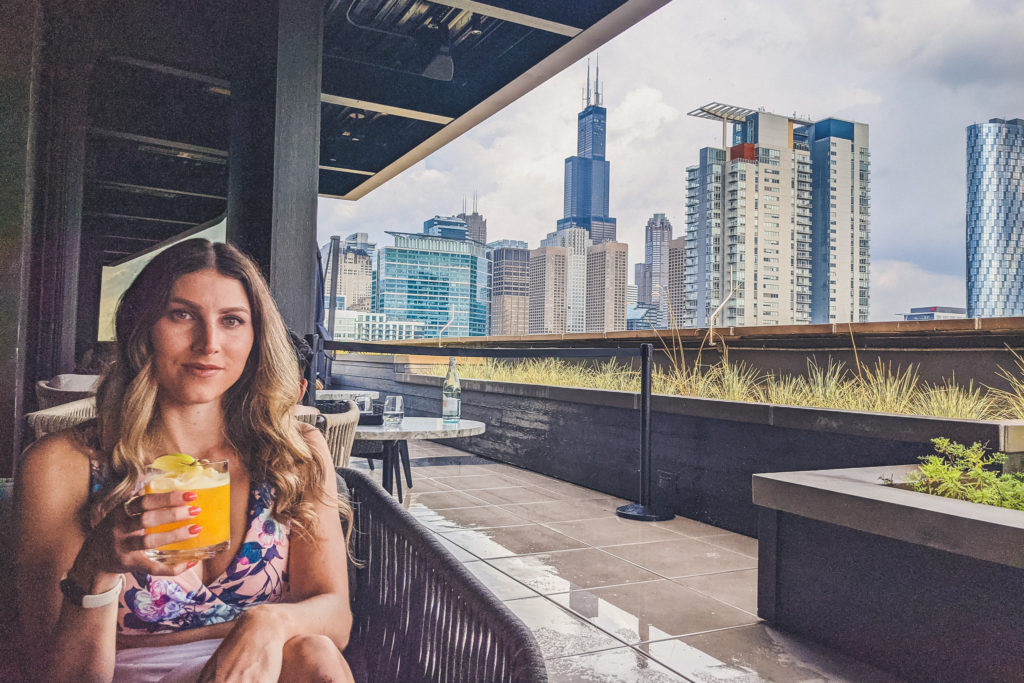 Image was taken at Nobu Rooftop.
Nobu Hotels are a luxury chain that blends Japanese traditional hospitality elements with cool modern vibes. Nobu Restaurant is said to have the best sushi in the city. It's a seafood lover's paradise. 
18. Wherewithal
Wherewithal is brought to you by the Chicago power couple Johnny Clark and Beverly Kim. These two are best known for Parachute restaurant in Avondale. Parachute has been awarded a Michelin star. Clark and Kim hold James Beard awards.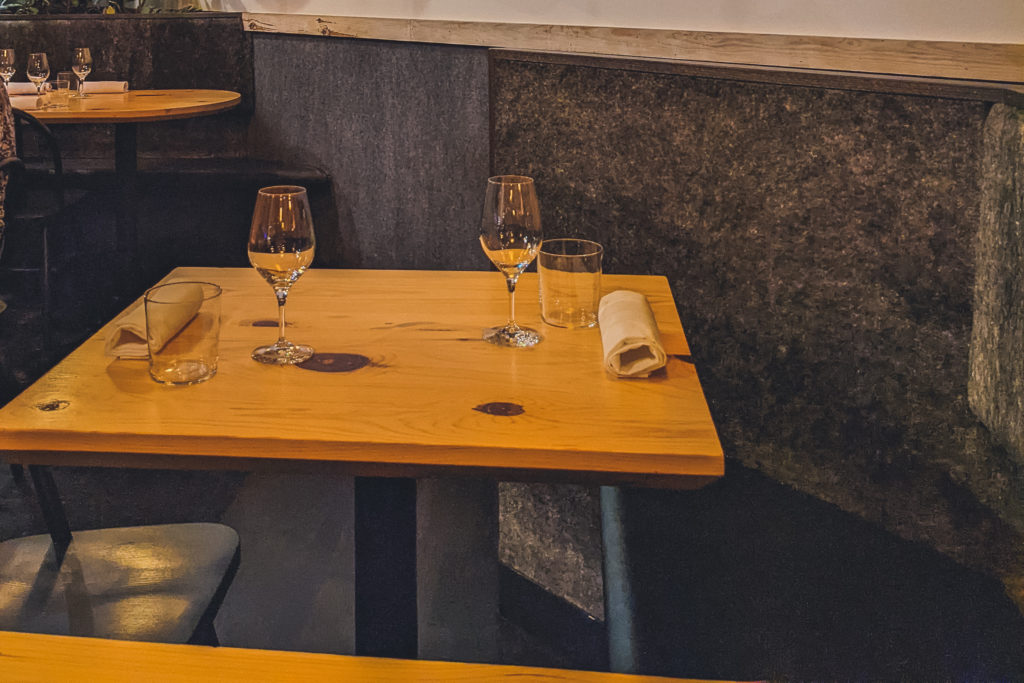 Wherewithal is Clark and Kim's second restaurant venture. It's located in Avondale and features seasonal outdoor dining. Wherewithal features a hearty tasting menu and wine pairing. Be sure to email in advance if you have food allergies or dietary restrictions.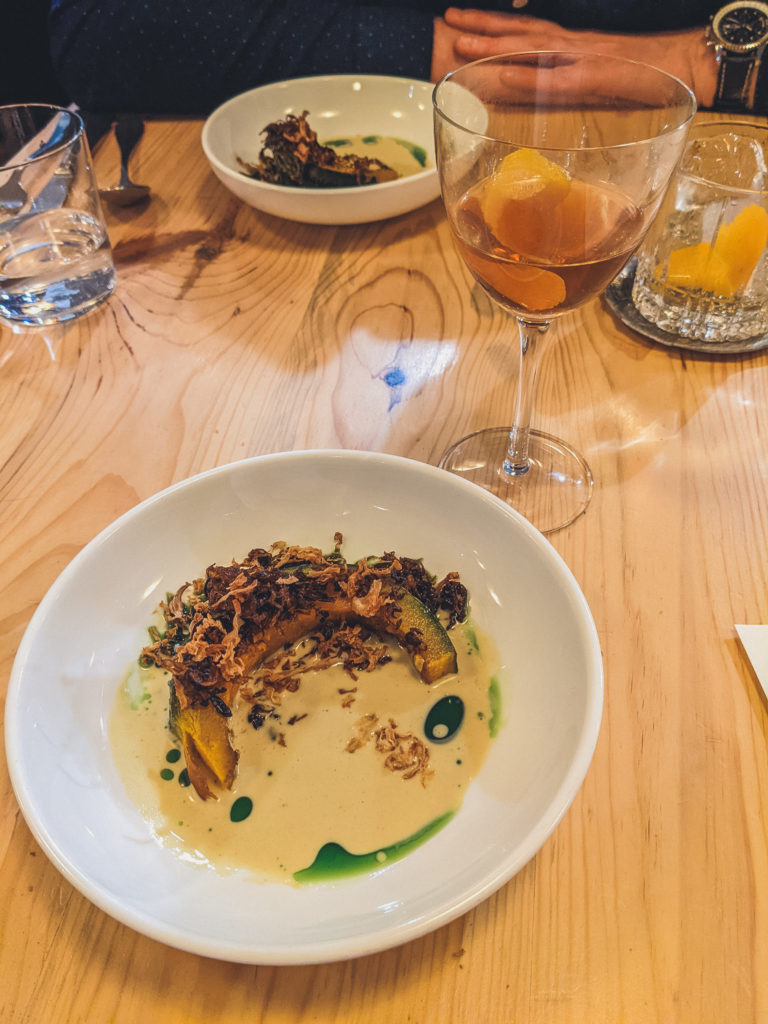 Dining at Wherewithal is always a different experience because the menu changes weekly. You can expect the freshest in-season ingredients.
19. Beatnik
Beatnik is an excellent date night restaurant that won't break the bank. It offers a vibrant ambiance with floral Moorish motifs, Mediterranean accents, and lush foliage. The theme is 1950s bohemian. Beatnik restaurants feature over 400 live plants, massive ornate chandeliers, and terracotta tiles.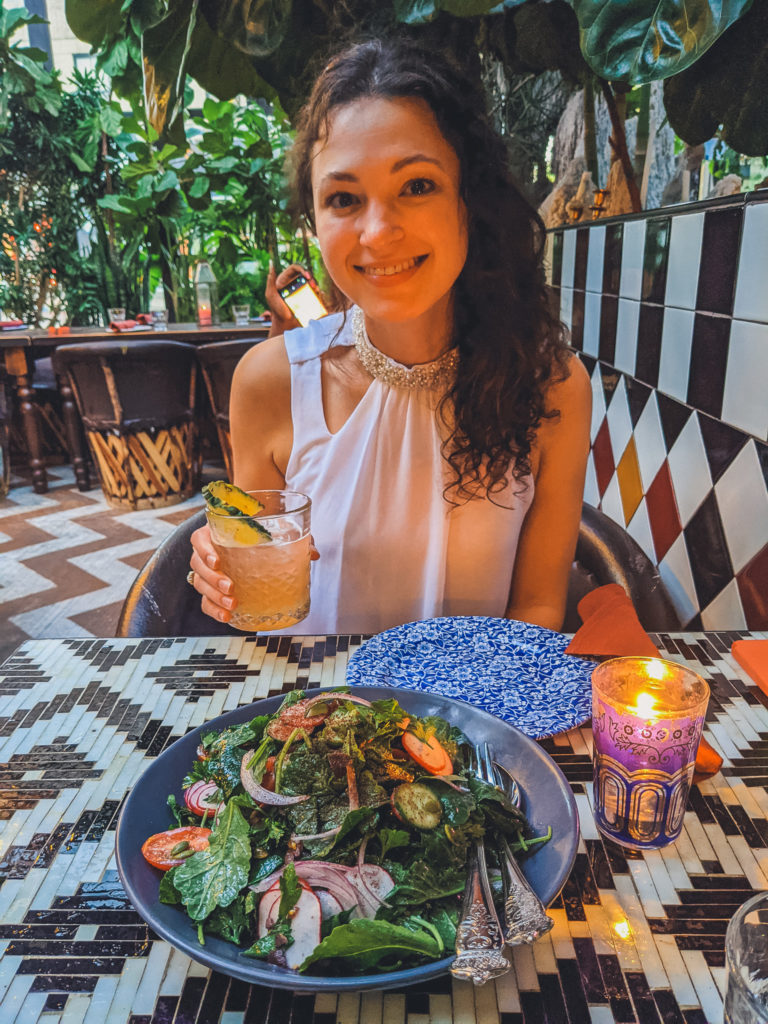 There is a Beatnik in West Town, and one on the River. With two restaurants and large dining spaces, it's relatively easy to get a reservation here. Plus, the food is flavorful and healthy. There are plenty of vegetarian and gluten-free options! This is one place that you'll keep coming back to. 
 20. Dear Margaret 
One of Lincoln Park's most raved about restaurants is Dear Margaret. The Michelin Guide describes the food as, 'comfort and decadence.' It's also been recommended in the Chicago Tribune. 
Dear Margaret presents a French-Canadian inspired menu cultivated from the freshest Midwestern ingredients. It's an exceptional farm-to-table experience in the heart of Chicago. Plus, you'll find a hearty selection of gluten-free and vegetarian items to choose from.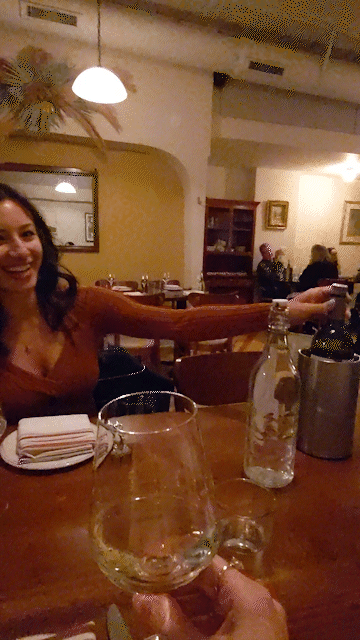 You'll have the chance to sample artisan breads, regional cheese, and expertly picked wine. The delicious food goes well with the intimate, rustic ambiance.
21. Elske 
Elske has been a Michelin star-rated restaurant since 2017. That same year, it was named #2 'Best New Restaurant in America,' by Bon Apetit. Executive Chef and owner, David Posey is known for his former work at Blackbird restaurant.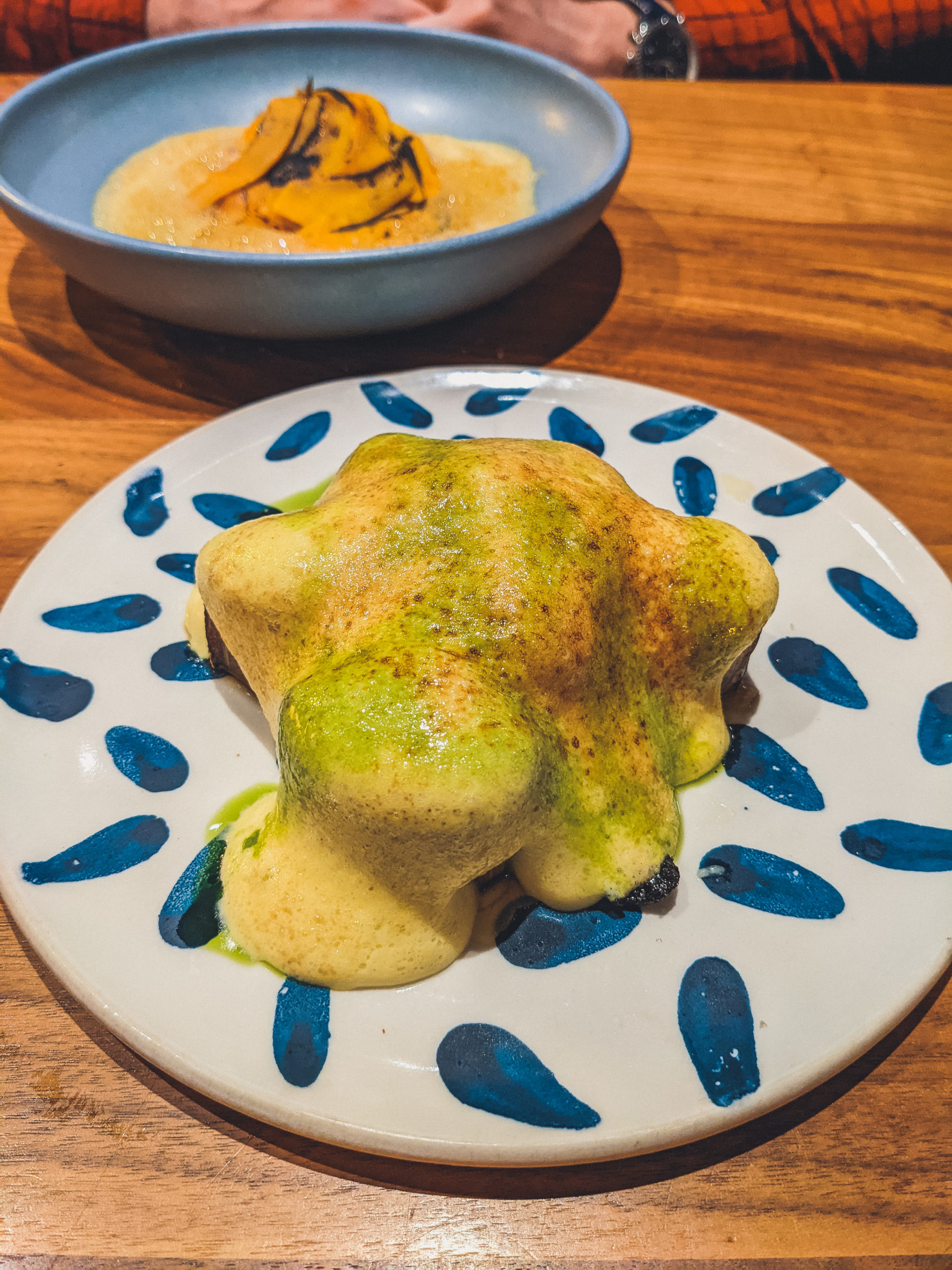 The formal restaurant in West Loop serves American dishes with a Danish twist. Elske's flavorful tasting menu doesn't come cheap, but portions are hearty and delicious. Well, worth it!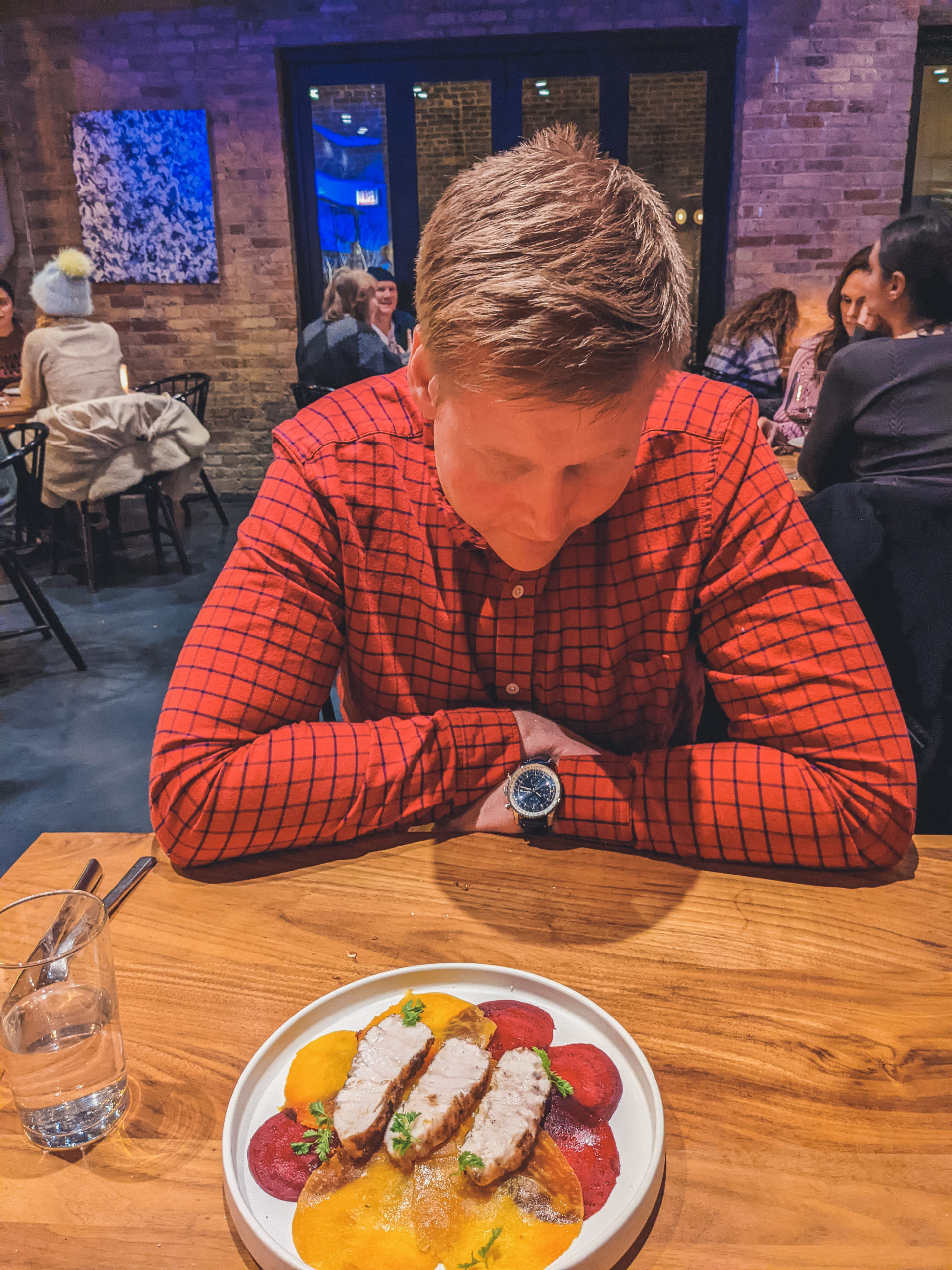 Guests may also opt to order from the a la carte menu. Cocktails are exquisite. The decor features a modern European flare with earthy elements. The ambiance is soft, warm, and inviting. 
Also, Elske's kitchen can accommodate many dietary restrictions and preferences. Be sure to reach out to the restaurant in advance. 
22. Next 
Next is part of the Alinea Restaurant Group, most famously known for Alinea (discussed above). It's located in Fulton Market.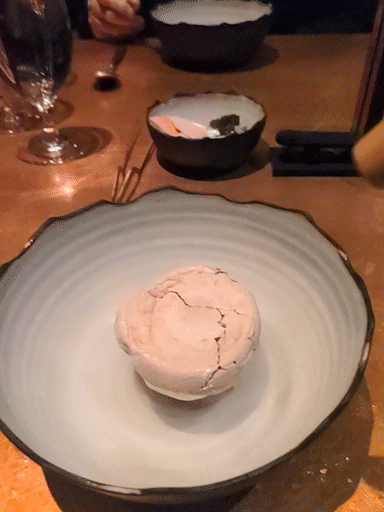 Next features an elevated, innovative, dining experience. Guests are offered a prix fixe menu and wine pairing. Menus change seasonally, so you'll be surprised and impressed each time you visit.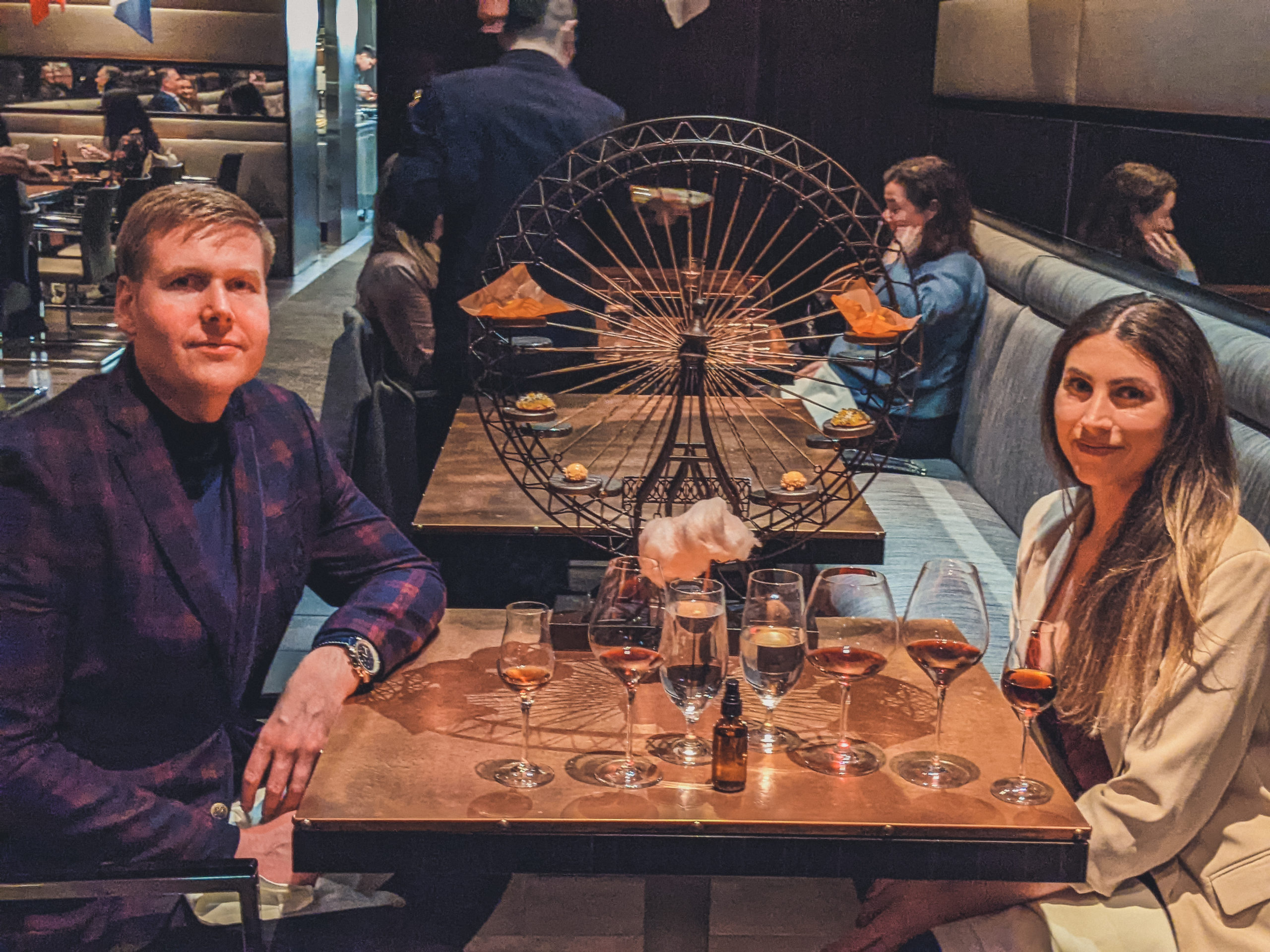 In addition to its Michelin star rating, this restaurant has earned overwhelming praise from the Chicago Tribune, Elite Traveler, and the James Beard Foundation. 
23. Fulton Market Kitchen
This place is home to the BEST Old Fashions in town. My fiance is obsessed! Although, you can't go wrong with any of the cocktails here.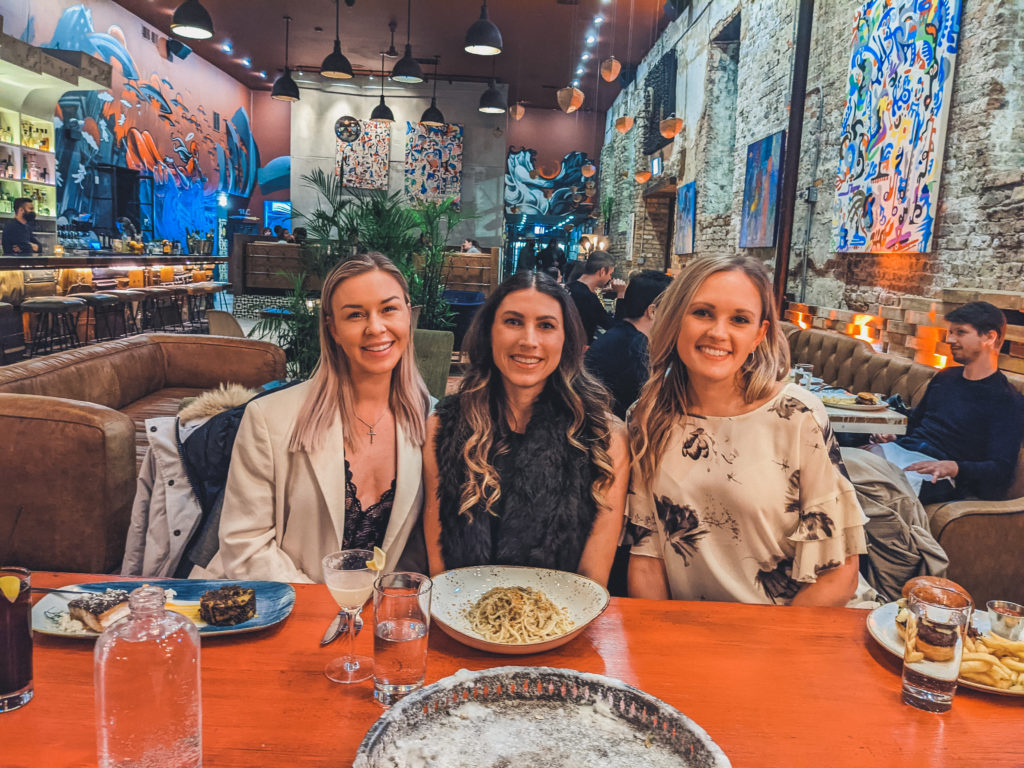 Fulton Market Kitchen was inspired by the 1980s New York art scene and Wynwood Walls in Miami. It's one of the most gorgeous restaurants in Chicago. Even the bathrooms are beautiful. 😂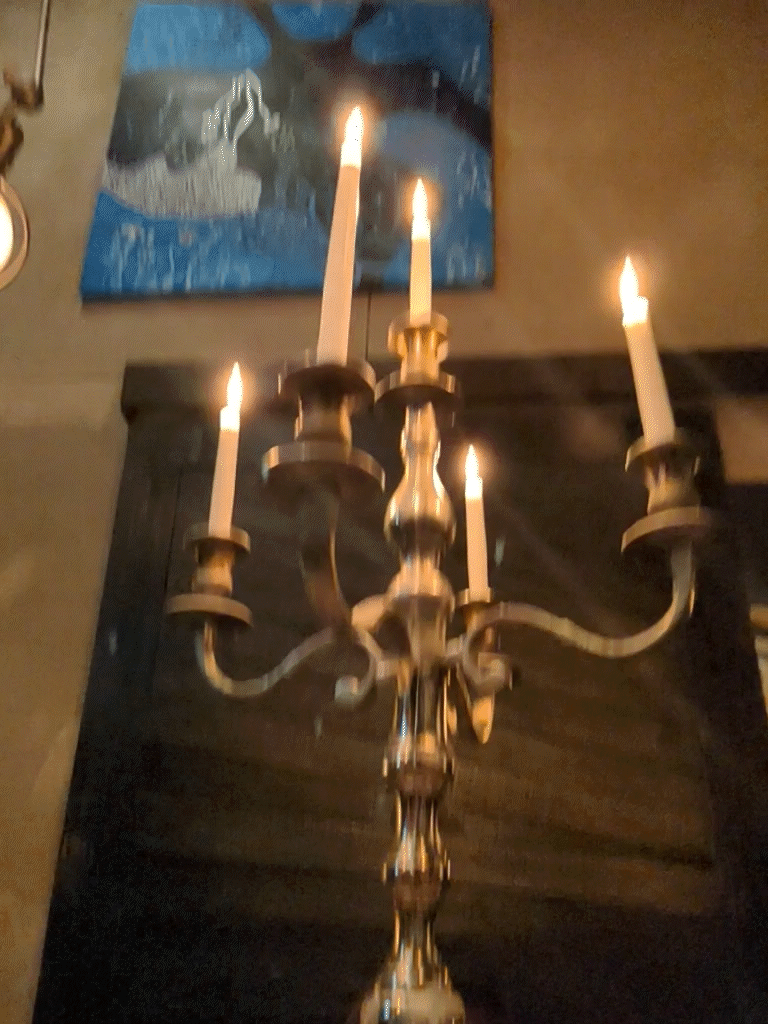 It's also a great place to dine with a group of friends. We had a party of 6 comfortably seated at a massive table with dramatic candlelight.