Oahu is the perfect vacation destination because it offers a combination of rugged outdoorsy activities, glamorous nightlife and relaxing tranquility. Oahu attractions are best enjoyed through hiking, snorkeling, swimming, zipping & diving. This Oahu Bucket List features the most adventurous Oahu activities.
16 Unforgettable Oahu Bucket List Adventures
16 Unforgettable Oahu Bucket List Adventures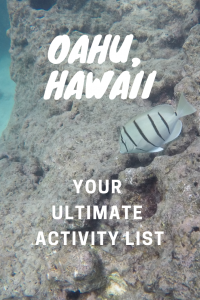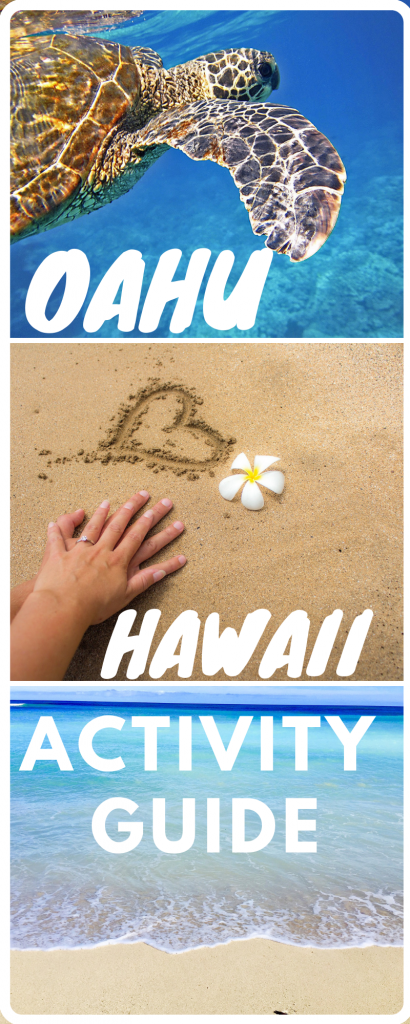 1. Cage Diving with Sharks
This is one of the most unique things you can do in Oahu. There aren't many places in the world that you can swim with sharks! It is certainly the most exhilarating Oahu tour on the market. You'll get up close and personal with North Shore's toothiest residents.
For this tour, you'll meet on Oahu's North Shore. During the tour, you'll ride out into International waters to get to the shark grounds. The shark grounds are the favorite hangout spot for Galapagos and Sandbar sharks. Sometimes, even Tiger sharks stop by. The sharks are so popular here, that if you don't see them…you can get your money back! Once you get to shark grounds, you'll get the chance to hop off the boat and into a large poly glass cage.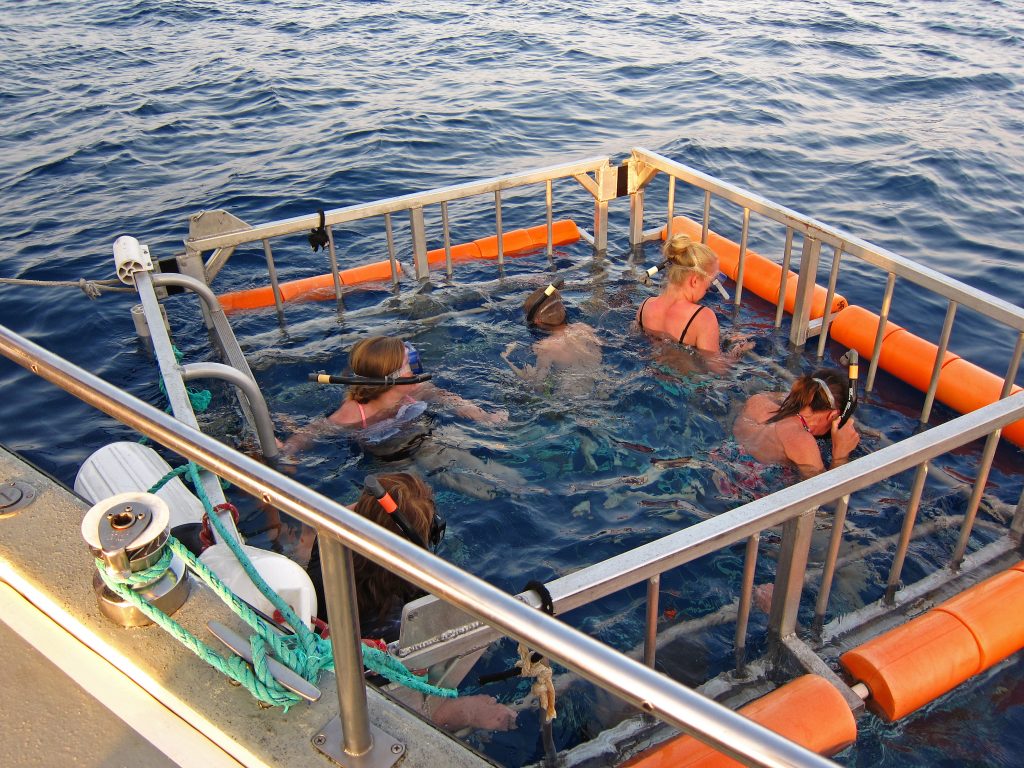 From inside the cage, you and the sharks will be safe and entertained. Sharks are curious by nature, and they won't hesitate to swim up to the windows. This is a once in a lifetime experience and one of the best things to do in Oahu.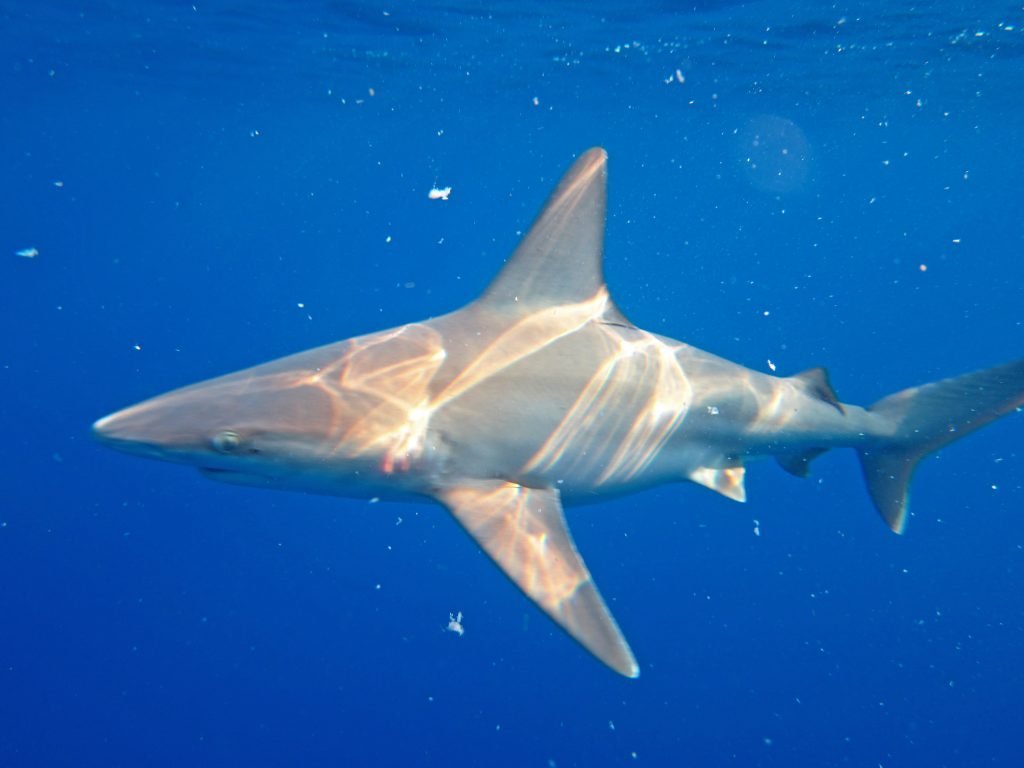 I particularly recommend Hawaii Shark Encounters because they are committed to shark conservation, decreasing shark stigma and sustainable practices. Not many other Oahu tourist attractions are as thrilling, environmentally friendly and cause oriented. For more information, click here to check out Hawaii Shark Encounters.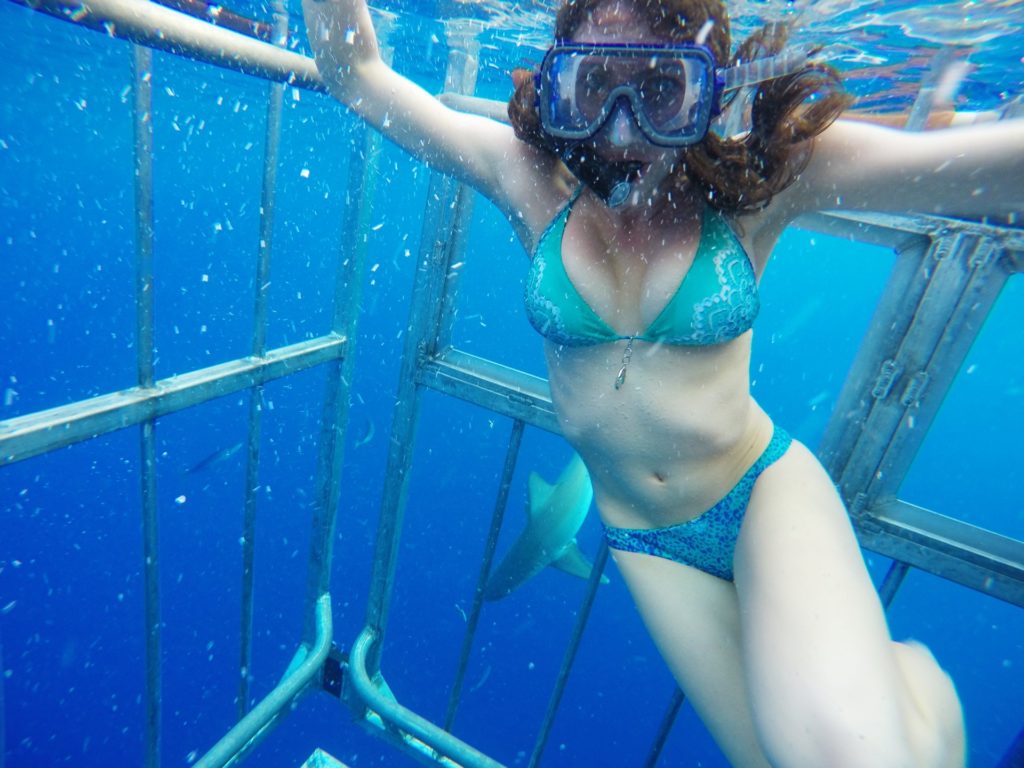 2. Hike the Stairway to Heaven (Haiku Stairs)
This was without a doubt my favorite hike of all time, but also the most dangerous. It's one of the top things to do in Oahu, but also comes with risks. Although, if you are willing to take the risk, you'll be rewarded with one of the most unique, grueling and phenomenal hikes in the whole world!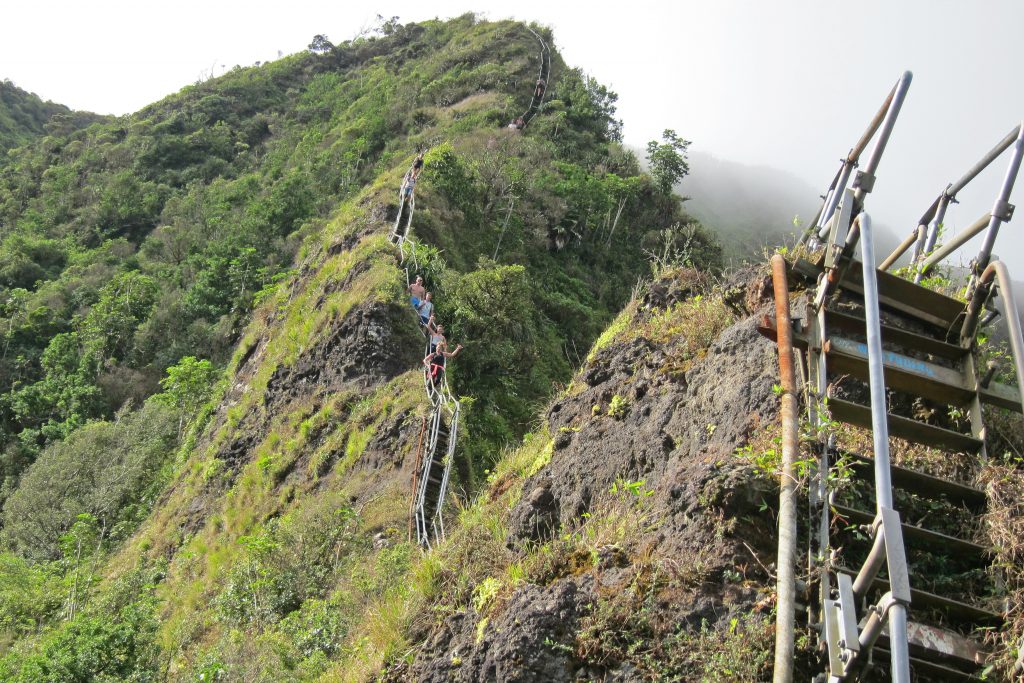 The Haiku stairs were built by the US government during World War II and still reside on property owned by the FBI. Those committed to attempting this challenge will have to research extensively, plan appropriately and knowingly trespass on federally owned land. While many hikers visit here and hike here year-round, the police presence on the land is equally as consistent.

Risks
In order to get past the initial guard, we had to arrive early in the morning before the sun had come up. We were navigating the forest in complete darkness following printed out instructions that we found online. Although, we weren't alone. After the hike was over, we were greeted by a homeland security officer at the end of the stairs. I've heard that these officers can issue fines upwards of $800. Luckily for us, he let us pass with a warning because it was Easter Sunday.

The stairs navigate the Ko'olau Mountain range to the Navy's radio transmitter. This was a top secret facility in 1942. The location was chosen because it provided adequate height for the antennae and natural amplification within the valley's high ridges. The trail is only 2.4 miles, but is almost entirely vertical (it feel's like you're climbing up a ladder for most of the hike). You must be physically fit to do this hike!! Celebrity Fritz Hasenpusch died of a heart attack mid climb.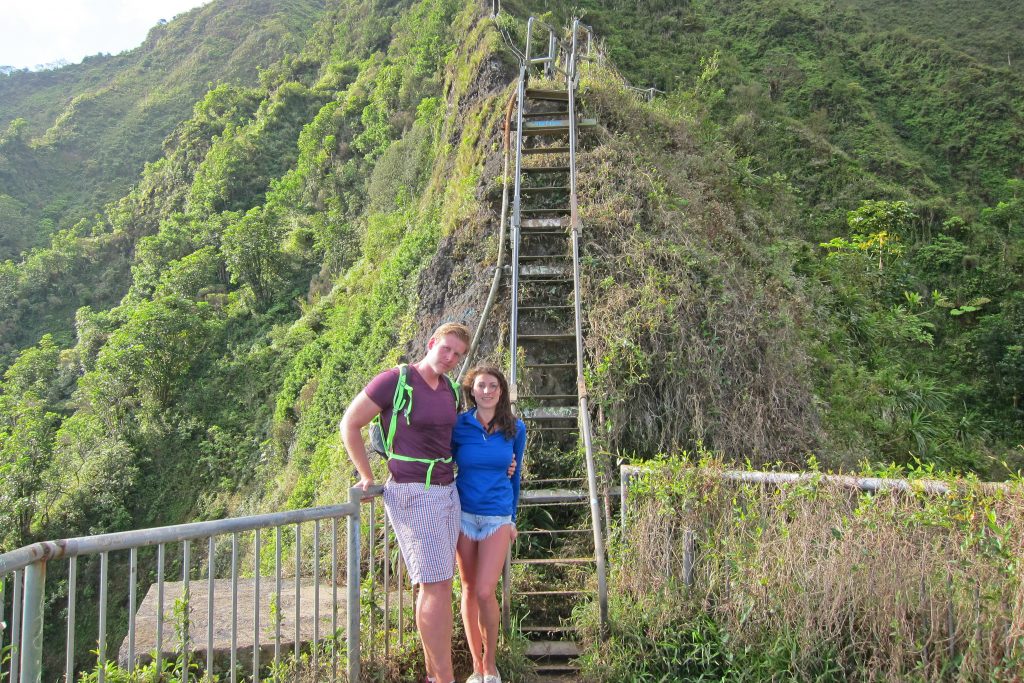 Also, the stairs are broken at points. Besides the dangers of trespassing, the dangers of the trail are equally as formidable. However, the views are just as rewarding. There are even a few "scenic lookout decks" along the hike where you can stop to rest.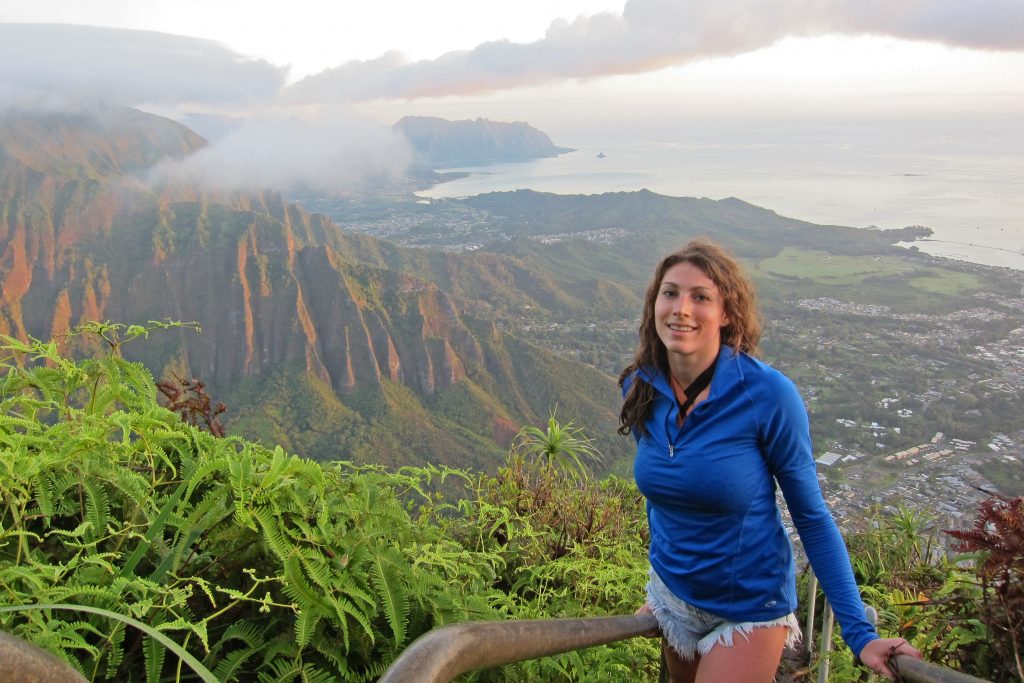 This hike does come with its risks. But with the right game plan and knowledge, it is possible.
3. Hike Diamond Head
Diamond Head State Monument is one of the top places to visit in Oahu. Don't worry, this is one of the (legal) fun things to do in Oahu. Diamond Head itself is a volcanic cone. It was formed by a series of eruption events around 400,000 years ago. The park is a popular spot for Oahu sightseeing because it is located a short 10 minute drive from the touristy Waikiki Beach.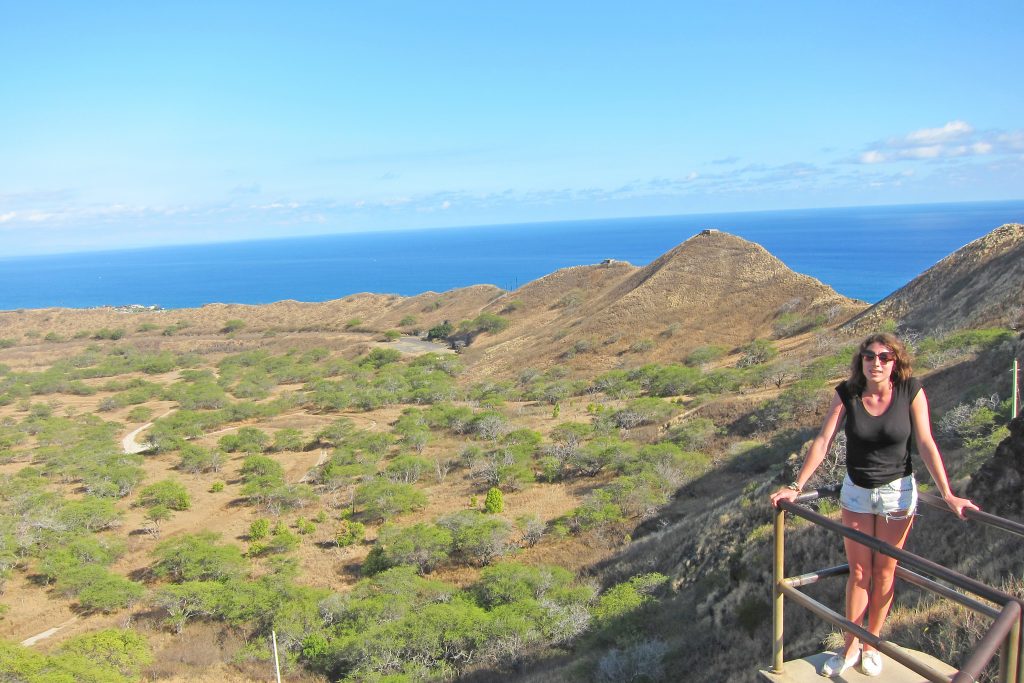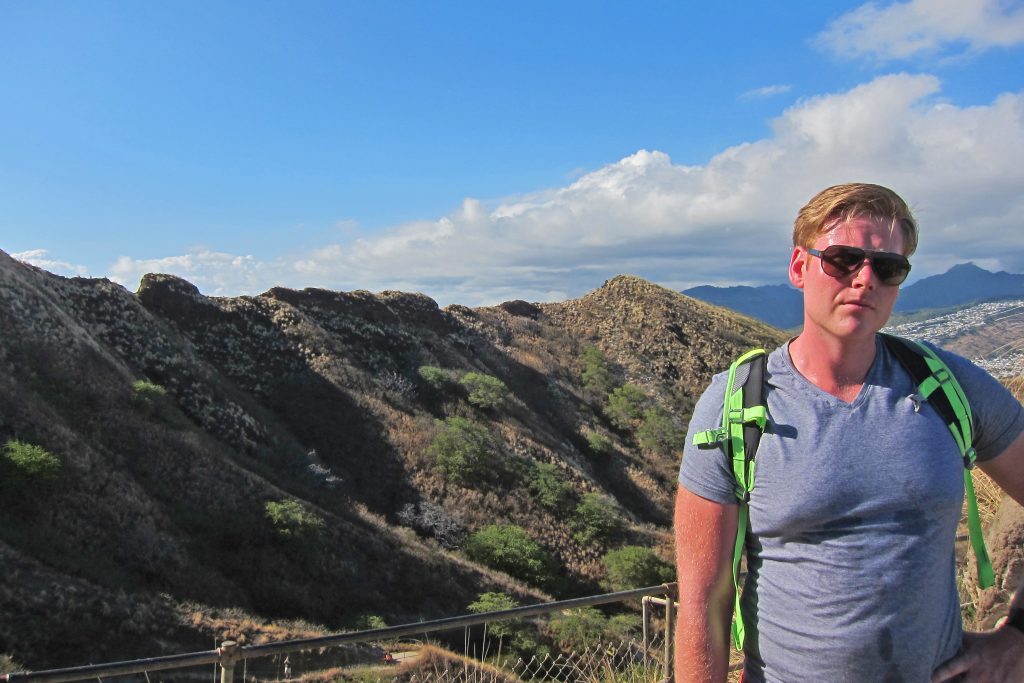 Diamond Head's main trail totals under 2 miles. Although, it is steep and somewhat strenuous. At the summit, you'll be rewarded with spectacular views of the Waikiki's coastline. Along the trail, you'll also get a chance to observe the enormous crater that was formed by a volcanic eruption hundreds of thousands of years ago. The park is open 6am – 6pm daily, although entrance before 4:30 PM is highly recommended. NOTE: The park entrance is cash only, and it costs $5 for cars to enter or $1 each for pedestrians.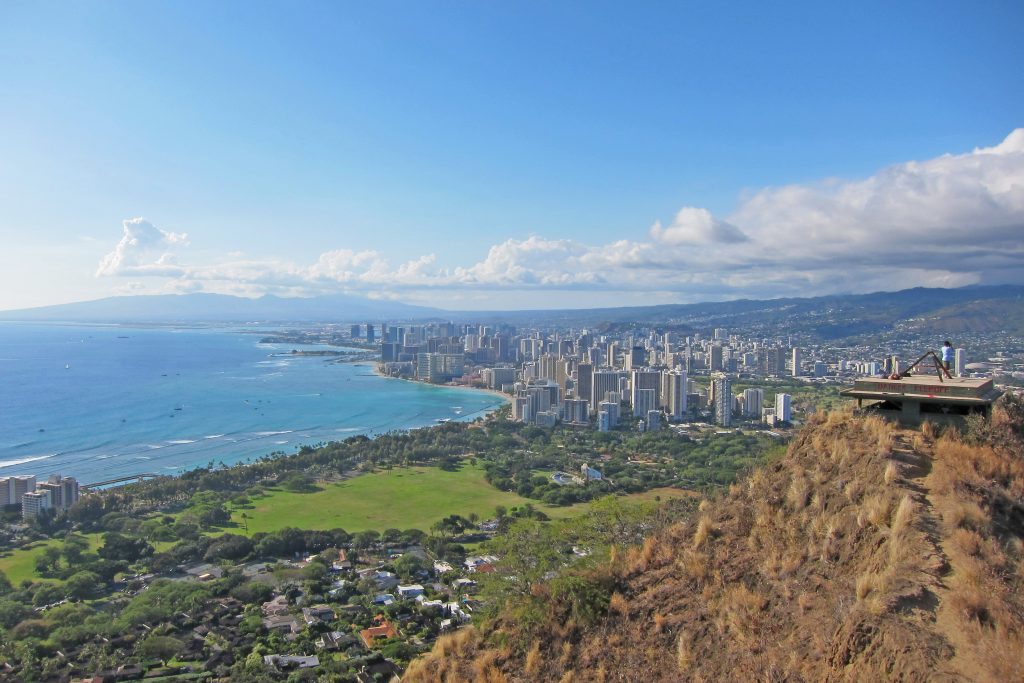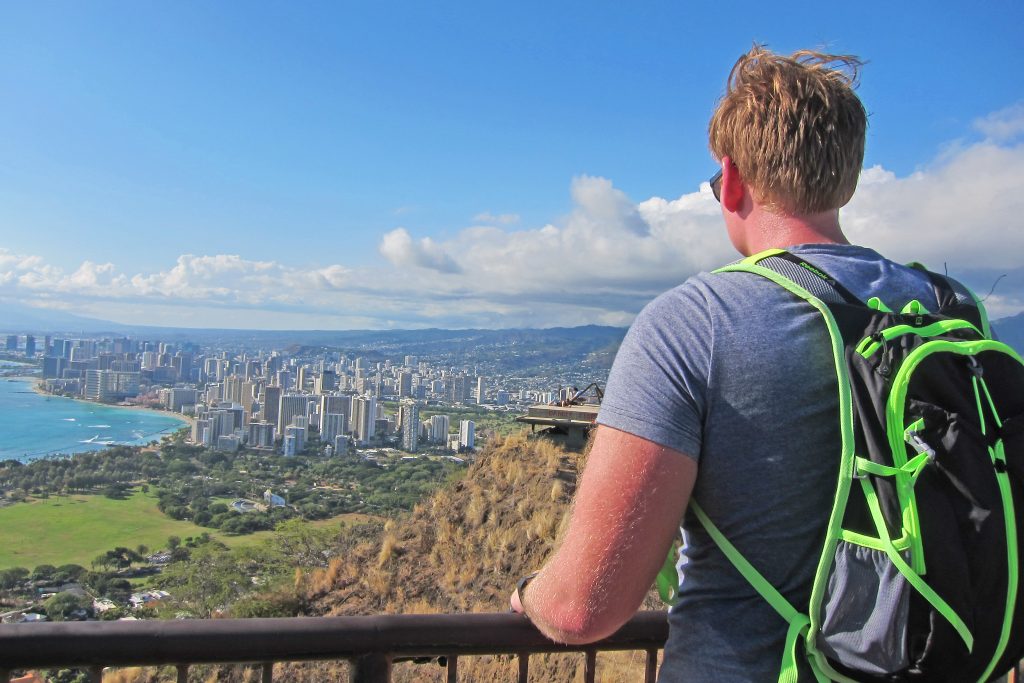 4. Jump off the huge rock at the Waimea Bay Beach Park
Okay, again with the danger, this is another one of the thrilling things to do in Oahu. The Waimea Bay Beach Park is a public beach on the North Shore. Oahu's North Shore is famous for surfing, as you can expect to see waves build up to 30+ feet during the winter. Waimea is also a lot less touristy than Waikiki.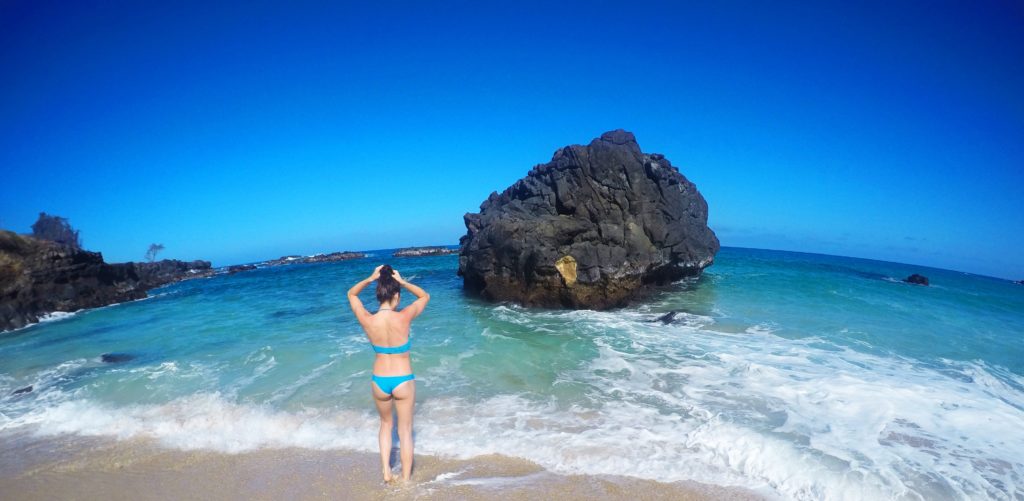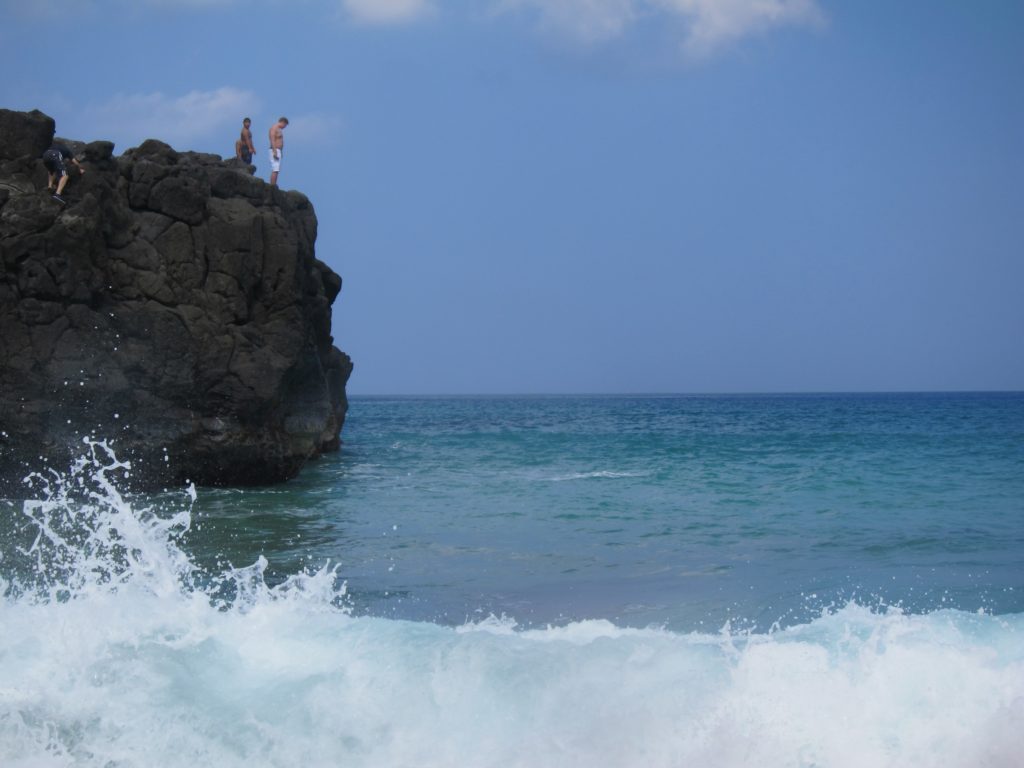 At Waimea Bay, you'll find "Da Big Rock." Which is exactly what it sounds like…an enormous rock that is very difficult, but ultimately possible, to climb. Once on the rock, you jump off! It's more fun than it sounds…trust me. It's safest to do this during the summer months when the waters are calmer.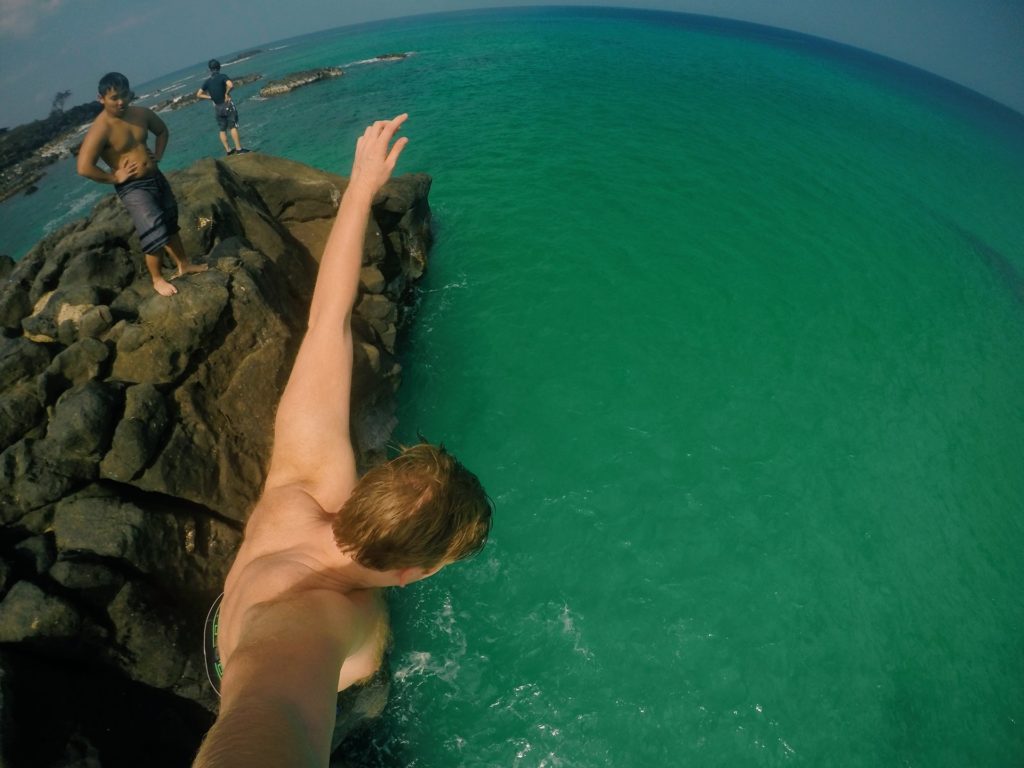 However, also somewhat dangerous. The rock face is quite slippery and uneven. Watch what the local kids are doing, and be careful! If you can make it to the top of the rock, you'll be able to take an electrifying jump. This was definitely one of the funnest Oahu activities we did! NOTE: Bring water shoes! It will make it a lot easier and safer to climb.
5. Swim under a waterfall at Waimea Falls Park
Waimea Falls Park is on my list of best places to visit in Oahu. There's a lot of different types of adventure here. You can visit the park's botanical gardens, hike out to a waterfall and then take a dip into the waterfall's huge pool. The waterfall itself is 30 ft long and is reachable from the trail in just under 30 minutes. The trails encompass a 1.9 mile loop that features beautiful tropical flora. You can jump right into the water and cool off!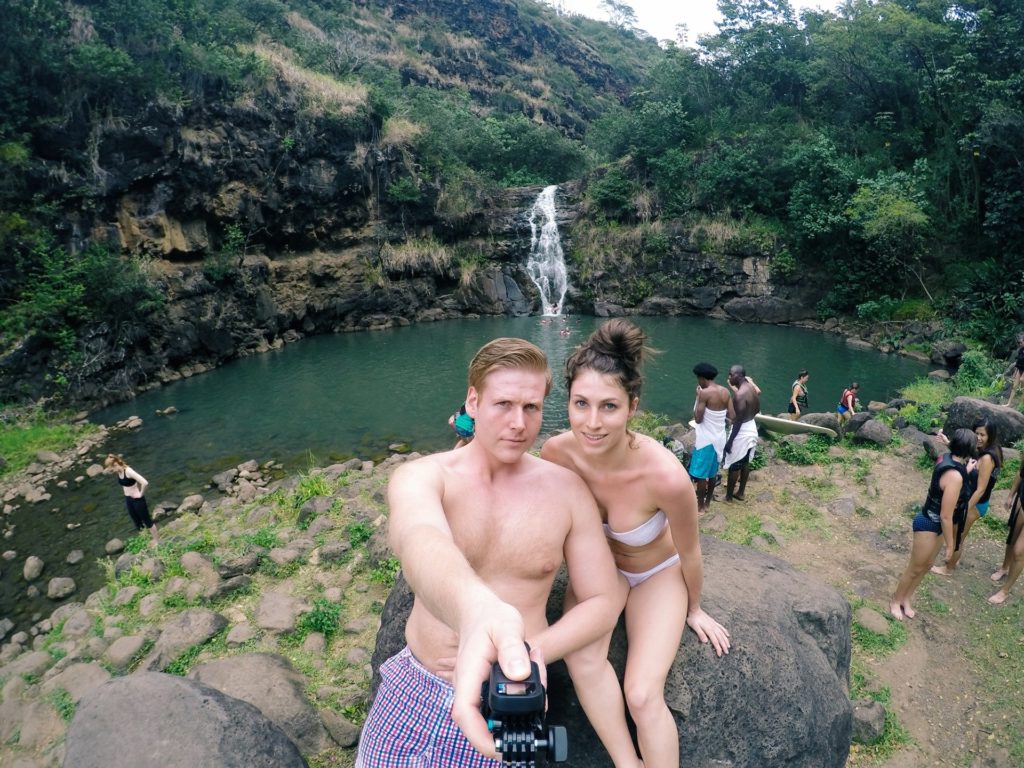 This is one of the more family friendly adventures in Oahu, as there are lifeguards stationed at the waterfall swimming hole. Also, life jackets are provided.
6. See a turtle at Laniakea Beach
Laniakea Beach is also located on the North Shore. Laniakea meaning "wide sky. This is another spot famous for surfing. Also, known as "Turtle Beach" for its most celebrated visitors. Laniakea Beach is one of the best places to go in Oahu to spot sea turtles. Just beyond the sand fronts of this beach, a rocky shelf grows plentiful amounts of seaweed. The seaweed attracts turtles to the beach.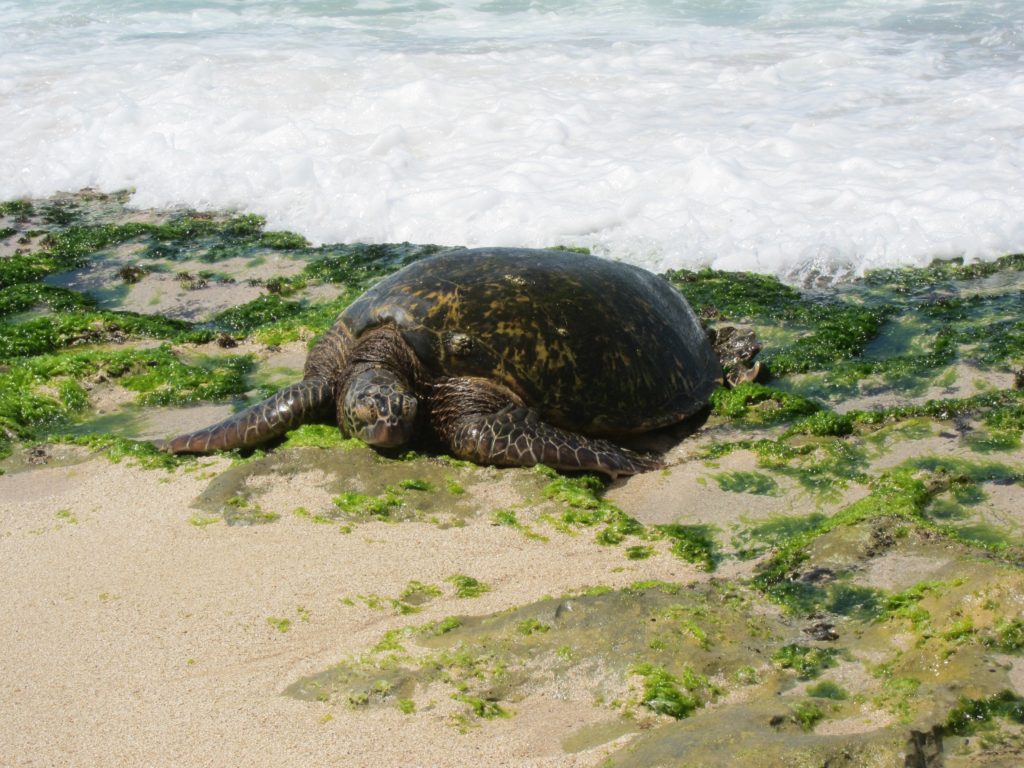 You are most likely to spot turtles around lunchtime, between 11am and 1 pm. If you're lucky enough to find them, make sure to keep a safe distance of 10ft This is the recommended distance in order to prevent disturbing them. Usually there are volunteers on the beach that protect the turtles.
They put up signs and sometimes rope the turtles off so that visitors don't get too close. These volunteers work with an organization dedicated to protecting these beautiful sea creatures through conservation and education. Hawaiians take their wildlife and ecology very seriously. Rightfully so.
7. Go to a Luau
A luau is a traditional Hawaiian party that involves a feast and live entertainment. One of the staple foods served is Kālua pig cooked in an earth oven. The performances include Hawaiian music, hula dance and fire spinning. The most famous luau on the island of Oahu is held at the Polynesian Cultural Center. This is one of the best attractions in Oahu.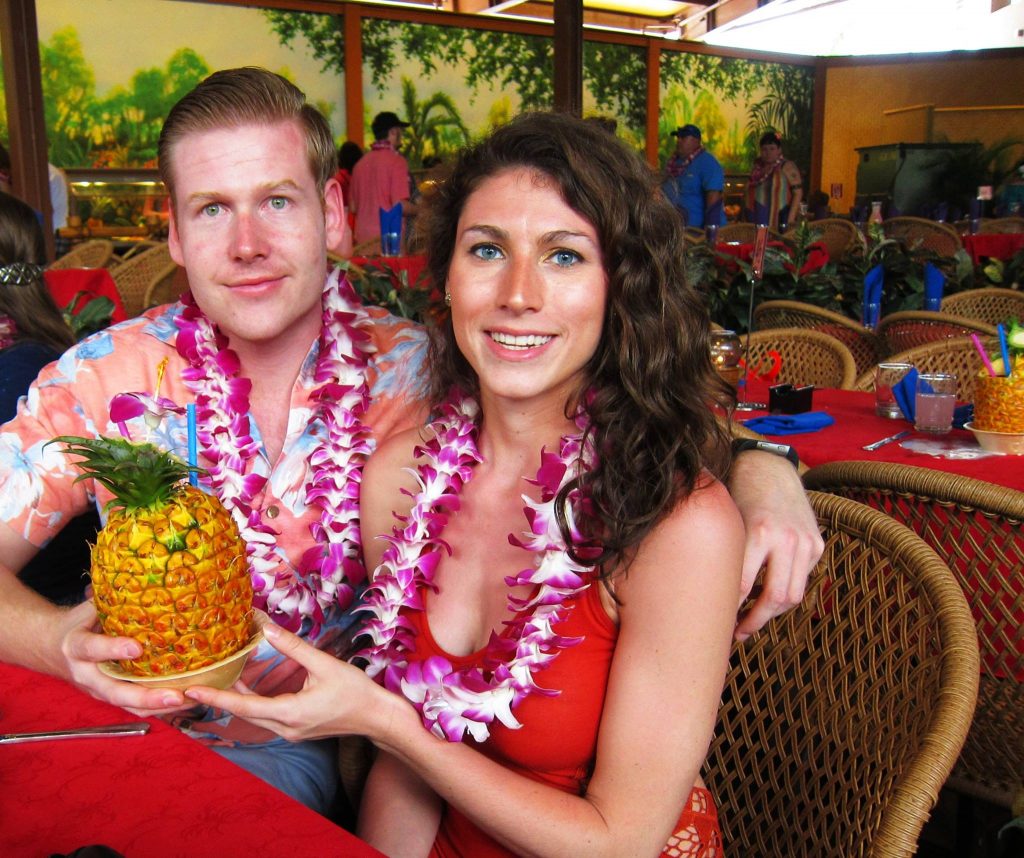 There is a lot to do at the Polynesian Cultural Center besides luau. The grounds display an authentic Polynesian village. You'll want to leave time to walk around and enjoy the beautiful displays. With your luau at the Polynesian Cultural Center, you will also gain access to a special show —Ha Breath of Life. This is a professional production! I found it quite captivating. I highly recommend this activity for all those interested in learning more about Hawaiian culture. It's also one of the best things to do in Oahu for couples!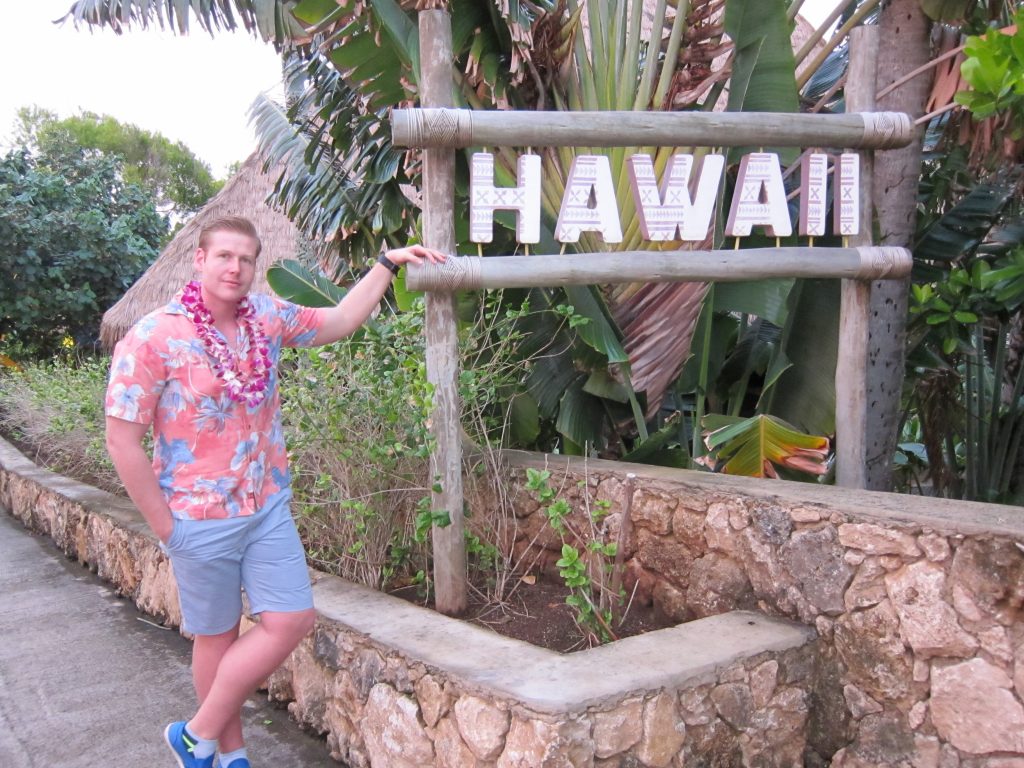 8. Zipline at Climb Works Keana Farms
Keana Farm's offers a zipline track and an ATV course. We did the zipline tour which included 8 ziplines as well as rappels, sky bridges and gorgeous views of lush vegetation. The facility is located on Oahu's North Shore. You can book one of their tours online, click here for more information about Climb Works.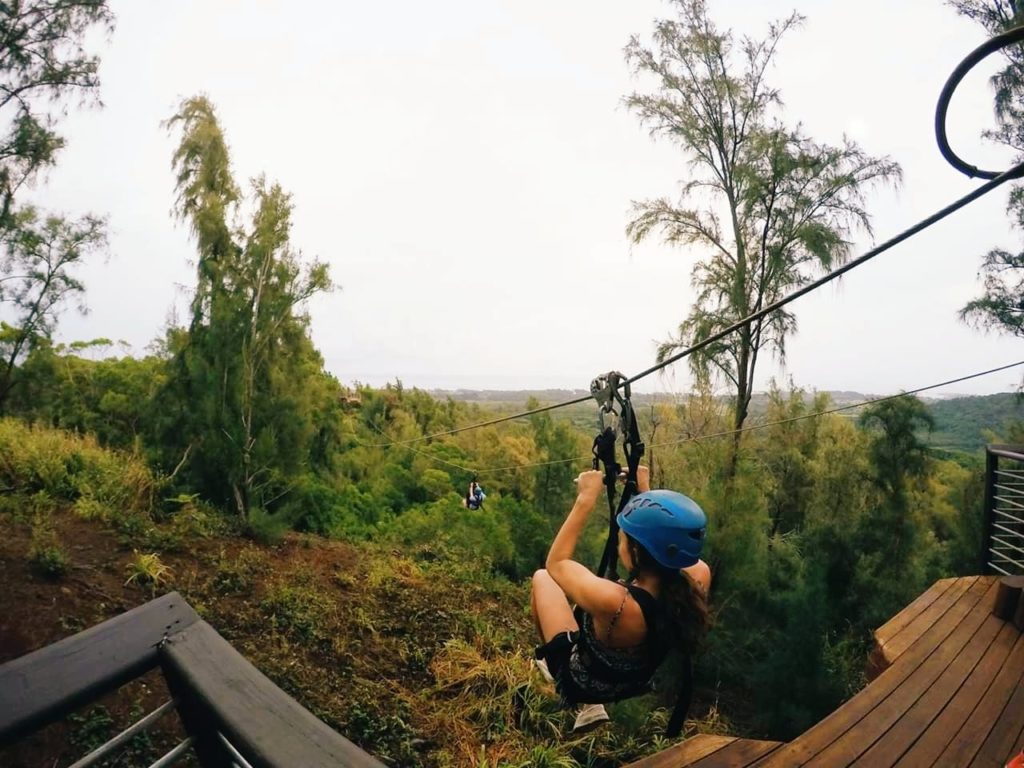 9. Hike out to Deadman's Catwalk
While the actual Deadman's Catwalk has been removed, it is still possible to find its location and enjoy the breathtaking views. Furthermore, this is another one of the fun activities in Oahu that involve trespassing. The Deadman's Catwalk was a concrete slab that extended into nothingness. It became social media famous, and hikers used it to shoot risky stunt photos (in which they would do back flips from the edge, handstands or hang off of it). Due to this risky behavior and social media fame, the Catwalk was removed.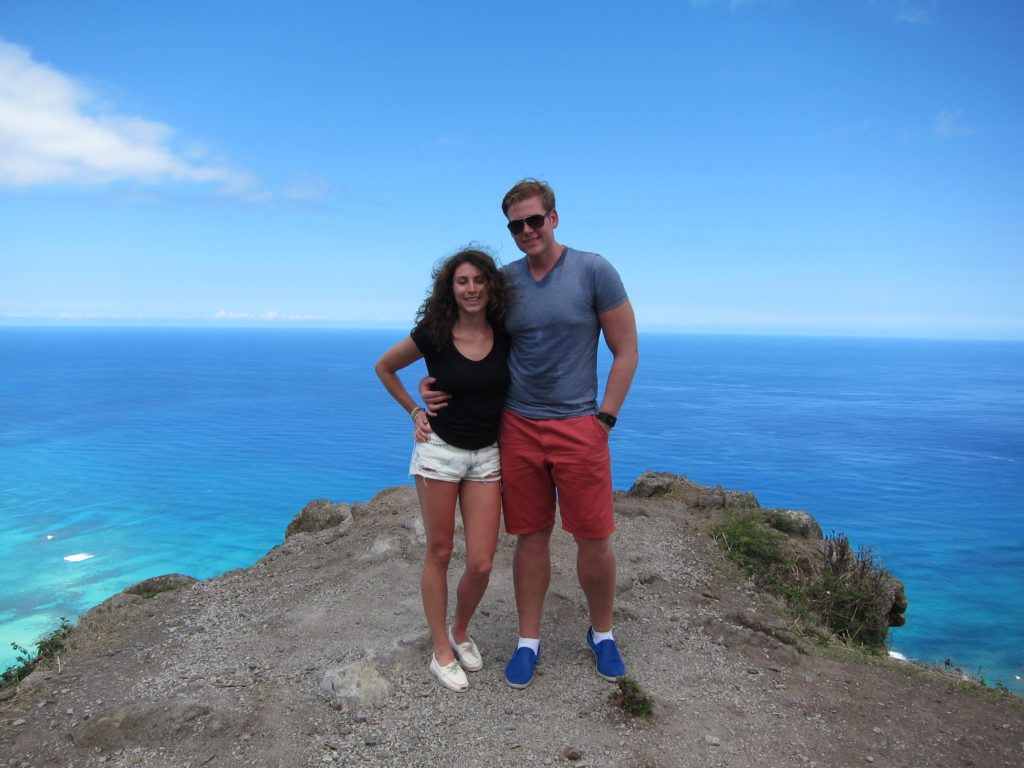 While it is illegal to do this hike, it is a lot less risky than the Stairway to Heaven. You won't run into officers or any kind of resistance here. It's fairly straightforward to find the spot. It's an easy 40 min hike on paved road to get to the lookout point. The views of Oahu's shoreline and rugged terrain are absolutely gorgeous from the here. This is the last illegal item on this list of fun activities in Oahu… I promise!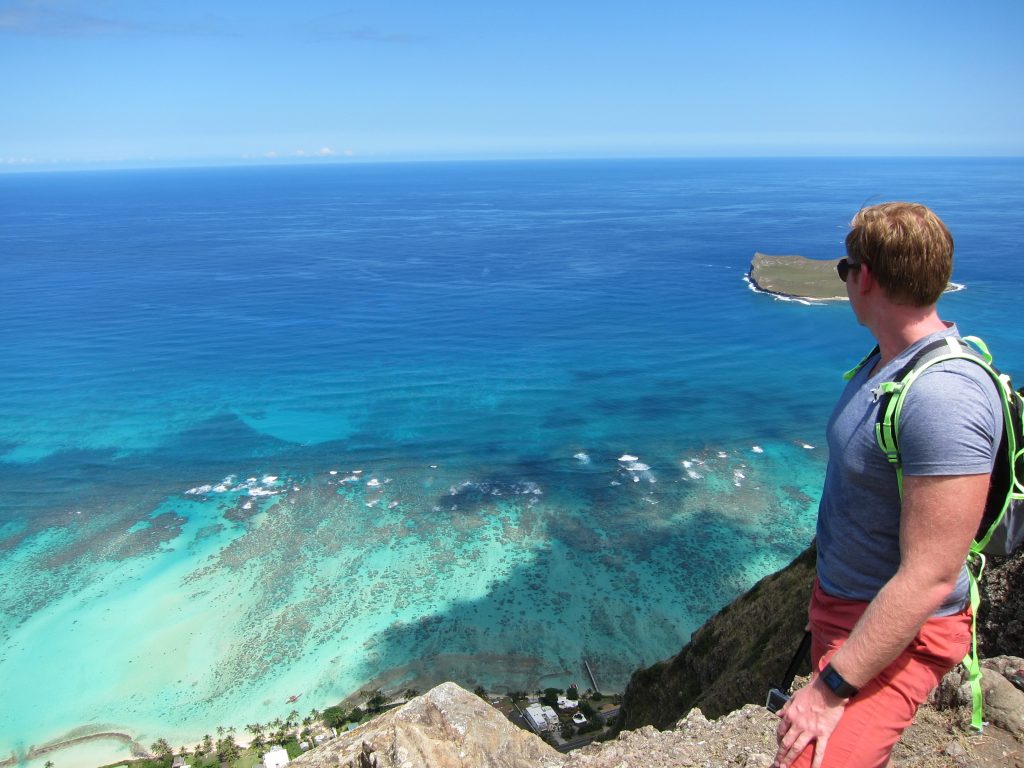 10. Snorkel at Hanauma Bay State Park
Hunauma Bay was formed within a volcanic cone, its curved bay is home to pristine aquatic wildlife. In 2016, it was voted the Best Beach in the United States. It is about a 20 minute drive from Waikiki Beach and offers shuttle services to area hotels.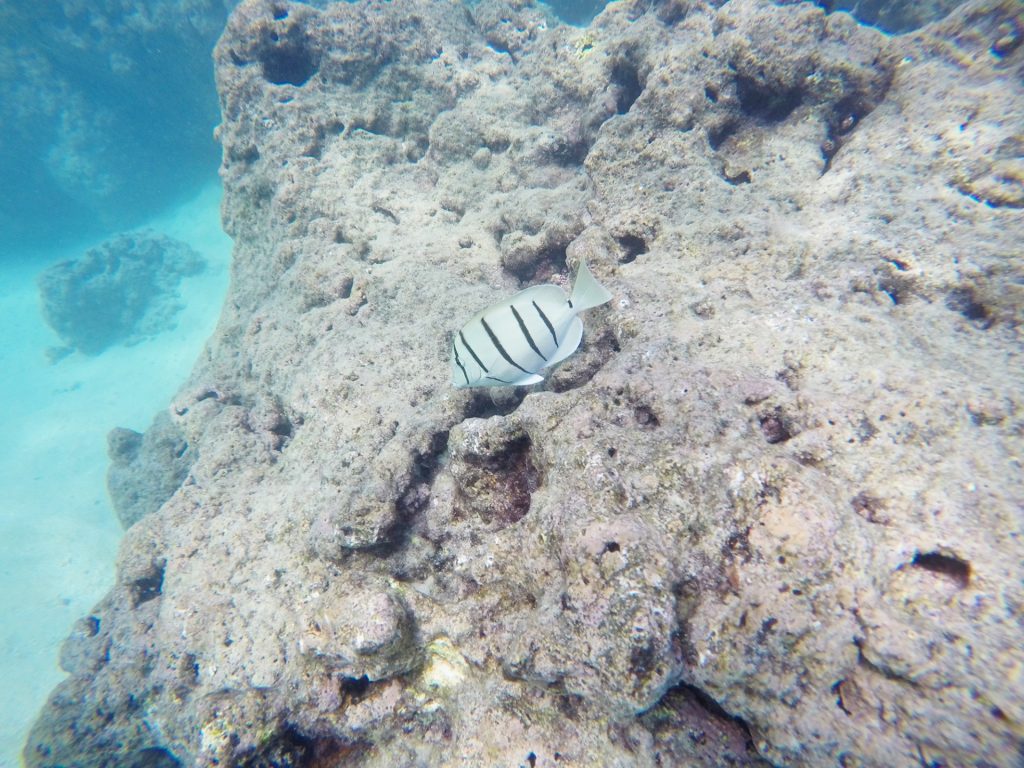 The park's main attraction is the absolutely impeccable snorkeling opportunities with endless corals, fish and other marine species. You can also book tours that include kayaking, snorkeling and visits to the Dole Pineapple Plantation. This makes Hanauma Bay one of the top things to do in Oahu.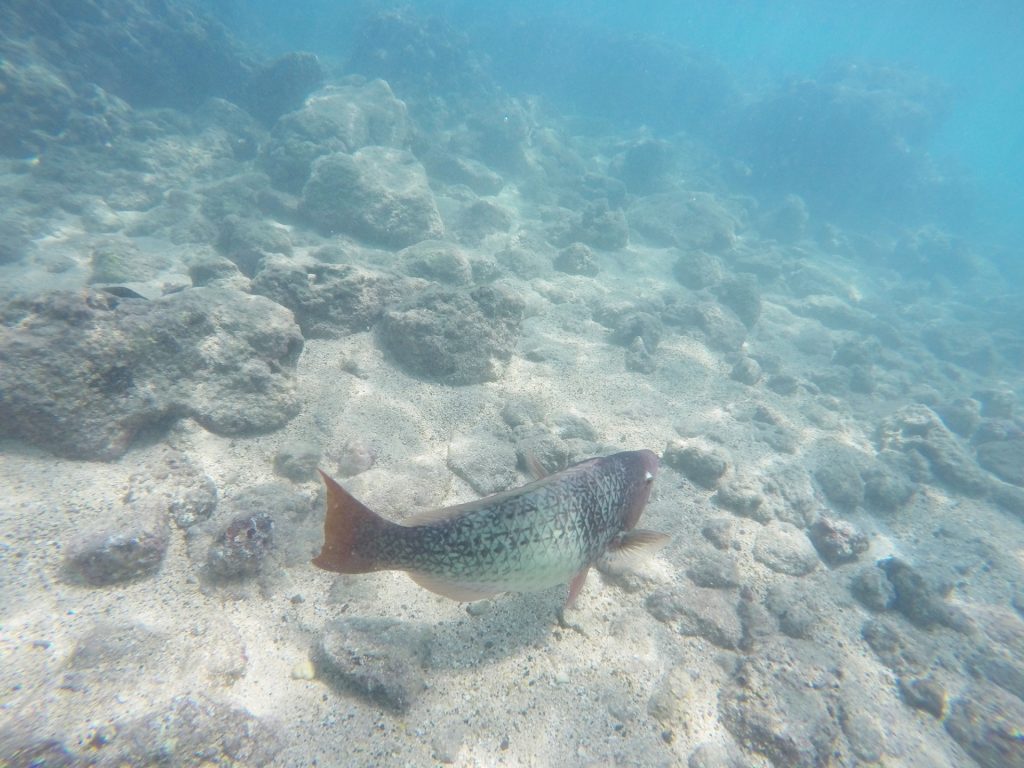 It costs $7.50 to enter the park. Before snorkeling, you must first watch an informational video on marine preservation and safety rules. This place does tend to get very busy, so I would recommend you arrive early.
11. Visit Kualoa Ranch
Kualoa Ranch is the famous backdrop for many Hollywood films such as 50 First Dates, Jurrasic Park and Godzilla. Also, the beautiful valley was also the setting of popular TV shows like Lost and Hawaii Five-O. Kualoa ranch is also an operational cattle ranch and nature preserve.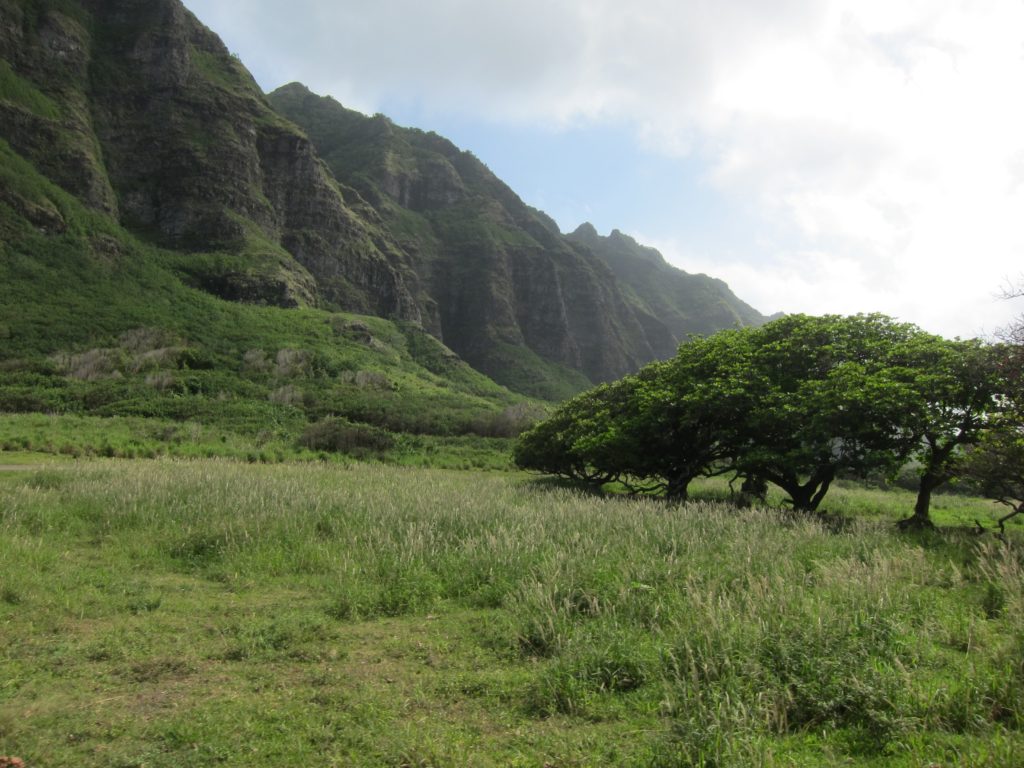 Our tour guide had a little raptor toy which he used it to take this amazing and hilarious photo (above). If you want to book a tour, or find out more information, visit the Kualoa Ranch website.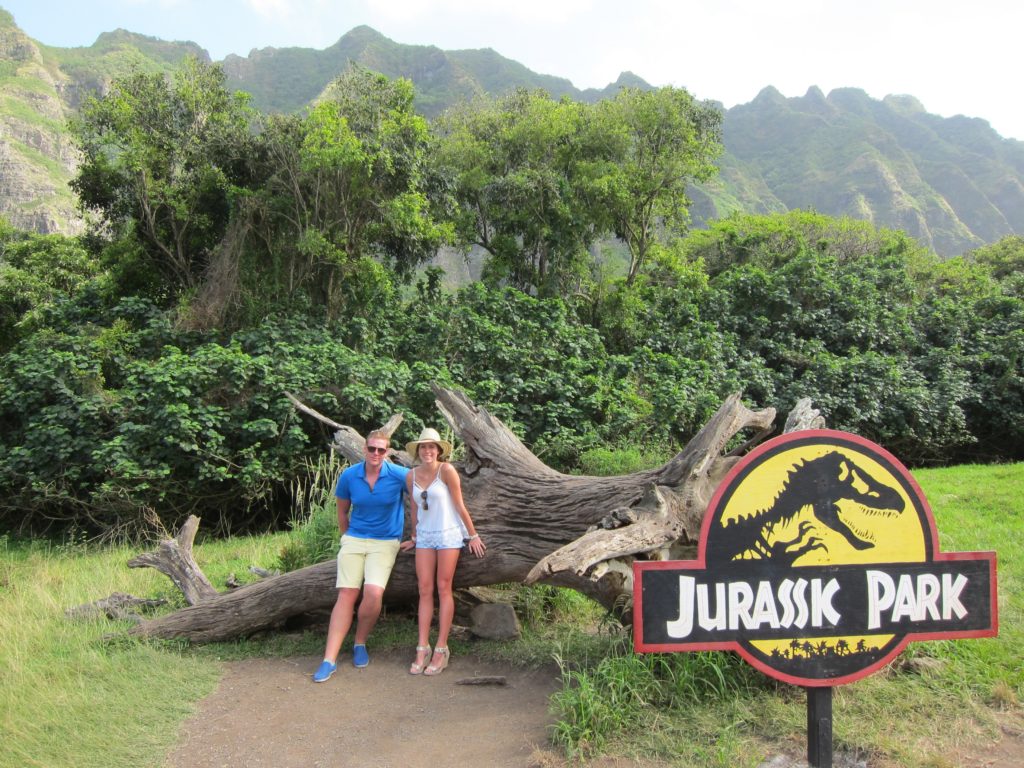 12. Hike the Makapu'u Point Lighthouse Trail
This 3.2 mile trail is paved throughout, but offers little shade from the hot sun. You'll get to see the historic Makapuu lighthouse, the Koko Crater and Oahu's southeastern coastline.
13. Visit Waikiki Beach
The island is most famously known for Waikiki Beach, and that's why it's one of the top things to see in Oahu. It's located within the capital city of Honolulu on Oahu's south shores. Waikiki was the retreat area for Hawaiian royalty in the 1800s. Since then, large resort hotels became drawn to the land. It's now the most touristy and the most densely populated beach on the island. It's also synonymous with luxury, fine-dining and lavish consumerism.
You've got to stop here when you visit Oahu. I recommend planning a fancy morning brunch, a quick dip and a walk around the surrounding area. The top things to do in Waikiki include relaxing, dining, shopping & water sports.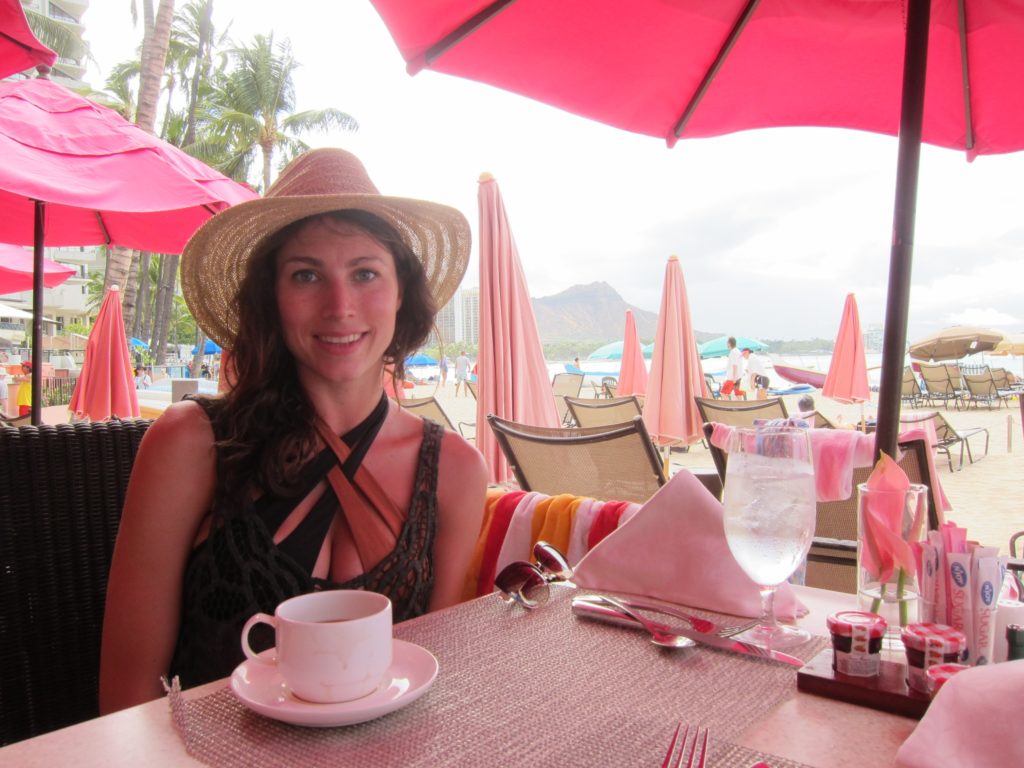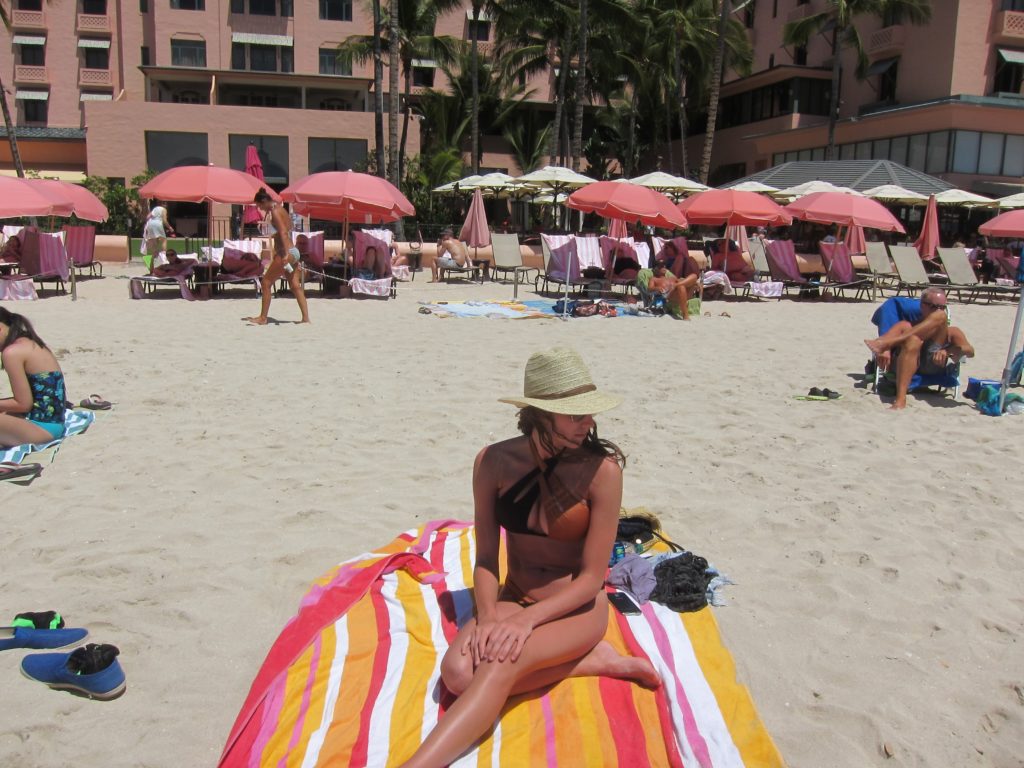 14. Pay your respects at Pearl Harbor
The Pearl Harbor Aviation museum displays many exhibits related to the Japanese surprise attack on Pearl Harbor during WW II. Click here for more information about how you can plan a trip to Pearl Harbor.
15. Eat a Pineapple from the Dole Plantation
The Dole Pineapple Plantation is one of the top places to go in Oahu. It offers family friendly fun in their pinapple express train tour, their plantation garden tour and their pinapple garden maze. You must purchase a fresh pin apple here!
Another important food crop grown on the island of Hawaii is cocoa. If you have time to visit Kauai, make sure to sign up for a chocolate farm tour.
16. Splash into Water Sports
Many companies to rent from, great views of the island and some of the best activities in Oahu!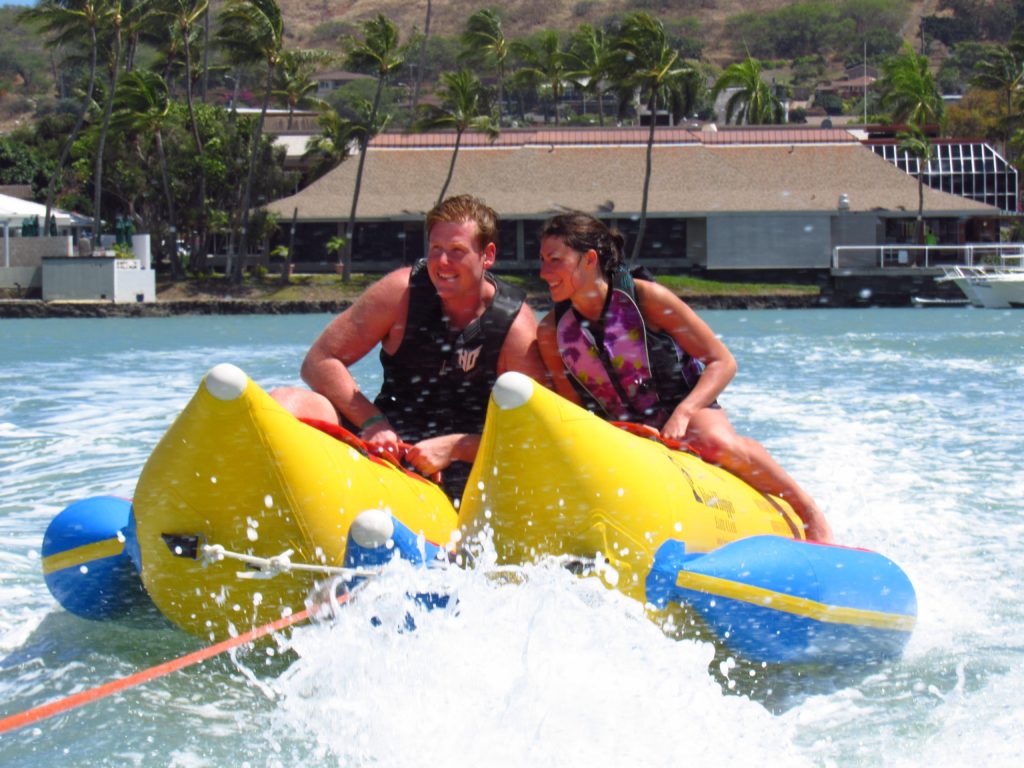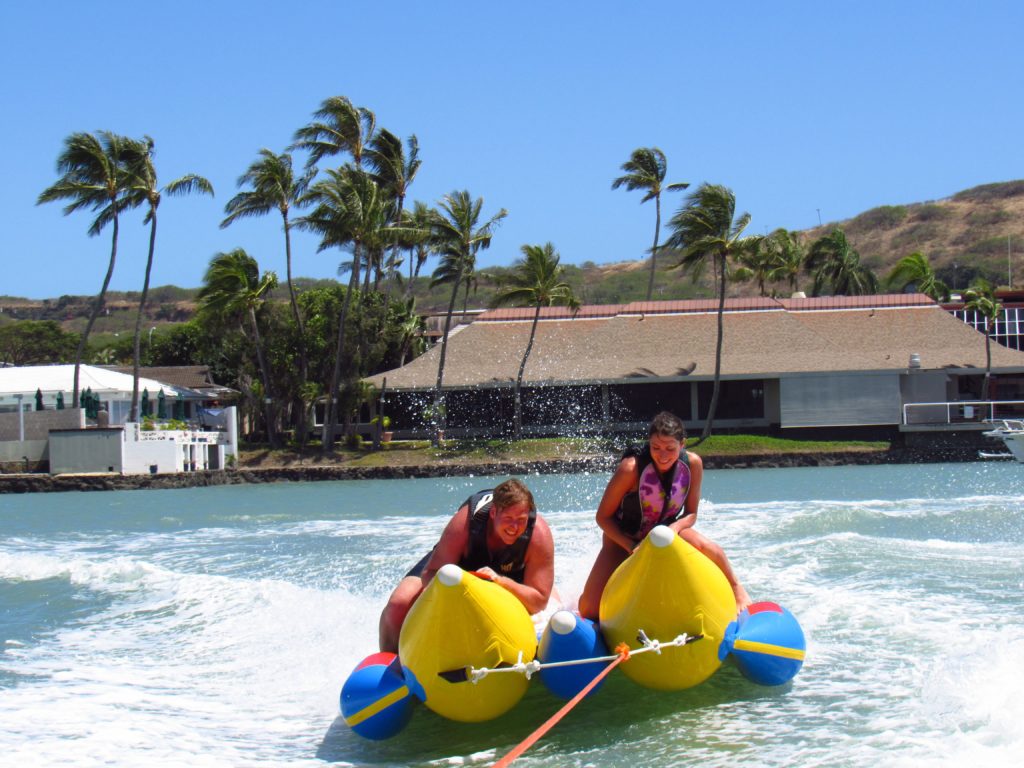 If you think I missed one of the top bucket list adventures inOahu? Please comment below.
For more help with planning your trip , check out Oahu Map of Attractions.
You may also enjoy Oahu Restaurants.
Visiting the big island? Click here for more exciting things to do.