This Oahu attractions map includes all the best of Oahu. You'll find beaches, hiking spots, cultural sites, and museums on this Oahu sightseeing map! Also, top-rated restaurants.
Oahu is a beautiful Pacific island that's popular for sand, sun & surfing. Find out more about what adventures await on the island of Oahu!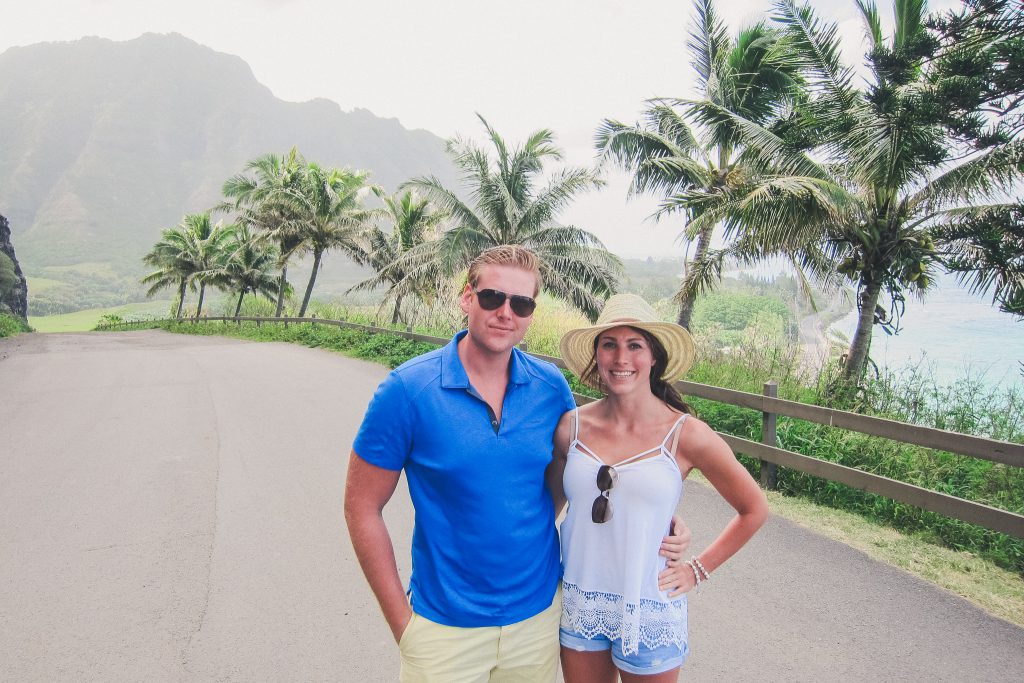 This tourist map of Oahu is completely downloadable — just expand then select the download option from the three-dot menu.
You can also use our Oahu points of interest map to get navigation & driving directions. Best of all, you can save this map for offline use.
Oahu Attractions Map
The popular Oahu island attractions are shown with blue pins, except for beaches. You'll find a map of Oahu beaches by selecting yellow pins. Green pins mark some of the recommended restaurants.
How to Use This Map: If you click the tab at the top left corner, you'll be able to select specific layers. Click the checkmark to select or hide specific categories.
Save This Map: Click the brackets in the top right corner to expand the map in full view. It will open in a new tab. Under the map title, right of the map description, there is a star. Click this star and the map will be saved to your Google account  in Google Maps. You can access it later from your computer or device. On desktop, go to Google Maps and click 'Your Places,' and 'Maps.' On app view, select 'Saved, scroll down and click 'Maps.'
Where to Stay in Oahu
Check out our extensive guide on Oahu's best hotels.
Budget
Hotel Renew is the best budget boutique hotel on the island! Ultra-modern rooms include balconies with views of Waikiki Beach. Waikiki Beach is close to some of the hottest Oahu Hawaii attractions!
Book your stay at Hotel Renew.
The Waikiki Grand Hotel is located in the heart of Waikiki with nearby access to the best beaches, nightlife, and dining. You'll also enjoy incredible views of the Diamond Head crater from this hotel.
Find out more about the Waikiki Grand Hotel.
Mid-Range
The Moana Surfrider offers private Waikiki beach access, modern amenities, and world-class spa services. It's close to all the top Oahu attractions near Waikiki.
See more pics of Moana Surfrider.
The Hilton Hawaiian Village at Waikiki Beach is something special! The hotel offers daily activities like hula, yoga, and water sports. They also host a regular luau!
Check out the Hilton Hawaiian Village Hotel.
Affordable Luxury
Turtle Bay Resort is unique because it's the only luxury hotel on Oahu's famous North Shore. Turtle Bay has some of Oahu's best fine dining restaurants. The North Shore is where you'll find some of the most exciting things to do on Oahu Hawaii —like snorkeling with turtles, cage diving with sharks, and ziplining.
Reserve your room at Turtle Bay Resort.
The Royal Hawaiian is one of Oahu's most iconic and historic luxury hotels. It's also known as the 'Pink Palace.'
Book your stay at the Royal Hawaiian Hotel.
Ultimate Luxury
Oahu's Four Seasons Hotel is located on a private stretch of Oahu's Western Shore. It's laidback luxury at it's finest!
Find out more about the Four Seasons at Ko Olina.
Villas at the Jewel of Waikiki are some Oahu's most sought after rooms. Guests will enjoy a rooftop infinity pool and a full-service spa. Rooms are adorned in Italian Marble and Maroccan accents. Each villa has a private kitchen, hot tub, balcony plus much more!
View prices for the Jewel of Waikiki.
Oahu Attractions Map
Oahu is part of the volcanic island chain known as Hawaii. Oahu is the most densely populated of the Hawaiian islands, and it's home to the capital city of Honolulu.
Oahu's North Shore is one of the best places in the world for surfing. It's known to bring 40 ft waves! You can also find amazing coral reefs and sea turtles on Oahu's shores. Find the perfect outfit for every Oahu adventure.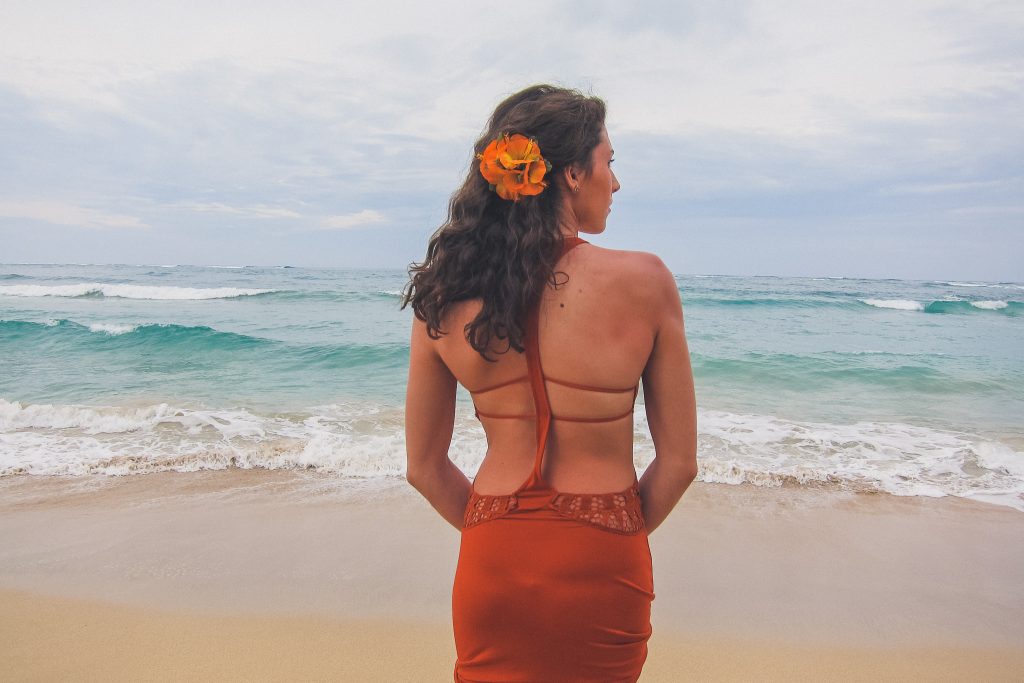 Besides water sports, Oahu's unique topography provides excellent hiking opportunities, breathtaking landscapes &, even, a few waterfalls to explore.
The island of Oahu also has a famous military history. It's the site of the legendary Pearl Harbor. This is where the Japanese Navy sneakily attacked America —an action that catapulted the United States into WWII.
We've included all of these exciting attractions (and more) in this Oahu sites map!
Beaches
The island of Oahu boasts over 100 miles of lush coastline. These stunning beaches are surrounded by idyllic palms and plenty of colorful vegetation.
Beaches are some of the most exciting Oahu tourist attractions, and these are the best beaches in Oahu!
Laniakea Beach
Laniakea Beach is one of the most famous beaches on the island of Oahu. It's also known as "Turtle Beach," and it's one of our favorite Oahu attractions for families!
Laniakea Beach is located on Oahu's North Shore.
It's a popular place to spot the Hawaiian green sea turtle. The turtles will climb right onto the beach and sunbathe for hours. Turtles frequent Laniakea Beach because it is surrounded by a rocky cove which is an excellent food source for the turtles.
The Hawaiian green sea turtle is an endangered species, so it's extremely important to show them respect. The best way that you can help to care for these precious creatures is to keep a safe distance — Stay at least 10 feet away from the turtles!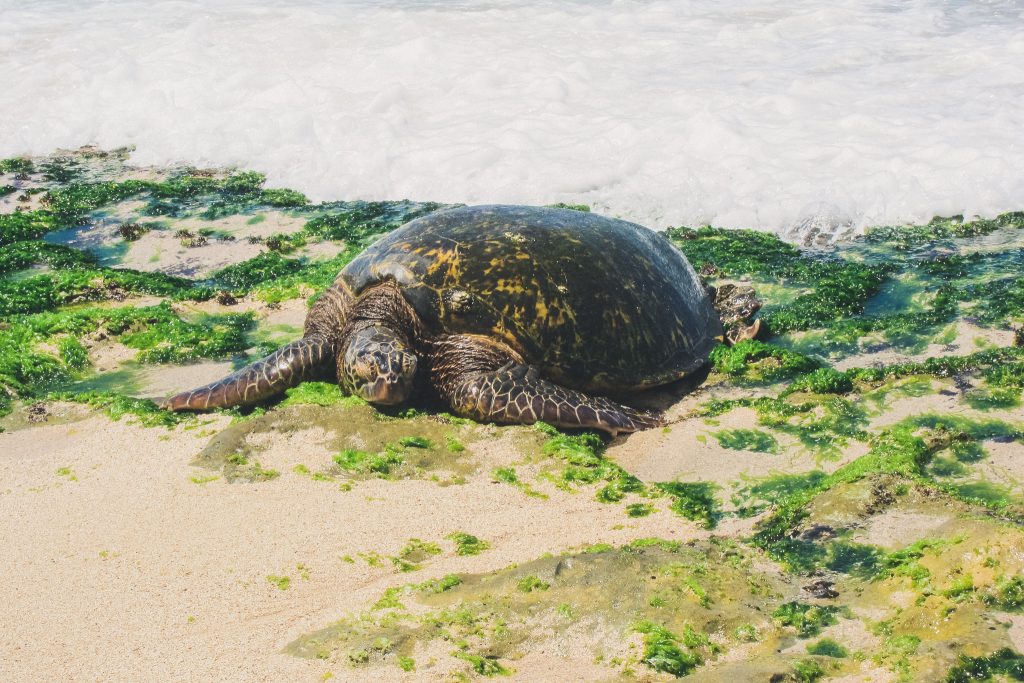 Book your Oahu Turtle Snorkel today!
Volunteers are usually on the beach to protect the turtles. They ensure that tourists aren't getting to close. Also, they track and photograph the turtles, helping to identify new ones.
The best time to spot turtles on Laniakea Beach is 11 AM through 1 PM. Spotting sea turtles is one of the most memorable things to do in Oahu for free!
Waikīkī Beach
Waikiki Beach is one of the most famous attractions in Oahu. It's located on Oahu's South Shore near Honolulu.
Waikiki Beach is a historic place. In the 19th and 20th Centuries, it was the playground for Hawaiian royalty. In the 20th Century, many of the island's first hotels sprung up on Waikiki Beach. One of the most famous resorts on Oahu is the Royal Hawaiian Hotel. It opened in 1927.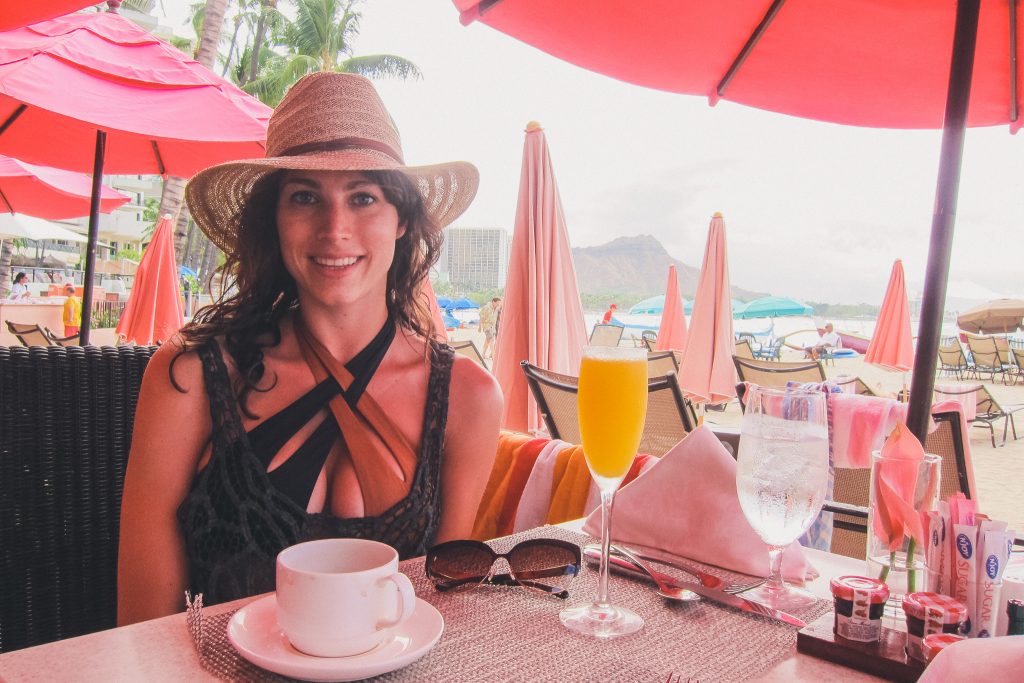 Today, you can still visit and stay at the Royal Hawaiian Hotel. It's upheld its glamour after all these years. Today, the Royal Hawaiian is a luxury 5-star resort and an icon on the island.
Even if you are not a guest at the Royal Hawaiian, you must check it out! It's one of the best attractions in Oahu.
Besides hotels and resorts, Waikiki Beach is also famous for shopping, dining, and entertainment. There are many amazing restaurants on Waikiki Beach. Duke's is one of the most iconic!
Duke's is named for Duke Kahanamoku. He was a surfing legend known for riding monster waves. He helped to modernize and solidify surfing culture. I highly trying local cuisine at this lively beachfront restaurant!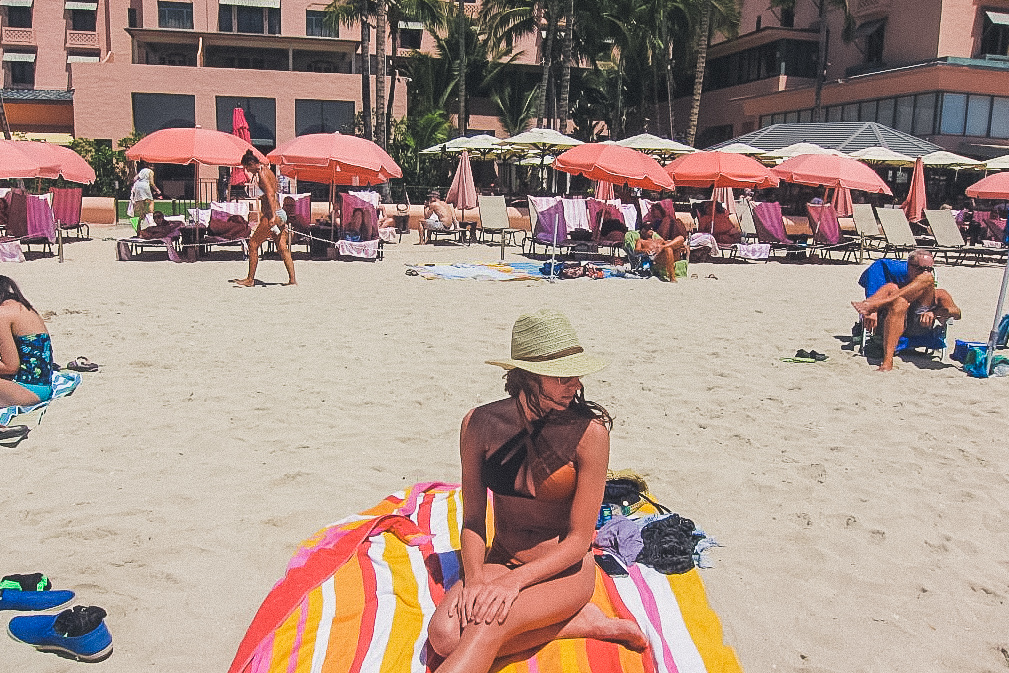 All the best luxury designers and high-end boutiques can be found on the streets of Waikiki Beach. Also, tiki bars and rooftops. You can find the best nightlife activities on Oahu at Waikiki Beach.
Waikiki Beach is a great place to enjoy water sports. You can parasail, jetski, surf, and scuba dive! These are some of the best activities in Oahu!
Click here to check out this top-rated parasail activity. 
Waimea Bay Beach
Waimea Bay is another North Shore adventure beach — a must see in Oahu! It has a local, laid-back vibe. It's a popular spot among surfers, rock climbers, and thrill-seekers.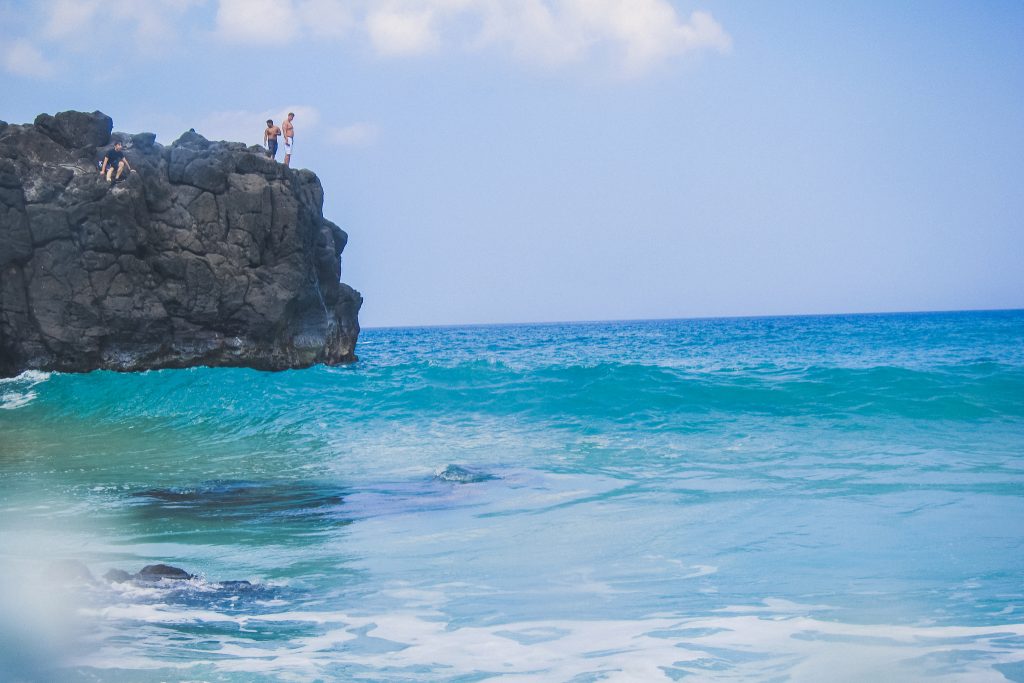 Surfers love Waimea Bay because these shores see 30 ft waves during winter. While this isn't the best time for tourists to enter the water, they can certainly enjoy watching the world's top surfers in action.
Take an exciting surfing lesson while you're in Oahu!
One of my favorite Oahu Hawaii activities was jumping off of the giant rock at Waimea Bay Beach Park. It's an Oahu rite of passage.
The hardest part of this activity is climbing the rock. Be careful! Bring water shoes so that you don't slip! The rock face is jagged and unforgettable. The giant rock at Waimea Bay is one of the most exciting Oahu Island attractions!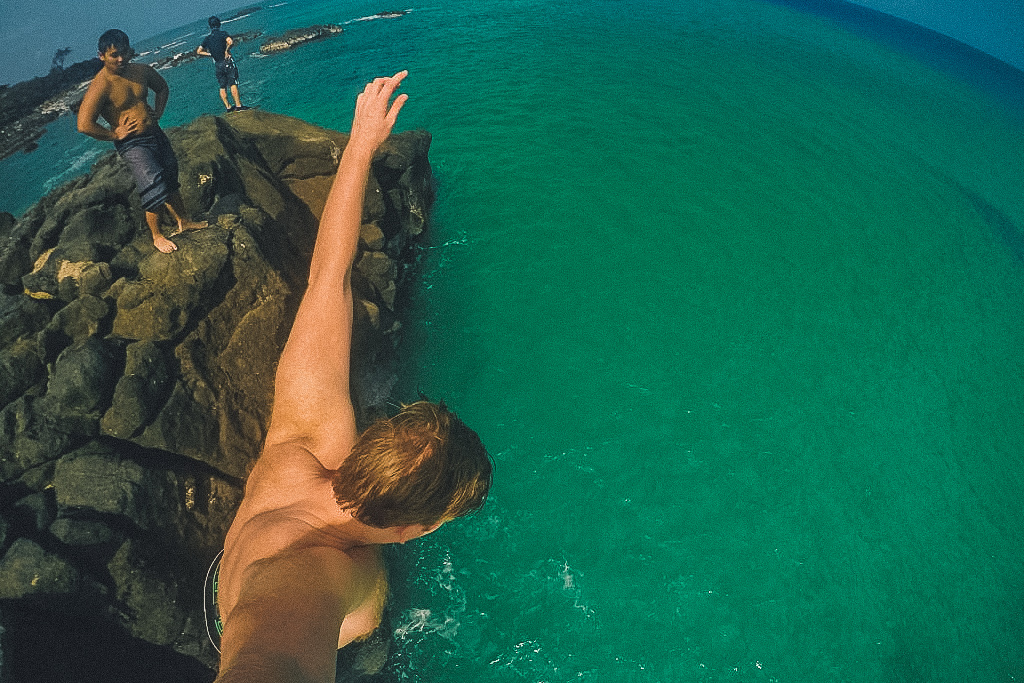 It's important to note that this activity is impossible during the winter season when the waters are much rougher. However, even during summer, it's important to be cautious and follow weather advisories.
Underneath the rock, there are also some cool tunnels that you can swim through. This is best for experienced swimmers. It's one of the most unique Oahu island activities!
Besides the thrilling activities at Waimea Beach, there's also a lot of peaceful and relaxing activities to enjoy. Appreciate the turquoise blue waters. On a calm day, the water is exceptionally clear.
Waimea Beach is also an excellent spot to go snorkeling. Hopefully, you'll find some sea turtles! Swimming with sea turtles is a completely different experience than watching them basking on the shores. It's one of the most fun things to do in Oahu!
For all these reasons, Waimea Bay is one of the most unforgettable Oahu Hawaii attractions!
Hanauma Bay
One of the best things to do on Oahu is snorkeling at Hanauma Bay. It's a once-in-a-lifetime snorkeling opportunity unlike any other!
Hanauma Bay is an excellent snorkeling location because of its calm, shallow, waters and soft, white, sands. The bay is abundant fish and many other marine species. Over 300 fish species are native to Hanauma Bay! Snorkeling at Hanauma Bay is one of the most fun things to do on Oahu!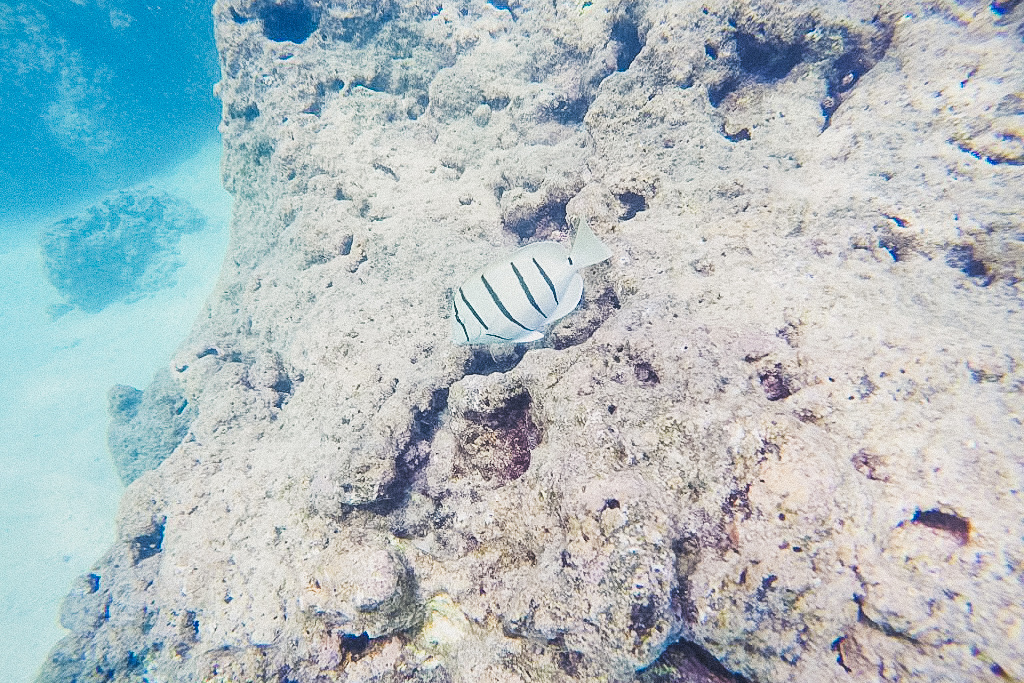 Hanauma Bay is a nature preserve. It's one of the most dynamic marine ecosystems in Hawaii. Special care is taken to ensure that Hanuma Bay's marine wildlife is preserved and protected. For this reason, the city limits how many people can visit Hanauma bay at one time.
The bay is closed on Tuesdays to give marine life a break from tourists. In addition to these regulations, you must pay a small fee to enter the nature preserve. Although, it's absolutely worth it!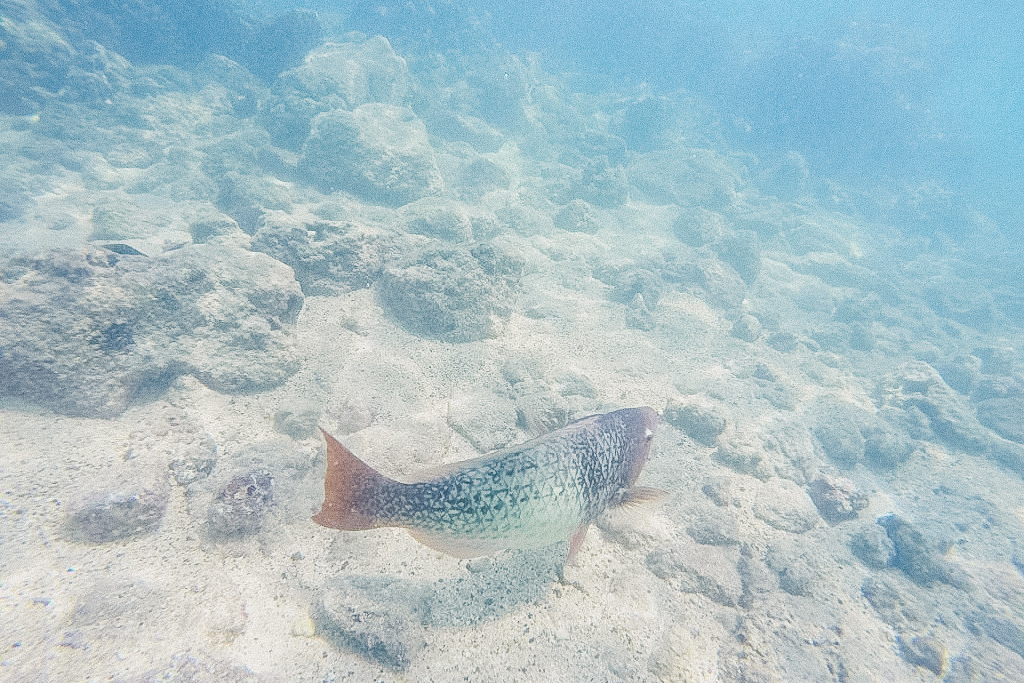 Reserve your tickets for Hanauma Bay snorkel.
Before guests can snorkel at Hanauma Bay, they must watch a brief informational video about conservation and rules inside the nature preserve. Respecting these regulations is an important thing you must do in Oahu.
Hanauma Bay has plenty of coral reefs to explore. Past that, there are crystal clear waters and interesting sea caves to discover. Finding secret sea caves is one of the most memorable & fun activities in Oahu!
Hiking
Hiking is one of the best activities to enjoy in Oahu Hawaii! Many of Oahu's hiking trails gain serious elevation and reward visitors with jaw-dropping panoramic views.
There are over 50 hiking trails on the island of Oahu despite its small size. We'll discuss some of the most memorable and most beautiful hikes. These are some of the top attractions on Oahu!
Diamond Head
Diamond Head State Monument is one of the top destinations on our Oahu activities map. Diamond Head is located east of Waikiki Beach. It's an interesting geologic and historic site.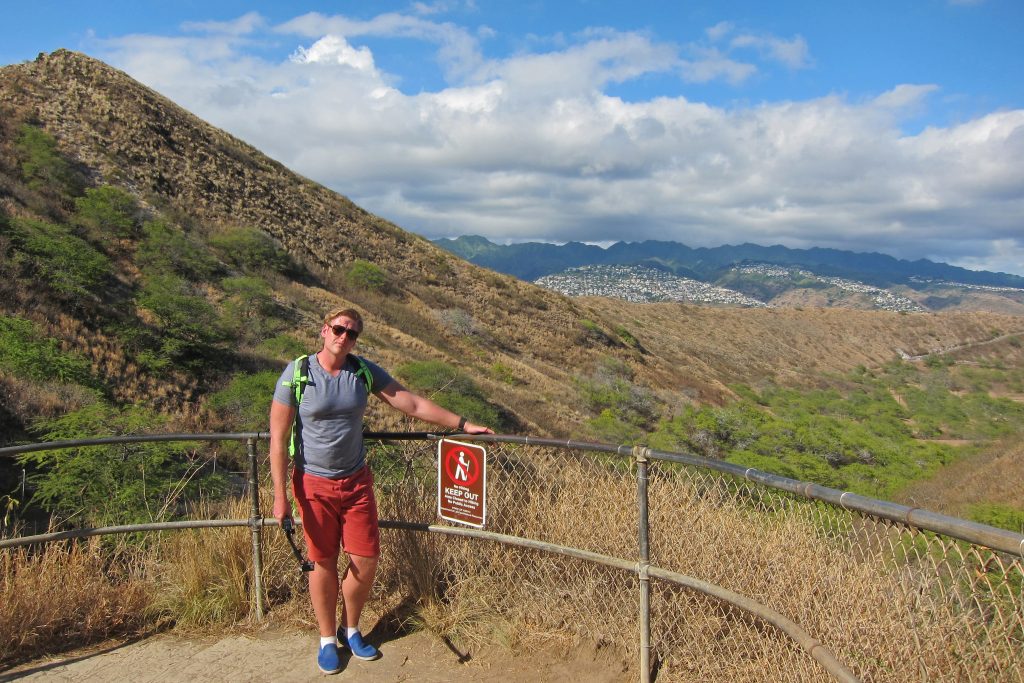 Diamond Head is the name of a saucer-shaped crater. This crater formed during an explosion over 300,000 years ago! From viewing locations, you'll be able to appreciate the size and shape of the crater.
Book your Diamond Head adventure. Complete with guide and transportation.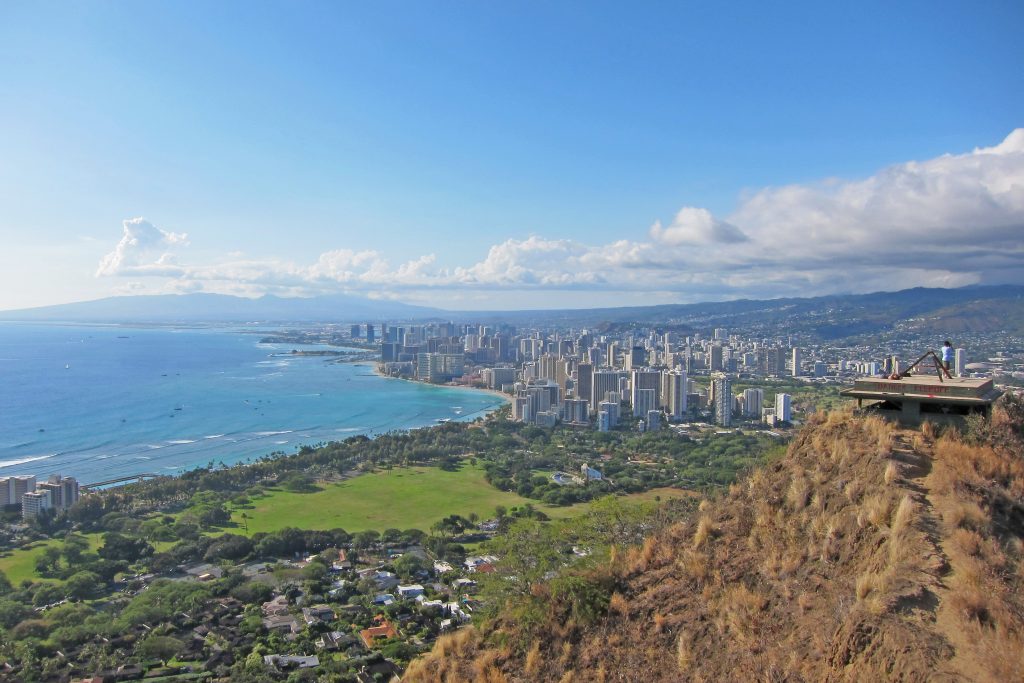 The Diamond Head Hike is relatively short — less than a mile from the trailhead to summit. However, it's quite steep and strenuous, especially in high heat. The summit at Diamond Head is one of the top attractions in Oahu.
During this trek, you'll climb through the stairs of a tunnel and enter a historic Fire Control Station. The station was built in 1911 by the military. It helped to direct artillery fire.
From the top of Diamond Head, you'll enjoy unparalleled views of Waikiki Beach and Honolulu. You'll also be able to spot a navigational lighthouse built in 1917. This one one of my favorite Oahu tourist spots!
Manoa Falls
Manoa Falls is a 150-foot waterfall. Views along the trail are exceptional. It's an unforgettable jungle experience! Try to spot the eucalyptus and guava plants along your route.
Expect the trail to be a bit muddy — this is the rainforest after all! The hike consists of a 1.7 mile out and back trail that takes most people 2-3 hours to complete. The hike is rated moderate in difficulty. It's one of my favorite tourist attractions on Oahu.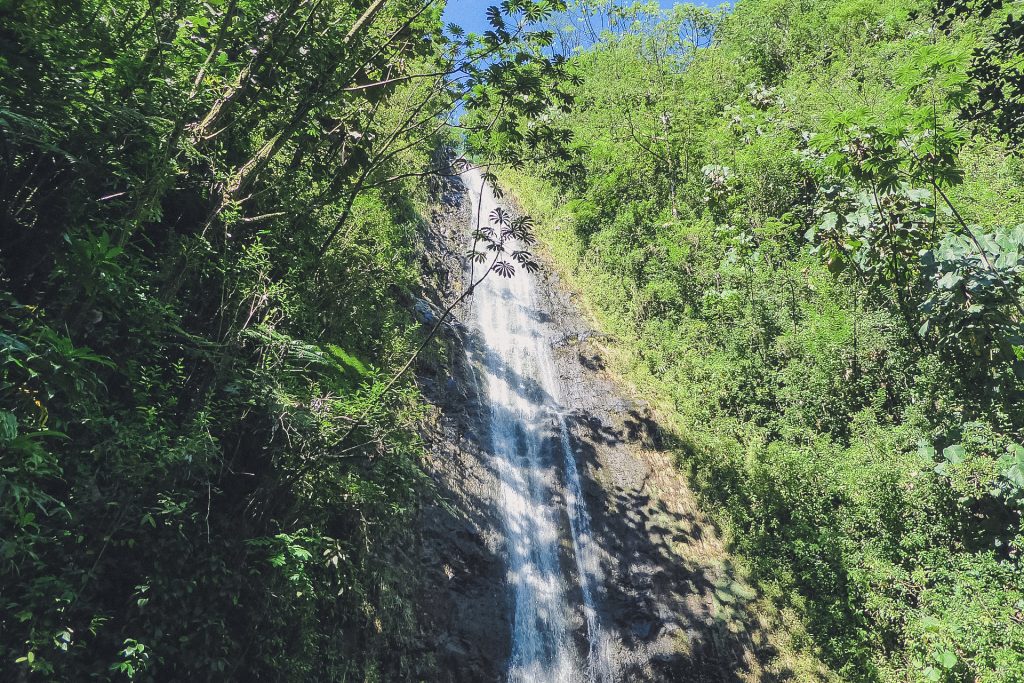 FUN FACT: The Jurrasic Park movie was shot here. Also, many scenes from the hit TV show Lost!
Swimming in the water at Monoa Falls is not recommended. There are large rocks that move around, so it can be dangerous.
Make sure to visit the Lyon Arboretum when you hike to Manoa Falls. This is one best places to visit in Oahu!
The Lyon Arboretum is a botanical garden located in Manoa Valley. It's one of the best places to go in Oahu for hiking, and it's not too far from Waikiki.
The Manoa Valley region consists of tropical rainforests. You'll find over 6,000 tropical plants in Manoa Valley.
Waimea Falls
Hiking to Waimea Falls is one of the iconic things to do in Oahu! It's much less strenuous than the Manoa Falls hike. It's a 1.9 mile out and back trail that's rated easy. Most of this trail is paved.
Historically, Oahu residents used to be able to drive up to this park. They'd gather and watch cliff divers plunge over the falls. It was also the site of many hula performances.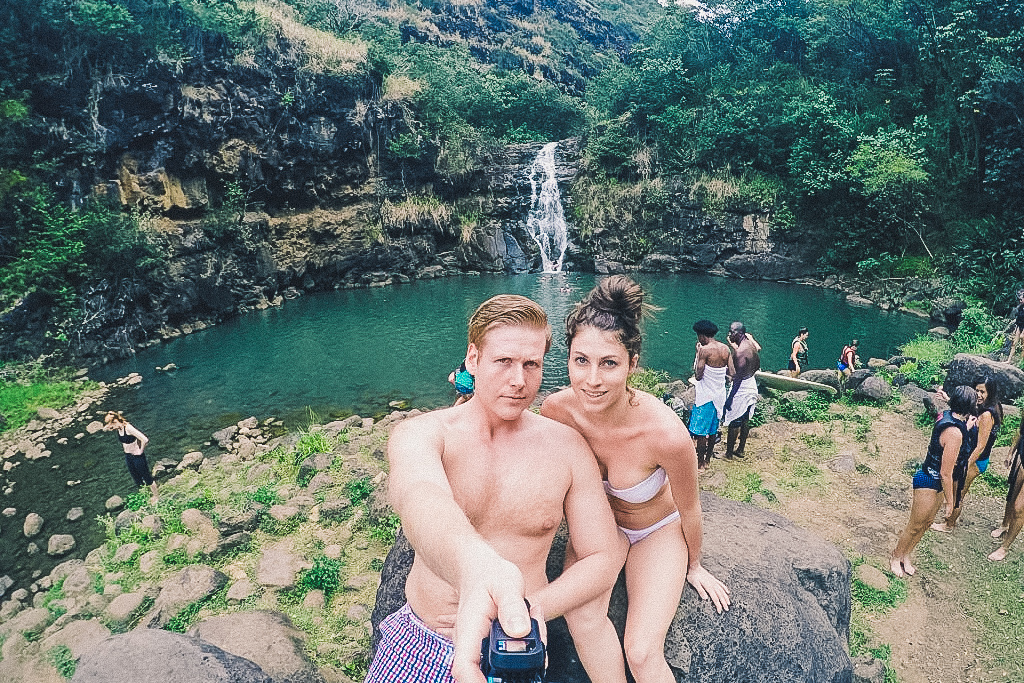 Check out this top-rated Oahu adventure tour.
The park was eventually turned into a non-profit committed to preserving Hawaiian culture and community. You can often find workshops, tours, art displays, and performances here. Sign up for a tour or workshop. It's one of the best places to go on Oahu for a truly local experience.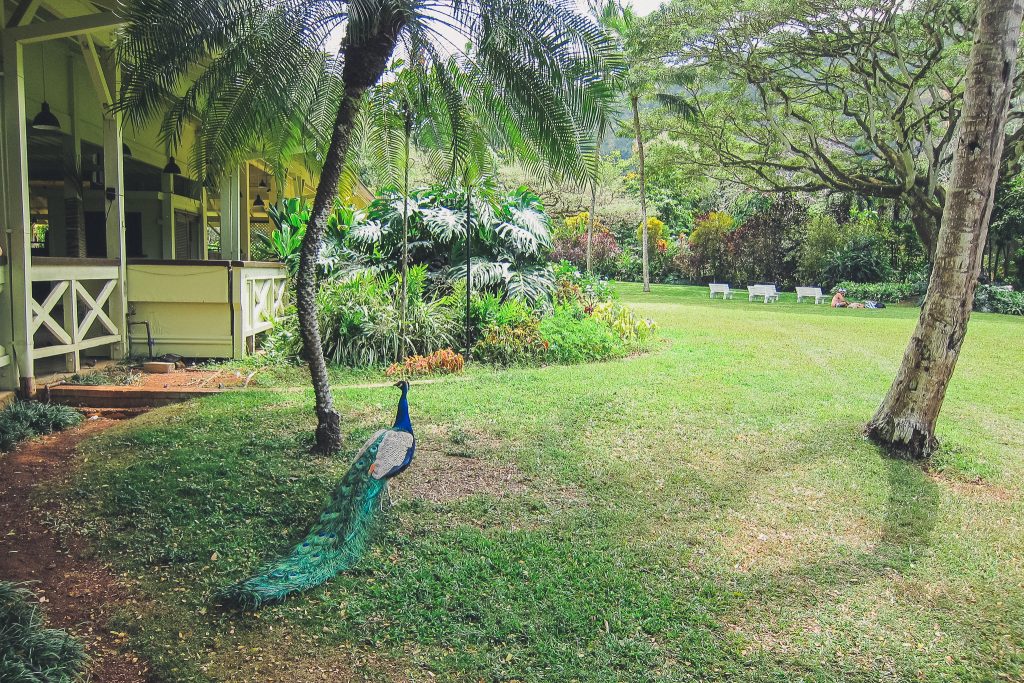 Waimea Falls Park also has a lovely botanical garden. This is one of the top tourist attractions in Oahu. Waimea Valley Park has over 52 themed gardens! There are over 5,000 tropical and subtropical plants to discover. We spotted a beautiful peacock here!
Once you get to the Waimea Falls Waterfall, you can jump right in and swim under it! You are required to wear a life jacket. Life jackets are provided. It's safe and fun, so it's one of the best Oahu kid attractions!
Koko Head Stairs
Hiking Koko Head is one of the ultimate things to do on Oahu island! There are over 1,000 steps to climb before you reach the top. Although, you'll be rewarded with incredible panoramic views of Hanauma Bay.
The "stairs" are made up of old railroad lines. These lines were placed during WWII to connect to the military's lookout bunkers. At the top, you'll be able to reach the old bunkers.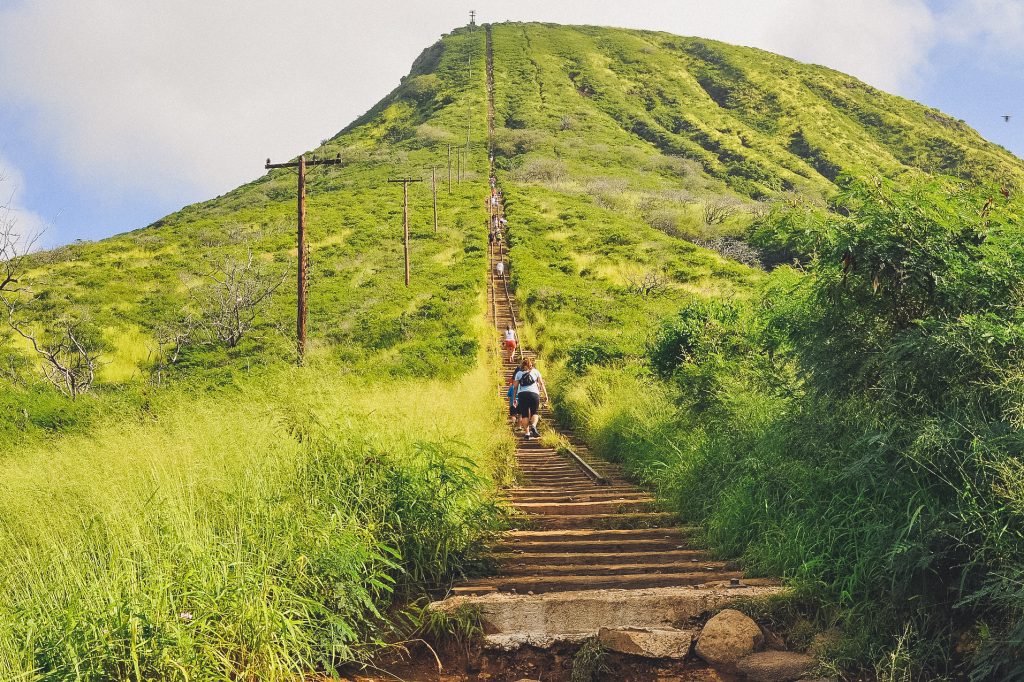 Koko Head is located on the southeastern shore of Oahu. It's a landmass that extends from the nearby Koko Crater — the site of volcanic eruptions that took place over 30,000 years ago! It's one of the most interesting places to go in Oahu!
Cultural Spots
This map of Oahu tourist attractions includes a few important cultural sites. History is an important part of culture. Oahu's history is rooted in Polynesian culture.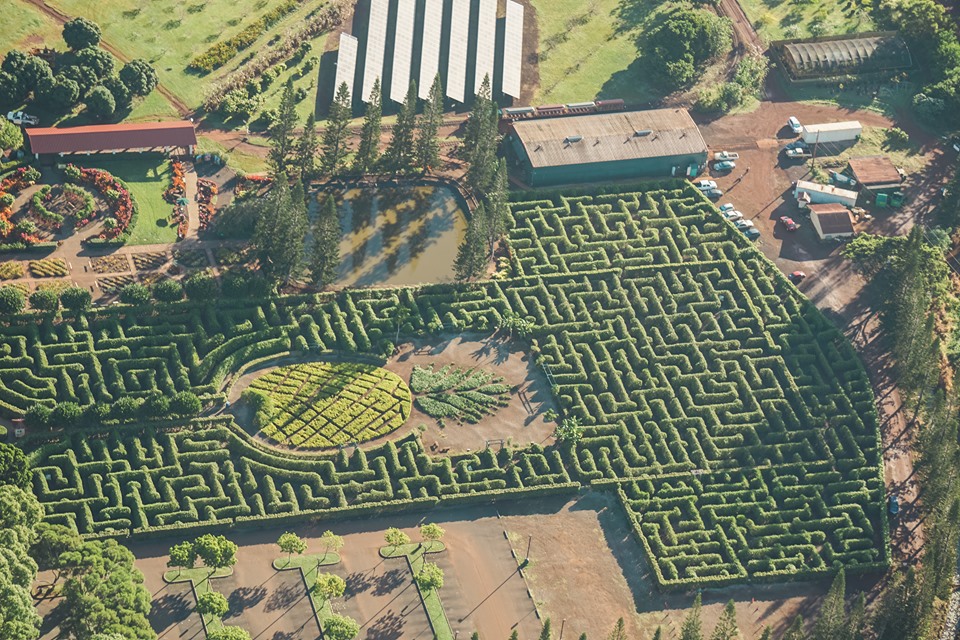 Polynesians first settled the Hawaiian islands over 2,000 years ago! They were skilled in farming and fishing. These early people lived in small communities, and they fought each other for territory. To experience the best of Oahu, you must learn more about Polynesian culture!
Food is another important part of culture. Hawaii's' climate is ideal for farming sugarcane, coffee, pineapple, and macadamia nuts. Fresh shrimp, prawn, and other fish are caught locally in Oahu. That's why you'll find many amazing seafood restaurants on this Oahu map of attractions.
Polynesian Cultural Center
The Polynesian Cultural Center is one of the most visited places on this Oahu map with attractions. The Polynesian Cultural Center's most famous activity is the Luau & evening performance.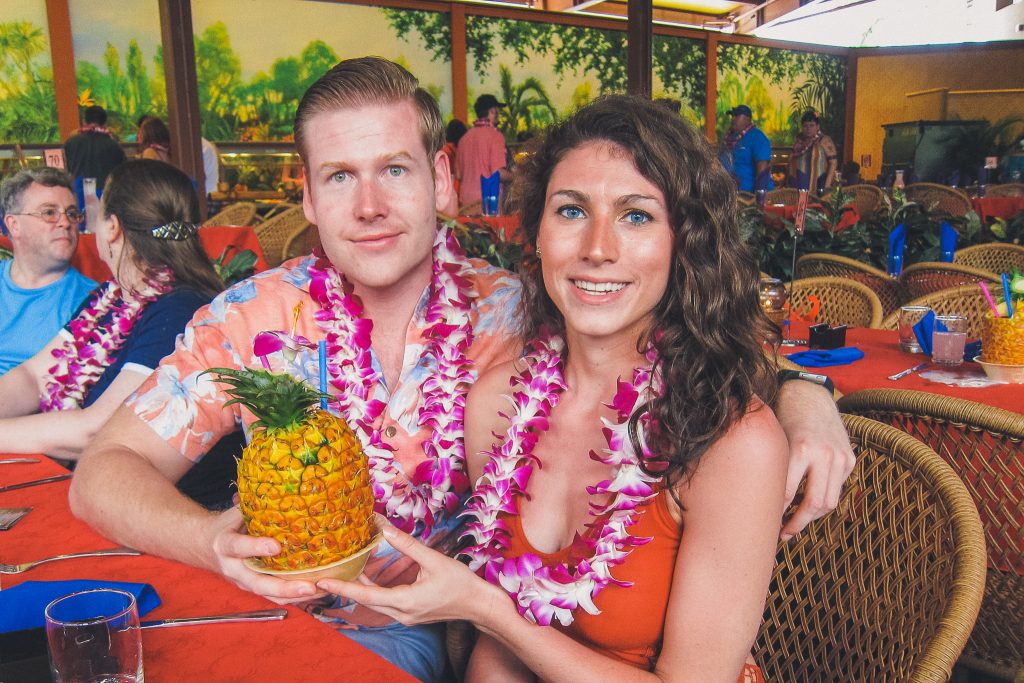 Reserve your spot at the Polynesian Cultural Center's Luau today!
The best Luau on the island is at the Polynesian Cultural Center. A luau is a traditional Polynesian celebration with dancing, music, and food. Traditional foods include pork, poke, coconut milk desserts, and pineapple drinks. The Polynesian Cultural Center's Luau features a delicious buffet assortment, so you'll get to taste as much as possible!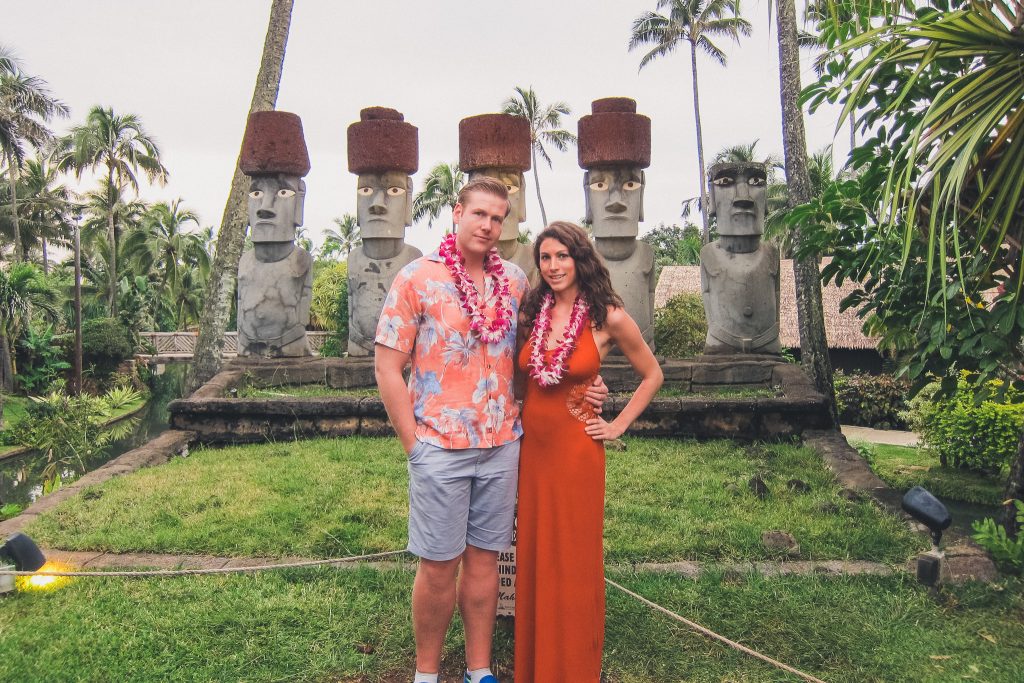 Guests at the Luau will also be given a traditional Hawaiian lei of flowers. After dinner, you'll enjoy the Ha: Breath of Life performance. It's an exceptional, professional, and unforgettable experience.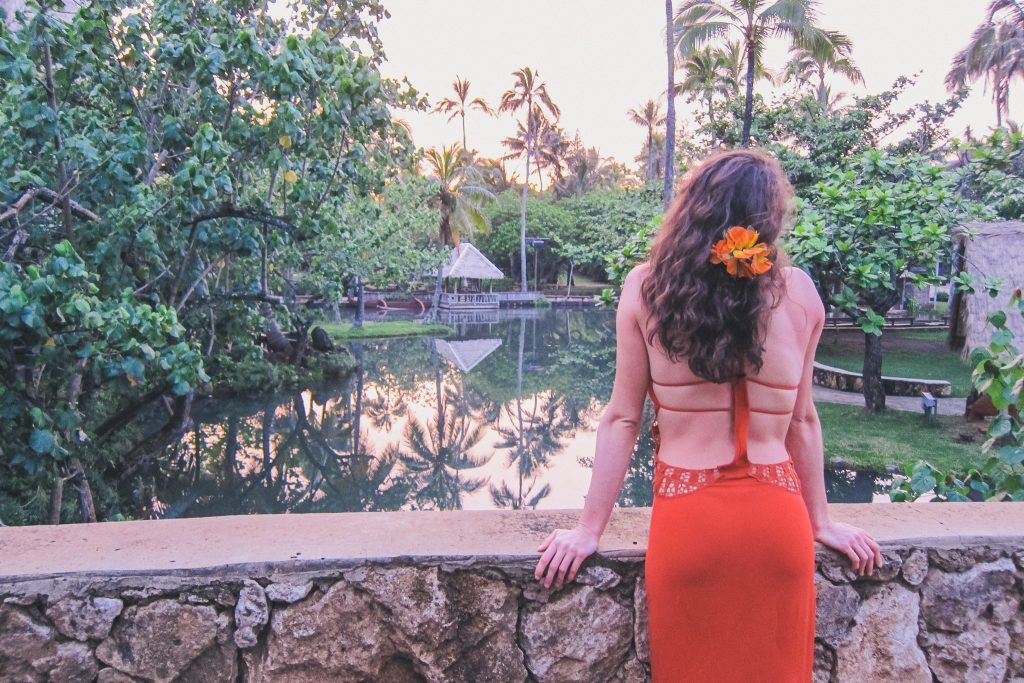 The performance tells the story of Mana through Polynesian dance, music, and fire arts. The special effects are incredible! This is one of the top things to do in Oahu with kids.
However, there's more at Polynesian Cultural Center to explore! Their island villages are a must visit in Oahu.
Dole Pineapple Plantation
If you like pineapple, this is one of the places in Oahu that you can't miss! The Dole Pineapple Plantation offers fun and tasty activities for the whole family.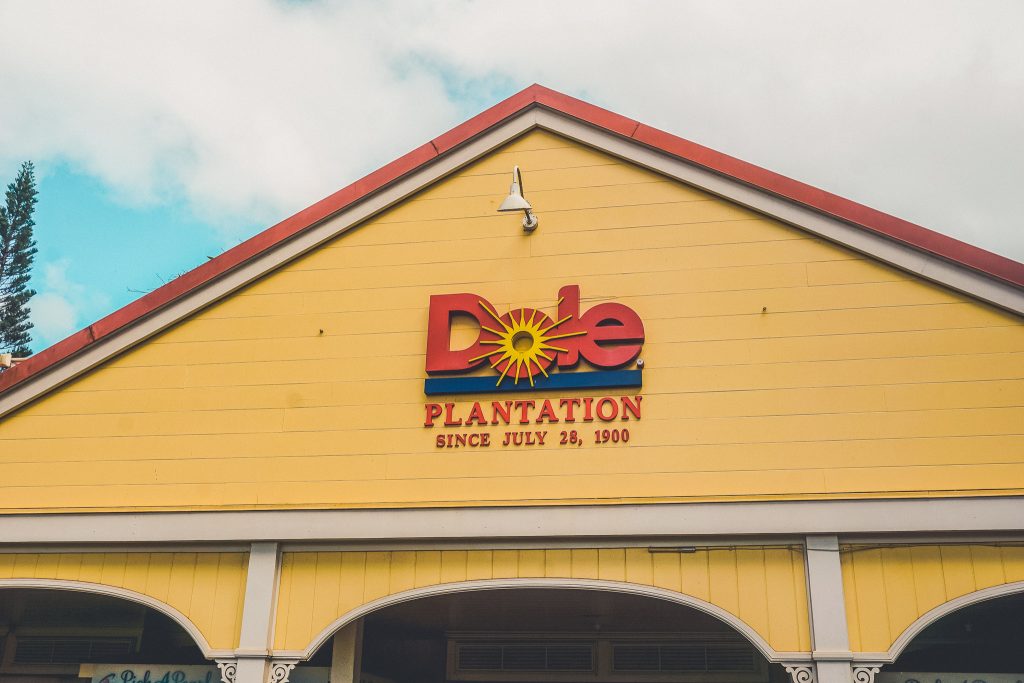 The Dole Pineapple Plantation was first opened in 1950 on the island of Oahu. At that time, it was a mere fruit stand. Today, it's one of the top places to visit in Oahu and it welcomes over a million visitors each year!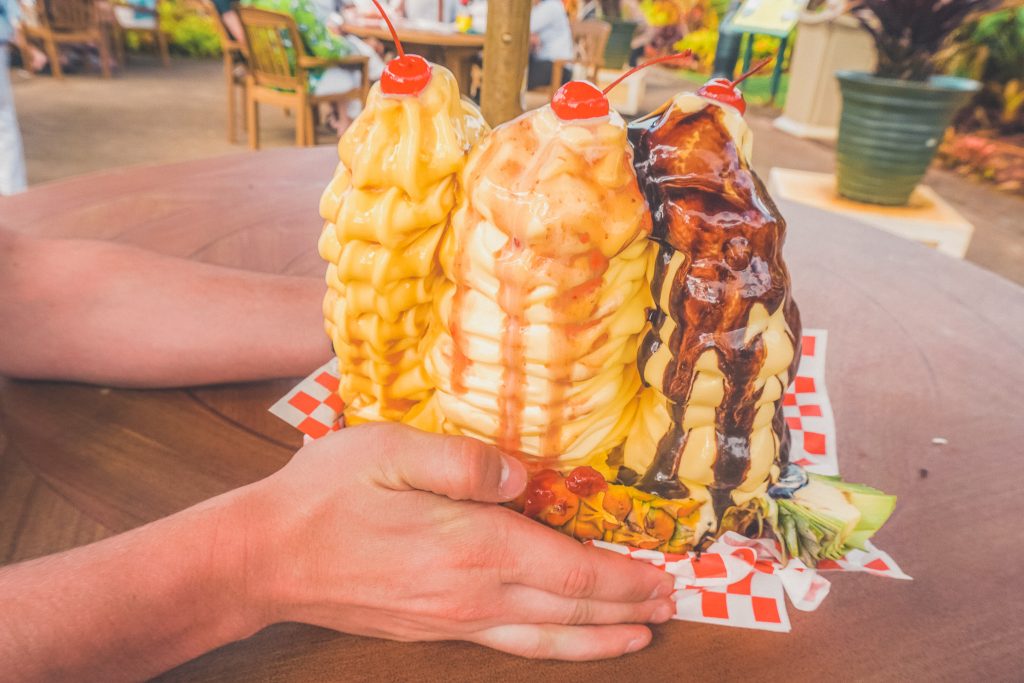 Check out this all-inclusive Oahu island highlights tour. It includes a special stop at the Dole Plantation.
At the plantation, you'll find a Pineapple Express train, a Pineapple Maze, and a garden! You must have a Dole Whip at the Plantation Grille! It's one of the best things to do at Oahu!
Kualoa Ranch
Kualoa Ranch is a private nature reserve and one of the National Historic Places. It's an absolutely beautiful jungle paradise offering unique adventure and cultural tours. It's one of the Oahu must see attractions!
We especially recommend Kualoa's Move Tour. You'll get to enter "Jurrasic Valley" where the famous Jurrasic Park movies were filmed. Snap a photo near the famous fallen tree.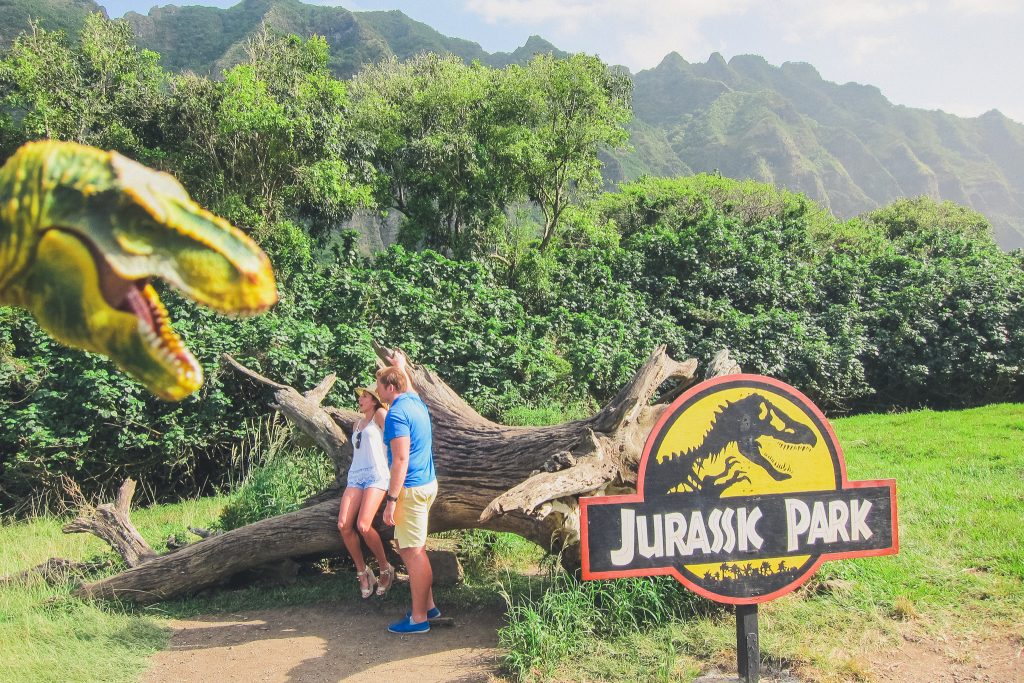 Book your spot on this famous Hollywood tour!
The Movie Tour also gives you glimpses of scenes from 50 First Dates and LOST. You'll see Hurley's olf course and that famous mountain ridge. It's one of the coolest things to see in Oahu!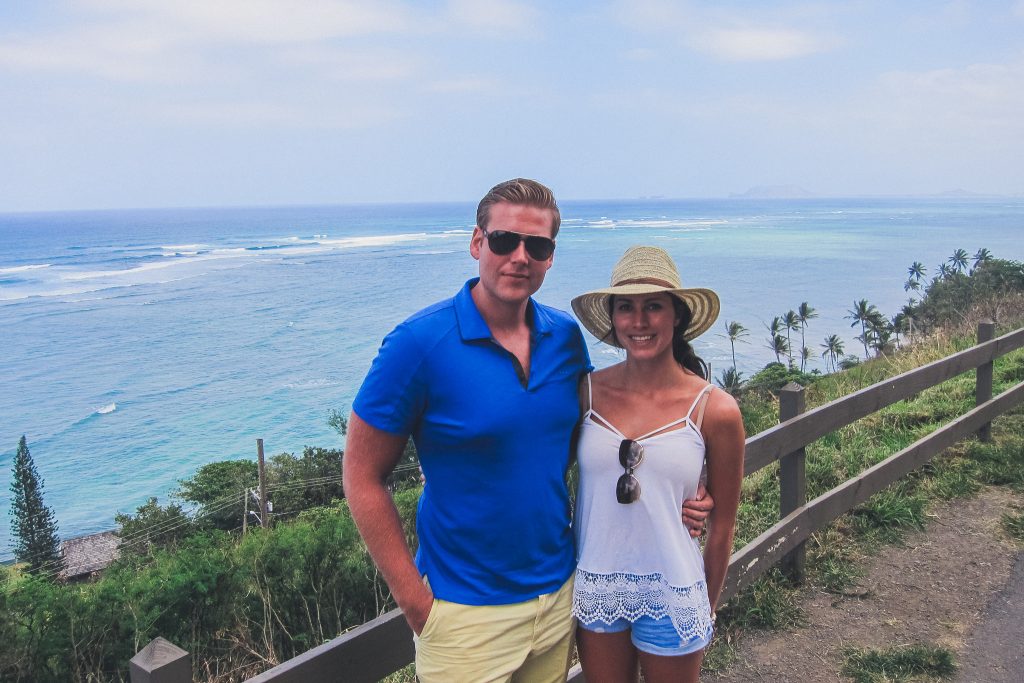 Kualoa Ranch also offers kayaking, horseback riding, jeep tours, and access to secret island beaches. These are some of the most exciting tourist attractions in Oahu Hawaii!
Tropical Farms Macadamia Nuts
Tropical Farms Macadamia Nuts is one of the low-key tourist attractions in Oahu. It's the best place to buy fresh and flavorful, locally grown, macadamia nuts.
You've never had macadamia nuts like this before! The macadamia nut industry got its start in Hawaii. Hawaii sets the world's gold standard for macadamia nuts.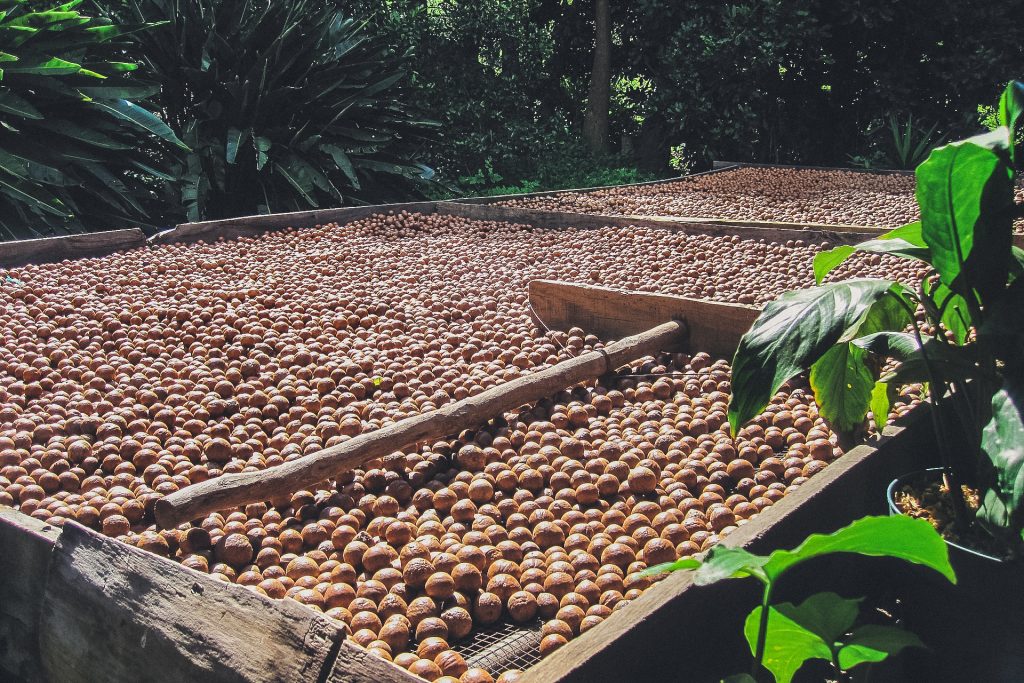 The University of Hawaii even performs research to develop the most "perfect" macadamia nuts!
Tropical Farms is the perfect place to sample macadamia nuts, island chocolate, and coffee. Don't miss their affordable Ali'i Tour! It's one of the top things to do in Oahu Hawaii!
Museums
You may not have thought that this tiny pacific island would have had much in the way of museums, but you'd be wrong! Our map of Oahu attractions includes a few incredible museums.
If you're wondering what to see on Oahu when you're sick of the sun — these are excellent options!
Pearl Harbor
Pearl Harbor is undoubtedly one of the top Oahu attractions!
The Pearl Harbor naval base is near Honolulu. It's the site of Japan's surprise attack on America in 1941. Many American ships, including several battleships, and over 300 airplanes were destroyed. Over 2,000 Americans were killed that day —including civilians. This devastating battle ultimately pushed the US to enter WWII.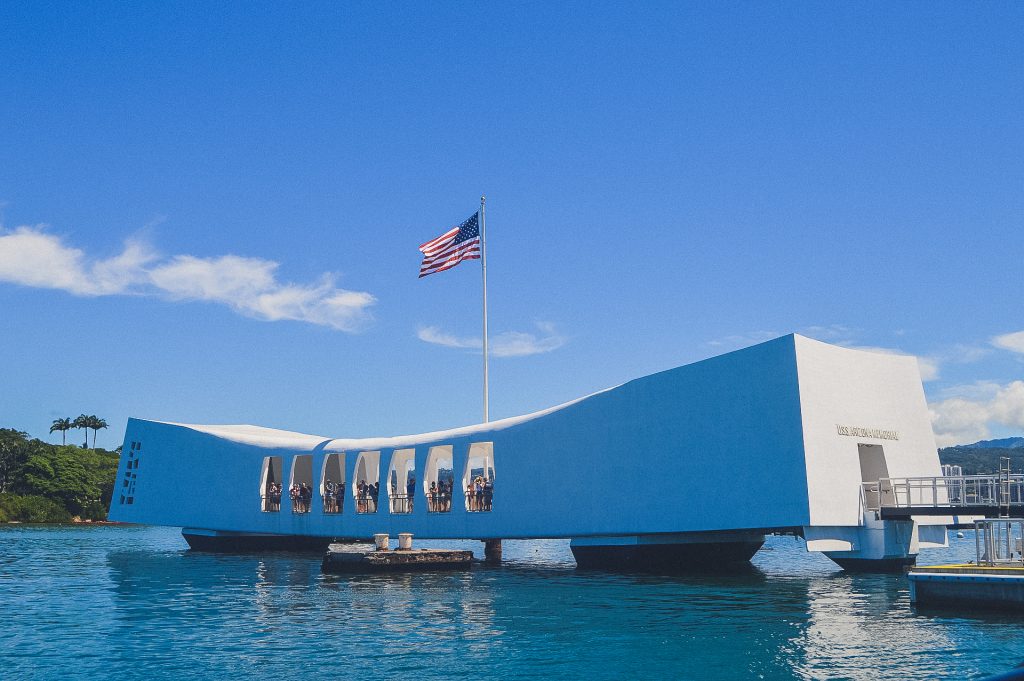 This is one of the activities in Oahu that you won't ever forget!
The Pearl Harbor site is a National Historic Landmark. It encompasses the USS Arizona Memorial, the USS Bowfin submarine, the Battleship Missouri, and Pearl Harbor Aviation Museum. Admission to the USS Arizona memorial is free, but you must reserve tours in advance.
Learn more about the legendary Pearl Harbor Memorial.
Visiting Pearl Harbor is one of the most unique things to do in Oahu. It's a huge museum campus, and it's recommended that visitors reserve 6 hours to see it all.
Shangri La Museum
The Shangri La Museum is one of the most unexpected tourist spots in Oahu. It's an Islamic art and culture museum, and it's one of the most interesting things to see on Oahu!
The museum stems from an impressive collection owned by the Doris Duke Foundation. It's located at Doris Duke's home in Honolulu. Doris Duke was a celebrity in her day — she was a billionaire tobacco heiress and a regarded philanthropist.
Duke traveled North Africa and the Middle East extensively. She was infatuated with the unique beauty she discovered. She similarly fell in love with the islands of Hawaii.
One of the best things to do in Oahu is to take a tour of the Shangri La Museum. You'll also find many exciting events and workshops held here!
Iolani Palace
If you're wondering what to do in Oahu, you've got to visit the Iolani Palace. This palace has an incredibly rich history, and it's now one of the best museums in Oahu.
The Iolani Palace was first built in the late 19th century as a residence for the Hawaiian monarchy. Kings and queens would welcome important international guests here and throw lavish celebrations.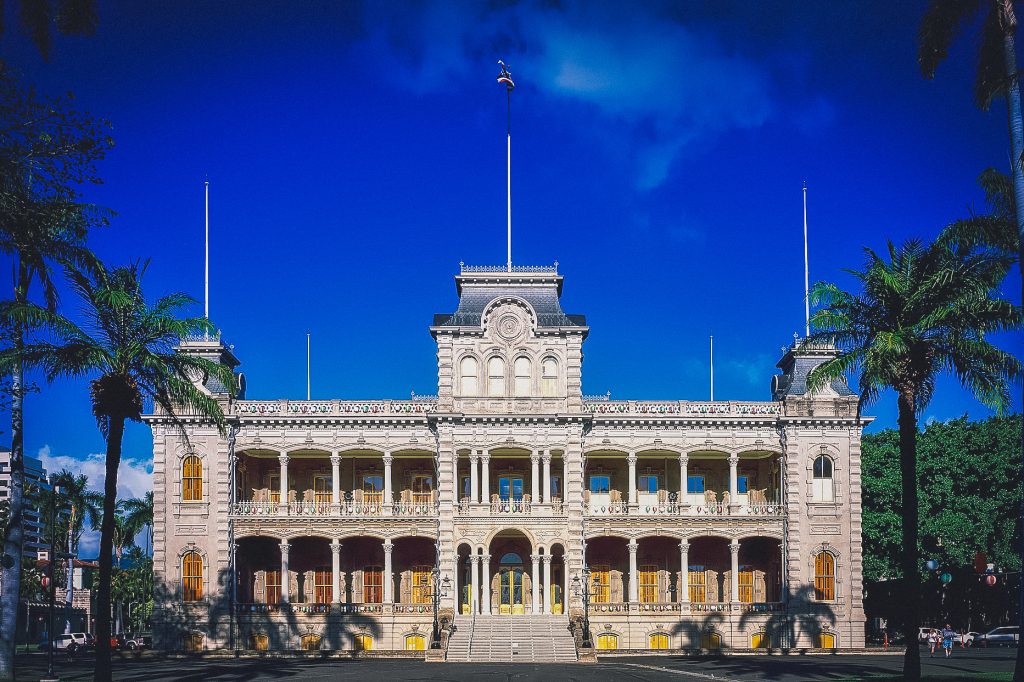 When the Hawaiian monarchy was overthrown, this palace became a government headquarters. Since then, it's been carefully restored to its former glory.
Much research and care has been taken to ensure that the palace matches the monarchy era appearance. So, when you walk through it, you'll be transported back in time.
The Iolani Palace Museum has incredible collections including glassware, tableware, and silver that is authentic to the Monarchy era. You can also find unique items owned by the royal family, these items bear the family's crown and motto.
Visiting the Iolani Palace is one of the coolest things to do on Oahu.
Honolulu Museum of Art
The Honolulu Museum of Art was one of our favorite places to see in Oahu! It has an impressive collection of over 50,000 objects that span all the major cultures on the island of Hawaii in the last 5,000 years!
The Honolulu Museum of Art displays art from ancient to modern times. You'll find European, American and Asian art. Some special collections include Japanese Woodblock Prints and Arts of Hawaii.
Important featured artists include van Gogh, Monet, Picasso, and Warhol. Visiting this incredible museum is one of the top things to do on Oahu!