We've got the best romantic date ideas in San Diego. These date ideas are great for any budget. They'll impress wayfaring explorers and glam goddesses. Whether you're looking for the perfect anniversary present or a way to win the heart of a new crush… this list will help you impress.
17 Romantic Date Ideas in San Diego
17 Romantic Date Ideas in San Diego
1. Watch the sun set at Sunset Cliffs
The Sunset Cliffs are one of the most romantic places in San Diego. You'll find coastal bluffs and breathtaking panoramic sunset views. This is the perfect place to take your date. It's so romantic and beautiful that it has become a popular wedding venue and engagement photo location.
Check out this fun Segway tour at Sunset Cliffs.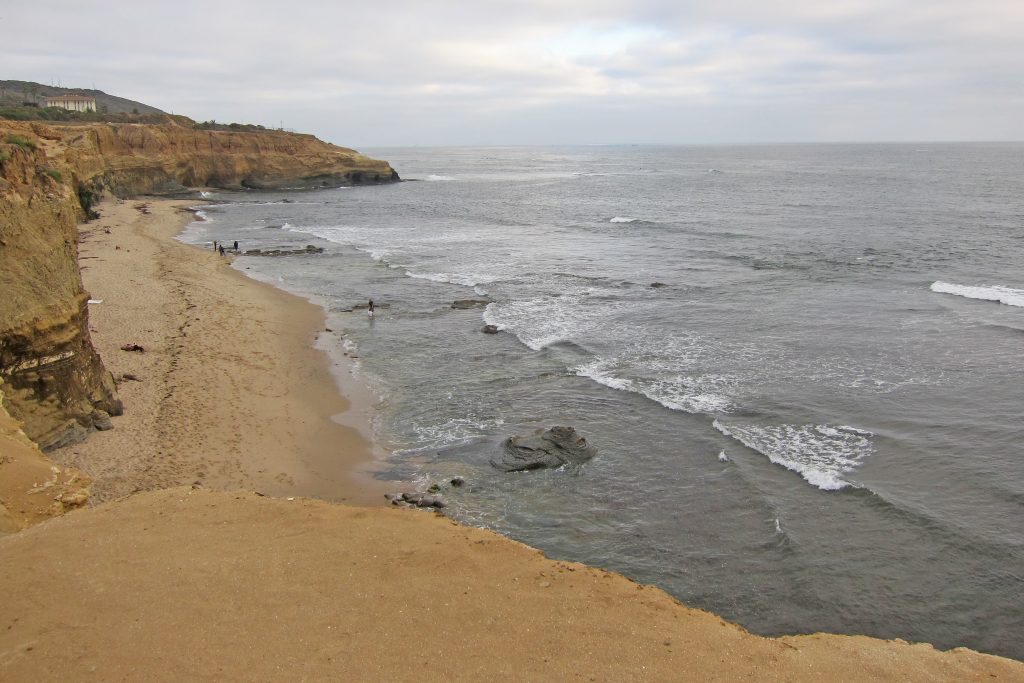 Come an hour or two before sunset and spend some time hiking the trails and exploring the beach. Getting there early will also help you get a parking spot.
Because this is one of the top San Diego attractions, it can get busy. This is the case especially just before sunset. However, you can avoid some of the crowds by visiting during the work week (Monday or Tuesday).
Enjoy the San Diego sunset from a top-rated sailing tour.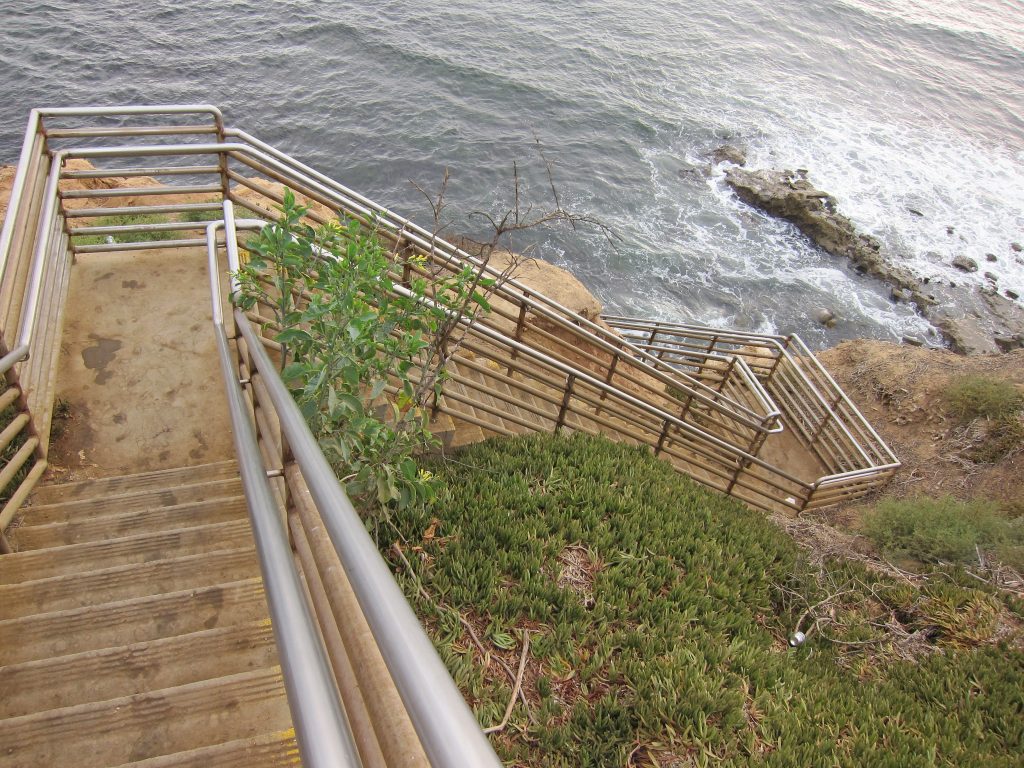 There's not too many trails, all together around 2 miles. A great place to climb down to the beach is the Ladera Street staircase. Take a long walk on the beach. It's one of the best things to do in San Diego at night. 
You'll be able to find marine life in tide pools. To bring this date to the next level, bring a picnic blanket and a bottle of wine in your backpack. Find a low-key secluded location to stop at just before sunset. Some of the beautiful places at Sunset Cliffs include Pappy's Point and the Sunset Cliffs Sea Cave.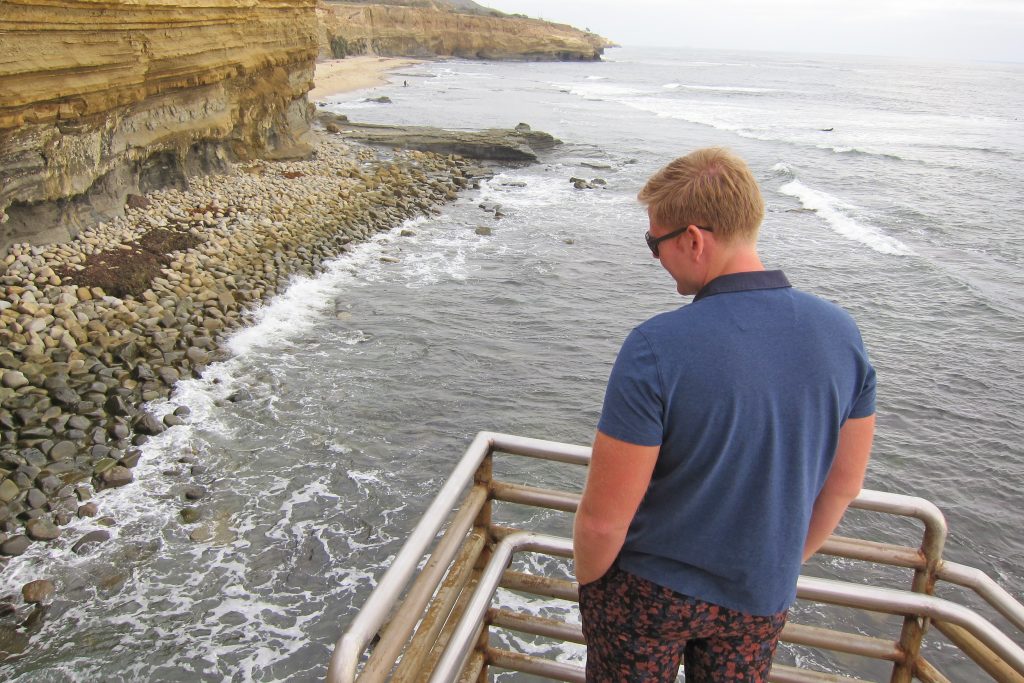 2. Shop for art at the Village Art Center in Balboa Park
This park was listed as one of the Great Places in America… and for good reason! Balboa Park offers a very unique cultural experience. There are over 16 museums, a zoo, gardens, art installations and walking trails in this park. Exploring this park is one of the top things to do in San Diego.
Find out more about this Balboa Park highlights tour.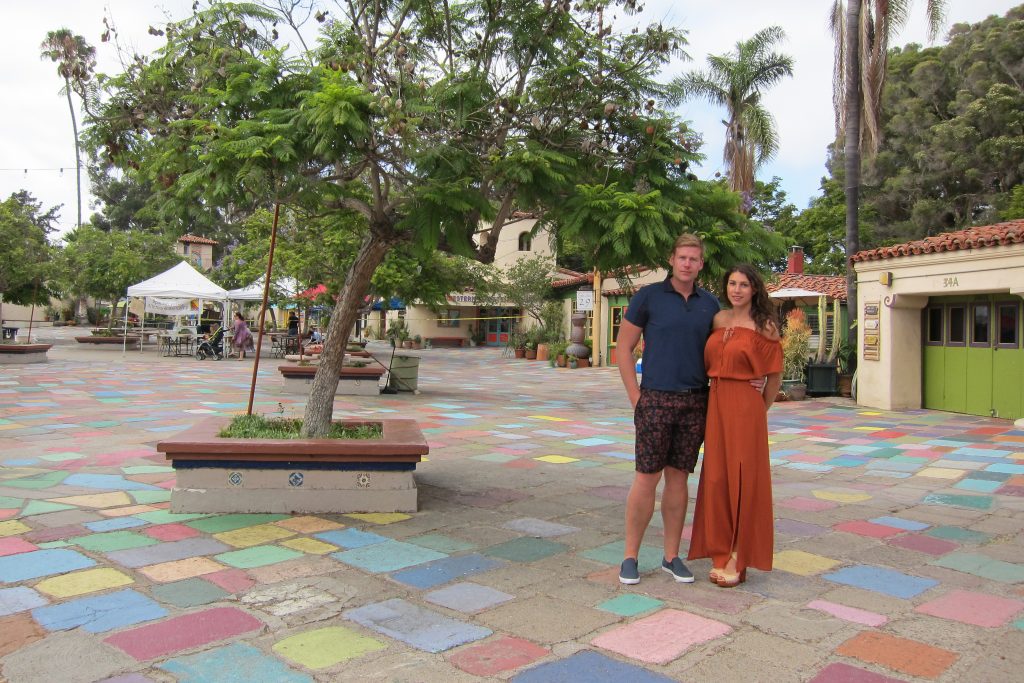 There are a few especially romantic places in Balboa Park. Particularly, the Spanish Village Art Center and the many gardens throughout the park. The Spanish Village Art Center is located right next to the Miniature Railroad.
You'll know you've arrived when you see a colorful tiles, flowers and art. Shopping for art here is one of the fun things for couples to do in San Diego. If you are looking to impress your date, buy them flowers or find a piece of artisan jewelry that's caught their eye. Beware of limited hours. The Spanish Village Art Center is only open from 11 am to 4PM most days.
3. Stroll through the gardens of Balboa Park
Next, you'll want to take your significant other on a stroll through the many gardens of Balboa Park. Start with the Botanical Building and Lily Pond.
This iconic building has become a symbol for Balboa Park, and it's one of the top things to see in San Diego. It was built in 1915 for the Panama-California Exposition, but it still holds the title for being one of the largest lath structures in the world. Another relic from this Exposition is the magnificent Palace of the Fine Arts in San Francisco.

You can't miss the Alcazar Garden in between the California Cathedral and the House of Charm. It is modeled after the Alcazar Castle gardens in Seville, Spain. Find more colorful tiles, lush landscaped vegetation and romantic Spanish architecture all around you. Make sure to take notice of the beautiful California Cathedral.
Check out this unforgettable "city lights" night tour of San Diego. Balboa Park is especially romantic at night!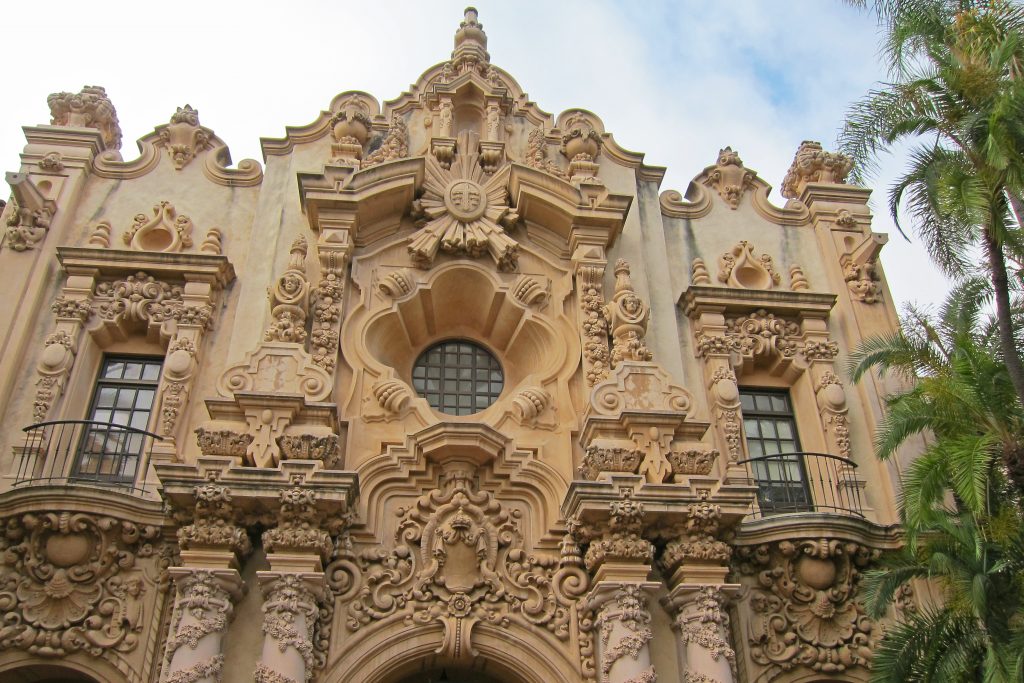 If you are luck enough to visit from March to December, you must take your date to Balboa Park's rose garden. Full title, "The Grant Parker Memorial Rose Garden." If you do, that will be one of the most memorable dates in San Diego!
Other romantic gardens in Balboa Park include:
Japanese Friendship Garden
Australian Garden
Desert Garden
Marston House Garden
4. Go stand-up paddle boarding at Mission Bay
Mission Bay is one of the best places to visit in San Diego because it hosts all kinds of activities. You'll find everything from sailing, paddle boarding, whale watching, sport fishing and bike rentals. Sea World is also located here.
Charter a luxury Catamaran at Mission Bay!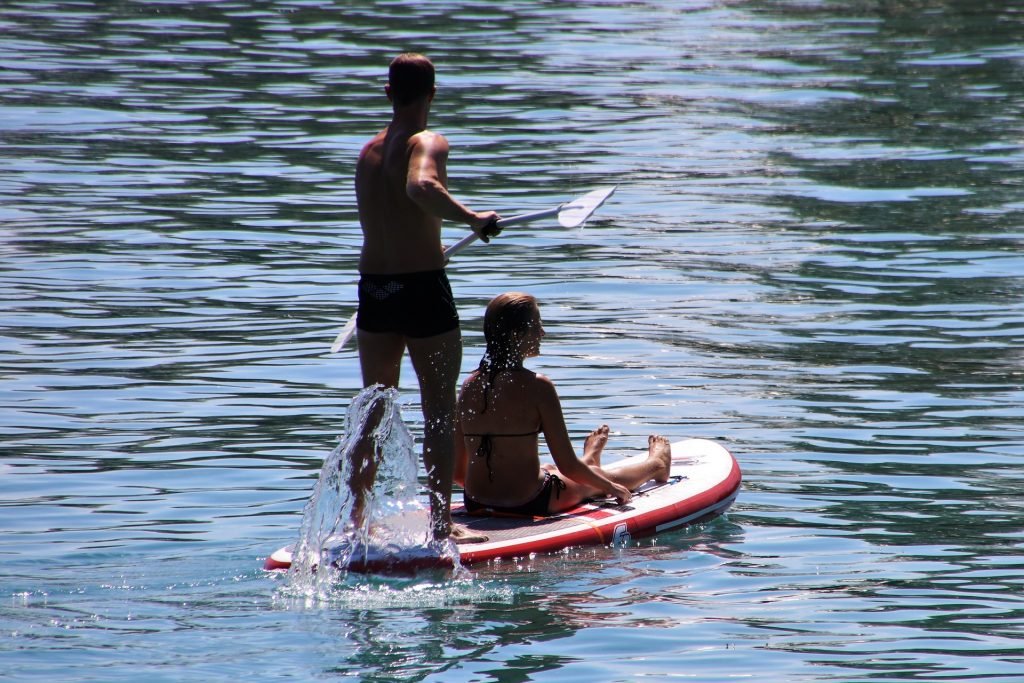 There are several places on Mission Boulevard where you can rent stand-up paddle boards. It costs $20-30 per person to rent a stand-up paddle board for 2-3 hours. Some equipment rental shops on Mission Boulevard include:
Mission Bay is one of the cool places in San Diego to go stand-up paddle boarding because of the calmer waters. Although, you can head to Mission Beach if you want to challenge the crashing waves.
Take advantage on this excellent paddle-board deal at Mission Bay. 
Next, walk your date along the Mission Bay Boardwalk. Find a funky surfer bar to relax and have a drink. We especially recommend the PB Shore Club and the Pacific Beach Ale House.
If you're not ready for your date to end…head on over to Belmont Park. Belmont Park is not only a great place to park your car (because it's pretty hard to find parking at Mission Beach)… it's also a fun place for couples. Win your date a stuffed animal in an amusement park game.
5. Kayak in Carlsbad Lagoon
Kayaking is one of the fun things to do in San Diego for couples. You and your partner can share a kayak while you enjoy the beautiful California sunshine and the cool, crisp, glimmering waters.
Find a great deal on Carlsbad kayaking. 
Carlsbad Lagoon, also known as the Agua Hedionda Lagoon, is the perfect place to kayak. The Lagoon has various ecosystems and is home to hundreds of different species. It's an ideal place to birdwatch.
You can rent tandem kayaks at Carlsbad Lagoon for $30 per hour.
6. Hike at Torrey Pines
Visiting Torrey Pines is one of the best things to do in San Diego. Why is this place romantic? You may ask… Torrey Pines is a State Reserve and it is one of the only places in the entire world where you can find Torrey Pine trees.
The Torrey Pine is the most rare pine in North America, and it's on the critically endangered species list. These trees likely thrived here long ago when the area was a lush coastal forest. In recent times, the trees have had to battle fierce winds, persistent droughts and content with nutrient poor, sand-filled, soils.
Visit Torrey Pines & all the best San Diego attractions on this San Diego Coast tour. 
Their perseverance and history makes this place special, beautiful and romantic. It's also one of the cheap things to do in San Diego on a date because you only have to pay $10-15 to park your car.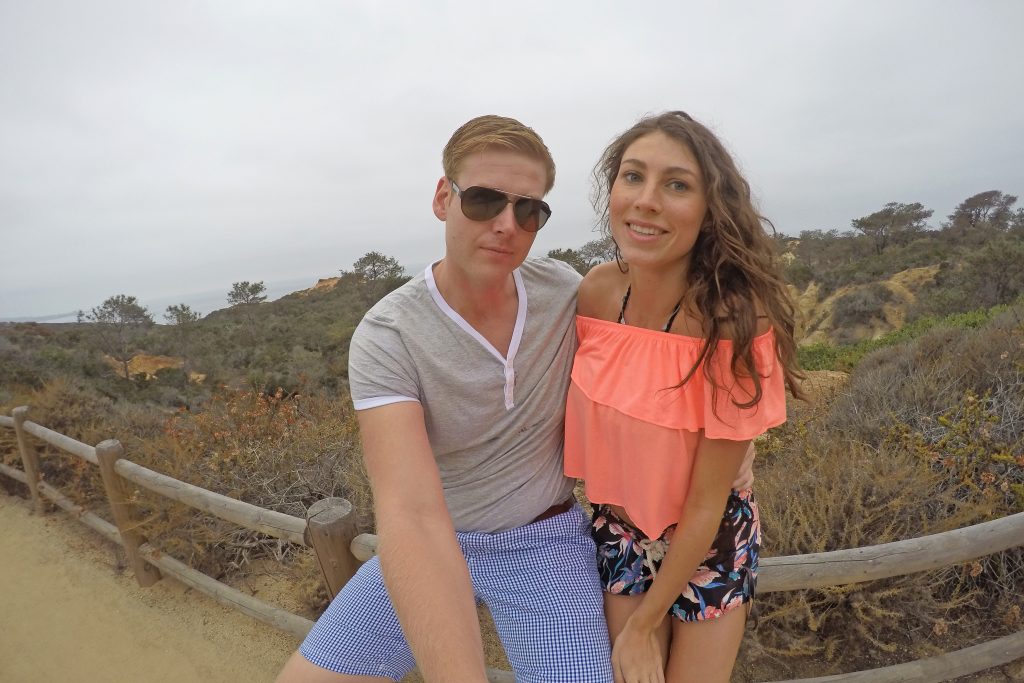 Try to find parking by the Ranger Station and Visitor Center. Take the Whitaker Garden Trail to the Parry Grove Trail. Hit the High Point Trail along the way. The Parry Grove Trail is where you'll find the infamous Torrey Pine trees. Head back towards the visitor center, stopping at the West Overlook. Take the Beach Trail east, and visit Yucca Point along the way.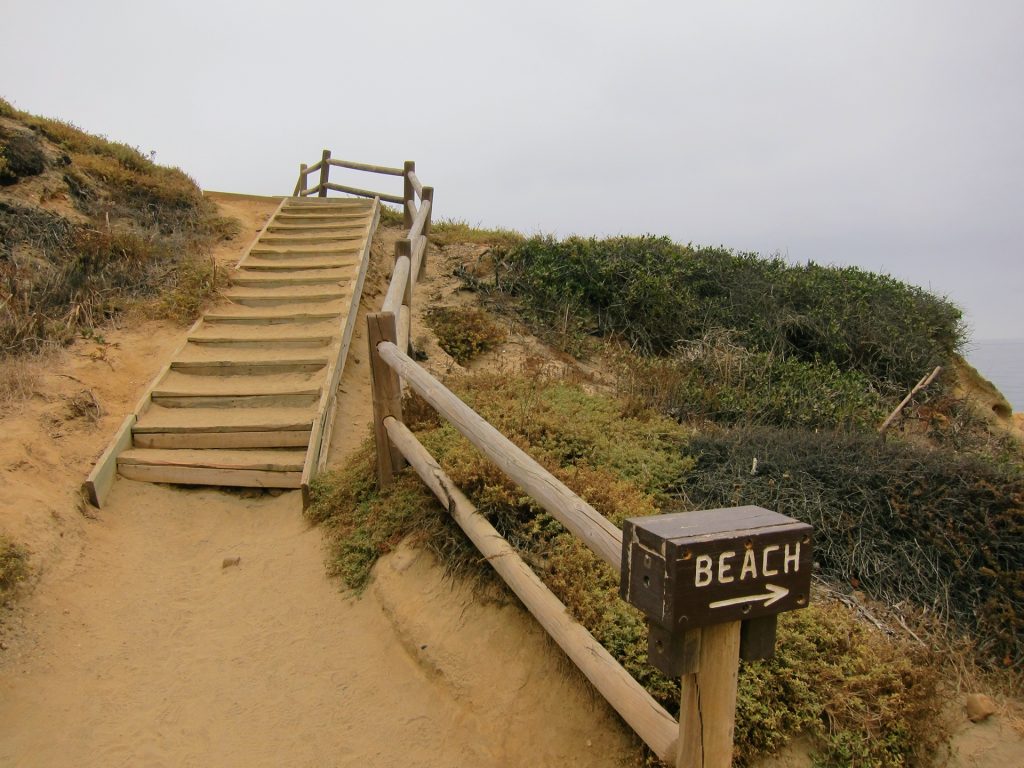 7. Romantic Dinner
Dinner is the most obvious of the romantic things to do in San Diego…but it works! San Diego has no shortage of romantic restaurants perfect for a date night. You'll want to pick a restaurant with beautiful panoramic views, fantastic service and delicious food.
Book this romantic dinner cruise in San Diego.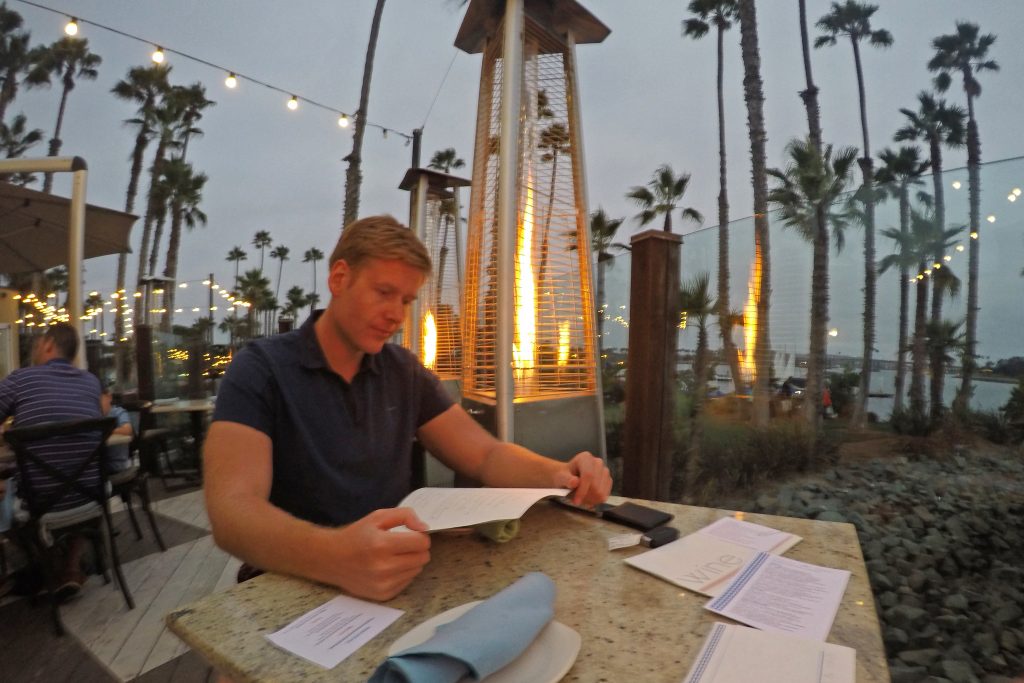 Here are our recommendations:
8. Bike Ride around Coronado Island
Coronado Island is one of the cool places to go in San Diego with a date. Coronado's Central Beach is often ranked among the best beaches in the United States. The sand literally sparkles brighter here due to its unique mineral deposits! Start your date off at the Moo Time Creamery with a spectacular sundae.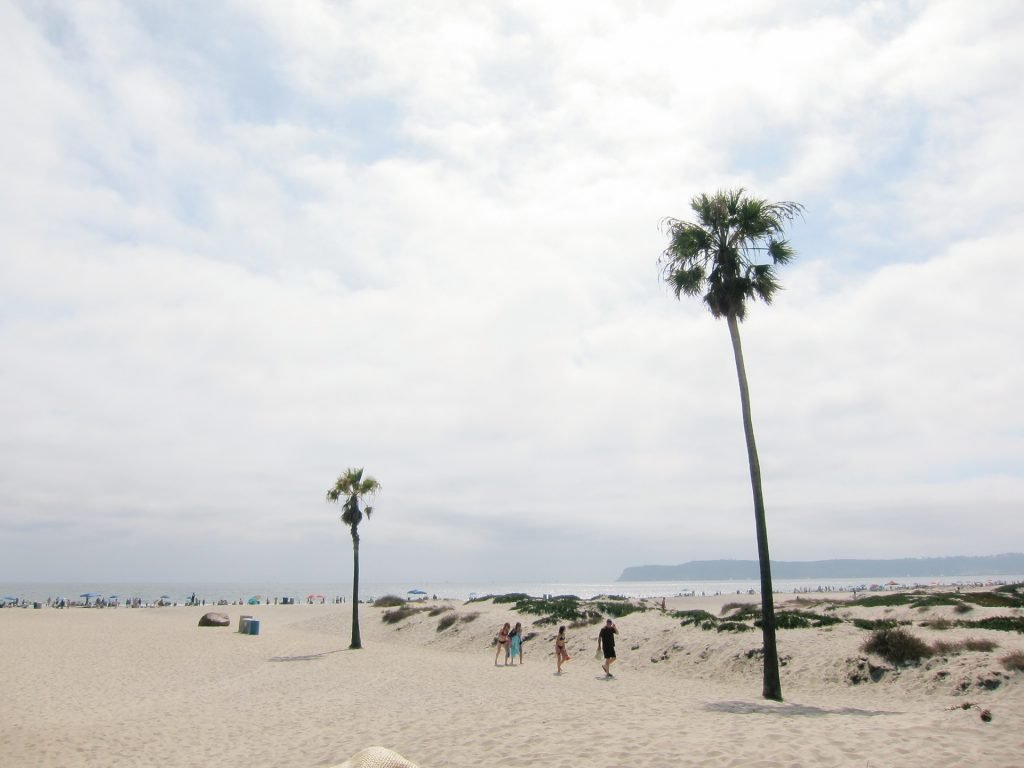 Just a minute down the street from Moo Time, you'll find Holland's Bicycles. You can rent one of their bikes for 4 hours for $25 per person. Alternatively, you'll pay only $10 for an hour rental.
There's a few dedicated bike paths on Coronado Island, so you can choose your adventure. It will only take an hour to complete the shorter 6 mile loop around the island. There's a 14 mile (out and back) Silver Strand Bikeway.
This starts at Coronado and takes you to Imperial Beach at the base of the peninsula. If you are looking for a challenge, you can consider the 24 mile Bayshore Bikeway loop. Biking is one of the top activities to do in San Diego, and it's a great way to see the city.
Stay at the historic Coronado Island Hotel.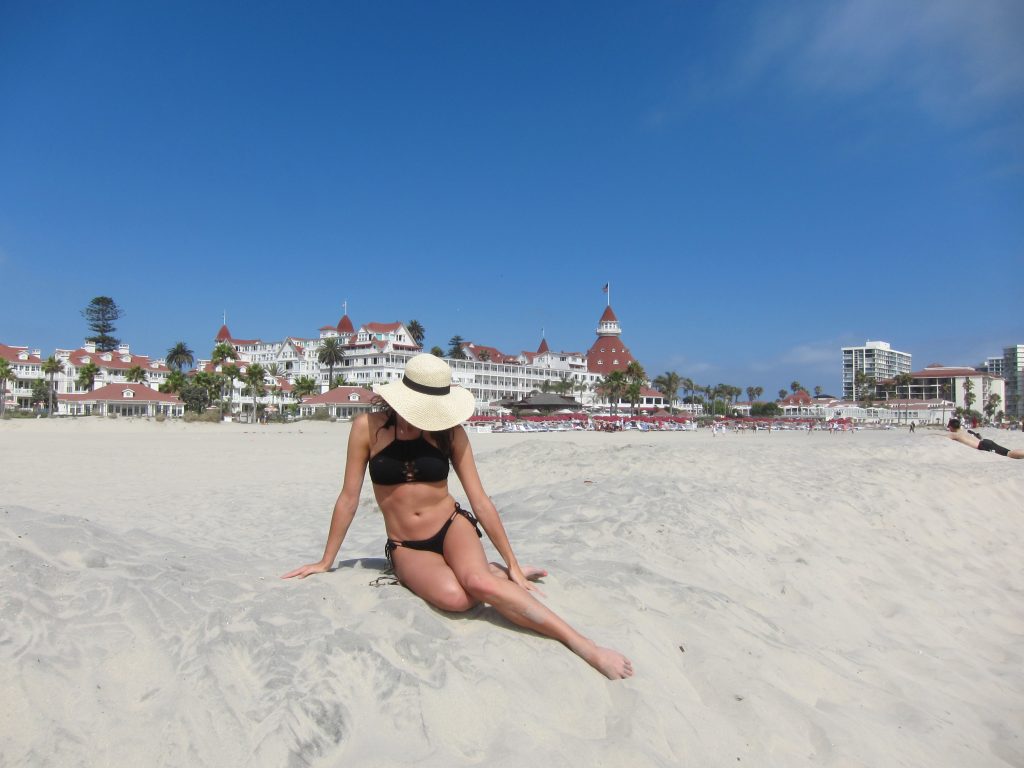 9. Discover secret sea caves
Visiting secret sea caves is one of the unique things to do in San Diego. There are sea caves at Cabrillo National Monument, La Jolla and Sunset Cliffs.
Cabrillo National Monument has a picturesque lighthouse and rocky tide pools. These tide pools offer unique diversity of ocean species. You can get to this sea cave from the Tidepool and Bluff Trails. You and your date may even be lucky enough to spot sea lions here.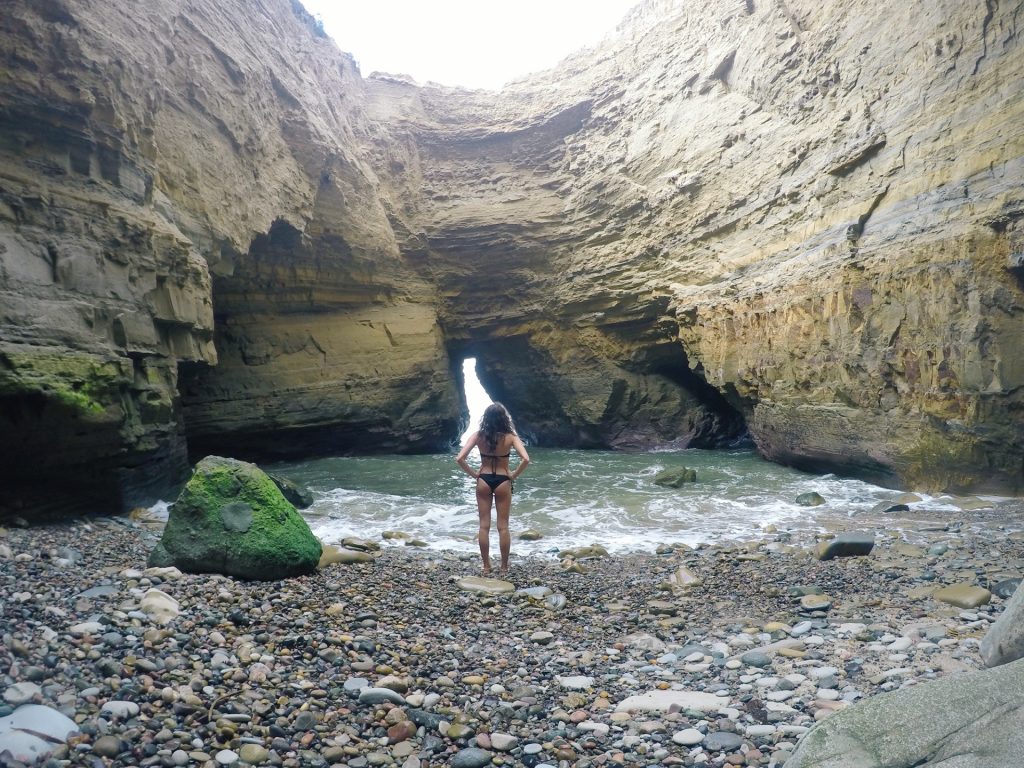 There are a few sea caves in La Jolla. The most famous is called the Sunny Jim Cave. Vising this cave is one of the touristy things to do around San Diego. It has its own store and entry is associated with a small admission fee. Nearby, is the La Jolla Cave. The rest of the La Jolla caves can only be accessed by water. There are kayaking tours that can take you on a tour of all 7.
Check out this snorkeling excursion to La Jolla Cave. 
The Sunset Cliffs sea cave is most easily accessed from Luscombs Point. You'll have to climb over slippery rocks, get your feet wet and navigate the tide pools. It will all be worth it once you find this magnificent, enormous, open-air cave.
10. Visit a local winery
San Diego County is home to over 100 wineries that grows over 60 different varietals. From the coastal bluffs to canyons, mountains and deserts, San Diego country is able to grow grapes in wildly unique microclimates. Within San Diego, there are two American Viticultural Areas —the San Pasqual Valley and the Ramona Valley.
Grab this deal for Churon Winery. It's just an hour north of San Diego. 
San Diego wines are gaining popularity and recognition across the globe. Visiting wineries is one of the top things to do in San Diego for adults. The wineries are these often low-key, boutique and intimate. This makes them great places to take a date.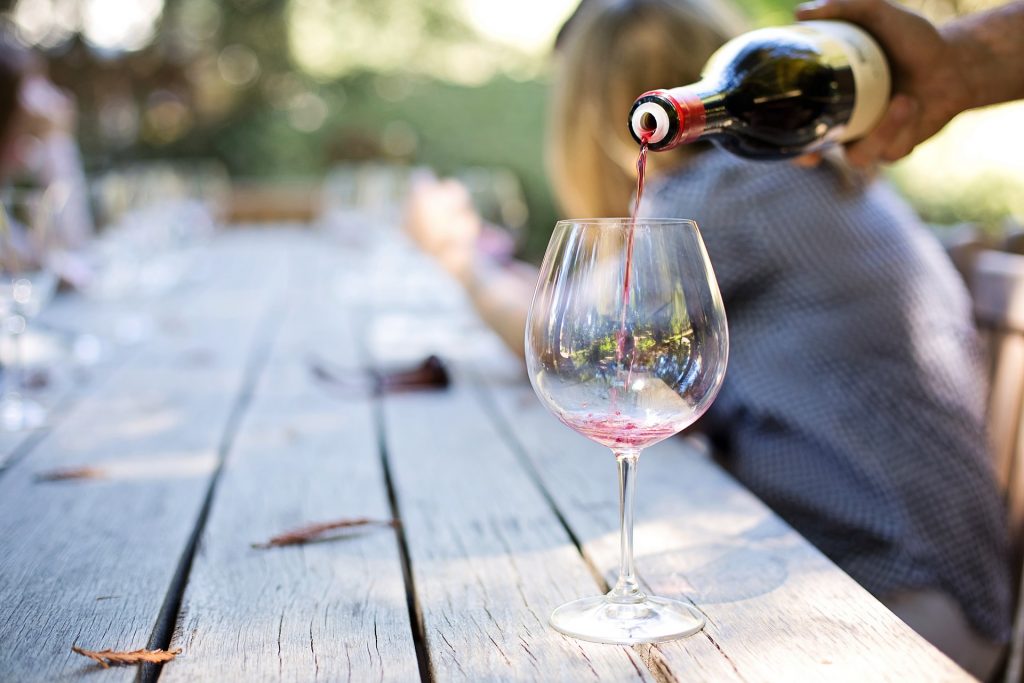 Recommended Wineries:
11. Find sea lions at La Jolla Cove
Visiting La Jolla Cove is one of the best things to do in San Diego. La Jolla cove sits on top of an ecological reserve. It's teeming with marine life. Popular activities in the cove include snorkeling, scuba diving and swimming. The best place to see seals and sea lions is the La Jolla Cove.
Book this legendary seal tour.
The sea lions are used to humans and they don't mind us coming close. From the Cove, walk south along the Coast Boulevard to Seal Rock. You'll be sure to find some sea lion friends! Talk about fun dates in San Diego… you can't beat that!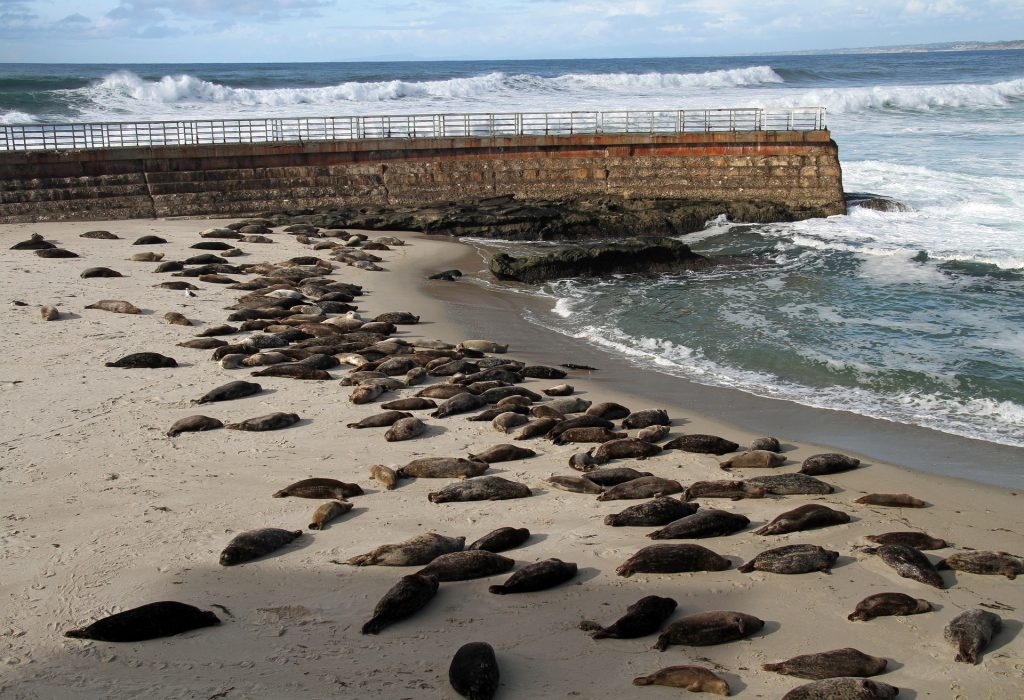 12. Take a sunset cruise
A sunset cruise is one of the most romantic things you can do in San Diego. You'll get to sip bubbly while you watch the sun disappear over the ocean horizon. Some cruises also include dinner.
Check out this top-rated sailing experience. 
13. Book a hot air balloon ride
If you're looking for an extra special date idea in San Diego, a hot air balloon ride is your answer. This makes an excellent anniversary gift. Surprise your partner with this to make it even more special! It's one of the most over-the-top things to do in San Diego for couples. It's expensive, but memorable, charming and especially romantic.
View this hot air balloon deal. 
14. Watch the sun set at a rooftop bar
Rooftop bars top the list of fun things to do in downtown San Diego. You'll certainly impress your date if you can snag a scenic table just before sunset. Sip cocktails outside, enjoy the weather and watch the sky slowly change colors. Don't forget to make table reservations in advance!
Recommended rooftop bars:
15. See a Drive-In Movie
Take your date to the South Bay Drive-In Theater. This drive in has a long history, it's been screening movies since 1958! Check their website to see a detailed schedule of screenings. They're open 7 days a week and admission is only $9 per person.
16. Gondola Ride on the Bay
You don't have to be in Venice to enjoy a romantic Gondola ride by the sea. There's several Gondola companies in San Diego that offer a similar experience. You'll want to time this activity out with sunset. It will certainly impress your date!
Book your romantic gondola ride here. 
17. Build a sandcastle
You don't have to be kids to enjoy building a sand castle on one of San Diego's beautiful beaches. This activity is a great opportunity to see how you and your partner can collaborate, innovate and design 😉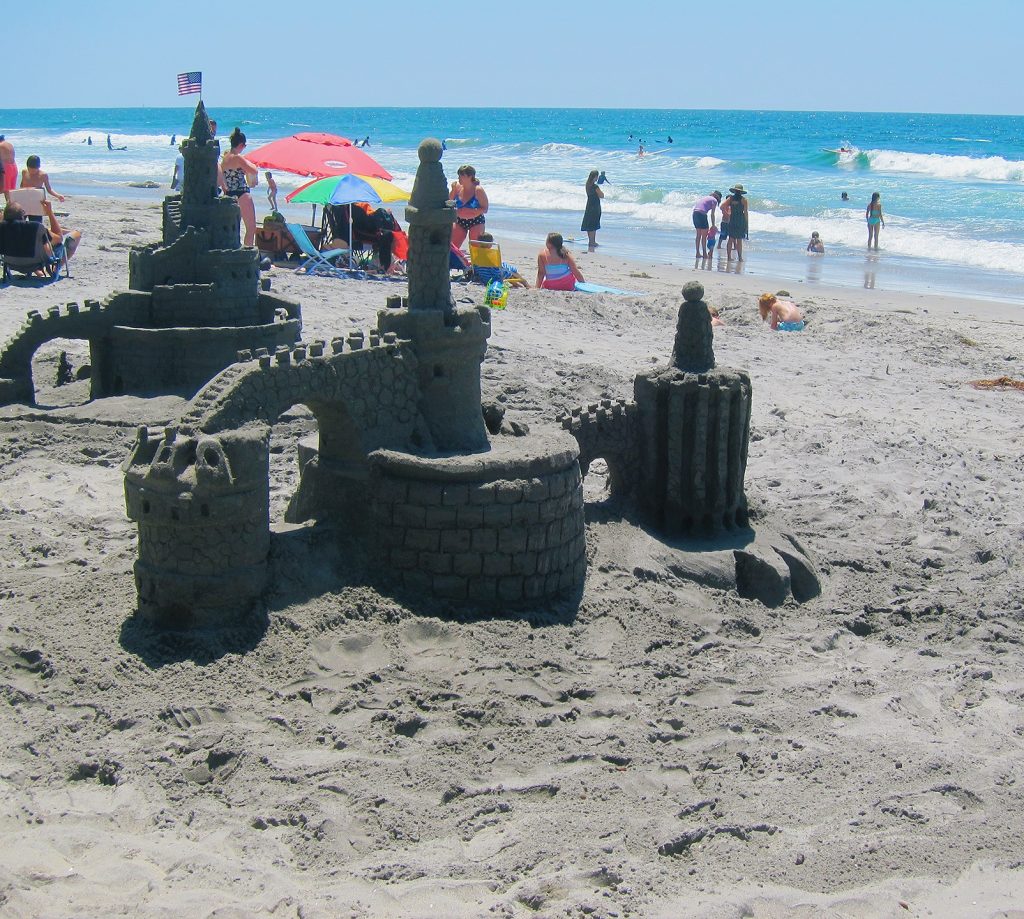 For more San Diego activities, as well as restaurants, beaches and rooftop bars, check out San Diego MAPPED.