Costa Rica is an incredible place to visit in Central America, and this is the ultimate Costa Rica bucket list! This article is brought to you by Costa Rica experts from the travel blogger community.
There are so many adventurous things to do in Costa Rica. There's no shortage of fun places in Costa Rica, including rainforests, volcanos, and beaches. Some of the most unforgettable things to do in Costa Rica include hiking, snorkeling, white water rafting, and wildlife discovery.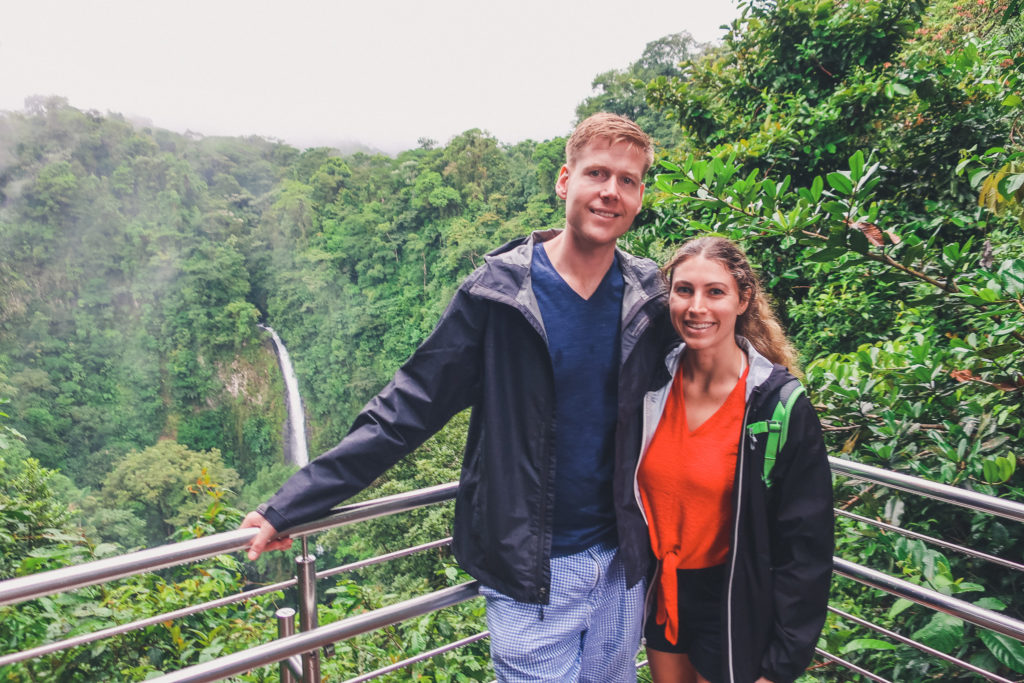 You'll be delighted by the ecological considerations taken at Costa Rica tourist attractions. Costa Rica is committed to nature preservation and sustainability. You'll notice this as you tour the famous attractions in Costa Rica (it's hard not to). View the best national parks and beaches on this Costa Rica Attractions map. 
Costa Rica currently generates 99% of its grid from renewable sources (hydropower, wind, geothermal, etc). Also, Costa Rica protects over a quarter of its lands from exploitation and industry!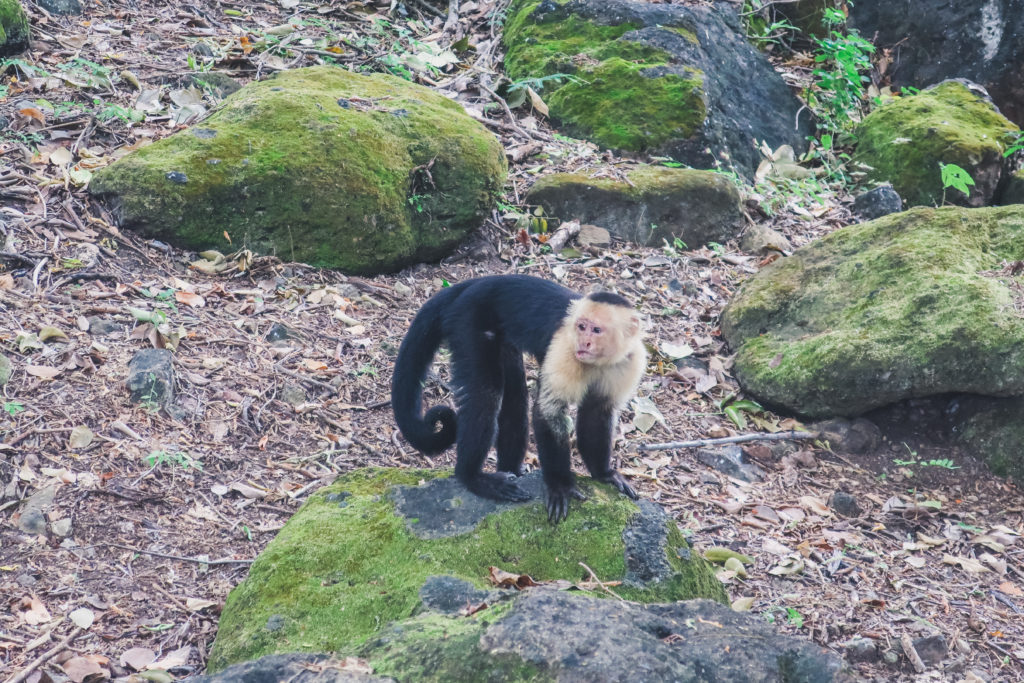 Costa Rica Bucket List
Some of the best places to visit in Costa Rica are nature preserves and wildlife sanctuaries. Life is abundant here! Locals say, "Pura Vida," or "pure life." This phrase is used as a common greeting, and as a way to express a philosophy about life. You'll get to experience this for yourself!
While you are touring Costa Rica tourist attractions, keep your eyes open for sloths, monkeys, butterflies, and coati. You're guaranteed to spot some curious critter.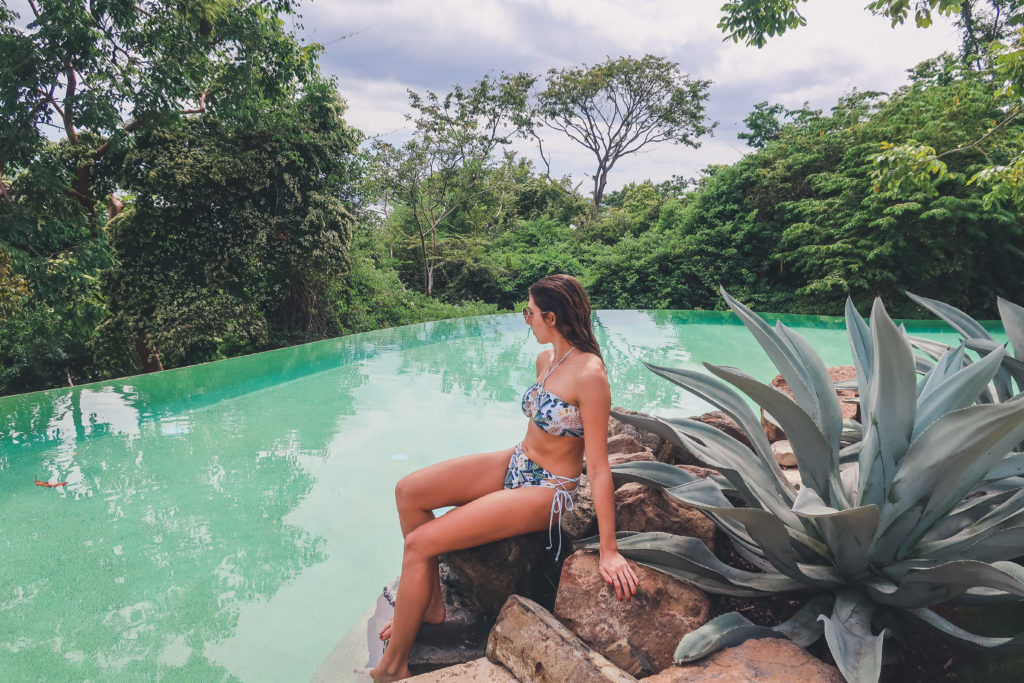 Find out what to wear in Costa Rica. 
Costa Rica Bucket List
Read on to discover the most interesting places to visit in Costa Rica. These are the sites to see in Costa Rica recommended by travel bloggers. 
100 Inspiring Adventure Quotes to prepare you for Costa Rica.
Tour Tortuguero
Daniel and Ilona from Top Travel Sights
A boat tour in Tortuguero is one of the best ways to see wildlife in Costa Rica.
Located at the mouth of a river, Tortuguero National Park is the perfect place for boat trips. It's one of the top Costa Rica Attractions. The river stretches along the coast and includes many waterways that you can explore.
A boat tour is one of the unique things to do in Costa Rica. You can book different tours in Tortuguero, but the most interesting ones take you out in a canoe. This way, you can silently glide through the jungle and won't scare off any wildlife with engine noises.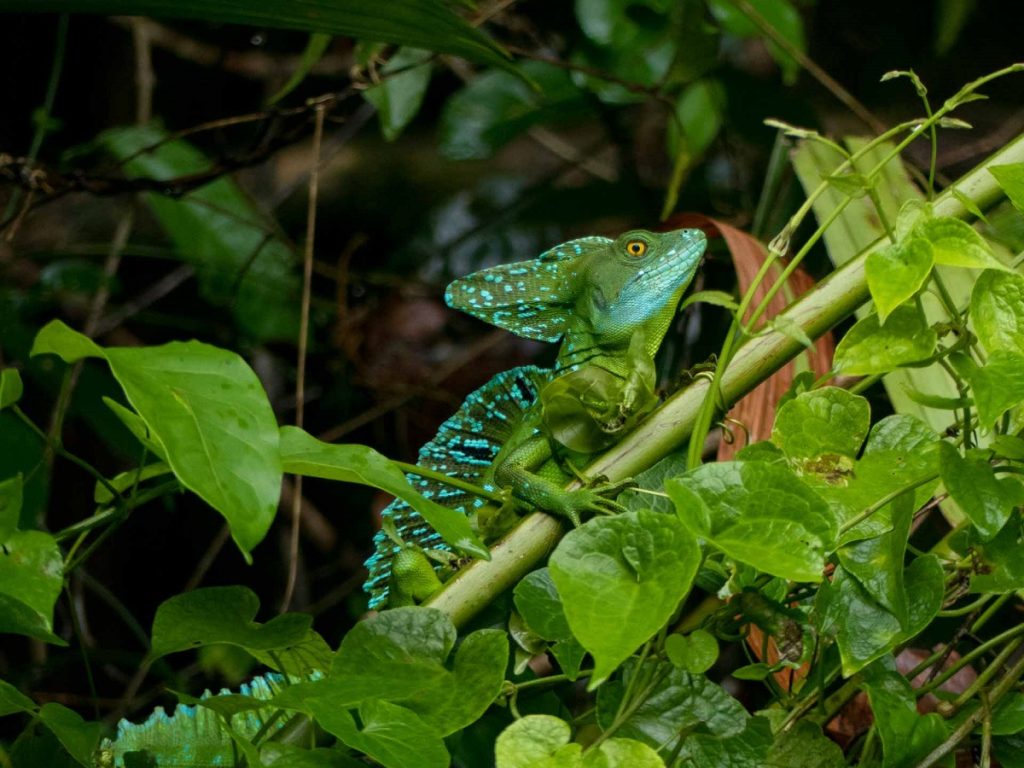 View this top-rated day trip to Tortuguero Island. 
The local guides are fantastic at spotting animals and will help you discover many different species. Most creatures blend into the jungle perfectly. Even if you're only a few feet away, don't be surprised if you can't see them until your guide points them out to you.
The highlights include seeing sloths, caimans, iguanas, and even anteaters. If you're hoping to see a sloth, your chances are good. They move slowly and the guides, who communicate with each other, usually know where to find one.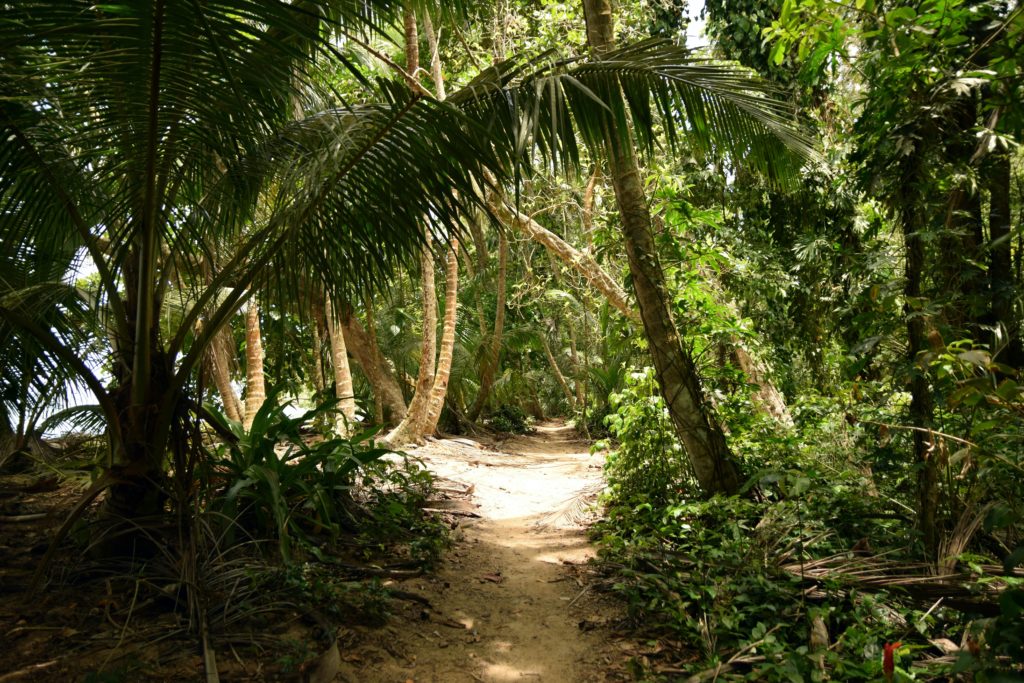 If you're lucky, you will also come across howler monkeys. Those dinosaur roars you could hear in Jurassic Park? That was the sound of howler monkeys, and hearing them roar while paddling through the jungle is an impressive experience.
If you're wondering what to do in Costa Rica in July, this boat tour is it! The best time to go on a boat tour is early in the morning, as this is when the animals are active.
Explore
National Park
By Dzangir from Dzangir Travels
The best places to go in Costa Rica involve nature. The 27 national parks in Costa Rica contain 5% of all the spices in the world. One of the top national parks to visit is Corcovado NP (meaning Hunchback).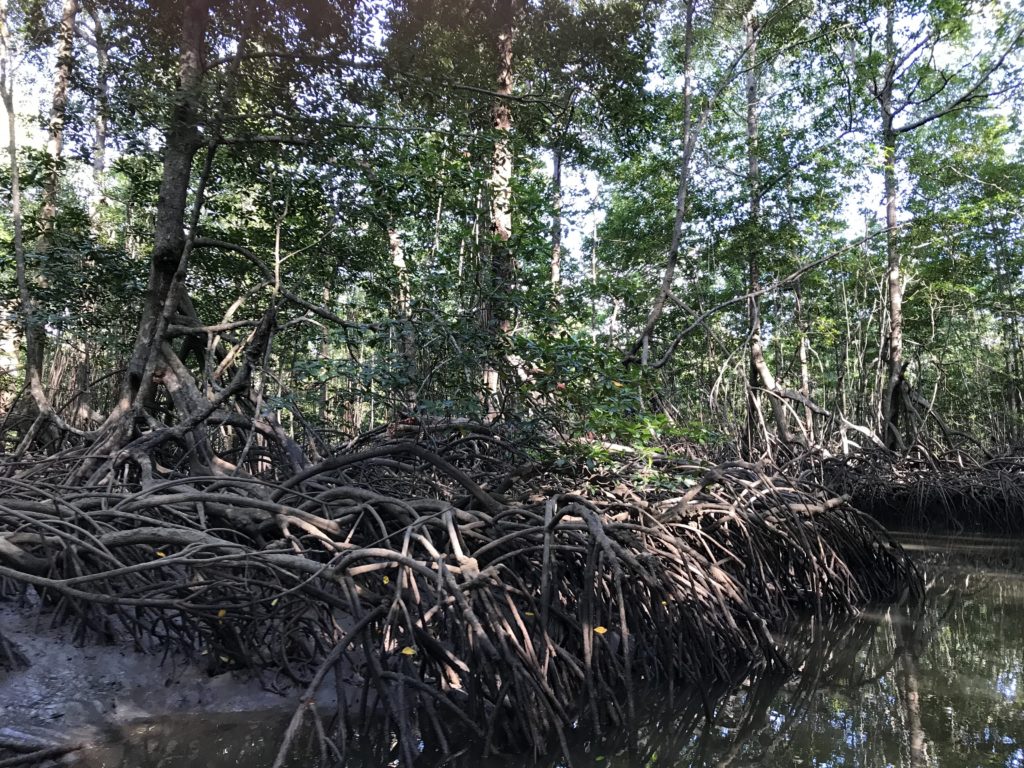 This park is 424 square kilometers of primal tropical forest located on the Osa Peninsula in southern Costa Rica. You can access Corcovado from town in north Sierpe on a boat. During your journey, you will pass the mangrove forest and probably see whales or dolphins in Drake Bay. This is one of the top activities in Costa Rica.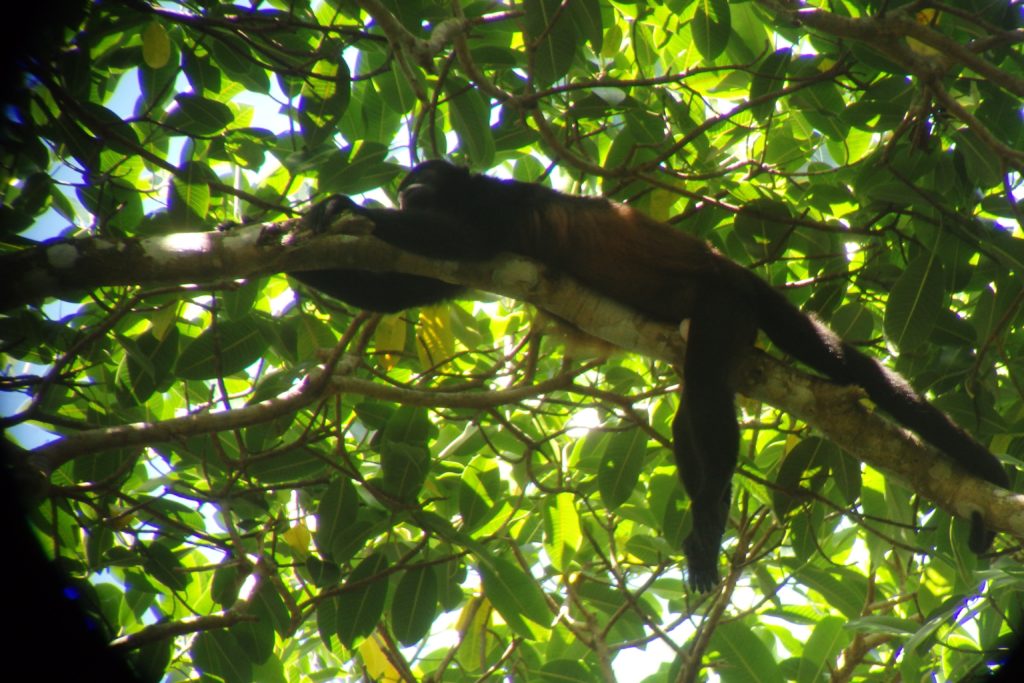 Check out this unforgettable tour of Corcovado.
Alternatively, you can access Corcovado by land from Puerto Jimenez. A daily permit for the park is reasonably priced. 
You will be accompanied by a ranger that will guide you and act as a spotter. The rangers will show you animals, guided with binoculars. Corcovado NP is one of the best places to experience tourism. Costa Rica at its best!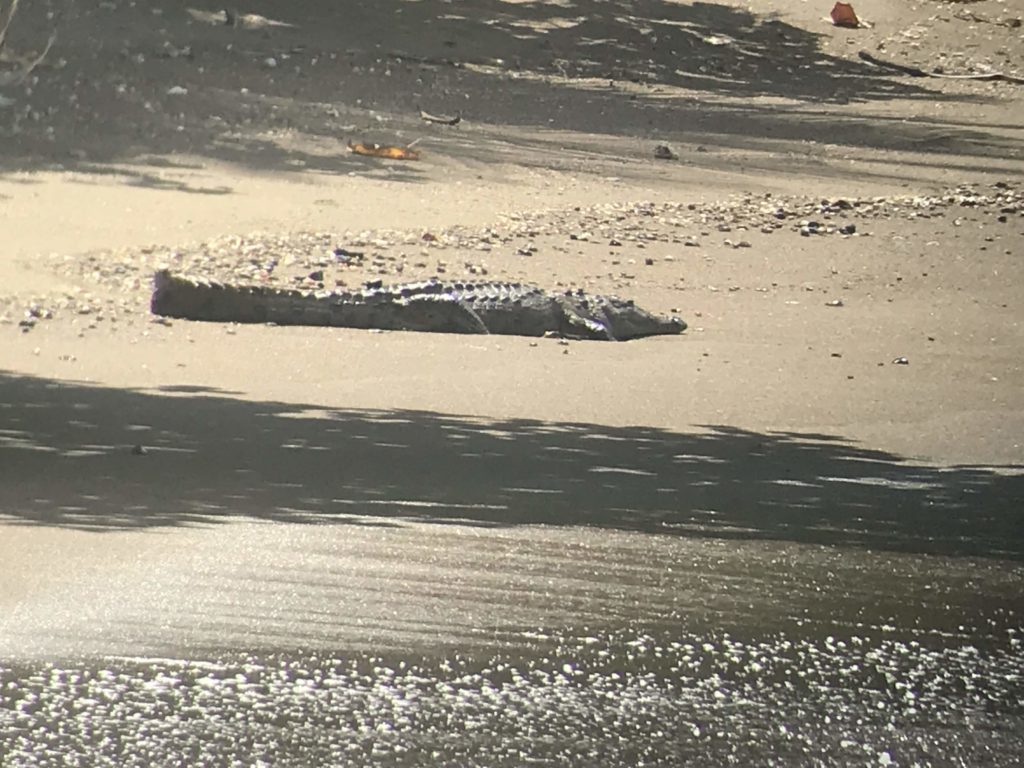 Here you will have the opportunity to see many different spices. It's not uncommon to spot crocodiles, Jesus lizards, bats, ara parrots, monkeys, sloths, jaguars, pumas, ocelots, jaguarondis, tapirs, anteaters, deer, pacas, peccaries, coatis, etc.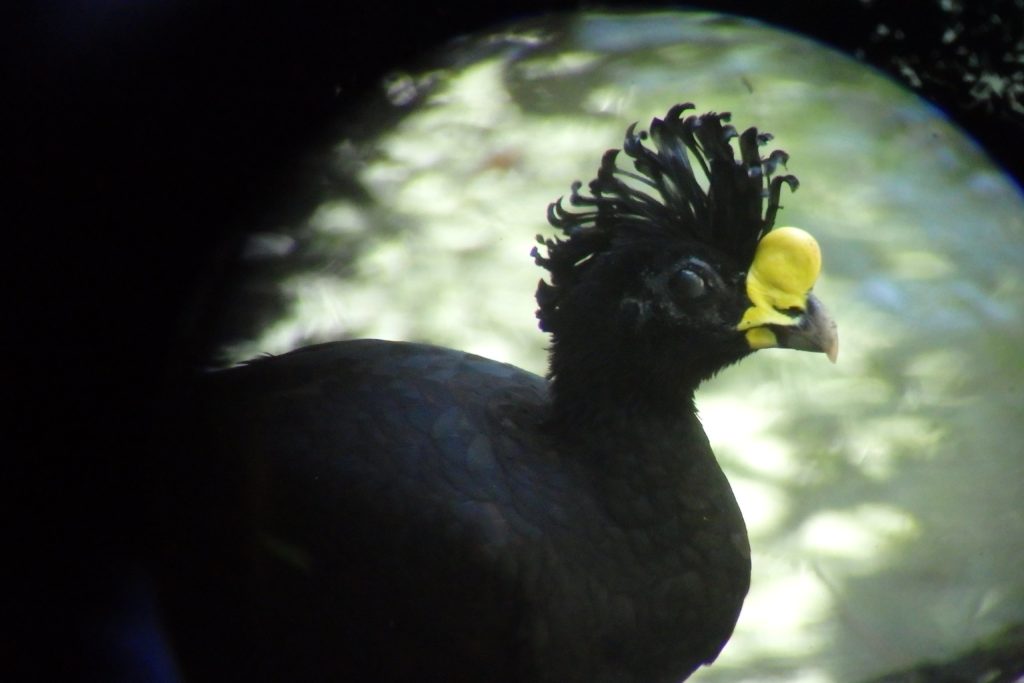 On your visit, you will pass many streams and you'll have a chance to cool down in one of them. While most animals are nocturnal (active during the night) it is suggested to stay there at least for 2 days and experience the forest by night. This is one of the best things to do in Costa Rica at night! 
Visit Montezuma
By Erin from Pina Travels
Montezuma is a small town on the southern coast of the Nicoya Peninsula. Because the region is more remote than other parts of Costa Rica, fewer tourists make their way there. The town has a quiet, bohemian vibe to it with lots of eco-lodges for sustainability-conscious travelers to stay in. 
It's the perfect spot to relax on gorgeous beaches, explore the jungle, see wildlife, and eat in local restaurants. These are just a few of the fun things to do in Costa Rica's Montezuma.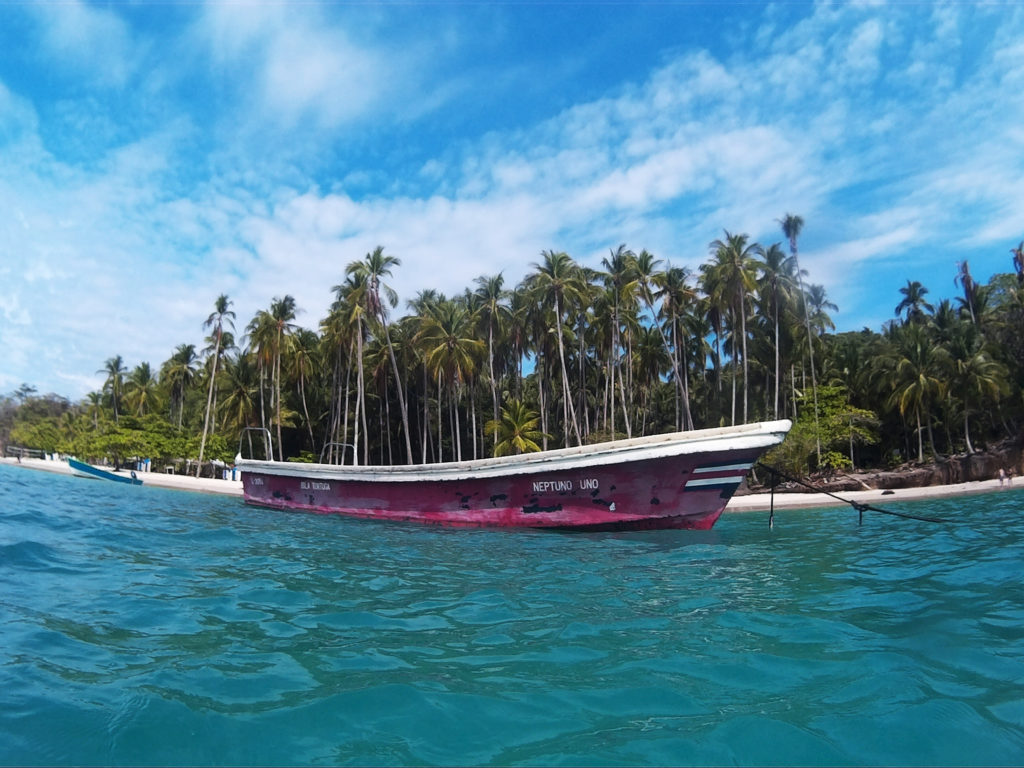 Montezuma is one of the must-see places in Costa Rica. It's known for its long stretch of white-sand beach, Playa Montezuma. The beach is an easy walk from town. 
If you're willing to venture further you can trek to Playa Grande, a more remote beach that is about a 30-minute walk from town. Playa Grande is a popular surfing spot and great for swimming too. There's no road access to this beach which means to reach it, you'll have to follow the trail which leads from the northeast end of Montezuma town, through the jungle, to Playa Grande.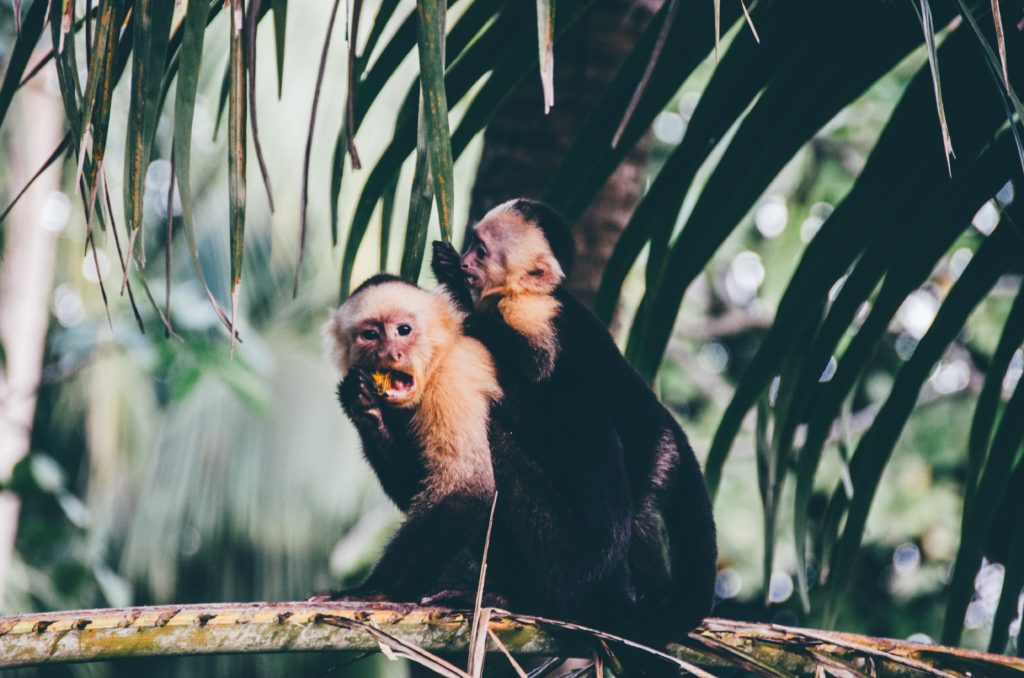 If beaches aren't your thing, head to Montezuma's waterfall instead. Waterfalls are another one of the popular Costa Rica points of interest. A trailhead from just outside town leads you to this beautiful spot in the jungle where you can swim in pools beneath a waterfall. If you're more daring, you can do some cliff jumping off of the rocks surrounding the waterfall's pools.
If you have time for a day trip, book a boat tour. The tour takes you out into the peninsula where you can snorkel, and then explore the idyllic remote island, Tortuga Island (another one of the top sights in Costa Rica).
Check out the Poás Volcano
By Veronika from Travel Geekery
The Poás Volcano belongs to one of Costa Rica's most active volcano regions. It's located in a National Park with the same name, only 37 km north of Alajuela, a city just on the outskirts of San José. The Poas Volcano National Park is one of the top places to go in Costa Rica.
The stratovolcano is 2708 m high and can be accessed by foot. Visiting the National Park is easy – you just need to book your tickets in advance.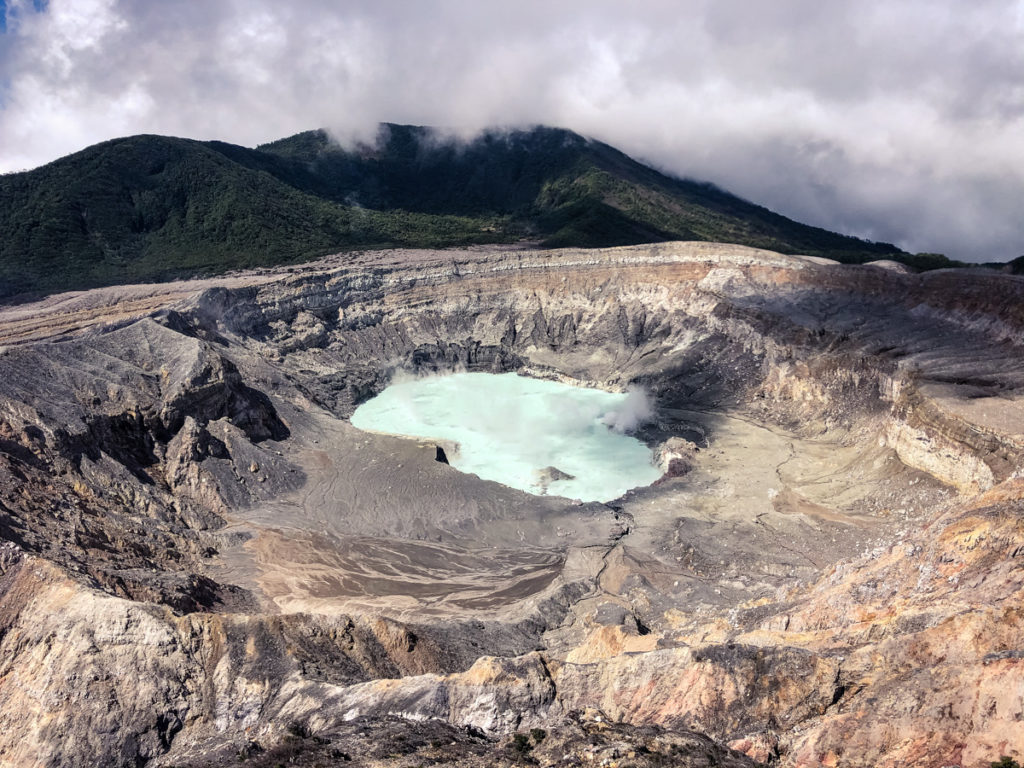 The volcano is magnificent, one of the undoubtedly cool places to visit in Costa Rica. There's a viewing platform that allows you to look straight into its main crater from above. A beautiful milky turquoise lake sits in the mouth of the volcano and constantly lets out sulfur gases.
There are a few hiking trails in the National Park, which is full of miniature trees forming a special kind of cloud forest. All plants in the area are adapted to sulfur exposure. However, since the last major eruption in 2017, all hiking trails remain closed and one can only visit the main viewing platform. Some, albeit smaller, eruptions happened in 2019. So, this is definitely one of the more thrilling locations to check out while you visit Costa Rica.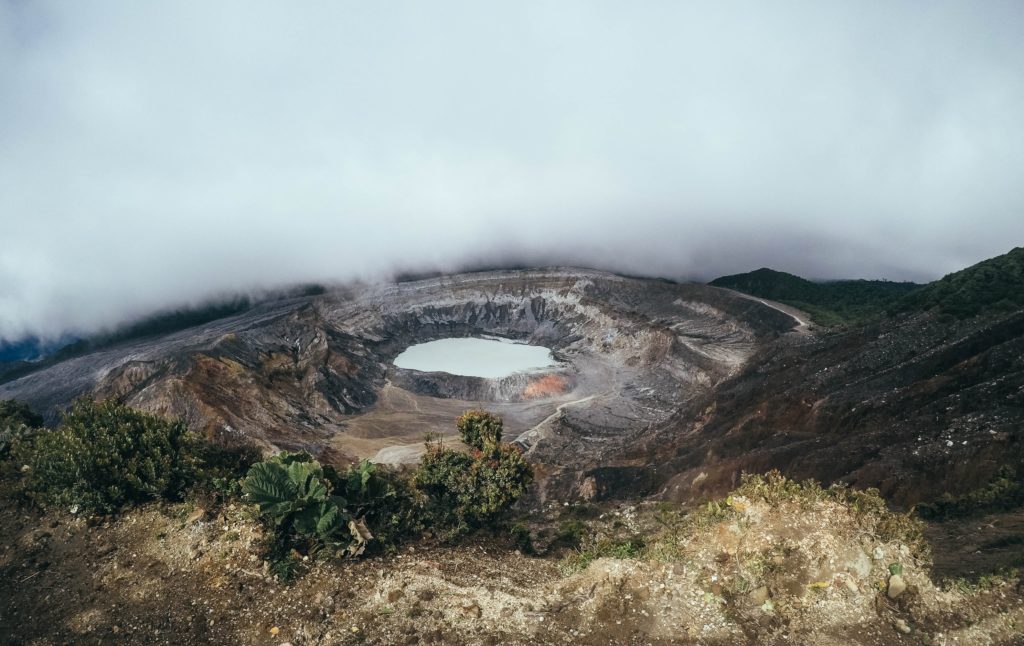 Visit the Poas Volcano and La Paz Waterfalls. 
Nowadays, when visiting, a security briefing is done first and every visitor receives a helmet. There are concrete shelters along the way for evacuation, in case the volcano erupts suddenly.
Poás is one of the top attractions in Costa Rica. Visiting here is a unique experience thanks to the views you can have inside the crater. The potential of an eruption anytime, even though the volcano's activity is closely monitored, only adds to the adrenaline experience.
Go to San Jose
By Claudia from My Adventures Across The World
Many would probably disagree, but San Jose should be one of the places to visit in Costa Rica. It's the capital of Costa Rica. While the city lacks the charm of many other more touristy destinations in the country, it actually enjoys an easy-going vibe and it is a great place to soak in the real Tico's vibe and way of life.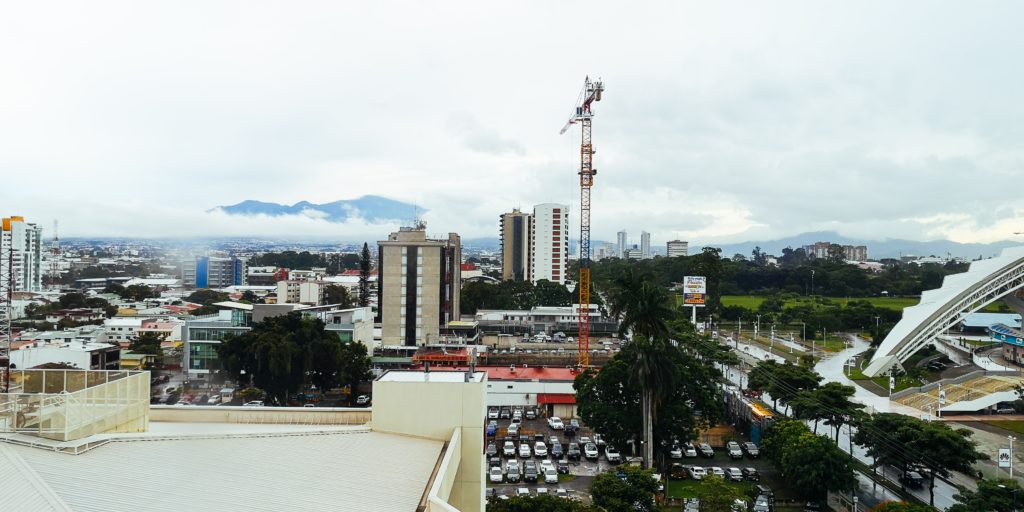 Go whitewater rafting near San Jose. 
The city was founded in 1737 with the name of Villanueva de la Boca del Monde del Valle de Abra. Only subsequently it became San Jose, in honor of its protector. Interestingly, it was thought to be of secondary importance to nearby Cartago. It only became the capital of Costa Rica in 1823.
Avenida Central is the main street of San Jose, and where you'll be able to catch most of the local action. It's the best place to go to find things to do in San Jose Costa Rica. You'll find plenty of local restaurants there too, in case you get hungry. Barrio Amon is another pleasant area to explore, with the historic homes of the cafetaleros – the coffee producers who contributed to the growth of the country.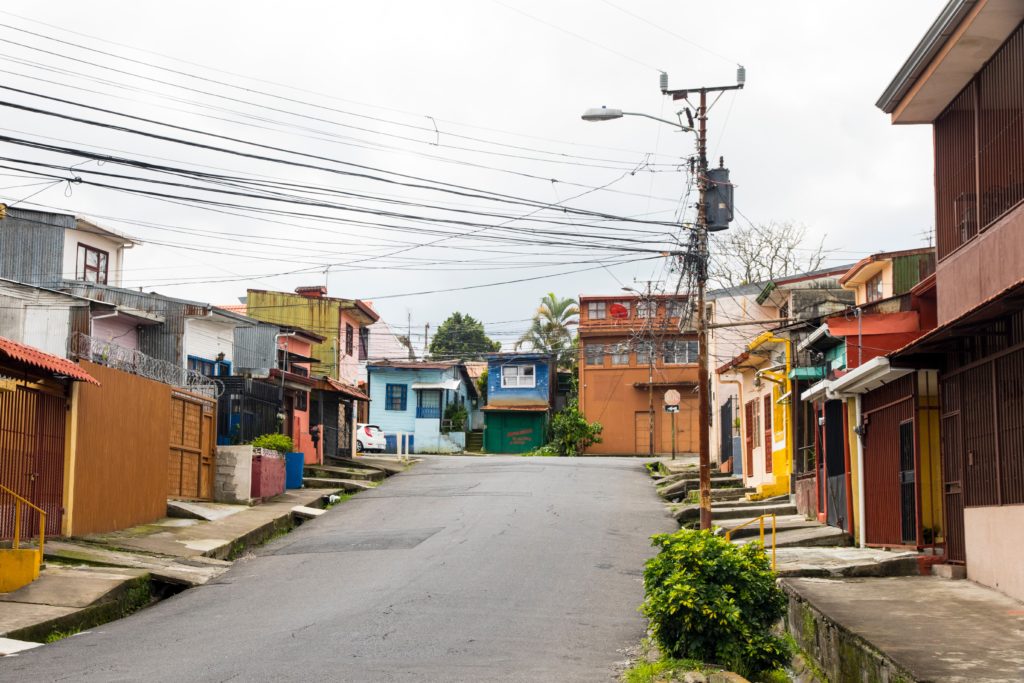 San Jose is a great place to go if you are looking for entertainment in Costa Rica. Museums you should not miss include the National Museum, located in what was once a fortress; the Art Museum; which has a strong focus on local art and history; the Natural Science Museum and the Museo de Oro Precolombino, aka the Gold Museum.
Climb to the Irazu Volcano
By Daria from the Discovery Nut
Located about one hour away from San Jose, Irazu Volcano National Park is one of Costa Rica's hidden treasures. Irazu is the highest and the largest active volcano in Costa Rica at 11,260 feet tall and 500 square kilometers at its base.
While not as many tourists make it here compared to other Costa Rica attractions, Irazu is a sight to behold. It's one of the most unforgettable things to see in Costa Rica.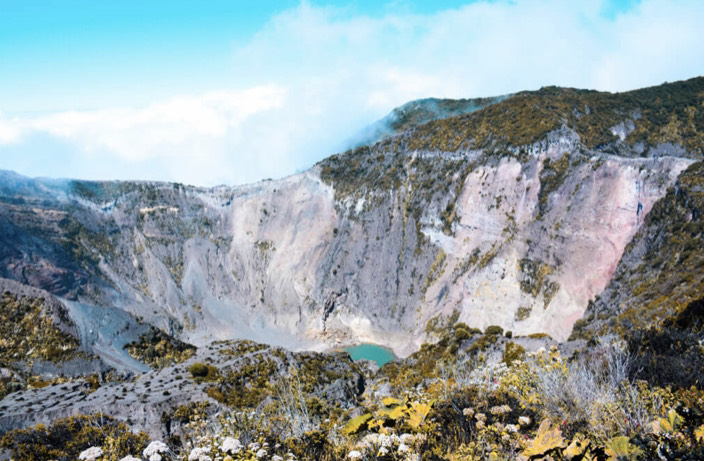 Visit the Irazu Volcano on your way to the airport. 
The area surrounding the volcano is covered in ashes from past eruptions, but you can still walk around the volcano along several trails to admire its beauty. 
One of the most popular activities in this national park is hiking to the Diego de la Haya crater – a challenging but exciting hike that culminates with incredible views of a bright green lake inside the volcano. If you are short on time, you can also take a drive to the crater.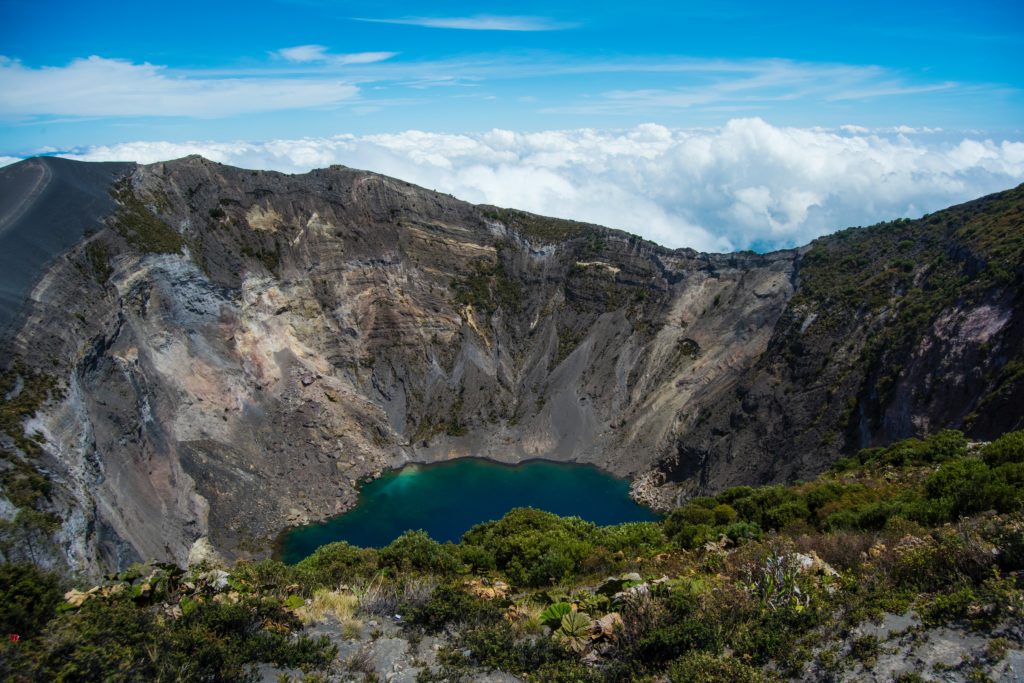 If you are wondering what to do in Costa Rica in August, make your way here! Don't forget to bring a jacket, as temperatures here tend to be lower because of the high elevation. 
The last time Irazu erupted was in 1994, and the volcano has been dormant ever since. However, it could become active again at any time. Still, Irazu is perfectly safe to visit and is a great getaway from the hustle and bustle of San Jose.
In addition, Irazu is located near Cartago, the former capital of Costa Rica, and combining these two places makes for a perfect day trip from San Jose.
Hike to the Rio Celeste Waterfall
By Pubali and Indranil from Paradise Catchers
Visiting the Rio Celeste Waterfall is one of the best activities in Costa Rica. The Rio Celeste waterfall is one of the most stunning waterfalls in Costa Rica. Set deep inside a lush rainforest, the white waterfall tumbles into a natural pool with sky-blue water. Interestingly, the brilliant celestial color of the pool and the river comes from an optical phenomenon. 
As two non-colored rivers converge, mineral particles suspended on the river surface decompose light in such a way that only the bluish tone is dispersed.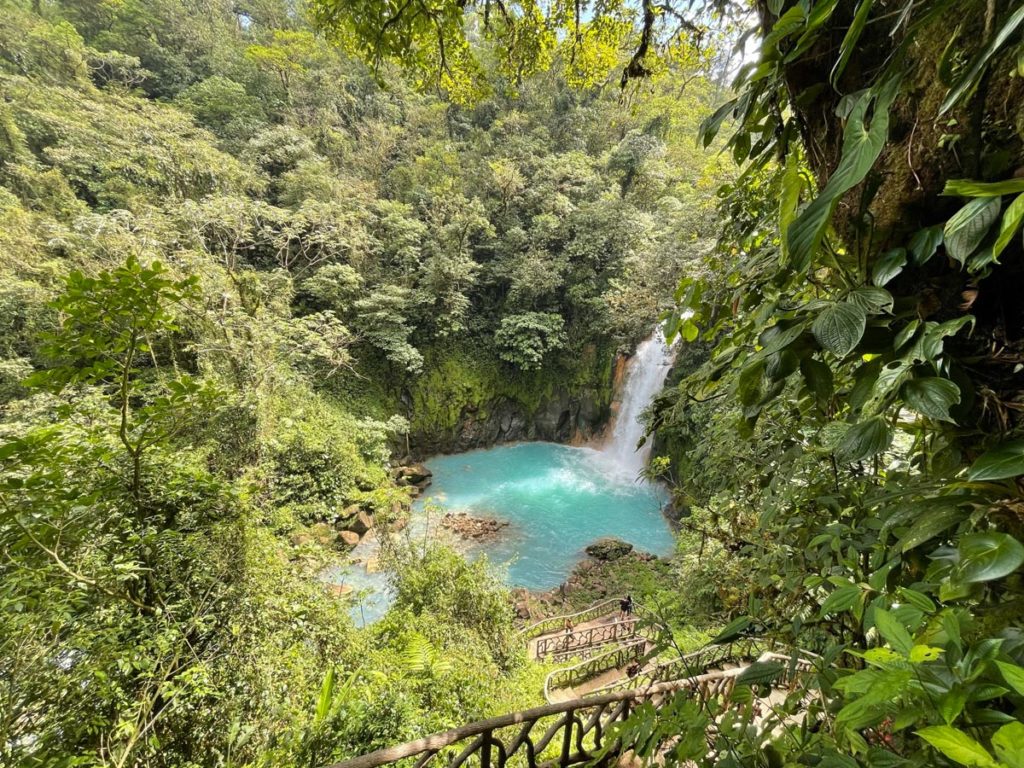 Visit Rio Celeste from San Jose.
So, make sure you plan your visit on a bright and sunny day, else you may miss out on seeing this blue color. The waterfall is beautiful nonetheless, certainly should be on your bucket list. Costa Rica's Rio Celeste waterfall is part of the Tenorio Volcano National Park.
To visit the waterfall you need to purchase the national park tickets and do a hike of about 30 minutes on a nice nature trail. For the last bit of the hike, you will need to walk down a spiraling staircase consisting of a couple hundred steps. You will get stunning views of the waterfall from different angles of the staircase as you make your way down to the waterfall. These gorgeous views are what make the Rio Celeste Waterfall one of the top places to visit in Costa Rica.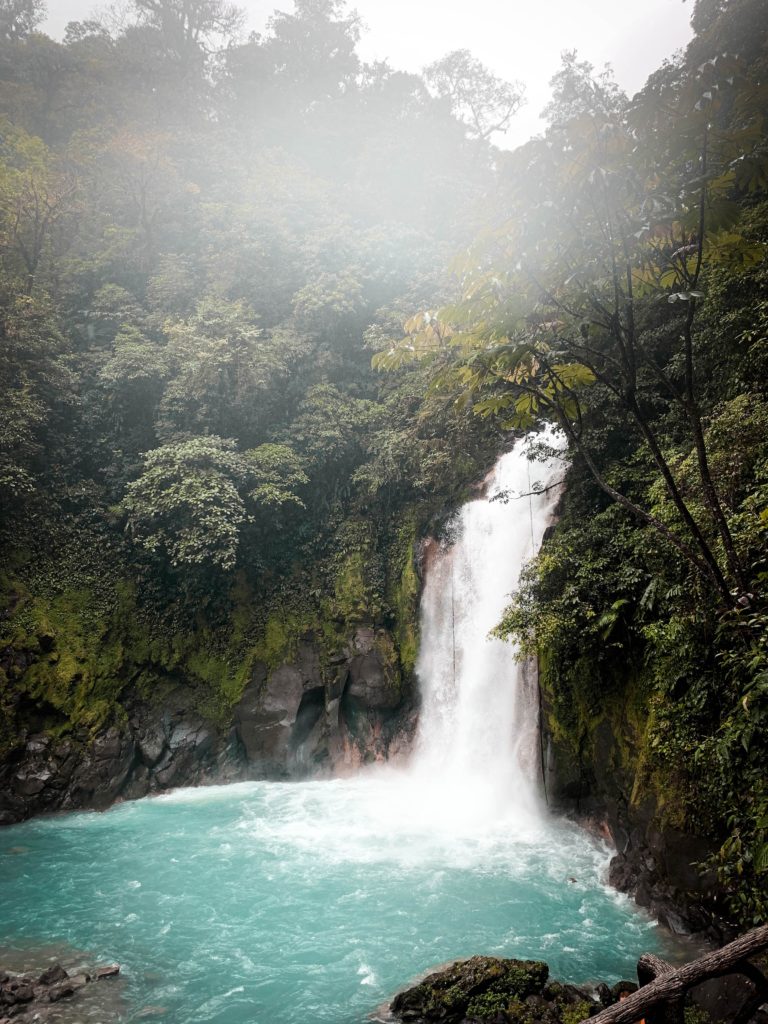 After completing the waterfall hike, you can continue on the other trail of the national park to explore a volcano viewpoint, the origin point of the blue color of Rio Celeste, and some secondary volcanic formations.
The national park is open from 8:00 am to 4:00 pm, but the last admission is at 2:00 pm. The park limits the daily number of visitors, so plan to arrive early. Don't miss this, it's one of the best things to do in Costa Rica!
Manuel Antonio
By Daniel from Layer Culture 
When looking for activities to do in Costa Rica, why not check out Manuel Antonio Park? If it is your first time in Central America and you are concerned about your safety in Costa Rica this is one place that will guarantee you to be in good hands. 
With over 150,000 annual visitors it is one of the most popular national parks in the country. Since it's one of the Costa Rica top attractions, you'll want to make the most of it by spending the day exploring both the trails and the beach. The main attraction for many is the beach, which is perfect for relaxing. You'll find tranquil turquoise waters. It's one of the cool things to do in Costa Rica with family.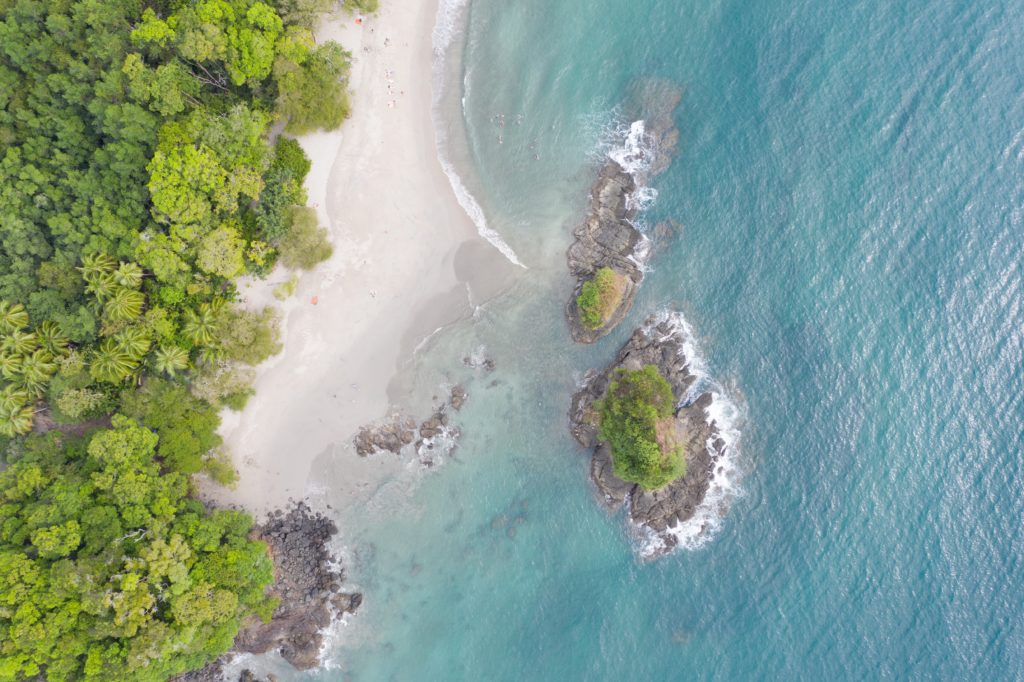 Snorkel and cruise through Manuel Antonio by Catamaran.
The other main attraction is hiking along the trails. The park is equipped with informational signs alongside each of the paths with interesting facts about both the flora and fauna. Although Manuel Antonio is Costa Rica's smallest national park, the diversity of the wildlife is unique and home to many rare animals, such as the two-toed sloth. Discovering the wildlife at Manuel Antonio is one of the unique things to do in Costa Rica.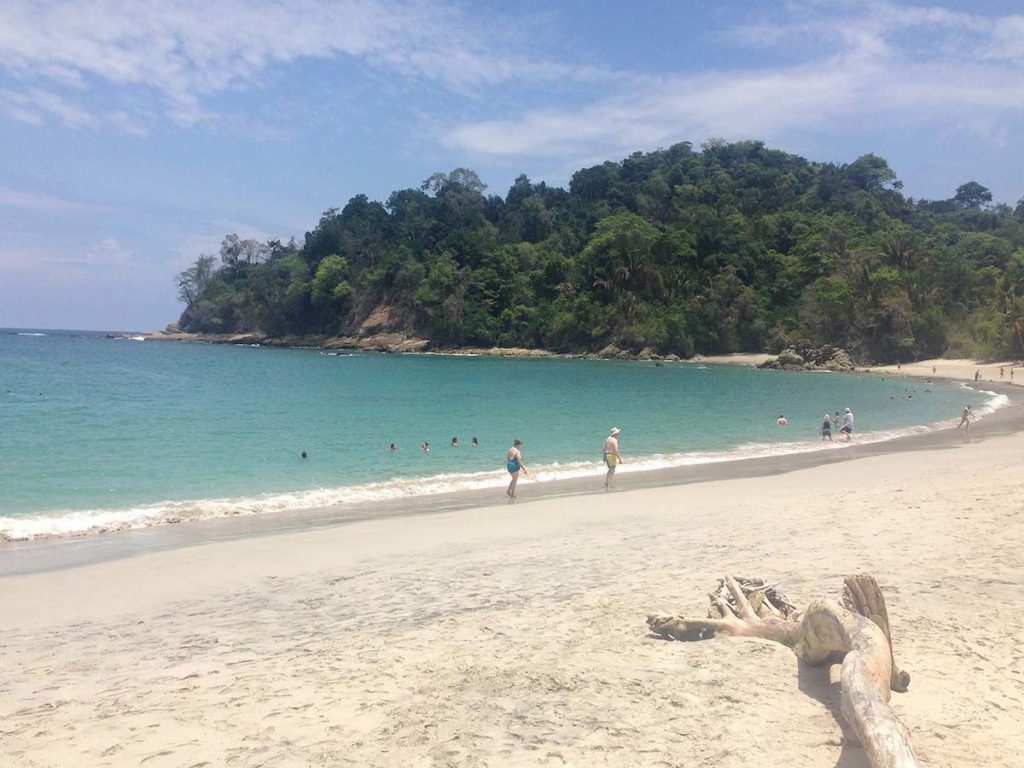 Also, look out for Iguanas and monkeys bouncing around at the beach. The park closes at 4 pm so it is best to get there as early as possible. All in all, Manuel Antonio makes an ideal place for you if you want a day of tranquility with the chance to connect with the ocean and some unique wildlife.
Discover the Tirimbina Lodge and Rainforest Center
By Margarita from the Wildlife Diaries
If you want to experience the magic of Costa Rica's tropical rainforest, head to Tirimbina Lodge and Rainforest Center in Puerto Viejo de Sarapiquí in Heredia province, 85 km north of San Jose.
Part a biological field station, part a rainforest reserve, and part an eco-lodge, Tirimbina is one of the most affordable places in the country to experience the rainforest and spot some of its wild inhabitants. It's one of the best attractions in Costa Rica and the best way to experience Tirimbina is to stay at the lodge for a night or two and spend your days and evenings exploring the rainforest trails.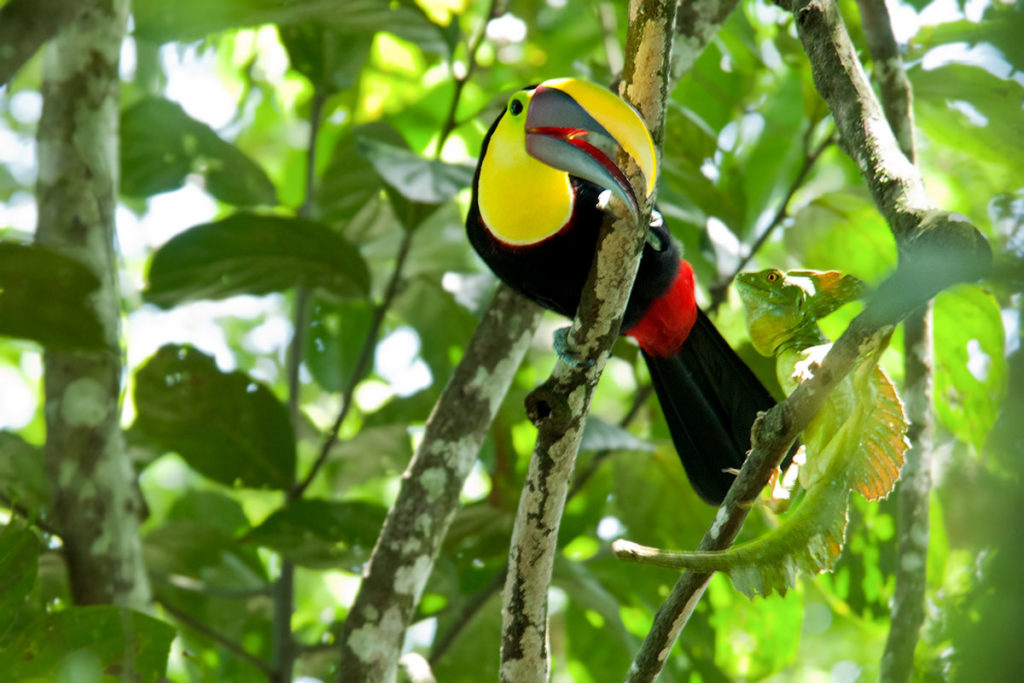 Reaching the trails from the lodge is part of the adventure as you'll have to cross Costa Rica's longest suspension bridge that stretches 262 meters over the Sarapiqui River. Crossing massive suspension bridges is one of the thrilling & fun activities in Costa Rica. 
One of the best spots for observing wildlife in Tirimbina is the second suspension bridge, called the Canopy Bridge. Here from the height of 35 meters above the forest floor, you'll find yourself surrounded by tropical birds and, if you are lucky, some Hoffman's two-toed sloths. Birdwatching is one of the most popular things you can do in Costa Rica.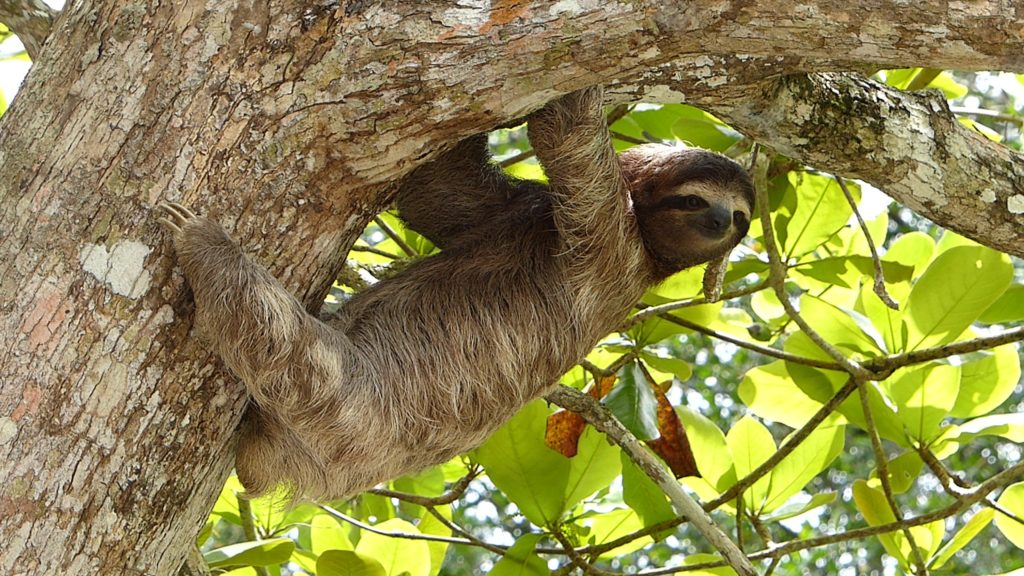 To see even more wildlife, take a spotlighting tour in the evening offered by the lodge. If you thought crossing the 262-meter suspension bridge was an adventure in daylight, wait until you have to do this at night! It's one of the most exciting things to do in Costa Rica in February. 
Although, since you can't see the river below the bridge in the dark, it's actually not as tense an experience. What you can see, however, are sloths, raccoons, opossums, adorable little frogs, and a few snakes. It's one of the awesome things to do in Costa Rica at night. So if you enjoy spotting wildlife on your travels, make sure to add Tirimbina to your Costa Rica itinerary.
Sea kayak in Golfo Dulce
By Karen of Outdoor Adventure Sampler
If your bucket list includes paddling among dolphins on the ocean, then sea kayaking in the Golfo Dulce is for you. Golfo Dulce, also known as the Sweet Gulf, is a tropical fjord that separates the Osa Peninsula on the Pacific side from the Costa Rica mainland. It's one of the best tourist attractions in Costa Rica. The gulf is located between two national parks and is one of the most biologically intense places in the world according to National Geographic.
Besides being home to humpback whales, four species of dolphins, sea turtles, and a rare shark species, the mangrove swamps ringing the gulf support populations of rare birds, crocodiles, and several species of monkeys. To explore by sea kayak is a nature lovers' paradise. Pods of curious dolphins will often surround your boat.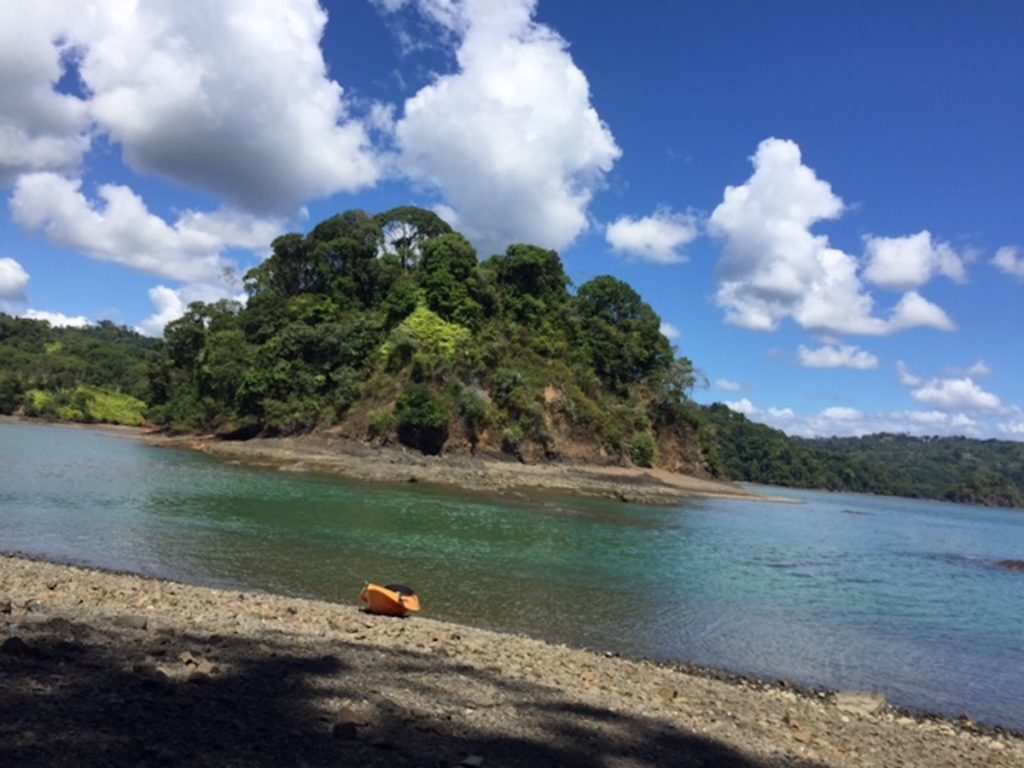 Book a sunset kayaking tour in Golfo Dulce.
Kayaking is one of the must-do outdoor activities in Costa Rica. The calm waters of Golfo Dulce are some of the best of Costa Rica, and they make for excellent kayaking. Many of the eco-lodges surrounding the gulf have sea kayaks or you can book with Tropical Sea Kayaking, an outfitter based on the gulf. 
As you kayak in the gulf, stop on deserted islands and beaches to snorkel in the clear tropical waters to see colorful fish and coral. Fishing is excellent in Golfo Dulce so try trolling for dinner from your kayak. Spanish mackerel or red snapper are just a few of the good eating fish you can catch.
After an amazing day of kayaking, relax at your eco-lodge and enjoy an unrivaled Golfo Dulce sunset.
Take an Arenal Rainforest Tour
Explored by Melissa from Parenthood and Passports
The region surrounding Costa Rica's Arenal Volcano has long been considered one of the country's premier adventure destinations. Located in northern Costa Rica, the area offers diverse rainforests, waterfalls, the country's largest lake, and of course, the picturesque Arenal Volcano National Park. You'll find all the exciting things to do in Costa Rica, here!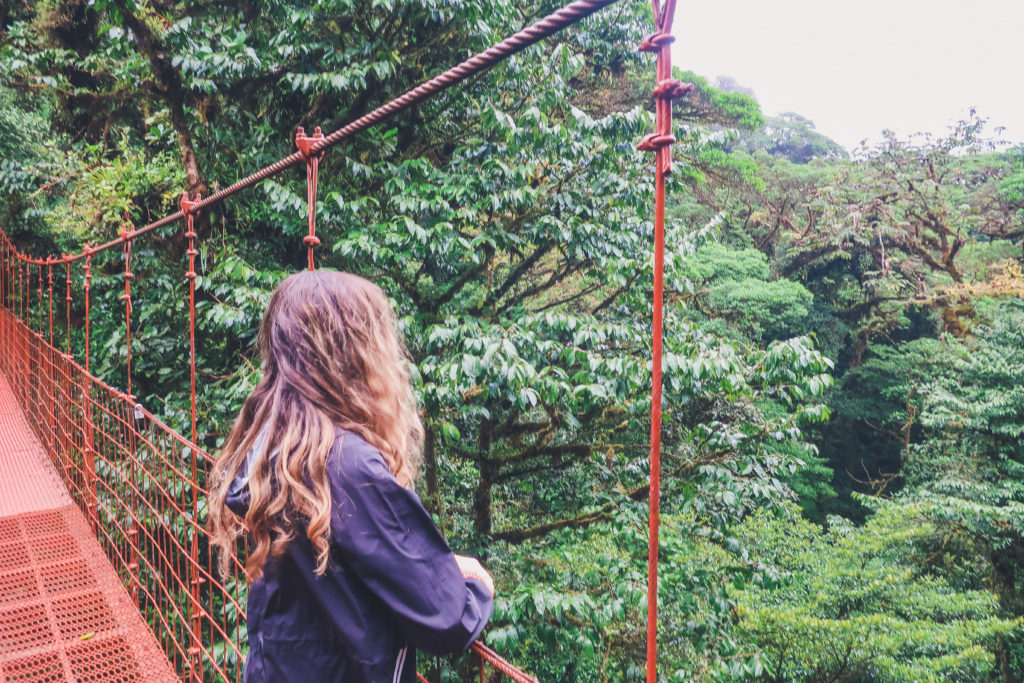 Join this guided hike through the Arenal hanging bridges park. 
Some of the activities in Arenal include hanging bridge tours and the best zip lining in Costa Rica. With more than 90 percent of animals in Costa Rica living in the canopy of the rainforest, getting into or above the trees is one of the best places to go in Costa Rica to get a glimpse of the country's exotic wildlife. 
A zip-lining tour will take you above the treetops where you might spot native birds like toucans, as well as howler monkeys and sloths. The adrenaline-pumping activity is a top Costa Rica bucket list experience!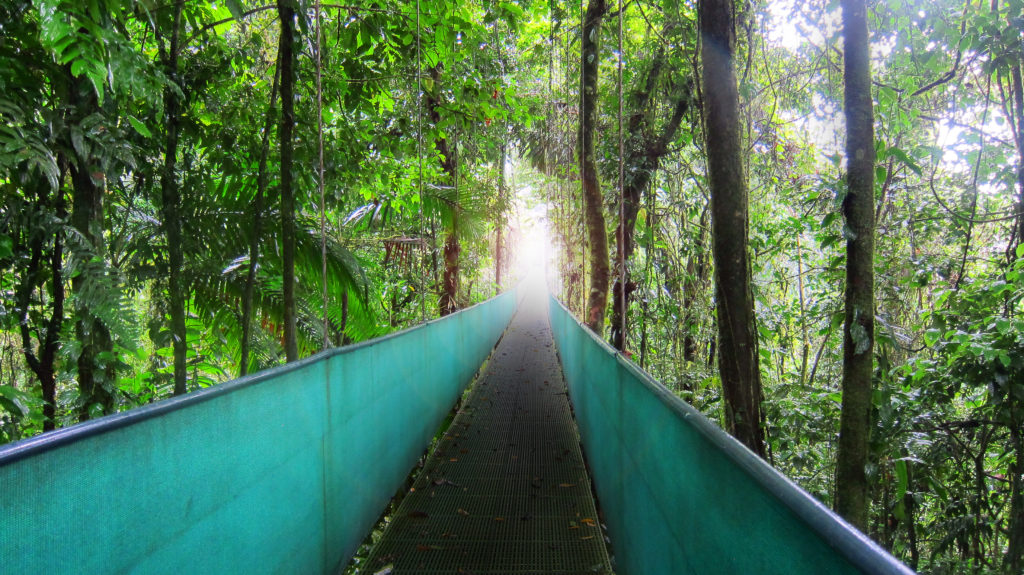 But for those who do not like the idea of soaring through the air while harnessed onto a steel cable, you can also explore the Arenal rainforest on foot. A hanging bridge tour through the trees is another popular bucket list experience in the Arenal region. The tour will take you across a series of long suspension bridges built at the canopy level, so you can get a close-up view of the rainforest's beautiful and complex ecosystem.   
Visit Jaco Beach
By Lori from Fitz 5 
Costa Rica's west coast is known for fabulous consistent surfing for all ability levels. If you can swim, you can surf. Surfing adventures range from off-the-beaten-path beach bungalows and hostels to lessons and surf beaches within a town or city. Surfing is one of the top things to do in Costa Rica.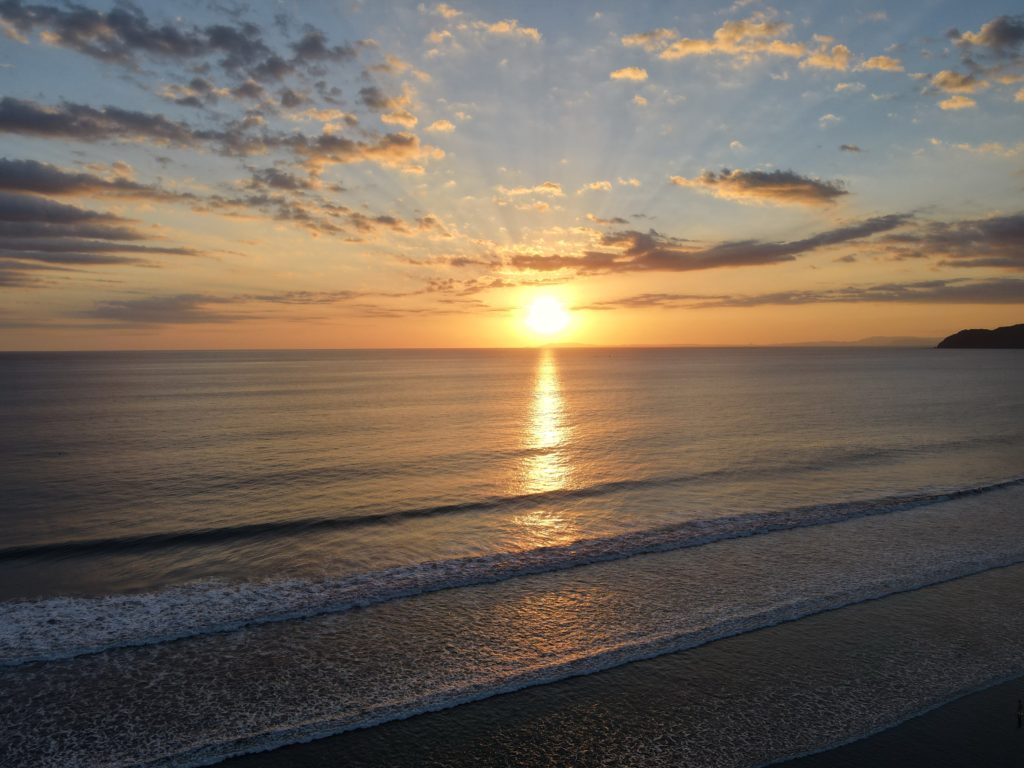 Surfing is one of the best things to do in Jaco Beach. Jaco is on the Pacific and has several different beaches with different ability levels. There are also a few very friendly surf shops for board rentals and lessons. Call ahead to arrange a time to schedule your lesson and get advice. Instructors are good with adults and kids and make the experience a lot of fun.
A photo of you catching your first wave is a great addition to your Costa Rica travel list. Jaco Beach itself is a lovely and friendly beach town. Staying at a small bed and breakfast gives you a wonderful personal experience, and it's one of the fun things to do in Jaco.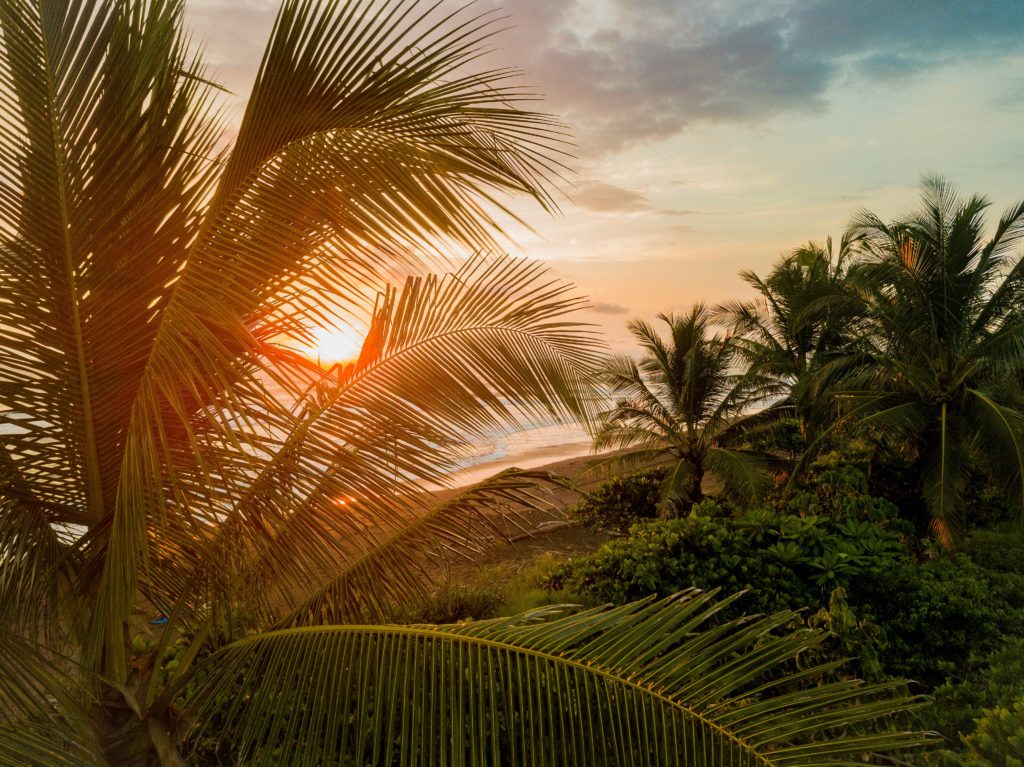 Jaco is less than a 2-hour drive from San Jose, but driving a car in Costa Rica can be a little tricky. Shuttles are also available. The main strip of town is a very enjoyable stroll and the restaurants are funky and delicious. Learning to surf should be on your Costa Rica must-do list. Jaco is a great choice to soak in Costa Rica beach town vibes and catch some waves.
White Water Rafting
Recommended by Kerry Hanson from Veggtravel.com
If you're looking for white knuckle thrills and extreme adventure, then you will love Costa Rica. How can you possibly choose between nature, wildlife, and every adventurous activity you could possibly imagine? Well, with white water rafting, you can combine all three! It's one of the popular activities in Costa Rica. 
There are several places around Costa Rica to enjoy white-water rafting. So, it all depends on whether you want a more leisurely ride or a more gripping experience.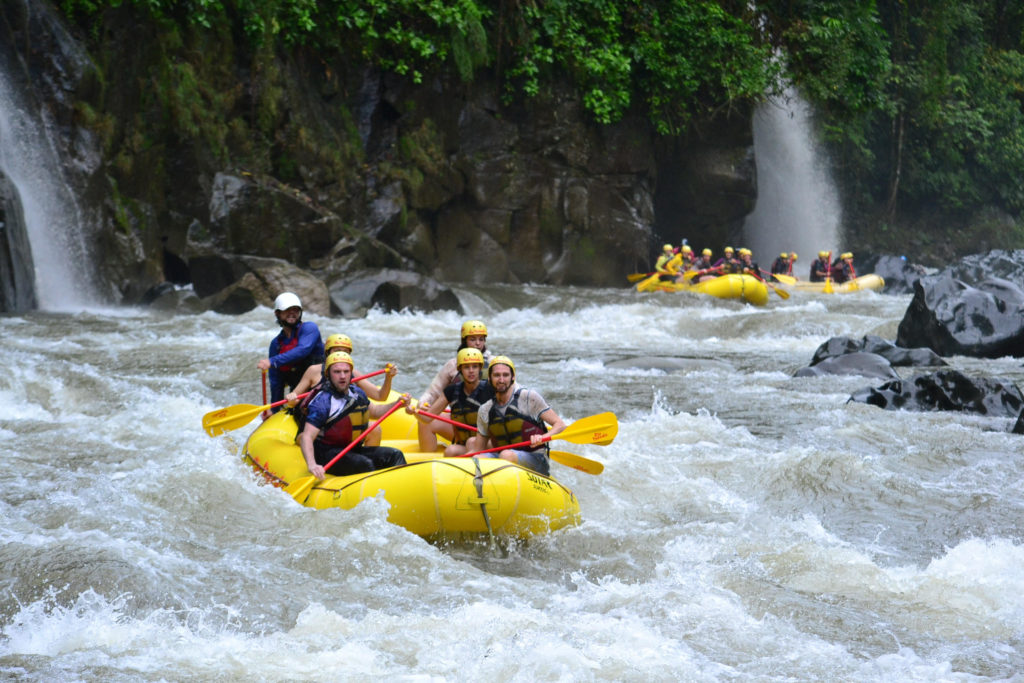 Experience whitewater rafting along the Sarapiqui River. 
Peñas Blancas and Basla River in the Arenal area of Costa Rica have class II to III rapids. The ride will still be exciting, but you will also be able to enjoy calmer parts where you can soak in the forestry and look out for wildlife. There's also a lot of other fun Costa Rica sightseeing activities near Arenal.
If you'd prefer to have non-stop excitement with very few lazy river moments, then Toro river or Rio Pacuare is for you. These Class III to IV rapids promise a more intense ride — definitely one of the cool things to do in Costa Rica for thrill-seekers. 
Rio Toro (the bull river), is in between San Jose and Arenal and you'd be able to do a day trip easily from either location. These are some of the best places to see in Costa Rica, and you can expect fast-paced, hair-raising thrills.
Rio Pacuare is located southeast of San Jose and is known as one of the best rivers in the world. While the rafting can be extreme in parts, the scenery itself is breathtaking. Expect to weave in and out of large waterfalls as you enjoy the views.
Costa Rica has some of the best rafting in the world, so this should 100% be on your bucket list.
Don't miss Monteverde
One of the most popular things to do in Monteverde is to visit the Cloud Forest. The Monteverde Cloud Forest and Biological Preserve draws a quarter of a million tourists to the region each year.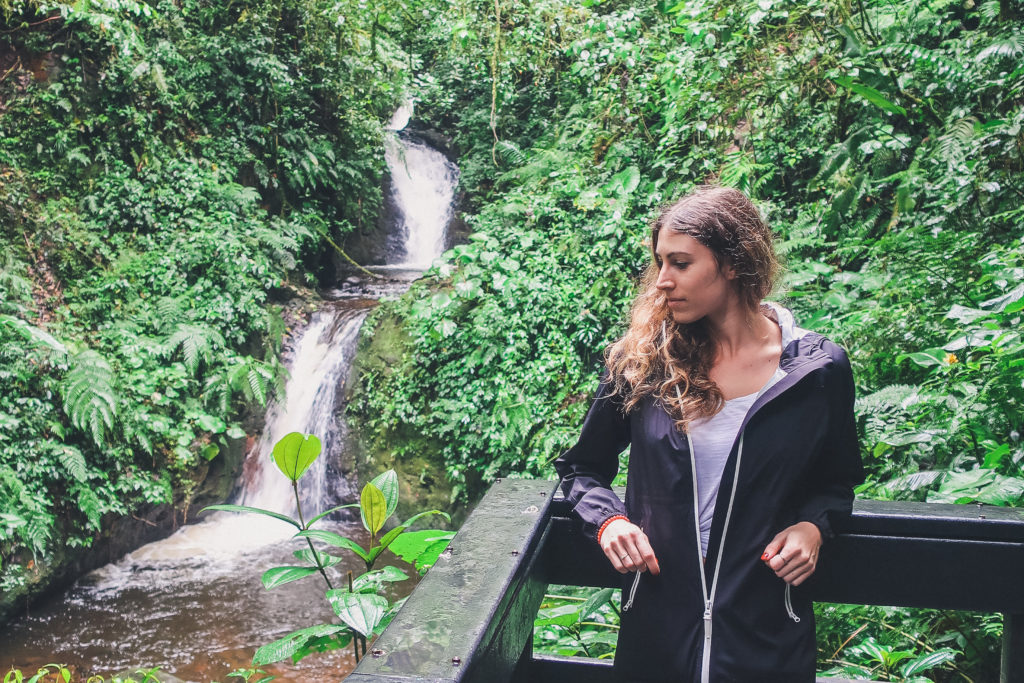 Zipline through the cloud forest in Monteverde. 
It's one of the best-known Monteverde attractions, famous for biodiversity, spectacular views, and thrilling suspension bridges. This is a great spot to hike, although it can get quite muddy during rainstorms. Bring comfortable closed-toed shoes and a raincoat if traveling during the rainy season. 
Take a coffee, chocolate, and sugarcane tour in Monteverde. 
Another one of the best things to do in Monteverde is to take a coffee tour. An organized tour through Don Juan tours is a must for coffee lovers. This tour included information about local coffee, chocolate, and sugarcane farming processes. Plus, you'll get to taste the finished product & catch up with the farm's sloth.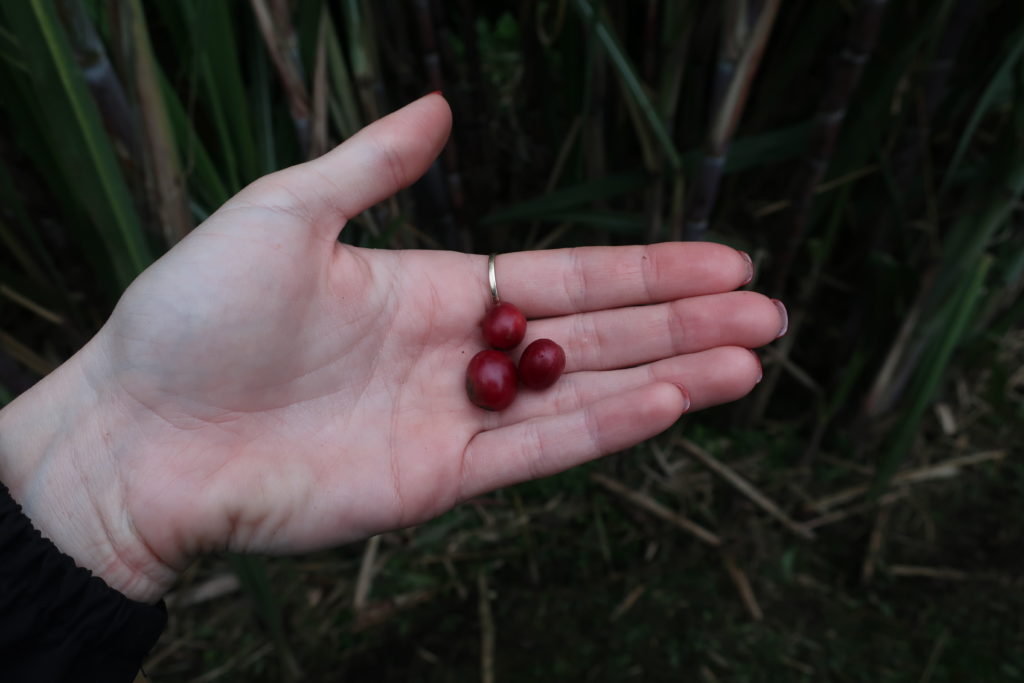 Other fun places to visit in Costa Rica's Monteverde region include the Butterfly Garden, Orchid Garden, Bat Jungle, and La Reserva Bosque Nuboso Santa Elena. Some of the best activities in Costa Rica are found here.