This interactive tourist map of Dubai includes all of the best attractions, a few of the top restaurant and some of my favorite rooftop bars. The blue pins represent Dubai attractions and range from museums, to cultural points of interest, structures with unique design features and more conventional Dubai sightseeing spots.
You can also expect to find parks, gardens and mosques. A few beautiful beaches are indicated with a yellow pins. Also, I've used green pins to note the best places in Dubai to dine. My favorite Dubai rooftop bars with incredible views are shown in purple. Finally, (I'm an ice-cream-holic ) so you'll notice the top ice cream parlors are marked with pink pins. To learn how to use this tourist map of Dubai, visit our Google Maps for travel user guide.
Tourist Map of Dubai
Tourist Map of Dubai: Attractions Guide by Region
Dubai is a big city. While it is well-connected with highways, public transit and skybridges, you should carefully consider location when planning. You'll quickly notice that the best places to visit in Dubai are somewhat far away from one another. "What is far away?" You may ask…
Well, expect for it to take you 20-30 minutes driving to get from one attraction to another. I'll take you through some of the main areas in this Dubai tourist map, so that you won't miss out on anything important! To see my favorite Dubai attractions, click here.
Find out the best places to stay in Dubai.
Dubai Downtown
A Dubai trip isn't complete without a visit to the downtown area. Many of the coolest things to see in Dubai are located downtown. These include the Burj Khalifa (the tallest building in the world), the Dubai Mall, the Dubai Fountains and Burj Park. A very beautiful and architecturally inspiring building in Dubai's downtown is the Palace Hotel. Inside the Palace Hotel, you'll find an upscale Souk (traditional market). This is one of the most beautiful places in Dubai! You should spend at least half a day here walking from one attraction to the next.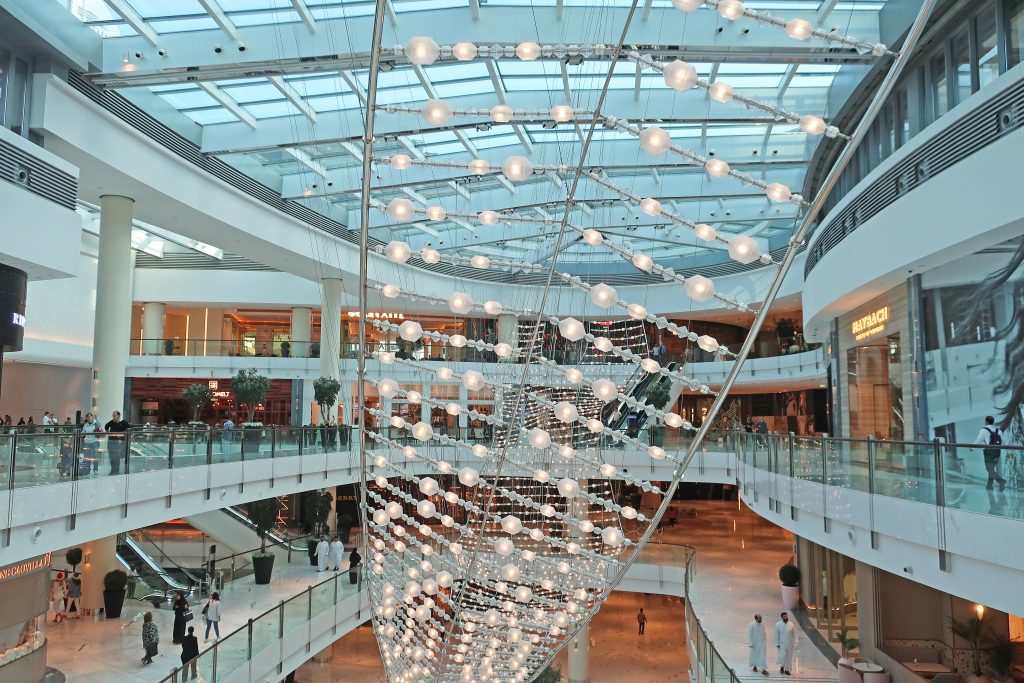 If planning to go inside the Burj Khalifa, I recommend booking the SKY experience. It will give you access to the highest observation deck in the world. If you're looking for a less touristy way to enjoy views from inside the Burj Khalifa, you can book a reservation at one of the Armani hotel's restaurants. Amal is a cool Indian restaurant with an outdoor terrace. The Armani hotel is located inside the Burj Khalifa, and it is one of the most impressive Dubai hotels!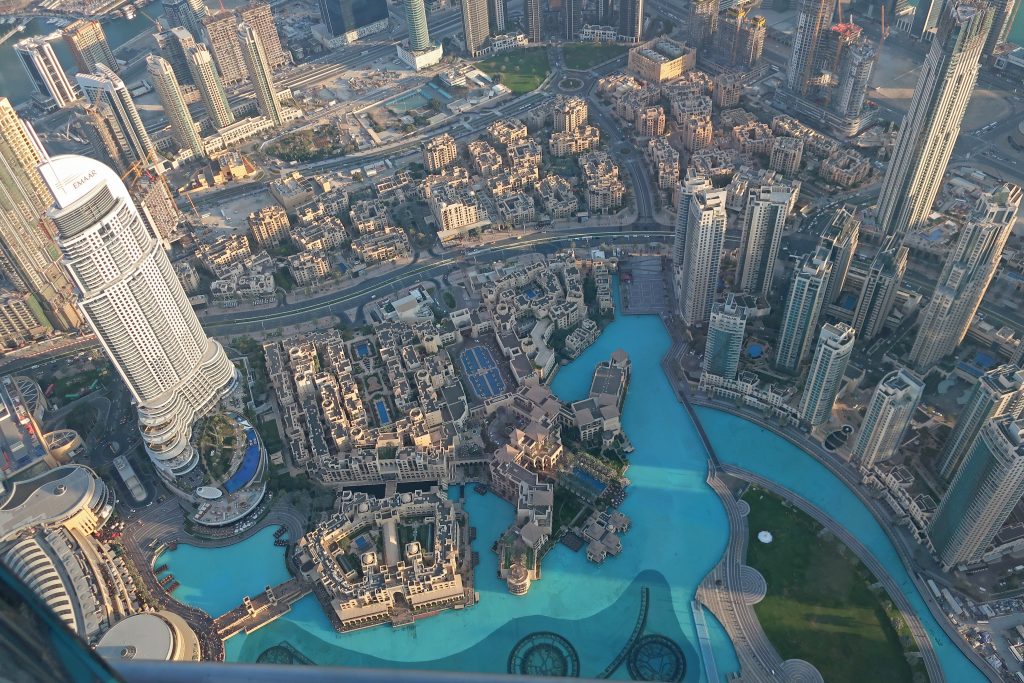 The Dubai Mall connects the Burj Khalifa and the Dubai Fountains. The mall is absolutely gorgeous. It had an aquarium inside as well! I recommend walking around the luxury designer shops because this is the prettiest and most glamorous part of the mall. Visit the Dubai fountains at night to catch one of the shows. You can usually expect to see the show at the beginning of every hour after 6 PM, but schedules can vary. Click here for full schedule. This performance holds the title of being the world's largest choreographed fountain show.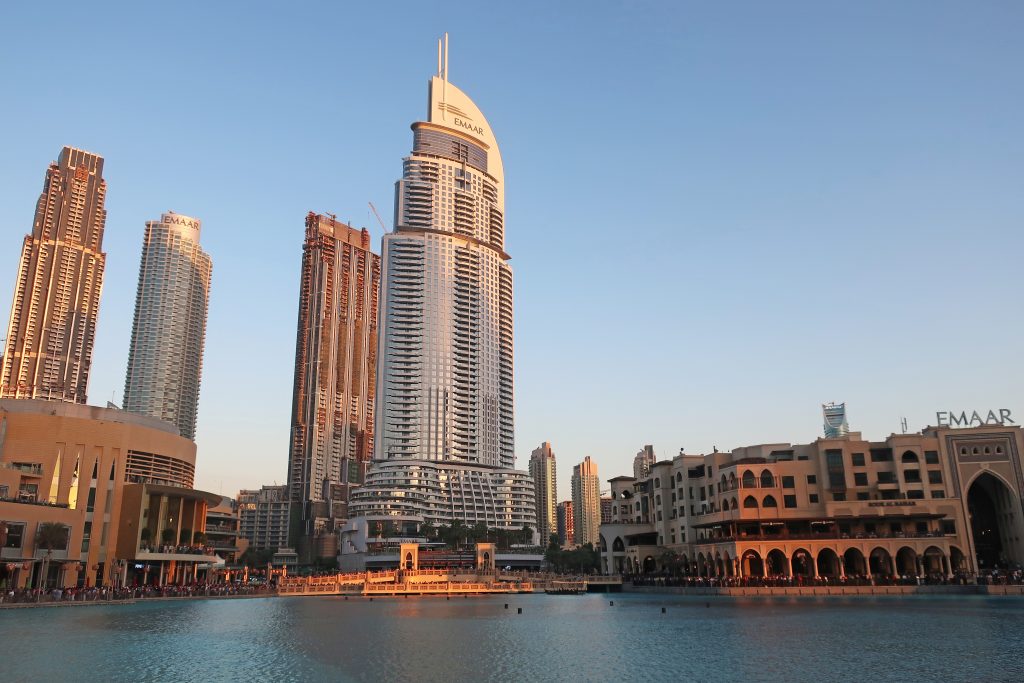 A few great fine dining restaurants in Dubai's downtown include Em Sherif (Lebanese), Treehouse (Mediterranean rooftop lounge) and Thiptara (Thai). A great fast food chain with a location in downtown Dubai is Filful –which I highly recommend if you're trying to dine like a local! La Serre is the ultimate French bistro, and it offers the best breakfast in the downtown Dubai area.
Al Shindagha Neighborhood
The Al Shindagha Neighborhood is where you'll find another collection of cool Dubai tourist attractions. On the Dubai city map, you'll notice the cluster of blue pins near the Dubai creek. These Dubai tourist spots are more representative of Old Dubai –the history and the culture of the native Emirati People. Specifically, there are the Souks, Al Fahidi Historical District, the Al Farooq Mosque and the Dubai Museum.
The Gold Souk and Spice Souk are markets. Traditional goods such as jewelry, textiles, food and other crafts are sold here. They can be a great place to get souvenirs for the family. Be prepared to haggle! Although, I do caution against visiting the Souks. Be prepared for extremely aggressive sales techniques. It can be an unpleasant shopping experience. The Souk inside the Palace Hotel offers are more relaxed and sophisticated shopping experience.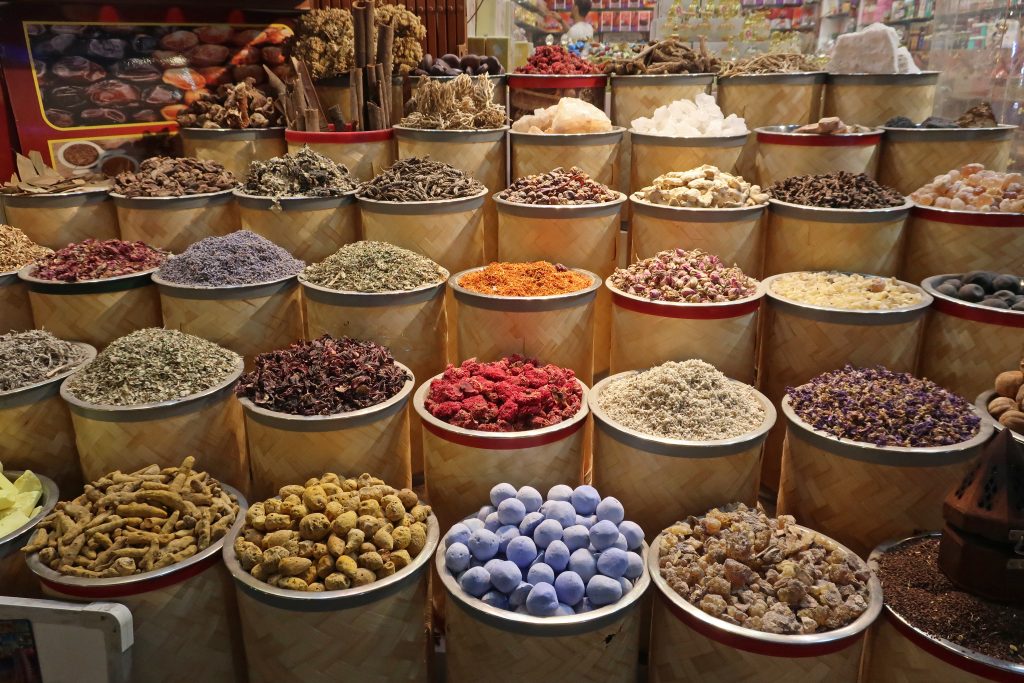 The Al Fahidi Historical District, Dubai Museum and Al Farooq Mosque are on the other side of the creek. Take a quick and cheap water taxi across and skip the obnoxious 20 minute cab ride that gets you 0.2 miles (yes, really). Unlike the Souks, the Al Fahidi Historical District is a more refined cultural experience. You can walk through here and check out local artists, crafts and events. There is a cool Museum of Illusions which offers a much-appreciated break from the sun.
After you've checked out the Al Fahidi Historical District, the Dubai Museum and the Al Farooq Mosque, you must eat at the Arabian Teahouse! It is a picturesque Middle Eastern restaurant with delicious traditional food and a large menu.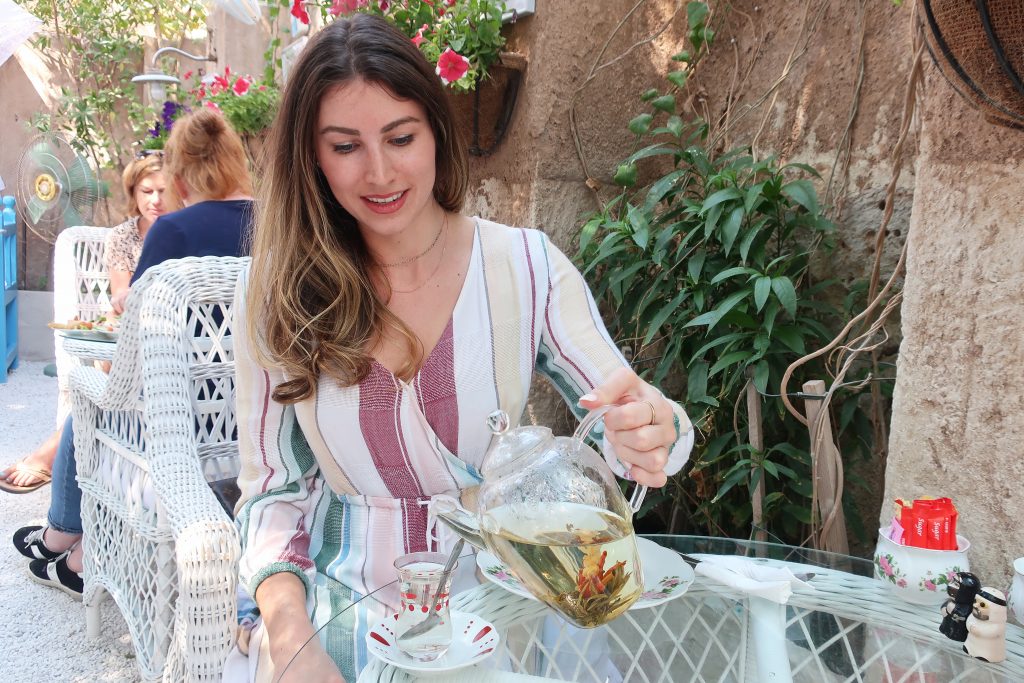 Dubai Marina
Another one of the main tourist sites in Dubai is the Dubai Marina. During your Dubai travels, you've got to stop here! Enjoy the Dubai Marina walk, the Dubai Marina Mall and the fantastic dining options. There's also a handful of cool rooftop bars at the Dubai Marina. These include the Siddharta Lounge, Pure Sky Lounge and Shades. Don't be deceived by how small this area looks on the Dubai attractions map! This is a large area. For example, it will take you 30 minutes to walk from the Dubai Marina Mall to the Pappa Roti Café across the marina.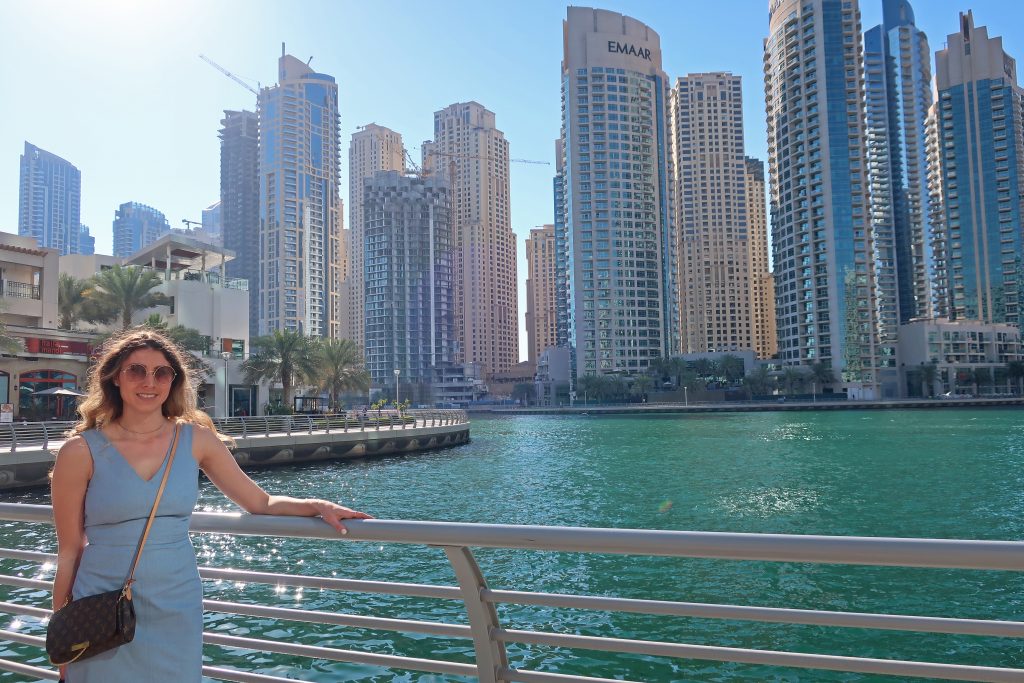 Beaches in Dubai
You can see in this Dubai map that there's miles and miles of shoreline! My two favorite beaches are La Mer and The Beach by Meraas. These are great beaches for tourists who are looking to rent lounge chairs, towels and umbrellas. These beaches also offer plenty of dining, drinking and shopping options.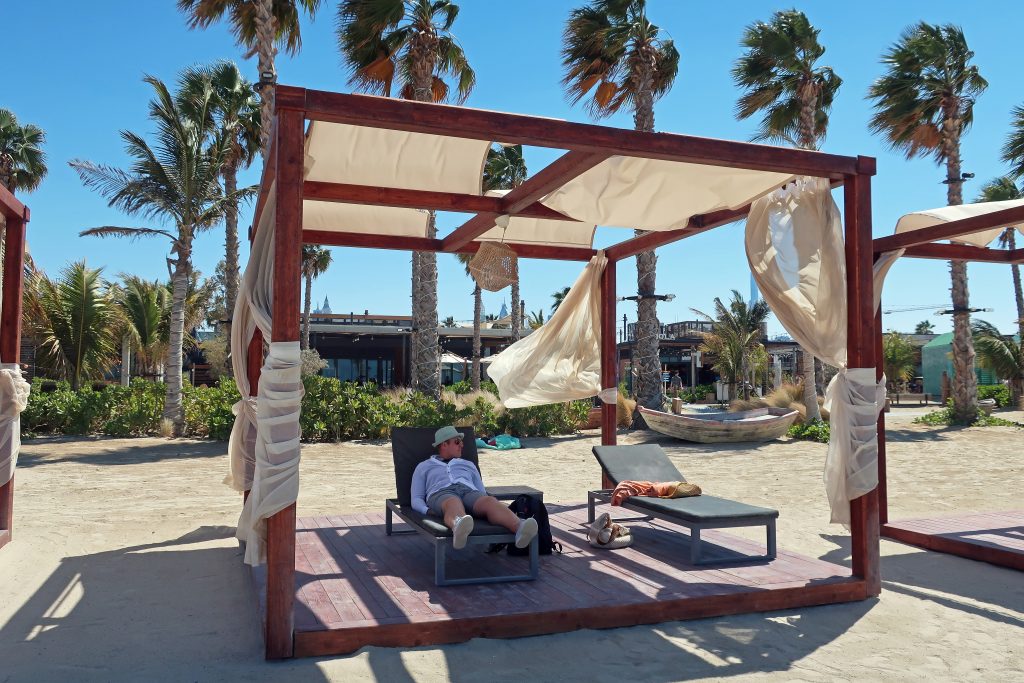 Outliers
You may notice in the Dubai sightseeing map that a few blue pins are all by themselves. Notice the Dubai Miracle Garden and the Global Village. These are some of the most interesting places in Dubai, and they're worth going out of your way for.
The Dubai Miracle Garden is a 30-minute drive from downtown. It features 150 million flowers arranged into beautiful characters and designs. It's unlike any other garden in the world. The Miracle Garden is a 15-20 minute drive from the Global Village. The Global Village is an immersive multi-cultural park. Also, it's a great place to pick up souvenirs! These are both great activities for all ages.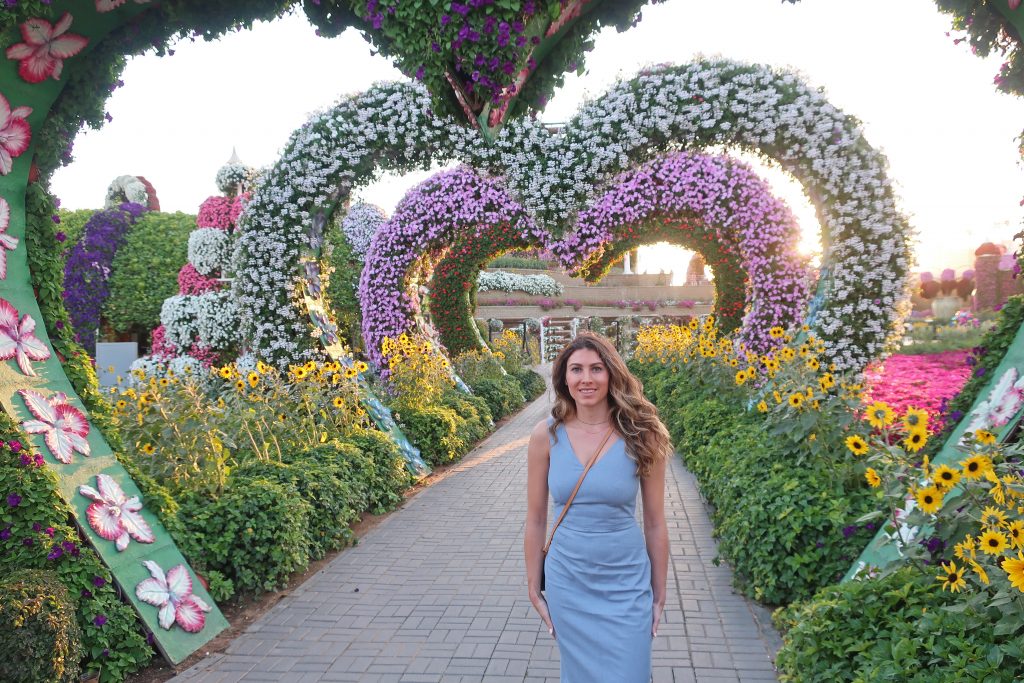 Final Thoughts for our Dubai Travel Map
This map includes the top places to visit in Dubai, but it does not include the top tours in Dubai. You may want to consider booking a Desert Safari tour on your trip to Dubai. The Dubai desert safari is a bucket-list-must!
This Dubai tourist attractions map is downloadable! So, don't go without it on your trip. You can also use the offline version of google maps if you wont have access to Wi-Fi while traveling.
Find Hidden Gems in Dubai.
Abu Dhabi is only 1 hour from Dubai. You can get there by taxi or public transportation. Check out these exciting Abu Dhabi tourist attractions.
If you think I missed something important in this Dubai travel map, please comment below!