Abu Dhabi is glamours island metropolis in the Persian Gulf. It's the second largest city in the United Arab Emirates and it's exceptionally modern. Island, desert and city become one in Abu Dhabi —that's why many of the Abu Dhabi attractions are beaches, architectural marvels & luxury experiences. There's also plenty of history and culture in Abu Dhabi, including a few UNESCO World Heritage sites. All included in our Abu Dhabi tourist attractions map.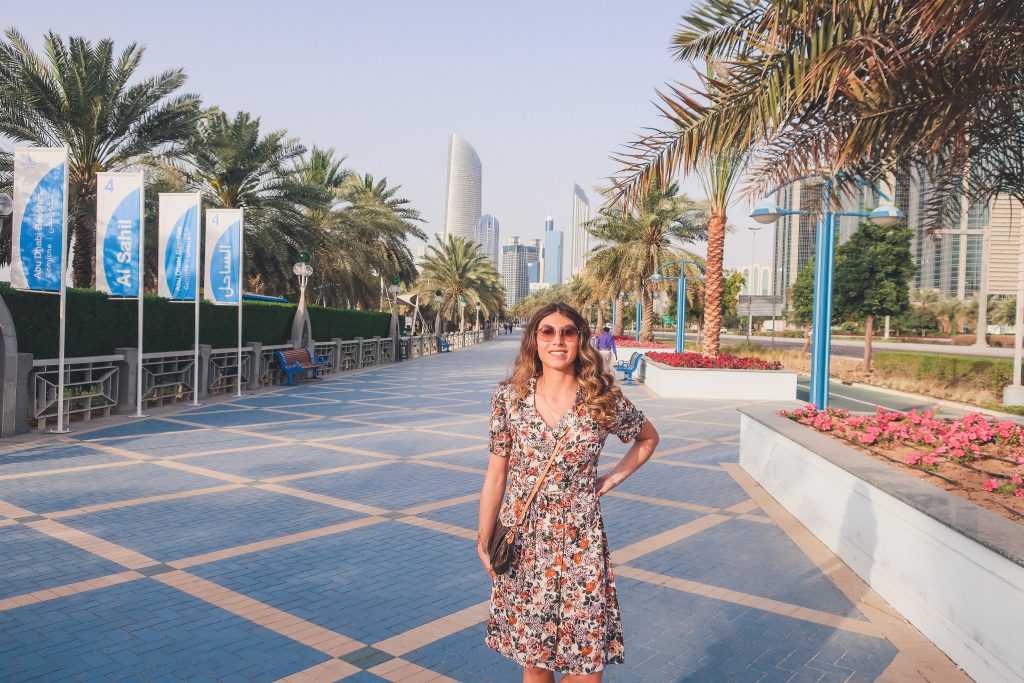 Abu Dhabi Tourist Attractions Map
How to get to Abu Dhabi?
Abu Dhabi is easily accessible by it's international airport. It's the perfect place for a long layover or an extended vacation.
From Dubai, you can get to Abu Dhabi in 1 hour of driving. Cabs are often willing to take tourists from one city to the next. Although, you can also take public transportation.
Check out this top rated Abu Dhabi Desert Safari. 
Getting around Abu Dhabi
Abu Dhabi is a big city that's not well connected by public transpiration. To get to the top Abu Dhabi tourist attractions, you'll absolutely need a car. You could rent a car, take taxis or ride Uber.
You'll also need to take into account the distance. Many of the best places to visit in Abu Dhabi are outside of downtown.
Skip the car rental. Use the hop-on-hop-off buses in Abu Dhabi. 
Estimated Driving Times
Grand Mosque         20 minutes from downtown
Ferrari World           30 minutes from downtown
Falcon Hospital       30 minutes from downtown
Jebel Hafeet             2 hours from downtown
Yas Mall                    25 minutes from downtown
Sir Baniyas Island   2 hours and 30 minute drive + Boat ride from downtown
As you can see, distance becomes important! If you don't have much time, you'll have to pick and choose where to focus your Abu Dhabi sightseeing.
Also, find out how to dress in Abu Dhabi. 
Abu Dhabi Tourist Attractions Map
This Abu Dhabi attractions map includes all of the places you'll want to visit. We've also included some recommended restaurants in Abu Dhabi. Most of the restaurants here are fine-dining, top-rated establishments.
How to Use This Map: If you click the tab at the top left corner, you'll be able to select specific layers. Click the checkmark to select or hide specific categories.
Save This Map: Click the brackets in the top right corner to expand the map in full view. It will open in a new tab. Under the map title, right of the map description, there is a star. Click this star and the map will be saved to your Google account  in Google Maps. You can access it later from your computer or device. On desktop, go to Google Maps and click 'Your Places,' and 'Maps.' On app view, select 'Saved, scroll down and click 'Maps.'
15 Top Rated Abu Dhabi Tourist Attractions
1. Louvre Abu Dhabi
The Louvre Abu Dhabi is brand new museum. It opened its doors at the end of 2017! The creation of this museum was made possible by an international agreement between the UAE and France. Many of the historic works in the Louvre Abu Dhabi are borrowed from the Agence France-Muséums.
Kayak at Abu Dhabi's futuristic Louvre.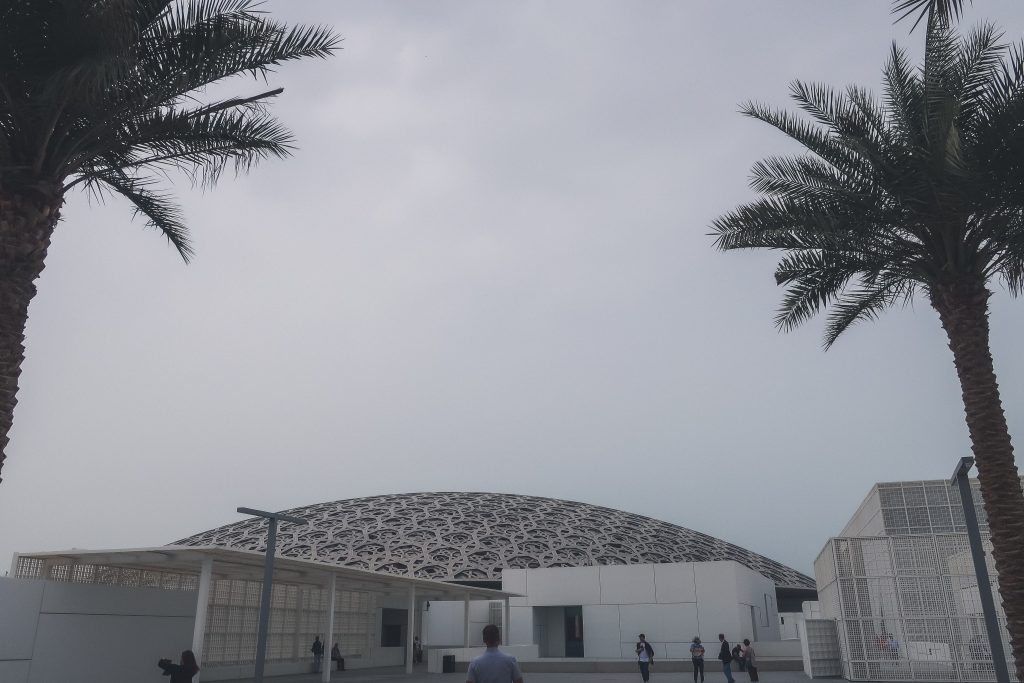 However, it is in no way a replica of the French Louvre. The Louvre Abu Dhabi demonstrates the connections between civilizations across the world, presenting a common human experience. The quality and the diversity of the Louvre's collections make it one of the top UAE attractions.
Sign up for a guided visit to Abu Dhabi's Louvre.
Pictured below is Fountain of Light by Ai Weiwei.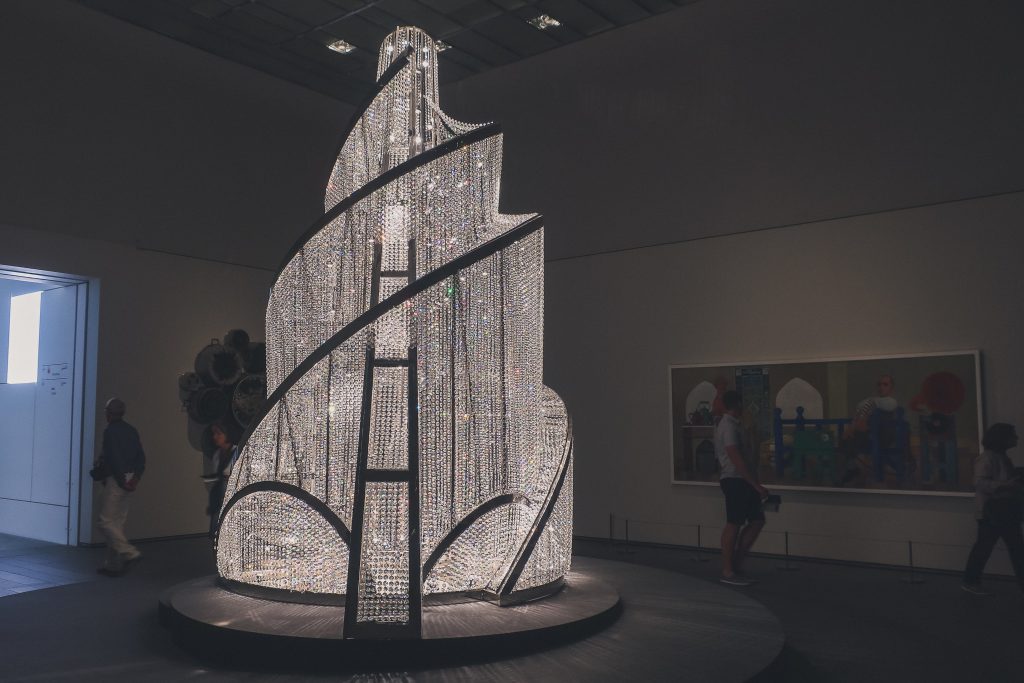 The Louvre Abu Dhabi is in located in the heart of the Saadiyat Island Cultural District — it's a rapidly flourishing cultural commons 15 minutes drive from downtown. Saadiyat Island is thought to be one of the most beautiful places in Abu Dhabi.
The Louvre Abu Dhabi is also a stunning example of contemporary architecture. Bright white contrasts the sand and sea, with excellent plays on shade and light. It features a 180 meter reflective dome.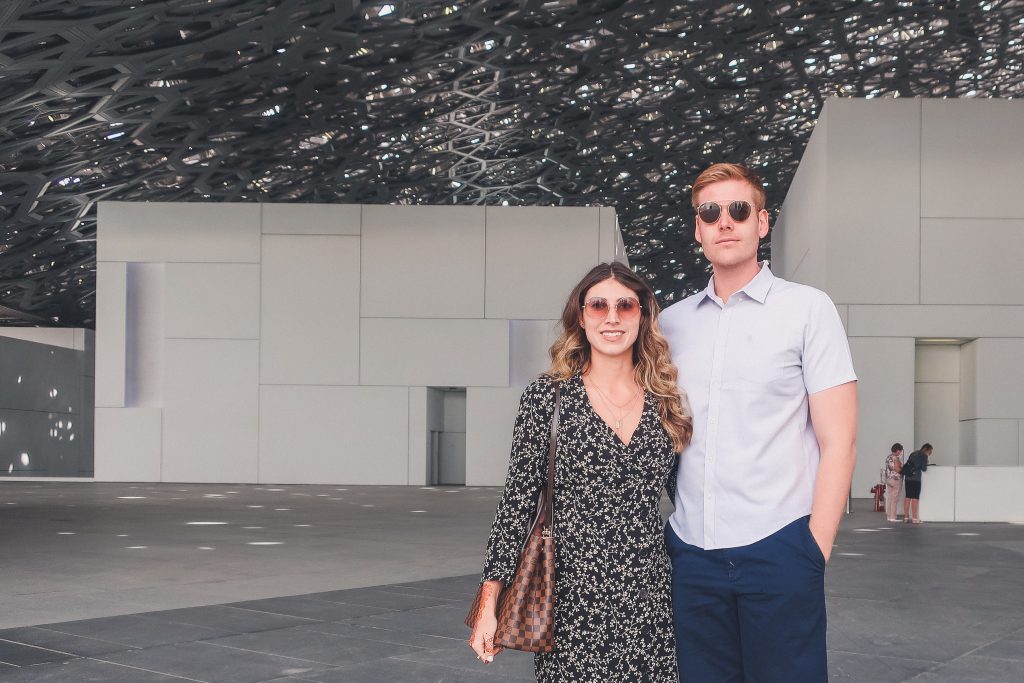 The best way to experience the Louvre Abu Dhabi is with an audio guide or guided tour. Guided tours at the Louvre are free with museum admission. They occur most days at 10 AM, 11 AM & 2 PM. Be sure to check the Louvre Abu Dhabi website for the most up to date information regarding upcoming tours.
2. Sheikh Zayed Grand Mosque
Another one of the amazing places in Abu Dhabi — The Sheikh Zayed Grand Mosque is legendary. It's the largest and most elaborate mosque in the UAE.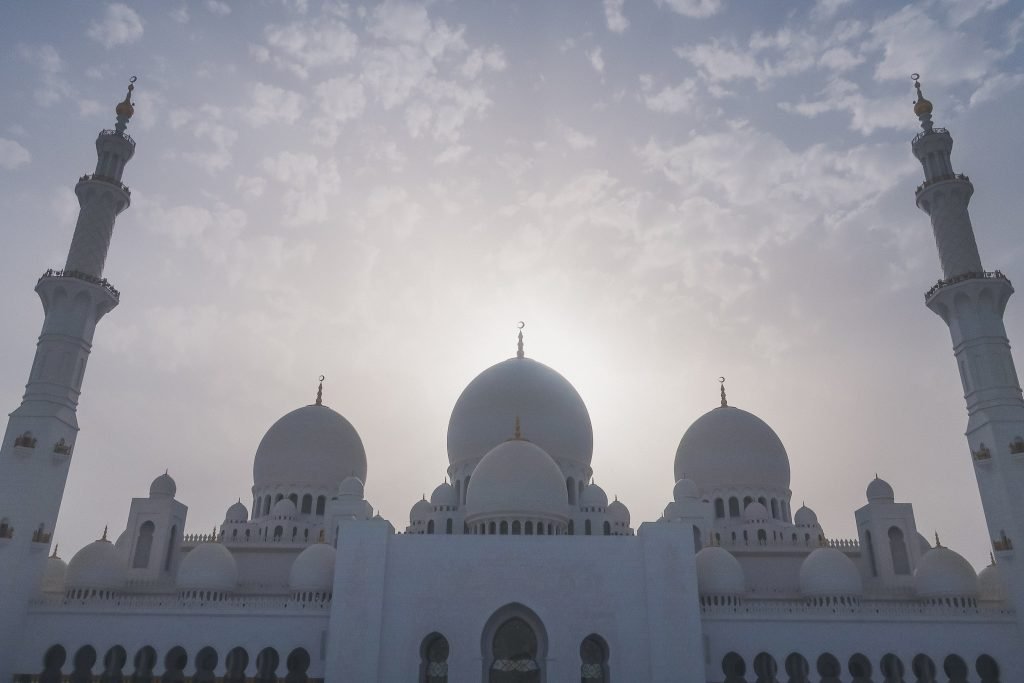 The mosque is arguably the most modern, artistic and elaborate expression of Islamic culture. It's a marvel of design and engineering. It brings together Islamic influences from across the world. Specifically, Persian, Mughal and Moorish styles.
Check out this exciting Abu Dhabi city tour that includes access to the Grand Mosque.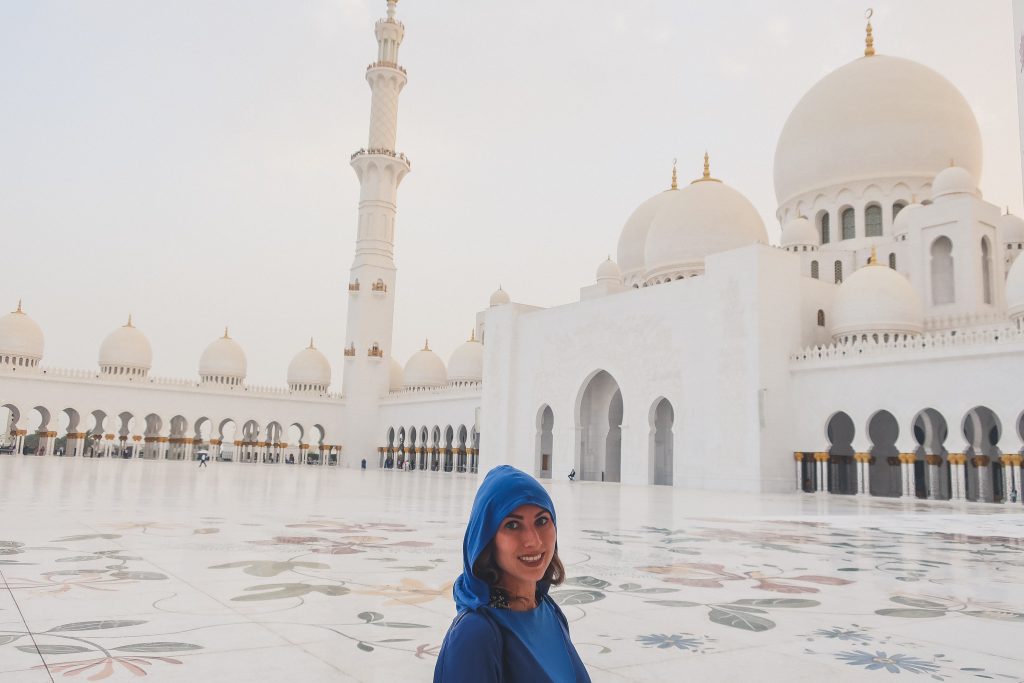 The Grand Mosque was made with only the most natural and long-lasting materials. Such as marble, gold, semi-precious stones, crystals and ceramics. You can see in the photo below, the blue designs are made from lapis lazuli.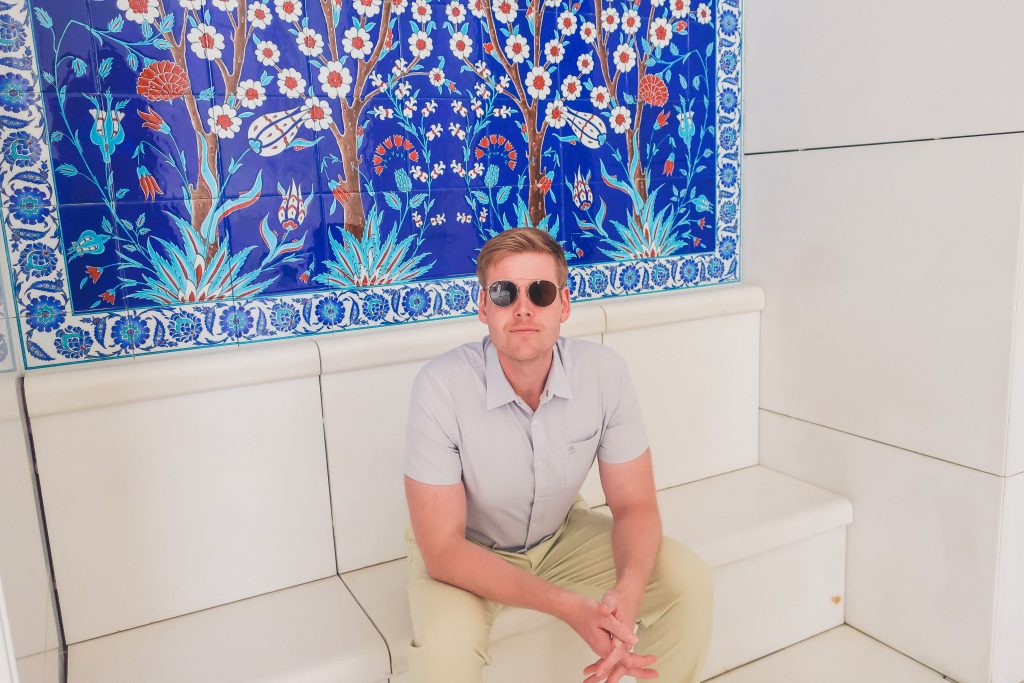 The 7 chandeliers inside the mosque are adorned with Swarovski crystals. Also, the largest of these fancy chandeliers is the third largest chandelier in the world!! It's almost impossible to imagine.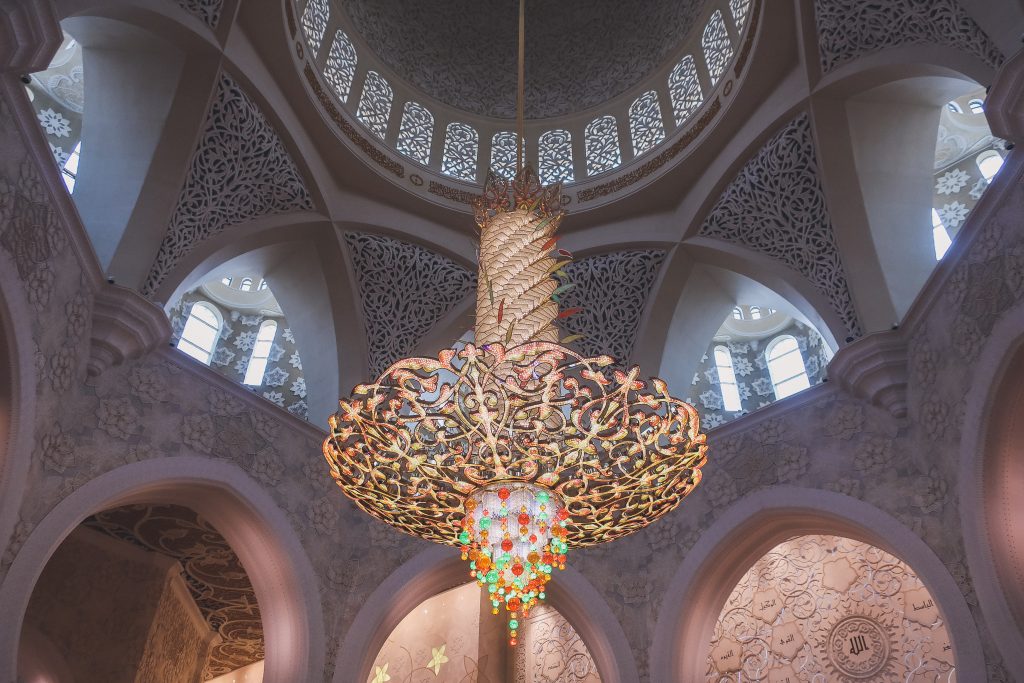 The chandeliers aren't the only parts of the overwhelming feature of the Grand Mosque. It also boasts the world's the worlds largest carpet. This carpet was handmade in Iran and took over 2 years to complete!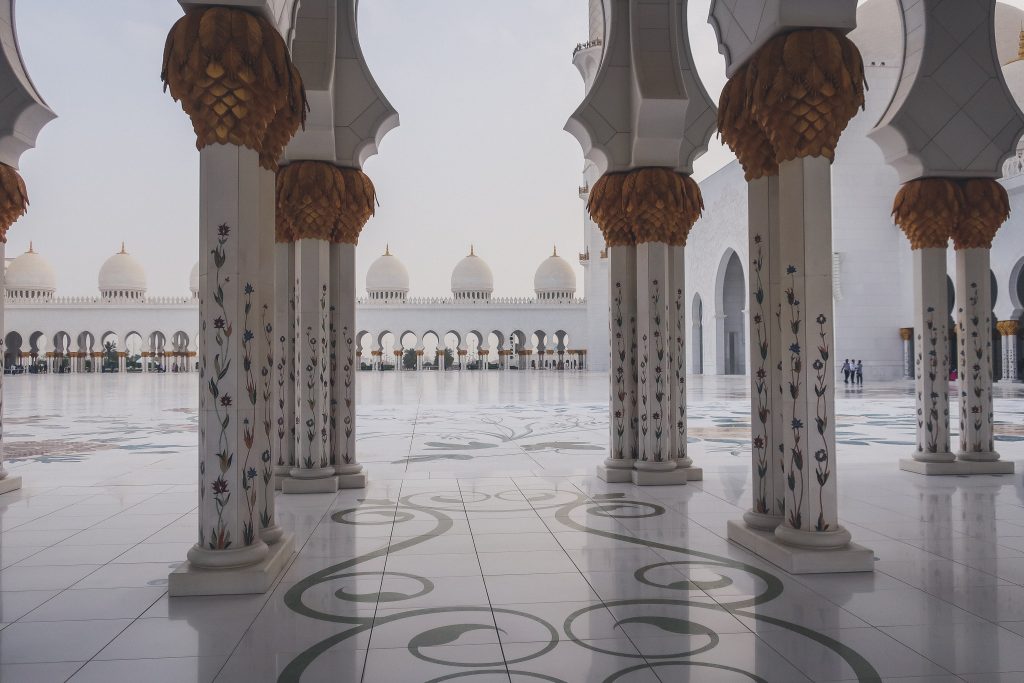 The Grand Mosque is enchanting. It's certainly one of the most important tourist attractions of Abu Dhabi. You can visit the mosque and take the cultural tour for free! No need to go with a tour group. Cultural Tours will give you premier access to the mosque including the prayer room. You'll learn more about the mosque's engineering and architecture. Visit the Sheikh Zayed Grand Mosque website for the most up to date tour times.
3. Ferrari World
Ferrari World is one the most exciting places to go in Abu Dhabi. It's an indoor-outdoor Ferrari themed amusement park with rides, games & (yes) Ferraris! Named the "Middle East's Leading Tourist Attraction" and "Middle East's Best Theme Park" this park has something for all ages.
Get your Ferrari World tickets!
Ferrari World is home to the fastest roller coaster on the globe! It's called Formula Rossa and it takes you to speeds of 150 miles per hour in under 5 seconds! That's 4.8Gs of force (more than you would feel in the Space Shuttle during a launch).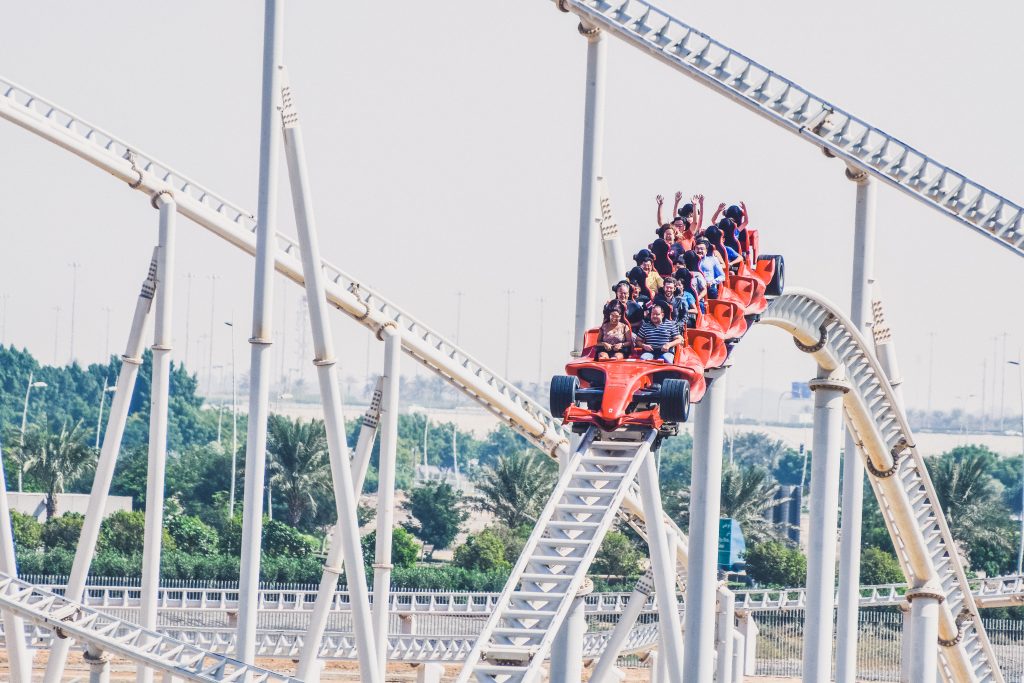 That's not the only epic ride at Ferrari World. The Turbo Track ride is best known for providing a zero gravity fall! Yikes!
At Ferrari World, adults can sign up for a Ferrari driving experience (as driver or passenger). You'll receive a personal driving lesson then cruise around Yas Island.
4. Falcon Hospital
The Abu Dhabi Falcon Hospital has gained a lot of attention in recent years. It's become one of the most popular Abu Dhabi tourist places and for good reason. It's the world's leading institution in falcon medicine. It's also the world's largest falcon hospital and treats over 10,000 falcons each year!
The Abu Dhabi Falcon Hospital doesn't just treat birds from the UAE. Falcons from Saudi Arabia, Kuwait and Bahrain are regularly flown in for treatment (pun intended*). These birds are even issued passports!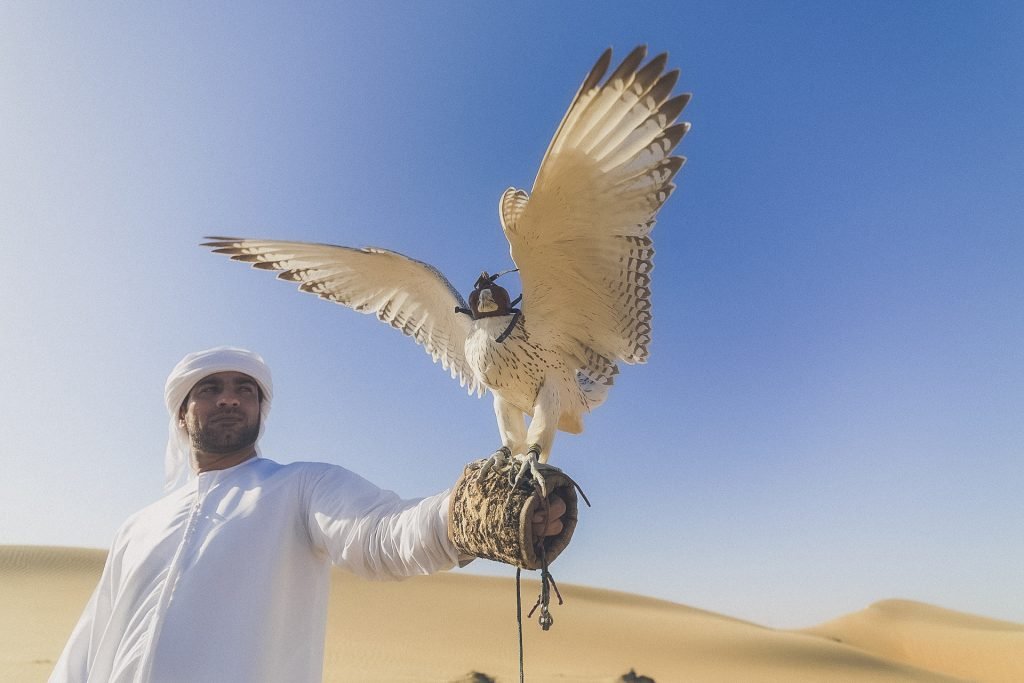 About Falconry in the UAE:
The practice (now sport) of falconry has been used on the Arabian Peninsula for over 4,000 years. It was a crucial way to hunt in the resource-scarese desert landscape. Today, it's become one of the most enduring ancient traditions.
Sign up for your tour of Abu Dhabi's Falcon Hospital. 
Falconry requires patience, training and cultivating a relationship with the bird. The qualities associated with falconry have been courage, honor and nobility —nobility is definitely the right word. Since, the average bird can cost you a quarter million dollars! More for birds of prestige lineage.
This Falcon Hospital is a state-of-the-art facility that provides cutting edge care, research & even breeding services. Learn more about the sport of falconry & the special work that's done at the Falcon Hospital. The Falcon Hospital Tour is one of the best things to do in Abu Dhabi.
5. Jebel Hafeet Peak
Jebel Hafeet is the second tallest peak in the UAE. It's considered a part of the Hajar Mountains, but an outlier. The peak sits on the border between Oman and the UAE. It takes about 2 hours driving to reach the peak from downtown, and it's one of the top places to visit near Abu Dhabi.
Check out this top rated Al Ain Day Trip.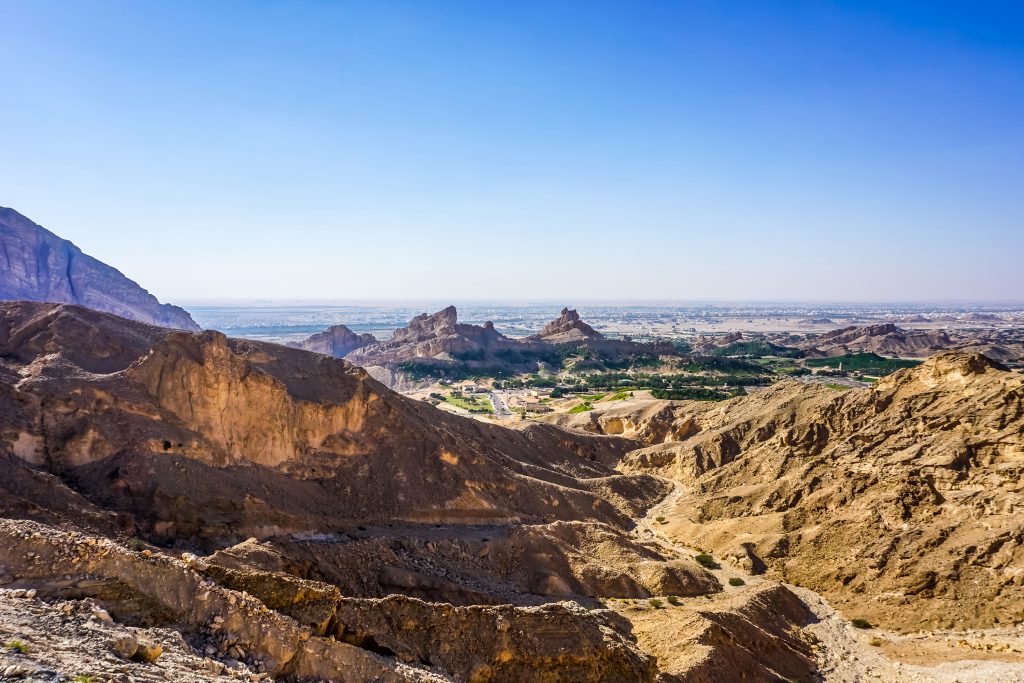 Although, it's a beautiful drive on Jebel Hafeet Mountain Road. The route will have you winding by craggy limestone mountains as you ascend. Plenty of hairpin turns and sheer drops around the corner. Some have even called this, "the best driving road in the world." Seems that it was built so that millionaires could play with their expensive toy cars.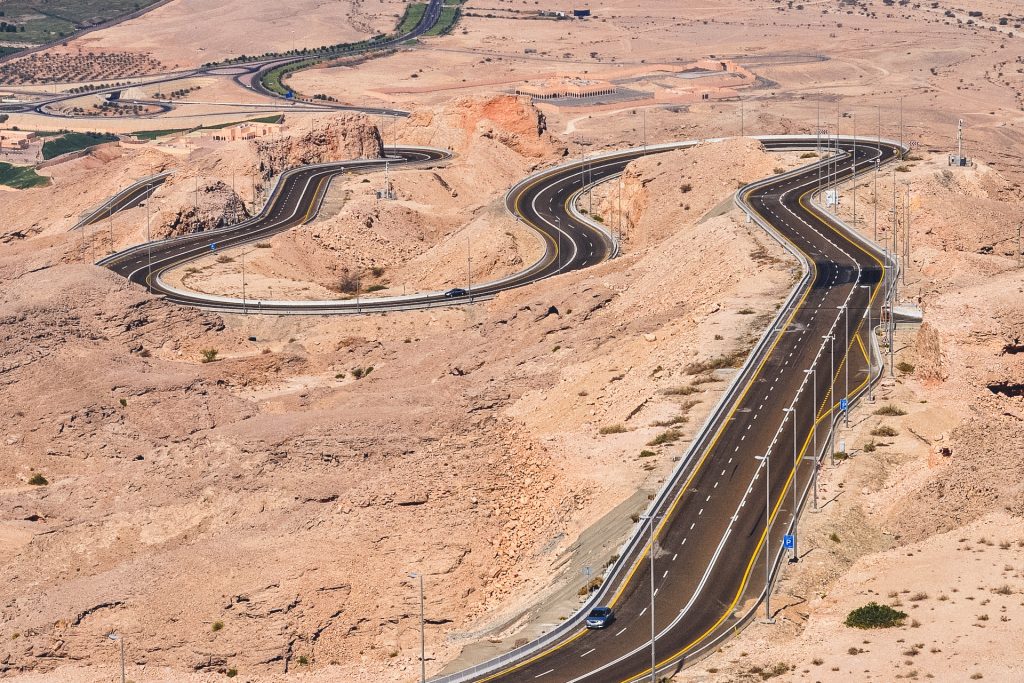 The Jebel Hafeet Mountain Road is also a popular place for cycling!
There isn't much to do at the top of the mountain. Grab an ice cream and take in the views. It's one of the best places to see in Abu Dhabi at sunrise or sunset.
6. Jebel Hafeet Beehive Tombs
The Jebel Hafeet Mountain region is currently the setting of some pretty significant fossil and archaeological discoveries. Most notably, the Jebel Hafeet Beehive Tombs. These tombs are over 5,000 years old and they're considered a UNESCO World Heritage site.
The tombs are half-dome shaped —they look like beehives. They're made from roughly cut stones and contained human remains. In the tombs, archaeologists found many ceramic vessels and copper trinkets. This is a very exciting site where research is still taking place. Discoveries made here continue to illuminate our understanding of the Bronze Age on the Arabian Peninsula.
In order to get to the Jebel Hafeet Beehive Tombs, you'll need a rugged 4×4 vehicle. The last (very short) leg of the journey is a rocky dirt path. Alternatively, you could park near the Al Hosoon School and hike to the Beehive Tombs.
Visiting the tombs is free! You can even enter them. Although, you'll have to bend down to get past the very narrow entryway. The Jebel Hafeet Beehive Tombs are one of the top things to see in Abu Dhabi!
7. The Souk
Souk means 'marketplace' in Arabic. There are several of these across Abu Dhabi and Dubai. Visiting a souk is one of the fun things to do in Abu Dhabi.
At the Souk, you can buy an array of items. Everything from clothes and textiles, to spices, perfumes and gold. It's one of the best places in Abu Dhabi to find souvenirs or gifts.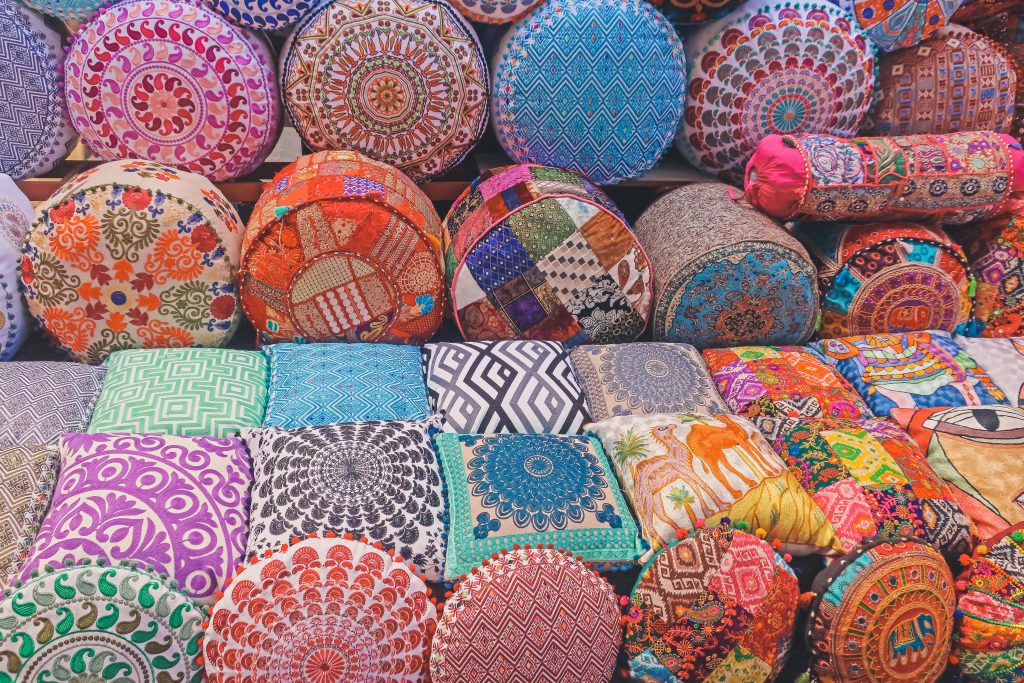 Every price is negotiable at the Souk. Vendors will regularly offer steep prices to tourists. Be prepared to haggle!
We used these pillow cases from the Souk to add some bohemian flare to our living room (pictured below).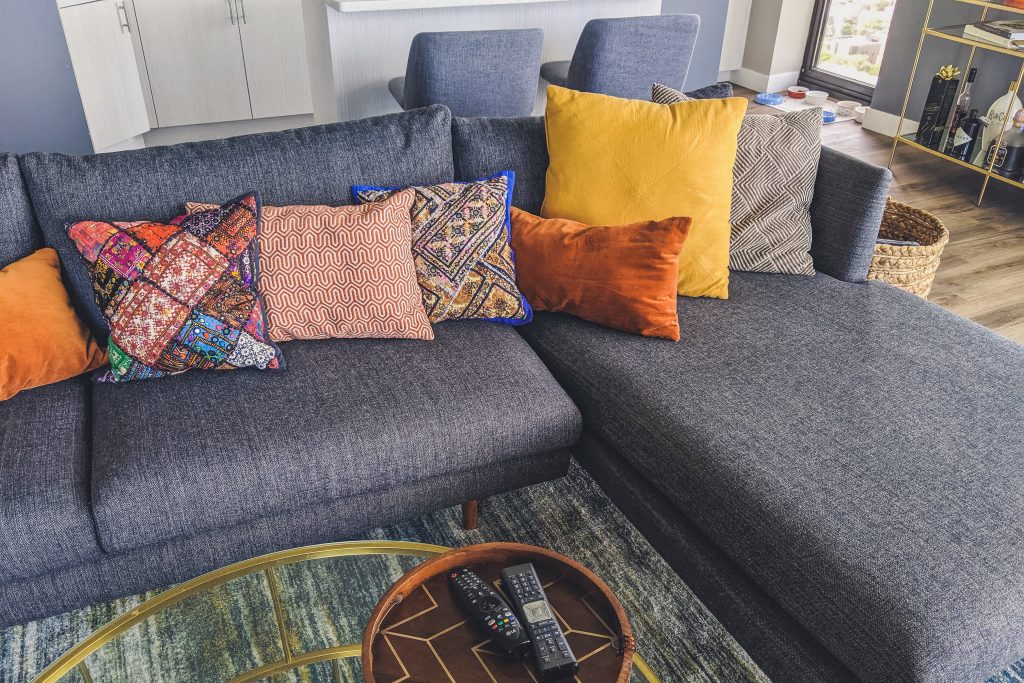 The downside to this Abu Dhabi tourist spot is that vendors can be quite aggressive. We had an unpleasant experience at the Dubai Gold & Spice Souks. Vendors were coming up to us, waving their scarves in our faces (literally). They would call out to us multiple times, and even follow us for some time with their items.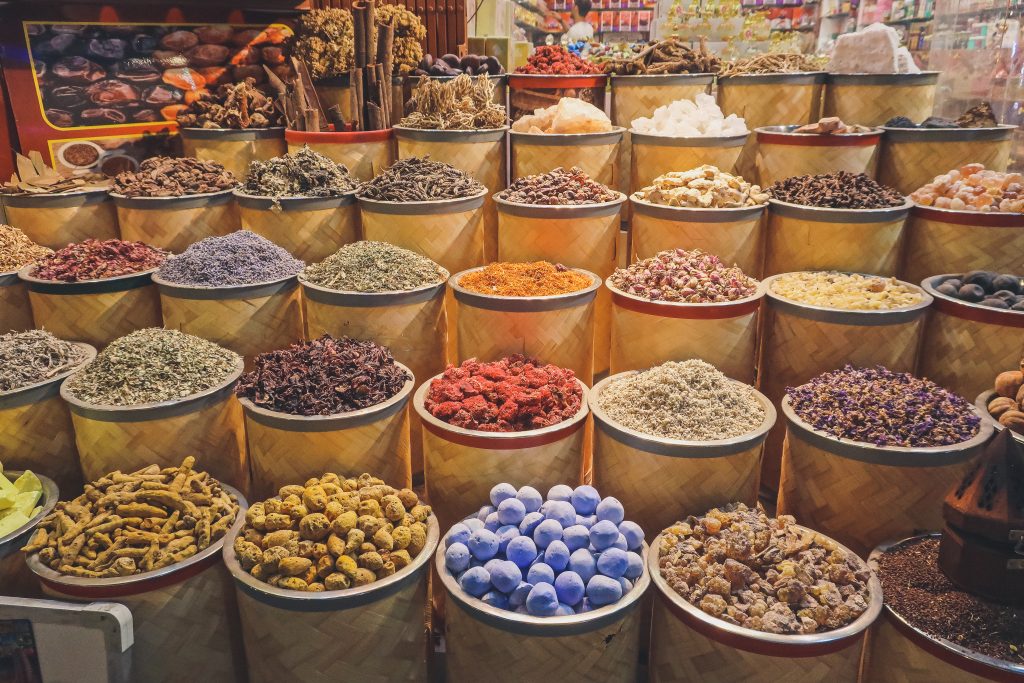 If you want to experience the flavors of Abu Dhabi, check out the Mina Fish Market & Al Mina Fruit and Vegetable Market.
8. Abu Dhabi Mangroves
Mangrove National Park is located just outside Abu Dhabi's city center. This Mangrove forest is one of the most important in the UAE and it contributes significantly to the region's biodiversity.
Mangroves are natural windbreakers. They protect the region from dangerous tidal surges, and they purify the surrounding waters. Mangrove National Park also comprises of salt marshes, mudflats and algal ecosystems. It's one of the most amazing places in Abu Dhabi to kayak.
Discover kayaking in Abu Dhabi's Mangrove forest.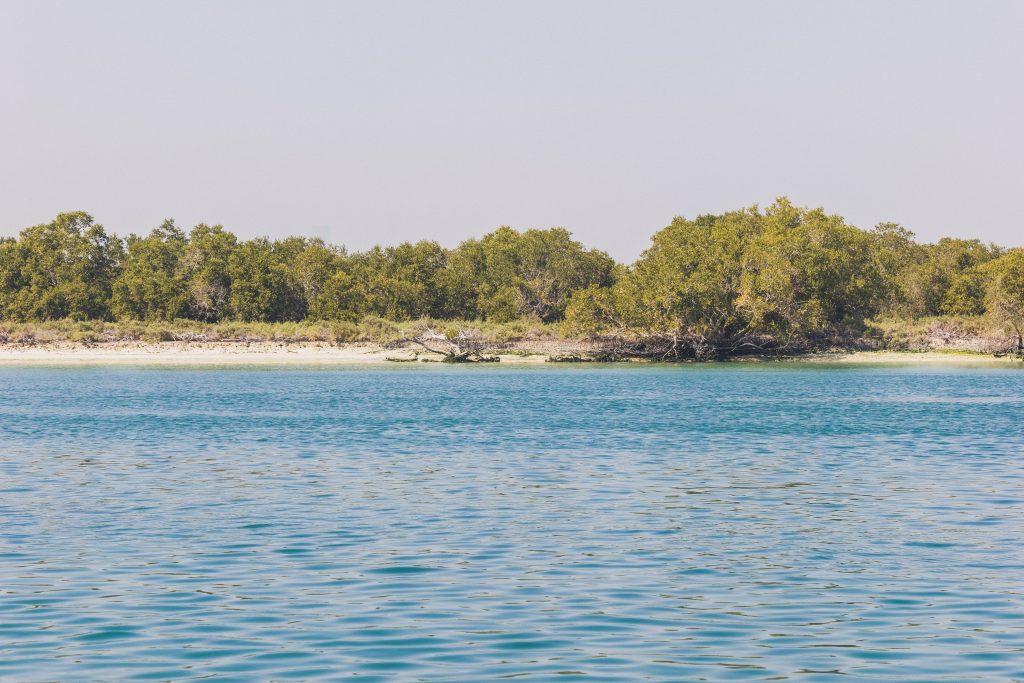 There are a few companies that rent kayaking right in Mangrove National Park. We had a great experience with Noukhada Adventure Company. You can also book a guided kayaking tour. The tour will ensure that you identify as much wildlife as possible & learn more about this incredible aquatic environment.
9. Emirates Palace
The Emirates Palace isn't just your average resort. It's one of the most iconic places to visit in Abu Dhabi.
The Emirates Palace starkly contracts the sharp modern skyscrapers in downtown Abu Dhabi. The design of the hotel was inspired by Islamic architecture and is meant to exemplify the characteristics of balance, geometry and rhythm. There are 114 domes in it's structure, including one imposing dome that is over 70 meters tall! It certainly sets itself apart from other Abu Dhabi hotels.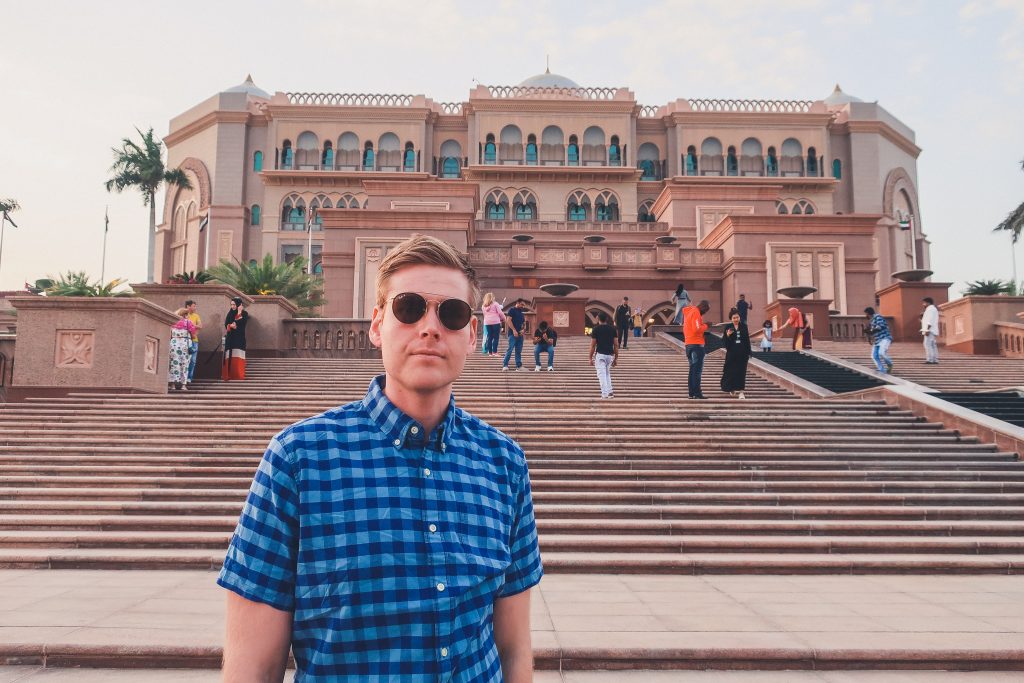 The interior is just as lavish as the exterior. Materials used throughout the hotel include gold, mother of pearl and crystals. There are over 1,000 chandeliers inside this hotel! The largest chandelier weighs more an 2.5 tons.
Try a golden cappuccino at the Emirates Palace. This is a bucket list must! 
You don't need to be a hotel guest to visit the Emirates Palace. So, I highly encourage you to take a stroll through here. Take in the Arabian design, eat at one of the impressive fine dining restaurants Hakkasan serves up delicious Chinese cuisine, and Mezlai brings you Emirati flavors with an elegant touch. We absolutely loved Hakkasan!
If you can't help but splurge, get a room at the Emirates Palace. You won't be disappointed!
10. Etihad Towers
The Etihad Towers look pretty remarkable in the Abu Dhabi skyline. They're a group of 5 towers that comprise of apartments, office space, restaurants and a hotel.
Not just any hotel, the Etihad Towers are home to the Jumeirah luxury hotel. The hotel offers a stunning observation deck, rooftop bar and top rated restaurants. It's located in Tower 2.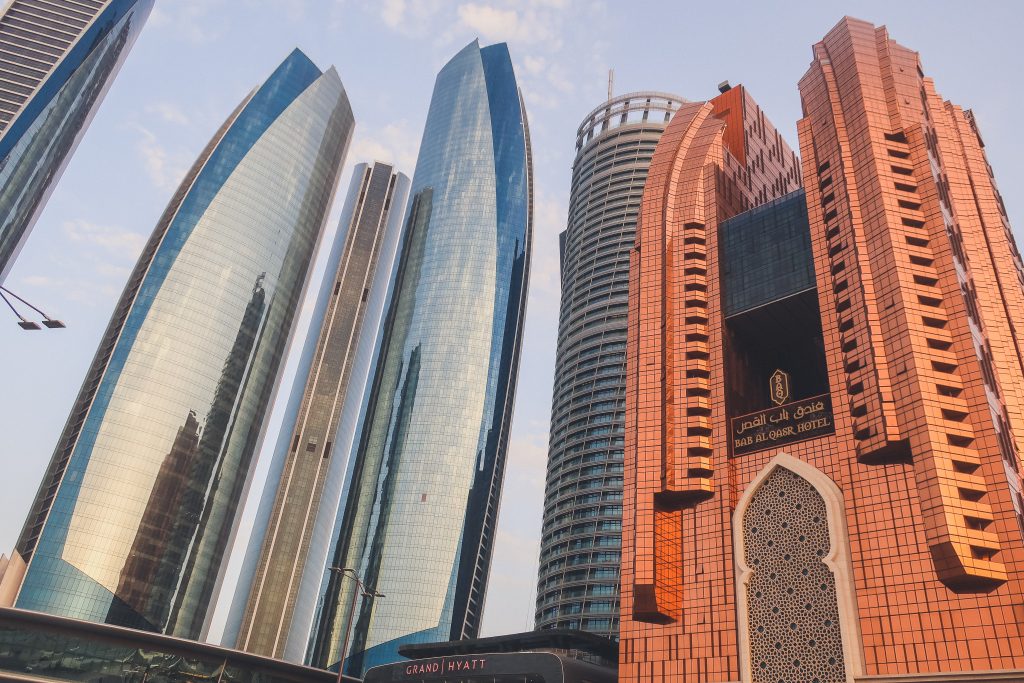 Tower 2 is also the tallest building on Abu Dhabi island. You can visit the Observation Deck at 300. It's on level 74 of Tower 2. If you visit Abu Dhabi, you must come here! The views are spectacular. There is a small entrance fee for visitors that aren't guests. Although, you can redeem it for anything purchased that day. Many come here for afternoon tea.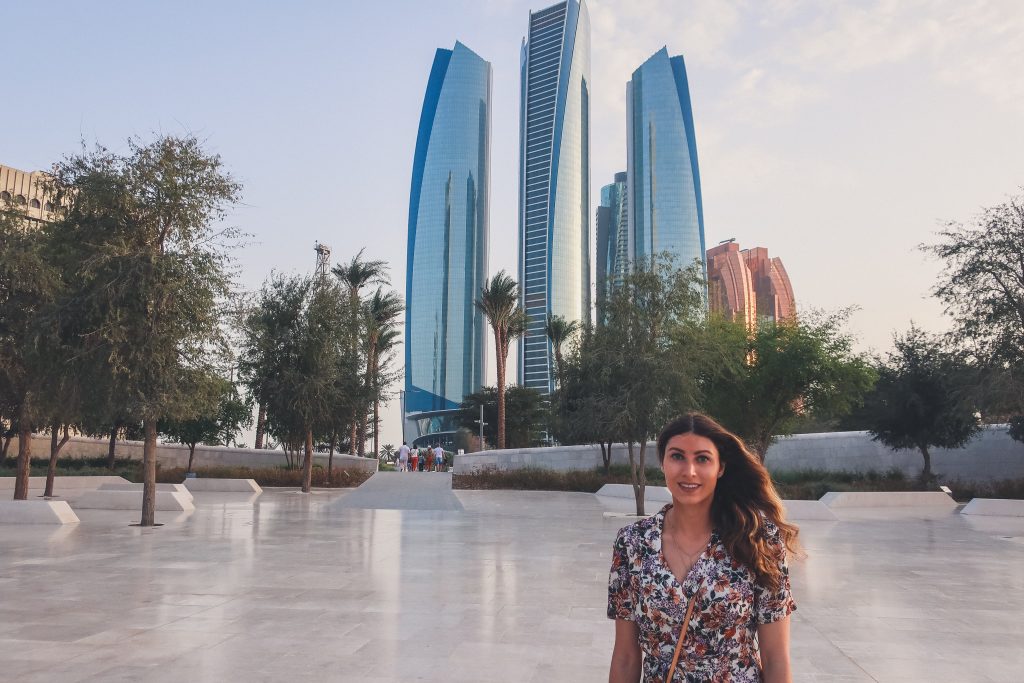 Beware that Observation Deck at 300 closes at 7PM most days. If you'd like to see the city light up at night, head to Ray's Bar. Ray's Bar is located on Level 62 of Tower 2. You'll still get 360 degree panoramic views, but you won't have to pay to get in. This is one of the best places to go in Abu Dhabi at night, so do grab a drink and relax.
You can also take in these same views from any of the fine dining establishments at the Jumeirah. We ate at Li Beirut around sunset**.** The service here was unparalleled! Li Beirut serves Lebanese traditional dishes in the most luxurious of settings. You may also consider Tori No Su for award winning Japanese or VaKaVa for Latin American fare.
11. Saadiyat Island
Saadiyat Island is on track to become the cultural hub of Abu Dhabi. It's already home to the Louvre museum, and construction is already underway for 2 more epic institutions —The Guggenheim Abu Dhabi expected 2022 & the Zayed National Museum expected 2020.
Saadiyat Island is one of the top places in Abu Dhabi for a beach getaway. It's easy to get to by car (you won't have to drive hours or get on a boat). The beaches on Saadiyat Island have pristine white sands, gentle currents, lofty palms & soft, rock-free, bottoms. Currently the island is occupied by two luxury resort hotels, but more are soon expected.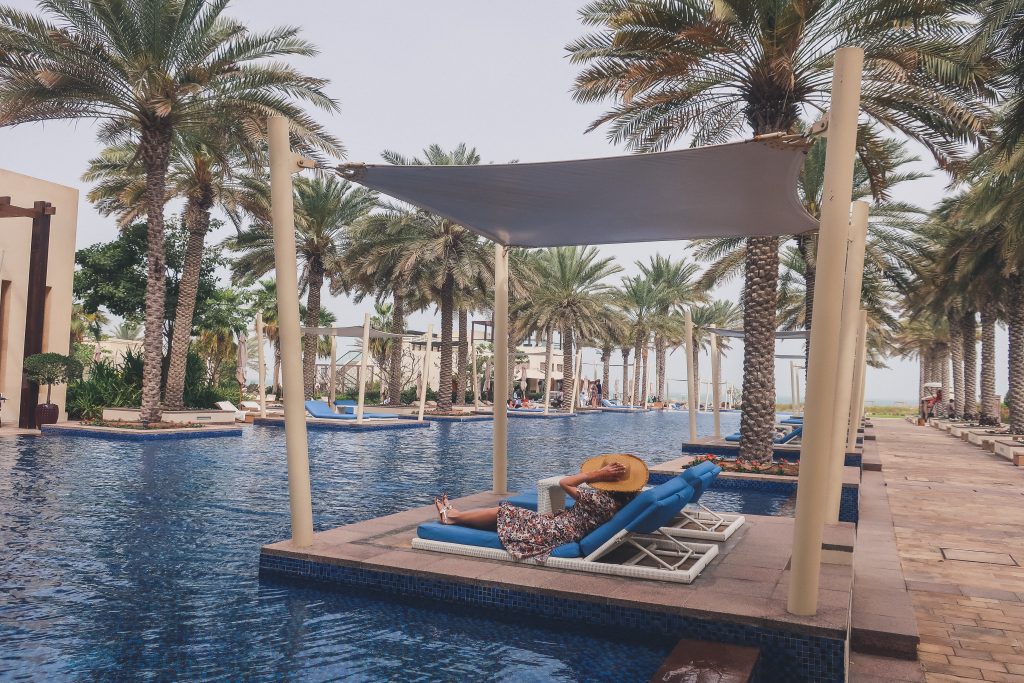 We stayed at the Park Hyatt Abu Dhabi. This is an excellent affordable luxury alternative to some of the other island resorts. It's a five star hotel with everything you would expect & a private slice of beach. You may also consider the St. Regis Saadiyat Island Resort.
Visiting Saadiyat Island is one of the fun things to do in Abu Dhabi. If you can't splurge to stay on Saadiyat Island, you should still stop by. Visitors can use Saadiyat Public Beach. There is a small entrance fee to use this beach. Although, I'd say it's worth it. Saadiyat Public Beach has lifeguards, lockers, showers, and changing rooms. You can even rent towels and lounge chairs.
12. Sir Baniyas Island
Sir Baniyas Island offers the Ultimate luxury & adventure experience in Abu Dhabi. It's a little difficult to reach. You'll have to drive for over 2 hours and then take a boat. However, you can also charter a plane to take you there in no time!
Why should you take the time to visit this remote island? Sir Baniyas Island is home to the Arabian Wildlife Park (a nature reserve). The reserve dominates the island. It's home to over 13,000 animals! Including cheetah, jackal, hyena, gazelles, giraffes and so much more! The largest herd in existence of the endangered Arabian Oryx lives on Sir Baniyas Island. The land isn't the only protected environment here. The marine life around Sir Baniyas Island also provides sanctuary with strict regulations against fishing.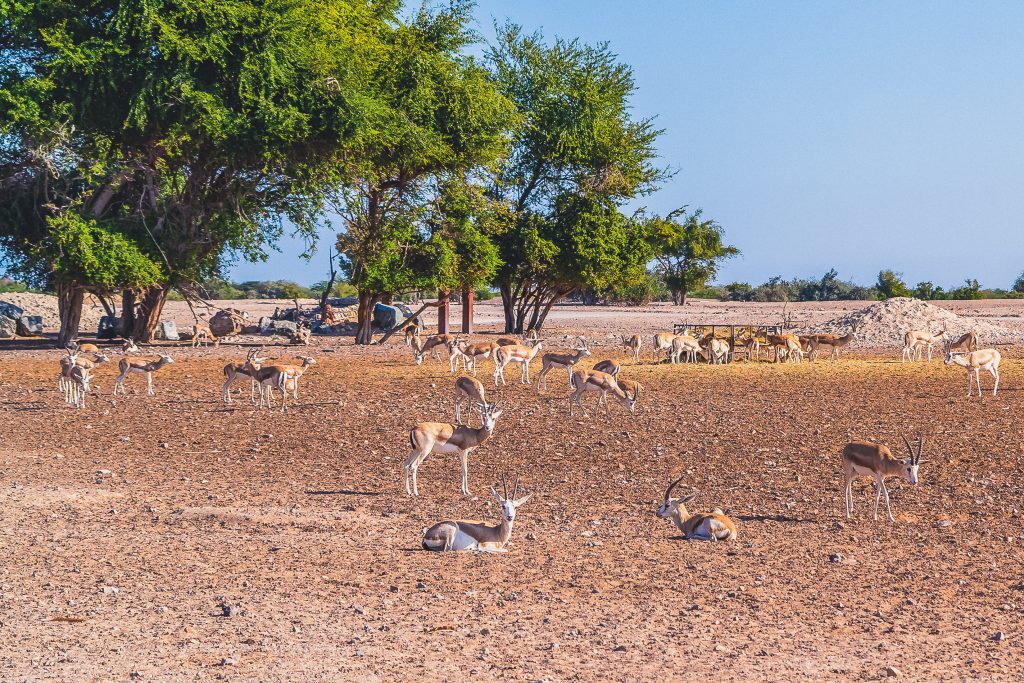 This island offers some of the most unique activities in Abu Dhabi, including a safari tour. This isn't your average deseret safari where you get to ride a camel… the safari tours on Sir Baniyas Island are epic.
If you're looking for a low cost alternative to Sir Baniyas Island… Cruise to Dolphin Bay.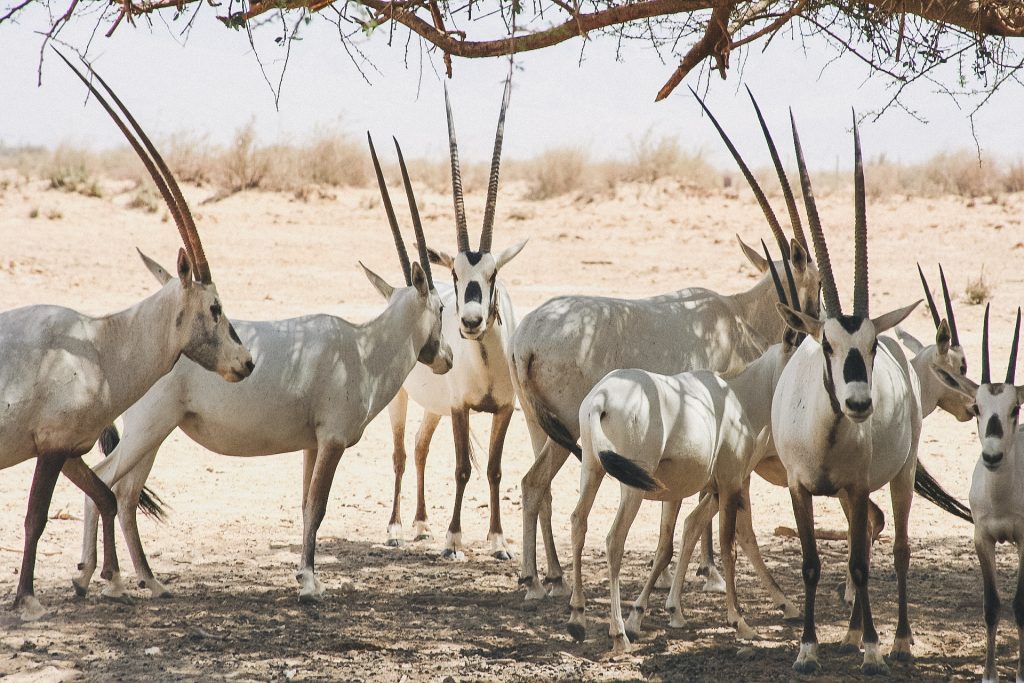 You can also stay on the island at the luxury Anantara hotel. It's one of the most iconic and legendary places to visit around Abu Dhabi!
13. Heritage Village
The Heritage Village is one of the most popular Abu Dhabi tourist sites. It's close to downtown, easily accessible and free to visit. The Heritage Village is an excellent place to learn more about historic and modern culture in the UAE.
The Heritage Village is the recreation of a traditional Emirati town. It's a time capsule to an earlier way of life in the desert. You can walk around to the various artisans. Observe pottery being made, glass blowing and fabric weaving. There's plenty of opportunities to stock up on souvenirs here!
14. Qasr Al Muwaiji
Qasr Al Muwaiji was home to several generations of the Al Nahyan royal family. It was the birthplace of the current leader Sheikh Khalifa. Qasr Al Muwaiji is located in Al Ain which is about 2 hours out of Abu Dhabi. It's free to visit!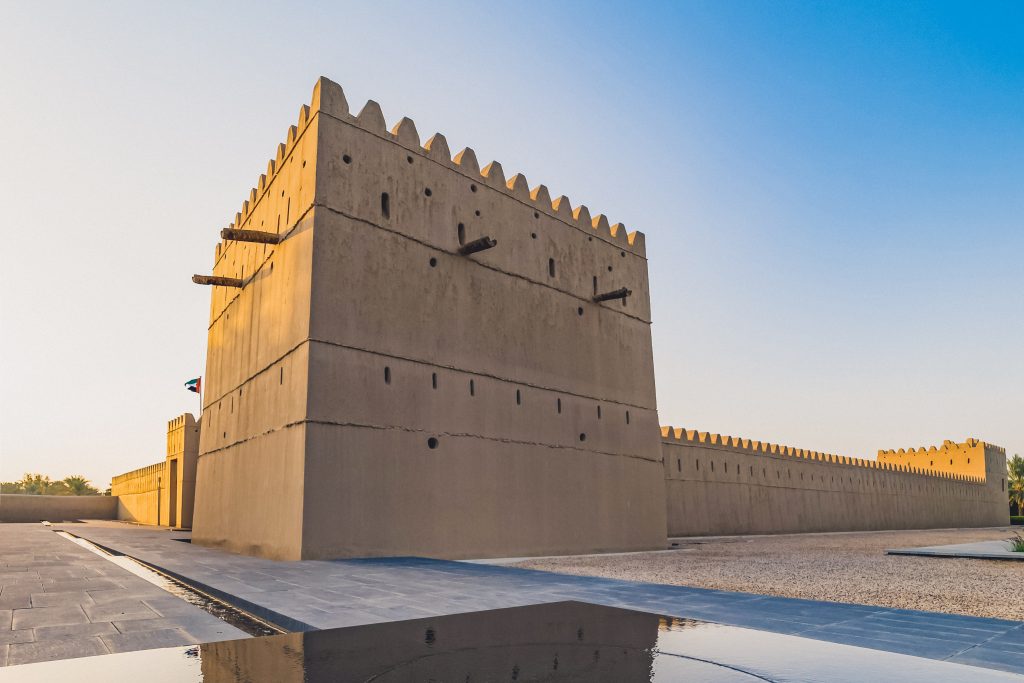 It is a mud-brick fort that played an important part in the history of the UAE. This place was used as the head of government and a place for community events. There is even a mosque on site.
In the Qasr Al Muwaiji exhibitions, you can learn more about the life of Sheikh Khalifa and other members of the ruling family. Also, see archaeological discoveries from Qasr Al Muwaiji and learn of the fort's early history. Click here to reserve your tour at Qasr Al Muwaiji.
15. Corniche Beach
The Corniche beachfront walking path is one of the most scenic stretches in Abu Dhabi. Its paved walkway is exquisitely landscaped with mature palms and blooming flowers.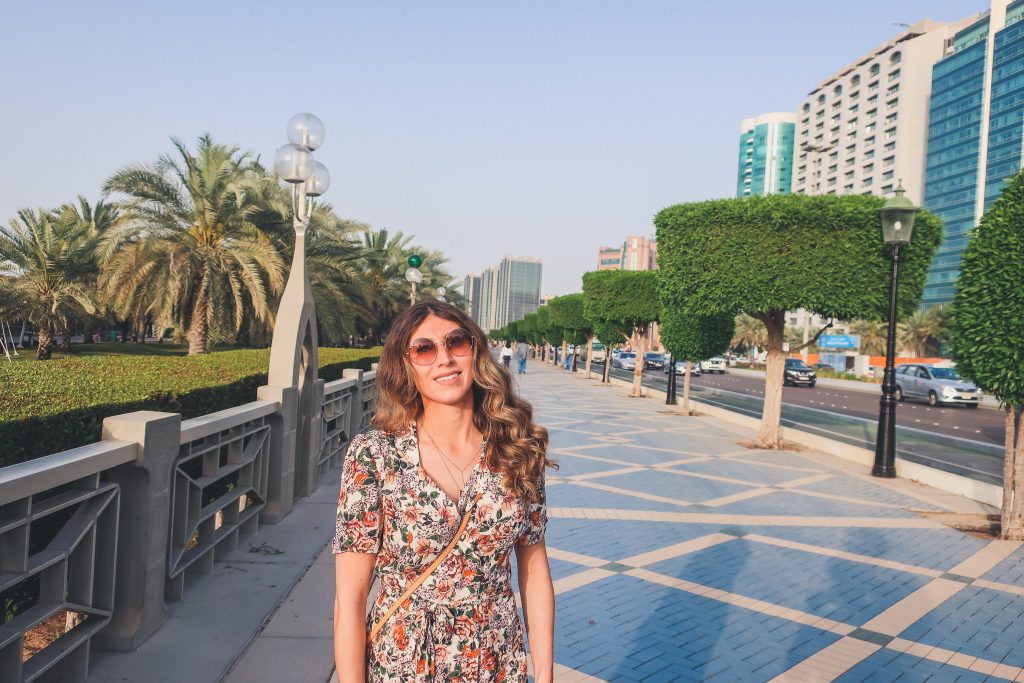 We walked along the Corniche beachfront trail all the way to the Emirates Palace. Along the way, we found the Founders Memorial pictured below.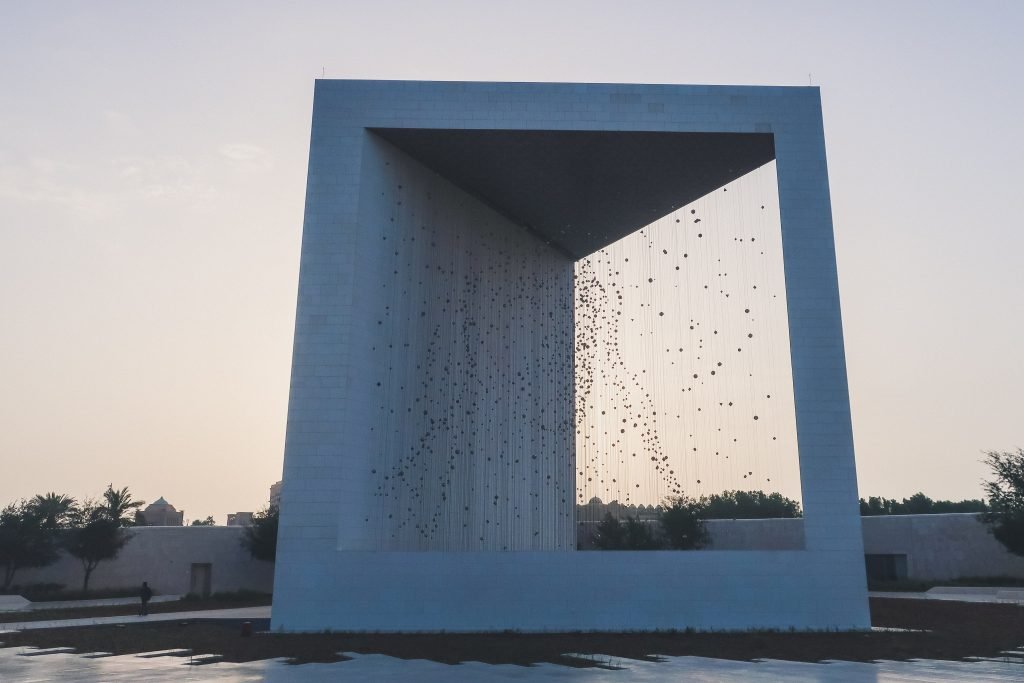 If you decide to swim here, you can choose from one of the three sections. Gate 1 takes you to the side for singles and groups. Gate 2 and 3 are for families. Gate 2 being quiet and more relaxing while Gate 3 is for young kids.
There's plenty of opportunities for sports and activities around Corniche Beach. You can rent a jet skis, play volleyball or soccer. You can snorkel just off the shores or kick back and relax.
Visiting Dubai
Dubai is only a short hour drive from Abu Dhabi. Many cab drivers don't mind making the drive over. You don't need to rent a car to visit.  Take a look at some of the top Dubai attractions in this Dubai Tourist Map.
Also, check out these amazing Things to do in Dubai for couples.