Palanga is a sleepy seaside community in Northern Lithuania. It is most famous for it's beautiful Amber Museum & scenic pier. We'll show you how to have the best experience & enjoy the top things to do in Palanga.
Palanga is one of the most family friendly places I've ever been too! Entertainment for small children is built right in to their downtown. Although, it's a really great place for all ages with spas, beaches, lush forests & charming countryside to offer.
Palanga is a very popular vacation destination in the Balkans and in Lithuania. It is a 3-4 hour hour road trip from Lithuania's Capital city Vilnius. Many people take the train in for a day. Although, Palanga is also easily accessible from the city's international airport. We flew here on a little propeller plane 😄. How's that for adventure in the Baltics?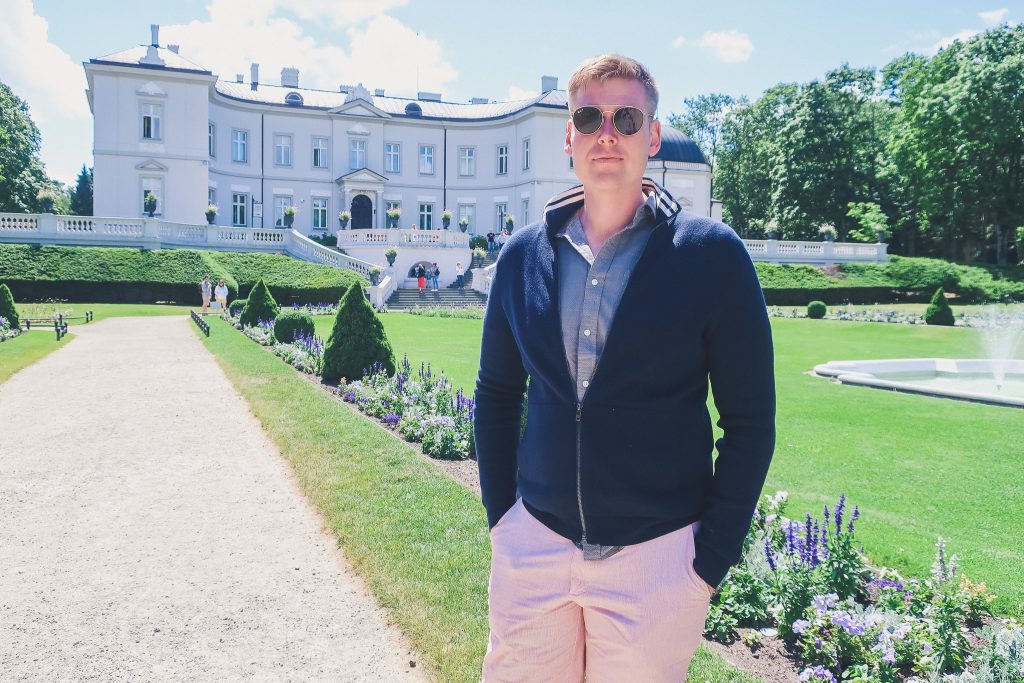 9 Things to do in Palanga
1. Palanga Amber Museum
It's no secret that the Amber Museum is Palanga's top tourist attraction. It's a gorgeous place inside and out! The Palanga Amber Museum is housed in an expertly restored 19th Century palace! Previously the Tyszkiewicz Palace, this new age Renaissance building sits proudly in the center of the Palanga Botanical Garden.
Why Amber? Amber is essentially a fossilized tree resin that was formed millions of years ago. Baltic Amber is deeply entwined in Lithuanian history and mythology. It has always been revered for its beauty and thought to have healing properties.
Amber is an extremely important part of Lithuanian culture. In fact, amber has become the ubiquitous symbol for Lithuania. Today, you'll even find the Lithuanian word for amber being used everywhere from names of people to restaurants, hotels or festivals.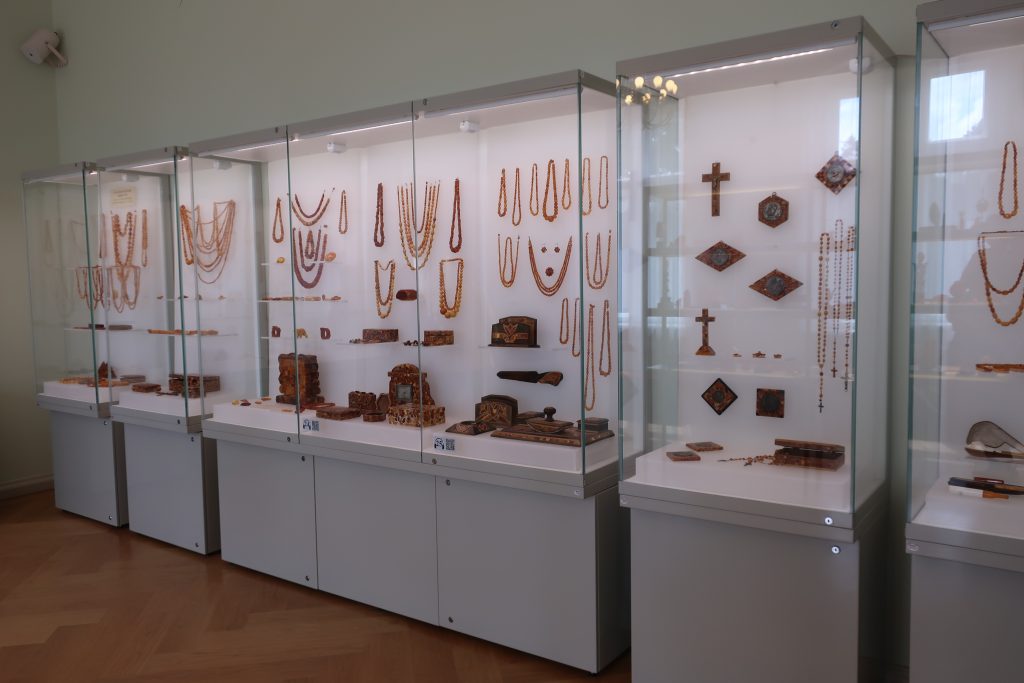 The amber museum takes you through the scientific and artistic history of amber. You'll see beautiful pieces of amber jewelry. Also, it was particularly cool to see insects preserved in amber fossils. Hello! Any Jurassic Park fans out there? These insects are millions of years old!
Tourist Tip: Lithuanian amber jewelry makes the perfect gift or souvenir. I got my sister these beautiful amber studs for only 10€.
2. Palanga Botanical Park
The Palanga Botanical Park and Garden makes up the grounds surrounding the Amber Museum. It's considered one of the prettiest parks in coastal Lithuania.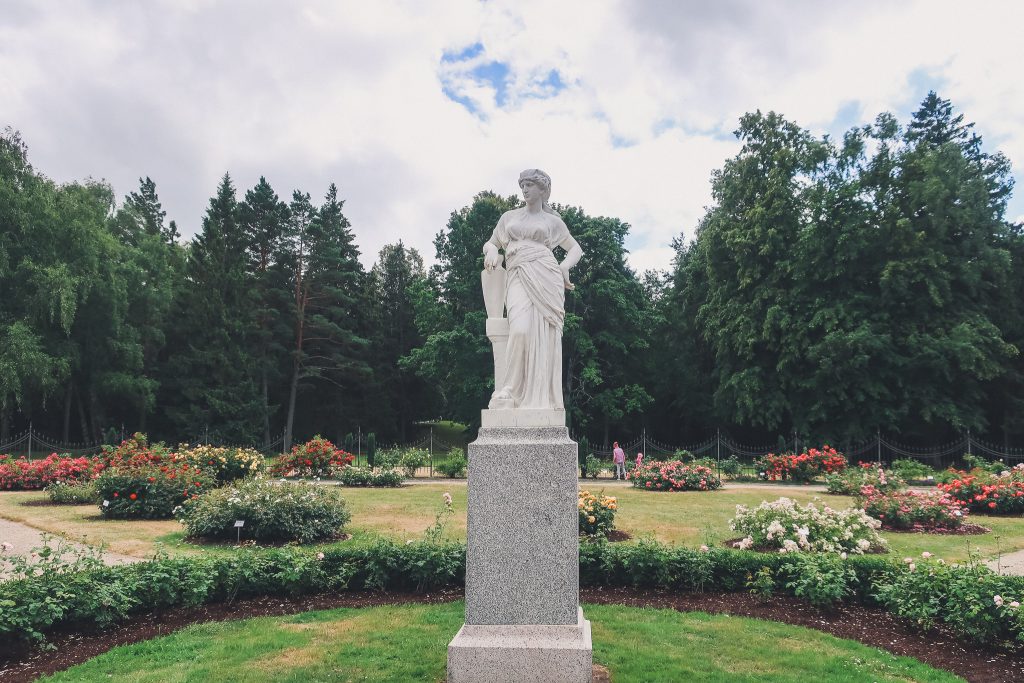 The park's history is older than that of the Tyszkiewicz Palace. It dates back as early as 1840 when a French horticulturalist brought in over 500 species of plants.
One of the famous sculptures in this park is Egle – Queen of the Grass Snakes. She is an important character in Baltic mythology.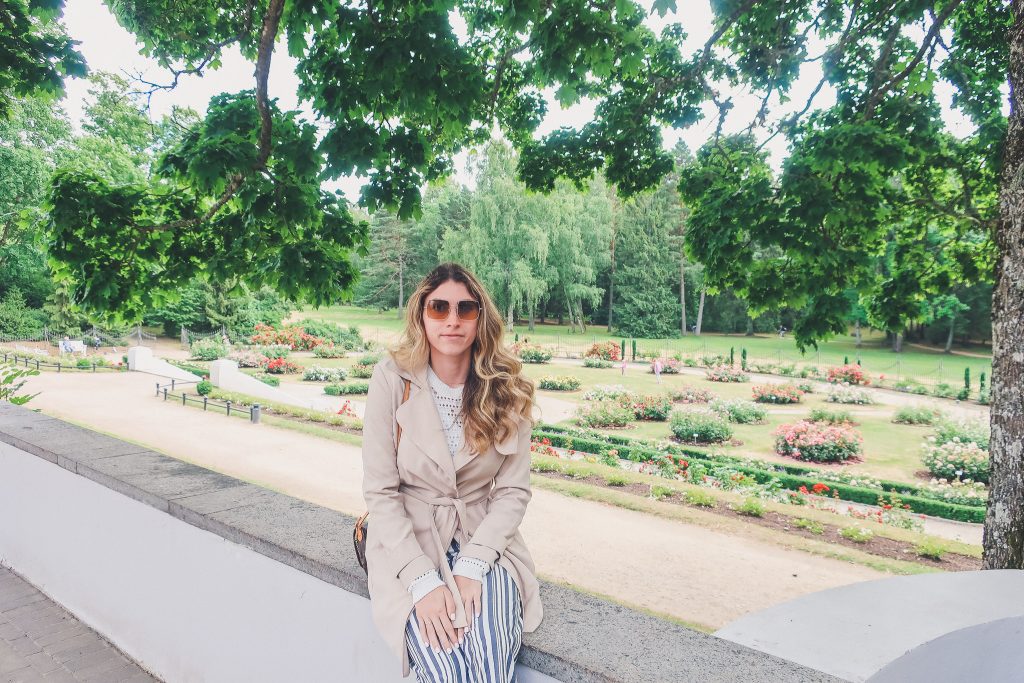 My favorite part of the Botanical Park was the enchanting Rose Garden located behind the Amber Museum.
3. Palanga Pier
This is one of the most popular Palanga attractions! Often called "the Bridge of Palanga," but it's really just a pier. 😊
The Palanga Pier sits right in the middle of Palanga Beach in downtown. If you walk strait down Jonas Basanavičius Street, you'll run into it.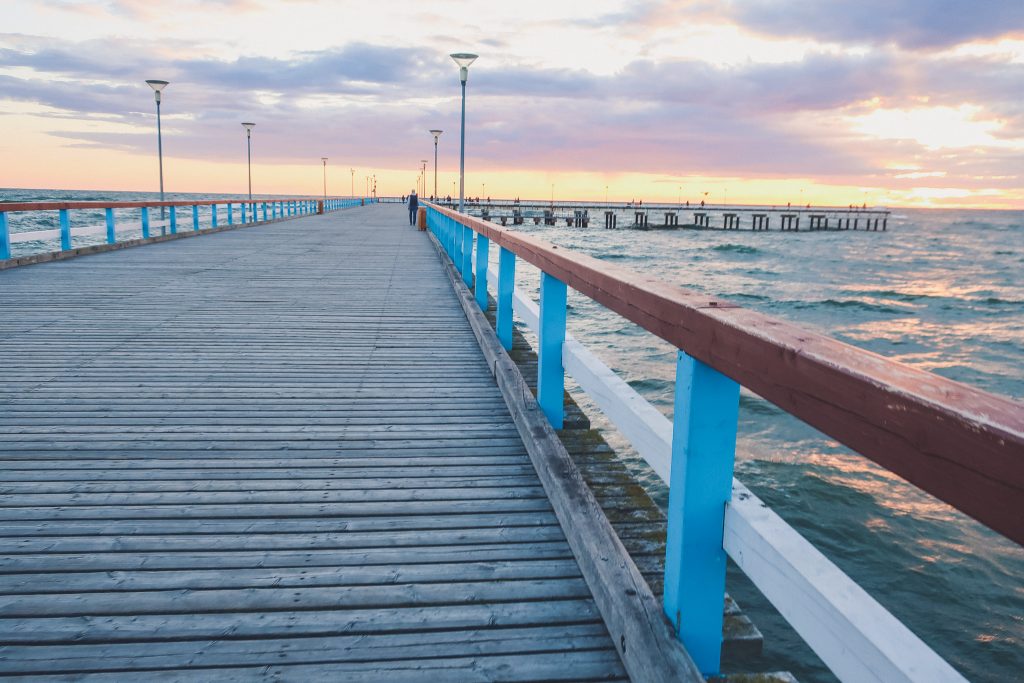 The L shaped pier extends over a quarter mile into the Baltic Sea. It's a popular place to go for a stroll. Beware! It can get quite windy and cold here! Lithuania isn't exactly the warmest beach destination…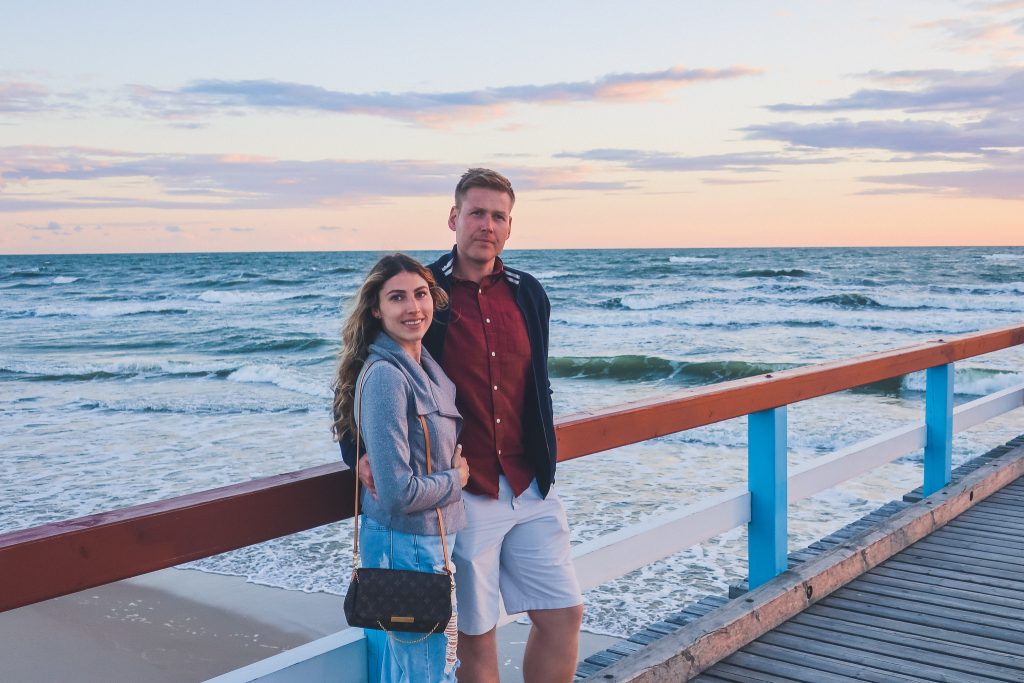 I recommend visiting the pier just before sunset for dramatic & colorful views. Our photos were taken just before sunset. The painted guardrails of the pier contrast the water beautifully.
As you can see in these photos we are wearing light coats (and I was still cold). Can you believe we visited in the end of July?!
Walking down J. Basanavičius Street is one of the top things to do in Palanga. This is one of the oldest and newest parts of Palanga. With some hotels having over a 100 year history, but many new restaurants and bars popping up as well.
This street is essentially Palanga's commercial center. There's touristy shops, restaurants, bars and cafes. Also, A LOT of entertainment for children! Have I already mentioned that Palanga is a family friendly place? Because it's super family friendly.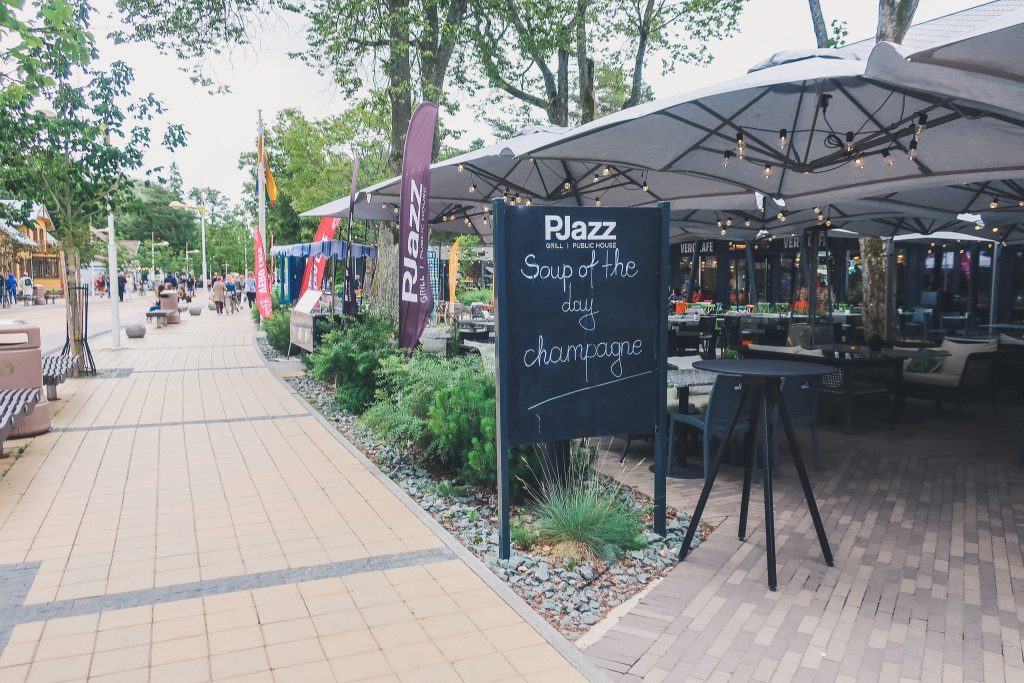 We had dinner at Floros Simfonija. It's one of Palaga's fancier restaurants offering outdoor tables in their beautiful landscaped garden space. It's a seriously beautiful venue with fountains and playgrounds for children. There's also indoor seating available for those chilly Lithuanian evenings.
5. Palanga Beaches
If you are lucky enough to find a warm day in Lithuania, you must check out the beautiful beaches of Palanga. Palanga Beach is lively, touristy and fun! It offers clean shores of pristine, white, sands surrounded by dense forests. There are dunes to navigate and a very clear rock-free sea bottom.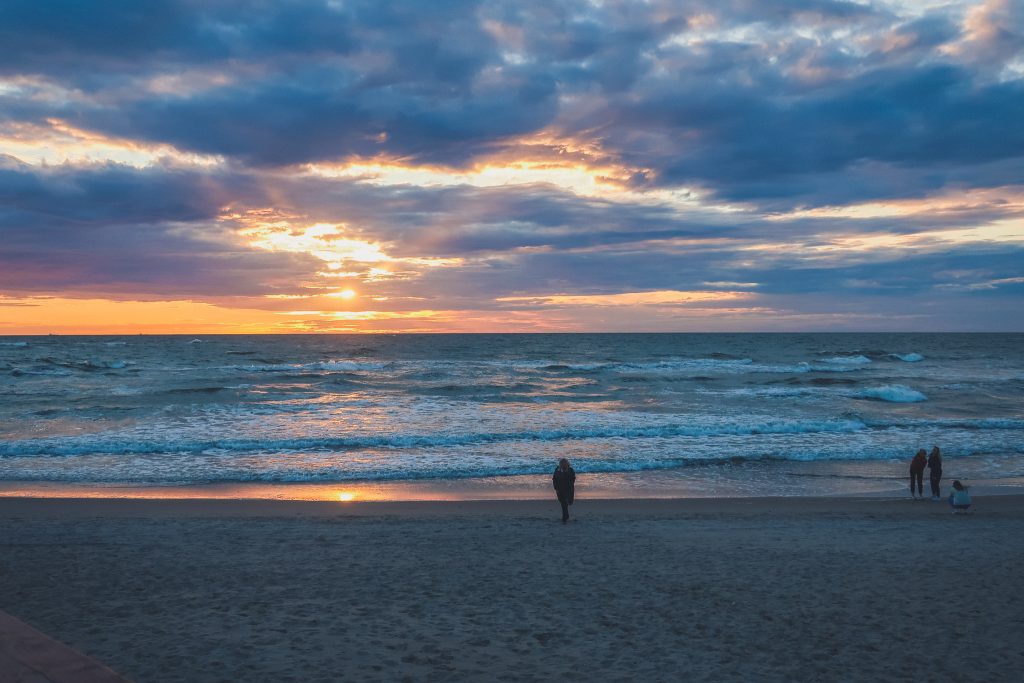 There's also a beachside restaurant where you can get drinks and rent lounge chairs. In recent years, they've also added a very instagrammable over-sized lawn chair.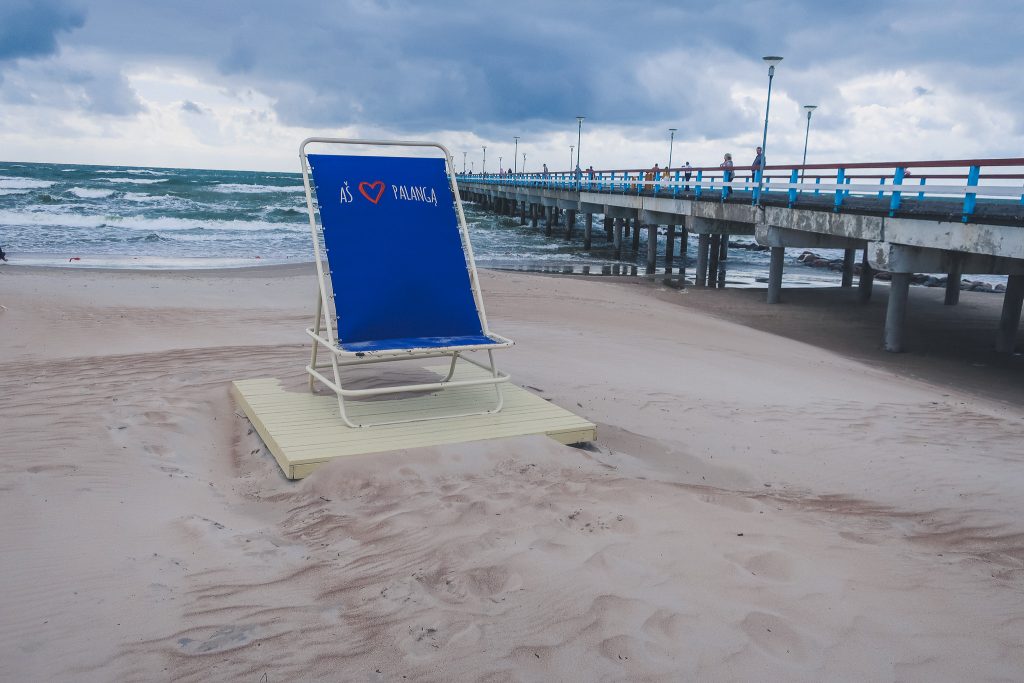 You can also check out the nearly Nida Beach. Nida Beach is perfect for those looking for a more laid back experience. It's a 2 hour drive from Palanga and gives a completely different experience.
Nida is part of the Curonian Split which is listed as a UNESCO World Heritage site. The Curonian Split is a long sand dune off the coast of present day Russia and Lithuania. Humans have inhabited this area since prehistoric times.
6. Birutė Hill
Birutė Park is one of the best places to visit in Palanga. It's nestled in the centuries old pine forest and the most impressive feature is Birutė Hill.
Birutė Hill is a historic place. As far back as the 9th Century, this was Curonian land. The Curonians, sometimes called Kurs, were ancient Baltic tribes people. They are remembered as excellent sailors, sometimes pirates and overall savage warriors.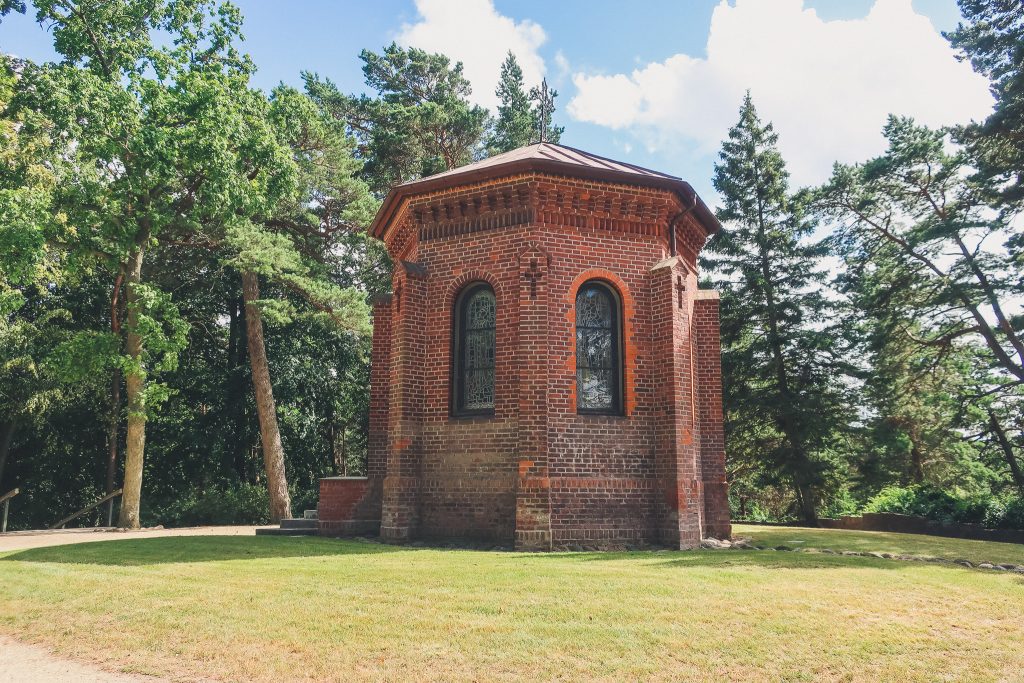 Later, a pagans used this land to build a sanctuary and observatory. They named the land after priestess Birutė. She was the second wife of Grand Duke Kęstutis and mother of the legendary Vytautas. Legends tell that she was buried at the top of this hill.
After the death of Birutė, many embarked on pilgrimages to visit her burial site. Although, Lithuania was turning to Christianity at this time. To discourage ancient pagan practices, a replica of the Lourdes grotto was installed at the base of the Birutė Hill.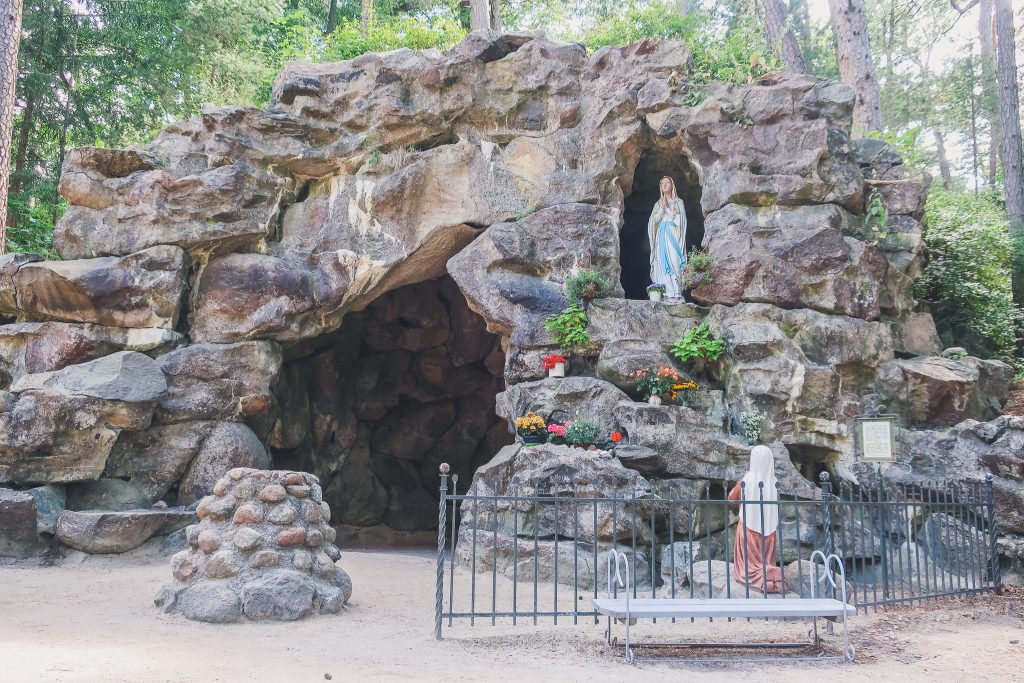 You can still visit this Grotto today and view the pretty statue of the Virgin Mary. If you climb to the top of Birutė Hill, you'll also find a little chapel. There's a little clearing in the forest that gives you spectacular views of the Baltic Sea.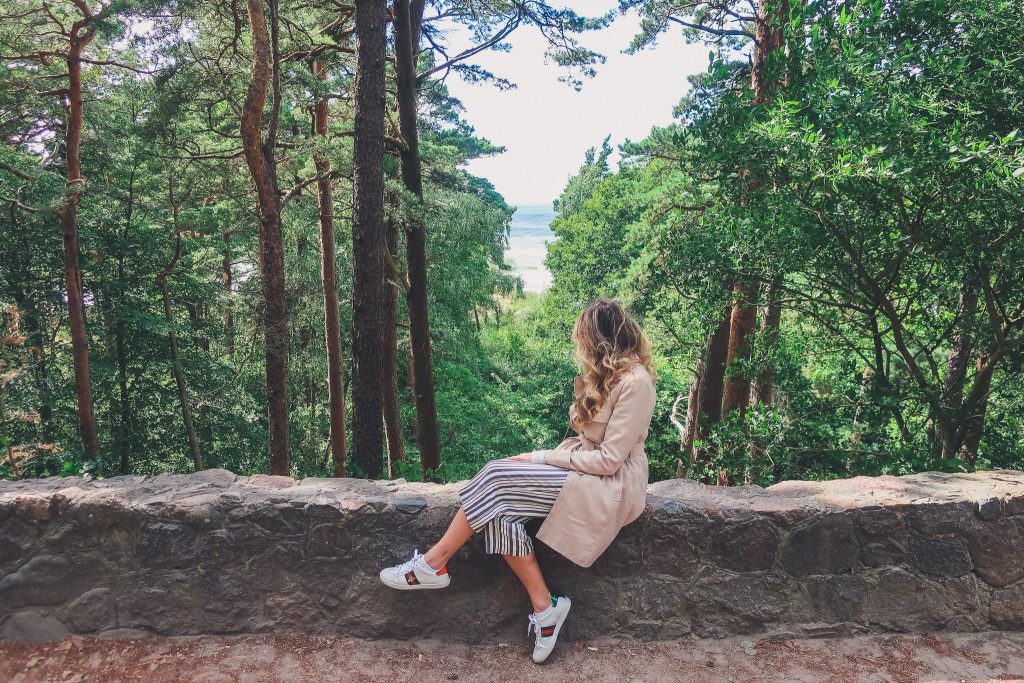 7. Church of the Assumption of Virgin Mary
This Palanga church has a striking neo Gothic design. It"s an important symbol of Palanga and definitely worth checking out!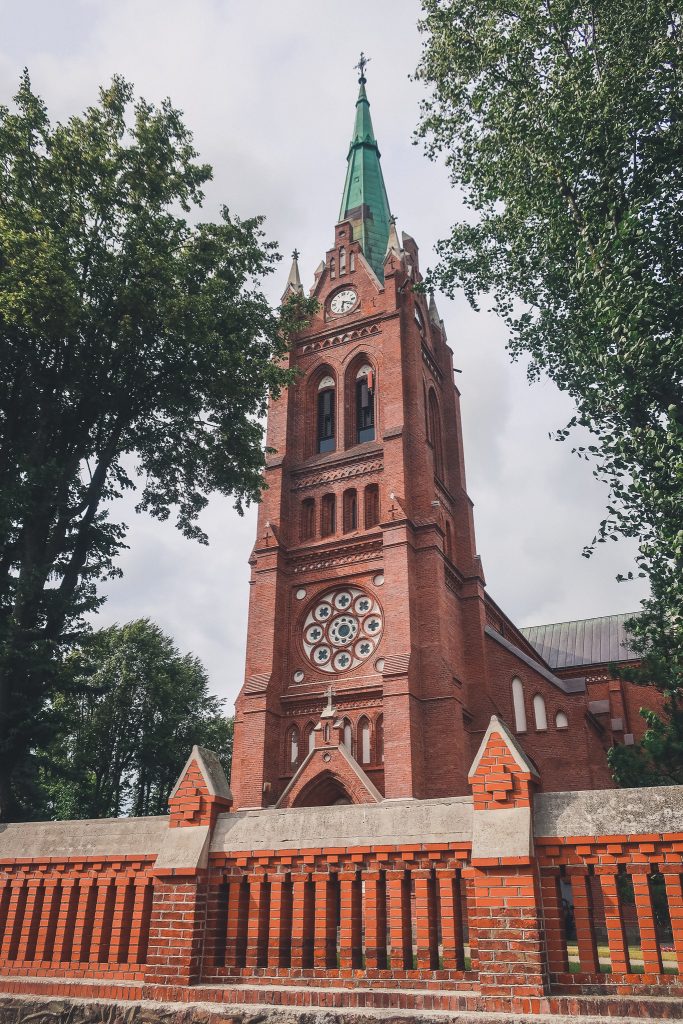 Step inside to appreciate the marble alters and wooden pews. You can enter the church and climb it's tower for free!
Before it was called the Church of the Assumption of Virgin Mary it was known simply as the Palanga Church. The first Catholic Palanga Church was a small wooden structure built in the 16th Century. Since then, it was rebuilt many times. The brick church you see today was completed in 1907.
8. Moncy House Museum
An interesting little museum in the heart of Palanga, the Moncy house is dedicated to Lithuanian artist Antanas Moncy. He is most famous for his work as a modernist sculptor. This museum in Palanga displays over 200 of his sculptures, drawings, collages, masks and graphic works.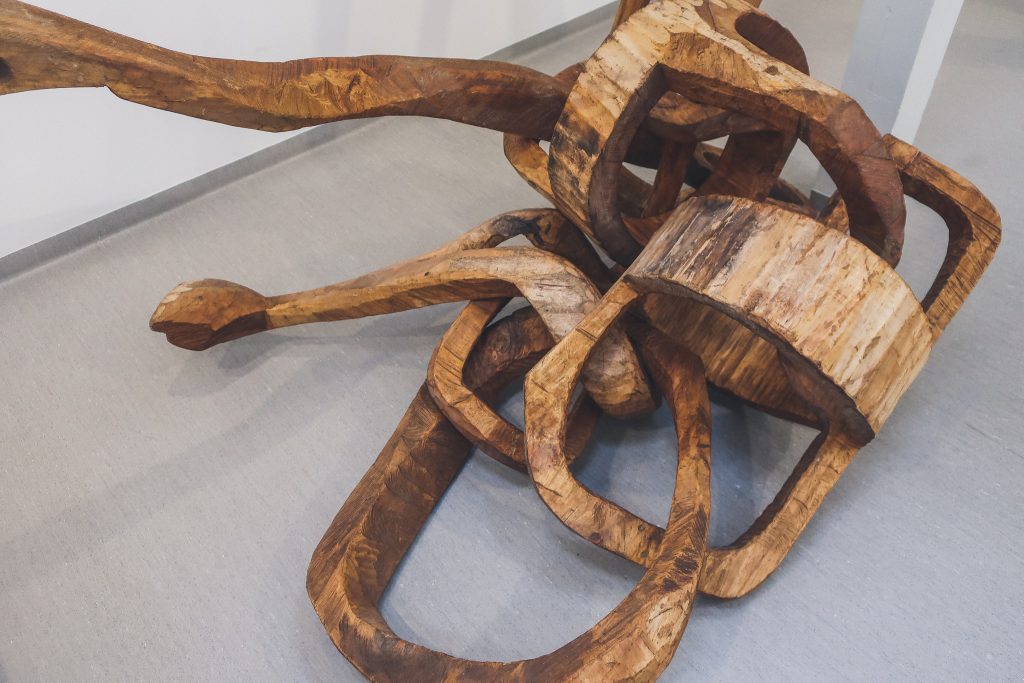 While Moncy never lived in Palanga, he was originally from a nearby village called Mončiai. After his death, he gifted the country of Lithuania an important piece of his life's work.
9. Musical Fountain
This is one of the most interesting tourist attractions in Palanga. It's an interactive dancing fountain that lights up and puts on a show.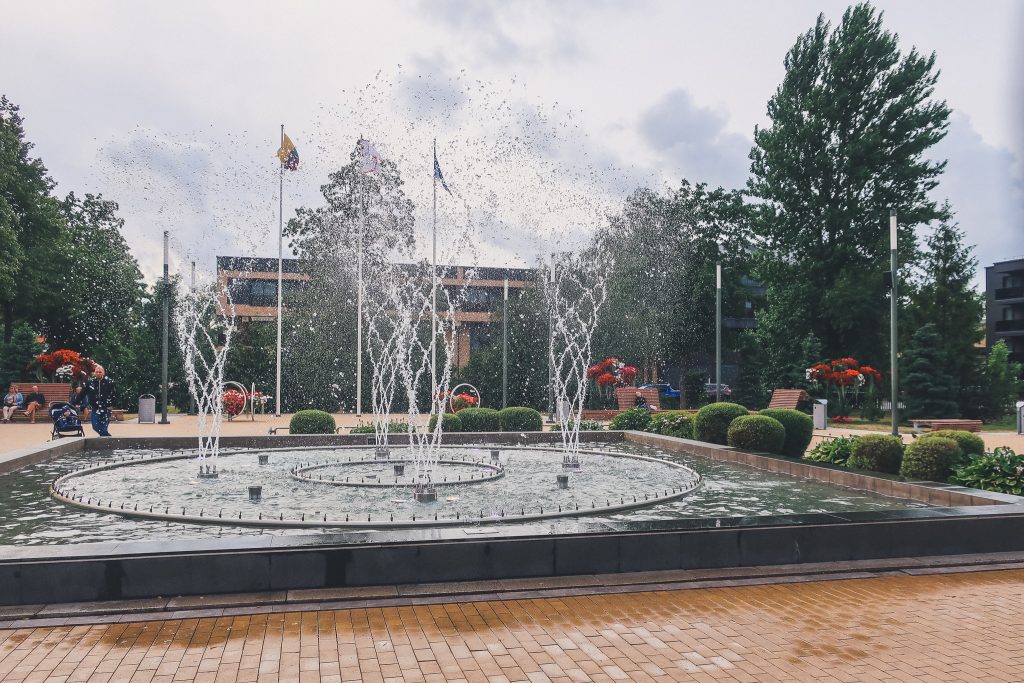 For 3 euros, you can request a song of your choosing. The fountain comes to life and puts together a performance to your chosen melody. Request a romantic melody, an old favorite or something silly.
Next Stop Vilnius?
Check out these amazing things to do in Vilnius for couples.
Check out these Vilnius Accommodations.