This is your ultimate guide to the best hotels in Vilnius. We've done all the hard work and picked out all the top-rated accommodations for any budget. These are the best places to stay in Vilnius for every type of traveler. 
We'll help you decide where to stay in Vilnius so that you can get the most out of your trip. All the hotels in this guide are close to popular attractions in Vilnius. Some of them are even a part of the history of Vilnius.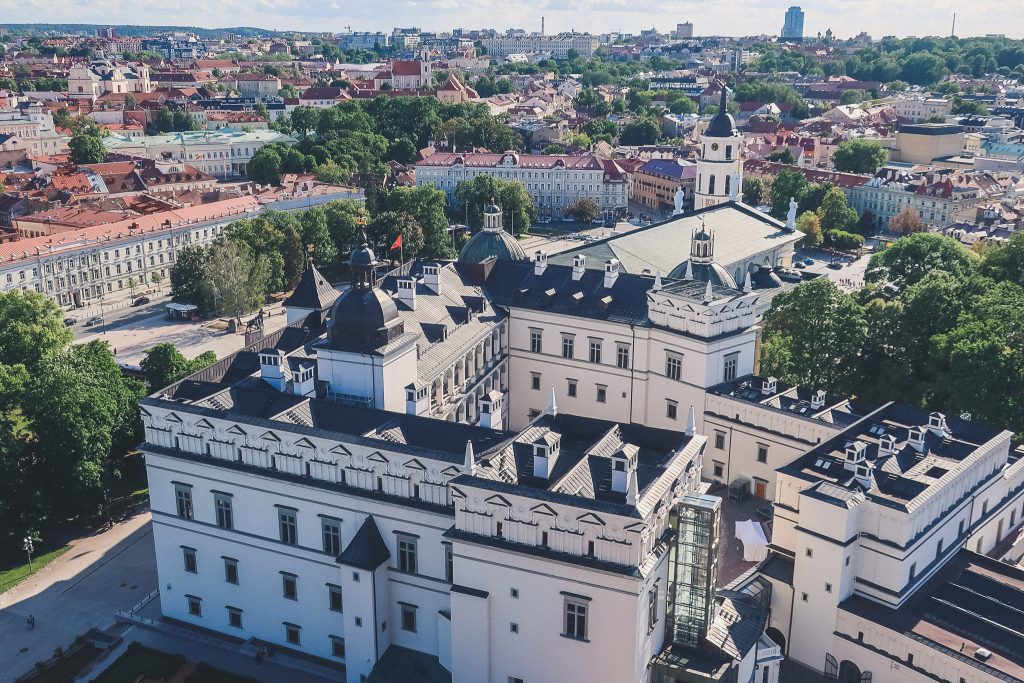 Best Hotels in Vilnius for Every Budget
Wondering 'where is the best place to stay in Vilnius?' The best area to stay in Vilnius is Old Town. This is a UNESCO World Heritage site, and it's where you'll find many of the exciting things to do in Vilnius. 
Old Town has tiny, winding, cobblestone streets lined with pastel-colored buildings. This is where you'll find many impressive churches, historic sites, and restaurants. Many of the top-rated places to stay in Vilnius are in or around Old Town.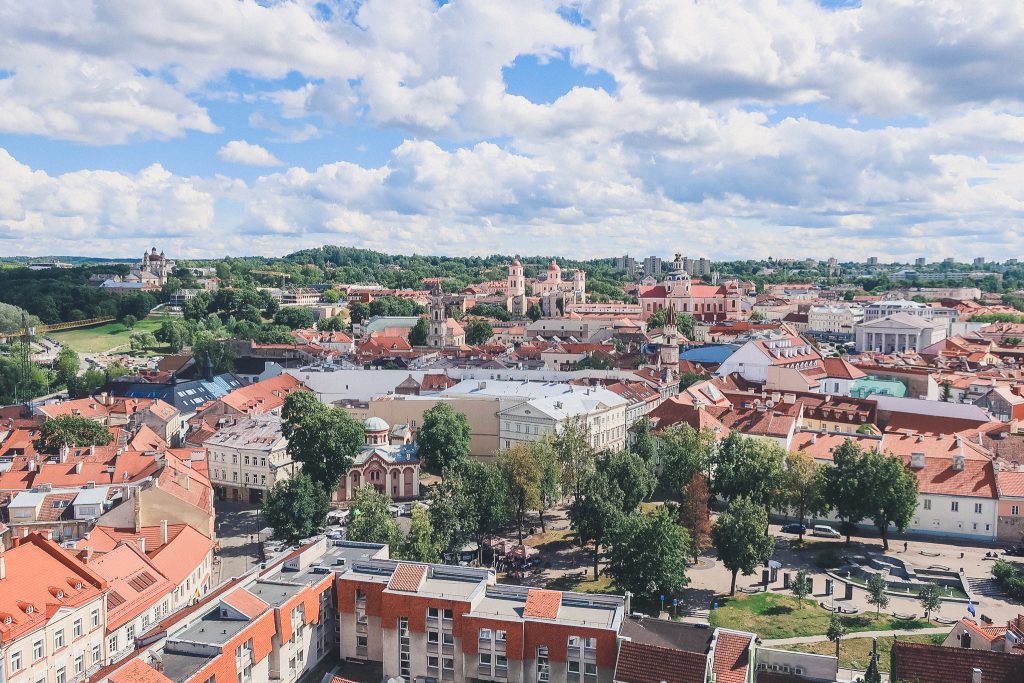 Don't worry if your accommodation isn't right inside Old Town. Vilnius is a relatively small and remarkably walkable city. Every accommodation on our list is well located, minutes away from the top Vilnius sights.
Best Hotels in Vilnius for Every Budget
One of the best things to do in Vilnius is the 'Church Walk' where you walk around to all the unique, ornate religious monuments in the city. Vilnius is famous for its churches and the representation of many different faiths.
The best time to visit Vilnius is in late spring and summer if you prefer warmer weather. Lithuania can be relatively chilly and rainy year-round.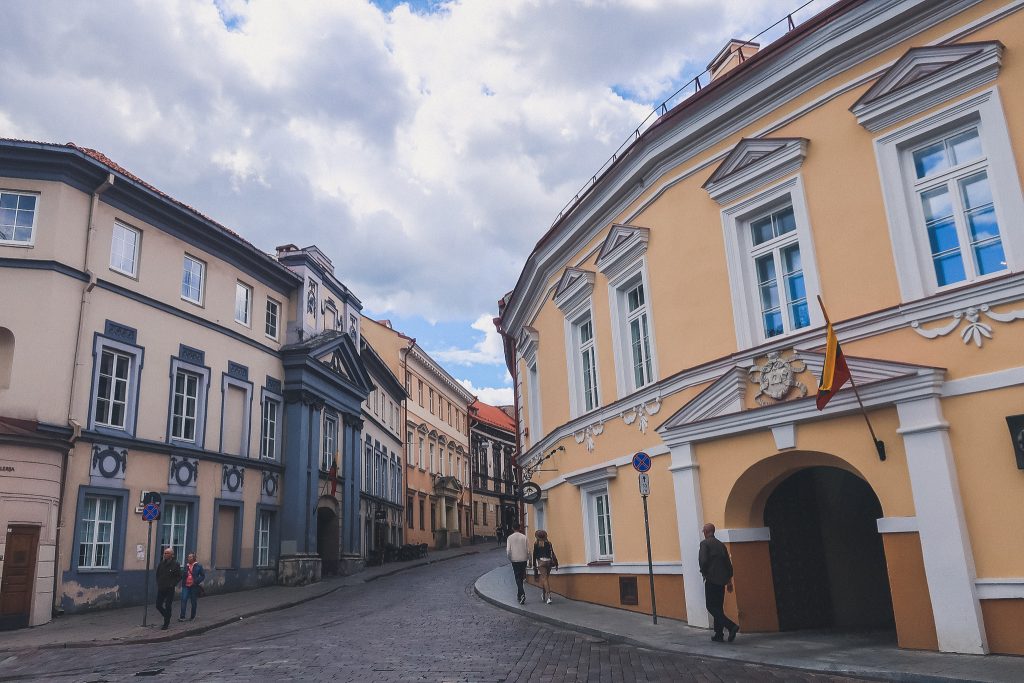 Students 
These are the best of Vilnius for students! All of these cheap hostels in Vilnius include free Wifi, fresh linens, access to a kitchenette, and coffee. 
Vilnius is a popular place for European and International Students alike. Hostel Vilnius accommodations can be quite affordable, even under $40 per night!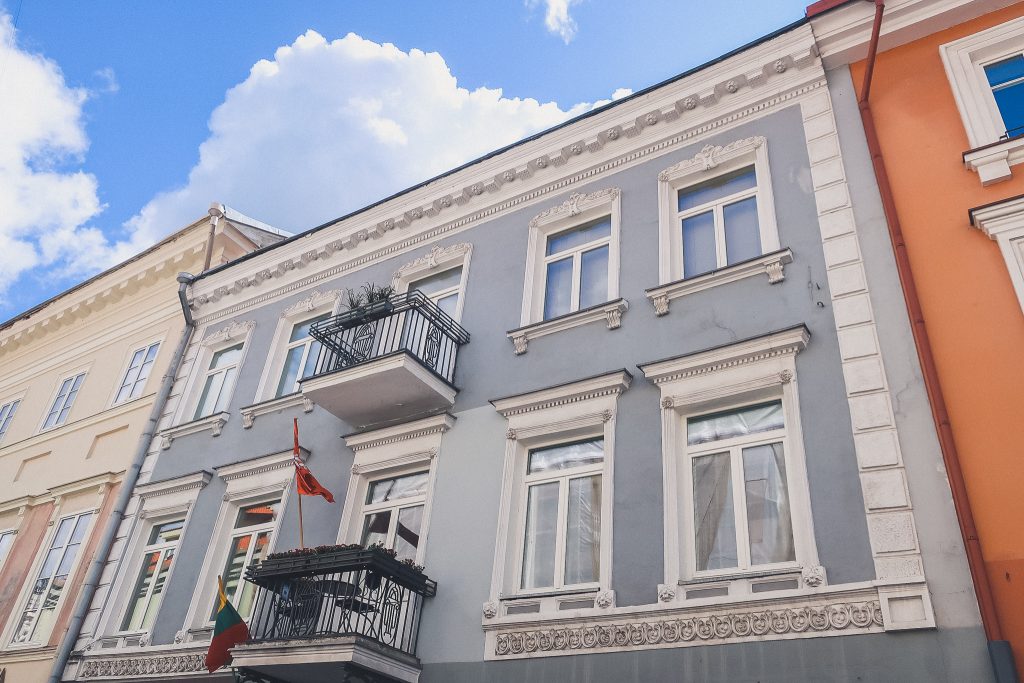 Hostels are great for young people, backpackers, and anyone looking to make friends. Hostels are known for their friendly service. They'll help you find the best cheap and free things to do in Vilnius. 
Many of the recommended hostels are located in Vilnius Old Town or nearby.
Mikalo House 
The Mikalo House is one of the best hostels in Vilnius. It's located in Vilnius old town on Vokieciu Street. This is where all the young and cool people hang out. 😃 Guests love to take advantage of nearby Sugamour — a trendy coffee shop and bakery. 
Book a cozy cot at the Mikalo House.
The best places to see in Vilnius near the Mikalo House are the Church of St. Casmir and Halle Market. 
The Mikalo House is one of the unique hostels in Vilnius because it offers a quaint outdoor terrace with bbq facilities. It's also one of the cheap hostels Vilnius has to offer! Guests can also take advantage of free parking that's available.
Come to Vilnius Hostel
Come to Vilnius is another one of the recommended hostels in Vilnius Lithuania. This hostel in Vilnius Old Town has modern design elements and free parking. 
See more photos of the Come to Vilnius Hostel.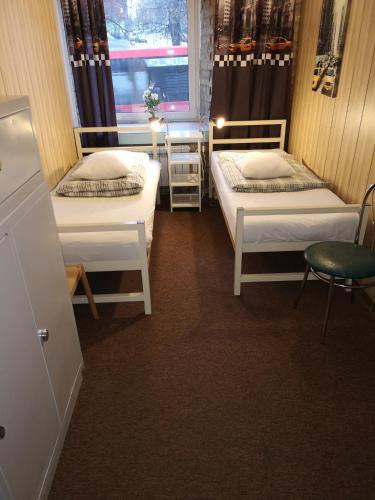 Some of the fun activities in Vilnius include visiting the Gates of Dawn or taking a funny photo near the Trump & Putin Mural. These attractions are 5-10 minutes walking from this downtown hostel Vilnius. 
This is the ultimate backpackers hostel Vilnius has to offer! Enjoy affordable laundry services, daily cleaning, and a well-equipped self-service kitchen. 
Lvovo Apartments
The Lvovo Apartments are something in between a cheap hotel in Vilnius and a bed and breakfast in Vilnius. This is an affordable accommodation that offers a bit more privacy than some of the hostels listed above.
Create your perfect stay at the Lvovo Apartments.
At this guest house in Vilnius, guests will enjoy a private bathroom and private kitchenette. Also, free parking is available. It's perfect for travelers not looking to break the bank, but yearning for some solitude. 
The Lvovo Apartments are near to some of the cool Vilnius Tourist attractions. They're only a 10-minute walk from Cathedral Square and the Museum Quarter.
Budget 
You can get a lot of bang for your buck in Vilnius! Many of the cheap hotels in Vilnius are wonderful! You can find an affordable place to stay in downtown Vilnius and be within walking distance to all the best Vilnius sightseeing locations. 
A cheap accommodation Vilnius has to offer can cost you under $100 per night. There are some excellent hotel deals in Vilnius. 
With these budget accommodations, you won't need to sacrifice comfort or location. It's a win, win! Check out some of these 4-star hotels. Vilnius does not disappoint. 😉
Radisson Blue
The Radisson Blue may not be a hotel in Vilnius Old Town, but it's in the new town Vilnius. This is a modern construction hotel with all the contemporary design elements and amenities one would expect. 
Book your room at the Radisson Blue.
It's the perfect sanctuary to relax in after a long day of exploring Vilnius. From the Radisson Blue, it's a quick 20-minute walk to Cathedral Square and other popular Vilnius attractions. 
Have breakfast in Vilnius at the Radisson Blue before departing for a busy day of sightseeing. In the evening, enjoy a cool drink at the Radisson Blue's popular SkyBar. You'll lounge in luxury in front of panoramic views of the city. 
Hotel Novotel
Hotel Novotel is your perfect accommodation in Vilnius City Center. It's a 4-star hotel in Vilnius with contemporary decor and modern amenities. 
Best of all, there's free breakfast at this accommodation. Vilnius City Center is the best place to stay in. You'll be right in the heart of it all — close to shopping, restaurants, and attractions.
Some of the best things to see in Vilnius include the Hill of Three Crosses and the Magical Brick. You can find both of these attractions a short walk from the Hotel Novotel. 
Artagonist Hotel
The Artagonist is one of the most trendy hotels in Vilnius. The artistic elements at this hotel are so captivating! It's perfect for young couples looking for refined touches during their stay. 
See more photos of the Artagonist Hotel. 
The Antagonist is a cheap accommodation in Vilnius in a convenient Old Town location. At the Artagonist Hotel, guests can enjoy a free breakfast before setting out on a day of sightseeing. 
Some of the best places to visit in Vilnius near the Artagonist Hotel include the city-state of Uzupis. Also, make sure to climb the Bell Tower at St. John's Church! 
Mid-Range
If you're thinking about where to stay in Vilnius Old Town, and you're dreaming about history and charm… you're going to love these next set of options. While these aren't the most cheap hotels Vilnius has to offer, they're still reasonably affordable. These will cost $100-200 per night for a hotel booking. Vilnius is an awesome city to find great deals on fabulous hotels!
One thing you must do in Vilnius is experience history. There's no better way to feel history come alive than to spend an evening in a 16th or 17th Century building
Narutis Hotel 
The Narutis is the best hotel in Vilnius for history buffs! The buildings that compose the Narutis Hotel date back to the 15th and 16th Centuries. They've been exquisitely restored to their former glory and have retained timeless style elements.
Get more information about the Narutis Hotel.
This is one of the top hotels in Vilnius Old Town –located just minutes walking from all the Vilnius top sights. You can get to the museums in Vilnius in about 15 minutes on foot.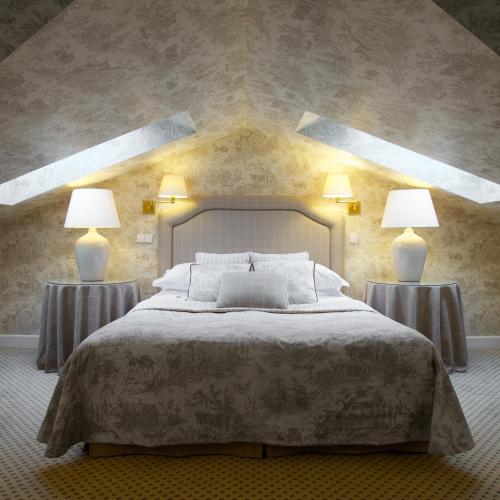 At the Narutis Hotel, parking is included and breakfast is included in your stay.
Best of all, this is a fully equipped 5-star hotel. One of the best things to do in Vilnius is to stay in a luxurious hotel on a limited budget. You can't do that in many other European cities! 
Imperial Hotel 
If you decide to stay at the Imperial Hotel, you'll be quite happy with your booking! Vilnius is a uniquely lovely city with quirky culture and excellent food.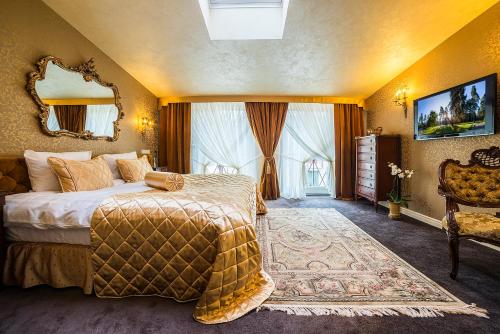 Find your perfect room at the Imperial Hotel.
The Imperial is one of the most remarkable hotels in Lithuania, Vilnius. It has utterly romantic, lavish decor. So, it's the perfect place to stay for couples. We're talking heavy drapes, elaborate embroidery, bright colors, and ornamental touches. Guests feel like they've stepped into King Louis the XIV's Versailles mansion during their stay. Vilnius hotels don't get any better!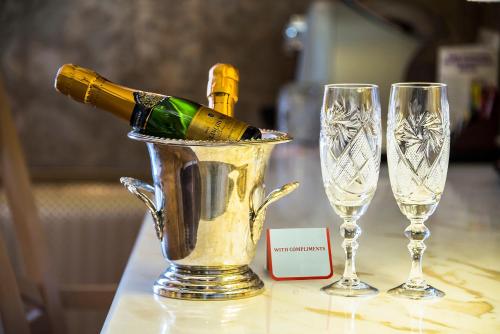 The Imperial is also one of the important historic hotels in Vilnius center. It's been built inside a 16th Century building. It's an award-winning accommodation and a noteworthy 5-star hotel. You'll certainly be impressed with the Imperial Hotel in Vilnius. 
Radisson Blu Royal Astorija Hotel 
The Radisson Blu Royal Astorija is another place with historic charm. It's one of the beloved hotels in Vilnius Lithuania due to its distinct Baroque style facade. 
One of the best places to visit in Vilnius is the church of St. Casmir, and it's located right across the street from the Radisson Blu Royal Astorija Hotel. The Church of St. Casmir is another stunning Baroque-style building. Doesn't hurt to be in Vilnius Old Town!
Stay in luxury at the Radisson Blu Royal Astorija. 
You'll also be within walking distance of one of the best places to eat in Vilnius —Open Kitchen Vilnius. Just a few blocks from this hotel, you can often find local street food in a casual and fun setting. Eating at Open Kitchen is one of the top things to do in Vilnius.
Radisson Blu Royal Astorija is a 5-star hotel with an indoor pool and a wonderful French restaurant. Make sure to grab lunch at Astorija Brasserie during your stay!
Luxury
These are the best hotels in Vilnius. They're some of the most modern, most elegant, and refined accommodations in Lithuania. Inside them, you'll find some of the best restaurants in Vilnius, the most high-end gyms in Vilnius, and unparalleled views of Vilnius city.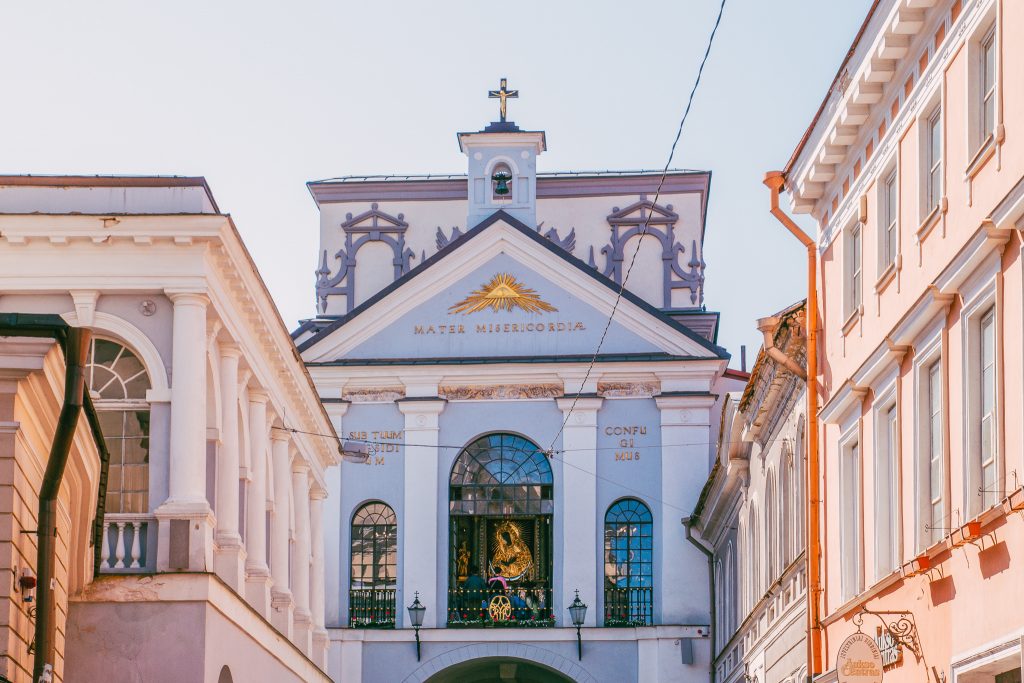 If you want to rest luxuriously while you visit Vilnius, you can't go wrong with any of these exceptional accommodations. These are the best hotels Vilnius has to offer!
Grand Hotel Kempinski 
The Grand Hotel Kempinski is the best place to stay in Vilnius. It's an epic 5-star hotel located within historic Old Town, specifically steps from the iconic Cathedral Square. 
Splurge on the Grand Hotel Kempinksi. 
Inside, you'll find the best restaurant in Vilnius –Telegrafas. Make sure to stop by Bar Le Salon for drinks. Also, they offer the best spa in Vilnius. 
It's an epic 5-star hotel-– Vilnius at its best! 
Hotel PACAI
Somehow Hotel PACI tops all the others! It's the most unforgettable stay in Vilnius, recommended for luxury seekers. It's an artist's dream. 
Everywhere you turn in Hotel PACAI, you'll be impressed with the style and design elements. While the outside of the building is decidedly 17th Century Baroque, the inside is modern and refined.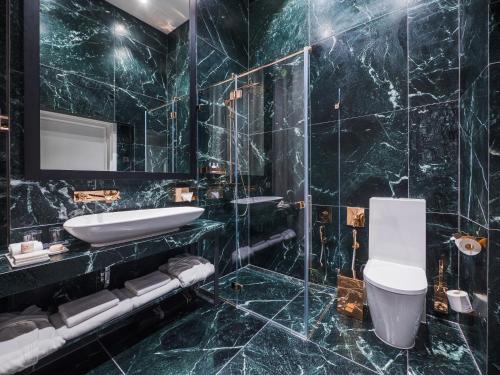 This 5-star hotel also has the best spa Vilnius has to offer. The concierge is especially friendly, let them be your guide to Vilnius. Hotel PACAI is also well regarded for its MUROS restaurant and bar. 
More time in Lithuania? Take a day trip to the sleepy seaside town of Palanga.