If you're looking for things to do in Vilnius for couples, you're in the right place! We'll show you the best ways to experience Vilnius with your partner. Including fun activities, scenic lookouts, cultural enrichment & romance! We'll help you plan the best trip to Vilnius.
Things to do in Vilnius for couples
1. Climb the Tower at St. John's Church
Most tourists climb the bell tower at the Vilnius Cathedral. You should skip it! It's tiny, dark and the views aren't that great. Instead, climb the tower at St. John's Church.
St. John's Church is located on the campus of Vilnius University. It's bell tower is one of the tallest structures in historic Old Town. Reach the top, and you'll be rewarded with unparalleled 360° views of Vilnius Old Town. The observation deck is so large, that there was even enough room to install an elevator! Perfect for those who don't enjoy the grueling climb.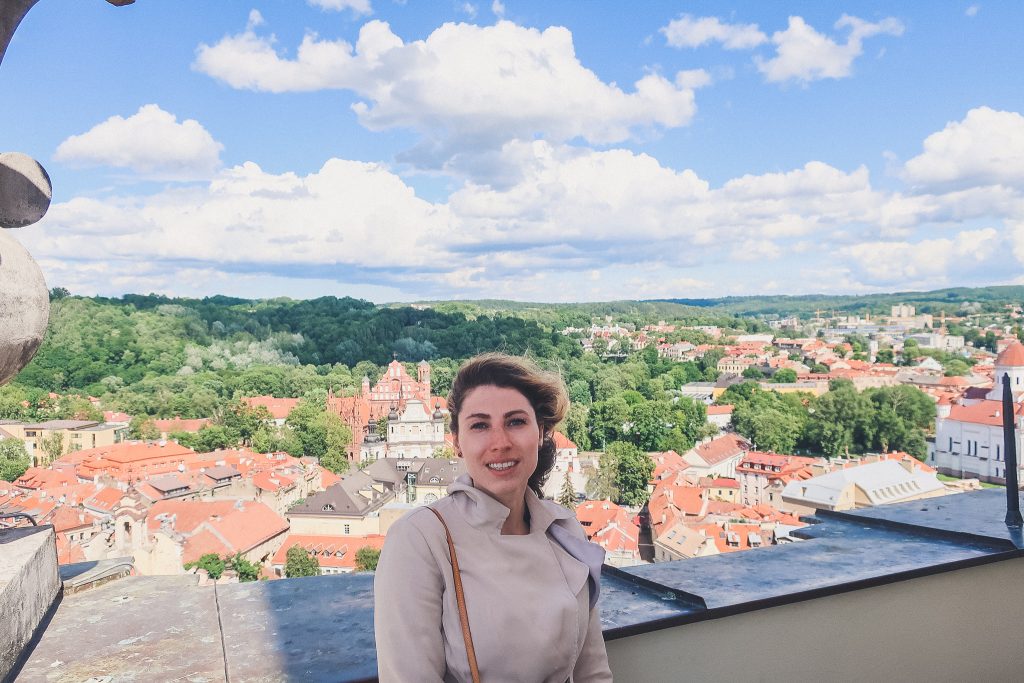 The historic old town in Vilnius is designated a UNESCO World Heritage Site. It's one of the largest surviving medieval old towns in Northern Europe. Definitely, one of the best places to visit in Vilnius. Walking along these narrow cobblestone streets, you won't be surprised to find out that the layout has remained virtually unchanged since the Middle Ages. You'll also find many classical examples of Gothic, Renaissance and Baroque architecture.
Check out this top-rated tour of Vilnius Old Town.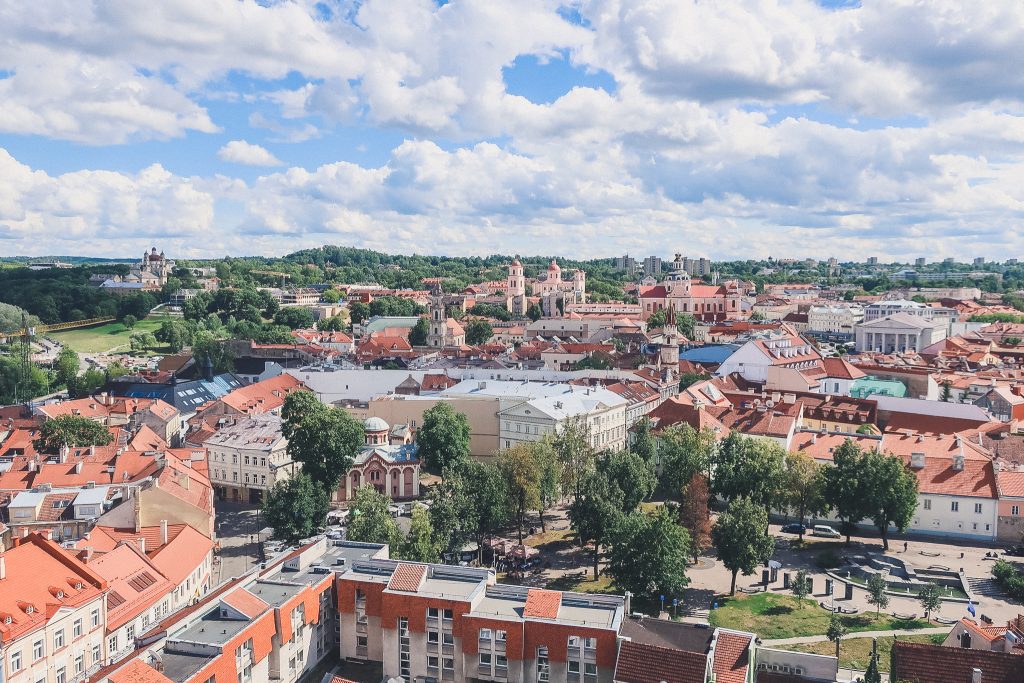 St. John's Church is distinctly Baroque. Originally built in the 14th Century, but reconstructed in the 18th Century.
Find the perfect place to stay in Vilnius. 
While you're visiting St. John's Church make sure to check out Vilnius University. It's one of the oldest Universities in Central Europe. If you can find the Philosophy department, make sure to check out the famous "Seasons of the Year" fresco. You can always ask a student. Lithuanians are warm and friendly (and most of them speak English) 😊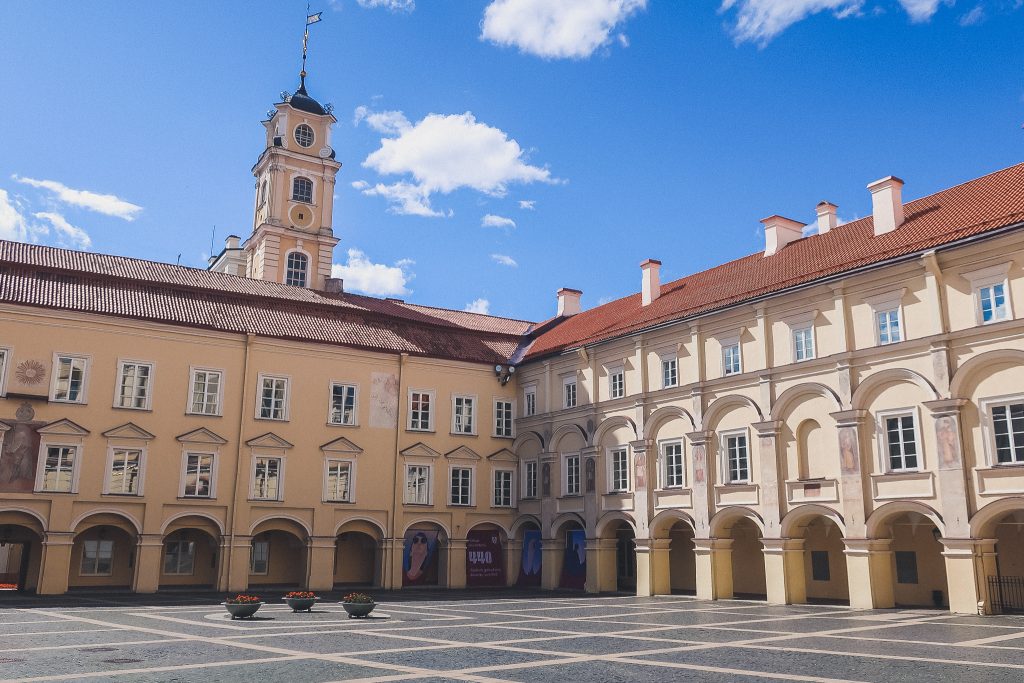 Interested in the history of Vilnius University? A few bucks on top of your Bell Tower ticket will get you access to the Vilnius University Museum.
2. View the Palace of the Grand Dukes from Gediminas Hill
You'll notice that many of these Vilnius activities include climbing and panoramic views… Can you blame me?
The next place to see in Vilnius is the top of Gediminas Hill. It's a 10 minute walk from Cathedral Square. You can also take a small tram up the hill if you don't prefer to walk. The tram access point is inside the Lithuanian National Museum.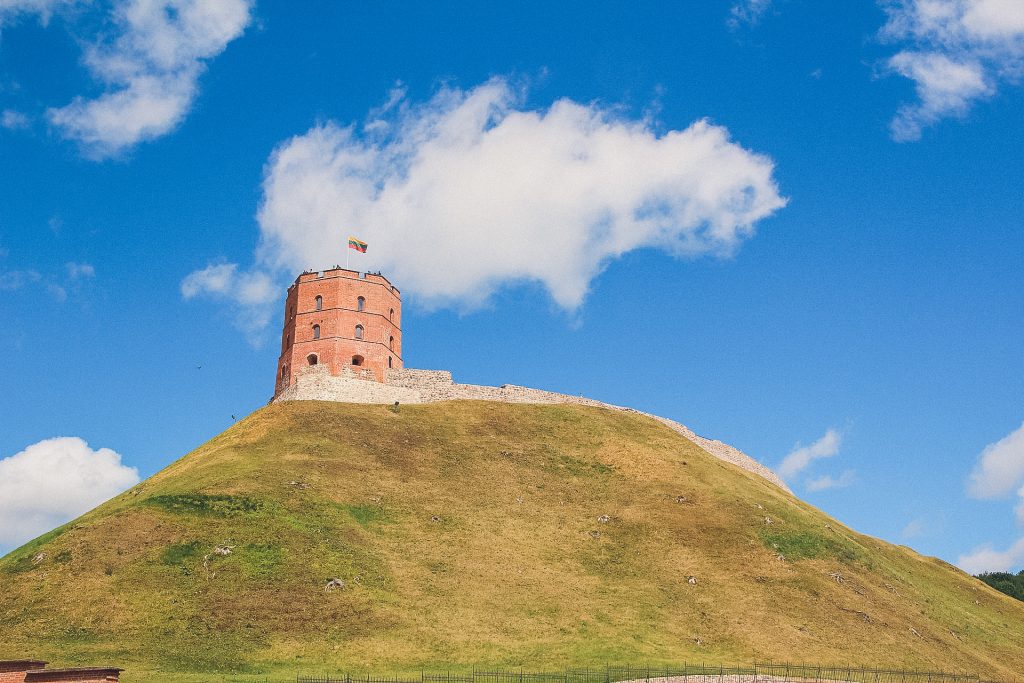 Gediminas Hill is named for the  that once stood here. The Gediminas Tower is all that remains of the castle complex. It's been restored and turned into a small museum. There's a nice observation deck at the top of the Gediminas Tower.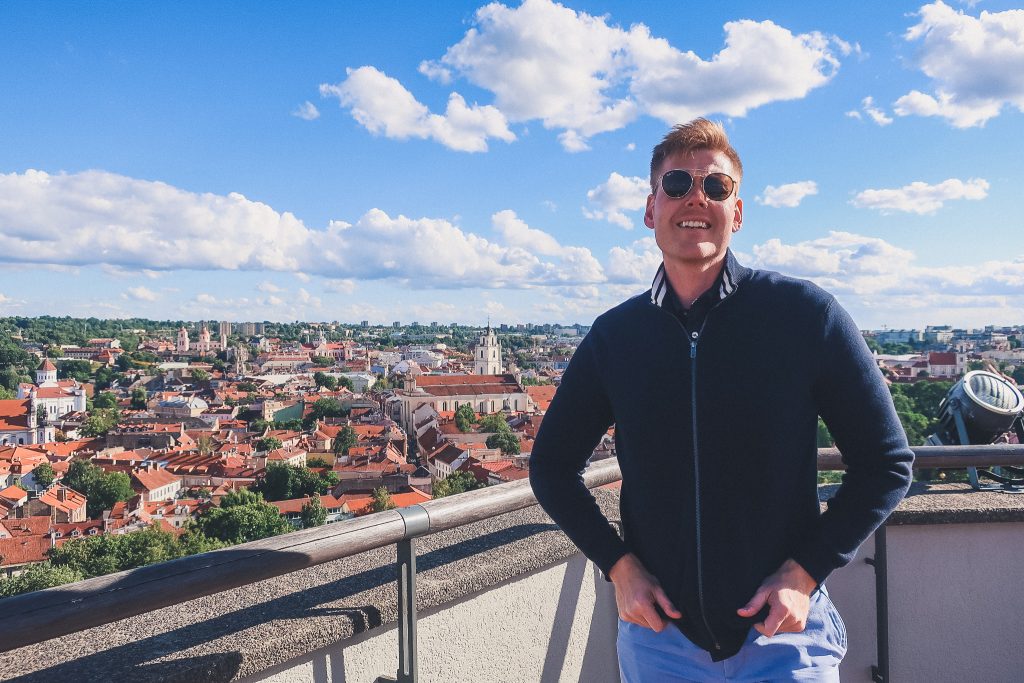 This is one of the famous places in Vilnius. Gediminas was Grand Duke of Lithuania in the 14th Century and he is responsible for establishing the city of Vilnius as Lithuania's capital.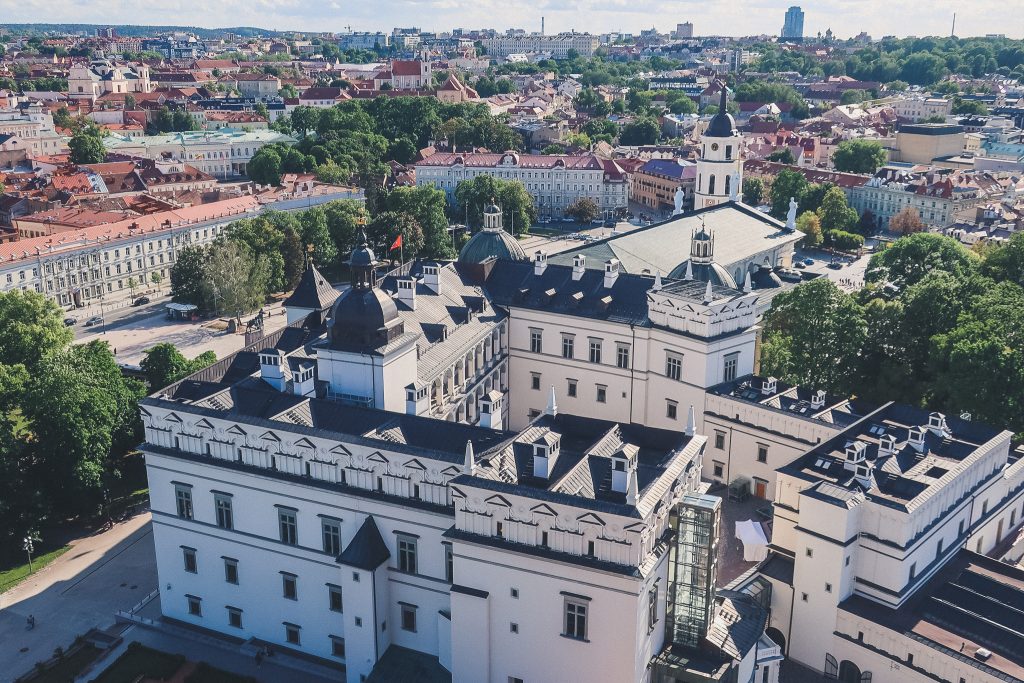 Although, you don't need to be at the top of Gediminas Tower to get great views. From the hill, you'll see stunning views of the Lithuanian National Museum and the Palace of the Grand Dukes.
3. People watch at Town Hall Square
Town Hall Square is one of the most charming places to see in Vilnius. You'll find it in historic Old Town. It's a popular meeting place for Vilnius tours, locals and students alike.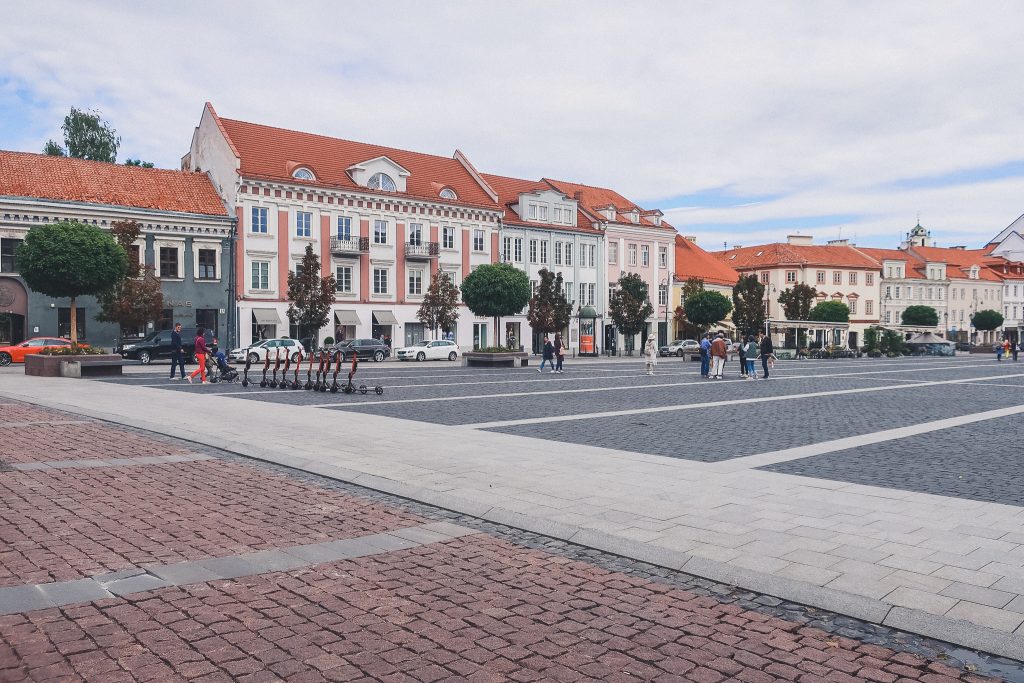 Vilnius Town Hall Square is a romantic place to sit and people watch. The square is lined with pastel colored houses, luxury shops and restaurants with outdoor patios.
Grab a coffee, take a seat on one of the benches & enjoy! There's always something going on here!
If you're looking for an excellent tour of Vilnius Old Town… We loved our Vilnius with Locals Tour. Our guide was so knowledgeable AND passionate AND interactive AND enthusiastic. I've been on a lot of great tours, but this experience was especially memorable!
4. Lock down your love at the Subačiaus Lookout
This is one of my favorite places to go in Vilnius to ditch tourists. This neighborhood gives a strong local vibe and it feels like you've left the city behind.
At the Subačiaus Lookout you'll get fantastic views of Užupis. Notice how there are many locks attached to the guardrails. These locks are placed to symbolize the everlasting love of two partners. 💖
You can also find these locks at other romantic places in Vilnius. One of those other spots is the Bernardinai Bridge.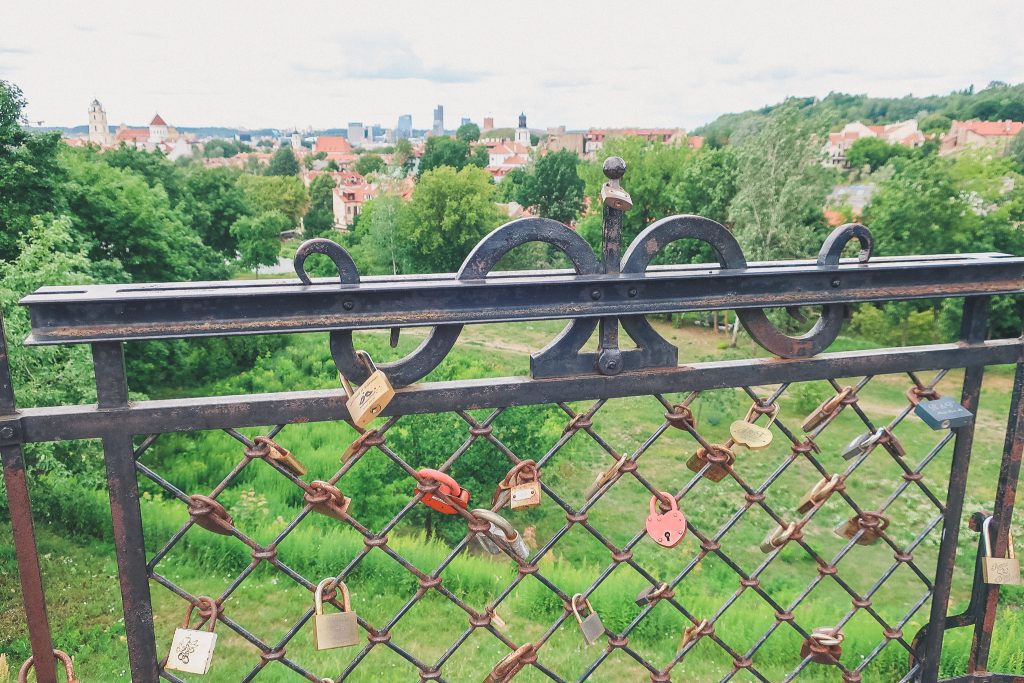 If you'd like to contribute to this living artwork and vow your love to your partner —place your own lock at the Subačiaus Lookout. We brought an old gym lock from home. It's the perfect way to upcycle a lock that you've forgotten the combination to!
Food Alert: If you walk from Vilnius city center to the Subačiaus lookout, you'll pass this fast food chain called Jammi Kebabai. Lithuanians are obsessed with kebabas. It's the go-to local fast food, drunk food, cheap eats sensation.
Kebabas are NOT kabobs. They're like burritos made with a pita wrap and filled with meat, garlic sauce and Mediterranean style veggies (usually cucumber, tomato and cabbage). Eating kebabas is one of the top things to do in Vilnius if you are looking for an authentic experience. My boyfriend spent most of his life in Lithuania, and he can eat kebabas multiple times in a day! (insert eye roll)
5. Get your passport stamped in the Republic of Užupis
Did you know that Lithuania's Capital has it's own Vatican City? Well, sort of. Nestled in the middle of Vilnius is a tiny independent republic called Užupis. It's a bougie artist neighborhood surrounded by the Vilnia River. Definitely, one of the most interesting places in Vilnius.
Find out more about Užupis off the beaten path.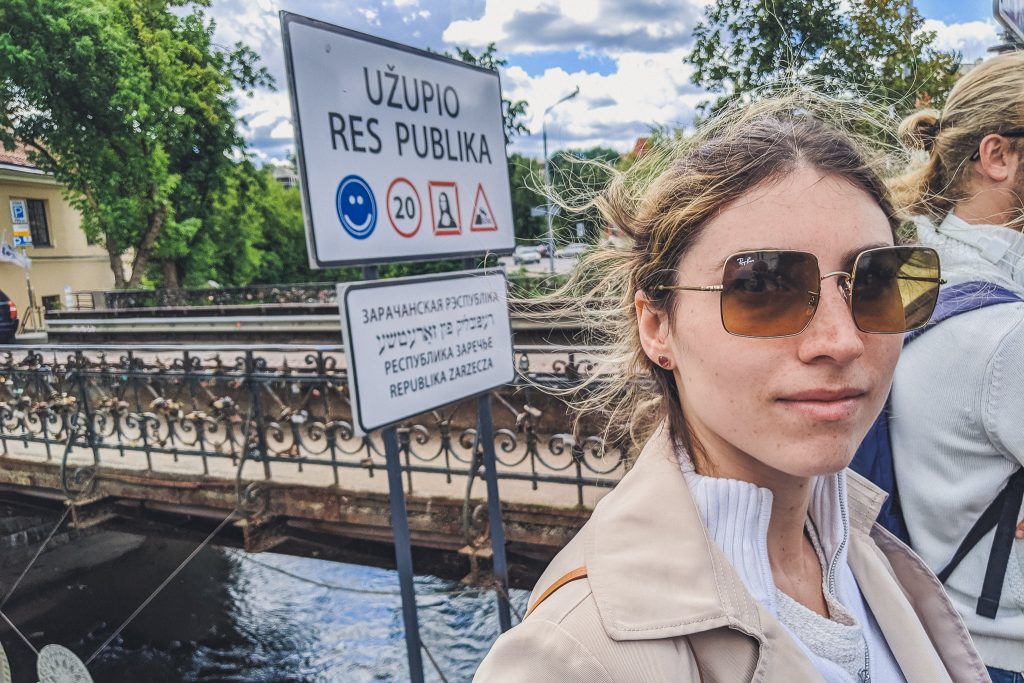 Užupis is one of the most unique places to visit in Vilnius. The Republic of Užupis is one of the smallest republics in the world. It has its own government, constitution and currency. Užupis was founded to express the community's spirit for peace, individuality, and virtue. The flag of Užupis bears a "Holy Hand." The hand represents friendship, and the hole represents the whole world. The hole also makes the hand porous, thus unable to accept bribes.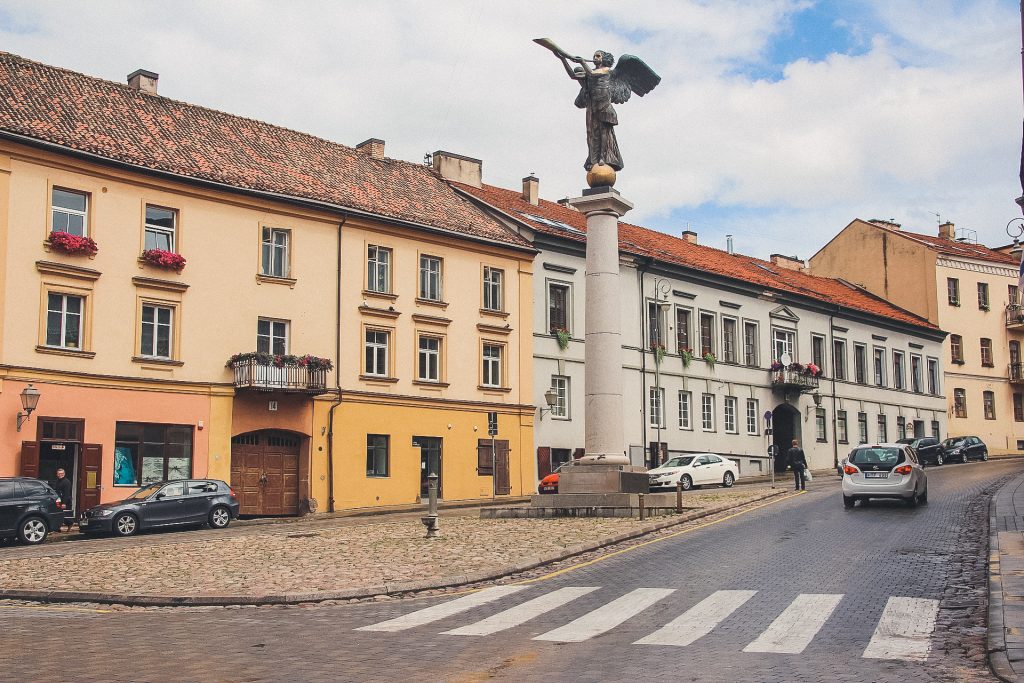 Once you cross the Užupis Bridge, you MUST go and have your passport stamped! This is one of my favorite things to do in Vilnius! You can get your passport stamped at the Užupis Information Center. It's just past the Užupis Bridge, but you can also find it in our interactive Vilnius Sightseeing Map.
6. Read constitution of Užupis
The next best thing to do in Užupis is to read the quirky constitution. It was written up by a group of loyal citizens in the late 90s —some of the citizens would later go on to hold important government position in the Republic of Užupis (namely the President & Minister of Foreign Affairs).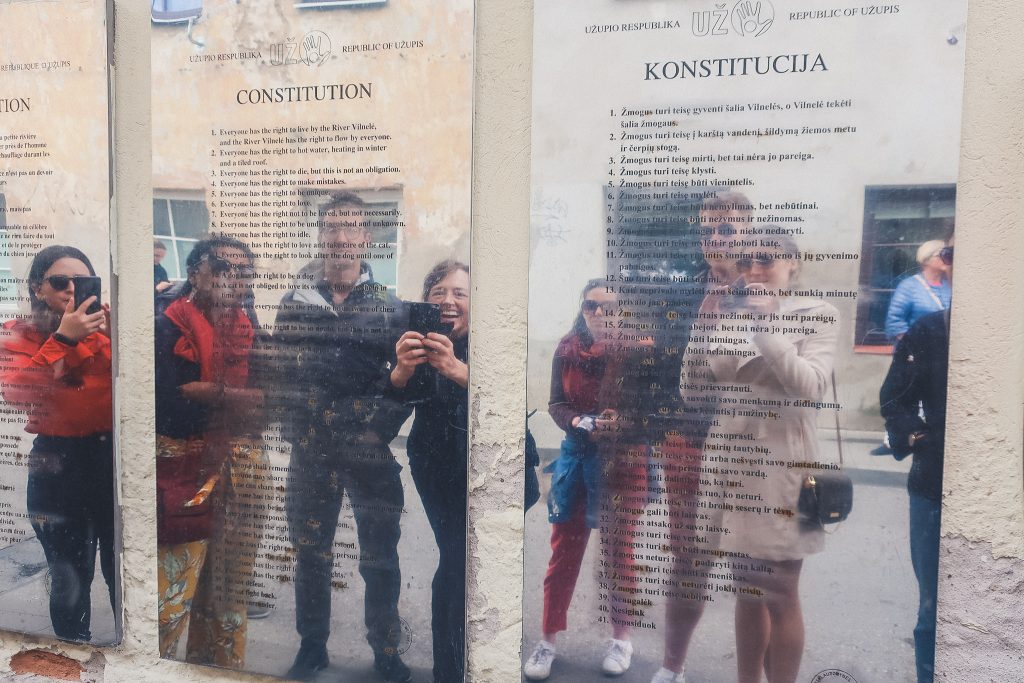 Since the constitution of Užupis was created, it became engraved on a plaque and displayed on Paupio street. Now a growing trend involves this constitution being translated into as many languages as possible. Each language (or country) has it's own Užupis constitution plaque. Find your country's translation of the Užupis constitution.
The Užupis Constitution isn't your ordinary government text. It's comical, whimsical and optimistic with a strong focus in human rights. If you don't believe me, you'll just have to read it for yourself!
7. Watch the sun set at the Hill of Three Crosses
This Hill of Three Crosses is one of the popular Vilnius attractions. From all the scenic lookout spots we've discussed, I think this one's the best! It's also the toughest climb 😅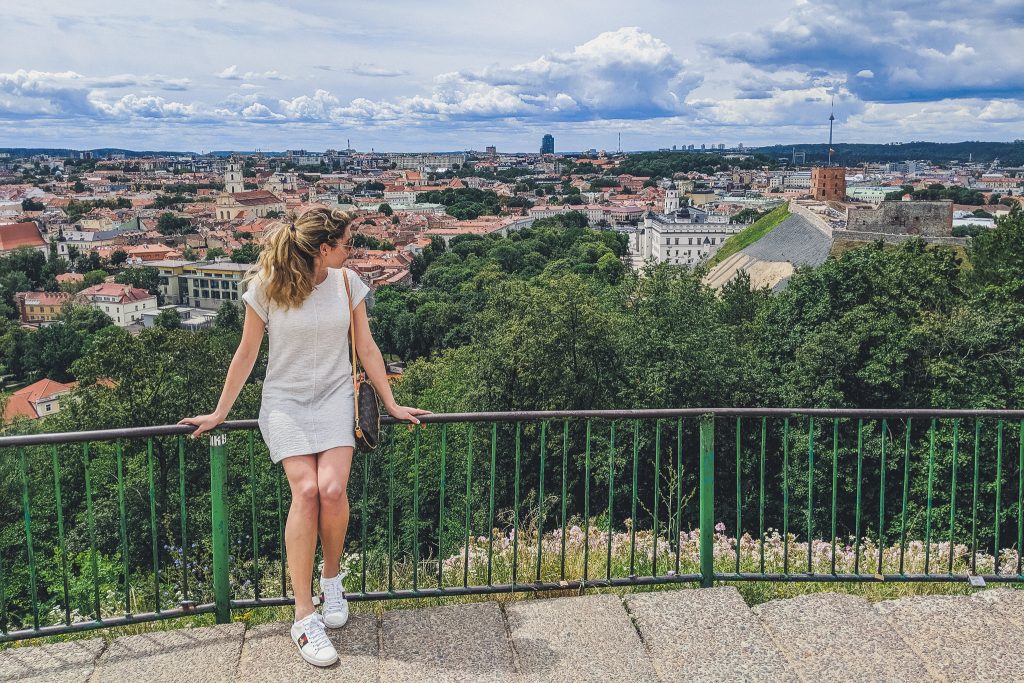 If you only have one day in Vilnius, you must visit here! Plan to come 30 minutes before sunset. Bring a picnic blanket and a bottle of wine. Ultra romantic.
Learn more about religion and culture in Vilnius.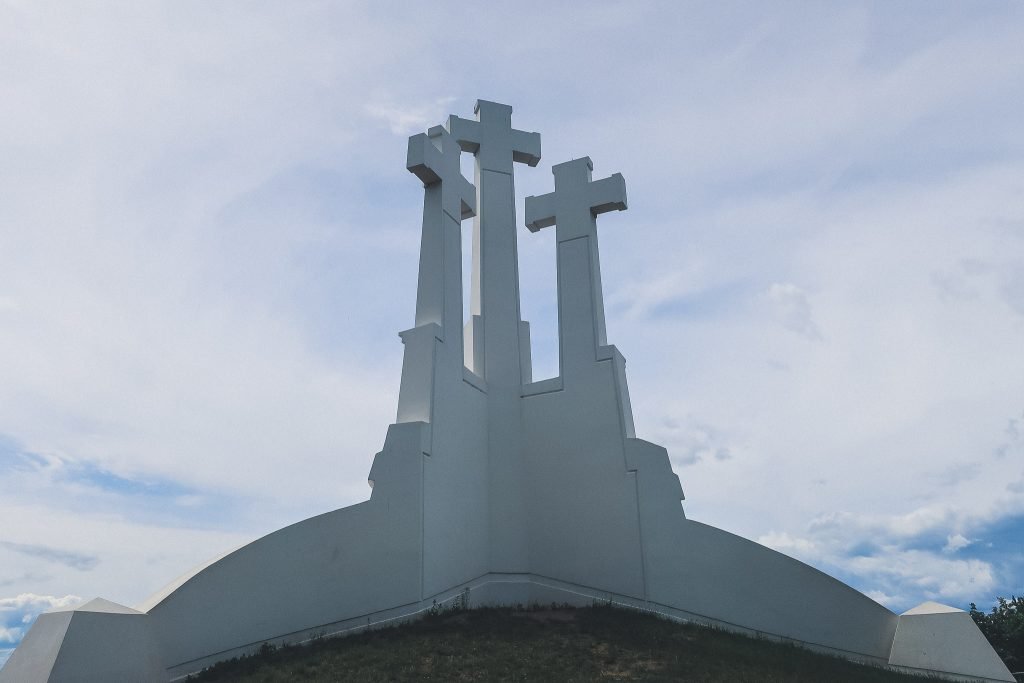 The three crosses serve as a monument to several monks who were killed on the hill hundreds of years ago. Although, the story has been questioned in recent years.
8. Day trip to Trakai
If you're considering day trips from Vilnius, Trakai should be at the top of your list. The highlight of this small town is the gorgeous Trakai Island Castle. The 14th Century stone castle has been artfully resorted and brought to its original glory. Visiting Trakai Castle is one of the best things to do in Lithuania.
Visit Trakai Island Castle with a small group.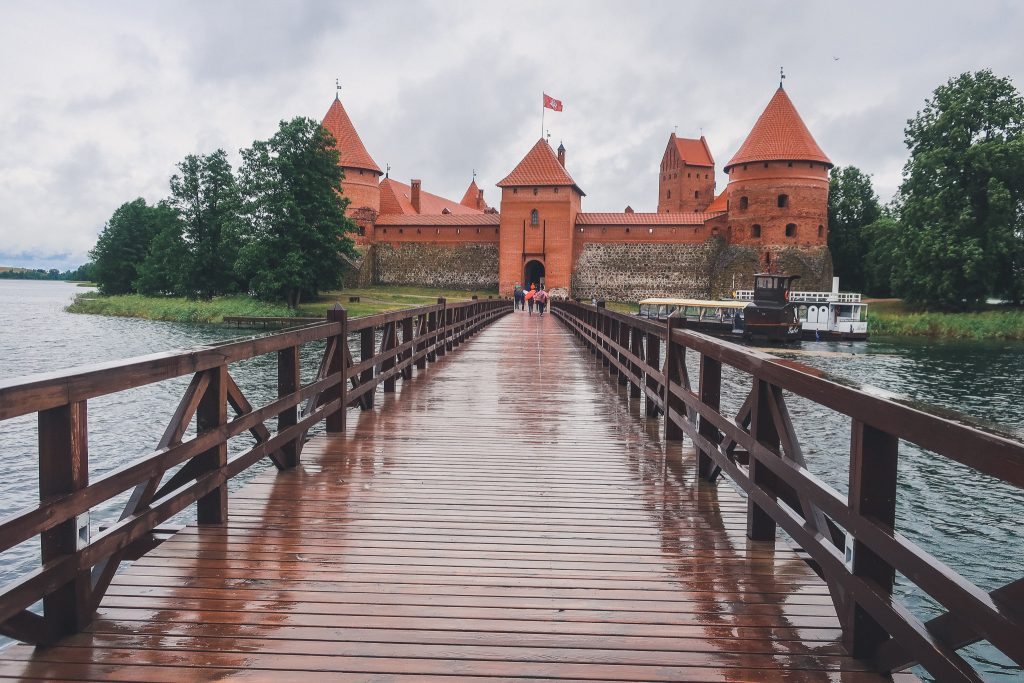 You can reach the town of Trakai in 40 minutes driving from Vilnius. There's also a convenient bus that takes you there from the Vilnius Bus Station. The Vilnius Bus Station is a quick 15 minute walk from Town Hall Square. The Marijampolė bus route only has one stop before you reach Trakai, so the bus option won't take much longer than driving. Don't feel like you need to rent a car!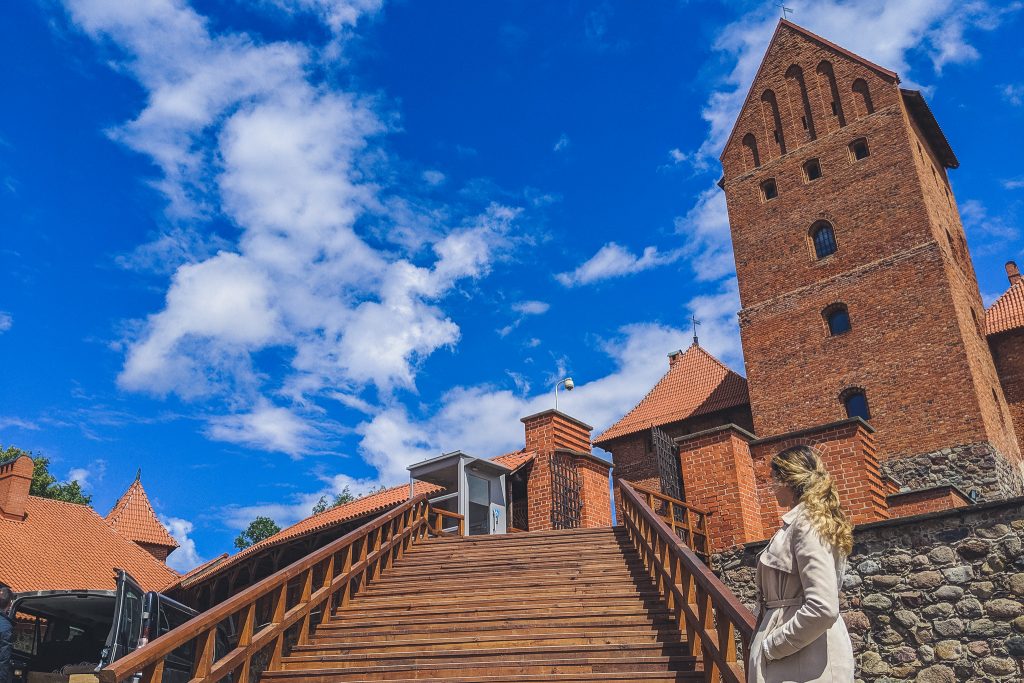 Once you arrive in Trakai, you'll think that you've stepped into a fairy tale. The castle's orange bricks beautifully contrast the blue waters of Lake Galvė. Dense forests surround the castle and the lake. Stunning, picture-perfect Lithuania!
I highly recommend the guided tour offered. For only a few more euros, a guide will take you around the castle and tell stories of Lithuanian history, castle archaeology and restoration. You don't need to arrange a tour in advance. Just request it when you arrive at the ticket booth.
After your visit to Trakai Castle, rent a paddle boat. Get out on the lake for even better views of the castle! Have an authentic Lithuanian meal at one of the family run restaurants in Trakai.
9. Hot air balloon ride
One of the best ways to appreciate the Vilnius sights is at sunset from the inside of a hot air balloon. Imagine the romance!
The prices of hot air balloon rides have recently dropped in Vilnius. You can now appreciate this unforgettable experience for close to $100 per person (compared to over $200 per person elsewhere). If you are travelling only with your significant other, this activity isn't outrageously expensive.
Book your hot air balloon ride over Vilnius.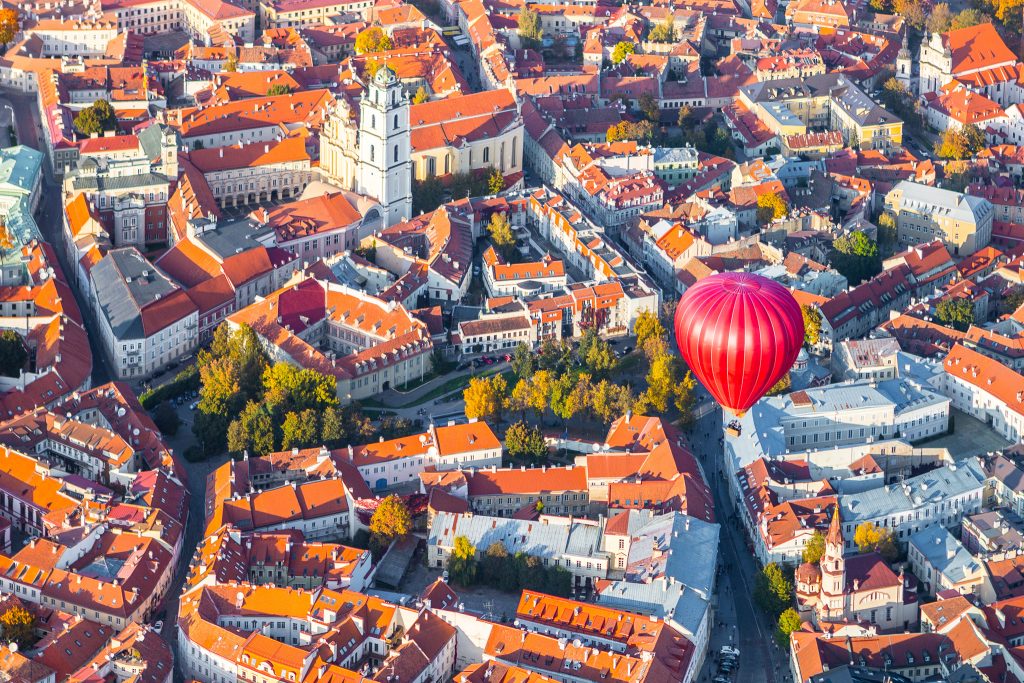 Do your Vilnius sightseeing while you gently glide through the sky. Enjoy Lithuania's majestic forests, rolling hills and old-world charm. Most Vilnius hot air balloon rides take you from the Vilnius area to Trakai.
10. Walk down Literatų Street
You must visit Literatų Street near the campus of Vilnius University! Literatų meaning Literature in Lithuanian. Literature Street first honored the famous Polish-Lithuanian poet Adam Mickiewicz. Mickiewicz lived on this street for many years.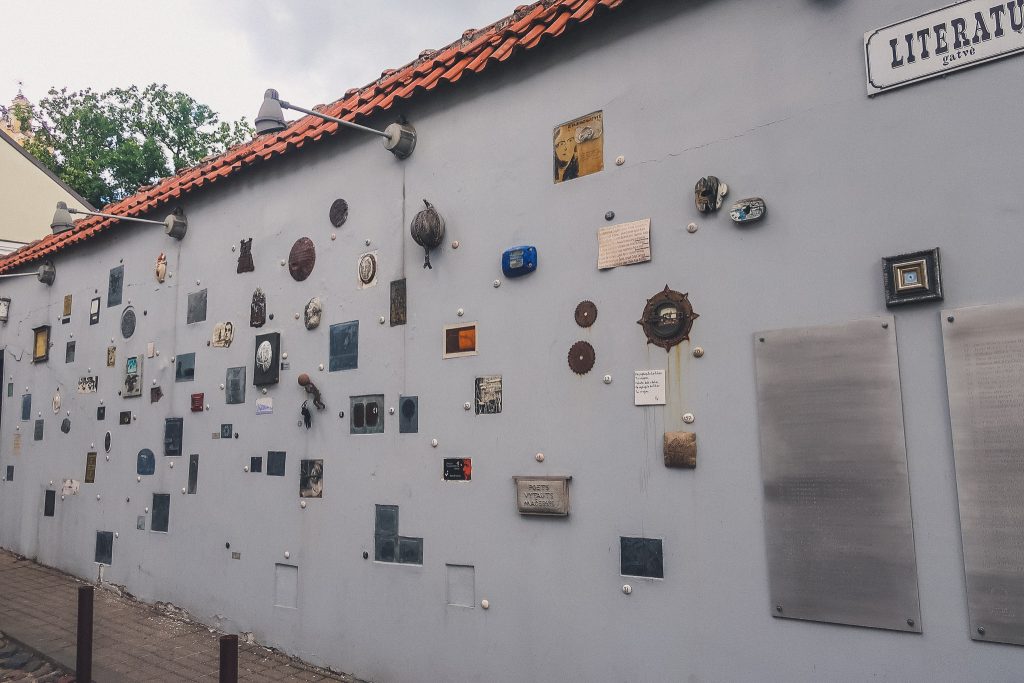 In the last decade, Literature street underwent a fantastic artistic revival. The street is now lined with many small art works. Each piece commemorates a writer or written work. In order to leave your mark on Literature Street, you must be Lithuanian or write about Lithuania.
Literature Street is essentially an open air art gallery, and it's completely free to visit. Continue down Literature Street and you'll run into the Modern Art Museum of Vilnius.
11. Make a wish at the Magical Brick
The Stebuklas Tile, nicknamed the "Magical Brick," is hidden in Cathedral Square. If you aren't looking for it, you might miss it! Keep an eye out for a red tile with a gold star in the center. The word "Stebuklas" is written, meaning miracle.
The tile was laid here to commemorate a very important moment in Baltic history. In August of 1989 (*recent history!**), 2 MILLION people joined hands in the longest ever recorded human chain. These people were Lithuanians, Latvians and Estonians. They joined hands in peaceful protest of Soviet Occupation. By 1991, these nations would have their independence!
Consider this popular Soviet history & culture tour through Vilnius.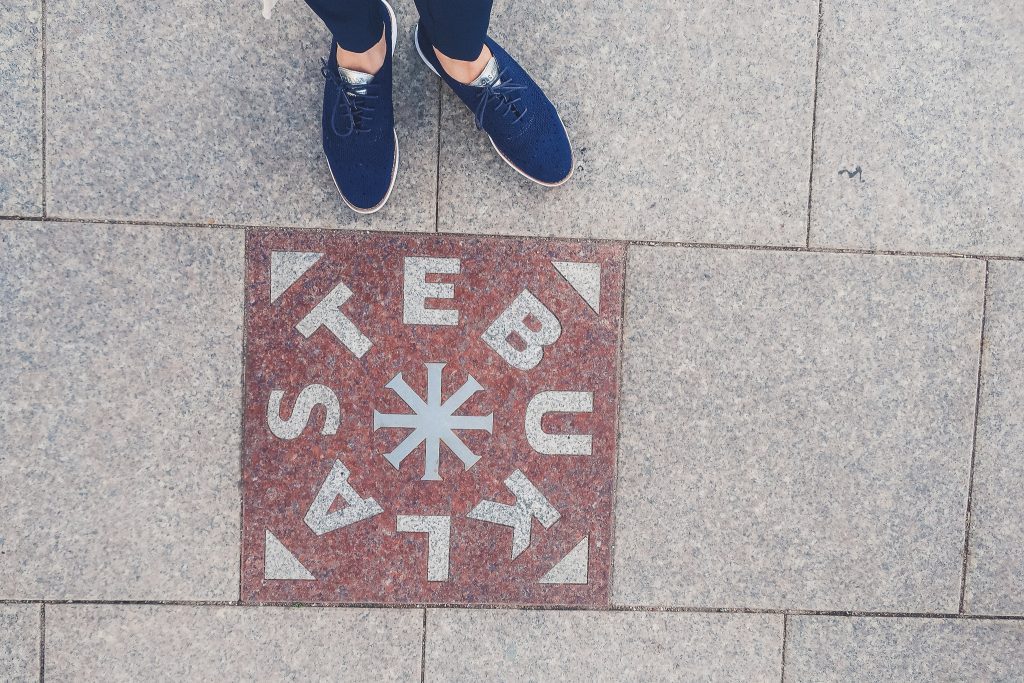 You must step on top of the Magical Brick, close your eyes, and turn around three times. Then, you may make a wish! Locals like to say — If for whatever reason your wish does not come true, you must come back to Vilnius and try again 😉
12. Order a flight at the Beer Library
You can't visit Vilnius and not drink beer! That would be silly! Beer is an important part of Lithuanian culture. In fact, Lithuania is one of few European countries that independently created its own beer brewing traditions. Beer has been found in Lithuania's historical record as far back as the 11th Century!
Have the ultimate beer experience in Vilnius.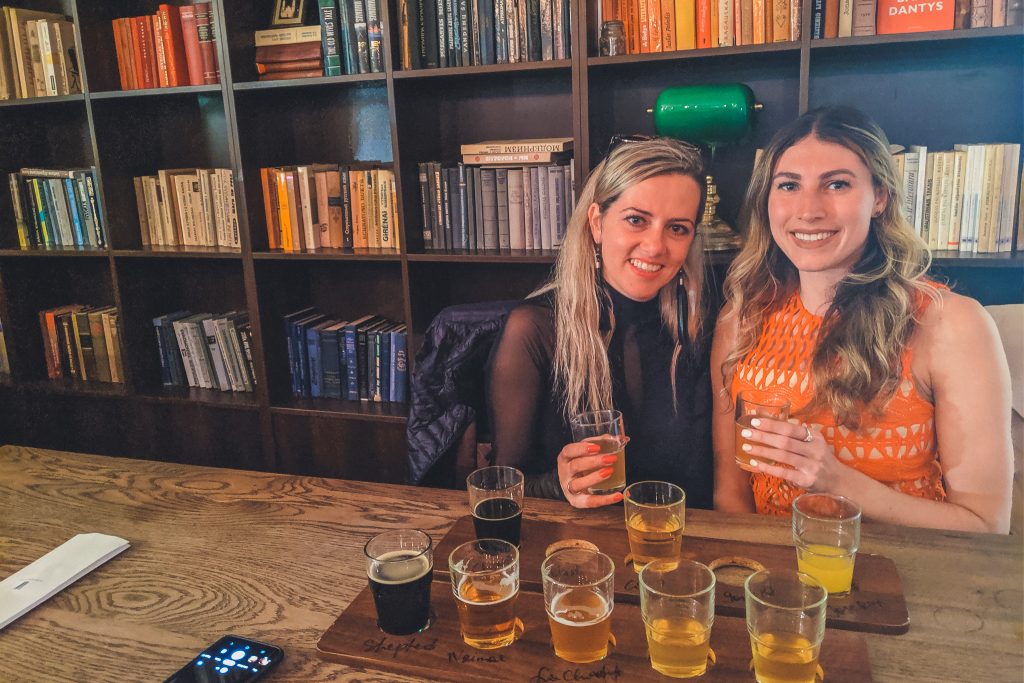 Lithuanian beer might not be world-famous, but it's damn good! The farmhouse brews are made from local ingredients with generations old techniques. One of the most popular Lithuanian beers is Švyturys. The Švyturys Brewery is also Lithuania's second oldest brewery. Švyturys Extra lager won Gold at the World Beer Cup in 2012.
One of the best bars in Vilnius is the Beer Library. Visit the Beer Library to try Švyturys and other Lithuanian lagers. It was my favorite bar in Vilnius, and so romantic. Imagine exposed brick, hanging lights and endless shelves lined with hundreds of beers.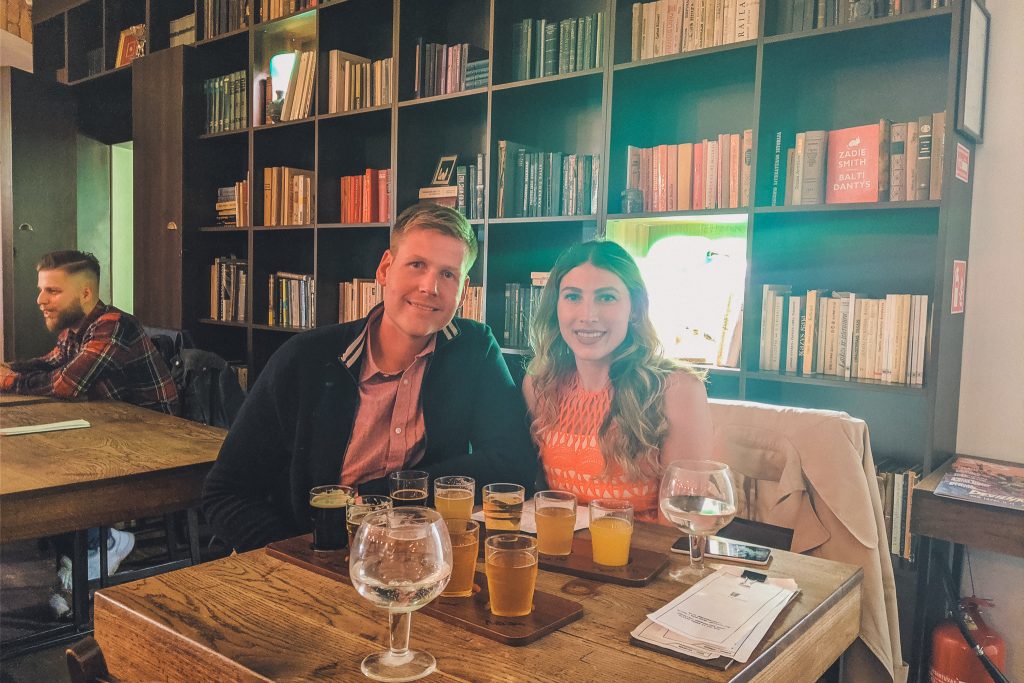 The servers at the Beer Library are extremely knowledgeable. Give them an idea of what you like, and they'll help you craft the perfect flight. Even cooler, you'll get a beer passport and a stamp for each beer you've tried!
Can't get enough Lithuanian beer? Check out these other awesome Vilnius Pubs.
13. Eat Cepelinai
To have a truly Lithuanian experience, you must eat Cepelinai! This is thought to be the national dish of Lithuania. Cepelinai are BIG potato dumplings stuffed with ground meat. A normal portion gives you two Cepelinai. They're traditionally served with sour cream and bacon bits.
Cepelinai sounds like the word Zeppelin. The food was named after the giant airship because of it's striking resemblance.
Check out this top-rated food tour of Vilnius.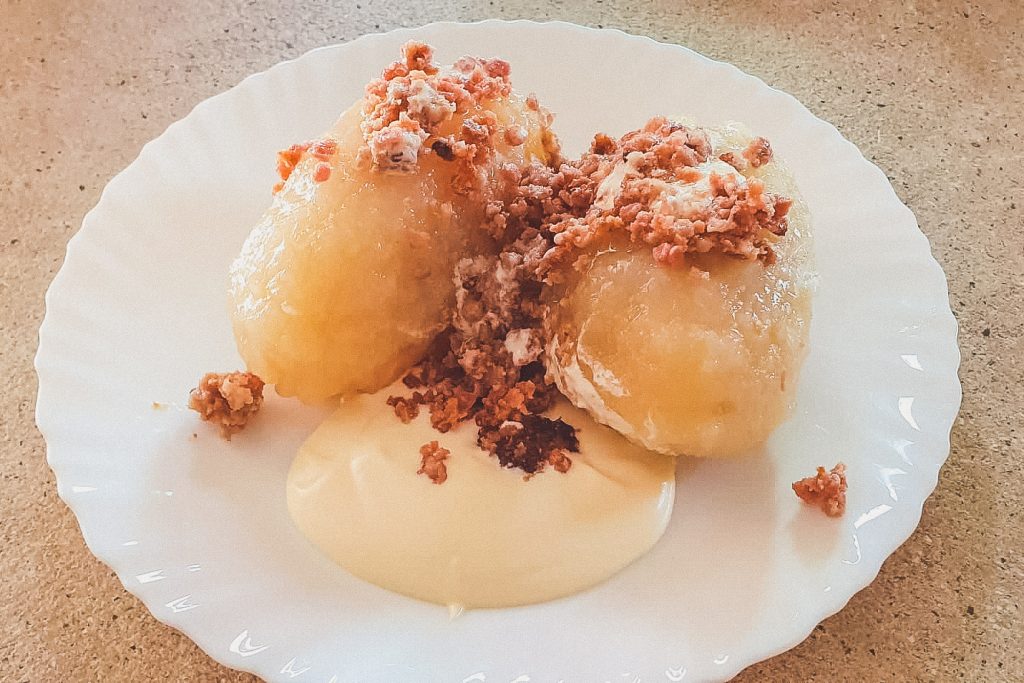 Cepelinai are so big because they are meant to keep you warm during Lithuania's freezing winters. You'll notice generous portions are commonplace in Vilnius.
My favorite place in Vilnius to eat Cepelinai is the Pub Leičiai. This is a small family run restaurant that focuses on Lithuanian homestyle cooking. This restaurant sources seasonal ingredients from independent farmers, so you can trust in the quality and sustainability of your meal.
14. Take a kissing photo at the Trump & Putin Mural
In 2016, a bold artist chose to make a political statement on the wall of a barbecue restaurant in Vilnius. His mural, entitled "Made Everything Great Again," shows Donald Trump kissing Russian president Vladimir Putin. At this time, Trump was only the Republican presidential candidate.
The artist Dominykas Čečkauskas saw similarities between the two leaders and was inspired when the leaders made statements expressing mutual admiration. Čečkauskas predicted that if Russia and the US ever "made out, it would be in the Baltics… with tongues or tanks."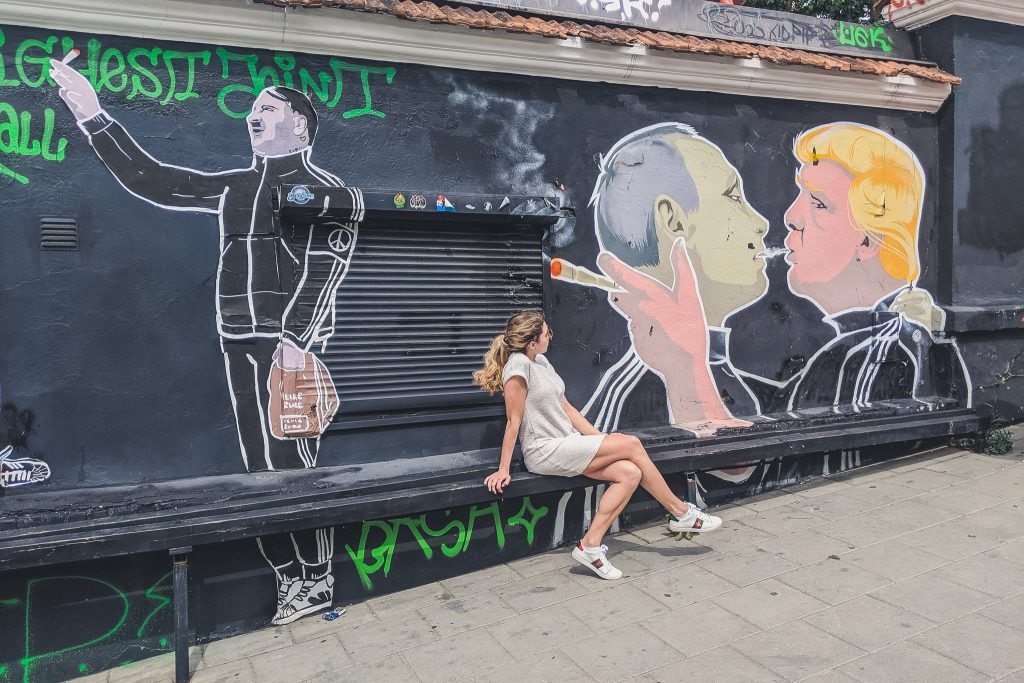 Weather you believe that we are in a Cold War of sorts again… or not… you can't deny the humor in this quirky, colorful mural. Many couples have since taken photos here —kissing in front of the mural.
My boyfriend and I did not have a tripod at the time, so it's just me here. But you should definitely take a kissing photo at this mural.
15. Do the Vilnius church walk
Throughout history, Lithuania has been a place of refuge for individuals facing religious persecution. You can still notice that spirit of tolerance today. Dotted through the city of Vilnius, you'll find a Roman Catholic Cathedral, a Jewish Synagogue, Eastern Orthodox and Protestant churches.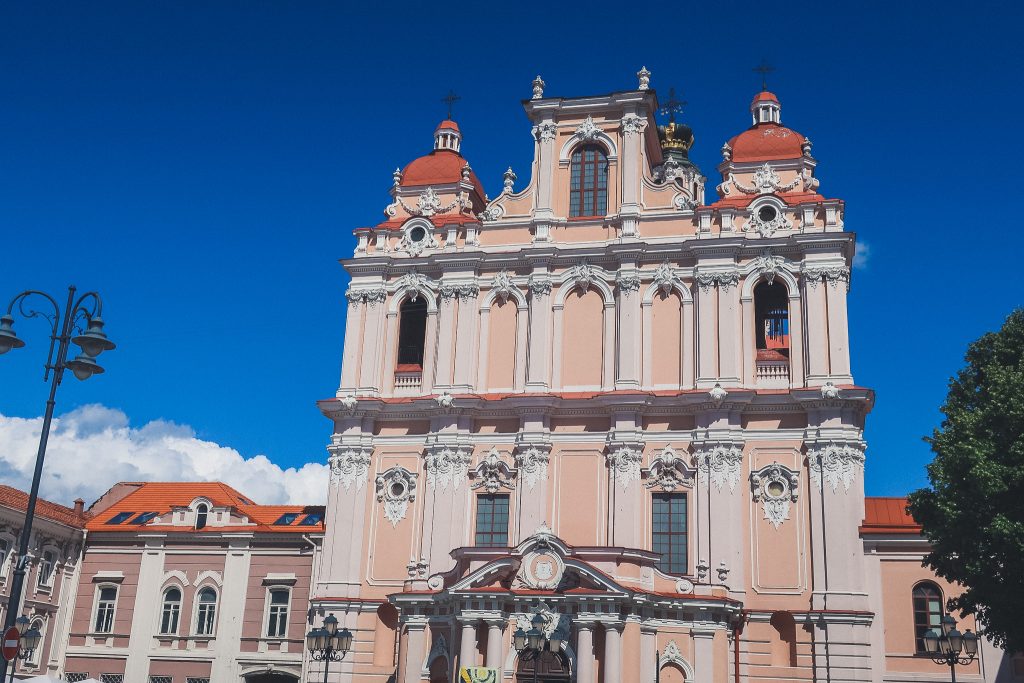 The greater majority of churches are Roman Catholic. The most impressive are the Vilnius Cathedral and the Church of St. Anne. Although, there are over 28 churches in Vilnius Old Town alone!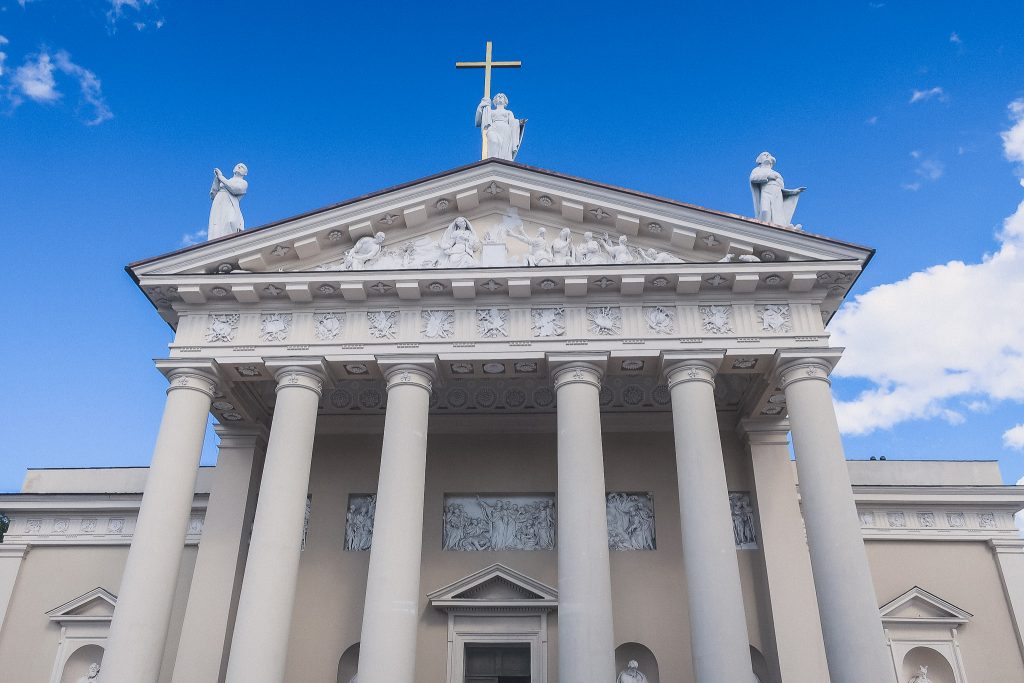 If you're interested in history or architecture, you've got to do the Vilnius Church Walk. There's so much artistic diversity! From Gothic to Baroque, even Neo-Classical. Walk from one church to the next and experience them all!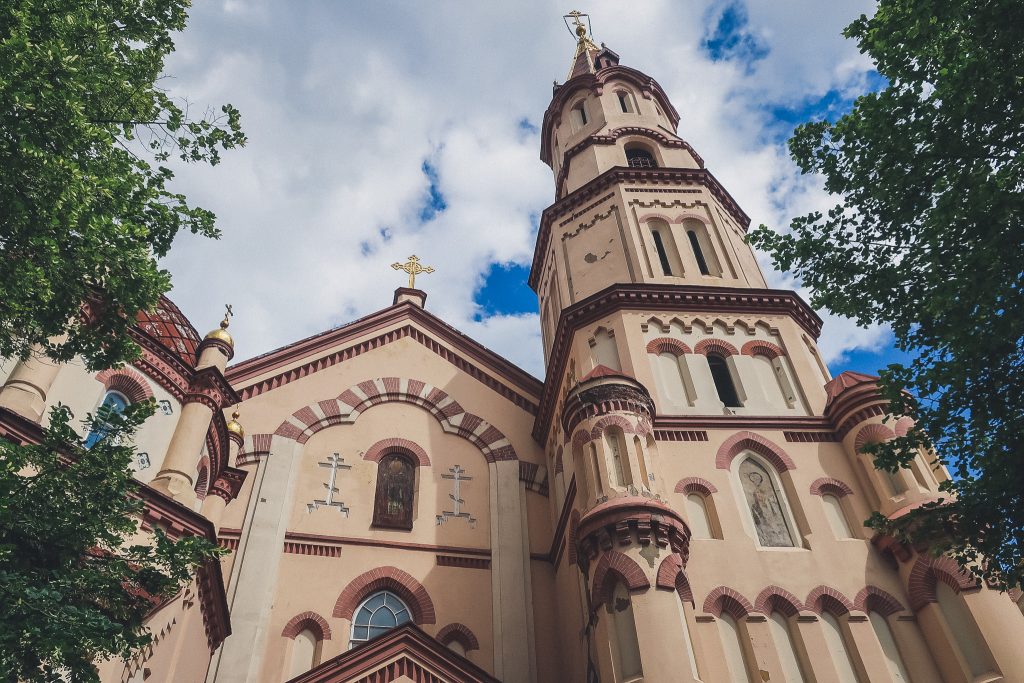 Many churches in Vilnius were damaged or destroyed during Soviet Occupation. A handful of them were turned into warehouses. However, some have retained their historic relics and impressive frescoes. Check out the inside of the Vilnius Cathedral and St. Francis of Assisi for breathtaking frescoes.
16. Cross through the Gates of Dawn
The Gates of Dawn are considered one of the most important monuments in Vilnius. They were built in the 16th Century as part of a fortification to protect the city of Vilnius. Of the original city fortifications around Vilnius, this is the only surviving gate.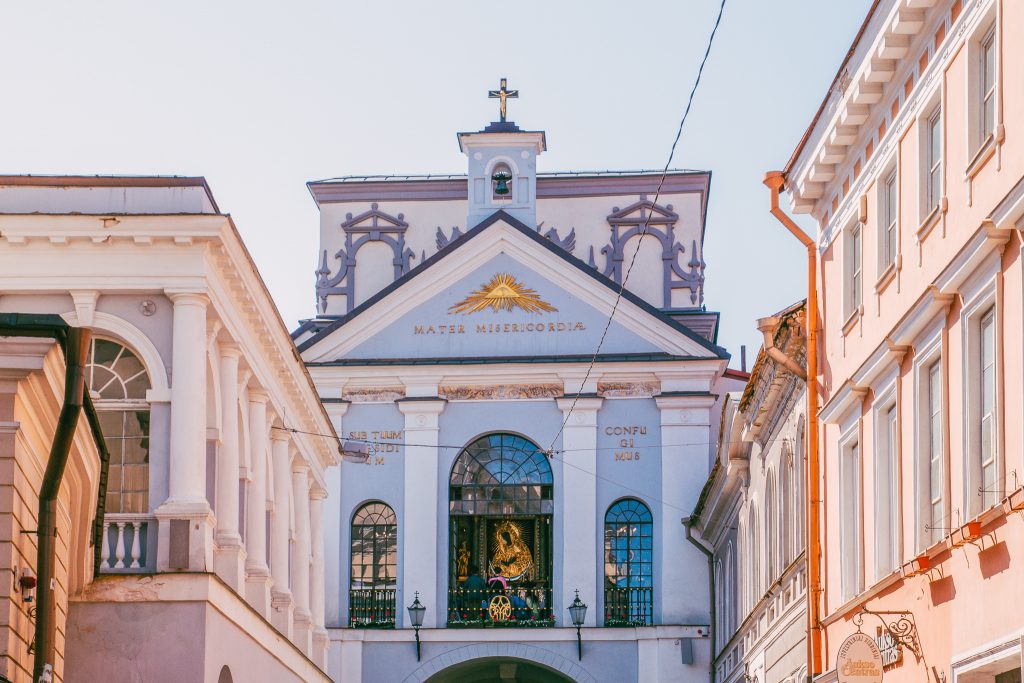 At this time in history, city gates were often ordained with religious features. The Gates of Dawn in Vilnius were dedicated to the Virgin Mary. Inside the Chapel of the Gates of Dawn you'll find a very famous painting of the Virgin Mary, Vilnius Madonna.
Visit this tribute to the Virgin Mary, and pass through this historic gate.
17. Eat at Open Kitchen Vilnius
If you are visiting in the summertime, Open Kitchen should be on your Vilnius Bucket List! Open Kitchen is a recurring open-air food market in downtown Vilnius. All of the best restaurants get together to share their favorite dishes and culinary experiments.
There's excellent food and live music. Locals love Open Kitchen, so it's a great place to meet new Lithuanian friends.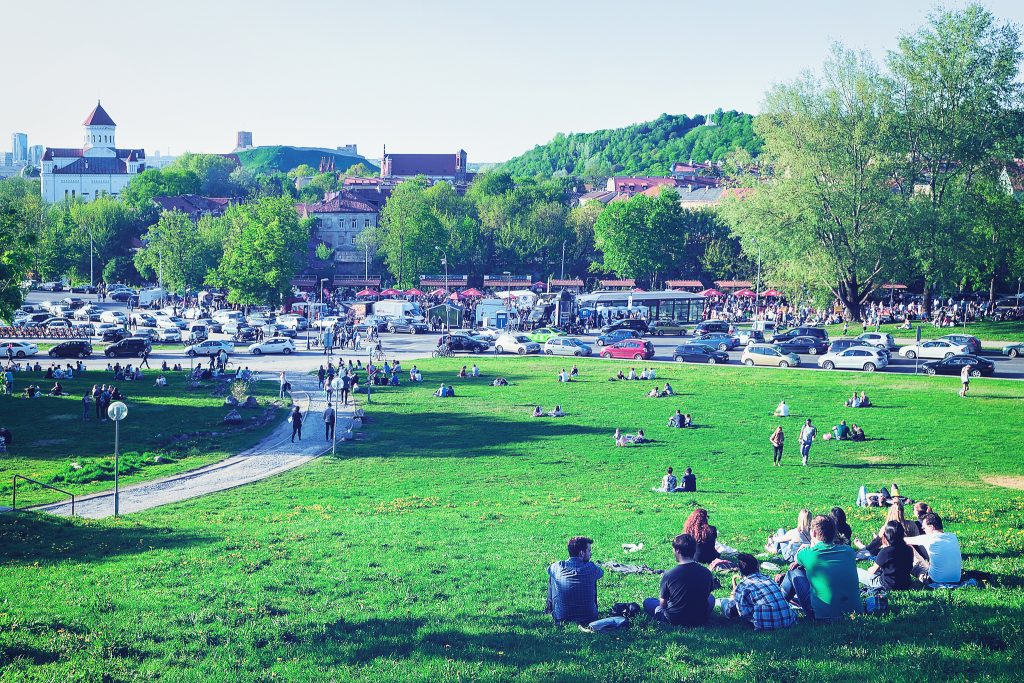 Open Kitchen is held most Fridays and Saturdays during summer. Visit their Facebook page for an up to date calendar.
18. Halle Market
If you aren't lucky enough to catch Open Kitchen — Check out Halle Market instead. It's a great way to experience local culture.
Halle Market is one of the oldest and largest markets in Vilnius. You'll find a lot of sweet grandmas selling fresh produce, jarred honey & artisinal cheeses. Check out Kadaginė for delicious smoked meats. Grab a healthy breakfast at the Halle Market Juice Bar.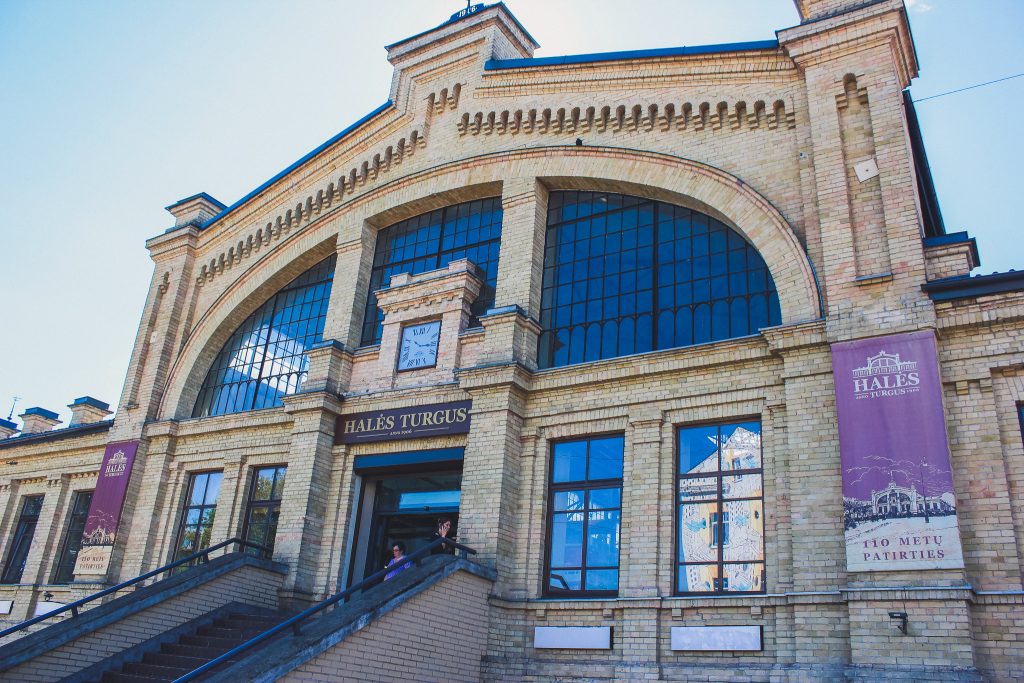 Cheese lovers must stop by Roots. This cheese shop is located right inside Halle Market. They have one of the largest selections of handcrafted cheeses in all of Lithuania. They offer cheese tasting experiences with beer and wine pairings.
19. Experience the views from the Vilnius TV Tower
The Vilnius TV Tower is just a quick 10 minute drive from downtown. It's the tallest structure in Lithuania & it provides spectacular views of the countryside.
Click here to purchase your tickets to the Vilnius TV Tower.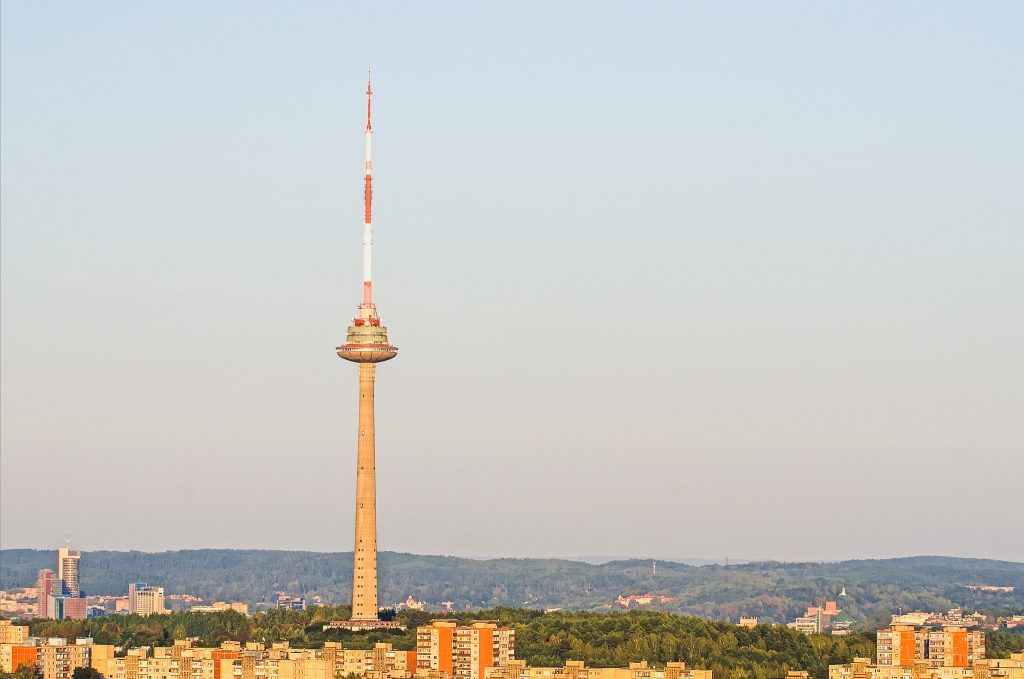 At the Vilnius TV Tower, you can visit a small museum related to Lithuanian Independence. At the top, there's an observation deck and restaurant.
20. Visit the Chernobyl filming location
If you haven't watched HBO's incredible mini series Chernobyl … Stop reading this and go watch it right now!!! I'm serious.
Chernobyl is a historical drama based on true events surrounding the Chernobyl nuclear reactor explosion in 1986. During filming, Vilnius was used to represent the Ukrainian city Pripyat. Lithuania made the perfect setting because of common Soviet history and architecture.
Take a guided tour of the Chernobyl filming locations in Vilnius. 
The nuclear reactor filmed in Chernobyl is also in Lithuania. A 2 hours drive outside of Vilnius, in the city of Visaginas is "Chernobyl's sister" the Ignalina Nuclear Plant. Take a day trip to the Nuclear Power plant, dress in hazmat suits and enter the power plant control room. This is one of the most outrageous things for couples to do in Vilnius!
Looking for more Lithuanian adventures?
Check out the beautiful seaside community of Palanga. Get there by car or train in 3 hours.
9 Amazing Things to do in Palanga