This Vilnius Sightseeing map includes all of the top things to see in Vilnius, the best restaurants in Vilnius & more! It was created by a local guide with tourists in mind. This Vilnius map will guide you to beautiful scenic lookouts, interesting museums & famous churches.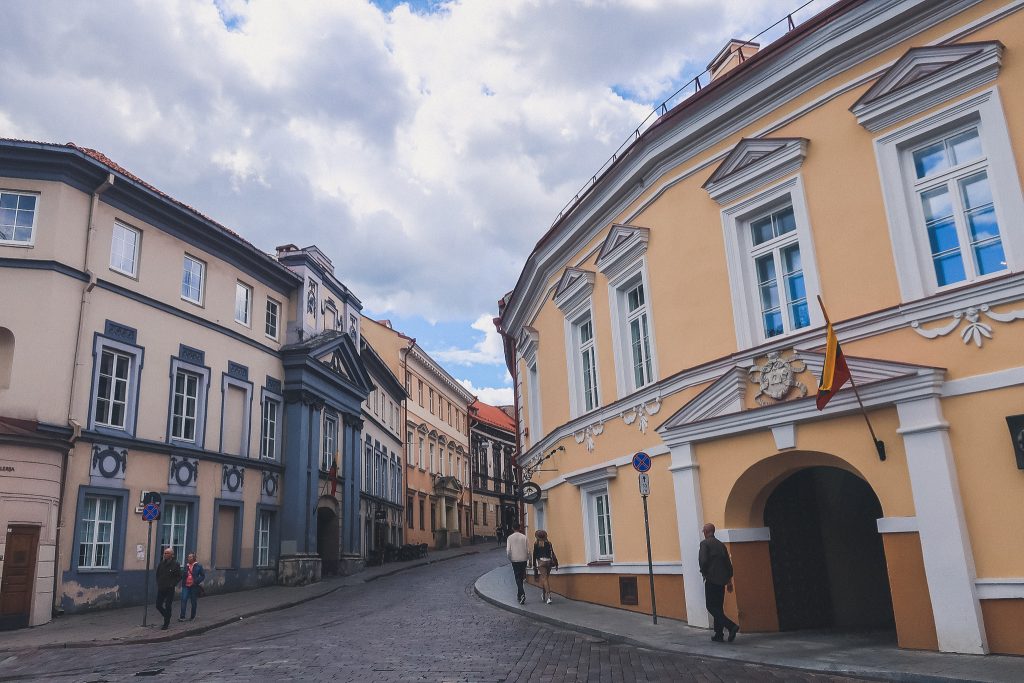 Vilnius Sightseeing Map
Vilnius is the capital of Lithuania. It's still somewhat of a hidden gem, but tourism continues to increase. Vilnius is of the most charming cities in Europe's Baltic region with a rich history, warm people and welcoming culture. It can be a great cost-effective tourist destination and a very safe place to travel. Another benefit to visiting Vilnius is that most of the population speaks English. It's very easy to get around and engage with locals.
20 Things to do in Vilnius for couples.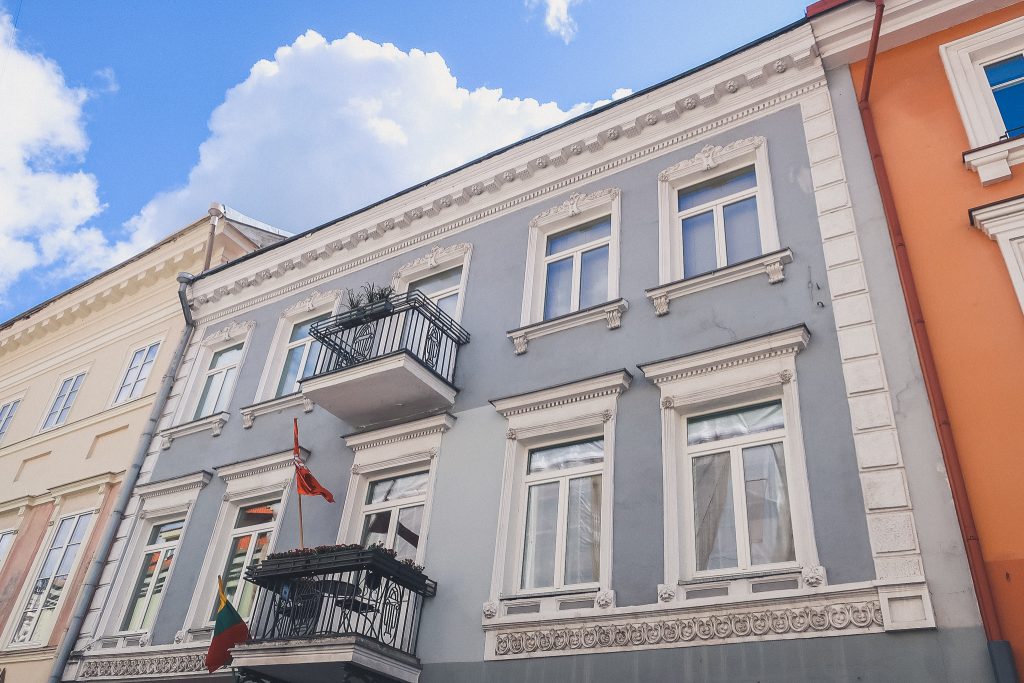 Lithuania is famous for beer and basketball. It is among the few European countries that are credited to having created their own unique beermaking traditions.
Find the perfect hotel in Vilnius.
The blue pins represent Vilnius tourist attractions. Green pins are recommended restaurants. Purple pins show you were to find some of the most popular bars.
How to Use This Map: If you click the tab at the top left corner, you'll be able to select specific layers. Click the checkmark to select or hide specific categories.
Save This Map: Click the brackets in the top right corner to expand the map in full view. It will open in a new tab. Under the map title, right of the map description, there is a star. Click this star and the map will be saved to your Google account  in Google Maps. You can access it later from your computer or device. On desktop, go to Google Maps and click 'Your Places,' and 'Maps.' On app view, select 'Saved, scroll down and click 'Maps.'
Vilnius Sightseeing Map: Top Attractions
Learn more about my favorite attractions on this map. Including the most stunning lookout spots, remarkable museums, interesting places and historic churches.
Scenic Locations
All of these scenic places are completely free to visit! You may pay a few euros to go inside the castle or museum, but you can also take in the breathtaking views without spending a cent 😊
Check out this top-rated walking tour of Old Town. 
Gediminas Castle
Gediminas Tower is all that remains from the grand Gediminas Castle that once stood on this hill. It's quite a steep trek to get up this hill, but the views are excellent! There is also a 1 euro tram that can take you up the hill if you prefer.
During your climb, take in the incredible views. You'll get a unique perspective on the Palace of the Grand Dukes.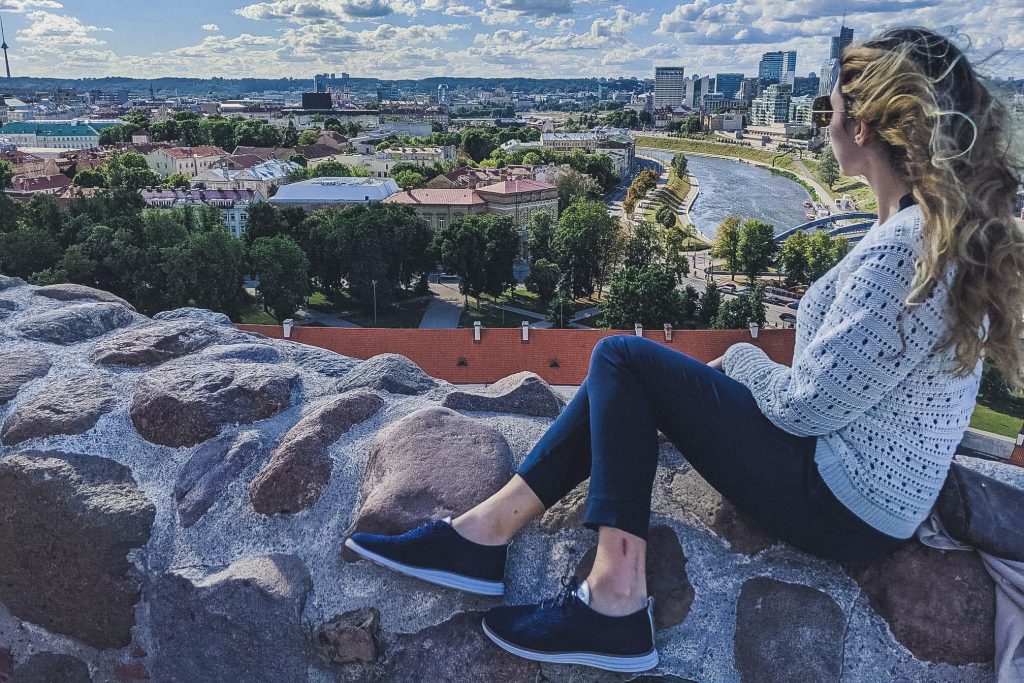 Inside the Tower, you can view small exhibitions on each floor as you work your way up. They demonstrate the reconstruction of the castle and display archaeological pieces found within the castle grounds. Once you reach the top, you'll be rewarded with breathtaking panoramic views of Vilnius.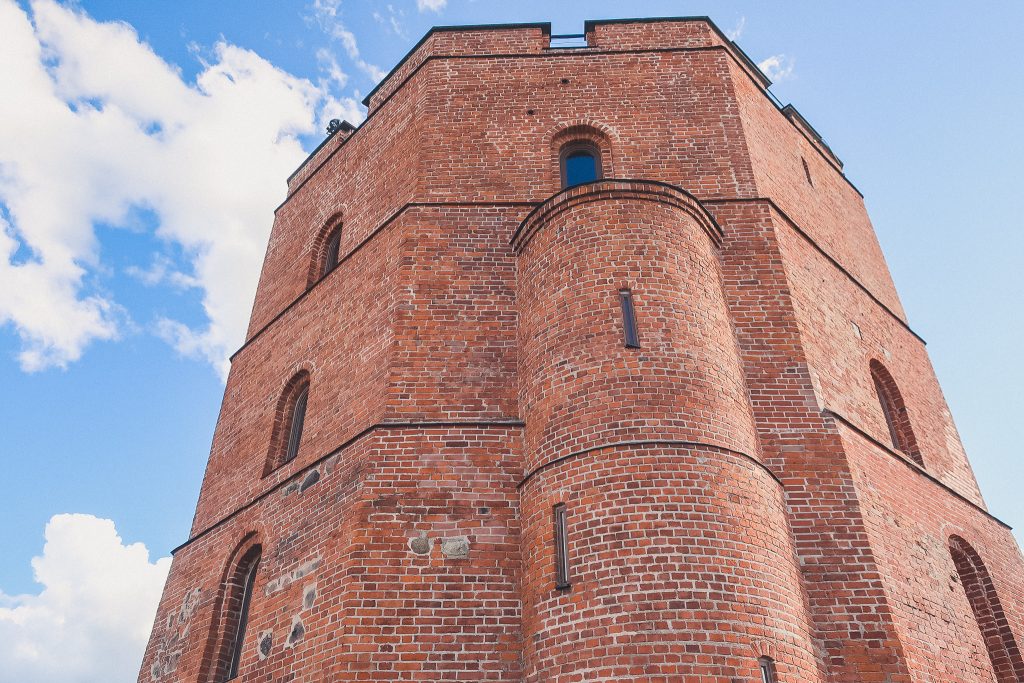 The castle was named for the important Grand Duke of Lithuania —Gediminas. Gediminas is a very important figure in Lithuanian history because he expanded the Lithuanian territory, created the city of Vilnius and established an important ruling dynasty. During the time of Gadiminas, the Lithuanian territory extended across all of present day Belarus and parts of Ukraine!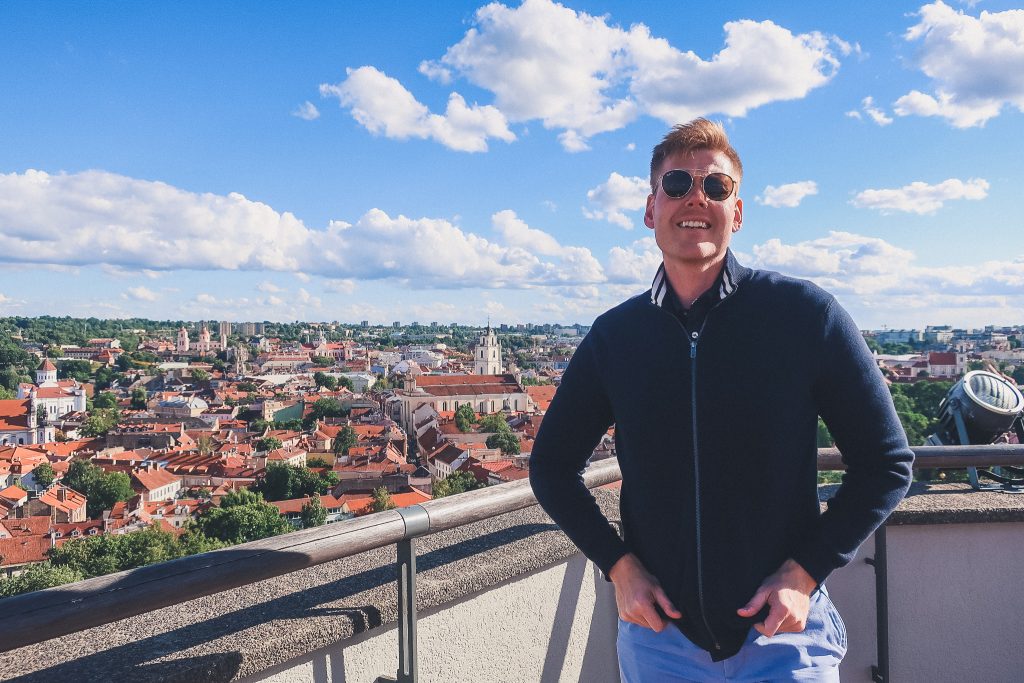 The Gediminas castle was not built during Gediminas himself, but by another important Grand Duke nearly 100 years later.
Cathedral Square 
Cathedral Square is one of the top places to visit in Vilnius! It's quite imposing. Right away, you'll notice the grand Vilnius Cathedral and its bell tower. The less noticeable tourist attraction in this square is the Magical Brick.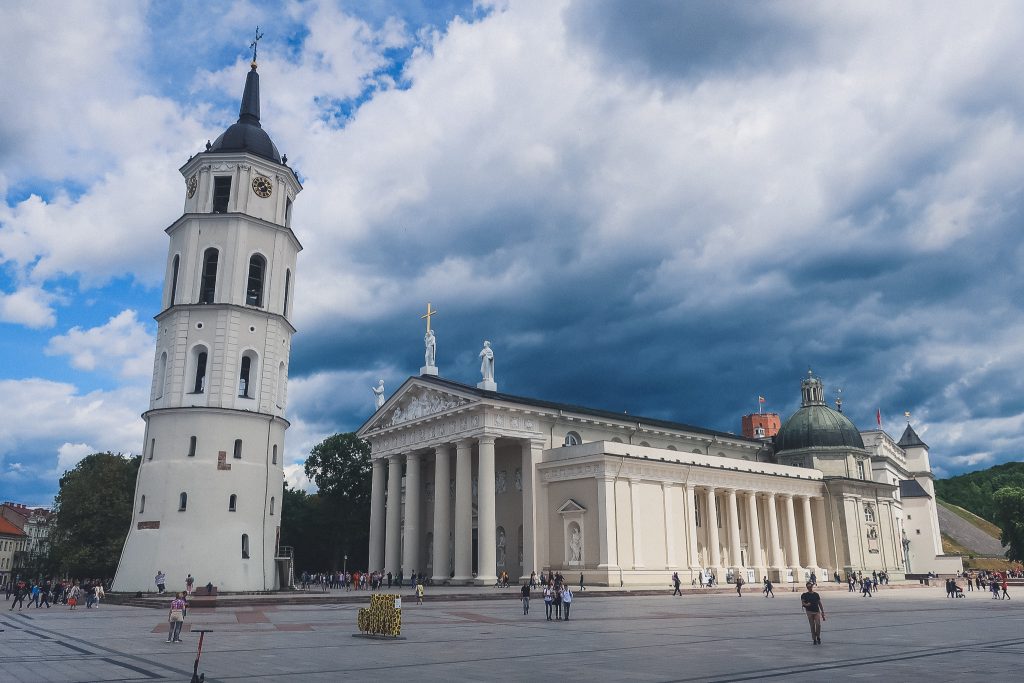 The Vilnius Cathedral is free to enter. However, there is a small charge to climb the bell tower. Skip the bell tower climb here! It's tiny, dark and impossible to see anything or get a good picture. The tower at St. John's Church is much better.
The Magical Brick is a small reddish brown tile inscribed with the Lithuanian word stebuklas, meaning "Miracle." This brick has magical powers and is thought to grant wishes. It's one of the most interesting places in Vilnius.
Magical Brick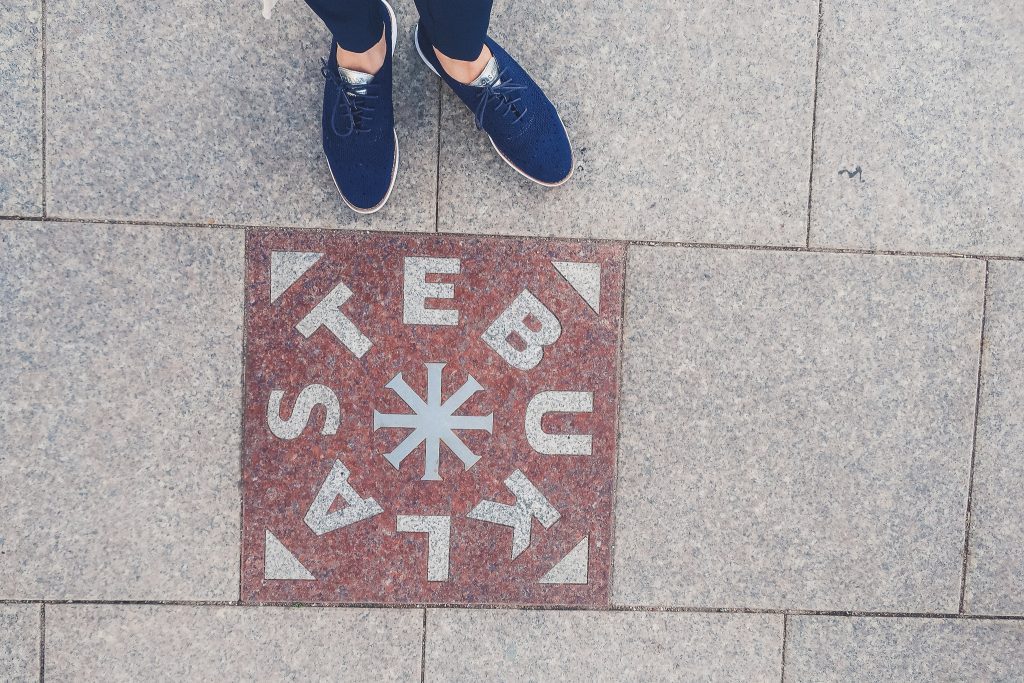 Learn more about Soviet history in Vilnius. 
During the time of Soviet rule over Lithuania, this brick was the place of a massive peaceful protest. Two million Lithuanians, Latvians and Estonians joined hands across some 370 miles in protest. The chain ended in Vilnius, right on top of the stebuklas tile. It became the longest unbroken human chain in history. Importantly, it conveyed a strong and deeply emotional statement about national sovereignty.
If you would like to use some of the Magical Brick's powers for yourself (I highly recommend it)… You'll need to stand on top of the brick. Close your eyes. Turn around three times. Make a wish! It's one of the top things to do in Vilnius!
Vilnius Town Hall Square
Town Hall Square is one of the most visited Vilnius attractions. It's located in the heart of historic Old Town. Vilnius Old Town has been designated a UNESCO World Heritage site. You'll see many beautiful and colorful historic buildings lining Town Hall Square.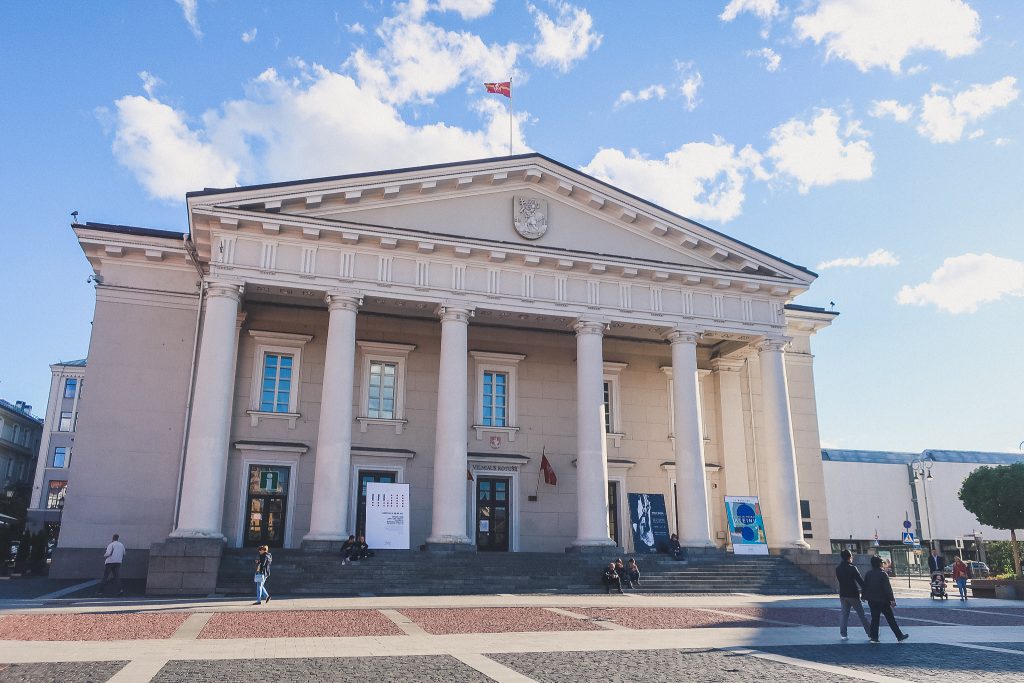 Town Hall Square is always busy with activity. It's a popular meeting place for locals & many Vilnius walking tours. The square is lined with shopping, restaurants and cafes. It's an excellent place to rest, relax and people watch.'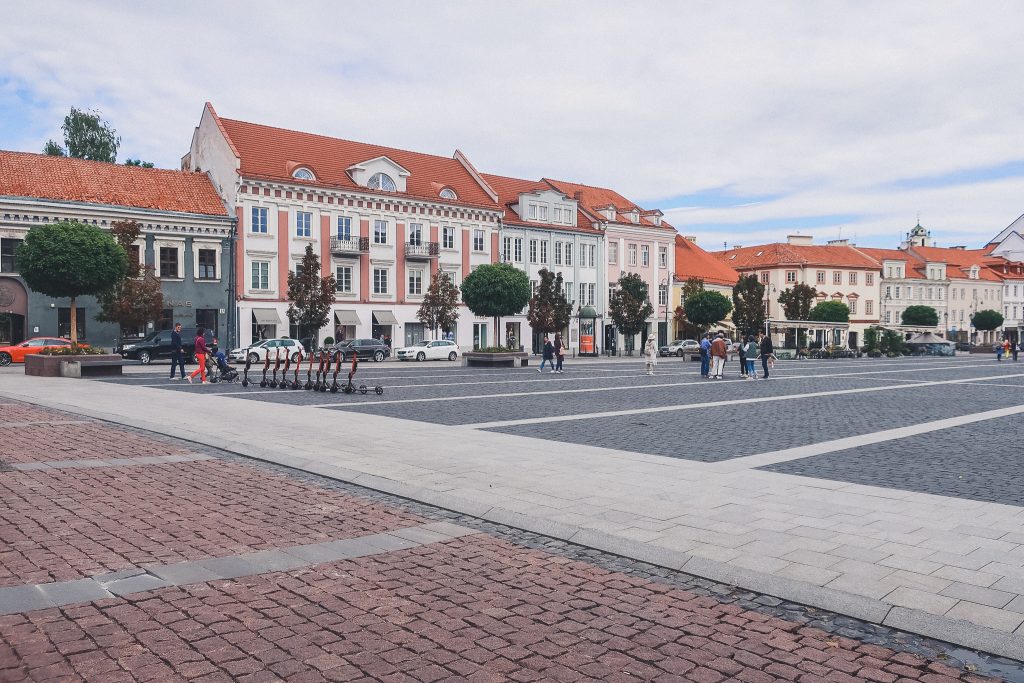 The Vilnius Town Hall sits at the very center of Town Hall Square. It's another great neoclassical style building. Locals recall the day US President George W. Bush visited Lithuania and gave a speech from the Vilnius Town Hall.
Subačiaus Lookout
The Subačiaus Lookout is one of the lesser known places for Vilnius sightseeing. It's a 15 minute walk from city center and completely free to visit. From the Subačiaus Lookout, you'll get to appreciate sweeping views of Užupis and Vilnius Old Town.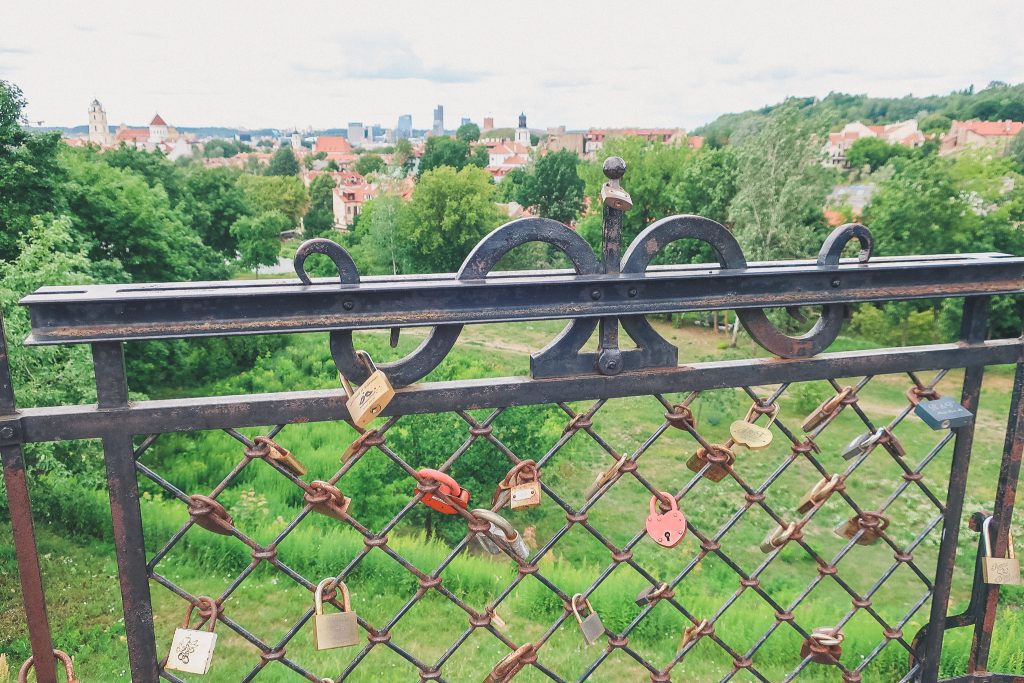 There's a cute coffee shop here with an outdoor patio. It's the perfect place to sip your afternoon coffee.
Hill of Three Crosses
Near the Gediminas Castle is another beautiful lookout point. Climb the Hill of Three Crosses for more panoramic views of Vilnius! This climb is a bit more treacherous than the climb to Gadiminas Tower, but no less worth it!
Explore religion at the Hill of Three Crosses.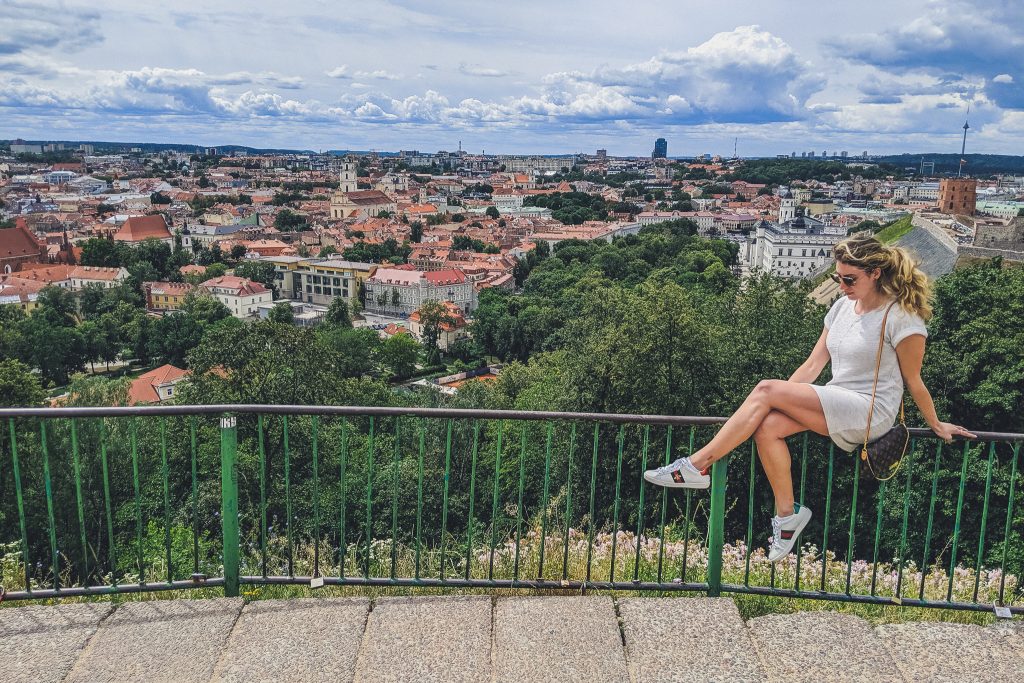 The legend surrounding these crosses is tied to Lithuania's pagan history. Well into the 14th Century, most Lithuanians believed in Pagan gods. However, Lithuania was a fairly tolerant place and thus Christians were able to come and practice.
The story goes that a group of Franciscan friars came to the town of Vilnius and started criticizing the Pagan faith. The townspeople were enraged. They rebelled and reportedly beheaded these Franciscans. They later became known as the Franciscan martyrs of Vilnius.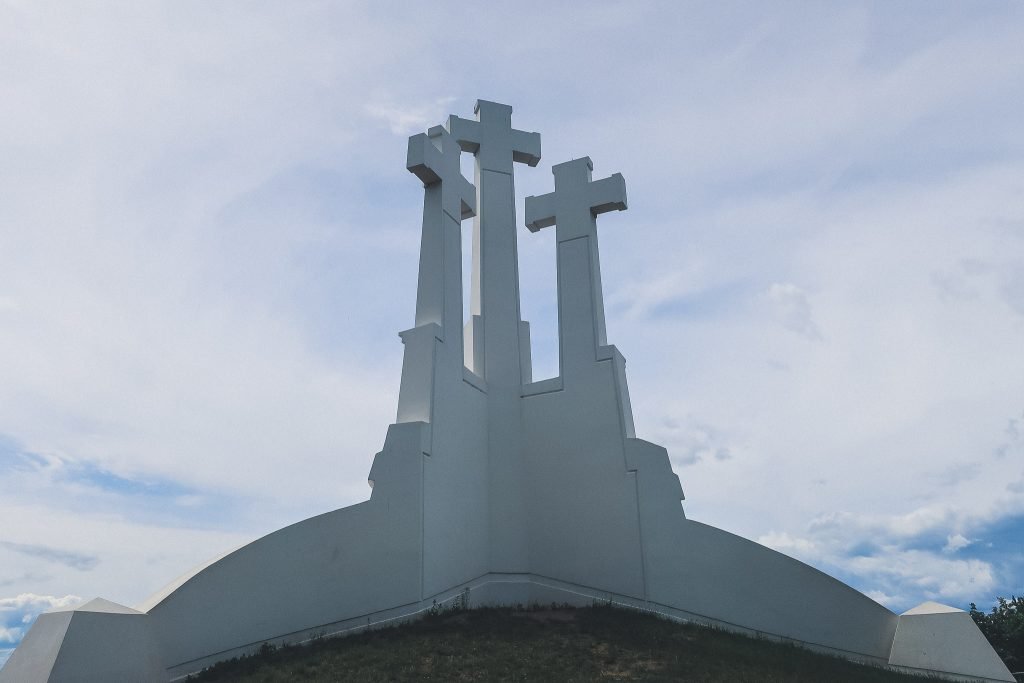 In the 17th Century, wooden crosses were erected as tribute to these Franciscan martyrs. Their legend lives on despite the questionable credibility surrounding this story.
The wooden crosses were replaced many times due to rot. Until, in 1916, when a Lithuanian artist created the concrete monument you see today.
Trakai Island Castle
Okay, this place isn't actually in Vilnius. Although, you should definitely make time to see Trakai Castle when you visit Lithuania! It's not too far away from Vilnius. You can get to Trakai pretty easily by bus or train. It will take less than 1 hour! You can also book a tour to Trakai.
Find out more about kayaking at Trakai Island Castle.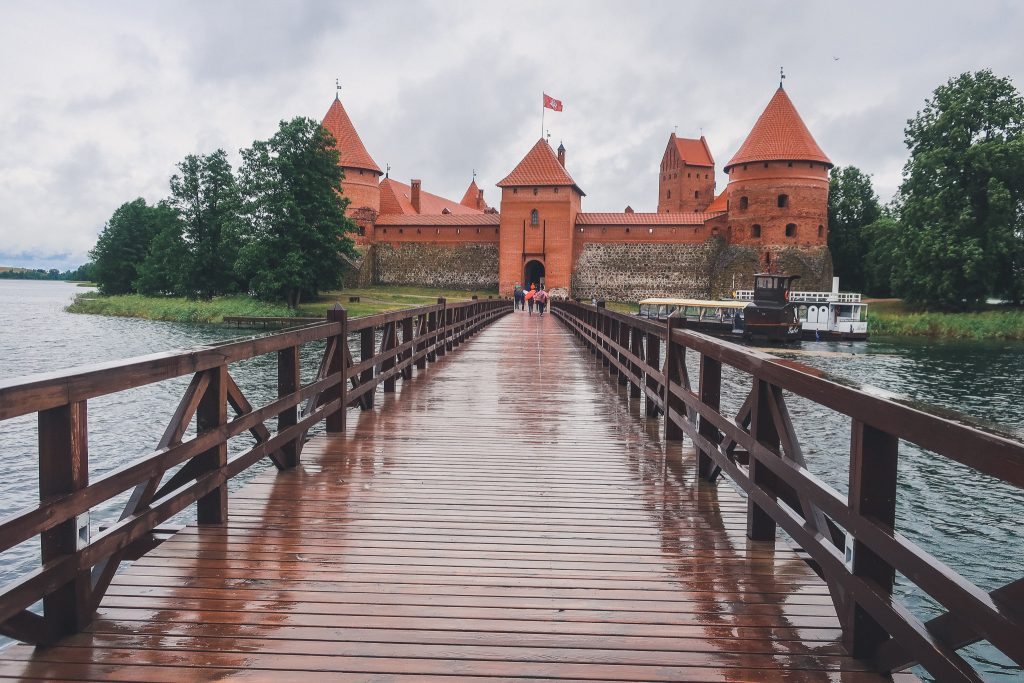 Trakai Island Castle is the stuff from fairytales. It has been beautifully restored. We had a really great experience here when we spontaneously decided to get a guided tour. You can get a tour guide for only 18 euros! Also, you don't even need a reservation!
Check out this small group tour to Trakai Island Castle from Vilnius.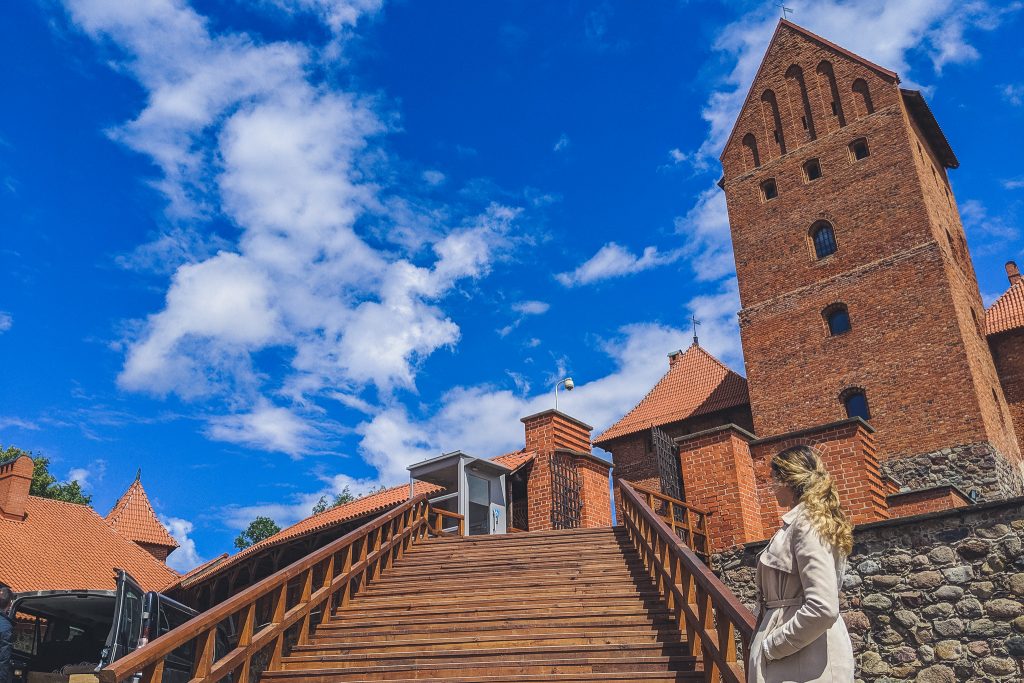 Trakai is a Medieval history museum. See how people lived during the time of the Grand Duchy of Lithuania. Many of the items in the museum's collections were found on the grounds of Trakai castle and within the surrounding waters.
Apart from the castle, Trakai is a charming small town to visit. On a warm day, rent a paddle boat and enjoy views of Trakai Castle from the water. Eat at Trakų Dvarelis for authentic Lithuanian homestyle cuisine.
Here's a more detailed guide to planning your Trakai Castle day trip. 
TV Tower
The Vilnius TV Tower is the tallest building in Lithuania! It's one of the top places to see in Vilnius. It's located a short 15 minute drive outside of town. The bus route to the TV tower isn't very direct or helpful. So, I highly recommend taking a cab or Uber.
Get your tickets for the Vilnius TV Tower here.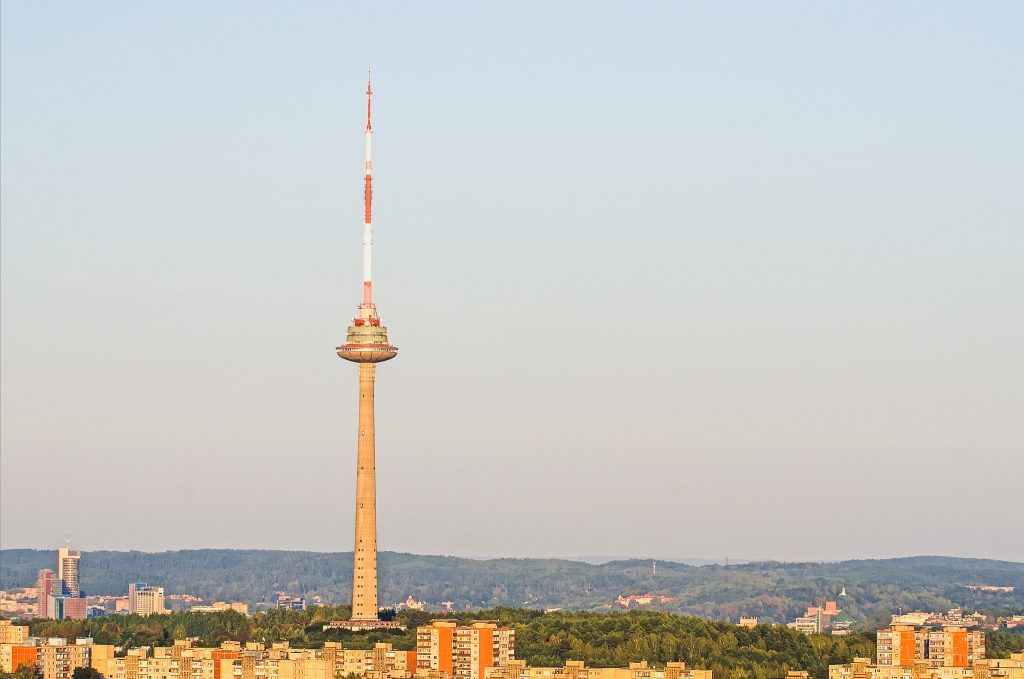 SIDE NOTE: Ubers are really cheap in Vilnius! We were shocked. A 15 minute ride will cost you few euros and change. It's not extremely popular yet, so you may have to wait a few minutes for your ride. It's well worth it!
Once inside the TV Tower, you'll pass through the Fight For Freedom Museum. These moving exhibits document the role of the TV Tower in the struggle for Lithuania's independence.
You can enjoy incredible views from the observation deck of the TV Tower. The city of Vilnius is seen in the distance lining a background of lush, green, forest. There's also a cute cafe & restaurant at the top.
Interesting Places
Republic of Užupis
The Republic of Užupis is a quaint micro-community within the city of Vilnius. It's one of the must see places in Vilnius! Like Vatican City is to Rome, Uzupis is it's own independent governing body. The Republic of Užupis has it's own president, flag, constitution and military!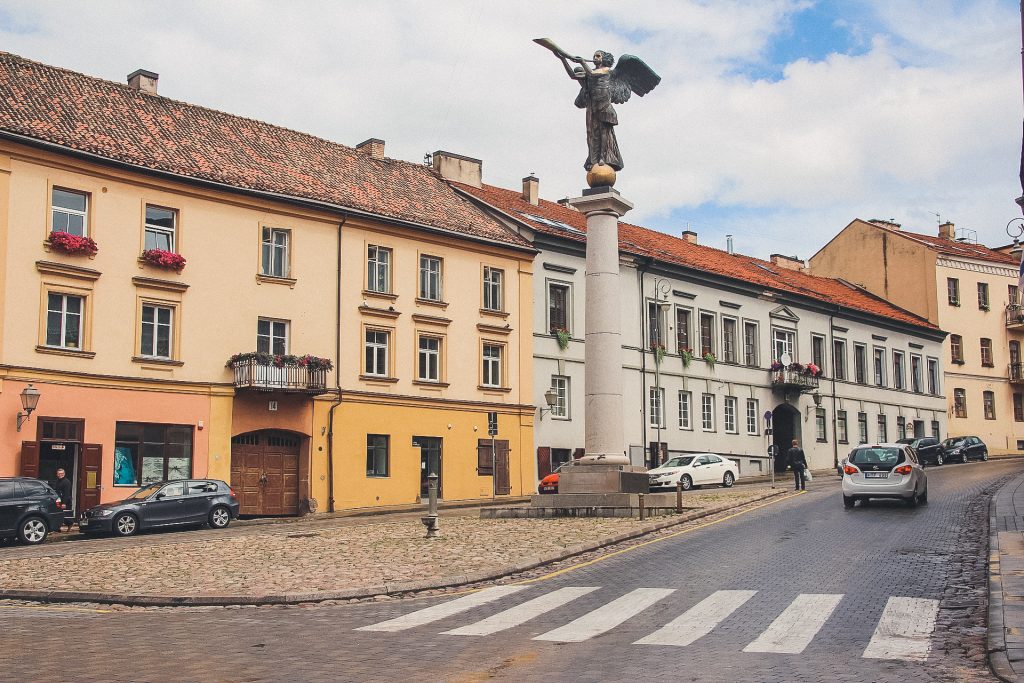 Užupis is largely located within Old Town, so you'll notice tiny winding Medieval streets. The name Užupis translates to "beyond the river." You'll pass over the Vilnia River to get there.
Find out about this enchanting place called Užupis.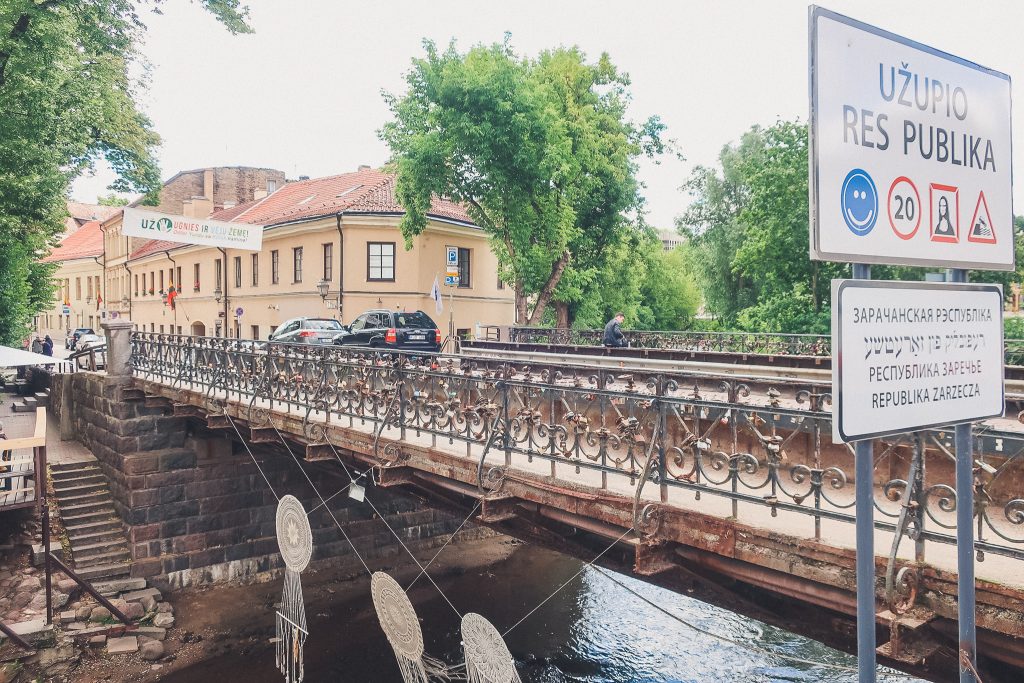 Cross the Bridge of Užupis. You'll notice a cute sign with a smiley face, Mona Lisa emoji and the name of Užupis. Turn left after the bridge and proceed down a narrow lane. Find the Immigration Office and get your passport stamped here!
Explore Užupis more. You'll find a thriving artist community. Go check out the Constitution of the Republic of Užupis. It's been translated into many languages. Reading the Užupis Constitution is one of the most enjoyable Vilnius activities.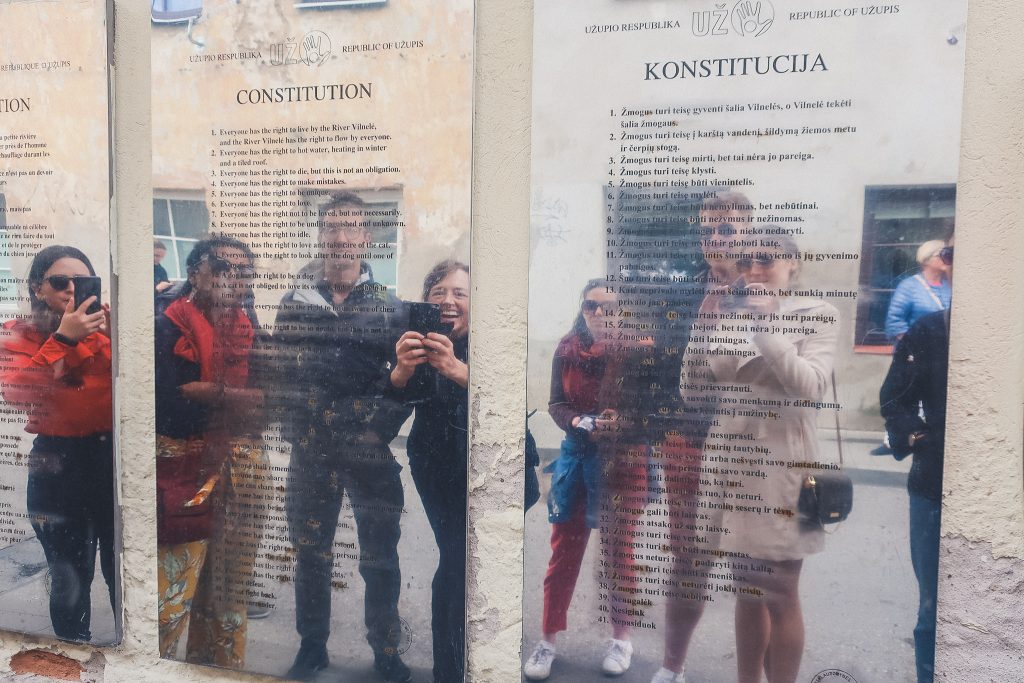 It's probably the most fun constitution ever written! Including sentimental ideas such as "everyone has the right to make mistakes" and silly ideas like "A cat is not obliged to love its owner, but must help in time of need."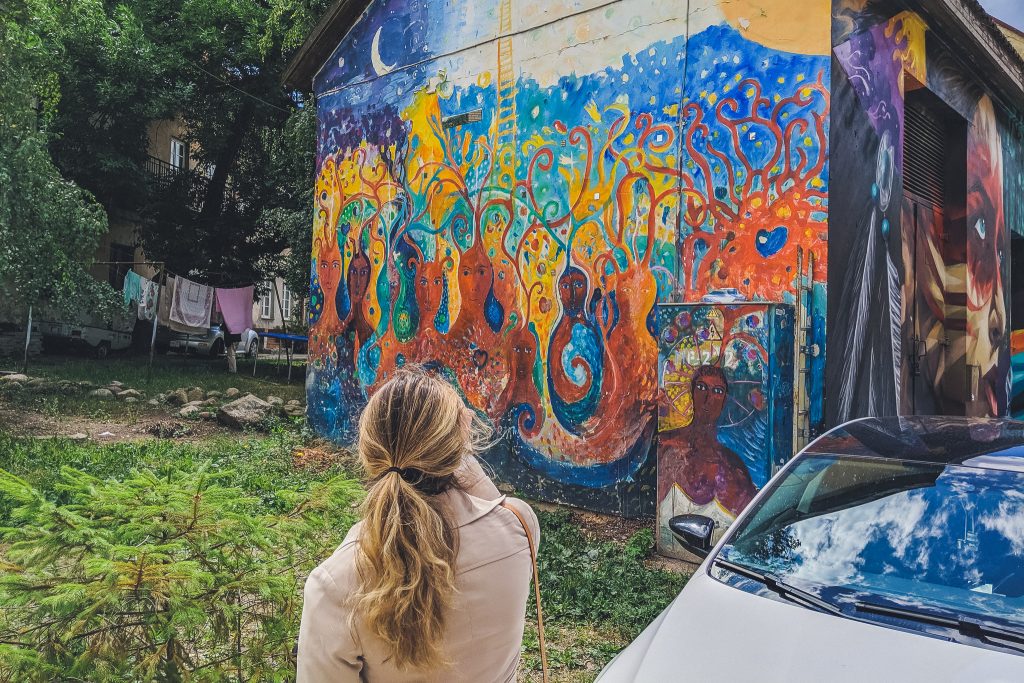 Putin & Trump Mural
This has become one of the most photographed places in Vilnius! It's sensationally Instagram famous. Look for the restaurant Keulė Rūkė on this Vilnius Map to find the mural.
The mural shows Donald Trump kissing Russian president Vladimir Putin. The mural was made in 2016 when Donald Trump was only a presidential candidate.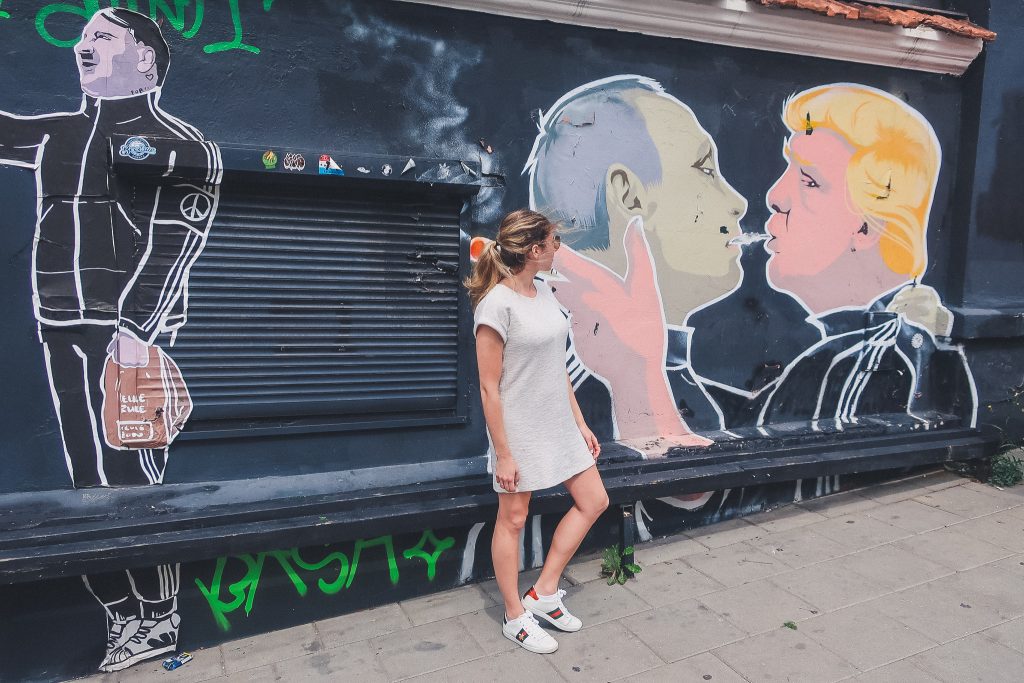 If you are in Vilnius with your significant other… get a photo kissing in front of this mural!
Museums
National Museum of Lithuania
The National Museum of Lithuania displays antiquities from Lithuania's epic history. Find out more about the dynasty that ruled a territory so great that it spanned from the Baltic Sea to the Black Sea!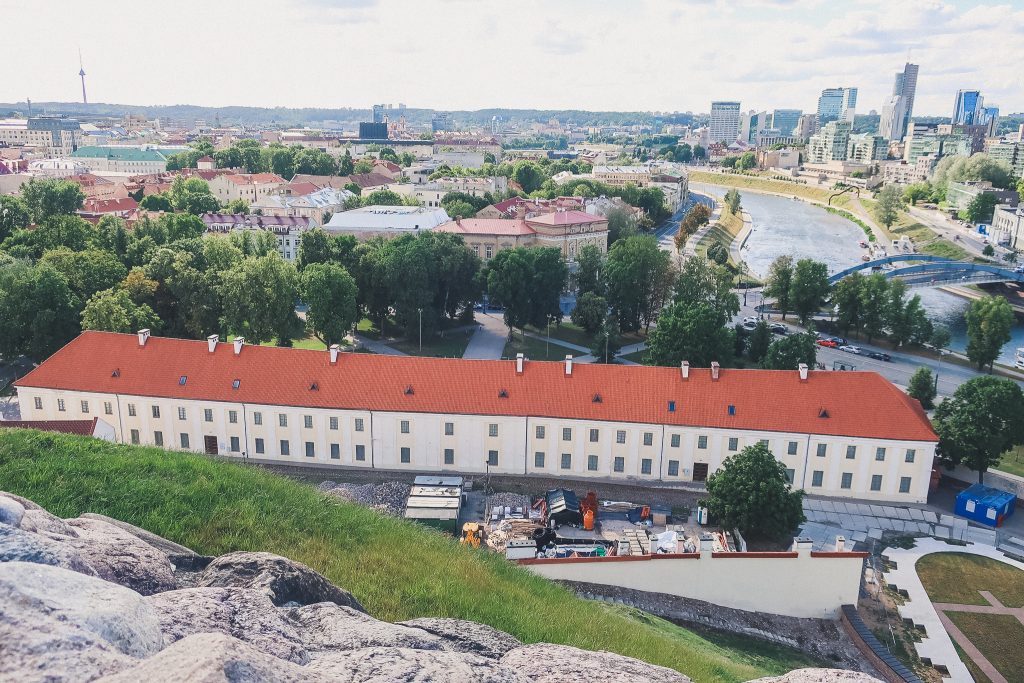 This museum holds the most important collections of Lithuanian archaeology, history and culture.
Palace of the Grand Dukes
The Palace of the Grand Dukes is an extensive and elegant museum located in Cathedral Square. It's one of the top things to see in Vilnius. Although, the beauty and scale of this museum are best appreciated from Gediminas Hill.
The Palace of the Grand Dukes of Lithuania was originally constructed in the 15th Century. At that time, it was part of an immensely greater castle complex. You can still see the stone foundations and layout of this original palace. This is the ground floor of the museum.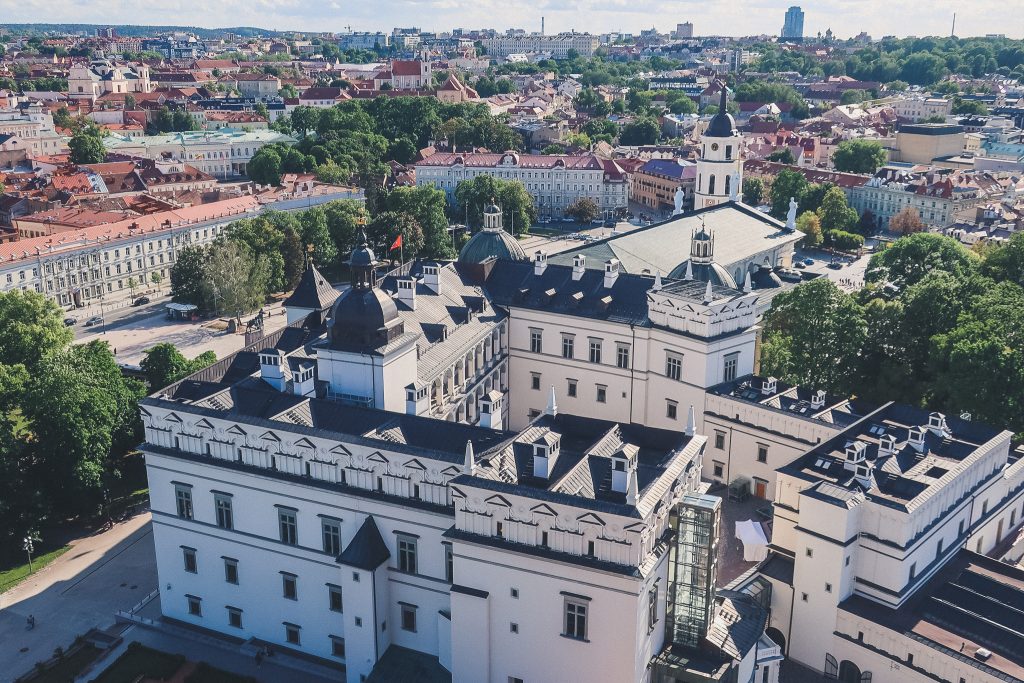 Since the original construction, the palace was remodeled many times. It was destroyed during military invasions and eventually laid to waste for over a hundred years. Finally, it was completely demolished in the early 19th Century.
Excavation of this richly historic site did not start until after Lithuania became independent. Finally, the palace was rebuilt and turned into the glorious museum we see today.
Museum of Occupation and Freedom Fights
It is one the most important Vilnius tourist attractions because it explains a very recent and brutal period in Lithuanian history. The Museum of Genocide Victims is now called the Museum of Occupation and Freedom Fights. It documents the decades long struggle of Lithuanian occupation by Soviet forces.
In 1940, Lithuania was invaded by the Soviet Union and was forced to join the Soviet Socialist Republic. The building of the current museum was used as a KGB headquarters, Gestapo headquarters, a prison and an interrogation center. Over 1,000 people were executed here.
The upper parts of the museum tell the story of Lithuania's resistance and passionate fight for independence. The lower parts of the museum show the KGB's prion cells and torture chambers. These are displayed exactly how the KGB officers left them. Creepy!
Verkiai Palace
The Verkiai Palace is located just outside Vilnius. It's a short 20 minute drive away. The palace sits inside Verkiai Regional Park — a vast and beautiful public green space.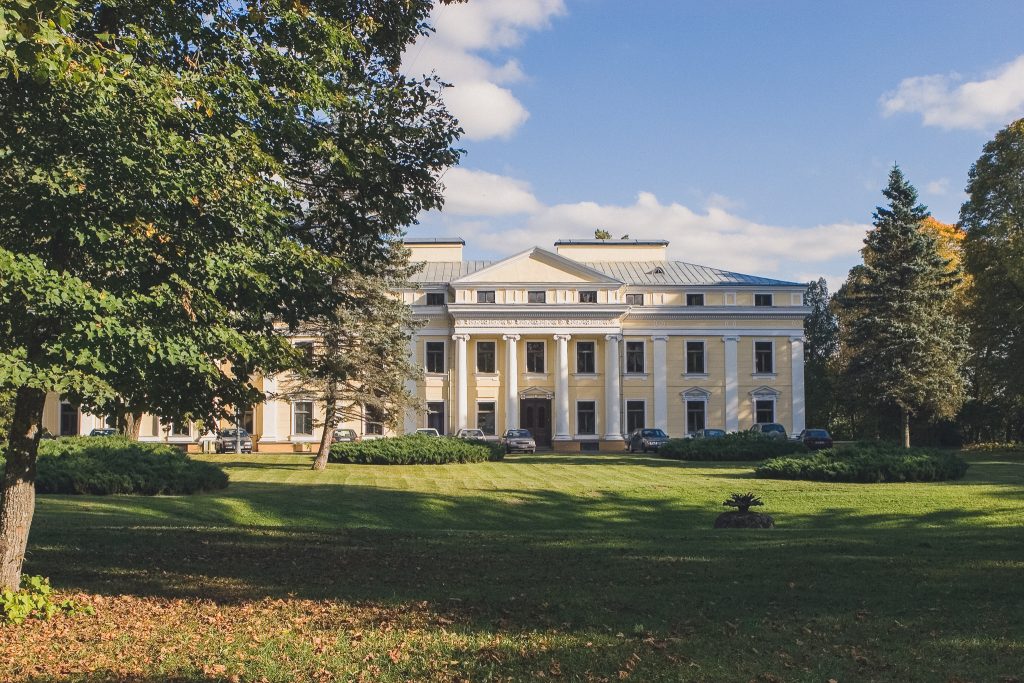 The Verkiai Palace has been restored to its original 18th Century glory. The decorations are elaborate and sophisticated. If you've already visited the Palace of the Grand Dukes, you can probably skip this. There are a lot of very similar types of exhibits. The Palace of the Grand Dukes is much larger than Verkiai.
However, it might be nice for a day trip if you feel like getting out of the city.
Churches
You'll notice a lot of churches in our Vilnius attractions map. The saying goes, "no matter where you're standing in Vilnius, you can always see at least 3 churches." There are 28 churches in the historic Vilnius Old Town neighborhood. Faiths represented include Roman Catholic, Russian Orthodox and Lutheran.
Vilnius Cathedral
The Vilnius Cathedral is Lithuania's most famous Neo-Classical building. Hard to believe, but this was actually one of the oldest churches in Vilnius. Throughout history, the church was used for important ceremonies. Many important Grand Dukes of Lithuania had coronations in this cathedral.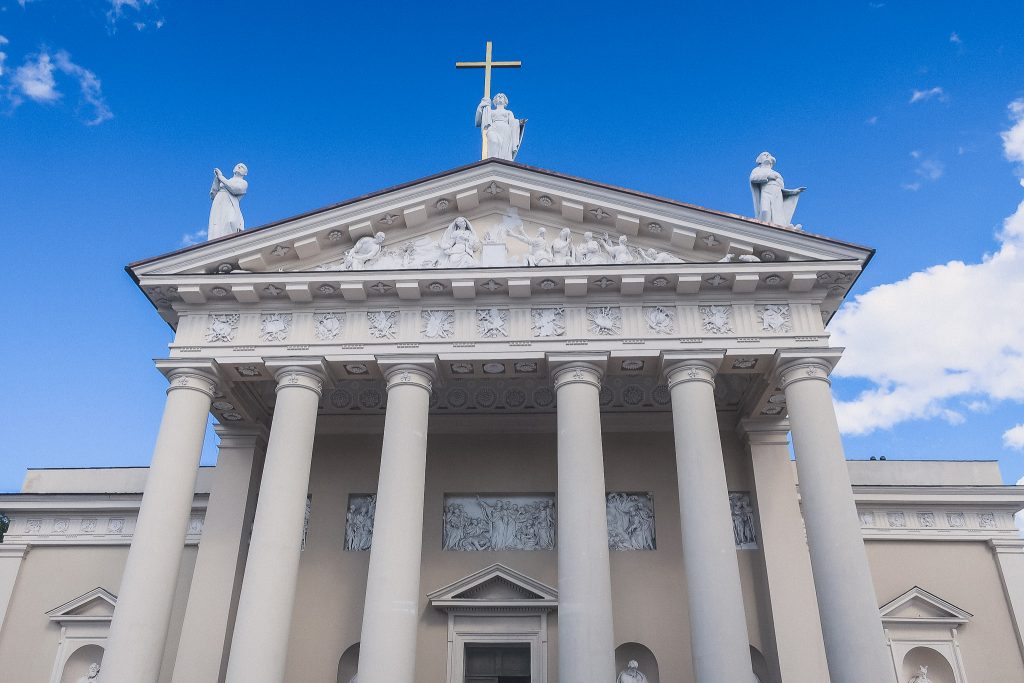 Before it was a Roman Catholic church, it was the site of many pagan worship rituals. Lithuanian King Mindaugas ordered for a cathedral to be built in 1251 once he converted to Christianity.
Make sure to check out the inside. There is no fee to enter. So, essentially, it's a free museum! The Vilnius Cathedral holds many precious works of art including the oldest fresco in Lithuania.
The Soviets almost destroyed this church but decided instead to use it as a warehouse instead. #serendipity
St. Anne's Church and St. Francis of Assisi
The St. Anne's and St. Francis churches share grounds. They are positioned right next to one another, but this is where the similarities end.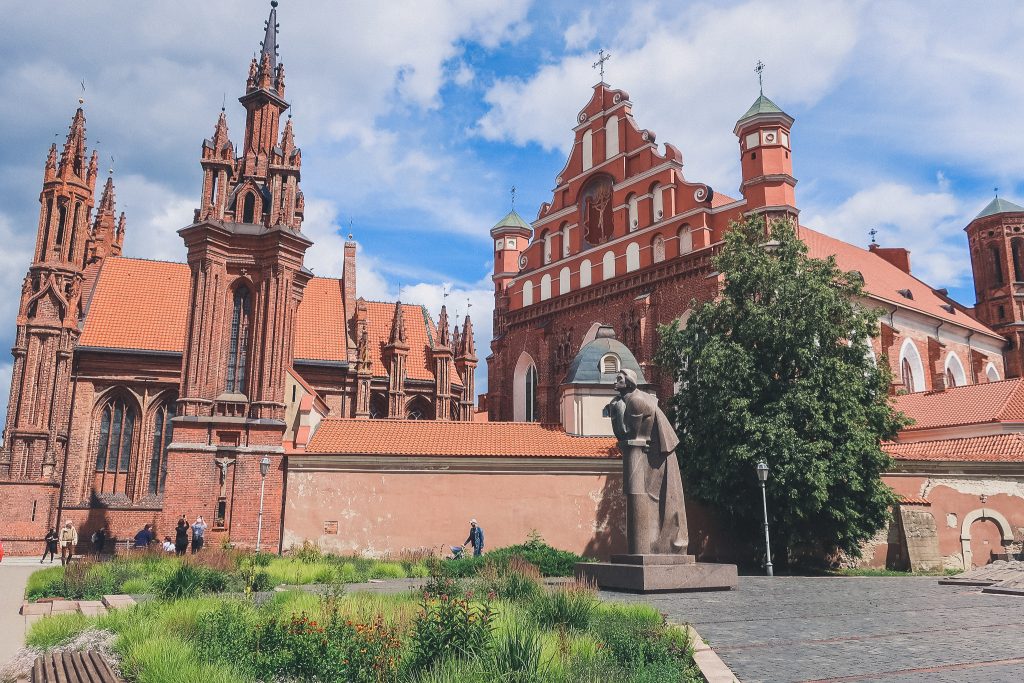 St. Anne's Church is an elaborate 15th Century Gothic masterpiece. It was built for Anna, Dutchess of Lithuania and wife of Vytautas the Great. The St. Francis Church looks quite plain in comparison.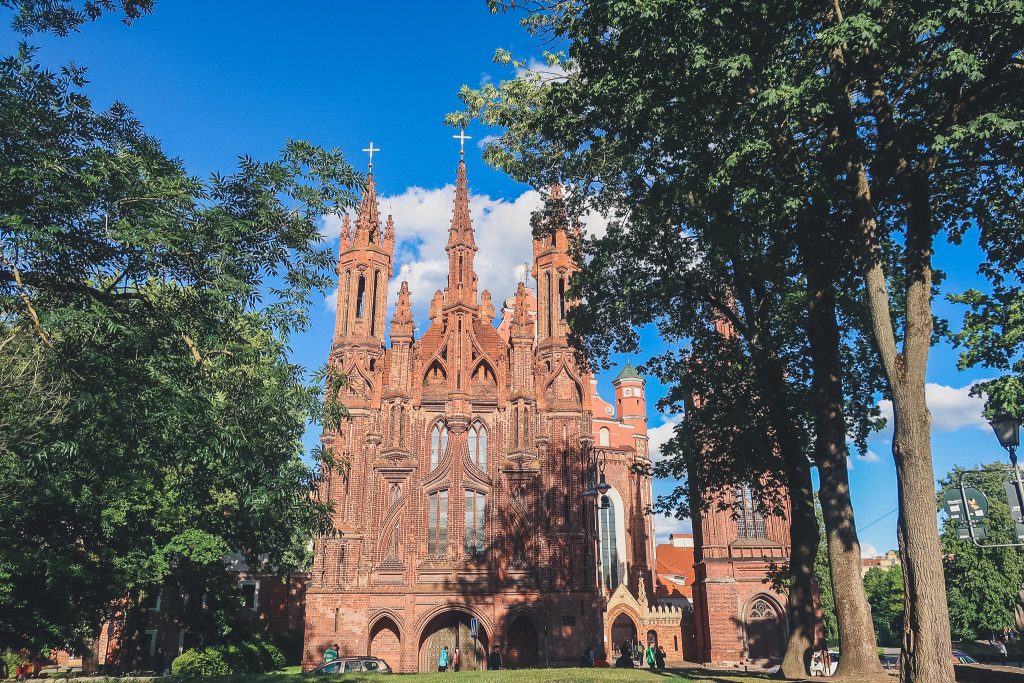 While the church of St. Francis looks more plain on the inside, but it has a whole host of treasures to explore. The facade is a unique collage of features from Renaissance to Baroque, but also with Gothic elements.
Church of St. Casimir
This 17th Century Baroque masterpiece is ornate and colorful. It was one of the earliest examples of Baroque design in the city of Vilnius. It has quite a unique history in that it was at one point a Jesuit church, a Russian Orthodox church and a Lutheran church. After WWII, it was actually in use as a Museum of Atheism! How silly is that?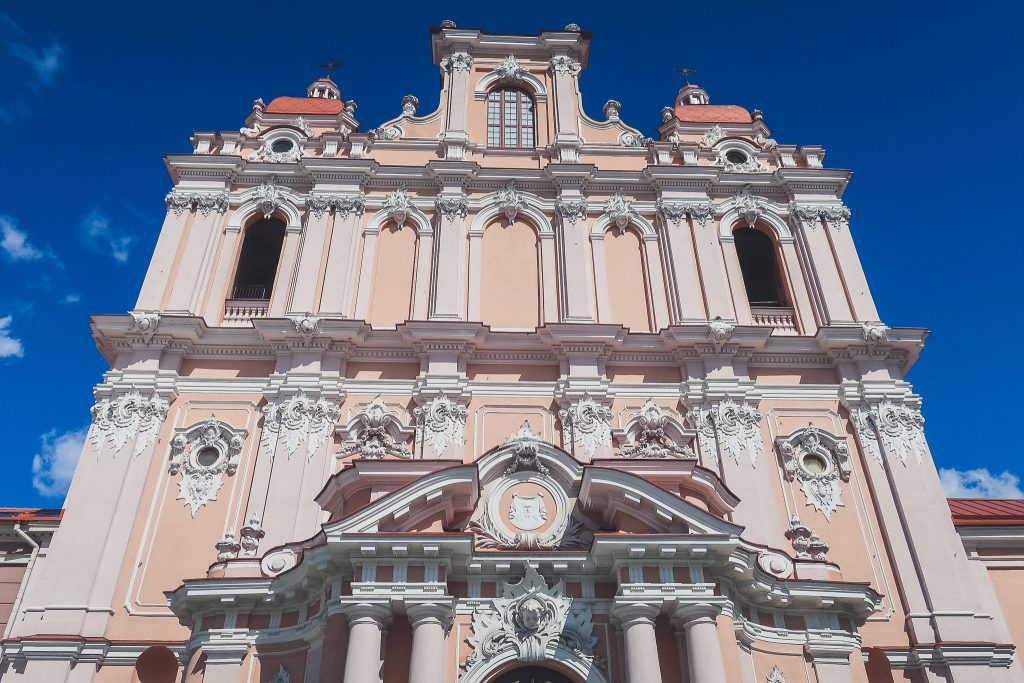 It wasn't until the early 90s that this church was reconstructed. Today, it caters to the Roman Catholic faith. Like the others, you can also visit the inside of this church for free!
St. John's Church
St. John's Church is one of the best places to visit in Vilnius! This church has a tower with an amazing observation deck. The observation deck is open and provides 360 degree rooftop views. It's the tallest structure in Vilnius Old Town.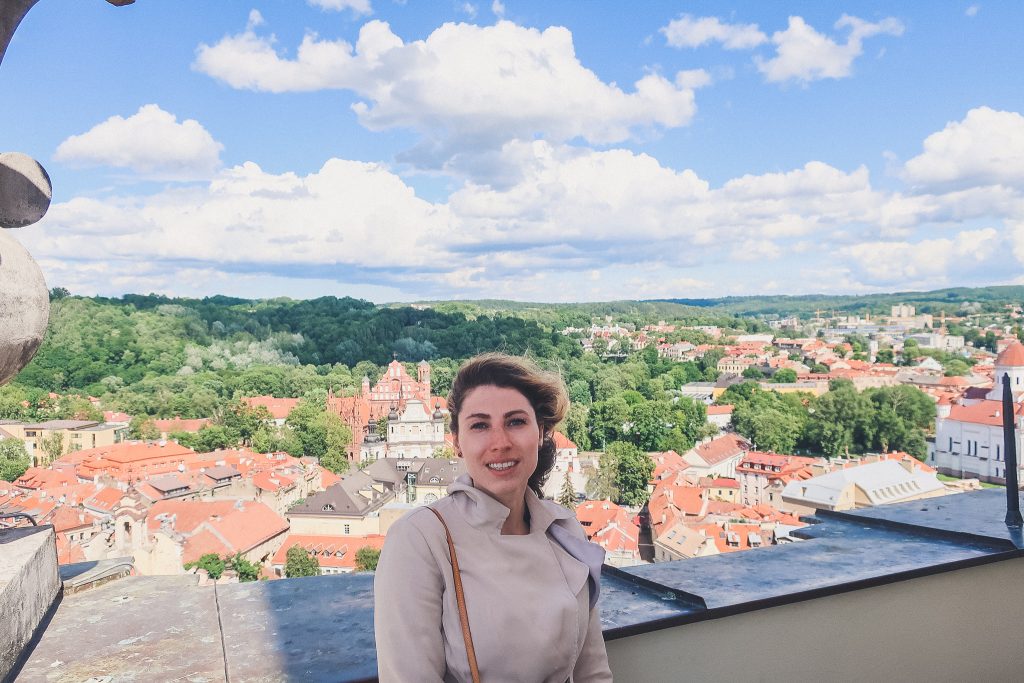 St. John's Church today takes a formidable stance on the Vilnius University campus. You'll have phenomenal views of the surrounding campus from the tower. Besides the tower, check out the frescoes inside this church. Visit the most famous organ in Lithuania!
Special thanks to Ugne Gliaud for a local's perspective on Vilnius.
Looking for more Lithuanian adventures?
Check out the beautiful seaside community of Palanga. Get there by car or train in 3 hours.
9 Amazing Things to do in Palanga