Looking to plan the perfect couples trip to Amsterdam? Look no further! This list includes all of the best things to do in Amsterdam for couples. Our Amsterdam couples activities are carefully selected so that you can enjoy Amsterdam sightseeing in a more relaxed, intimate and romantic way!
Enjoy these activities while you visit the top Amsterdam attractions, eat Dutch food & experience Dutch culture. Visit our Amsterdam Sightseeing Map for a more general guide to Amsterdam. It includes restaurants, bars & travel trips.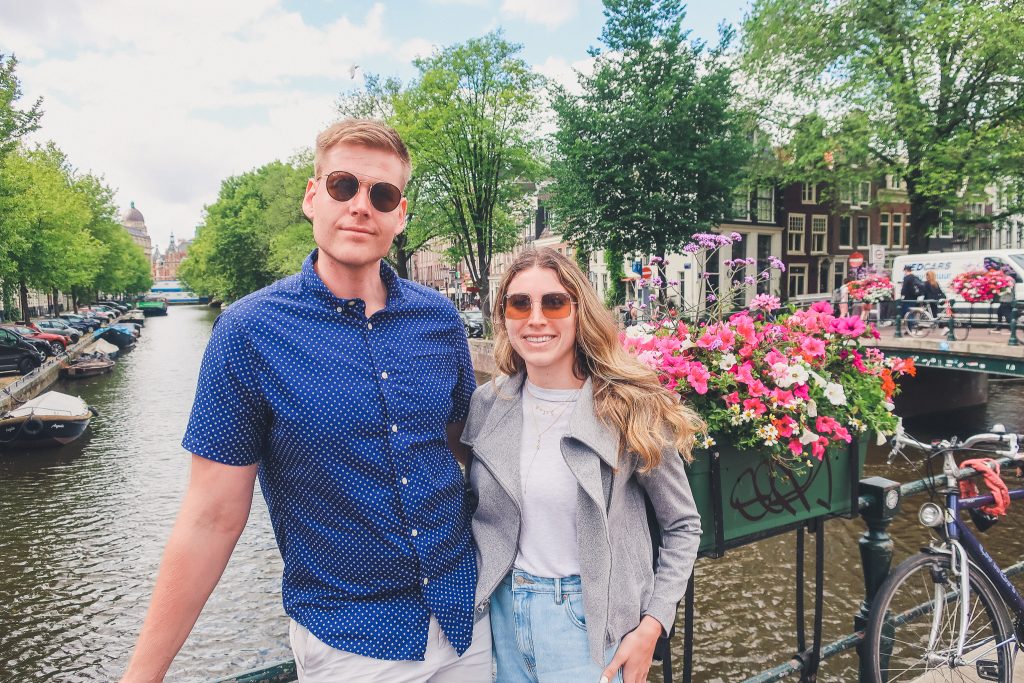 20 Incredible Amsterdam Couples Activities for Adventurous Tourists
20 Incredible Amsterdam Couples Activities for Adventurous Tourists
1. Boat Ride through the Canals
A Must-Have Amsterdam experience. Riding through Amsterdam's canals gives you an incredibly different perceptive on this beautiful city. It's the best way to photograph architecture & appreciate the charming canal homes.
Check out this romantic dinner cruise through Amsterdam's scenic canals.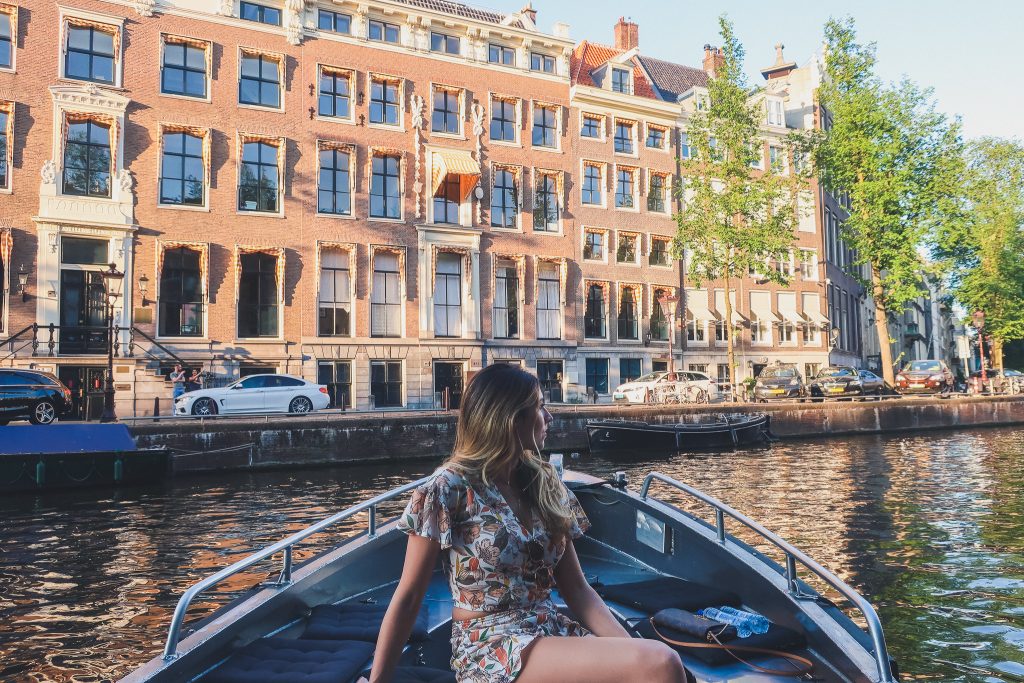 Do yourself a favor and skip the big tour boats! You don't need a guide to have this experience. In fact, you'll be glad for the intimate time away from the crowds.
Rent a little motorboat from Mokumboot! While they have a few locations, we found Nassaukade Street most convenient. From there, you can quickly make your way to some of the most scenic spots in the city.
Find out more about this exclusive canal cruise that includes a wine & cheese pairing.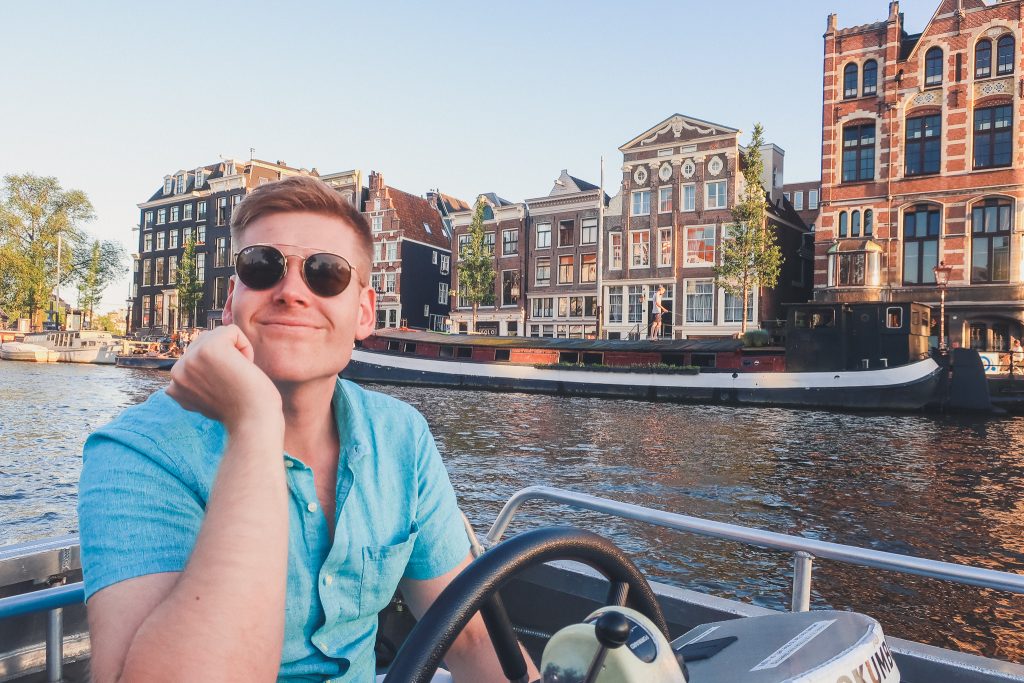 Make sure to wind your way through the canals called Prinsengracht. Keizersgracht, Herengracht and Singel. These all run parallel to each other, so it's easy to wind back and forth. We went during the latest time slot —just before sunset. It was beautiful!
2. Bike ride through Vondelpark
Another one of the best things to do in Amsterdam is to ride a bike! Bikes aren't fun and games in Amsterdam. They're a serious mode of transportation and a way of life.
Depending on where you ride, it can be a bit scary! You'll be navigating the traffic with trolleys and cars. As an Amsterdam tourist, if you be careful and use common sense, you'll be totally fine!
Check out this top-rated bike tour in Amsterdam.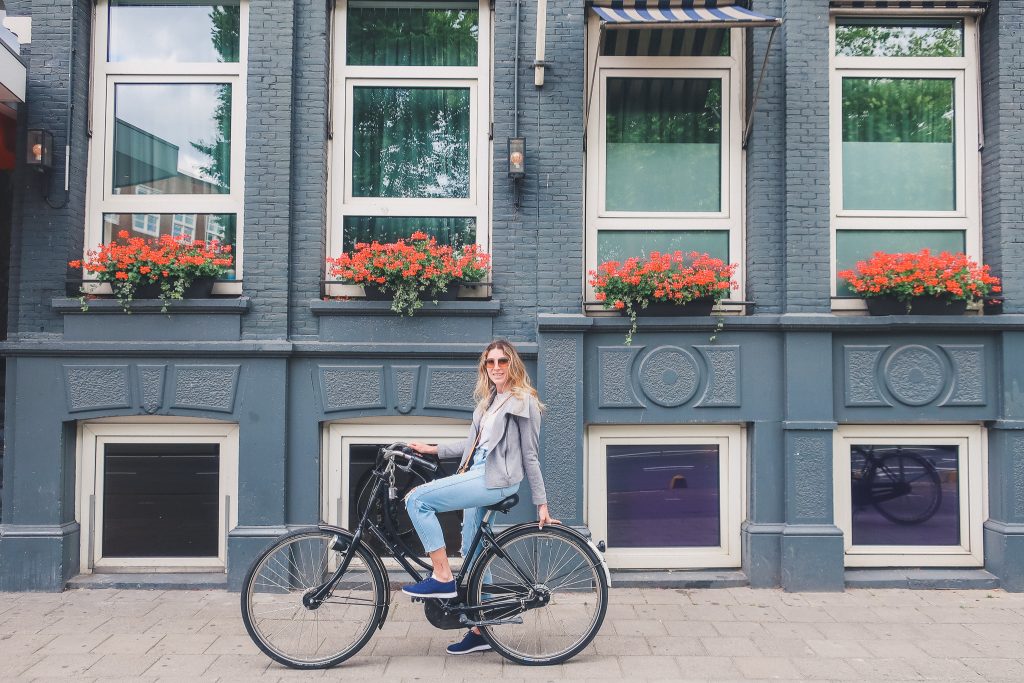 You can rent a bike at many places. We used Black Bikes. They have many centrally located shops in Amsterdam. You can't make a reservation, but they have plenty of bikes and are unlikely to run out. Then rental process was fast and easy. It took no more than 10 minutes.
The best place to ride is Vondelpark. Vondelpark is a community staple. It's the largest park in Amsterdam and one of the most popular in Holland. It's HUGE! So, you really do need a bike to explore it.
You can stop in Vondelpark's Cafe Vertigo. Have a drink on their outdoor patio. Check to see if there's any type of concert or free event going on in the park.
3. Cheese tasting at Reypenaer
This was one of my favorite Amsterdam activities. Reypenaer offers cheese and wine tasting workshops. During the workshop, you can eat as much cheese and drink as much wine as you like!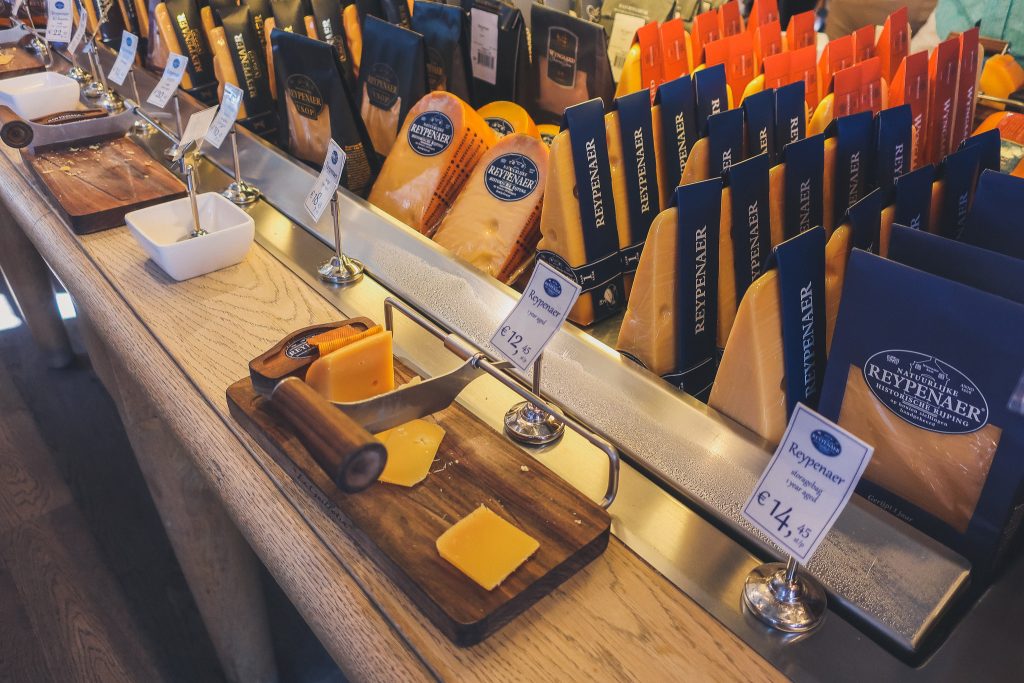 The cheeses were phenomenal. I'm a cheeseaholic, but seriously… Reypenaer is a family business with over 100 years of cheese-making traditions.
You can also venture into the Dutch countryside to taste homemade cheeses, visit historic windmills and frolic in tulip menus. Find out more about this enchanting day tour from Amsterdam.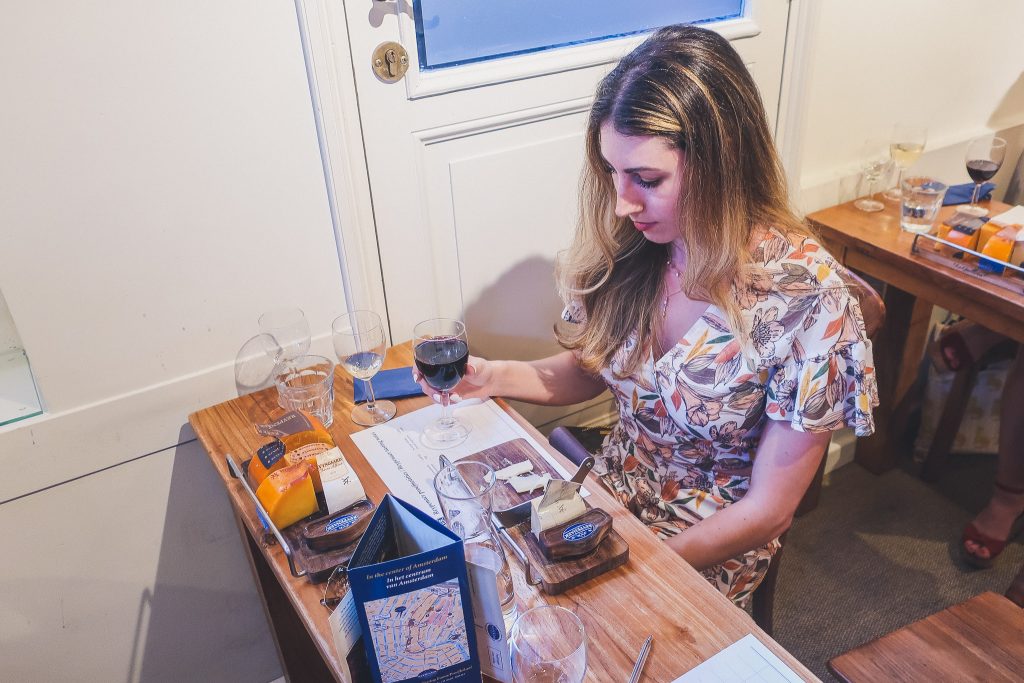 During the tasting, you'll hear how Reypenaer preserves their ancestral maturing techniques. They literally age their cheese in a historic custom warehouse. Also, they only use milk from cows grazing on fresh grass— "summer milk." You'll be able to taste the difference!
4. Brewery tour at Heineken
Heineken is Amsterdam's beer. It's everywhere! As you walk through the city, you'll see that glowing green logo above all the bars. Heineken is the most popular beer in Europe and one of the most popular beers world wide.
There's a few different tours you can choose from at the Heineken brewery. The cheapest option (about 20 euros) includes a self-guided tour of the brewery and 2 beers at the Best 'Dam Bar.
Get your Heineken Brewery tickets now.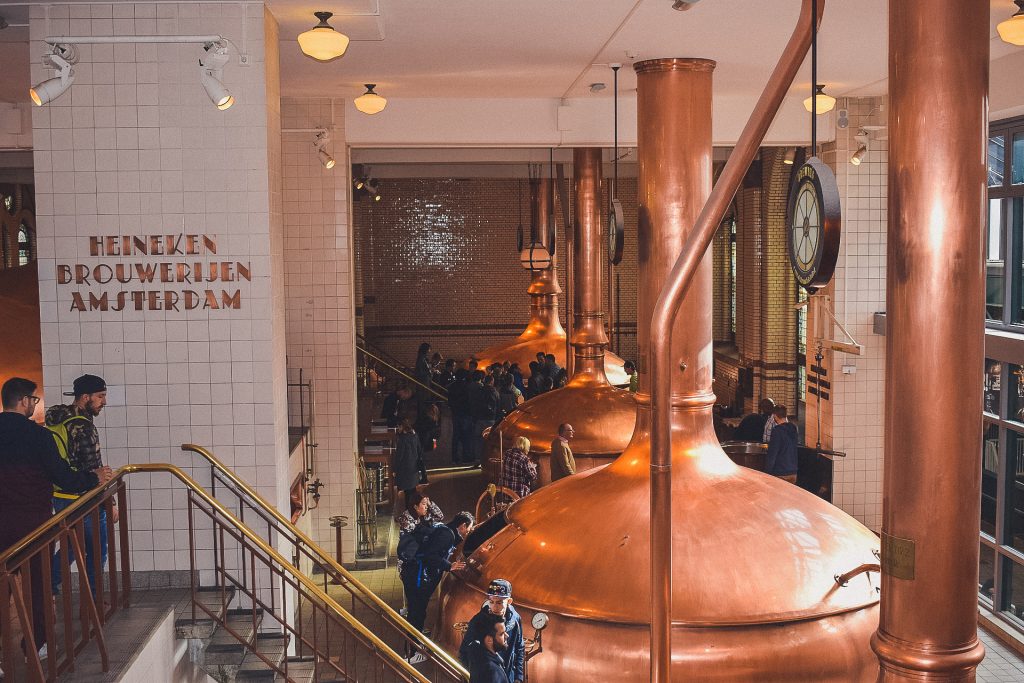 The VIP tour is more costly and expensive. For 60 euros you'll get a 2.5 hour behind the scenes tour with guide. Also, you'll sample 5 premium beers with accompaniments. You also get a personalized southerner Heineken bottle!
5. Dangle off the world's tallest swing
The A'DAM Toren is one of the most popular places to visit in Amsterdam. At 22 stories, this landmark tower extends high above the city skyline. It's a popular spot for dining, shopping and entertainment.
Although, the A'DAM lookout is the most exciting place. You'll see stunning panoramic views of Amsterdam laid out across the horizon. Also, enjoy the jaw-dropping swing experience.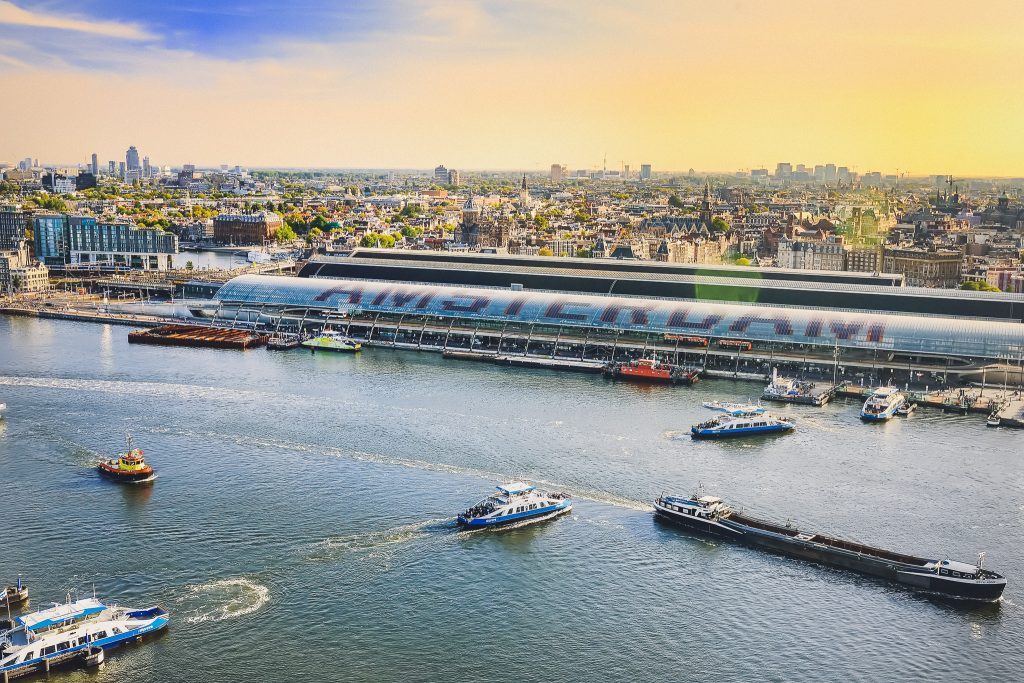 The swing at the A'DAM lookout is the tallest swing in the world. Don't worry! You'll be strapped in. Also, conveniently, it's a 2 person swing! So, you can hold hands with your significant other while you look out at Amsterdam.
To get there, you can take the Amsterdam free ferry from Centraal Station to Buiksloterweg. The whole trip only takes 20 minutes from city center.
6. Walk through the red light district
The red light district is one of the the most famous places to see in Amsterdam. This neighborhood of tiny alleyways contains almost 300 window cabins that are rented by female sex workers. There's also plenty of sex shops, sex theaters and coffee shops.
Don't take any photos of the sex workers here! It's not allowed and disrespectful.
Learn more about Amsterdam's Red Light District. 
For the slightly more refined tourist, consider the Amsterdam Sex Museum. Can you believe it's the 4th most visited museum in Amsterdam? Clearly, it's one of the top things to do in Amsterdam for adults! The Amsterdam Sex Museum showcases the history of sex culture through erotic paintings, cartoons, photographs and more!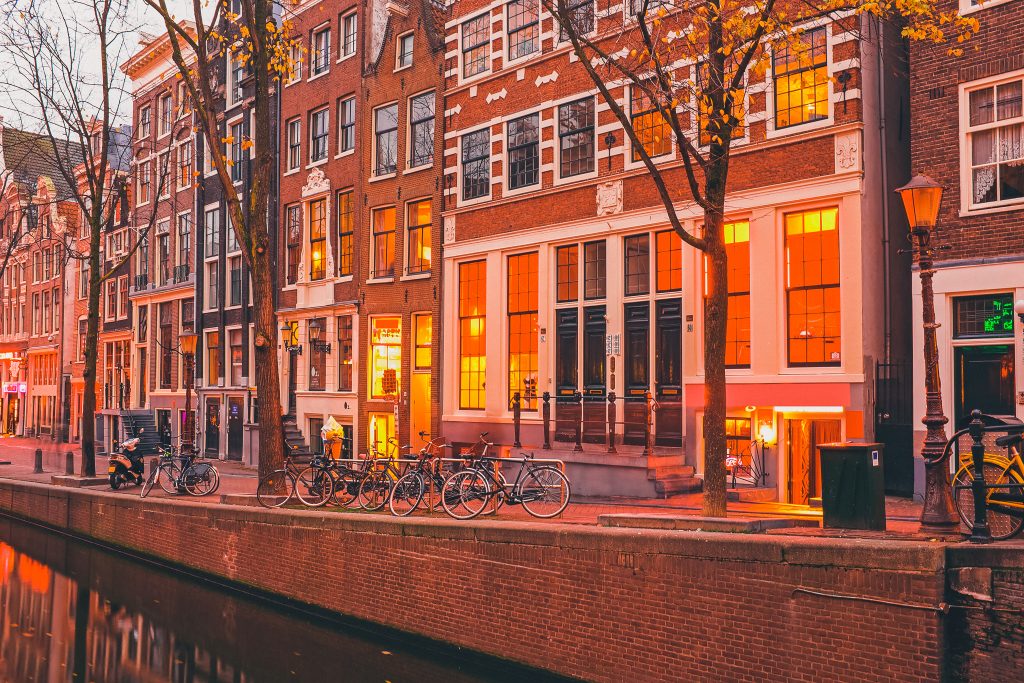 If you're reading this and freaking out right now… I'll just add that all Amsterdam prostitutes are licensed and their health is monitored. Also, the red light district isn't some creepy dark slum. It's a thriving community just a few minutes away from city center complete with restaurants, residential space & churches. In fact, you can see the red light's windows from the historic Oude Kerk (Old Church).
Walking through the Red Light district gives you a feel for the Dutch spirit of tolerance. Throughout history, Amsterdam has been a refuge for many persecuted individuals. Religious and cultural diversity has been and is accepted here. The Netherlands are commonly refereed to as one of the most gay-friendly countries in the world!
7. Munch on 'special' brownies
Continuing the spirit of tolerance, brings us to our next activity in Amsterdam for couples… Munch on special brownies! We loved the "Space Brownie" at Easy Times. This coffee shop is located near the scenic Leidseplein.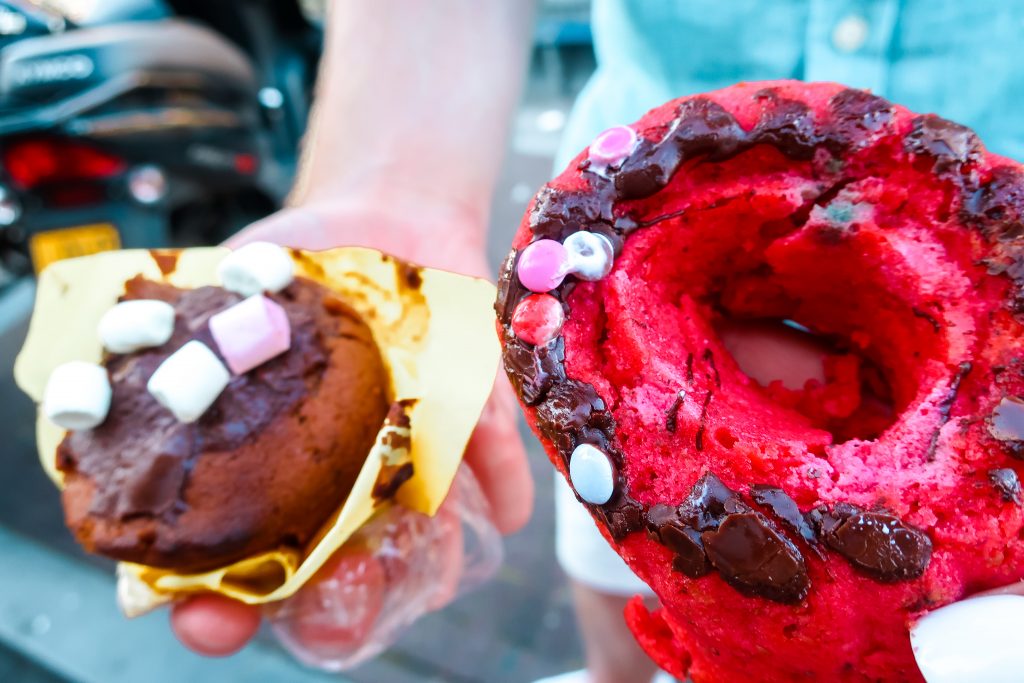 Coffeeshop DNA also has an incredible selection of edibles. They have more than the average space cake. Including flavors like Oreo, White Chocolate and KitKat.
Consider this Coffee Shop & Red Light District experience. 
8. Tour a diamond factory
Find out why Amsterdam is considered the City of Diamonds. Touring a diamond factory is one of the more serious things for couples to do in Amsterdam! If you haven't tied the knot yet, it's the perfect opportunity to give your partner some big hints.
There are a few different places where you can get a diamond tour in Amsterdam. Most of them are free! The most impressive place is Coster Royal Diamonds. It's the oldest operational diamond factory in Europe. Also, it's home to the world's BIGGEST uncut gemstone. It's called Lucullan. How big does a diamond have to be before they name it anyways?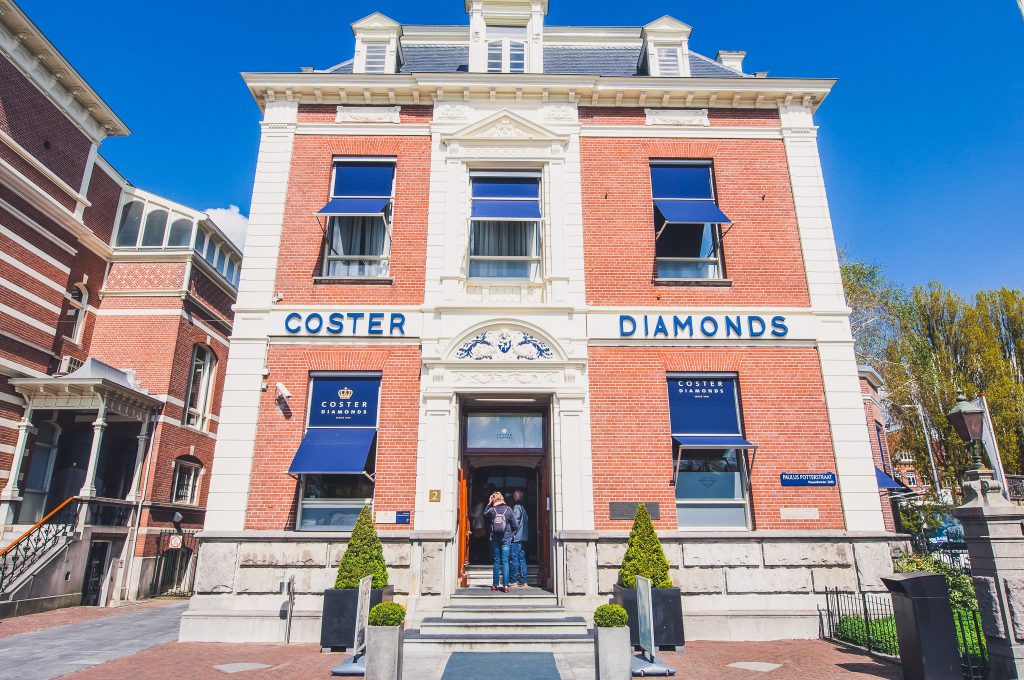 Check out their insane Diamond Masterclass. 
Coster Royal Diamonds famously crafted the British crown jewel the Koh-I-Noor. They made pieces for Queen Victoria as well as King Rama V of Siem and Empress Sisi. Coster offers a free guided tour as well as many other paid experiences.
9. Stroll down Magere Brug at night
This skinny bridge over the Amstel River has become a popular spot to watch the sun set. Magere Brug directly translates as "Skinny Bridge." It's one of the most beautiful bridges in Amsterdam. It's lined with glowing string lights that reflect magically in the water.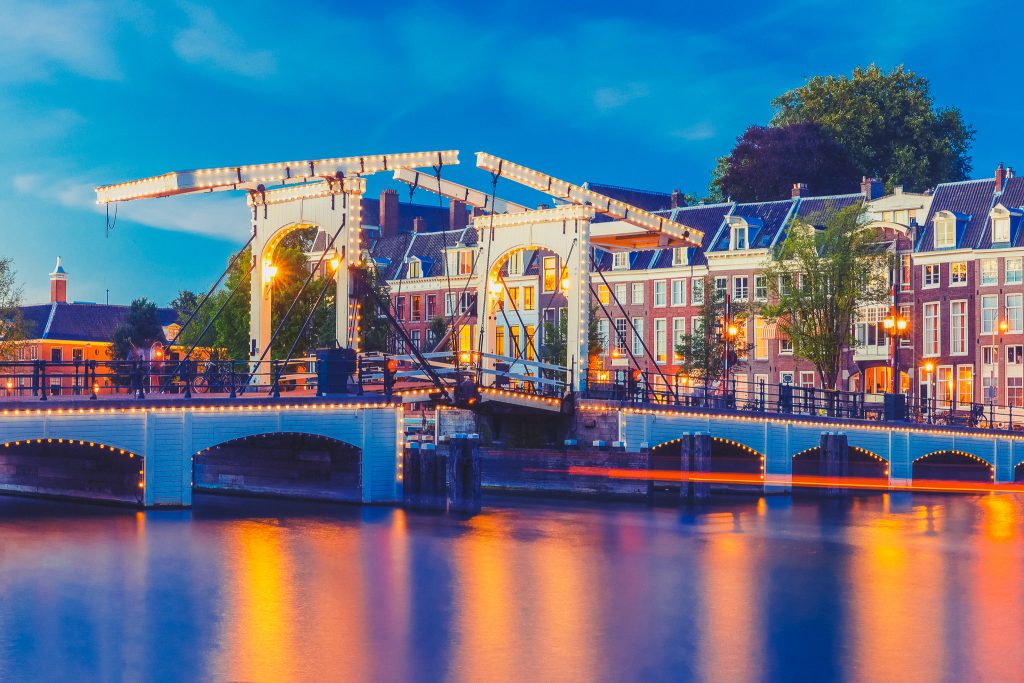 This is one of the most romantic places to go in Amsterdam. It's a favorite among couples and photographers alike!
10. Take a horse & carriage ride
Tired of walking all day? Kick back and relax in a cozy horse & carriage. This is especially romantic during the colder months! Also, it's the best way to explore the city on a rainy day. The carriages are fully covered and protect you from the elements.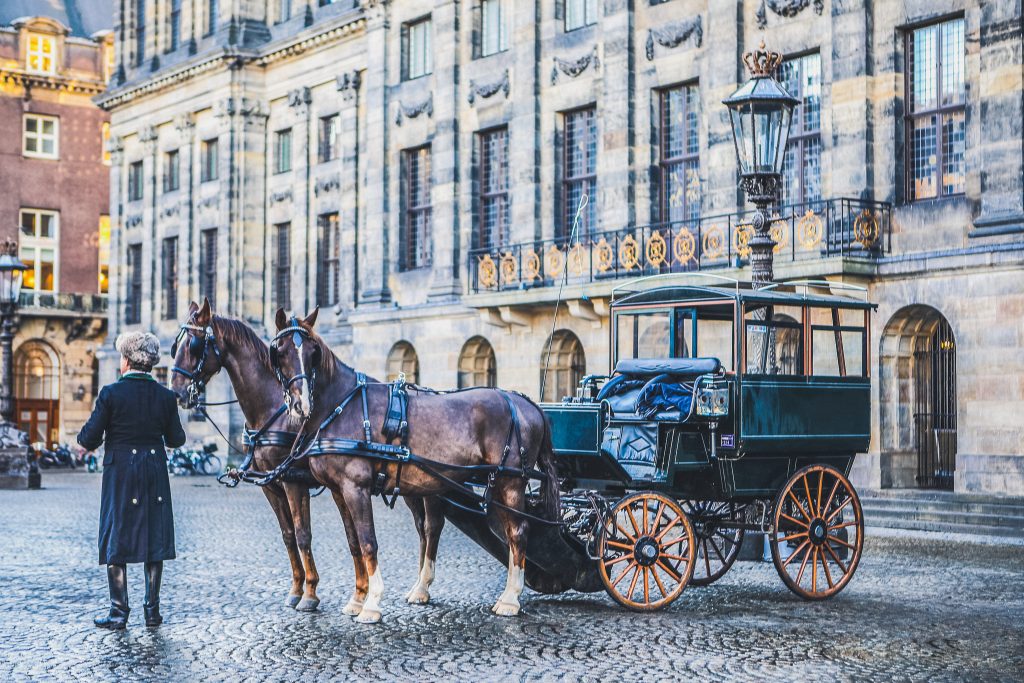 You can find many horse and carriages in Dam Square. One of the popular companies is Karos City Tours. They offer unique sightseeing tours of Amsterdam's historic neighborhoods. Alternatively, use the horse drawn carriage as your personal taxi. Surprise your date with a magical ride to a fancy restaurant. You can find Karos City Tours right in front of the Royal Palace.
11. Dine at Amsterdam's Top Restaurants
Amsterdam has an excellent assortment of Michelin star rated restaurants & affordable luxury options. For the veggie lovers out there, I highly recommend Restaurant De Kas.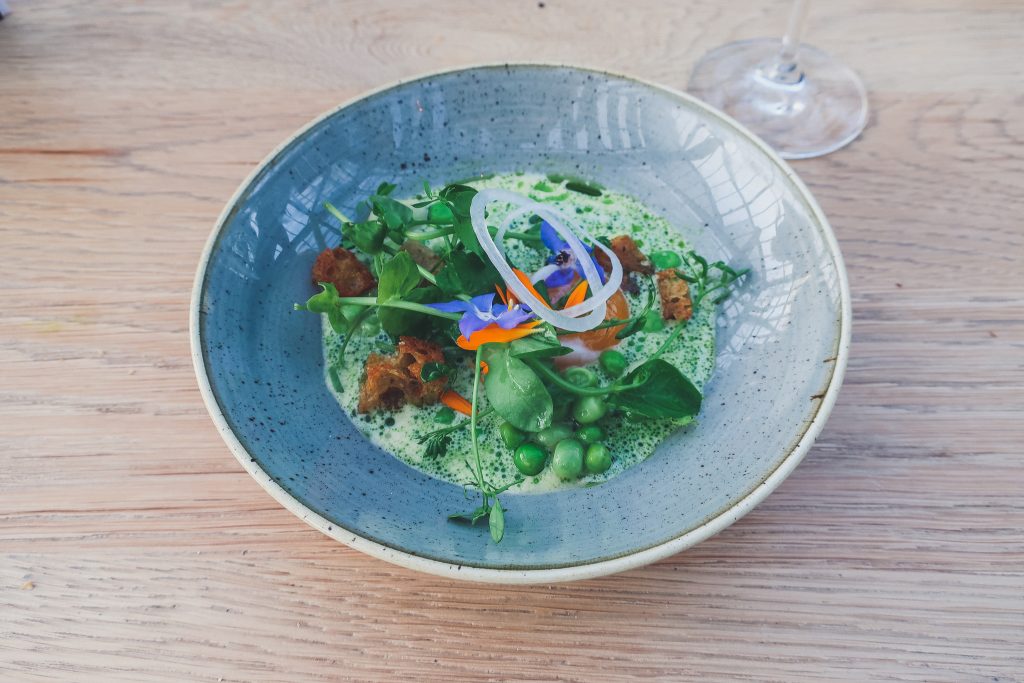 Restaurant De Kas is a Michelin pick because of its innovative, freshly sourced & carefully prepared tasting menu. The restaurant is housed in a functioning greenhouse in Frankendael Park. The ambiance is relaxed yet modern & airy. All of their dishes are made from sustainably grown produce (most of which were grown in their own greenhouse and nearby farm).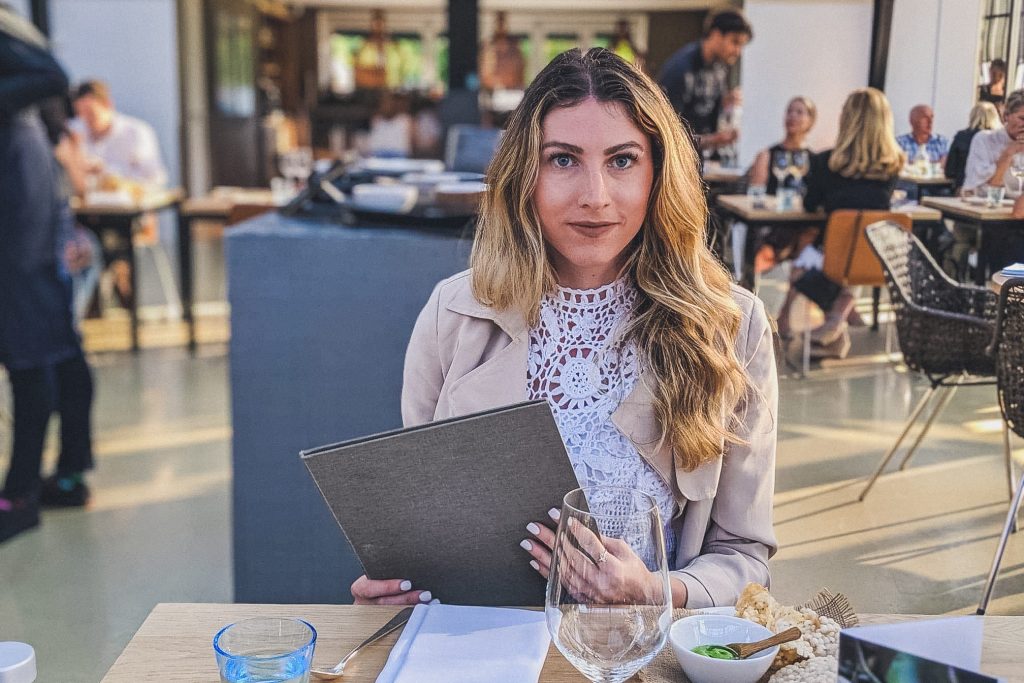 De Kas likes to say, "Harvested in the morning, on the plate in the afternoon." Their menu is ever changing to incorporate the freshest seasonal ingredients! I highly recommend it.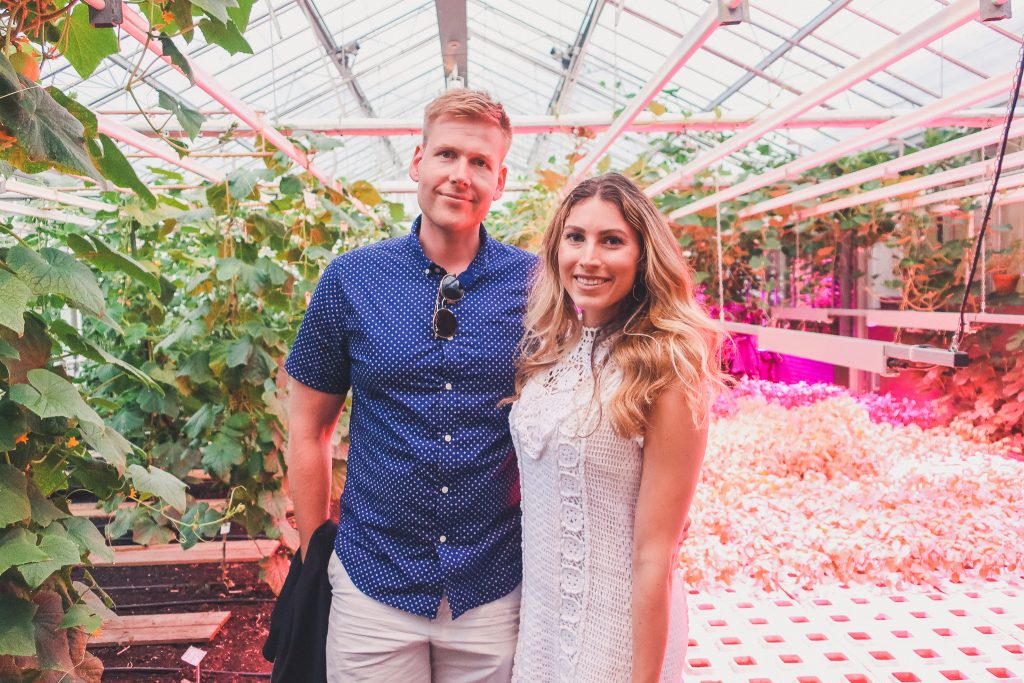 If you're looking for a more affordable luxury alternative, grab a table at Lion Noir. You'll want to sit in the romantic outdoor garden. Lion Noir is a french inspired restaurant and cocktail bar that's tucked away in the heart of Amsterdam's downtown.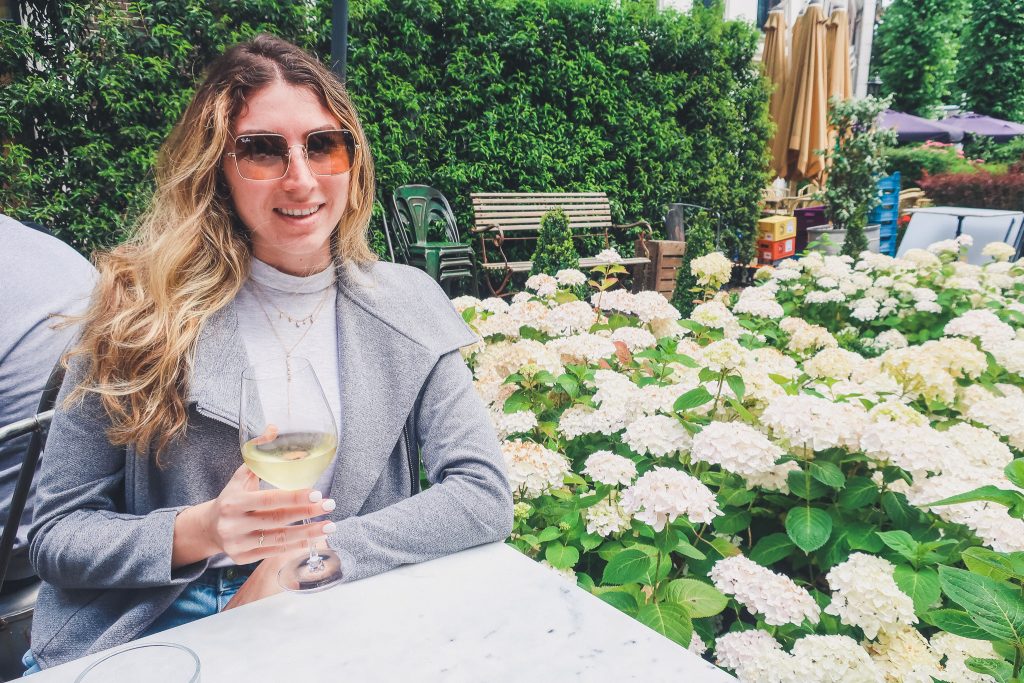 Every piece of Lion Noir's interior was artfully selected to fit the elegant & eccentric ambiance. This awarded them the Interior Design of the Year Award. See for yourself!
Consider dining on Amsterdam's romantic canals.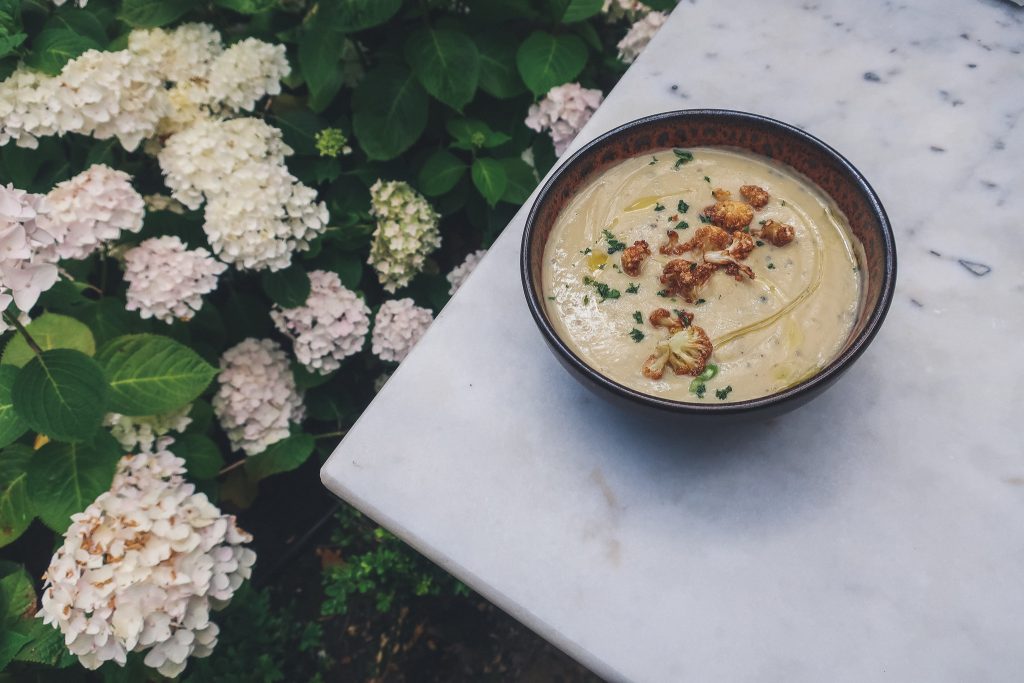 12. Eat fresh Stroopwafel
What's a stroopwafel? Stroopwafel is a dutch classic cookie made from two ultra thin waffles layered between warm, gooey, caramel. When made fresh, the texture is softer, richer & extra addicting!
Check out this delicious Stroopwafel workshop.  Don't just eat 'em. Learn how to make 'em!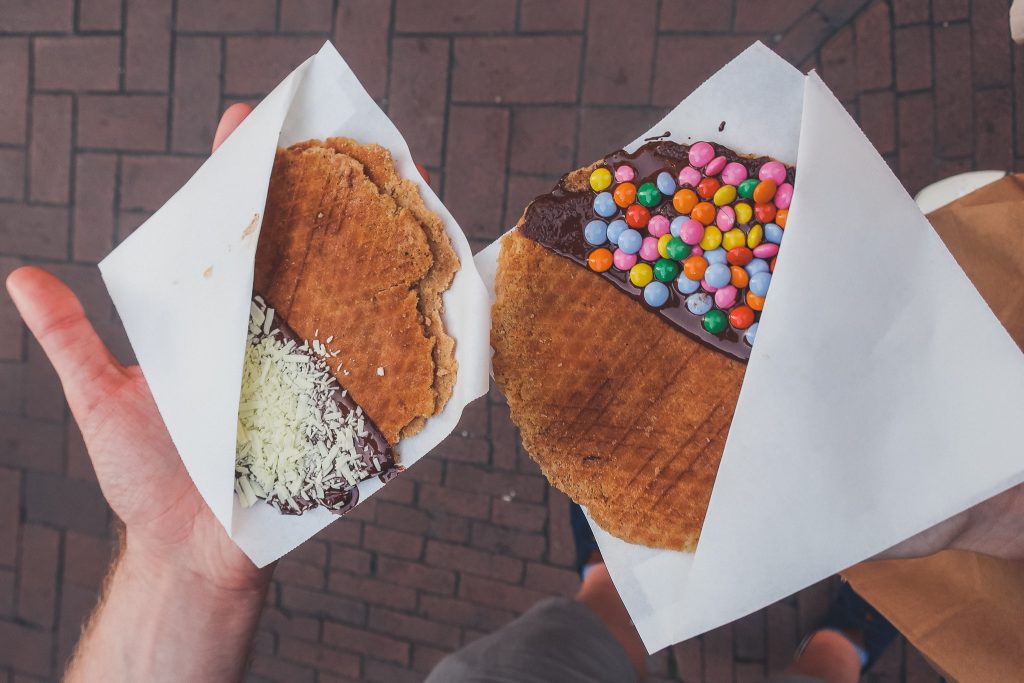 My favorite made-fresh local chain is Van Wonderen Stroopwafels. If you've seen pictures of pretty dutch waffles dipped in chocolate and topped off with colorful candy — these are Van Wonderen Stroopwafels! With many convenient downtown locations, eating a Stroopwafel at Van Wonderen is one of the top things to do in Amsterdam.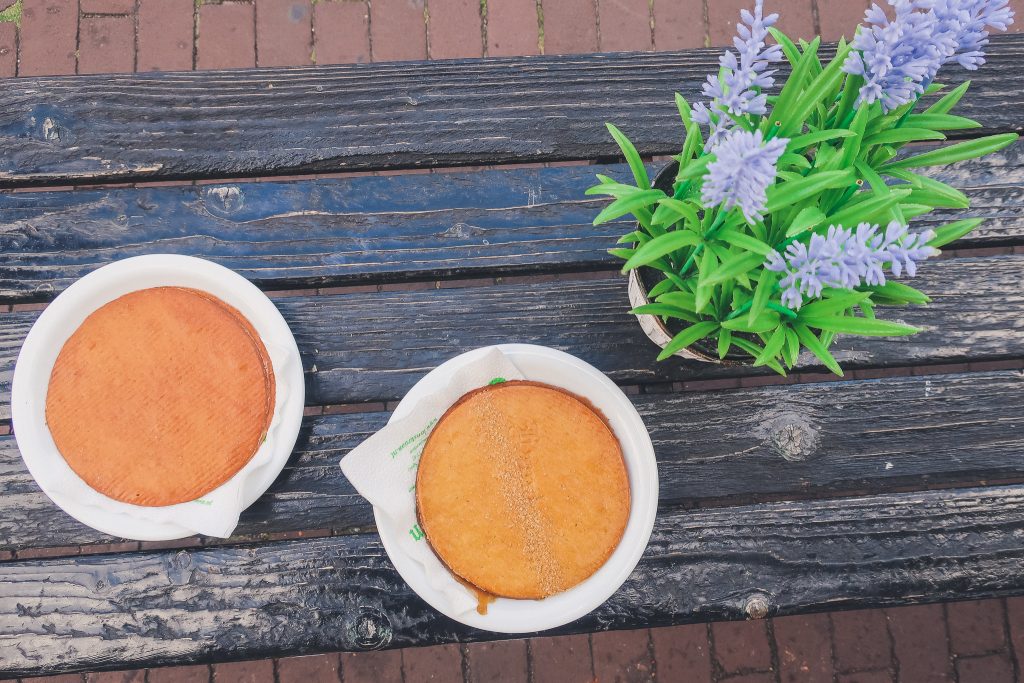 PRO TIP: Buy a pack of Stroopwafels for later. Stroopwafels were meant to top off a steaming cup of coffee! Place them on top of your mug and let them steam for 2 minutes. I also love dipping the mini stroopwafels into my coffee! Buy the Stroopwafels in pretty tins to bring home for family and friends. The tins are cute and reusable as gifts, but they're also perfect for packing into your luggage!
13. Explore Albert Cuyp Market
Looking to leave the other tourists behind? Albert Cuyp Market is one of the best places to visit in Amsterdam if you are looking for a truly authentic experience. It's known for being Eurtope's largest daily street market. This market on Albert Cuyp street has been going strong since 1904! It's still the most popular market in the Netherlands.
Foodies will rejoice at this exciting private food tour of Albert Cuyp Market. 
Now, there are over 300 vendors lining Albert Cuyp street. You can get fresh produce, local cheeses, chocolate, trinkets and clothing. It's also one of the most affordable Amsterdam activities because prices here are a lot cheaper than the rest of the city.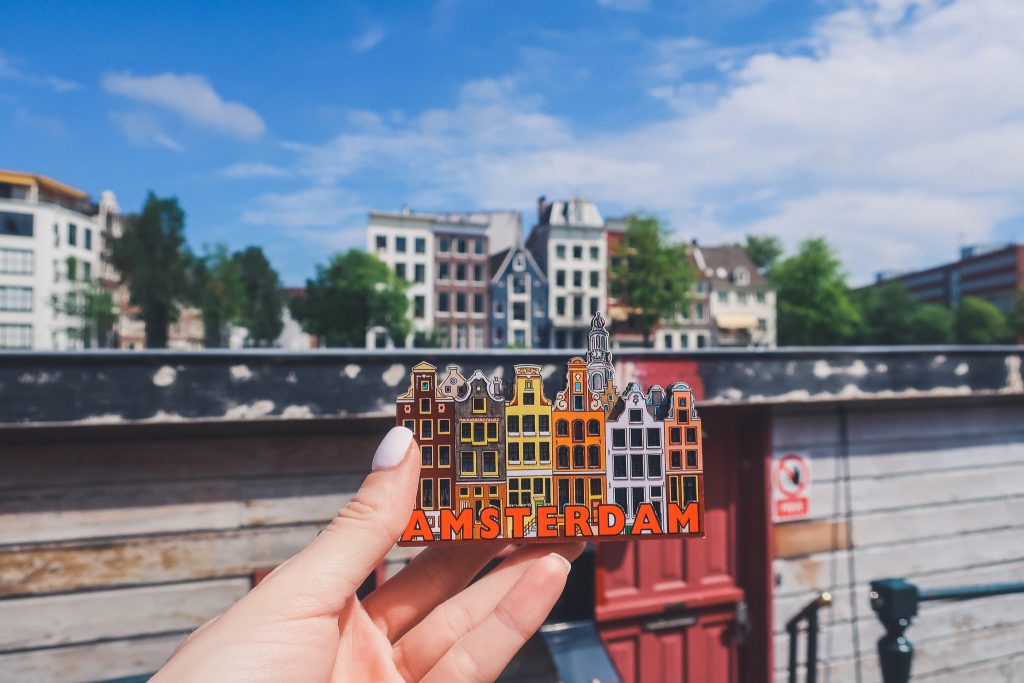 The market is open daily Monday through Saturday.
14. Discover Dancing Houses
Unfortunately, Amsterdam sinks a little deeper into the mud every year. Like Venice, this city was built on top of wooden poles. These poles were were not exactly designed to withstand hundreds of years! Some of them are starting to rot.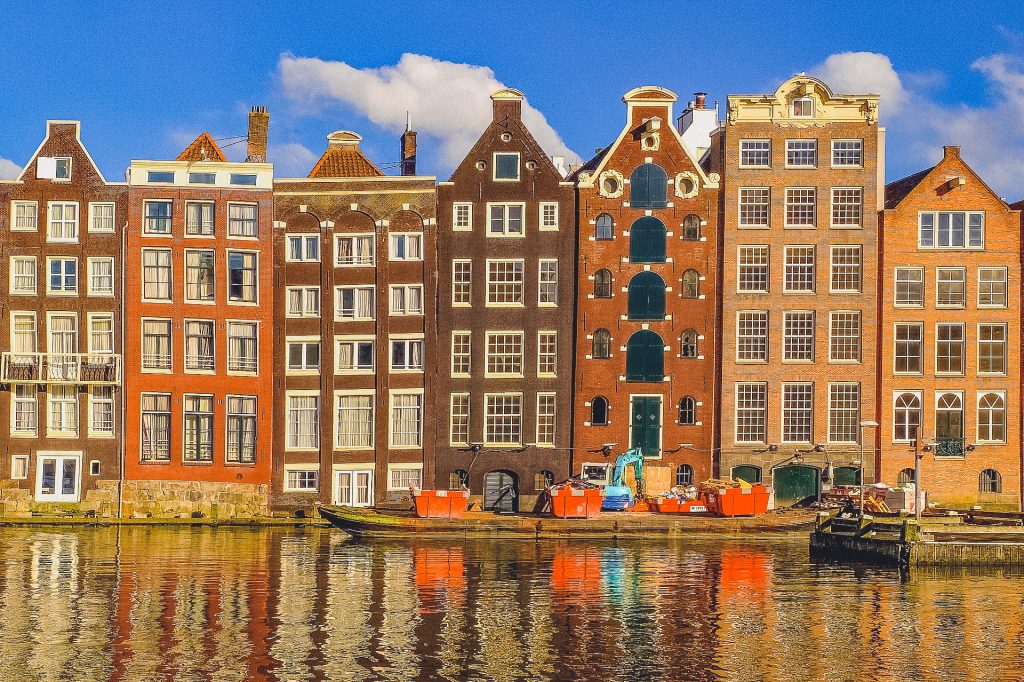 The houses along Amsterdam's canals also lean on one another for stability. More problems arise when house undergoes renovations. It's especially problematic when extra floors are added!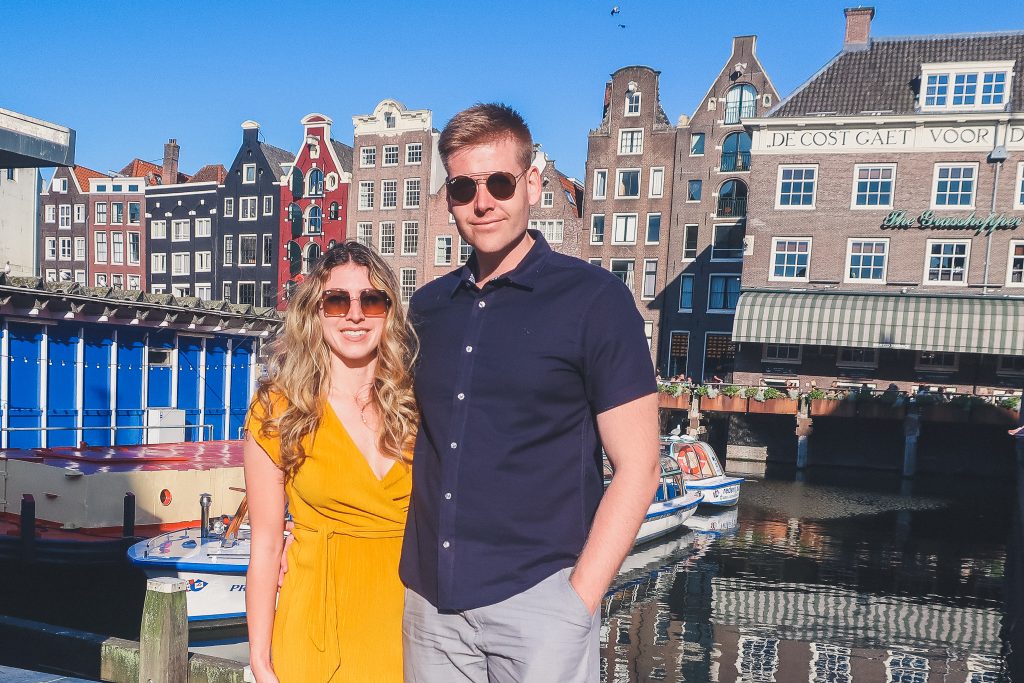 Why am I telling you about the structural inadequacies of canal homes? One of the top things to do in Amsterdam is to look for these "Dancing Houses." You can see the most well-known Dancing Houses at Amstel 106. Although, there are dancing houses to be found all around Amsterdam! Amsterdam's canal district is designated a UNESCO World Heritage site.
15. Find a Windmill
The Netherlands is riddled with windmills. There were more than 10,000 of them in operation at one time! The windmill has become a quintessential symbol for Holland.
These windmills served many important duties for Holland and in the city of Amsterdam. Not only did they help produce flour, but they helped to pump excess water out of lowlands and back into rivers. These Dutch windmills helped to start the industrial revolution.
Find out more about how you can discover more windmills.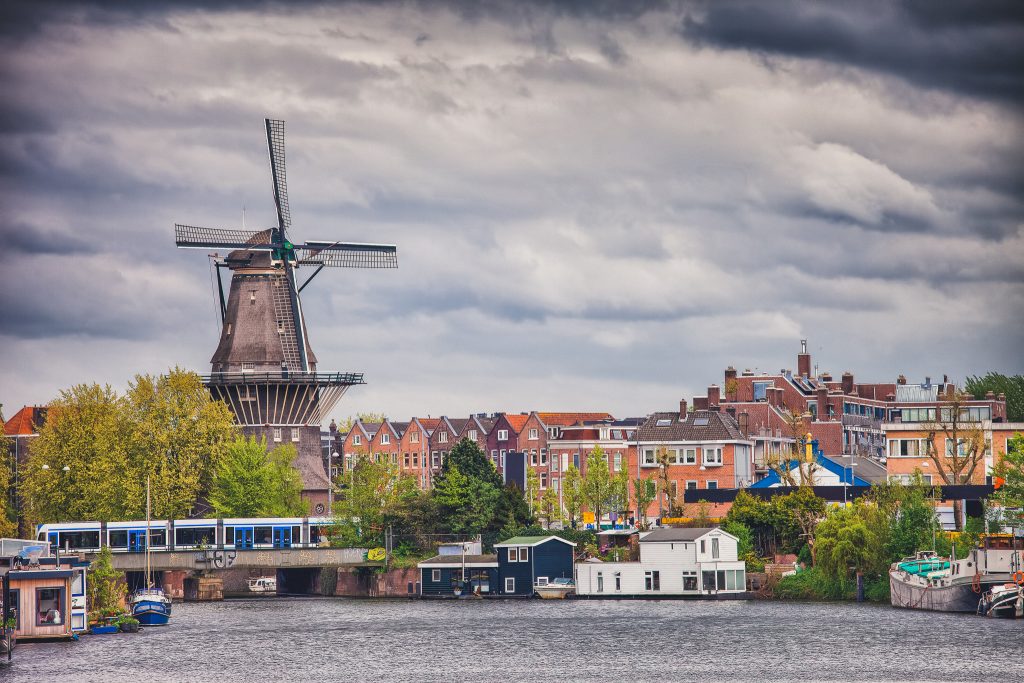 Admire Amsterdam's windmill De Gooyer and have a beer at the adjacent brewery Brouwerij 't IJ. Windmill De Gooyer was originally built in the 16th Century. It was destroyed, rebuilt and moved around many times. Today, it is the tallest wooden windmill in the Netherlands!
Unfortunately, you can't visit the inside of the De Gooyer Windmill. However, you can tour the Brouwerij 't IJ Brewery. You can also enjoy beer tasting daily with lovely views of the De Gooyer windmill.
16. Surround yourself with butterflies at the Botanical Garden
Another romantic spot in Amsterdam is the Hortus Botanicus, or Botanical Garden. It's one of the oldest botanical gardens in Europe! The gardens here were originally used in the early 17th Century to grow medicinal herbs for doctors and apothecaries.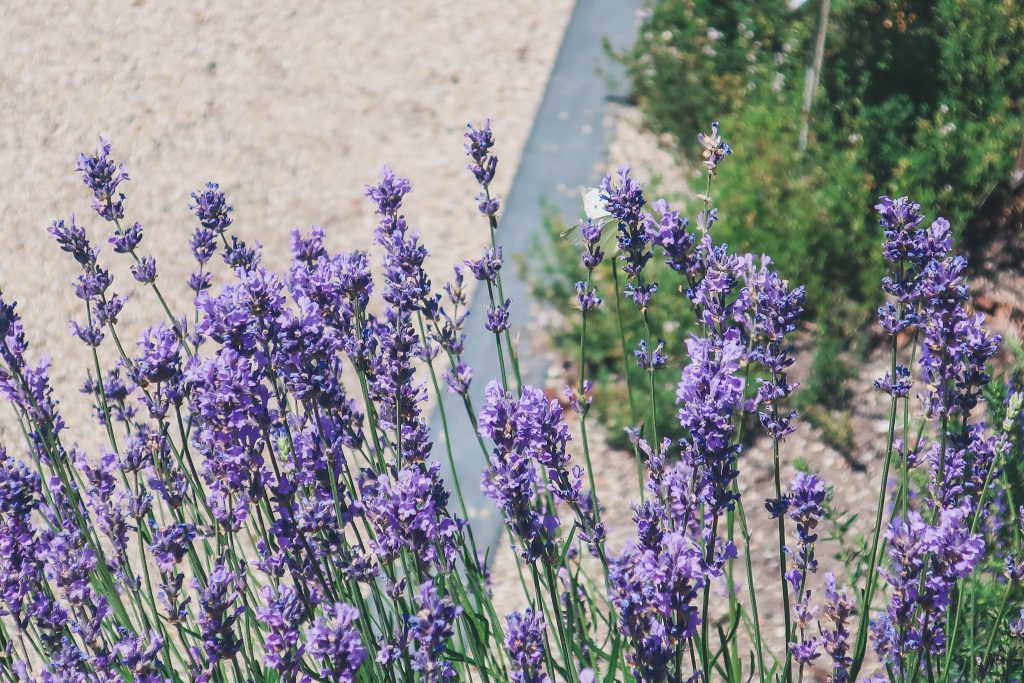 The butterfly greenhouse was especially enchanting. Try to time your visit during one of the days when free tours of the greenhouse are offered. I'm obsessed with guided tours!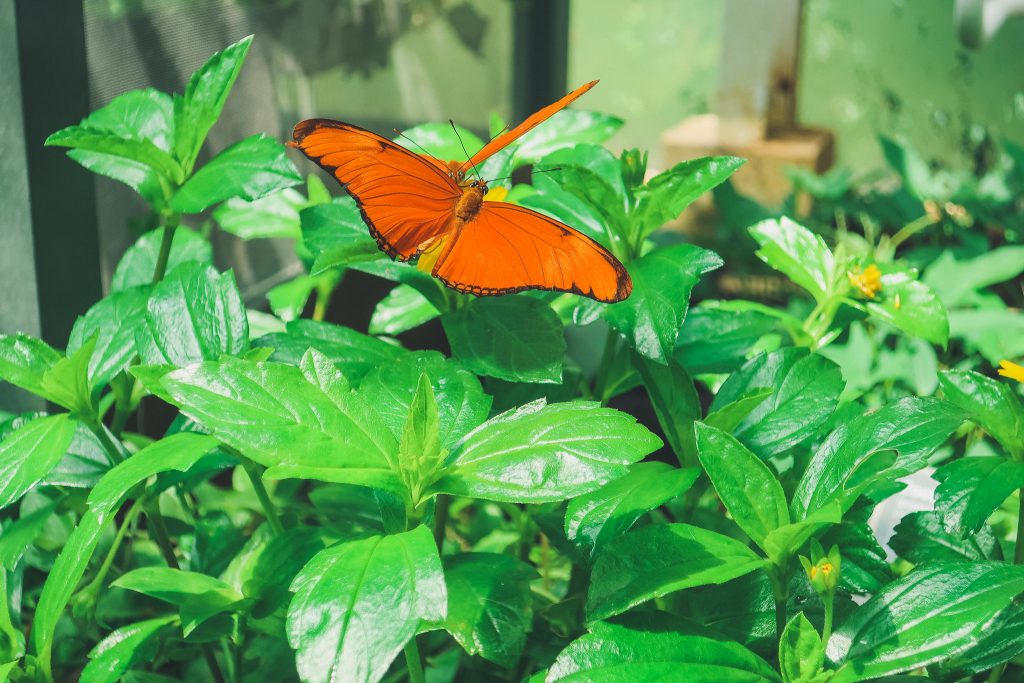 Be sure to visit the palm greenhouse. It was designed in 1911 and is considered an official monument. Inside it, you'll find the famous 350 year old Eastern Cape giant cycad tree.
17. Climb the tower at the Old Church
Amsterdam's Old Church sits right on the edge of the Red Light district. It was originally built in the 13th Century, and holds the title of Amsterdam's oldest building! Since then, it's been rebuilt and enlarged many times.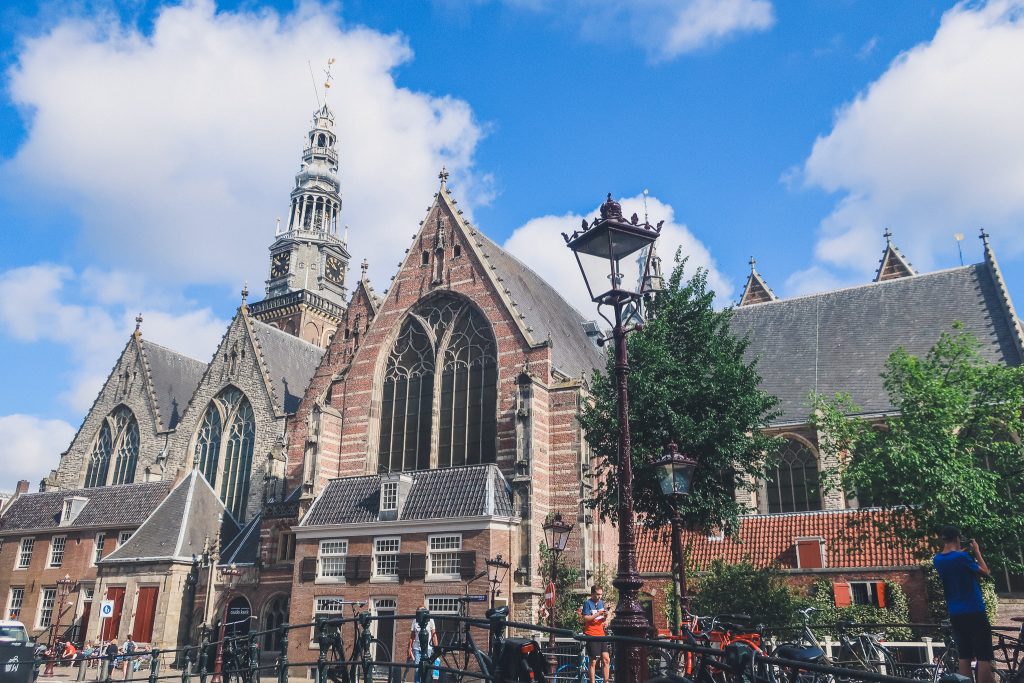 The highlight of visiting the Old Church is climbing the tower. From up there, the views of Amsterdam are stunning! When the Old Church tower is closed for renovations, you can instead climb the tower in the West Church.
Inside the Old Church is a collection of over 3,000 15th-20th Century works. Including paintings, relics, furniture and a few masterpieces. There are also free guided tours offered at the Old Church.
18. Buy tulips & bulbs at the Flower Market
If you really want to impress your significant other, head to Amsterdam's flower market and surprise them with a bouquet of fresh cut tulips. Amsterdam's flower market is the only free floating flower market in the world. It's "floating" because many of the vendors sit on top of canal boats.
Consider the ultimate Dutch tulip experience.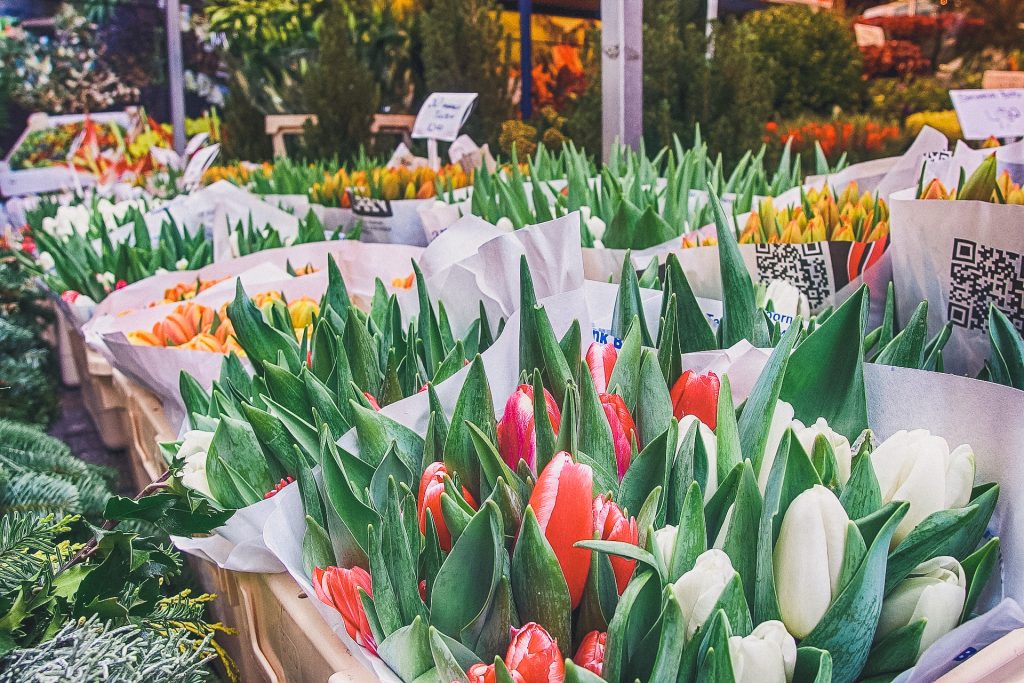 This is a great place to buy tulip bulbs and souvenirs! We picked up a canal house magnet for ourselves and bulbs for my mom. Dutch tulip bulbs are the perfect gift for moms!
19. Hang out on the beach
Just west of Amsterdam is the cutesy coastal community of Zandvoort. You can get to Zandvoort Beach from Amsterdam city center by train. It's an easy hour commute!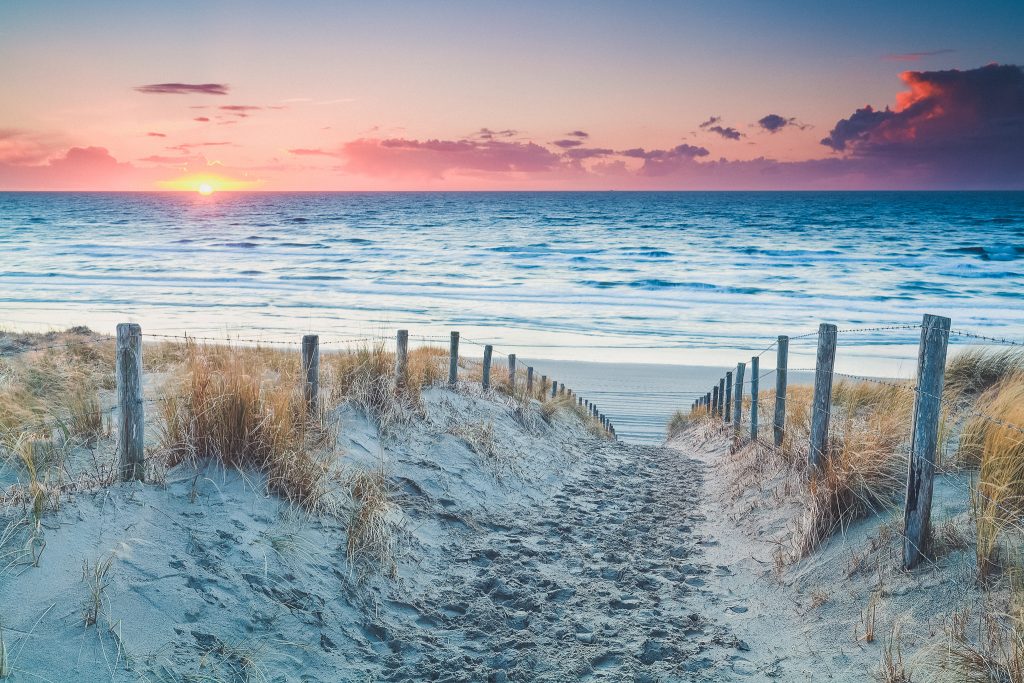 Zandvoort is one of Amsterdam's most popular beaches. The beach is lined with seaside resorts, restaurants and bars. There's water sports, shopping and entertainment. This beach is the place to be when the weather gets hot!
20. Visit one of the amazing museums
There are so many amazing museums in Amsterdam! You likely won't be able to see them all, so chose wisely. The most popular are the Anne Frank House, the Van Gogh Museum and Rijksmuseum.
The i Amsterdam card includes access to the A'DAM Lookout and dozens of museums. Including the Van Gogh Museum, Rembrandt House Museum, NEMO Science Museum, Hortus Botanical Garden, Rijksmuseum and much more!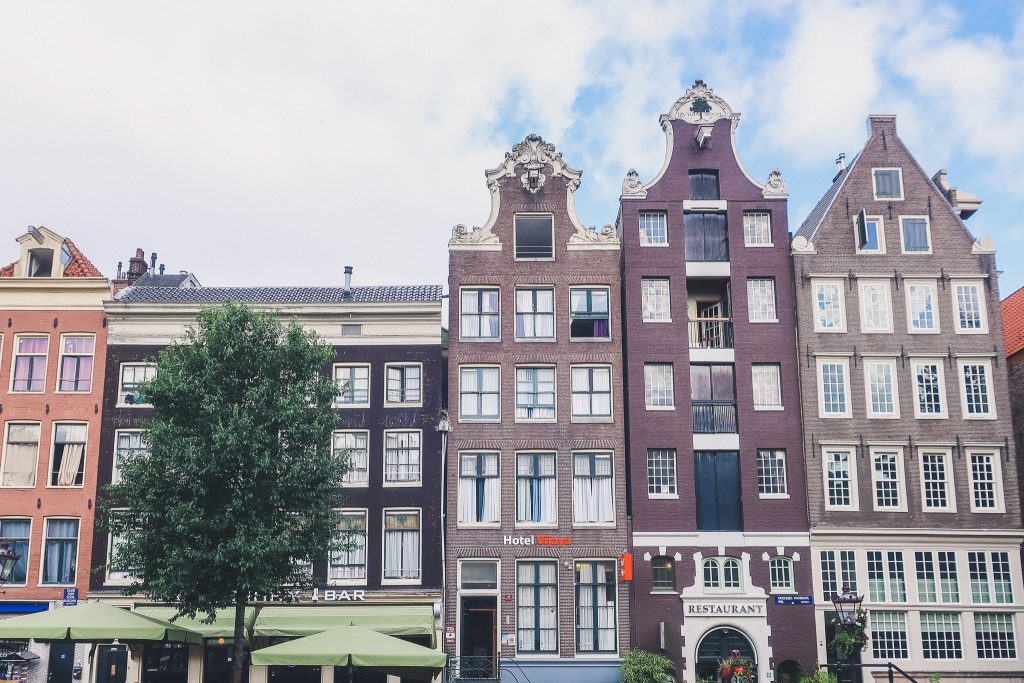 There are also a few lesser known, smaller, museums that won't take half a day to see. These include the Rembrandt House, Our Lord in the Attic and the Amsterdam Museum. Choose wisely 😊