This walking map of Venice includes everything you need to plan your trip. We've marked the top Venice tourist attractions with blue pins. These attractions are museums, historical sites, churches and beautiful squares. Recommended restaurants are marked with a green knife & fork icon. Gelaterie can be identified by the pink ice cream icon. Finally, a purple drink icon indicates where you can find rooftop bars.
This map also includes a Venice walking guide. There are 2 walks with directions. The first walk takes just under 2 hours and covers the most popular Venice tourist attractions. It starts near St. Mark's Basilica and ends at the Rialto Bridge hitting many churches along the way. The second Venice walking route is just under 3 hours long. It includes even more Venice tourist sites with a specific focus on art museums. You could do both of these walking tours in one day, or on two separate days. The walk will be longer if you chose to enter the museums and churches.
This Venice map is interactive, adjustable and available for offline use. There are many ways you can use this walking map of Venice. Learn how to use this map while traveling.
Interactive Walking Map of Venice
Walking Map of Venice: The Walking Tours
Main Attractions Walk
Art Museum Walk
Check out this 10 day in Italy Itinerary.
Venice Main Attractions Walk
This walk takes about one hour and 30 minutes to complete. Although, it will take longer as you stop at each destination. The walk starts near Doge's Palace & St. Mark's Basilica. I chose this location to accommodate anyone who has booked a tour at either of these attractions. Skip-the-line tours for St. Mark's Basilica and Doge's Palace are, by far, the most popular tours to take in Venice.
Venice Main Attractions Walk Includes:
Church of San Zaccaria
Bridge of Sighs
Doge's Palace
Saint Mark's Basilica
St. Mark's Clocktower
Saint Mark's Square
Correr Museum
Scala Contarini del Bovolo
Church of San Giuliano
Church of San Salvador
Rialto Bridge
Our Venice sightseeing begins at the Church of San Zaccaria. This 15th century Gothic church has somewhat a simple façade. However, it holds renowned paintings and precious artifacts. You may notice that many of the places to visit in Venice are churches…
Church of San Zaccaria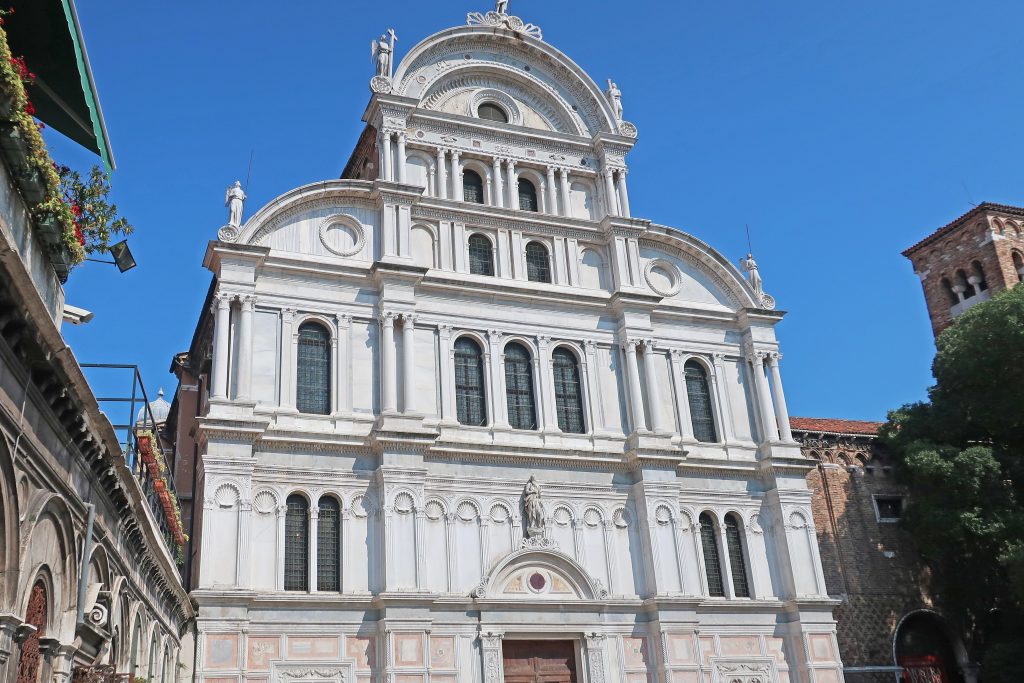 Quick Note About Churches: You don't have to be Catholic, or even religious, to appreciate the history, culture and architecture of Roman Catholic churches. Many Venetian churches are open to visitors for a small fee. Gaining entry allows you access to beautiful frescos, elaborate tombs and unique stories. Although, entry is by no means necessary. Seeing these churches from the outside is worth your time.
From the Church of San Zaccaria you will walk to the Bridge of Paglia (Ponte della Paglia). It is from the Bridge of Paglia that you will be able to appreciate the famous Bridge of Sighs. The Bridge of Sighs is one of the popular things to see in Venice. It's purpose was to link Dodge's palace with a prison. Legend has it that prisoners would sigh on this bridge as they got their final glimpse of beautiful Venezia.
Bridge of Sighs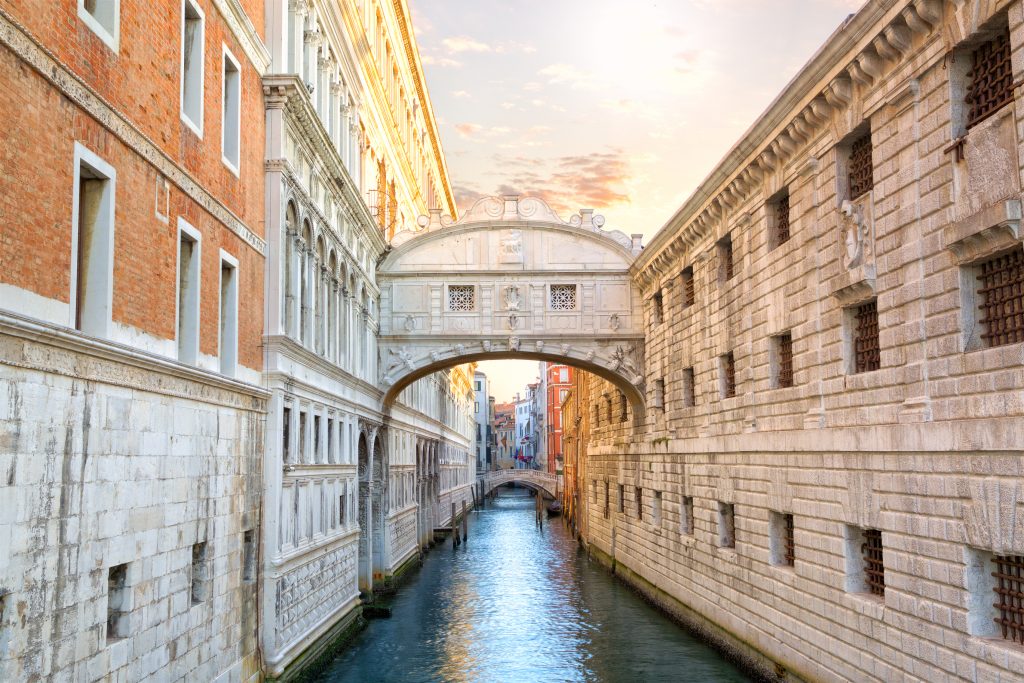 After seeing the Bridge of Sighs, you will continue on to Dodge's Palace. Nearby, you'll find St. Mark's Basilica, Clocktower and Square. Dodge's is an important landmark and one of the most popular places to see in Venice. Dodge's Palace today is an excellent example of Gothic architecture. The palace was destroyed, rebuilt and restored several times since it's original construction in the 9th Century by Doge Agnello Participazio.
St. Mark's Basilica is a popular spot for Venice tours. It is a cathedral style church, and it is considered one of the best examples of Italo-Byzantine architecture. The grounds of St. Mark's Basilica also include a Renaissance style Clocktower and a prominent public square.
St. Mark's Basilica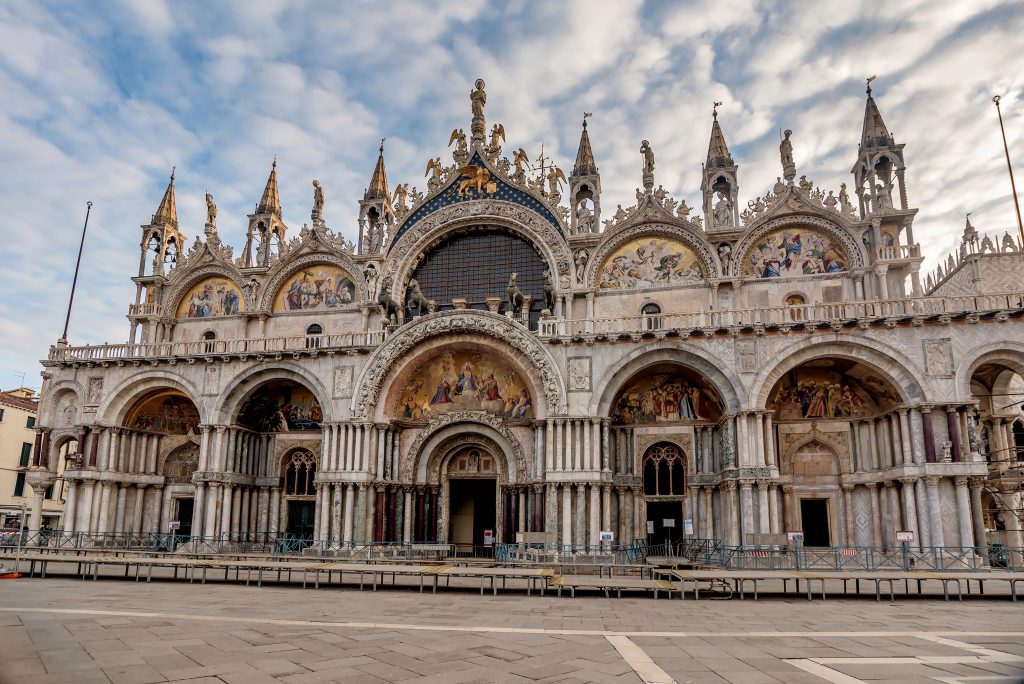 Continue on to the Scala Contarini del Bovolo —roughly, "staircase of the snail." The staircase ascends up into a tower. Once at the top, you'll find amazing views of Venetian rooftops. Along the way, you'll notice the staircase's unique design. It has features from a few different architectural styles.
Scala Contarini del Bovolo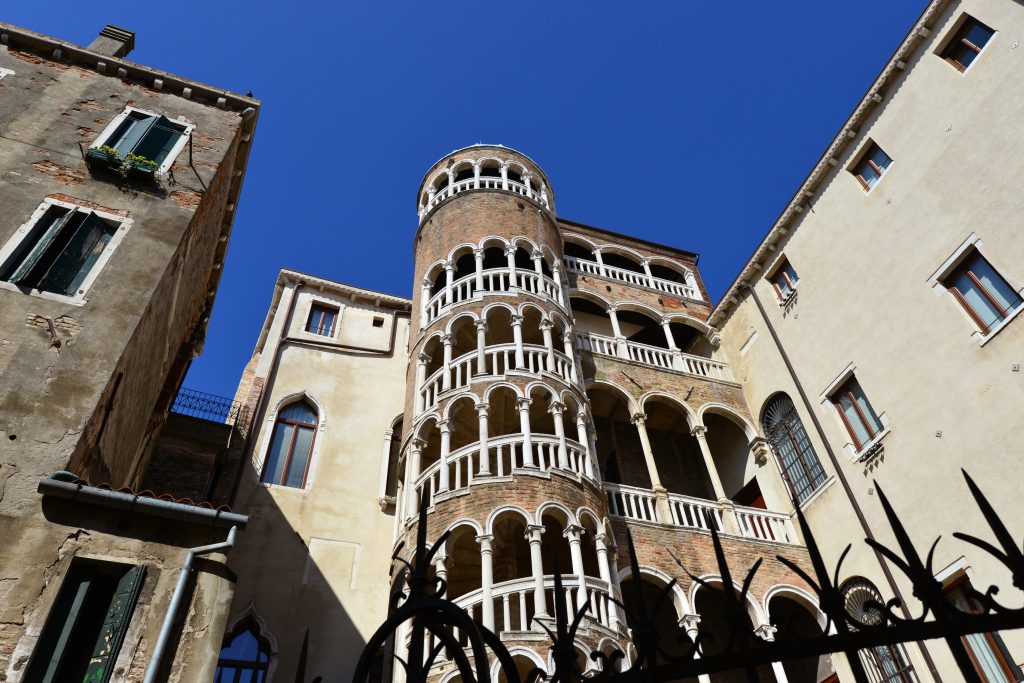 Next up on our list of Venice tourist sites are two churches. These are the Church of San Giuliano and the Church of San Salvador. As you walk from one church to the other, you'll be on the main shopping street in Venice. This is a great spot to grab a magnet, leather goods or other local trinkets.
Finish your walk at the Rialto Bridge. The Rialto Bridge is a must-see when you visit Venice. It is one of four bridges that span the famous Grand Canal. There are many gondola operators in this area for those who are tired of walking around Venice. A gondola ride is the best way to view the Grand Canal and one of the top things to do in Venice.
Rialto Bridge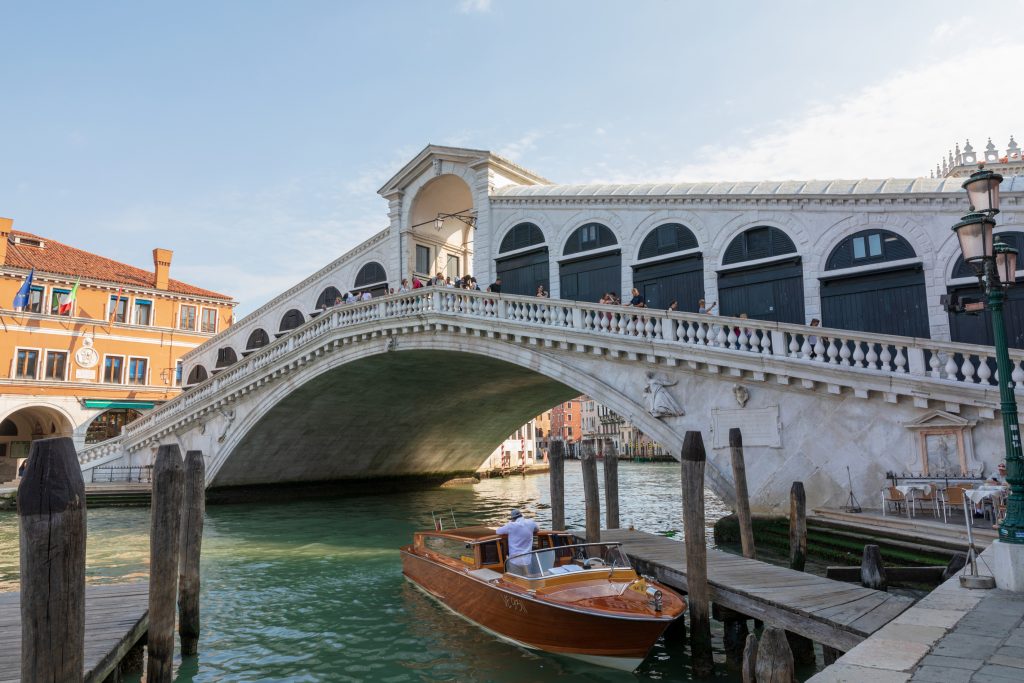 Since you've completed this first walking tour, reward yourself with authentic gelato at Grom or La Boutique Del Gelato. Great places to eat nearby are Baci & Pasta and Osteria alle Testiere. Baci & Pasta is a mouthwatering causal, budget, option. Osteria alle Testiere is a formal dining restaurant serving authentic Venetian fare. All of these restaurants and Gelaterie can be reached in less than 5 minutes walking from the Rialto Bridge.
Venice Art Museum Walk
This walk is longer than the first and can be completed in about 2 hours and 30 minutes. This does not include the time you may want to spend at any museum. Don't worry! We'll discuss good places to stop for rest and food.
This Venice walking itinerary focuses on art museums. It includes the Gallery of the Academy, the Peggy Guggenheim Collection and the Punta della Dogana Museum. Also, a music museum at the San Maurizio Church. If you are not interested in seeing any more churches, start at the Bridge of the Academy. This will shorted the walking time significantly (less than 30 min total).
Venice Art Museum Walk Includes:
Church of San Moisè
Church of Santa Maria del Giglio
San Maurizio Church and Music Museum
Grassi Palace
Bridge of the Academy
Gallery of the Academy
Peggy Guggenheim Collection
Church of Santa Maria of Scala
Punta della Dogana Museum
Ready for more walking around Venice? This walk starts at the Church of San Moisè. It's another ornate, Baroque style masterpiece. Continue to the Church of Santa Maria del Giglio. Still Baroque, Venetian Baroque, and considered to have one of the most beautiful facades.
Church of San Moisè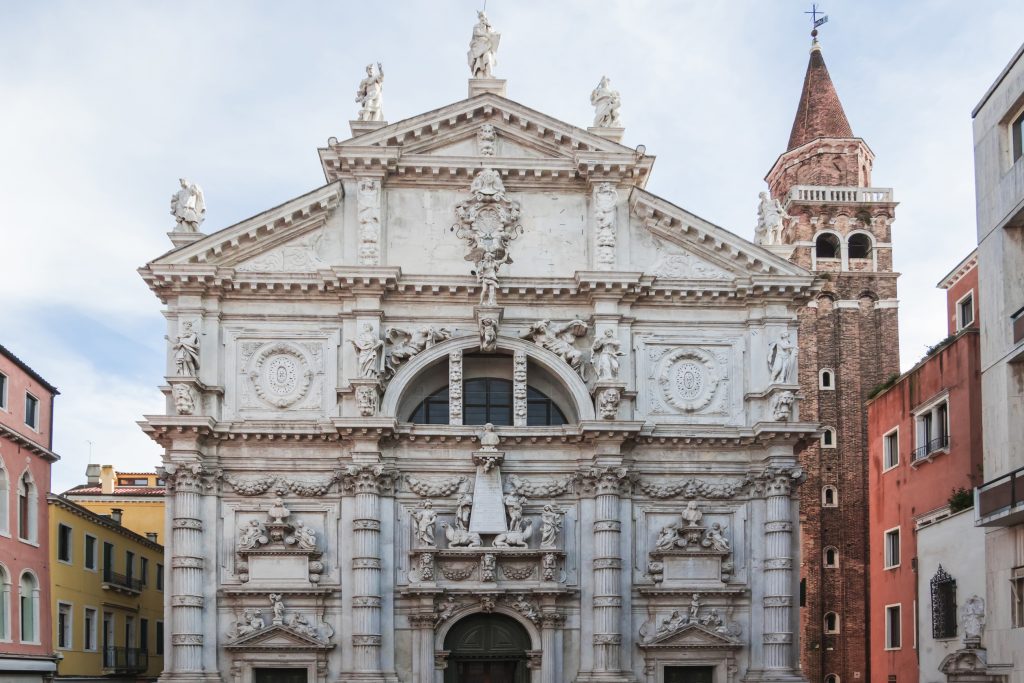 Next, visit the San Maurizio Church and Music Museum. The craft of violin making has long been an artisan tradition in Venice. The music museum features string instruments specifically violins, cellos and mandolins.
San Maurizio Church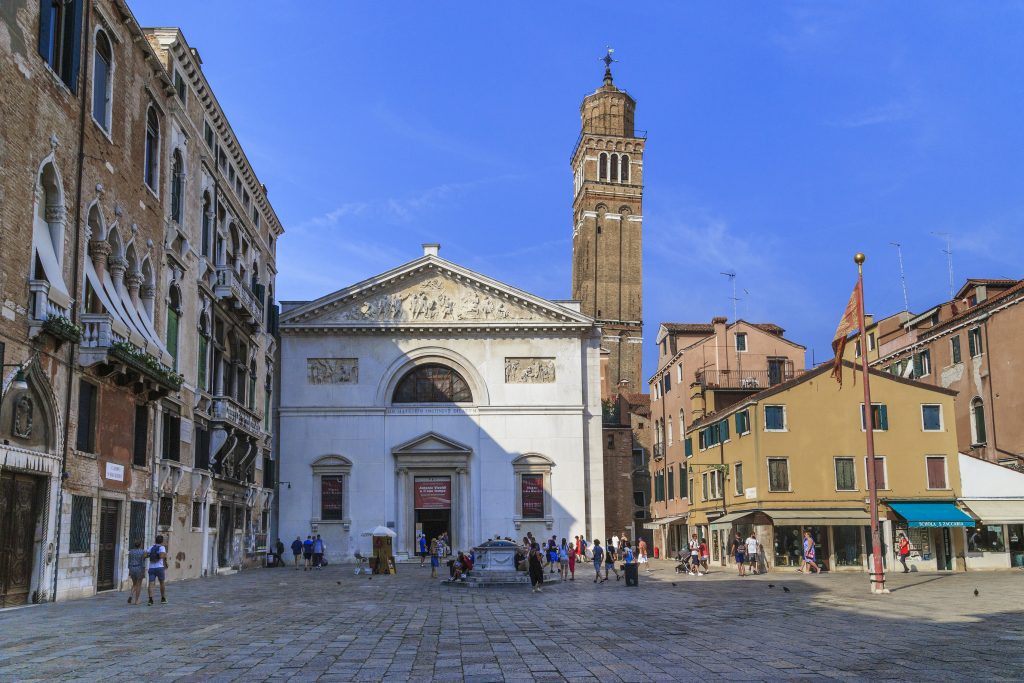 As you head toward the art museums, stop by Grassi Palace. This is another impressive, Baroque, Venetian palace.
Cross the Bridge of the Academy and you'll be in front of the Gallery of the Academy. This bridge is less crowded, and may be a good place to take a traditional canal side photo.
Near to the Gallery of the Academy are a few great dining opportunities. Cantine del Vino già Schiavi is a wine bar off the beaten path. Osteria Al Squero is local favorite known for authentic bites in a modest setting. Then, stop by Gelateria Nico for dessert.
The Gallery of the Academy has an impressive collection of 19th Century art. Next, the Peggy Guggenheim is famous for it's modern art. Finally, the Punta della Dogana Museum displays art in Venice's historic customs building. On your way to the Punta della Dogana Museum, make sure to see the Church of Santa Maria of Scala.
Church of Santa Maria of Scala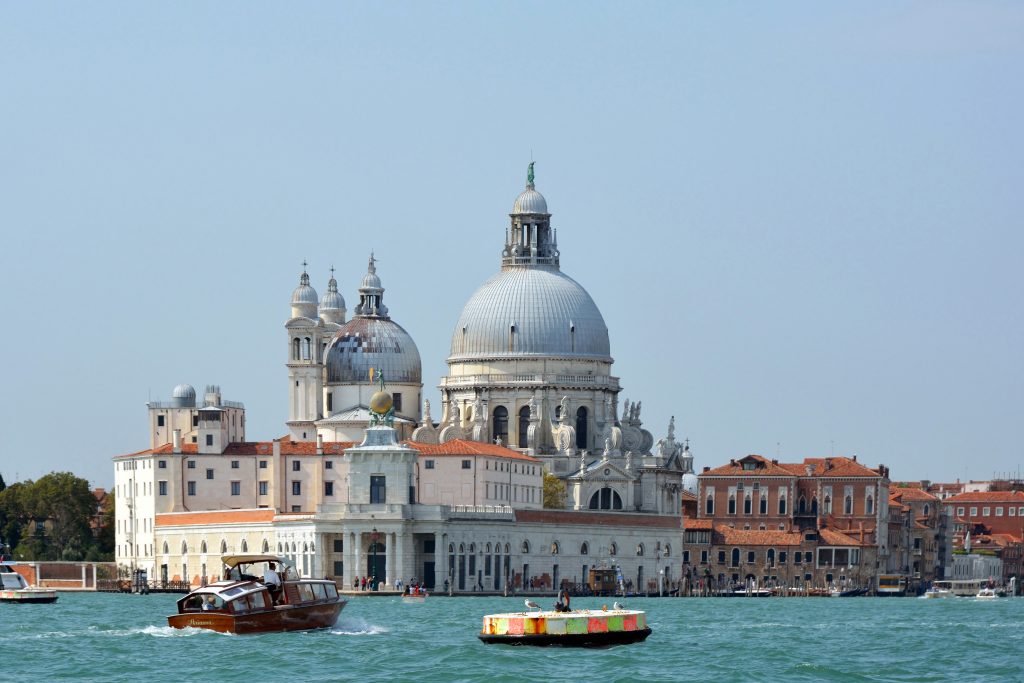 Beautiful pics, charming history, romantic canals… But I'm sure you've heard about the crowds and flooding and thought, Is Venice really worth it? Click the link to find out!
Learn more about how to use this map.
Think I missed something on my map? Comment below.