Looking for the most beautiful places in Valencia to shoot your Instagram photos? Valencia is beautiful for many reasons… It's coastal, temperate and has plenty of green space. The city is safe, walk-able and reasonably affordable to visit. We've put together this list… Also, these Valencia activities will fit any budget —most are free! See all of the top Valencia attractions in this Tourist Map.
14 Instagrammable beautiful places in Valencia
Valencia is a beautiful Spanish city to visit. It's loved among travel bloggers and photographers alike. You can get from Madrid to Valencia in under 3 hours by train.
1. Playa de la Patacona
Playa de la Patacona is one of the best beaches in Valencia. The beach is free to enter. For a small fee (few euros) you can rent lounge chairs. Beaches are some of the most popular places to visit in Valencia. There are many cute restaurants lining the beach.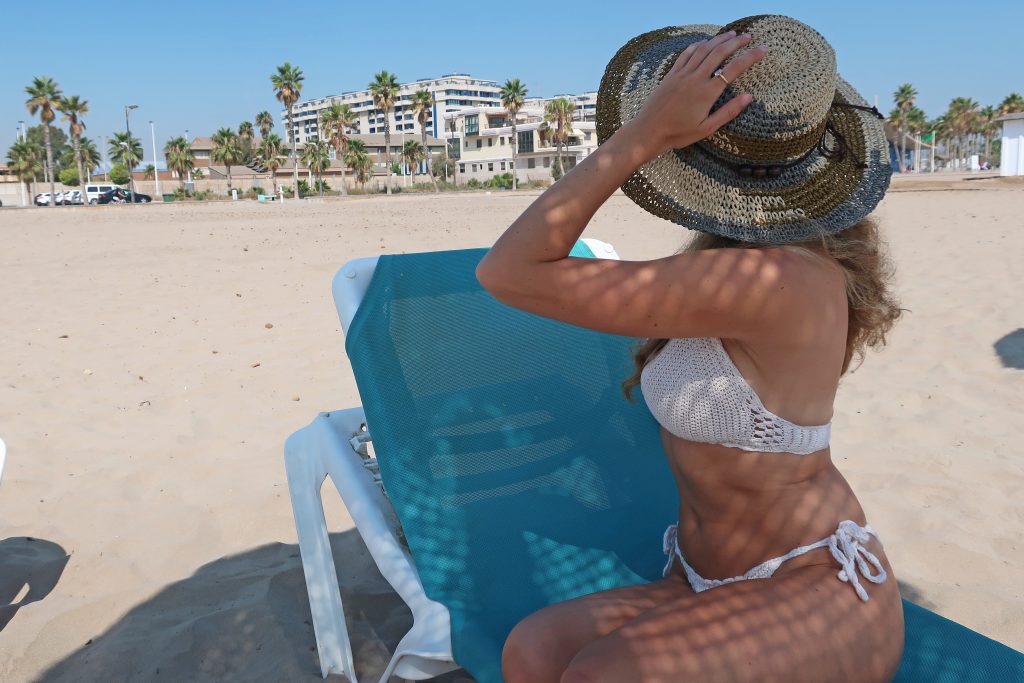 WARNING ladies: The popular trend is to go topless! I guess this is one of the fun things to do in Valencia… Most ladies wear tops, but at least 30% of them don't! This includes ladies of all ages (little girls to elderly women). It was a little shocking for me at first.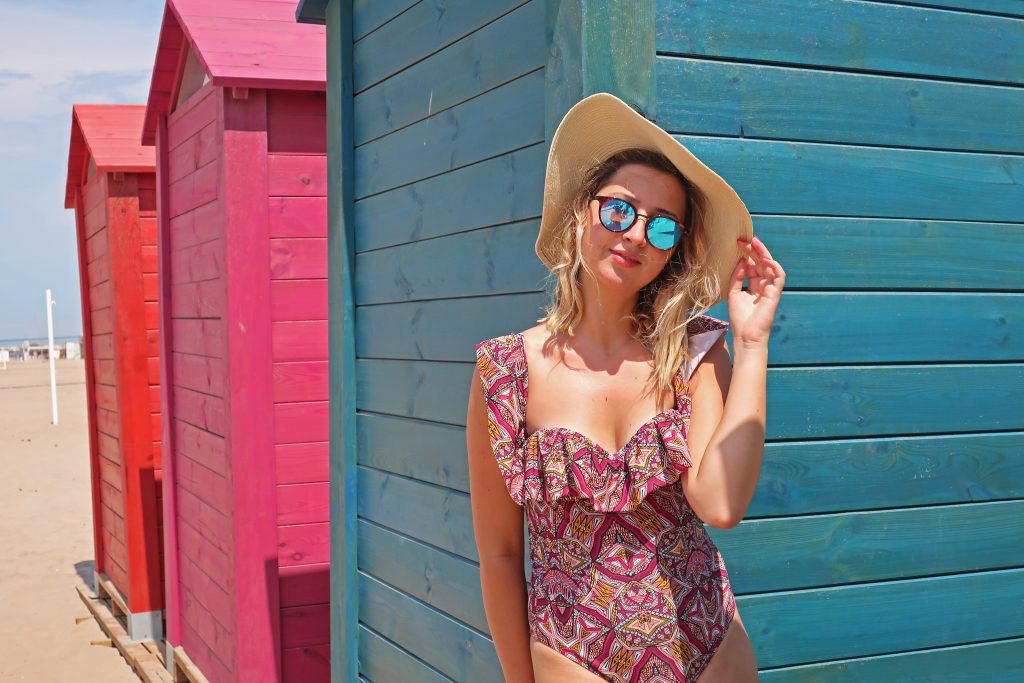 2. Puente del Real

This ancient bridge used to cross over the Turia River. It was rebuilt in the Valencian Gothic style about 400 years ago. It's one of the most romantic and historic tourist sites in Valencia.
3. Plaça del Temple
This colorful park bench is across the street from the Plaça del Temple. It's in the green space just before the wall. You can see the Església i Palau del Temple, or the Temple, behind us. The Temple was an 18th Century church, school and monastery. It's a religious and historic icon that shouldn't be missed when sightseeing around Valencia.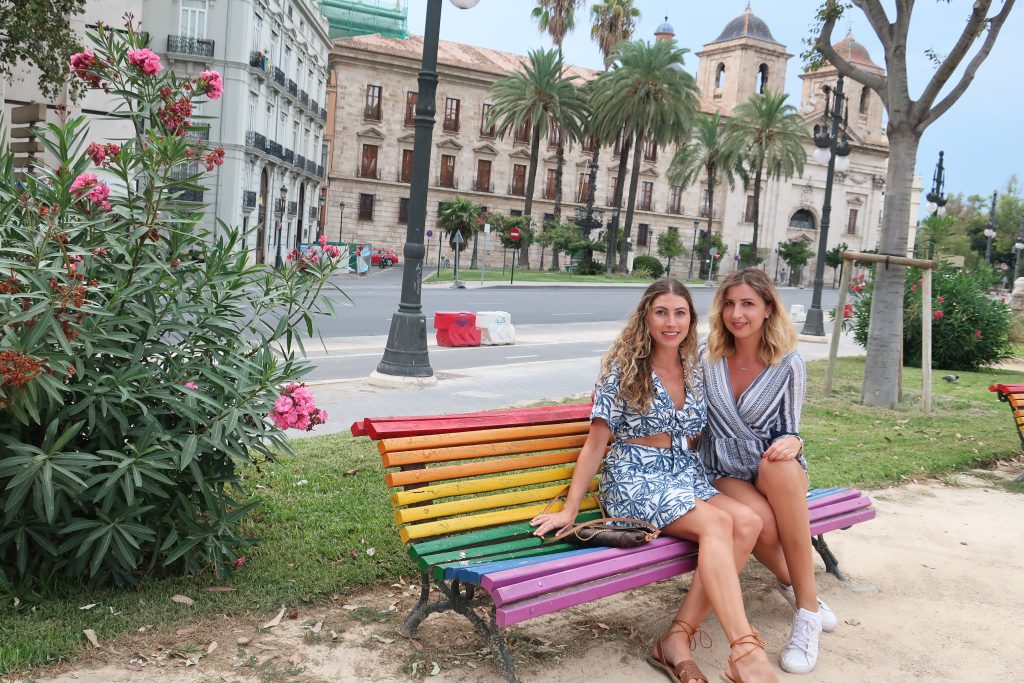 4. Torres de Serranos
Torres de Serranos or the Serrans Gate is one of the most popular Valencia tourist sites. It is one of the original twelve gates that allowed entry though Valencia's ancient city wall. Of all the places to see in Valencia, this gate is the most well preserved monument. Considering it was built at the end of the 14th Century, it's structure is still beautiful, formidable and grand. You can take phenomenal pictures from inside, and it only costs 2€ to enter! I recommend visiting just before sunset.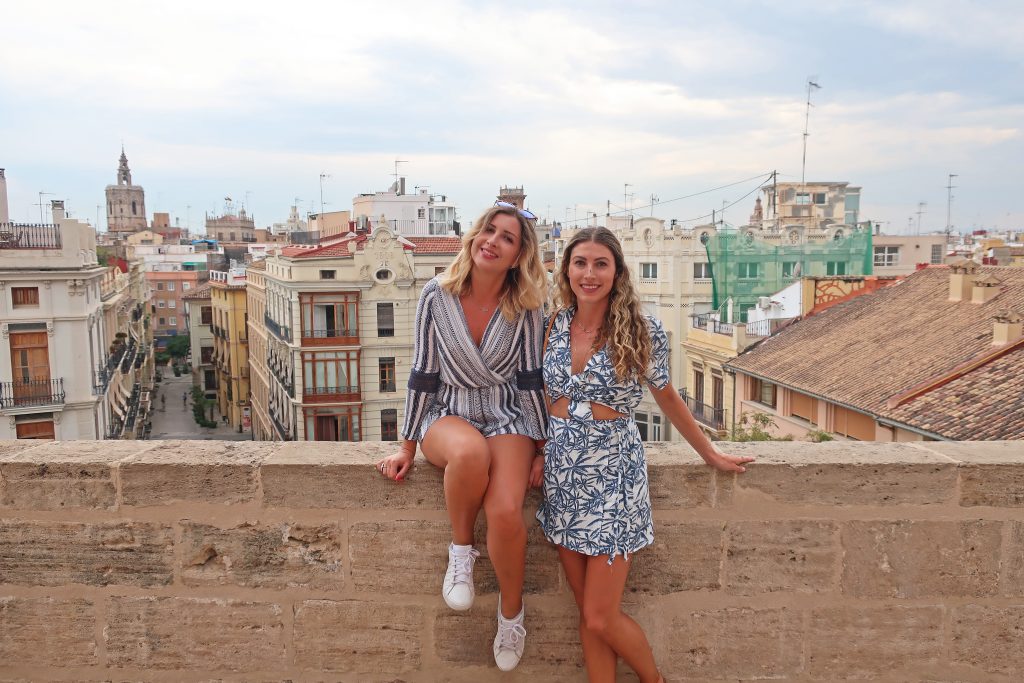 5. Plaza de la Virgen
This beautiful square is one of the best places to see in Valencia's historic district. Three beautiful Valencia sites are located in this square —the Palace of the Generalitat, the Cathedral of Santa Maria, and the Basilica de los Desamparados. You'll find many lovely outdoor terraces here. Drink locals wines and order pajella!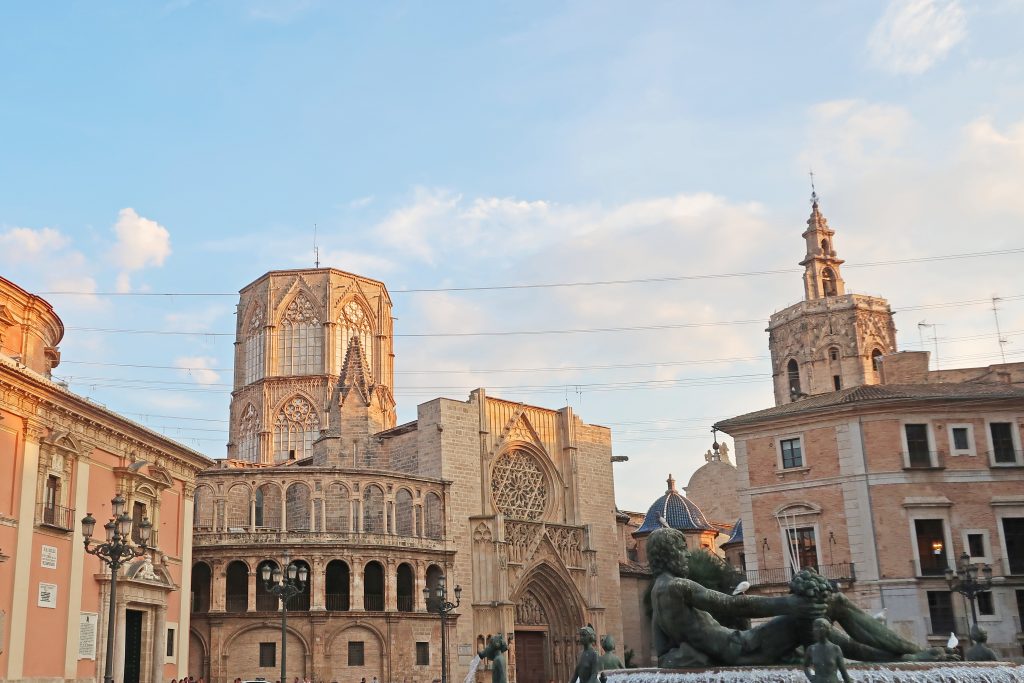 6. Jardín del Túria Tram XIII
If you are walking from Valencia's city center to the City of Arts and Sciences… don't miss this cool park! It's beautiful landscaped, and has a really interesting fountain with sculptures. It's one of the lesser known Valencia tourist spots, but loved by the local community. We stopped here on our way to the City of Arts and Sciences. It was so hot that day! I couldn't resist taking off my shoes and socks to play in this fountain. Made for a cute pic.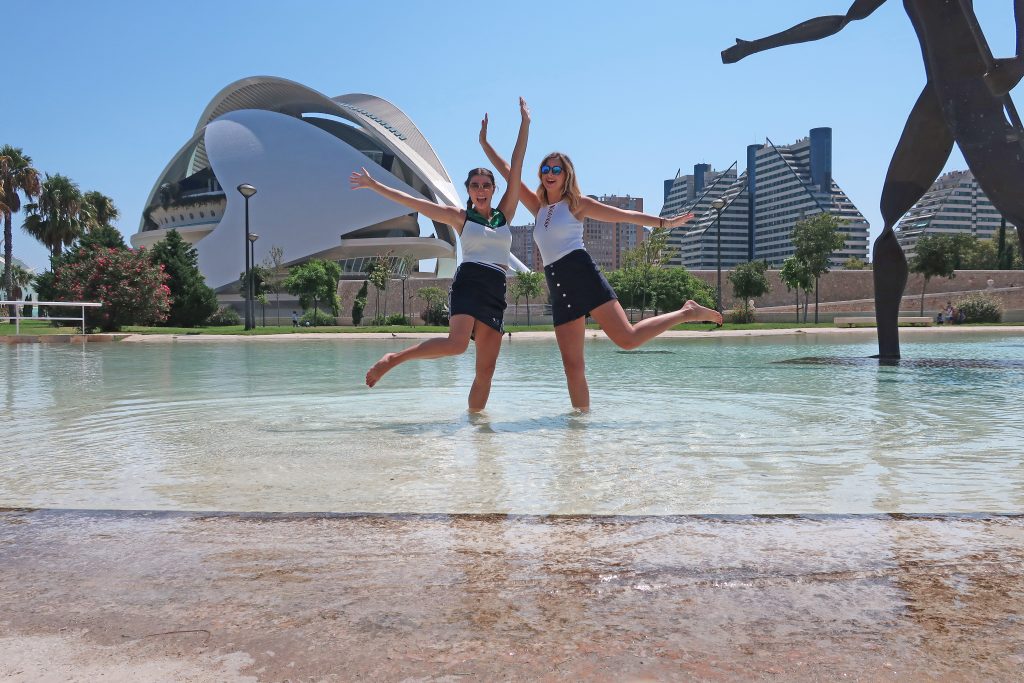 7. City of Arts and Sciences
We had to include the City of Arts and Sciences. This is one of the top things to do in Valencia! The City of Arts and Sciences is a huge, beautiful and modern museum campus. It includes an aquarium, a planetarium, an opera house, a science museum and many unique architectural features. I thought this was the most beautiful of the Valencia tourist places. You'll find endless Instagram opportunities here!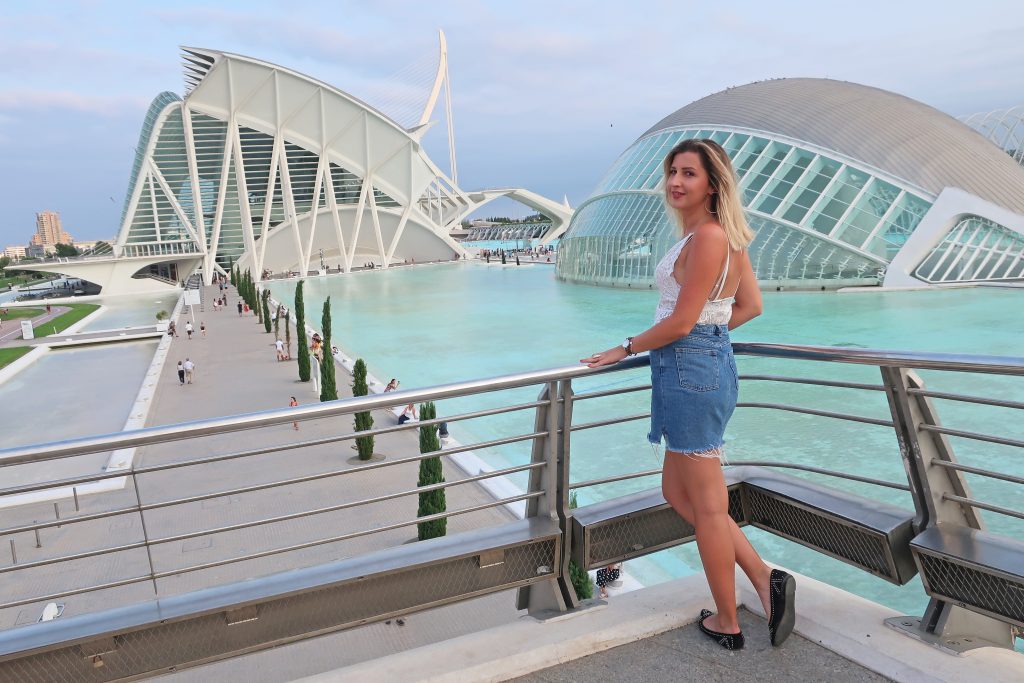 8. Atico Ateneo Lounge
This hip rooftop bar is in the center of Valencia's Old City district. Enjoy a healthy selection of craft cocktails while you take in the breathtaking views of beautiful Valencia. The deep house music here is also on point. Snap cool photos of the Valencia City Hall from above.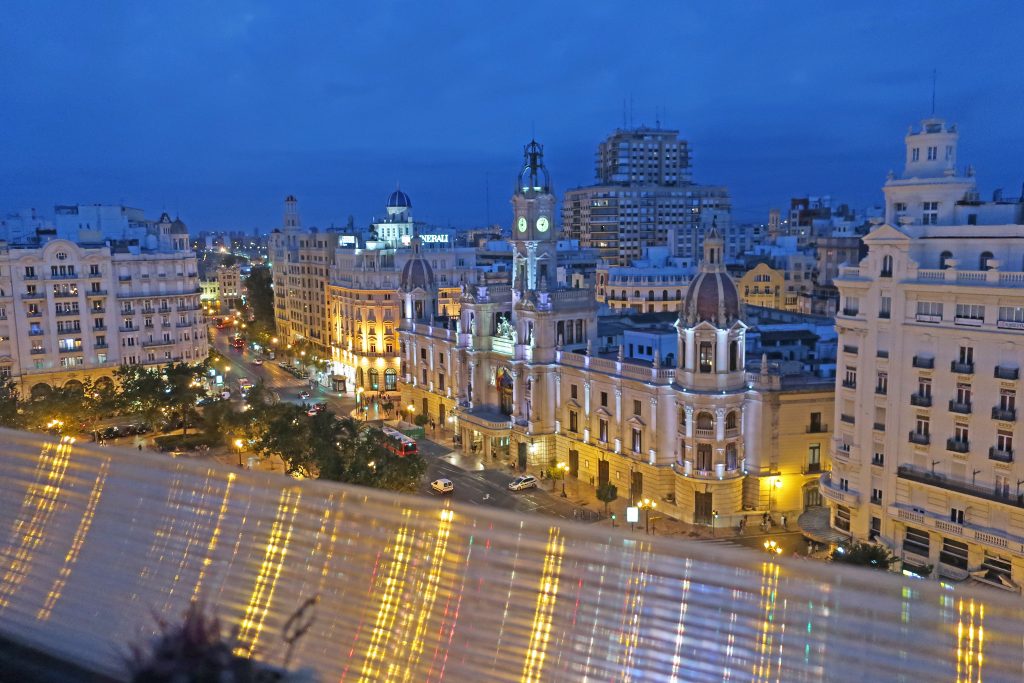 Nearby, you'll also find Valencia's Central Market and the Llotja de la Seda. The Llotja de la Seda, meaning silk exchange, is another impeccably preserved Valencian Gothic style building. A must-see when you visit Valencia!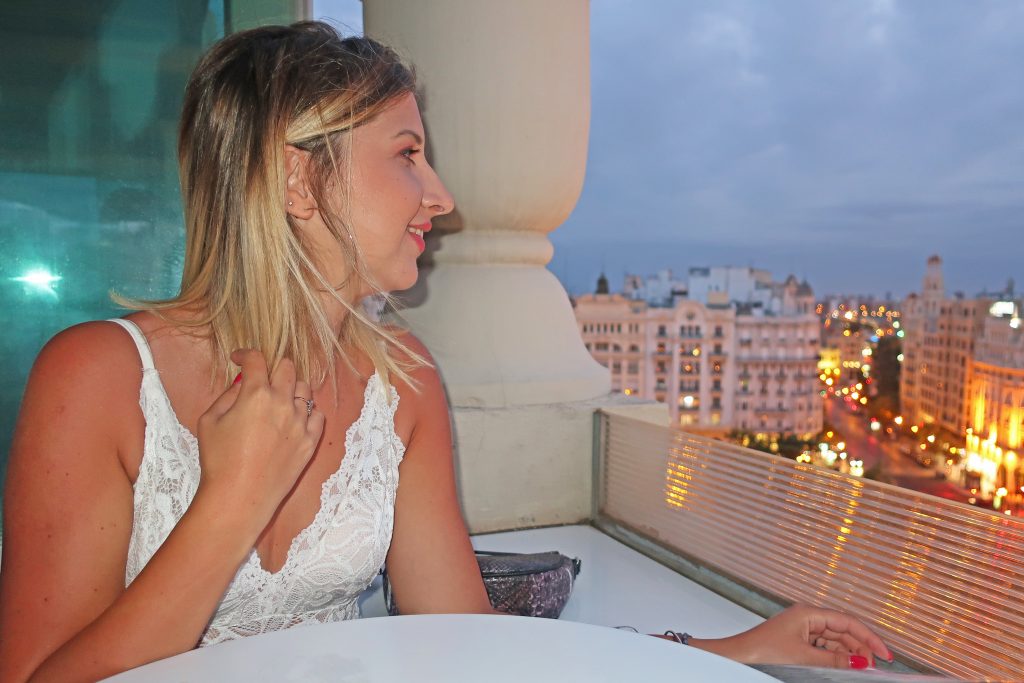 9. Pont de les Flors
We went out of our way to cross this bridge as much as possible. I think you can see why… It's the flowers, palms and greenery are so enticing.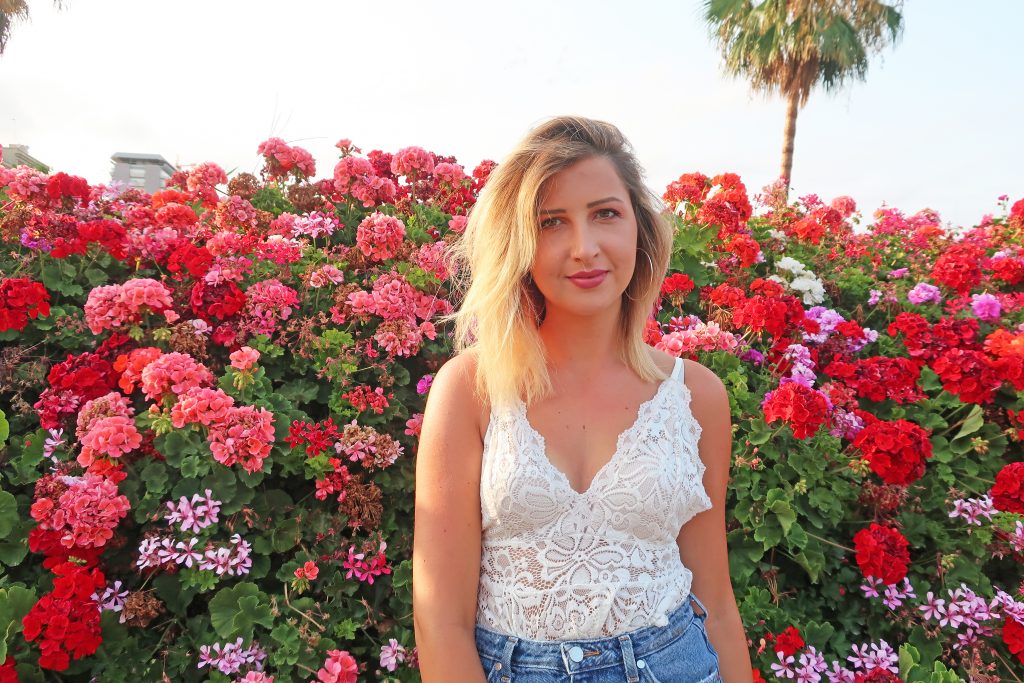 10. Platja del Cabanyal
Another one of Valencia's beautiful beaches. You can also cheaply rent chairs & umbrellas here. The unique feature of this beach is the palm tree lined promenade.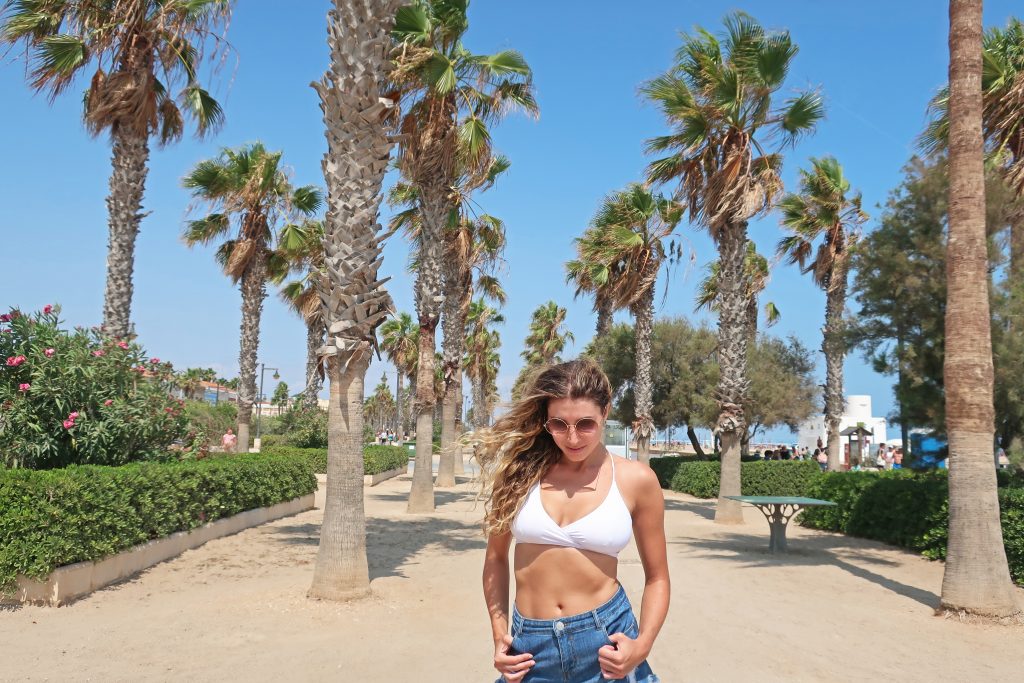 11. Valencia City Hall
You've got to visit Valencia City Hall. It's one of the most impressive things to see in Valencia. The town hall square features a beautiful fountain, bustling nightlife and a perfect space for people watching. During the day, you can visit the museum inside the city hall building.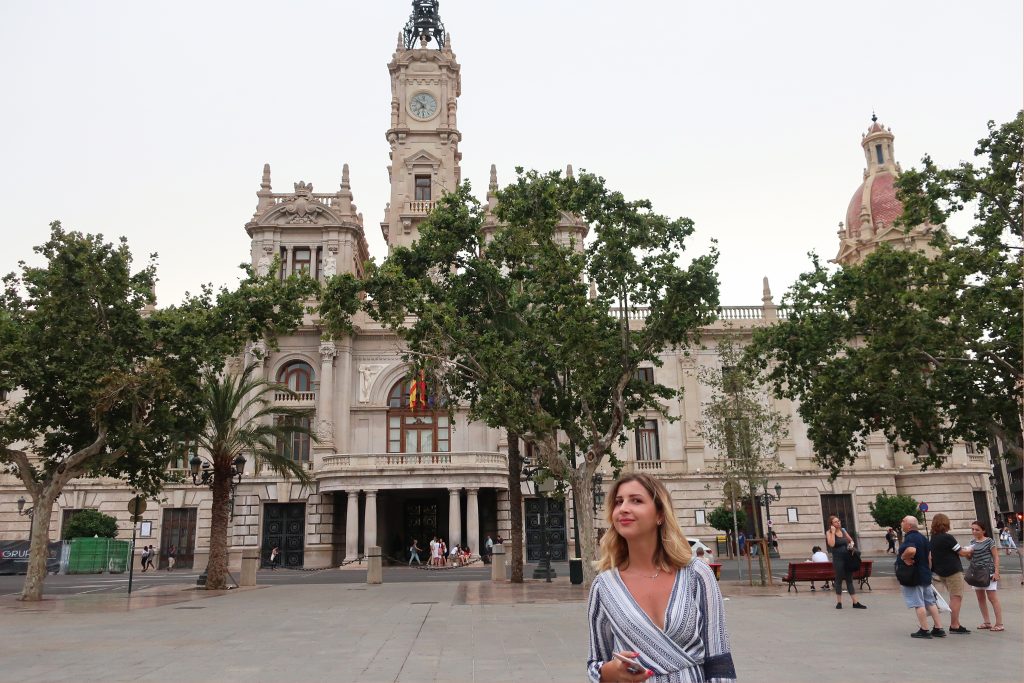 12. Playa de Port Saplaya Sur
This beach is a quick 15 minute cab or bus ride away from Valencia city center. Public transit is very cheap in Valencia. We asked our hotel to help us find the correct route.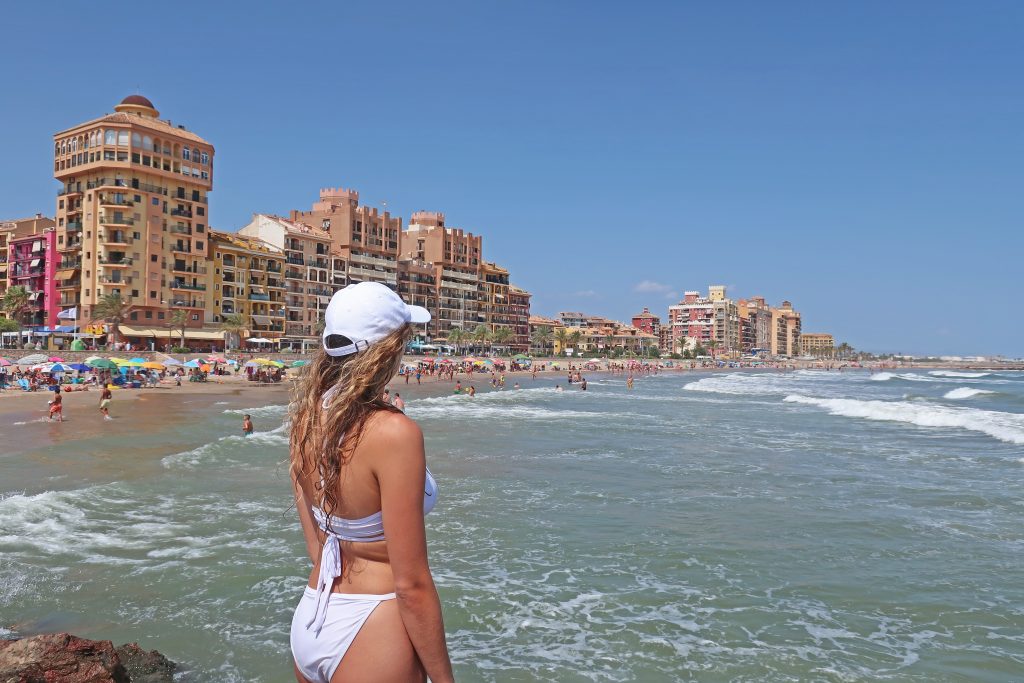 The little beach community is worth visiting because it's so colorful. Beach chairs are available for rent, and cool restaurants line the sandy shores. We also found this adorable tiki hut with fun decorations & swings. This is a great authentic place for Valencia sightseeing.
13. Valencia Concert Hall
One of my favorite photos was taken in front of the Valencia Concert Hall. We were on Avinguda de Jacinto Benavente (street) with the concert hall, the beautiful palms and gardens behind us.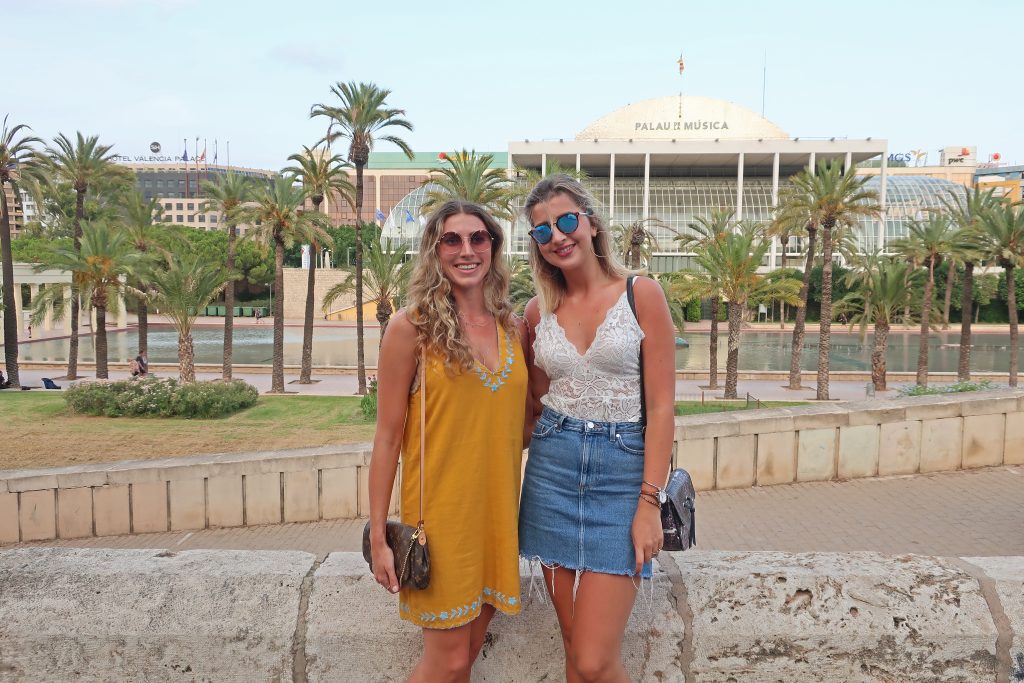 A huge stretch of park tracks northeast through Valencia. It stretched from the Valencia Zoo all the way to the City of Arts and Sciences. If you walk or bike the length of this park, you'll hit some of the most important Valencia attractions.
14. Waffle Time
This waffle restaurant in Valencia's city center has a great neon sign. "It's always a good time" is their motto…and it is always a good time when you get to see the most beautiful Valencia sights.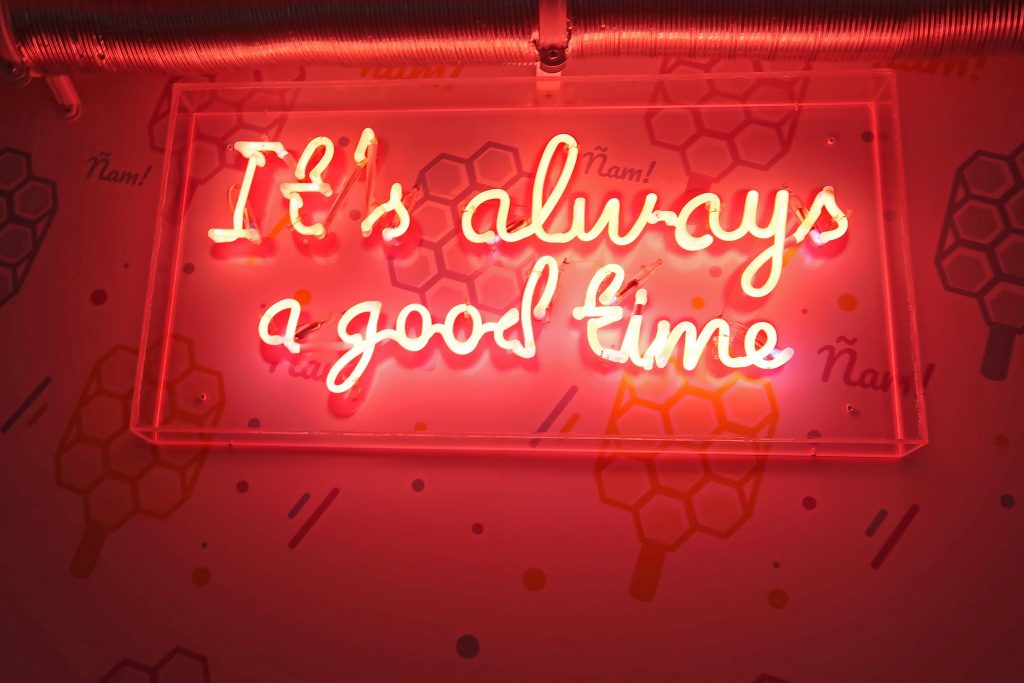 For more ideas to help with planning your trip to Valencia, check out our Valencia Tourist Map & 33 Things to do in Valencia. 
Heading to Madrid next? Check out our Madrid Tourist Map.
Or Barcelona? See 5 Secret Places in Barcelona.