Whether you're looking for sweet deals or luxury pieces, these are the best cities for shopping in Europe. They're the best places to shop in Europe for clothing, shoes, and accessories. 
These aren't just cities that offer some of the best shopping in Europe, these are also top-rated travel destinations with plenty of cultures, history, and adventure to experience.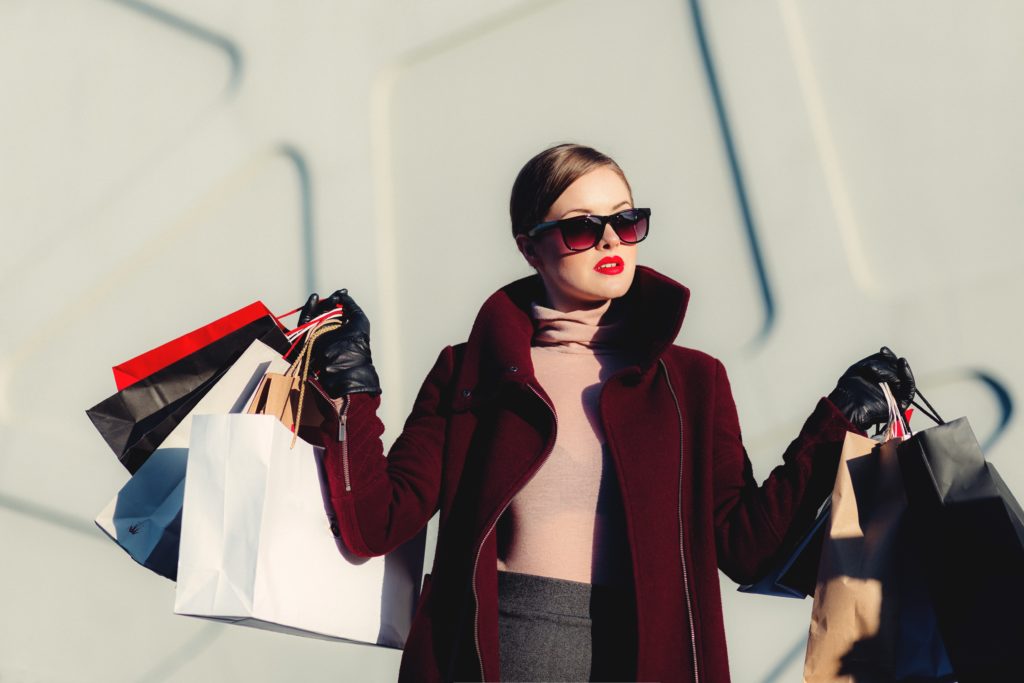 This list of best shopping cities in Europe was put together by some of your favorite travel bloggers –seasoned travelers recommending some of these shopping cities in Europe from their personal experience. So, you'll get the inside scoop on where to go & what to buy in Europe. 
16 Best Cities for Shopping in Europe
European fashion history is quite interesting. Fashion became important in Versailles during the 18th Century during the Age of Enlightenment. New trends and textiles were introduced to the wealthy elite, and, even, the lower or middle-class Europeans.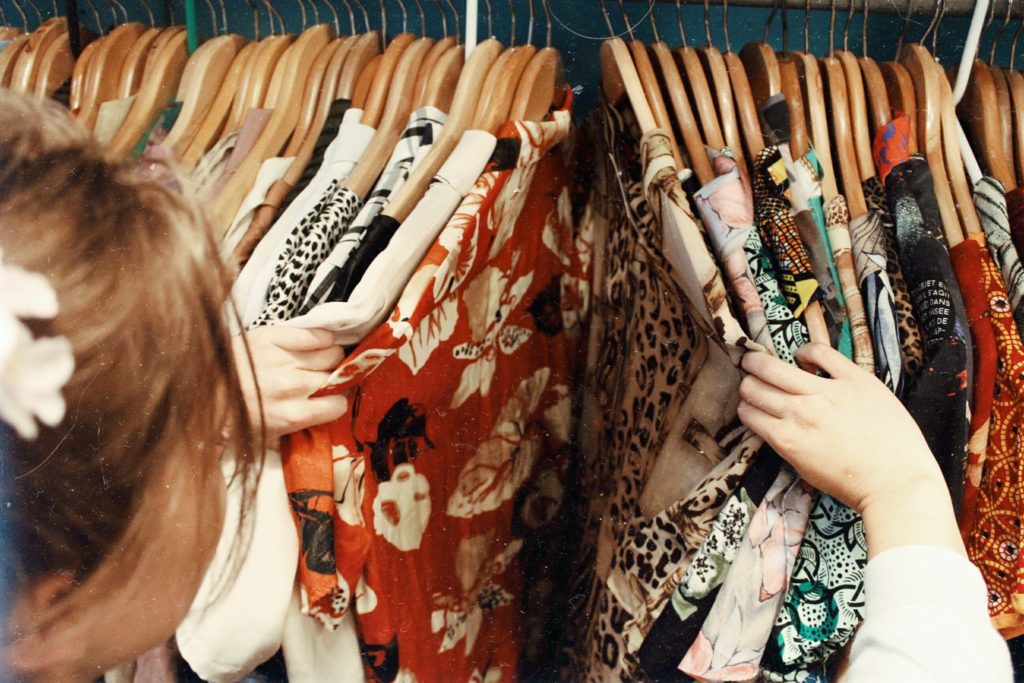 In the late 18th Century, fashion designers gained more prestige. Fashion magazines became available. Europe fashion has changed much since then, but Europe has since remained heavily influential in today's latest styles and hottest trends. 
Famous global brands like Louis Vuitton got their start in 19th Century Europe. Later, Chanel, Gucci, and Dior came to fame in the 20th Century. Many big designers that come to mind are European — think Yves Saint Laurant, Hugo Boss, or Gianni Versace. 
With so many influential designers originating in Europe, it's no wonder we love European clothes!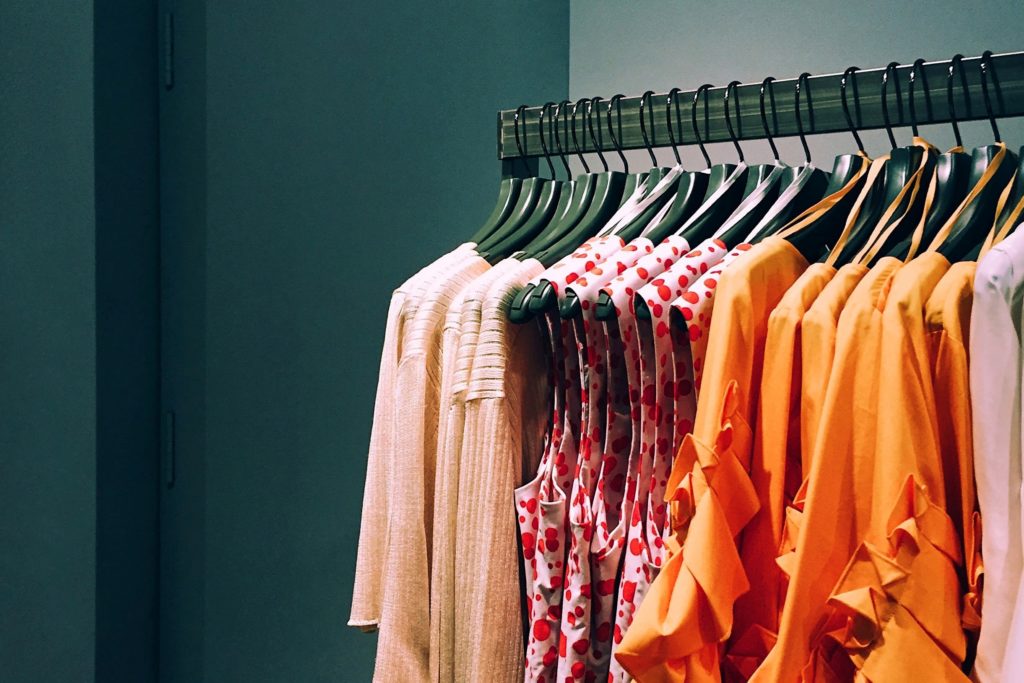 16 Best Cities for Shopping in Europe
Read more to find out more about the best shopping destinations in Europe, so you can create the best European outfits! So whether you're looking for shopping in Eastern Europe or Western Europe, you're in the right place. 😉
1. Amsterdam
Explored by Sam from Sam Sees World 
Amsterdam is the best shopping place in Europe! Shopping in new cities and finding unique and diverse items is one of the best things about traveling. The different styles and trends of each country differ greatly throughout Europe and you can see the distinct points of view in every store.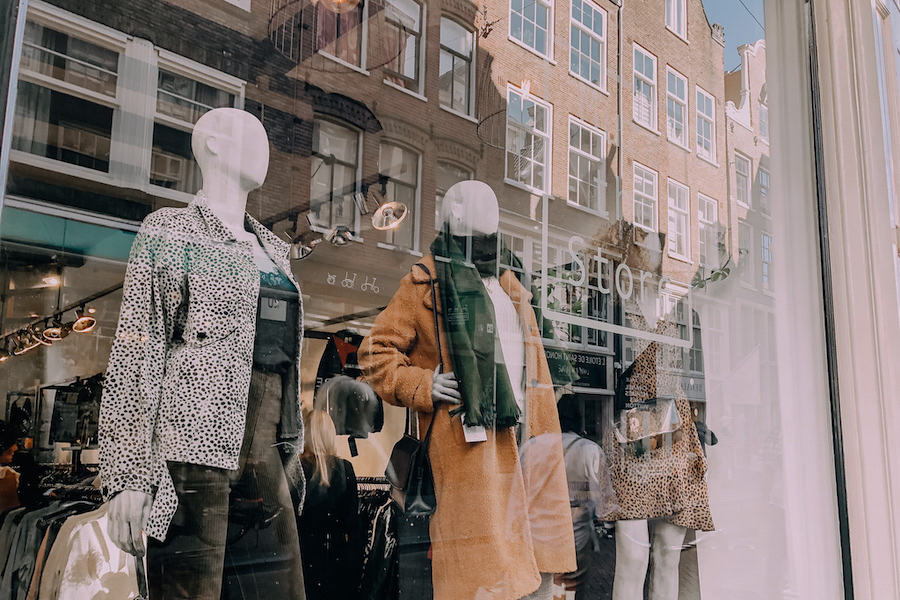 Amsterdam is a city with a very specific and unique sense of style which is reflected in the local shops throughout the city. If you are looking to adopt the dress of Europe (specifically Amsterdam) locals style think of leopard print, flare pants, dresses, and combat boots.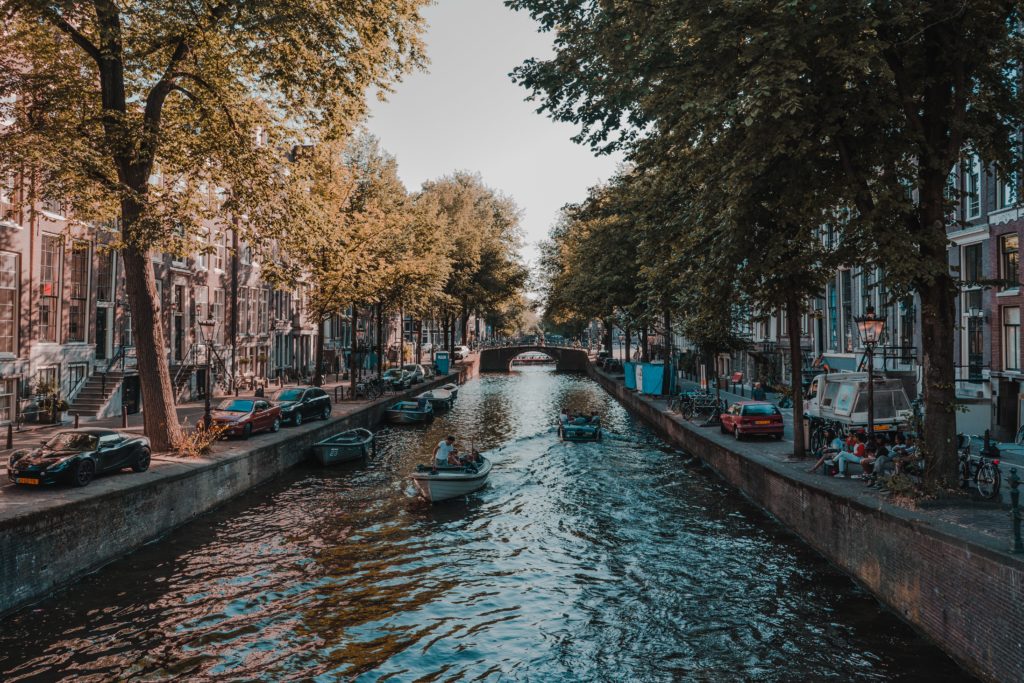 The best place to go shopping in Amsterdam is on the infamous 9 Streets (De 9 Straatjesin Dutch). The 9 Streets are a collection of nine streets in the heart of Amsterdam's most beautiful neighborhood the Jordaan. The streets are full of vintage thrift stores, trendy boutiques, and dainty jewelry shops. It is the best place in the city to find authentic clothing to create unique European vacation outfits. The best thing about shopping in Amsterdam's is that the city's clothing sense has a quirky side so you can find some pretty cute things that you surely won't find elsewhere.
 The best clothing stores here are Catwalk Junkie, Muze the Store, OU Boutique, and All the Luck in The World. You can also find furniture shops, art galleries, and more!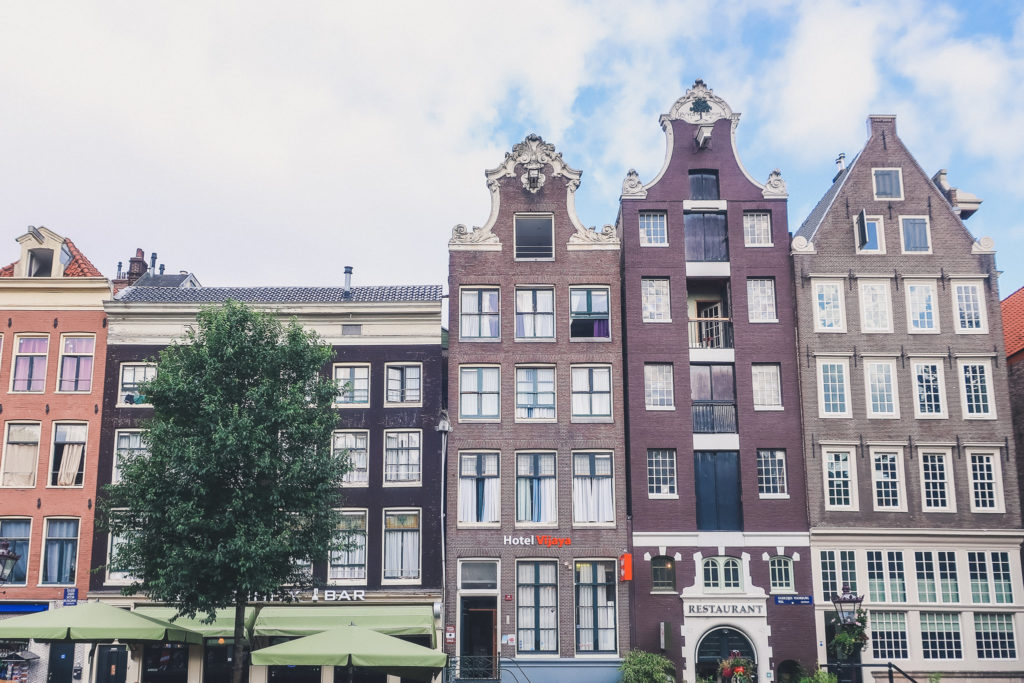 Amsterdam is also one of the best places to see Europe & one of the best places to vacation in Europe. There's incredible museums, wonderful restaurants & fun tourist attractions to explore when you're not shopping. 
2. Stockholm
 Explored by Nicky from That Anxious Traveller 
Stockholm may be best-known in shopping circles for its awesome Scandi design scene – but did you know that it's a great place for European chic fashion too? Stockholm is also one of the most beautiful places to visit in Europe. 
Scandi design is one of the reasons Stockholm is one of the legendary places to see in Europe. It isn't just about interior design and flat-pack bookcases; Stockholm is renowned for having some of the most fashionable residents in Europe, and locals don't have to go far for cutting edge designs!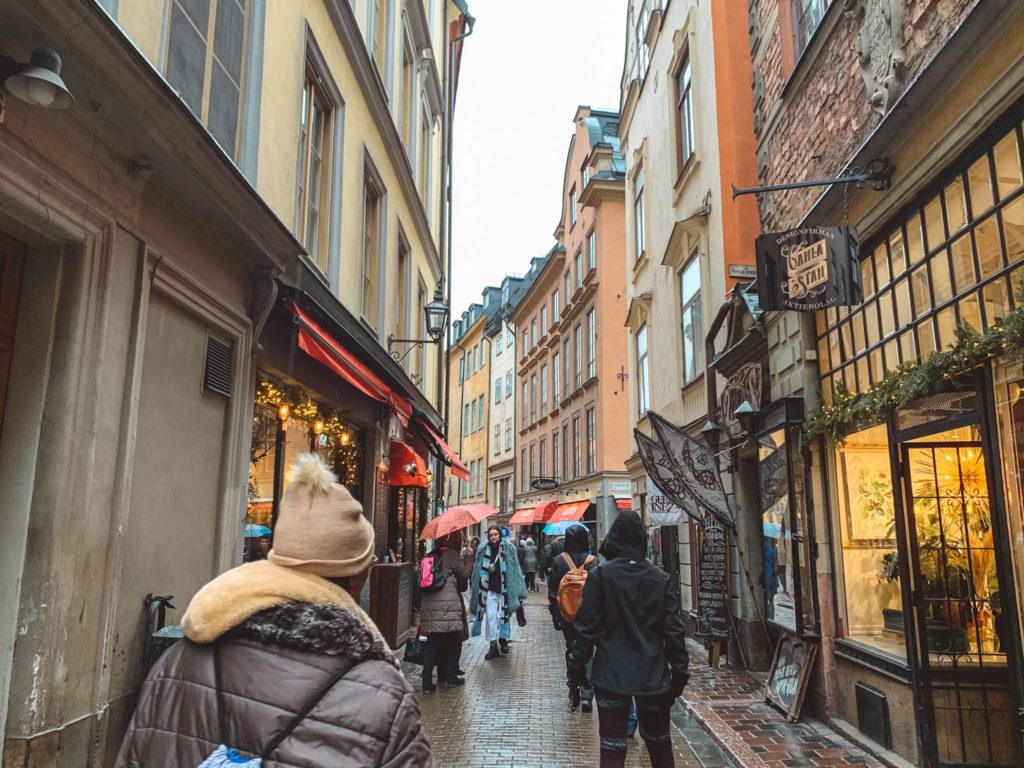 If you love your high-end international brands, then Birger Jarlsgatan is for you. Located right in the heart of the city, and only a short walk from the central train station if you're staying further out, this road is the HQ for the most recognizable fashion brands. This is one of the best places in Europe to shop 'till you drop!
Gucci, Prada, Mulberry, and Chanel have their Swedish flagship stores here, and by the time you traverse from one end of the road to the other, you can expend some serious money!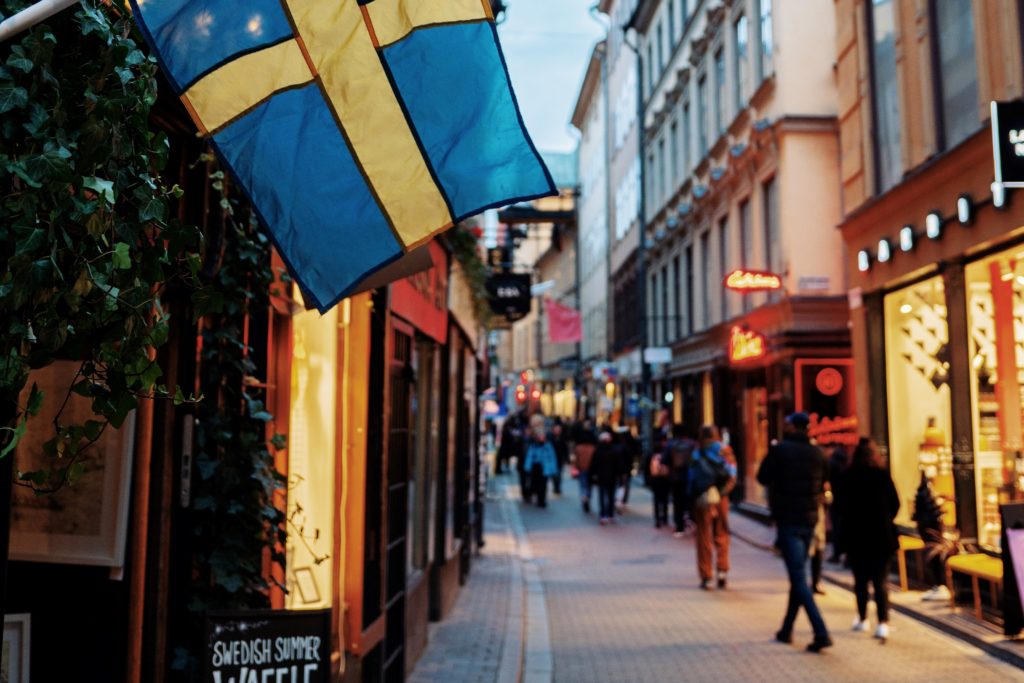 Or do you just want to try out the local styles? Head to MOOD Stockholm, the city's most renowned mall, which is brimming with Swedish talent. You can't go wrong with any of the stores here – the focus is on timeless fashion for the young, and young at heart. Expect wonderfully versatile wardrobe staples that you'll go back to time and time again. It's the best place to shop for European dresses & shoes.
Need some accessories to go with your new purchases? Head to the central island of Gamla Stan – alongside all the Swedish souvenirs, you'll find plenty of shops selling bespoke jewelry – including traditional, handmade Sami silver bracelets that you'll utterly fall in love with. The perfect Swedish accessory! 
Stockholm is certainly one of the best places in Europe to visit.
3. Barcelona
Explored by Vaibhav Mehta from The Wandering Vegetable 
When it comes to shopping, Barcelona is one of the best places to go in Europe. Barcelona has an individualistic voice of its own when it comes to fashion and Europe dress.
It has been a center for several fashion trends and caters to both – buyers looking for cheap but authentic stuff and those looking for expensive and branded stuff. Therefore, it's one of the best cities to experience European summer fashion.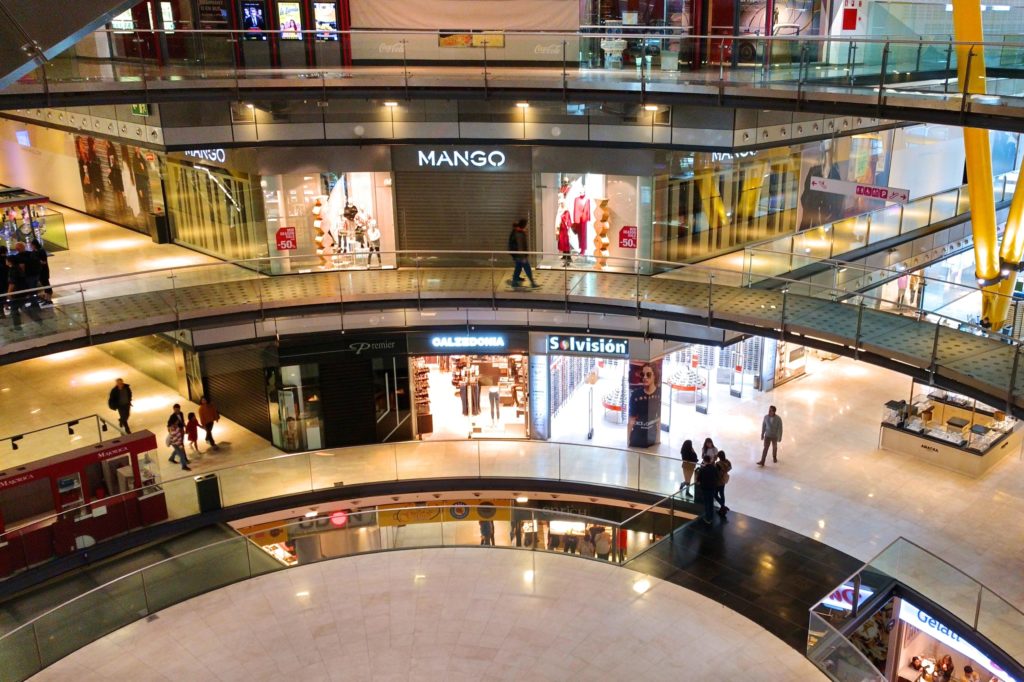 In Barcelona, the area that's awesome for shopping is the Passeig de Gracia. Passeig de Gracia is the ultimate shopping avenue for luxury fashions in Europe.
What makes the place special is that here you can find expensive designer clothing, perfumes, shoes, designer bags, watches, jewelry from all the international brands like Chanel, Diesel, Louis Vuitton, Zara, Burberry, Bulgari, Mango, Jimmy Choo, etc.
Besides the stores, there are some cute cafes lined along the street. So if you're tired of shopping, you can sit down, enjoy a hot cup of coffee, recharge your batteries, and get back at the shopping game.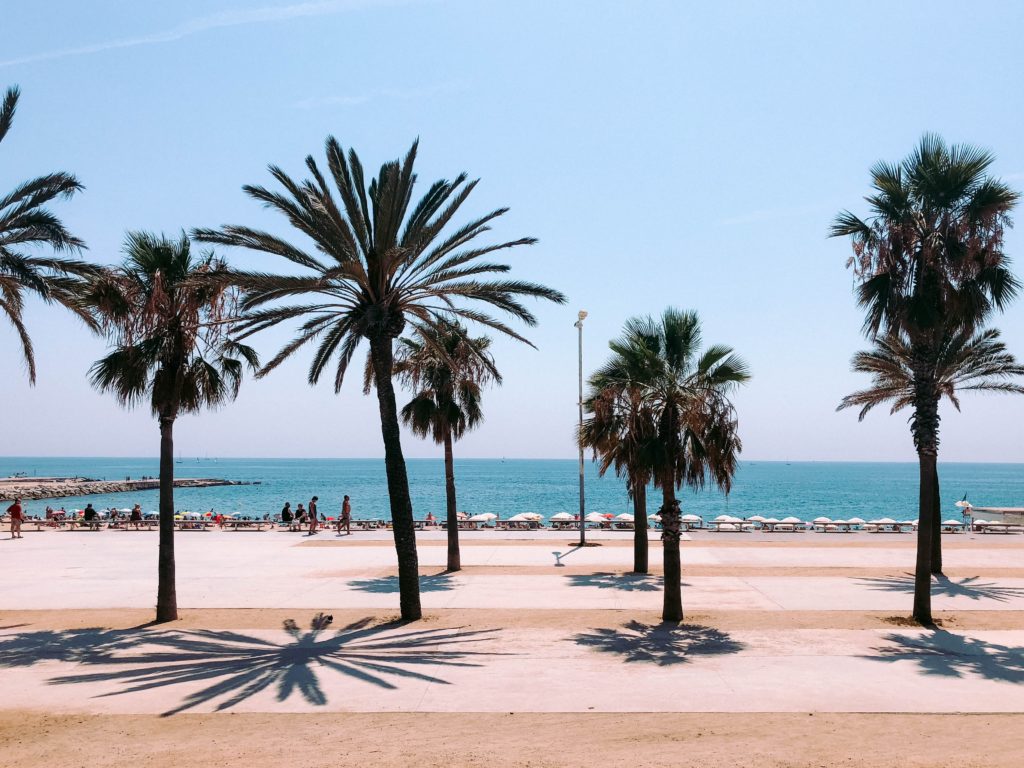 The stores that I highly recommend are Mango and BOSS. Mango has some high street casual wear for women who are always on the go and love traveling. For men, there's a Mango Man designer store that offers high on style but affordable fashion wear.
And if you are looking for sophisticated European style clothing for an important event or occasion, then the BOSS store is the place for you! Tip – January sees a winter sale and July sees a summer sale in Barcelona. So if you're big on shopping, then plan your travel accordingly. 
4. Krakow
Explored by Karolina from Travel Poland
A shopping haven with reasonably priced items, Krakow is probably the cheapest place to shop in Europe. It also has a good selection of markets and unique artisan products that will make your trip to Poland unforgettable.
Suckiennice, the Cloth Hall, should be on top of every shopper's places to visit. It's some of the best shopping in Europe. Cheap, history & legendary. A UNESCO World Heritage Site and a key feature of Krakow's Old Town, this spectacular Renaissance structure houses a big array of Polish handmade goods, European fashion –especially jewelry, ceramics, and carved wooden items.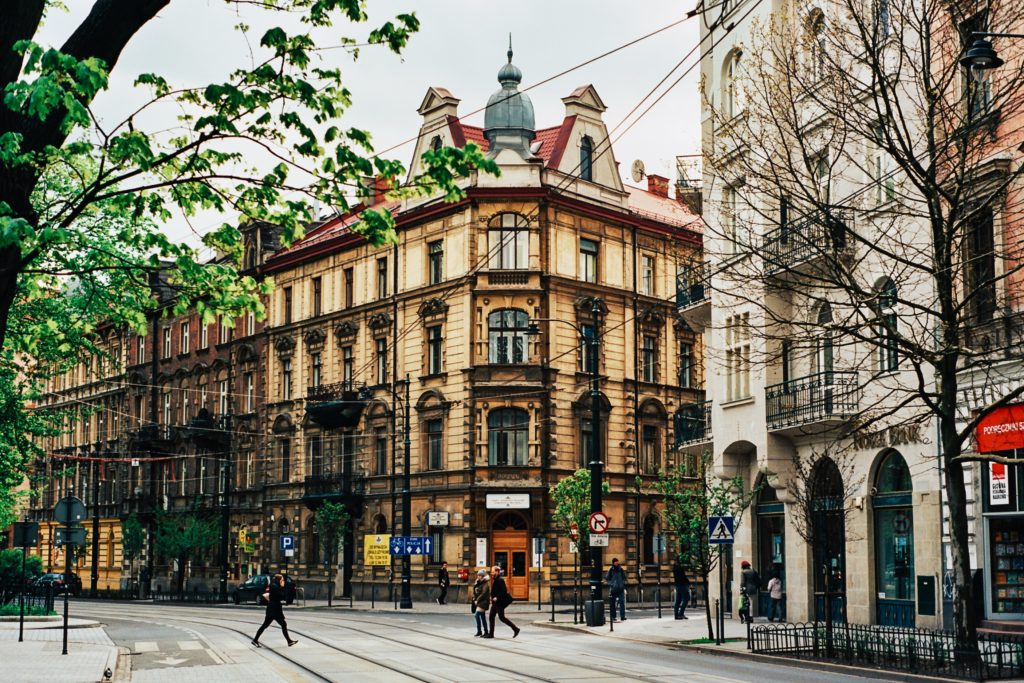 Not far from the Main Market Square is the famous Galeria Krakowska, which regularly hosts events and exhibitions, so be sure to check their website to attend an exhibition or get free treatment or consultation.
By the riverbank, in the Jewish district of Kazimierz, Galeria Kazimierz offers an extensive selection of fashion shops, bookstores, and cafés. Easily reached from the city center by tram, a visit to this mall can easily be paired up with a trip around Wawel Castle.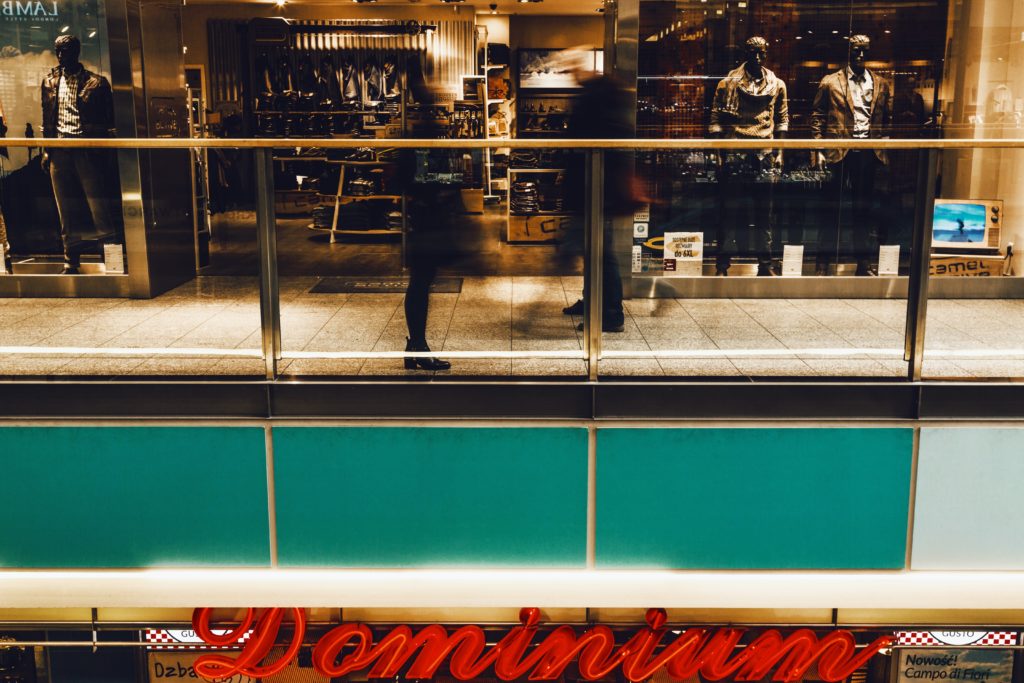 Further away from the tourist track, the Bonarka City Center offers a more tranquil shopping experience. Easily reachable by bus from the city center, this local favorite has a good range of good value shops and luxury boutiques, a store for every taste, style, and budget. It's the perfect place to shop for European casual wear!
To make the most of your Krakow shopping experience, use your debit or credit card. This is more advisable as exchanging currencies at the airport or city center can be tricky with poor exchange rates. Also, it is more convenient when Krakow has a massive number of ATMs that offer services in English and other European languages.
5. Seville
Explored by Paulina from Paulina on the Road
If you're seeking for custom-style shopping, SevilleRom is the best spot to-do-so. The center is crowded with the standard shopping-chains and boutiques of the latest fashion. It's one of the best places to visit Europe!
The best regions for vouge-shopping in Seville are Asunción Street, Nervion, and Los Arcos. This is where you'll find some of the most well-known fashion brands in Europe.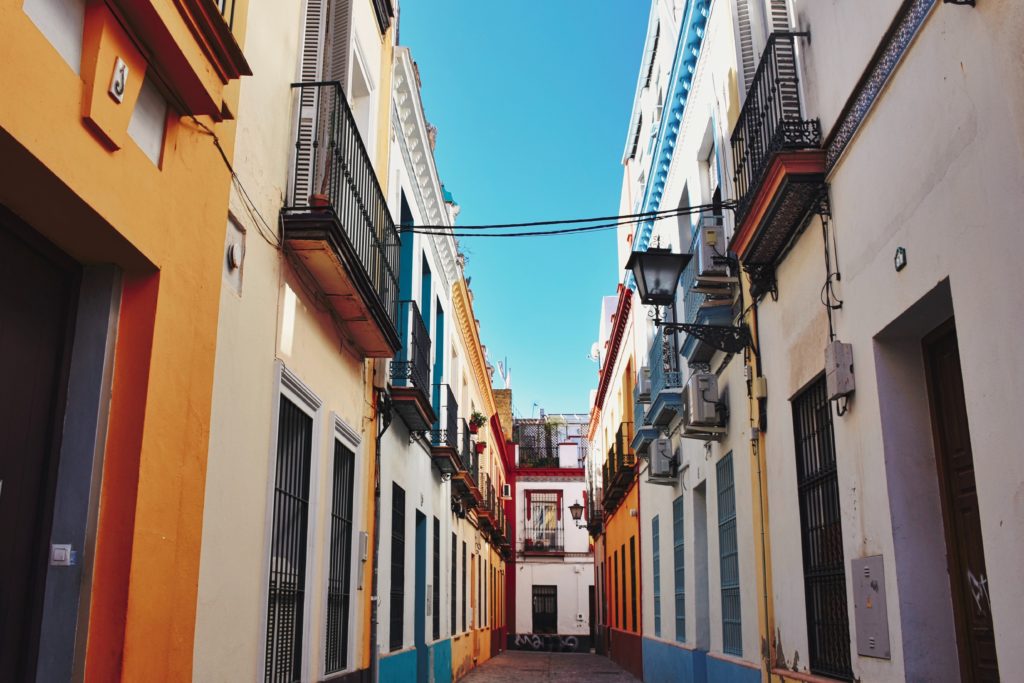 Seville offers craftsman shops, broad markets, and chain-stores. This is where you'll find the best travel outfits for Europe. No matter if you like casual European style, or high-end labels, Seville has something for you! 
You can buy various fashion products for men and women, like garments, shoes, ceramics, jewelry, shawls, and other plenty of other stuff! The shops range from small-markets to typically multi-story coolest fashion boutiques, which are most desirable for tourists.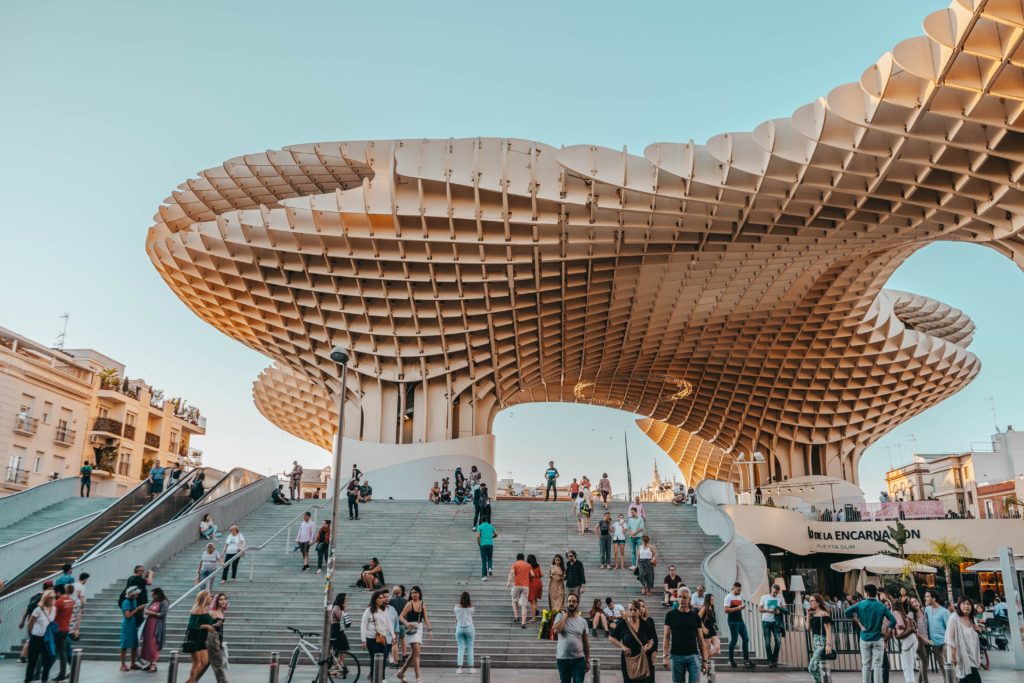 There are so many options for shopping in Seville, that you'll certainly be able to pick out the best outfits for traveling in Europe! Moreover, a few popular stores that are usually recommended for purchasing various fashion items are:
Hats by Roiz

, for handmade hats doubles; (Prices from €60).

La Seta Coqueta

, for affordable and casual clothing from small Spanish brands; (Prices from €7).

La Importador

a, for fashionable clothing from Spanish and Danish brands; (Prices from €8), and many more!
If shopping is your foremost interest, visit during January, February, July, and August—the city's seasonal sale period notorious for great deals.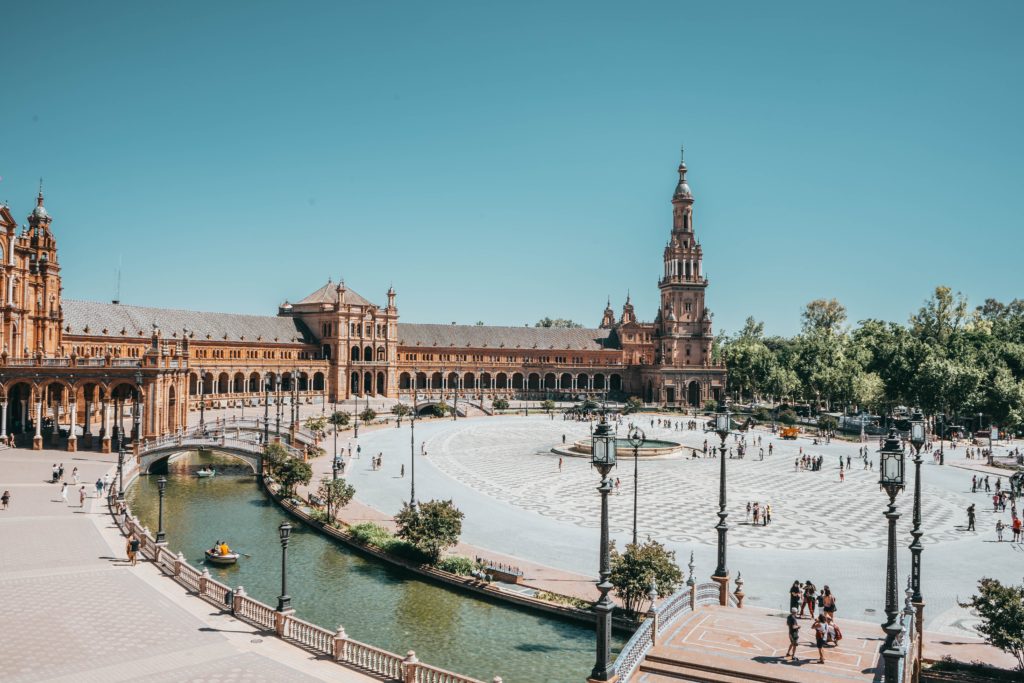 Additionally, plan your visit after checking hours of operation. Some shops open from around 9:30 am to 2 pm and then reopen in the midday from 5 to 8 pm. Though some other stores only operate half a day on Saturdays, or they are closed on Sundays. Only a few big stores remain open all day. 
Furthermore, some boutique hotels in Seville with the best added-facilities are Carrel dey Rey, Alminar Hotel, or Hotel Amadeus. They are perfect to spend a stylish shopping getaway in Spain.
6. Rome
Explored by Anda from Travel for a While
Many people may not think of Rome as a shopping paradise, especially since there are no shopping malls inside the city. Think again! Rome is the best place to buy clothes in Europe! It's also one of the best places to see in Europe with famous tourist attractions like the Trevi Fountain, Colosseum & Vatican Museum.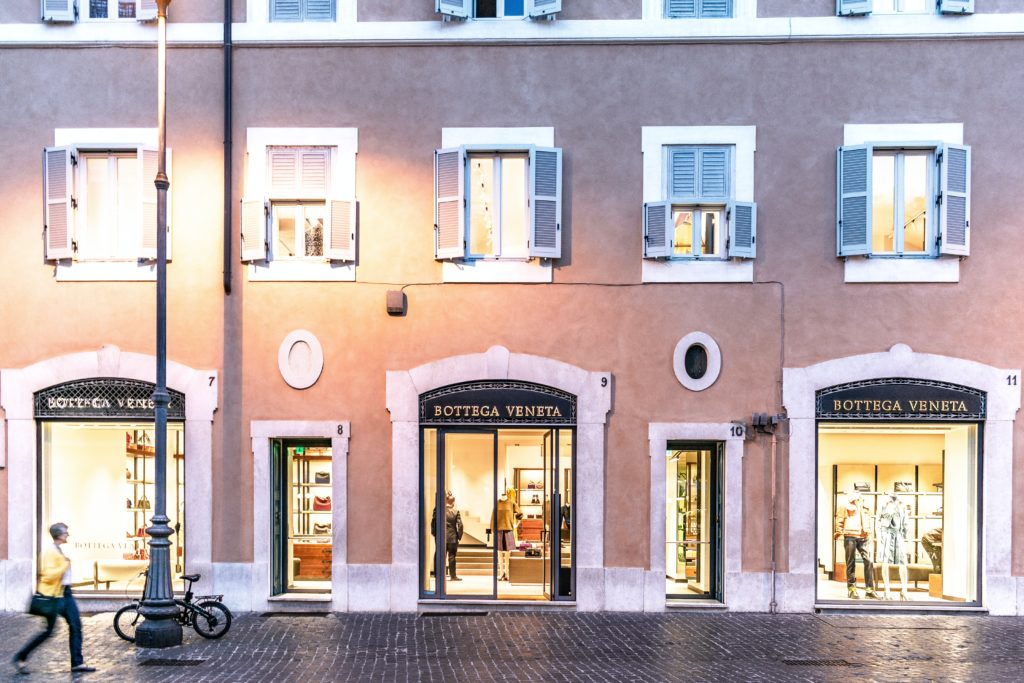 Starting with the obvious, the most popular shopping street in Rome is Via del Corso, connecting Piazza Venezia to Piazza del Popolo. The stores you usually find in the shopping malls? They are all here! Shop here & you'll be able to create the ultimate European style outfits. 
For a more interesting shopping experience though, try exploring the small streets like Via dei Coronari It's a narrow street close to Ponte Sant'Angelo. It used to be full of antique shops, but now you can find a lot of boutique shops featuring unique clothes and jewelry. It's a great place for inspiration on European travel outfit ideas. 
Another great area for shopping is around Piazza Campo de'Fiori. Here, you can find cashmere clothes as well as leather boutique shops. If you're looking for a leather jacket or handbag, another good place to shop is in the Jewish Ghetto. You'll learn how to dress like a European woman in no time!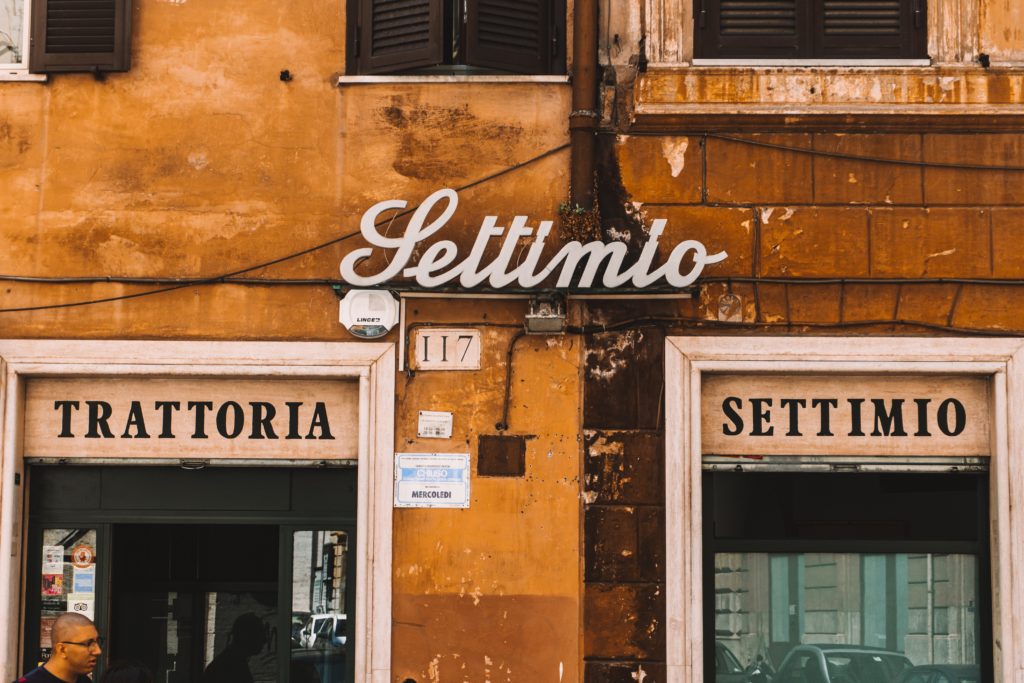 Last, but not least, if you're looking for luxury brands, Via Condotti is the place to be. It is one of the most elegant streets in Rome, and it leads all the way to Piazza di Spagna. Even if it doesn't suit your budget, a bit of window shopping on an evening stroll is always affordable.
7. Athens
Explored by Chrysoula from Athens and Beyond 
Athens is mainly known for the historical sights and vibrant nightlife, nevertheless, it is also a great city for European women's fashion. The posh Kolonaki neighborhood is where you'll find the popular international franchise shops along with some upscale fashion boutiques 
Make sure to stop by Zeus+Dione. It's a Greek brand that sells traditionally crafted clothes, shoes, and accessories. For leather bags and sandals, a great choice in the area is the shop Callista Crafts. Leather goods are essentials when planning cute outfits for traveling Europea.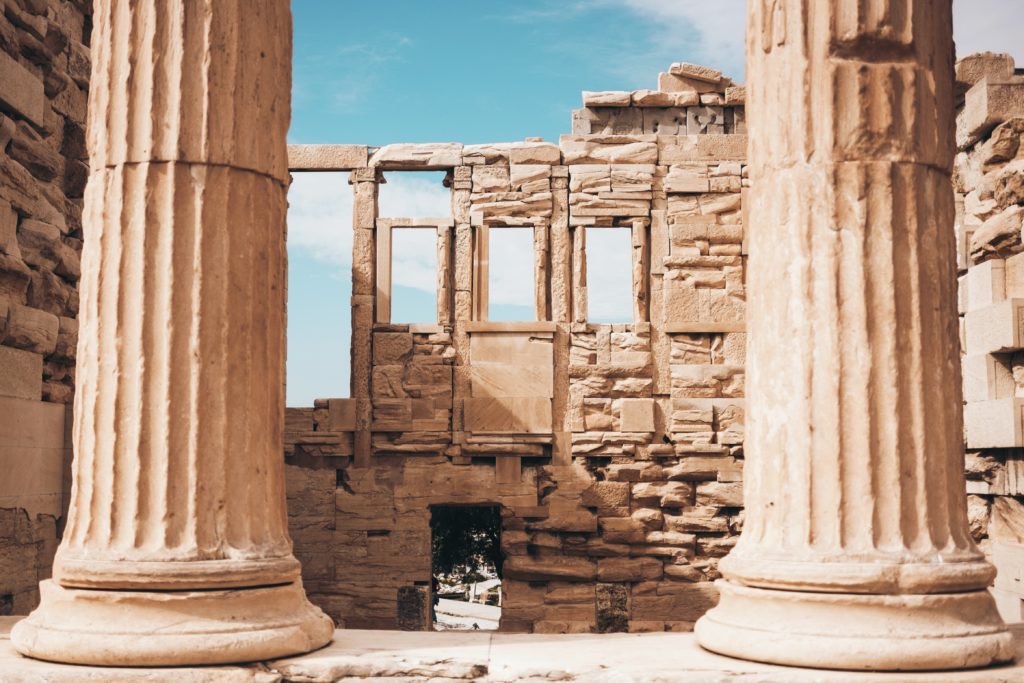 In nearby pedestrianized Voukourestiou street you will find an array of Jewelry shops that suit the European chic style. You'll also find well-known brands like Luis Vuitton and Hermes. For more shopping in the area you can check out Attica, a big department store located in Panepistimiou street that houses more than 850 brands There, you can shop for cosmetics, accessories, and European travel fashion for the whole family.
Another popular street for shopping in Athens is Ermou Street. It's home to all the mainstream brands like Zara and Mango. Also some Greek brands like BSB, Lynne, and more. Mango is one of the best online clothing shops Europe has to offer!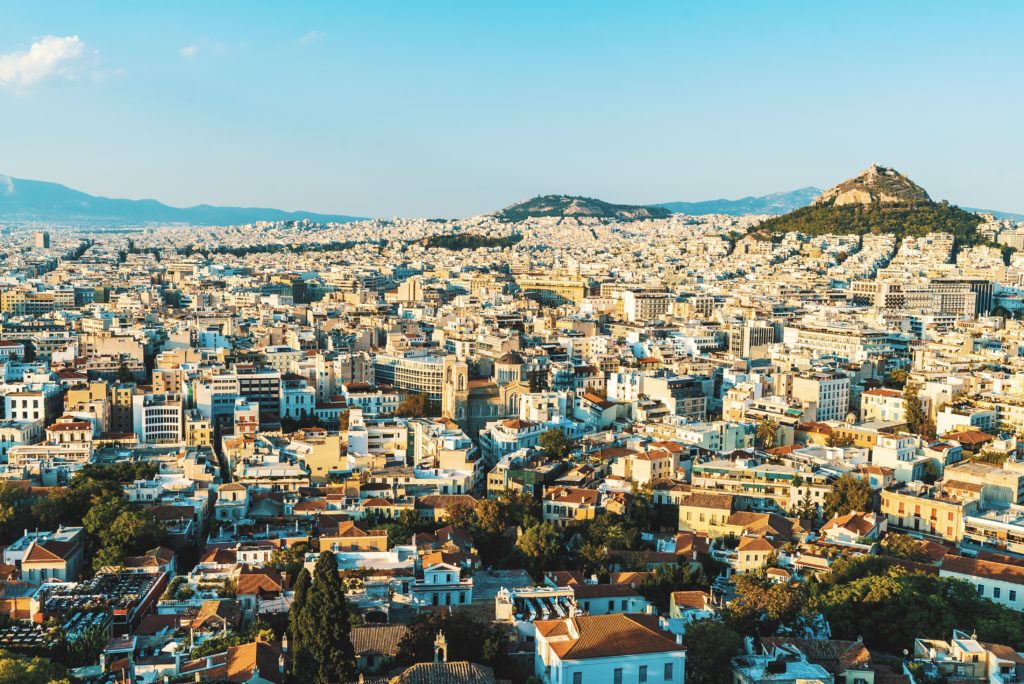 A favorite store on this street is Korres. It's a Greek brand selling natural beauty products that also make for a perfect gift back home.
Finally, if you are looking for more alternative boutiques, head to Psiri. In this neighborhood, you will find a lot of leather craftsmen's shops along with trendy boutiques. It's the best place to find unique and eclectic items for outfits to travel to Europe. You can also have shoes made to order!
8. Duesseldorf
Explored by Arabela from The Spicy Travel Girl
When it comes to European fashion style, Duesseldorf in Germany is one of the finest picks. You can find anything your heart desires there, from high-end luxury fashion to popular international brands and even ethnic garments from around the world. No wonder that Duesseldorf is one of Germany's hottest shopping destinations for modern European clothing.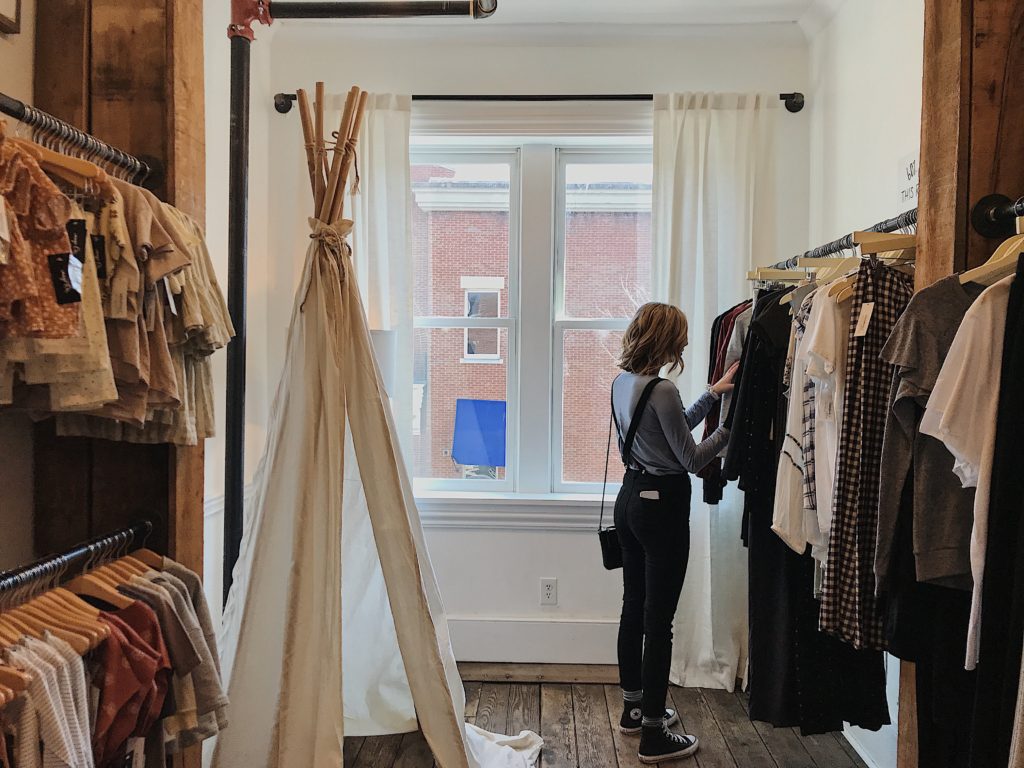 The best place to start your Duesseldorf shopping spree is without a doubt the famous Koenigsallee. The trendy shopping street is aesthetically located next to the water, giving it a somewhat Parisian vibe. It's the perfect place for high-end shopping. You'll find luxurious brands like Louis Vuitton, Hermes, and Gucci. Pro tip: check out Luxury Designer Outlets to find the same brands for lower prices. 
If you're feeling a little less extravagant, move a little east towards the city's main shopping street, where you'll find more mainstream brands. This is the best place to find travel dresses for Europe. No doubt, you'll be able to create the perfect European vacation outfits!
From there, it's best to move a few blocks south towards the famous Immermannstrasse, also known as Duesseldorf's 'Little Tokyo'. Did you know that Duesseldorf is home to one of the biggest Japanese communities in Europe? That promises not only delicious ramen and cute Japanese crafts but also textiles.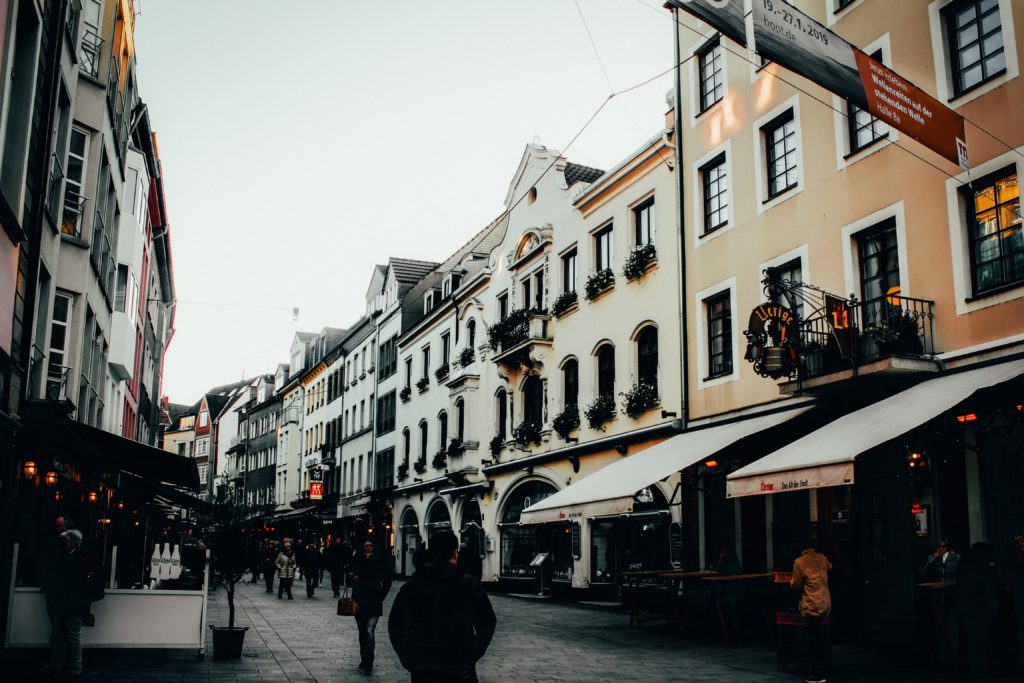 It's possible to buy a traditional kimono around Immermannstrasse, which proves that besides international brands, Duesseldorf also houses small traditional shops from around the world. You'll find much more than European dress in Duesseldorf! 
Lastly, Duesseldorf's malls must not be discredited. While you'll definitely find enough of them in the city center, it's also worth checking out the Duesseldorf Arcaden mall in the district of Unterbilk. Dressing in Europe will be a breeze if you shop in Duesseldorf!
9. Innsbruck
Explored by Nisha & Vasu from Lemonicks
 You will fall in love with Innsbruck the minute you get there! It is surrounded by Alpine mountains that are snow-capped for most of the year, and it's the perfect place to shop for European style clothing.
Innsbruck gets its name from the bridge (brucke) over the river Inn and has been one of the seats of powers of the 800-year-old erstwhile Austro-Hungarian empire.
Innsbruck, which started as a small market town several centuries back, has grown to be one of the most bustling tourist destinations all year round. Whether you are a history buff, a winter sports stalwart, or the compulsive shopper, you will have the complete satisfaction of having visited here.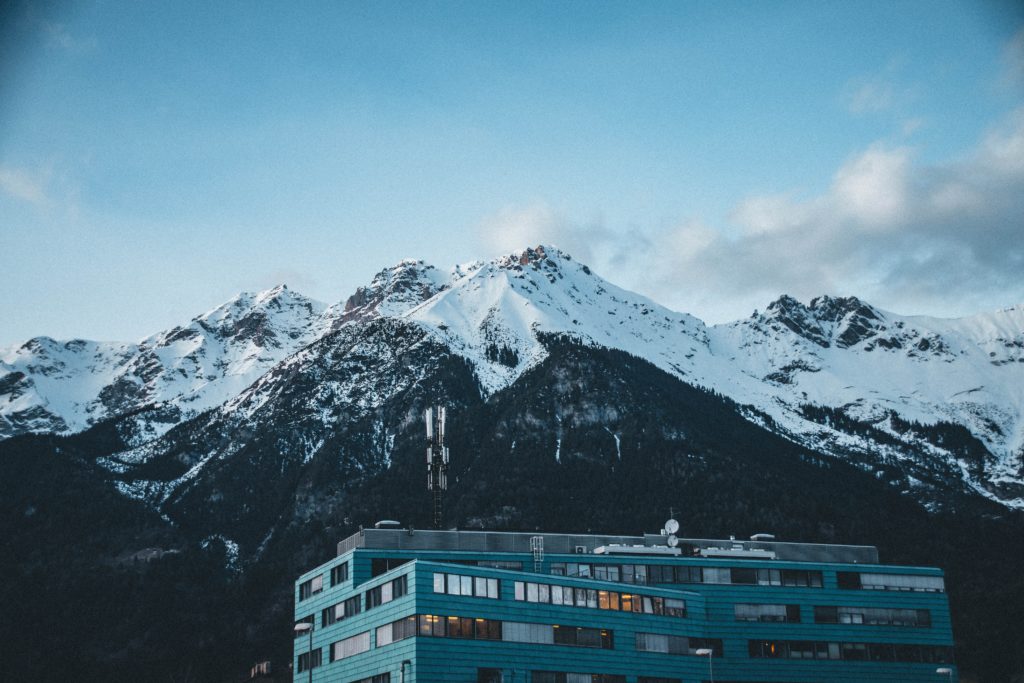 Talking of shopping, apart from international brands, Innsbruck is also known for the world-famous Swarovski crystals. It is their birthplace. No European attire is complete without Swarovski jewelry! 
Swarovski crystals are manufactured at Wattens, a place not far from Innsbruck. Not only Swarovski Crystals, but even diamonds are manufactured in their lab. Swarovski's products are of exceptional quality and their luster is next only (and at times even better) than the real diamonds. For this reason, Innsbruck has been setting unparalleled fashion trends -European jewelry will never be the same!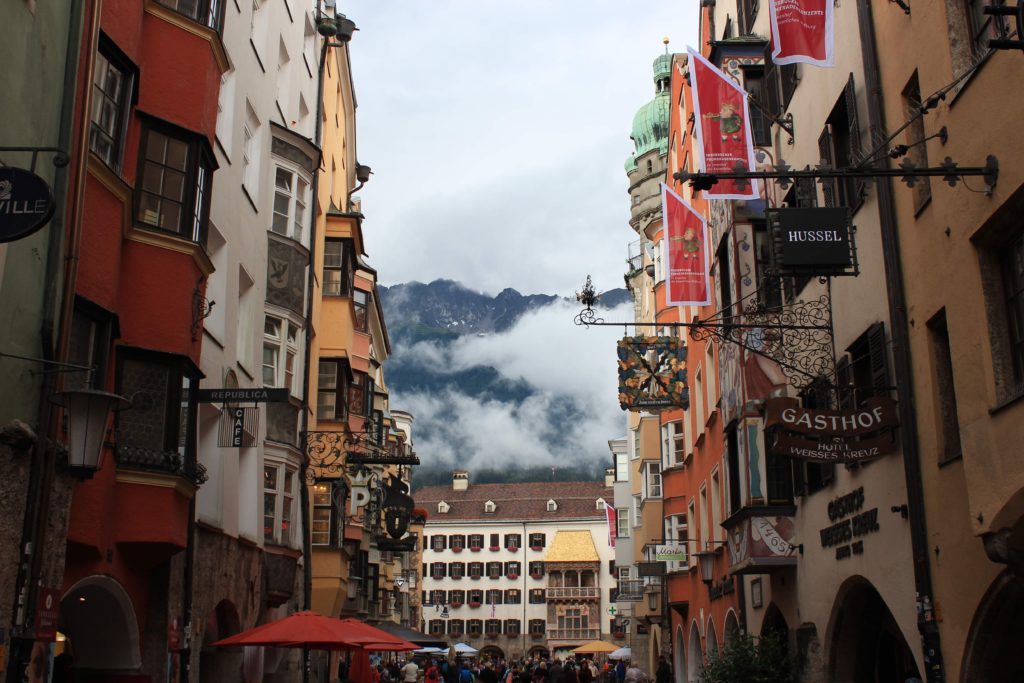 Their product catalog includes jewelry, watches, fashion accessories, and crystals that can be set in handbags. Apart from jewelry they also make figurines, chandeliers, and optical lenses.  
Although there is a showroom close to the Golden Roof, it is best to visit the Swarovski Crystal World at wattens. There you can enjoy the museums, themed rooms and then buy from the factory outlet. Swarovski crystals are the perfect accessories for euro clothing styles. 
While Swarovski products are available all over the world, it is a special moment when you buy it from the place where it is born. 
10. Warsaw
Explored by Or from My Path in the World
It may come as a surprise, but Poland is a fantastic shopping destination. Although many people travel to the amazing Polish capital to see its beautiful old town, visit its fascinating museums, and feast on the hearty local food, one of the best things to do in Warsaw is – you guessed it – shopping for European inspired clothing!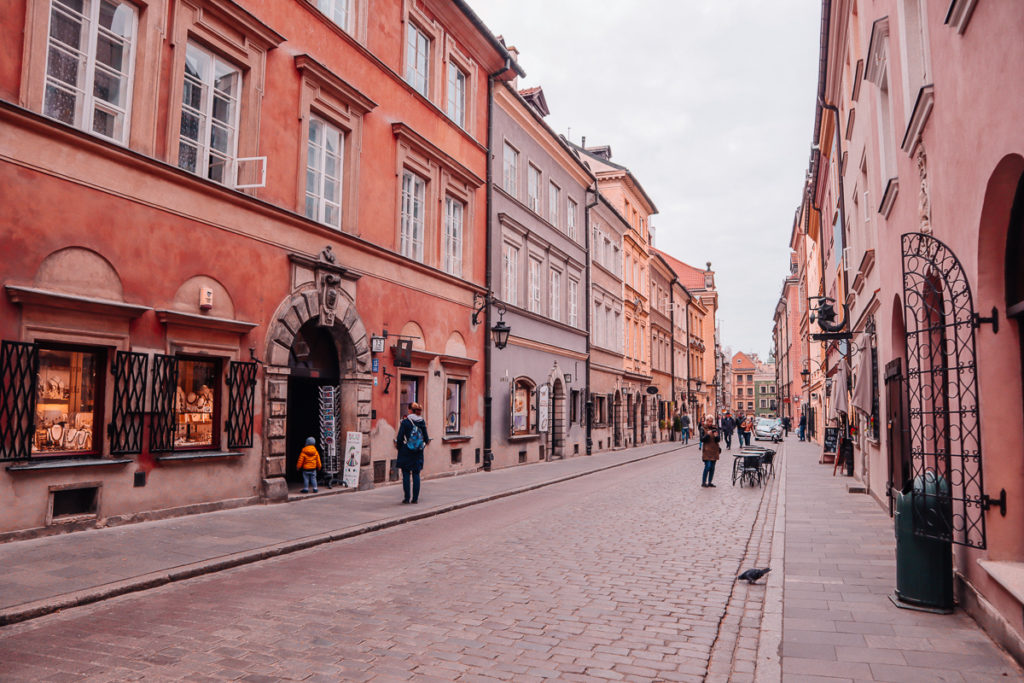 Since it is such a budget-friendly city, you won't feel guilty for splurging on some European wardrobe essentials! Warsaw is home to some of the largest shopping centers in Poland, including Arkadia (which houses over 200 stores), Złote Tarasy, Galeria Mokotów, and Blue City. 
You can literally spend several days in these malls, where you'll find internationally popular brands like Zara, Sephora, and H&M, as well as Polish apparel brands like Sinsay and MOHITO. Your perfect summer outfits for Europe are found here!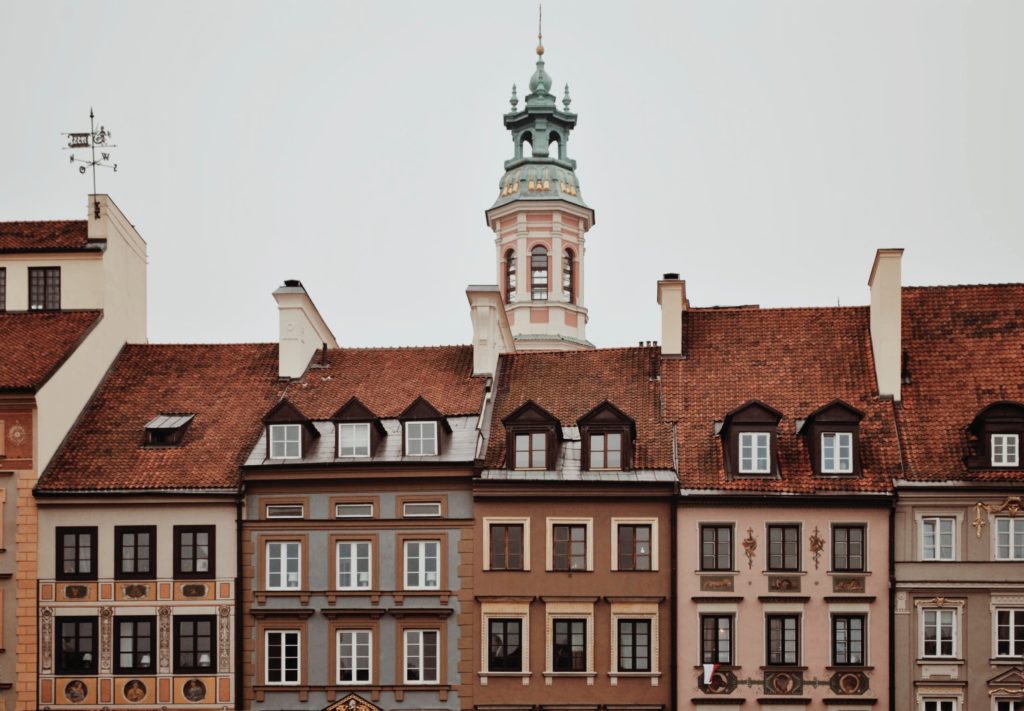 There are also quite a few smaller malls and outlet stores in Warsaw such as Galeria Wileńska and Atrium Reduta, and let's not forget about shopping streets like Nowy Swiat and Mokotowska. It's where you'll find plenty of boutique shops & the cutest summer dresses for Europe. 
As in many other countries in Europe, Poland also has two main sale seasons. While winter sales start in December and end in February, summer sales start in June and end around August. However, you're also likely to see other discounts throughout the year. Follow the European dress code & hunt down the best price. 
11. Liverpool
Explored by Pauline from BeeLoved City
If you love shopping and European style fashion, Liverpool will be your paradise! Located in North West England, Liverpool is mainly known for being the birthplace of the Beatles but it has so much more to offer!
The entire city center is full of shops! The main shopping street is Church St. You will find all the main brands and shops there. Primark, TK Maxx, Matalan… they are all there. This is the best place to find cute outfits for Europe! As you head down the street you will enter Liverpool One.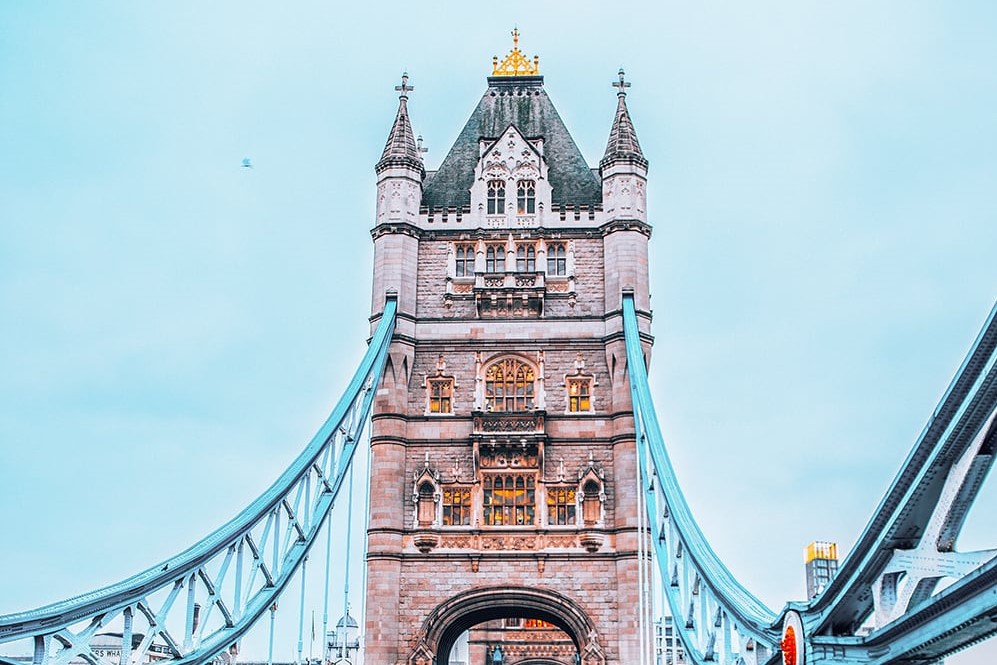 It's the largest open-air shopping center in Europe! It's very nice to wander around especially in summer! Here, the European summer style includes an umbrella. We are still in Northern England, after all.
You will find all sorts of shops in Liverpool One. From the most luxurious brands to cheaper alternatives. There are many women and men clothing shops such as Adidas, Guess, Gap, or Hollister. If you are into technology, you will also be spoilt for choice! Apple, Samsung… everything you can think of!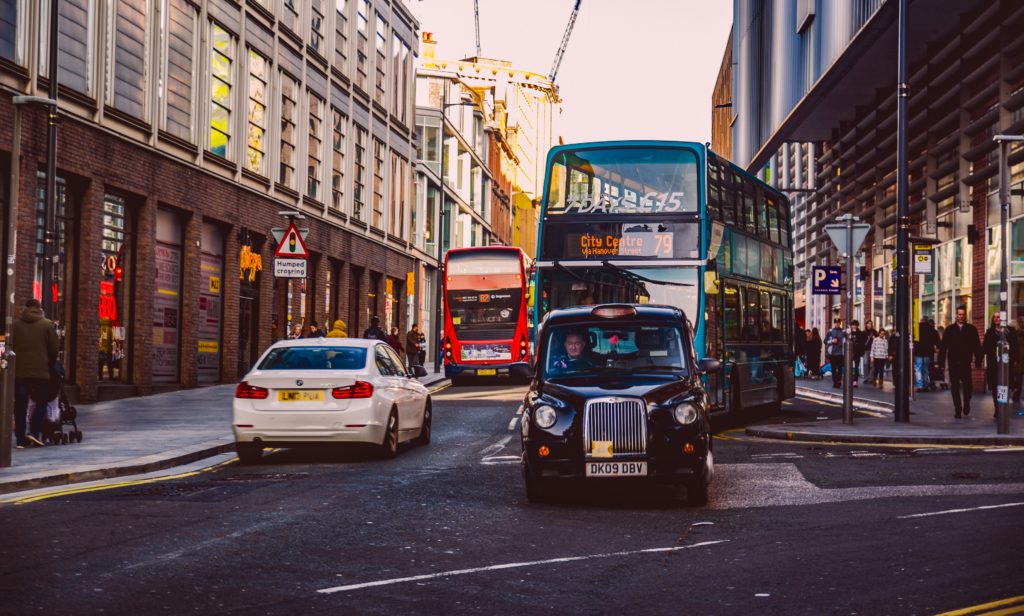 Liverpool One also features 35 bars and restaurants! There is even an outdoor grassy area with games and views over the harbor.
Finally, if you'd rather go for second-hand products, you can head to the Knowledge Quarter. There are many charity shops where you can score some amazing bargains and find very unique clothes! It's a great spot to find unique thrifty European casual style items. 
12. Wroclaw
Explored by Mal from Raw Mal Roams 
Wroclaw is the capital of Lower Silesia a south-western region of Poland. It is a beautiful city with a stunning, gothic market square, a rich cultural scene with gripping museums, galleries, performing venues, and good restaurants.  It's also one of the best places to learn how to dress European.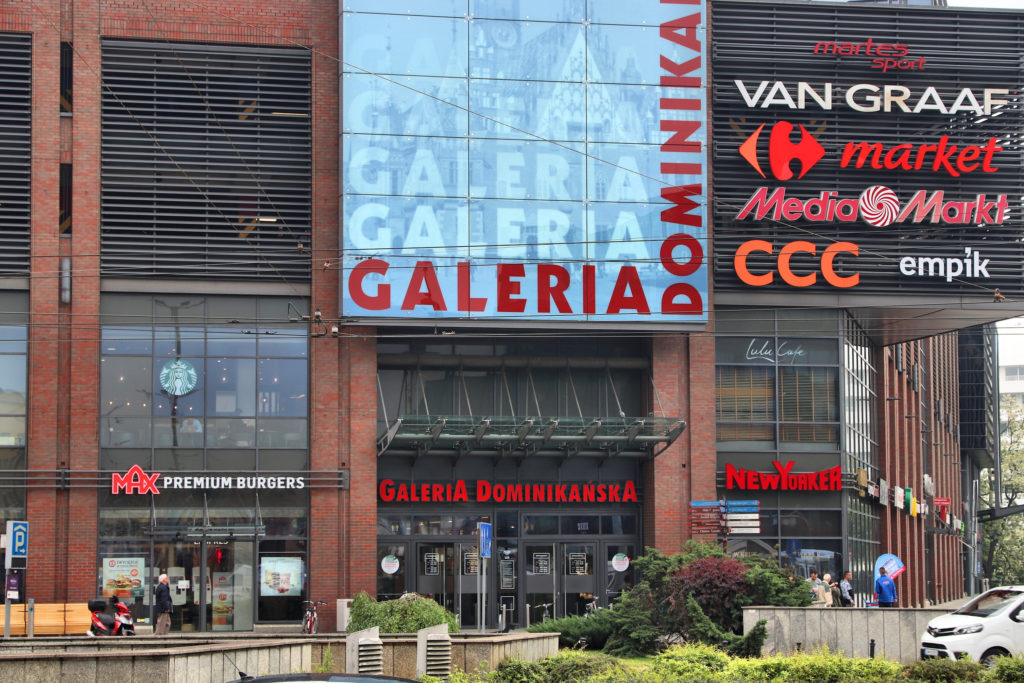 Wroclaw is also an excellent destination for shopping! Wroclaw is unofficially known as the shopping capital of Poland with the staggering number of 19 large shopping centers know as 'shopping galleries' covering over 600 thousand meters square packed with luxury, popular high street brands, independent boutiques, home accessories, and electronics. These are the best places to find outfits to wear in Europe and shoes to wear in Europe. 
Shopping galleries in Wroclaw are extensive and include everything you can possibly think of buying from handcrafted tea to jewelry and organic toiletries. They're at the forefront of European fashion trends.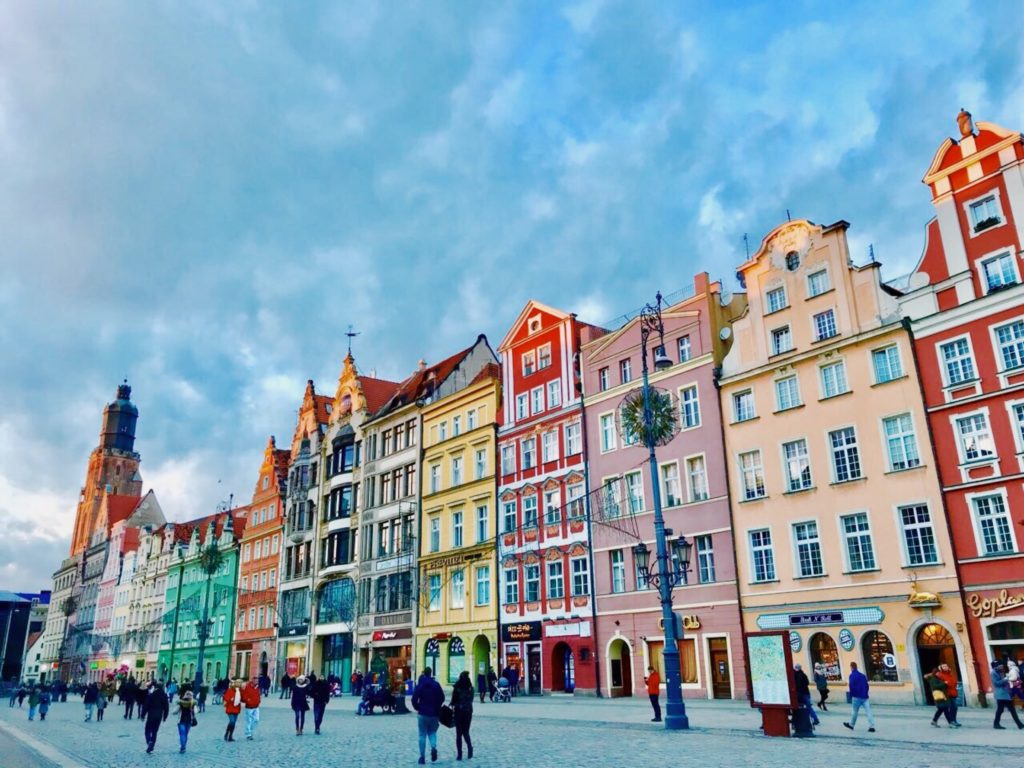 One of the best shopping centers in the city is Pasaz Grunwaldzki, situated in the heart of the town. It's an excellent place to get some retail therapy. There are world-known brands such as Levis, Swarovski, and Sephora. Also, you can find all the Spanish favorite Inditex brands including Zara, Pull&Bear, Stradivarius, and Oysho for underwear. These are the best places to find the latest fashion in Europe! 
Make sure to check out some of the best Polish fashion brands, including premium men's fashion at the Vistula and luxurious shirts from Wolczanka. For more popular and casual Polish brands head to Reserved or Mohito. After shopping for clothing for travel to Europe, check out Lulu Café for a scrumptious lunch, followed by a piece of delicious Polish cake!
13. Copenhagen
Explored by Megan from Megan & Aram Travel Blog
One of the best shopping cities in Europe is Copenhagen, Denmark. As soon as you get from the Copenhagen Airport to the city, you will be greeted with a plethora of options for where to shop and Denmark truly does produce some of the best clothing of Europe and some of the best furniture designs in the world.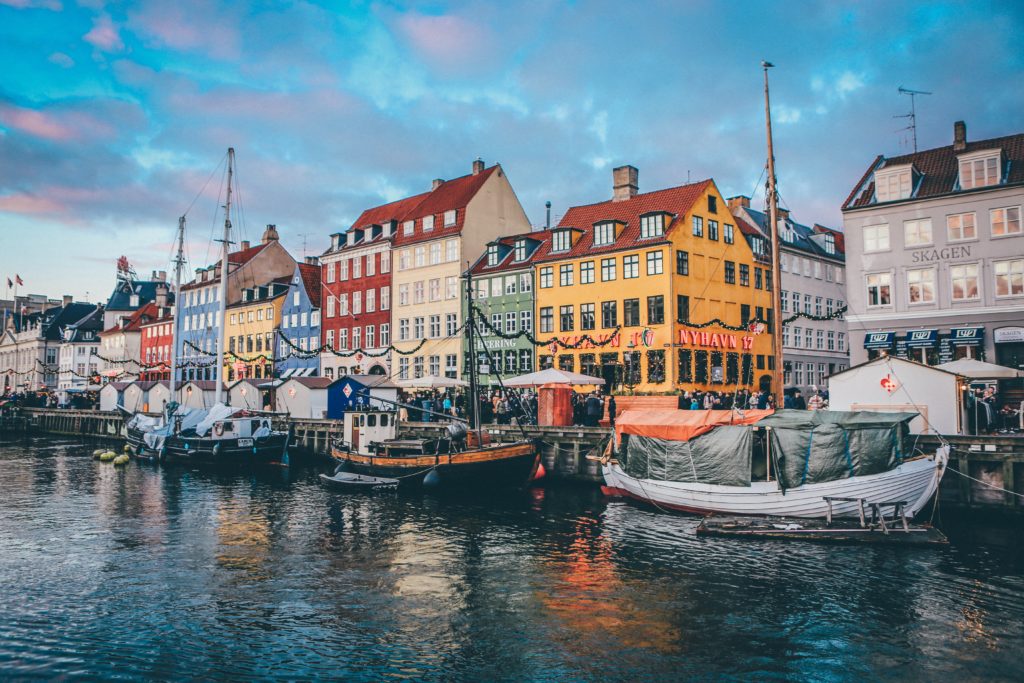 You can find all of the main Scandinavian brands in Copenhagen – from affordable Swedish shops like Monki and Weekday to unique concept shops that you can only find in Copenhagen. Your perfect outfits for Europe start here!
Danish designers are renowned for creating modern European clothing. Meaning, you'll find high-quality pieces that are effortlessly chic while maintaining a minimalistic look that never goes out of style. They make good travel clothes for Europe. You can also find fantastic outdoor brands such as Rains, a brand of top-quality rain gear that makes some of the coolest, all-weather bags that last for years.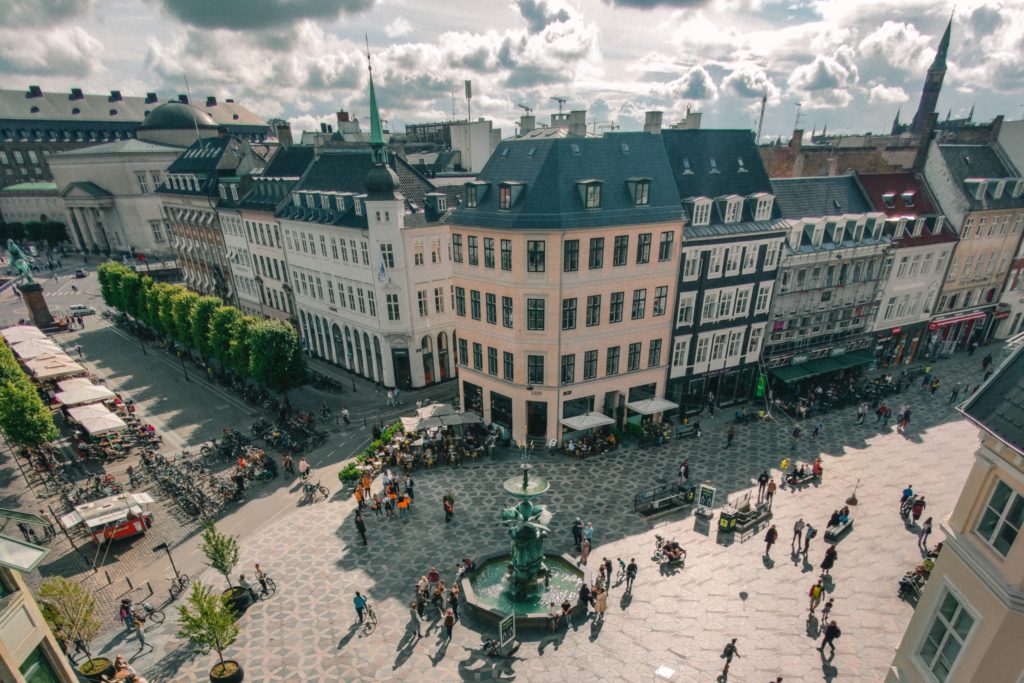 Some Copenhagen shopping favorites that you'll want to check out our Samsøe & Samsøe, COS, Gestuz, Ganni, Brøgger, and By Marlene Birgir.  If you're looking for a great souvenir to bring home from Copenhagen, opt for a nice rain jacket from Rains or Samsøe & Samsøe or a beautiful sweater at COS. 
Looking for more than just tourist fashion? You can find Europe clothing in thrift stores all over Copenhagen and some really unique vintage finds at flea markets and second-hand stores. You may be able to come across Danish brands, as well, and at a far more affordable price than you'd pay for something brand new. Danes are very eco-conscious and aware that fast fashion has a terrible toll on our planet and encourage second-hand shopping when it is an option. Vintage finds can make some of the most unforgettable outfits for Europe! 
14. London
Explored by Jiayi from The Diary of a Nomad
The bustling city of London is not only an incredibly dreamy destination to visit; it's also an amazing place to go shopping and discover the latest European street fashion. There are endless neighborhoods filled with clothing and accessories stores. To begin with, head over to Oxford Street, the most famous shopping street in London. You can find almost all the biggest fashion stores there, including Topshop, Primark, H&M, Urban Outfitters, Zara, and Uniqlo. It's the best place to shop for travel clothes for Europe.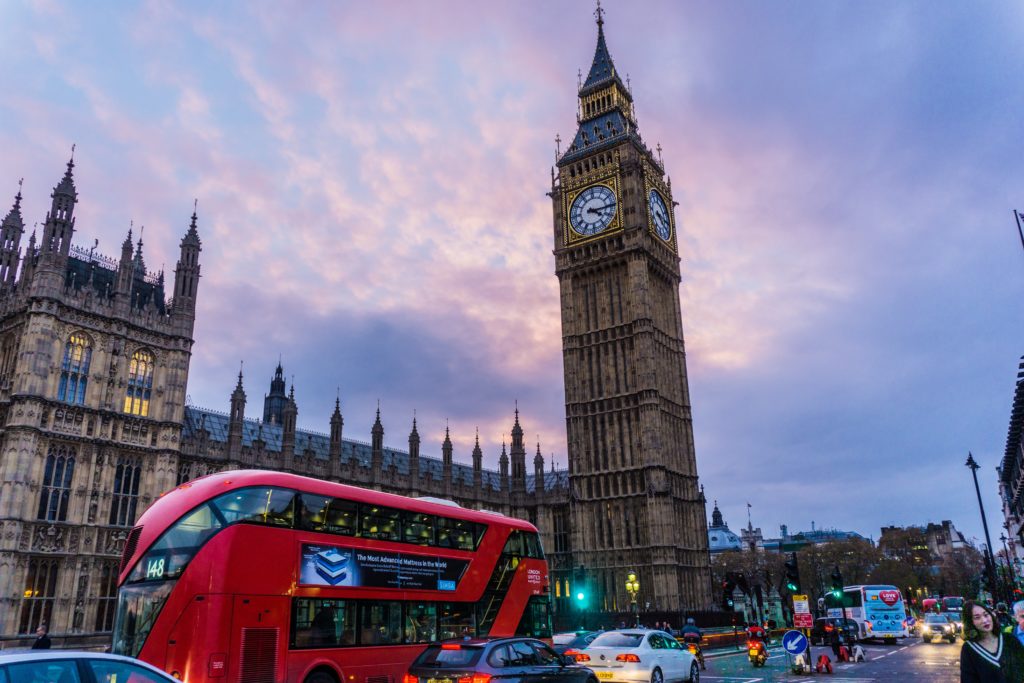 There are also two Accessorize stores on that street, so you can buy pretty much any kind of clothing and accessories there. The nearby Regent Street is also a great place to visit to shop for more brands such as Anthropologie and & Other Stories.
To shop in a different kind of environment, head over to the neighborhood of Shoreditch, where you'll find several thrift stores filled with vintage clothing and unique fashion styles. Beyond Retro is the best thrift store there. Inside, you can find pretty much everything from coats, dresses, and jeans to leather belts and shoes. It's the best place to find travel outfits for Europe on a budget.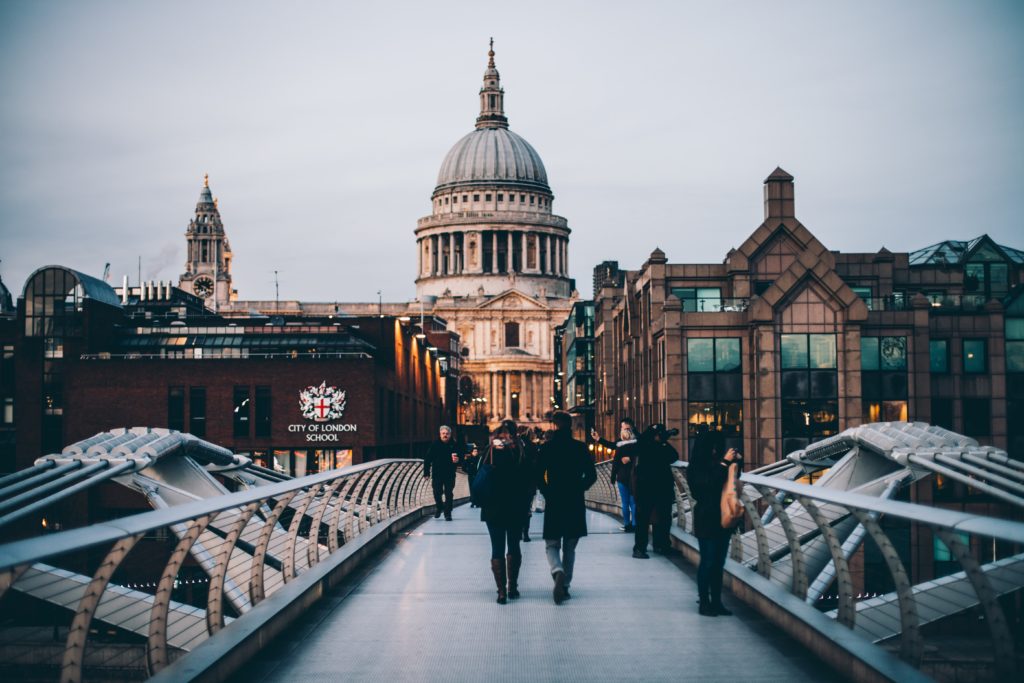 Rokit Vintage and Vintage Heaven are two other great thrift stores to visit in Shoreditch. You can find some pretty cool dungarees in Rokit Vintage, but make sure to visit Vintage Heaven on the weekends because it is only open then! If you do, you'll be sure to snag some incredible traveling clothes for Europe. 
15. Ljubljana
Explored by Stella Jane from Around the World in 24 Hours
Anyone who loves small businesses and handmade goods will love shopping in Ljubljana, Slovenia. Urban Adventures even offers a tour entirely dedicated to shopping in the city. Ljubljana is also one of the greenest cities in Europe, so it's a wonderful destination for supporting sustainable shops.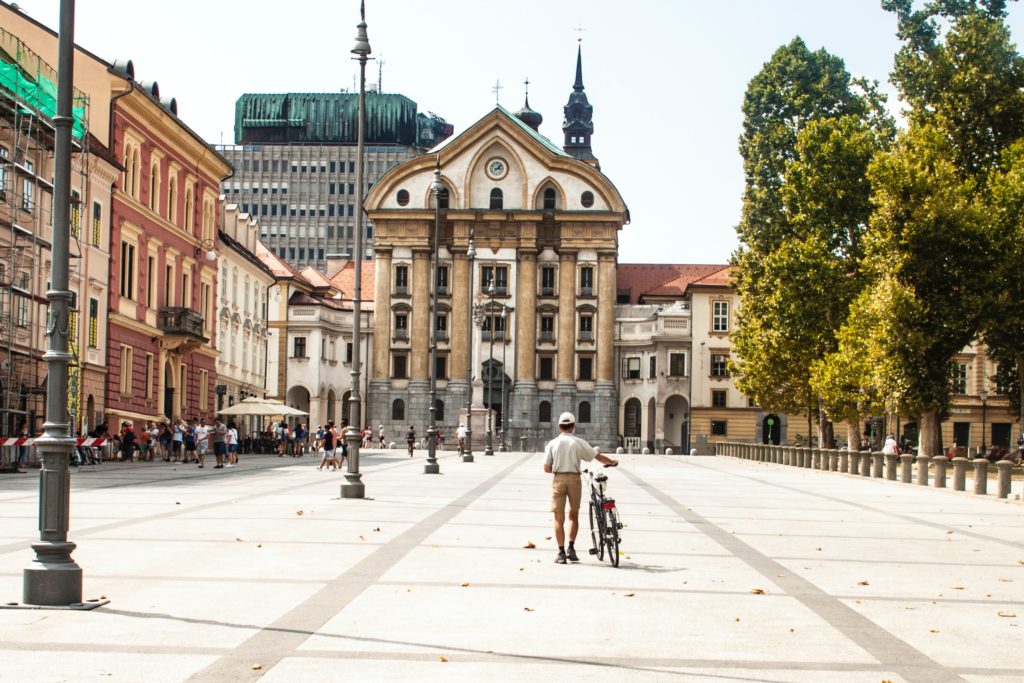 One legendary store in Ljubljana is Catbriyur Porcelain. It's a hot spot for European wear. Katja and Jure make their gorgeous pieces themselves. When royalty visits Slovenia, they sometimes stop at this store. When Queen Elizabeth II of England came to Slovenia, the government gave her porcelain from this shop as a present. Catbriyur makes porcelain jewelry, and if you arrange for a tour of the shop in advance, they can teach you how to make your very own porcelain jewelry to take home with you.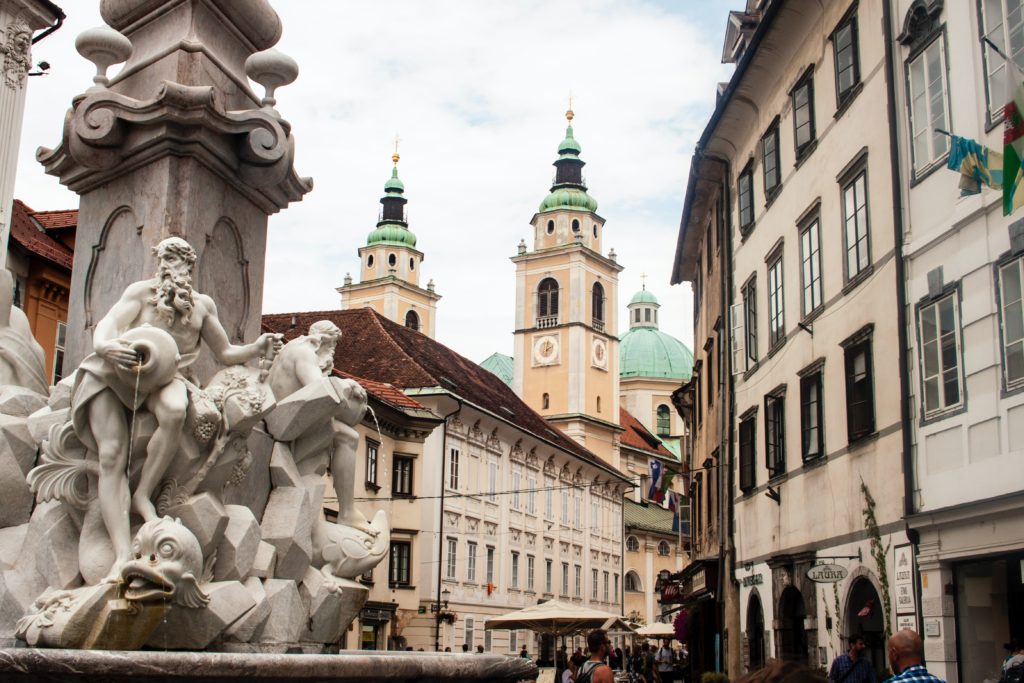 Ljubljana is also famous for its handmade lace. At the Idrija Lace Shop, you can watch a lace-making demonstration and shop for original pieces of lace clothing and accessories. You won't find pieces like these in any department store. 
And for clothing that's even more personal, try Vezenina. They use antique sewing machines to embroider any name or message that you like on their slippers, scarves, hats, and other accessories. It's as much fun to watch them work as it is to take their goods home!
16. Aix en Provence
Explored by Nadine Maffre from Le Long Weekend
Of all the market towns in France, Aix-en-Provence stands out from the rest. A cultural city at the heart of Provence, it's here that you'll find the true essence of the south of France – and where you can buy it to take home with you!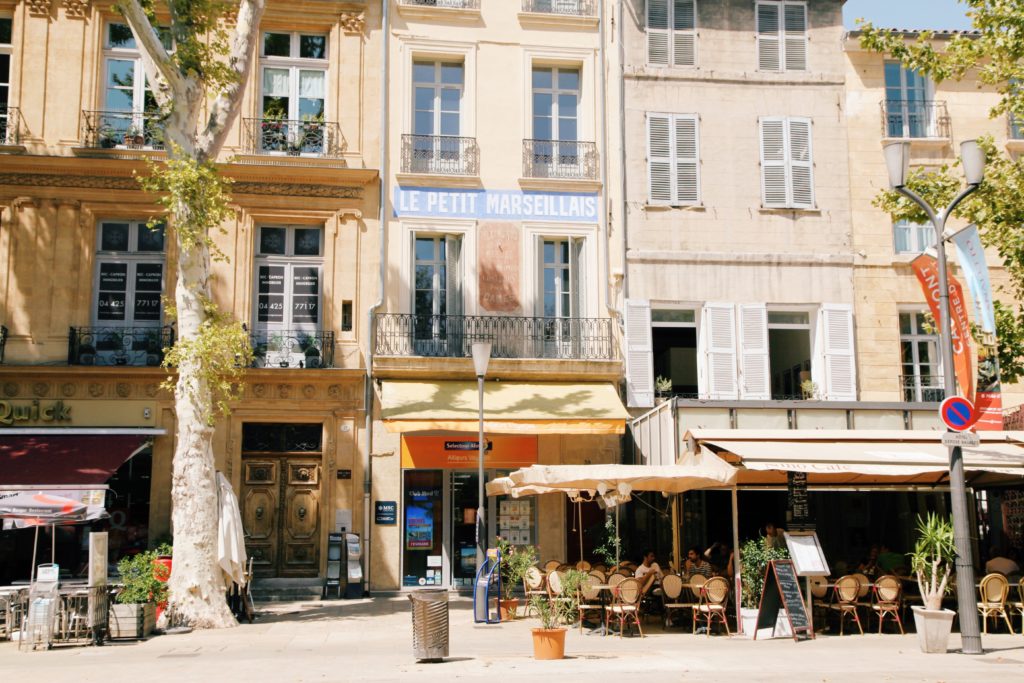 Aix-en-Provence's markets are legendary for their range, convivial atmosphere, and delightful setting. You'll find a market for everything from food to fashion, and they're all located in the stunning historical heart of the city. Wander up Cours Mirabeau – Aix-en-Provence's main boulevard and you'll first stroll past antique dealers before reaching the main part of the market. If you want to dress like a European, this is the best place to find casual European fashion items!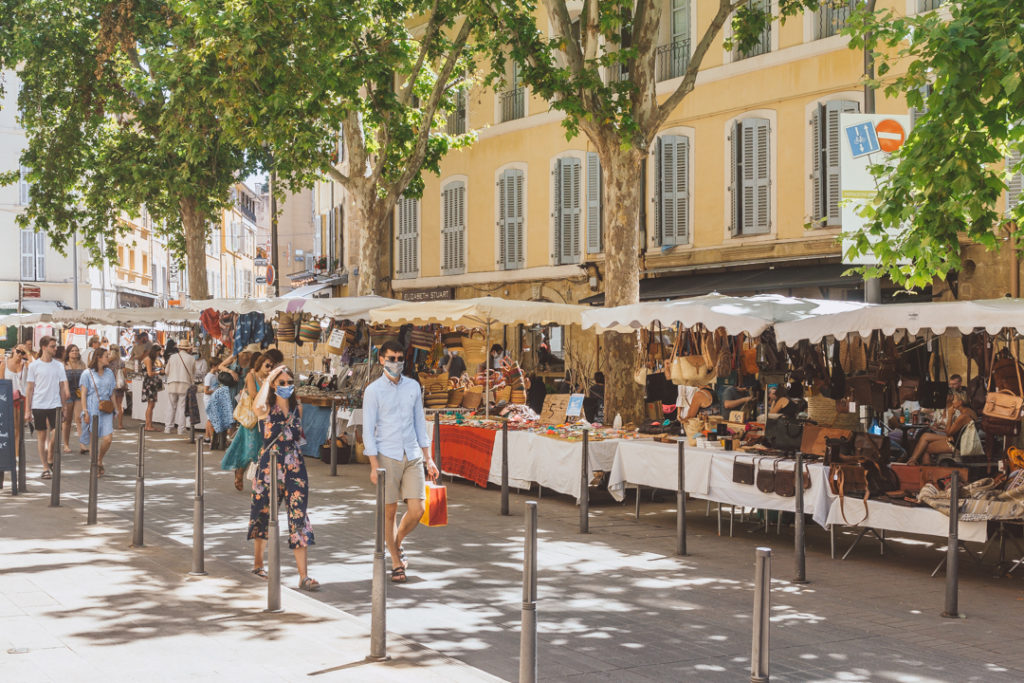 Pick up typical Provençal linens, lavender-infused goodies, and straw hats to keep the sun off your face as you shop. Place Richelme is the place to go for the freshest fruit & vegetables, and just around the corner at the Place de l'Hôtel de Ville, you'll find the legendary flower market brimming with blooms. 
Once you've had your fill of the markets, wander down Rue Espariat where you'll find French cosmetic brands such as Bastide and L'Occitane and boutique fashion stores. This is where you can expect to find clothes to wear in Europe as well as trendy European shoes. Les Allées is where you'll find the usual High Street stores, and Rue d'Italie is famous for its gourmet delights.