Looking for fun things to do in Las Vegas for couples? We've put together some of the best Las Vegas attractions besides drinking and gambling. Although, we do mention some spots you should check out on the Strip. This article focuses on unique Vegas activities that you can enjoy with your significant other! Take advantage of the best hiking spots, museums, shops, shows and more! Let us be your guide to planning the perfect couples trip to Vegas.
Needing to see where everything is located? Check out our Las Vegas Attractions Map.
26 Things to do in Las Vegas for couples
26 Things to do in Las Vegas for couples
1. Spend the day hiking
Some of the best places to see in Las Vegas need to be reached on foot. Just outside Vegas you'll find mountains, canyons, lakes and valleys. The Nevada desert has it all!
Winter is the perfect time to hike in Nevada. On average, temperatures around Vegas will range from 40 to 65 degrees from December to February. The sun shines bright as always. This guarantees a refreshing and ideal climate. If you're planning to visit in summer months, make sure to bring plenty of water and plan your hikes in the very early morning.
Some of the best places to hike near Vegas are:
Red Rock
Death Valley National Park
Valley of the Fire State Park
Sloan Canyon
Red Rock National Park
Located just northwest of Las Vegas, Red Rock National Park is a hiker's desert paradise. It only takes 30 minutes driving to get to Red Rocks from the Las Vegas Strip. The park features a 13 mile loop with a variety of scenic lookouts and branching trails.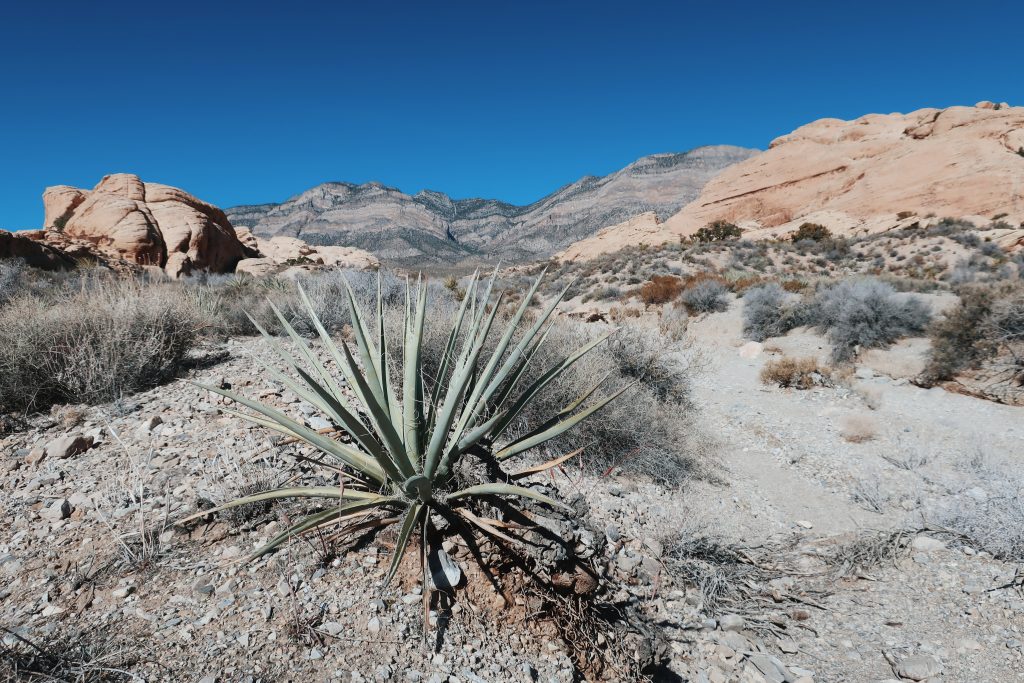 We especially loved the Calico Tanks trail because it allowed us to climb up and around the rocks like little kids. The rocks were so numerous and all-encompassing that any semblance of a path had shorty disappeared. You could follow the trail markers or go off in a unique direction. Another one that we loved was Ice Box Canyon. These trails were rated difficult, but the park has trails for every skill level.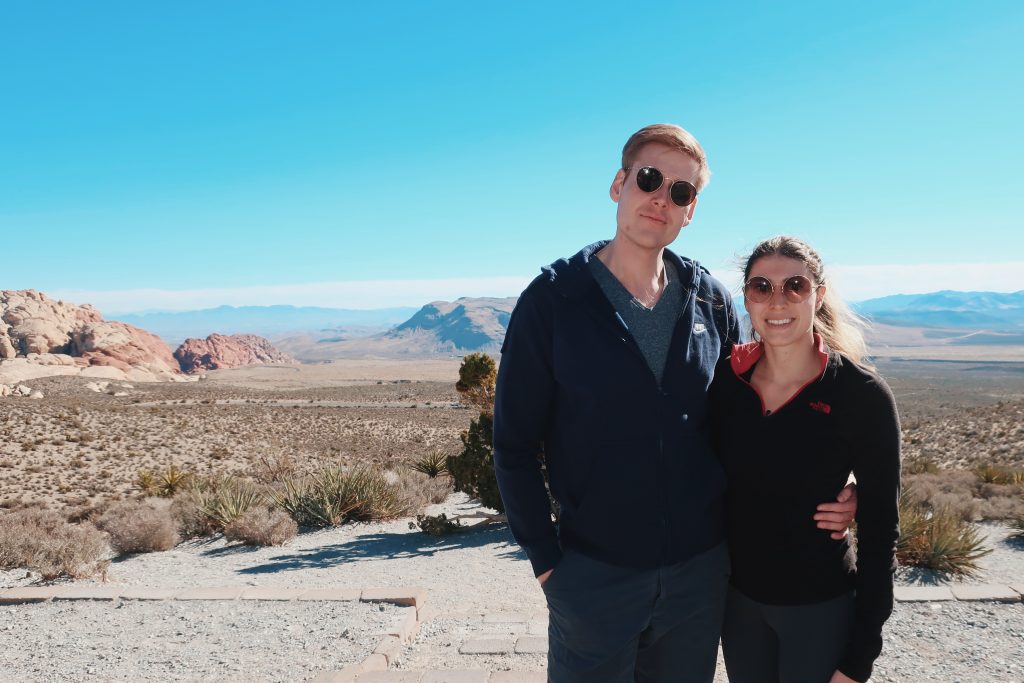 Give yourself at least 3-4 hours to explore this park. You could easily spend half of a day or an entire day hiking here. For bonus points bring a picnic blanket and some food. Find a secluded spot to have lunch.
Death Valley National Park
Death Valley National Park is in California, but it's only a 3.5 hour drive from Las Vegas. This park is massive! You could spend more than an entire day here, but don't leave yourself any less than half a day. The views are spectacular even from inside your car.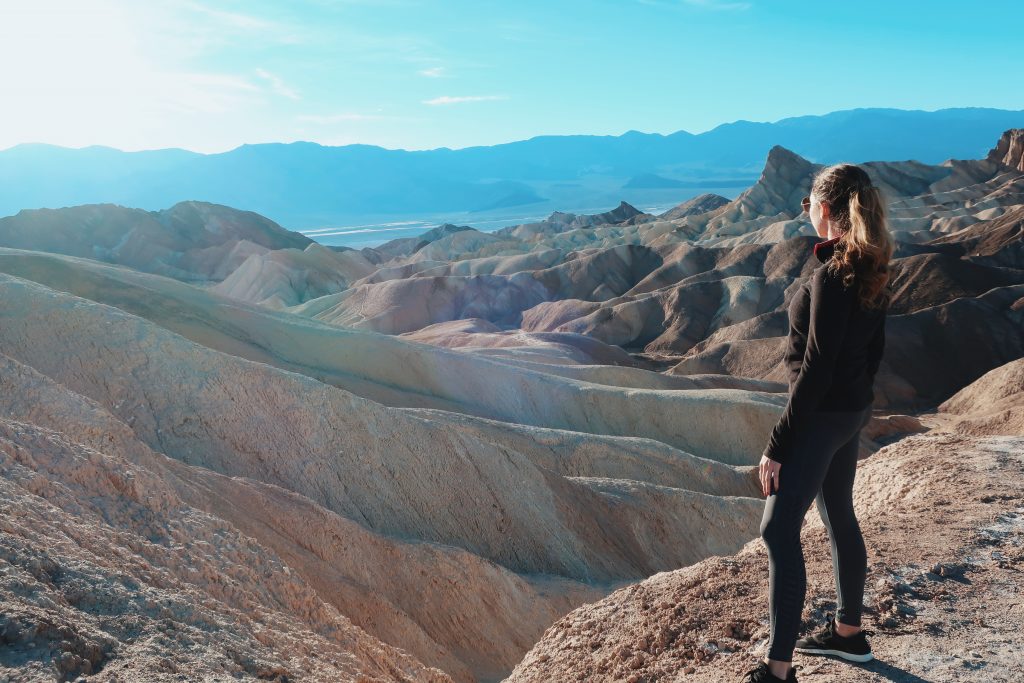 It's a great day trip from Las Vegas!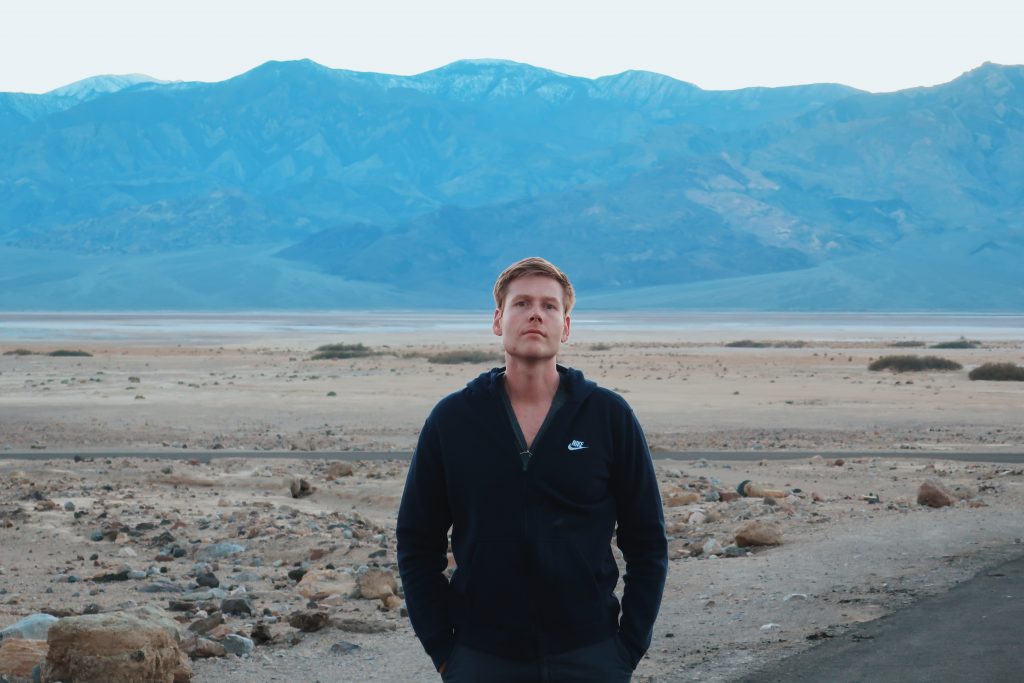 Valley of the Fire State Park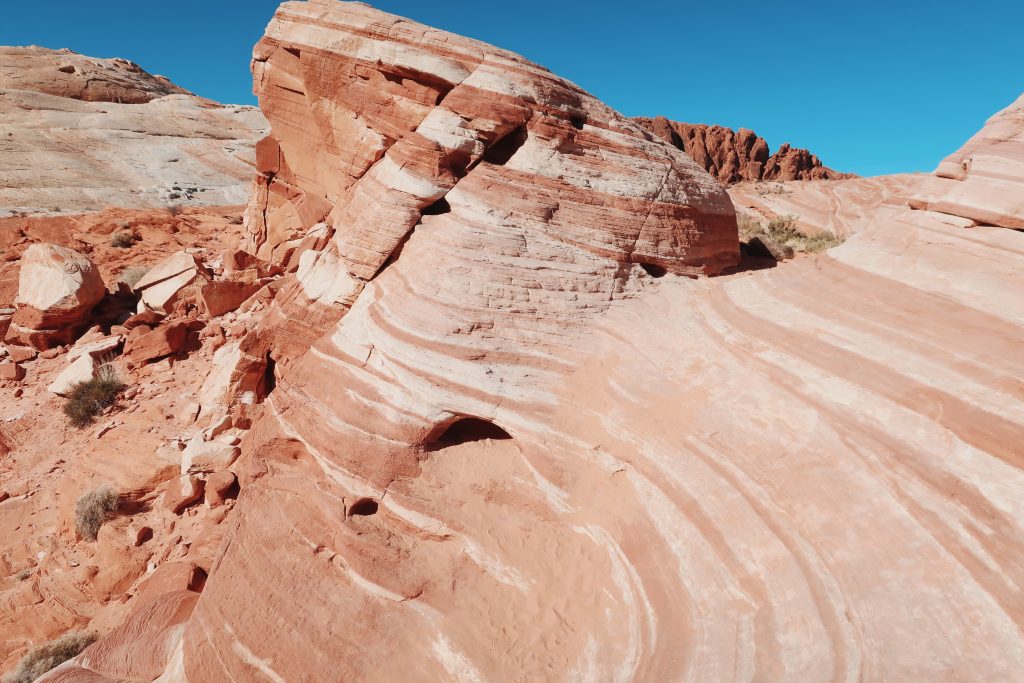 Valley of the Fire State Park is located about an hour northeast of Las Vegas. It boasts unique, colorful and rugged landscapes. Our favorite trail was Fire Wave. We also enjoyed White Dones. This park provides half a day to a full day's worth of adventures.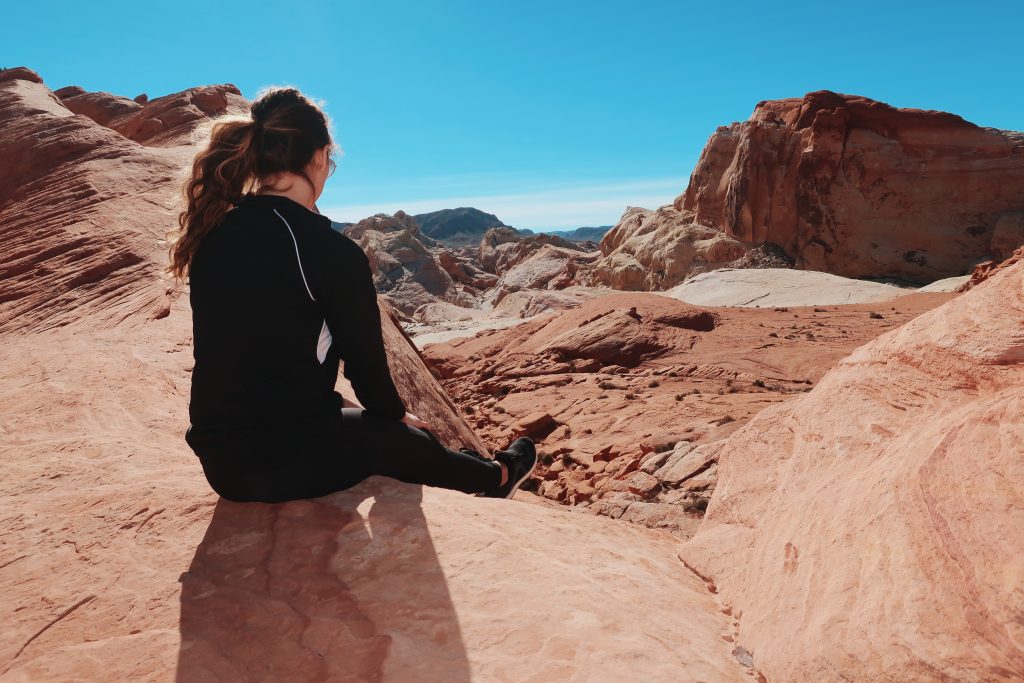 Sloan Canyon
The Sloan Canyon national conservation area offers a couple scenic hiking trails. The Petroglyph Canyon Trail is a local favorite that's good for all skill levels and features wildflowers on route. Sloan Canyon is only 20 minutes south of the Las Vegas strip! You don't need a whole day to check out this place, you could stop by for a quick few hours of hiking.
2. Go to a pool party
You've probably heard of nighclubs, but have you ever been to a dayclub? Las Vegas pool party season starts mid-March and goes through mid-October. Vegas dayclubs host the world's hottest EDM artists like Tiesto, Steve Aoki and Calvin Harris. They offer luxury poolside cabanas, ridiculously overpriced drinks and endless sunshine.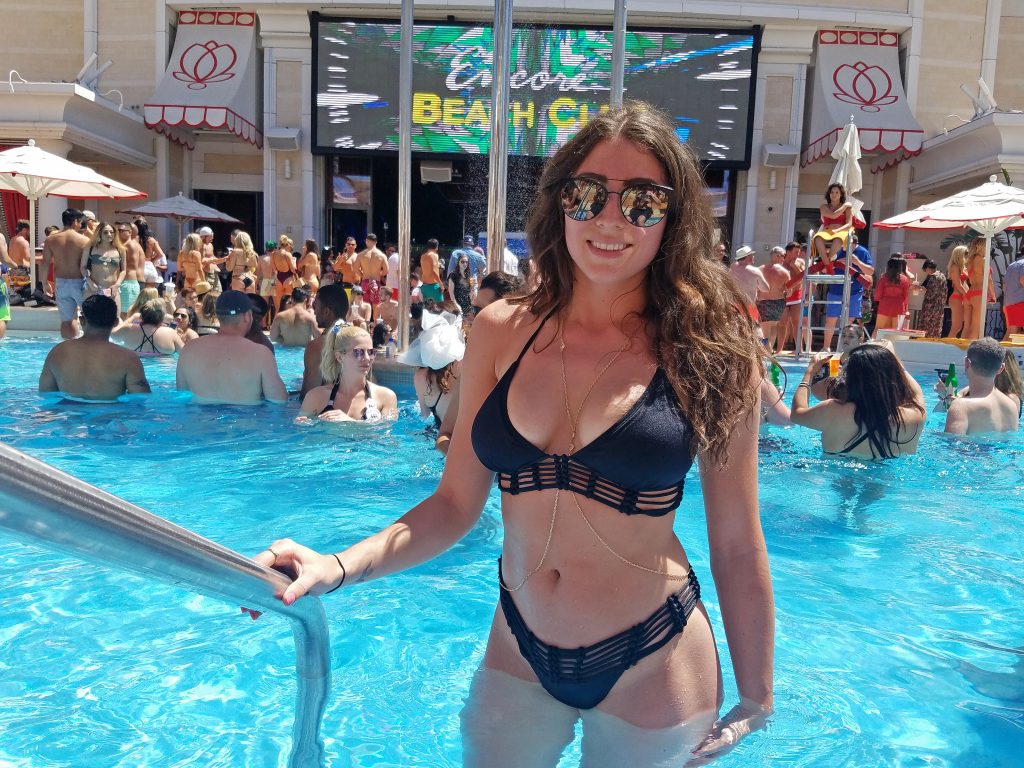 The best places to go in Las Vegas for pool parties are the MGM Grand's Wet Republic and the Encore Beach Club. These parties have the best headliners, so it will always get packed! Get there earlier in the day to secure your space.
3. Visit a museum
If you're looking for conventional Las Vegas sightseeing, visit a museum. Las Vegas has a few interesting museums to visit, and one that may test your boundaries
Neon Museum
National Atomic Testing Museum
Mob Museum
Erotic Heritage Museum
Neon Museum
The Neon Museum has an impressive collection of historic Las Vegas signs. This outdoor "Neon Boneyard" is overflowing with rescued signs, vintage bulbs and beautiful colors. It's one of the must-see Vegas tourist attractions!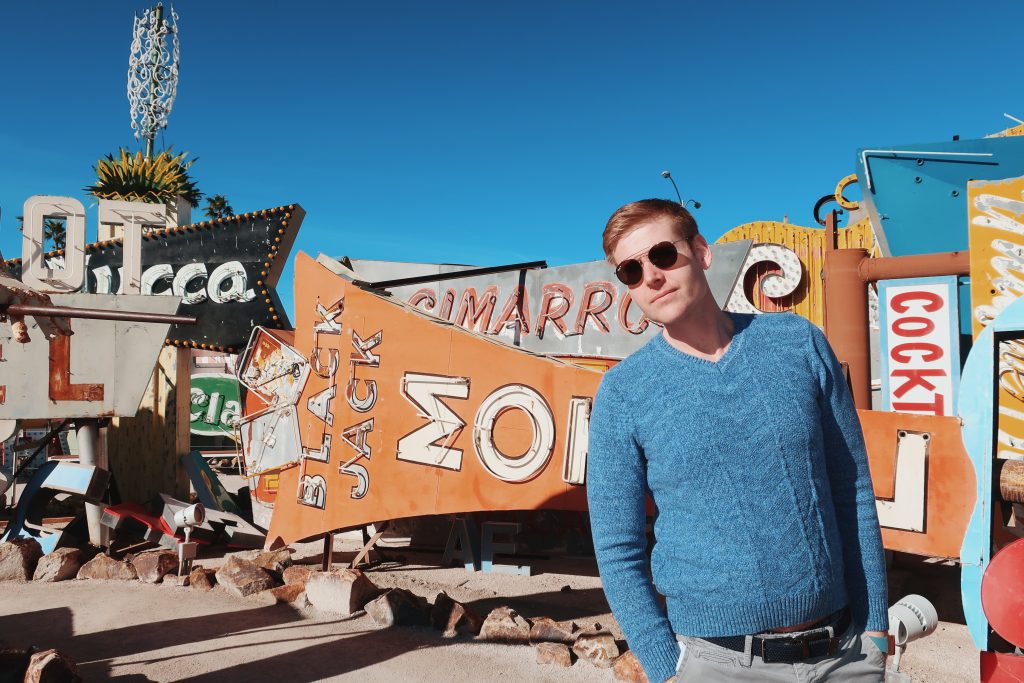 Throughout, you'll find many instagrammable backdrops. You can also book a photoshoot in the Neon Boneyard. For more information visit their website here.
National Atomic Testing Museum
This museum documents America's 70-year history with nuclear weapons testing specifically at the Nevada Test Site. The Nevada Test site was located about 65 miles north of the city. During detonations in the 1950s, mushroom clouds could be seen from within the city of Las Vegas. The explosions became a tourist attraction and Americans lined up to watch.
Learn about radiation, how nuclear weapons were developed and how the atomic age influenced American Culture. Visit their website for more information.
Mob Museum
The Mob museum is situated in downtown Las Vegas, right in front of the Old Strip. The museum is housed in a former Las Vegas Courthouse. The courthouse was sold by the federal government to the city of Las Vegas for $1! The city agreed to develop the courthouse as a historic site and use it for cultural purposes.
As you walk through the museum, you'll travel through time, revisiting the history of the Mob in American society. After you're done with your tour, stop by the basement speakeasy for a drink.
Erotic Heritage Museum
This risque museum in Vegas is dedicated to documenting the history of erotica with a focus on America's sexual revolution. It's the largest museum for erotic artifacts in the world! With many immersive exhibits, it's one of the most provocative places in Vegas for couples.
Their most advertised exhibit is the "World's Largest Erotic Bicycle." Other works span the artistic spectrum from video to sculpture, photography and painting.
4. Have a romantic dinner
One of the best things for couples to do in Las Vegas is dining out. Las Vegas has some of the best restaurants in the country! Many restaurants are owned by celebrity chefs like Gordon Ramsey, Guy Fieri and Bobby Flay. You can have an excellent culinary experience on and off the strip.
Dinner on the Strip
The most iconic restaurant on the Las Vegas strip is Eiffel Tower Restaurant. It's famous for romantic panoramic views of the Las Vegas Strip and the Bellagio Fountains. They offer a sophisticated French menu with an extensive wine list. This is also a great place for brunch!
Other romantic restaurants on the Las Vegas Strip include:
Dinner Off the Strip
The Las Vegas Strip may be the only place in the world where you can find such a dense collection of "hot" $$$$ + restaurants that are almost always entirely empty. While there are numerous of these empty $$$$ restaurants and endless options for fast food, the Strip is somehow lacking in bustling, unique restaurants with good quality food offered at $$- $$$ prices. Basically, what I'm looking for.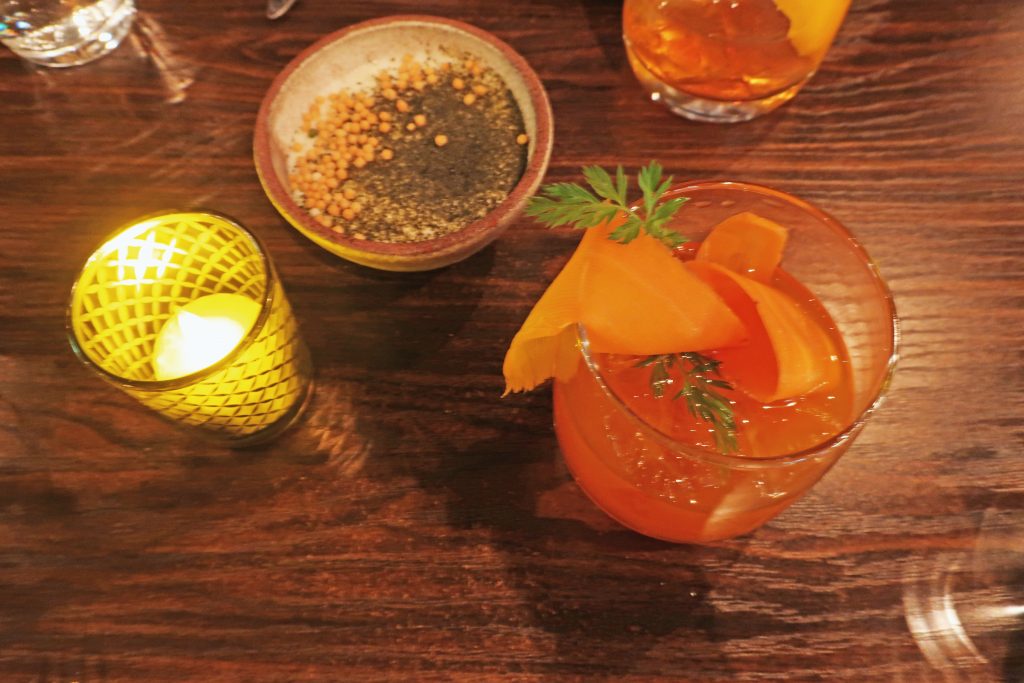 Here's a list of some hot Las Vegas restaurants off the strip.
5. Hit the strip for dessert
The Strip is the perfect spot in Vegas to find scrumptious desserts. Get lost in the enormous hotels and casinos. Stop and waste a few bucks at a slot machine.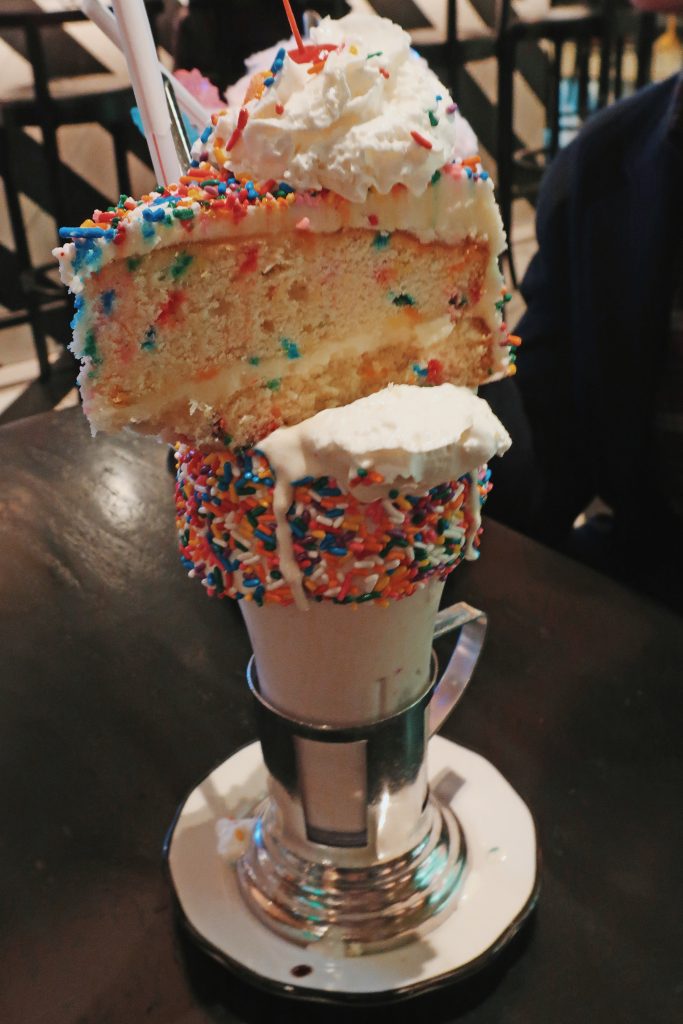 Recommended Desserts:
Momofuku Milk Bar
milkshakes at Black Tap (in the Venetian) pictured below
Sprinkles Cupcake ATM
Macaroons at the Bouchon Bakery
6. See a show
Whatever your taste in music and entertainment, Las Vegas has something you'll love. If you've never been to a Cirque du Soleil show, I highly recommend it. There's a few regular ones and they're each unique and incredible. The most popular Cirque de Soleil performance is O at the Bellagio. Although, Zumanity is considered one of the best Vegas shows for couples. It's more sensual and intimate.
Another popular show is Absinthe at Caesars Palace. It's a part burlesque, part circus and somewhat comedy show with some old-world charm and racy entertainers.
Consider Le Reve – The Dream at the Wynn if you are looking for more traditional dancing, gymnastics and aerial dance. It's one of the best shows to see in Vegas!
Also, make sure to see what singers are in town. My boyfriend and I saw the Backstreet Boys last time we were in Vegas! It was such a fun throwback performance, and we got great general admission tickets for dirt cheap.
7. Watch the sun set at a rooftop bar
Head to Skybar at the Waldorf Astoria (previously the Mandarin Oriental). Skybar is indoors, but it offers fantastic and flashy views of the Las Vegas Strip. Watch the sun set with a drink in your hand.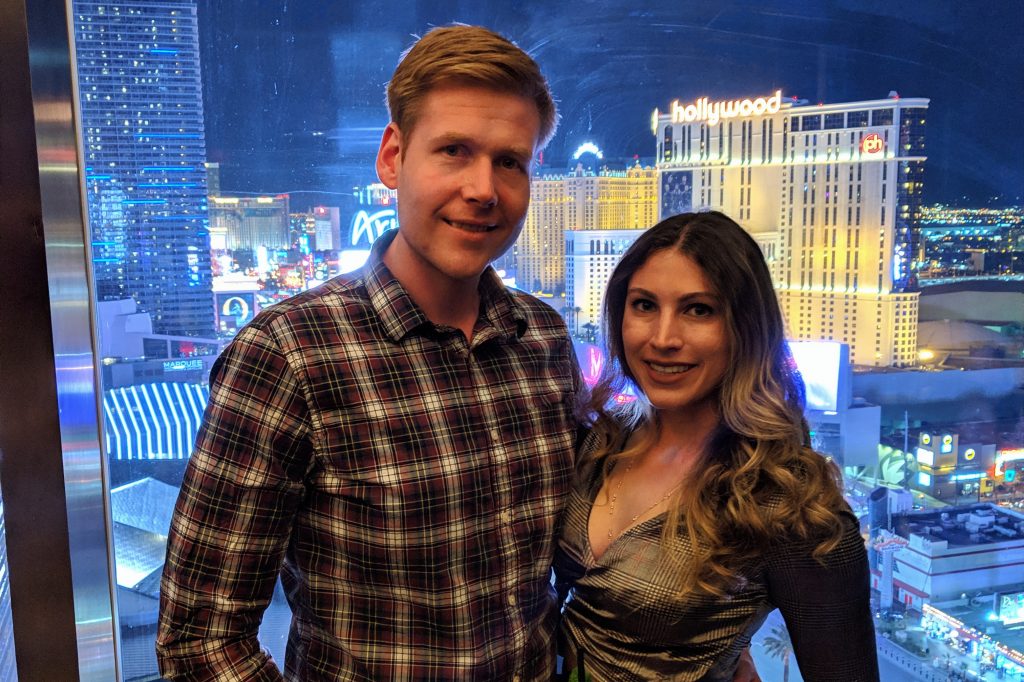 Other great bars to watch the sunset:
Beer Park is cheaper and casual than the others! You can also make reservations online. Make sure to request a table outside on the patio.
8. Take a helicopter tour
Taking a helicopter tour is one of the most amazing things to do in Las Vegas! The surrounding landscape is jaw-dropping.
If you've never been to the Grand Canyon, consider taking an afternoon to see it. Driving to the Grand Canyon can take over 5 hours by car! Cut that time significantly and enjoy an unforgettable once-in-a-lifetime helicopter experience. During the tour, you'll get to see a famous modern marvel —the Hoover Dam. Also, stunning Arial views of Lake Mead. Finally, you'll land on the West Rim of America's most revered geological treasure.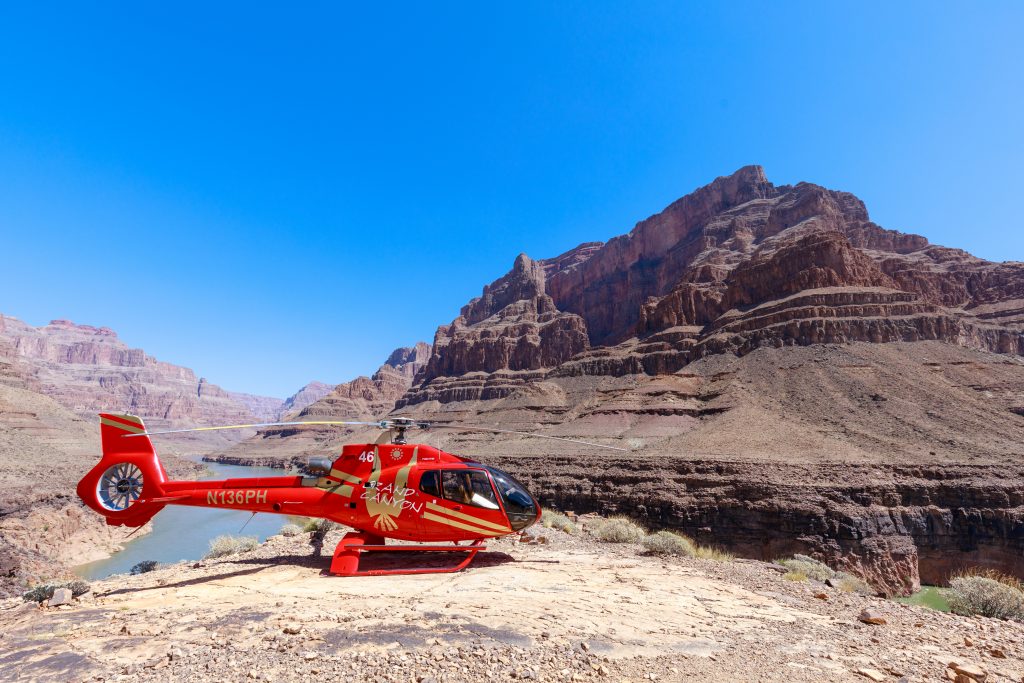 This is especially perfect if you want to see the Grand Canyon but don't care for camping, hiking and hours of driving. Most helicopter tours include luxury touches like limousine rides, champagne toasts & more!
If the prices of the Grand Canyon tours are too steep for your wallet, consider the more affordable Las Vegas Night Flight options. This reasonably priced 15 minute helicopter flight takes you on an areal tour of Sin City. These tours also include luxury transportation and champagne.
9. Balloon ride over the desert
If you like the idea of a helicopter ride, but not the thrill… consider a more gentle hot air balloon ride in the desert. This is one of the most romantic things to do in Vegas!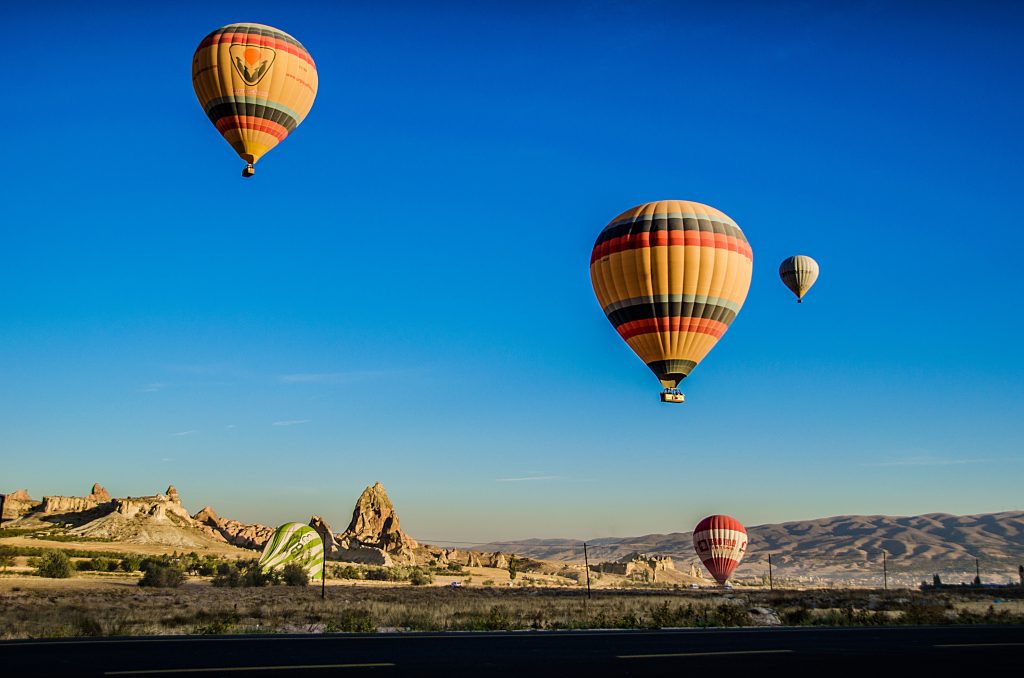 You'll wake up early for breakfast and champagne. Then, lift up high into the sky. Coast over Red Rock Canyon and the surrounding mountains. Enjoy remarkable birds eye views of the Las Vegas Strip.
10. Shop for gems and minerals
Jewelry and Mineral of Las Vegas has been a community staple for decades. It's a family operated depot for semi-precious stones, gemstones and handmade jewelry. They have a huge selection and sell at reasonable prices!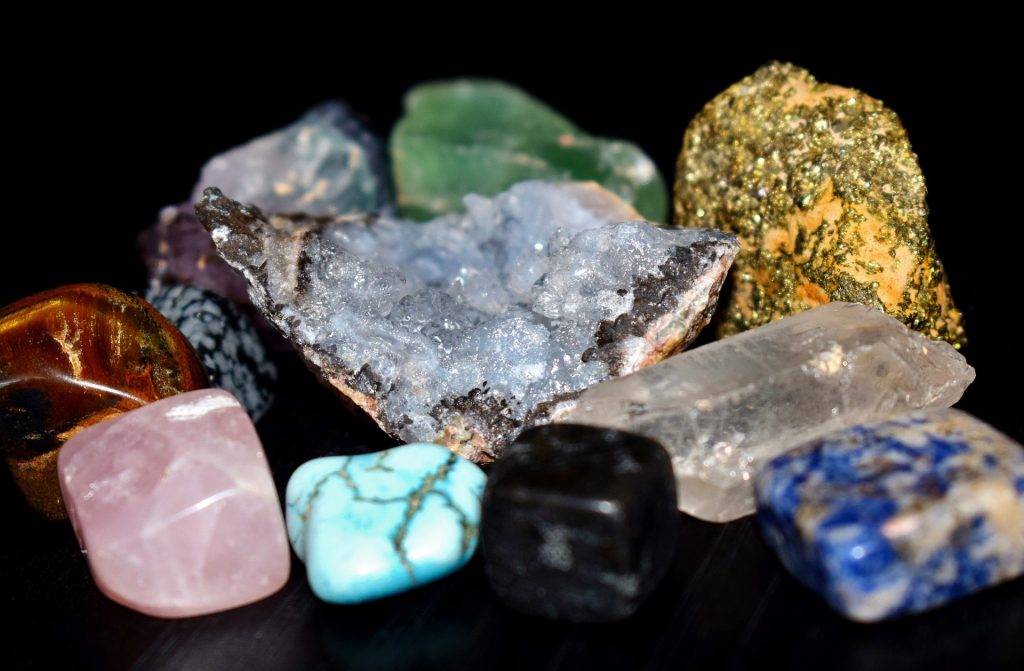 This is one of the coolest most authentic places to visit in Las Vegas. It's an especially great place for couples because you'll be able to find that rare, uniquely beautiful piece of decor for your home or apartment. Imagine a glimmering geode on your living room coffee table. It will not only be a conversation starter, but it will also be a life-long sentiment and memory of your couples trip to Las Vegas.
If you're celebrating a birthday or anniversary, even better! Get your partner a jewelry item that they won't find anywhere else. Of course, let them pick it out.
11. Drive a bulldozer
Have you ever wanted to man a bulldozer? Luckily, Las Vegas is home to the America's only heavy equipment playground — Dig This. Dig This is where big kids come to play with even BIGGER toys. This includes 20-ton Excavators and 10-ton Bulldozers. It's one of the most unique things to do in Vegas!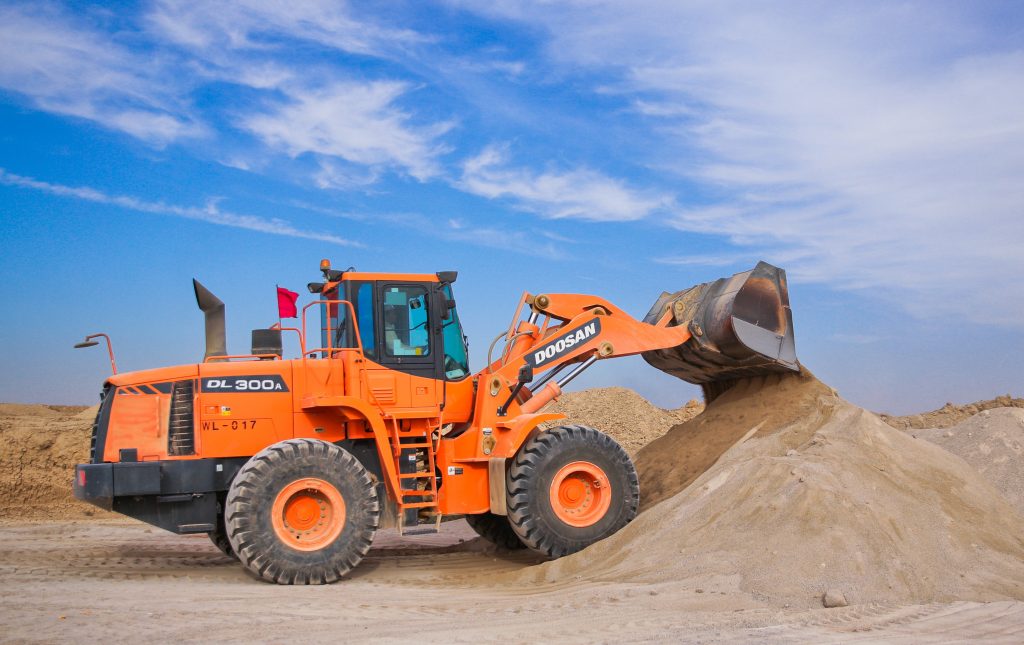 Sign up to for your Dig experience. Dig This is located a 10-15 minute drive from the Las Vegas Strip.
12. Visit the Pahrump Valley Winery
Just an hour outside Vegas is the Pahrump Valley Winery. It's considered the best winery in Nevada and one of the most awarded wineries in America. In Nevada, Pahrump grows Zinfandel and Syrah varietals on site.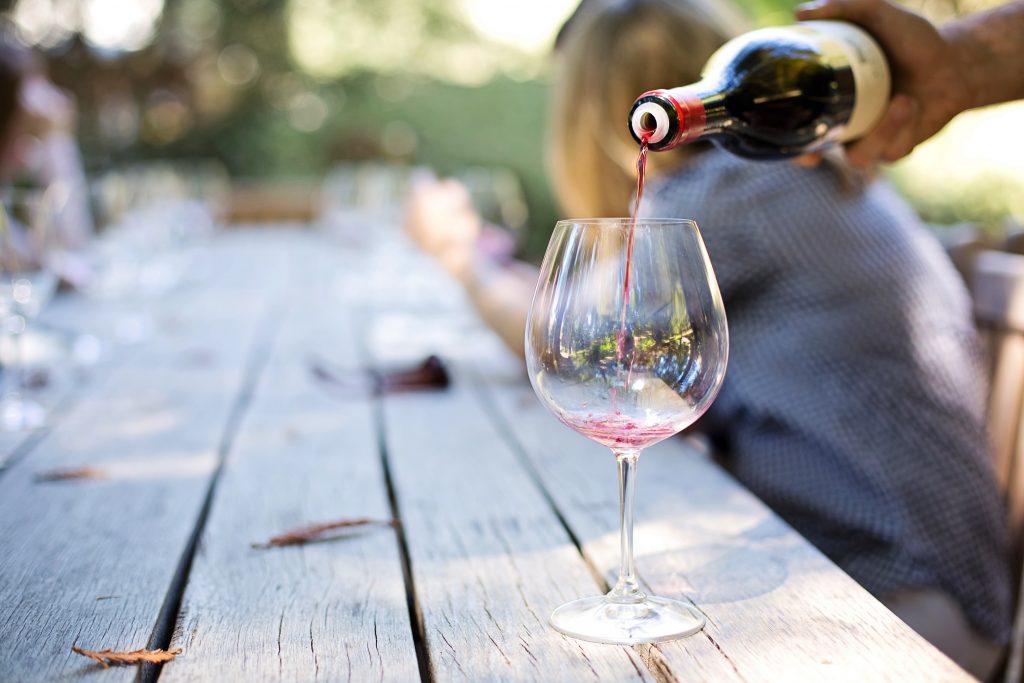 Pahrump Winery offers daily tours and tastings. They also have a top rated restaurant on site. Make your reservations in advance for dinner.
13. High Roller Observation Wheel
The High Roller is the world's tallest Ferris wheel! It brings you 550 ft into the sky above Las Vegas. The cabins of the High Roller are so large that they can accommodate 28 guests per cabin! It takes 30 minutes to complete one revolution in the High Roller.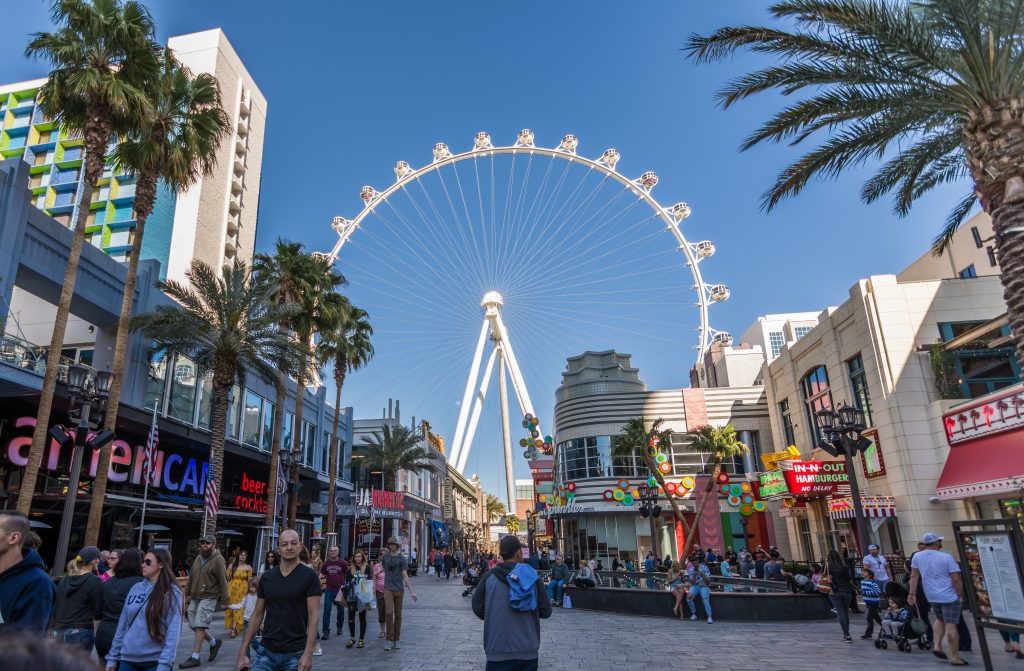 The High Roller is one of the most iconic Las Vegas strip attractions. It's also pretty inexpensive at just around $20 per person for a half hour. To upgrade this experience, book your High Roller tickets at night when the city is all lit up. In the evenings, you can also have happy hour in the High Roller! This add on features an open bar with bartender waiting to serve.
14. Thrill rides at Stratosphere
The most exciting Vegas attractions are thrill rides built into hotels. Where else in the world can you find that? Nowhere.
Head to the Stratosphere Hotel. It's a great place to visit even if you're not interested in roller coasters. Visit the Stratosphere Observation Decks. You'll get 360 degree views of the spectacular Las Vegas Strip.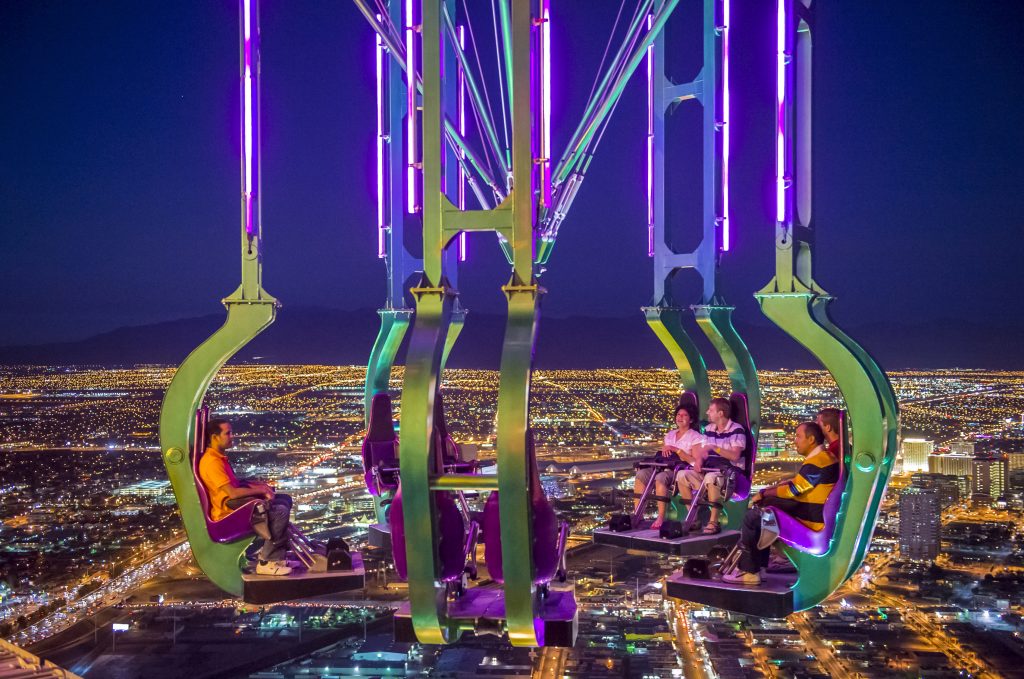 If you're seeking adventure, and maybe terror, head outdoors for your turn on one of the rides. In the SkyJump, you'll plunge off the top of the Stratosphere and drop almost 900 feet in the air! SkyJump is the most expensive ride at just over $100 per jump. Their other rides (Big Shot, Insanity and X-Scream) are a lot cheaper! You can get admission to the Stratosphere observation deck plus one ride for $25 per person (each additional ride is $5).
15. Meet the Pawn Stars
If you're a fan of the History Channel, you can't miss the Gold and Silver Pawn Shop! It's the real life pawn shop from the TV show Pawn Stars. It's located in downtown Las Vegas, just a few minutes away from the Strip.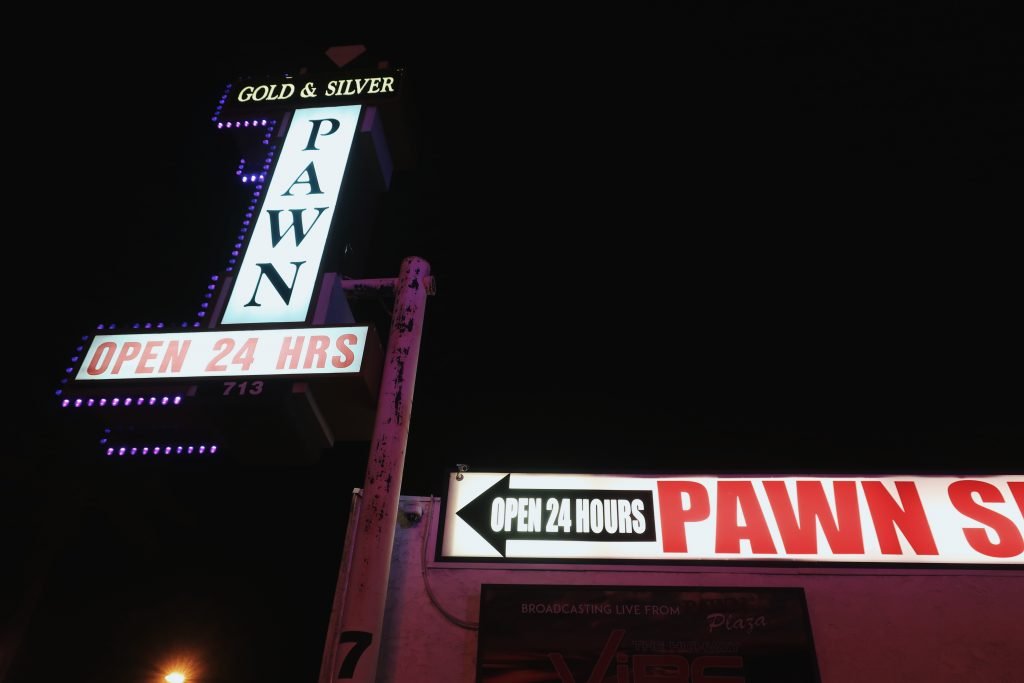 The Pawn Stars (Rick, Chumlee and Corey) often come down to the shop floors to sign autographs and take pictures. Rick and Chumlee often can be found at Pawn Plaza on Friday and Saturday nights.
If you are a HUGE fan, I'd recommend booking the exclusive tour. You'll get an exclusive meet and greet with the stars, plus a behind the scenes tour of the shop and set!
16. Ride around in a Limo
If you want the true luxury experience while you explore the streets of Vegas, you've got to book a limo. Since Las Vegas is the party capital of America, the limo rides aren't overpriced. You can rent one for less than $100 per hour. You probably don't need more than an hour.
With your limo, you'll get a bottle of champagne to enjoy. You'll have the whole cabin to yourselves for intimate and stylish fun. It's one of the best things to do in Vegas for couples!
17. Stroll through the Springs Preserve
The Springs Preserve is one of the lesser known Las Vegas tourist attractions. It's a 180 acre nature preserve just 10 minutes away from the Strip. In the Springs Preserve, there's beautiful botanical gardens, walking trails and a butterfly habitat.
You can also rent bikes here to explore the park. Bike rentals are only $8 per hour! There's 4 miles of trails total, so it's also totally doable to explore on foot. Enjoy the Joshua trees, desert wetlands and tortoise habitats. This is the perfect place to go if you need a break from the commercialism, flash and glam of the strip!
18. Go to a chocolate factory
Ethel M Chocolate Factory offers a brief self-guided tour as well as samples of their famous chocolate. On site, you can also indulge in chocolate tasting workshops as well as Chocolate and Wine tasting classes. Click here for times and scheduling information. After you've had a sweet experience inside, make sure to walk through the cactus botanical garden on site.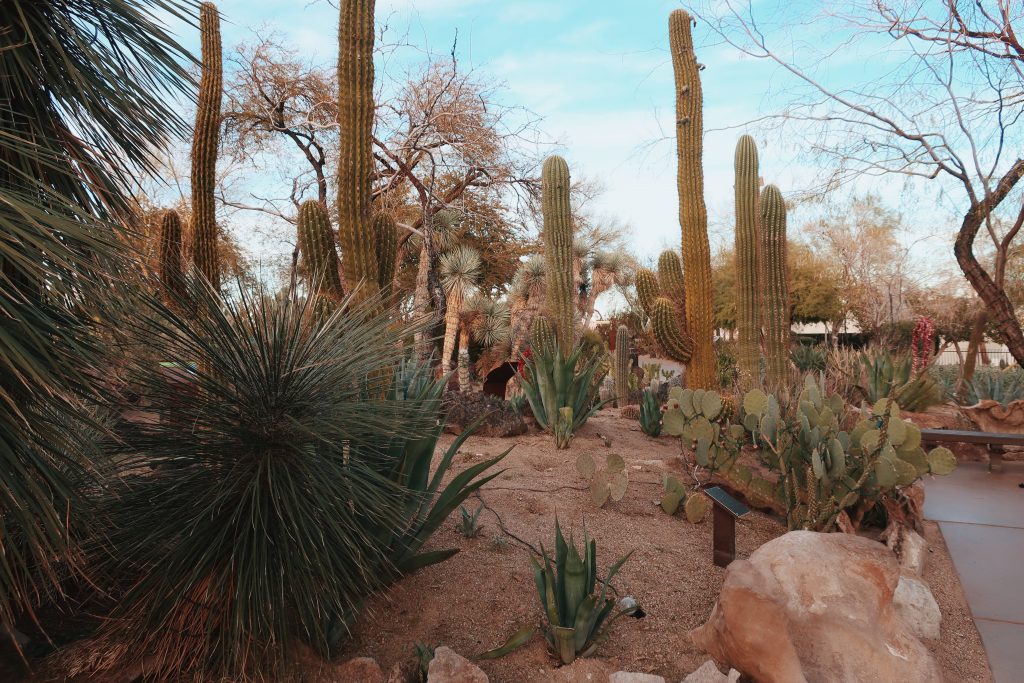 19. Ski the slopes at Mt. Charleston
You wouldn't expect to find snowcapped mountains right in the middle of the Nevada desert…but Mount Charleston offers skiing opportunities every winter! In the non-winter months, Mount Charleston offers hiking trails at all skill levels. The Mt Charleston recreation area is a little less than an hour out from the Las Vegas Strip.
20. Marvel at the Hoover Dam
The Hoover Dam is a modern marvel of engineering. It takes just under an hour from the Strip to reach the Hoover Dam visitor center. The observation deck at the top of the dam is damn impressive!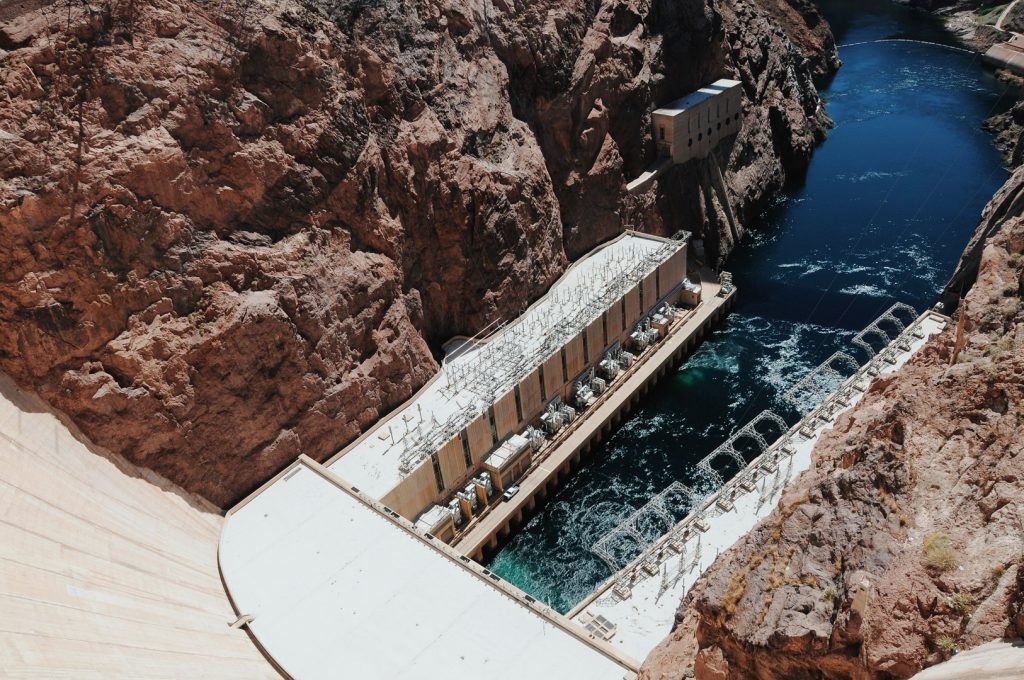 21. Area 51 Tours
Area 51 is the top-secret government research facility in the Nevada Desert. While the true purpose of the base is largely unknown, conspiracy theorists have made some wild speculations involving UFOs, aliens and experimental spacecraft.
If you find these theories and ideas fascinating, you might enjoy an Area 51 tour. Unfortunately, you can't actually visit Area 51. The tours take you to other significant alien related sites and teach you about the infamous history of Area 51.
22. Fremont Street
Fremont Street is the historic Las Vegas Strip. It lacks the stature and glamour of the new Strip, but it offers a vintage charm and a traditional Vegas feels. Some of the best attractions in Las Vegas are on Fremont Street. That includes the famous shark tank, the zipline and the world's largest video screen.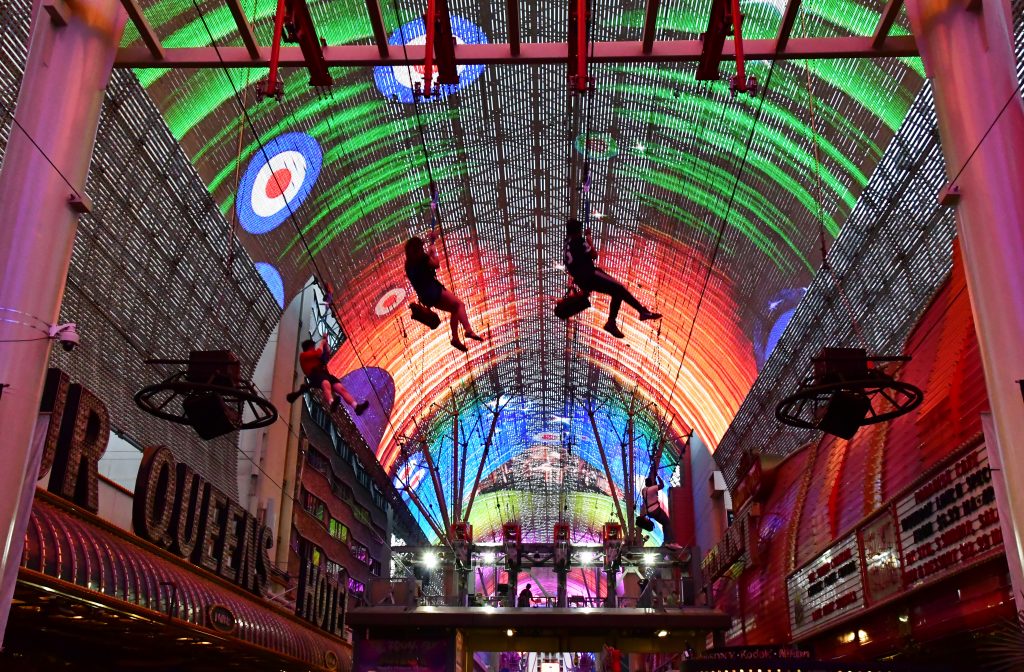 The Tank at the Golden Nugget is a 200,000 gallon shark habitat. You've got to check it out. For more thrills, zipline over Fremont Street at SlotZilla. Finally, make sure to see Viva Vision. It's the world's largest video screen displaying dramatic and dazzling light shows at the start of every hour after 6 PM.
23. Soak in Hot Springs
There are a few great places near Las Vegas to enjoy natural hot springs. The most popular place to go is Gold Strike Hot Springs. It's about an hour away from the Las Vegas strip, but totally worth the trip! You'll hike and repel down into a canyon, enjoy spectacular views and temperate thermal pools. Hiking to these hot springs is challenging! Plan ahead and be prepared.
Other great hot springs near Las Vegas are the Arizona Hot Springs and Rogers Spring. It will take some hiking to get to the Arizona Hot Springs, but the trail is not nearly as challenging as at Gold Strike. Rogers Spring is even more easily accessible and requires no hiking. You can drive right up to the springs!
24. Find the 7 Magic Mountains
These beautiful and colorful rocks are about 20 minutes drive from the Las Vegas strip. The Seven Magic Mountains are an art exhibition of enormous dayglow totems. The totems were sourced from local boulders. They are meant to symbolize a state in between artificial and natural. Read more about their artist and creation here.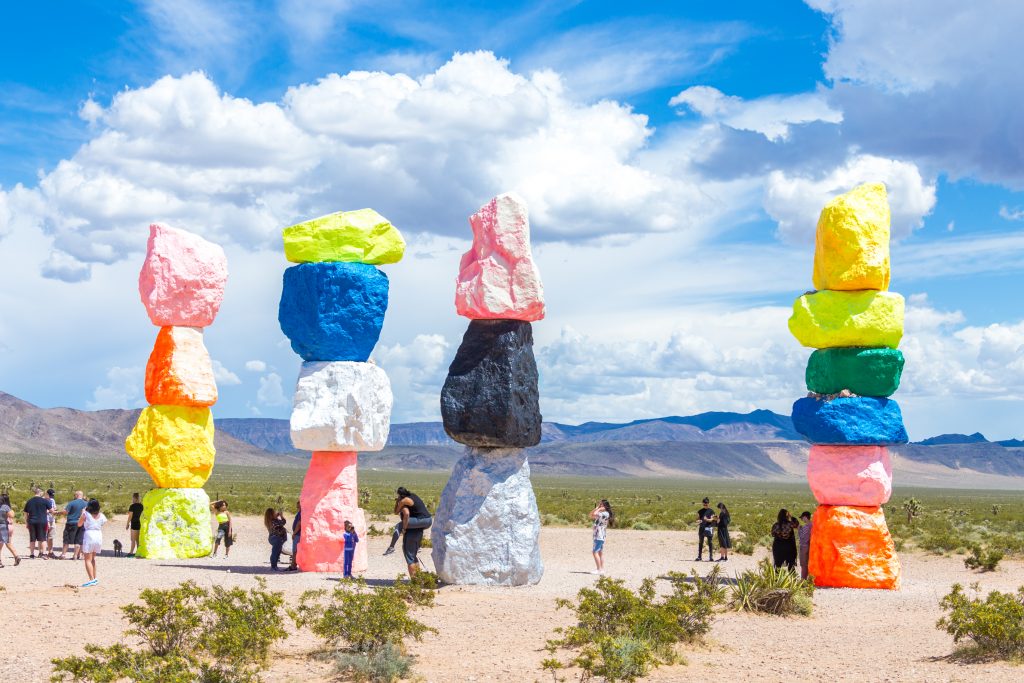 25. Boat Ride on Lake Mead
You can get to Lake Mead in an hour from Las Vegas. There are a bunch of different cruises along Lake Mead to choose from. From tiny paddleboats to romantic dinner cruise ships, there's a lot of things to do on Lake Mead. The scenery is absolutely stunning!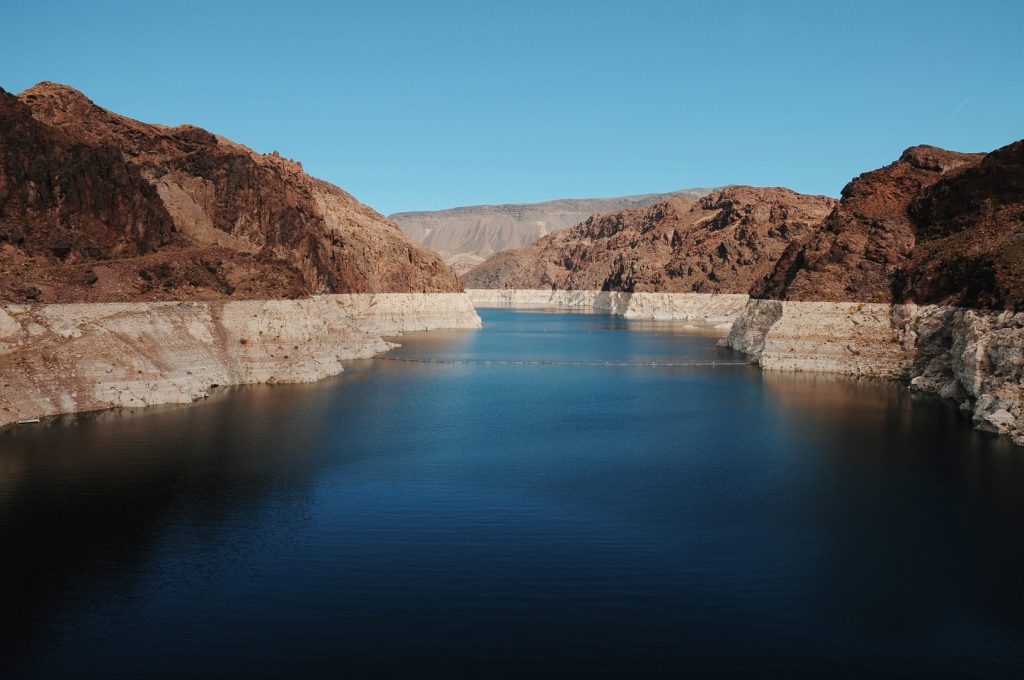 26. Gondola Ride at the Venetian
One of the most romantic things to do in Las Vegas for adults! For the ultimate unforgettable experience, book a private gondola ride for two. See more information about pricing at the Venetian Hotel.