Our Nantucket restaurant guide will help you to find the best restaurants on Nantucket. These are the best places to eat in Nantucket  (everything from local ice cream parlor to fine dining establishment). 
So, come hungry! Dining in Nantucket does not disappoint. Nantucket restaurants have an excellent selection of farm-fresh, locally sourced, and freshly caught ingredients.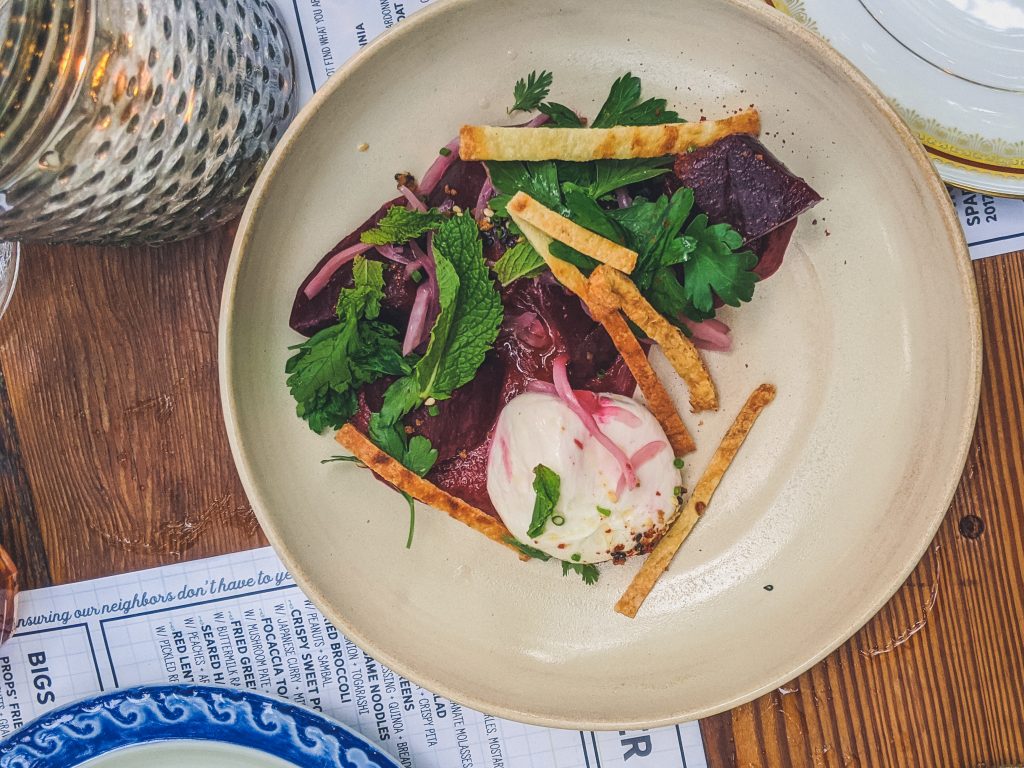 15 Best Places to Eat in Nantucket: Your Ultimate Nantucket Restaurant Guide
This Nantucket dining guide includes something for everyone. We'll be sure to mention which of these Nantucket Island restaurants cater best to dietary restrictions.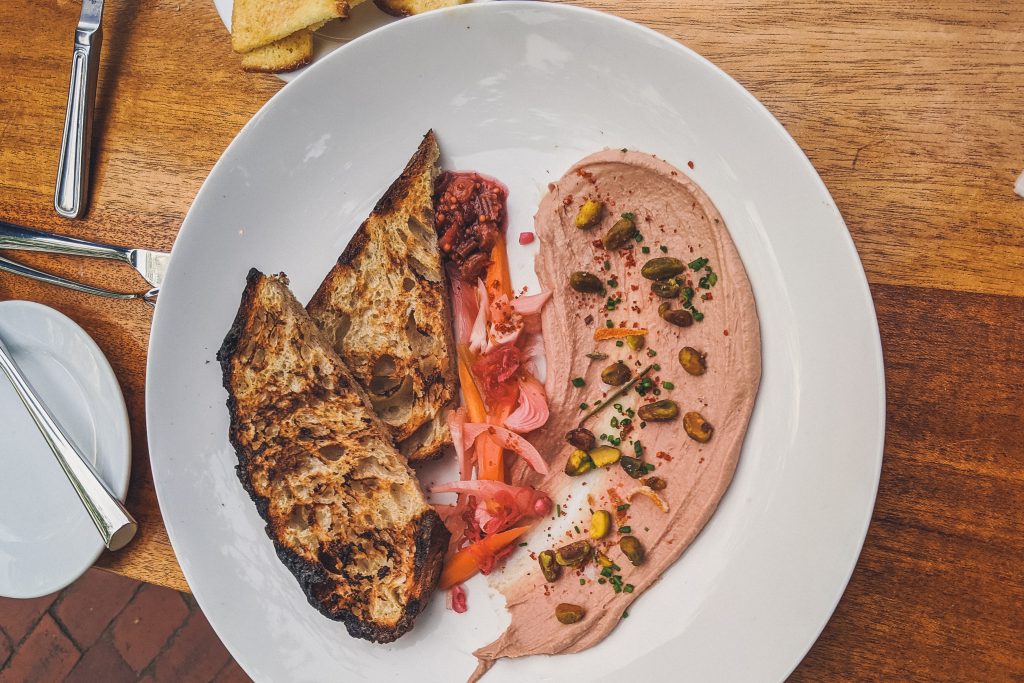 No matter your budget, you'll find something scrumptious to enjoy on this list. The best restaurants in Nantucket aren't only for the rich and famous. 😉
15 Best Places to Eat in Nantucket: Your Ultimate Nantucket Restaurant Guide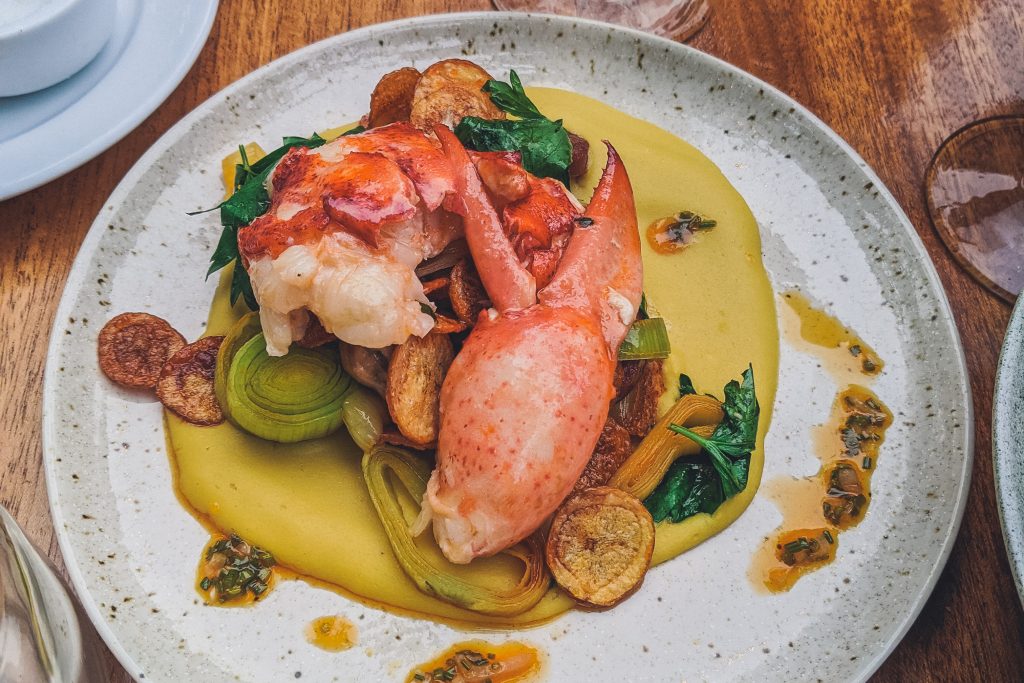 You can find all of these Nantucket bars and restaurants on our Nantucket Tourist Map. Using our map, you'll be able to find the best Nantucket food that's convenient for you.  
Nantucket is a short ferry ride from Cape Cod's town of Hyannis. View our Cape Cod visitors guide.
1. Straight Wharf
Straight Wharf is one of the most famous restaurants serving up traditional Nantucket dinner. The restaurant is located in downtown Nantucket near one of the busy piers. It's a bustling commercial district where you'll find wonderful shopping, beautiful accommodations & some of the best Nantucket MA restaurants.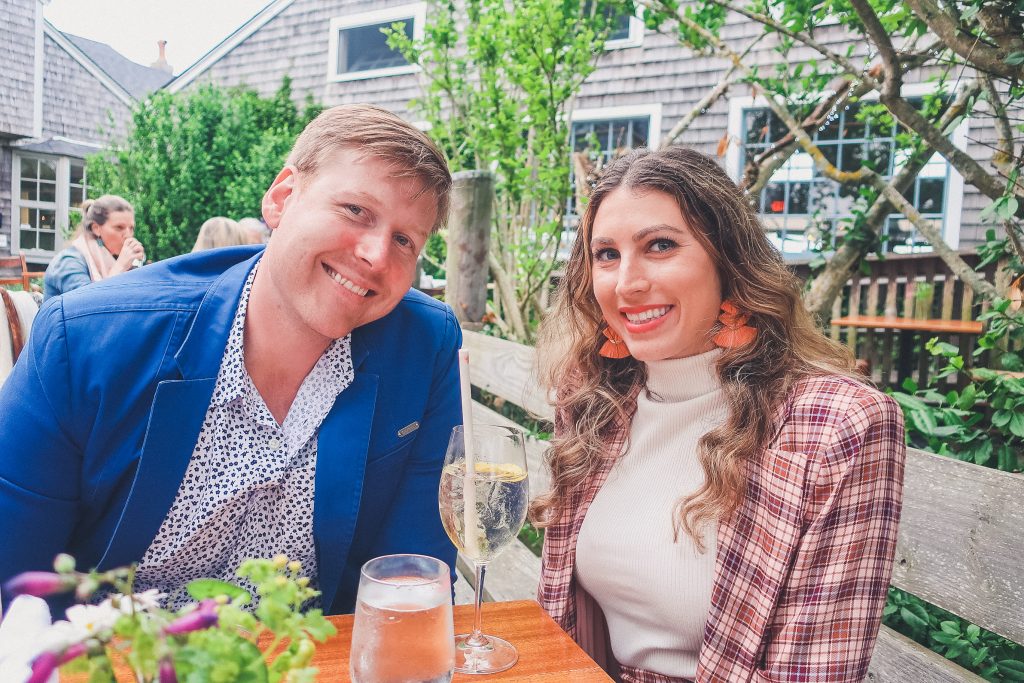 Straight Wharf is a historic icon. The restaurant has been a Nantucket staple for over 40 years! Travel & Leisure Magazine named Straight Wharf one of America's top seafood restaurants.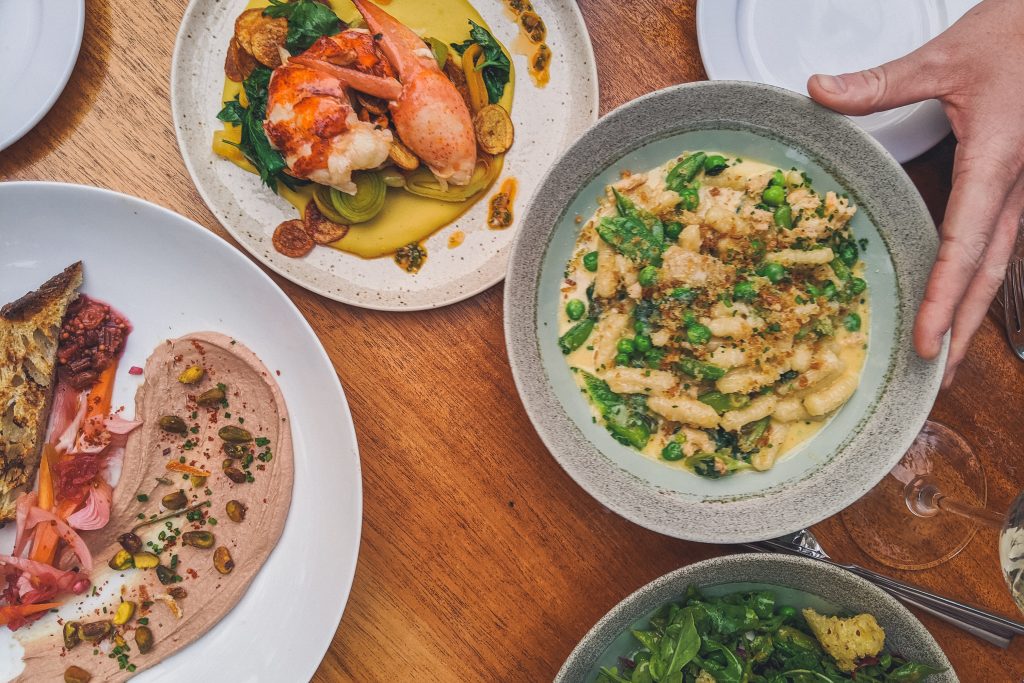 Straight Wharf is a bit pricey. They offer a price fix menu. With drinks, you can expect to spend $100 per person or more. 
Although, it's totally worth it. Straight Wharf is one of the best restaurants on Nantucket! The service & food is absolutely amazing and well worth every penny.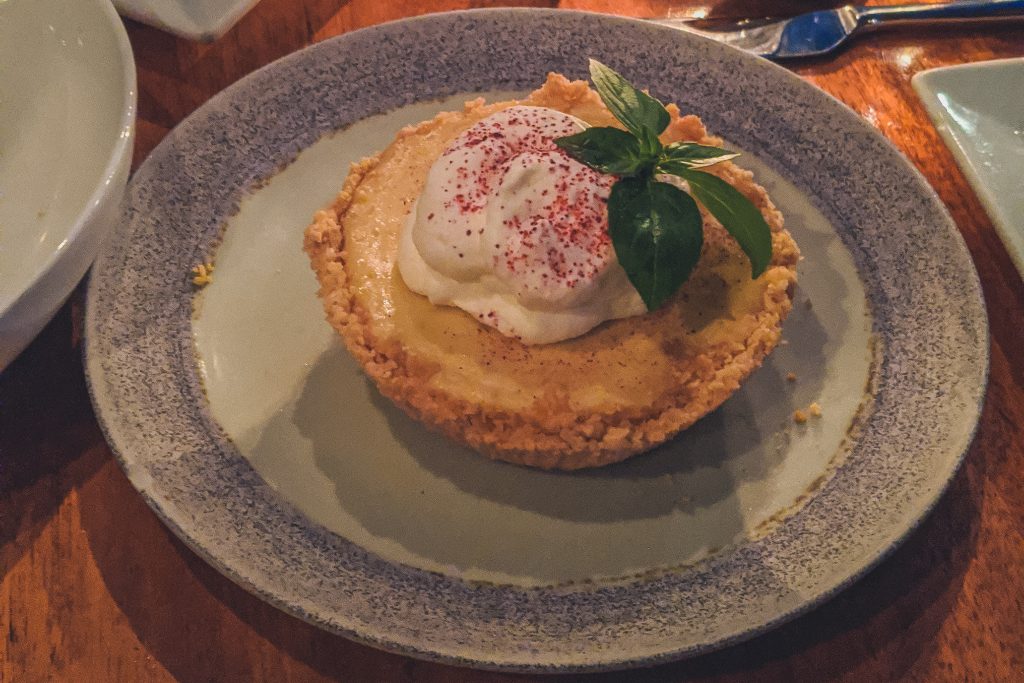 2. Cru
Come to Cru to see & be seen. Cru is considered one of the most glamorous restaurants in Nantucket. It's also located in the heart of downtown Nantucket, not too far off of Straight Wharf. 
Although, Cru's location is much more highly regarded as guests will enjoy ocean views from their table.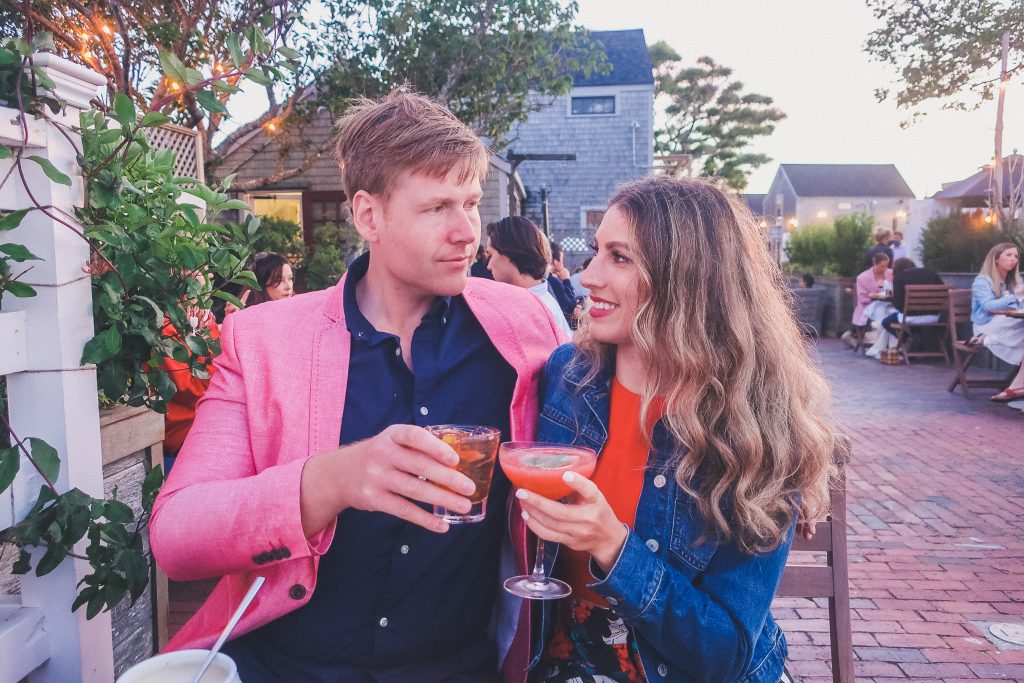 Pro tip: Make your reservation just before sunset.
This is one of the toughest reservations to make. Certainly, it's one of the Nantucket top restaurants. Cru is also a bit pricey. You can easily spend $100 per person here.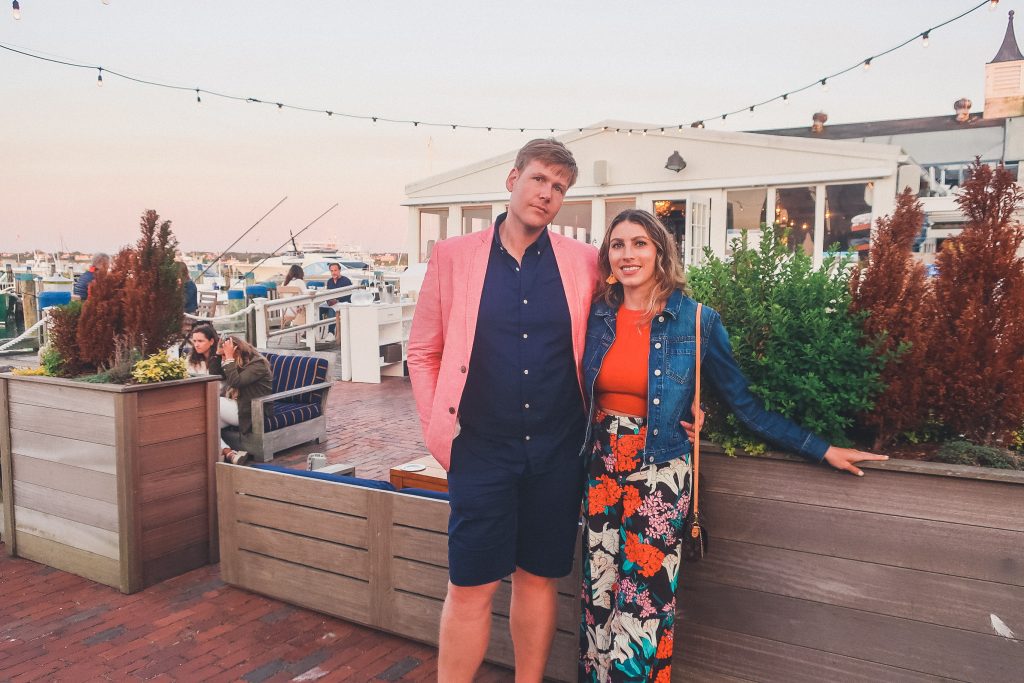 What else would you expect for one of the most beautiful views & sought after restaurants in Nantucket Island?
Cru has been raved about in Vogue, Travel + Leisure Magazine & Condé Nast Traveler.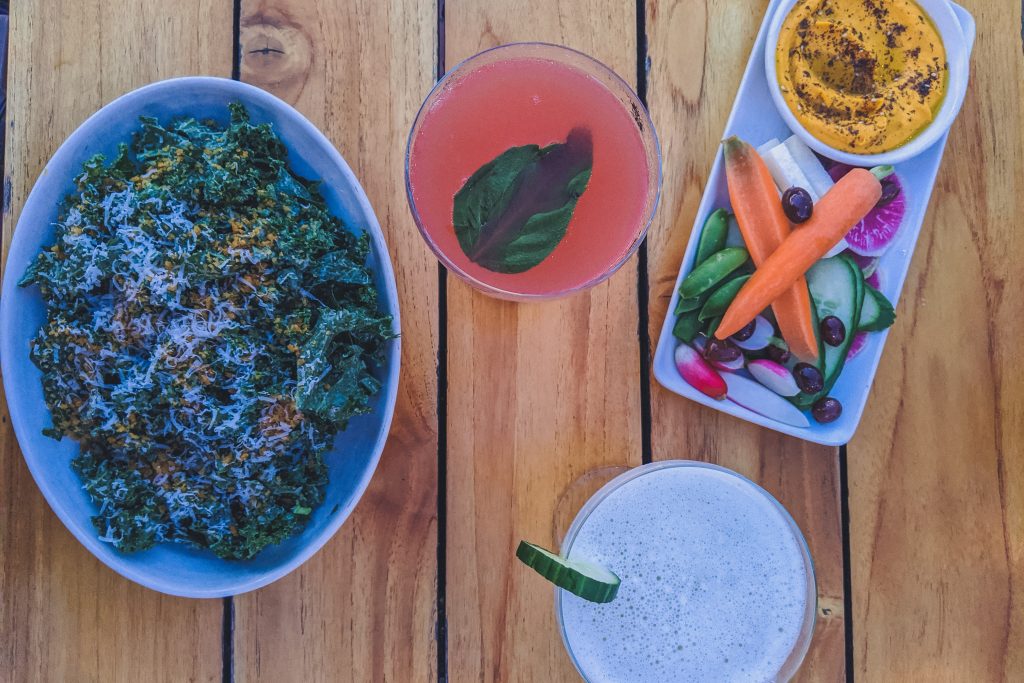 The menu is inspired by French and Mediterranean elements. Cru is technically an oyster bar. You'll enjoy the freshest oysters (literally just off the dock)! Enjoy an expertly crafted wine list and crafted cocktails.
3. Aunt Leah's Fudge
Even budget travelers can enjoy Aunt Leah's Fudge. This downtown Nantucket fudge stand is the perfect place to stop for a sweet treat.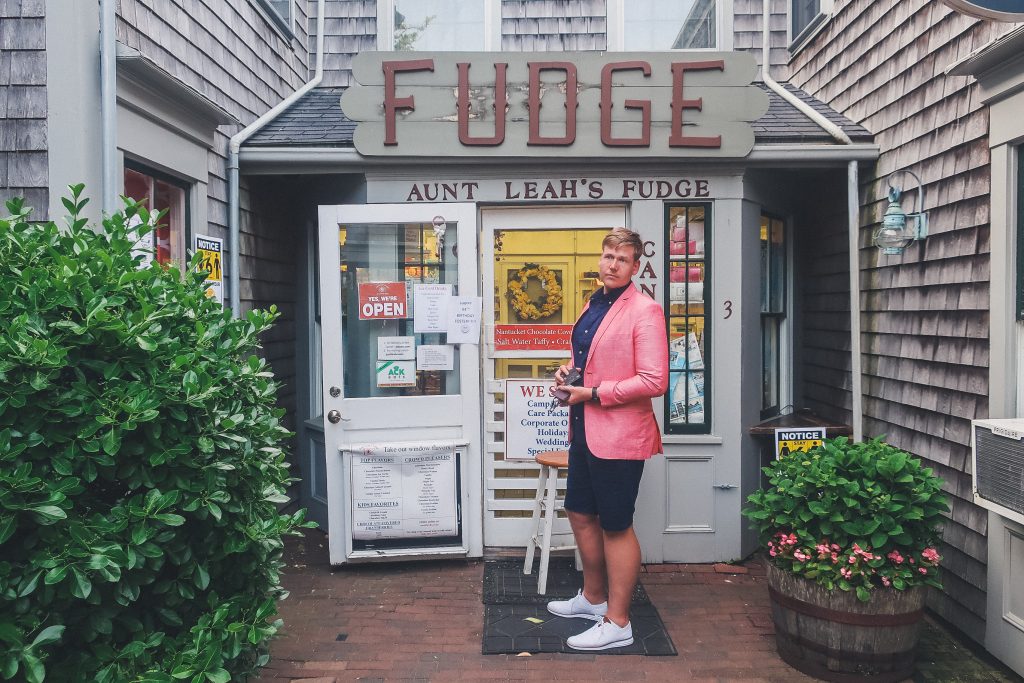 Aunt Leah is a legendary lady on the Cape because she makes award-winning fudge AND you can choose from over 30 flavors! That's a lot of fudge. 
Aunt Leah's is an excellent option for dessert after a fancy Nantucket dining experience downtown. Besides mouthwatering fudge, make sure to try the chocolate covered cranberries! They're a real treat.
4. Jack & Charlie's Ice Cream
On the same block as Aunt Leah's fudge, you'll also find Jack & Charlie's Ice Cream. It's within walking distance to all the best Nantucket restaurants like Straight Wharf and Cru. 
I'll admit we stopped here many times on our short trip to Nantucket.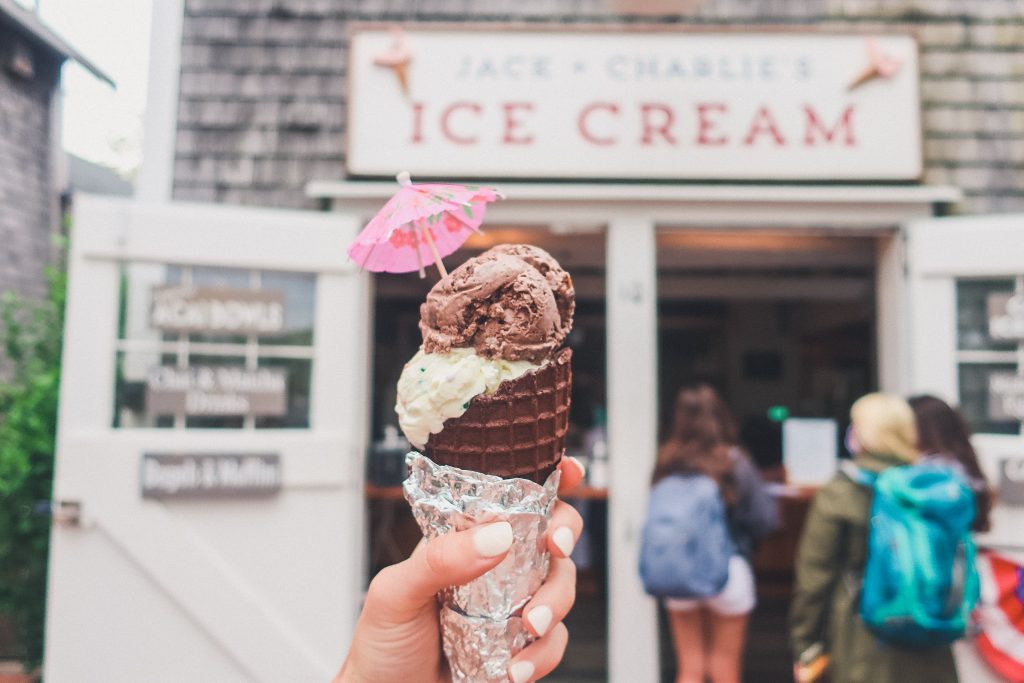 Be sure to ask for a cocktail umbrella in your cone. I've seen them given out to children, but it makes a perfectly instagrammable cone!
Jack & Charlies serves homemade ice cream in a huge selection of flavors. Also, they offer unique delights like Irish Cream, Cotton Candy & Nutella Chocolate. Yummm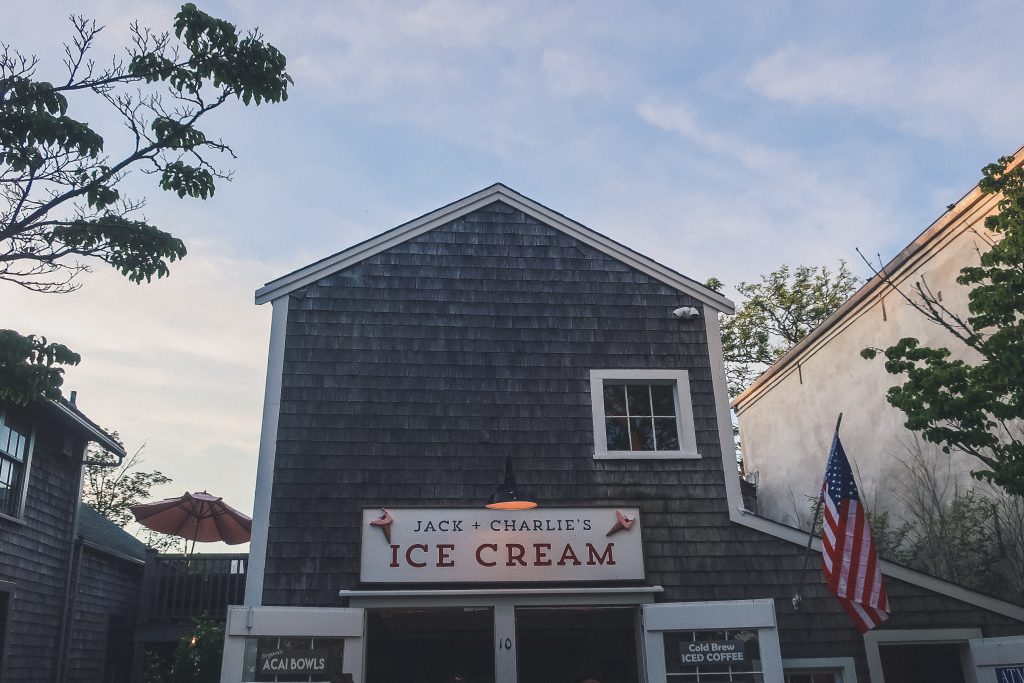 If you're staying at an Airbnb make sure to grab a pint of ice cream to go. Jack & Charlie's also offers soft serve, floats, and frappes.🤤 
Their signature item is their homemade brownie waffle cones! This place is an island favorite, with some of the best Nantucket restaurant reviews you'll find.
5. Galley Beach
The Galley Beach is one of the best beachside restaurants on Nantucket. It's not just beachfront dining, but it's premier beachfront dining Nantucket.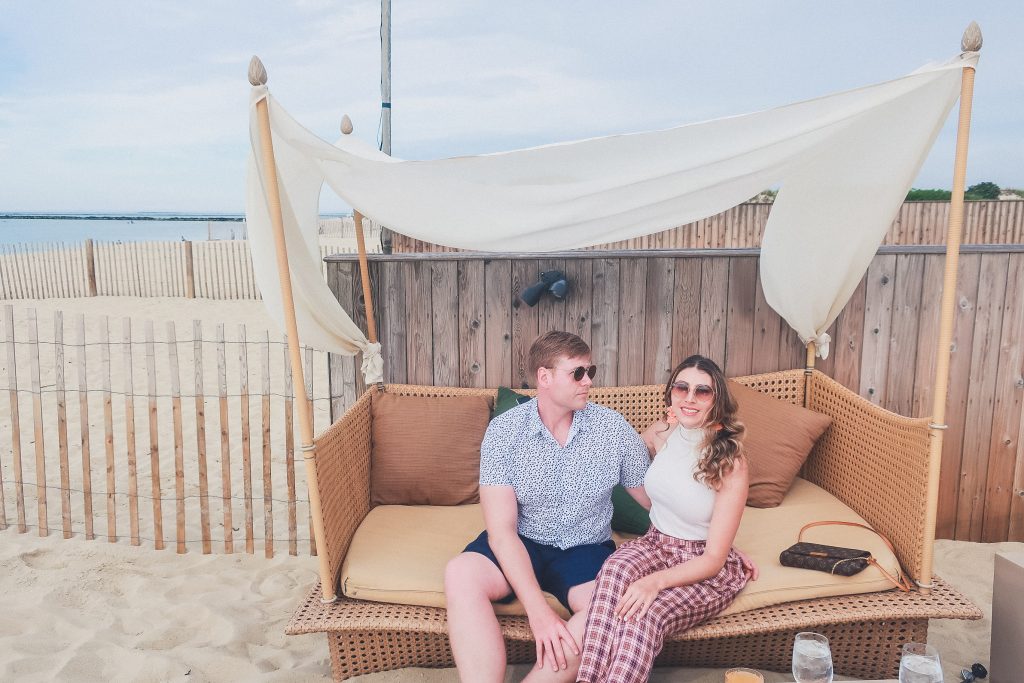 Galley Beach somehow manages to be elegant and modern, but also relaxed and cozy. It's one of the best places to eat in Nantucket on the water. You'll appreciate stunning views of the Nantucket Sound. This Nantucket dining room at Galley Beach is a sunny, open-air, coastal chic atmosphere that doesn't disappoint.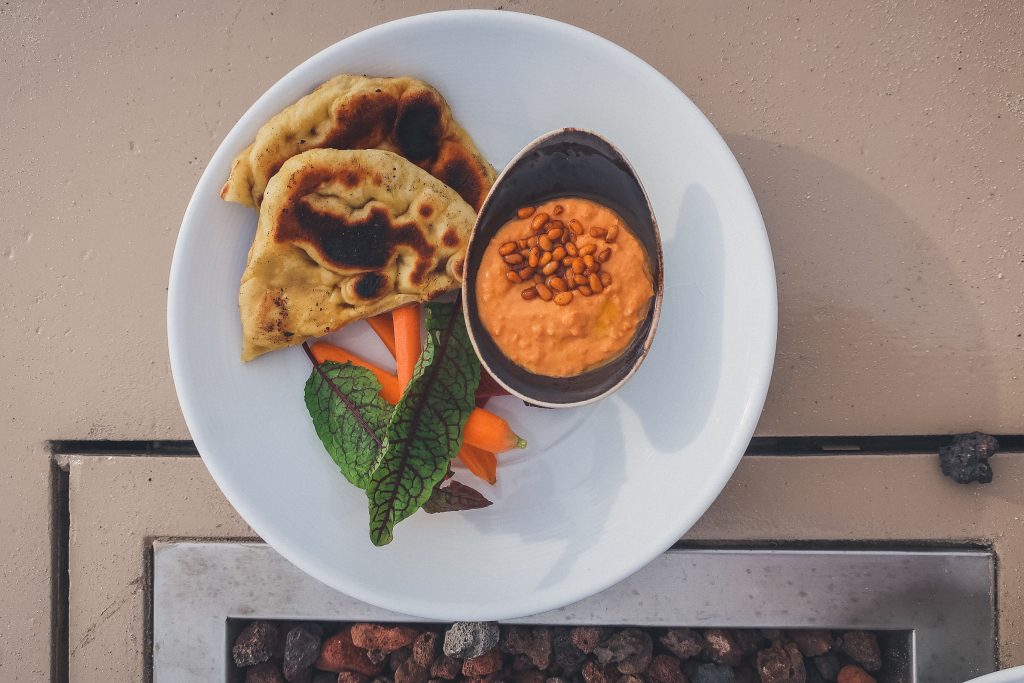 It's also a popular spot to have cocktails after a day out in the sun. Galley Beach serves only the finest ingredients –sourced locally whenever possible. It's a popular place for brunch, but also marvelous for dinner. Make sure to catch the majestic sunset here!
Galley Beach isn't one of these fancy new restaurants on Nantucket. It's a historic icon!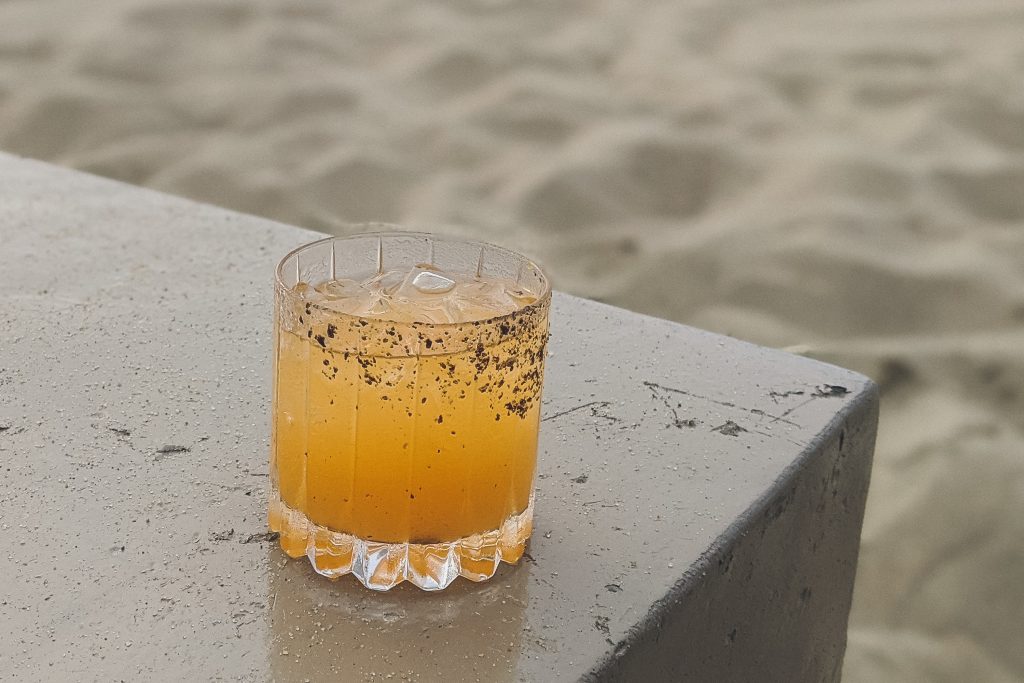 Galley Beach has operated since the 1920s. Originally, it was a clam shack. Now, it's a prestigious Nantucket restaurant that boasts a 5,000 bottle wine cellar! 
This place has been written about in novels. Presidents have dined here! Oprah called Galley Beach the best place to get married on the East Coast. It's listed on every Nantucket travel guide.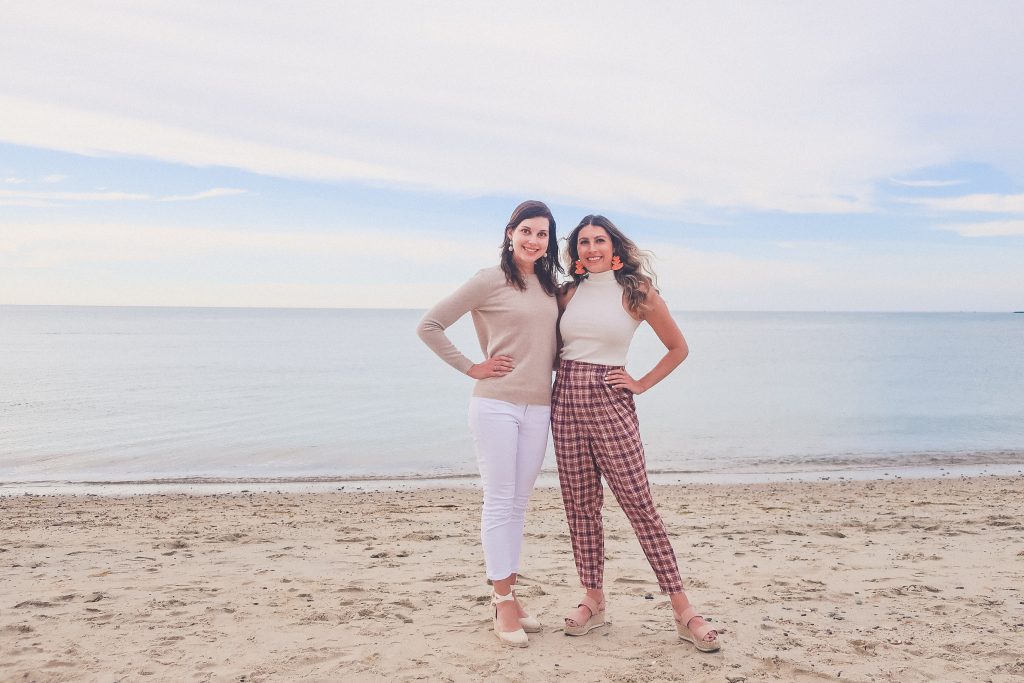 You can get to Galley Beach in a 15-minute taxi ride from downtown Nantucket. It's located on Jettie's Beach. Galley Beach is also technically a Nantucket hotel restaurant. Guests at the Cliffside Beach Club enjoy premium seating at Galley Beach.
6. Nautilus
The Nautilus Nantucket is another wonderful formal dining spot on the island. The Nautilus has two locations – one in Nantucket and the other in Boston. 
The Nautilus features small plates that are designed to be shared and enjoyed with friends. Who doesn't love tapas style? You'll get to try so much more!
The Nautilus menu features traditional New England elements you'd expect. It's heavily seafood-based. However, unique elements are drawn from Japanese izakaya and Spanish cuisine. 
7. Millie's 
Millie's is one of the best restaurants in Nantucket island for families. It's extra casual & it's won't break the bank. Millie's Restaurant is located near Madaket Beach. It's a 30-minute bike ride or a 20-minute cab ride from Nantucket's downtown district.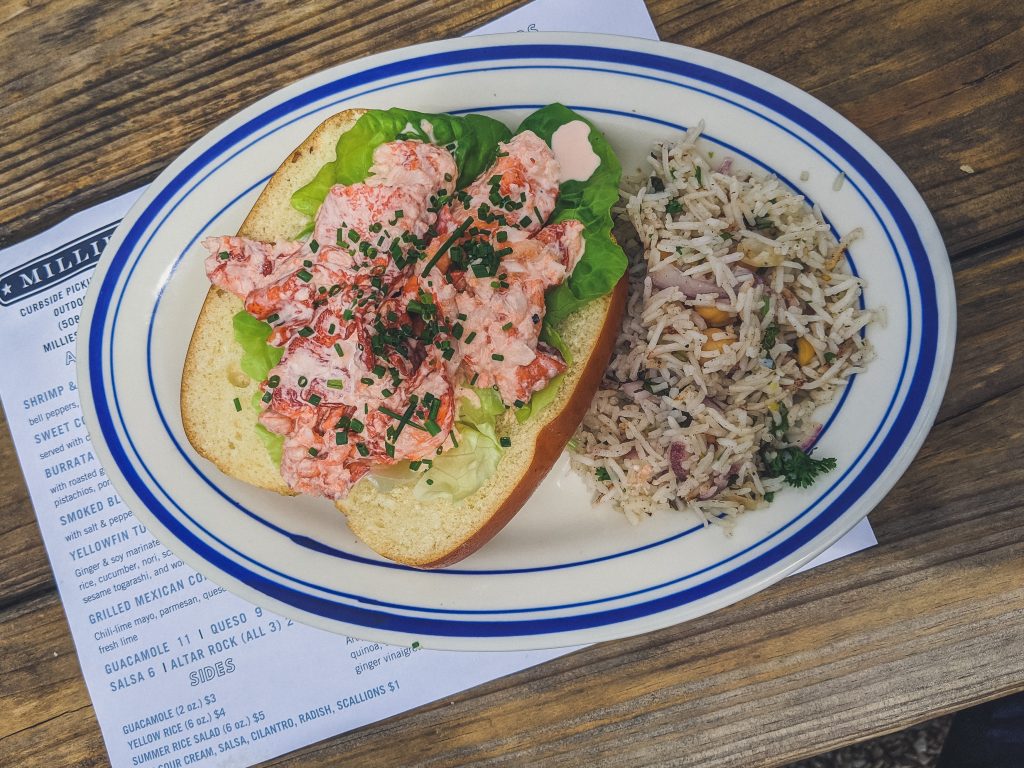 Millie's offers relaxed picnic table patio dining, as well as a cool indoor space. Also, make sure to stop by Millie's Market. You can grab some cute Nantucket apparel, accessories, or drinkware.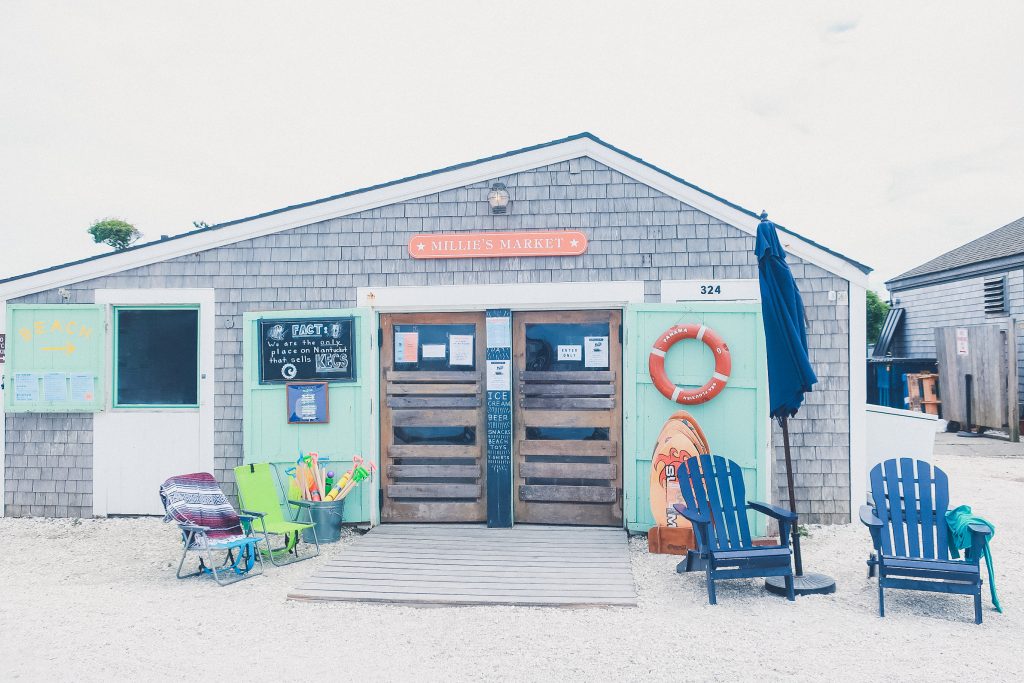 Their menu includes flavors reminiscent of Baja California — with New England flare. Don't miss their craft cocktails! You'll also find traditional Nantucket dishes like this delicious Lobster roll pictured. 
This may not be one of the Nantucket restaurants open year round, but it's an incredible spot to visit during peak season! 
8. Cisco Brewers
Cisco is the best brewery restaurants in Nantucket MA. Okay, well, it's not really a restaurant… but one can't talk about food in Nantucket without mentioning Cisco Brewers!
You can visit Cisco Brewery to take a brewery tour, enjoy a craft cocktail, or sip a glass of wine. Cisco Brewers is also Triple Eight Distillery & Nantucket Vineyards. It's another great place to support because it's a small family-owned business.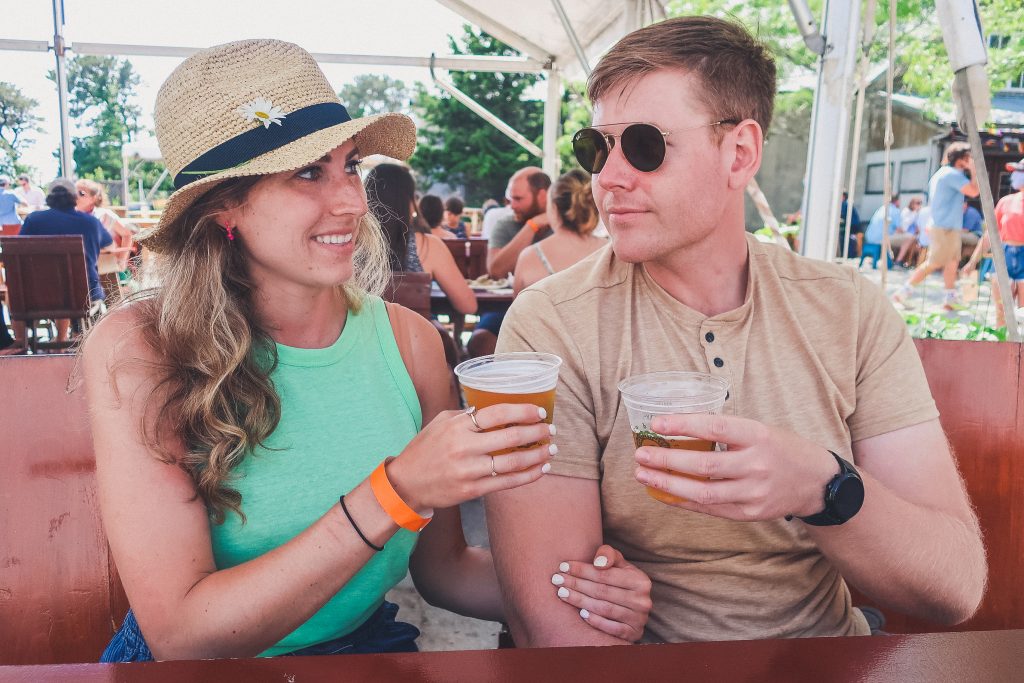 Cisco Brewers is a popular community stomping grounds. It's a favorite among locals and tourists alike. It's another one of the more casual dining spots on this Nantucket guide. Guests can enjoy large picnic tables and other relaxed outdoor seating. This is the hot spot for Nantucket food trucks! So, it's the perfect place to try many of the island's restaurants all in one place. 
9. Something Natural
It's one of the best casual restaurants Nantucket has to offer! Something Natural is also a great place for anyone with allergies and dietary restrictions. Their sandwiches combos are essentially DIY. So, you can pick and choose!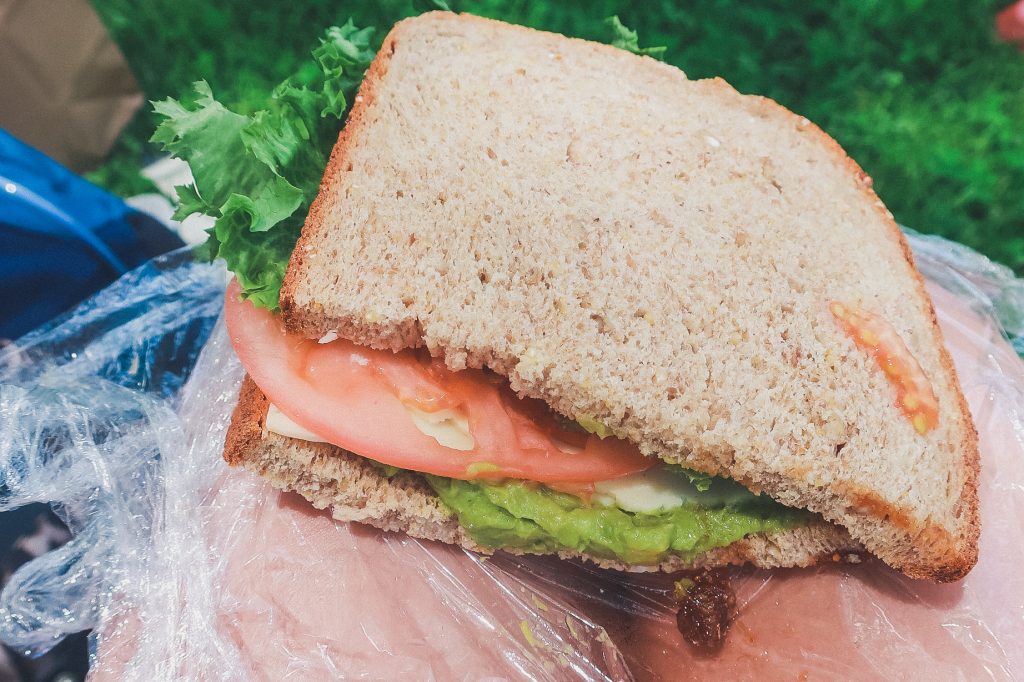 Something Natural is a 10-minute walk from Nantucket downtown. It's a great spot for a casual lunch. They feature counter-serve, self-order kiosks, and plenty of outdoor seating. 
Something Natural is a bakery and sandwich shop. Everything is made fresh, in-house. The menu is health focused. They have unique options like Portuguese bread. Their carrot cake is absolutely phenomenal, so don't even think about skipping dessert!
Besides sandwiches and bread, they also offer soups & cookies. 
10. The Juice Bar
The Juice Bar is another personal favorite. The Juice Bar is located in downtown Nantucket. It's more like a stand than an actual restaurant. There's no seating available at the Juice Bar.
You'll easily be able to spot it…since there's always a line out front!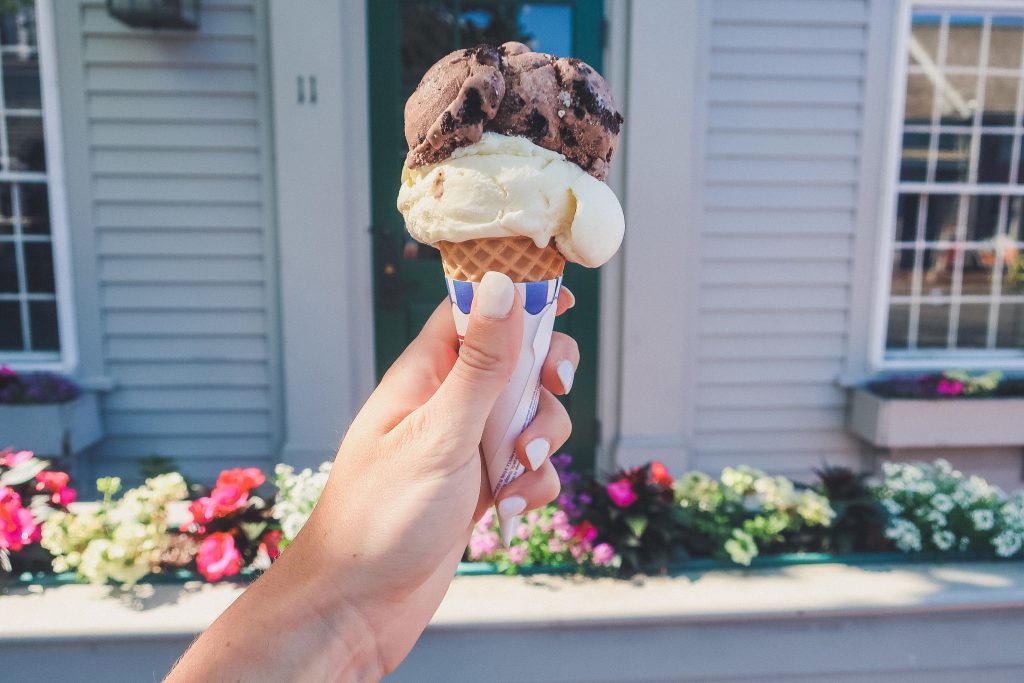 The Juice Bar serves homemade ice cream in a variety of delicious flavors. I'm obsessed with their cake batter & chocolate oreo flavors. There are also unique varieties like Rum Raisin, Grapenut & Crantucket. 
The Juice Bar also serves juices, smoothies & assortment of healthy beverages. You can also get frappes, Sundays & floats!
11. The Chanticleer 
The Chanticleer is among the best fine dining restaurants in Nantucket. It's located in Sconset, so you'll have to stop for dinner or drinks after you've enjoyed the Sconset Bluff Walk. Sconset is about a 20-minute cab ride from downtown Nantucket.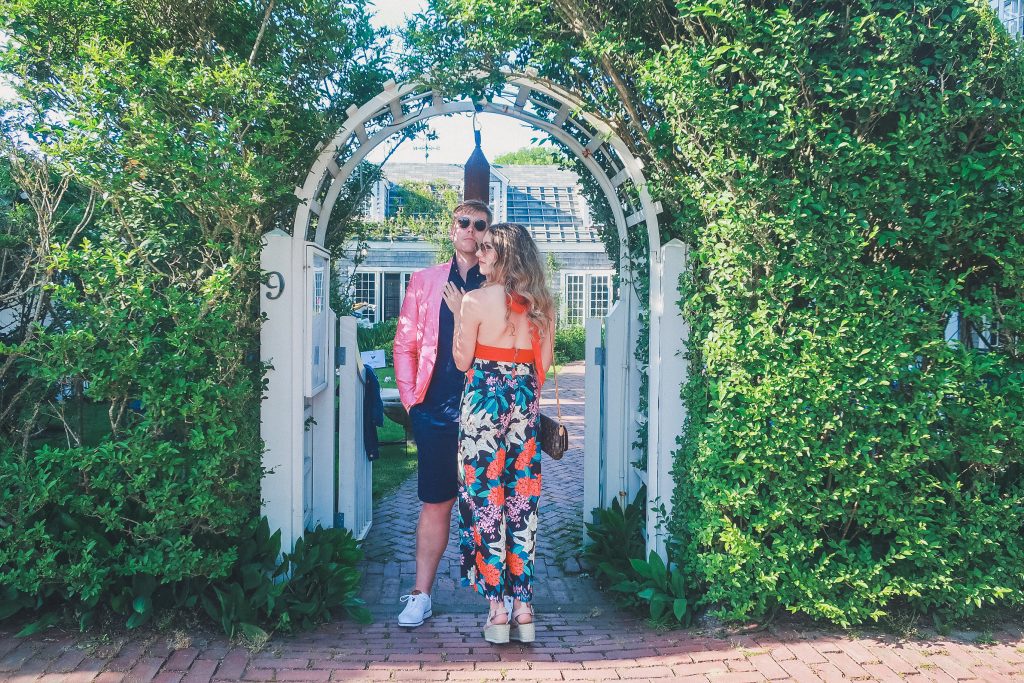 The Chanticleer is a rustic French restaurant in a charming garden space. The service is stellar. As you might expect, it's a bit pricey.
The Chanticleer Restaurant first opened in 1909. At that time, it was a small teahouse. Now, it's one of the most highly regarded restaurants in Nantucket. It's also one of the most romantic places on the island! So, it's no wonder that this is a popular spot for weddings & rehearsal dinners.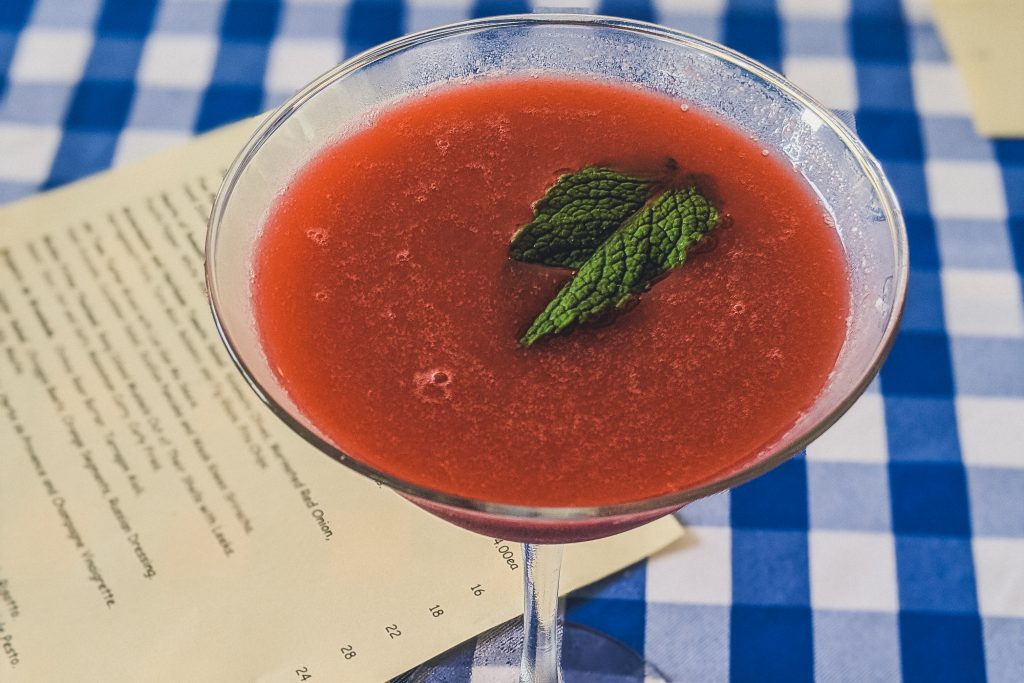 The Menu features fresh herbs, flowers, and seasonal produce that's grown on the property. Organic produce is selected whenever possible. They offer a small menu that's carefully crafted and professional-grade cocktails. 
12. Wicked Island Bakery
Wicked Island Bakery is a 20-minute walk outside town. Nearby, you'll find a supermarket and liquor store. This part of the island has a suburban vibe.
The Wicked Island Bakery is a counter-serve bake & coffee shop. There's a pretty garden patio out back where you can enjoy your delicious treats. Be sure to arrive early because this place isn't open all day! In fact, they close between 1 and 2 PM. The first time we tried to come here, it was closed.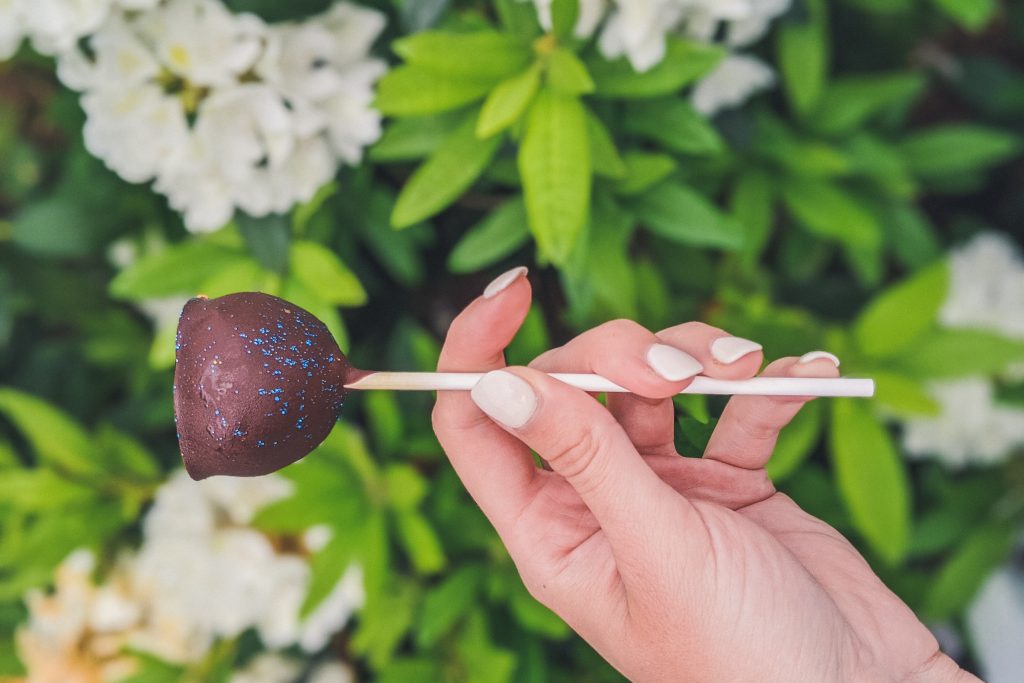 The Wicked Island Bakery's signature item is the Morning Bun. It's a cinnamon roll made with croissant dough. It's gooey, cinnamony, soft & oh, so delicious. 
You can also purchase freshly baked bread, cake pops, pastries, and breakfast sandwiches. Don't forget about their specialty cakes and tortes!
This is a great breakfast place if you're on the go, or a dessert place if you'd like. 😃
13. Proprietors Bar & Table
This is another excellent place to experience Nantucket fine dining. Their small plates menu is perfect for groups and families. The Proprietors Bar & Table is also located in historic downtown.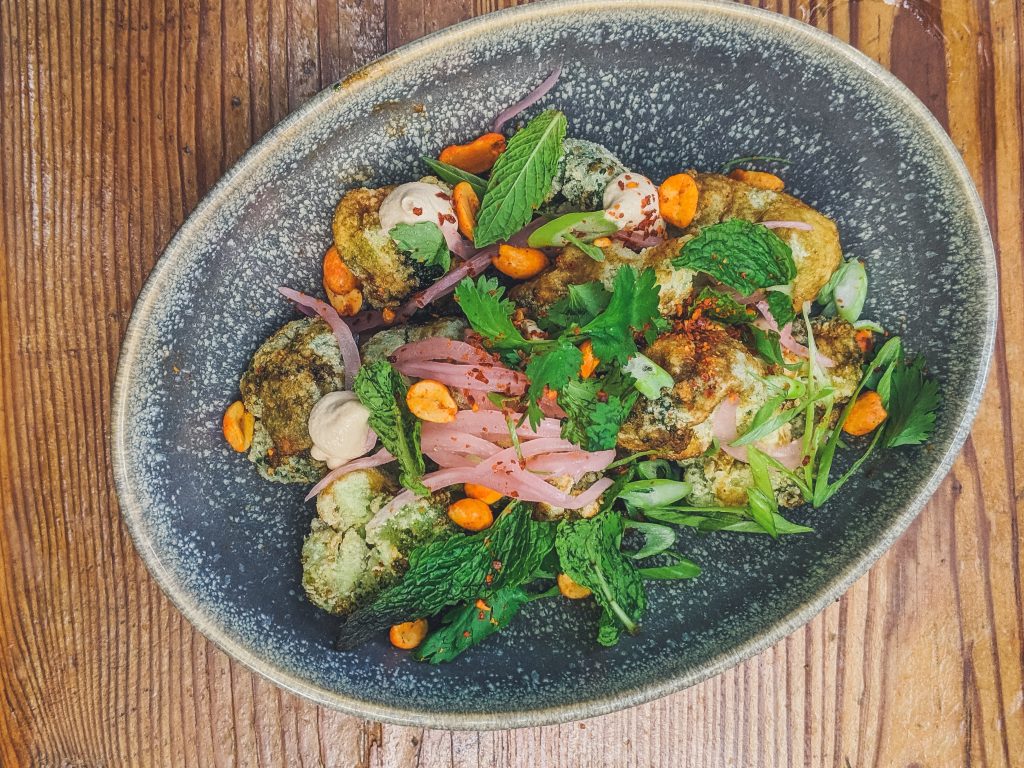 The owner of Proprietors Bar & Table was also the owner of American Seasons. Proprietors is named for the original landowners of Nantucket. It speaks to the island's important role in the whaling trade.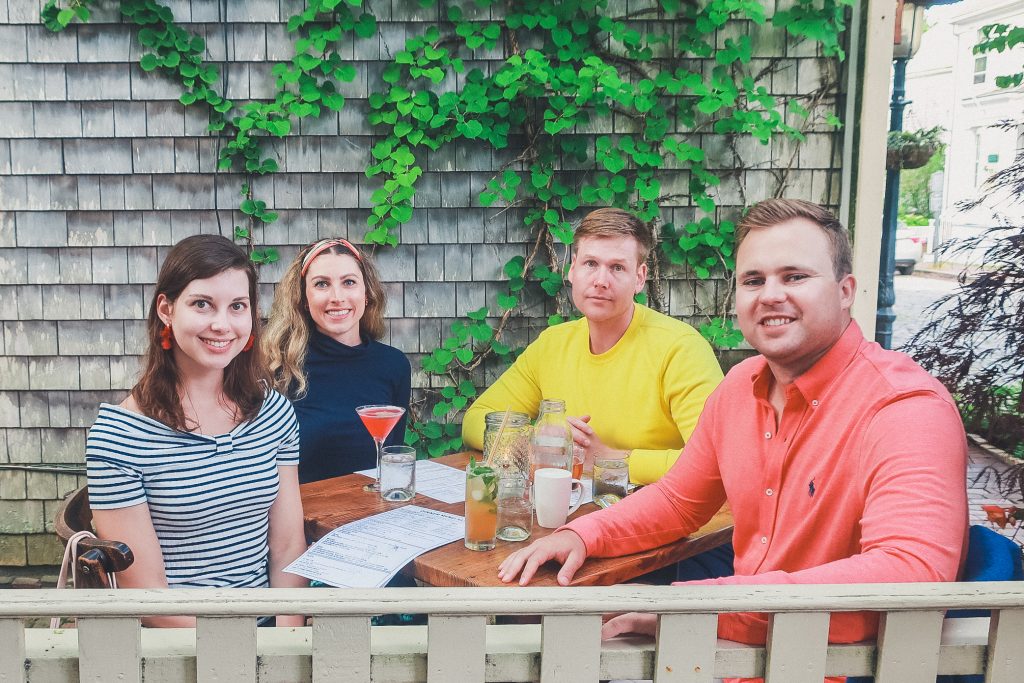 The menu features international flavors, in-season ingredients, and vibrant combinations. It's been recommended by Conde Nast Traveler, Food & Wine Magazine & Vogue. 
14. Island Kitchen
Island Kitchen Nantucket is a great place to stop for brunch. It's another casual restaurant in Nantucket. You can get to Island Kitchen in a 20-minute walk from downtown Nantucket. It's right by the Wicked Island Bakery, so hit that up after for dessert!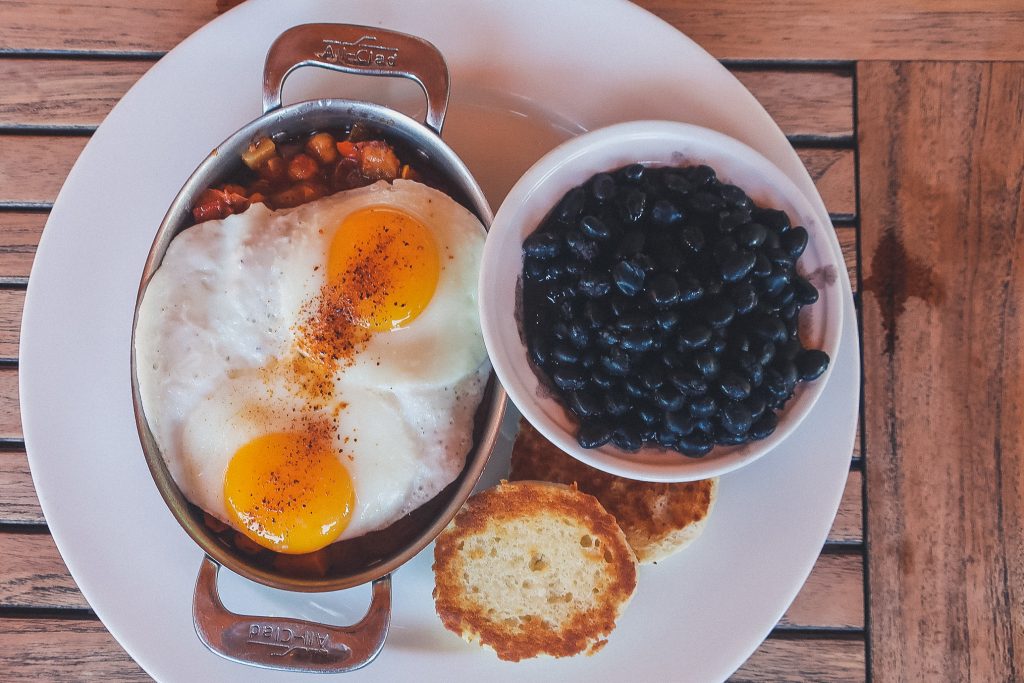 Island Kitchen is a cozy restaurant, ice cream parlor & cocktail lounge in one! Island Kitchen also has a small counter on Main Street, downtown. So, you can sample a quick bite if you don't want to take a walk.
15. Dune
Dune Nantucket is another noteworthy fine dining establishment on the island. Dune is located in the heart of Nantucket's historic downtown neighborhood.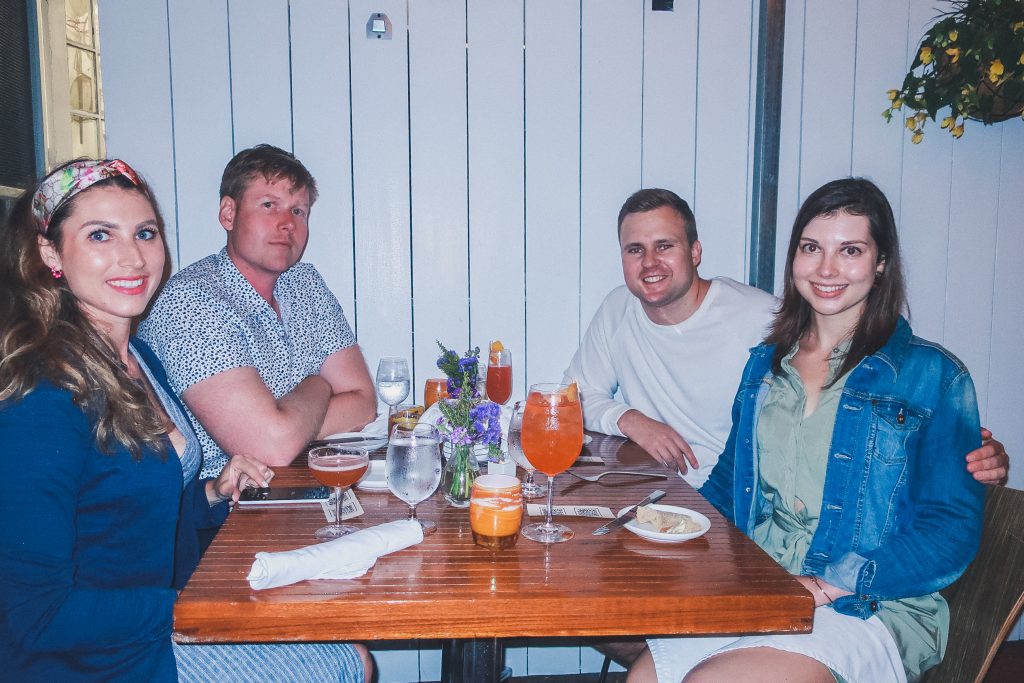 Dune prides themselves on their exquisite decor & extensive cocktail menu. This is one of the Nantucket restaurants open in winter.
The menu at Dune changes seasonally, so there's always something new to discover. This is one of the best places to eat Nantucket seafood — always freshly caught. Dune has won at the "Best of Cape Cod" awards. It has one of the most interesting Nantucket restaurant menus that you'll find.