This Nantucket tourist map includes all of the top Nantucket restaurants, the best Nantucket beaches & all the most exciting things to do in Nantucket. 
Use this map as your guide, and you'll be able to plan the perfect Nantucket visit!
You'll find Nantucket island off the coast of Massachusets. Guests can take a 1-hour ferry from Hyannis, Massachusetts, or fly into the Nantucket airport.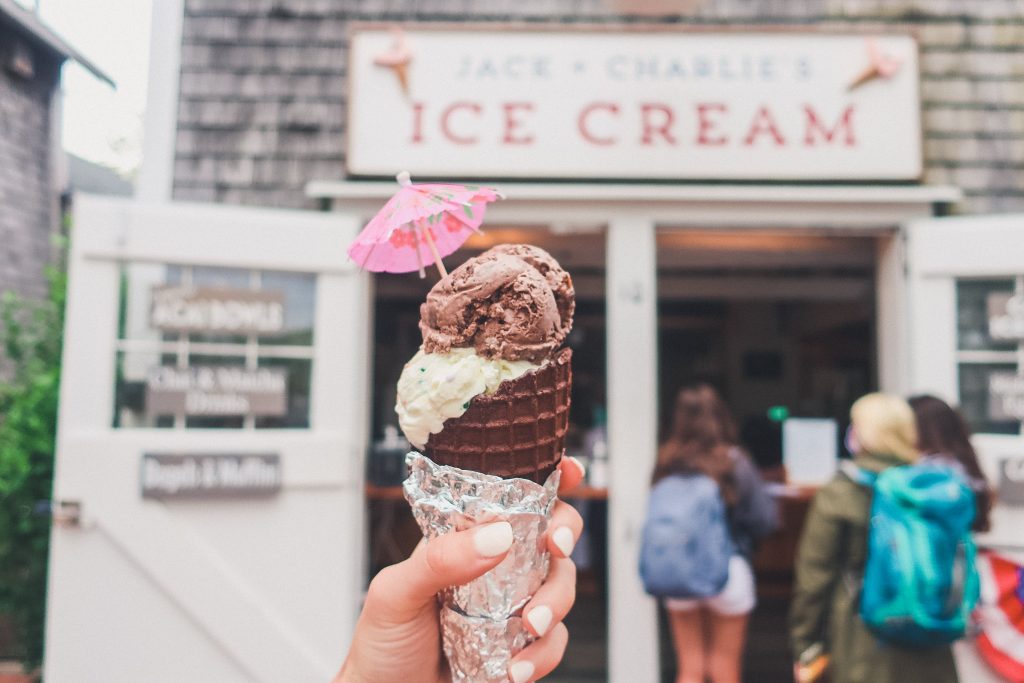 Essential Nantucket Tourist Map: Your Guide to Nantucket Island
While it's a tiny island, it has a rich cultural heritage. Like much of New England, you'll find quaint lighthouses and mills. Nantucket cottages have a distinct look. The Nantucket Style features weathered grey shingles, a big American flag, and beautiful rose landscaping. 😍
Check out our Nantucket Restaurant Guide.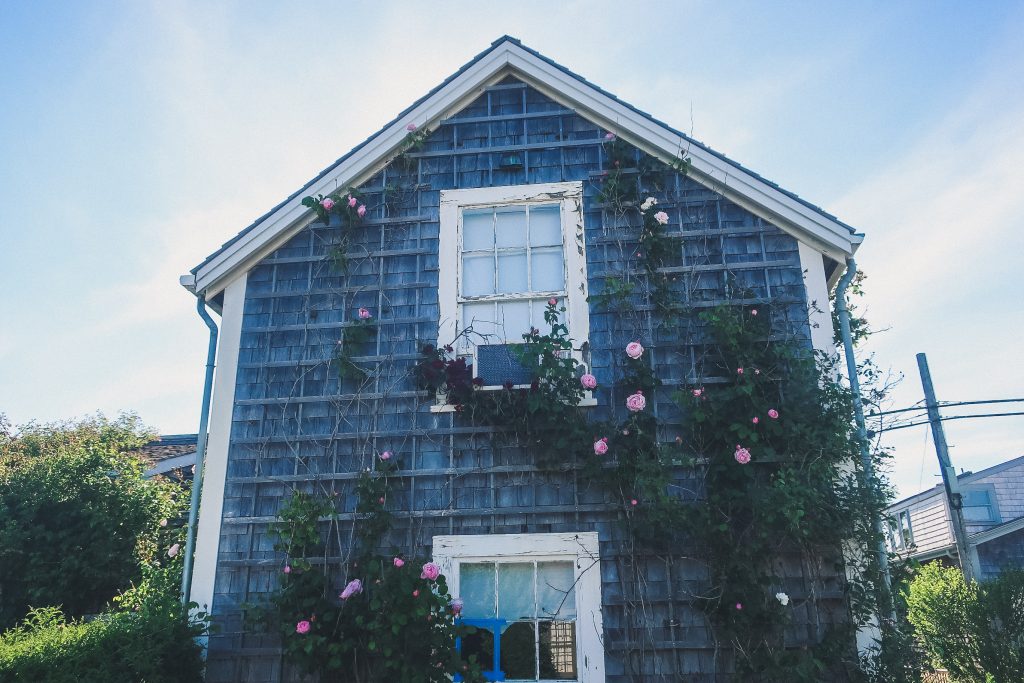 Each of these charming cottages is named by the owners. Each name represents an important story, feature, or fact about the family. You'll find names like "Fairy Tale," or "Big Scoop," & "Little Scoop." 
Other Nantucket tourist attractions include beautiful beaches, historic sites, and scenic places. One of the most popular places for Nantucket sightseeing is the island Whaling Museum.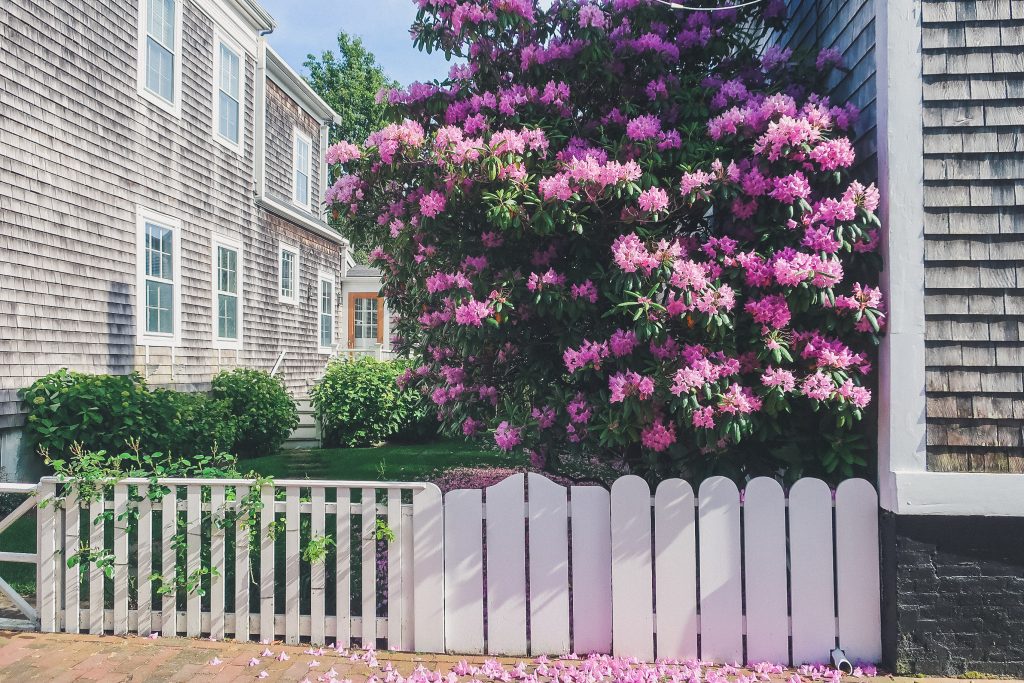 Nantucket Tourist Map
On this Nantucket map, the blue pins are activities and sightseeing places. The green pins mark restaurants. Pink pins show you where to find dessert or ice cream shops. Purple pins represent nightlife attractions, and yellow pins are for beaches. 
Find your perfect place to stay in Nantucket. 
How to Use This Map: If you click the tab at the top left corner, you'll be able to select specific layers. Click the checkmark to select or hide specific categories.
Save This Map: Click the brackets in the top right corner to expand the map in full view. It will open in a new tab. Under the map title, right of the map description, there is a star. Click this star and the map will be saved to your Google account  in Google Maps. You can access it later from your computer or device. On desktop, go to Google Maps and click 'Your Places,' and 'Maps.' On app view, select 'Saved, scroll down and click 'Maps.'
Getting Around Nantucket
Nantucket is a small island, so there's really no need to rent a car. Although, you can make the car rental into an activity… One fun thing to do on Nantucket is to dune bash on the beach. Rent a jeep with your friends. Just make sure it has the appropriate permit stickers! Not all stickers allow access to the Great Point Lighthouse Trail.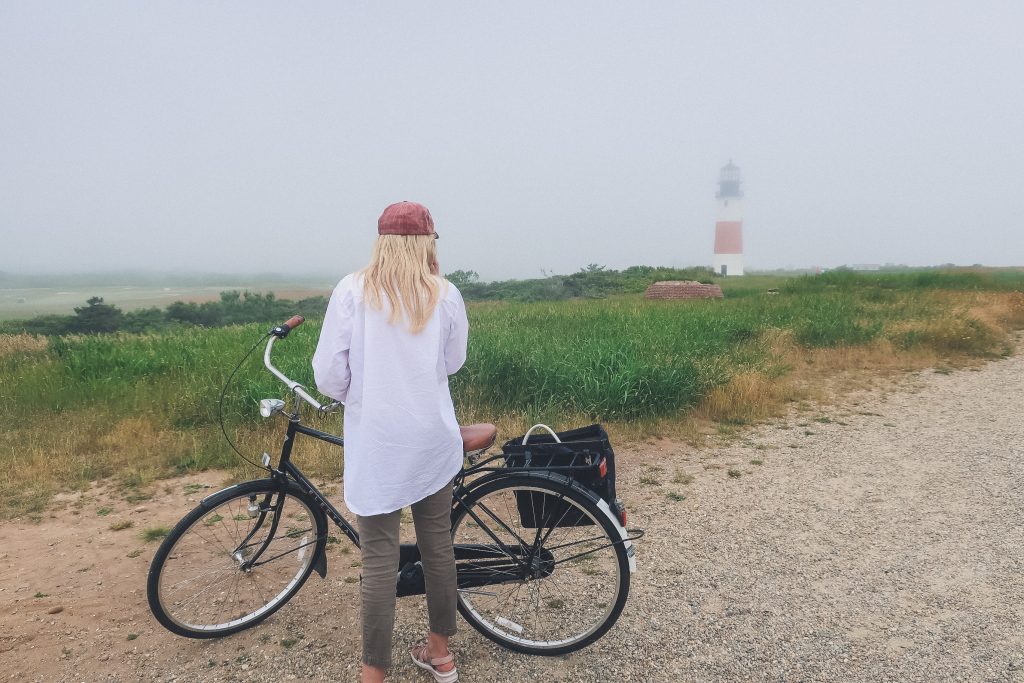 The best way to get from one part of the island to another is by taxi. Don't bother with Uber! I've heard that Ubers on the island can be dirty. Locals say that they sleep in their cars and bathe in the ocean. Think about it – the ferry to transport cars onto the island costs $500 round trip and accommodations on the island are steep.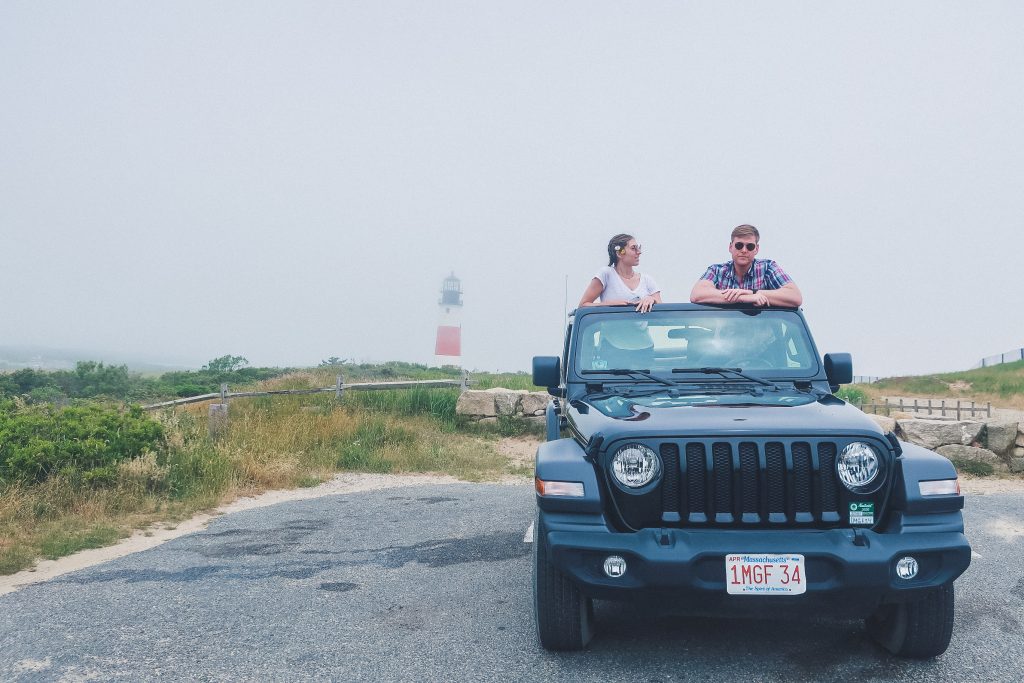 Call Roger's Taxi. It's a family-owned local business on the island. They'll take you exactly where you want to get & provide helpful information on route.
If you decide to explore the island by bicycle — get an electric one! The island is hilly and some destinations can be 30 minutes – 1-hour bike rides apart from one another. Although, a Nantucket bike tour can be a fun way to spend the day.
No matter how you decide to explore Nantucket, you'll find history and charm around every corner.
Scenic Places
When visiting Nantucket for the first time, get ready for your eyes to pop out of their sockets! 👀
This little island is so gosh darn beautiful! A Nantucket summer is something you'll never forget.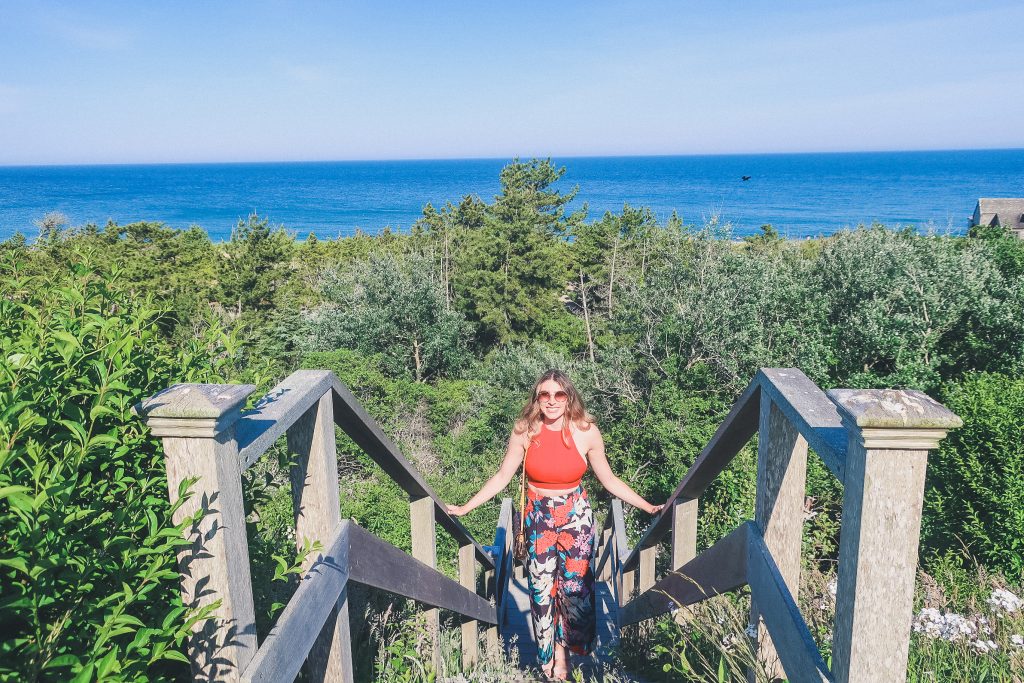 On this next part of our Nantucket guide, we'll walk you through all the most amazing scenic places on the island. These are the most instagrammable Nantucket points of interest. 
Sconset 
Sconset Village is one of the most breathtaking parts of Nantucket Island. It's quirky too. The name of Sconset is spelled several different ways! 
Sconset is also a historic place. In the 17th century, it was a fishing village. The home named "Auld Lang Syne" is one of the oldest houses in Nantucket. 
You'll find plenty of antique cottages in Sconset along with panoramic ocean views and blooming roses as far as the eye can see. 
The Sconset Bluff Walk is one of the top Nantucket island things to do. It's considered 'the most scenic walking path in Nantucket' by Travel & Leisure Magazine.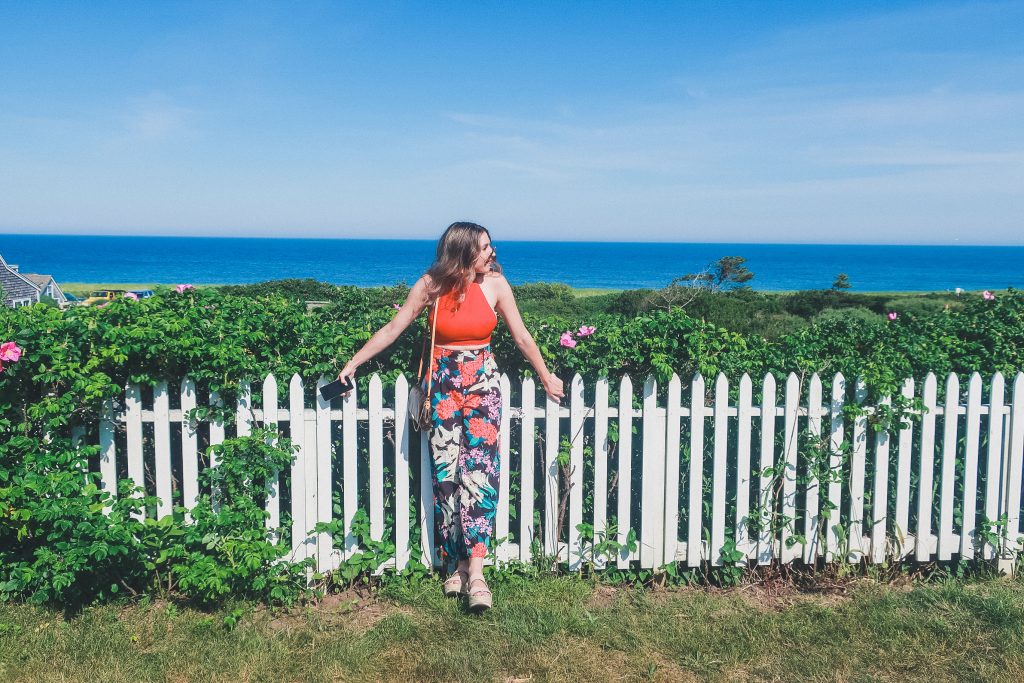 It's a dreamy photo spot for Nantucket vacations. 
One of Nantucket's best restaurants can be found in Sconset. The Chanticleer is one of Nantucket's finest dining establishments. It's also historic & the garden patio is absolutely delightful. 
Altar Rock
Altar Rock is one of the highest points on Nantucket Island. The best way to reach Alter Rock is with a Nantucket bicycle rental & then a short hike. (But don't get too excited, it's only 100 ft above sea level 😂) 
The trail is very sandy, so you'll need a mountain bike if you want to skip the hike portion. Many Nantucket Bike Trails lead to this area.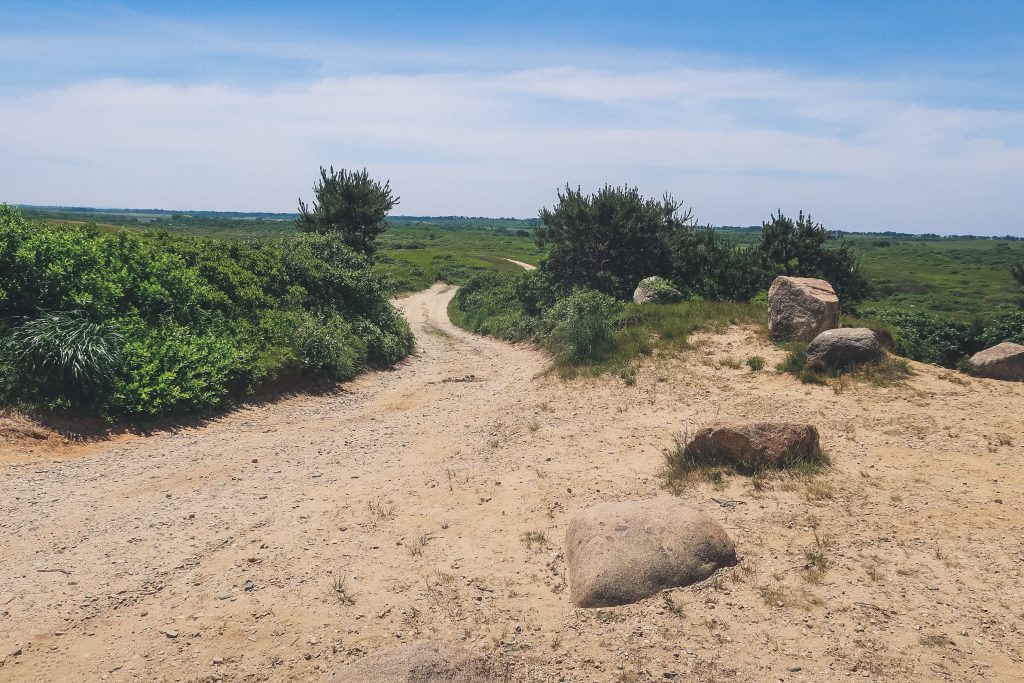 It's a unique part of the island because it's largely undeveloped. On a clear day, you could see all the way to Great Point Light or Sankaty Head Light. 
You can find characteristic plants like huckleberry, low bush blueberry & reindeer moss. Exploring nature near Altar Rock is one of the fun Nantucket kids activities.
Compass Rose
The Compass Rose in downtown Nantucket is one of the most photographed sites on the island. If you're in Nantucket for the day, it's something you shouldn't miss. 
You can find the Compass Rose as a pin in our Nantucket Massachusetts map. It's on the side of the Ralph Lauren Store. It's on the corner of Main & Washington Streets.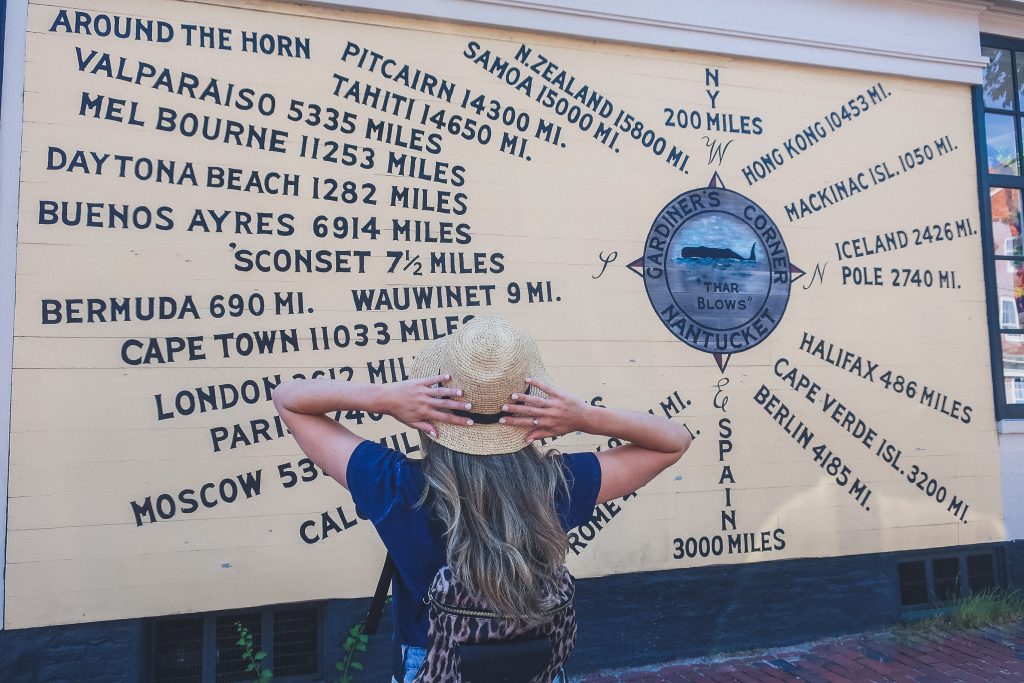 The compass was first created in the 1930s. H. Marshall Gardiner was an artist and photographer. He created the compass to attract visitors to his store and to become an icon for the island. 
It's meant to symbolize that Nantucket is a place of importance and that it's connected to important cities in the world (connected through the whaling industry).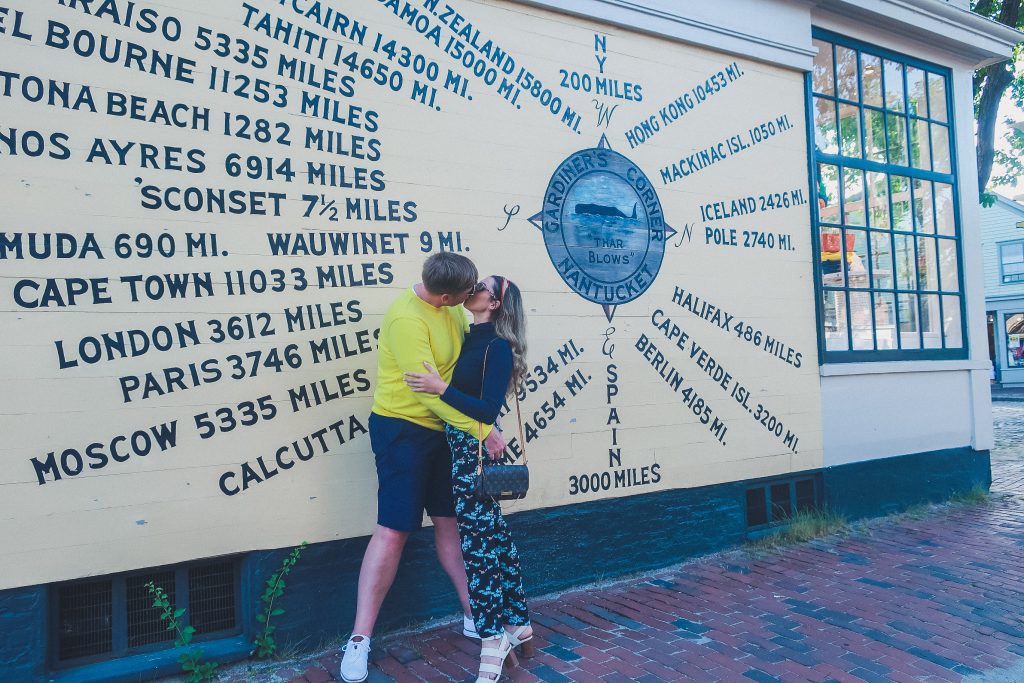 The Compass Rose is undoubtedly one of the top Nantucket attractions. You can also find many other fun Nantucket activities within downtown. 
Old Mill
This is the quintessential Nantucket windmill. It's a popular stopping spot on this map of Nantucket towns. It's a cute place and it doesn't take long to visit.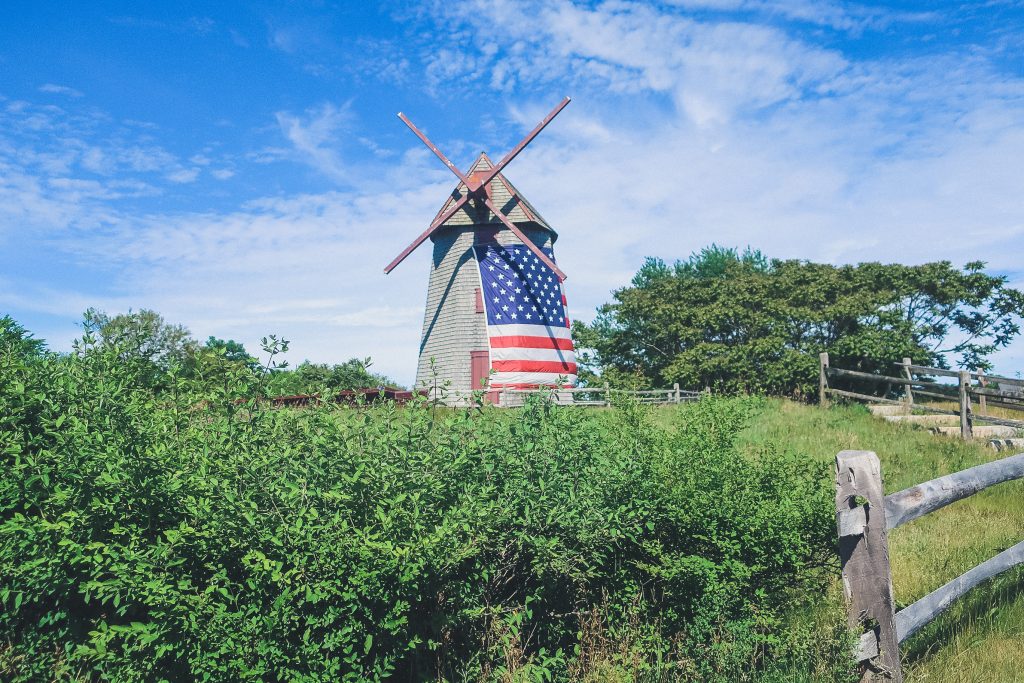 Folklore tells that Nantucket's Old Mill was built in 1746, but the full origin story is largely unknown. The Old Mill was used to grind corn. And, after some reparations over the last few decades, the mill is still capable of grinding corn today!
The Old Mill is the oldest functioning windmill within the United States, so it's mentioned in almost every Nantucket travel guide. It was a feat of engineering in its day. 
Lighthouses 
Lighthouses are some of the popular places to visit within this Nantucket island map. Lighthouses are at the heart of New England's historic boating culture. The best Nantucket tours don't miss the important lighthouses. 
You'll find three lighthouses on our Nantucket town map. 
Brant Point
The Brant Point Lighthouse is the most visited lighthouse on Nantucket Island. It's so distinct that you'll find it's image plastered all over Nantucket souvenirs.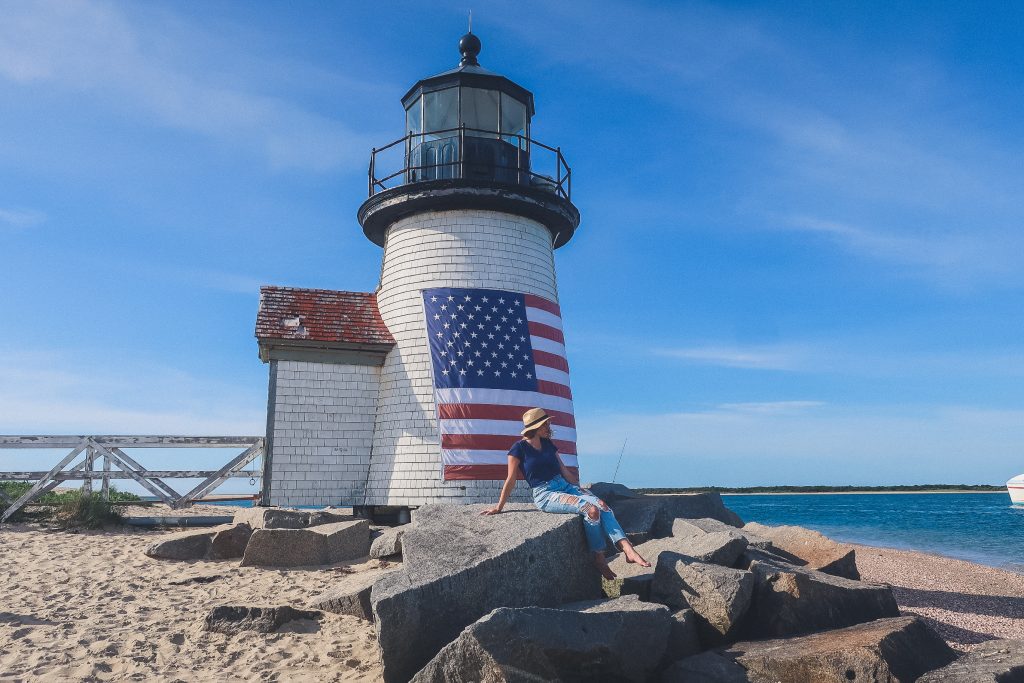 Built in 1746, it remains one of America's oldest surviving operational lighthouses in existence. 
This lighthouse is located in downtown Nantucket, so you won't be able to miss it on your Nantucket Vacation — even if you only have a weekend! It's a 10-minute walk from the popular downtown Nantucket boutiques, and you'll even see it when you arrive on the island by Ferry.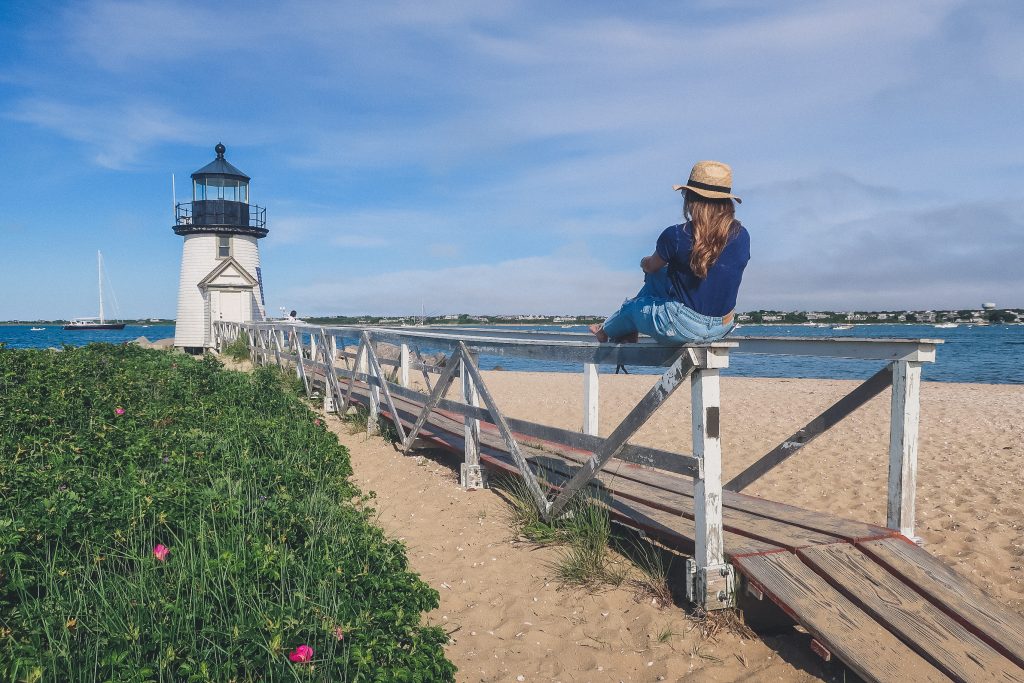 The Brant Point Lighthouse is a popular stop on Nantucket island tours because it had a very important historical role in the whaling industry and it was the second lighthouse built in colonial America!
Sankaty Head
You'll find the Sankaty Head Lighthouse near Sconset Village on our Nantucket attractions map. Visiting this lighthouse is one of the fun things to do in Nantucket. 
Sankaty Head is one of the most photographed lighthouses on Nantucket. It has a distinct red and white striped body.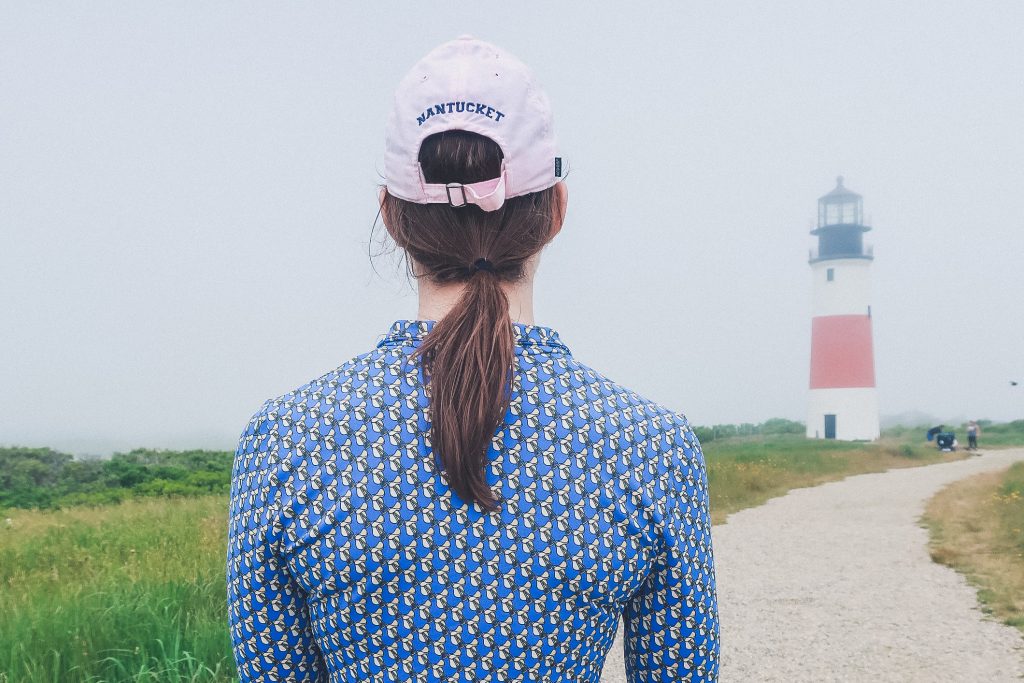 Climbing to the top of the Sankaty Head Lighthouse is one of the unique activities in Nantucket. These are the best views of the whole island!
The Sankaty Head lighthouse was a saving grace for ships. Underwater ridges off of Nantucket's eastern shores were notoriously dangerous. 
Great Point
Finally, we'll discuss the Great Point Lighthouse… this the most difficult place to access on our Nantucket neighborhood map. So, it's the hidden gem and the most highly sought after of Nantucket Lighthouses. 
The Great Point Lighthouse is located within the Coskata-Coatue Wildlife Refuge. To access it, you must have a special permit. This is in addition to the standard beach permit! As of June 2020, these permits were unavailable on island rental cars. Although, you could buy one from the gatehouse for over $100.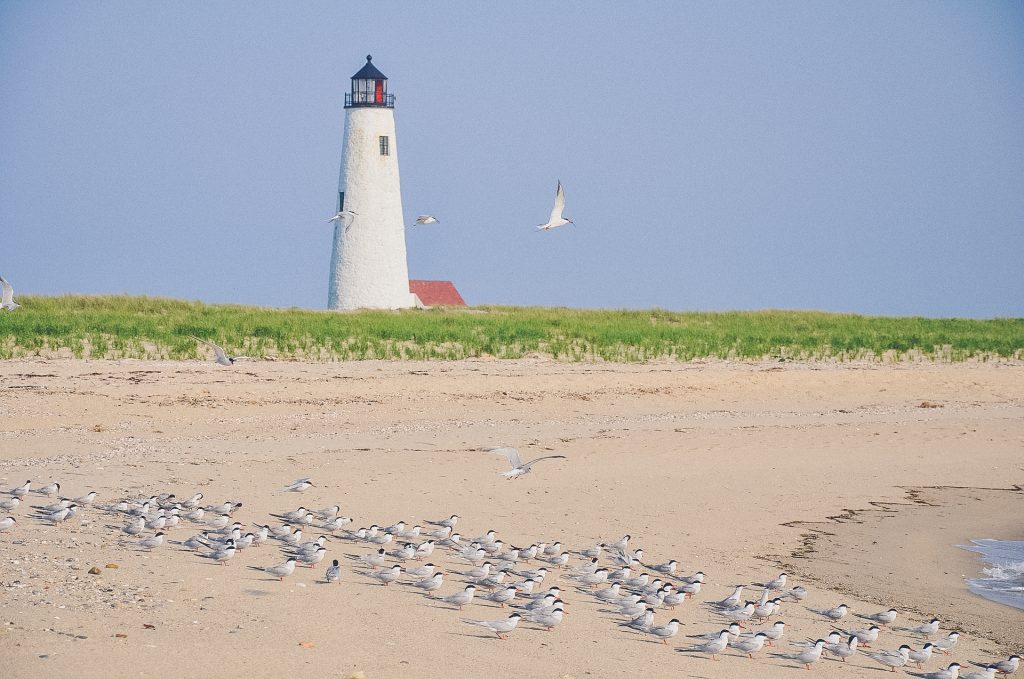 Once you venture into the Coskata-Coatue Wildlife Refuge, you'll pass by the Wauwinet– one of the most glamorous Nantucket places to stay. It's where politicians and celebrities are known to vacation in Nantucket. 
Although, I'll also mention that the Coskata-Coatue Wildlife Refuge can be extremely buggy! We didn't dare venture to the lighthouse due to how many mosquito bites we had after 5 minutes in the park. 
If you decide to venture to the lighthouse and attain the appropriate permits, you'll have a 30-minute drive through sandy dunes to get there. It's quite remote – located on the northernmost end of the island. 
Beaches 
Beaches are popular spots on this Nantucket map. If you're visiting for a Nantucket day trip, you've got to hit the beach!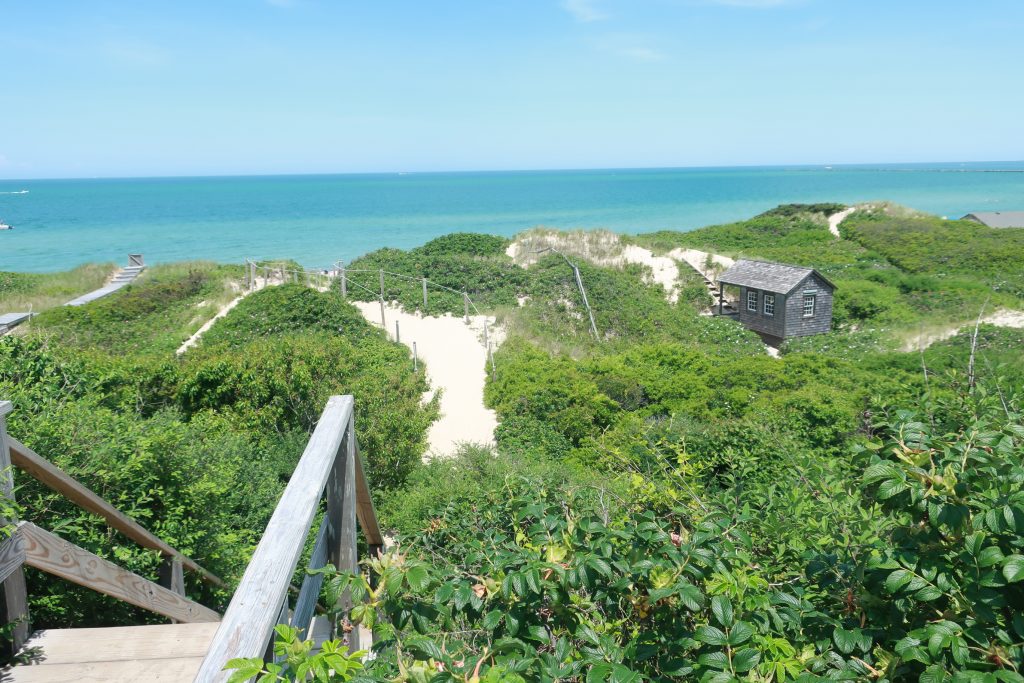 Steps Beach
Steps Beach is the it beach. It's the most beautiful out of all the Nantucket island beaches! It's also where you'll find some of the most amazing Nantucket island homes & Nantucket walking trails.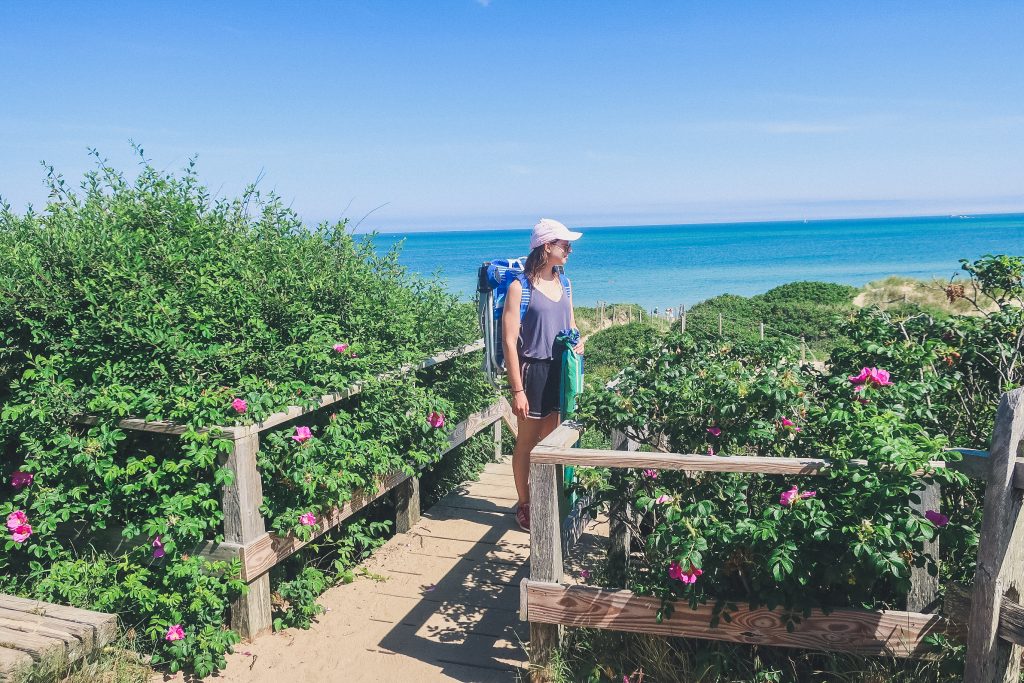 Steps Beach is one of the popular Nantucket points of interest because the beach is lined by beautiful woodland flowers. You'll take a winding sandy trail down to its gentle waters. There are no facilities or rentals on this beach, so it is quiet and serene. 
Jetties Beach
Jetties Beach is where all the action is at! You'll find volleyball nets, tennis courts and a skate park there. It's the hottest spot for families on this Nantucket beaches map.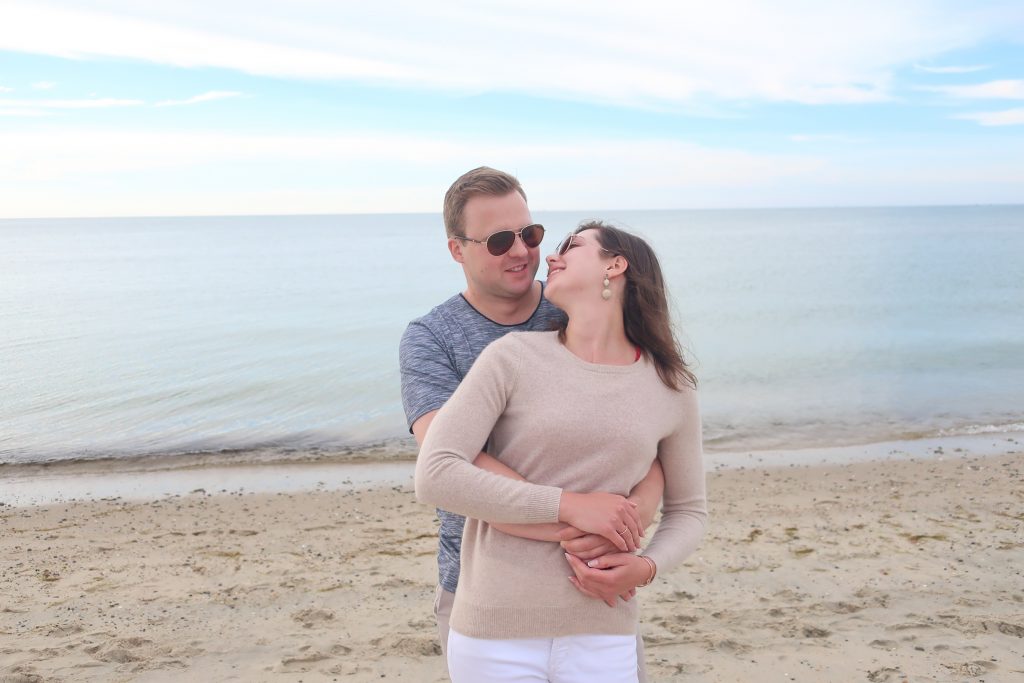 Jetties Beach is right next to Steps Beach. In between these two, you'll find one of Nantucket's most legendary restaurants. Galley Beach is Nantucket's refined beachside restaurant. It's the perfect place to relax and sip seaside cocktails. 
Jetties Beach also has great bathroom facilities. You can find sailboats and other activity rentals.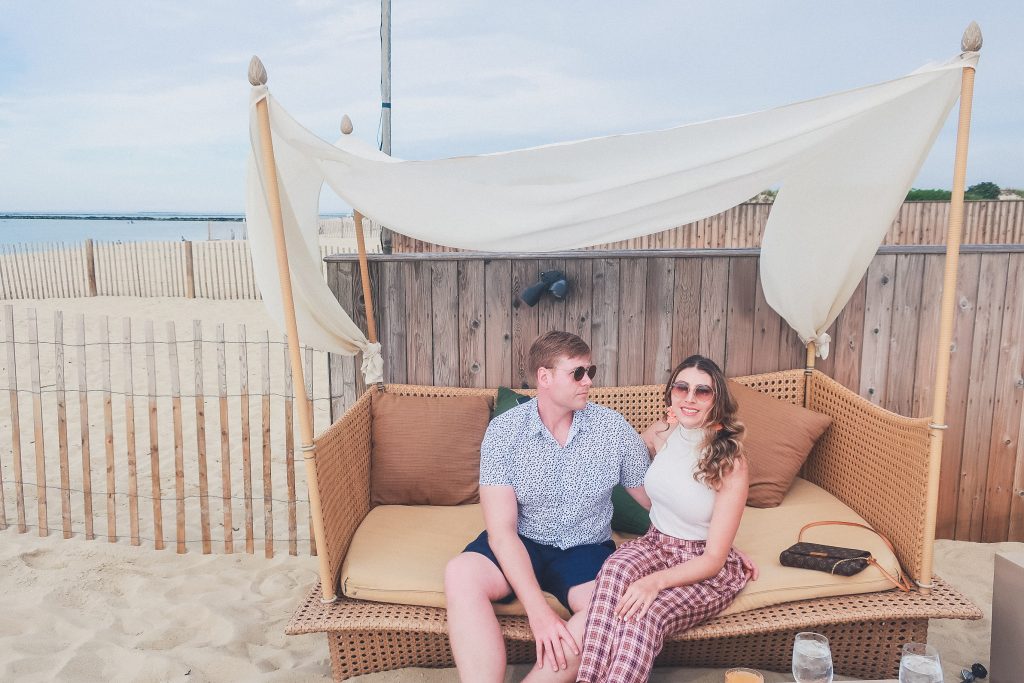 Madaket Beach
Sunsets on Madaket Beach are a Nantucket must-see. It's also home to the island's strongest waves! This is also one of the beaches that visitors can drive off-road (as long as they have a beach permitted vehicle).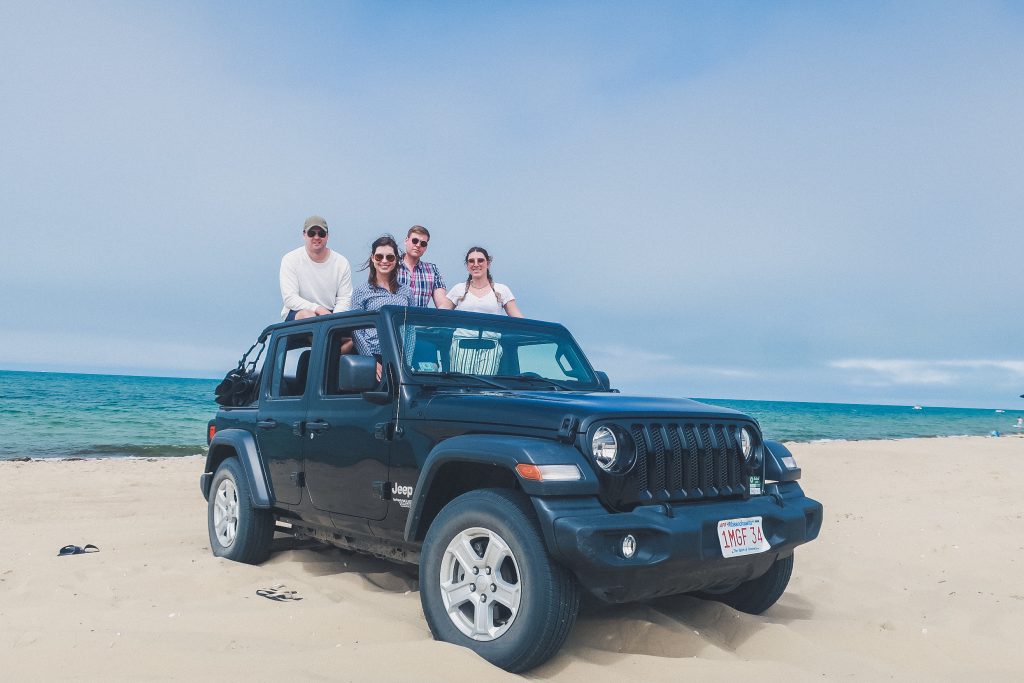 When you visit Nantucket, you'll start to feel the Jeep Culture. One of the fun Nantucket activities for adults is dune bashing in a jeep! 
Tuckernuck Island
Visiting Tuckernuck Island is one of the most exclusive Nantucket activities. That's because the only way to get to it is by private sailboat charter.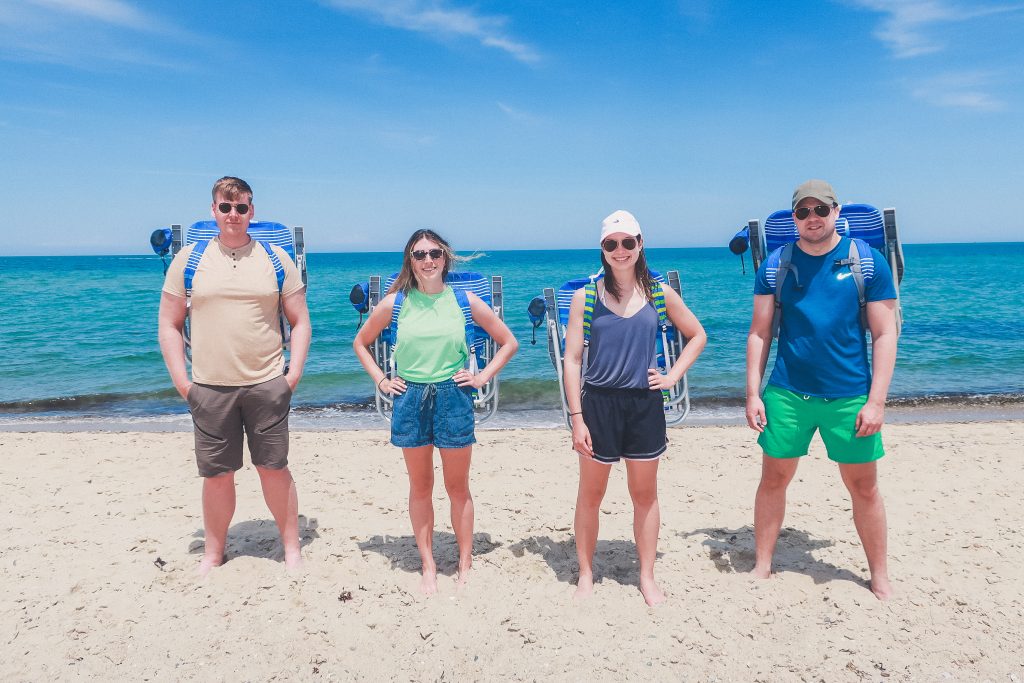 It's one of the lesser-known Nantucket attractions. 
Cultural Sites
Nantucket is a relatively small island, but it offers a wealth of cool and quirky places to explore. Nantucket's character and charm are bold and beautiful. You'll find quite a few museums on this map of Nantucket Island. 
Although, you don't need to visit a museum in Nantucket to get a feel for its culture and vibe. Just open your eyes as you walk around downtown. You'll quickly catch on to the Grey Lady's distinct style of Nantucket architecture.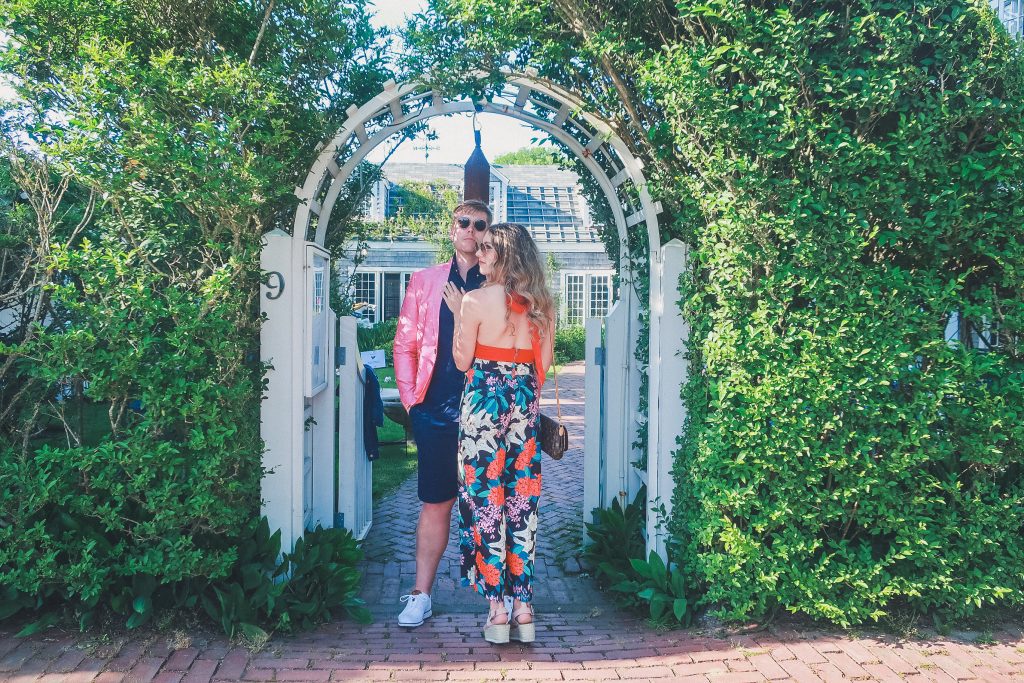 Many of Nantucket's cultural sites are within this downtown Nantucket map. They're not very far from where the Nantucket island ferry stops. So, they are quite easy to visit even if you're not in town for very long!
Try to learn more about Nantucket island Massachusetts. We think you'll be surprised and delighted. 😃
Whaling Museum
The Whaling Museum is one of the top Nantucket tourist attractions. It's right next to some of the best Nantucket island restaurants like Straight Wharf & Cru. It's also nearby some of the best Nantucket island hotels like the White Elephant Nantucket.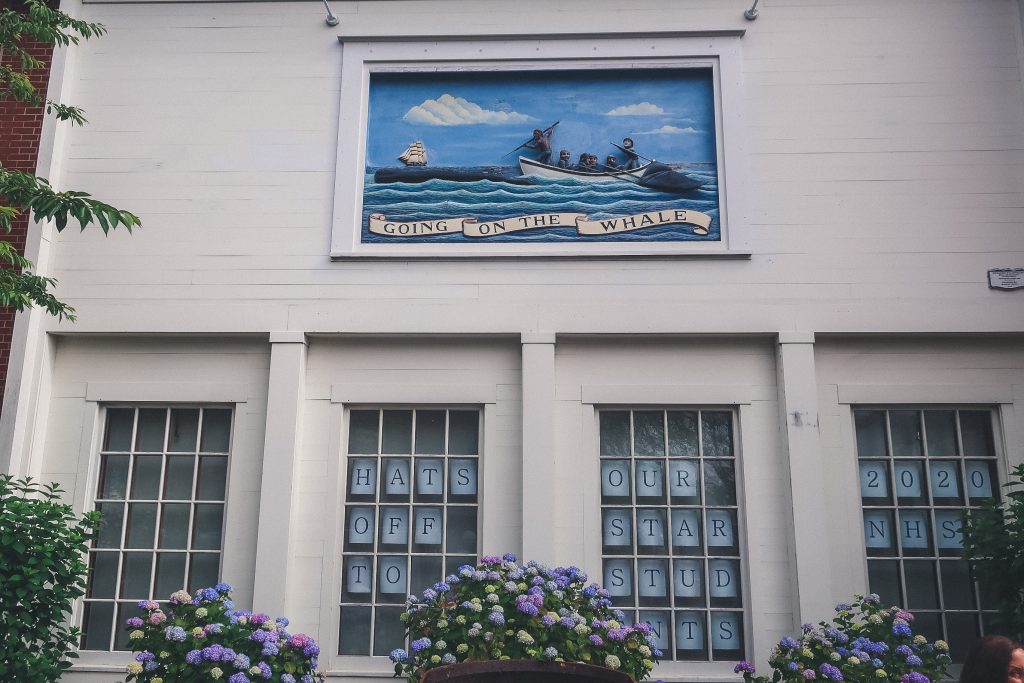 The Whaling Museum takes you through the sad history of Nantucket whaling. 18th Century whaling was dangerous yet prosperous. You'll get to see a complete Sperm whale skeleton. Whale oil was used to make candles. You'll learn more about this as your tour the museum. 
Whaling was an important part of Nantucket island living for a large part of history. 
Lions Observatory
The Lions Observatory is one of the lesser-known places for Nantucket sightseeing. Although, it's a favorite among locals.
During the summer, the Lions Observatory offers community stargazing nights. It's truly remarkable to join one of these events and learn from their knowledgeable astronomy team. It's one of the most romantic things to do at Nantucket. 
Hadwen House
Still, wondering what to do on Nantucket? Don't Worry! There's more!
Check out the Hadwen House. Nantucket's Hadwen House is a Greek-revival mansion built in 1846. It's one of the can't miss buildings in downtown Nantucket.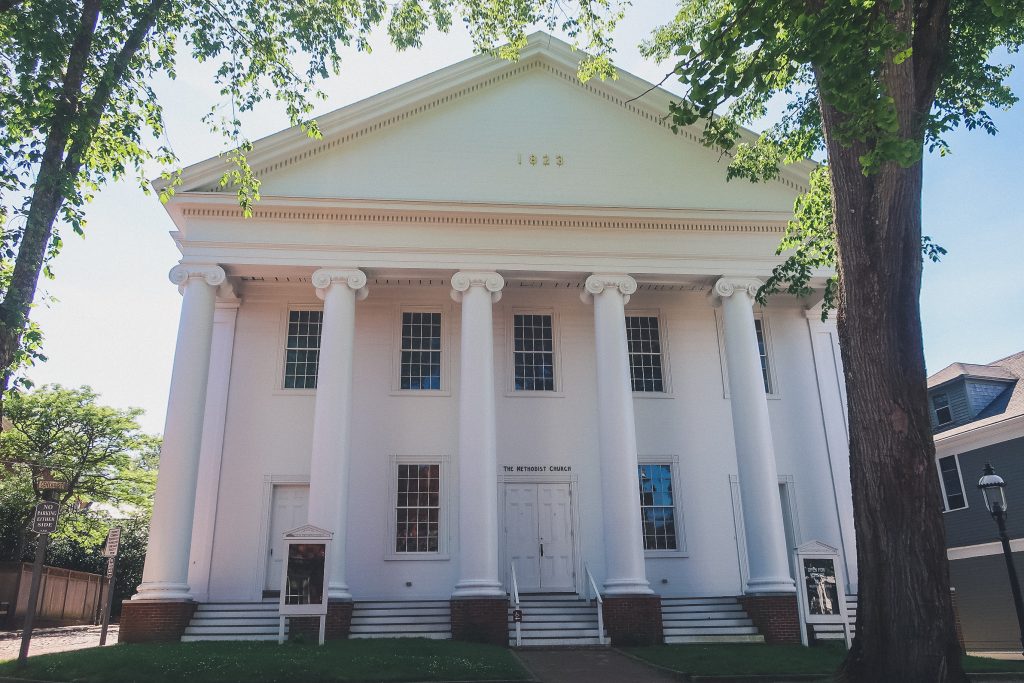 The Hadwen House was built by a whaling merchant during the 'golden age' of Nantucket whaling. The facade is absolutely stunning. You'll find it in the heart of downtown, right on Main Street!