Looking for the best things to do in Vienna for couples, look no further! We'll help you find the most romantic things to do in Vienna. This list includes everything from scenic rooftop bars, to cozy cafes and where you can learn to waltz! Find out how you can check off your Vienna bucket list with your significant other.
20 Romantic things to do in Vienna for couples
Vienna is, for many reasons, a wonderful European city to visit. Vienna is the capital and largest city in Austria. In Vienna, almost everyone you encounter speaks German and English, so it's easy to get around and communicate.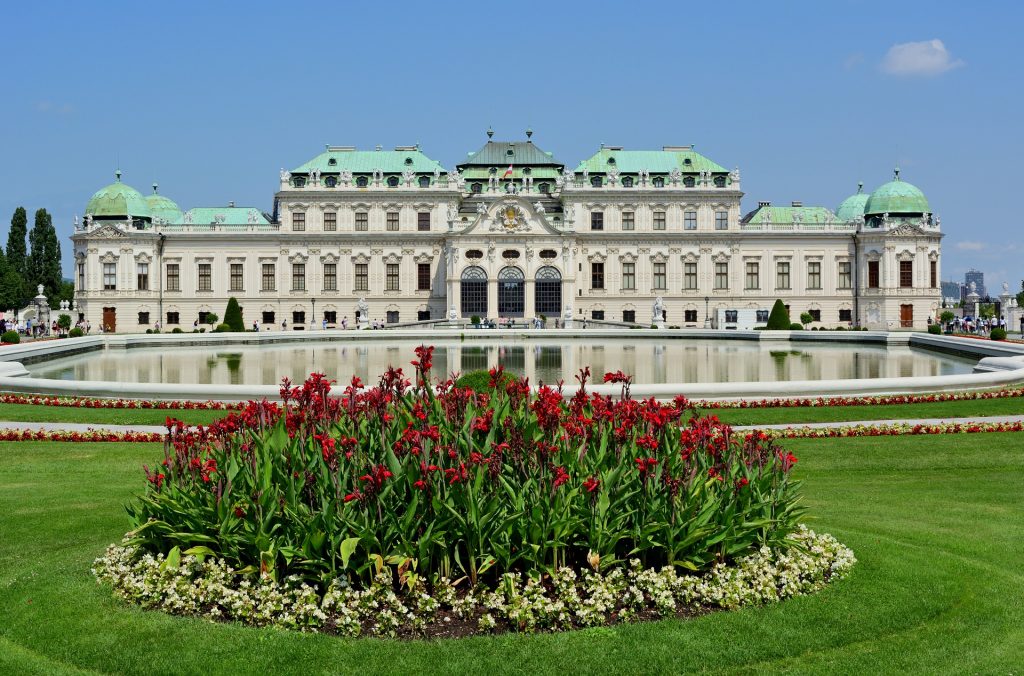 Also, the city boasts wide sprawling pedestrian walkways. You can enjoy a leisurely stroll without feeling cramped like sardines with other tourists. Despite being a large bustling city, the streets are clean and very well maintained.
The cleanest public toilet I've ever seen was in Vienna. In fact, Vienna is very much a city for the people. That is why, year after year, surveys and studies have ranked Vienna as one of the top cities regarding the quality of life and livability.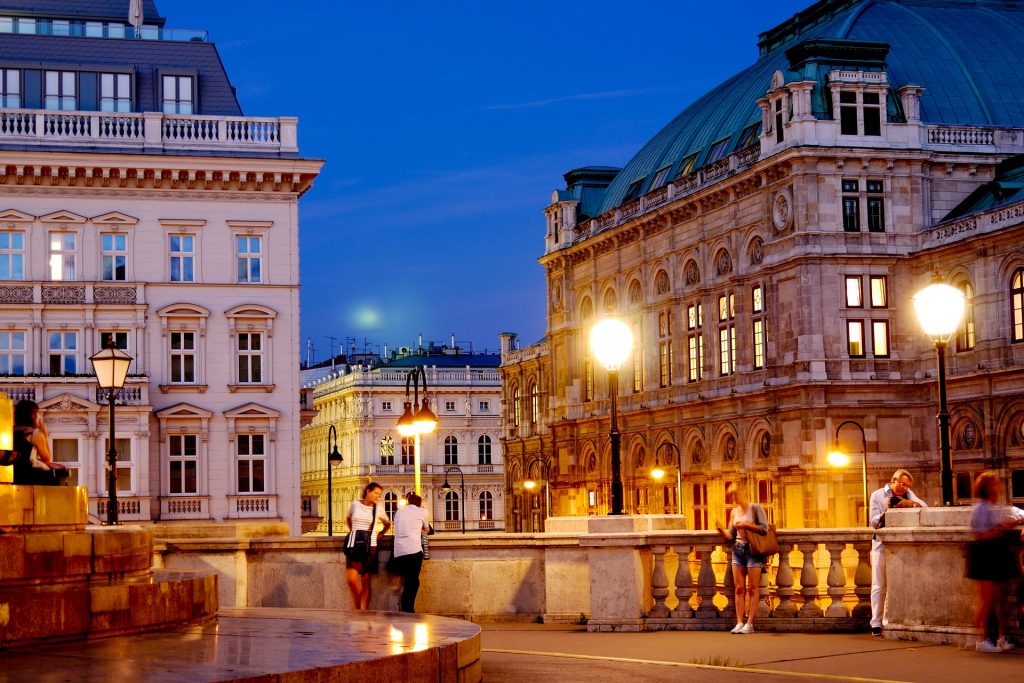 Aside from the cleanliness, ease of navigation and prospects for English communication, Vienna provides an abundance of history, culture, and flavors to discover. Wait 'till you discover how romantic Austria can be!
Download this Vienna attractions map to help you navigate as you travel through the city.
Romantic Hotels in Vienna
Budget
Hotel Park Villa is the ultimate romantic accommodation in Vienna for budget travelers. At Hotel Park Villa, breakfast is included and you can enjoy it on a quaint garden patio.
This hotel offers charming style reminiscent of the Art Nouveau period. Beautiful balcony views are included.
Check out the latest rates at Hotel Park Villa.
Mid Range
We recommend Boutique Hotel Kugel for mid-range budget travelers visiting Vienna. This hotel is centrally located near Vienna's Museum Quarter.
At Hotel Kugel, you can enjoy breakfast brought directly up to your room. Including Viennese honey and fresh, organic, juices.
See more photos of Hotel Kugel.
Affordable Luxury
If you can spend a little bit more, you'll enjoy all the luxury touches at a fraction of the cost at the Grand Hotel Wien. All guests enjoy a welcome drink to kick off their romantic Vienna vacation.
It's a historic hotel. It was originally built in 1870, but it's been masterfully renovated since then. You can expect world-class service and gourmet dining.
Check out these amazing rooms at the Grand Hotel Wien.
Ultimate Luxury
Travelers who aren't worried about cost should consider Hotel Sans Souci. Hotel Sans Souci offers the most romantic, ultimate luxury, accommodation experience in Vienna.
Hotel Sans Souci is located in the heart of Vienna's city center. It's decorated with fancy art and distinguished touches.
Book your room at Hotel Sans Souci today.
20 Romantic things to do in Vienna for couples
1. Drink Local Wines
Drinking local wines is one of the things you must do in Vienna, especially if you like dry whites! These dry whites are commonly made from the Grüner Veltliner grape (which is the most planted varietal grown in Austria).
Visiting the Wachau Valley is one of the things you have to do in Vienna! It's just to the west of the city. Grüner Veltliner and Riesling grapes are grown here. They thrive on the steep drop-offs where the soil is so scarce that the grapes can attain a uniquely rich minerality.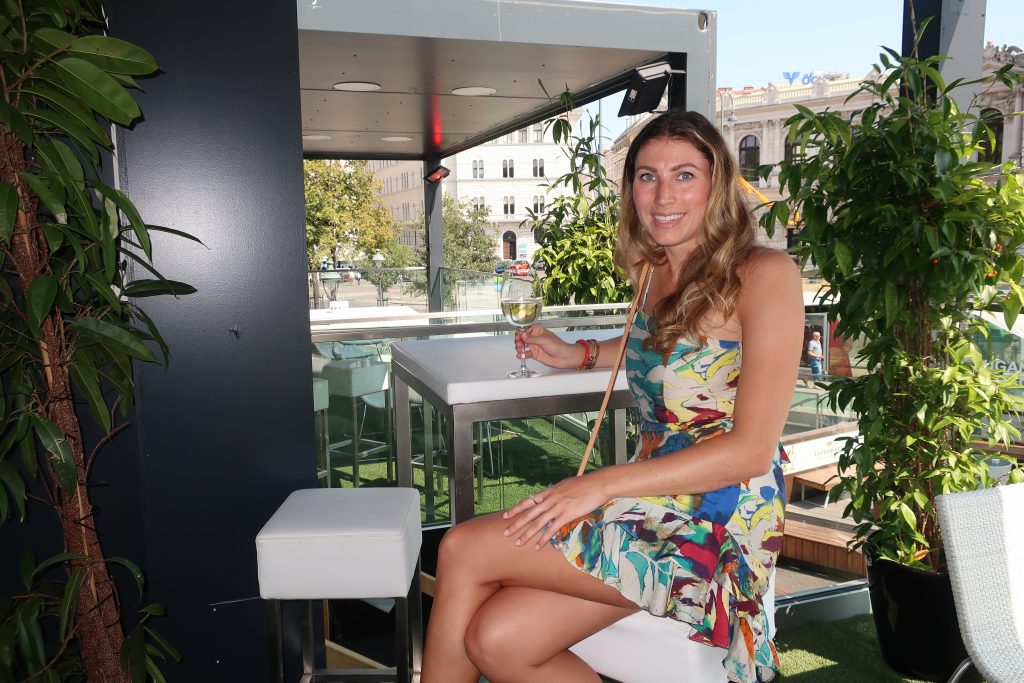 Check out this top-rated bicycle tour to Vienna's Wachau Valley.
This tour includes a visit to the charming UNESCO town of Durnstein. Not to mention, bicycling is one of the cool things to do in Vienna Austria. It's also one of the nicest things to do in Vienna in Summer!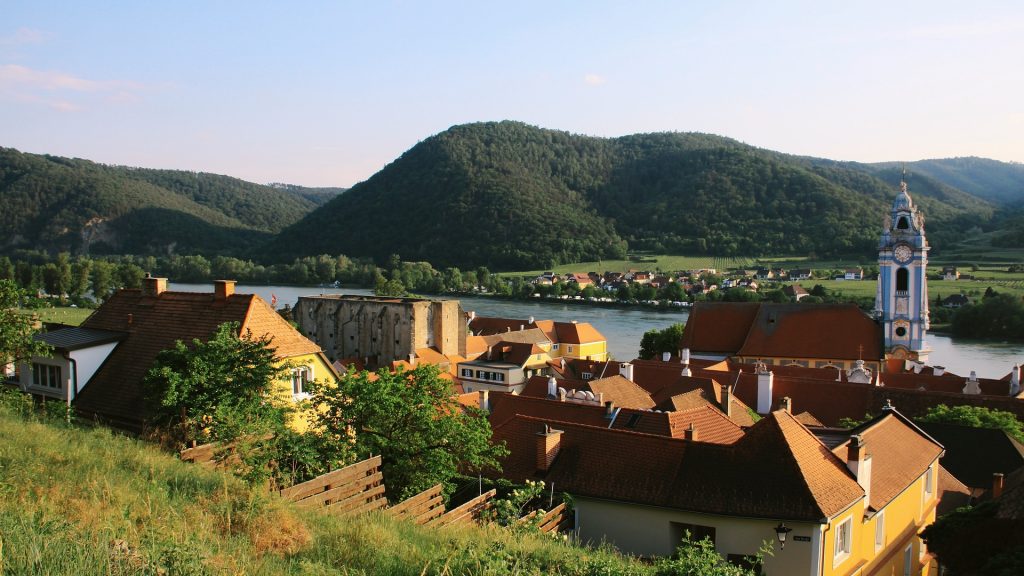 If red is more your taste, the Blaufränkisch, Zweigelt and Pinot Noir varietals are grown locally in Austria. Blaufränkisch grapes are known to produce wines high in tannins and to exert a spicy quality.
The Zweigelt grape was developed by crossing the Blaufränkisch and the St. Laurent. It is currently the most commonly grown red grape in Austria and certainly deserves a taste.
There is archeological evidence suggesting that wine was grown in Austria over 4000 years ago! When wine becomes intertwined in the history of a region, you can bet that they have something beautiful and unique to offer.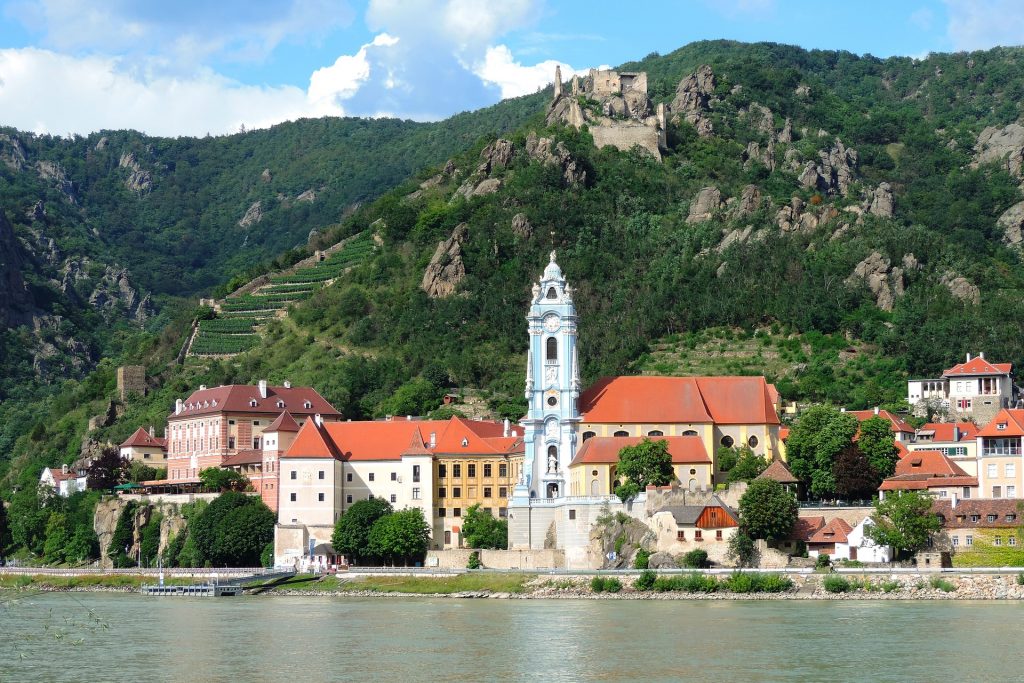 I always advocate for drinking local wines. The experience of drinking the same bottle in your home country won't ever be the same. When wines are shipped long distances, it is necessary to add more preservatives and chemicals to them. Drinking local will ensure that the wine is as clean as possible. (Hopefully) A hangover-free experience!
Wine is one of the best things to buy in Vienna. Bring along one of these protective sleeves, for safe luggage storage.
On Sundays in Vienna, many museums close. That's why enjoying wine is one of the top things to do in Vienna on a Sunday.
If biking isn't your thing, there's another excellent way to explore the Wachau Valley.
Check out this highly regarded Wachau Valley small group tour.
2. Visit a Chocolate Museum
Tasting chocolate pralines is one of the best things to do in Vienna. Like their Belgian neighbors, Austrians take chocolate-making very seriously.
Chocolate is an important piece of Austrian history, and it's an aphrodisiac. A chocolate date is also one of the best things to do in Vienna in winter!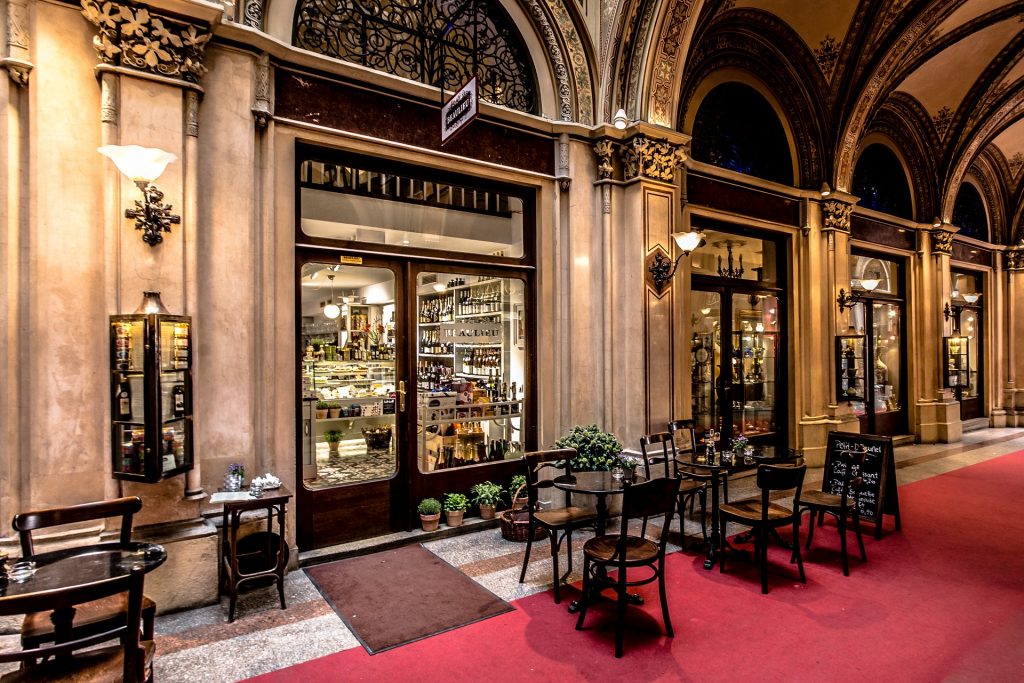 The Chocolate Museum in Vienna offers tours, tastings and chocolate making workshops. The museum is a journey for the senses and provides ample fun photo opportunities. At the end of the tour, they give you chocolate!
Learn how to be a chocolatier at Vienna's Chocolate Museum.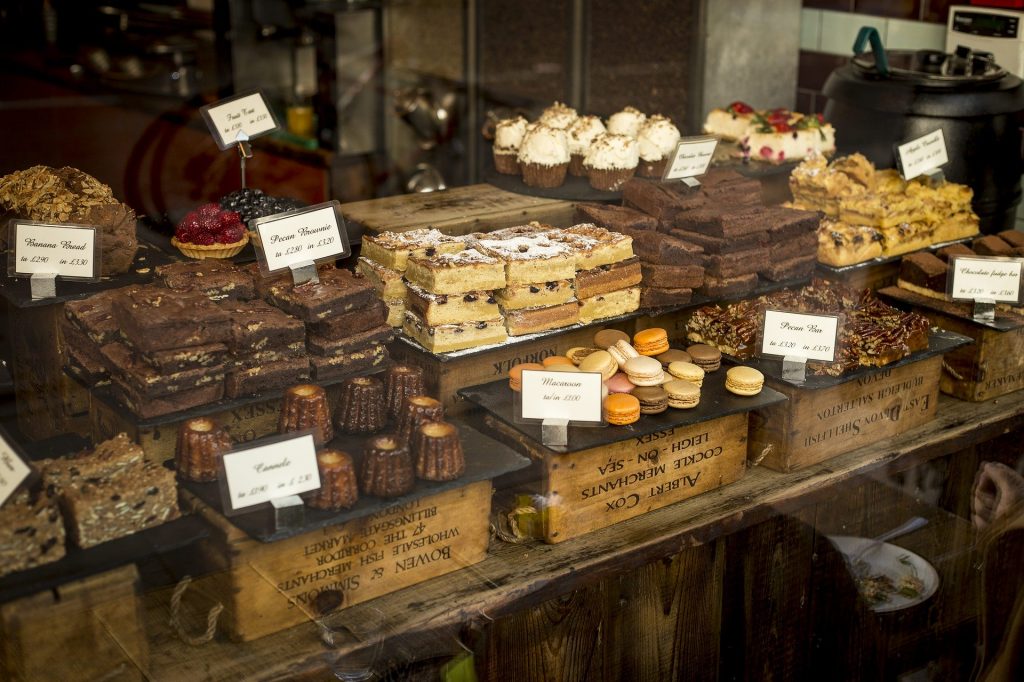 Chocolate is one of the best things to buy in Vienna Austria, and the best place to buy it is a shop called Zotter. It's considered one of the best chocolate shops in the world, and it's organic, fair-trade and sustainably sourced.
3. Check out Amazing Architecture
Art and history lovers will rejoice at the opportunity to enjoy Vienna's amazing architecture! Exploring the city on foot is one of the can't-miss things to do in Vienna!
Check out the captivating architecture tour of 'Red Vienna.'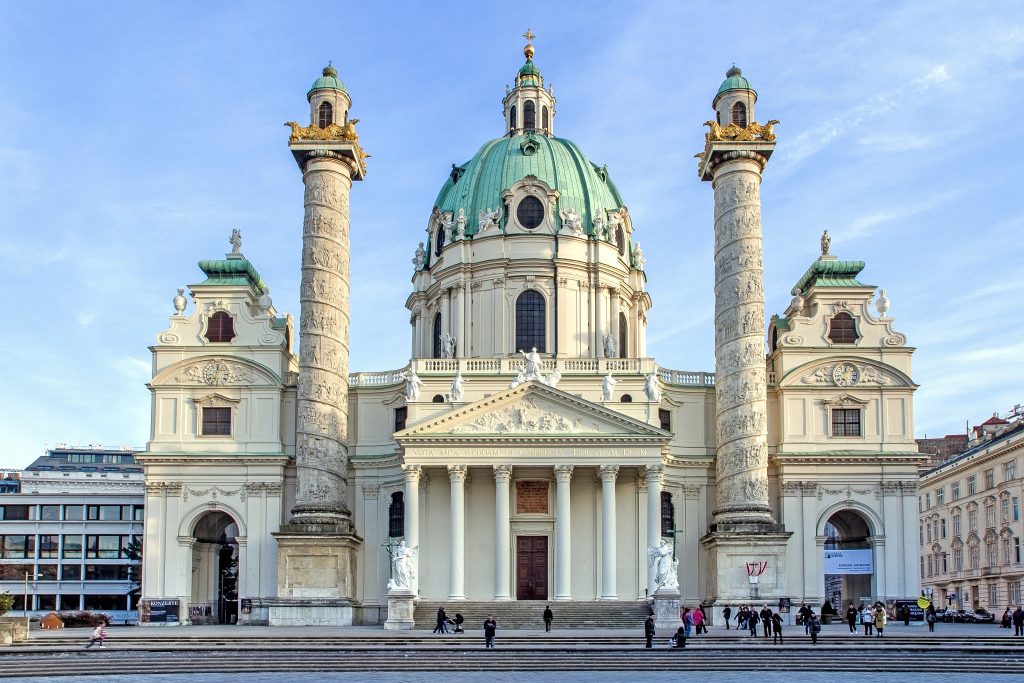 Red Vienna is a nickname given to the city's early-20th Century democratic period. Specifically, you'll learn about the Art Deco masterpieces built during that time.
Although, you don't need to book a tour to appreciate Viennese architecture. Appreciating architecture is one of the best free things to do in Vienna.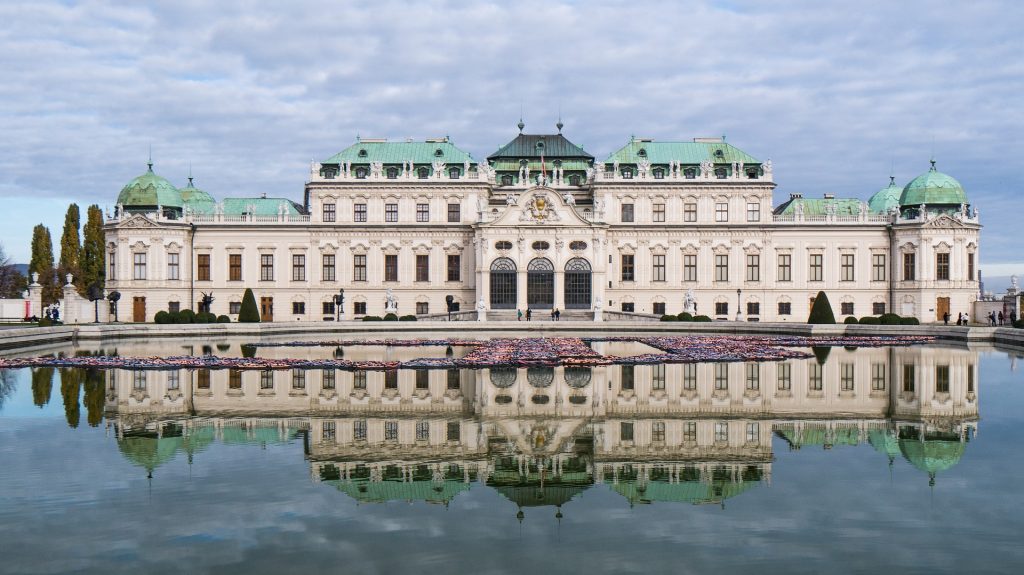 You can take a walk to some of Vienna's stunning palaces. The Schonbrunn Palace, Hofburg Palace, and Belvedere Palace are excellent examples of baroque architecture. Baroque style is known for the expression of grandeur and drama. Many buildings include grand open spaces, columns and intensity drawn from lighting.
St Stephen's Cathedral and the Vienna City Hall are examples of Gothic Architecture. St. Stephen's Cathedral's colorful and elaborate roof has become a symbol for Vienna.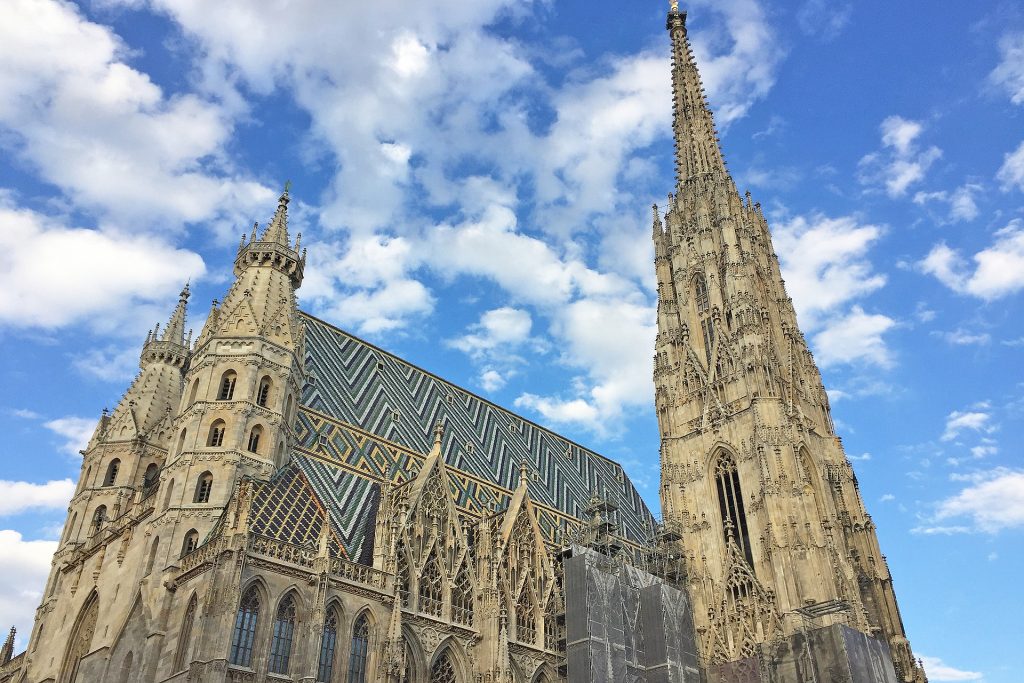 Gothic architecture, in general, is characterized by pointed arches, tall sharp spires, and ribbed vaults. Visiting these landmark buildings is one of the most recommended things to do in Vienna city centre.
4. Boating at Danube
The Danube is Europe's second-longest river. It's much loved by the Viennese people, as they've written many songs about it. It's scenic, quaint and, most of all, romantic! That's why visiting the Danube is one of the things to do around Vienna for couples!
Enjoy this remarkable journey along the Danube River.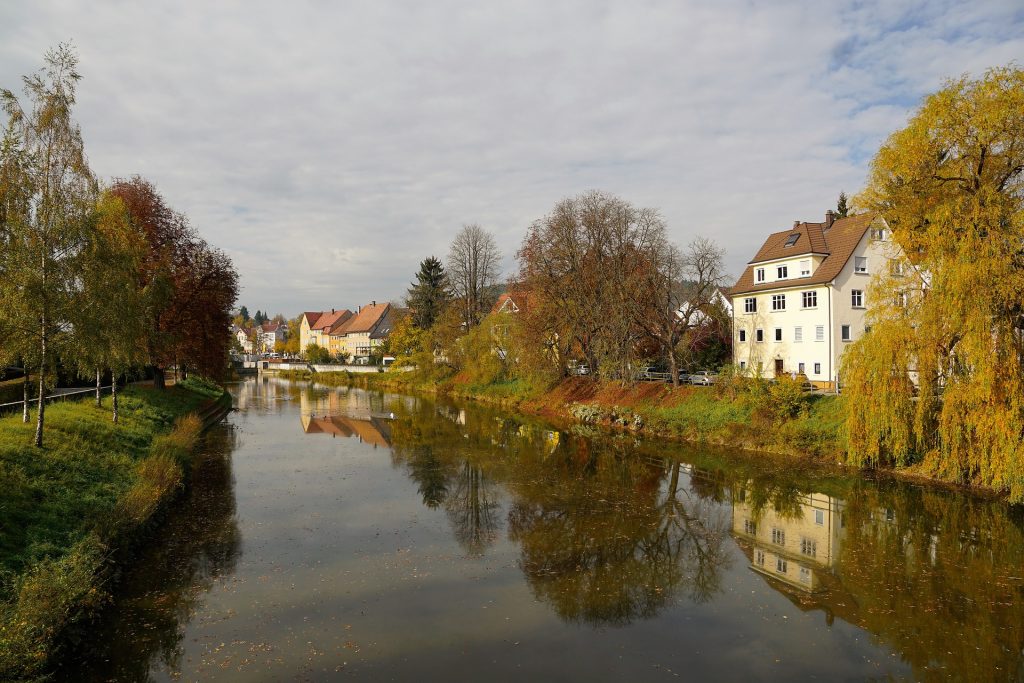 You'll get to enjoy spectacular views of the Austrian countryside. It's dotted with vineyards, abbeys, and castles! Not to mention, it includes a romantic boat ride along with the Danube River. This full-day journey is one of the fun things to do near Vienna Austria.
5. Visit & Eat at Nashmarket
Naschmarkt is Vienna's largest and most popular street market. It's one of the best things to see in Vienna for free! Since there's no cost for admission. Although, you may have to spend a few bucks to get the ultimate experience. So, it's probably one of the better cheap things to do in Vienna.
If you only have one day in Vienna, you must visit this market! Nashmarket combines old Austrian traditions with new cultures brought in from immigrants. Thus, you'll find flavors from a variety of ethnic groups as well as a wondrous assortment of local foods.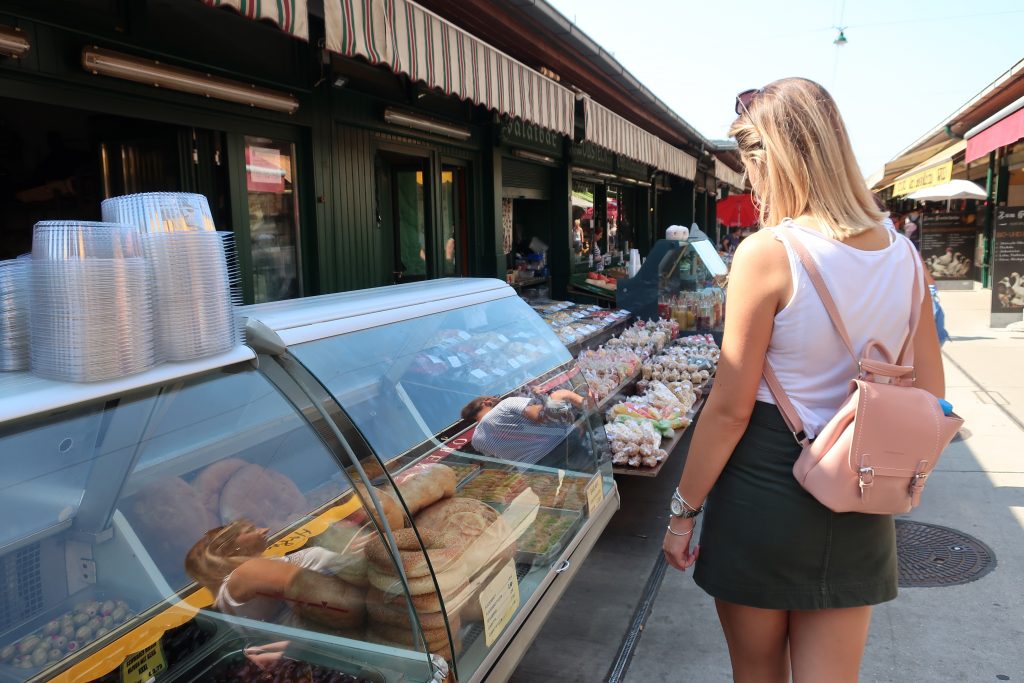 Enjoy fresh pastries, artisan cheeses and meats. Get small portions from different vendors & sample as much as possible. This is one of the cool things to do in Vienna that allows you to have a truly local experience.
Foodies shouldn't miss this top-rated Nashmarket half-day your.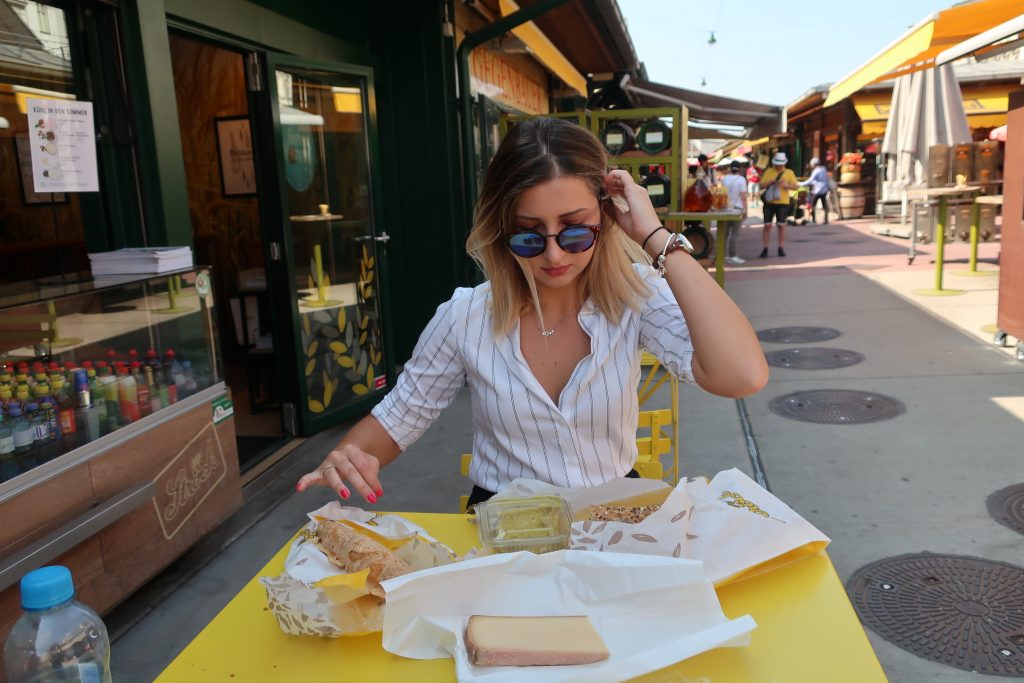 I love going into cheese shops and asking to sample the most typical cheese for that particular region. Needless to say, I am an avid cheese enthusiast. Nashmarket also offers more than food. You'll find interesting trinkets, some clothing, and souvenirs.
This is NOT one of the things to do in Vienna on Sunday since the market is closed every Sunday.
6. Attend a Mozart Concert
A Mozart Concert is one of the incredible things to see in Vienna! Mozart is a piece of Austrian history, culture & legend!
Wolfgang Amadeus Mozart — he's the guy that Mozartkugel is named after! Mozart was one of the most famous 18th Century classical composers.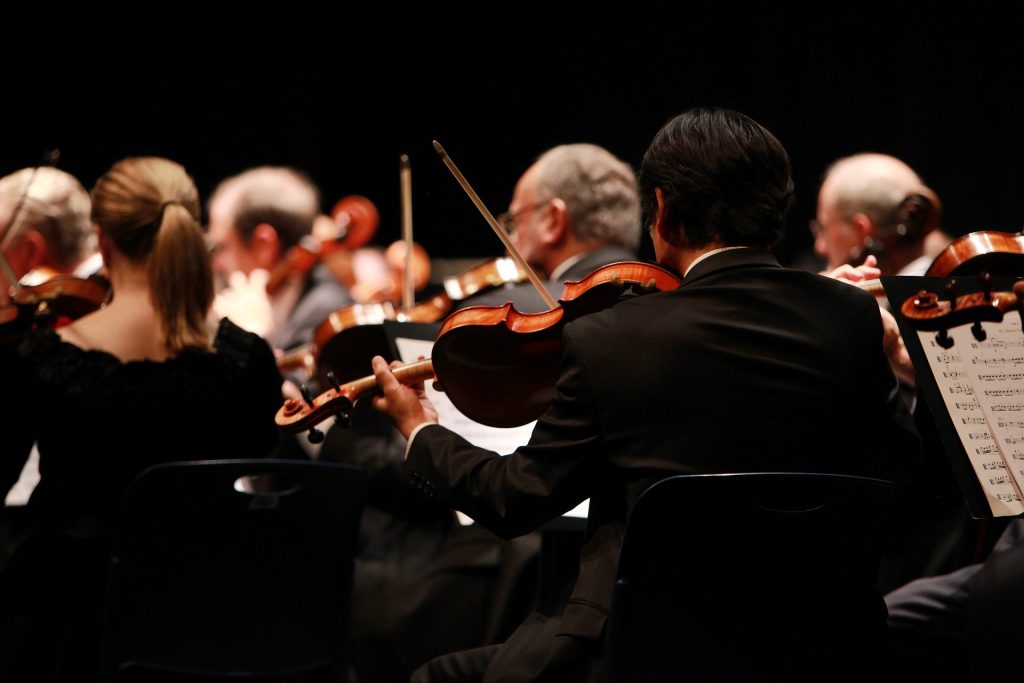 Grab your tickets to this highly regarded Mozart concert in Vienna.
He was apparently a skilled violinist and keyboard player even in early childhood. Most importantly, he was a native Austrian and later lived much of his life in Vienna.
Enjoying Mozart's music is one of the interesting things to do in Vienna. You'll never forget this incredible experience!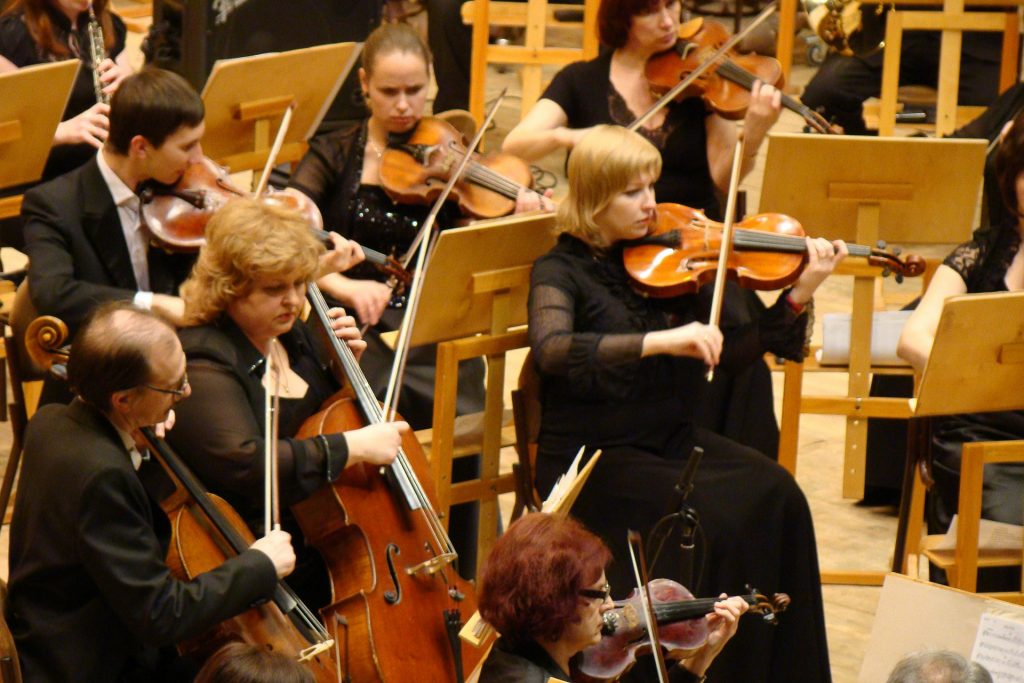 Check out this amazing Mozart Concert at the Mozart House!
The Mozarthouse is the renovated residence of Mozart's historic home in Vienna! There's a museum dedicated to Mozart and a cozy performance space.
During his life, Mozart composed more than 600 dynamic works! Which is quite a lot considering that he died at the young age of 35. He's undoubtedly one of the greatest composers of all time!
Enjoying a Mozart concert is also one of the epic things to do in Vienna Austria in winter. Along those lines, it's also topping the list of things to do in Vienna in the rain.
7. Visit the fairy tale village of Hallstatt
Hallstatt is a magical Austrian town accessible only by foot. It's famous for 16th Century architecture, quaint cafés, and stunning mountain views. Visiting Hallstatt is one of the most unforgettable things to do near Vienna!
Find out more about a day trip to Hallstatt from Vienna.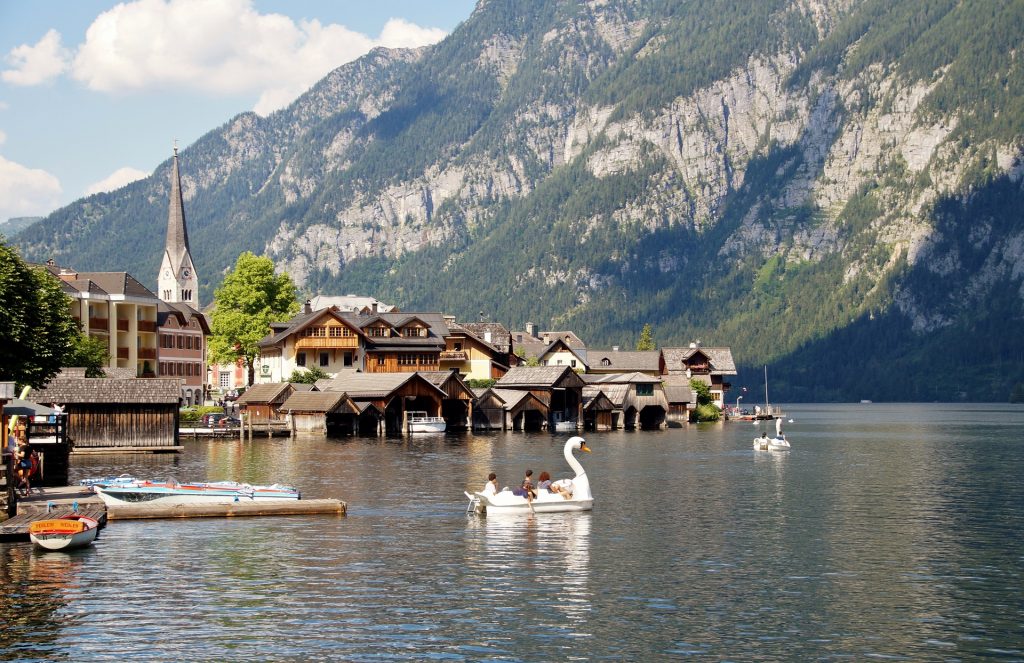 The best views of Hallstatt can be appreciated from the Hallstatt Skywalk and the Five Fingers Viewing Platform. You'll see the sprawling panoramic mountains jutting out from around Lake Hallstatt's western shore.
Hallstatt's salt mine, Salzwelten, dates back to prehistoric times. It's designated as a UNESCO World Heritage site. Visitors can access the mines by cable car and enjoy a guided tour.
Check out this exciting Hallstatt visit from Vienna.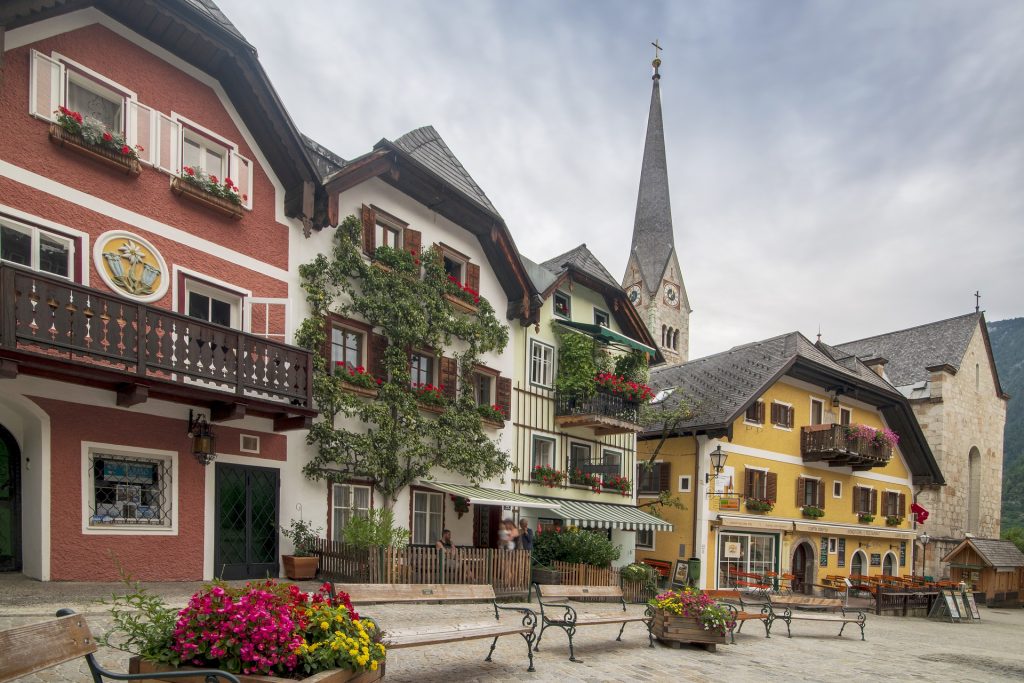 Visiting the fairy-tale village of Hallstatt is one of my favorite things to do outside Vienna! Walk along the cobblestone streets and take a romantic boat ride on Lake Hallstatt.
Hallstatt offers remarkable views of the Austrian Alps. Skiing at Hallstatt's charming resort is one of the most exciting things to do around Vienna Austria during winter.
8. Ride the Giant Ferris Wheel
The Giant Ferris Wheel at Prater Amusement Park offers another fun opportunity in Vienna for couples. It was originally constructed in 1897. At that time, and for decades after, it was the tallest Ferris wheel in the world. It was also one of the earliest Ferris Wheels ever built!
Click here for Giant Ferris Wheel Tickets.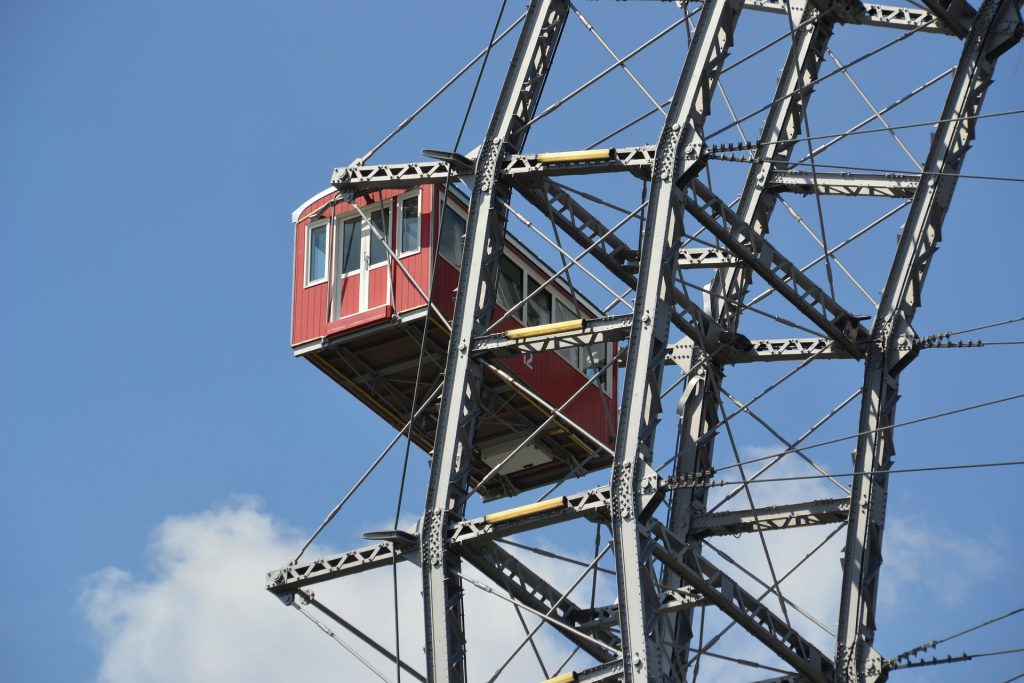 This popular Ferris Wheel has made an appearance in several movies including one James Bond film. It was given the honor of being listed as one of the "Treasures of European Film Culture."
From the scenic cabin's of this Giant Ferris Wheel, couples can enjoy breathtaking views of Vienna and the river Danube.
You can also book a luxury dinner cabin on Vienna's Giant Ferris Wheel. You and your date will enjoy a private dinner with a professional chef and personal waiter. This Vienna Ferris wheel dinner is unforgettable!
It's one of the most amazing things to do in Vienna!
9. Freud Museum
The Freud Museum is one of the best places to visit in Vienna! It's a must-see for psychology lovers and philosophers.
This is one of the offbeat things to do in Vienna for couples, but I'll explain my reasoning here…
If you aren't well versed in psychological thinkers… Freud is one of the most famous ones! He established psychoanalysis as a clinical method for diagnosing and treating mental illness.
Freud may be most known for his theories on the id, ego, and super-ego. Much of his thinking examined repressed unconscious desires and mechanisms.
Freud also had many interesting theories about sexual energy, erotic attachments and he coined the term 'Oedipus complex.' Learning about Freud's sexual theories is certainly one of the weird things to do in Vienna.
It's also one of the fun things to do in the winter for couples! Since you'll be able to stay inside. It's not super romantic… it's nerdy and weird, but it's an option!
10. Visit Butterflies at Schmetterlinghaus
Visiting butterflies is another one of the fun things to do in Vienna! The Imperial Butterfly House is located in the heart of Vienna.
You'll find over 400 butterflies in unimaginably, bright, vivid colors. These beautiful delicate creatures are incredibly graceful and enchanting.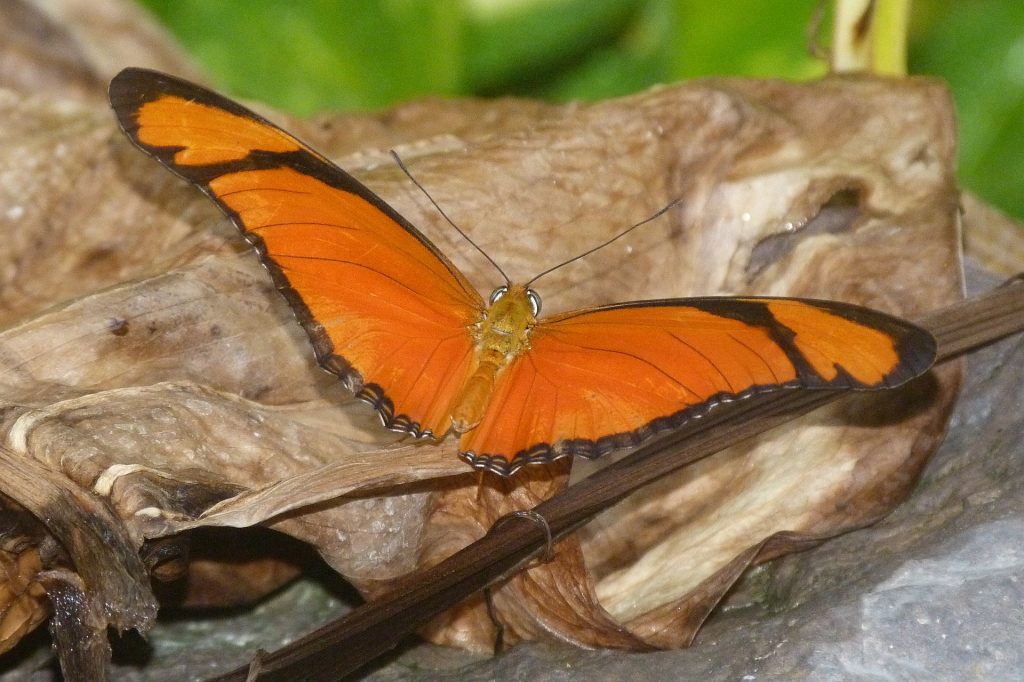 The Imperial Butterfly House is located within a historic Art Nouveau style building. It's within the Burggarten Gardens of the Hofburg Royal Palace. It's a tranquil setting with a quiet ambiance blooming with unique flora. All this makes visiting the Imperial Butterfly House one of the most romantic things to do for couples!
Since it's open year-round, visiting the Imperial Butterfly House is one of the things you must do in Vienna in winter.
11. Eat Sahertorte
You must eat Sahertorte during your romantic weekend in Vienna! The Sahertorte is a decadent chocolate cake invented by Franz Scher for an Austrian Prince in the early nineteenth century.
Legend has it, that this prince ordered his chef to come up with an impressive new dessert to serve his visiting guests. Due to illness, the head chef passed his duties on to his 16-year-old apprentice Franz Scher.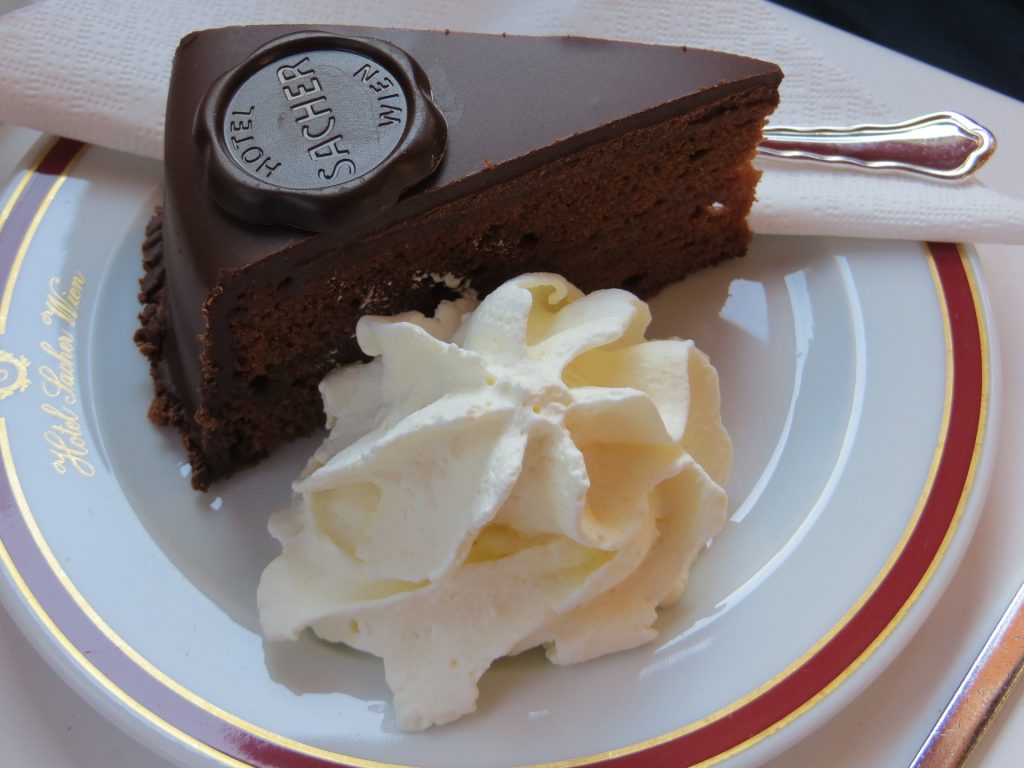 The resulting dessert impressed the prince, his guests, and millions of other humans thereafter. If you have a weekend in Vienna, you must try the Sahertorte!
It's a chocolate cake traditionally features apricot jam and dark chocolate frosting, and it can be served with unsweetened whipped cream.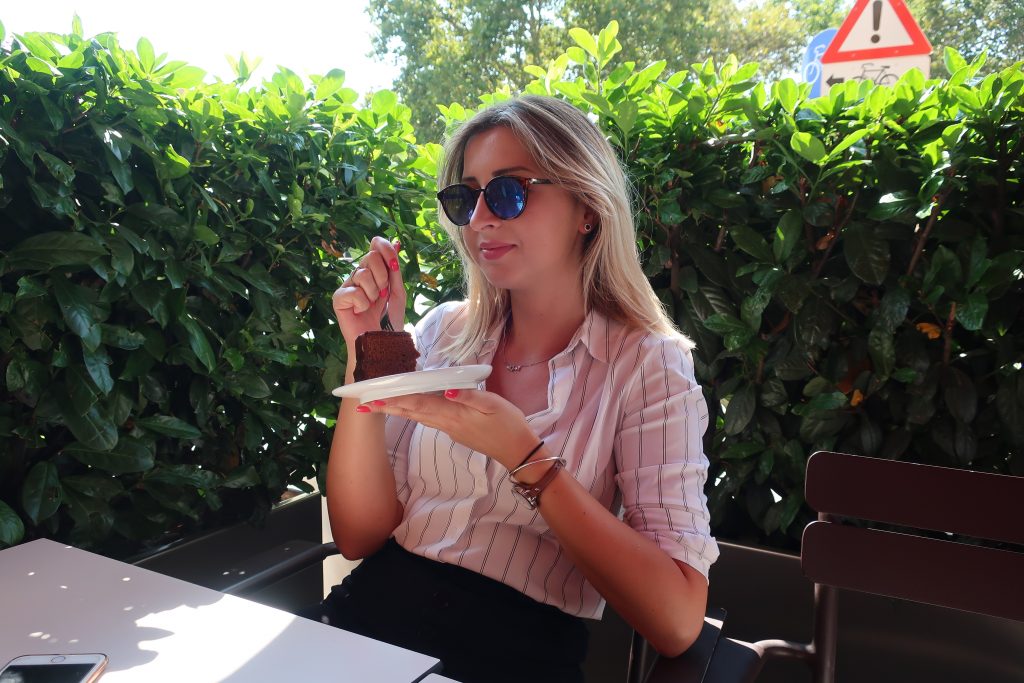 These cakes are traditionally served in cafes throughout the city. So, take your time and enjoy a cup of delicious coffee with your dessert. Did we mention chocolate was an aphrodisiac? I think we did!
If you're looking for the perfect romantic Vienna activity, share a slice of Sacher torte! Enjoying cake & coffee outside on a garden patio is one of the best things to do in Vienna in June!
Cafe culture is one of the top things to see in Vienna! It's unlike anywhere else in the world. We recommend Café Sacher for Vienna's most legendary Sahertorte!
12. Eat Wienerschnitzel
Eating Wienerschnitzel is one of the top things to do in Vienna. This is one of the most typical Viennese dishes you can get!
Schnitzel is a meat dish in which the meat is tenderized into a thin cutlet, breaded, then fried. The dish originated in Austria but is now popular in many countries. Wienerschnitzel is made with veal specifically, and it's usually served with potatoes.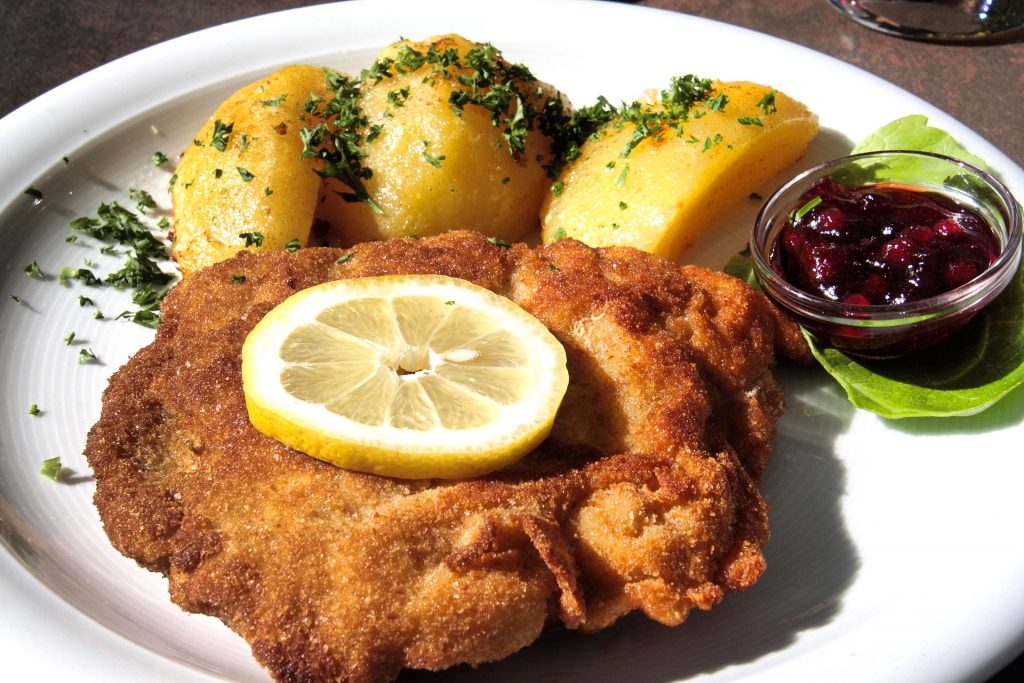 Wienerschnitzel one of the things to try in Vienna, and the best place to try it is at Meissl & Schadn. Meissl & Schadn is one of the most romantic restaurants in Vienna. It's a fine dining establishment adorned with sparkling chandeliers where excellent service is the expectation.
13. Buy Mozartkugel for your Friends & Family
Mozartkugel, or Mozart balls in English, are candies made with chocolate, pistachio, and nougat. These are some of the top things to eat in Vienna! They're also one of the best things to buy in Vienna to bring back home for friends and family.
Mozartkugel is named after the renowned composer Wolfgang Amadeus Mozart, also known simply as "Mozart." These delicious treats have become a world-famous specialty that represents Austrian culture.
You'll find the Mirabell brand almost anywhere in Vienna. However, you'll get the best prices on them if you can find a local grocery store further away from the main touristy areas. Shopping for Mozartkugel can be the best thing to do in Vienna if you don't have a lot of time.
14. Stroll Through Beautiful Gardens
Vienna is a treasure trove of public spaces. So, taking a romantic sunset stroll is one of the free things to do in Vienna.
The Belvedere Palace grounds are especially beautiful. It's one of the cool things to see in Vienna! The Belvedere Palace is considered one of the most important pieces of baroque architecture. The entire palace includes the Upper and Lower Belvedere buildings that are separated by an enchanting garden.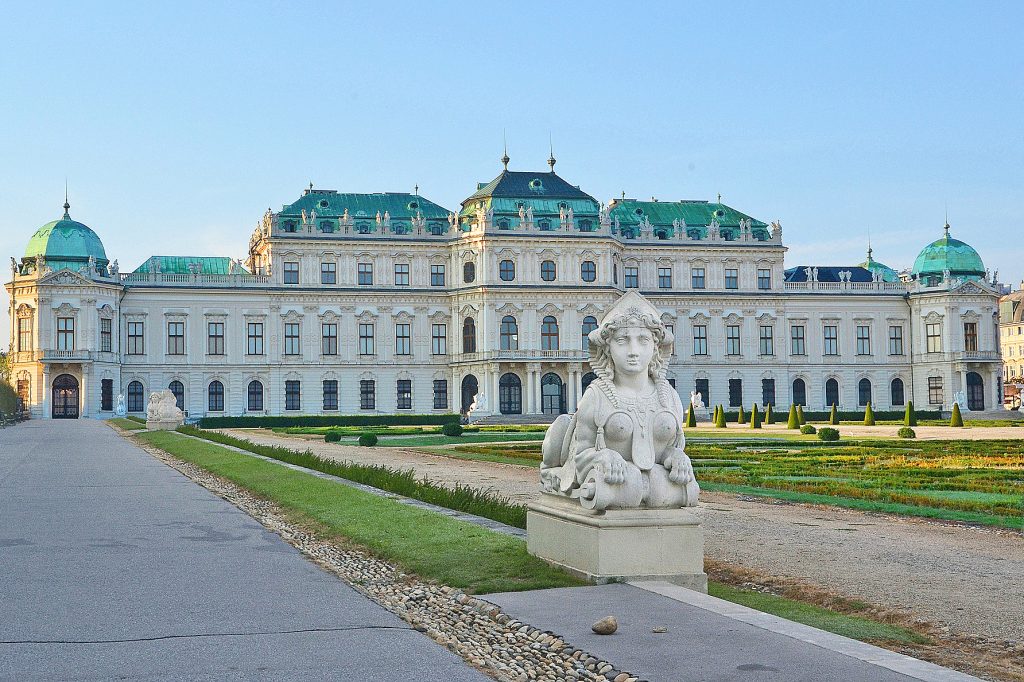 As you stroll through the garden, you'll see the city of Vienna stretched out in front of you. The Upper Belvedere palace today is home to an impressive art museum that displays many masterpieces from the Middle Ages until today.
You may also consider a romantic stroll through Volksgarten or the Schonbrunn Gardens. Volksgarten doesn't close, so it's the perfect setting for a sunset stroll. The most romantic part of Volksgarten is the summertime Rose Garden. Seeing roses in full bloom is one of the unforgettably cool things to do Vienna.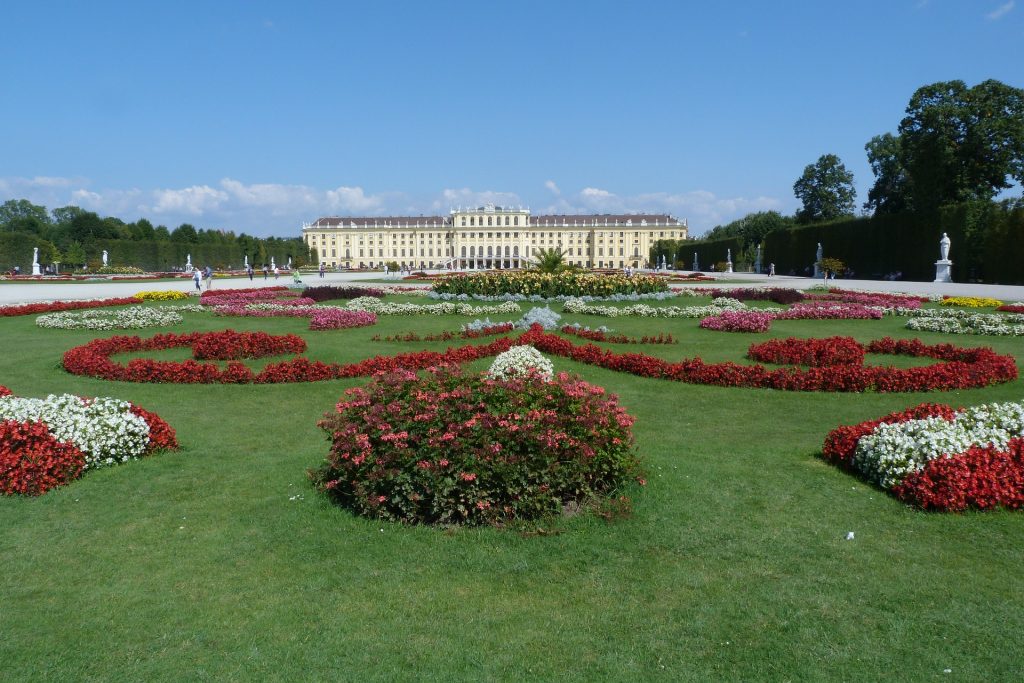 Volksgarten is a public park made in part from the gardens that originally belonged to the Hofburg Palace. It also contains a few monuments and many benches for leisure. This place is so romantic that you'll often find couples having their wedding photoshoots!
The Schönbrunn Gardens also sit on the lands of a grand mansion, the Schönbrunn Palace. The Schönbrunn Palace is considered a UNESCO World Heritage Site. The gardens on-site are gorgeous and vast. It's one of the top things to see in Vienna Austria!
15. View Vienna from a Rooftop Bar
Visiting rooftop bars is one of my favorite things to do in Vienna at night. Rooftop bars can provide unique perspectives and incredible views. These are some of the most unique places to go to Vienna, where you'll feel like a local.
Plus, they'll give you another opportunity to taste local flavors and try local drinks. All these reasons make rooftop bar dates some of the most romantic things to do in Vienna in the evening, & some of the best indoor things to do in Vienna (if the weather isn't cooperating).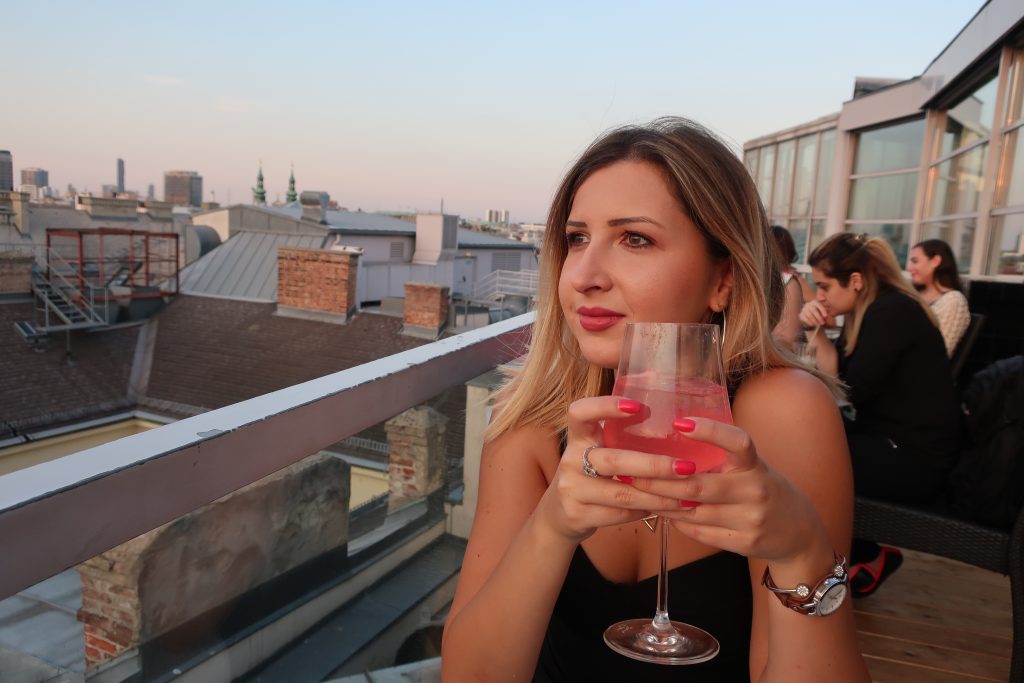 We loved the Atmosphere Rooftop Bar in Vienna. This elegant bar at the Hotel Imperial had exceptional service and amazing food. I also recommend the Sky Bar near Vienna's city center. Sky Bar was one of our favorite secret things to do in Vienna. It's nearly, completely, hidden from view!
16. Learn to Waltz
The Viennese waltz is the original form of the waltz —it's an important part of history in ballroom dance. The Viennese first started waltzing in the second half of the 18th Century. When it first emerged, this dance was controversial, it was considered especially risqué.
Learning to dance with your partner can be especially romantic. It's also a team-building exercise. Learning to waltz also allows you to experience an intangible piece of Viennese culture that many tourists miss!
Therefore, learning to waltz is one of the unique things to do in Vienna, one of the quirky things to do in Vienna and one of the most special things to do in Vienna!
The Rueff Dance School in Vienna is one of the best places to enjoy drop-in waltz lessons for beginners. Check out their 'Hop on Waltz' nights. This is one of the coolest things to do in Vienna!
17. Ballet at Vienna State Opera
The Vienna State Opera House was built in the late 19th Century in the Renaissance Revival style. It was badly damaged during the bombings of World War II, but has since then been artfully restored.
Today, it's one of the most prominent opera houses in the world. It's stunning, historic, stage witnesses hundreds of opera and ballet performances each year. Famously, it offers the largest repertoire of any opera house worldwide.
Seeing a ballet performance at the State Opera House is one of the most amazing things to do in Vienna Austria. It's also one of the great things to do in Vienna during winter!
There are also guided tours available at the opera house. While this isn't one of the things to do in Vienna for free, you can visit the opera house on a budget. These informative guided tours only cost about 10€ per person.