We've put together the 10 most exciting things to do in Dubai, so that you can travel worry free! We'll help you figure out where to stay in Dubai, how to get around Dubai and how to plan your trip to Dubai seamlessly.
Why Dubai?
Dubai is an excellent place to visit from a tourist perspective. It's easily accessible from many countries all over the world via the Emirates airline. Not to mention that Emirates is highly reliable, offers spacious cabins and above average luggage allowances! Also, the DXB airport is only a 15-minute drive from Downtown Dubai, allowing for easy layover sightseeing. In Dubai, English is widely used by residents, on street signs, receipts and menus. It makes getting around stupid simple! Furthermore, Dubai offers a multitude of exciting attractions, a delicious restaurant culture and a stellar service industry. A vacation in Dubai is perfect for affordable luxury travelers.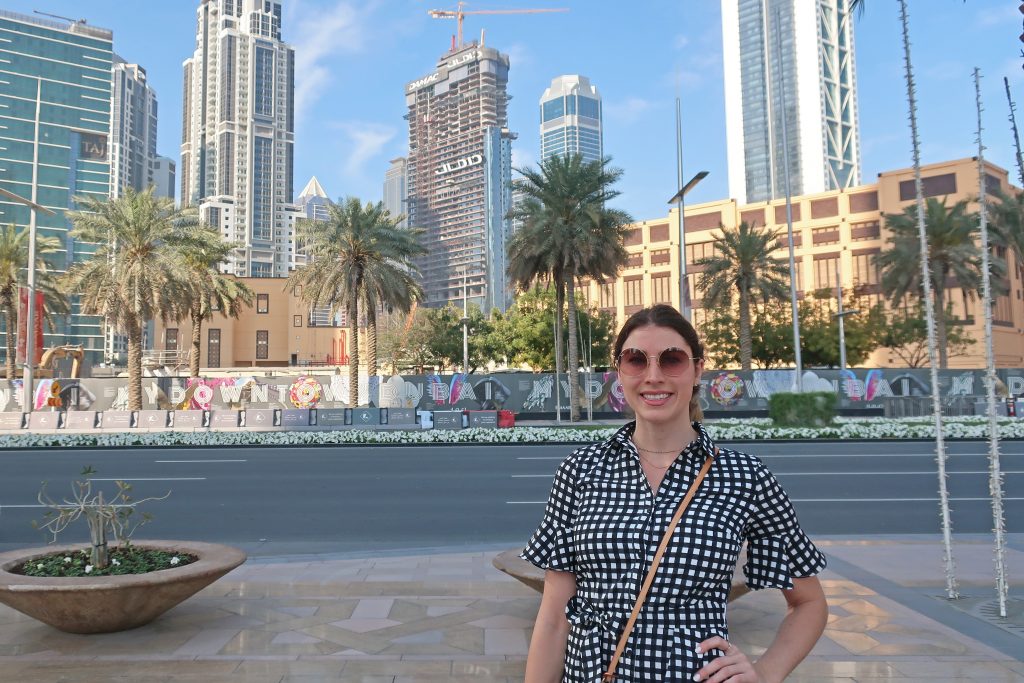 Where to Stay in Dubai
The three best areas to stay in Dubai are the Dubai downtown, the Dubai Marina and on the beach. Each of these areas offers a few of the top attractions in Dubai as well as great dining options.
Many of the top Dubai activities can be found in the Dubai downtown area. These include the Burj Khalifa, the Dubai Mall and the Dubai Fountains. Skybridges and walkways link these attractions to best hotels. The most impressive hotel in downtown Dubai is the Palace Downtown. It is a luxury 5 star hotel with impeccable Arabian style architecture and an upscale Souk inside. It impressively contrasts the glass skyscrapers that make up the downtown cityscape. The best affordable luxury option in downtown Dubai is Sofitel Downtown Dubai. For a mere fraction of the cost of the Palace Hotel, Sofitel offers an appealing alternative 5-star experience in the heart of downtown. Sofitel also boasts an infinity pool, a rooftop bar & an occasional harpist in the lobby. You can get to the Dubai Mall from Sofitel in about 15 minutes walking.
Sofitel Downtown Dubai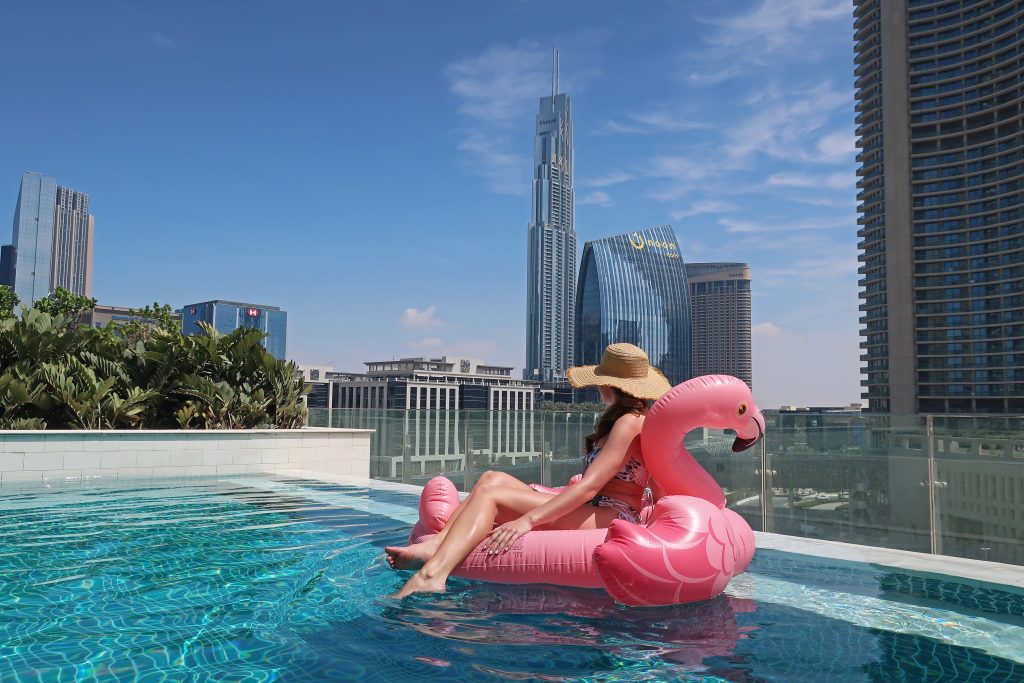 The Dubai Marina is also an excellent place to stay. You'll be able to enjoy the Dubai Marina Walk, the Dubai Marina Mall and Jumeirah Beach. An impressive hotel at the Dubai Marina is the Address Hotel. A great affordable luxury alternative is the Sheraton Jumeirah Beach Resort. Another great resort on the beach is the Madinat Jumeriah. The Madinat Jumeriah isn't at the Dubai Marina, but they do offer proximity to the popular family attraction Wild Wadi Waterpark. Also, you can get amazing views of Dubai's skyline from the nearby rooftop bar Uptown Bar. Although, the most luxurious hotel on the beaches of Dubai, without a doubt, is the Burj Al Arab Jumeirah (the world's only self-proclaimed 7-star hotel).
Getting Around Dubai
Dubai is an enormous city. Getting around to the various Dubai attractions can be frustrating at times. Dubai offers many transit options; including cabs, Ubers, public transit and pedestrian walkways. However, the paths and highways are very rarely direct and almost always convoluted. If your destination is 0.6 miles away, this may be a 25-30 minute walk! There are many highways, and thus tons of looping around when driving.
The other important consideration is distance. Most of the Dubai points of interest are spread all throughout the city, so it could take 30 minutes or more of driving to get from one destination from another. For example, it takes 25 minutes driving (or 1 hour using public transit) to get from the Burj Khalifa to the Dubai Miracle Garden. While few Dubai tourist attractions are clustered together, expect that many of your target destinations to be distant from one another.
We ended up using a lot of cabs and Ubers during our trip because we didn't want to waste time using public transportation. Although, coming from a couple who loves to be on their feet, it was frustrating that nothing seemed walkable! Also, it is important to note that cab rides are reasonably priced in the UAE. We you might expect to pay 10-14 USD for a 25-30-minute cab ride. Some of the cabs are even equipped to host Wi-Fi!
10 Most Exciting Things to do in Dubai
There are a few different experiences offered at the Burj Khalifa, but we'll make it easier for you and tell you which one you need to get. You'll want to go with the "At the Top, SKY" option. Level 148 is far superior to floors 124 & 125. Also, the glass was cleaner on 148 which allowed for better photos. With SKY, you'll still get access to 124 and 145, so you'll see what we mean. In addition to that, the lower floors are a lot busier. Don't bother with any of the Lounge experiences (floors 154, 153 and 152). The Burj Khalifa is cool, don't get me wrong. Still, I'd rather be at some awesome bar or restaurant than having tea or drinks at a tourist attraction. Also, make sure to check the time of sunset when you are travelling. Book your SKY experience to start 1 hour prior to sunset.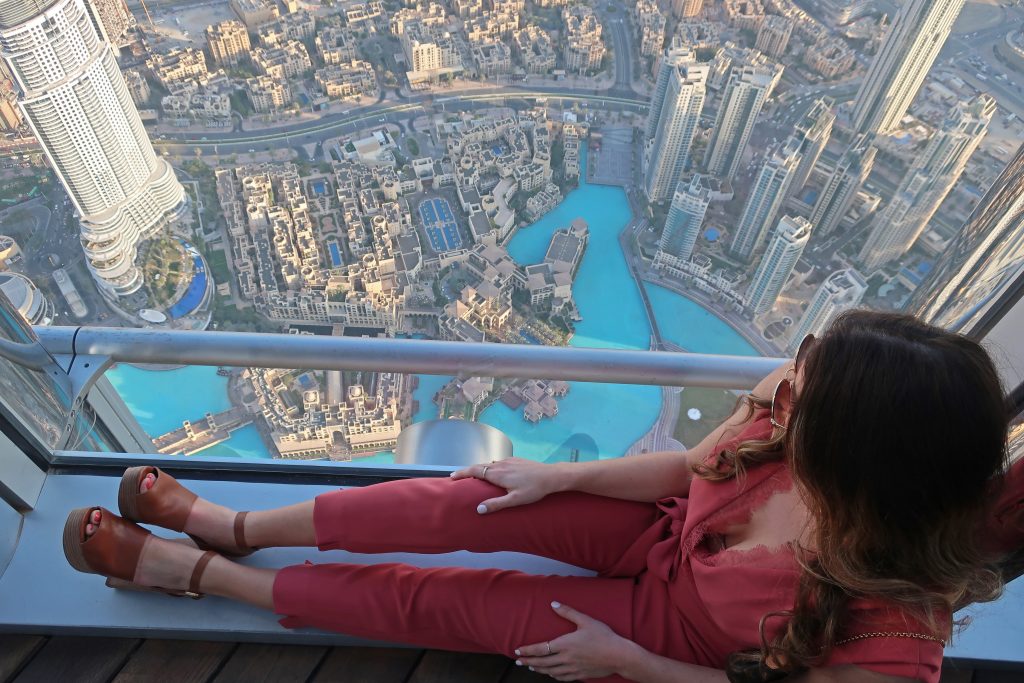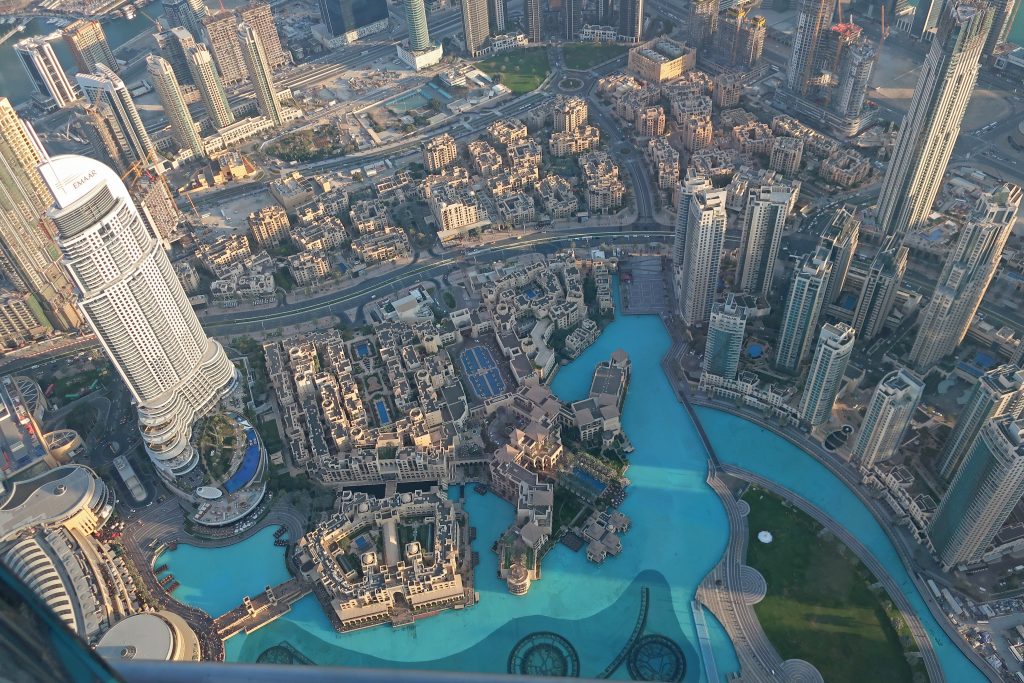 The Dubai mall is beautiful. Plenty of photo opportunities here. The mall offers unlimited shopping options within any price range. However, the most beautiful parts of the mall are on the side with the luxury brands. Make sure to walk through here.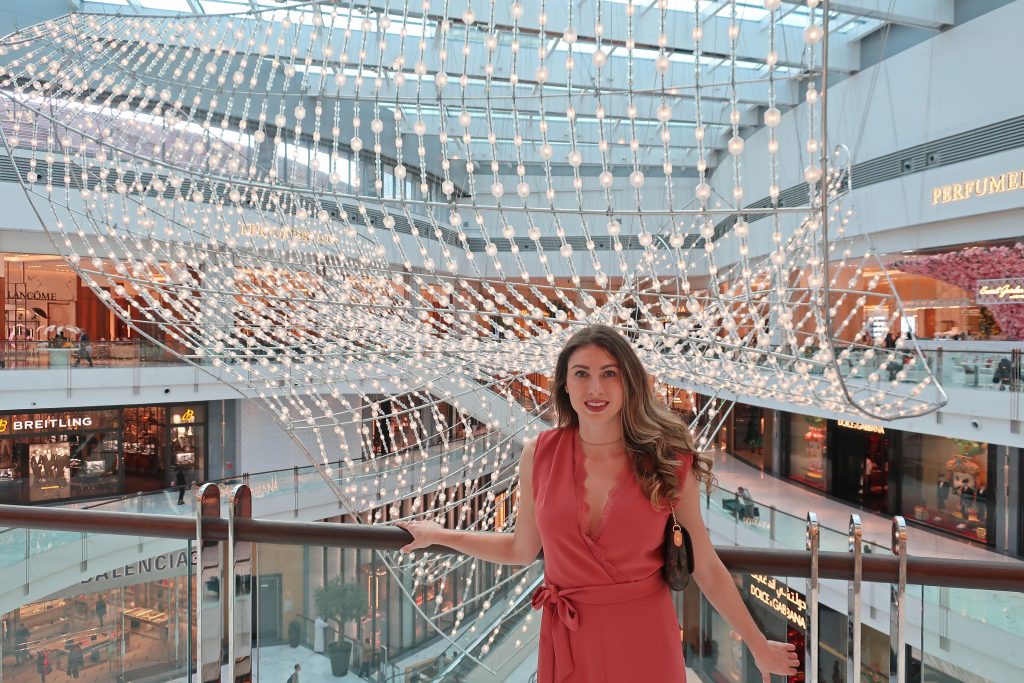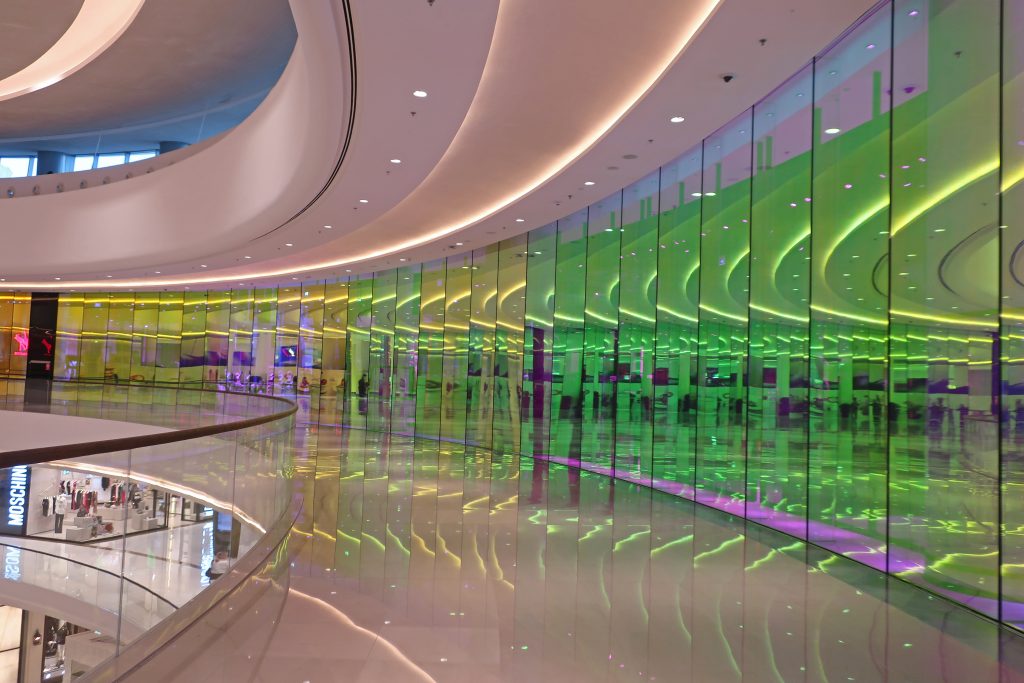 The basement of the mall is where you'll find the cool underwater aquarium, access to SKY at the Burj Khalifa and food. You can also exit the mall there and access the Dubai Fountains.
A great Lebanese restaurant just outside the Dubai Mall is Em Sherif.
Don't be fooled into purchasing tickets to "The Dubai Fountain." This is a tourist trap. You can see the Dubai Fountain show perfectly clearly from outside. The show is cool, but not long enough to justify paying for it and getting on a boat. Overall, this seems like overkill and a waste of time. We would recommend, if possible, you see the fountain show from further away! This gives such an impressive image of scale. You'll be able to see how tall the fountain show is compared to the Burj Khalifa.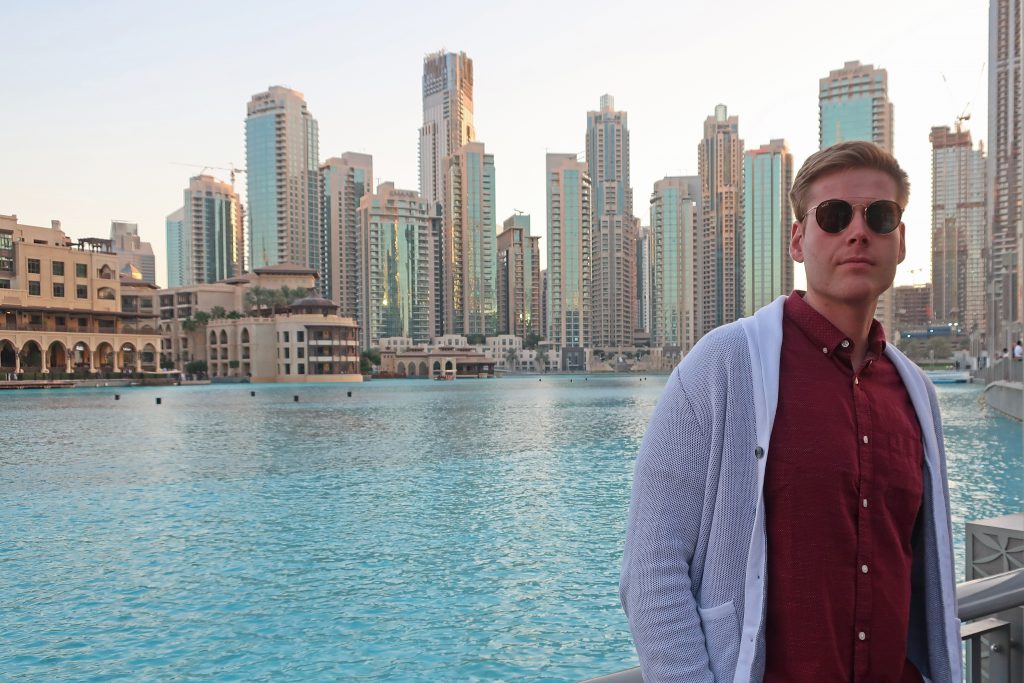 A good place to watch the fountain show from afar is Burj Park. We recommend walking from the Dubai Mall to the Burj Park and then continuing to the Burj Plaza. The Burj Plaza offers great photo opportunities. You can capture cool photos of the Burj Khalifa here (and capture it completely). Also, there's beautiful lights and colorful exhibits that come on just before sunset. It's a magical place.
A few photos from Burj Plaza below.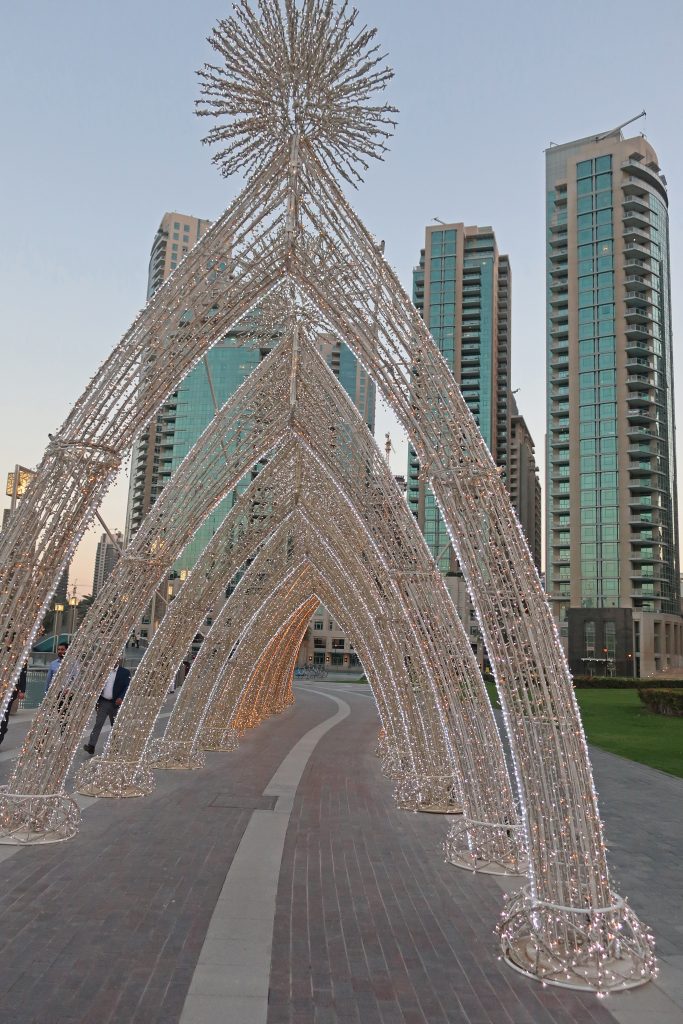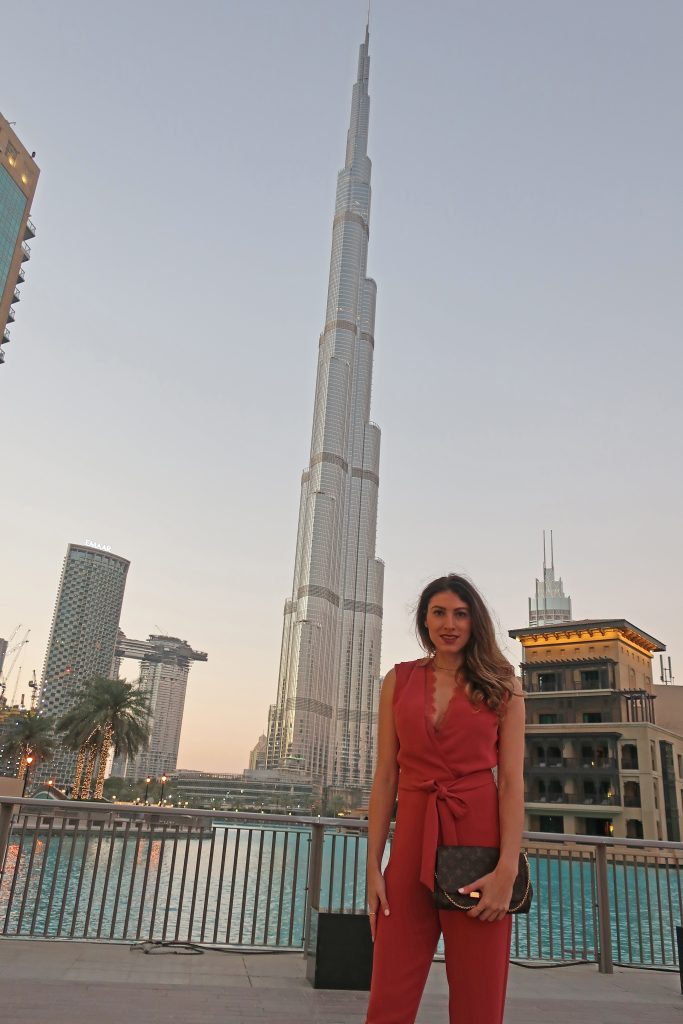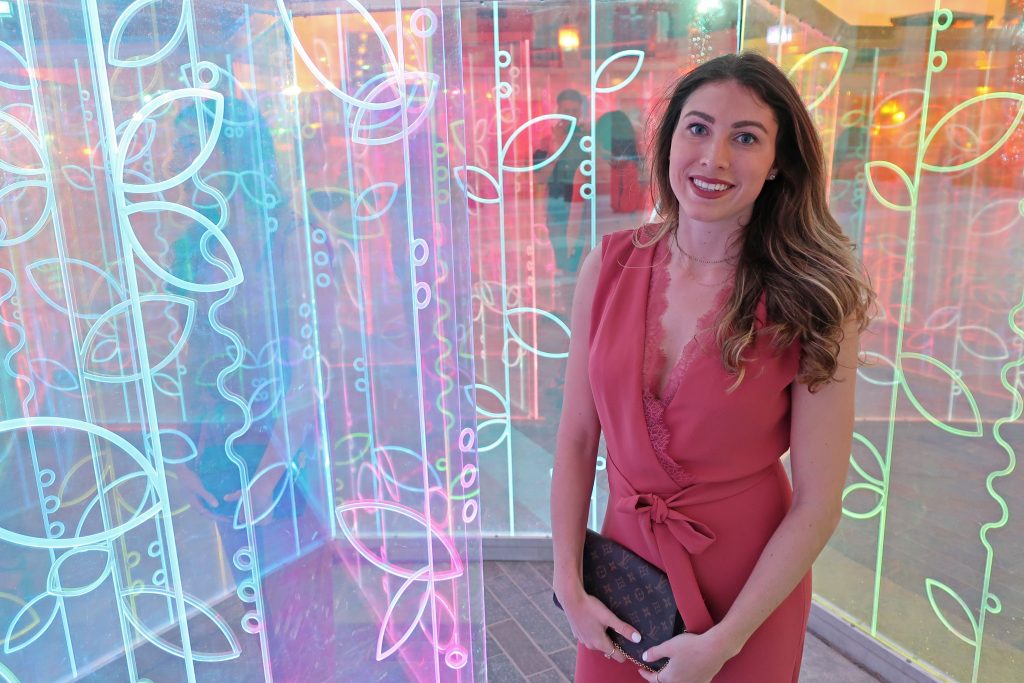 This is the furthest attraction from Downtown Dubai, but definitely worth visiting! It is another great place to visit around sunset for soft lighting and colorful skies. The Dubai Miracle Garden is open form mid-November to mid-May. There is said to be more than 150 million flowers here!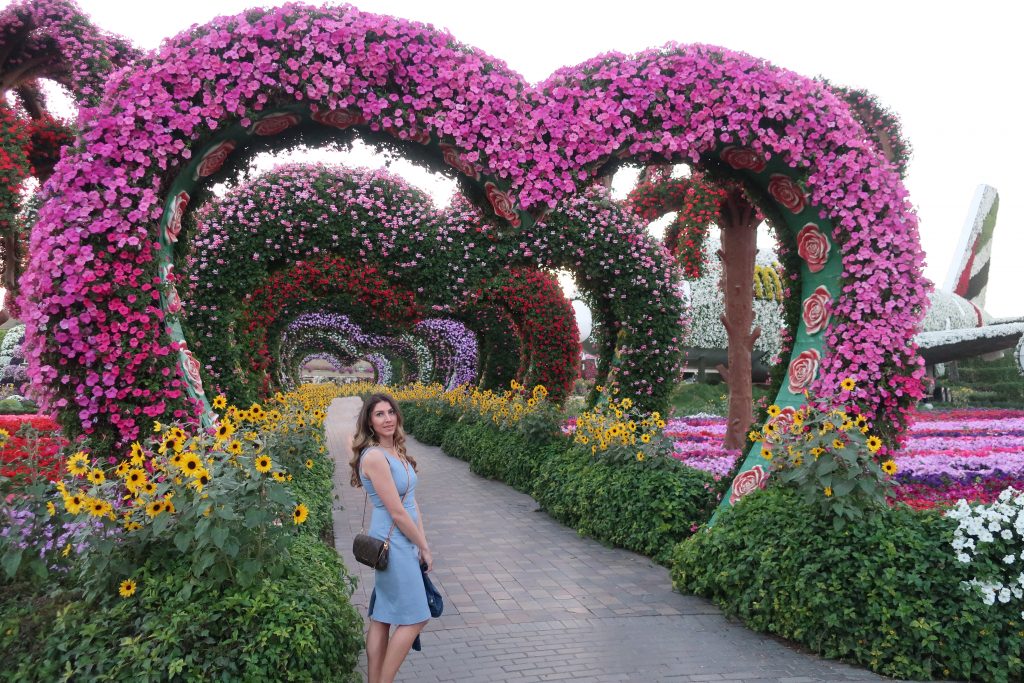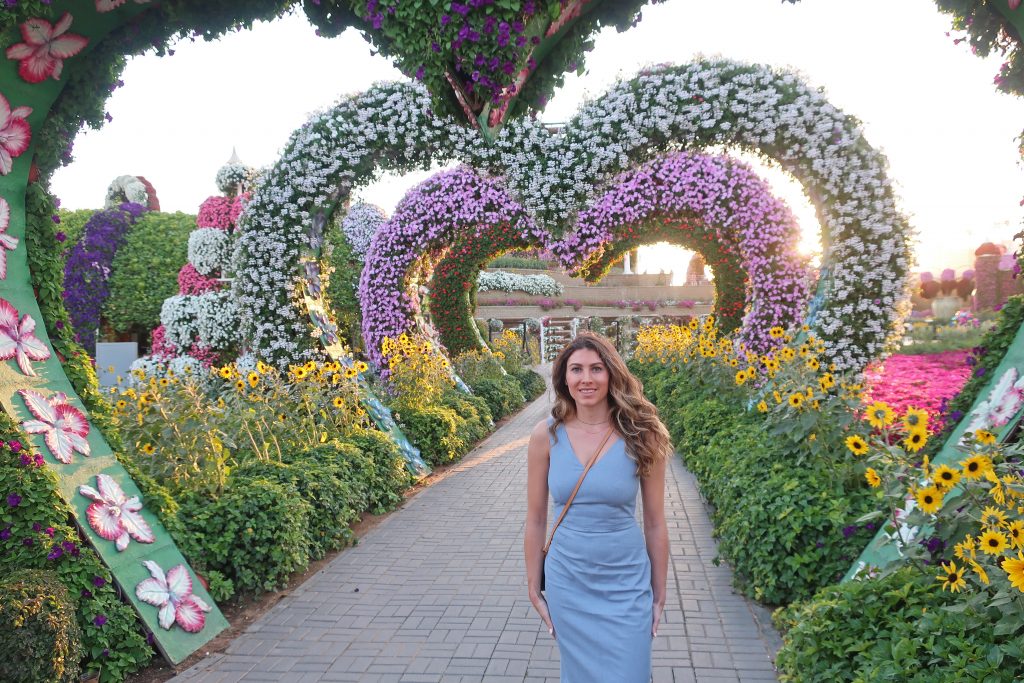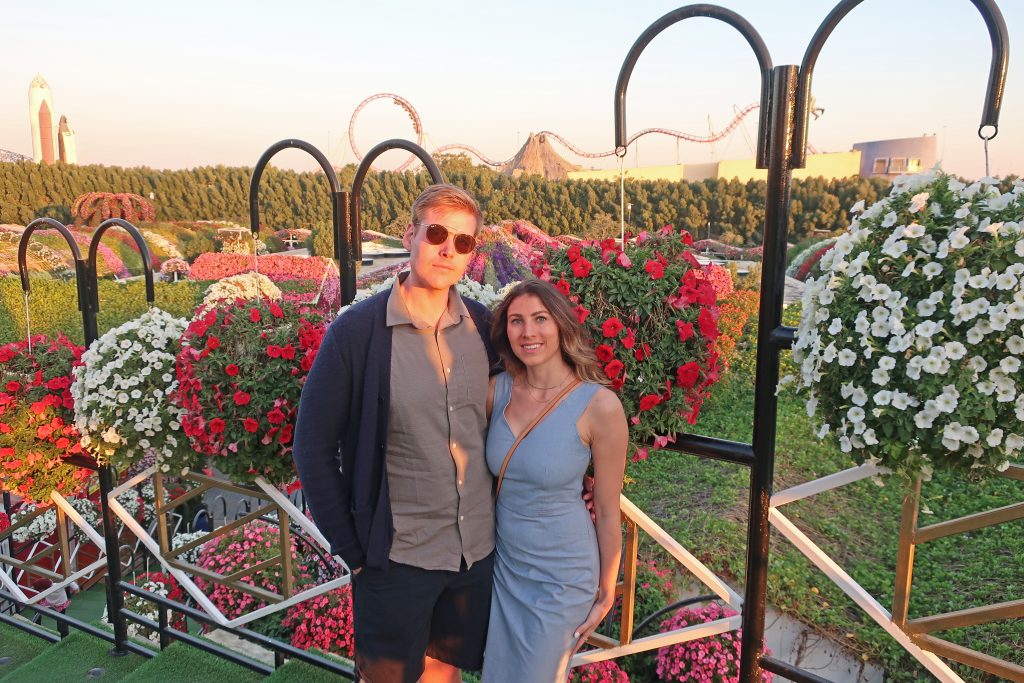 The Global Village is an enormous multi-cultural park. Open from October to early April, it features shopping, dining and entertainment. The park is only open in the evenings, so this is a great place to visit before your dinner reservation and after the sun has gone down. The layout is a giant circle with greenspace in the center and different cultural nooks lining the outside. Each nook represents a different nation. You can enter the nook and be transported into that country's culture. Each cultural hub offers food, clothing and region-specific crafts.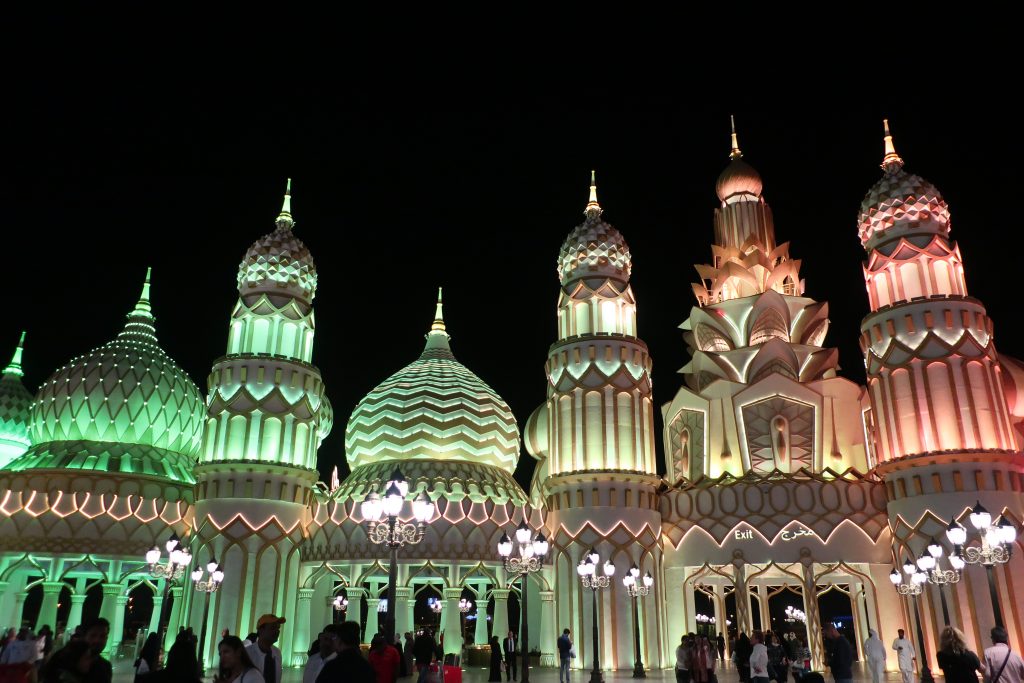 The Global Village is a great place to stock up on souvenirs for the family!
La Mer Beach is our favorite beach in Dubai. It's particularly convenient for tourists not staying at a beach hotel. At the beach, you'll find lounge chairs, umbrellas and even towels for rent. So, don't worry about bringing anything with you! Like everywhere else in Dubai, La Mer Beach is clean, beautifully designed and highly commercialized. There's also plenty of shopping and dining here. We highly recommend the soft serve ice cream at Salt. Before you head to the beach, stop at Comptoir 102 for a healthy, delicious and super trendy breakfast.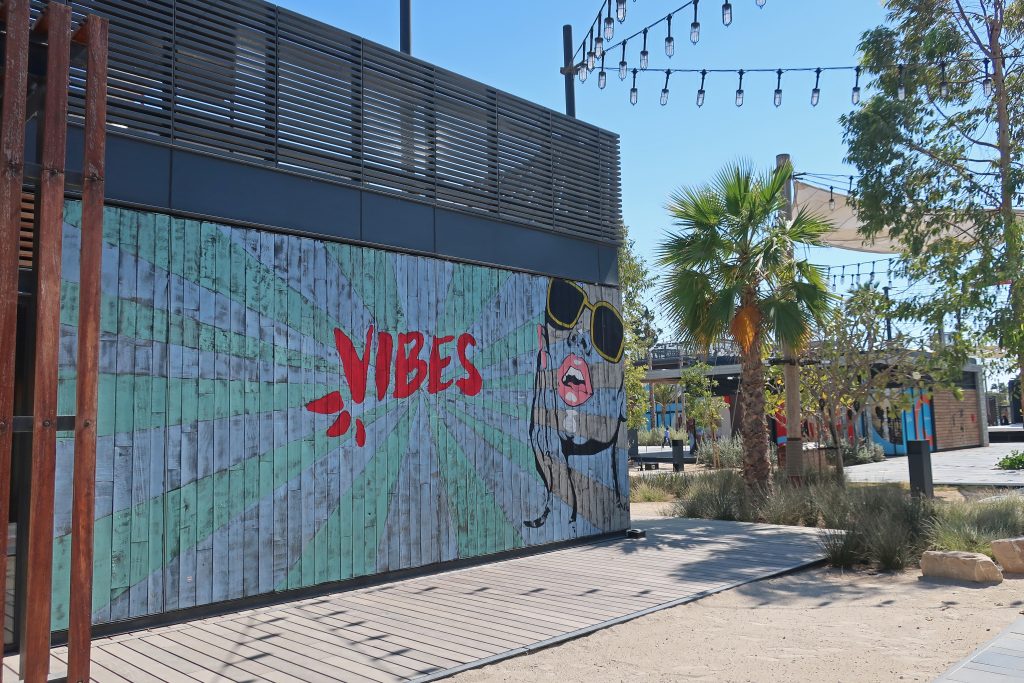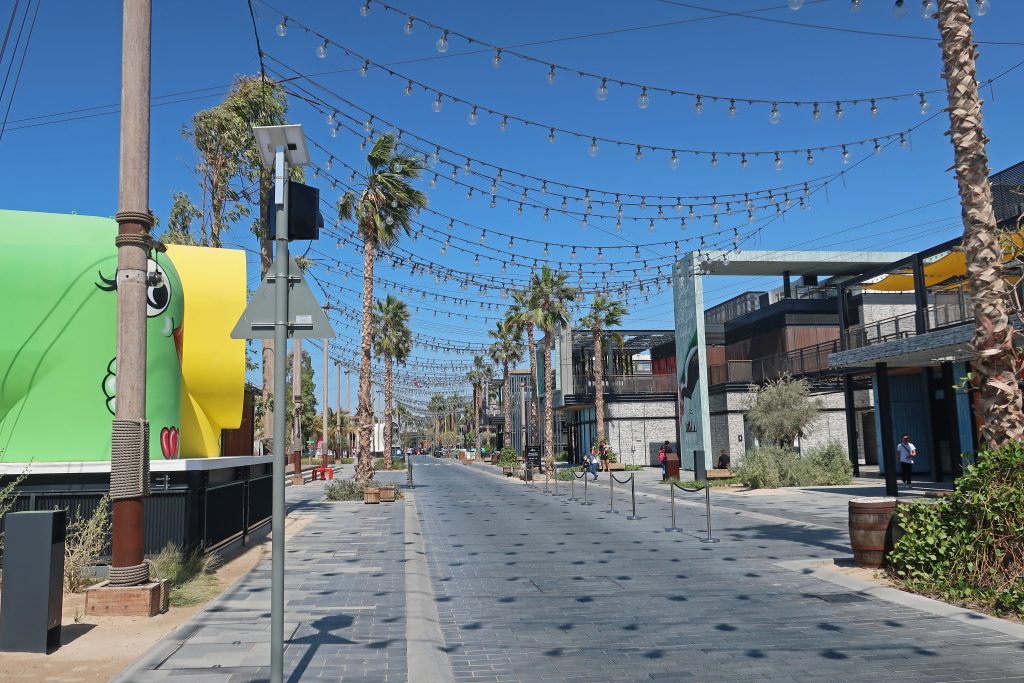 Located a short walk from La Mer Beach, is the Etihad Museum. This museum takes you through the contemporary history of the United Arab Emirates. This museum has a lot of interesting films and interactive exhibits. The Etihad Museum is also a short walk from the Jumeriah Mosque. While you may not be able to enter the Mosque, it is stunning and worth seeing.
One of the most iconic attractions in Dubai is the desert safari. There are many different options for this. Overall, the different activities include dune bashing, desert photos, camel rides, Middle Eastern food and Middle Eastern cultural activities. The cultural specific activities at our desert safari included a falconry show, belly dancing and henna tattooing. The desert safaris provide a unique opportunity to experience a lot of middle eastern culture in one evening.
If we were to do this again, we would definitely skip the dune bash. I felt like the dune bashing and driving around dominated our evening. After 10 minutes of dune bashing, I was nauseous and ready to tap out. I'd recommend dune bashing with ATV over stranded vehicle.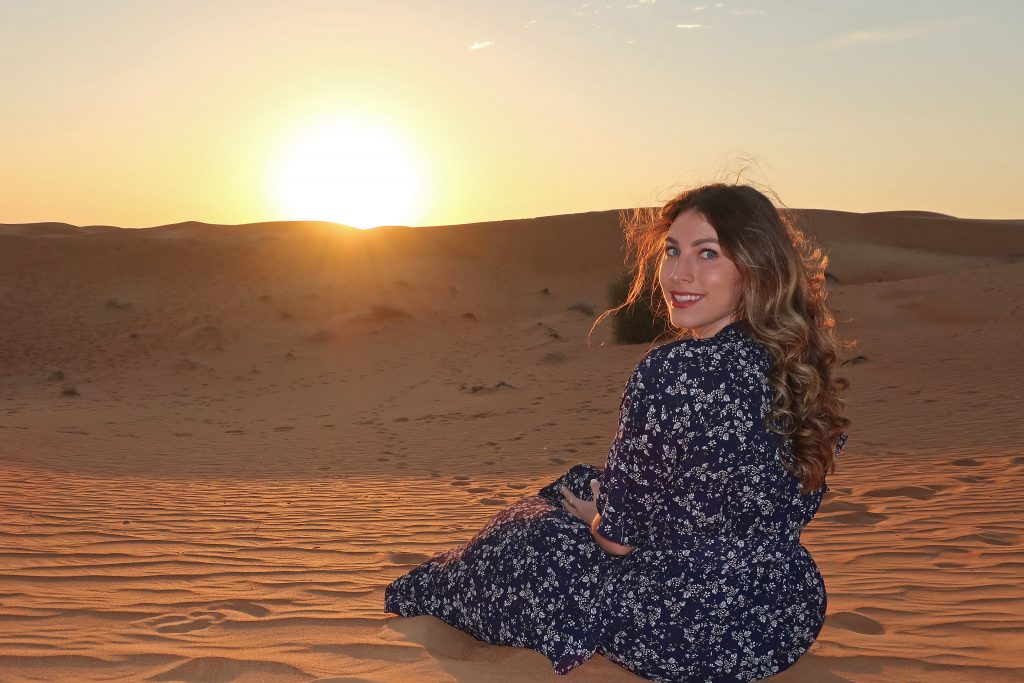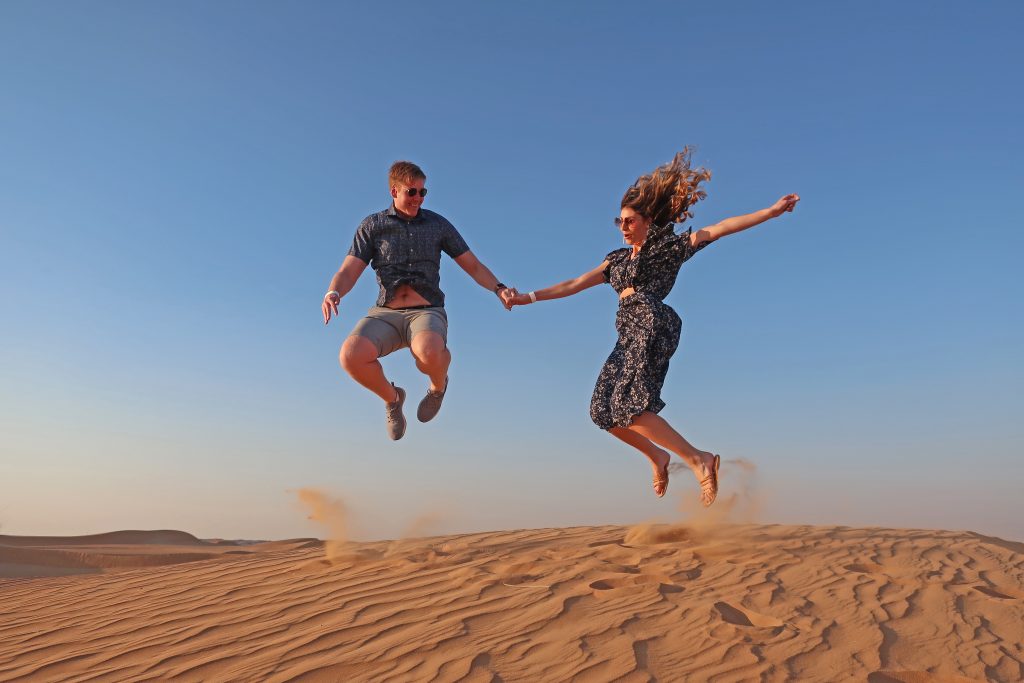 The Al Fahidi Historical District is one of Dubai's most popular attractions. It's a beautiful place to walk through and get a glimpse of Emirati history and culture. It's located near the Dubai Museum and the Souks. To get to the gold and spice souks, it is cheaper and more convenient to take the water taxis. A cab ride that gets you across the river will shockingly take you over 20 minutes. While on the south side of the river, make sure to stop and eat at the Arabian Tea House.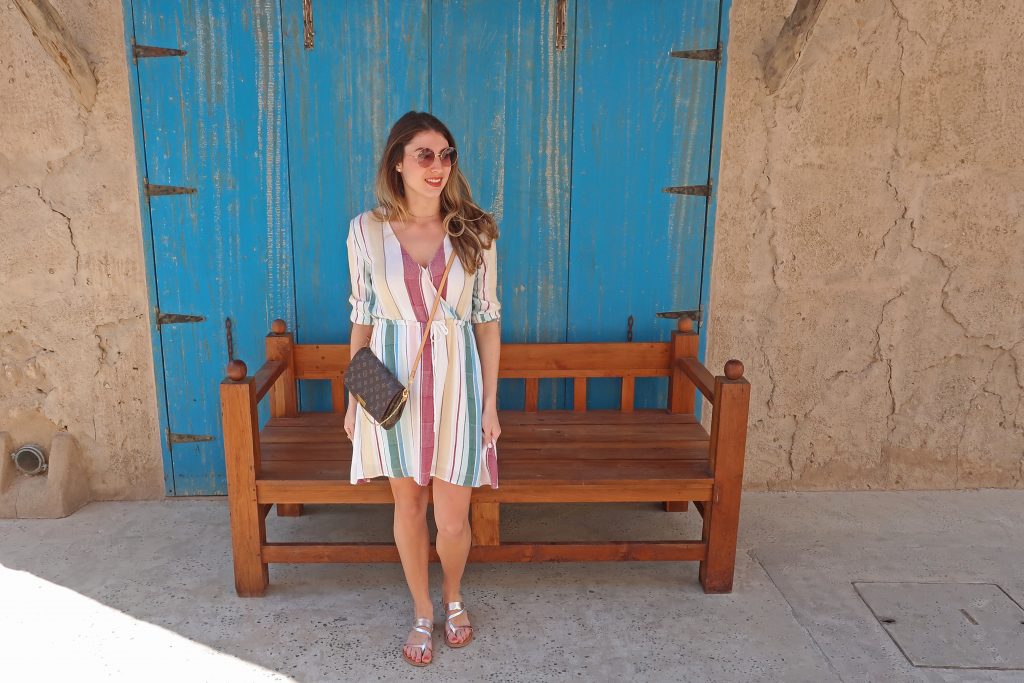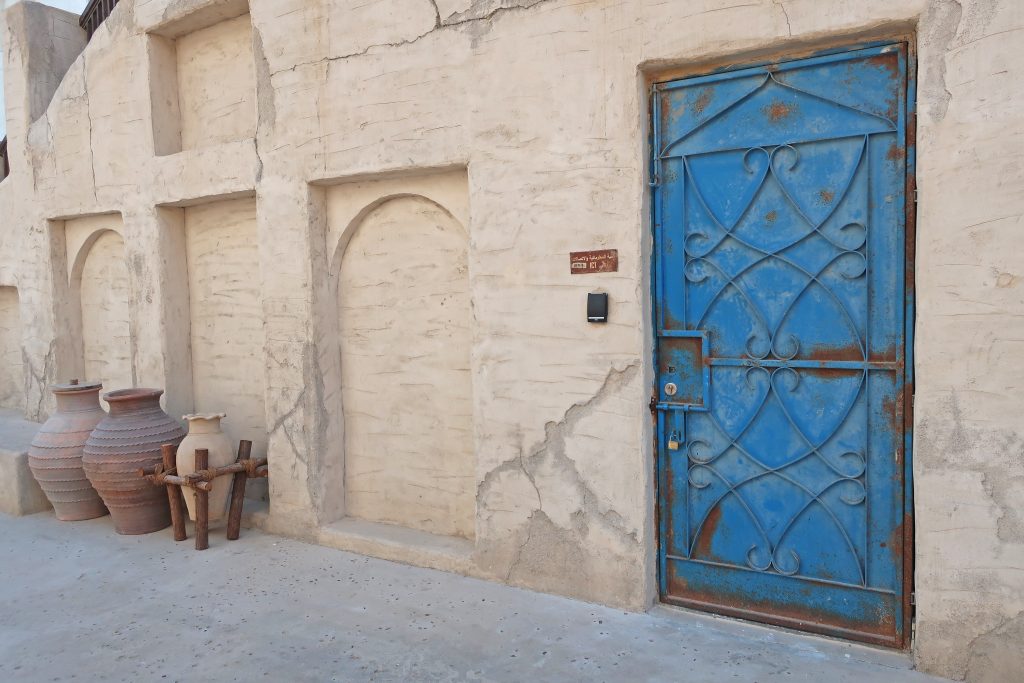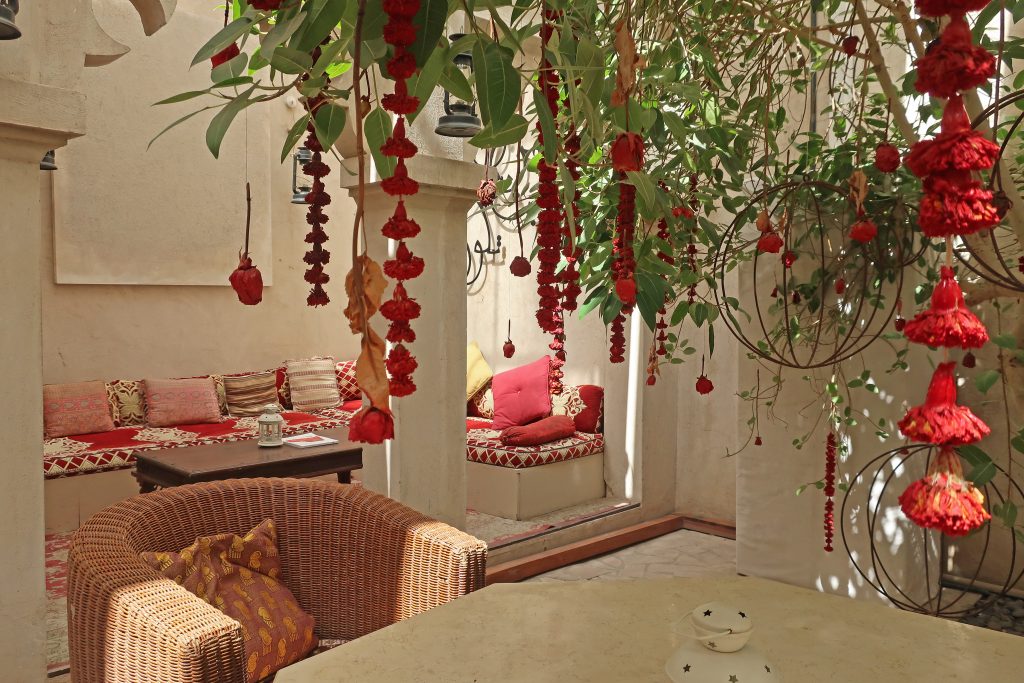 A cool little-known attraction in the historical district is the Museum of Illusions. This place is interactive, photogenic and weird. It's a good place to stop in and take a break from the sun. The museum is pretty small, so you won't need more than 45 minutes here. The below image was taken at the Museum of Illusions.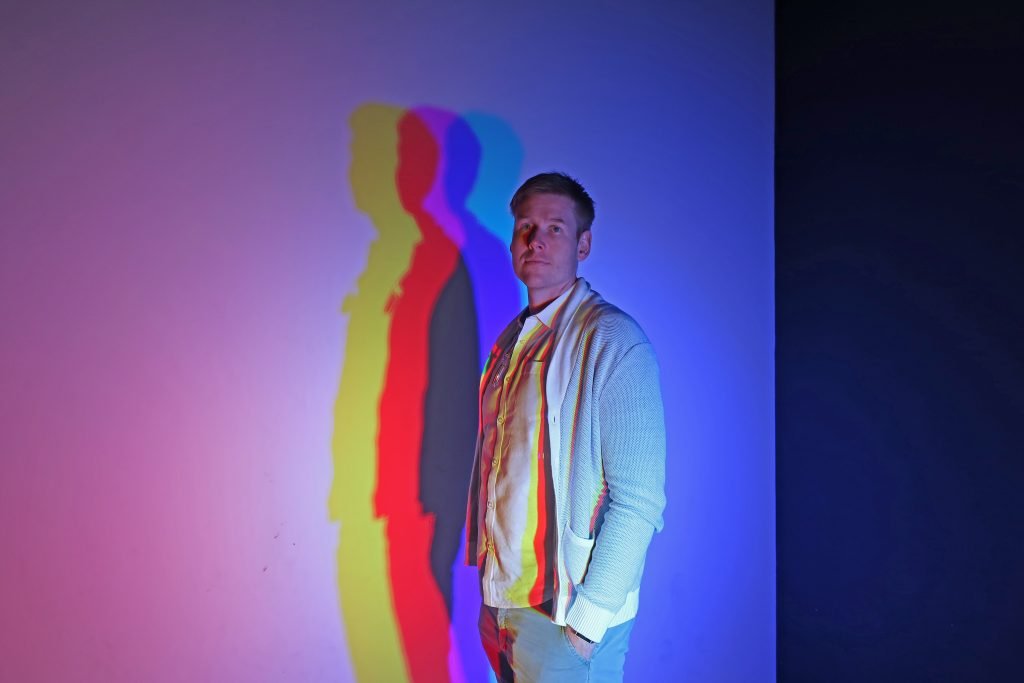 I recommend the Souks with reservations and caution. While they offer a unique and interesting cultural experience, it is also unbelievably annoying to walk through here! I wish someone had warned me… The Souks are local markets where traditional goods are sold. Some of the products are quite nice and make excellent souvenirs. However, the vendors are extremely aggressive and frankly, irritating! They will touch you, place their scarves around you, and call you names like "Shakira" or "Wiz Khalifa." I don't get the Shakira thing, but you'll see. Some areas are more walkable than others, some vendors less aggressive than others. Overall, though, it's hard to even look at their products without falling prey to the overwhelming and extremely unpleasant sales tactics. Proceed at your own risk.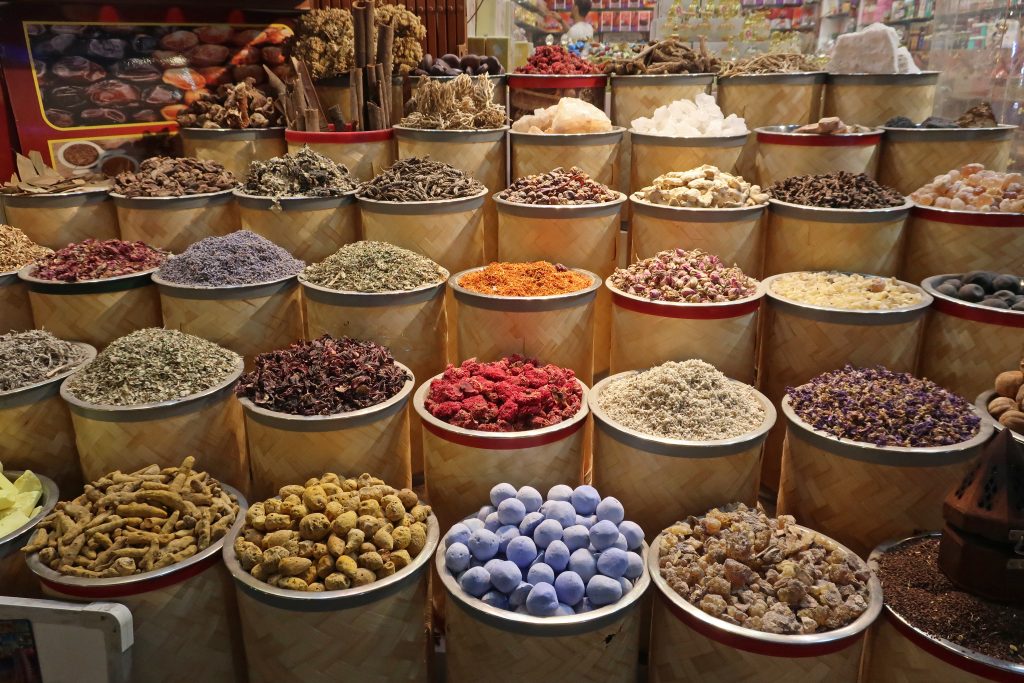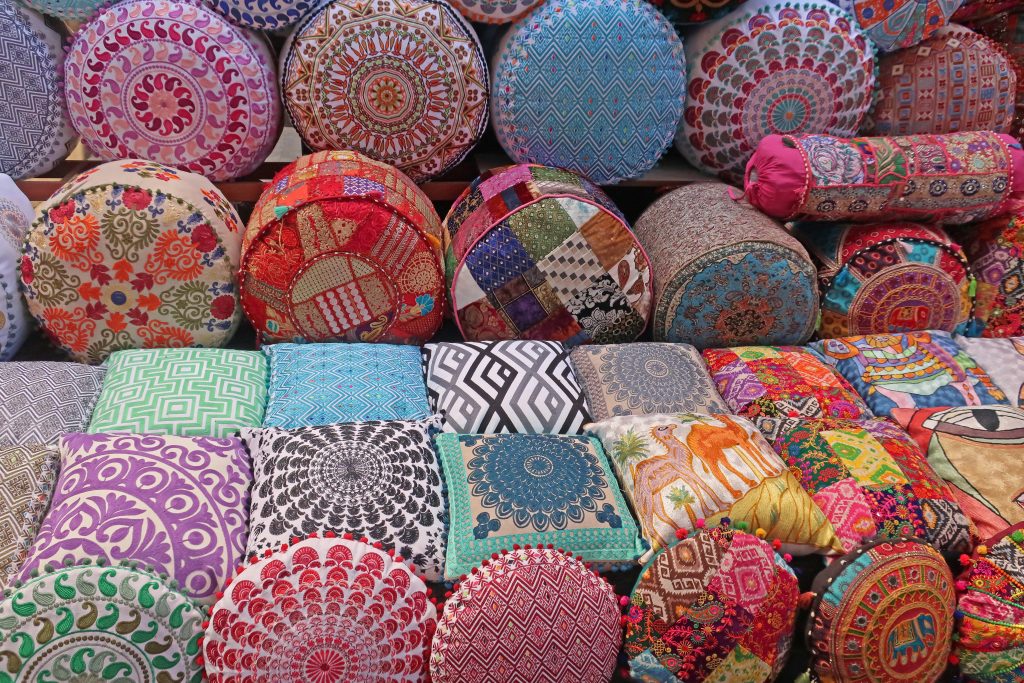 The Dubai Marina is another great Dubai attraction that is completely free to visit. It's a great place to walk around, take in the skyscrapers and snap photos. It's near to the Jumeirah Beach Residences which are worth checking out. The Dubai Maria mall is also impressive and close by. Stop at Pappa Roti Café for a famous butter bun while in the Jumeirah Beach Residence area.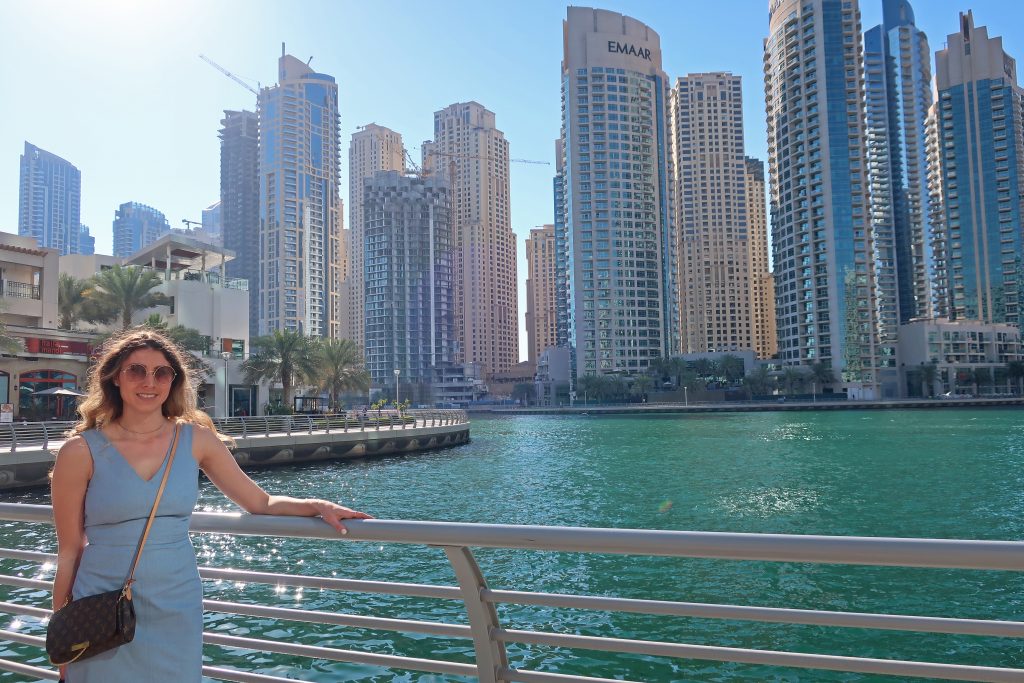 Recommended Restaurants
Dubai is an international city. Only 20% of the total population is Emirati! Dubai has one of the world's highest percentages of immigrants. It's home to over 200 nationalities. My point it … it's a great place to try global cuisines. Here are some of our favorites:
Zheng He's (Chinese)
Treehouse (Mediterranean)
Arabian Tea House (Middle Eastern)
Em Sherif (Lebanese)
TOMO (Japanesee)
Dubai Etiquette
Make sure to dress modestly while in Dubai, as it is a Muslim country. You don't want to be that person in short-shorts. In general, try to keep your shoulders and knees covered. Although, dresses that fall just below the knees won't raise any eyebrows. Cleavage is a big no-no. Brazilian style bikinis should be avoided on public beaches. While at your hotel, or if you're going to a nightclub, it is understood that the morality code does not apply. Western style dress is commonplace here.
In regards to tipping, the average is 10% at restaurants. While there will be a service charge included into your bill, it is common to tip 10-15%. It is also customary to round up to the nearest note when paying for cabs.